No 143 AUTUMN 2015
Edlines
I was amused by a recent piece in Telegraph Cars which described the Burman steering gear in a prototype Land Rover as making the driver just part of the democratic process in determining the direction of travel. This will bring back memories for many of us, and perhaps reminds us of the huge strides that have taken place since those days. That said, the steering gear in my Olympic, which is pure Morris Minor dating from the late 40's, allows hands-off driving on the bumpiest roads, so maybe it's the rack and pinion which makes the difference (plus one or two other little details perhaps).
I am still fiddling with Kermit; on page 22 you can see my whizzo heater mod, which takes the guesswork out of adjusting the heater. The usual water valve control is a bit like the Burman steering box, in that controlling the temperature involves a hopeless attempt to finely adjust the desired result but ends up by having to bang from max to min and hope the average is about right. Give it a try.
My Retirement
Another reminder that we will need a new editor (or secretary) next year, so get volunteering!
Les Browns book Sports Car Pioneers has had a new print run, so if you missed out last time, contact Les to get your copy.
FBHVC News is longer than usual in this issue as the authenticity of some historic cars is being questioned by the DVLA, and the FBHVC explains what has led to this potentially worrying state of affairs.
Coming Events
Manchester Classic Car Show 19/20 September, Event City M41 7TB. Les has organised a Club stand there, so support your Club and pay a visit.
TONY STANTONS OLYMPIC NEWS
Lost Olympics.
Over the last few months I have put together a list with details and photographs of lost Olympics, which we have a registration number for. There are 16 with details and photos and 18 just with details. I thought this may use up too much space in the magazine, so I have placed them in the forum on the ROC website (2225 hits at the moment) and also on the ROC FaceBook page. Please have a look through the list and see if you can help us with any more details.
Olympic Phase II --- 589 CCJ re-registered FWO 764C (?).
The members who read my articles may remember from ROC magazines 115 and 116, I wrote about the known history of the above Olympic owned by Derek Argyle and later by Arthur Penman. In about 1979 Arthur was involved in a major accident in the Olympic to the extent that the front was damaged back as far as the windscreen. As far as I am aware Arthur suffered only minor injuries, but the car was a write-off.
Keith Emery obtained the remains and gathered together a group of fellow Rochdale enthusiasts to dismantle the car and salvage any usable parts.
At the time of writing in 2008 we assumed this to be the same car re-registered, but in the back of my mind I could not agree with this? I could not understand why anyone would change a 6 digit number for a 7 digit one and I was sure you cannot put on to a car a number that makes the car appeared to be younger than it is. I can now confirm that 589 CCJ and FWO 764C are two different cars.
At a local show to me in September 2013, a Michael Vaughan informed me that he had bought in April 1965 a new British Racing Green Olympic Phase II when he lived in Newport, Monmouthshire. But he could not remember the registration number. He kept the Olympic for 2 years and sold it from an advert in MotorSport in July 1967. He remembered taking it up to Holland Park Road, Earls Court, London in July 1967 where he sold it for &pound475 in cash to a man from the South East of England. Below is a copy of the advert from the Olympic archive records.
1967 Jun. MotorSport.
ROCHDALE OLYMPIC phase II, June 1965, BRG, Cortina GT engine, Cinturatos, htr. &pound500 ono 29, Dos Cottages, Newport, Mon. Tel: 62988
This confirms a 'C' registration for June 1965 and as the car was registered in Newport, Monmouthshire the registration number would consist of AX or WO.
Recently Michael Vaughan sent me a not very good photograph of the Olympic from 1966 and I can make out 746C of the registration number.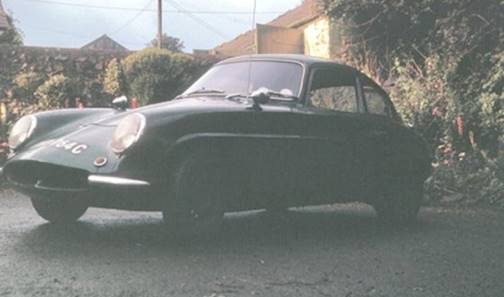 FWO 764C in 1966
I then found the following advert in MotorSport, which has the phone number for Arthur Penman.
1969 Feb. MotorSport.
(Wanted) ROCHDALE OLYMPIC PHASE II with Ford 1498 cc engine. Tel. Harpenden 5479 (evenings).
FWO 764C - seen by Trevor Pyman the Ginetta Registrar on 23/8/1969 in Hatfield Heath, Essex. Colour green. This Phase 2 passed me in the village travelling towards Chelmsford looked a nice car in good condition.
I then found the following advert in MotorSport, which also has the phone number for Arthur Penman and corresponds with the date of his major accident in the Olympic.
1979 April MotorSport.
WANTED ROCHDALE OLYMPIC Phase 2 Front half to windscreen, bodyshell or whole car. Harpenden 5479 (Herts).
The only surviving part from FWO 764C is the rear hatch, which is with Alan Farrer.
Alan has confirmed that the hatch is painted Purple, but the gelcoat is British Racing Green.
We now have 2 Olympics instead of 1 with 2 registration numbers, which is good for the Olympic Archives. We almost have the complete history of FWO 764C. We just need to know the details of the man from the South East of England who owned the Olympic from 1967 to 1969.
I believe around 1969 Arthur Penman disposed of 589 CCJ and purchased FWO 764C. So what happened to 589 CCJ - is it a lost Olympic? Or did Arthur Penman write off 2 Phase II Olympics?
Can anyone help me with the current contact details for Keith Emery who dismantled FWO 764C and also owned Phase I 333 VLG and Phase II CAN 634C and was last known in Marlow, Buckinghamshire?
Lost Olympic 5348 DK re-discovered.
THE TROUBLESOME OLYMPIC LEFT-HOOKER
by Robin Rackham
In 1963 while finishing university in the United States, I took an interest in a number of kit cars that were appearing on the UK market. I had always been keen on British sportscars having owned a Mkl Sprite and a TR4. I entered into conversation with a number of companies including Gilbern, Elva and Rochdale Motor Panels. I was particularly taken with the Olympic's advanced design and the price of &pound850 seemed to be within my limited financial resources. I would have preferred a Lotus Elite but I recall they were in the region of &pound2000.
In the summer of 1963, my wife and I decided to make the Grand Tour of Europe (in our Olympic) picking the car up in the UK and then taking it over to the continent. As I recall, there were two individuals who were running the firm, Harry Smith, and another chap called Butterworth who seemed to be the Sales Manager. Anyhow, after three months correspondence, I eventually settled on a blue Olympic with the 1500cc Ford Cortina engine with a twin-choke Weber carb. We arrived in London in July 1963 and drove to the Interplas Exhibition at Olympia where the car was being exhibited. When I first set eyes on it, it looked superb, next to an Elva Courier an the next stand. It was the first left-hand-drive Olympic that Rochdales had made and as far as I could gather, was one of the few assembled by the factory.
The following week, we drove to Rochdale and met Harry Smith. The works were down a small cobbled street where they turned out the bodyshells. There was an air of pleasant disorganisation about the place with dusty old shells lying around the factory. Harry and his wife made us very welcome and after staying over night while the car was taxed and finished off, it was registered 5348 DK. We set off for the north of England to visit my grandparents. I was reasonably happy with the car, although the steering was very heavy and the car reeked of a smell of glassfibre. It was, due to its lightweight and l00bhp engine, very quick. In fact, I never dared open it up, although in those days there weren't many roads in Britain that were suitable. However a number of things started to go wrong with it owing to poor assembly. The windscreen wipers would only work when it wasn't raining, and I started to get glassfibre filings in the fuel system. This was to prove a real nuisance and every 100 miles I had to use an air hose to blow them out of the Weber. Also, with a full load, the rear wings would start to rub against the oversized Dunlop SP tyres that had been fitted. That was corrected by sanding down the rear body panels.
We then drove to Southend and flew the car by Bristol Freighter to Rotterdam for our Tour of Europe. Our panned destination was the Costa Brava, in those days a quiet backwater just the other side of the Pyrenees. The trip could be best summed up as a bit of a disaster with numerous breakdowns from such things as broken accelerator cable, bits of trim falling off and the perennial problem with the fuel system. Also, the suspension left much to be desired and could best be compared to a Formula 1 racing car Anyhow, we eventually made it to Spain and I was quite relieved to leave the car in the hotel car park in Tamariu and take a well earned rest. We eventually departed for home three weeks later and after fond farewells with our many new friends, we managed to make it as far as the main road before OUR REAR SUSPENSION COLLAPSED! A local garage managed to weld what looked like a box section and we set off at last for Rotterdam where we planned to ship the car back through the Great Lakes to Chicago. Again the car would continually break down but I somehow always managed to fix it. All I can recall is the hammering we took from Belgium 'pave' roads as we eventually made it to the Dutch border and dumped the car on the shipping company.
Two months later the Olympic eventually arrived in Chicago and in fact my wife went down to the docks to pick it up. Apart from a layer of dust, it was in perfect condition. With a friend who had garage workshops, we set about sorting out the faults. I had the remaining rear suspension suspension box reinforced and filters put in the fuel lines. I kept it for a year and once the problems were sorted out, I really did enjoy the car. I still think the styling was well ahead of its time and very pleasing to the eye. But it was just a kit car and I suppose I should not have expected the standard of a modern production car. With a family on the way, I decided to sell it with an advert in Road & Track in the late summer of 1964. I only got one response from a young chap who lived in Kansas. I remember he turned up with a dollar draft for $2000 and disappeared into the sunset. I hope he made it to Kansas. by Robin Rackham.
This Olympic had been lost for 51years till Ron Scarfe sent me an e-mail he had been sent from Peter Adam Krell in Dallas, Texas, America.
Subject: rochdale olympic
Hi, i just purchased a rochdale olympic from a friend of mine in St. Louis, Missouri , i could not find the chassis number or any numbers on the car. can you tell me where they are. thanks, peter.
I then e-mailed Peter back asking for more details and photographs of the Olympic, this Peter did by return. By using the photographs and searching his name on the internet I discovered Peter was a Classic Car Dealer in Dallas. If you use this link http://www.petesclassiccars.com/ you can see 30 photographs of the Olympic.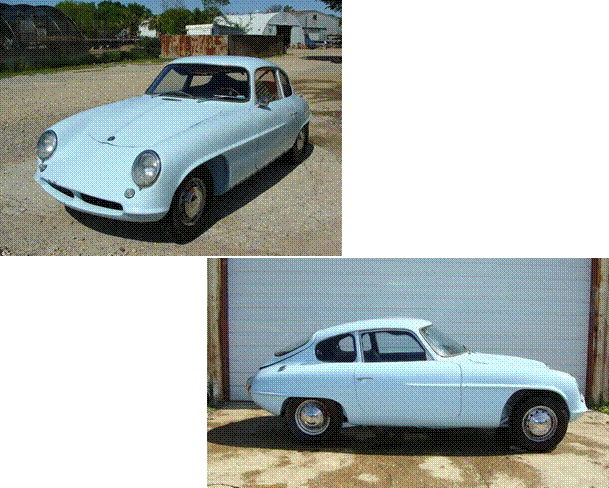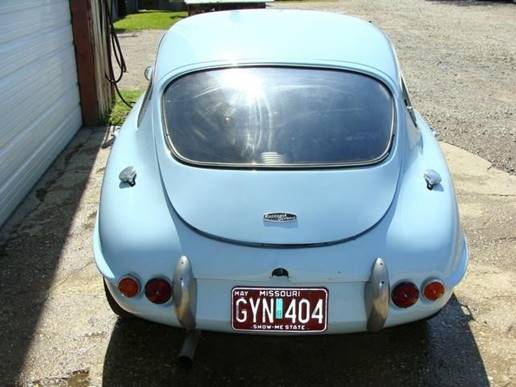 From the photographs Derek and I have identified the car as 5348 DK. In a photograph of parts with the car is a rear license plate issued in 1965 in Kansas by Joe Egle Motor Imports, Kansas and on the rear of the car is a license plate issued in May 1988 in Missouri. The Olympic does not seem to have done many miles in 52 years and looks in good condition. The main problem appears to be, from the photographs Derek and I can see the front wheels were set forward in the front arches with tubes at the back behind the front wheels and a square section tube welded to a plate bolted under the floor. We think this is a one off steel chassis/subframe bolted and bonded to the body to carry a different front suspension arrangement? It is not easy to see if this is a repair for accident damage or front subframe failure?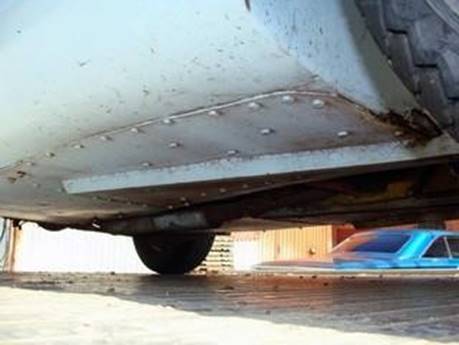 Reinforcement under front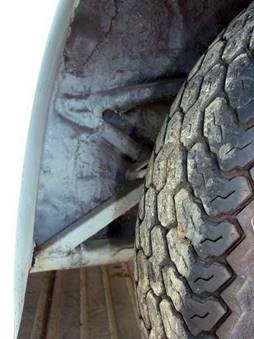 Unusual front suspension support
I will try and keep track of this Olympic now, so we do not lose it again.
New Olympic for the History Archive.
In July, whilst at a local show to me, a man with the words 'I use to own one of these' approached 'Duffy' and myself. Words I love to hear even though it does not happen very often. The man's name was Jim Swansborough and in 1969/70 he owned a 1963, Dark Blue, Olympic Phase 1, reg no 812 GUL and at this time Jim lived in Stanwell, Staines, Middlesex.
Below is a copy of the advert Jim bought the Olympic from.
1969 May 29th. Exchange & Mart.
1963 Olympic, Riley 1.5 unit, MOT 1970. &pound145. 255, Laleham Road, Shepperton, Middlesex.
And sold the Olympic from.1970 Jan 15th. Exchange & Mart.
Olympic, 1963, Riley 1.5 mechanics, Pirelli Cinturatos, radio, taxed. &pound230. Ashford, Middlesex. 5168.
After the Olympic Jim had a Turner and before the Olympic a Rochdale GT (reg no unknown) and before the GT a very rare now Ginetta G2. Whilst talking to Trevor Pyman the Ginetta Registrar about the G2 (Trevor has a restored G2) Trevor looked up his list of old registration numbers and found he had seen Jims Olympic.
812 GUL - seen 12/8/1968 at Eastbourne in Sussex. We had been on holiday for a few days to the south coast and were leaving to go back to Essex in the early evening. Queuing in traffic to the north of the town in two lanes side by side, the Rochdale was alongside us in the queue, moving forward and back as the respective lines moved a bit. It looked nice, a phase 2 I think but not sure as no note made.
This was 9 months before Jim bought the car.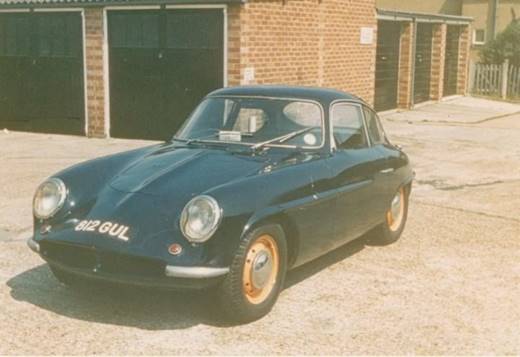 Phase I Olympic 812 GUL
Please contact me (as below) if you have any information on the above cars
Contact details for any member who wishes to send me details on the history of their Olympic. Tony Stanton. - rochdale-olympic@talktalk.net or 01527-402367.
And a note to end on.
The trouble with quotes on the internet is that it's difficult to discern whether or not they are genuine.
― Abraham Lincoln
To continue with the quotations theme, I found the following in the latest FBHVC Newsletter, which came from club members magazines Ed:
Inside every old person is a young person wondering what happened. (Sir Terry Pratchett).
Everyone wants to live forever, but nobody wants to be an old man.
Just so.
Bristol Show
It is nice that this show is now in the summer it used to be in February! which means no more frozen feet in the unheated halls. It also means there is a fine display of cars outside too in the reserved parking area, which is well worth a visit. Our display cars this year were John Plants GT bodyshell and my Phase 1 Olympic. I had hoped that Ben Bettells Phase 1 Olympic would be ready in time, but no luck, so Kermit stood in. The GT attracted a lot of attention. I find this happens a lot when unusual exhibits are shown, presumably because they stand out from the rows of gleaming bodies. For example there was one stand with an 'as found' Standard Companion, complete with straw, rust and holes.
For a while I wondered whether our stand would be unoccupied, as both Derek and I contracted colds in the week before, but luckily they did not progress to the unsociable stage. We had gone separately to the Bromley Pageant on the previous Sunday, which was a lovely day, and then both started our colds on the Tuesday a strange coincidence. I blame it on the ice creams we had. Is it possible to get a cold from an ice cream?
It was good to meet up with some of our members who live in the south and west: Roger Drinkwater, Guy Stallard and Paul Hutchings. Also Richard Hancock, who hails from West Sussex, but always attends this show, and special thanks to Tony Stanton for manning the stand and of course to John for supplying an exhibit too.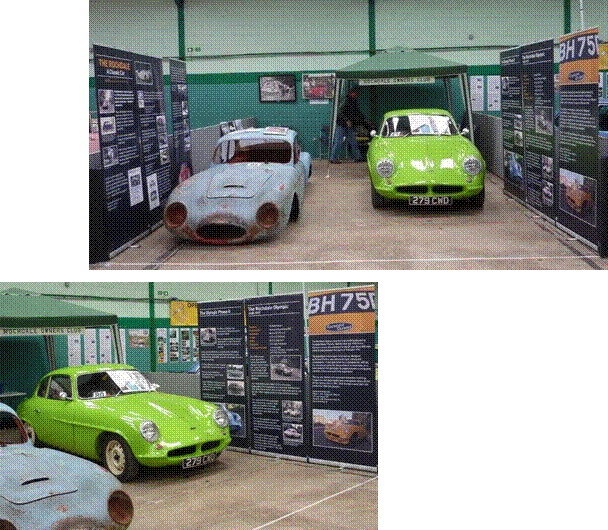 Alan Farrer
FBHVC NEWS
Consequences of Discontinuance of the Tax Disc
The issues around the tax disc rumble on, not the fact of its removal, but some of the consequences.
As some of you will have seen, some unexpected consequences have reached the national media, not least a claimed increase in clamping. We are watching that to see if it has any specific relevance to historic vehicles.
But there is one point of clarification of which we think we ought to remind members. It is clear in the explanation of the actual legislative basis we provided in the last Newsletter, but its practical effect might not be obvious.
DVLA, accurately in the vast majority of cases, has been referring to the tax ending on 'sale'. But actually the tax ends on change of keeper. Not all changes of keeper are the result of a sale.
To take one instance, if you pass on your treasured historic vehicle to your son or daughter you probably will not think of that as a sale. You will more likely think of it as a gift. But to make it work you will have to complete the relevant parts of the V5C to provide notification of change of keeper to DVLA. When you do that, the tax ceases. It is automatic so there are no exceptions. So don't be caught out. Simply, whenever you change the keeper you need to renew the tax.
* * * * * * * * * * * * * * * * * * *
The following is a full extract from the latest FBHVC News on the recent goings-on with respect to the DVLA and historic vehicles. It is somewhat longer than usual, but is significant, so worth reading Ed.
UK LEGISLATION - DVLA Correcting Registrations

Bob Owen
The Newsletter is a little late this time, because we have delayed it so we can report properly on the issues arising from the letter, which many of you will already have seen and which is reproduced below (not available Ed).
I am afraid I am going to go on at some length but I feel in view of all that has happened it is essential that you all understand where we are and how we have got to this position.
We have to start from some principles. I have had to read up on some archived papers fully to understand the whole situation, and here is what I have found.
The record shows that the Federation first agreed to become involved in what became the V765 Scheme in 1990. We did so because the setting up of a formal scheme to enable vehicles to be reunited with their previous registrations was very much in the interest of our members, not only of prestige vehicles, but of all the rest as well.
As the scheme developed it was expanded to permit vehicles which could not, for a variety of reasons, obtain a previously held registration, but were clearly historic, to be allocated a registration which generally reflected its antiquity.
Authenticity was very important from the outset. It has always been clear that the Federation does not and will not support the representation of modern replicas, however well produced or true to the originals, as being actual historic vehicles. They are not.
I think I should quote verbatim from the last paragraph of an internal Federation note dated 30 April 1990 defining the basis of our involvement, because it is very relevant: the above [Federation involvement in the scheme] is necessary because problems could arise if registration numbers are issued in any way that is not absolutely above board and able to withstand any investigative scrutiny...
I wish to make it clear to all members that the Federations actions in the recent past have been totally in accord with our obligation to support this position, which we clearly undertook in 1990 on behalf of all, not just a section, of our members.
Two circumstances would appear to have come together to create the position the Federation now finds itself in.
Firstly, the DVLA decided to close its Local Offices in the cause of efficient government and centralised its records, including records of V765 and age related registration applications. As a consequence it was able to work to ensure consistency in its approach to the subject of the allocation of historic registrations.
Secondly, a specific example came to the attention of DVLA which suggested that, in at least one case, a registration had been issued based upon information which was not totally correct. They examined their records and were of the view that there might possibly be a pattern concerning a single marque of vehicles. They were also of the view that the problem they thought they had identified was unlikely to be limited to a single marque. They thus involved the Federation through their usual channels.
The Federation at the direct request of DVLA took two actions. Firstly it recommended an FIA qualified scrutineer who examined one vehicle in the presence of a representative of the club concerned with the marque.
Secondly, we advised DVLA that, from a publicly available source, a number of examples appeared on the face of it to be worthy of examination.
The outcome of the inspection does not concern us here, nor did the Federation get involved further in any detail of any of these examples.
The Federation takes the view that both of these actions were required of us in pursuance of the position of a 'guarantor', on behalf of the historic vehicle movement, of the V765 and related schemes. We are aware that there are those who disagree but our conscience on the matter is clear.
We were briefed by DVLA that they had taken account of the examples which we had noted, and found a significant number more on their own account, and would be contacting the keepers of these vehicles. We don't know who these individuals are.
We are bound to note that, rather than work with us, the marque club has taken steps to limit our involvement in the general question. In view of the certainty that the DVLA investigation will expand to other marques this might be thought questionable from those who clearly have a sectional interest.
DVLA has kept the Federation aware of the generality of its investigations and the course of action it was proposing to take, which, it will be recalled, was expected to affect owners of other marques and was therefore the proper business of the Federation.
We have, perhaps unfortunately in the light of events, not kept our members as fully aware of our discussions with DVLA on this matter as we might have, in an attempt not to embarrass clubs which might be directly involved.
At the end of June a briefing note was widely circulated by the marque club warning of the DVLA letter, which no one other than DVLA and the club had apparently at that time seen. The note summarised fairly accurately what we understand to be the policy approach of the DVLA. It also stated that DVLA would write to the keepers of all their vehicles. It did not include any detail of the letter.
The note was addressed to Owners of and Historic Vehicles which strongly suggests that the club had taken it upon itself to become the negotiator with DVLA on behalf of the entire historic movement. This possibility had most certainly not been discussed with the Federation despite the Federations obvious involvement through its formal position in the schemes.
Addressees were invited to seek confidential briefing from the club. According to at least one forum reporting on a briefing, it was suggested that DVLA were planning to send the letter to the keepers of all historic vehicles as a method of creating a definition of historic vehicles for the purposes of the EU Roadworthiness Testing Directive. We must assume that the person briefing was reflecting a view expressed from within DVLA or DfT, but it most certainly did not represent any policy promulgated by either of them in any official way. This suggestion, from wherever it emanated, has received very wide circulation and has caused a high level of concern among our members.
On 3 July we finally received the text of the letter from DVLA. This was the same day as it was sent to the keepers of first marque investigated.
The text is clearly designed to be capable of being sent to other marques. We will not speculate why, but we need to make absolutely clear that the Federation had no prior knowledge of the either the general approach or the precise terms of the letter. We think this very unfortunate and will continue to try to establish how it came about.
On 9 July we had a planned meeting with DVLA.
Obviously the first item on the agenda was this letter. We made clear we were commenting having had no prior knowledge of, nor input into, its terms. We asked directly if there was any intent to send a letter in these terms to all keepers of historic vehicles.
They assured us that there is no current intention in DVLA to send this letter to all keepers of historic vehicles. In DVLA Policy's view the letter was entirely focused on the sorting out of 'incorrect' registrations. They did not identify any connection between this letter and the EU Roadworthiness Testing Directive.
As you will know, one of the ways the Federation looks after the interests of its members is that we are the body invited to have regular meetings to brief them on the development and applications of laws and relations with the All Party Parliamentary Historic Vehicles Group. We have just had our first meeting with APPHVG since the General Election.
We discussed our concerns fully with the Group. We can assure our members that the Group were clear that sending a letter in these terms to anyone except the keepers of vehicles which might have been incorrectly registered would be to open up a great number of questions about the propriety the questions it implies and to create an immense problem in DVLA as to how it would deal with the many and varied responses which would be received. We know they will be taking the matter further on our behalf within Government.
Any attempt to create a new definition of vehicles of historic interest in the UK would clearly be a major issue on any such consultation and the Federation would expect to be fully involved in the planning of any exercise to do that. To date it has not been suggested to us.
Just to be very clear, the Federation is fundamentally opposed to the issue of such a letter to all keepers of historic vehicles, especially if it were to go to the keepers of vehicles which have always had their registration and have thus, right up to today, been subject simply to the usual obligations of roadworthiness and to keep DVLA advised of any changes which are needed to keep the V5C Registration Certificate correct.
We know that the concern of members about this alarm was that if the letter were to have been sent, it could have resulted in many cherished vehicles, which had over the years been perfectly legally reconstructed, restored, reconstructed and improved suddenly being retrospectively deemed unworthy or at worst illegal and banned from the roads. And this might have happened on grounds established by DVLA of which no one has any knowledge.
Be assured the Federation would be out there leading the fight against any such proposal.
As we mentioned, one of the suggestions was that this was connected with the EU Roadworthiness Testing Directive. For this to be the case, it would have to be included within the overall work on Roadworthiness Testing, which we know is being progressed in the Department for Transport.
The entire proposals on the application of a changed Roadworthiness Testing regime to apply the Directive will have to be the subject of a full formal consultation, in which the Federation, and indeed any other interested body, will be fully entitled to participate.
So any implication there may have been, or that members may have formed, that the Federation is not involved in the overall question of 'incorrect' registrations, or that it has not been doing all in its power to protect the rights of all of its members, is simply incorrect.
A DVLA Problem
Bob Owen
Ian writes at length in his pages on the detailed aspects of evidence for V765 and age related registrations and its interpretation in DVLA. But I wish to say something more general.
Sometimes it is only after a little while that one realises there might be a problem. And I think that time has come.
The Federation absolutely understands why DVLA have felt a need to tighten up their procedures and ensure consistent approaches following the shutting of the Local Offices and the other much publicised problems I have referred to above.
But I know several members, especially those used to approaching DVLA to obtain registrations for their members vehicles in a completely honest and open manner, are becoming distressed at not being quite clear what they are supposed to do, whether what they have always done will still be acceptable and, worse, whether DVLA trusts them anymore. And we have not always been able to advise them as clearly as we would like.
This has most certainly arisen from changes being produced in a piecemeal manner and not always promulgated in DVLA paperwork in as clear a manner as members of the public dealing with Government have the right to expect. We have taken this up with the All Party Parliamentary Historic Vehicles Group and we will shortly be approaching the people we deal with in DVLA to ask that we work together to get everything put onto a clear and unambiguous basis. The Federation really wants to work with DVLA to get the best and fairest possible responses for our members and we feel this will be the way to do so.
Report From the Regular Meeting Between DVLA and FBHVC Ian Edmunds
According to some surveys Swansea is the wettest city in the UK but nevertheless it was a beautiful warm and sunny July day when your Legislation Director, Secretary and DVLA Liaison person converged there for our regular meeting with DVLA. You will recall that this meeting had to be postponed due to the constraints placed upon Civil Servants in the run up to a General Election. We received the usual warm welcome from our contacts there and a very useful meeting ensued. We have attempted to summarise this for you in these pages.
Show and Share
We were mystified by this item on the agenda, distributed before our regular meeting, but delighted to discover what it was all about.
On Wednesday 23 September the Driver and Vehicle Licensing Agency will be holding a Historic Vehicle Event at Swansea. The three hour event aims to provide guidance on various matters relating to the registration of historic vehicles including the V765 scheme, reconstructed classics and age related registrations. There are limited places available and invitations to FBHVC members and V765 representatives will be sent out by the Agency soon. Places will be restricted to one representative per club.
Many of you will recall the club meeting held at the then Local Office of the DVLA at Theale, Berkshire in 2011. This too was a mid-week event and just over 20 clubs were represented as well as a few of the classic car press. At the last meeting questions had to be submitted in advance and these ranged from transferability of registration numbers, queries on engine numbers and the allocation of correct age-related numbers, consistency of Local Office decisions, VIN numbers, driving licences, vehicle inspections plus many other related topics.
For this Show and Share meeting we understand that DVLA personnel will be giving presentations and these can be followed by question and answer sessions. Questions to DVLA will not have to be submitted in advance this time. Members of the FBHVC team will also be in attendance.
We were very pleased with this development as we felt, along with those clubs that attended the Theale meeting that it was, and this 2015 meeting will also be, a very valuable exercise and an opportunity to put a friendly face to an otherwise faceless government agency. Please do not apply to FBHVC for a place at the meeting it is DVLA who are solely responsible for the organisation in Swansea.
V765, Evidence for Applications
Many of you have contacted the Federation in the last few weeks with various comments and questions relating to changes in DVLA policy with regard to the evidence required to support V765 applications for the reallocation of original registration numbers. We were able to discuss this with the relevant staff and to understand the situation. It was stressed that the basic requirement is, and always has been, to demonstrate a clear link between the chassis/frame number (i.e. the identity of the individual vehicle) and the registration mark being claimed.
The preferred documents to demonstrate this link are either the original RF60 brown or green log book, or an authenticated copy, or extract from the old county registration records. This latter is only valid where those records show the chassis or frame number and unfortunately not all of them do. However DVLA do recognise that there will be cases where neither of these is available and are prepared to consider other valid documents which provided the necessary link, these can include Bills of Sale, factory records or similar. Where appropriate heritage certificates issued by manufacturers or organisations with a clear connection to the manufacturer will also be considered.
However items like old tax discs, whilst they may be useful corroborative evidence, are not acceptable evidence on their own as, apart from the registration number the information is generic rather than specific.
The DVLA position, which we do not entirely accept, is that this is not a change in policy but rather the correct rules being more consistently applied now that services are centralised. They do acknowledge that certain of their guidance is now potentially misleading, for instance V765/3 with regard to tax discs, and they promised to get it changed.
On the subject of old style log books we were informed that DVLA are now seeing a number of forged books, so club officials are asked to be particularly vigilant in this area and to be understanding of requests for original documents etc.
We also discussed the V765/3 Guidance Notes document. You may remember a few months ago I enquired if anyone had been aware of the September 2014 revision to this. The replies were all in the negative which I can now explain. This document is only sent to the nominated V765 club signatories and the original procedure was to send the latest version of the Guidance Notes to the clubs together with the annual V765/1 return used to maintain the list. DVLA admit this procedure has lapsed but it will be reinstated in the near future. I am told there may be some revisions to the Guidance Notes to make the evidence requirements explained above a little clearer and that there may be a request for additional information on the V765/1 return which will in turn lead to some enhancements to the list itself.
DVLA now have a dedicated email address for all queries relating to the authorised V765 clubs and the V765/1 list. This is V765clubs@dvla.gsi.gov.uk
Replacement Bodies and Other Matters
It became apparent from our conversation that some of the terminology that we have all been using, e.g. rebuilt, restored etc. can lead to misunderstandings of what has actually been done to the vehicle. For example a motorcycle purchased dismantled in boxes and reassembled may be described by the owner as 'rebuilt' but to DVLA a rebuild can imply something more fundamental to which different rules have to apply. It may be beneficial to provide a short description of the work done, such as reassembled from previously dismantled original parts.
On the thorny subject of replacement bodies DVLA explained that, although they fully understand that the traditional coach built wooden framed body has a finite life which is undoubtedly shorter than that of the metal components of the chassis etc and that as such replacement bodies are unavoidable, within the rules to which they have to work a major change of body style is not acceptable. A newly built body true to the original should not be a problem. We enquired about cases where nothing remains of the original body, or where there were many options available when new or if a vehicle is rebuilt to represent a particular, possibly well-known, example of the marque. The DVLA response is that they will consider all such cases individually and do their best to assist but that certain rules still had to apply. I believe more discussion is needed on this topic and the opportunity for this will present itself see 'Show and Share' elsewhere.
Vehicle Inspections
It has always been the case that in some circumstances DVLA have required a particular vehicle to be inspected and since the closure of the Local Offices this has been delegated to DVSA (was VOSA). From the 27 April this year this DVLA examination process for GB vehicles changed to a new service provider, SGS UK. For Northern Ireland the service will continue to be provided by DVA.
SGS are a Swiss based company operating all over the world providing inspection services. For the DVLA service they will come to the address where the vehicle is stored and there is no charge to the keeper.
Non-Reflective Number Plates
At every meeting with DVLA we learn something completely new! In this case it is that the end date for black and white (or silver and white) number plates is linked to the historic tax class date. So we were told that non-reflective plates are now permitted on vehicles built before 1 January 1975.
Age-Related Registrations
We were informed that DVLA intend to align the standard of proof required of date of manufacture for all forms of 'first registration'. In this context, and for historic vehicles, 'first registration' means the first entry on to the current DVLA system. Thus it applies to applications for age-related registrations for freshly discovered vehicles where no evidence exists to permit the reclamation of a previous registration or for imports never previously registered in the UK. It also applies where the date of first registration shown on the V5C needs to be corrected to permit first registration in the historic tax class. A similar level of evidence is required for exemption from the MoT.
The practical effect of this is that for all applications for age-related registrations and for all applications to amend the date of first registration the basic requirements are either foreign registration documents (for imports) or authenticated data from manufacturers records or data from the appropriate Glasses Check Book. This means that unsupported club dating certificates are no longer acceptable for any category.
However DVLA are fully aware that there are circumstances where none of these sources are available, and that some types of vehicles (e.g. ex-military) pose particular problems. In these circumstances they will continue to assess each application individually on a case-by-case basis. Contrary to the impression that some of their recent correspondence may have given, DVLA are not inherently opposed to dating information obtained from the internet.
However they, like most of us, are fully aware that not everything that can be found on the internet is necessarily reliable and it is necessary for the applicant and/or the supporting club to provide enough supporting information and evidence to give confidence in the internet data. Information gleaned from Wikipedia alone is not acceptable.
We were also reminded that all first registration applications, including new vehicles, are dealt with by the same department and that as a result the personnel do not have the same level of historic vehicle understanding as their colleagues in a different location who deal with the V765 applications. The details of any first registration application that is rejected are entered on to a data base to which the Customer Service Team in the Contact Centre has access. Thus any queries should be directed to the Contact Centre on 0300 790 6802 or at Vehicle Customer Services, DVLA, Swansea, SA99 1AR.
Incorrect Make and Model on V5Cs
We have initiated discussions with DVLA about a mutually acceptable procedure to enable owners to have the V5C amended, and in consequence the DVLA record, for vehicles where the 'Make' and 'Model' entries are incorrect, for example where the 'Model' has become included in the 'Make' line. I know that, especially since the Vehicle Enquiry Service has become the first way of checking whether a vehicle is properly registered, this is a topic of great interest to a number of people and we will of course keep you informed as this develops.
DVLA Vehicle Identification Numbers
Judging from my correspondence many of you have been somewhat puzzled, as have we, by the apparently arbitrary allocation of DVLA issued VIN to rebuilt vehicles even where an original manufacturer applied frame or chassis number was present. The explanation comes in two parts, firstly where there is any doubt about the identity of the vehicle a new VIN will be issued and secondly the same applies if the vehicle is considered to be a rebuilt vehicle (see comments about terminology under 'V765' elsewhere). In these days of a single centralised and computerised record it has become apparent that the old numbering systems are such that the same number will reappear on several vehicles made by different manufacturers. Thus to avoid any risk of subsequent confusion DVLA issue a unique 17 character VIN.
Incidentally, the term VIN (Vehicle Identification Number) should only be applied to the specified format 17 character identification which started to appear in the 1970s and for the UK and Europe became one of the Type Approval requirements later. Other forms of chassis or frame number are not, strictly speaking, VIN.
UK LEGISLATION
Bob Owen

Roadworthiness Testing

We have encouraged the All Party Parliamentary Historic Vehicles Group to continue its support for the Joint Paper on the implementation of the EU Roadworthiness Testing Directive, which was presented to the Minister, Claire Perry, on 3 March. They will draw the attention of Andrew Jones MP, who is now the relevant minister within DfT, to the paper and encourage his support.

Following the Election, we have started to try to get briefing discussions with DfT reopened. This is important to ensure that all of our concerns are properly aired and understood at the working level before initial decisions are made and put out to formal consultation.

We have had no formal response from the Department for Transport to our approach on their progress on the implementation of the but they have assured us the work is going on and promised us a progress report in the near future.
Festival Historique, Laon 2015
Derek Argyle
This year being my sixteenth visit I made sure that I stowed the passport and money-bag into the car, something I failed to do last year necessitating a return home from the ferry port.
Chris, my nephew, was again driving me in the E Special (Rover V8 engine - Ed) and all I did to prepare the car for the trip was wash it and apply Carnauba wax for a really good shine. There was one other thing. The tick-over could be improved I believed and so with a warmed-up engine, I played with the adjustments on the SU carburettors. All seemed well after the tweaking. I suppose we first noticed that there was a flat spot as we arrived and drove slowly through Dover. At any revs below precisely 2000, the car didn't fire on all cylinders. This was most noticeable as one let the clutch out and pulled away. As we drove slowly through villages in France I racked my brain as to what was causing the problem, was it plugs, the electronic ignition, a lack of oil in the dash-pots ? (I'd check this when we next stopped). In fact this annoying misfire continued for the whole 700 odd miles we covered over the weekend, but whenever the revs were above 2000 the engine ran perfectly smoothly.
We took the usual route down to Arras which is half-way to Laon but then cut east. In keeping to the tradition of visiting battlefields, German V1 sites, bunkers , and museums covering WW1 and WW2, this year we arrived at the village of Flesqui'res which is west of Cambrai, we had an appointment to keep.
This visit was, to me, the highlight of the weekend and is the site of a WW1 British tank that lay buried for 81 years before being excavated in 1989. The Mk4 tank was known as Deborah, D51. All British tanks at that time had a name and a number and D51 had taken part in the Battle of Cambrai.
I first heard about this discovery in a newspaper article and became fascinated. My computer gave me details of the man in charge and I sent an e-mail to Monsieur Philippe Gorczuynski in my best School Certificate French. I received a reply by return in Philippes best English inviting me to see the tank on my way down to Laon. Quite an entente cordial don't you think? Three days before we were due to set off I received another e-mail to say that he, Philippe, had to go to Paris for a conference at the last minute, but I need not worry, his good friend would meet us at 2.00 pm on the Friday.
Bernard, a resident of Flesqui'res arrived at 2 minutes past 2.00 pm in his little Citroen van and after introductions he opened the boarded-up iron gates with a big key.
We walked into a very large barn and the moment I saw the tank I was dumbstruck. Here in front of us was a piece of living history, a WW1 British tank that had been dug up after being buried for 81 years. Larger than expected, the tank had been severely damaged in the conflict. Most of the offside front corner was non-existent and what was there or thereabouts was totally mangled. It was clear that D51 had been struck many times by German gunfire in the Cambrai battle. With an all up weight of over 25 tons these tanks only had a top speed on hard ground of 4 mph and consequently were sitting ducks for German gunners. I had enquired about permission to enter the tank but this was not allowed. However because of the damage to the tank most of the interior was visible. Of particular interest was the large Daimler engine more or less set amidships. Even allowing for the size of the tank it would have been a tight squeeze for the 8 soldiers manning it and I read that conditions inside the tank were highly uncomfortable with the noise, fumes from the engine and the rough ground causing the occupants to be thrown around. It is a sad fact that of the 8 crew of D51 Deborah, 5 died in the action.
From Bernard, who spoke no English, we learned that the British Tank Regiment had been contacted soon after the tank had been exposed. With lifting gear, and low loader, the tank men assisted in moving the tank from its 'grave' to the current site in Flesqui'res village. D51 now sits on a raised piece of ground in the barn with appropriate poppy wreaths surrounding it. We were also able to see two original American lorries nearby before we spent some time in a small but very interesting Museum that was filled with the debris of war collected from the area. There is no fee to visit the tank that we knew of and so we were only too pleased to tip Bernard for his time and information he gave us on the tank and the battle. We ended the visit by a short drive with Bernard to a high piece of ground surrounded by national flags that gave a panoramic view of the rolling ground that had been the battleground.
It seems that Philippe Gorczuynski, a local hotel owner became interested in wartime artefacts as a lad growing up in the area of the tank battle. From rumours, if a buried tank did exist he was going to find it. Over some six years, evidence of the siting of tanks in the battle led Philippe & friends to search using standard metal detectors. Getting nowhere he kept coming back to the details that an elderly woman gave him (she would have been a child during the war). This lady said that she knew that Russian prisoners had helped to push the tank into a big hole before it was buried and this site was close to where her parents had owned a cafe. With professional equipment, Philippe searched the area and eventually got a signal that a large lump of metal was 2 metres below him. By digging he had found the canopy of the tank and entered it. This led to the tank finally being exposed to daylight covered in mud. Reports have said that the tank was used by both German and British troops as a bunker, a safe retreat , but the intriguing question of why the tank was buried in the first place does not seem to have been answered satisfactorily.
For those who would like to visit the tank it is necessary to first contact Mr Philippe Gorczuynski.
His e-mail address is visite.org@tank-cambrai.com
.
His hotel is the B'atus, tel:0033 (03)27 81 45 70.
He does speak English.
The locked barn in which the tank is situated is at:-
13 bis* Rue du Moulin,
59267 Flesqui'res,
Nord,
FRANCE
(13 bis* is the equivalent of 13a)
We now made our way directly to the hotel in Chamouille, a hamlet 6 miles south of Laon. The Hotel du Golf de l'Ailette is beautifully situated adjoining a lake. We first tried this hotel last year and believed it well worth the extra cost having, in our case, a bedroom whose French window led directly to lawn that ran down to the edge of the lake. A mere 30 metres to our left was a well -tended swimming pool and drinks cabin set on stilts out a little way into the lake. A terrace with umbrellas over tables lay on the other side of the pool. The large man-made lake is a source of water sports, nothing noisy, just rowing, and races for sailing craft, not to mention the presence of ducks and swans and occasionally, the sight of beavers in the water and on the grass, all very peaceful. Bicycles are free to borrow for a ride around the lake and there is ample car parking.
Dinner in the hotel that evening went down well after the drive. The following morning the procedure is to drive to the Promenade de Couloire via the Rampe du d'Ardon and join the queue to check in, receive our rally plate and bag of goodies. Parked up along the outside of the town's walls we spend time awaiting 10.00 am for the assembled drivers to start their Regional Tour taken via Route A or B due to the large number of entrants. It was good to meet so many friends again that we have come to know over the years. We were lucky with the weather though a slight chilly breeze took the shine off the otherwise sunny day. Our route took us south to the famous Chemin des Dames ridge road that saw so much fighting in both world wars. We continued going west and veering more to the north eventually reaching the Domaine d'Orgival, a large spotless farm that was built several hundred years ago by the Lemoine family using stone from a nearby quarry. Sad to say the farm was destroyed on the very last day of WW1. Presumably part of the scorched earth policy by the Germans. For the past 23 years the Lemoine family has offered the house for weddings, receptions, exhibitions and as a rally venue.
We parked our fleet of 350 classic vehicles on the field adjoining the farm buildings and noted that Scenic Car Tours had set up a gazebo in which staff were present to assist with anybody's problems and take further bookings since the Festival is all but booked up for 2016's big 25th Anniversary. The drink and welcome ham sandwiches were handed out and we had a chance to look at the very varied selection of cars. That evening we linked up with Ian & Mary who had come in their MGF this year and we all returned to Le Retro restaurant. In Laon. We had the usual big hugging welcome from proprietor Marie-Therese and the drive back to the hotel later showed no sign of Police who last year were waiting part-hidden along the roadside for us with their breath-test gear.
We always enjoy Sunday morning first thing in the Town Hall square where the illegal parkers have their cars towed away to make room for every square centimetre of space that is used for the Festival entrants. By 11.00 am we troop into the Town Hall to listen to the speeches by the organisers and dignitaries before scoffing nibbles and drinking the free champagne. We went into a restaurant in the square for lunch and waited till 2.00 pm, when all entrants start lapping the circuit; motor-bikes, military vehicles, a few modern cars and all the classics. Because we have circulated the 10 kilometre circuit so often in previous years we decided to leave the circuit to do our own thing. This is not as easy as one would expect because of all the barriers and closed roads. However, as last year, we told a marshall that I had mal de l'estomac and must go back to our hotel to lie down. At the expense of having an ambulance take me to l'h'pital, I insisted that all I needed was to lie down.
The barrier was opened and after a short drive we decided to go back to the hotel to feed the ducks.
It's always sad to leave Laon, by now it feels like a second home but we had an earlier ferry to catch so pushed on. I suppose the lunch had taken a little longer than expected but we missed our boat by minutes and waited for the next, chatting to a chap who had been at the Festival and had an enormous Pontiac Parisienne.
I had enjoyed this years Festival, especially in view of personal difficulties but I still was desperate to know why the car misfired at low revs. Soon after I was back home I rang the Oracle. If you want assistance with a cars problem you phone Alan Farrer, a real genius and Editor of the 'Rochdale O.C.' I told him the symptoms and his almost immediate answer was that one of my carbs was running weak. It could have been so many other things. As I richened the first carb there was no effect but with just a quarter of a turn on the second, the engine ran beautifully on all 8 cylinders. Thanks Alan very much, oh and again, you were right about the reason I couldn't start the tight new Mini engine, the battery was not fully charged.
2016? LAON HERE WE COME.
Derek Argyle
THERMOSTATIC CONTROL FOR YOUR HEATER
It is very difficult to get a medium heat output from the water valve type of heater usually used in our cars; either it's too hot or too cold. Converting the heater box to an air-blending type, as used on most cars today, just isn't possible, so what to do? I once had a Mk4 Fiesta whose heater temperature was controlled by an electrically controlled water valve, so this gave me an idea.
The air temperature exiting a heater is mostly controlled by the average water temperature in the matrix. However, the water temperature entering the matrix is always at engine temperature ie approx 100C, so the flow needs to be restricted so that it is cooled by the air flow by the time it exits. In the old water valve type this is supposed to be achieved by opening the valve just a little, but the design makes this virtually impossible, and even then a change in the air flow changes the temperature.
Fortunately there is a simple solution. It is an automated version of what happens when we adjust the temperature ourselves: if the temperature is too high we close the valve and if too cold we open it. If this is done sufficiently quickly, we will keep the variation in temperature small. So, by placing the sensor of an adjustable thermostat near the middle of the heater matrix, and using this to switch the water on or off we can do what is needed.
The heater in my Phase 1 Olympic came from a Triumph Spitfire, so has two matrices in the heater, one serving the left side and one the right. A characteristic of this type of heater is that it is not possible to achieve equality between the two sides when the water flow is restricted, as the water inlet side (on the left in my case) will always be hotter than the outlet side. However, this is a lot better than no control at all (especially for the driver!).
I bought a 12 VDC controlled water valve with BSP ends, (plus fittings to convert to the bore of my heater tubing) which I inserted into the return path of the heater (this reduces the average temperature of the water in the valve). Then I found a suitable adjustable thermostat designed for radiator control, which has a dial calibrated from 0 - 120C. This has a very fine capillary tube connecting the control unit to the pencil-like sensor. The switch in the control unit is a single pole two way type.
I managed to insert the sensor into the right side of the heater box close to the matrix (tricky without dismantling the whole unit) and fitted the control unit to a bracket on the side of the heater box. The wiring was very simple: a wire from the live side of the ignition coil supplied 12V to one terminal of the water valve and a wire from the second terminal went to the NO (normally open) terminal on the thermostat switch, whose common terminal went to ground. Just 3 wires! [In my arrangement the water valve is closed when no power is applied and the thermostat switch is open when the dial is set at a low temperature; in this situation the valve is unpowered so the heater is cold].
Does it work? Yes it certainly does, so no more roasted/frozen shins!
Total cost was about &pound40: about &pound20 for the thermostat and &pound10 each for the water valve and the fittings. All the parts came courtesy of eBay. The water valve is a simple plastic affair with a max temperature rating of 100C. It doesn't look particularly robust, but time will tell. The pipe fittings are brass. The thermostat came from AccuSpark and looks well engineered. It has a neatly calibrated dial and has a low hysteresis (ie difference between switching on and off), so ideal for the purpose. A check at room temperature showed it to be within about 2C.
Conclusion: Every Rochdale should have one.
Alan Farrer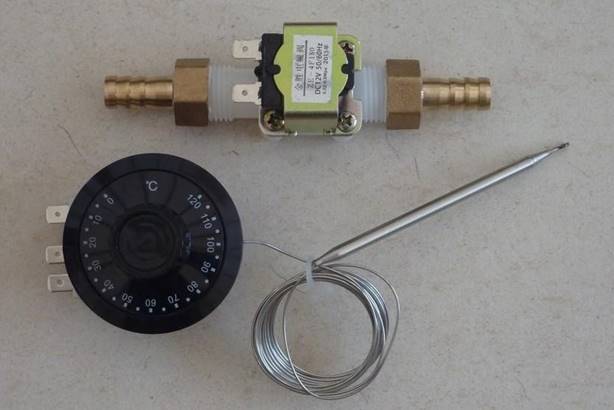 The parts water valve with fittings, thermostat & capillary.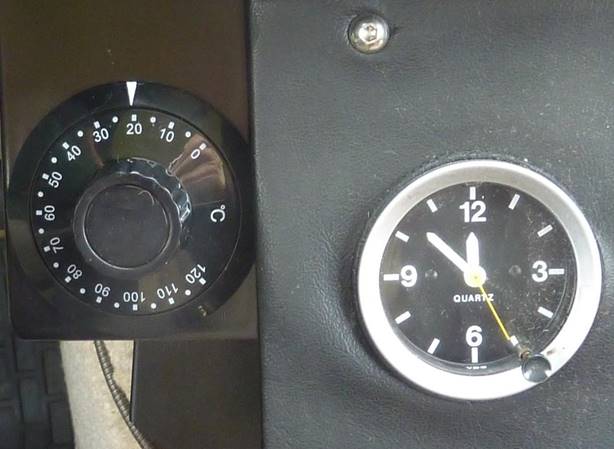 Thermostat dial as fitted
Olympic Registrar
As mentioned in the last Magazine progress on my Olympic has slowed to almost a 'snail's pace'. However, some progress is still being made.
Rebuild of the front suspension and brakes is now complete and the car is back on four wheels. On the brakes I renewed the link pipe between the two cylinders on the offside as although it was already in copper it had obviously been fouling on the lower trunnion and had a small amount of damage. The steel sleeve nuts had also rusted, so this time I am using brass ones.
Refitting the steering rack will be left until the engine has been reinstalled as it gives a little bit of extra space.
The bulkhead and side compartments have now been fitted with the ex Range Rover sound/heat deadening material. As mentioned last issue this comprises 5mm thick foam with a self-adhesive backing and aluminum foil face. Hopefully this will insulate the cockpit from the engine compartment and provide a more comfortable environment for the occupants.
As I am sure I must have mentioned previously the MGB engine is to be fitted with a period HRG cross flow alloy head. This places the carburetors on the drivers side of the engine and necessitated double jointing the steering column.
On problem is that it has a relatively long manifold, inclined at an upwards angle, which means that the dashpot of the rear SU carburetor comes very close to, if not above, the underside of the bonnet. I have now obtained, courtesy of the MG breakers local to the Editor a pair of SU HIF carburetors. Due to the different casting shape the top of the dashpots will protrude above the engine slightly less than the original H4 SUs. This will help with clearance problems, but until the engine is in the car it is difficult to see if this alone will be sufficient. I may still finish up with a small 'blister' on the bonnet to clear the carburetor dashpot(s). Time will tell!
I have also fitted a small oil cooler alongside the radiator. Hopefully this will remove some additional heat as engine cooling is always marginal with the 'B' series engine in a phase 1. In fact comparing the under bonnet of phase 1s fitted with 'A' and 'B' series engines one can see that the latter was always a compromise. Due to the physically larger lump of cast iron that is the 'B' series engine access is much more limited compared to the 'A' series installation. I am sure that if a larger than 948cc 'A' series engine had been available in period that would have been a more popular option than the Riley 1.5.
The Editor is currently rebuilding a Fairthorpe fitted with a 1300cc Triumph engine. This was also later available in 1500cc format. Physically these are a similar size and weight to the 'A' series engines and with the ready availability of overdrive gearboxes it is perhaps surprising that, this has not featured more in Olympics.
Having completed the ground up restoration of his Turner Ron Palgrave is now starting on his Olympic, WOO 784.
I first came across this particular car in 1981 when in the ownership of Andrew MacLean. At that time Andrew also owned another phase 1, 405 CWU. As can be seen from the photos, both cars were little more than rolling shells and were subsequently passed on to other owners. Andrew went on to own no fewer than three more Olympics and also take over production of the Scamp, a mini based kit car.
Back to WOO 784. This was originally sold to a Mr. Mitchell, who lived near Chelmsford, Essex. It was one of the few phase 1s that was ordered with the Ford 105E engine. This was offered by RMP as an alternative, for the same price, to the 948cc 'A' series engine. Mechanical components of the kit were still Morris Minor, including the 7" diameter brakes front and rear. The Ford engine at 997cc produced 39bhp as opposed to the 37bhp of the Minor! Another unusual feature of this particular car is the dark blue gell coat, which, for some reason not a popular choice.
WOO 784 then passed through another six more owners, none of whom carried out any work on the car, before it finally appeared with Ron in 2000. It is unlikely that the car has been on the road since the mid 1970s and it would be nice to think that this state will be achieved again in the next few years.
It is some seventeen years since I last saw the car in the flesh (or should that be in the GRP?) but I seem to remember the nose had been recessed to take the original shape Olympic badge that featured the Olympic Rings. I have only seen this badge on one other car, 112XPG, so assume it was dropped early on. I know the Olympic organization are quite particular about the use of this logo.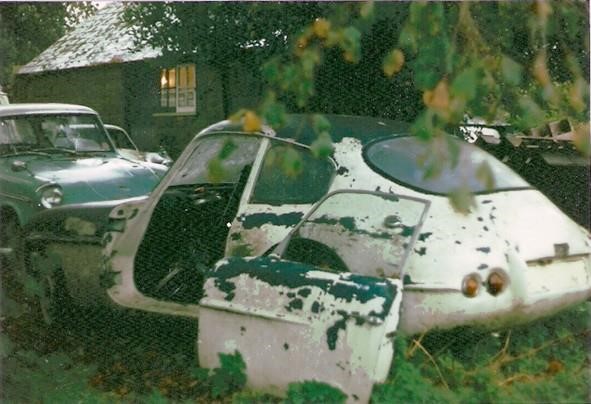 WOO 784 (Photographed in 1981)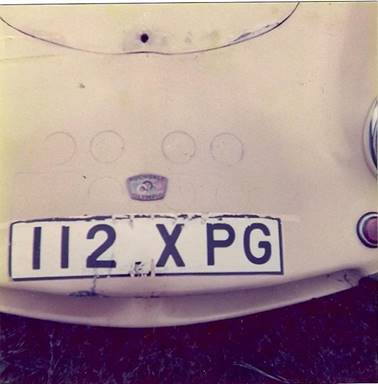 112 XPG with original Olympic Badge (Photographed in 1976)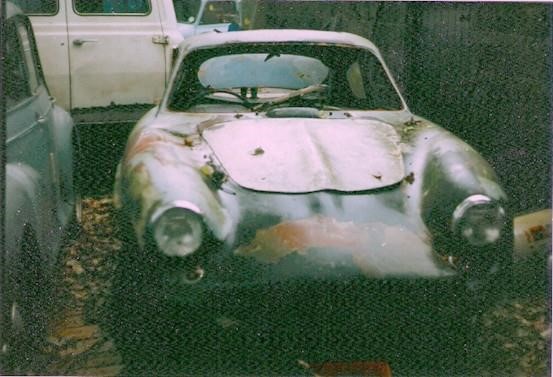 405 CWU (Photographed in 1981)
David Copper recently bought this phase 1 from Peter Swanborough, which had been advertised in the magazine a few issues ago. Peter had owned the car for some years. The car had been retrieved from a scrap yard some years ago and its history was unknown to the Register. However, after some extensive and painstaking research David has at last been able to track down the original registration details through Lincolnshire Archives. So, yet more information for the Registrars archives.
A rather belated welcome to new member Gill Rollason, who owns a phase 1 Olympic, OWC 397. This was an Olympic previously unknown to the Registrar. Recent correspondence with Gill has revealed that the original owner was a Clifford Wood, who owned Wickford Service Station in Essex. Mr. Wood did not appear in the Factory Ledger, but Wickford Service Station did, so I was able to locate the original order details.
It seems that Gills husband bought the car with a badly damaged front end in 1966 with the intention of repairing and driving it. Unfortunately family life and subsequent illness prevented the work being completed. Sadly, Gills husband died in 1982. However, she is now determined to get the car finally on the road again and hopefully the Club will be able to assist in some way.
Our Treasurer, Stuart McCaslin has now sold his phase 2, VWT 144F, although at the moment the buyer is somewhat of a mystery! Stuart did however copy the Log Book and other information that came with the car which revealed two additional owners, previously unknown to the Registrar.
I also learn that the ex Alan Farrer Phase 2, BNC 849B has found a new owner, who lives in the Newcastle area. Hopefully he will join the Club in the near future.
Derek Bentley
Specials Day 2015
The Specials Day at Burford this year produced a small, but select band of Rochdales.
David Whitehouse has made superb progress with the restoration of the 'Bristol Barb'. The car is a Cooper/Bristol fitted with a Rochdale 'F' type body and was raced in period by Alex McMillan. During McMillans ownership most of the preparation and repairs were carried out by Rochdale Motor Panels. Some of the work carried out is listed in the early Factory Ledger. The car deservedly won the Classic Car Cup.
Alan Farrers current phase 1, 279 CWD was seen sporting an appropriate passenger, none other than Kermit himself! The car continues to perform well, a testament to Alans engineering ability. It was good to see Tony Stanton out and about in 'Duffy' again 902 DUF. I understand that the car has recently become difficult to start under hot conditions and Tony suspects the starter motor to be at fault. However, removal and replacement of said component is not an easy job!
Completing the Olympic line up was the phase 2 of Chairman, Howard Evans (CT0 289B).
There were two Rochdale GTs present this year. Les Browns (SVW 864K) looks completely different with its two tone Red/Black paintwork, which emphasizes the cars lines.
The second GT (9559 E) was one that I had not seen previously and unfortunately I did not get a chance to chat to the owner. The car featured a Ford 1172 sidevalve engine and was complete with the full gamut of period Aquaplane tuning equipment. The body had been vinyl wrapped in semi matt black and certainly produced a different appearance. In view of the problems of cracks and crazing on old GRP which is difficult to erase completely, the vinyl wrapping is certainly an idea worth exploring further.
In all a good day, but oh for a return to the days when we had 12 or 13 Rochdales present. Where have all the cars gone to?
Derek Bentley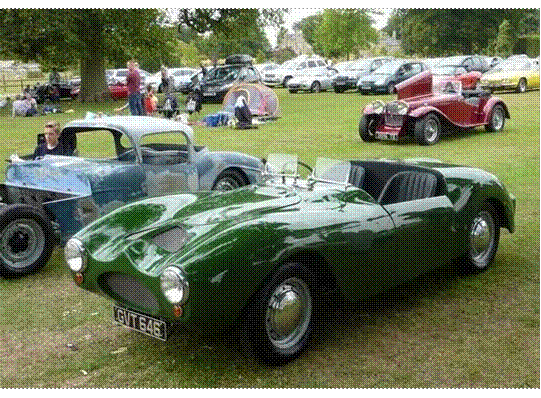 John Plants splendid 1172 Martin. They don't come much rarer than this ...
This car developed a nasty sounding rattle in the engine when at the meeting. Fortunately it turned out to be no more than a big end tapping the sump which had twanged in. Some hammer work required?
.