No 138 SUMMER 2014
Edlines
Situations Vacant
As recorded in the AGM minutes, the Club is seeking new appointments to the positions of Chairman and Magazine Editor. Ron Scarfe is planning to step down as Chairman and Alan Farrer thinks some fresh ideas are needed for the Magazine after nearly 20 years in the post. There is not usually a rush of candidates for such positions, but if you feel you would like to contribute to the Clubs future, contact Ron, Alan or Les Brown.
AGM
The number of Rochdales attending the AGM was disappointing again, although three cars that usually attend were absent due to injury/disability of the drivers. Gone are the days when a dozen would turn up, so what has happened? I know there are at several Olympics that are in the late stages of restoration so maybe next year? It's a long time to hold one's breath.
TONY STANTONS EVENTS & NEWS
Thank you to all the members who have sent me kind words since my recent accident. The bad news is that I will not be fully rebuilt and driving till November, so this year is a cancelled for car events for me and 'Duffy'.
North Worcestershire Classic Car Meet
The Bowling Green Inn, Shaw Lane, Stoke Prior, Wychbold, Nr Bromsgrove, Worcs. B60 4BH.
From 6.30pm Monday 16th June 2014
From 6.30pm Monday 21st July 2014
From 6.30pm Monday 18th Aug 2014
From 6.30pm Monday 15th Sept 2014
From Midday Sunday 19th Oct 2014
Stoneleigh Kit Car Show Sunday 4th & Monday 5th May 2014
Big thank you to the members who turned up and kept the flag flying at Stoneleigh, best weather for 5 years and I had to miss it.
On Sunday I believe in Olympics were Alan Farrer with Derek Bentley (279 CWD), John Plant
(499 YUT) and Wayne Parkinson (BNC 849B) and in Fairthorpes were Martin Collins (789 ERO), Rob James (BBD 496B) and Brian Jackson (UNJ 203). There was also a Green Gilbern, but I do not know the owners name?
On Monday I believe in Fairthorpes were Brian Jackson (UNJ 203), Andy Winstone (7317 MT) and Nigel Taylor in Turner (700 AOV). The Green Gilbern again and Victor Lobb with an early Gilbern GT and no Rochdales.
Many thanks to those who took the time and made the effort to bring their cars to the show and to the club members and friends who visited the stand.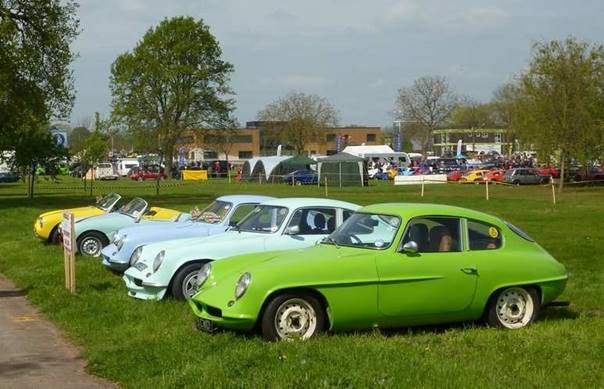 Rochdale / TVR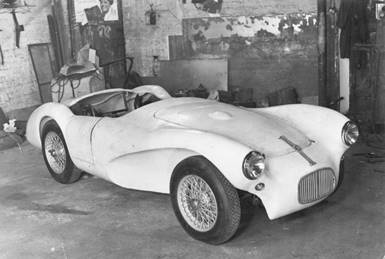 I enjoyed reading Dereks article in the last magazine on the Rochdale/TVR connections. Because of my association with TVR in the early 1970s I have had both of these cars on my 'to do list' for some time, so I thought now was a good time to look into the connection and reply to Derek's article.
Type-C / TVR
I do not normally write about early Rochdales, as a know little about them. But I have learned a lot over the years from the writings of Derek, Malcolm and James in the magazine.
So I thought I would have a go at solving the mystery of this photograph of a Rochdale-bodied TVR chassis at the Beverly Grove Workshop.
But, having solved the mystery, I realised there was an easy way and a hard way. Firstly we are going the hard way, which is to prove a TVR connection, but at least we do then have the satisfaction of throwing up another mystery.
We know at this time TVR did not produce their own bodywork. The TVR chassis was the 2nd series chassis based on Austin A40 running gear, with double wishbone/coil spring front suspension and a live rear axle with leaf springs.
First I contacted Peter Filby about the photograph in the TVR book and he said he was given the photograph and the details by a member of TVR staff who was there at the time the car was built. I have a good quality photograph, which has blown up well. First I notice at the rear of the car leaning against the wall is a vee shaped windscreen, very similar to the screen fitted to the RGS sports car and TVR fitted 3 RGS bodyshells to the 2nd series TVR chassis and called them the TVR Sports Saloon.
Most 1950s specials would have steel road wheels or bolt on wire wheels as per the running gear manufacture, in this case Austin. If you had money you might have alloy wheels, or as on this car we have an expensive set of oversize knock on wire wheels. Through the front wire wheel I can see a large finned brake drum, certainly not A40. In the cockpit area in the blown up photograph I can see it has a tubular chassis but it also has coilover rear suspension. So not a TVR chassis, maybe a Buckler?
I then contacted John Walkington who has owned a Type-C since new. John told me that when he collected his Type-C bodyshell from Hudson Street in 1955, Harry and Frank took him in to a back workshop and showed him the car in this photograph as an example of what his car could look like.
Frank told him it was a Team Car. The car was painted light blue and had a Riley One and a Half Litre engine fitted. John also said the car would have overheated badly as the front grille which is from a three wheeled Bond Minicar was too restrictive for the small radiator air intake duct. So can we identify this car? Answer over the page.
Now I will do it the easy way: I look through my pictures of Rochdale Type-C's and there it is, the obvious clue, the leather strap on the bonnet.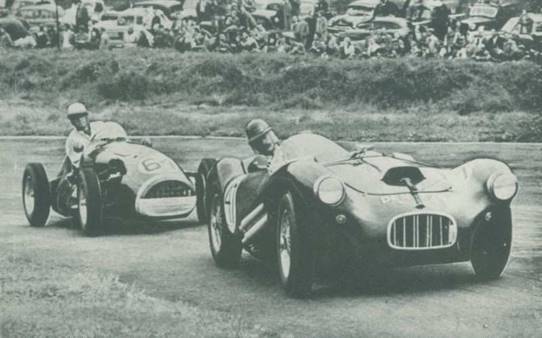 The car in the photograph is DEN 275 built for John Horridge complete with leather strap and most of the bars in the Bond Minicar grille cut out to help with engine cooling.
The car still races today and is ideal for the Goodwood Revival as it still has its original DEN 275 buff logbook. But not the original type of engine, or the original type of chassis or the original type of body, but the rest is original? At least they were changed in the 1950s and for used parts, not made of new parts last week like a large number of the Historic Cars racing today.
For 1955, John purchased a Lister chassis fitted with a Rochdale fibreglass body and a new 1.5 litre Riley engine bought in the days when that now famous firm was still in its infancy. Enlisting the help of fellow Lancastrian and former Le Mans finisher Geoffrey Beetson, Horridge got chassis number 'BHL 9' road registered as 'DEN 275' on 9th May 1955.
But try as he might, he seemed unable to recapture his form of the previous season and due somewhat to the advent of newer cars such as the 'preposterously fast' Lotus and the introduction of 1500cc engines such as the Coventry-Climax unit being produced was never in the money. Horridge had the Lister re-engineered for 1956 with a Bristol engine and while their first few outings were unspectacular, car and driver soon picked up momentum.
The Lister-Bristol took to the grid at Snetterton for the Vanwall Trophy meeting on the 27th July 1957.While dicing with the Loti of Brian Naylor, Gawaine Baillie and Mike Parkes, Horridge was punted off the track by Lance Reventlow's Maserati.
The Lister overturned with its driver still aboard and in consequence John landed up in hospital with fractures to his neck vertebrae, nose and collar bones. The car was a complete (if that is the word) 'write off', the fibreglass body moulded by Rochdales from a Connaught pattern - just disintegrating.
It was replaced with the ex-Allan Moore Lister-Bristol chassis, which was bought from Brian Lister with a flat-iron body.
John Horridge 1926 -1987
Born in Bury, Lancashire on February 1st 1926 (the same year as Brian Lister), John Walter Stuart Schofield Horridge began his competitive career in some style with a Grand Prix Bugatti. A bon voyeur who was arguably more adept at popping champagne corks than tightening wheel nuts, he is remembered with great affection to this day. A former director of the calico printers, Horridge & Cornwall, his Elton Lodge home was supposedly a Mecca for gently decaying Vintage cars during the 1950s / 1960s. Once erroneously credited with achieving the fastest lap aboard 'DEN 275' at a Continental race meeting, Horridge displayed considerable ingenuity when it came to concealing the prize (100 bottles of champagne) from UK customs officials. Though, he did treat a number of fellow competitors to impromptu champagne breakfasts at the next event. Never one to take himself too seriously, the Lancastrian often raced under the Ecurie Bullfrog banner.
Doug Nye on John Horridge:
"Horridge's cars - I have been told - were notoriously scruffily presented and poorly prepared and one works team principal recalled how - at Montlhery, I think - Horridge came storming into the pits, slammed on his brakes and juddered to a stop while both headlights popped out of their mountings to dangle from their wires, having never been screwed-in securely".
So what about the photograph in Peter Filby's book?
Well we now know it has no connection with TVR and was taken in Hudson Street, Rochdale and as a postcard used as RMP's literature with the background painted out in white. But it goes to show the problems you can have when researching items from years ago for an article or a book. I think Les Brown has found this as well, that 4 different people can give you 4 different stories about the same event in time and you have to take an educated guess at the truth.
RMP sales ledger
We still have the fact that the RMP sales ledger shows that a Type-C and a Type-F bodyshell were sold to TVR in 1955.
I have recently been in correspondence with John Fielden who now lives in France but use to live in Cheshire and he told me:
In the summer of 1956 I once drove a TVR which was fitted with a BRG Rochdale C body. It had a MG 1250cc engine. The car was road registered with a painted on number, but I have no idea of the number. I knew it was a TVR because it was badged as a TVR, but not a TVR Grantura type badge.
The car was in the showroom at Station Garage in Wilmslow, Cheshire, the proprietor of which was one, Ken Lee. He happened to be absent when the workshop foreman, Arthur Huck aided and abetted me to take the car round the bypass, up the Alderley road, over the Edge and back to the garage via Mottram St Andrew. The car could be used because it was registered, I don't think it was for sale, just one of those things which was put in the showroom when there is nowhere else to put it. Who owned the car I have no idea, I just remember it because after a diet of 803 Minors, Wolseley 14s, Mk V Jaguars and an Austin Sheerline a real live sports car was a revelation.
Could this be a good lead for this lost car? I know John has a good knowledge of 50s/60s cars as he built and ran a 1958 Rochdale GT reg HTE 418 and he built and ran a 1960 TVR Grantura.
Now for the second mystery in the Type-C photograph: what is an RGS vee windscreen doing in Hudson Street? Is there a Rochdale with a vee windscreen? Looked through my photos - yes the Rochdale ST with a hardtop. Here are 4 photos for comparison. Anyone else think the windscreens are the same and I also think the ST hardtop is a RGS hardtop with a little restyling around the door opening?


RGS Sports Saloon Rochdale ST Hardtop
Olympic WFV 812
As regards to the Olympic WFV 812, I am 99.9% sure it is the same Mr Thurner, I have spoken to David Hives who was the Competition Manager at TVR in the 1960s. David started at TVR in early 1962 so after the time the Olympic was delivered to Mr R Hallett of Ashfield Road in Blackpool, but David does not remember seeing John Thurner driving an Olympic. John had the use of the works TVRs and mainly drove the development TVR Grantura in his time at Blackpool.
David also confirmed that John Thurner lived in the south of England and stayed in digs when up in Blackpool. So John Thurner probably kept the Olympic at home in Sunbury on Thames and used it when he was down there; also John left TVR in early 1963 but did not sell the
Olympic till 2 years later in July 1965. What we need is a nice photo of John Thurner in WFV 812 just to be sure. David also confirmed that Bob Hallett lived in Ashfield Road just round the corner from where David himself lived. I currently have the word out to see if John Thurner and Bob Hallett are still alive. Maybe more to follow?
Contact details for any member who wishes to send me details on the history of their Olympic. Tony Stanton. - rochdale-olympic@talktalk.net or 01527-402367.
Great Auclum Hill Climb
(Page 22 Spring ROC magazine)
It says - Has anyone ever heard of the Great Auclum Hill-Climb? Well I, for one, most certainly have, not only heard, but was a regular helper at that annual event.
Soon after I was married I came to live in Camberley and was quickly enrolled into the Hants & Berks Motor Club. Fifty two years later, I'm still a member, but nowadays no longer driving but at least making written contributions for the Clubs magazine.
I found that the Club had its finger in all sorts of motor sport and it was particularly noticeable to find that many of the members, RAE boffins and the like, had great organising skills. We competed in Night-Trials often till the very early hours, there were Scatters and Navigation Runs with paired teams, Winter quizzes, Driving tests on gravelly Army Parade grounds or grass, and Production Car Trials. The H & B Club was a large part of the Eight Clubs Race meeting held at Silverstone each year where I assisted Joe Lowrey who did the commentary, others doing the handicapping plus the usual hard-working group in Race Control such as Joan Johns who has very recently died. I was keen to give help at the 1954 & 1955 Blackbushe Drag Racing and commentated at the International 2CV Race meeting, also held at Blackbushe. The Club was well known for organising both Economy Runs, the Mobil and the Esso and of course the Club officiated at the Great Auclum Hill Climb. From Paddock marshalling here I later assisted in the commentary.
That track was by far the shortest of all the tracks in the Hillclimb calendar but competition was even more demanding because of this and the times of most competitors were exceedingly close. At the end of each event the 'doers' would pull out the course stakes, load the trailer with the ropes and straw bales while others would clear up the spectators litter and then, tired out, we would all drop into the Hatch Gate pub in Burghfield for a pint and a good sit down after a great days racing. It was the super combined efforts of all at these meetings that brought Club members closer together.
If I think back to those competing in those days there were such great drivers as Boshier-Jones, Roy Lane, David Good (driving with his one arm)!, Sir Nick Williamson and Chris Cramer. The car that really fascinated me was the Tico- Martini device. Without springing, this kart-like vehicle was powered by a rear mounted Triumph 650 cc motorcycle engine and had tiny wheels yet was capable of achieving FTD against vastly more powerful cars. I spent many weekends over the years at Great Auclum but like all good things, those happy days had to come to an end which was sad because of all the Hillclimbs sites I've attended, this one had that certain joie de vivre.
Derek Argyle
HEYWOOD SHOW
As usual in deepest Lancashire, the event organised by the Rochdale Vintage and Collectors Car Club (11/05/14) was beset by heavy rain through much of the day, though spirits were high amongst those braving the weather. Rochdales present were Andrew Roans GT, Jason Hoffmans Phase IIR, Howard Evans Phase II and my own GT, with Keith Pratt along also.
The venue at Queens Park, Heywood, was certainly familiar to me after all the hours I have spent playing football/cricket in the space directly behind the Rochdales. Other cars on show were an interesting variety from the 1950s/60s, with the Rochdales perhaps being the best represented, which was quite appropriate when you thing about it. It was good to meet up again with Phil Butterworth, who remains most enthusiastic on the cars, arriving with his son in the back of a 2+2 E-Type.
We spent a great deal of time talking of early computers, and computer games - Phil had considerable common ground with my own son, Mike, in this area: apart from the sheer nostalgia of the early systems involved, there is now considerable value attached to certain of the more obscure computers and their games. Phil went on to tell me how, in later years, him and his Dad had spent months of work in trying to perfect a computer program for profitable systems on the roulette wheel. This resulted in them becoming millionaires, apparently, but only on the computers trial runs - results were very different when they came to try it out on the actual roulette wheels of Manchester! Was there ANYTHING that Frank Butterworth hadn't tried his hand at?
LBB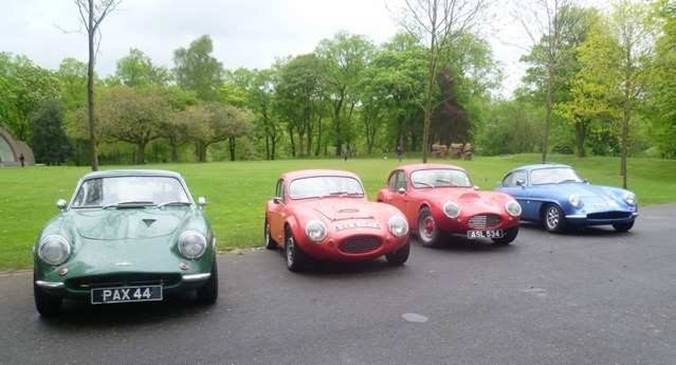 WOT, NO BOOK?
People who have been watching progress over the last few months must be wondering, just what is happening? I circulated a number of publications, shows etc. in order to gauge response, which has been very good, with plenty of interest from people who have never actually owned a Rochdale. Chapters were written up some weeks/months ago, photographs have been chosen from the huge number available, permission sought where appropriate, and page layouts were done. I did think that was about it, and sent the files off for printing.
Bankruptcy of the original (very well-established) printers has led to some nervous moments, but further involvement here was thankfully avoided. However, as many of the pictures were scanned from early prints, a problem has been experienced with image quality. Although this looked fine on the computer screen, and indeed when printed out from a colour laser, a lot of the images (about 90 of them!) were problematic. Default settings for sending images around the web, and general computer use, is 72 dots per inch, while quality printing demands 300 dots per inch. Re-sampling with Photoshop can boost this artificially, but isn't recommended, so I'm afraid it was back to the drawing board on this one. Sincere thanks, therefore, to all those who have got stuck into re-scanning at those higher resolutions. At the time of writing, I am down below 20problems from the 366 images used (quite a few of them are my own, incidentally!)
Another remarkable aspect is the sheer size of the files. My all-time favourite Rochdale picture has to be that of VDK 147 at the 1961 Danish Motor Show in Copenhagen. I think this was another Frank Butterworth picture (he really did take it seriously) and involves a view from directly above the Rochdale, while the 245mph Stirling Moss MG EX 181 is jostled in the background. I like this one so much, it was the only real choice as frontispiece, and I put this in at full-page size at the start. However, even re-scanning the original at 300dpi resulted in an effective dpi of well below 200 when blown up to a full page size.
Going back for a THIRD scan, Derek Bentley tells me that the single file, saved as an uncompressed .tiff file (tagged image file format) as opposed to .jpeg (joint photographic experts group) resulted in a single file of well over 200Mb on its own! Putting this in perspective, my email account only accepts 25Mb total, some doing much less than that. The original file I had been attempting to use was just 688kb, in other words less than just 1 Mb or about half a floppy disk, for those of us who remember such things. If all this just serves to make your head spin, you can imagine how I am beginning to feel. It's all right understanding the basic principles involved, and getting the hang of (some of) the features involved in the programs, but there really is so much involved in getting a quality production on the shelves, some things just can't be rushed. But it IS nearly there, and I shall be contacting members (and all who have ordered copies) once I have books available.
Details will be posted on: www.sportscarpioneers.yolasite.com as soon as there is more.
Les Brown
VENT RINGS AND TWO-TONES
I blame it all on Broderick Crawford. Through the 1950s, Friday-night TV meant a halfhour production of 'Highway Patrol', which had Crawford as Chief Dan Matthews, cruising the sun-baked roads of Southern California in a two-door black-and-white 1955 Buick Century. Now as we know, American cars of that era just dripped chrome, and these were no exception: the Buick gets my vote over the more familiar Tri-Chevy any day. &pound21-50 to headquarters Crawford would growl into his radio then '10-4' to end the message. Quite what it all meant, I don't really know, but it was enough to slip into everyday parlance for a period, at that time.
One of the most prominent styling features pioneered by the Buick were four enormous chrome rings, down each side of the car, supposedly for letting hot air escape from somewhere, but, more likely, just another piece of vulgar 1950s styling. This resulted in plenty of cars on the road at the time, with little chrome rings down each side: I can't remember other makers taking it up directly, but the after-market sellers had a ball (as they do).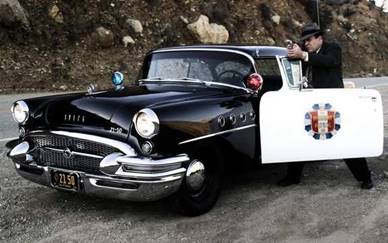 Of the Rochdale cars, GTs, in particular, seemed to be particularly prone to this sort of nonsense. Whether it was in the sheer numbers of these cars produced, I don't know, but there are plenty of early pictures around of GTs sporting a row of three (four would be silly) rings just behind the front wheel arches. When I came across a supply of suitable rings, I just couldn't resist them, and set about modding my GT.
'
It seems the best spot was directly in line with the top hinge, and I ended up spacing them every 3" inches in front of this. The rings just press into place if the holes are cut carefully, and I finished it off with expanded aluminium grille behind them. I'm still working out how to allow the bonnet to breathe through them, but I felt so super-cool driving the car at this point, I decided to take the 1950s theme a step further.
This followed a conversation with Rochdale-based David Towers, who ran a tasty GT for several years in the 1960s - his car had a number of additions, the most striking being the two-tone paintwork, and rear fins! Don't laugh, John Dunwell did tell me the idea had been tried on the prototype Olympic at one stage - I'll try to get hold of the photographs of the GT next time I am over. At any rate, the GT does seem to lend itself to having the roof a different colour - once you have decided on that, where do you finish?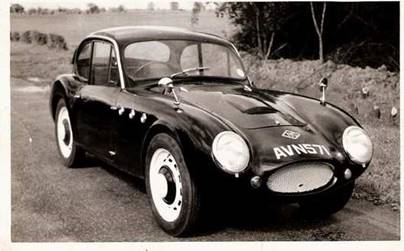 The original GT, it would seem, owed much to the earlier Type F (Bristol Barb, etc) in its origins, though the earlier car was only sold as a very simple one-piece shell, with no door, bonnet, boot or even cockpit cutaways. This enabled the owner to build the car however he wished, though a lot of hard work was involved. The genius of the GT lay in taking this basic shell, fitting it up with doors, and adding a fixed roof over the whole lot.
By now painting all the panels that were added at that time a different colour, black in this case, then the connection between the two cars is readily apparent. Going down the coach enamel route makes life a lot easier for masking, and finish from the brush is excellent if you take your time. Brush marks are not a particular problem, though specks of dust/grit can be if care is not observed in keeping everything spotless. So the 'roof' area was extended down the front 'A' pillars, over the top and right the way down to include the rear number plate.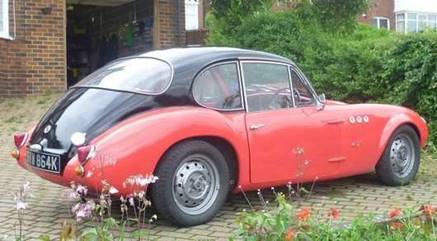 But does it look good? Well, not until I had peeled back all the masking, and replaced the various items of trim around the car, were you able to judge. It's certainly different! It does have much more of a Type F look to it, almost like an open car with a glass-fibre hardtop on. I think I like it, and will be most interested to hear what others have to say! I couldn't quite place what it reminded me of, until Richard Netherwood, a friend who has been a great help in sorting publishing details came up with the answer - 'It's just like a giant Ladybird!' he told me. And indeed, it is. So the car acquired a new name on the spot, and I just need to dig out my blue suedes from the back of the wardrobe to drive it...
For anyone interested, kits of six rings and mesh will be up on e-Bay shortly, at &pound20 plus postage!
Ugly Duckling Pt 4
There isn't much to show for the time spent on the project since the last report. The work has centred on designing and fabricating the front inner wings, foot wells and pedal box.
I have made the front and rear bumpers and intake grille and I have also temporally fitted the lights, spot lights and badges.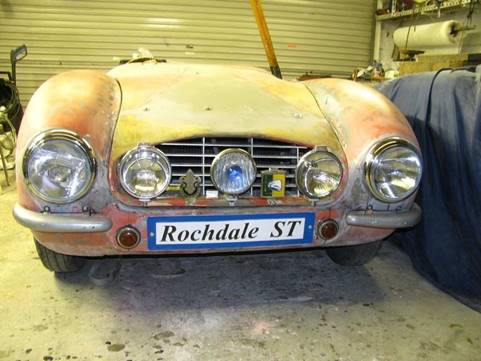 As a point of interest I first had the Centre Spot Lamp and Scout Badge fitted to my first MK6 Rochdale back in 1956.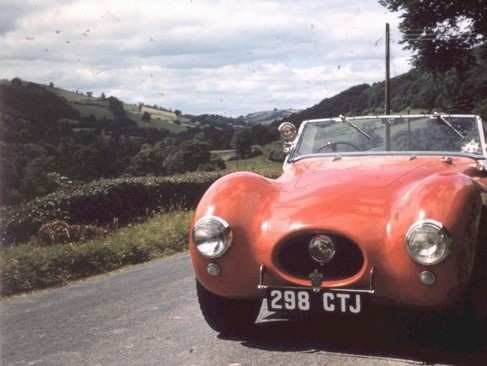 FBHVC NEWS
Extracts from the two issues published so far this year - Ed
FUEL NEWS
Matthew Vincent
Ethanol in petrol
Queries have arisen in the last few months about high octane unleaded petrol (Super Premium) sold in the UK, and whether or not this blend should contain ethanol, as it is supposed to be the so-called 'Protection Grade'. There may be some uncertainty about this issue, so a few words of explanation might be useful. Protection Grade will be limited to 5% ethanol when petrol of 10% ethanol content is introduced into the market. This has not apparently happened yet, although the legal framework is in place, and it can be legally sold but must be labelled appropriately. The higher octane Super Premium fuels are blended to achieve the high octane quality without addition of ethanol. However, they leave the refinery in that condition and move on to distribution centres where ethanol may or may not be added. This highlights the problem of predicting which Super Premium blends will contain ethanol and which will not. There was a time when Shell V-Power petrol was definitely ethanol free, but this changed some years ago now, and it is known that ethanol has been blended into Super Premium blends (Shell and Esso, and possibly BP) in some locations. Provided the ethanol content does not rise above 5%, where a label would be required, there is no breach of law or government intention in respect of Protection Grade. When petrol containing ethanol at 10% volume does reach the market, it must by law carry the label 'E10' and a warning that it might not be suitable for all cars, and the advice to consult the manufacturer. We recognise that the latter advice might be a bit tricky for the owners of some historic vehicles.
Supermarket petrol
A recent invitation to receive Tesco Club Card points when purchasing fuel from an Esso petrol station led to a conversation which revealed that Tesco sell Esso petrol and diesel, hence the Club Card arrangement. As one of the Big Three fuel retailers in the UK, Esso have always been keen to protect their quality image, so the sale of Esso fuel by Tesco is an interesting development which might go some way to refute the popularly held myth that supermarket petrol is of lower quality than that sold by the oil majors.
New petroleum regulations
A document issued for consultation by the Health and Safety Executive this month covers the revision of the rules governing the handling and sale of petrol. The new legislation is mainly concerned with garage forecourts and the like, but it does also cover proposed new rules for the domestic storage of petrol for use in lawn mowers, boats etc., so it is also of interest for the historic vehicle owner. There does not seem too much to be concerned about, as the domestic storage proposal is for individuals to be permitted to store up to 10 litres in plastic containers, or up to 20 litres in metal containers, all such storage containers to be suitably marked. For those who are interested or who would like the opportunity to comment, the consultation document can be found on the following link: http://www.hse.gov.uk/consult/condocs/cd264.htm. The consultation period runs until 7 February 2014.
DVLA
Nigel Harrison
Demise of Proof of Insurance Requirement
From 16 December 2013, there is no longer a requirement to provide proof of insurance when renewing VED, or when a vehicle is being taxed for the first time. However, although the insurance certificate is not required to be produced, in the case of an age-related application the owner will still need to inform the insurance company of the allocated registration number, and get an amended Certificate of Insurance.
MoT and Exemption Declaration
When a vehicle is taxed, if it is subject to an MoT, then an original MoT certificate is still required. If it is a pre-1960 vehicle, it will be exempt from an MoT. However, DVLA have indicated that if it is exempt and being taxed for the first time, or a tax renewal is being done, (except for online) then there is still a requirement for an MoT exemption form, V112 or V112G to be completed.
Extension of Historic Vehicle Tax class threshold
On 1 April 2014, the threshold for Historic Vehicle taxation class moved from 1 January 1973 to 1 January 1974. This means that vehicles made in 1973, or registered in 1973, are now entitled to have the tax class of Historic Vehicle. However, the conversion from the existing tax class, e.g. PLG, to Historic Vehicle is not automatic. The registered keeper will have to claim it using the documents detailed below.
If the year of manufacture is not recorded on the V5C, and if the vehicle was registered from 1 January 1974 up to and including 7 January 1974, DVLA will let you register it as a Historic Vehicle, based on the assumption that the vehicle would have been made in the previous year.
There is no need to wait until the existing tax has expired, before applying for the Historic Vehicle tax class.
The DVLA information leaflet which explains about the Historic Vehicle tax class is leaflet INF34 that is called Taxing Historic Vehicles. This will be revised by DVLA to reflect the changes being made. Unfortunately INF34 is not available to download but can be obtained by ringing 0300 790 6802 or emailing Stores.order@dvla.gsi.gov.uk
Applying for the Historic Vehicle tax class
The following documents will need to be taken to a Motor Tax Post Office:
1. The V5C Registration Certificate. In the change section, put the tax class as Historic Vehicle, and sign and date the V5C. (Ignore any legacy note relating to DVLA Local Office.)
2. A V10 Application for a Tax Disc. On the form indicate a tax class of Historic Vehicle. (Ignore any note relating to an insurance certificate requiring to be produced).
Any received V11 Renewal Reminder to Get a Tax Disc form should not be used.
3. MoT Certificate.
The Post Office will retain the V5C and post it onto DVLA in order for them to change the tax class to Historic Vehicle and issue a new V5C. Subsequent V11 Renewal Reminders should have the tax class of Historic Vehicle. As with any communication with DVLA or government body, it is suggested that consideration be given to making a photocopy of all documents that are sent to DVLA.
Refund of Remaining PLG Disc
Once the vehicle has been taxed as a Historic Vehicle, it will be possible to get a refund for each full calendar month left on the tax disc. A V14 form, which is called Application for a Refund of a Vehicle Tax Disc, should be completed and the PLG tax disc attached with clear tape to the form, then posted to DVLA. The PLG tax class is used as an example, and the same will apply to other tax classes.
Missing V5C Registration Certificate Part of the process for claiming the Historic Vehicle tax class is that the V5C needs to be amended. If the V5C has been lost or mislaid then to get a replacement one it will be necessary to fill in a V62 form. This form is called Application for a Vehicle Registration Certificate. The current fee for a replacement V5C is &pound25.
Correction of engine details on a V5C With the vast majority of tax classes, e.g. PLG, these are dependent on engine size/type. This means that when an engine change, or correction of the engine details, is notified to DVLA, there needs to be independent verification of the new engine details before DVLA will accept the change. The Historic Vehicle tax class is one of the few tax classes which is independent of engine size, so changes in engine size/type are not subject to independent verification by DVLA.
If the engine details on a 1973 vehicle are incorrect, it will be clerically simpler for the owner if the amended details are notified to DVLA on the new V5C that indicates the tax class of Historic Vehicle, seeing that no independent verification of engine size/type would then be required.
Incorrectly dated vehicles There will be a minority of vehicles that were registered in 1974 but were made in 1973 (or earlier), but DVLA does not have the year of manufacture recorded as 1973 (or earlier). Typically these will be sold off military vehicles, imported vehicles, vehicles that were slow to sell and hence registered later.
If an owner wants the year of manufacture corrected then there should be contemporary documentary evidence, which should either be an extract from the manufacturer's records, which indicates chassis numbers, or an extract from the appropriate Glass's Check Book. The Glass's Check Books come in three versions for cars, commercial vehicles, and motorcycles. The appropriate specialist vehicle club should be able to assist in providing a copy of the appropriate Glass's Check Book, or extract from the manufacturers records, but they could well charge a fee for this service.
Note that a dating letter on its own will not be sufficient to get the year of manufacture corrected. There needs to be contemporary evidence, which will include a chassis number, or bandwidth of chassis numbers and dating information.
To correct the year of manufacture the documentary evidence and the V5C will need to be sent to DVLA. Only when the corrected V5C has been issued, will it be possible to go along to the Post Office with the newly issued V5C and claim the Historic Vehicle tax class.
England's Motor Heritage from the Air
Author: John Minnis, Published by English Heritage, &pound35 ISBN 978-1-84802-087-0
This book received a very positive review, and if the sample pictures shown in the FBHVC newsletter were anything to go by, the book would make a splendid addition to one's bookshelf.
The review references a Britain from the Air website; I found the images were on the Britain from
Above website which contains many thousand aerial photographs from 1919 onwards, but the samples I looked at were low resolution. Ed.
(http://www.britainfromabove.org.uk/)
There are exceptions
There can be times when one is left highly frustrated by the way brokers go about their motoring business.
Several of you are possibly with Norman Frizzell or have been. Let me tell you about my dealings with them very many years ago. My Standard 8 was stolen from a road near to my flat in Dulwich. The car was found by the Police four days later in a cul de sac just half a mile away minus wheels, battery, tools and a selection of outdoor clothing stowed in the internal boot. The door handle had been forced.
I put in a claim for my comprehensive insurance cover and the total claim was annoyingly pared down by a third. I waited for ages to receive payment and when I had words with the company was told that I would have to send in a receipt for each replacement item I bought which would then be paid no question of their paying me the agreed two-thirds of my total claim in one settlement. I was somewhat green in those days and in hindsight I should have sent them a solicitor's letter!
More recently, in fact about three years ago my poor eyesight caused my driving licence to be revoked but I was determined that I would still enjoy classic motoring here and abroad with the benefit of named drivers. I approached several brokers, explained my position and asked for comprehensive insurance with the two drivers I had named who had clean licences. It took some time for most of the brokers to register the fact that I would not be driving, but when I had thought that it had sunk in I was told that my named drivers could only be accepted if I were the main driver!!
There was one broker, I nearly said joker, left on my list but I didn't hold out much hope. I rang Blackford Bloor of Ellesmere Port and was greeted with a pleasant helpful woman who immediately understood my situation and said that there was no problem, I could be accompanied in my car by one or other of my named drivers on local trips or visits abroad. You can imagine my relief.
I had been with Adrian Flux for 23 years and their rates had grown enormously which was so annoying in view of the fact that I had had no convictions or accidents. The quote I had from Blackford Bloor was under half of the Flux charges and I was able to increase the agreed annual mileage by one thousand miles as well as having the value of the car increased by &pound2000. I have no connection with BB but can strongly recommend them. A couple of friends have taken to my advice and similarly been very pleased with their quotation. Blackford Bloor can be found on 0151 356 7451 and their insurance comes under the KMG banner @Lloyds.
Derek Argyle
An A-Plus Survival Guide
Things are never as simple as they appear.
When I decided to put an A-series engine and gearbox into Kermit I had available both a 1275 Midget engine and a 1.3 (1275 A-plus) Ital engine. As the latter has some design improvements due to being a later development, such as a proper rear main bearing oil seal and better crankcase ventilation, I opted for that. Although they look very similar there are many detail differences which only have significance under certain circumstances. I was about to find this out.
The obvious difference when trying to fit a Morris Minor type gearbox to an Ital based engine is that it has a much bigger flywheel (and it uses a Triumph gearbox) so an earlier flywheel is needed. Also the backplate is wrong. There are two solutions for the backplate: modify the Ital backplate or fit a backplate from an earlier car (998cc or larger).
Using the Ital backplate involves modifications: re-positioning the starter motor hole, re-drilling to match the smaller gearbox and trimming off excess material. To avoid this work I opted (initially) to use a backplate from a 1098cc Minor. This still needed the hole round the rear main bearing to be enlarged to clear the oil seal surround, but this was a relatively minor mod.
So far so good, but when I came to fit this backplate after I had installed a new oil pump I found the pump fouled the pressed steel top hat that covers it. Inspection showed that the oil pump on the A-plus engine is about 5 mm further from the centre of the engine than that of the older engine, even though it is the same distance from the crank centre line. Strange but true. I overcame this by trimming a redundant corner from the oil pump, but it was a close thing.
More recently, when I changed the camshaft, the new oil pump that was needed could not be trimmed to fit, so I was forced to fit a modified Ital backplate. In this I was greatly aided by an article Derek Bentley had written when he did the same thing some 10 years ago. I did get through several jigsaw blades though that backplate steel is quite hard.
Flywheel. Any earlier flywheel needs to be modified to fit the different flange on the crank, which uses 6 flywheel bolts. A 1275 Midget flywheel has 6 bolts on the correct pcd but its spigot has to be turned out a little to match the larger flange. Other flywheels will need more work as they have only 4 bolt holes. When fitting either type of flywheel attention must be paid to the fore/aft position of the starter motor pinion in relation to the ring gear; with non-MG 1275 flywheels the motor pinion needs a small spacer to prevent the Bendix assembly fouling the clutch side of ring gear but with the MG flywheel the motor itself needs spacing from the backplate so that the pinion has full engagement with the ring gear. In my car a spacer made from 3 mm alloy was used. Small details maybe, but important.
There is one subtle difference that caught me out: the A-plus sump flange is bigger than the earlier block and is almost certain to foul the starter motor body. This means the starter motor sits at a small angle, so the pinion engages the ring gear at an angle. The solution is to grind off the corner of the flange until adequate clearance is obtained, but I did not notice this clearance problem until its consequences arose.
When I removed the engine last year I found that a tooth had broken off the ring gear. I had had trouble with my distributor on my trip to Laon, so fitted an electronic unit to replace it. This cured the misfiring (actually it was only the rotor arm that was at fault as usual), but it caused the engine to kick back on starting - strange, as there was no apparent reason for it (although Howard Evans has since made some suggestions). So I suspect the continual banging, together with the starter motor misalignment (see above) was too much for the ring gear.
When I re-fitted the engine I decided to put back the points distributor and replaced the old rotor arm with a red rotor arm. Now, with the starter motor correctly aligned and spaced as well, the starting works perfectly so I will stay with old tech.
One curious feature of the A-series engine is the bypass hose between head and water pump. Some later heads dispensed with this hose and I have used two (12G940) heads, one with and one without the bypass. In both cases the cooling worked perfectly, so what was the point?
It is worth noting that the A-plus engine has no tappet covers, which I believe was done to eliminate the inevitable leaks and also make the block stiffer. Therefore changing a camshaft/cam follower involves removal of the sump to access the followers from within. This was no trouble for me as I already had the engine disassembled for inspection. Whichever type of A-series engine is used changing the oil pump necessitates removal of the engine and flywheel, a big job.
A few words about changing a ring gear. I removed the old one by drilling through it with as big a drill as possible, then using a hefty cold chisel the snap the band off. Putting a new one on is not so easy. The new ring must be heated to a temperature high enough to expand it so that it can be tapped into place on the flywheel, but not so high that its temper is destroyed. Those with experience use a blowlamp I believe, but I was lucky enough to have a more scientific solution in the shape of Derek Bentley's pottery kiln fitted with a pyrometer. In summary, 425C on the pyrometer saw the ring expanded just enough to enable it to be fitted without too much brutality*. It is a two man job.
* A Ford manual I have suggests an oxy-acetylene torch and watching for a dark blue colour 316 deg C - so the difference is probably attributable to pyrometer calibration or caution on the part of Haynes.
Summary of main differences which need attention.
Block:
Rear main bearing oil seal, oil pump position, no tappet openings, sump flange fouls starter.
Gearbox interface:
Flywheel, backplate, starter motor position, location dowels are 13/32", not 3/8".
Misc:
Spin-off oil filter has a 5/16 UNF thread, same as Triumph, so 1275 Midget will not fit.
No breather on rocker cover, crankcase ventilation is via timing cover.
Gasket sets must be A-plus as there are several differences.
Clutch release bearing thickness depends on flywheel/clutch combination (3 available).
Engine mounts are on the side of the block, not on the front plate. An earlier type of front plate is needed to fit engine in the standard way.
Probably lots more differences I have not noticed or can remember.
Alan Farrer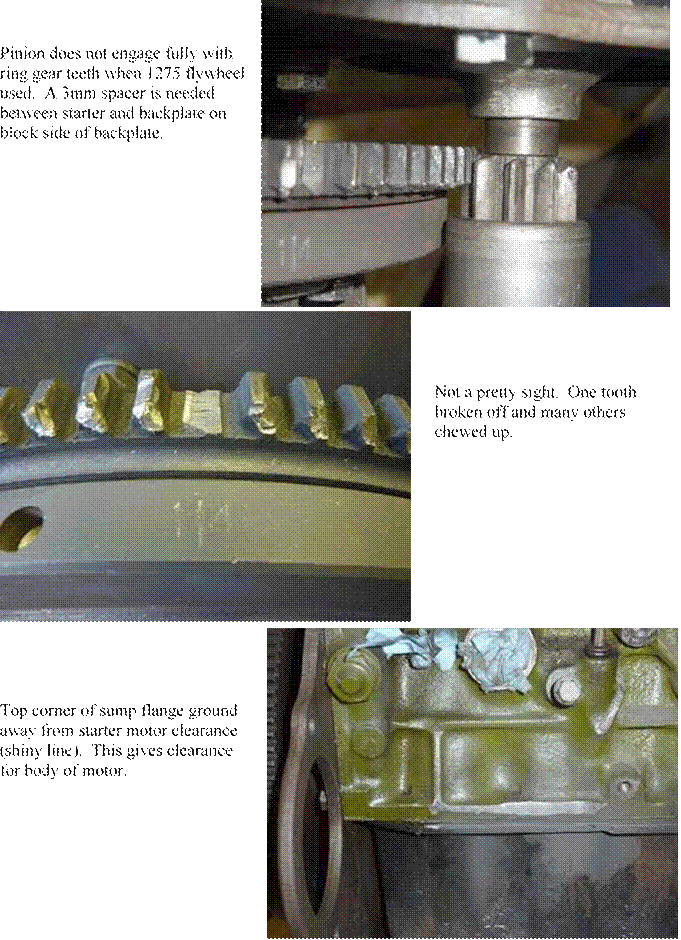 My Rochdale Riviera
Derek Bentley
As the Editor has twisted my arm to show my Riviera project at the forthcoming Bristol Classic Car Show I thought it was an opportune time to give you a few details.
I have always thought that the Riviera was one of, if not the, best looking of the pre-Olympic Rochdales. Although essentially a convertible version of the GT the wheel arch flares and wider grille give the car a more stylish appearance. Those who have seen Roger Coupe's superb example will no doubt agree.
Introduced to the Press in late 1959 all cars were actually sold during 1960 and the factory fire in early 1961 ended production prematurely. In fact by that time the Ford based Specials boom was coming to the end, so it is perhaps not surprising that only 41 were produced. Two different models were made, a two-seater with hood and a four-seater (more accurately 2+2) generally sold with hard top.
Only four are known to survive, so when Rob Daniels offered his for sale in 2004 (was it really that long ago?) I decided that another project could be justified, having just acquired the use of a fourth lock-up!!
There was no documentation whatsoever with the car although it is thought that it was once registered XOJ 602. This is a 1958 Birmingham registration, so presumably relates to the donor Ford. It is therefore quite likely that it was supplied by Monkspath Garage of Shirley, who were agents for a number of shells including Rochdales and advertised the Riviera in their October 1959 catalogue.
So what did I buy? Well the body is in two pieces, cut through the cills and will require a fair amount of attention. The original gel coat under the yellow paint was Red, but this seems to have faded to a Brown colour. The body is loosely mounted (by about two bolts) to a standard Ford Popular rolling chassis. Good practice and period literature suggests that 'boxing' of the chassis would be worthwhile.
The Riviera, like the GT generally used the Morris Minor door window frames complete, with glass. However on mine there are removable side screens, with no indication that this was not the original arrangement.
The suspension is standard Ford, the only modifications being Panhard rods front and rear. A bonus is that the wheels are 15"! Ballamy, now fetching silly money. These are the 'shallow dish' version, requiring spacers at the rear. Fortunately a pair of Wooler 1" spacers came from an FSCC member at a very reasonable price. I also managed to buy a set of new hub caps to fit these wheels from Malcolm McKay. Brakes are also standard Ford rod operated, which all the Specials books seem to imply will be fine for a lightweight car.
There was no engine or gearbox fitted, but I have since acquired a 100E engine with Aquaplane cylinder head. The engine was supposedly rebuilt by a 'specialist', but, based on previous experience its condition remains to be seen. To fit this requires the timing cover replacing with an E93a one and the use of a Ford support bracket, both now in the spares box. The location of the Ford chassis cross member will also require modifications to the sump and oil pick up pipe to move the well from front to back. Fortunately Malcolm McKay was able to supply me with a modified sump.
As an aside, apparently the easy way to up rate the oil pump is to obtain Ford V8 gears, which are 50% longer. Fit these with a spacer plate between the two parts of the pump and you have instant increased oil flow. Thanks to Roger Coupe who supplied me with the necessary bits.
With the 15" wheels the standard differential requires replacement for a higher ratio if the car is not to be seriously under geared. Luckily I managed to obtain a 4.4:1 cwp which hopefully will be ideal. I have also obtained new 135 x 15 tyres (as fitted to Citroen 2CVs) although this might be somewhat premature as they will be old by the time the car hits the road.
I have acquired a Buckler type swing axle front suspension, which allows the retention of the mechanical brakes, although a full overhaul will no doubt be required. I also understand that the 100E filter housing may require shortening to avoid a clash with the suspension. Of course fitting an IFS will also require steering modifications.
The Ford steering box has all the free play that I remember from my first 'upright' Ford, so will need attention. Rack & Pinion would be nice and the Hillman Imp combined this with swing axle IFS. Biggest problem is that on the Imp the steering arms are forward of the axle whereas on the Ford they are behind. (Turn the steering left and the car goes right. Not illegal for road use, but I defy anyone to drive such a vehicle too far without finishing up in the hedge!!). Ideally a LHD Imp rack is required, but I would assume these are like the proverbial 'hens teeth'.
It is possible to change the stub axles left to right, so that the steering arms face forward, as Rochdale did with the 'F' type Olympic, but I am sure Mr Ackerman would not approve.
I understand that the Mk1 and Mk2 Vauxhall Astra use a rack with long centrally pivoted track rods to each wheel and that this is mounted behind the axle, so is a possibility. The other alternative is a VW Beetle steering box. My experience of these suggests they are well built with limited free play and I note that they are now being offered as replacements for the original boxes on the 'T' series MGs.
Acquiring a Riviera set me looking through the records to establish some more facts. For the anoraks like me here are the results.
The Riviera had a short production span and all were sold during 1960.
The first order (1318) was dated 21st December 1959 and the first shell dispatched from Hudson Street on 12th January 1960.
The last order (1499) was dated 15th October 1960 and this was dispatched on 9th November 1960.
A total of 42 shells were made (or at least that is the number that went through the books). Of these only 19No were open versions supplied with hoods, whilst 23No were supplied with the hardtop.
As far as I am aware all open versions were two-seaters, whilst the hardtop version was cut away behind the seats to give a plus 2 configuration.
The body was available in a choice of five colours these being as follows (total number supplied in brackets): Red (14), Light Blue (12), White (5), Cream (5) and British Racing Green (6).
The records show that eight Rivieras were supplied with a Rochdale tubular chassis, which I suppose would be quite beneficial with an open car as the body would not contribute as much stiffness as with say the GT shell.
Watch this space for further developments or visit the Bristol Show and have a laugh!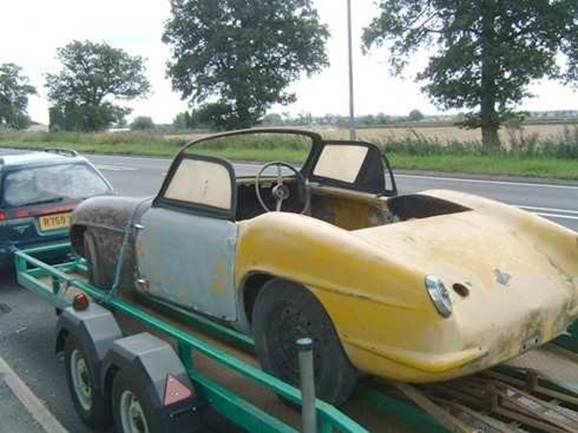 Rochdale Riviera as collected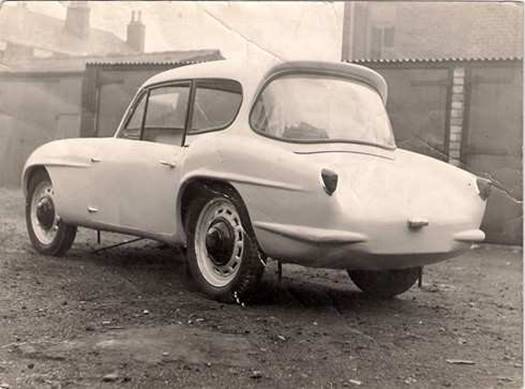 Factory Photograph (with hardtop)
Olympic Registrar
As it is over eight years since my Olympic was last on the road and you will be more familiar with me attending Club events in one or other of your Editor's cars, I thought it prudent to remind members that I do actually own one myself and give a brief history.
On 2nd December 1961 Ted Hann of Winton, Bournemouth ordered a Red Olympic Riley kit from Rochdale Motor Panels. Requested extras included Bumpers, Rear Seats, Extra Tank, Spare Wheel, Safety Belts, Pierced Wheels and Heater. Total cost amounted to &pound698. 17s. 6d. This was entered in the Factory Ledger and given the reference number 1692.
Ted had sent a deposit cheque of &pound35 with the order and arranged Hire Purchase of &pound200 towards the total cost via Fairway Finance, a separate company set up by Frank and Harry. On 28th March 1962 a Pro-Forma invoice was sent and upon receipt of the cheque the kit was dispatched by British Road Services on11th April.
Listed as missing from the kit were the following items: Front Seats, Rear Seats, Trim Kit, Carpets, Heater, Wiper Arms, Blades & Bundy Tubing, Exhaust Brackets, Instrument Panel and Fan Belt.
Unfortunately, during delivery, damage occurred to the bodyshell and several telephone calls and letters then took place between Ted and the Factory. A quotation for repairs to the bodyshell had been obtained, but RMP were not happy with the cost as instanced by their letter of 24th April signed by Frank Butterworth:
Thank you for your letter dated April 16th last. We were most surprised to read that the repairs would cost &pound15, as you explained the extent of the damage over the phone we would have completed this work in about 3 hours. 10 hours should more than cover it. In this length of time we could have bonded in quite a fair sized new section. We do feel that the fibreglass specialists are taking advantage of the fact that this damage has been done by a public undertaking who can therefore be soaked.
There then followed more telephone calls and correspondence and on 14th May Harry Smith wrote:
While we are naturally most anxious to satisfy your requirements, we feel that in your zeal for perfection you are apt to overlook the initial low cost of our product. You will no doubt recall our conversation on this very subject when you last visited us. As I pointed out, we do not guarantee colour of the body & yet you ask us to stand half the cost of cellulosing the complete body. Please let us know what you reasonably expect us to do to resolve our differences.
We are willing to do as you suggest, that is to send a new body, carriage paid, you to return the damaged body at your expense, but we obviously cannot send this relying on your approval of the body when received
The option of a replacement body was obviously accepted and on 2nd June Harry Smith wrote:
.. I have informed B.R.S. that a replacement bodyshell will be ready for collection Monday midday and they confirm that it will be delivered to Winton by 7th June..
We trust you find the replacement bodyshell satisfactory. Since it is the choice of three available bodyshells I can promise you that it is well up to our normal production standard..
The items missing from the original delivery were sent with the replacement bodyshell.
I have often wondered what became of the original damaged shell, as I assume this would have been repaired by RMP and sold to another customer!!
Ted Hann took less than two months to assemble the car and it was registered 9557 LJ on 1st August 1962. There were obviously a couple of teething troubles as instanced by the letter from Harry Smith dated 26th November 1962:
We trust the extension brackets cured the trouble on the Olympic (I assume to raise the rear ride height) and assure you that you are most welcome at our works for attention to the crazed bonnet
Although living in Bournemouth, Ted Hann was working at Shoreham Airport in Sussex whilst building the Olympic. The car therefore clocked up a considerable mileage during his ownership.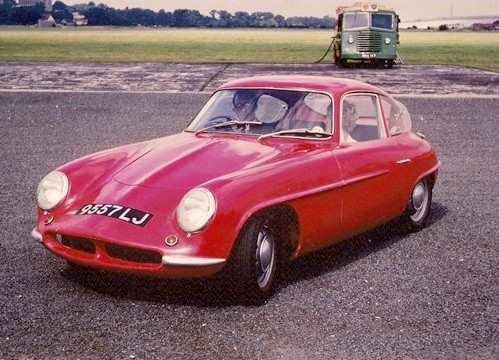 9557 LJ Taken at Shoreham Airport shortly after being built in 1962
Ted kept the car until 1966 when it was sold to the Swanmore Garage in Boscombe. They advertised it for sale in the March 1966 edition of Motor Sport:
Rochdale Olympic GT, 1962. Must be one of the loveliest examples of this car available, been in the hands of one local Bournemouth owner since new. Powered by the Riley 1.5 engine and how it motors. &pound395
It then went to an owner in Middlesbrough, but within a year was on the forecourt of Camden
Motors, Leighton Buzzard. They advertised it for sale in the January 1967 edition of Motor Sport:
Rochdale Olympic, 1962 regd. Riley 1.5 engine. Pretty 2-door coupe, very fast car. &pound299.
By June 1967 the car was in Sussex with a new owner, who kept the car less than one week!! It was then acquired by Roger Baker from Horsham, West Sussex, who used the car regularly for the next four years. As can be seen from the next photograph it received some body damage during that time.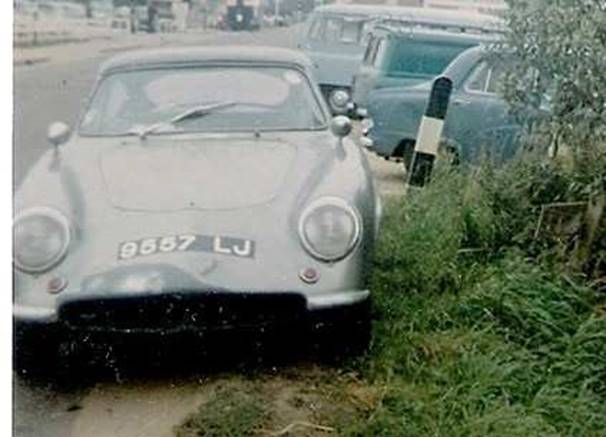 9557 LJ at Potter Heigham, Norfolk 1968
My interest in Olympics stemmed from an article written by Peter Filby in 'Fun Car' in about 1970. The article said that Rochdales would still supply a shell to special order and I wrote off for details. Eventually I decided that building a car from scratch, without a garage was a bit optimistic and low and behold saw 9557 LJ advertised in Exchange & Mart. The owner, Roger Baker, wife and large dog had just returned from a weeks holiday in Wales, so I reasoned it must be reliable and took the plunge and parted with &pound190.
After problems with insurance (pre Classic Car days) I drove the car for the first time on 2nd November 1972 and the rest, as they say, is history!
At purchase the speedometer indicated 48,260 miles, although subsequent contact with the original builder, Ted Hann, suggested 100,000 miles should be added to that figure as he had covered over 60,000 miles during his ownership.
For the next two years I used the Olympic as daily transport, including business use. Any work necessary was carried out as and when required in the evenings or at the weekend. One of the first modifications was to cut out the rear wheel arches so that the ex Minor wide wheels and tyres could be fitted to replace the ageing Pirellis with which the Olympic had come.
The car was generally fairly reliable, although a cracked trailing arm during one business trip necessitated a strip down in the office car park and visit to the local welder, before the homeward journey.
Winter brought a different problem. The Olympic would travel about one mile first thing in the morning before cutting out with fuel starvation. Eventually this was traced to water entering the fibreglass fuel tanks and then settling in the bottom of the carburettor float chambers where it froze. A glass bowl filter, emptied regularly, provided a temporary cure.
Reference to the MOT certificates indicates that I covered just under 17,500 miles in the first two years of ownership.
When the MOT expired in November 1974 I decided that a fairly major rebuild was really necessary and put the Olympic in the garage. An MG ZB Magnette was purchased as daily transport and that became my pride and joy. However, that is another story so back to the Olympic. It languished untouched for about two years, until comments such as 'that will never see the road again' spurred me into action.
The Riley engine was fully rebuilt, by me and a brand new B series gearbox obtained at a knock down price. It subsequently turned out to be an MGA one, which didn't quite fit, so all the internals were transferred to the old Riley casing.
A new dashboard and centre console were fabricated, to hide the Mini heater. A new wiring loom was constructed to replace the original 'spaghetti' and several fuses incorporated.
It finally took to the roads again in June 1978, mechanically overhauled, but bodily multicoloured, GRP, primer and filler.
The following Easter I took a week off work to paint the bodywork. At the suggestion of my boss, who had progressed from cars to building a GRP boat, it was brush painted with two pack polyurethane yacht paint. One coat was applied each day, lightly rubbed down between coats, with a final coat of paint mixed with polyurethane varnish. After five days in the garage inhaling the isocyanides I felt distinctly ill, but fortunately recovered.
During 1978 I was persuaded to try a little mild competition in the Olympic and over a three year period entered a couple of dozen events, mostly Autotests and Production Car Trials.
The Olympic was still daily transport and over the next ten years was to average over 14,000 miles per year. 1980/81 was the year when most mileage was covered, rising to over 22,500 during a twelve month period, accounted for mainly by a girlfriend who had moved to Gloucester resulting in 300 mile round trips!
During 1982 a VW Beetle had been acquired, mainly for competition use, although it also doubled as a second car and the Rochdale mileage dropped to around 12,000 miles per year.
Work on the Olympic was confined to routine servicing, although an annual check over and replacement of suspension bushes usually preceded the MOT.
Daily use of 9557 LJ was to come to a dramatic end in 1988 when the local plumber decided to use the rear of my Olympic to slow down rather than his brakes. This pushed it forward into the car in front, which happened to be my father's. So both ends of my pride and joy were damaged. His insurance company admitted liability, but we argued for nearly a year over the value and cost of repairs. At this stage the Rochdale was not insured on a Classic Car policy with agreed value. Eventually they came up with a cheque for &pound1100 and I agreed with a local body shop owner, who had repaired several Scimitars, to carry out the work for that cash sum. It was returned in Ford Signal Yellow.
So, at the end of July 1989 we were back on the road again. I had now acquired a lock up garage from an Aunt and the Olympic was stored under cover for the first time during my ownership. It then became an occasional use car and the annual mileage dropped to under 2,000.
Celebrating the car's 30th Birthday in 1992
In 1996 the engine developed a rattle, which subsequently disappeared. This was very worrying, but I continued to use it for Club events.
A friend offered an unknown, but supposedly low mileage, Riley half engine and this was fitted to the Olympic. Taking the head off the original engine revealed a broken top ring, which had removed a small chunk of piston. Presumably the rattle had disappeared when these had exited via the exhaust valve! The engine had done 158,000 miles since I had rebuilt it in 1977, so I suppose I could not complain.
Not long after fitting the replacement engine a pre-MOT check revealed rot in the front subframe. The removal and repair of this was covered in a previous issue of the magazine.
With the sub-frame repaired the car was back on the road again in 2000 and resumed its occasional use, mainly to various Club meetings, until the expiry of the MOT in June 2005.
The car has moved between two lock ups since that time and the rebuild eventually started a couple of years ago. However, having to travel 20 miles to get to an unheated, unlit garage was not conducive to a speedy rebuild.
The new house boasts a double garage, with space for the Olympic alongside my Turner, so I have good intentions of completing the rebuild in the foreseeable future.
Total mileage, during my ownership amounts to some 200,000, so altogether the car has covered around 350,000 miles during its life, with, hopefully more to come.
Derek Bentley