No 137 SPRING 2014
Edlines
Tony Stanton. No contribution from Tony this time. He had a fall recently and fractured his neck. He has not suffered nerve damage thankfully, but is in the very uncomfortable state of having to live in a cage which supports his head while the vertebrae mend. I am sure you will all want to send your best wishes for a full and speedy recovery. He can read emails, but is unable to reply at present.
Nominations for Committee membership
The present Committee doesn't want to hog all the glory. If anyone would like to put themselves up for a position, please let the Secretary know so that he has time to recover from the shock before the AGM.
Magazine in e-format.
As mentioned above the magazine will be available in electronic form from the next issue onwards. This is to avoid the high postal charges now levied on overseas mail. The format will be pdf in page number sequence (unlike the back issue CD in which is a pdf, but in booklet form i.e. as though the pages are unstapled). It is possible to print out this file directly in booklet form from Acrobat reader to create a hard copy, with the advantage that it's all in colour.
Coming Events
Stoneleigh National Kit Car Show 4/5 May; Prescott Open Classic 10/11 May; Bristol
Classic Car Show 14/15 June; Silverstone Classic 25-27 July; Burford Specials meeting 10 August; Manchester Classic Car Show 20/21 September. We have a stand at the Bristol show each year, so come along and lend a hand on the stand.
F B H V C N E W S
LEGISLATION
Bob Owen
Roadworthiness Testing; moving forward.
As predicted in the previous Newsletter, the EU institutions have reached agreement on the final form of the Roadworthiness Testing legislation. This agreement was finalised on 18 December 2013, though at the time of writing we do not have a final text to hand. No doubt it will be published very shortly and we will then study it and do our best to explain it fully to you all.
We may expect formal adoption this April and the UK will then have a total of 48 months (until April 2018) to incorporate it into our laws. That does not of course mean that it will take them that long, but it sets out the longest possible timetable.
But we do know some very important things. Firstly the legislation will be in the form of a Directive. This means that the UK, and of course all other states, will be able to incorporate its requirements into their laws in the way which best suits their existing legislation, institutions, procedures and processes.
The other thing we know is the terms of the definition of a vehicle of historic interest. We understand the definition to be any vehicle which is considered to be historic by the Member State of registration or one of its appointed authorising bodies and which fulfils all the following conditions:
it was manufactured or registered for the first time at least 30 years ago;
its specific type, as defined in national or EU law, is no longer in production;
it is historically preserved and maintained in its original state and has not sustained substantial changes in the technical characteristics of its main components.
It is those vehicles EU governments will not have to test. It is in fact up to these Governments whether they do indeed exempt these vehicles from testing. Our own Department for Transport (DfT) is at pains to point out that the exemption is a right they have, not a duty the must comply with.
Indeed there is clearly a body of opinion in DfT that there might be a need for even vehicles of historic interest to have some sort of periodic safety test if they are to use the public highway.
It is no secret that the Federation would have preferred the definition to have been simply age related. We argued our case, and lost. Some other countries had genuine reasons why that would simply not have been acceptable. Now, we could go on arguing for ever about which of the various wordings which have been suggested would have been best. But we are where we are.
The key phrase in the definition of a vehicle of historic interest which DfT will have to decide how they interpret is the third one: it is historically preserved and maintained in its original state and has not sustained substantial changes in the technical characteristics of its main components.
The task ahead now is to work with DfT with a view to their applying this definition in the most favourable way. DfT are keen to have our input, though we must recognise that there may be others who are equally entitled to put their opinions forward about how our vehicles are dealt with.
It is already clear that in setting out their own rules, DfT will probably want safety to be a factor in how exemptions will be achieved, and this will inevitably involve some complexity, not least because safety can be a subjective matter. DfT don't have any preconceptions about how this could be achieved, and will be considering everything from self-certification onwards. They do actively want to achieve the most cost-effective outcome for everyone, including the owners of historic vehicles.
All that said, it seems inevitable that there will indeed be some historic vehicles which simply cannot be exempted, and the aim of the Federation will be to ensure that as testing becomes more modern and automated, it still remains possible to test those vehicles.
There has been some comment that the choice of a Directive means the MoT can stay as it is. This might be a premature view.
It is in the nature of the technical, as distinct from the drafting, aspects of the Directive that they will be the least capable of being massaged to fit existing rules while still meeting the requirement of the Directive. The Annexes in earlier drafts were definitely aimed primarily at the current vehicle population, and could have required significant adaptation to allow for 'manual' testing of old and specialist vehicles. We have not seen the final form of the technical Annexes to the text agreed, so we do not know how prescriptive they might be, or indeed whether they were amended at all in these final discussions.
We will have to see how DfT wishes to deal with the Annexes, and there might need to be extensive discussion with them to ensure that, as far as possible, none of this results in vehicles being unable to use the roads.
We will be continuing to push for the interests of our members to be fully accounted for as the UK adoption of the Directive proceeds. We will keep you posted as to progress, and may indeed find ourselves consulting with you all as we progress and any issues appear. If we do I hope we can rely on you all to help us by getting as many and as complete answers to our questions as possible.
FUEL NEWS Matthew Vincent
Ethanol in petrol
Queries have arisen in the last few months about high octane unleaded petrol (Super Premium) sold in the UK, and whether or not this blend should contain ethanol, as it is supposed to be the so-called 'Protection Grade'. There may be some uncertainty about this issue, so a few words of explanation might be useful. Protection Grade will be limited to 5% ethanol when petrol of 10% ethanol content is introduced into the market. This has not apparently happened yet, although the legal framework is in place, and it can be legally sold but must be labelled appropriately.
The higher octane Super Premium fuels are blended to achieve the high octane quality without addition of ethanol. However, they leave the refinery in that condition and move on to distribution centres where ethanol may or may not be added. This highlights the problem of predicting which Super Premium blends will contain ethanol and which will not.
There was a time when Shell V-Power petrol was definitely ethanol free, but this changed some years ago now, and it is known that ethanol has been blended into Super Premium blends (Shell and Esso, and possibly BP) in some locations. Provided the ethanol content does not rise above 5%, where a label would be required, there is no breach of law or government intention in respect of Protection Grade. When petrol containing ethanol at 10% volume does reach the market, it must by law carry the label 'E10' and a warning that it might not be suitable for all cars, and the advice to consult the manufacturer. We recognise that the latter advice might be a bit tricky for the owners of some historic vehicles.
Supermarket petrol
A recent invitation to receive Tesco Club Card points when purchasing fuel from an Esso petrol station led to a conversation which revealed that Tesco sell Esso petrol and diesel, hence the Club Card arrangement. As one of the Big Three fuel retailers in the UK, Esso have always been keen to protect their quality image, so the sale of Esso fuel by Tesco is an interesting development which might go some way to refute the popularly held myth that supermarket petrol is of lower quality than that sold by the oil majors.
New petroleum regulations
A document issued for consultation by the Health and Safety Executive this month covers the revision of the rules governing the handling and sale of petrol. The new legislation is mainly concerned with garage forecourts and the like, but it does also cover proposed new rules for the domestic storage of petrol for use in lawn mowers, boats etc., so it is also of interest for the historic vehicle owner. There does not seem too much to be concerned about, as the domestic storage proposal is for individuals to be permitted to store up to 10 litres in plastic containers, or up to 20 litres in metal containers, all such storage containers to be suitably marked. For those who are interested or who would like the opportunity to comment, the consultation document can be found on the following link: http://www.hse.gov.uk/consult/condocs/cd264.htm
The consultation period runs until 7 February 2014.
DVLA Nigel Harrison
Demise of Proof of Insurance Requirement
From 16 December, there is no longer a requirement to provide proof of insurance when renewing VED, or when a vehicle is being taxed for the first time. However, although the insurance certificate is not required to be produced, in the case of an age-related application the owner will still need to inform the insurance company of the allocated registration number, and get an amended Certificate of Insurance.
Quoting the Roads Minister:
'We want to make it as easy as possible for motorists to access government services. Getting rid of needless bits of paper, making changes to free up motorists time, whilst saving money for the taxpayer is all part of our commitment to get rid of unnecessary red tape'.
However, there is still a requirement for a vehicle to be insured if it is taxed. This is picked up under the Continuous Insurance Enforcement (CIE). Under that system, a comparison is made between vehicles that are taxed, and vehicles that are insured. If a vehicle is taxed but not insured, or there is a failed match between the taxed vehicle database, and the insured vehicle database, there will soon be a letter in the post, which needs to be reacted to.
MoT and Exemption Declaration
When a vehicle is taxed, if it is subject to an MoT, then an original MoT certificate is still required. If it is a pre-1960 vehicle, it will be exempt from an MoT. However, DVLA have indicated that if it is exempt and being taxed for the first time, or a tax renewal is being done, (except for online) then there is still a requirement for an MoT exemption form, V112 or V112G to be completed.
Automatic SORN Renewals
Any SORN (Statutory Off Road Notification) which expired after 16 December will be renewed automatically. Previously the default after a SORN had expired was that a vehicle needed to be taxed unless SORN was declared. With the new continuous SORN system, there is still a requirement to notify DVLA of any changes in vehicle or keeper details, including an address change. The consequences of not notifying DVLA of an address change of any vehicle can be quite significant.
There are some desirable vehicles where the registration number and chassis number is in the public domain. If someone wishes to clone that vehicle all they have to do, if they want a V5C, is to fill in a V62 form, indicating the registration number, and chassis number. DVLA then write to the last registered keeper, and if DVLA don't get a reply within two weeks of posting, a new V5C is issued to the owner of the cloned vehicle.
If it is years later when DVLA is notified of the correct address of the original competition vehicle then it can be quite difficult to unravel things, particularly if the cloned vehicle has been sold on. The cloned vehicle owner suddenly finds out his vehicle is not what he thought it was, and possibly worth a much smaller sum. It would lose all rights to display the replicated registration number, and depending on circumstances could be allocated an agerelated number or even a Q plate. It is likely that both vehicles will have to subject to a close inspection by DVLA/the police. There will be a delay in the issuing of a V5C to the genuine vehicle owner. Much of this would have been prevented if the genuine vehicle owner had notified DVLA of his new address, when the change occurred.
Administration of club supported applications
With the demise of the DVLA Local Offices, and the demise of the requirement to produce a certificate of insurance, the opportunity has been taken to update various bits of information on the Federation website.
The following has been updated:
List of DVLA useful documents.
Template dating letter. This has been split into two, to reflect NOVA, and nonNOVA.
Template vehicle inspection sheet, and Guidelines for Inspectors.
Admin sheet for inspections. This is completely new.
DVLA Questions & Answers.
With the sample template documents, it is anticipated that clubs will have their own versions of these documents, but there might be benefit in a club glancing at the Federation versions.
Clubs administer vehicle inspections in different ways. Some clubs charge a flat rate for promoting an application, including the inspector's travelling expenses. Other clubs have a standard rate for the admin for the application, with the inspector's reasonable travelling expenses being a matter between the inspector and the owner. Many clubs will have one administration charge for members and another, typically higher, charge for non-members.
On the application admin front for many clubs the admin charges will go through the club books, so owners cheques will be payable to the club, and the V765 scheme signatory uses a club expenses form, to claim back their expenses. Other clubs may not have those systems in place, and owners are asked to make cheques are payable to the named club signatory, and not to the club. Club signatories operating that system could be accused of making personal gain from a club activity, which could be subject to income tax, and may, or may not be approved of by the clubs other officials and auditors. It is totally up to a club how it manages its own internal affairs.
Document Vetting Service
When the DVLA Local Offices were around, as well as processing age-related applications, providing forms and information leaflets, and making photocopies of original documents relating to claims for original registration numbers, they also carried out a valuable service of making sure that all the documents were present for a successful application.
I am sure that all club V765 scheme signatories and vehicle owners will want every application for an original registration number, or application for an age-related number to be successful first time, without DVLA Swansea bouncing the application back to the owner just because a particular document is missing
For an age- related application, these documents are listed at the bottom of the Federation's template dating letter, which can be downloaded from the Federation website. For completeness these documents are listed below:
1. The Overseas registration document, OR dating letter from the manufacturer, OR club dating letter, as appropriate.
2. Completed V55/5 form.
3. Photographs of complete vehicle.
4. Photograph of chassis plate.
5. Photograph of engine number.
6. MoT issued under chassis number*, or if pre 1960 a V112/V112G MOT exemption form.
7. The &pound55 fee.
8. A photocopy proof of personal ID. Typically either a DVLA Photocard driving licence and papercounterpart, or, a DVLA driving licence, or a gas, electricity, water, or landline phone bill issued in the last three months.
9. If vehicle is subject to NOVA, a photocopy of the HMRC NOVA acknowledgement letter.The application is posted by the owner to DVLA Swansea SA99 1BE.
*Once the vehicle is allocated a registration mark, DVLA will typically produce a new MoT certificate amended to include the new registration mark.
Note: Although the insurance certificate is not required to be produced with the registration application, the owner will need to inform the insurance company of the allocated registration number, and get an amended Certificate of Insurance.
For a claim for an original registration number a V765 form and pre-1984 evidence is required, plus items, 2, 3, 4, 5, and 9. The club will post these items to:
MASET, DVLA, Swansea SA99 1ZZ.
It is not necessary for the club producing the dating letter to see the owners ID or MoT certificate/V112/V112G, but it is going to be helpful to the owner to know that these documents are required by DVLA with the application. It will also be helpful to the owner if the club completes the V55/5 form, except for the Date of Birth pigeonhole, and the signing and dating, and at the same time mentioning about the hidden carbon paper. Also for a pre1960 vehicle, it will help the owner if the club fills in the V112 or V112G form, except for the signing and dating.
LETTERS
Dear Alan,
C Type progress
A bit of a misnomer really as progress has been minimal, due to ill health and general lassitude.
However, towards the end of last year I received a phone call: My name is Les Brown, secretary of the Rochdale Owners Club. I have never seen a C type, can I come and see yours? OK I will be over in 20 minutes or so. This was introduction to the 'Livewire' known as Les Brown, Secretary of the Club.
Since then, because he is such an enthusiastic person, he has given me an impetus to get on with the car. It tends to be a bit 'push-push-push' but he has been such a terrific help for which I am most grateful.
The car was just shell and chassis on castors and in primer paint. First the engine and gearbox went in; the engine is a Ford Kent crossflow, 1600 cc, built by a genius in Clitheroe. The gearbox is Ford type 9, 5-speed. Special propshaft by a local firm. The back axle, diff and shafts etc. is Triumph, suspension made in-house with Lotus coil-over dampers.
The paint went on next, dark blue, which goes well with the magnolia seats. Then, because Les wanted some photos of a complete car the suspension and wheels - front and rear - were fitted. Petrol tank. piping and electric pump and brake pipes are all fitted. The seats and dash are in, beautiful instruments by ETB. Tonneau studs were placed and the original tonneau cover fitted with small adjustment. A local company made a very nice windscreen in polycarbonate, very racy! Cost was reasonable too.
The next big job is wiring for which I am procuring components and cable. All the lights are in place, just need connecting. As soon as the engine is fitted with its electrics the plan is to try and start it, fingers crossed.
Les is still very keen and extremely helpful even though he is terribly busy wit his secretarial duties and his book, which is marvellous and every member should buy one. I hope the next report is on road trials and visiting shows etc.
Regards, John Walkington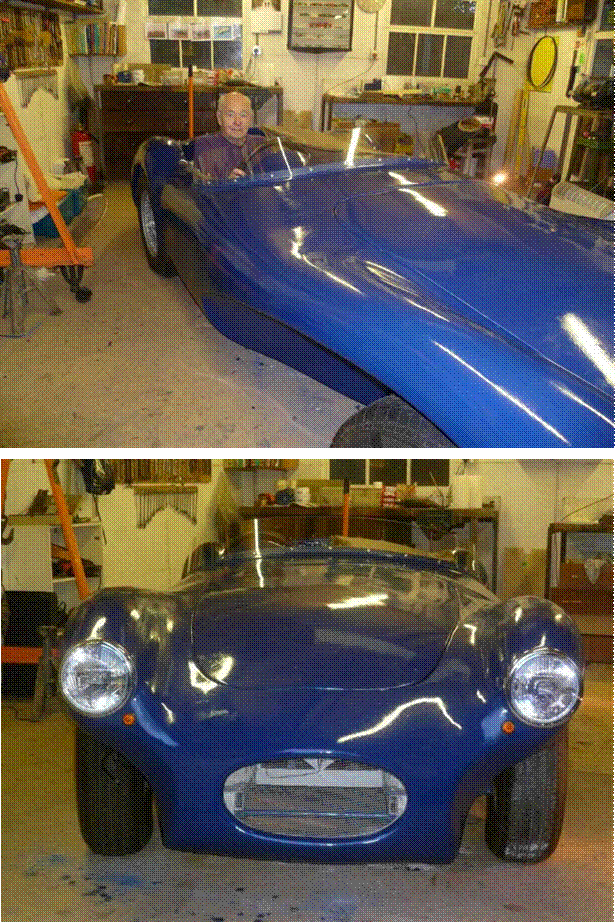 - 11 -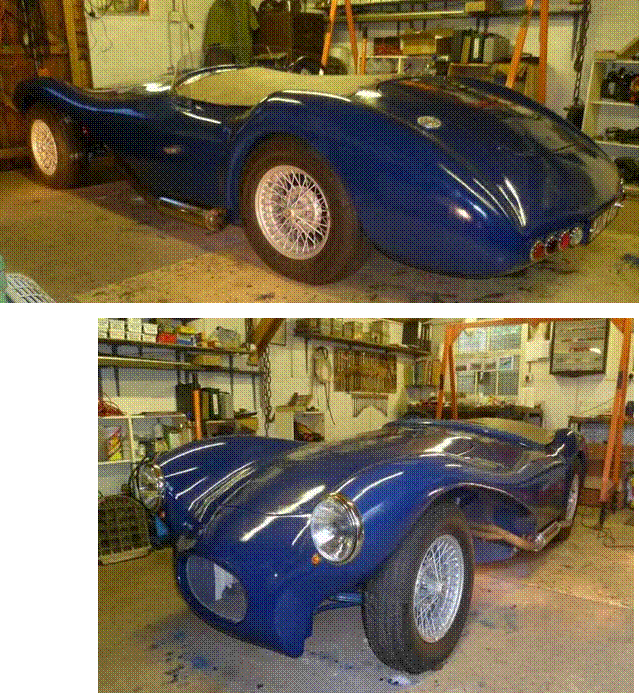 From Les Brown
"Rochdale Sports Car Pioneers" has been finalised as the title of my book, and will be published by Kirkdale Press. Don't get too excited, that's basically just me! Can I refer members to the website www.sportscarpioneers.yolasite.com where I am posting details up as the come through. Also there is a link to facebook pages, for a sort of "stop press" information. If you have never used facebook, don't panic - all you do is press the "f" symbol on the last page of the website.
I have been helping John Walkington put together his beautiful "Corsi" over the last month or two. Having written this up in some detail for the book, it might be most appropriate to include here a short excerpt from it on John's initial introduction to the car.
The Type C Conundrum
[Extract from Les Brown's forthcoming book: "Rochdale Sports Car Pioneers"]
The Rochdale C-Type. That'd be C for Connaught, then. Or perhaps - C for competition? In truth, like many of Rochdales early cars, C for conundrum might be the most apt. The story of the Type C is now so shrouded in mystery - Harry Smith couldn't even bring the car to mind, in later years - we can do no better than take a close look at a man whose life has been intrinsically linked with the model for almost sixty years.
In 1955, the journey across the Pennines from Leeds was not the 40-minute jaunt you can expect on todays M62. 45mph was considered a good cruising speed, and you were unlikely to maintain it for long as one grimy mill town followed another, each one's blackened facade telling its own tale of smoky mill chimneys and pre-smokeless fuels. On a good day, you had to allow at least two hours: going the other way, you had better add another 30 minutes to that as it was a well known fact that Lancastrians ALWAYS got lost in Leeds. (Still true today, incidentally as I found out myself when trying to track down the very same car).
But, as days go, this one was to prove extremely memorable for 22 year old John Walkington: he had sent his one shilling postal order to the small Rochdale firm, and was out to view the apple of his eye, the Rochdale Type 'F'. This was to be built up on an early Ford chassis; his father had given his blessing to the project, and in the event was to have a profound influence on its eventual outcome. Arrival at Hudson Street produced the usual warm welcome, with mugs of tea being produced and the pair encouraged to feel at home.
However, John's heart sank when he was told of the supply situation: there were no Type F shells available, and no capacity for them to be made for some time. Itching to get started on his project, this was where father took a hand - what was that they had, over there? He pointed to a poorly finished example of Rochdales newest shell, a white Type C. What had happened to it? asked Walkington senior, always with an eye for a bargain. 'Oh, it's just one that has moulded badly, there were a few problems with the gel coat, we need to patch it up' said Harry 'I suppose we could knock you something off for it'.
Now the Type C was not only a little bigger than the F, it was also a more refined shell, with both boot and bonnet panels moulded separately, the cockpit aperture cut and the rear arches ready trimmed - but not, curiously the grille The front end is left intact to allow the customer to fit a grille of his own choice. Well, the sad fact was that a lot didn't, and the cars were often driven with a crudely-cut gash across their front, where the main styling feature should have gone. The cost of these refinements was a very hefty (in 1955 terms) &pound20 more than the simple Type F - the C was listed at &pound75. But two factors should be taken into consideration namely: 1) Walkington senior had rather taken a shine to the new car, and was impressed by the completed 'works' version they had been shown 2) he was a born-and-bred Yorkshireman, and (so they say) Yorkshire folk have an even keener eye for a bargain than their Lancashire neighbours. So how much will you take for it? he said, entering into full barter mode Seventy pounds? You must be joking - just look at the jagged patches on that bonnet! Well, suffice to say the Rochdale guys were no match for the increasingly determined Yorkshireman that day and a deal was eventually struck at &pound60, paying there and then in cash straight from his wallet - but he wasn't done at that.
'Will you be wanting us to arrange for delivery?' (Harry Smith again.)
At twelve quid? - we're only up't road! and Walkington senior produced, from the back of his A40 Devon, two lengths of 3"x2" timber, which he carefully arranged along the roof of the car. The shell was positioned over the wood, and after some experimentation it was found that the most convenient position was upside down, passenger opening straddling the roof, and with the Type C facing backwards - with plenty of packing!
'How did we get back to Leeds?' quipped John, Steadily - very steadily! But it only weighed 60lbs all up - you could pick it up with one hand. At first, I thought John was exaggerating until he went on to quote me the weight of every component on the car. His competition days had obviously fuelled an obsession for weight saving, and each component had been carefully weighed, and recorded with a set of butchers scales! So, a simple twist of fate, and John came away with a Type C for just &pound5 more than the simple Type F that he had gone for. How could he know the car would still be his some six decades in the future? And what if a Type F had been in stock? On such details are the course of our lives changed.
*******************
This early picture of Corsi I find a delight. John is seen balanced on a wooden box inside the Rochdale shell with a worried-looking sister Margaret, shortly after getting the shell home. Incidentally, Malcolm raised an interesting point about these cars: although WE call them CTypes and F-Types, that is not what Rochdale referred to the cars as. They were advertised, at the time, as Type F, Type C, Type ST and Type GT. I have therefore ended up with something of a balancing act between the "C-Type" used now and the "Type C" which was correct at the time. The result is a bit of both. Is a 1959 Austin Seven still a Mini? I suspect issues like this might be just as murky as the "Phase III" I have mentioned elsewhere!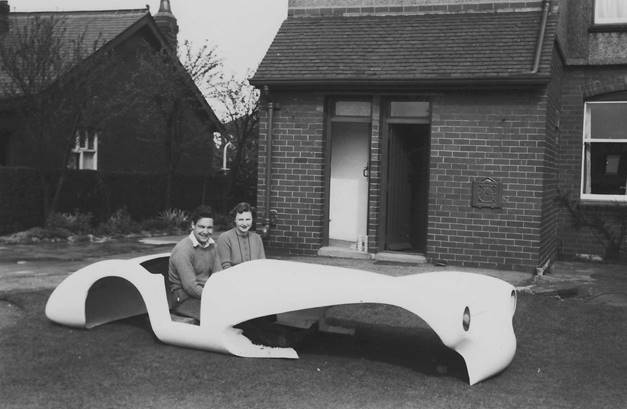 Project ST (part 3)
'Ugly Duckling into a Swan'
Progress has been very slow since the last report due to the poor condition of the body shell and laziness on my part.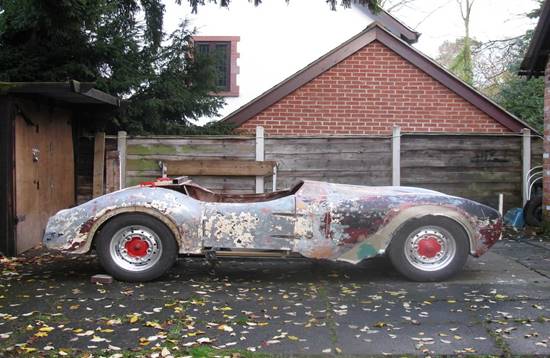 As the first photo shows the shell is sat on the chassis, but there is nothing left of the body below the base of the doors. I have therefore had to make a mould so that new sills can be produced. See photo No2 below.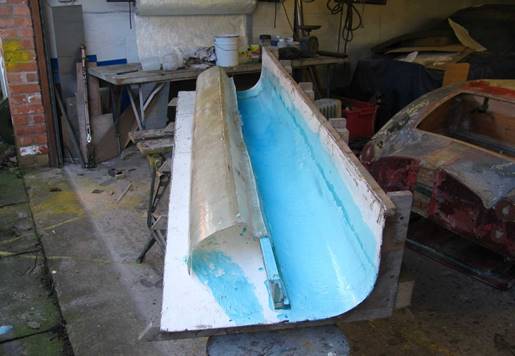 I needed them at this stage of the rebuild so that I can set up the front and rear body sections on the chassis at the right height and angle. See photo No 3 below.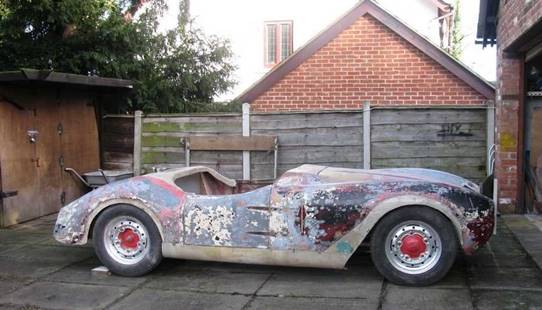 Because I will be lifting the front and rear body sections off the chassis a number of times to fit bulkheads, wheel arches etc. the sills will not be permanently bonded to the front and rear body sections until later in the rebuild
Some progress has been made on the rear body section. As photo No4 shows. A boot lid has been cut and drain channels bonded in. The boot lid lock has come from a VW Beetle engine lid. Rear inner wheel arches and a boot lining has been fitted. A petrol tank rescued from a Lotus Esprit has been modified to fit over the rear axle. As you will notice in the photo below I have also modified the cockpit opening to create a more compact cockpit layout.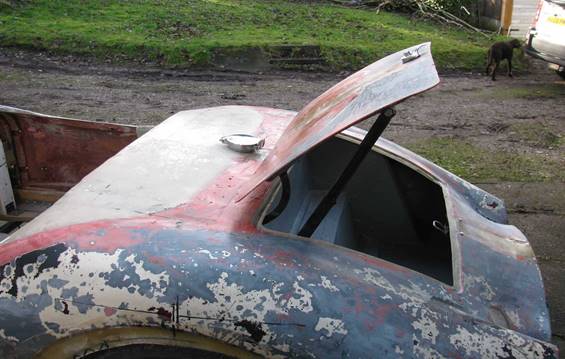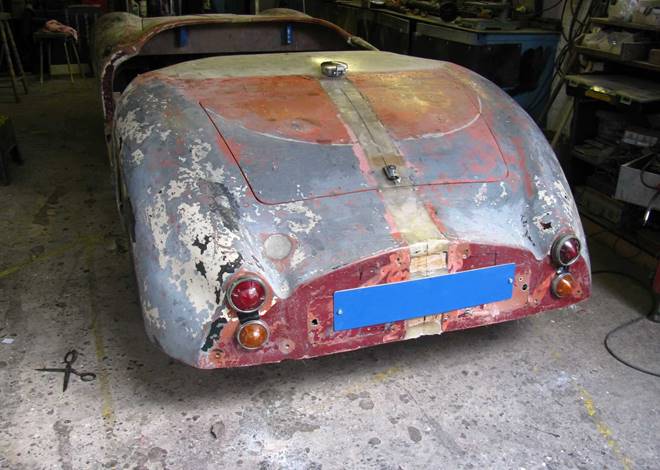 When you look at the unusual shape of the rear end of the body shell, as the photo above shows, I have to wonder what the designer had intended to use for the rear light system. I would have thought he would have designed this shape to accept rear lights from an existing production car of that era. Has anyone got any suggestions?
As I stand back and look at the progress I have to admit to myself that it is still very much an
'#Ugly Duckling'. I therefore don't feel that I can share with you all the next verse of Hans
Christian Andersons Fairy Tale Ditty.
Well maybe next time.
Roger Coupe
WWB 25G and the MAZDA Connection
Phase III. If you really want to start a heated discussion at the next club get-together, just mention the words 'Phase III Olympic'.
It never did exist, of course. After Richard Parker and John Dunwell had done a terrific job in developing the Phase I prior to launch in October 1960, they developed the Phase II in little over a couple of years. At that rate, some might have expected a Phase III version by 1965 or so, but as we all know, it just wasn't to be. And yet, the Olympic is such a delightful confection, and the concept clearly had so much more mileage in it, it is difficult to avoid thinking about just how things might have turned out if the car had remained in production into the modern era. The lines of the car have held their own very well in recent times, and there can be no doubt that it is possible to improve things with more modern running gear, but how far should we go with such ideas? Replacing the old dynamo with a more modern alternator is something it is difficult to argue with in a daily driver; similarly, few would argue with the fitment of later braking systems, for example, and even 5-speed gearboxes from more recent Toyota (are any left?) or Sierras, for example. But what about changing the engine itself, or more using more advanced suspensions?
Of course, there never was such a thing as a 'standard' Rochdale, and the firm was always happy to supply shells for the customer to build up however they pleased; one viewpoint is, do whatever sensible mods you like, as long as they are in period with the car. So a TwinCam Lotus or Alfa Romeo engine is OK, K-series and Zetec less so? Yet both these engines have a certain provenance which links in to Rochdale history, and, if they are done properly, I'm certainly not going to argue with anyone going down those routes. But what about using cars which have been built very deliberately to look and feel like the very best British sportscars from the 1960s and 70s, and have been successfully sold in such vast numbers that the parts are everywhere? It's certainly a tempting thought.
I'm talking, of course, of the MX-5. I was amazed to consider, I've actually had mine for longer than I had the Olympic, but whereas I became intimately acquainted with every component of the Rochdale in that time, I barely know anything about what's underneath the Japanese car. I just turn the key and it goes! Whether this is what you want or not, you have to admire the Japanese engineers (and some Western ones, too) who made all this possible. I was a little disgruntled that it had taken a Japanese firm to appreciate the best of British (mostly, though there are elements of other influences) design, but have come to appreciate the efforts that made it possible: apparently, the design team went in at weekends and worked unpaid on the car when it looked like company interest in the project was flagging. The result was that senior management were confronted with a completed car so good that they just couldn't turn it down and the rest is history.
After seven years ownership, my only real criticism is a certain blandness in the style of some of the cars perhaps inevitable after you have seen so many on the roads. Early ones (pop-up headlights) look best to me, though as this feature was made illegal on new cars round about 1999, we shouldn't be too disparaging of the Mk II that followed. Come to think about it, Mazda have had a pretty hard time over the years with the rule-makers. One of the most impressive performances on a race track in (fairly) recent times was the 1991 Le Mans victory using an engine that everyone else had given up on years before if they had come so far single handed, surely their cars would be winning much more in the following years, so what happened?
I was always puzzled why a string of Wankel victories didn't follow but believe their reward for victory was to be banned from taking part in future events! Even the celebratory MX-5 special edition, finished in the Mazda race colours of orange and green diamonds fell flat; the cars were deemed so garish some were actually resprayed before leaving the Mazda showrooms: just seven remain on British roads, and are now much the most collectable of all models (don't worry looking for one if you see it, you certainly won't miss it!) The car was just one of a series of 'Special Editions' made in small numbers if you want something a little different. My own 'Gleneagles' was made in Olympic numbers, and tastefully trimmed in Britain with cream leather and the appropriate tartan; another notable was the BBR Turbo, given much improved performance by Brodie Brittain Racing (but marketed by Mazda).
'
So the potential is there as a donor car, as the MX-5 is available in (almost) millions and every part is useable. Engine, gearbox, final drive, brakes, steering, - you name it, they are all good, and could have been specially made for an Olympic. Even better, the parts are all self-contained in front and rear subframes, which could be arranged to just bolt up to appropriately arranged fibreglass panels no need for lots of separate mounting points, Mazda have done all the work for you. It was with some interest, therefore, that I saw Paul Boornes Olympic/MX-5 appear on e-Bay as he lives only 24 miles away, I just had to take
a look. I won't bore you with a blow-by-blow account of all the work Paul has done on the
car, for more details I recommend a look at the Retro Rides website, in particular
http://retrorides.proboards.com/thread/149401/1961-rochdale-olympic-forced-induction
Suffice to say, every piece of work has been superbly executed, and considerable thought has obviously gone into the design and building aspects. All the parts are either new or completely re-conditioned, and though there is still work to be done (mainly interior trimming) this is going to be one superb motor car. The engine that has gone in is one of the supercharged BBR variety: 182bhp in an 850kg car. But Paul has gone out of his way to keep this Olympic standard-looking. Interestingly, it would appear to be one of the very early Phase I shells rescued from the fire perhaps hiding behind the wall in the famous after-thefire photographs. Difficult to line this up with the (1968?) registration apparently, it was a long time in coming together.
Some specific Olympic details I found interesting:
Septum: retained, despite all the major work in other parts 'I wanted to keep it standardlooking' said Paul
Narrower track: what I assumed to be standard wheels were in fact BMW-type Mini items which have an extra 20mm or so inset compared to the standard items.
Automatic 'PPF' (Power Plant Frame - ladder frame) is used. The engine is set 4" further back in the Olympic than the Mazda, and Paul found that the automatic gearbox is 4" longer than the manual version he has used, so its PPF is shorter. This frame means there are no separate gearbox mountings needed.
Headlamp mounted flashers: the standard items aren't the most stylish thing on the Olympic, and I found myself looking carefully at all kinds of alternatives. Paul has kept the standard 'VW' type headlight, and simply put an orange flasher bulb where the sidelight used to be simple or what?
Standard front wheelarches: achieved by sawing the wing lengthways, and inserting a wedge-shaped piece of fibreglass from the front. This moves the lot out 4-5", but you really wouldn't know!
Standard rear arch profile: trickier than the front, because the top part of the wheel has to be covered. But looks standard from the side, and ok from other angles too.
Porsche inner wheelarches: extra width of all the ancillaries meant that the inner wings had to go. (Detachable) 944 wheelarches are of rubberised plastic, fit perfectly, and do the same job.
Extended roll bar: Paul was a little puzzled as this finishes in mid-air, almost, especially at the front. The metal was usefully extended here to incorporate mountings for the rose-jointed door hinges. The standard box has been cut away, with much better access to this point.
Hinged rear lid: the area around the rear number plate drops down, giving easy access to the large boot area
Electric Windows: of Toyota type as Paul didn't think the Mazda items would fit. Also
'ejector seat' starter button mounted on a flip-top gear knob.
Fully detachable bonnet: with 'T-bar' access to the front. Better access, but a) don't lose it and b) don't run over it. Mine embedded itself in a nearly-new tyre on the GT
The car didn't make its reserve e-Bay price, though I suspect that Paul will not be too upset by that, ultimately. He seemed to have a marked reluctance to actually make the sale in spite of 17 bids, and who can blame him?
At the end of the day, the car is superbly designed and thought out, but with so few original Olympics to go round should we approve of this sort of thing? The car may not be to everyones taste but what is? My only reservation on this terrific car, voiced by Malcolm earlier, is that it may tempt others into similar conversions which may ultimately end up much less well executed. But that's hardly Pauls fault, and I for one can't wait to see it finished.
Or better still, get all the various 'Phase III' Olympics together now that would be something to see. Are we all up for it, folks? Almost enough to get me measuring up the old GT for Mazda power (only joking!).
PS: I don't dare mention it to the Mazda club, but there was an MX-5 BBR that bit the dust somewhere along the way, too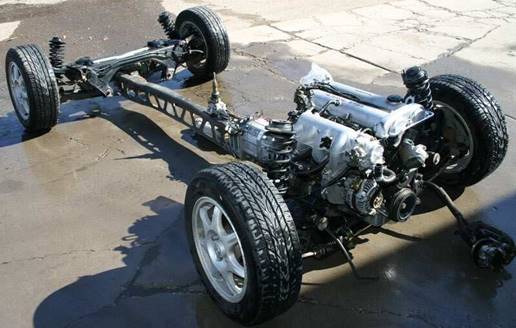 PPF joins front and rear assemblies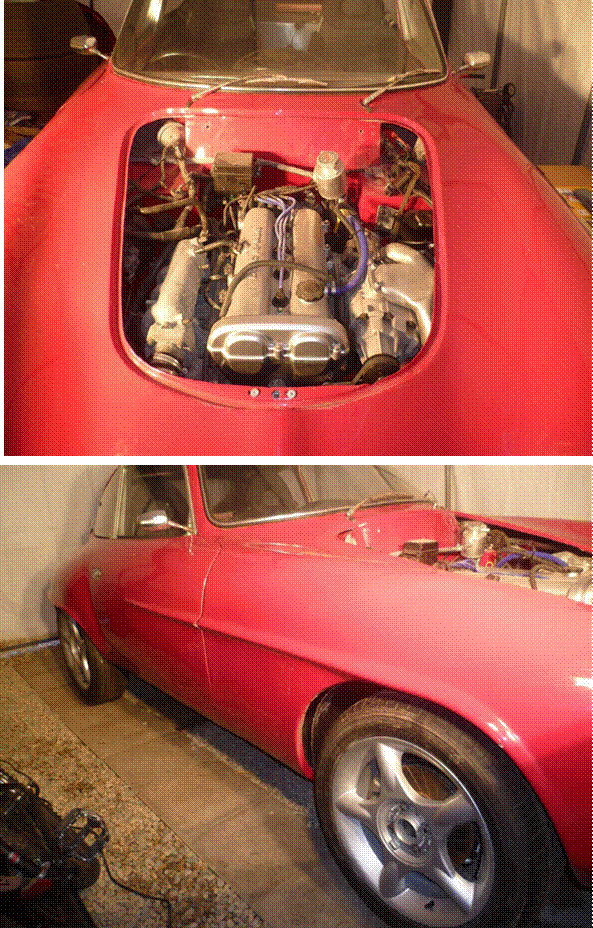 Neat engine installation MINI wheels have more offset
EARLY ROCHDALES
Great Auclum Hill Climb
Has anyone ever heard of the Great Auclum National Speed Hill Climb? Well, for those who haven't, there was a hill climb track close to Burghfield Common in Berkshire that allowed some pretty famous names the chance to compete from 1939 to 1974.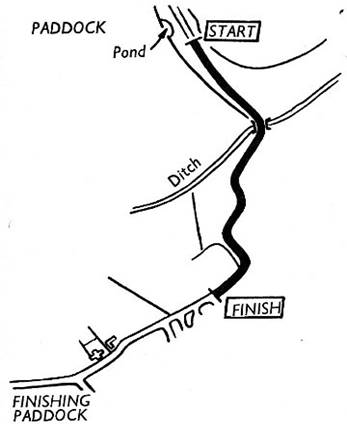 The Hill Climb was based in the grounds of a large country house, formerly owned by a family connected to Huntley and Palmer the famous biscuit manufacturers at nearby Reading. The hill climb was organised by the Hants and Berks Motor Club as a National Speed Hill Climb. This was part of the RAC British Hill Climb Championship, and at 440 yards (400 m) long it was the shortest of events in the Championship. The course travelled nearly as far downhill as it did up, with a finish almost level with the start. Motor Sport magazine reported: "The 1/4-mile course embraces two sharp corners, one banked, and
a twisty section, so that a premium is set on initial acceleration and low-speed cornering."
The Autocar magazine also summed up the track in its magazine on Aug 14th 1953 stating: Like the ghost at a Christmas Party, the course at Great Auclum is a practical joke with a streak of terror running through it. It plunges down from the start, narrow and bumpy, to a fearsomely banked right-hand turn, wiggles up through the woods with hazel thickets on the left and utterly uncompromising Berkshire oats (straw baled) abutting on the right, rounds another banked right-hander and then takes a merciful straight line to the finish by Mr Neil Gardiners house, which is the Hants and Berks Motor Club president's private drive.
The Autocar magazine equally summed the track up the following year by introducing an article with: Use the downgrade from the start to achieve the knots; flash round the 'wall of death' banking down in the dip and practically coast up the hill to the finish..
Great Auclum sounds like a track I would love to go on, but why am I telling you this? Well, whilst at the NEC Classic Car Show a few weeks ago I was perusing through the Specials photos of Ferret Fotographics (www.ferret1.co.uk) and stumbled upon an amazing photo of a Mark VI, captured in action on the banks of a Hill Climb circuit. Written on the back of the picture was Great Auclum, with Mr P Murray driving the Murray Special?
This Mark VI is not known to the early car register and I know little more about it other than the amazing photo. It is interesting to note that the car is left hand drive but I am not sure what forms the basis of the chassis; perhaps the more knowledgeable might be able to tell from the lower arm shown in the picture and what looks like a wider track compared to the rear?
One extra clue to the identity of this car can be found in The Autocar magazine dated 13 August 1954. In a write up of the event there is snippet that states:- There was some interesting hardware, including Murrays 1000cc two stroke engine plastic bodied special.
Another interesting thing I did find is that there is mention of a Murray Special racing in America on the Mid Ohio Sports Car Course in 1963. The driver at the time was called Handley but that's all I have, maybe this car was shipped across to America or there could have been another Murray Special around the same era, who knows? Can anyone else help with the history of this car? A programme from the day would really help if people can keep their eyes peeled for me?
The last event at Auclum Hill was held in 1974 and the site has now been re-developed for housing. However, the course itself is still there as it was the rear drive to Great Auclum house, which has now been redeveloped. The track is in a poor state of repair and very overgrown but you can still walk most of it, you can just see the banked curve in the background of the picture below.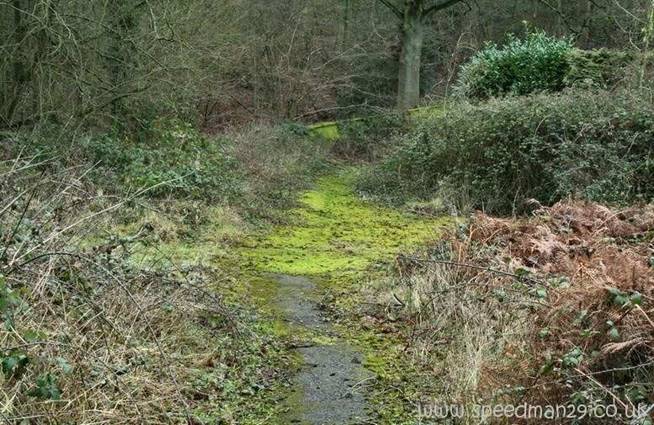 [When I first saw the picture of the car on the banking I thought it was trailing dust. Now I know better! - Ed]
RAF Halton
Here's an interesting postscript to the pieces concerning the apprentices of RAF Halton and their motor club that appeared in Discovered January 1989 and July. Eric Pettigrew from Chattanooga, Tennessee was an aircraft apprentice of 105 Entry at Halton in 1963. He was also a member of the Halton Kart Club which took over from the motor club and one of his first tasks as a club member was to clear out the old motor club building. Amongst the rubbish was a photograph album containing many interesting pictures of RAF Members racing the
Halton Tojeiro and the Halton Buckler as well as the proposed Austin 7 special.
He has sent me his album and I promise to pass it on to the present owner of either the Tojeiro or the Buckler, or if they do not come forward to the archives of the National Motor Museum at Beaulieu. One of the pictures in the album is of the Television Trophy Trial; a piece of televised motor sport which I believe could well be re-introduced. Why was this in the album? Well boys from the motor racing club acted as marshals!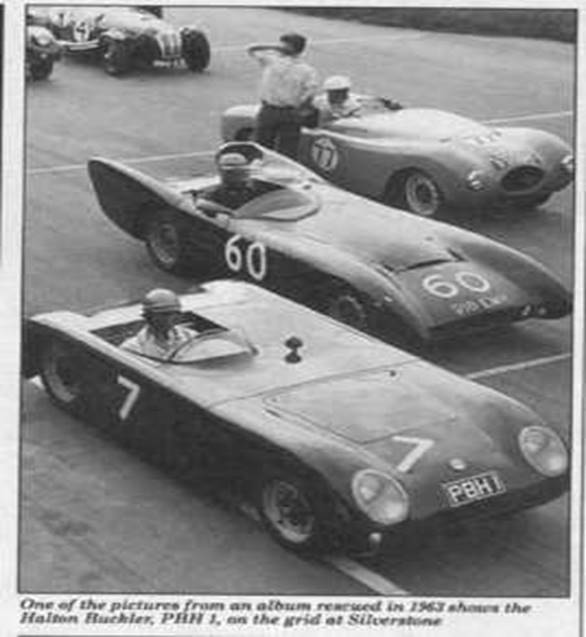 What was included in this magazine article was a picture of the Halton Buckler but in the background you can also see another Rochdale Mark VI bodied car on a Buckler Chassis, 930 BMT. I do not have much information on it but hope to delve into it a little more in the next magazine. As to the photograph album of pictures, I have a few pokers in the fire to try and find out where this is but as of yet I do not know. So, I still have to find 20 years of history for the Halton Tojeiro, if anyone can help with its location whilst overseas I would love to hear from you.
Olympic Registrar
I suppose that in view of the relatively short distance of some 50miles separating Rochdale from Blackpool that over the years there would have been some interaction between Rochdale Motor Panels and TVR.
As I mentioned in issue 135 of the Magazine the first entry in the ledger appears on 28th June 1955 when 46lbs resin, 3oz accelerator, 2 bottles of catalyst and 1 roll of mat were supplied to TVR. Then on 4th July 1955 1 field pack and a further 3oz accelerator were also supplied. A 'C' Type shell was also supplied in July and presumably this is the car that appears not only in RMP's literature, but also in Peter Filbys TVR book 'Success Against The Odds'.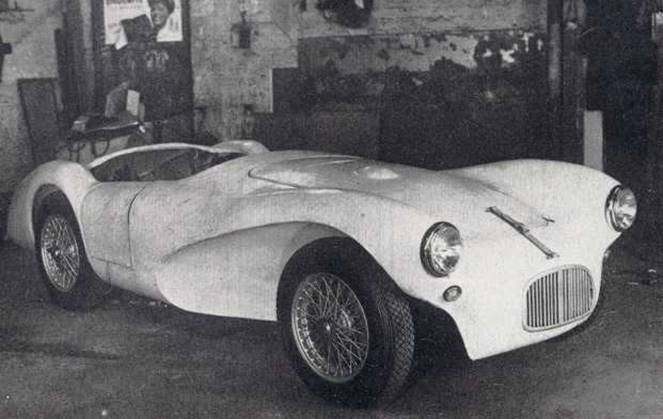 A Rochdale-bodied TVR chassis awaits completion inside the Beverly Grove workshops.
On 13th September an 'F' Type shell was also supplied, so presumably there were at least two early TVR chassis clothed with a Rochdale body.
During 1956 TVR started to produce their own bodywork and Peter Filbys book indicates that the prototype sports model used two Rochdale rear panels, one at the front and a second at the rear. This is incorrect and I believe it is more likely that these were sourced from the Microplas company.
The TVR company went through a number of difficult times and some years ago Harry Smith mentioned that they had visited one of the Bankruptcy Sales, with a view to purchasing items, or even the whole company, but decided that most of the 'goodies' had already disappeared!
But, is their also a later connection between the two companies?
On 3rd June 1961 a Mr Thurner, of 9 Queensway, Sunbury on Thames, Middlesex ordered a
Cream Olympic shell, less engine and gearbox. he ledger contains the note 'send body to Mr R Hallett, 96 Ashfield Road, Bispham, Blackpool'. This was dispatched on 9th September 1961.
The car was registered WFV 812 in Blackpool on 15th September 1961, indicating a remarkably quick build on what was not even a complete kit. When he subsequently advertised the car for sale in July 1965 Mr Thurner had moved to Horsham, West Sussex.
So, why would someone living in the South of England have the car assembled in Lancashire, but not at the Rochdale factory, and what is the possible TVR connection?
Again referring to Peter Filbys TVR book: 'By the end of November (1959) yet another name had been added to the conglomeration running the company, John Thurner'. Thurner decided to invest in the company in September and had now left his position as an engineer at Rolls-Royce to become Layton's technical director. (Layton Sports Cars were the owners of the TVR Company). John Thurner redesigned the TVRs chassis and suspension and stayed with the company until early 1963 when he returned to Rolls-Royce.
Was this the same Thurner who had purchased an Olympic, or a relation? It is not a particularly common name.
Back to Peter Filbys book: Following Sebring, the next important event was the May 1962
Tulip Rally. The TVR team was to be Arnold Burton and partner in the Burton Mk2, John Pateman and partner in another Mk2 and Anne Hall and Val Domleo in the MG 1622 cc engined factory Mk2A. Fitted with all available competition extras, the girls car was prepared by David Hives, now in charge of all racing preparation under Ken Richardson
and his assistant Bob Hallett.
Was this the same R Hallett who had assembled the Olympic for Mr Thurner so quickly a year earlier?
It may just be coincidence of course, but having two names associated with both Rochdales and TVR needs to be investigated. I must try and find out more from the TVR Clubs archivist. The Olympic still survives and has been in the care of Keith Hamer for a considerable number of years.
In a previous issue I mentioned that John Plant had finished the restoration of his phase 1
Olympic (499 YUT) and that the car was now on the road. The car had won a prize at the Bristol Car Show earlier in the year, when it was on the Club stand and Practical Classics magazine, one of the Shows sponsors indicated then that they wanted to do an article on the restoration.
This appeared just before Christmas in the January 2014 edition. The article runs to some six pages and only contains minor errors (They could not spell my name correctly!). If you find a copy still around it is well worth a read and gives a good account of all the hard work the
John has put into the restoration.
Just before Christmas I went to Essex to view Tim Bradshaws phase 2 Olympic (CET
641C). Tim has owned the car for some 40 years, but the car has been off the road ever since
Tim moved down to Essex from Chesterfield. Having completed a large garage extension Tim is to give the car a complete work over to bring it back to concours condition. The car features the original Ford pre-crossflow engine. Bodywork is fairly standard, apart from the usual flared rear wheel arches to clear the widened steel wheels.
The car shares garage space with a Lotus Elan Plus 2, in need of chassis repair, so Tim is likely to be spending some time in the garage over the next few months!
I also had a telephone call before Christmas from David Turner, who lives in France. David owned a phase 1 Olympic (690 UKJ) from 1966 to 1970. He now has a desire to own a phase 1 again, having been through a number of other classics, including I believe a Sunbeam
Alpine.
In fact, Alan and I met David briefly when we visited the Circuit des Ramparts, Angouleme, back in 2007 in Alans phase 2 (BNC 849B). Unfortunately, we were unable to spend as much time as we would have liked talking to David, however I was able to put him in touch with David Pratt, to whom he sold the Olympic and who still owns it to this day.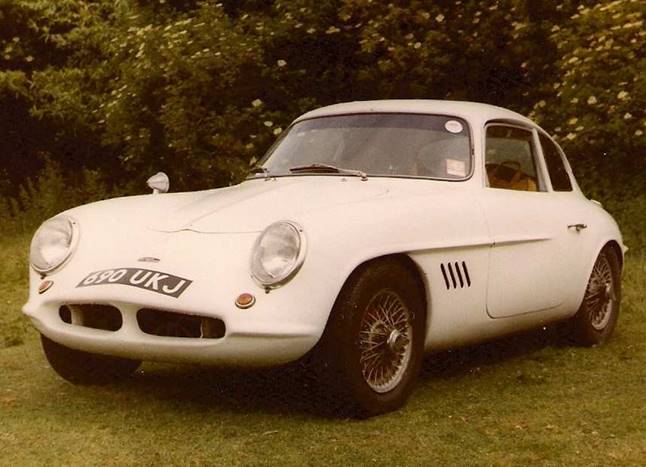 690 UKJ photographed in the early 1980s
It seems the Rochdale bug, once in the system is difficult to get rid of.
Derek Bentley