MAGAZINE No 135 AUTUMN 2013
Edlines
With luck I will remember to include membership cards with this issue; if I don't there is no hope for me.
Last year I left it too late to get a ticket for the Goodwood Revival, but also like last year I will get a pass for the pre-66 car parking area and spend the morning browsing. With about 2000 cars present there is no shortage of interest, and as it is outside the circuit it is also free.
As mentioned elsewhere Burford was not graced with one of my Olympics this year (first time for a decade at least), as I took my Buckler (on trailer). It attracted quite a bit of interest as it hasn't been seen in public for donkey's years and has a number of 'interesting' modifications. One of these is the fitment of a 4-speed gearbox to the Ford 100E engine, a neatly engineered modification, but the gearchange is vague at best. Back home I have started investigating this problem but need a more experienced eye to isolate the cause, as the box has had several internal mods. At least I think I have identified its origin the 1938 Morris 10 series 3 OHV. After sorting out the cooling system I was pleased to find that the engine runs well, but driving the car round a field makes Kermit feel like a limo!
Finally, do turn to page 8 to read about Les Browns forthcoming book on Rochdales.
MANCHESTER CLASSIC CAR SHOW
Having missed the earlier EVENT CITY show because of clashes with the AGM, it is great to report that we are up and running for the latest event at the venue, on September 21st/22nd.
Different organisers this time (Footman James) but the event looks likely to be as big a success as previously. The venue proved to be really excellent with virtually unlimited access to free car parks and unrivalled shopping facilities for such events. Being right on the Manchester ring road, hotels, eating facilities, and even cinemas are available if the kids get too much! Our stand this year is slightly bigger, and we hope to have five Rochdales on show, ie
Keith Hamer hopes to have a Mk II along, in the early stages of restoration
Roger Coupe's Mk VI
My own GT (if mobile by then!)
Howard Evans 1964 Ph II Olympic
Jason Hoffman's "last recorded" 1972 Ph IIR
TONY STANTONS NEWS & EVENTS
North Worcestershire Classic Car Meet
The Bowling Green Inn, Shaw Lane, Stoke Prior, Wychbold, Nr Bromsgrove, Worcs. B60 4BH.
From 7.00pm Monday 16th September 2013
From Midday Sunday 20th October 2013
From Midday Sunday 17th November 2013
From Midday Sunday 15th December 2013
From Midday Sunday 19th January 2014
West Warwickshire Classic Car Meet
The Moat House Inn, Birmingham Road, Kings Coughton, Nr Alcester, Warks, B49 5QF.
From 11.30pm Sunday 29th September 2013
From 11.30pm Sunday 27th October 2013
From 11.30pm Sunday 24th November 2013
From 11.30pm Sunday 29th December 2013
From 11.30pm Sunday 26th January 2014
Club Classic Car Insurance
In 2008 I negotiated a ROC discounted car insurance scheme with Footman James and the details have been on a full page in the club magazine since.
I have been with Footman James for over 20 years including 12 years with 'Duffy', but since they were taken over by AON the service has gone downhill and the prices uphill.
In June, 2 weeks before the renewal date for 'Duffy' Footman James sent me a letter stating that they no longer will insure cars with modifications. I have noticed on other websites like 'Pistonheads' car owners with modifications having the same problem with Footman James (no long term customer loyalty there then).
Other members of the ROC seem to have problems with Footman James as well, so the ROC will now not continue with this scheme. We think it is best for members to arrange their own insurance to their own needs.
I recently had 10 quotes for 'Duffy' from 10 Classic Car brokers, with prices ranging from &pound76 to &pound238 for the same car. 4 of the quotes including the one for &pound76 and the one for &pound238 were for the same insurance company, so something wrong there then?
I have gone with REIS who specialise in Racing and Rally cars and although not the cheapest they seemed to understand the finer details of my car and record it all down on my policy.
SILVERSTONE CLASSIC on the 26th, 27th & 28th July 2013.
Due to a change of plan I did not attend this year, I am hoping someone else can write a report on the event?
SPECIALS DAY at Burford 11th Aug, 2013.
A lovely fine day and a good turnout of cars. Of the Rochdales, there were 4 Olympics and 3 GTs could this mean there may be earlier Rochdales than Olympics next year? Come on Olympics where are you all? The Olympics were 'Duffy' (902 DUF), Tony Wright in Phase 1 (779 CUG), John Plant in Phase 1 (was 81 XPH) now issued with a new age related plate (499 UT) and walking away with the trophy for best car of the show and Nigel Whittaker in Phase 1 (7830 TD). Now Nigel has moved to Shropshire from Devon we may see more of this lovely Alfa engined Olympic. One Olympic missing was Duffy's friend Kermit as Alan had trailed his next project, a Buckler chassied Special down to Burford, so the Buckler boys could look at the car and help him with advice on the restoration. In GTs were Bob Balding in JSV 916, and Mark Farley with his unregistered GT, and the late arrival after problems on the journey down from Leeds (and even more problems on the way back) was Les Brown in GT (SVW 864K). Sorry I missed you out of the photo Les. All in all a good day out, please let's see more Rochdales next year.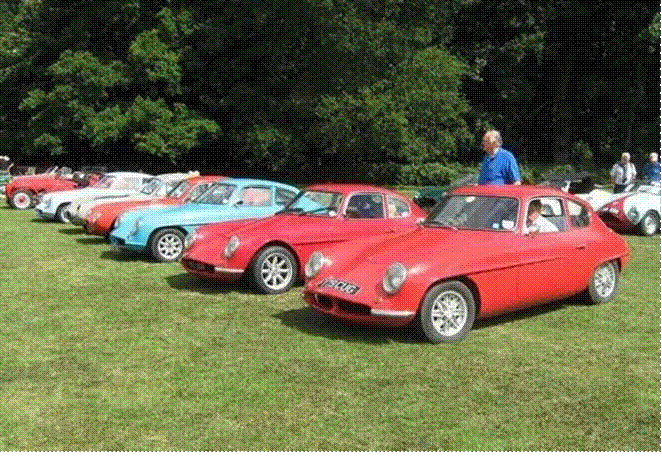 CLASSIC CAR SHOW NEC 15th, 16th and 17th November 2013
As we do not have a club stand this year I am looking for a tidy Rochdale to display on the Fairthorpe Sports Car Club stand and material/display boards.
PLEASE contact Tony Stanton tony-stanton@fsmail.net (please put ROCHDALE in the subject line)
Olympics and Owners from the past discovered.
Readers of the last magazine will have read on the last page 40 and in Derek Bentleys article on page 33, of the recent discovery of a previously unknown Phase 1 Olympic registration number - 120 DPX.
The Olympic is currently for sale and owned by Fred Naggs in South London. As Derek said in his article the original owner and builder was Eric Baker from Horsham, West Sussex. A few weeks ago I managed to trace Eric and I have had many interesting conversations with him on his early days of motoring with fibreglass cars. In 1958 Eric wished to own a sports car but could not afford to buy one, so like many young men in the 1950's decided to make his own.
Eric bought a book called 'Plastic Car Body Design & Construction for the Amateur' by R.A.Martin and priced 9s 6d and an Austin 7, from which he removed the steel body. Eric then drew up a body design for the Austin 7 chassis and made up a wooden male mould to make the fibreglass body from. The Special was completed in May 1959. Eric then went in the Special camping with a friend in the South of France, across in to Italy and then back home over the Alps. Later on when Eric got married he and his new wife went on Honeymoon in the Special over the Alps again to Lugano on the Swiss/Italy border. I just find it amazing the stories people have told me over the years about touring the Continent in the 1950's and early 1960's in Austin and Ford Specials.
In late 1960 Eric decided he would like a more modern fibreglass sports car and in January 1961 ordered an Olympic Phase 1 bodyshell for BMC 'A' series running gear. With the Factory fire in February 1961 it was October 1961 when Eric drove up to Rochdale from Horsham in an A40 Countryman with homemade trailer to collect the body.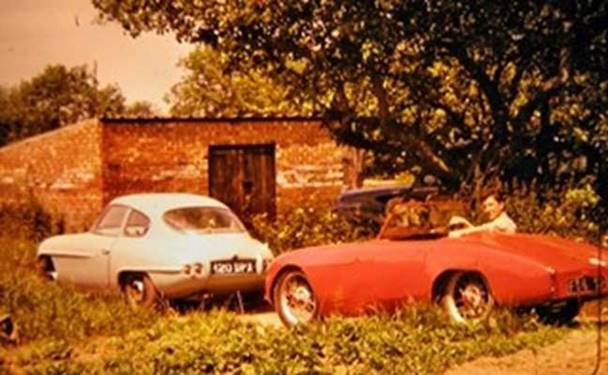 This photo taken in July 1962, shows Erics Austin Special just before he sold it and the Olympic just after it had been completed.
In Dereks article in the last magazine he mentioned that he bought his Olympic in 1971 from Roger Baker also of Horsham and wondered if Roger and Eric were related? Well unfortunately they do not know each other, but Eric was kind enough to go around to Roger Bakers last known address in Horsham. But Roger was no longer living there and it is not known where he has moved to.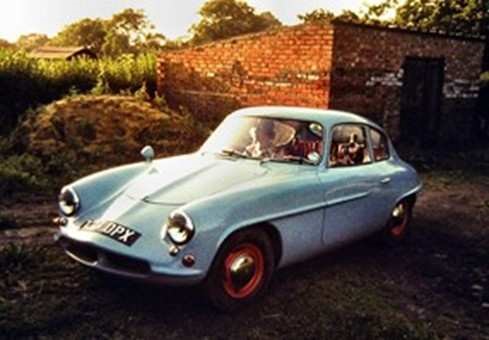 This photo taken in July 1964.
I have also been in touch with Fred Naggs who kindly passed on details of 120 DPX for the Olympic History archives, including a copy of the original buff logbook.
Fred also send me the following news cutting. At the time Fred was using the Olympic his father would regularly bring home a London evening paper, either the Evening News or Standard and his mother cut this article out and gave it to him.
2 Killed as car hits M1 crash barrier.
Two men died after their car hit one of the few crash barriers on the M1 motorway, an inquest at Hemel Hempstead, Herts, was told yesterday. Their glassfibre Rochdale Olympic sports car disintegrated on the southbound carriageway near Watford. Verdicts of accidental death were recorded on Roger Buckingham, 22, of Lynette Avenue, and David Lawrence, 21, of Hambolt Road, both of Clapham. Mr Alan Maskell, police vehicle examiner said, it appeared unlikely that the accident was caused by a mechanical defect as the car had been well maintained.
While this newspaper cutting is very interesting to me as I would like to know more details of the Olympic for the history archive, we must remember and respect that 2 young men tragically died in that accident.
As the cutting was removed from a page in the newspaper we do not have a name or date for the paper, but on the reverse of the cutting there is a reference to the count-down for Britain's first orbital satellite launching, on a newly-developed Black Arrow rocket, it is proceeding smoothly at Woomera, Australia. The launch is expected at 11 p.m. on Monday.
Fred looked further into the M1 crash date and established that the satellite was launched on Thursday 28th October 1971. The reverse of the article referred to the launch being expected on the following Monday. If the launch was delayed for three days Fred assumes that the article would have been published between Tuesday 19th and Sunday 24th but of course the delay of the launch could have been longer, in which case it would have been published earlier. Therefore, the accident was around September/October 1971. The names and address of the 2 young men do not cross-reference in the Olympic database, so this may be an Olympic unknown to the club. If any member knows any more details of this Olympic please let me know.
Contact details for any member who wishes to send me details on the history of their Olympic. Tony Stanton. - rochdale-olympic@talktalk.net
And a note to end on: -
Most of us need to realize that we are indeed using these tools as intended.
DRILL PRESS: A tall upright machine useful for suddenly snatching flat metal bar stock out of your hands so that it smacks you in the chest and flings your beer across the room, denting the freshly-painted project which you had carefully set in the corner where nothing could get to it.
WIRE WHEEL: Cleans paint off bolts and then throws them somewhere under the workbench with the speed of light. Also removes fingerprints and hard-earned calluses from fingers in about the time it takes you to say, "Oh sh --"
SKILL SAW: A portable cutting tool used to make studs too short.
PLIERS: Used to round off bolt heads. Sometimes used in the creation of blood-blisters.
BELT SANDER: An electric sanding tool commonly used to convert minor touch-up jobs into major refinishing jobs.
HACKSAW: One of a family of cutting tools built on the Ouija Board principle. It transforms human energy into a crooked, unpredictable motion, and the more you attempt to influence its course, the more dismal your future becomes.
VISE-GRIPS: Generally used after pliers to completely round off bolt heads. If nothing else is available, they can also be used to transfer intense welding heat to the palm of your hand.
OXYACETYLENE TORCH: Used almost entirely for lighting various flammable objects in your garage on fire. Also handy for igniting the grease inside the wheel hub out of which you want to remove a bearing race.
TABLE SAW: A large stationary power tool commonly used to launch wood projectiles for testing wall integrity.
HYDRAULIC FLOOR JACK: Used for lowering an automobile to the ground after you have installed your new brake shoes, trapping the jack handle firmly under the bumper.
TWO-TON ENGINE HOIST: A tool for testing the maximum tensile strength of everything you forgot to disconnect.
ROCHDALE BOOK
'When Rochdale Made a Sports Car'
Les Brown
Club members at AGMs and various events over the last few years will know I have been working on a book on the Rochdale Marque for some time. Considering the amount of cars that the firm produced in the 1950's and 60's, and the reputation they enjoyed, the paucity of published material on the subject can only be viewed as surprising. I can only think that the sheer complexity of the story was enough to deter other would-be authors - it would have deterred me if only I'd had a little more sense! However, the situation was gradually getting more serious as we continued to lose people with vital first-hand experience and memories of the time were inevitably starting to fade as the events slipped further and further into the past. As a relatively late-comer onto the RMP scene, I felt somewhat ill-qualified for the task. But I have owned examples of both of the firm's biggest sellers, and did know the industrial background of the town very well indeed.
No doubt this has flavoured the nature of the book. I have attempted to put the cars into the context of the people who built them, the place where they came from and the sometimes harsh nature of the times. This may not be to all tastes; I have been advised by more than one publisher to stick to just the cars themselves, but I feel that this misses the point. The nature of these cars is intrinsically linked with the people and situations in which they were created; miss any one of those aspects and you lose understanding of what the cars were all about.
The book is due to be published in the next few months. With a small-scale publication such as this, it is always difficult to estimate the likely demand before publication. The bulk of the costs are in setting up for the printing, with the first few hundred therefore MUCH more expensive to produce, while on the other hand if large numbers are ordered to bring down the cost per copy they may not sell anyway, which is worse still! The price cannot be compared to various coffee-table books with print runs of thousands - setting up is just as difficult for a run of 100 as it is for 10,000 - you just use more paper in the latter case. I am enclosing a couple of early pages from the introduction, if you want any more you will have to fork out!
The book is 240 pages long with 366 photographs, many of which are previously unpublished. 148 of these are in colour, and will all be printed to a very high standard. It covers all the models made by Rochdale ie
* Aluminium specials
* MG-type A7s
* Mk II A7s
* Mk VI
* F-Type
* C-Type
* ST
* GT
* Riviera
* Olympic A-type, F-type, Phase II, Phase IIR * Various other projects the factory were involved in.
But what about that title? I started with Poor Mans Porsche, which is nice and snappy, and seemed to sum the cars up. Some thought that this may be confused with other cars, however, not least of all Porsche themselves, and those who weren't too familiar with the Rochdale marque may skip over it entirely. As much of the book is about the people involved, and connections with the town, something that links them all together in a way that might catch the attention of local people with a skimpy knowledge of the cars would be good. Hence the current version, though a bit clumsy for some. So if you can come up with something snappy that links it all together, I would love to hear from you! How about 'Fifty Shades of Fibreglass'? - Ed
However, It would be useful to know details of anyone who a) wishes to be kept informed with details of the book and b) is likely to make a purchase. My contact details are on the inside cover, just make sure you don't use an old magazine as my details have changed recently.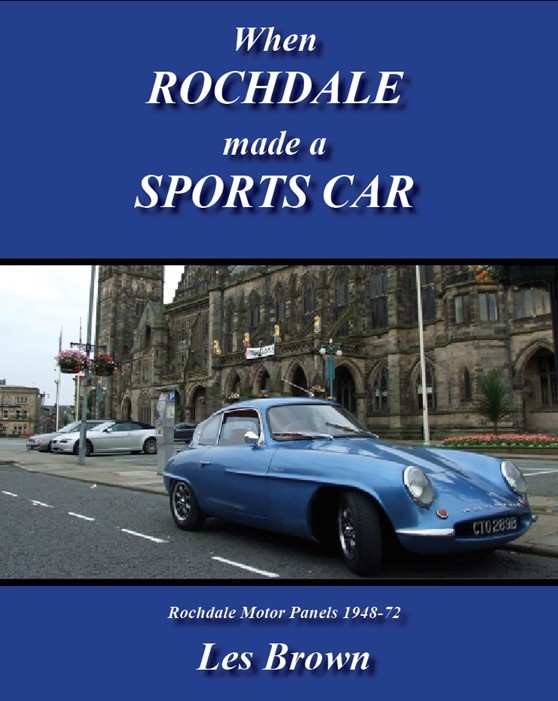 Sample pages from Les Browns forthcoming book.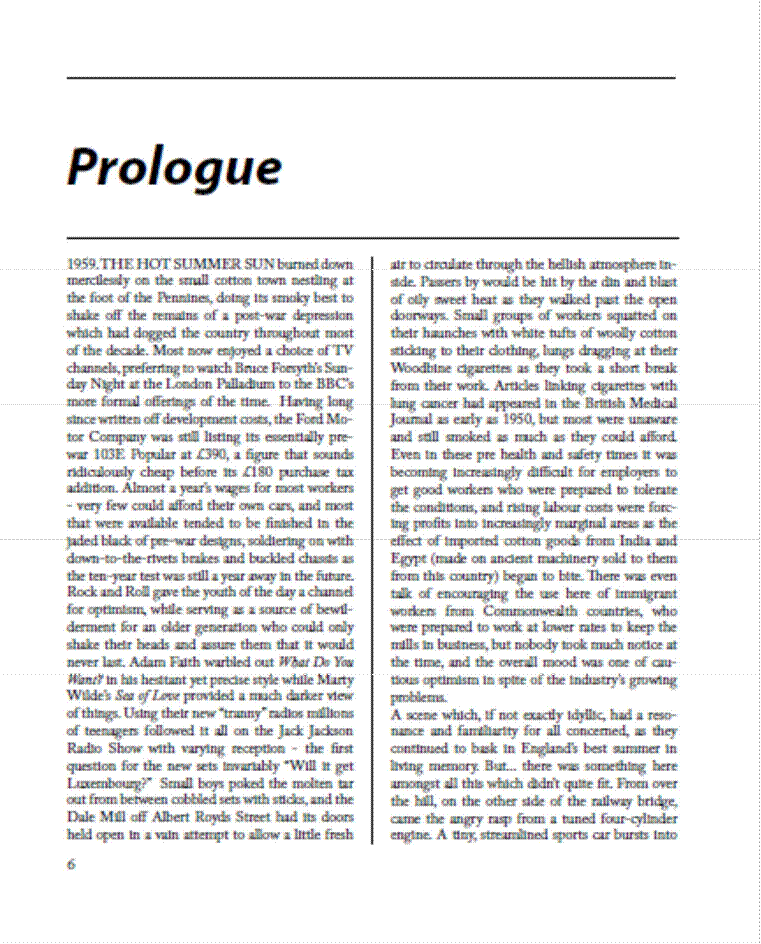 Book Reviews by Michael Ware
<![if !vml]>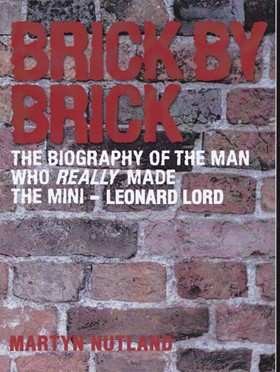 <![endif]>'Brick by Brick' the biography of the man who really made the Mini 'Leonard Lord' by Martyn Nutland.
311 pages, few black and white pictures.
Price &pound12.40 including p and p from Amazon ISBN 978-1-4772-0318-7
Review no 31 by Michael E Ware
Before reading Martyn Nutlands book I knew nothing in depth about Sir Leonard Lord other than having the impression he was not a very nice man. Nutland on the other hand is obviously a great fan of the man having studied his career from an early age. He tells us 'Somewhere in my late teens..I fell upon the quote 'We're not in business to make bloody motor cars; we're in business to make money.' It was attributed to a man whose name I had only seen in ancient back numbers of the Austin Magazine, and then only vaguely noted: Leonard Lord'.
Why someone has not written his biography before I cannot imagine, as he was an influence in the motor industry for so many years. After the First World War he worked for Daimler and in 1923 moved over to Morris Motors. By 1927 he was trusted enough to be moved over to Wolseley when they were bought by Morris. He went there to modernise the factory and its production methods. This lead to him becoming general manager of Morris. Some say Lord and Morris did not get on which is why he left Morris for rivals Austin. Martyn Nutland gives a page of quotes from people around at the time who had a view on the matter.
Later Lord became a senior manager at Austins, later its Chairman. He oversaw all the difficulties and pressure of war time production, and was able to get Austin back into car production very quickly after the war. In 1962 he became president of British Motor Corporation.
I Iike the way Martyn Nutland puts the whole scene into context, The way so many outside happenings influenced the motor industry and the decisions taken, political, social, unions, weather, supply shortages, and many more.
I had not heard the story that Lord wanted a new image for his post war new models. He asked designer Dick Burzi to rework the handsome winged B motif designed by Gordon Crosby for Bentley. So came about the 'flying A'. 'A new overseas-oriented insignia 'Austin of England' complimented the bonnet ornament.' I had not realised that Leonard Lord was the man who was responsible for setting up the factory to build the J 40 and Pathfinder pedal cars. This factory also was involved in making parts for the production Austins '. stamping tappet galleries and timing chain covers, rocker boxes and making lorry seats'.
It was Lord that brought Alec Issigonis to Austin from Alvis and encouraged him to design the Mini. 'However if we credit Lord with being the natural parent of the Mini and it is right we should, we must hold him responsible, to an extent, for its growth into delinquency in the society that was BMC'.
Martyn Nutlands last sentence reads' I leave you with the thought that, after 1945, there would have soon been no British motor industry at all if there had been no Leonard Lord.' Do get the book and draw your own conclusions.
'Making Cars at Cowley, from Morris to Mini' by Gillian Bardsley and Stephen Laing.
176 pages. 273 illustrations.
Price &pound14.99. Published by The History Press. www.thehistorypress.co.uk
<![if !vml]>
<![endif]>ISBN 978 0 7524 9146 2
Review no. 35 by Michael E Ware
I missed this book when it first came out in 2006. It has now been reprinted as a 'Morris Centenary special edition'. It is a paper back absolutely stuffed with pictures, most from the British Motor Industry Heritage
Trust archive at Gaydon, where both the authors work.
Perhaps its my photographic background, but I do like historic picture books, provided the captions contain a lot of detail. In this book I feel something more could have been said around the contents of some of the more sparsely captioned photographs. The book covers the whole story from Morris and his bicycles through to the Mini and the Ital. Each chapter has a very useful page of introductory text.
What I like about this book is that it's not all about cars! The background story of the workers is well, told down to the ladies who prepared the weekly pay packets, the telephone exchange, aerobic classes. health checks and dentistry, also the works band. There is an amazing picture of over 500 chickens 'awaiting the 1929 Christmas draw' the authors make the point that chicken was a luxury at that time.
The war time is interesting for the 650 tanks that Cowley built and the repair and manufacture of aeroplanes repair being a very important war time function. There is a lovely picture of a Morris ten being fitted with a rooftop bag to enable it to run on coal gas. Alec Issigonis is shown driving one of his war time ideas nicknamed 'the amphibious wheelbarrow.'
Of course the book is strongest when it comes to the production process of making, publicising and selling motor vehicles. The hand built bodies in the earlier years, huge presses involved in making panels and painting cars on a rotating cradle with the workers wearing no sort of mask at all! Morris was renowned for buying up his suppliers so that he could have complete control of the previously 'bought in' bits. There is a 1960 picture taken in Morris Radiators with a workman hot dipping by hand to chromium plate vehicle ash trays, all very low tech. I had not realised that the Pressed Steel works also made the Prestcold range of household refrigerators.
A most enjoyable book and I must now look for its companion volume 'Making Cars at Longbridge'.
Ugly Duckling into a Swan
Project ST (Part 1)
26 years ago I acquired an ST body shell in a very poor state from Club Member John Jarrett to save it from being scraped. I rescued the body shell in the hope that at some point someone would have the time to take on the project to renovate one of Rochdales quite rare early models
Well, after all this time there still has not been any interest, so I think it is time for me to get my hands dirty again.
I must be mad!! But having completed the full line-up of Rochdale Paperweight Replicas I suppose the next challenge could be to help in getting together a full line-up of each full sized Rochdale Car.
My first challenge was to find a period chassis on which to build the body. I immediately thought of the old tubular chassis that I acquired over 20 years ago. This came about when I had one of my cars on show at the G Mex Centre in Manchester on our club stand. A chap came on the stand & told me about this chassis at his local scrap yard. I was round there straight after the show & rescued it.
Soon after I sold it on to my son-in-law Alaric Spendlove to go with the brand new ST body shell that I rescued on behalf of the Club back in 1987. This came about when a guy came up to me at one of the Capesthorne Shows & told me he had a Rochdale Body in his loft that he had bought new from Rochdale some 30 years ago & never used it. Were we interested?
After a few years when Alaric found he could not find the time to start the rebuild he sold the body and chassis on about 3 years ago to Club member Dudley Perrin.
Imagine my surprise when I contacted Dudley and he told me he intended to build his new ST body onto a Ford Chassis that he already had because the old tubular chassis was in such a poor state. Also the ST had been designed to fit directly onto the Ford Chassis in the same way as the GT and Riviera with wheel arches & bulk heads to fit the chassis frame. So the rebuild would be more straightforward.
It has been suggested by some people that Rochdale Motor Panels got the idea of making the GT body so that it bolted directly onto the Ford chassis from the ST.
It meant therefore that the old chassis was available and I am so grateful to Dudley for his kindness in letting me have it. They say 'What goes around comes around.' It is great to think that there are now two Rochdale STs about to be brought to life (one for the very first time).
As the photos show my ST body shell is not in as good condition as Dudleys (see club mag No 35). My ST body is in a much worse condition than my Mk6 body was in when I acquired that one. (see club mag No33). But at the end of the day it is only plastic, & can therefore be re built, with a bit of tender loving care (& a lot of time & hard work).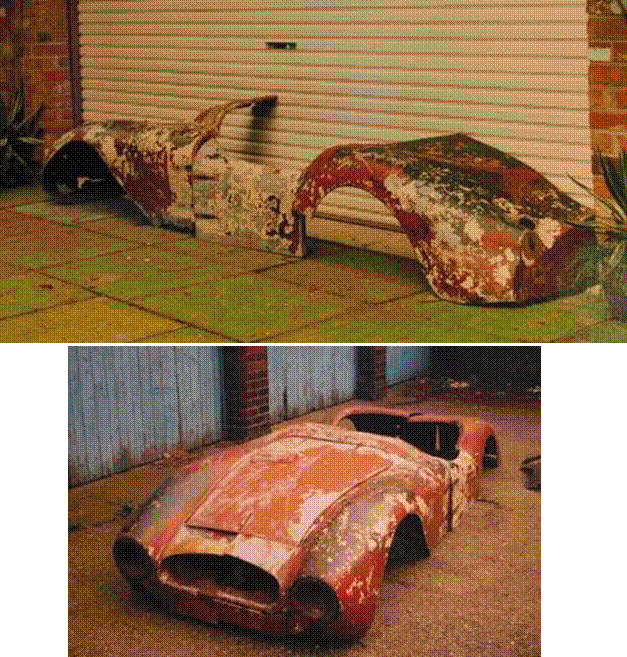 The chassis is also in a very poor condition, but time & a bit of hard work should make a difference. I am still having trouble identifying the manufacturer. Even Malcolm has drawn a blank so far. If anyone can help with this one, I would be very grateful. As the photos show it has an under slung rear suspension similar to the Halifax chassis on which my Riviera is built, but there the similarity ends.
However, it is well designed & very rigid, with an old Ford rear axle & old Ford split axle front suspension. The engine mountings are designed to take the Ford E93A or 100E Engine & Gearbox. The rear axle & diff however is rusted solid. Such a pity as it has a 4.7 crown wheel & pinion. So that will be the first bit I will have to find (is there anyone who can help out there?). The good news is that, as the photos show, the chassis is riding on 3 Ballamy 15in wheels & 1 standard Ford wheel. So is there a Ballamy wheel out there I can scrounge from someone, or will I have to borrow the spare off my Mk6?
When I renovated my Mk6 Rochdale a few years ago I called the project 'Sow's Ear into Silk Purse', so I think I will call this project:
'Ugly Duckling into a Swan'.
For the time being & for some time to come however I think I will only be able to sing the first verse. There are 4 verses to the ditty based on Hans Christian Anderson's Fairy Tale
When I made the Paperweight Replicas I had completed my Mk6. Riviera & Olympic, so they just sit in my display cabinet because I can go out to the garage & play with the real things. However, I can look at the ST Paperweight & dream of the day when I can sing the last verse of 'Ugly Duckling into a Swan'.
Verse 1.
There once was an ugly duckling
With feathers all stubby and brown
And other birds in so many words said
'Quack' get out of town
'Quack' get out
'Quack Quack' get out
'Quack Quack' get out of town
So he went with a quack and a wobble and a quack
In a flurry of eiderdown
I will try to send progress reports for the next Mag. That is if the weather is too bad to go sailing (so don't hold your breath).
Roger Coupe
E-mail: rcoupe258@btinternet.com
EARLY ROCHDALES
James Farrington]
Before I start my written ramblings on the early Rochdale scene this quarter I will continue to headline my articles with an advert related to Rochdale Motor Panels; this time I have a flyer from Super Accessories from Bromley.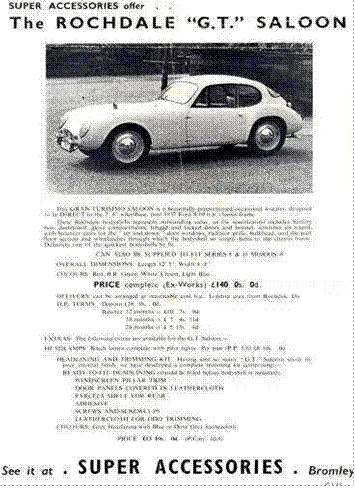 Currently there are specials waiting patiently for some enthusiastic restoration in garages across the country. Scroll back a few decades though and there were specials under construction with increasing popularity and enthusiasm throughout the nation. The specials market was growing and there was a high demand for shells and extras. Where there's a demand, businesses will evolve to meet it, and a whole industry of chassis and body fabricators and tuners emerged to service the special builders' requirements.
Among them was Super Accessories of Bromley, Kent, founded by furniture manufacturer Les Montgomery. He quickly progressed from making replacement body shells for Austin Sevens to supplying all manner of parts and accessories for reborn Austin Sevens and Ford Eights and Tens.
Super Accessories offered plenty of desirable items and would re-bore old blocks, oversize your inlet valves and carry out the myriad of little jobs that would make your special something more than just a chassis in a fancy dress. As demand was outstripping supply, Super Accessories became a dealership for all things to do with the special market and started to sell Rochdale bodyshells.
As well as new bodyshells, one could purchase sports suspensions kits, uprated headlamps, revised axles and chassis, telescopic shock absorbers, back axles of different ratios, refurbished engines, 'aero' valve springs, tasty exhausts and manifolds, plus some very nice Superide and Superlite wheels for a real indulgence. The photo below shows their original premises.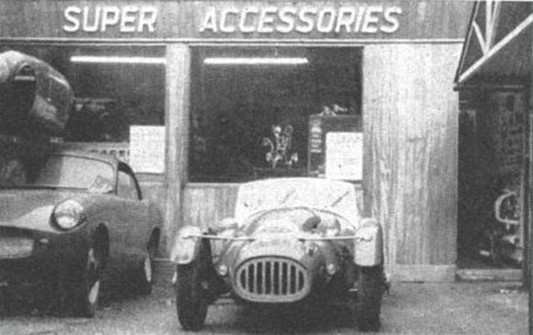 HALTON TOJEIRO
As I've just been posted to RAF Halton, I thought I'd look into the history of a well-known Rochdale bodied car, the 'Halton Tojeiro', a Rochdale C Type bodied car on a John Tojeiro chassis. I'll start with a little history of its beginnings and the history surrounding it before I delve a little deeper into its current uncertain whereabouts.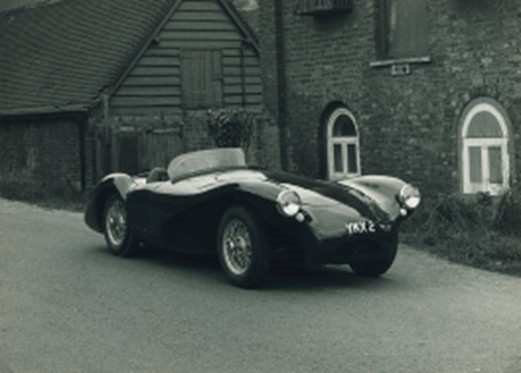 Following World War 1 Lord Trenchard foresaw the need to produce a pool of skilled aircraft mechanics and RAF Halton was selected as the home for the Aircraft Apprentice Scheme introduced in 1920. The three-year course Lord Trenchard initiated was to train 155 Apprentice Entries between 1920 and 1993 and the training they received was to be thorough and broad-based.
Many top-class athletes and sportsmen were to emerge, notably Don Finlay, who was to represent Great Britain in 3 Olympic Games, the last as team captain, and to return later as Chief Instructor at RAF Halton. All could indulge their interests and talents in the Halton Society, which supported acting, debating, aero-modelling, wireless building, expeditions to the battlefields of Belgium and many other activities including the advent of the RAF Halton Motor Racing Club.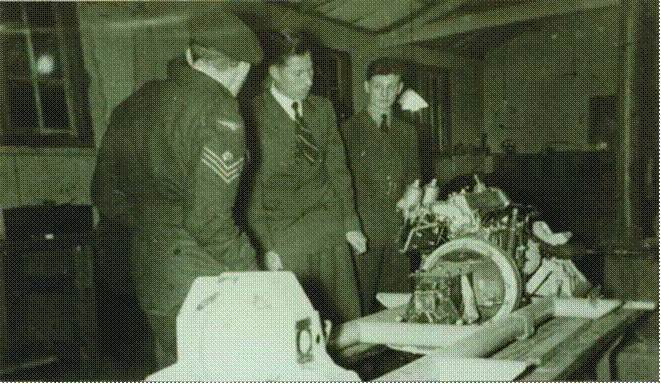 Back in the 1950's, the apprentices at RAF Halton were strictly forbidden to drive anything on the road on two, three or four wheels. The camp commandant, Air Commodore Tindal-CarrillWorsely was, however, a keen motor racing enthusiast and actively supported the Halton Racing Car Club. As the base was a training station for apprentice technicians expertise was easily at hand and the work was supervised by Flt. Sgt Fred Hillier, now of Alexander Hillier Engineering, Aylesbury and focused on two particular projects. The Halton Tojeiro Climax and a Buckler Which Air Commodore Tindal-Carrill-Worsely donated in 1956.
Almost all the parts for the Halton Tojeiro Climax were donated by the motor industry with the chassis coming from John Tojeiro himself. His unassuming workshops in Hammersmith supplied tubular frames to some of the most famous racing cars to grace the circuits of the world. The C Type body was sold to them by Rochdale Motor Panels and was registered YKX2. I think construction began on the Halton Tojeiro in 1954 and was completed in 1955.
The picture below (left) shows the engine being placed into the tubular chassis and the finishing touches being carried out in the picture below by (from left to right) Wg Cdr French, Air Commodore Tindal-Carill-Worsley and a Civilian Instructor.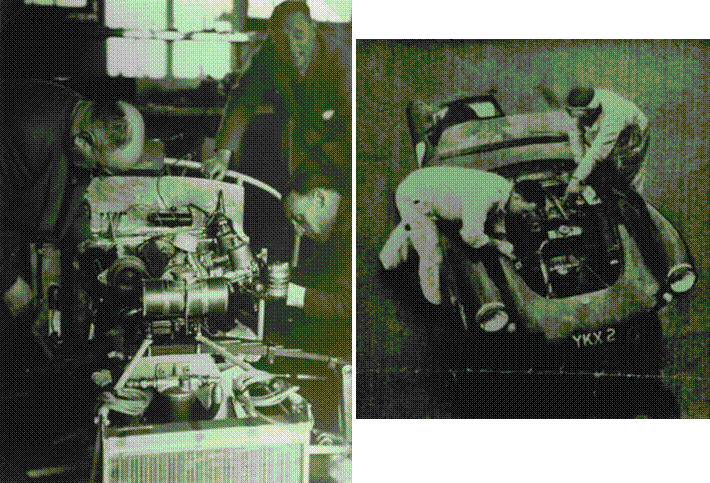 The finished car competed in a few races but I can only find a few notable results on the internet, shown below. It would be great to see a picture of this car on the track but all I have is a potential pits picture from one of these races (above (right).
Date

Race

No

Type

Drivers

Entrant

Result

6.10.1956

National Silverstone

[Handicap]

28

Tojeiro

F. Hillyer

5th

28.09.1957

National Silverstone

[S+1.5] Handicap]

Tojeiro

T.G. Hillyer

3rd

5.10.1957

National Silverstone

[Handicap]

Tojeiro

T.G. Hillyer

2nd
The Buckler owners club have gone to great efforts in finding the 'Halton Buckler' which has since disappeared without a trace and in their search have uncovered a few past personalities who also remember the 'Halton Tojeiro'. The letter below comes from ex-Halton Apprentice, Ed Austin, in New Zealand, in response to a request by David Montgomery of the Buckler Register. Although predominately regarding the Buckler it does shed a little light on the high regard the Rochdale car was held in.
Ed writes:
Unfortunately, I have no idea of the whereabouts of the 'Halton' Buckler, PBH 1', - I was serving overseas around the time it 'went missing' - in fact, I didn't know it had been disposed of until some years later.
I was a member of 'The Halton Stable', as the motor club was known, between late 1956-57.
So named due to our premises being in the old stable block in the grounds below the Commandant's house (Air Commodore T-C-Worsley). The club was also sometimes referred to, unofficially, as Scuderia Wendover. Along with the Buckler, there was a Tojeiro-Climax with bodywork by Rochdale Panels (if my memory isn't playing tricks), and the bare-bones of an incomplete Austin 7 special.
Air Commodore T-C-Worsley was indeed the leading light in providing the wherewithal so that us poor Apprentices could get involved in motor racing/engineering, but NOT driving, however, as we were forbidden to drive any motor vehicle during term-time. Many of us were too young to do so, anyway! Funding for the club was provided by various sponsors, including Castrol, Aeromodeller magazine (we carried their poster on the side of our support vehicle, an old service ambulance). We also got spark plugs and Dunlop racing tyres from manufacturers and suppliers.
When I last saw PBH 1 (Halton Buckler), it had the 1172 Ford sv engine with an Aquaplane cylinder head. There was a move afoot to fit it with an ohv conversion - no idea whether this was done. There was a metal tonneau over the passenger side of the cockpit that was fitted for some, but not all, race meetings - it was left behind in the workshop on more than one occasion. The car was finished in British Racing Green.
During my time with the club, it was driven mainly by the following drivers: Chief Technician Hillyer, Sergeant Cornish, Flight Lieutenant Bartle, Squadron Leader Candy, all pilots. There were others - names escaped, sorry. Squadron Leader Candy was my Squadron Commander in No.2 Wing.
We, the apprentice members drew lots, or were rostered, to 'passenger' the cars to and from the meetings, mostly at Silverstone but sometimes, Brands Hatch. Most guys seemed to prefer the Tojo (Tojeiro-Climax) as it looked more 'modern'. My straw was drawn for a trip to Brands Hatch, driven by Sgt. Cornish. The journey was quite an exhilarating experience that literally took my breath away, there being no windscreen on the passenger side on race days, a pair of Mk8 flying goggles helping to keep the flies from the eyes, but not from the teeth! The seat on my side was a cushion from an old aircraft seat - can't remember a backrest!
Even though the roads were relatively quiet in those days, the inevitable traffic lights and tailbacks of slow-moving vehicles caused its cooling system to complain - there being no fan for the radiator. We stopped to let it cool and add water on a couple of occasions. However, it was quite quick, and made light work of passing other vehicles when the opportunity arose. Don't remember winning too many (any?) trophies on the track, though.
Sorry this didn't shed any light on the whereabouts of Poor Bloody Halton - best wishes in your endeavours!
So, I've not mentioned yet whether the Halton Tojeiro still exists. For definite I can say the C Type bodyshell has long since gone following a crash but as to the car, well the plot now thickens!
As far as I was aware, during the summer of 1988, Beaufort restorations of Maidstone restored the Halton Tojeiro. The C Type bodyshell had long since perished and a very attractive alloy body, styled on the lines of the Aston Martin DB3S was built by them as shown here. I've never seen this car in the flesh but it would be good to get a close look at the chassis to see how much of it resembles the pictures of assembly.
<![if !vml]>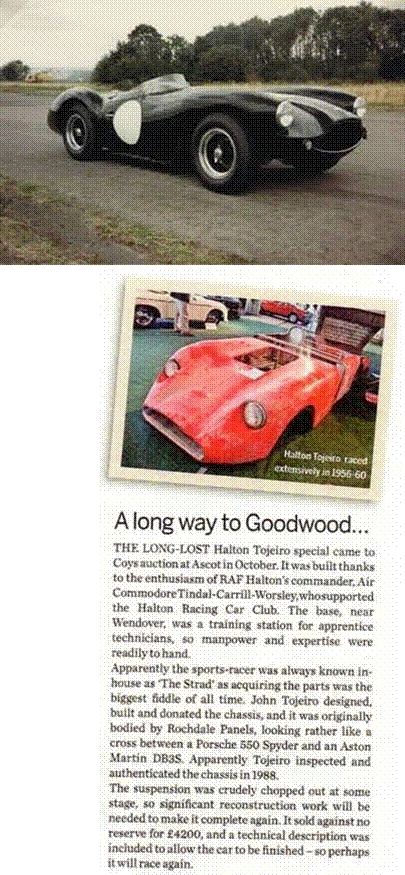 <![endif]>Then in 2009 this little snippet (right) appeared in Classic and Sportscar magazine stating the long lost 'Halton Tojeiro' was going to be put up for auction, as far as I knew it wasn't lost:
Coys advertised the Halton Tojeiro Climax as Lot 240 in their spirit of motoring auction at Ascot.
Part of the original write up states:
The original body was sold to them by Rochdale
Panels; it had been designed to clothe a Connaught ASLR. The finished car had a passing resemblance to a DB3S and was registered YKX2. As it was a pre-1966 car, it did not have a TAD chassis plate although John Tojeiro did inspect it in 1988 and declared it correct and original.
The car was raced extensively in club meetings from 1956 to 1960, mainly at Silverstone but also at Goodwood, Brands Hatch and Mallory Park. Success was limited partly due to weight issues, but the team at the time decided that it was more important to continue the project than to take high-speed risks. The car, as a rolling chassis, was then sold in 1963. It passed through several hands over the ensuing seven years, using various engines as it went along.
At one point it was laid up but eventually purchased by Bruce Whalley in 1970. He used it for race and speed events the 1970/71 seasons. In 1972, he re-bodied it in a more modern form and sold the registration number. External issues however prevented it from being completed, and the half-finished project was bought by a noted and well regarded historic racer. Part of the front and rear suspension was used to produces an Aston Martin inspired racing car some years ago although the majority is still intact and in good order.
Also included are the front and rear aluminium panels, twin side tanks and a number of ancillaries. Included in the sale is a technical description of the engine, gearbox, steering and brakes required to finish this historically important Sportscar and given its history to date and the quality of the remaining sections, should have little trouble in being reunited with some of those circuits that featured in its formative years at RAF Halton.
The car sold for &pound4200 and the pieces described are pictured below: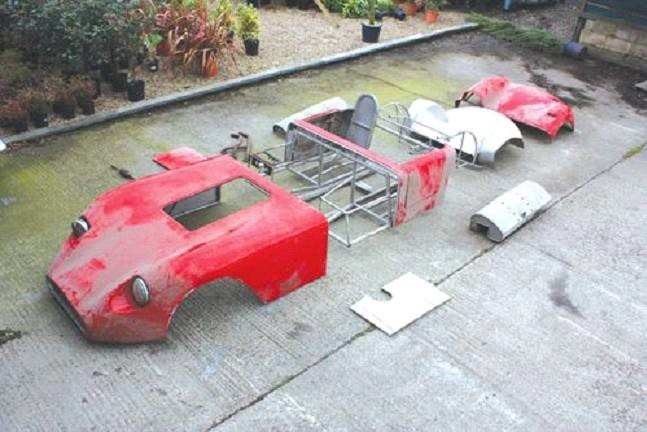 So, let's look at the facts, we have 2 cars claiming to be the Halton Tojeiro. The auction catalogue suggests the number plate and front and rear suspension were sold to create the DB3S lookalike but we don't know what chassis Beaufort restorations used to build these suspension parts on. It is also claimed that John Tojeiro inspected the car up for auction in 1988 and declared it the original chassis. I think this would be quite hard to do with the amount of chassis produced by John Tojeiro. Trying to compare the chassis to pictures of the original is a bit tricky and I can't see any of the outriggers that were there on the original. So who owns the Halton Tojeiro? Does the suspension of a car constitute enough to warrant it being the original or would the heart of the car be the tubular chassis so this could be the original?
All very confusing but amazingly I happened to meet the person who bought this car at the Coys auction; whilst mentioning it in conversation he piped up with, 'I bought it'. Small world!
The guy who bought it owns a classic car repair business; he also said he worked for Coys when the previous Halton Trojeiro sold. When he got the latest one back from auction he said the chassis was made from what looked like water piping with quite bad welds on it and was extremely heavy. He also said the bodywork had no holes for hinges, windows or handles and looked like it had never been fitted. The only things that he thought were original were the main two tubes along the bottom of the chassis but these were bent like a banana. Apparently the one that was sold and rebuilt before was after an accident so it could well have been the original, minus these two tubes that are bent like a banana, and replaced.
Even more confused? I know I certainly am and I don't know which car I would put my money on being the original without a lot more investigating. If anyone knows anything about these cars or the history of the Halton Tojeiro then it would be great to hear from you so I can complete this complicated puzzle.
OUT AND ABOUT 1
Something that I notice with more regularity is early Rochdales out and about promoting the marque at various shows, competitions and events throughout the UK and wider afield. So in light of this I'm going to start an 'Out and About' section to these articles to allow members to let us know what shows or adventures they have been on in their car. With the summer season almost finished there must be some adventures our early owners can relay to our membership. I'll start with what I've seen 'Out and About' and from surfing the internet.
The first GT that has popped up this week is one that is a bit of a mystery and was taking part in the Italian Castell'Arquato on 28th-30th June 13. First a little on the event prior to the car; every year the small village of Castell'Arquato and the road up the hill to Vernasca are the setting for the Vernasca Silver Flag.
This traditional hill climb was part of the Italian hill climb championship in the 1950s and 1960s before reappearing in the mid-nineties as a historic car event. Now in its 18th year this weekend became a fixed date in the classic car calendar for those who love to drive their cars rather than just show them and although growing over all these years the event keeps a character that was described by a regular entrant as 'refreshing amateurish' in the best possible sense.
Unlike many huge commercial events in the summer season dominated by main sponsors, professional organisation teams and media crowd the Vernasca Silver Flag is organized by the passionate Piacenza Historic Car & Motorcycle Club for like-minded members to enjoy a weekend in comfortable ambience and as the three runs up the hill are not timed the driving force of the participants is just the fun of it.
The car pictured below started out life as RXO 366 which the ROC first heard about in 1992 when it was owned by a Mr C Lane from the Forest of Dean, it was subsequently sold to Mr R Chalk for a few years and then appeared for sale in the ROC Magazine before it moved on to Ireland.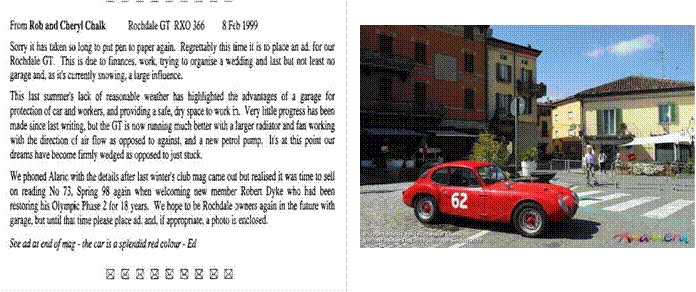 In 2007 it sold on Ebay and disappeared overseas without a trace until a sparse email appeared from a Mr Raggi Raffaele that just stated the following: Rochdale GT 02DR, Chassis n.863415, Engine 1172 Aquaplane, OCT 1955, he also attached one picture of the car but no registration was visible.
I wrote back to get some more information about the car suspecting it was RXO 366 but unfortunately I never got a response even with getting an email translated into Italian. So, all I knew was that this car was alive and well and in Italy somewhere. The next lead came when I saw an advert on the Italian Ebay website advertising this car for 14000 Euro and it included the pictures below.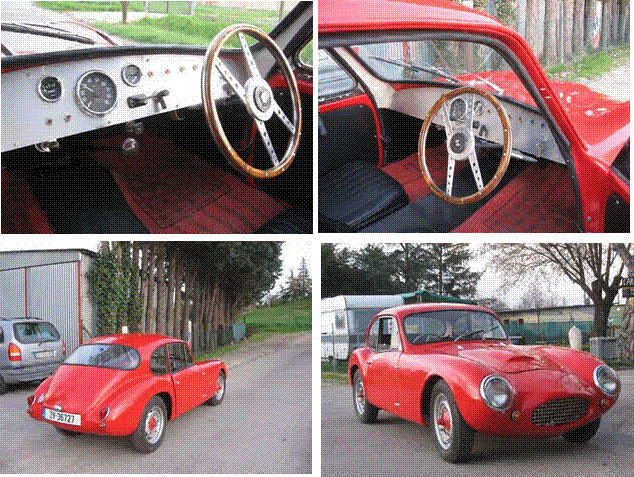 Again I sent another email to the vendor but again had no reply. I don't know if the car ever sold but someone has a fine example of a Rochdale GT and is using it 'Out and About' in various events across Italy. Let's hope I can make contact soon?
Out and About 2
The second GT that popped up 'Out and About' this week is another elusive GT that is also located in Italy. The car was taking part in the 100 Miglia Delle Terre Gonzaghesche which is an event for cars built prior to December 1992. Crews compete in 50 trials along a route of 140 miles through the lands of Gonzaga, among old houses and ancient villages. More information is available from www.sportstoricheguastalla.com.
This car was sold on Ebay in May 10 for &pound4350 and was featured in the spring 2010 ROC Magazine. It has popped up quite a few times since it was sold but I have still not managed to contact the owner. The picture below is a still taken from a YouTube video that shows it starting up and about to carry on with the trials of the event. Another GT 'Out and About' in Italy.
Out and About 3
A well-known car to the club and now under the ownership of Bob Balding has been 'Out and About' and the article and picture below is from classic and performance car website.
Classics in The Walled Garden 2013 report
The walled garden at Luton Hoo was originally designed in the 1770s by Capability Brown for Lord Bute, a noted botanist and Prime Minister under George III. The 19ft high walled garden in an octagonal design of almost five acres, unfortunately fell into decline following WW2, and by the late 1980s was dilapidated, overgrown and neglected.
More recently it has been revitalised, and the setting for a summer evening classic car display organised by Peter Madden with profits going towards the continued restoration of the walled garden and its many buildings and other worthy charities, this year being the Jumbulance Trust, that takes disabled people on holiday. The first 150 spaces in the walled garden were allotted within 48 hours of the invitation being sent out, the remainder of the visiting cars parked either just outside the garden, or in the adjacent paddock with around 400 cars gathered in total.
One of the more unusual cars from the 1950s was a 1957 Rochdale GT, rarely seen on the road nowadays and this particular example was rescued and restored in the late 1990s, having been off the road for around 20 years.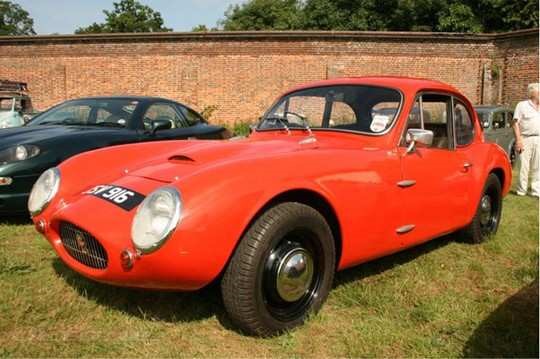 Great to see another fine example on the road promoting the marque and great to see it making a trip to the Burford specials day as detailed in Tonys report. [This is the GT rebuilt by Guy Stallard using a Reliant Kitten as the donor vehicle including chassis. Ed]
Long lost C Type
In 1950 Hersham and Walton Motors (HWM) built four offset cockpit F2 cars: the three works cars were the Stovebolt Special, Terry Grainger's ex-Oscar Moore Jaguar-engined car and the third which has been restored into correct Alta-engined form and is now with a collector in Gloucestershire. The fourth car was built to help raise cash for John Heath and George Abecassis (partners in HWM) who were living from race to race on the start money from the previous weekend. It was built for Alistair Baring and was sold by him at the end of 1950 to John Brown in Scotland, and finally ended up with Ray Fielding at his garage in Forres.
Ray Fielding raced the 1950 HWM for a few seasons but then rebodied it with a C Type Rochdale shell around 1958. The car was then sold and found its way to Ireland but I'm not sure what year? The car was apparently raced in this form in Ireland but has since disappeared without trace.
Then there was a potential lead on this car when in 2010 Bonhams offered for sale a 1953 Aston Martin 2 seater special registered 866 XUM, the write up for that car stated:
The car offered here is believed to carry the original Aston Martin New Zealand-series single-seater body, which Geoff Richardson is understood to have sold into Ireland after fitting the DB3S shell to DP155's surviving and much-modified chassis frame. When initially retrieved for restoration in recent years, the chassis frame of the car now offered here was initially suspected as being of HWM manufacture. A 1950 ex Baring ex Brown HWM 1' seater was rebodied by VSCC luminary Ray Fielding of Forres, Inverness, with a Rochdale fibreglass shell. That body had the same shape as contemporary Connaught sports racing cars and still with its 2 litre Alta engine, the HWM special later found its way to Ireland. The car was raced there in that form but subsequently disappeared. There is a faint possibility that the owner of that car replaced it with a new special and that may be the basis of the car offered here today.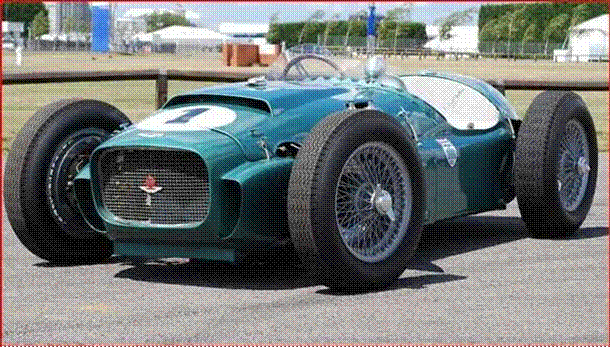 This is a beautiful looking car but after the Bonhams write up suggested it was the lost HWM there was a flurry of internet forum activity. Some forum entries were held in quite high esteem as they were from Simon Taylor (a journalist and author who wrote the history of HWM on their website) and Doug Nye (Motoring author and journalist) and the overall opinion is that this is not the lost HWM. So where is it, that would certainly be a find to discover the Rochdale Bodied HWM sitting in a barn in Ireland, it's almost worth making a pilgrimage to Ireland for a few weeks in the hope of finding it?
If anyone has any books, pictures, racing programmes, race results sheets or anything that has a photo of the Rochdale bodied car racing in Ireland then it would be very much appreciated. There must be one out there or something that adds a piece to this jigsaw puzzle?
Remember, if you have any info that you think would be of interest to the Rochdale Owners Club on the history of these or other cars then please let us know, we might not know it and if we do I don't mind hearing it again. Happy Rochdaling.
Technical Topics
Time to talk about car tyres
The front tyres on my Special were getting a little low on tread and I decided to see about a replacement. I have found that Camskill Tyres of Whitehaven offer the widest range and best prices from my research. In particular, they show by far, the greatest technical detail concerning the tyres that they have for sale on line. You can be losing out with a tyre that is so casually offered by the local tyre depot and it is well worth studying the tyre you are about to buy in more detail. By going to Camskill Tyres on your computer and selecting the size, width and section of the tyre that you need you will be rewarded with a range of suitable tyres, their wet grip factor, running noise level (db) and their price. Admittedly, Camskill have to charge &pound2.99 delivery per tyre but their prices and the vast range to choose from outweigh the additional cost of having the tyres fitted.
In the case of my Special, the tyres I have on the rear are 205/70/14 Falken FK07's and since I have not been over-impressed with the 195/70/14 Dunlop Sports tyres on the front that needed replacing, I looked for a pair of Falken tyres to match the rears but of 195 section (for wing edge clearance). Unfortunately, no Falkens in this size are available from Camskill nor anywhere else I tried. It is noticeable, these days, that wheels are becoming larger and the market for tyres in the smaller sizes, particularly 14" are becoming rarer. I would have to find something suitable before the market dried up or there were only cheap economy tyres available.
There has always been ample grip with the chunky 205 Falkens on the back of my car but less grip with the Dunlop Sports on the front leading to a touch too much understeer. I thought I had found an acceptable tyre from Camskill when I came up with a Hancook K425 Kinergy Eco at &pound47.50 inclusive but then discovered it had a speed rating of only 118 mph (T). Further investigation brought forth a Nankang CX668 with the H rating my car required (130mph) and as a bonus the Traction or Wet Grip factor was better than the factor for my Falkens on the rear of the car. At a mere &pound39.70 per tyre I was delighted and ordered a pair which, with the delivery charge came to a surprisingly reasonable &pound85.38 all-inclusive The Camskill Tyre company show on their site many technical details of the individual tyres which can help a dedicated enthusiast to know exactly what he is buying and is something that your local tyre dealer never does offer; he's only interested in making a sale.
Tyres offer a great deal of information on their walls if one can only read the code. For example, a 'P' simply refers to the fact that the tyre is suitable for a passenger car; you wouldn't want to find that you are fitted with long-life hard van tyres.
A figure of say 185 represents the overall width of the tyre, not the tread width which is never stated.
A figure of around 60 represents the profile of the tyre which shows the sidewall height as a percentage of the tyre width. A letter 'R' simply refers to the tyre being of radial construction and is a rather superfluous addition to the wall details since virtually every tyre nowadays is a radial - long gone are the cross-plies. The last number of the group could be 13 or say 16 and this is the diameter of the wheel in inches. It can be clearly seen that tyre manufacturers never did get their act together with the mixture of imperial and metric measurements in tyres. The tyre will also show such as 91 H which is the tyre load and speed rating.
Speed rating figures are as follows: -
N 87, P 93, Q 99, R 106, S 112, T 118, U 124, H 130, V 149, W 168, Y 186 and Z anything capable of over 150 mph.
A tyre wall showing M+S means that this is an all-weather winter tyre.
Treadwear uses numbers between 100 and 700. eg a tyre rated at 150 would have a 50% longer life than one rated at 100 all things being equal.
Traction or Wet Grip uses letters AA, A, B, C, D, E, F, & G, with AA representing the best traction on a wet road, braking or accelerating in a straight line.
Temperature uses letter grades A, B, & C with A being the best resistance to heat build-up. Too much heat degrades high speed performance and can accelerate ageing of the rubber. Temperature ratings relate to speed such that C =85-100 mph, B = 100-115 mph, and A = 115+ mph.
Age of tyre
Particularly with little-used Classic cars, it is quite possible that the age of the tyre will be of more concern even if the tread depth is generous. Tyre wall cracking is a symptom of age/under-inflation and this could be a concern for the MOT test.
Close to the rim edge will be found such as DOT H25R YC24 4305. The first eleven numbers and letters are vehicle classification numbers and don't come into the point of this article but we can read the last four numbers as telling us that the tyre was made in the 43rd week of year 2005. Such numbering only came into force in 2000 so we cannot date earlier made tyres. Tyres should be inspected closely as a regular feature of car servicing and kept at the stated tyre pressure or even a fraction higher for economy and sharper handling.
Derek Argyle, who has no other connection with Camskill Tyres.
* * * * * * * * * * * * * * * * *
Zenith VN Carburettor Woes
Howard Evans
There are several possible morals to this story which I will offer at the end!
When I purchased my Olympic PhII, the carburettor, whilst being very young in terms of mileage, was completely choked with sediment, with only the main jet being operable. Driveability was somewhat poor as can be imagined! The carburettor is a Zenith VN 2, fitted as original equipment to the Ford 118E 1500 engine, but newly replaced only a few years ago. I cut my teeth on this carb. as it was fitted to various Cortina and Anglia 1500 engines in cars that my father and I drove in the 1960s.
A couple of hours with the thinners (involving the sacrifice of a toothbrush) restored operation to a good standard and I ran the car in this condition for several months before I commenced my vehicle 'complete rebuild'.
During this, I flushed out the tank, made up new fuel lines, fitted in-line filters, and replaced the (Montego!) fuel pump which was leaking. In preparation for the rebuild I accumulated all the parts I thought I would need including a 'new old stock' genuine Zenith VN overhaul kit containing everything that could leak/wear out, bar the jets. This was duly fitted resulting in a carburettor in mint condition.
12 months on, when I came to start the car, things were not perfect in the fuelling department, with an unstable idle speed, ineffective idle mixture screw and very poor overrun to drive throttle progression.
During the rebuild, I had fitted a brake servo, replaced the corroded inlet/exhaust manifolds and introduced a closed-circuit crankcase breather system, so my first suspicions were that somewhere along the line I had introduced an air leak resulting in a lean mixture. Searching for the leak produced nothing!
I drove around for over a year in this condition, until about 2 months ago when I was stationery in a motorway traffic jam for half an hour, keeping the engine running by judicious use of choke and throttle. It was time to fix it! When I arrived home, the engine was idling unevenly and approximately every 3 seconds increased speed momentarily.
Then I noticed that when this occurred, a large drop of neat petrol was ejected from the discharge beak into the venturi. Dropping the float chamber showed it to be completely full and consequently liquid petrol was overflowing via the emulsion block into the venturi.
Further investigation identified that when tested by cranking the engine, the fuel level was correct, but when running, the overflow condition returned. My next thought turned to the fuel pressure. The new fuel pump that I had fitted was described as suitable for pre-crossflow and crossflow engines but I then remembered that Zenith and Weber carbs. required different pressures: 2.5 and 4.5 psi respectively. I measured my pressure at 3.5psi which didn't raise too many alarms but I decided to bring it down to the nominal figure. Not wishing to start cutting off bits of spring in the pump, I fitted an in-line pressure regulator with a continuously variable output which I adjusted to 2.5psi.
Feeling very confident now, I started the engine to find everything just as bad as before! At this point I did what I should have done initially. I read the 1972 Zenith Technical Bulletin covering the VN range. Buried in there, was the paragraph that produced the 'Eureka' moment

When I removed the 'new' needle valve assembly that came with the rebuild kit and measured the diameter of the orifice, it was 3 times that of the one that was fitted to the carburettor originally giving an almost 10:1 increase in flow ratio. Refitting the original component restored perfect performance!
My only defence neither of the jets had a calibration figure stamped on the hexagon!
So the moral of the story? I'll let you choose: you can teach an old dog new tricks/if it ain't broke don't fix it/ only make one change at a time and evaluate the impact.!
If anyone would like a copy of the Zenith document, please 'PM' me on the forum and I'll send a scan.
Olympic Update
From Russ Collins
<![if !vml]>

<![endif]>I am finally free to work on my Olympic again. I have not finished all of the DIY jobs in our new home but those that remain can be regarded as less urgent. I am not sure that my wife would agree with that.
I have restarted my rebuild and have connected up the cooling system as my first sub-project. I attach a photo showing what I have done and a sketch showing the various connections. I have retained the Zetec thermostat but this involves running piping past the exhaust side of the engine. 'Raceline' do a very neat cast water rail that avoids this but it is expensive and makes it difficult to have a heater. The Zetec thermostat is a bit complicated but I found some useful tips on the Westfield web site. They talk about problems with overcooling with the Zetec standard set up but I have not bought in to this for the Olympic.
My solution uses some of the Westfield ideas but is a bit closer to the original arrangement. I have used a stainless steel tube for where the top hose would pass near the exhaust manifold. The main thermostat outlet connects through this tube directly to the top hose of the radiator. The secondary thermostat outlet is more complicated. You can't see from the photograph so I have produced a sketch to show the arrangement.
I fabricated some copper piping to connect the secondary outlet to the rad bottom hose and also to the heater and the header tank. The heater outlet connects to the thermostat via a shut off valve so that I can operate the heater via a cable from the cab. I would have preferred the shut off valve on the inlet to the heater but this would have added further complication. Looking at my pipework I am not sure that the heater will work but I will worry about that once I have the engine running. I found Demon Tweeks very helpful with providing the various bits of hose needed to join up the different diameter sections.
My next task is to connect up the fuel system. I think I have all the pieces that I need but I never expect things to be straight forward. After this I need to complete the wiring before trying to start the engine. I have virtually completed the wiring except for the engine and fuel pump. I can turn the engine over on the starter but did not want it to fire up until I am ready for a test run.
It's good to be back in the garage after a long lapse. I read that Kermit is running well. You have done so much to get these cars back on the road. If I can just achieve one Rochdale rebuild I will be happy.
Olympic Registrar
I mentioned last month that John Plants Phase 1 was on the Club stand at the Bristol show and won a prize as 'Best Sports Car'. Well, further progress on two fronts as the car is now 'on the road'. Unfortunately, insufficient documentation to satisfy the DVLA meant that the original registration 81 XPH could not be retained, but an age related plate 499 YUT was issued by Johns local office. It was pleasing to hear that this process was relatively painless.
First run in the car was not encouraging as the bonnet flew open at 60mph! Fortunately, damage was relatively minor and quickly repaired in time for the FSCC Specials Day at Burford. Here another trophy in the shape of the Classic Car Cup was added to the collection. I understand that Practical Classics Magazine want to do an article on the car, so watch this space. John can now start work on his phase 2R (HLB 21N) or even the GT, although I hear that a Martin Ford Special has also been added to the collection!!
When Malcolm McKay put his car collection up for sale in 2009 the Olympic, UFF 354 disappeared from view. All that was known was that it had been purchased by a Mr Taylor. Last week I received a telephone call, out of the blue from a Rod Taylor, stating that he was the owner of said Olympic. What was even more surprising is that the car has been in Brighton, barely 7 miles from me all this time! Rod is an ex car dealer, who kept a number of the interesting ones for himself and hence built up quite a collection. Illness over the last 3 years has resulted in a number of the collection being put up for sale and even the Olympic has been entered for the next Auction.
Looking at the photos on the Auction site it seems that the car is in exactly the same condition as when sold by Malcolm and still retains the Shorrocks supercharger. However, Rod wanted to drive the Olympic, before a final decision as to its fate, but needed a new windscreen for the MOT and hence the phone call. Watch this space.
The FSCC Specials Day at Burford this year saw no fewer than seven Rochdales present, probably the largest number for a few years. Of these three were GTs, which have been noticeable by their absence in recent years. Those present were: John Plant Phase 1 Olympic 499 YUT
Nigel Whittaker Phase 1 Olympic 7830 TD
Tony Wright Phase 1 Olympic 779 CUG
Tony Stanton Phase 2 Olympic 902 DUF
Bob Balding GT JSV 916
Les Brown GT SVW 864K
Mark Farley GT Unregistered
Each GT present represented a different take on what can be done with a GT shell. Mark Farleys is the nearest to the original concept, still being based on a Ford 10 chassis and retaining the sidevalve mechanics. The major modification carried out by Mark is to make the body a 'flip front'. It certainly makes access to engine and front suspension a whole lot easier than through the GTs somewhat small bonnet opening.
Les Browns is well known in Club circles and is based on a Triumph chassis and A series engine, whilst Bob Baldings is the Reliant Kitten based car put together a few years ago by Guy Stallard. Just goes to prove how versatile the GT shell is.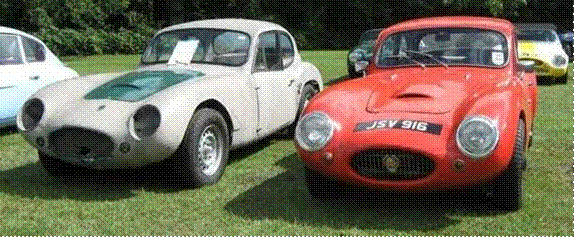 I have been using the warm weather to carry out more fibreglassing on my Olympic (9557 LJ). The main areas of work have centred around widening the tunnel to accommodate the overdrive gearbox, repairing/modifying the door hinge boxes to use the 'Farrer Method' of hinging and generally repair all of the holes that seem to have been cut in the monocoque by various owners over the past 50 years. It seems rather strange that people cut large chunks out of a fibreglass car that they would not dream of taking out of a metal one!
There is still more to do, but hopefully all will be completed before the end of the summer, which will then allow reinstalling of the rebuilt engine and gearbox, which will be a major step forward.
Pre-Olympic Information
The following article first appeared in the November 1958 edition of the 750 Bulletin, headed 'Building a Rochdale Coupe' and written by a D.C. Godfrey. This was obviously not Mr Godfreys first 'Special' as in the March 1955 edition of the same journal he had written of owning a Buckler Mark 5, which was replaced with a Buckler 90.
Although up till recently I have not been one of those fortunate people who can write nostalgically of having to drive saloon cars most of the time, when they do the odd road test of an open sports car, I recently began to hanker after the comfort and convenience of closed car motoring, especially in inclement weather. Naturally I did not want to go much slower than my competition 1172 car.
A tatty van had for some time shown me the benefits of roofed in motoring. Although a few other amenities (wind up windows, heater, radio) which the normal motorist regards as essential luxuries, were provided, there certainly weren't any springs in the seats. However, I decided to go into the Fairy Godmother business myself and convert my Pumpkin Van into a golden Rochdale 2 seater Grand Touring coach employing the identical 10 rat power from Dagenham.
Fortunately, midnight has not yet struck the portals of Westminster Bank Ballroom and so my Prince Charming of a Manager has not had to search for the fibreglass slipper owner yet. I can't think how to fit the Ugly Sisters in except as the delaying factors of time and money which fortunately were not too acutely embarrassing.
The chassis was prepared; a new 'Popular' frame fitted with some Monkspath stiffening and the rest cleaned up and reconditioned. While the body was on order L.M.B. soft ride springs were fitted with transverse Panhard rods, but the chassis was otherwise as in the 'Popular' series Ford. The body was fitted to the engine-less frame and bolted on in ten places (either side of the wheels and centrally).
The only snag was that the petrol tank attachment bolts needed universally jointed fingers 1/8" thick and 6" long to fit them. Drilling the frame through in advance is the answer. Cutaways for the shock absorber brackets (done with a drill after fitting) and steering box and a cutaway for the fuel tank were needed. The rear end of the frame comes very close to the body and may with advantage be trimmed off a couple of inches if no bumper, etc., is to be fitted. This will prevent damage whilst fitting.
The car was filled and sprayed professionally for &pound30 in Arundel Green, the standard Ford light green colour. The job is one of the most straightforward I have ever had to do and the cost will run out at about &pound400 with professional trimming and a higher axle ratio (4.7) which I consider necessary. The fuel economy and performance with a mildly tuned 8 hp head, standard carburettor etc., 10 hp engine are both excellent and it is a most pleasant looking and useful hack which complies with 1172 Formula.
As readers of this Magazine will know I also own a Turner and last weekend took it to a reunion in Wolverhampton, where they were made in the '50s and 60's. There I had the pleasure of meeting Malcolm Hill, son of Ron Hill.
In the early days the Turner Company had no facility for moulding fibreglass bodies, so the work was sub-contracted to Hills Fibreglass Developments Ltd., of Wednesfield, Staffs., owned by Ron Hill.
Back tracking slightly, in 1953/4 Ron Hill bought a chassis (No 5) from Jack Turner and clothed it in a Rochdale Mark 6 bodyshell. The car was registered 439 DRE in August 1954. Ron competed in the car at both Prescott and Shelsey Walsh hillclimbs.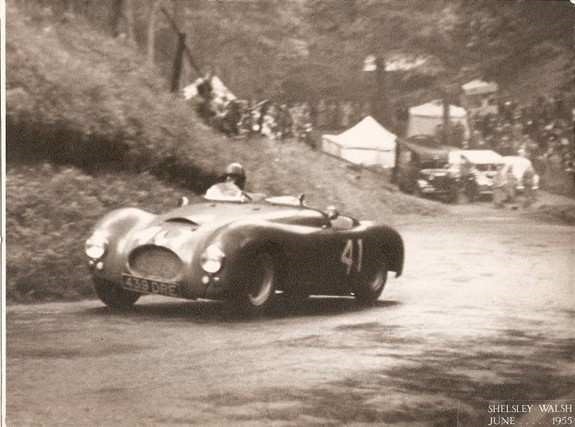 439 DRE (Rochdale body)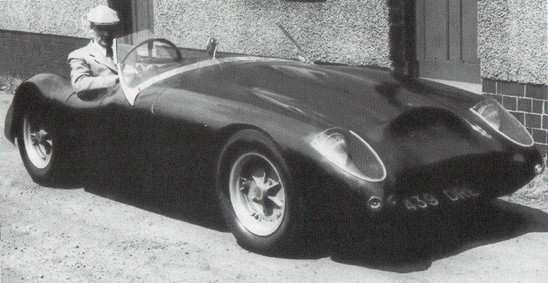 439 DRE (Hills body)
Ron then decided to build his own body to replace the Rochdale one and the car survives to this day in this form. Whether the later body is aesthetically more pleasing is open to debate! The body appears to have been a 'one off' although as a result Hills got the contract to build the first production bodies for the Turner 803. Malcolm also told me that his father also supplied fibreglass mouldings for the Bond Minicar, but I am not sure if this was before or after those supplied by Rochdales. What a small world.
I have also started recently working my way through the early Factory Ledger. This appears to cover the period 1953 - 56, so there would have been one earlier and one later, before the other one in my possession that includes the start of Olympic production.
This early Ledger is not easy to follow and a lot of the entries are for general car repairs, such as chassis welding, silencer and radiator repairs. However, it also includes both aluminium and fibreglass work. It will take some time to make sense of all the entries, but a few snippets already deciphered are as follows:
December 1953 Rochdale Mk II body supplied to Don Jones, Oldham.
June 1955 46 lbs Resin and one roll of mat supplied to TVR Blackpool.
September 1955 One 'C' type bodyshell, one 'F' type bodyshell and 46 lb glass supplied to TVR, Blackpool.
December 1956 Make new Mark 6 mould.
There is an entry headed 'Chester Special' and 'Standard Special', but unfortunately no name. There are two entries and the work is headed 'To making aluminium car body shell to your instructions' and 'To making fibreglass female mould off aluminium body shell to your instruction'. The work started on 4th September 1954 and carried on until 23rd April 1955.
The entry is basically a time sheet of hours expended, with Harry Smiths time being charged at 7 shillings per hour and that of Ken Armistead at 5 shillings per hour. Total bill was &pound21-21-6p of which only about &pound12 was materials.
More gems to follow in due course.
Derek Bentley