MAGAZINE 132 WINTER 2012
Edlines
The editorial Phase 1 (aka Kermit or the Green Machine), covered more than 3000 miles this year including an overseas foray to Laon in the spring and continues to give pleasure. However, there are always ways in which improvements can be made and conversion to disc brakes was one, see below. I also have plans for engine improvements unleaded valve inserts, ported head etc etc which will hopefully take place over the winter. So what are you up to? Please tell.
In this issue: various DIY ideas from yours truly and a useful guide to brush painting by Les Brown (Early Rochdales section); Derek Bentley has succumbed to my entreaty to tell of his motoring life and I am sure there are many of you who could match that for variety and interest, so let's be hearing from you too. Howard Evans continues with his in-depth analysis of car electrical systems which will hopefully serve as a solid basis when rewiring your cars, whether Rochdales or not. There have also been some responses to my request for car ratings, so thank you Derek A and Russ, but there must be more opinions out there in memberland.
The FBHVC section, which I usually include, is an edited version of their bi-monthly newsletter. There is always far too much to include in the ROC magazine, so if you want to read the whole thing go to www.fbhvc.co.uk and click on Recent Newsletters under the What's New heading. Fuel, licensing and (re)registration are ongoing topics.
Finally, don't forget to see what Les has as a stocking filler over the page.
YOU KNOW YOU WANT ONE....
With Christmas just round the corner, now is just the time to leave the magazine open at this page for the wife to pick up on the idea. Based on Ron Collins original cover design, the cars here have been beefed up a little and incorporated into a full colour design. All genuine Rochdale colours, of course. Rons design features familiar lines of Olympics and GTs arranged at an angle - I hadn't taken too much notice until it came to fitting the design onto a cup! So apologies to all those Riviera, ST, F-Type, C-Type, Mk VI and Mk II owners out there, you'll just have to make do with the Olympic and GT for the time being.
The mugs have gone down very well at the various events this year, and some members may well like to add them to their Christmas list. They are a PHOTOBOX product, a firm I have used for many years with excellent results.
Price is &pound4.99 + &pound2.20 postage, ie &pound7.19 in total. Payment can be made by PayPal or by cheque, made out to the club and sent to me (Les Brown - note the new address inside the cover. Nightmare move, but that's another story!) Be sure to make your details clear when you order - ie name/ROC number. For PayPal, just log into your account, and send the &pound7.19 payment to rochdaleownersclub@gmail.com
I will pick it up from there, if you just give your details/what it is for in the NOTES box provided. No letters/stamps/e-mails/cheques/trips to bank, just 2-3 minutes at your computer - no prizes for guessing which I'd prefer... but feel free to use a cheque if you are more comfortable with it. I shall be putting these mugs on e-Bay on the approach to Christmas, if you prefer that route, and hopefully posting this information on the web-site also.
Merry Christmas!
Les Brown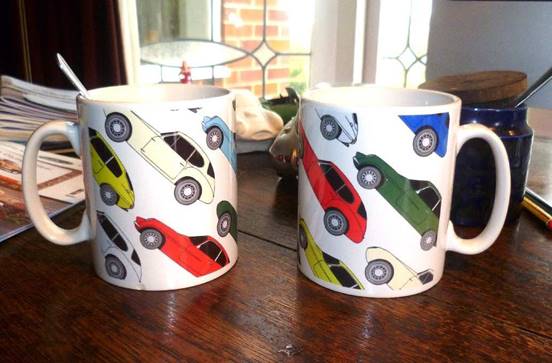 TONY STANTONS NEWS & EVENTS
North Worcestershire Classic Car Meet
The Bowling Green Inn, Shaw Lane, Stoke Prior, Wychbold, Nr Bromsgrove, Worcs. B60 4BH.
From 12.00pm Sunday 16th December 2012
From 12.00pm Sunday 20th January 2013
From 12.00pm Sunday 17th February 2013
From 12.00pm Sunday 17th March 2013
West Warwickshire Classic Car Meet
The Moat House Inn, Birmingham Road, Kings Coughton, Nr Alcester, Warks, B49 5QF.
From 11.00am Wednesday 26th December 2012 Boxing Day Special.
From 11.00am Sunday 27th January 2013
From 11.00am Sunday 24th February 2013 From 11.00am Sunday 31st March 2013
CLASSIC
CAR SHOW NEC 16th, 17th and 18th November 2012
As members will remember we did not get our club application for a stand at this years Classic Car Show accepted, but thanks to our good friends in the Fairthorpe Sports Car Club I was able to use a section of their stand to display a Rochdale.
The car chosen this year was Rochdale Olympic Phase 1 registered 81 XPH, owned by our spares officer John Plant. I wrote about this Olympic in mag 118 page 12, mag 119 page 40 and mag 124 page 4. It is hard to believe this is the same car we saw perched on the back of a truck in a scrapyard in Buxton. In less than 2 years John has completely rebuilt it, well done John. So a big thank you on behalf of the club to John for getting the Olympic ready and transported to the show. We appreciate the effort you have put in over the last few months in a cold garage to get the car there.
Also on the stand was the Rochdale 'F Type' bodied Elva mk1 registered MBU 309 owned by David Whitehouse. Derek wrote about this car in mag 131 page 44 and James in mag 129 page 34. Andy Winston the FSCC stand organiser had asked David while at Burford if he would bring the car to the show. So thanks also to David who made a big effort to get the car to the show. I know on the day before the Thursday build up to the show the body and windscreen were still being fitted to the car.
The big surprise of the show was when I walked in to Hall 10 early on the opening day to find on the Lucas Oils stand the Rochdale GT that Tony Handsford of H Engineering has built up for Historic Racing. This is the GT James wrote about in mag 125 page 35. It appears that HEngineering are the official Southern distributor of Lucas Oil products in the UK. Classic racing cars are Tonys speciality, and he currently races a Formula One 2001 Team Arrows A21 in the EuroBoss series. It was good to have 3 well presented Rochdales at the show.
Club members who visited the stand over the weekend included Derek Bentley, Ron Scarfe, Keith Pratt, Stuart McCaslin, Ben Bettell, Bob Heppell and Russ Collins. If I have forgotten any other club member who came to the stand, please accept my apologies, as it was very busy at times. The FSCC stand looked really good this year, with the two Rochdales, a Turner 950, a Ashley GT and a Fairthorpe Zeta. Also thank you to Andy and Pauline Winston the FSCC stand organisers for their help over the weekend.
TVR
As my reader may remember in the past I have mentioned of my time in the late 60s to early 70s working at Mike Bigland Sports Cars on the design and development of the TVR M-series.
Well the M-series is 40 years old this year and I was invited to the celebrations held at Papplewick Pumping Station in Nottinghamshire. It was a good day out, with lots of TVRs there and Duffy parked in the middle of them and even better was a photo and write up of Duffy in the article about the TVR M-series in Classic Car Weekly.
THE ROAD THAT DIED
The following article written by Alexander Kim was in the MOTOR magazine dated December 23rd 1967.
I have had a transcription (but not the original) of the article for about 20 years and read it many times. A few years ago when I first started the Olympic database, the Olympic in this article was always a car I wished to find the registration number for. I have written this up for the Winter addition of the club magazine as the climax of the original article happened over the Christmas period 46 years ago.
The first clue came when attending the Goodwood Revival in 2010 while looking at the recreation of John Brittens famous racing MG Midget registration SS1800 I noticed the name of the mechanic Oliver Ball painted on the front wing (in the article this is misspelled as Oliver Bol). I then looked up the racing history of John Britten and found his first race was in Sebring
Sprite registration RAM 35, so this confirmed where the magnesium alloy wheels for the Olympic came from. So I now knew Alexander Kim worked for John Britten Garages in 1966.
Next stage was to place a message on friendsreunited.co.uk for anyone who worked at John
Britten Garages in 1966 and had seen the Olympic and I also looked through the John Britten Garage adverts in the 1965, 1966 and 1967 additions of Motor Sport to see if there was a reference to an Olympic, but no luck except a photo in July 1967 of Oliver Ball and Rob Harris (a name also mentioned in the article) working on MG Midget SS1800.
Next stage came at the Classic Car Show, Nov 2011 when I managed to buy in the Autojumble a copy of Motor 23/12/1967 and found items in the original that were not in my transcript, plus also in the original were 2 photographs, one with Alexander Kim standing by the car, but I could not read the registration number.
Later on at the show I was talking to Derek Bentley about the magazine article and the things I had found out, when from the depths of his fantastic storage system for all things Rochdale in the back of his mind, he remembered somewhere at home he had a piece of paper with a name and phone number on, but he was sure the name was different (nom de plume).
Apparently some years ago Alexander Kim had heard about the ROC and had contacted Alaric Spendlove the then club secretary about some Olympic parts he wished to sell and Alaric had passed the contact details to Derek. A couple of weeks later Derek phoned me with the details, the complete name was Alexander Kim Brassington and a phone number. I then phoned Kim and he was pleasantly surprised and amazed that someone should phone him with so much information on the car after all these years. He then passed on to me more information on the car and copies of original photographs.
This Rochdale is now identified as a Red, Phase 1, full Riley 1.5 kit, registered 941 BWC, and delivered August 1962 to Mr R. F. Bolas of Alfred Road, Buckhurst Hill, Essex. Kim bought the car from Mr Bolas in 1964 from an advert in Autosport magazine (if any members have any Autosport magazines from the 1950s and 1960s please give me a ring).
THE ROAD THAT DIED --- or The Demise of the Ragged Rochdale
By Alexander Kim --- MOTOR magazine Dec 23rd 1967. (The words in italics have been added by myself when I found additional information. -- Tony)
To be bitten by the motor racing bug is a fate worse than your income tax returns and infinitely more expensive. In the spring I was running a Rochdale Olympic, complete with Riley 1.5 clockwork, (it dawned on me, one day when I returned from yet another successful pub-topub against the MGBs that lurked nearby, that here was food for thought. After nights spent deep in such thought with my water-cooled slide rule I had the answer. Basically it stemmed from the equation that if Rochdale plus 1.5 engine equals MGB 1.8 engine; then it follows that Rochdale plus 1.8 engine equals considerably more than MGB Thus all that was needed before a new Nuvolari burst forth before the cheering crowds was for some subtle arranging whereby Rochdales and MGBs would find themselves in the same class. A consensus of opinion (not officialdom) seemed to think that so long as I retained the BMC B series engine there was a very good chance that I could get the Rochdale accepted as a Marque car.
I needed no more encouragement. I set out looking for the bits with which to transform my by now extremely ragged Rochdale into a snorting race winner. Why is it that whenever a car gets tatty, the owners mind immediately swings to thoughts of gutting it and turning it into a boy racers delight?
The first windfall happened as a result of the boss mans Sprite flipping at the hairpin at Mallory. (John Britten, of John Britten Garages, Barnet Road, Arkley, Herts. His companys half-page advertisements in the cars for sale columns of Motor Sport, written in Johns inimitable style, became legendary) He decided that his next projectile would use wider wheels. So I found myself the proud possessor of a set of nice wide, magnesium alloy Minilites complete with Dunlop R6 yellow spots. (This was in May 1966 and was the ex Paddy Gaston Sebring Sprite reg RAM 35. PS I remember it well - I was there that day at Mallory Park as a spectator).
I set to work with a happy mind and a hacksaw to fit them on and throw away the spindly old pressed steel rubbish. Come 10 o'clock that night I realised just how wide those wheels were and how faired-in the wheel arches are on a Rochdale. Luckily glass fibre is fairly easy to cut. It is quite funny to watch people's faces as you stride up to your car and proceed to saw pieces out of it.

Early 1966 before modification. June 1966 with magnesium wheels.
Next lucky break was an HRG cross-flow cylinder head in aluminium for only &pound12. This head was going to disrupt my social life no end. Long into the nights I would be crouched over it with a drill clenched in my weary hands. This is the process known as "cleaning up the inlets and chambers"; it takes years.
Now, it seemed at the time, things started to pour in; in fact it took all season. I managed to get an Austin A60 engine. Not a very auspicious looking object. Dirty green, streaked with rust and 1,622 c.c. instead of 1,798 c.c. and to cap it all it had MOW0G stamped all over it. But when preparing an engine for the track you always throw away everything except the block itself. It was much cheaper than an MGB block and that's what counted. It soon arrived outside the local engineering shop with the request "bore it".
The camshaft went away to be ground to 714 profile (I was after low-down pull) to be followed by the bottom end, to be balanced, and the flywheel, to be lightened then the cash really started to flow out. First, two 40-DCOE Weber Type 18 twin-choke carbs, followed shortly by the purchase of the gearbox out of an Alfa Giulia Sprint Special which grew a tree out of the bonnet. It looked good: five forward cogs and all covered in grim Latin warnings. Only trouble was that it had a curse on it. It was not a mechanical curse, just a human one. If you have ever wondered what that little cross-bolt does on the bottom of an Alfa gearlever let me tell; it holds the thing together. If, at the same time you are under the delusion that for reverse you pull the lever up, forget it. I struggled manfully to engage what I thought was reverse. It seemed to be jammed. So I redoubled my efforts and sure enough the lever shot up. Straight into Rob's (Harris) mouth. The sound of his teeth clattering on the floor was horrible. Even worse was the sound of my teeth which followed shortly afterwards. Very quick reactions has Rob. In the end I did not use that box and I still have not got my money back on it. Like I said, jinxed.
By now everything was out of the car and I could make a start on the suspension. To try and get some weight over the rear wheels the battery was banished to the boot. I heard that someone in St. Albans was thinking of putting the radiator in the boot of his Sprite but I decided that that was a bit ambitious. Later, when the engine was in, the steering had to be altered but at this time apart from new shockers and replacing all the bushes, nothing seemed necessary.
The main problem was trying to get the bits back from the "goodies" people. The cylinder head spent six months having a valve guide put in. The camshaft took nearly as long and the chap who was going to rejet the Webers went on holiday and then fell ill. So the season came and went without me even getting to see a race.
By the end of the autumn the bits began to drift back and the task of putting it all together started. It got to be quite cosy in the evenings at the garage, with everybody dropping in on their way to or from the pubs, to offer advice or help. In point of fact it was Oliver Bol (Ball) who did most of the work. Which was just as well because whenever I touch a car the wheels seem to fall off. Oliver was one of those natural mechanical geniuses. It was he that did most of the work in the building of the boss mans class (and often race) winning MG Midget. (This was the Lenham bodied MG reg SS1800).
We decided that joining the Alfa to the BMC engine would take too long so the ordinary BMC box would have to be retained. By now we had a deadline. The boss man had very generously decided we all deserved a break so he hired Silverstone for a day for our own use. Needless to say we did not make the deadline. Come the early hours of the morn we still had not even got the engine in. So I went up to Silverstone and in a borrowed MGB had terrific fun. Despite my confident creation of a projectile that was meant to sweep the board, this was the first time I had been on a circuit and it was marvellous.
The feeling of treading into the unknown as you keep your foot down past the marker boards; the way the brakes take hold and then fade away as the heat builds up and you start to wonder if you have left things too late; the way the senses slowly revolve and you lock over and the car changes course, the way you almost have to haul yourself over to the apex that appears as a lifebelt on the sea of asphalt; the long exit slide with the power full on; the cheeky grin at the bales as they rush towards you and then back away as you set out on the straight. Lest I give the wrong impression my times are not for publication but they would probably make a camel train going via the long circuit appear quick.
After that I resumed to the task with renewed vigour. By now Christmas (1966) was beginning to loom and this became the new deadline. I decided that I was going to drive the Rochdale home for the gathering of the clans, home being a hundred miles due west of the Big Smoke. (Prestbury, nr Cheltenham, Glos).
The engine had gone in without too much trouble and the transmission had been bolted on when a difficulty arose. The steering column fouled the dynamo unless it was kept at the limit of its travel. This had not mattered when the inlet and exhaust manifolds were both on the other side of the engine, but with the cross flow head the inlets changed sides and four hungry ram pipes filled the area that the dynamo used. After all sorts of ideas, ranging from running the dynamo off the prop shaft, to constructing a flexible drive from the crankshaft pulley, a solution was found. By swivelling the steering rack a very small amount the rake of the steering could be lowered considerably. It proved just possible to squeeze all three objects, carbs, dynamo and steering column into the space available.
So on went the carbs; on went the exhaust manifold and the picture of a cross-flow head became a reality. The switch was turned and I was promptly deafened by the clatter of the twin fuel pumps. When the castanets died away I pressed cautiously on the loud pedal to prime the carbs. With inward trepidation I pressed the button. It hiccupped once or twice, caught and then burst into song.
An incredible moment, rather like the proud father hearing he has an off-spring. The realization that the idea that had been nestling in one's mind now existed and worked. The noise was fantastic, by far the most coming out of the carb ram pipes together with flames whenever the revs dipped. Oliver made the suggestion that we ought to solder some tea strainers over the ram pipes, "just to keep the flame front in if nothing else." This suggestion was laughed down; men don't put tea strainers on their ram pipes. This piece of bravado was to be one of the causes of the demise of the Ragged Rochdale as she had by now been christened.
It was the eve of Christmas Eve before it was running on the road. I drove it back to my flat (Courtfield Gardens, Kensington, London) through the Christmas shopping crowds. Luckily the clutch was slipping badly, so crawling in traffic was not too hard and the police were much too busy to object whenever I cleared the plugs with a blip on the loud pedal. The only drama came when one of the wires at the back of the instrument panel shorted out, filling the interior with smoke. This was cured by ripping the panel away (it was only held by a couple of self-tapping screws) and sorting out the wires. Unfortunately, the panel continued to sag and through the gap I could see straight into the engine bay.
Next day I set out westwards. Before I had even got on the M4 the noise had given me a headache so I donned the crash-hat which I was carrying in anticipation of doing some sorting out on a local disused airfield. It helped cut down the noise but I felt a bit ridiculous when sitting in a traffic jam. It was not much better on the straight as I was running-in the engine and was being passed by everything on the road. However, to my surprise I got home. What was needed was a change of plugs. The front two pots were running at rather a low temperature for some unknown reason and the N3s were too hard. This was a little awkward as I had expected them to be too soft and was only carrying full-blooded racing plugs as spares. Still we made it home on a set of N62-Rs which were the softest spares I had.
No sooner had I dumped the Rochdale in the garage (Mum's car was unceremoniously hustled out and made to stand outside in the cold) than an old friend came up. We said "Hi, long time no see" and he mentioned that I had passed him just down the road. I said: "Well what did she sound like?" casual like, expecting all sorts of "Cor! What's under the bonnet?". Instead I got the crushing reply: "It sounded a bit off; what's the matter with it?"
Christmas passed and on the 29th a friend dropped round who I thought was out east. Tim
(Hildersley), for that was his name, and I decided to go and see another old friend, Don (Carslaw), who lived just over the hills. We arrived with suitable roaring and stayed for tea and dinner. It was one in the morning (30th Dec 1966) before we left so we crept away trying not to wake the village. On the way up the steep hill past the manor we ran out of petrol. I poured all of the gallon can into the tank. This was, unknown to us at the time, a lucky break. Firstly, it meant that we were carrying the absolute minimum of petrol. Secondly it meant that we had both undone our safety belts and forgotten to do them up again. Thirdly it meant that we were going very slowly when we got to the top of the hill (because we had to restart on a hill with a tuned engine and a slipping clutch). She seemed to have wetted the front two plugs as a result of the stuttering as she ran out of go-juice. But it was one in the morning so I thought that she might clean them herself as we went along. We staggered up the hill on two pots and reached level road.
As we had been climbing the hill I could see through the gap in the instrument panel, the two back ram pipes spitting out occasional flames. It didn't occur to me that the front two ram pipes would still be spitting; but since she was not firing on those cylinders they were blowing out petrol fumes. As we reached the straight, I tried to urge her on primarily to clear the plugs but also because I was bored to death limping along at that speed. The increase in throttle opening occasioned more eruptions from the back two ram pipes. Of course the inevitable happened. Looking rather like a napalm bomb exploding, the engine bay filled with a ball of fire and instantly, pushed by the under-bonnet air pressure, it roared through the gap in the instrument panel. (This happened on the road north from Chedworth to Withington in Gloucestershire and where the road passes between the old wartime Chedworth Airfield and Newport Farm http://goo.gl/maps/wCiZ0 Google streetwise this is the current photo that matches the 1966 photos).
The flames covered me so completely that Tim could not see me at all. They're being no gap in the firewall on his side, the flames did not reach him. I could not see where we were going through the flames and was temporarily blinded by their brightness. I attempted to turn off the engine. I know that I ordered my hand to go and turn off the ignition switch, but whether or not it made it to the panel in the face of that heat I do not know. I tried to keep my feet on the clutch and brake but one of them was getting burnt and curled back instinctively. I couldn't stand it anymore; chased by the flames, I rolled out of the door, leaving the car to go its own way. This would have been a bit rough on Tim, only with the firewall still holding up on his side and the car going so slowly (I hardly scraped my hands at all when I landed on the road) that when it rolled to a stop on the grass at the roadside, he was able to get out unharmed.
I looked up from the road where I was lying spread-eagled. The car was facing away from me, grinding to a halt at the roadside, silhouetted by the flames that were pouring from the bonnet. I got to my feet in a surge of anger. I would be damned if the flames were going to take away all my work; not without a fight. I ran up to the flaming carcass, pulling the hood of my duffle coat over my head as a guard against the flames. I wrenched open the door and tried to reach the fire extinguisher. But it was buried behind the seats. As I tried to reach it, the petrol lines running under the floor went up and the flames spread out under the car, roaring up round the edges. My trousers caught fire and I had to run. I dived headlong into the grass. Tim saved me from serious burns; putting the flames out by jumping on me and stamping with great vigour. I, who was underneath the flames, did not exactly appreciate that, but it put me out in record time. By now we had time to look around. The Rochdale was a towering pillar of flame. A dense column of smoke cut a black swath across the dark blue of the night sky. The countryside was lit up by the fierce blaze. We looked at each other amazed to have escaped from the inferno unscathed. We shook hands solemnly.
It was a long walk back to the nearest phone. We got Don out of bed and he came rushing up in a Land Rover. It was about three-quarters of an hour after the start of the fire by the time we got back. In that time the Rochdale had ceased to exist. There were still plenty of flames but they were rising from an unrecognisable mound, not a car. The only things left to tell one that this had once travelled on four wheels were the hot steel blue flames that shot from the pools of molten, magnesium at each corner. There was nothing to do but calm the policeman who had appeared and wait for the fire engines. They turned up in style. The whole horizon lit up with flashing blue lights as they swarmed over the hills towards us.
In the morning we gathered at Don's place and set out in the Land Rover to survey the wreckage. It was stunning. Apart from the engine, gearbox and back axle, we were able to dispose of the Rochdale with a broom and shovel.
Chedworth Airfield, Glos

30th December 1966
Left Don Carslaw, right Tim Hildersley
When we had dumped all the debris in the back of the Land Rover and cleaned up, a sad looking roadman approached. He asked what had happened and, on being told, looked very unhappy. "The Inspector of Roads will have to be informed, you know." I looked surprised.
"You've killed the road, you see." We looked at each other in alarm.
"It's dead, you see." He walked down the road prodding it, "it's all dead."
We slung the shovel and broom into the back of the Land Rover, jumped in and drove off as fast as we could go.
For all I know he is still wandering round the roads, prodding the surface and muttering: "It's dead, all dead."
Rochdale History
Members may notice from the articles James, Malcolm, Derek and I write, how much time and effort goes into researching the history of these Rochdales. Even though we enjoy doing it, it would be so much easier if members were to pass on the past history and photographs of their Rochdales to James, Malcolm, Derek or myself. We need to record the Rochdale history for the future before it is to late. Thank you.
And a note to end on: -
A Gynaecologist had become fed up with malpractice insurance and NHS paperwork, and was burned out.
Hoping to try another career where skilful hands would be beneficial, he decided to become a mechanic.
He went to the local technical college, signed up for evening classes, attended diligently, and learned all he could. When the time of the practical exam approached, the gynaecologist prepared carefully for weeks, and completed the exam with tremendous skill. When the results came back, he was surprised to find that he had obtained a score of 150%. Fearing an error, he called the Instructor, saying, "I don't want to appear ungrateful for such an outstanding result, but I wonder if there is an error in the grade?"
"The instructor said, "During the exam, you took the engine apart perfectly, which was worth 50% of the total mark. You put the engine back together again perfectly, which is also worth 50% of the mark."
After a pause, the instructor added,
"I gave you an extra 50% because you did it all through the exhaust system, which I've never seen done in my entire career".
So Tony and DUFFY wish all members a Merry Christmas and a Happy New Year. Contact details rochdale-olympic@talktalk.net
FBHVC NEWS
DVLA Nigel Harrison
Photographic Evidence
When submitting a claim to DVLA for an original registration number, there should be recent photographs of the vehicle, and detailed legible photographs of the chassis/frame number and the engine number. However, if the primary pre-1983 documentary evidence which links the vehicle to the registration number is only a period photograph, (as distinct from, for example, an old style logbook) you would need to explain what unique features on the period photograph link it to the present day vehicle. It could well be the same model of vehicle, but is it the actual vehicle? If that can't be established, then it could well be more realistic to go down the age-related number route.
Chassis numbers
When registering an historic vehicle, DVLA quite reasonably needs to confirm the identity of the vehicle and a chassis number is an essential part of that process. However there are occasions where the chassis number is missing.
If there is no doubt that the original chassis number is known then a replica chassis plate can be installed. If there is doubt then the vehicle must have a chassis number allocated. There are various ways in which this could be done, depending on the circumstances.
To ensure that the application goes smoothly, so that DVLA do actually offer an age-related plate, as distinct from a 'Q' plate, it is suggested that the application is run past the Federation prior to submission to DVLA.
Prior to the MoT, as well as carrying out basic checks of the vehicle, it is a good idea to check that the chassis number is present and does actually match the V5C.
SELF SCRAPPING OF HISTORIC VEHICLES
This is a subject that has been covered in previous Newsletters but we do still receive a number of questions concerning scrapping. The DVLA Press Office has issued the following statement on this subject.
Vintage vehicles do not fall within the scope of the End Of Life Vehicle legislation whereby they must be taken to an Authorised Treatment Facility (ATF) and issued with a Certificate of Destruction (CoD). Vintage vehicles are classed as vehicles kept in a proper and environmentally sound manner, either ready for use or stripped into parts, and can include historic vehicles, vehicles of value to collectors or vehicles intended for museums.
If a vehicle is broken up by the registered keeper they must tell DVLA that they are keeping the vehicle off the public road by making a Statutory Off Road Notification (SORN), until the parts of the vehicle that is left is taken to an ATF or tell DVLA that they no longer have the vehicle by filling in the V5C/3 part of the V5C, selling or transferring your vehicle to a motor trader, insurer or dismantler.
The vehicle registration certificate (V5C) is not mandatory to scrap a vehicle at an ATF, as the majority of vehicles presented to an ATF is from a third party, such as, vehicle traders, insurance companies and salvage operators. However, if the V5C is available this should be presented to the ATF with the vehicle concerned.
If the registered keeper sends in the new red V5C [to DVLA] with an explanation that the vehicle has been scrapped, then DVLA will update the vehicle record with a notification of disposal to trade to a motor trader/insurer/dismantler to discharge the liability of the registered keeper. However, the vehicle record will not reflect scrapped.
New MOT exemption threshold
As has been already reported, from 18 November vehicles manufactured prior to 1 January 1960 will be exempt from the MoT.
For a proportion of historic vehicles DVLA don't have a record of the year of manufacture. This is typically because the source of the information was the RF60/VE60 old style logbook, handed in during the tax renewal process in the 1970s. The year of manufacture was not recorded on that document, so could not be transposed to the DVLA computer record. These days when an historic vehicle is registered, the year of manufacture is also recorded, typically from a V55/5 form and the sponsoring clubs dating letter or V765 form.
Although some historic vehicles don't have a date of manufacture recorded, all vehicles will have a date of registration. To illustrate how DVLA cope with the situation where legislation relates to the date of manufacture and DVLA only have the registration date, it will be helpful to look at the taxation class for historic vehicles. Historic vehicles are exempt from vehicle excise duty if they were manufactured before 1 January 1973. DVLA state that provided a vehicle was registered from 1/1/1973 up to and including 7/1/1973, we [DVLA] will let you register it as an historic vehicle, based on the assumption that the vehicle would have been made in the previous year. (DVLA leaflet INF34.) If DVLA follow the same logic with the pre-1960 MoT threshold, vehicles registered on or before 7 January 1960 will be exempt from an MoT.
There will be a small proportion of vehicles manufactured before the end of 1959 but registered after 7 January 1960 where DVLA don't have a year of manufacture recorded, and examples would include second-hand imported vehicles, and vehicles disposed of by the military.
Sometimes it is not clear from the V5C if DVLA do have a record of the year of manufacture. One source of information is via the RAC website: www.rac.co.uk. Scroll down to Other Services, and click on Car Checks. On the Car Data Check page, it infers that there is a charge for checking a vehicle record, however, there is no charge for just the display of the basic vehicle details, which is a copy of DVLA data.
As an example, using one of my own vehicles, input the registration number 748 UPF and click on Buy Now. A page will be displayed headed Vehicle Check. In this example, there is no value against year of manufacture, so DVLA have not recorded the data.
There is also vehicle information on the DirectGov web site at www.taxdisc.direct.gov.uk, which can sometimes be misleading. If DVLA don't have a declared value for the year of manufacture, for some vehicle records, there is an entry generated and displayed for the year of manufacture. Sometimes, although not in this case, it can be incorrect.
If your vehicle was registered after 7 January 1960, but made before 1960, and there is not a year of manufacture recorded (as indicated on the RAC website), for the vehicle to be exempt from the MoT, DVLA will need to be notified of the correct date. The appropriate specialist vehicle club should be able to produce the necessary dating letter, once they have carried out the necessary checks, which could well involve an inspection, and a fee for the dating letter.
Vehicles most likely to be affected by this missing data are ex-military vehicles under 3500 kg GVW, and second hand imported vehicles, first registered by local registration authorities in the 1960s or 1970s, but manufactured in the 1940s or 1950s.
FUEL NEWS
Ed There is a great deal on the subject of ethanol on the FBHVC website see page 1, and also some confusion as to when E10 will be introduced, but for those who still need leaded fuel, see below (Postcode order).
Leaded Petrol
| | | |
| --- | --- | --- |
| Dawson Engineering (Burley) Ltd | BH24 4EB | 01425 402388 |
| Maple Garage | HU11 4NA | 01964 670392 |
| Redhall Garage Ltd | LE67 8HG | 01530 222323 |
| R E Mills Motor Engineers | LE7 7NU | 0116 230 2295 |
| Renlut Properties Limited | LL12 8DY | 01978 352428 |
| Stoke Row Garage | RG9 5QL | 01491 680411 |
| Park End Motor & Engineering Co. Ltd | SE13 6TR | 020 8697 2865 |
| Platts of Marlow | SL7 2NJ | 01628 890909 |
| H J Taylor | WR12 7PL | 01386 852338 |
It seems that much, but not all, super premium petrol (i.e. octane quality of 97(RON) or above) does not contain ethanol. However, it is not always easy to know exactly which forecourts are selling ethanol-free super premium, and which are selling this grade with some added ethanol. This grade still represents the best chance of minimising or avoiding ethanol, albeit with a cost penalty.
INSURANCE MATTERS
Insurance salvage
In response to members questions the Federation has been making enquiries into specialist classic car insurers who have amended their policy regarding salvage rights in the event of a total write off and appear to be using terms that apply to modern vehicle accident conditions. Obviously many owners of historic vehicles would be unhappy to see their cherished vehicle crushed when several of the body panels, interior trim, or mechanical components could be salvaged and re-used to good, safe advantage.
It does seem that it is possible for an owner to discuss a write off with the DVLA but success is most likely if the vehicle is a genuine older vehicle with proven rarity or historic value. The Federation has heard of a case where a vintage car, due to be crushed as a result of being submerged in a flood (the worst sort, from the drains) was saved when DVLA agreed that it was worthy of preservation. In another case a similar vehicle, badly damaged in an accident, was going to cost more than the insured value to repair. The insurers paid the owner a generous amount, agreed not to declare a write off and the owner kept the salvage. The car was rebuilt and is back on the road.
This does give hope that insurers and the DVLA can be persuaded with the right argument.
EU LEGISLATION
EUROPEAN COMMISSION PROPOSES A NEW VEHICLE REGISTRATION REGULATION
In April the European Commission proposed a new vehicle registration Regulation designed to reduce the administrative burden caused by the need to re-register a vehicle if it/or the owner moves to another member state.
The proposal states that re-registration for citizens who work in another EU country using a car registered by their employer will not need to re-register it and the administrative formalities for the re-registration within the EU of cars, vans, buses and trucks will be greatly simplified for those moving residence from one EU country to another and when purchasing a second hand car from another EU country. It will also become impossible to register a stolen car in another EU country.
The impact of the proposed Regulation will be that:
Citizens who buy or sell a second-hand car in another EU country will not have to face additional technical controls and administrative problems.
Citizens who spend part of the year in a holiday residence in another EU country will not have to re-register their car there.
Citizens who move permanently to another EU country will have 6 months to re-register their car there.
Citizens who work in another EU country and use a car registered by their employer there will no longer have to register it in their home country.
Car-rental companies will be able to transfer cars to another EU country during the holiday periods without re-registration.
For companies: cars, buses, vans and trucks should be registered in the EU country where the main office is established - other EU countries must accept this.
It will become impossible to register a stolen car in another EU country as registration authorities will increasingly cooperate with each other.
Many controls will be abolished altogether, with authorities getting any technical information they need about the car directly from their colleagues in the country where it is already registered.
The proposal has not addressed the (rare) problem faced when a historic vehicle has no documentation as is intended to be sold within the EU and therefore requires re-registration. The proposal is now being examined by the European Parliament.
Refurbishing and Updating Rochdale Electrical Systems Starting, Generation and Storage
Howard Evans
This article follows the introductory piece in the previous magazine and focuses on the storage, starting and charging systems.
It is difficult to discuss these elements of the electrical system independently since they all interact in contributing to the achievement of a satisfactory load balance. However in the pursuit of some form of structure, an attempt will be made to separate them in the paragraphs following.
If there are experts on any aspect of this article who are reading it, then apologies are made for some of the simplifications that have been introduced in the interests of readability (and brevity!).
Storage
Since the 1960s, battery technology has changed considerably. In those days, they were constructed with cast lead/antimony alloy positive plates, lead negative plates and either rubber or wooden separators. Typically 10% antimony was added to the plates to make them robust such that the spongy pure lead would not flake from the plate surface and potentially cause a shortcircuited cell. Despite this, a substantial 'mud trap' was left below the plates to accommodate safely such debris!
The desirable characteristics of these batteries are that they are able to withstand significant electrical abuse (deep cycling) and they are tolerant of a wide range of charging voltages. Undesirable attributes include gassing under charge contributing to electrolyte loss and the need for frequent topping-up, and a high internal leakage current which causes the battery to discharge even when sitting on the shelf disconnected from any electrical loads.
It is the intrinsic robustness of these batteries that enables them to work acceptably with the widely fluctuating outputs provided by dynamos and mechanical regulators.
Such batteries have a progressive wearout mechanism (sulphation) which gradually reduces the capacity and cold-crank performance and gives the car owner plenty of warning that the end is nigh!
Modern batteries have extruded plates to reduce the amount of active material required, and the positive plates are alloyed with calcium. They sit in porous plastic envelope separators which retain any debris and allow the deletion of the mud trap. Consequently the plates can be mounted lower in the case to provide a greater head of electrolyte which is intended to last for the life of the battery.
Calcium alloy batteries gas minimally and therefore lose very little electrolyte and are often marketed as maintenance free or sealed for life. They also have a very low internal leakage current that means that they will lose as little as 20% per annum of their initial charge when stored. Such benefits come at a cost. They are very intolerant of deep cycling, which shortens their life significantly and, if they are allowed to go flat, the voltage available from a car charging system is insufficient to provide a complete recharge, effectively reducing their capacity. Such batteries can fail spectacularly quickly in that they can provide a normal cold crank, but if the engine has not started, appear to be completely flat at the next attempt!
The implication of the above is that modern batteries work extremely well with alternators that achieve load balance, but are compromised when linked with a traditional dynamo/regulator charging system. For these, battery specialists can still provide antimony alloy batteries, nowadays reduced to circa 3%, which are durable, have decreased gassing and are often marketed as low maintenance. Where available, this type of battery should be employed with dynamo-based systems.
Generation
Dynamos and alternators work on the same basis (Faraday's Law), but differ in detail. In the dynamo, the current is generated in the rotor whereas in the alternator it is in the stator. This means that a dynamo rotor must contain more copper and iron than an alternator as it needs to conduct the total output rather than just the excitation current. This increases its mass and lowers the burst speed, which is around 12,000 rpm. Typically a dynamo is geared to run at twice crankshaft speed for this reason. Many alternators can be run at up to 20,000 rpm and thus can be geared at 3 times crankshaft speed. This is crucial to being able to generate substantial output at low engine speeds including idle.
In a dynamo, the generated current is rectified mechanically (commutator and brushes) whereas in an alternator it is performed electronically in the diode pack.
The ability of an alternator to generate at low engine speeds is crucial to reducing deep cycling in the battery, and so it is ideal to specify an alternator to support a lead/calcium battery. Like everything, the design of alternators is a compromise and the ultimate performance is governed by the efficiency of the copper windings, iron circuit and air gaps. For a given frame size, the characteristics can be affected by detailed design changes. An 80A machine will cut in at a higher speed and build up current more slowly than a lower output variant (say 55A). Therefore, it is not always best, automatically to go for the highest output option. Analysis of the current requirements of your particular car will enable the choice of a machine to best optimise the load balance. The figure below illustrates the point with the 3 curves from the same family of machines that intersect at 64A if the load requirements are lower than this, the 100A machine is preferable to the 120 or 150A alternatives particularly when the alternator is being driven at a low multiple of crankshaft speed such as a direct replacement for a dynamo.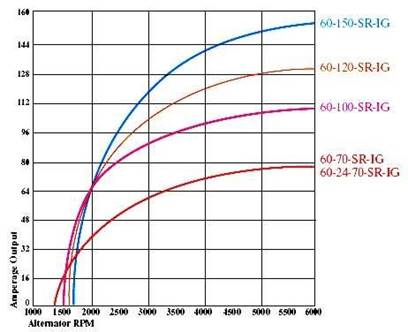 If there is a need to manufacture drive pulleys specific to an installation, it is recommended not to use a direct multiple ratio eg. 3.0:1 as this can promote heterodyning in the drive belt, rather choose a ratio of 3.1:1.
One aspect that is often overlooked both for dynamos and alternators is ventilation. The centrifugal fan on the front draws cooling air in from the rear. The output of all machines decreases as the temperature increases through the rise in the copper resistance and also by design, in that the regulator characteristics have a voltage droop in order to avoid thermal runaway in the battery at high ambient temperatures. If the generator is located close to the exhaust manifold, typically as in the Ford 'Kent' engines, it is worth considering the fitment of a heatshield between manifold and machine in order to avoid this concern, particularly in the Olympic engine compartment with its limited airflow. Lower temperatures also improve reliability!
Alternators obtain their excitation current through the charge warning light bulb which is normally rated at around 5W. When a lower power bulb is used as the result of choosing an aftermarket accessory warning light, this can result in a high cut-in speed. In such circumstances it is worth considering the fitting of a 100 ohm 5W resistor in parallel with the bulb.
If period authenticity is a factor in considering a change from dynamo to alternator, then the Lucas 'ACR' range is appropriate, although they have an intrinsic reliability problem relating to the robustness of the rectifier diode stack. The original design has the diodes protected by epoxy resin which also retains the semiconductor dies to the heatsink. The epoxy can fail under thermal cycling causing the diode to become open-circuited. Aftermarket versions employ moulded button style diode cases and the use of these is preferable when refurbishing an older machine.
A final factor to consider when using an alternator is its quiescent current. The regulator is always in circuit and might draw a few milliamps current continuously when the car is not in use. Normally this is of no consequence, but it becomes relevant when laying the car up for a significant period, in which case disconnecting the battery is advised. In contrast, a dynamo with its mechanical cutout does not exhibit this problem.
Instrumentation
Traditionally sports cars from the Rochdale era featured ammeters to monitor the operation of the charging system. These are ideal when the car is fitted with a dynamo, as discharges can be seen immediately and mitigated by subtle changes in driving style. Also, by raising the engine speed on no-load for a few seconds before switching off the ignition, it is possible to judge the battery state of charge by the current that is drawn. Over 10A indicates that the battery is partially discharged whereas under 5A represents fully charged. For a 22A dynamo a 30-0-30A ammeter is appropriate.
At the risk of stating the blindingly obvious, feeding the starter motor through an ammeter is not a good idea but it has been done with the predictable pyrotechnic results!
An ammeter is also the preferred choice for cars with alternators, as it gives instantaneous information on the charging status. Here a 60-0-60A instrument is suitable and the use of an instrument designed for the lower output of dynamos is not recommended.
However, it is common to see voltmeters specified along with alternators. A big advantage is that they are much simpler to fit, not requiring the complete car electrical system to be routed through them.
They rely on the intrinsically superior performance of the alternator to allow inference of the status of the charging system from the indicated voltage. If between 13.5 to 14.5V is indicated in normal use, the implication is that all is well, although a situation such as degraded battery that is not accepting charge and which would be spotted easily with an ammeter would not necessarily be apparent. Voltages much above 14.5V suggest a regulator failure with a danger of battery overcharge and damage, whereas under 13V indicates either poor load balance or alternator failure. Another possible cause of a low voltage reading is an internal short in a battery cell. Although rare these days, the voltmeter would not necessarily give an obvious diagnosis whereas an ammeter would show clearly the associated heavy charging current.
Cranking
When fitted in the vehicles for which they were originally designed, the engines were designed for much more arduous starting conditions than the average Rochdale is likely to experience, so no significant problem should be anticipated. A charged battery is a fundamental requirement as described above, but also there is the need to get the power from the battery to the starter motor with minimal losses. A Rochdale has an intrinsic disadvantage in that, whereas conventional cars have a welded steel body which provides a very low resistance earth path between battery and crankcase, in a glass fibre monocoque, this has to be effected with cable.
For modern volume cars a target total circuit resistance in the starter circuit of 2 to 3 milliohms is sought to minimise losses and achieve the required cranking speeds, but for our vehicles 10 milliohms is adequate. The required cable cross section can be calculated from examination of the resistance/metre specifications of alternative cable types. Similarly a maximum resistance of 50 milliohms should be targeted in the case of the solenoid feed to pre-engaged starters.
The table below is useful when performing such calculations.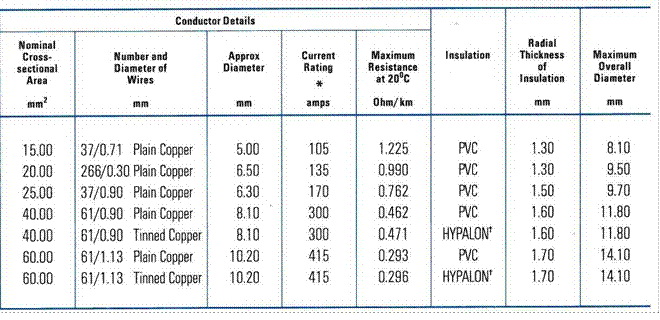 In the introductory article, the stated assumption was that the Lucas M35 inertia starter motor was used. These machines, whilst tough and simple, are very crude compared with todays norm and are prone to the pinion sticking due to a combination of oil leaked from the rear crankshaft seal, clutch dust and intermittent use.
Another characteristic of the type is that it is not especially well suited to the Ford engines which have a short stroke and relatively light flywheels. When these engines fire, the rapid acceleration of the crankshaft often throws the pinion out of mesh with the ring gear with the characteristic overrun 'groan' from the starter, but the engine does not continue to run. Preengaged starters are thus much preferred in this regard, but for the best performance a modern gear-reduction starter offers the optimum combination of reliability, refinement, efficiency (50% current for equivalent torque) and reduced weight. For a 'standard' pre-engaged machine, check what was fitted originally to the engine when mated to an automatic transmission, as they were often specified in preference to inertia machines, but ensure that the pinion tooth diameter and pitch are the same as the inertia starter that is being replaced.
It is often assumed that the greatest drain on the battery is sustained when starting the car, but this is not necessarily the case. For example a 150A, 5 second crank depletes the state of charge by 750As. This represents only just over 0.5% of the capacity of a fully charged 38Ah battery of the type which would probably have been fitted when the cars were new. This just emphasises that for reliable starting, a smaller fully-charged battery is usually more desirable than a larger battery of indeterminate state of charge resulting from poor load balance.
Summary
In the paragraphs above, information has been offered on storage, starting, and charging systems which might be relevant to those contemplating an electrical rebuild either to the original specification or to more recent standards.
In the next article, electrical distribution systems will be considered.
Cars Rated
Nice to get some response to suggestions in the magazine. Here are some:
From Derek Argyle
| | |
| --- | --- |
| Steering feel | Mini |
| Handling | Lotus Climax Elite |
| Clutch action | Many cars but certainly the Elan S3 |
| Gearchange | My autocross car 'Turfsmoker' using a 2000E box |
| Acceleration | Seat Leon Cupra |
| Braking | Seat Leon Cupra |
| Seat Comfort | My E Special with home-made seats |
| Ride comfort | Vauxhall Omega |
| Noise (least? | Omega |
| Noise (best?) | The home built exhaust system on my 1220 cc Mini Special. |
| Gen feeling of well-being | Omega |
| Better than expected | 1955 Standard 8 |
| Worse than expected | Alfa Sud Sprint |
| Why did I buy this one? | Imp |
| Should have bought | Any other rear-engined car |
| Favourite make | Vauxhall |
| Would never buy | Too many to list |
| Best buy these days | Porsche 944 and 968 |
From Russ Collins
I would like to add my few pennyworth to your car features rating thoughts.
| | | |
| --- | --- | --- |
| Best steering feel | | Lotus Elan +2 |
| Worst steering feel | | 56 Ford Fairlane |
| Best power response | | 57 Studebaker Commander V8 |
| Worst power response | | Citroen 2CV |
| Most supple suspension | | Toyota MR2 Mark 1 |
| Least supple suspension | | Triumph TR3 |
| Most beautiful | | Lotus Elan +2 |
| Most exotic | | Lotus Esprit |
| Most innovative | | Rochdale Olympic |
As you see my varied car experience led me finally to the Rochdale Olympic. I have owned all of the above apart from the 56 Ford Fairlane and the Citroen 2CV. Most of my cars died of rust and the last two proved too expensive to maintain in retirement. My garage activities are on hold for the moment as I try to sort out the house that we moved into last December. I am hoping to recommence work on the Olympic in the Spring. I have set aside some money from the house sale so that I can complete the restoration to a standard that I will be happy with.
PS I just remembered my Studebaker was a 54 model; I owned it in 57. My early motoring experiences were in Canada, hence the Detroit iron. I can add some explanatory comments to my list.
Lotus Elan +2; Colin Chapman got the steering right
56 Ford Fairlane; turn into each corner well in advance and hope you got it right 54 Studebaker Commander V8; take care not to run into the car in front when you give it some welly to overtake
Citroen 2CV; even rice pudding skin remains intact when accelerating
Toyota MR2 Mark 1; soft on the little bumps but firm when you need it
Triumph TR3; bounce from bump to bump
Lotus Elan +2; drop dead gorgeous but lets you down often
Lotus Esprit; totally impractical with only enough luggage space for a change of underwear when touring
Rochdale Olympic; a pinnacle of design and innovation that should provide practical motoring forever
I hope to have my Olympic on the road by next Summer so that I can enjoy the experience.
Best wishes
Russ
Drums to Discs my way
Alan Farrer
There are several reasons to convert from drum brakes to disc: less fade being to most reasoned, but having stoppers which work in reverse too is a bonus. I had decided that standard 8" Morris Minor drums would be adequate for Kermit, a light and not especially powerful car, but from the word go there has been a problem with juddering from speed. Replacing the drums had no real effect, so I rather reluctantly decided to go to discs.
There are several disc brake conversions available for Morris Minors, but they are a bit pricey and all use ventilated discs which is not only overkill, but adds weight, so I decided to go down the DIY route. Having samples of various Marina, Spitfire and later Ford discs enabled me to choose one that was compatible with my existing hubs and uprights, albeit with some machining.
The main problem with using Morris Minor wheels is that, although they are 14" they have little axial space for the calipers, so the disc needs to be very close to the upright as it is on the Marina. In this car the disc is inboard of the hub flange, which leaves enough space for the classic style calipers used (ie. with a piston on each side of the disc). On the later Fords, which use sliding type calipers, the disc is outboard and attached using the wheel studs, allowing easy fitment and replacement. Sliding calipers occupy much less space outboard of the disc by having piston(s) only on the inner side; these are used on all recent volume production cars.
Inspection showed that the 239mm solid disc used on many of the smaller Fords (Ka, Fiesta) could fit on the inner face of the hub flange, once the centring hole was opened up on the lathe. I could mount it using longer wheel studs by passing them through the disc and hub flanges and the disc then sits close to the upright like the Marina. Holes for the wheel studs needed to be drilled, a straightforward operation simplified by using a spare brake drum as a drilling template. That left the calipers.
I originally planned to use Fiesta items, but attaching the slider brackets to the existing brake backplate mounts looked tricky. I then chanced upon a pair of Girling Metro/Rover 100 calipers for sale cheaply on eBay which were compatible with the Ford disc. These came with caliper sliders, which I found could be mounted using very simple brackets. As the condition of the calipers was unknown and would have needed at least a seal kit I bought a pair of 'remanufactured' calipers. That way I had the original calipers as a back-up.
There was one remaining problem: the calipers use metric threads (M10 x 1) for the hydraulic connection, but the existing hose is 3/8 UNF. No problem you say. However, BMC in their wisdom used mixed threads on the Morris Minor and the brake hose has a BSF thread on the chassis end. Wishing to keep to standard components I had used the Minor 1000 hose when fitting the chassis pipework, so changing the chassis end by using an adaptor, say, would not be possible; I would have to fit new chassis pipework a last resort.
A solution was found by making a custom banjo adaptor between caliper and hose, as I could not find a readymade adaptor. A banjo also has the bonus that the hose may then be angled to the best advantage. Ebay provided the 5/8" square bar aluminium bar from which to make the banjo and the machining was straightforward.
The main bracket to attach the slider to the upright was made from 5mm cold rolled steel and was spaced from the backplate flange so that the caliper was central over the disc. Other brackets were made and fitted to share the torque load and all brackets were zinc plated for corrosion protection.
Fitting went smoothly but two problems appeared when tested on the road. Firstly, I had positioned the caliper to the rear of the upright and low enough to ensure it didn't clash with the steering arm, but it then just caught the lower suspension arm on full lock, so a bracket redesign was necessary. Secondly, I could not get the banjos to seal properly. I then found that the 5/8" square bar I used was not completely flat; this was cured by very carefully filing the mating surfaces flat and also using thread sealant as a back up.
So how does it work? Initially the pedal was rather soft, but this improved after some beddingin. The main problem with vibration was reduced considerably, but not eliminated. This I found was due to excessive runout on the discs., which was cured by some very careful machining of the hub faces where the discs attached, so now the brakes are smooth. The pedal effort is about the same as with the drums and the brakes still lacks bite, but more mileage may improve that. In all I am pleased with the conversion, which has eliminated the problems I had with the original drums and have the comfort of vastly increased fade resistance too.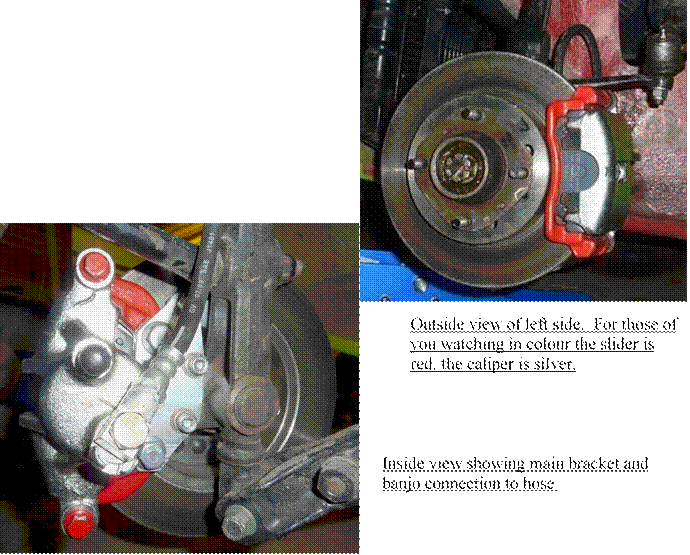 DIY Wheel Balancer
Alan Farrer
I was having trouble balancing Kermits wheels. When the tyres were fitted the wheels were balanced in the usual way, but I think there were two problems: 1) one of the wheel centres had a slight bump which would have meant the wheel was off centre when balanced using the usual conical adaptors, and 2) I am not certain that the Morris Minor wheels centres are that true anyway.
The best way of fixing this problem is to balance the front wheels on the car, but this is not available these days at tyre fitters. The machine they used to use in the old days spun the wheel at a fair lick and the vibration was indicated by a sensor clamped to the suspension. In discussion with Derek Argyle he told me there used to be a DIY balancer by Paddy Hopkirk, and what is more sent his to me.
This is a static balancer consisting of a small steel plate fitted with a bubble type spirit level in the centre and which is bolted to the wheel using the wheel nuts provided, with the bubble visible through the wheel centre. In the exact centre of the plate on the back is a sharpish point. In use the wheel is placed horizontally with the point on a small raised platform so that it can rock. The idea is that by placing weights on the rim it is balanced when it is truly horizontal as shown by the spirit level. There is an ingenious procedure for calibrating the device to take out manufacturing tolerances.
The Paddy Hopkirk device accommodates various PCDs by having a number of pairs of holes and the bolts supplied are a good fit in the holes to minimise errors. Two pairs of wheel nuts are provided for conical or spherical wheels, so it can be used for a wide variety of cars having an even number of holes.
The device is very simple and, based on my experience, works well, although it should be pointed out that as it provides only static balance it would not be suitable for wide wheels or those with serious dynamic unbalance. I found one of Kermits wheels still had some residual unbalance at high speed (at a different speed from the original resonance because it is a different mode of vibration), so changed the balance weights from the inside of the rim to the outside and this seems to have worked.
As they are unlikely to be found today, even on eBay, it is entirely possible to replicate the design and, provided care is taken on the construction, should work as well as the original. Below are the relevant original instructions for those wishing to try out the idea.
'PADDY HOPKIRK' D.I.Y. WHEEL BALANCER
Insert the bolt ends through the wheel holes from the back of the wheel, so that the spirit level is visible through the centre of the wheel.
Examine the holes in your road wheel to ascertain the type of spacer to be used. If the wheels have a domed recess round the holes, use the domed spacers. If they have a cone shaped recess, use the cone shaped spacers.
Taking the correct pair of spacers, fit them over the bolts with the pointed side to the wheel. Secure the balancer to the wheel with the nuts provided. Hand tighten only, do not use a spanner.
[Ed note: the spacers are like wheels nut with a smooth bore, but one could use actual wheel nuts in a DIY version; then no additional securing nut would be needed]
If it is a windy day then it is preferable too carry out the next stage in a sheltered place. Take a small steel plate and place it on a brick standing on end. Then place the wheel and balancer onto the small plate with the pivot resting firmly on the plate.
If your wheel is correctly balanced the bubble of the spirit level will rest in the centre ring, with the wheel horizontal. If it is out of balance it will sit at a slight angle with the bubble out of alignment with the centre ring of the spirit level.
If the wheel needs balancing, before commencing lift off the wheel from the small plate and strip off any balance weights fitted. Replace wheel onto small plate.
The unbalanced wheel will sit at a slight angle with the lighter part of the rim highest. place balance weights on the high section until the bubble of the spirit level rests in the centre ring. Now fix the weights to the wheel rim. Remove the balancer and the wheel is ready to fit onto the car.
CALIBRATION FOR INCREASED ACCURACY
It is possible to use this balancer in a way different to that given in the instructions on the back of the packet. This different way is rather more complicated to do, but it has the advantage that it cancels out the small errors that are built into the balancer during manufacture. Not everyone will wish to use this method, as the normal method should give satisfactory results. However, the procedure to be adopted is given below for those that are interested.
CALIBRATION PROCEDURE
1. Attach balancer to wheel.
2. Level the wheel by adding a suitable weight to the wheel rim (call this the 1st weight).
3. Remove the balancer, rotate 180degrees and reattach, but leave the 1st weight undisturbed on the wheel.
4. Level the wheel again, by adding another weight to the wheel rim (call this the 2nd weight). There will now be weights in two separate places on the wheel.
5. Using a fibre-tip, or other indelible pen, make a mark on the balancer to indicate the position of the 2nd weight.
6. Remove the 1st balance weight completely, and half of the 2nd balance weight. For instance, if the 2nd balance weight is 20gm, replace this by a balance weight of 10gm in the same position.
7. This remaining half of the 2nd weight is the calibration weight. Make a note of its size for future reference. It must always be placed on the wheel rim before balancing commences in the same position relative to the balancer, (ie. as shown by the mark), and removed after balancing has been completed.
8. Now balance the wheel in the usual way, but placing the calibration weight on the rim before balancing and removing it afterwards, and the wheel is balanced.
This calibration procedure need only be done once for a particular pair of holes on the balancer, and the same calibration weight can then be used in balancing other wheels having the same stud pitch circle. Note: Coins make suitable small weights.
Propshaft Balancing
Vibration can really spoil a car, so it as well to ensure that everything is as well balanced as possible and rattles are eliminated. Although one can go to great lengths to balance the engine, it seems to me that the greater culprits are the wheels and propshaft, as most engines are pretty well balanced as standard up to normal road-going revs (say 5000rpm I rarely use more than 4000 in daily driving, but then I am of pensionable age).
Kermit is a case in point. The most annoying feature was rattling on bumpy roads (ie most roads where I live), which I traced to the handbrake cable banging on the undertray and diff case. The solution was to cover it with central heating pipe insulation, held in place with cable ties. I had had the wheels balanced when the tyres were fitted, but had asked the technician to use stick on weights on the inside rim only to avoid marking the outer, and recently powder coated, rims. I reasoned that the dynamic balance would not be too badly affected with such narrow rims (3"). Balance was OK up to the upper 60s, but became bad thereafter. Getting it done properly was the only cure (see page 24).
The propshaft similarly seemed OK up to the upper 60s, but a telltale drone when cruising at 70 or so indicated otherwise. I expected there to be some unbalance as I has shortened the original Morris Minor item myself, and it is made from 70mm tube too, I so contemplated buying a new shaft. Before going to the hassle of taking the shaft out to check dimensions, I checked internet forums to see what others thought. Amongst the usual dross one post suggested the two Jubilee clips method and even suggested disconnecting the driveshafts (on a Spitfire) and using a bowl of water as a vibration detector.
Although I could not disconnect the driveshafts I did at least remove the wheels and brake drums to eliminate as much rotating mass as possible. The bowl of water was not necessary! With the car well supported and the engine warmed up, into top gear, release the clutch and increase the revs gradually. I was surprised that vibration started as low as 40mph and increased with speed as expected. Then I fitted two clips at the rear of the shaft with the drives at 180 (and the tails trailing) and marked their positions with chalk. I had deliberately made my join in the shaft at the rear as I reasoned that any unbalance would be less annoying at the diff end rather than the gearbox end. It is also the only accessible end on a Phase 1.
I re-checked that the vibration had not changed, then moved one clip through 90 and checked vibration again: worse, so I moved it 90 in the opposite direction. Better this time, so I went through the rather tedious process of moving a clip a little at a time until the least vibration was felt. Part way through the process I tried a run up to 100+mph and there were some serious vibration periods in the upper reaches, but when I had finished, there was no serious vibration at any speed. The beauty of the two clip method is that the balancing mass can be adjusted from a maximum of two worm drive cases (maybe 20gm) to zero at any angle on the shaft to any degree of accuracy necessary. It is cheap too. I feel that the remaining vibration was residual in the shaft (possibly at the front) and in the half shafts. Had the front of the shaft been accessible I would have treated that end too.
A remaining vibration in Kermit was due to the brakes I just could not get those MM 8" drums to operate smoothly. I did not expect great power from them, but had never had trouble with previous drum braked cars, including my Riley braked Phase 1, so the next project was conversion to discs (see p22).
Cars I have owned
Derek Bentley
During a recent journey the Editor persuaded me that I ought to write about the various cars I have owned. So, if you find it boring, blame him! I have tried to keep in chronological order, but it might not be 100% accurate in that respect.
I first drove dads upright Ford Pop up and down the drive at the age of 12 and then his Humber Super Snipe around the back streets at 15 (highly illegal!) So, I suppose it was not surprising that as soon as I was old enough I got a Provisional Licence. My father didn't have a car by this time, but agreed he would teach me if I bought one. Hence the passion started.
1949 Ford Anglia Bought for &pound12-10s (&pound12.50 in current money). The big ends were knocking and hence I bought one re-metalled con rod from the local Ford main dealer. It never crossed my mind that the crank might also be worn, so it is not surprising that it did not cure the problem completely. Nevertheless it kept going and did not let me down. The first time I drove it at night I had to get out to see if the headlights were on as there was no illumination visible on the road, due to the poor reflectors. I bought a spotlamp and mounted it on the front wing, which gave light, but meant the ammeter was on constant discharge. Cure, don't drive at night.
Ford Anglia 100E My first car having passed my test. A vast improvement on the upright version. This was shared with my father, so there were constant negotiations for its use. The suspension turrets had rotted out and were repaired with zintec sheeting and pop rivets. Oh for those less strict MOTs.
Standard 8 A black car that looked better once a gold flash had been sprayed along the bonnet. It jumped out of third gear, so driving one handed was normal. Remould tyres improved the grip until the egg sized lumps appeared on the side walls.
Standard Companion A very practical estate car, but quite expensive at &pound25 (I was only earning &pound5 per week). A two tone paint job courtesy of a tin of Valspar and a brush made it look very presentable. One winter's Friday I thought I really must add some antifreeze tomorrow. The following morning all the core plugs were standing out on ice stalks. It always seemed to use a bit of water thereafter.
Morris 1100 My first company car, but short lived. Very nice to drive and comfortable. Unfortunately I did not get it back, or another replacement, after I wrote it off avoiding a bus!
Morris Minor 1000 The first car on which I did any serious amount of work. The 948cc engine was replaced with a 1098cc version and the later 8" front brakes were also substituted. GRP front wings replaced the rusty originals, although repairing the sill sections with the same material was probably not too wise.
A set of widened steel wheels improved the looks and road holding, although one could still get axle tramp all the way around a roundabout if you tried hard.
1962 Rochdale Olympic Phase 1 The car that I can truly say changed my life. This one has stayed with me for the last 42 years, so all subsequent cars are in addition. It was my every day car at that time, covering some 30,000 miles per year. I could write pages about this one and probably have over the years.
1957 MG Magnette ZB After two years owning the Olympic I took it off the road for a rebuild, which lasted some two years. The Magnette was bought as daily transport. A car with style, comfort and reasonable performance for its day from the 1500cc B series engine. It also handled well with Spax dampers, radial tyres and a Derrington anti-roll bar.
It moved the Olympic moulds from London to Lincolnshire, albeit vastly overloaded with a trailer and four occupants, the journey being accomplished in third gear a lot of the way. This is a car that I have always regretted selling, just a shame that they tend to rust badly.
1950 MG YA Saloon - Bought to restore, but sold untouched a few years later due to loss of storage space.
1954 Riley RME Also bought to restore, but again sold untouched a few years later due to loss of storage space.
1937 Austin 7 Ruby - Bought to restore, but only got as far as a rolling chassis before being sold due, yes you've guessed it, loss of storage space.
Rochdale Olympic Phase 1 Yes another one, this time an early 'pre-fire' example. I restored it mechanically, with competition in mind, but alas the dreaded loss of storage space intervened once again before it was completed.
1960 Turner Sports A chassis up rebuild, so it took some 25 years from purchase to driving for the first time! My first 'open' car and ideal for summer journeys. I love it and hopefully will never have to part with it.
VW Beetle Originally a 1300cc engined car, which went much better once the 2litre fuel injected engine was installed. Used for Trials, Autotests and Autocross as well as a road car. The swing axle rear suspension could be interesting and the drum brakes weren't really up to the performance of the big engine.
Hillman Imp A nice handling car the performance of which was improved by the substitution of a larger 930cc engine and twin carburettors. Vicious kick back from the steering on rough ground. Unfortunately, engine cooling could be marginal too.
Peugeot 309 Diesel Only my second company car (different firm). Nice to drive and good fuel economy, but gutless when trying to overtake from about 50 mph. Unfortunately, when the three-year contract ran out it was not replaced.
Lada Riva Bought primarily for my father, but used occasionally by me. Supposedly based on the Fiat 124, although nowhere near as well built, apart from the better rust protection. Sluggish and uncomfortable to drive with heavy steering.
Skoda Estelles - I think the final count was eight. Much underrated cars that did not deserve to be the butt of jokes. Good handling despite the rear weight bias and swing axle rear suspension on early models. This was replaced on the later versions by a better double jointed, trailing arm arrangement. The unusual alloy block and cast iron head was prone to head gasket problems. Performance was modest even when tuned and was finally improved by substituting a twin Webered Ford 1700cc engine. Even with the greater rearward weight bias they still handled well.
Lancia Delta Turbo A great performer and nice road car. A superb, utterly reliable engine. Shame about the torque steer away from the traffic lights, which could require the full width of the road if you really booted it. Latterly it was converted for use in Autocross events, with some successful results. The gearbox was not the strongest and was unique to this model. The body was also made from the usual Italian recycled steel. This one is also still in the stable - just.
Nissan Primera The only automatic car I have ever owned. I needed a tow car for the Lancia and this performed that duty well. The gear changing from the auto box was superb, it really was so smooth.
Subaru Legacy Estate The Editor* was always praising the Subaru models, so I thought I better try one. A very easy car to drive, which did sterling service. The clutch was only replaced at 190,000 miles, which included towing. The car was sold because I had first refusal on an Impreza at a knock down price.
Rochdale Riviera The proverbial incomplete 'basket case'. Missing parts have now been sourced and it is awaiting retirement for the much needed ground up rebuild.
Subaru Impreza The most performance I have ever experienced in a road car. A last fling at being a 'boy racer' before getting too old. Being four wheel drive (Or All Wheel Drive as Subaru like to say) the handling was pretty good too. Seats were not the most comfortable and not the easiest to get in and out of. Fuel consumption could be dire if you used the performance too.
Suzuki Wagon R+ - The OAP's MPV. An elderly mother who needed transportation and found the Subaru a struggle was the prime reason, although the much improved fuel consumption was a bonus. An ideal town car that is easy to park in a small space. A bit noisy on the Motorway and a bouncy ride on most other roads. Still it will do until the Olympic is rebuilt!!
Then of course there are the motorbikes, but that is another story!!!
Derek Bentley
* Editors note. I just happen to like Subarus. My first was an L series estate, bought new in 1984 and which rusted out ten years later at 150,000 miles. Then 3 Legacy estates. The first came as a revelation after the Toyota Celica GT4 (4WD) which preceded it, was bought at 100,000 miles, passed to my daughter then stolen from her driveway at 170,000 miles. Briefly flirted with a Mondeo diesel estate, but now have a Forester, the most relaxing car I have ever owned. In 28 years only a 6 month break from the star cluster, so I suppose you could say I'm a fan.
EARLY ROCHDALES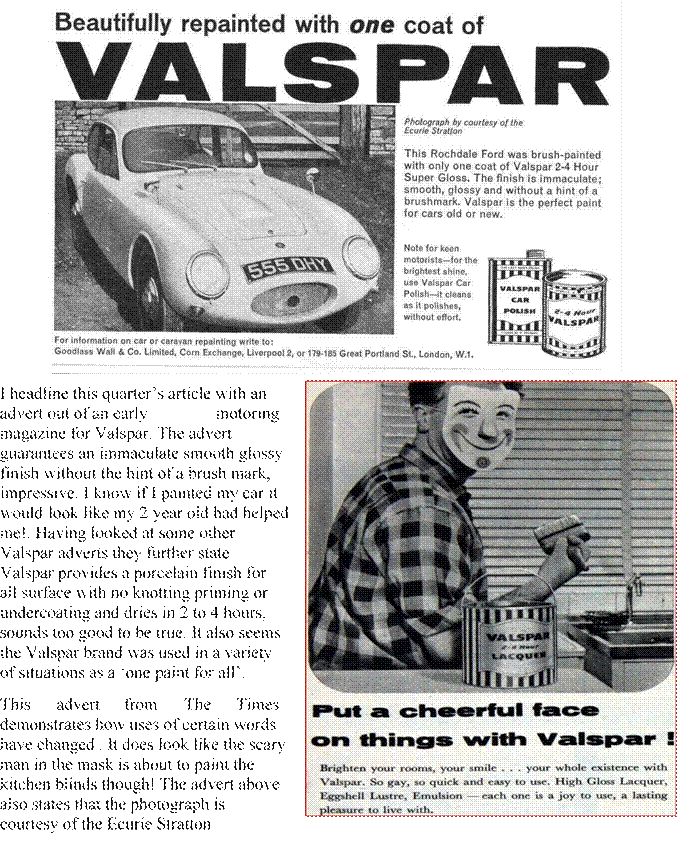 I have not heard of this company/newspaper/magazine/people before so if any readers know who or what they are then I would love to hear from you.
Apologies to those in the know but with my limited knowledge of Valspar I looked a little deeper into the advert above and see that on the bottom it states if you want more information on brush painting cars or caravans then write to Goodlass Wall & Co in Liverpool. A quick look on the internet and you find that Goodlass Wall & Co were a major manufacturer of paints at the time of the specials era, formed in 1845 so quite some history behind them.
Anyway, as usual I digress; the Rochdale GT in the picture above has a very limited history in the Rochdale files. We don't have any information on an owner for the car but it is still registered with the DVLA as a Green 1172cc Ford registered in 1959. Unfortunately we think this is just the log book in existence as we have information that the car's engine blew up on a trip to the south of France in 1970. The unknown owners at the time couldn't afford to get it fixed so just abandoned it overseas. We don't have any corroboration to this story but this is the only lead we have to go on. It's a shame you can't access peoples addresses that cars are registered to through the DVLA, that would really assist in tracing Rochdale cars and their owners.
Over the years I've seen a few articles on painting cars but I know when I paint mine I'm handing it over to the professionals. The only other Rochdale GT I've seen hand painted is the one owned by our current secretary Les Brown. The finish is excellent considering it is hand painted and is testament to Les's ability.
<![if !vml]>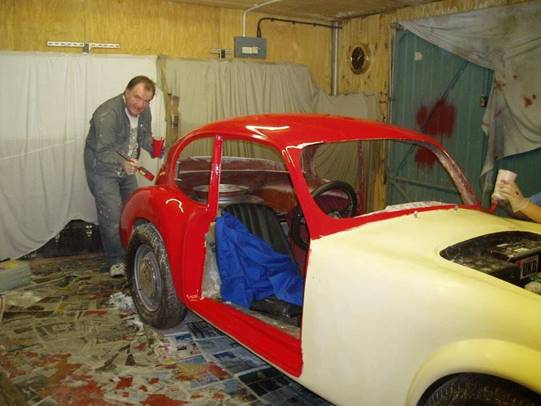 <![endif]>
Les writes:
Hi James, I did write a piece on spraying my Olympic with aerosols, but don't think I ever wrote much on the brushing option. So here's a brief summary:- At one time all vehicles were finished with a brush, and a top-quality result was possible with a little care. Through the 60s and 70s the cars I re-painted in this manner must have run into double figures (and the motorcycles, too!) Coach enamel - usually Thornley and Knight's excellent Tekaloid - was the one to go for, though others were very good, too. I never used Valspar, but it may well have been on a par, and Jenolite marketed Re-Paint through Halfords until quite recently.
Finish - if you got it right - was every bit as good as a spray job, and though I never managed to eradicate ALL brushmarks, it can be done if you have the skill. Coach enamel has to dry slowly to allow the brushmarks to settle out, and one of the problems is that it is prone to dust settling (and kamikaze flies, too!) in this period. You should avoid cold or dusty areas therefore. I have used damp sheets on the walls to keep the dust down and heated the garage for a while to get the atmosphere right - but it's not impossible in the open air if you pick the right day.
Other big problem is keeping the paint "alive" as you tackle each area. Motorcyles are much easier in this respect, and pre-war versions would tend to get marked down if not finished like this. Starting with something like the bonnet - it's easy with one as small as the GT's - you need a small brush for round the outside, then get the main body of the surface covered as quickly as possible with a bigger brush. Skilled guys are even known to pour it straight from the can! You then have to brush it out, and lay off the paint to allow the brush marks to melt away. Get it done fast enough, and you'll be ok. Difficulties come on larger areas, and vertical surfaces that can run if you are at all heavy with the paint.
A particular problem with the GT was around the bonnet area - we started at the driver's corner, went right round the front wings - me wielding the final, bigger brush as two smaller ones were used to cover the various nooks and crannies. Finally back down the offside wing and across the scuttle to the starting point. Trouble was, the paint here had started the drying process by this time, and I can still see the brush marks where I tried in vain to blend it in. You really need a panel joint for a definite start/finish line, but the GT just doesn't have a convenient one... Other tips - use a tak rag (a very sticky, light cloth) - to take any dust off the surface before you start. Keep your paint tin warm with hot water in a bucket, and only pour it into a plastic cup as you need it (it flows much better when warm).
For a super finish, rub down next day with very fine wet and dry - up to 1200s - and repeat the process, finishing with clear lacquer if you wish. This latter is important with red paint, and blue to some extent, as these colours used soft pigments which left them vulnerable to fading otherwise. But in truth I think you would be amazed after just one coat - said to cover seven times better than a single spray.
Finally James, I know you will be interested in John Walkington's C type, which I now live within a couple of miles of. John tells me, he DID finish this car with white Valspar, back in the 1950s, and was very pleased with the results. As you know, John used this car very vigorously for a number of years, and tells me he used a kitchen scourer (!!!) to get the worst of the competition filth off, and flat the surface down, before polishing back to a really good shine! The fun we had in them days... John is due to repeat the process in the next week or two, and has managed to acquire a modern version of the coach enamel, in dark blue for a change.
New GT to the Register
The ROC Guestbook often comes up trumps with people looking for information on past cars they or their family have owned, this particular request was from Stewart Nightingale who was looking for a car his father once owned, the guestbook entry states:
Hello, I recently found a couple of photos of a Rochdale GT, registration number 1582N, that used to owned by my late father. Thought you might be interested to see, the photos are dated 1965, and looking at the state of it I very much doubt it has survived, but it would be interesting to know if it is still around. Regards, Stewart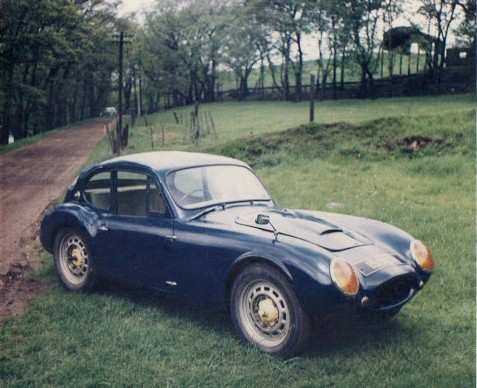 I write: Hi Stewart, many thanks for posting on the ROC guestbook. The ROC knows of 250 Rochdale GTs and their registrations (not all of which survive) but unfortunately for you we do not have any record of this registration. That is not to say it doesn't survive but having looked at the picture without the roof I'd be surprised if it did? Do you have any more information, this may help us to identify cars that do surface without registration details. Very many thanks again.
<![if !vml]>

<![endif]>
Stewart Writes
Many thanks for your email. Unfortunately, I don't know much more about the car itself. The photos are almost certainly taken in the Rochdale area - my father (John) was originally from there; he would have been working at his father's company (called TNR Engineering on Trows Lane, Rochdale - they made catering machinery) at the time. The address he lived at would have been (I think) a place I only knew as Thornham Villa, Rochdale. He did mention the car a few times - I think he said it was built on a Ford Popular - but I don't think even he could remember what happened to it after he crashed it. The crashed photos have a Kodak date printed on the back of February 1965, so may have been taken some time before then.
So it looks like the car didn't get to see much of the world outside Rochdale before he crashed it, and as you say, it would be surprising if it did survive in its original state. Not to worry - it's good to know that it will at least be recorded in some way, even if neither it, nor my father, are here anymore. Regards, Stewart
The pictures Stewart sent show the roof of the GT very neatly cut off and the car doesn't look too bad, but I imagine most of the damage is on the other side judging from the bent suspension and the angle of the front wheel. I still can't imagine how the roof ended up like that though unless he went under a truck, lucky escape!
MG TYPE BODIED ROCHDALE
Needle in the haystack finds are getting harder and harder to discover as the history of RMP fast disappears, however the next lead could just be a bigger scoop than the picture of the Rochdale GT next to Bluebird in the last magazine. My internet time is usually limited to after the kids have gone to bed and whilst the wife is watching Eastenders. Searching the internet involves a certain degree of luck, Rochdale is a pretty common word and I find I know a lot more about Rochdale Football Club than I ever wanted to know. In between all the rubbish that is usually thrown up I managed to find a forum entry from 2010 that stated:
Being brought up in 50's Britain it was British or NOTHING... there was no foreign takeover in those days, and they were virtually all black. Colour only came very late on. I had a two seater Rochdale bodied Austin roadster, primitive in the extreme!
Luckily for me it was easy to track down the person who left the guestbook entry as he had included an address for his website www.classicmemories.co.uk which is a website containing personalised car prints for sale. Pauls website goes on to say he is a classic car enthusiast and was accepted into the prestigious Guild of Motoring Artists back in 1998; the reason I am telling you this will come clear in a moment. I wrote to Paul to ask for more information on the Rochdale Bodied Austin Roadster he used to own.
Paul Writes: Hello James, Thanks for getting in touch. Alas I can't really add anything to what I wrote on the website (I wish I could) It would have been 1966 and I bought the Rochdale for &pound15 from a Secondary school near to Belle Vue in Manchester. It had been used by the top class of boys for working on as mechanics to give them a basic training in how cars worked. Alas when the teacher, a Mr Thompson delivered the car in a none working order (towed behind his own) it did not have the registration documents. He promised they would be in the post. The car was minus its canvas roof and the exhaust was gone. As I had no documentation, once I had got it going I was only able to run it up and down the front drive which was extremely small as I couldn't take it on the public road. After 6 months and much pressure (and saying I was going to report the school to the police) the documents arrived arrived but by that time I had had just about enough of it and sold it to a photographer who worked with me at the time at Artist Manchester for the &pound15 I paid for it. It was crudely hand painted in black and looked for all the world like a much scaled down MG TA with cycle wings.
I'm afraid I can't tell you any real information that would be of help to you such as the reg number as I never took any pics of it at the time. All I know is I wish I'd held onto the little Austin. To make up for it I now own a rare Austin (not Healey) Sprite of which 1022 were build and about 300 remain. Kind regards, Paul
<![if !vml]>

<![endif]>Now at this point I always copy in Malcolm Mckay to new finds and draw on his font of knowledge to see if he can add anything to the story. I thought it may have been a possible Rochdale Mark II and asked Malcolm for his input.
Malcolm writes:
This is very exciting! It's not a MkII, which looked nothing like an MG TA - but if you refer back to the original ad for the MkII you will see it refers to "Also M.G.-type Bodies, &pound28"..... So this could be one of those - the description certainly fits!! If so, it is really exciting because we have never seen a photo or drawing of one of these bodies. Please beg him for every possible detail that could help us with this, of course, it could not be a Rochdale at all, but there's a good chance this is a 'missing link'.
Later Paul writes:
Hello James. I didn't realise the car I had was a particularly rare one. I was only a lad at the time... alas it was just an old banger to me. I really wish I had taken some photos at the time now, but it looked such a forlorn little thing I couldn't have brag to my friends with a pic saying... 'look at my car.' I'm really very sorry to say that I'm afraid I'm not going to be any use at all to you after all these years as I simply have no idea of the schools name, the reg number or the guy I sold it on to. I do remember I was told by the science teacher, a Mr Mike Thompson that it was an Austin 7 with a Rochdale body. At the time that meant nothing to me.
I have scoured the net for something that looked similar to the car and the nearest I could get was this pristine looking Austin Ulster below. The main differences were that the front radiator had a gentle slope backwards to it, there was no mascot or louvres on the bonnet and the back didn't have a duck tail but was a sloping slab sided petrol tank with the spare wheel attached to it. Also the mudguards weren't quite as substantial as on the photo below. From memory they were much smaller and flimsier. You have no idea how sorry I am I can't shed any more light on the car for you.... I REALLY wish I could. Kind regards, Paul
Now, as none of us have ever seen one of these MG type bodies it is a shame that Paul doesn't have any pictures, but wait, as I mentioned before Paul is a member of the Guild of Motoring Artists so kindly offered to draw a quick sketch of what he remembered the car to look like. As you can see below, pretty interesting that this could be the first sight of what the MG bodied Rochdale looked like. Let's hope we can find some more information soon.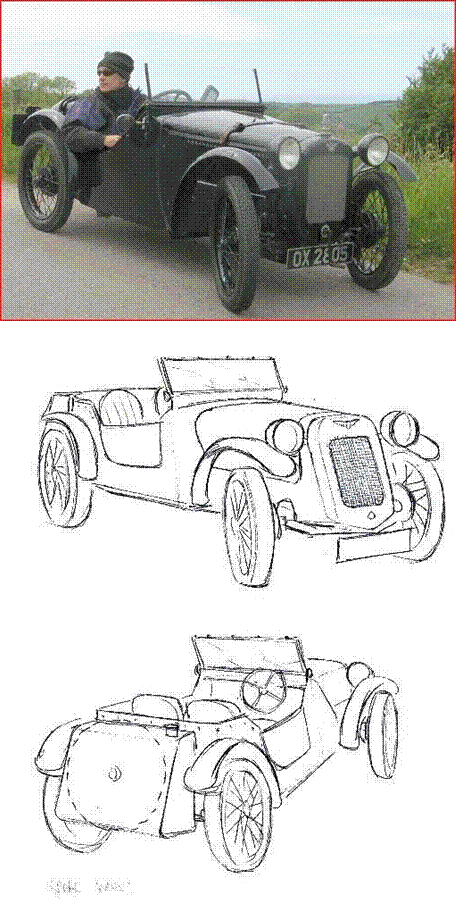 Above pictures are copyright www.classicmemories.co.uk
NOEL TUCKEY UPDATE
Hopefully you will remember in the last ROC magazine I brought you the story of the Andrew Mustard GT that was involved with the Bluebird Land Speed Record. Well, I have some more information from Noel Tuckey on the GT. Noel writes:
Hi James,Some more information for your magazine research on the Andrew Mustard Rochdale Special. That English registration number we gave you - 114DNX - isn't correct, as we were scanning through Andrew's old photos where one image was quite poor and double exposed, showing the Bluebird and his coupe plus a ghost of the rear end of another coupe alongside, which had the registration number 114DNX. We assumed that this was a tail end shot of the Mustard car but on closer examination, the rear view of the other coupe revealed a rear window which was almost rectangular, instead of the elliptical shape of the Rochdale shell rear window, so we don't know where this other car came in.
Please accept my apologies for this mistake, and I hope you didn't go very far down that road. Anyway, attached is another photo, plus a letter from Andrew which he sent to me shortly after our first contact, explaining with dates how the car came to be built with the early Rochdale made shell. Regards, Noel.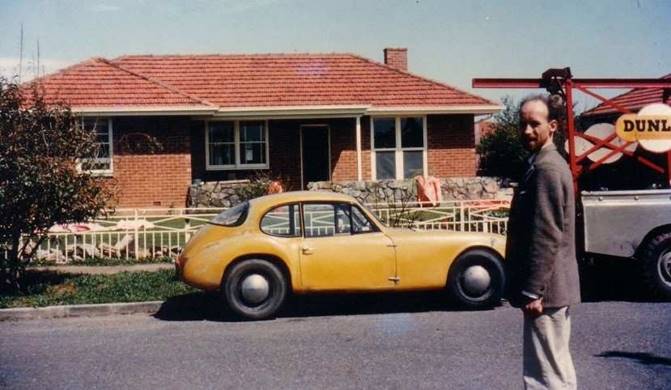 Andrew Mustards Original Letter:
Dear Noel
Thank you for your letter - I'm not completely sure but so much is as I remember, I think what you have is in fact based on my old car.
Having served my apprenticeship with Bristol cars, I moved on to Dunlop after University and following the 1954 I.O.M. TT, where I was offered a "cadetship", with a view to joining the motorcycle competition staff.
I bought an 8 h.p. van to transport my motorcycles to race meetings, Silver City Airways charging by the length of vehicle cross Channel and the 8 being the shortest vehicle able to carry 350, 500, two bodies and gear. However it lacked go. Having become development engineer in the car Racing Division of Dunlop I was able to gain access to all sorts of goodies ex 1172 Formula.
The original coachwork 8 h.p. van was fitted with a modified chassis retaining A arms front and rear. 5hJ-13 wheels, 3.9 diff in inverted rear axle. Chain drive cam replaced with gear drive from Y type motor. Engine then ran backwards with 4x 1"" Amals on original exhaust ports and larger valves (Amals inclined to freeze open at large throttle openings in bad weather). MG J2 gearbox addition required chassis mods since no longer room for front A frame.
Poor independent F/S using original transverse spring fitted. Using Morris Minor rack and pinion vehicle oversteered violently unless loaded. Straight line performance enabled me to operate up to 400 miles from Channel - leaving Birmingham Friday afternoon and sometimes a little late for work on Monday!
Despite being employed to test drive Fl and F2 cars Dumlop started to lean on my competing in GP's (motorcycle) after a broken arm, and with the arrival of a family my wife needed wheels. I purchased the first very rough Rochdale prototype which was rather flimsy - on the basis of safety I then built a tubular frame to reinforce it which is virtually identical to that in your photo.
The chassis was then further modified to lower wishbones replacing the 1/4 elliptics but retaining transverse Ford top spring. Radiator ex Morris Minor but with belt driven pump. Headlights by VW - the brakes were converted to hydraulic but I can't remember anything other than the original Ford hubs were lightened. I had the car shipped to Australia in 1963 - the front suspension was further modified at Elfin's - longer lower wishbone I think + roll bar.
With half the weight, half the frontal area and 50% more power than original it went quite well! Compression ratio up to 8.2 etc. However with three sons it became impractical and was sold in late'63 - I was told it had been crashed but was to be rebuilt. Gary Cooper was building an A/C Cobra clone like this at that time.
I can only guess it had a rear end shunt and the original Rochdale shape was used as a pattern for the metal body. I modified the original Rochdale back so the spare wheel/ tyres formed the rear bumper, this seems to be the main area of change.
I never completed the interior - it was registered with a nod and a wink in Adelaide as at that time as Manager of the Bluebird W.L.S.R. attempt I was something of a VIP, such things as chassis numbers were not recorded!
May I have the enclosed photos back please - they may not help much - I'm told the Elfin records set in 63/64 still stand - I ran a drivers school at Mallala for a time before the repair bills got too high.
I hope this has been of assistance - I can't be entirely sure but two items on the frame photo - the bars carrying spare wheel/bumper and central floor pan reinforcement central rectangle to wheel arches was a Colin Chapman design recommendation.
<![if !vml]>

<![endif]>
Small world! How interesting. With sincere regards,
EWN 805
Rochdale GT EWN 805 was always a bit of a mystery to me as I had the number plate but no details about any owners or information relating to the registration. Whilst surfing the internet though I came across the following extract from an internet forum:
When I owned a Ford Rochdale GT special, the temperature gauge failed regularly so I was in the perfect job to repair it, about 4 times a year. However, if you can tuck a digital or other electric gauge somewhere it will always be more likely to last, that's progress.
I managed to write to the owner to request some more information on the car and the reply follows:
Hello James, EWN 805 from memory, a Rochdale GT, don't recall the year but it was based on the narrow track chassis. It came with both 16" wheels and also Ballamy wheels which I fitted. I converted the rear axle to 4.7 ratios with parts I bought from an Exchange and Mart wanted ad. It had the 10 hp engine I believe and with the 15" wheels and 4.7 axle would accelerate and handle very well, I think we had about 80mph on a few occasions.
It would boil in traffic in summer so I eventually fitted a bleed screw valve in the rear upper part of the pump backplate. I experimented with standard springs by removing leafs till it rode about right. I fitted VW Beetle 6 volt wipers and a small dash added made from SRBF that was available at work. I reinforced all the hinges with ally plates bonded to the body. I was a regular at Jones's scrap yard in Waltham Cross where I stocked up with hinges from Rootes cars such as Minxes and Gazelles. I found some hub caps there from a Daimler that fitted perfectly. The only tuning was 8hp head and washers under the valve springs.
I re-did the floors but recall one Saturday night when I had only completed the fronts we went to the pictures in Southend. My sister-in-law sat in the front with me while my wife sat in the +2 section legs astride the gaping unfinished floor in the back. I have never really forgiven myself for risking that on her but like all foolhardy things when you survive it seems great fun. The wiring was very old, probably from the original prewar car and did tend to smoke and burn sometimes.
I wish I still had it. Eventually sold to someone in Southend for &pound50 around 1970, exactly what I paid for it about 3 years before.
Regards, Dave Frost.
PS I am still into sidevalve Fords owning 3 Prefects: a 1953 standard car on the road, a 1947 prefect being restored and a 1953 Prefect being converted to pre-war front end with a Triumph Spitfire 1500 engine, Anglia axle etc.
So here we have another GT that is probably hidden in someone's lock up, not much information to go on but at least the sidevalve Ford connection revealed where Malcolm Mckay got the number plate from in the first place. Hopefully someone may know a little more about this car?
As my usual parting signature block I end with a request for information, again! The Early Rochdale database is getting pretty comprehensive now, all the information contained within is critical to ensure the history of RMP is not forgotten. It still needs your input though, any information, no matter how small would really help. Please copy any information you have on early cars and let me add it to the database. I did want to add a few more stories to my article this month but as usual time is not on my side. For those who saw the immaculate Rochdale GT at the NEC Classic Car Show in November I am very envious, for those who didn't I will put a few pictures in the next magazine.
Olympic Registrar & Associated Pre-Olympic Jottings
I intimated in the last Magazine that John Plant was nearing the end of the restoration of his phase 1 Olympic (81 XPH). This was confirmed by the cars appearance on the FSCC stand at the NEC Classic Car Show. Whilst there are still one or two items to finish, the car has been transformed from the 'basket case' that spent 20 years in a Derbyshire scrapyard. Well done John.
Also on the stand was David Whitehouses Rochdale 'F' Type bodied Elva (MBU 309). The car caused much interest and it will be good for Rochdale publicity when it returns to the circuits next year. At least one person asked if there were any other 'F' type shells around.
Keith Pratts first special of course used the same bodyshell, although as he mentioned to me the mechanical components of his were more mundane. Keith then progressed to an Olympic (HTE 726B), which after a number of years use is now the subject of an ongoing rebuild.
The NEC Show provides a useful meeting place for Club members and quite a few dropped by for a chat during the two days I was there.
Russ Collins rebuild of his phase 2 (EVH 273L) has stalled, hopefully only temporarily, following a recent house move. Unfortunately, this usually seem to result in a number of non car related jobs to be done.
Another stalled rebuild is that being undertaken by Ben Bettell on his never registered Olympic. Ben seems to be spending more time working away from home since he 'retired' than before!!
Paul Bendelow is currently concentrating on finishing the rebuild of his Turner. Hopefully the Olympic (HHD 768) will follow shortly thereafter.
Better news from Treasurer Stuart, who seems to be moving towards starting the rebuild of his phase 2 (VWT 144F). I understand that enquiries have been made of having the car vinyl wrapped instead of the more usual paintwork. It seems that it might save dealing with all the gell coat crazing, or has he just been watching too many episodes of Eddie Stobart?
It was nice to meet Bob Heppell and put a face to the name. Bob is restoring my old phase 1 (886 WTF). I understand that it is not too far off being roadworthy. It will be nice to see it roadworthy again, the first time since 1976.
Another first time meet was with Alistair Banks, who was able to update me on the current state of his phase 1 (TBF 966).
Good news from deepest Kent. I am pleased to be able to report that Jim Conlin has his phase 2 (3620 KM) back on the road. A new front sub-frame has been fitted and the rear trailing arms rebuilt. The caster angle has been reduced slightly on the front and Jim reports that this has lightened the steering somewhat.
I recently inspected progress of Roger Dyers GT (71 SPA). This is one of the few remaining GTs that was supplied with Rochdales own chassis. Although very few were made they still managed to produce two different types, one with round tubes and the second with square tubes. Rogers is one of the earlier round tube types and bears a remarkable resemblance to that offered by the Halifax Panel Company, who incidentally were agents for Rochdale bodies. The main difference is in the location of the rear axle and here Rochdales used a Watts linkage for sideways location, which should be superior to a Panhard rod.
Rogers car had sat in a field for a number of years and hence some welding was required to the chassis. This has now been done and the car re-assembled as a rolling chassis. The Rochdale chassis also included a moulded GRP floor pan, which lowers the seating position, always useful in a GT. This also makes the bodyshell virtually a monocoque, which must result in a very rigid structure. Repairing the bodyshell is Rogers next task.
Those who are familiar with the Ford sidevalve engine will know that the front mounting is by means of a bar that bolts across the timing chain case with a rubber mounting at either end that sits on the chassis. This mounting bar is shaped to allow fitment of the export water pump. To install the engine in the Rochdale chassis the mounting bar has to be fitted upside down which means that the water pump cannot be easily fitted. Normally with a GT shell, as with most specials, the water pump is needed due to the low radiator preventing adequate gravity circulation. All very strange!!
By co-incidence at the recent Manchester show I understand a chap who built a Riviera in the 1960s on a Rochdale chassis visited the Club stand. It seems that he suffered considerable problems of overheating and got quite adept at replacing head gaskets. Perhaps the lack of water pump was not a good idea!
Mark Farley, who lives not too far from Roger is also currently rebuilding a GT. Marks car is on a standard Ford chassis, as is my Riviera. I was taking pictures of the chassis at Burford back in August without realising who the owner was.
I wish that I could report progress on my Olympic. However, apart from taking the gearbox to Heathrow Transmissions for a check and rebuild, nothing has progressed. My excuse is that it is not ideal temperatures for fibreglass work. Roll on Spring. Similarly, the Riviera is dormant, although I do have most of the missing parts now. Except that is for a pair of 5 stud spacers for the Ford axle. Anyone got a spare pair?
DOOR HANDLES
Standard 8/10 external door handles were fitted to both the phase 1 and 2 Olympics as original fitment. Good quality ones are at a premium, but I understand that new ones have now been cast by Ashwater Forge & Foundry, Unit J2, Dunkeswell Airfield, Honiton, Devon (Tel: 01297 300010). They are cast in brass and chrome plated, but do not come with the lock barrel. Their part numbers are 02/0805a (locking) 02/0806a (non-locking). Cost is about &pound86 for a pair
Incidentally the door catch mechanism on the phase 1 is also from the Standard 8/10, whilst on the phase 2 they were sourced from the Austin/Morris 1100.
Derek Bentley