MAGAZINE No 131 AUTUMN 2012
Edlines
The event of the year has to be the Olympic torch celebrations in Rochdale, which is recounted by Les Brown on p 8. A memorable occasion which the foul weather failed to spoil.
In July I ventured to the LeMans Classic in Kermit, which was as enjoyable as ever, though rather less chance of sunburn than usual. Car went well despite a persistent misfire which was later traced to the rotor arm what else? Visited the Juno Beach Canadian War Museum on the Normandy coast on the return journey, an informative and sobering experience.
Kermit and chums in Parking Bleu
TONY STANTONS NEWS & EVENTS
North Worcestershire Classic Car Meet
The Bowling Green Inn, Shaw Lane, Stoke Prior, Wychbold, Nr Bromsgrove, Worcs. B60 4BH.
From 7.00 pm Monday 17th September 2012
From 12.00 pm Sunday 21st October 2012
From 12.00 pm Sunday 18th November 2012
From 12.00 pm Sunday 23rd December 2012
West Warwickshire Classic Car Meet
The Moat House Inn, Birmingham Road, Kings Coughton, Nr Alcester, Warks, B49 5QF.
From 11.00 am Sunday 30th September 2012
From 11.00 am Sunday 28th October 2012
From 11.00 am Sunday 25th November 2012
From 11.00 am Sunday 30th December 2012
CLASSIC CAR SHOW NEC 16th, 17th and 18th November 2012
As we do not have a club stand this year I am looking for a tidy Rochdale to display on the Fairthorpe Sports Car Club stand and material/display boards.
PLEASE contact Tony Stanton on 01527 402367 or tony-stanton@fsmail.net (please put ROCHDALE in the subject line)
Rochdale Olympics at Rochdale Saturday 23rd June 2012
I would just like to add my congratulations to the growing list for Les Brown, what with the success of the Manchester show, the outstanding results of the Rochdale Olympics, the book has just got to be fantastic. WELL DONE.
Also club thanks to Keith Hamer, Jason Hoffman, Roger Coupe, Howard Evans, Calvin Rae, David Mayers, Andrew Roan and Les for presenting 8 immaculate Rochdale Cars; you did yourselves and the club proud.
And one person we may all be forgetting is Pat Brown, she must have endured quite a lot over the first 6 months of 2012. But she has given Les and the club her full support, so a big thank you Pat from all the members of the ROC.
I have searched the web for photos of the cars from Saturday and moved them to a site I admin http://www.flickr.com/groups/rochdale_cars/pool/
Those of you who have taken photos on the day please send me copies, to rochdaleolympic@talktalk.net and I will put them in the ROC database.
Also watch this film made by Les Brown
http://www.youtube.com/watch?v=LHwQspSGU6Q&feature=related
I was very upset I could not get the parts to repair Duffy in time to get to the event, I am now even more upset I missed such an historic occasion. Well done to everybody involved in making it such a success.
I also like the headline in this photo.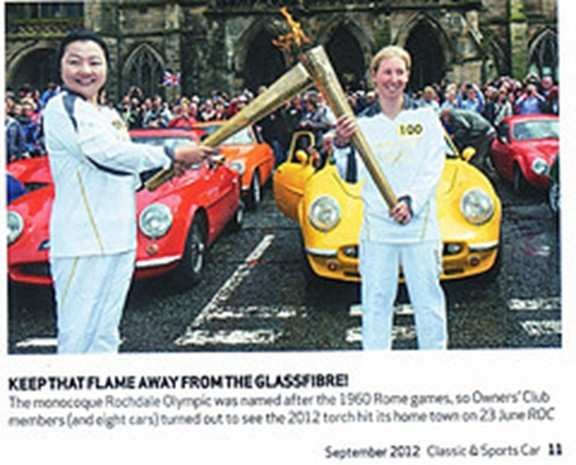 Sunday 14 October 1962.
While on YouTube have a look at this :- http://www.youtube.com/watch?v=ddOu4uUVYrQ
This is an original cine film of Rochdale Olympic, VDK 147, captured to video tape and commented on by Frank Butterworth.
First clip is the car being tested for cornering ability on Syke Common, Rochdale.
Second clip is the car travelling and arriving for a customer demonstration. Harry Smith, Richard Parker and Frank are all present. On Sunday 14th October 1962 at the Noke Hotel
(now The Thistle St Albans, Watford Road, St Albans, Hertfordshire AL2 3DS,) on the Watford to St Albans Road, at the junction of the A412 and A405, Rochdale Motor Panels held an open afternoon for members of the Press and prospective customers. Richard Parker was the Works driver that day and blasted passengers around the local lanes.
Third clip is the car being demonstrated to a customer over a bridle path
Also we have this account of the day in Mag 54 Summer 1993: -
IN CONVERSATION WITH - JOHN BLANCKLEY.
So the first time I went up to drive the car, they had a test day, it was at the bottom of the old Al where the it used to finish near Watford (The Noke Hotel, near Chiswell Green, Sunday 14 October 1962 - Ed). We had a test day there and it was Richard Parker who was doing the driving. He set off towards the motorway so I thought, "Ah, all he's going to do is to give us a trip up the motorway", but he turned off down this rough country lane. What it was was a road that had deteriorated, you know, how the tarmac breaks up and leaves really sharp edges, and he really thrashed the thing down there. I thought "This is great" and we came up the motorway and I was sold on it. I put an order in there and then for one.
Q - How did you get to hear of it, did they advertise it?
A - I think I phoned them up and they said they were going to have a test day, come up and try it. Nowadays, it's not an awful lot of money to pay &pound200 for a bodyshell but in those days, it was the end of the world.
Q - So Richard Parker did all of the driving and you were the passenger? A - Yes, they hadn't got insurance for everybody to drive, but he'd do almost anything you wanted.
Olympics and Owners from the past discovered.
Readers may recall that in Mag 124 Winter 2010 I wrote about Olympic Phase 1 - UCT 74, which had been supplied new to Flight Lieutenant OULTON who was stationed at RAF,
SWINDERBY, Lincoln. in 1962 and was for sale with this advert in Motorsport April 1963
ROCHDALE OLYMPIC: 15 months old, 22000 miles. MGA 1622 engine, oil cooler. Twin fuel tanks, Kenlowe fan. new 'X' tyres. Heater, harnesses, rear seats, 2-speed wipers, washers, wood-rim wheel. Fully trimmed. A really practical, economical, high-performance car. Immense fun to drive, very rapid on long journeys. Owner/builder going overseas. &pound540, part exchange considered. F/L Oulton, Greensleeves Shepreth, Cambs.
Note: - ROC Mag 115. Autumn 2008. When Derek Argyle (ex Olympic Phase II - 589 CCJ) was taken by D.S.J. in April 1963 to view 3 Olympics, UCT 74 was the 2nd one they had looked at.
John Plant our Spares Officer bought UCT 74 from a garage, L.R.C. Culling, HARRINGTON,
Royston, Herts in 1963. He may have sold the car back to them or to Airport Garage, at DUXFORD, Cambridge in 1964.
I recently met Brian Bourne who lives about 1 mile from me in Redditch and in 1966 he lived in Shirley nr Birmingham and owned a TVR Grantura. But his brother Keith owned Olympic Phase 1 - 498 VDH (last seen in the South Staffordshire area about 1993 and is shown on the DVLA website as been Taxed or Sorn each year, so who owns 498 VDH now?) and Brian also had a good friend Bob Page who owned Olympic Phase 1 - GUY 541C (currently owned by Paul Gething also about 3 mile from me in Redditch)
So in May 1967 Brian bought an Olympic Phase 1 from this advert in MotorSport.
ROCHDALE OLYMPIC, MGA 1622 engine, resprayed BRG, every conceivable
extra. without a doubt this must be the best of its kind on the road, a real head turner. first to see will buy. &pound435 ono. ENT 3572 after 6pm.
ENT - I believe to be Southgate, Enfield, North London
Brian only owned the Olympic 6 weeks when it was written off in an accident, Brian was in hospital for 8 weeks and still walks with a limp from the damage to his legs. Brians brother Keith bought the Olympic from the insurance company and fitted the MGA 1622cc engine from it to his Riley engined Olympic and kept the useable parts for spares, so that was the sad end to UCT 74. Sorry about the quality of the photo, but it at least shows the registration number.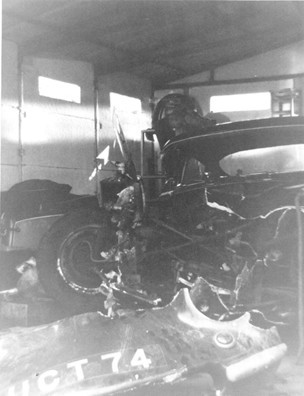 I am very sorry but due to other commitments over the last few months I have not had much time to delve in to the past history of Rochdale Olympics so not a lot of info for this mag.
And a note to end on: - The motto of call centres.
We have not succeeded in answering all of your problems. The answers we have found only serve to raise a whole set of new questions. In some ways we feel we are as confused as ever, but we believe we are confused on a higher level, and about more important things.
From a Matt cartoon:
SUB PRIME MONOPOLY
Everybody goes bust
Including the bank
Specials Day at Burford
Another fine day and another turnout of fine cars, but there seemed to be fewer this year. This was certainly true of Rochdales only two Olympics, a GT and an F-type and is the lowest number of Olympics I have ever seen. So where were you?
To balance this, the standard was even better than last year, the F-type MBU 309 in particular looking absolutely splendid, and won the Best Special award. More on this car in Dereks Olympic Registrars article.
The Olympics were Tony Stantons faithful Duffy and my Kermit. The GT was the Reliant Kittenchassied car built by Guy Stallard and now owned by Brian Gent, who had an eventful drive from the south coast, needing a lengthy stop on the motorway to free sticky brakes and then suffering from fuel starvation, apparently a common problem with Kittens. So well done Brian for not only making it but staying cheerful throughout. Don't forget to join the Club.
Duffy has been giving Tony some trouble for some time with drive shaft problems, but hopefully these are now cured. Kermit, newly fitted with an electronic distributor, now no longer suffers from misfiring and returned over 50mpg on the trip. It still doesn't want to rev out, so I have booked a rolling road session which may (or may not) suggest a remedy.

Duffy & Kermit looking a bit lonely
JSV 916 makes its way home (hopefully)
- 6 -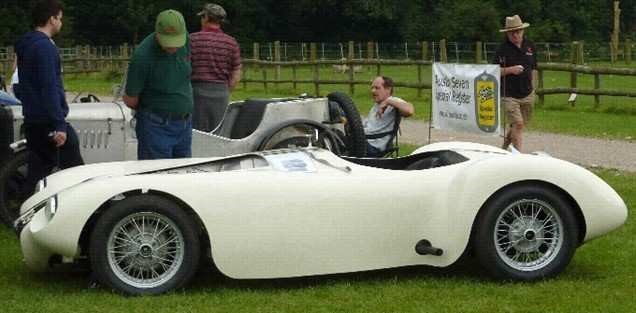 MBU 309 looks superb this photo doesn't do it justice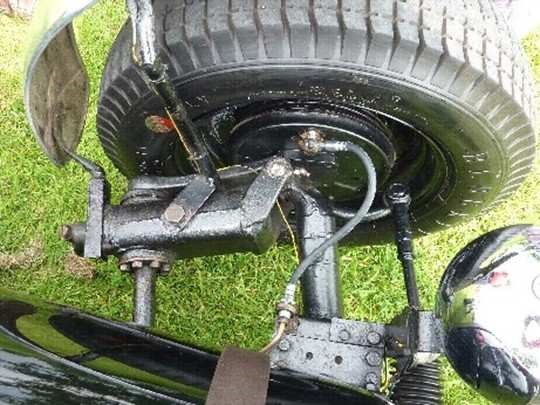 There are some interesting cars at Burford. We spent some time studying this Burley front suspension to see how it works, because it's not obvious at first sight. The tube that looks like the axle is rigidly attached to the chassis. The hub is mounted on the end of a leading link and the spring is a torsion bar in the narrow tube on the left which is about 18" long. The whole of this assembly, which houses the damper, turns to provide steering. This curious design means that there is minimal unsprung weight because only the hub is unsprung. Ingenious.
Alan Farrer
Olympics by Torchlight
You'd think, with the big event in London, it would be a good time for the Rochdale people to make a bit of a display of the cars this year.
When you are trying to get some facts together on the Rochdale marque, it is inevitable that you end up, sooner or later, at the door of Keith Hamer. Keith must have the distinction of having worked on more of the surviving Olympics than any other person, but I really wasn't ready for this - in fact, I hadn't given the coming Olympic 2012 a thought, apart from joking about the odd logo. But a couple of months down the line, towards the end of a committee meeting, Tony Stanton did his bit to reinforce the message-
Did you know that the Olympic torch will be coming through Rochdale on June 24th? Well, no, Tony, I didn't, but I do now...
The opportunity was just too good to miss, and, without too much optimism, I decided to approach the Rochdale people and see what they thought of the idea at this relatively late stage in the day. But then, I don't tend to do forward planning myself - see what comes up, and make it up as you go along tends to be my approach. But this time I struck gold straight away: I ended up with the Link4Life organisation, speaking to Barbara Lloyd with a few ideas on what might be possible.
While Barbara had indeed heard of the cars (amazing how many people in Rochdale haven't) possible connection with the coming event had not been made, but she certainly became very enthusiastic as I described the car and its original connections with the 1960 Olympics; as we talked, ideas sparked between us, and it was clear that there was the potential of something really good happening on the day.
Barbara had never actually seen an Olympic, but her enthusiasm grew with the conversation, and we ended up discussing just how the cars might be incorporated in the days proceedings. From an early stage, she agreed to site the cars in the towns prime position, straight in front of the Town Hall.
For those unfamiliar with this, the proudest of Lancashires mill towns, the central area had been created when the river Roch had been bridged for a Guinness-record 200+ yards in 1871 and millstone grit from the Blackstone Edge area outside town had been brought down to create a Gothic masterpiece of a Town Hall you may love or hate. Personally, I love it, but the entire area was never one you could ignore and this was to be the allocated venue for the June event. There was soon lots of enthusiasm from all quarters, and all sorts of people have been kind enough to congratulate me for my part in setting the event up. In truth, once the ball was started rolling by the aforementioned conversation, the event took on a life of its own and, a little like the Olympics themselves, there was such a feelgood factor to the proceedings you just had to be grateful for having been there, in the right place at the right time.
If Barbara could get the press involved for a shoot before the event, could we get a few cars along to generate some interest? Certainly could, although the mid-week timing didn't help those with jobs to go to, and a last-minute BBC shuffle to Wednesday 25th April, meant that Dave Mayers couldn't make it in his (sunroof) Olympic. This was a shame; I was still harbouring thoughts of the torch being carried by an athlete standing in the passenger area of an Olympic (just think what a few sparks might have done to THAT idea!) but the events were too far advanced for this to be a realistic option.
Jason Hoffman stepped in at the last minute with his (official) end-of the line 1972 Phase IIR Olympic PAX 44, and joined Roger Coupe and myself on the day. My own car was a bit of a gatecrasher, in truth as it wasn't an Olympic at all, just an earlier GT, but everyone was much too polite to mention this to me! I justified its inclusion by virtue of its major part in the Rochdale history, and undoubted contribution to the Olympics development, but can you think of a single component that the two cars had in common? Well, that's an easy one, of course; there really aren't many once you have got past the headlamps. Naomi Cornwell proved a charming BBC TV interviewer, though it was a surprise to see her working the camera, asking the questions and editing the clips herself - It's the cutbacks she explained. The finished piece Poetry in Motion went out on BBC NW Tonight, 26th April, and although only on air for a couple of minutes, did provide an accurate and enticing view of the cars Gorgeous little things, aren't they? quipped the presenter on the night.
Although the cars looked great on the film, as mentioned earlier, two out of the three misbehaved big time after the interview, with Rogers brakes seizing on later in the day, and the first of my MiniSport engine blow-ups occurring on the way home. (I'm not going to even MENTION what's happened with the engine since then - just when you thought things couldn't get any worse...).
Things were really shaping up for the big day, and further details were ironed out as the time approached. Barbara and Link4Life were very keen to see as many cars as possible on the day, and there were plenty of club members keen to attend, but being Rochdale owners, of course, doesn't necessarily imply that the cars would be in attendance as well. Owning an Olympic is categorically NOT the same thing as having one on the road! But the signs were all good, and we were hoping that the day would bring perhaps the biggest-ever gathering of Rochdale cars - there had been fourteen present for the 2002 sculpture opening, and it really did look at one stage that this figure could well be beaten. In view of the distances some owners would have to travel, Link4Life very generously agreed to pay for B&B accommodation for all Olympic drivers (and passengers!) present, as well as hosting a meal at Madisons restaurant for Rochdale (car) folks on the Friday night.
That was the plan. Unfortunately, as the big day approached, it became clear that the North of England was due for some of the worst weather it had seen for years in the days leading up to the event, and several who had intended to come along were struck with mechanical problems as well. So, in the event, we ended up with eight cars on the day; in addition to the three earlier members, we were now joined by Keith Hamer (orange Olympic), Dave Mayers (red Olympic), Howard Evans (blue Olympic), Andrew Roan (red GT) and, on the Saturday, Calvin Rae (silver Olympic). Others members attending were Keith Pratt, Ron Scarfe and newly-joined Simon Hamer - top marks to all those who made it.
Torrential rain is an over-used expression, but definitely applied in this case. My daughters home in nearby Hebden Bridge was flooded for the first time in living memory, and the area was so badly affected that Prince Charles paid a visit to see how they were getting on, only for it to receive a second dose of floods as he left. I did, therefore, have cause to regret my earlier offer of a guided tour of the (car-related) sights of Rochdale; my GT is one of those having a large scoop cut in the bonnet to provide cooling air around the hard-pressed engine - unfortunately, it also allowed rather more than its fair share of the flooding, as well. Having visited the sculptures, Littledale Street, and Falinge Park, I led the way towards Syke Common, where Motor testers had thrashed the GT-engined Phase II around, only to find our way blocked by yet more floods. After pulling in and taking a vote on whether to brave the flooded road or not, the consensus was to press on.
The bow-wave kicked up by my wheels found its way into the engine compartment, and that poor, long-suffering Midget engine gave up the ghost - at precisely the spot where Richard Parker had been filmed driving VDK 147 at speed fifty years earlier. (http://www.youtube.com/watch?v=ddOu4uUVYrQ)
Lots of ribald comments ensued, but it turned out that the lead from the coil was sparking across the outside of the distributor, and after several doses of WD-40, we were all on our way again, the care taken in avoiding the floods taking us past All Saints church, where the Racing Vicar, Rupert Jones, had married myself and my wife some 44 years earlier. Rupert was one of those who was to have been involved in Harry Radcliffes Olympic attack on the 1961 British Championships, but don't get me going again...
Things looked up as we made our way back to the Broadfield Hotel. This was an old nursinghome which had been tastefully modernised, with very pleasing facilities. My wife immediately swooped on the plethora of very large leather armchairs in the foyer, and demonstrated to club members the forgotten art of finding lost coins down the nick of the chair arm. These are particularly prevalent in low-slung armchairs of this type, when a gentleman sits down with loosefitting yet bulging pockets, preferably after he has had a few. Before long, most of the hotel were at it, but Rogers second place &pound1.50 paled into insignificance alongside Pats &pound4.35 retrieved from down there!
Better still was the evening meal at Madisons. John Dunwell was in attendance with his son-inlaw, and Frank Butterworths sons, Phil and Paul also attended with members of their family. It was especially good to see Hilary Parker again, along with daughter Jane. They had travelled all the way up from Bristol in the terrible conditions; other members of the Parker family even travelled from the Continent to attend on the Saturday - very, very impressive.
Another ex-Motor Panels man there in spirit was Ron Batley: he was the very first employee signed up in 1948, and later went on to manage the British Skiing team - putting his success down to skills learned in the Rochdale firm, and was particularly grateful to Franks example for his subsequent successes. Rons interest had been sparked by the previous BBC report, but despite strenuous efforts around a Geneva trip another prior engagement prevented him making it on the day. But apparently he and John Dunwell had taken great delight at Hudson Street in hanging a young Paul Butterworth by his duffle coat from a particularly high coat hook, events which Paul was well able to confirm on the night. All in all, a most excellent meal with plenty to talk about afterwards, and everyone in agreement to do it again before too long.
Come the next day, and we made an early start for our position at the front of the Town Hall. The entire event generated such a feeling of local affection from people who had known the cars, the factory and its people at the time, and even those who were finding out about them for the first time. My favourite story came from Rene Broxup, whom Pat had not seen since she left school in 1961. Apparently her father was a woolen merchant, operating at the back of the Hudson Street premises in the days prior to the fire. After the fire as the GT, Riviera, Mk VI, and (in theory) FType and C-Type models were dropped the factory was left with a large quantity of windowglasses from those models; her husband is still using 50-odd of them as garden cloches! I hope to follow up the exact nature of these cloches in the near future....
As the time drew nearer, I was getting increasingly hoarse from about five hours continuous talk about Rochdales. Pat had taken the bit between her teeth and set about selling fourteen of the Olympic/GT club mugs we had made earlier this year - she has a reputation of being able to sell anything to anyone, so best keep your hands firmly in your pockets at any future events.
I had my grandson lined up for a ride in the Torch procession, but it was just impossible not to get sucked in by the building euphoria as the torch approached the centre and my 40 year-old son (who had feigned indifference for weeks) couldn't resist climbing in alongside when the time came.
Also present was Frank Butterworths grandson - when I realised how much he wanted to be there, he just had to be squeezed into the back as well - ordinarily, no problem at all, apart from the huge box of mugs and club stuff there already. It is surprising just how significant some of these things can be in peoples lives: I once gave a ride round the block on the back of my Francis Barnett to my girlfriends young cousin. He rose to the very, very top of Tescos UK organisation, and, when we met again some thirty years on, he described this to me as one of the most memorable moments of his early life!
Just in time we were all installed in the GT, ready, and eager to get through the throngs and into the procession. Barbara was very anxious that the crowds might feel the shows over as the cars drove off, and the back four, led by myself, were supposed to double back into place to prevent this. However, such was the density of the crowd, I had to give this up as impossible - watch the clip, you can see my hesitation! - and we ended up following the other Rochdales as the torch made its way towards Heywood, three miles up the road. After another quick circuit of the town, the Olympics were back in more or less their original places and the discussions started up again... Luckily, the earlier drizzle on the day had broken for long enough for the event to be truly enjoyed, and the afternoon saw brighter patches doing their best to break through.
Into the Town Hall for the closing stages (I had fully intended a closer inspection of its Gothic magnificence but never got near it in the event) but I did present Barbara with a specially mounted version of Roger Coupes Olympic paperweights, and she responded, rather wonderfully, with a set of eight displays she had made up for the Rochdale marque, which are very portable and should be very useful in future club events. And I hadn't even seen them until this one was over!
A truly memorable day. Despite the weather, the town produced an extremely lively event with lots of other things going on as well as the cars - hula hoops, martial arts, tug of war, acrobatics displays to name a few. Not that I saw any, of course - much too busy! Over 15,000 were said to have turned out to watch the event through the streets of Rochdale, and of the various celebrations seen around the country - Yorkshire TV reported every move through the county in great detail - this was much the best celebration I saw in the weeks leading up to the Olympics; if I'm a bit biased in making that statement can you blame me?
Even those with little enthusiasm at the start had to concede that, yes, this had certainly been quite a day. Sincere thanks are due to Barbara Lloyd and the Link4Life organisation for making it all possible. The idea of getting one of each of the Rochdale models - Mk II, MkVI, F-Type, C-Type, ST, GT, Riviera, Olympics Phase I and Phase II in the centre was mooted for a future celebration. Throw in the odd Rochdale caravan and a Richard Parker Ski-Jet and we would have quite a celebration!
If you missed the day there are a number of clips on U-Tube relating to the day - everyone was so involved it was difficult to spend time on pictures or movies, but a potted review of the cars plus the earlier TV report the BBC were inexplicably missing on the day - and amateur footage of the event are available at
http://www.youtube.com/watch?v=LHwQspSGU6Q
Link4Life is the Rochdale Boroughwide Cultural Trust and a non-profit organisation.
John Dunwell's are the hands that shaped the Olympic (and several earlier offerings, too). "I can't believe how small they are" quipped John.
Link4Life manager Craig McAteer poses with local councillor and torch bearers. Not sure how those strange guys on the right got in... Photo Link4Life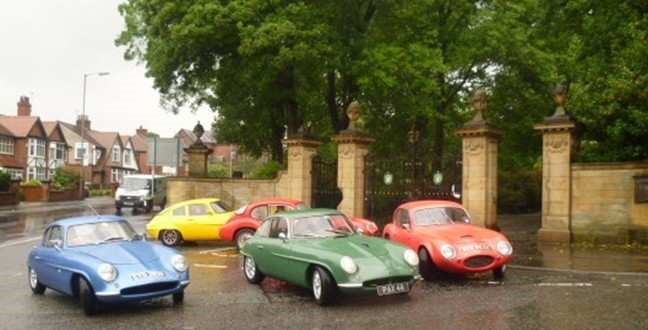 At the gates of Falinge Park. Most of Rochdale's early pictures were against this backdrop. Hudson Street would have been just to the left of the picture.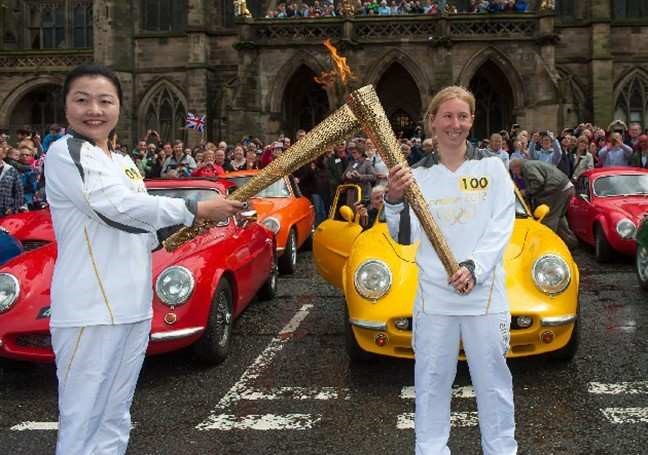 The Olympic Kiss - the moment when the Olympic flame was passed on in front of the cars. Wensheng Li and Amy Peckover doing the honours. Photo Link4Life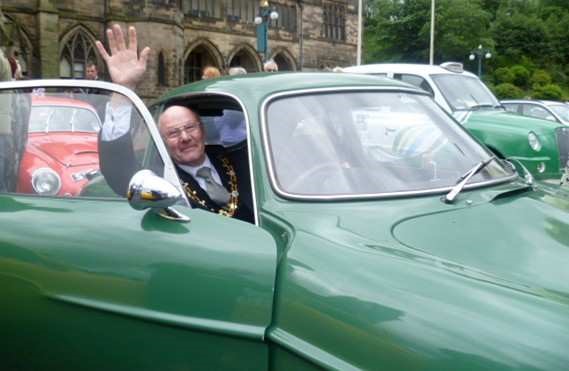 Rochdale Mayor, Councillor James Gartside, proving himself a surprisingly "with it" guy. An exElan owner (nobody's perfect) he took great interest in the monocoque aspect of the Olympic's structure. Photo Link4Life
Luci Teal carried the torch through her home town - seen here in front of Howard Evans' Phase II.
Lucky Escapes
Alan Farrer
The Olympic torch celebration in Rochdale were obviously going to be a great event, so I got myself and Kermit all prepared. Polished (Kermit) and a new jacket for the evening get-together (for me) and all ready to go on the Friday. You may remember the weather was atrocious at this time, so I checked the weather forecast on the Thursday evening and found torrential rain and high winds were likely on my route up north. Not good, as the journey was likely to take 5 hours in good conditions and considerably more in those conditions. Moreover, I had not even used the wipers, so these were untested under real conditions. Very reluctantly I called it off.
Fast forward two weeks and I was travelling in a convoy en route to Le Mans, when the car suddenly stopped on the motorway. A tap on the SU pump got it going again, but shortly afterwards it happened again. Oh dear, looks like a pump change is needed (a member of the group had one I didn't), so up with the bonnet again and have a better look. Relief all round it was only the Bakelite knob securing the wire to the pump top that had come loose and tightening properly solved the problem.
But that set me thinking. The car had travelled only about 150 miles since that aborted Rochdale weekend, so if that stop had occurred on the M5 in pouring rain On a sunny day with friends around is one thing, alone on a windswept motorway is another a lucky escape.
Recently I was travelling in Kermit along a straight and fairly smooth urban road when there was a sharp bang just behind my seat as though something like a spanner had fallen from the parcel shelf onto a bare floor. A few seconds later there was another bang, but this time I felt it just in front of my seat. The bangs were too loud to have been stones picked up by the wheel, so when I got home I checked whether there was anything to see by the seat nothing, so I checked whether a wheel balance weight had come off no.
On my trip to the Silverstone Classic several days later I noticed that the brakes were pulling to the right, so when I got home I checked them and found nothing amiss. A few days later I saw the tyres looked a bit soft so pumped them up from around 22 to 28 psi. The next time I drove the car it rattled more than usual, which I put down to the harder tyres. Then I noticed a clonk when I reversed out of my parking space on full left lock and next time I drove the car it seemed a bit reluctant to turn left. Time to investigate.
Removing the offside front wheel revealed the cause of all these phenomena there was no nut or large washer on the upper link pin and no rubber bush either, so the top of the upright was flopping about (Kermit has Morris Minor front suspension). No wonder the brakes pulled to the right and the steering felt woolly! So the first bang was the nut falling off and bouncing off the road to hit the floor behind my seat and the second was the large washer. It must have taken a little longer for the bush to fall out and for the rattles to start. Surprisingly there were few marks on the pin and the eye so I assume the second bush kept metallic contact to a minimum.
Luckily I found a spare nut, washer and bush so a repair was possible. The reason the nut had come off was due to my reliance on the nylon insert; this was obviously inadequate, so I fitted the new nut with a locktab and did the same on the other side too. Another lucky escape.
279 CWD - on the road at last
Alan Farrer
As regular readers will possibly remember, I have been rebuilding this Phase 1 over the past four years. Arriving as a basket case in May 2008 (less the basket), this was my fourth Olympic rebuild starting from a bare shell. Mine don't seem to come with anything still bolted on - not that I can complain, as it saves the hassle of removing all that oily dirt - but I didn't avoid all those rusty bolts and steel plate reinforcements so beloved of previous owners. The subframe was beyond repair and virtually all suspension attachment areas needed major repairs, as did the adjuster plates at the rear of the torsion bars. The lower 12" of the windscreen tubes had rusted away completely (there were holes neatly positioned to channel water from the gutters into the screen tubes). The shell may not rust, but by heaven everything else that can, does, when it has spent a few decades sitting outside. So the first year or two were spent getting the shell into shape. This included the inevitable repairs to broken nose, wings etc.
It originally sported a Riley 1.5 engine etc, but I fancied a smaller and lighter power unit, as I wanted to keep overall package weight to a minimum and the weight of that Riley engine and gearbox tends to dominate the chassis. My first thoughts were a modern engine specifically the 1.4 Zetec SE from the Fiesta, which is both light, smooth and readily available. I had a Ford MT75 gearbox which I intended to fit to the engine using an aftermarket bellhousing, even though it is heavier than I would have liked, but I found it was far too big to fit without removing the floor section under the gearbox, that rather problematic feature of the Phase 1. Type 9 instead? Possibly, but then I had an attack of Malcolmitis and decided that any engine/gearbox should be from the original period. That meant pre-crossflow Ford or A-series BMC. The availability of both complete units and spares for them meant A-series as far as I was concerned.
Front suspension would be standard Phase 1 with preferably Morris Minor parts, as these give better steering geometry. I had a free choice as there were few usable suspension parts present. I originally toyed with the idea of using a Triumph Herald/Spitfire rear suspension, but again decided to keep to the original layout (or as close as my engineering demons would allow).
In the days before motorways the Olympic was regarded as high geared at 18 mph/1000rpm, the maximum available from the standard A-series axle, but now anything below 20 mph/1000 seems low geared. The special 3.55 ratio for the A-series axle is in hen's teeth territory now, but even that only improves things to 19 mph/1000, so a fifth gear (Fords) or overdrive (BMC/Triumph) is normally the way forward. I say normally, as a chance meeting at a Haynes Rare Breeds Show with the owner of a four wheeled Bond Bug, which had a Reliant back axle, revealed that Reliant Robins etc have unusually high ratio diffs, because their wheels are so small. What is more the axle is well designed and 10 kg lighter than even the A-series axle. Width? Two inches narrower no problem, as the stud pattern is MM so 1" spacers is all that's needed. The brakes are virtually the same as Triumph, with 7" drums, so they would go well with the intended use of standard Minor 8" drums at the front. These were chosen in preference to the Riley 9" drums as they are a lot lighter so would be perfectly adequate for my light car and also give a better front/rear brake balance.
I got most of the oily parts via eBay: the engine and Midget gearbox were sourced locally and the Robin axle from Maidstone. The axle needed a new wheel bearing and a pinion oil seal but otherwise seemed in good condition. The engine, a 1275 A+ unit from an Ital which had supposedly covered nearly 80,000 miles, appeared to be in excellent condition, much to my surprise, although it did need a new camshaft as one of the lobes was badly worn due to a sticking cam follower. A new oil pump and cam chain were the only other replacements.
The oil pump caused a bit of head scratching; the A-series engines had 3 different types of oil pump drive fitted at different times and 2, 3 and 4 bolt fixing for the oil pump. In the end I drilled and tapped the block to provide the extra fixing for the pump, chosen to match the drive on the camshaft, and trimmed small amounts off the pump so that it fitted in the top-hat cover in the backplate. It all seemed unnecessarily complicated, but hey, this was the great British motor industry at its finest: why go to the trouble of standardising components when you could have bespoke parts for each application?
Some work was needed to connect gearbox to engine too as the Ital engine is fitted with a Triumph gearbox and has a larger flywheel and backplate than the Midget. The flywheel came from a 1275 Midget. This needed mods for attachment to the crank flange (different spigot diameter) and was fitted with the later Midget diaphragm spring clutch. The backplate came from a 1098 Minor. This needed some mods to clear the rear main bearing oil seal (bigger than the Minor) and other odds and ends. It would have been better to have used the Ital backplate as this would have given enough room for the oil pump without needing bits trimmed off, but it was a case of not wishing to undo work already done. A strange problem arose with the gasket between backplate and engine the first I tried did not fit, and neither did the second, but a third from a different source was OK. This indicates that someone's tooling is wrong, so beware.
Back to the back axle. I have never liked the rear axle location on the Phase 1. Its method of sideways location feeds all cornering forces into the right hand lower doughnut, an item not designed to be stressed in this direction. In addition, considerable fore-aft forces when accelerating and braking, magnified by torque reaction, are taken on a very narrow bush on the right trailing arm. This is well known to need frequent replacement. On my first Phase 1 rebuild (779 CUG) I reduced the problem by using a much wider bush on the right hand trailing arm (which has not subsequently needed attention) and sharing the sideways forces by joining the front of the right hand trailing arm to the left one by a transverse link.
However, even this did not give the same feeling of security as the DeDion arrangement on my second Phase 2, which is located transversely by a woblink (a kind of single-sided Watts linkage) and fore-aft by upper and lower training arms each side to provide left-right symmetry. So for this Phase 1 I decided to make the suspension symmetrical by adding a second upper arm on the left and to fit a Panhard rod (as this is a lot simpler than a woblink or Watts linkage). This rod sits behind and just above the axle, and is fitted with a normal bush to the axle on the left side and small doughnut bushes to a bracket bolted to the boot bulkhead on the right. This bulkhead was reinforced to take the expected forces.
How does this work in practice? Strangely, the car feels very different to drive from my other three Olympics, although the rear feels just as well planted as the DeDion setup, so the mods appear to have worked. The steering is lighter, as expected, since the front axle carries about 100 kg less weight than 779 CUG and the wheels are MM with 3" rims and 145 section tyres. The overall feeling is of daintiness, very pleasant, especially on twisty roads.
Refurbishing and Updating Rochdale Electrical Systems Introduction
With the ongoing discovery of long-forgotten vehicles in need of total refurbishment, there is clearly a requirement to restore, or create from scratch, a substantial part the electrical system.
This is the first of, possibly, three short articles which will offer some thoughts which might be relevant and helpful in this regard.
Areas to be covered include batteries, starting and charging, and electrical distribution systems harnesses and fusing. Issues relating to ignition systems will also be reviewed.
This introduction is intended to set the scene for the follow-up contributions.
Assumptions
The articles will be targeted at vehicles with original powertrains ie. BMC B series or Ford pre-crossflow Kent engines, but the issues to be raised are applicable, in principle, to others. The basic assumption is that the original equipment on these vehicles includes the Lucas M35 inertia starter motor and C40 dynamo, RB106 voltage regulator, and 25/45D distributor.
Restore or Update?
This is the fundamental question to be addressed and it is probably related to the intended use of the vehicle. An electrical system restored to an authentic 1960s condition falls significantly short of todays performance in terms of robustness and durability, so if the car is to be used as regular transport then some upgrade should be considered.
If originality is sought, then all the Lucas components are available either refurbished, or new from Lucas TVS in India.
For the wiring system, the simplest solution is to purchase a wiring harness from Autosparks, although this will probably need some customisation to remove superfluous circuits which support alternative locations for starters and generators.
One issue that could prove to be a challenge is the battery, wherein the characteristics of modern products are not matched by the charging characteristics of dynamos and mechanical regulators. Therefore, it might be necessary to source a battery from a supplier which specialises in compatible products. This will be covered in more detail in a later article.
Opportunities for upgrading the electrical system to achieve 21st century levels of performance include changing the starter motor to a pre-engaged type, the dynamo to an alternator (with increased output capability, low maintenance batteries, introduction of comprehensive fusing to minimise failure effects, and the use of thinwall cables with sealed connectors for the harnesses.
Some or all of these options should be considered, particularly where high reliability expectations are accompanied by the fitting of electrical consumers which exceed the load currents for which the original equipment was specified. These could include electric cooling fans, heater blowers, electric screen heaters, high power in-car entertainment and the like, the inclusion of which imply a car being prepared for use in todays driving environment.
Load Balance
The previous paragraph raises the issue of load balance and this is a fundamental consideration when considering a redesign of the electrical system.
The concept of load balance is that, starting with the battery at, say, a 70% state of charge, the car is driven though a number of different driving cycles. These include variations in road speed and electrical loads, to simulate a number of typical driving scenarios, after which the battery should at least be at the state of charge at which it commenced.
Probably the most demanding is the Tokyo City cycle where, essentially, all loads are on maximum and the car is moving at minimum speed for extended periods. With a modern car, such marginal conditions can be mitigated by automatically increasing the idle speed, raising the gear shift points or load shedding.
For Rochdales, other than changing the base idle speed, very little can be done to influence load balance, so the careful specification of components is critical to achieve an acceptable performance.
The next article will outline the limitations of the legacy electrical components, and some thoughts will be offered towards achieving a car with reliable starting, and a charging system able to provide a load balance for most day-to-day driving situations.
Howard Evans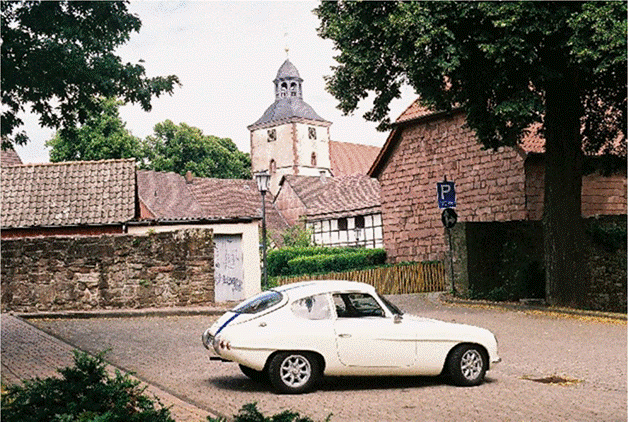 Erich Poppes Phase 2 on a recent holiday in the hinterlands of Germany. He writes:
Very much enjoying our Olympic, it's great car and gets a lot of very confused attention.
EARLY ROCHDALES
Another ROC magazine and as promised in my previous article I'm headlining this with another magazine advert for the Rochdale marque of cars. This one is along the same lines as the GT one featured in the last magazine and comes in at the same price.

One particular comment in the advert states combines the elegance of new styling with the well proved easy method of mounting as used on our renowned GT model. I have to admit I didn't realise the Riviera came with the additional stilts to support the body shell, a development I thought stayed with the GT. The picture of the system being used to support the GT body shell can clearly be seen in the picture below, does anyone have a picture of a Riviera shell on stilts? It might get more answers by asking if anyone has ever been to the moon?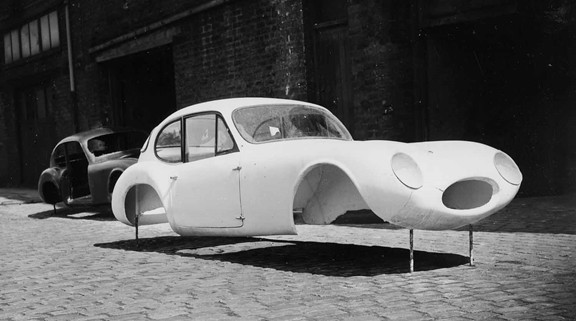 Malcolm Mckay writes:
Yes, I had read that the Riviera had the same bonded-in tubing, but I've never seen them in photos - in fact I don't think I ever tracked down anyone who'd built a Riviera and kept photos. The reason for them was to support the body while the glassfibre finished curing - if they had just put the shells down on their sills, the sills would have been pushed in by the weight of the bodyshell. As the Riviera had the same lower structure, it would suffer the same way.
The Rochdale Riviera is covered extensively in ROC Magazine 125 for all those that would like to know more but what wasn't written in that magazine was how the Riviera came by its name. This is where I turn to the sterling work carried out by Tony Stanton and plagiarise some of his words from Mag 116 (Winter 2008), thanks in retrospect Tony!
At the 2007 Classic Car Show a gentleman named Martyn Butt from Rochdale had been reading the Rochdale Motor Panels: A Brief History display board and brought to my attention that under the section about the Rochdale Riviera it stated It reputedly took its name from the towns swimming baths. Now Martyn in his younger days use to swim at the Riviera, but it was a privately owned open air lido in Norden about 3 miles North West of Rochdale centre and was demolished in the mid-1960s to make way for a new housing estate.
The Riviera was an open-air aquatic centre with an 85 feet x 40 feet swimming pool, varying in depth from 2 feet 6 inches to 9 feet. It had a tower of 7 diving boards, the highest being 18 feet above the water. Originally the pool was filled with circulating brine water at a constant 70degrees F. The Riviera also offered gardens, a tea room, a paddling pool, badminton, horse-riding and dancing.
So, the Rochdale Riviera probably took its name from this local attraction that in its day sounded like the place to be. I've scoured the internet but can't come up with any other pictures than the one Tony managed to get hold of shown above. I did manage to find a picture of a couple of ladies getting a prize for the bathing beauty contest at the pool so any excuse to brighten up my early Rochdale articles, the pictures and tales of old below (which I thought we're quite enjoyable and worth adding) are from the Rochdale Observer:
WITH winter upon us, it's perhaps an appropriate time to take Bygones readers back to the lazy, hazy days of summer and how Rochdale townsfolk marked it in 1960, the year when the last National Service callup cards were issued, the marriage of Vivien Leigh and Laurence Olivier ended in divorce and Real Madrid beat Eintracht Frankfurt 7-3 in the European Cup Final at Hampden Park. It was a beautiful day on 1 August and the Riviera open air pool at Norden long gone, but not forgotten was THE place to be. At a grand gala day, the big crowd laughed at the antics of the Crazy Gang, coupled with the lure of Aqua mermaids and there was even a bathing beauty contest, not something you'll see in Rochdale these days! Sideshows, the sale of refreshments (Corporation pop, or water, was in great demand) and balloon competition helped to boost the takings at the entrance, and in all a total of &pound50 was raised for the local branch of the Guide Dogs for the Blind Association, who arranged the gala.
First out to entertain the 300 people there whether they were eagerly watching what was going on from their deckchairs round the pool, or leisurely taking in the sun were the Mermaids. The six girls, the youngest of them was 16, all wearing turquoise swimming costumes, gave a display of diving and swimming in perfect timing to slow music. All the Mermaids worked at Turner Brothers Mill at Spotland, travelling around Lancashire giving displays at various towns.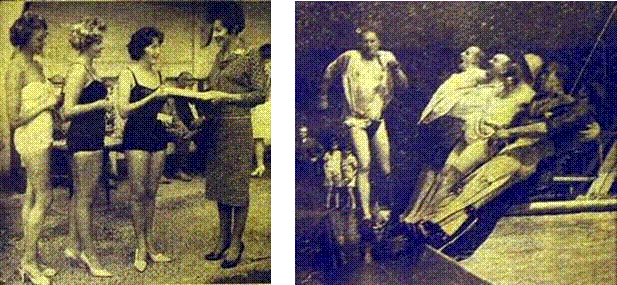 The antics of the Crazy Gang amused and delighted everyone, especially the children. As the gang splashed around, tumbling from the diving boards, dressed in the ridiculous garb of water clowns, the youngsters laughed excitedly, many of them going so near to the edge of the pool that they were as wet as the gang themselves.
After their performance, the gang jokingly went round the audience picking out six girls one each to enter the bathing beauty contest. The pretty girls were soon lined up and they gave the judges a hard time deciding whom to choose as the bathing beauty winner.
Along with not being able to track down any more photos of the Norden Riviera, equally the Rochdale Riviera is quite a rare beast as we only know of 4 that currently exist, of those only Roger Coupes fine example is currently on the road. What makes this more interesting is the fact that we only have details of 5 Riviera registrations and owners and one unregistered shell so out of a total of 42 Rochdale Rivieras sold during 1960 (19 2-seaters and 23 2+2s) we are still waiting to trace another 36; that was until Malcolm Mckay received a call from someone whose memories had been refreshed after seeing a Rochdale GT at the Manchester show last year, down to 35 to trace:
Malcolm Writes:
Someone did a great job at the Manchester show at the weekend! I had a call last night from a lovely old boy who'd seen the stand there, admired the GT and been given a ROC magazine back issue. Ted Roberts owned a Riviera with Rochdale tubular chassis in his early 20s - it had the full suspension set-up with Watt linkage at the back and split beam at the front, he said it handled beautifully (though his previous experience was limited to a Morris Eight...). He lived at Summerseat, north of Bury, at the time and bought it from Ken Lees, who had a garage there and used to do trials. I see that order 1372 (deliv 29/3/60) was a Riviera with tubular chassis to G Willis of Harcles Hill, Summerseat, so it HAS to be that one.
It had hydraulic brakes too, but had been built with an E93A engine and no water pump!! Not surprisingly, it used to overheat dramatically - in fact he said he still has in his garage the sheet of plate glass he bought for re-facing the cylinder head and block each time it blew the head gasket. Unbelievable that nobody fitted a water pump for him, they weren't expensive. He was into rallying and says he entered two rallies with the car, but only made it five miles past the start in one and didn't even get to the start in the other. Apparently it would do 80mph before blowing the head gasket. It had the Rochdale triangular header tank, and a long top hose which used to blow up like a balloon from the pressure. Oh, and the doors used to fly open on corners!!! Nonetheless, he remembers it as a "good car", which he enjoyed owning. The registration number was 666 STF (Lancashire, January 1961) - unfortunately it doesn't seem to survive (perhaps not so surprising, but a shame as tubular chassis two-seat Rivieras are super-rare - just four built). Ted has promised to email me the full story of the car and a couple of photos, so I await those with great anticipation!
One Rochdale Riviera update I have had lately is on the fastback Riviera 4386 UP featured in ROC magazine 125. The claimed one off fastback Riviera is somewhat different from the design we know and love but the history of 4386 UP is incomplete and is one that remains a bit of a mystery to the Register. The car is built on a Halifax chassis (See Winter 2010 ROC Mag for more info) and as can be seen below has been removed from its chassis ready for a comprehensive rebuild.
James Writes:
Hi - at long last, I've got some recent pictures of the Riviera - I managed to put a few days' work in over the bank holiday, and have taken the body off. A representative sample of pictures are attached - there are a few more if you'd like them, and I do have pictures of it after I cleaned it one year somewhere...
I'm looking at a fairly thorough renovation, e.g. shotblast and galvanise the chassis, so at some point I'll probably be after the club's view on originality and so on: I realise the Rivieras are thin on the ground. I'm inclined to try to find someone who's familiar with the foibles of half-century-old fibreglass to take a good look at the body, though it seems in good condition, apart from an obvious fault line where the fastback modification was made. The rear window is not a pretty job, so if the club is happy with some tidying in that area, I'd probably take a look at it too. Best wishes, James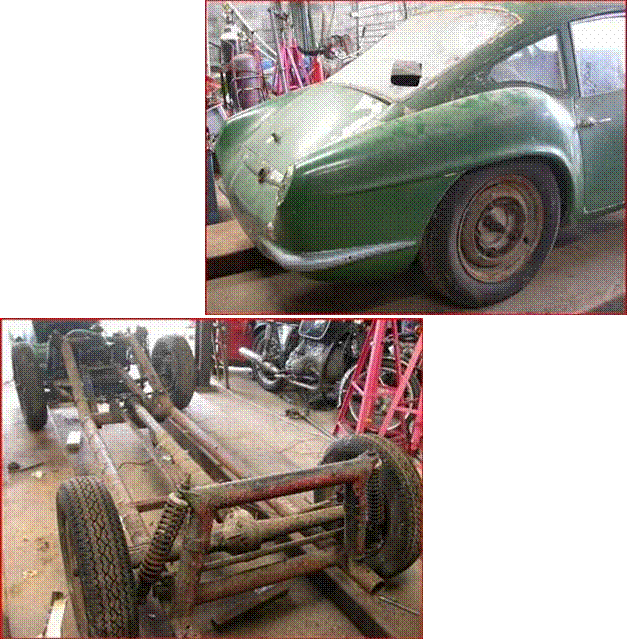 Malcolm Writes:
The glassfibre looks to be in exceptionally good condition - I hope he's supported it well now it's off so it doesn't crack. Would be interesting to know if it has a glassfibre floor; I just wondered if it could have been a car that Rochdale were experimenting with, and whether they could have used it as the prototype for the Rochdale-chassis cars? The Halifax chassis which it has is very similar to the Rochdale one and they are bound to have looked at it before designing their own (though the Rochdale arrangement is superior, in my view).
Very interesting to see how the glassfibre roof is shaped at the back end, where it meets the standard bodyshell. It's a bit reminiscent of how they did the widening strip on earlier shells which also possibly points to it having been a Rochdale project.
I would really like to see this fastback Riviera appear on the Rochdale circuit as it is a rare breed indeed. Malcolm commented above on the earlier shells having widening strips that the fastback join appears to be along the same lines. I agree that if the fastback Riviera modification had been home grown I don't think so much time would have been spent on the neat raised curved join below the rear window and it is a possibility this fastback was a Rochdale experiment.
The widening strip was offered with early shells to accommodate a variety of chassis dimensions. Out of all the early car pictures I have though I can only find 2 that have the widening strips, my own Mark VI that is currently awaiting restoration and the good looking Marsh F Type, pictured below it, hopefully more in the next magazine.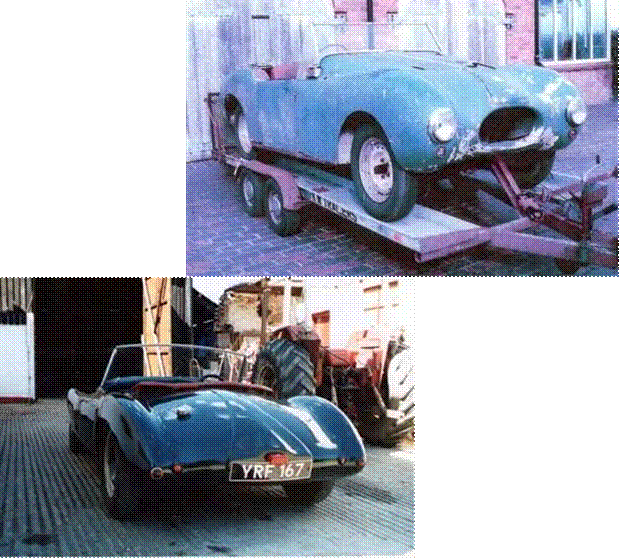 Apology
In the last magazine I wrote an article about PMA 134 the Rochdale Mark II body shell currently owned by Keith Hamer. In the article I stated that 'If PMA 134 looks as pretty as the professionally restored Mark II Rochdale registered CVR 418 then it will be a very nice car indeed'.
On re-reading this it seems to suggest that Keith is not a professional restorer. Nothing could be further from the truth. Having seen his standard of workmanship and having had parts manufactured for myself by Keith I can assure you I was not casting any doubt over the professionalism of his work.
Rochdale GT NNL 774
Whilst searching the internet I came across a new Rochdale GT not known to the register. It was found on www.oldclassiccar.co.uk and the article is reproduced below:
Ian has been researching a car built by his late father in the 1950s, and below is a photograph of the result, a fibreglass-bodied Rochdale GT using Ford 1172 running gear. Judging by the Rochdale's registration - NNL 774 - it was registered sometime in 1958 or early 1959. Ian's father built up and tuned the Ford-powered car, painting it a bright red. Does anyone know where the car ended up? It doesn't show on a check of the motor vehicle licensing website. Perhaps it is sat in a garage somewhere, un-registered, or possibly lives on but with a different identity? By their nature, home-built specials don't tend to stay un-modified for long, subsequent owners could well have re-worked the car to their own requirements. Maybe someone remembers seeing this car? It spent its early years in and around Northumberland I believe.
The car belonging to Ian's father has one or two features that may help trace its possible whereabouts today. It has, for instance, chrome-plated bumpers front and rear, and a grille in which a badge is positioned. At the rear edge of the front wing is a vertical slot, presumably the location of a pop-up trafficator (indicator), again not something you'd always expect to find on a Ford-based special of this era, many cars now sporting flashing turn signals.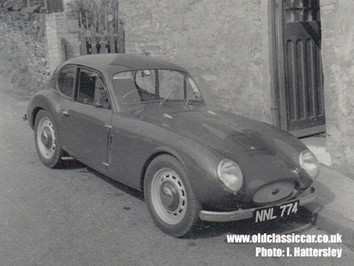 Of all the Rochdale bodies produced, the GT was the most numerous, having sold in the region of 1,350 examples. Whereas many fifties' fibreglass bodyshells left a great deal to be desired in terms of fit and finish, the GT and its relations (Olympic, ST etc) were quality products, incorporating features such as a curved windscreen and opening door windows, plus quarterlights for added ventilation. It was designed to be an easy fitment onto Ford 8 and 10 chassis, requiring just hand tools and an electric drill to install it. Many creaking Ford saloons were reaching the end of the road by the late 1950s, so sportscar enthusiasts on a budget would simply go out and buy a ropey old Ford (eg E04A, E494A) for &pound10-&pound15 or so, throw away the bodyshell, and replace it with a sleek sporting job, such as the GT shown above. The (pre-glazed) body was listed at &pound140, while the option of Hire Purchase was available to spread the costs.
In 1960, Rochdale offered their own tubular chassis to complement their bodyshells, but in 1958 this was not yet available, hence most examples were mated to re-furbished Ford chassis, powered by the ancient 1172cc sidevalve engine. Some engines were left in un-modified trim - having hauled around a steel Ford saloon body for years, even a standard engine could quite easily cope with the lightweight GRP replacement. Others though opted to super-tune their motors, with products from the catalogues of Aquaplane and Willment, to name just two of the component suppliers around at that time.
Drag GT
In the spring 2011 ROC magazine I wrote a little on the birth of drag racing in the UK and a Fuel Altered dragster called Sneaky that sported a Rochdale ST rear end. Whilst surfing the internet this month I came across some film footage from Santa Pod raceway in 1976 and in front of me was a Rochdale GT warming up the tyres ready for a run down the strip. The Rochdale GT in question went by the name of Motor Mouse II and was driven by Steve Johnson.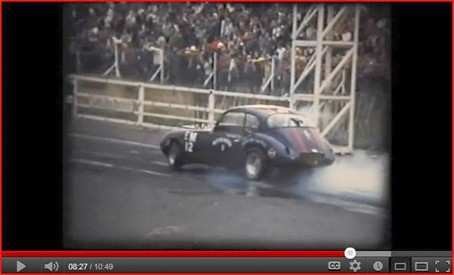 Steve Johnson is still going strong in the world of drag racing and still competes at regular events around the UK, although not in the Rochdale GT, his current dragster does still bear the name Motor Mouse though. I have tried to contact Steve but have not managed to track down any contact details for him. If anyone has any contacts within the world of drag racing and can ask him to contact me it would be much appreciated, it would be great to know what happened to this racer.
GUB 17
I was looking through my list of early Rochdales and trying to tie up a few loose ends in cars that I have not heard about in a long time or ones that I'd never actually chased up. One car in question is a Mark VI Rochdale that Michael Horsley, a Club member from Southampton used to own, prompted me to write a letter asking for a little more history on this car.
Michael Writes:
GUB 17 was a Ford Tourer which I had in the 1950's. It had the usual ten HP sidevalve engine but a 7ft 10inch wheelbase chassis rather than the more usual 7ft 6in. As the rust bug was consuming much of the bodywork and there was little value in older cars at that time (imagine its value now if I'd kept it as a tourer!) I decided to make a Ford Special, as was the parlance of the time. To cut the story very short, I chose a MkVI Rochdale body after visiting the factory and built the vehicle, retaining the black gelcoat colour. I upgraded the engine using Aquaplane tuning pieces and had much fun with it.
One little tale My then fiancee and I were out for a run and, as we approached Newark we crossed some newly resurfaced road the sort where pebbles are spread across fresh tarmac. Unbeknown to me, a pebble was thrown up into the engine bay and, at the most inappropriate time, came to rest in the twin carb linkage. It made for an interesting few moments, being unable to decelerate!! Switched off, of course and removed pebble no damage but would prefer not to repeat the exercise. Neither would I like to repeat the amazement at seeing a wheel roll past at high speed, soon followed by a gentle settling of the cars rear. Old wheel studs had gradually loosened threads and wheel nuts had departed gracefully.
Marriage and children meant no Rochdale on the road. I sold some of the components to help with family finances but retained others including the registration, in the hope of further fun. That day has yet to arrive but we do have an Olympic (286 AMR) which I am renovating very slowly along with a Gilbern Genie. Hope this fills a few gaps? Best wishes, Michael Horsley
WOH 707
Again, looking through my list of early Rochdales I saw a GT registered WOH 707 that had no further information other than a name, area and circa 1980 in brackets. A quick check on 192.com and an address appeared for a Cyril Backhurst. Again I wrote to this potential owner and got the following photo and response in reply:
Cyril writes:
Hello James, you have got the right person, I did own the Rochdale WOH 707 which I bought in 1978 as a non-runner, it had been standing in the front garden of a house for a few years and I knocked him down from &pound100 to &pound40. I took a spare battery and some petrol with me and after a few minutes it started much to my surprise. I drove it the 2 miles home with no front seats fitted and only the handbrake working but got home in one piece!
I sorted the brakes with some new wheel cylinder repair kits, fitted 2 Spitfire seats and a set of Avenger wheels/tyres which I had lying around and a couple of bulbs and it sailed through the mot.
I used it while I did the body repairs (mainly stress cracks) then re-sprayed it in Ford Daytona yellow 2pack paint, it looked really great then. It was fitted with a 105e Anglia engine when I had it but unfortunately I had to sell it in 1979 as we had a new baby and it wasn't really practical to use then. A man from Bridgnorth bought it and I never saw it again.
I'm currently restoring an old Jago jeep so I'm still into kit cars even though I'm the wrong side of 60 now! Hope this helps, is the car still registered with the club? I hope it's still around somewhere, regards, Cyril.
I write:
Very many thanks for helping us compile a little bit of history on your car, everything helps in identifying and tracing Rochdales that have been hidden away for years, I currently know of 250 Rochdale GT's on my register so only a few more to find of the 1500 produced! Unfortunately, I do not have any more information on the whereabouts of your old car but new leads crop up each day so if I hear of anything I'll let you know.
The modification of the front headlights and large bonnet bulge may assist in tracing this car.
Good luck with the restoration of your Jago jeep but by the sounds of your expertise in repairing stress cracks from the Rochdale you'll have no trouble! Many thanks again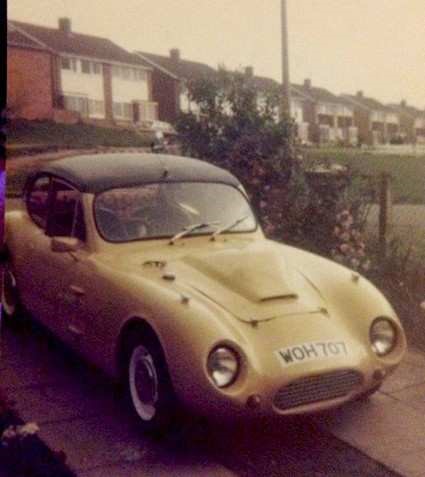 GT NDD 833
Rochdale GT NDD 833 has a past of numerous owners and it looks as though it is up for sale again. We first heard about this car in 1989 when it was owned by a Mr Paul Hill from Selby. Paul initially wrote to the ROC requesting further information on a car he had bought but wasn't actually sure what it was? He initially threw the ROC off the scent by stating it had a Riley 1.5 engine so it was wrongly assumed the car he was talking about was an Olympic.
The car went through a further 5 owners after being advertised numerous times in the ROC magazines and eventually went to France in 2001 re-registered as DSL 139. As usual with cars that go overseas the trail went cold and further information about its current whereabouts was unknown until I came across the following on a French internet forum from 2005:
I translate:
Hello, I have a Rochdale GT from 1957 which according to the Rochdale Owners Club may be a little special because I have the 1.5, BMC B Series engine instead of the sidevalve Ford. In short, the club finds it very weird because some members of the club have never been able to make the transformation so it could be a prototype to prepare for the Olympic model. I'm thinking of selling this car as I don't have time to repair and had a tank leak that I never had time to weld.
I had to drive 50km to get this car off an Englishman who lives in Normandy, the car was not rolling and I bought it without driving. First I changed the fuel pump, simplified the cooling system, installed an electric fan and cleaned the carburettors, I then made it roll!
I then changed the visual appearance of the car with 15" spoked wheels but I had a leaking tank and started to dismantle. I still had the leaking fuel tank and started to dismantle, then later my professional and private obligations changed and I had no time to look after the car.
I write:
My name is James Farrington and I am the secretary of the Rochdale car club. I have seen a picture of your Rochdale GT on the internet, would you mind giving me a little more information about it? I would really like to know if you still own it, who you bought it off or sold it to. Do you have any recent photos? Any information helps no matter how small to keep the history of Rochdale cars alive. Many thanks for your help.
Matthieu writes:
Hello James, yes my 1957 Rochdale GT is still alive but unfortunately I don't have time to drive it and the car has not run for a long time. It is fitted with a 1500 BMC 'B' engine, single SU Carb and a BMC 3 Synchro gearbox. I've heard it's a prototype for the Rochdale Olympic mechanicals, True or False? I may sell this car in a few months as I don't have time to use it.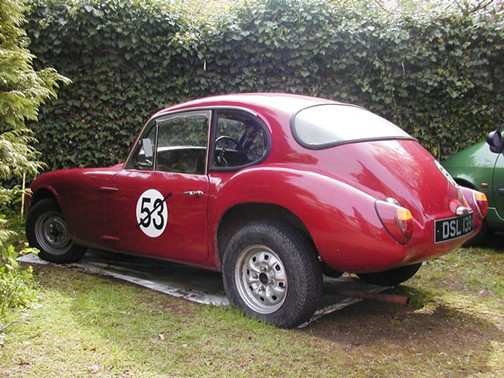 This is a really nice looking GT but I think the photos date back from around 2005 so the condition may have deteriorated somewhat. The bodywork looks good and the interior dash design is really well laid out so it could make someone an excellent rolling project. As to the claims that it could be a prototype for the Rochdale Olympic mechanicals this is somewhat farfetched.
Malcolm Writes:
There's absolutely no reason to suspect this is an Olympic prototype, as the Olympic was originally engineered for Morris Minor running gear and it was only when they found out how good it was that they decided to uprate to the 1500 B-series!
That said, his comment is partly my fault, because I told him in the past that it was quite an achievement to fit a B-series engine under a GT bonnet and it is certainly true that a lot of GTs have been lost over the years when people have decided to re-engineer them for more modern running gear, ripped out all the original parts and then discovered it is an enormous task to make other running gear work properly.
For example, almost any change of engine will mean dispensing with the Ford 3-speed gearbox and therefore also dispensing with the torque tube - but that torque tube and the massive front mounting for it (on the gearbox crossmember) takes a substantial amount of rear axle loads, allowing Ford to make the chassis from gearbox crossmember back relatively thin and light - therefore if you lose the torque tube, you should do a massive stiffening of the rear of the chassis because you will have to take the axle loads further back - even more so as you're probably planning to put much more power through it than the sidevalve Ford put out...
Returning to ex-NDD 833, I've no idea how or if that was done, or how well it was done, but I do know the car was on the road for quite a few years with its Riley 1.5 engine, so it must have worked tolerably well!
If anyone would like more pictures and contact details for the owner of the car, then please let me know and I will send them on. Go on, you know you want another project sitting in your garden!
New Rochdale GT
A few years ago the ROC was alerted to a car in Australia that was identified on the internet as a Rochdale GT. After a quick look the car was dismissed as not being a Rochdale and the story and car were swept under the carpet. The car did bear a very slight resemblance to the Rochdale GT but it was put down to incorrect information.
Instead of dismissing the notion that it had any relationship with RMP, in hindsight we should have at least queried why the picture was named as a Rochdale? Luckily 4 years later I stumbled across an internet autobiography for a writer called Noel Tuckey, in the biography was written the following:
We own two vintage club cars: a1958 English built Rochdale coupe, and an interesting 1938 DKW (Das Kleine Wunder) tourer, which is powered by a small twin cylinder two stroke engine, and looks like a Colonel Klink car.
This car is pictured below:
Pseudo Rochdale at QR Raceway 2009 (Copyright N Tuckey)
Not realising the Rochdale Coupe he mentioned was the car identified above I wrote to ask more info about another Rochdale in Australia and got a very comprehensive reply.
Noel Tuckey writes:
Andrew Harry Mustard was an England based mechanical engineer employed by Dunlop Rubber, racing 350cc and 500cc motorbikes as part of Dunlop's competition staff. His privately owned racing motorcycle transporter was a heavily reworked, 1948 Ford 8HP commercial van, until pressure from the Dunlop management and a growing family ended his racing career, and the decision was made to fulfil the immediate need for a more practical, road registered family vehicle.
Andrew then purchased the original glassfibre moulded, prototype coupe body from the Rochdale works in Lancashire during the year of 1958, wrecking his 8HP Ford transporter van to salvage the mechanical parts, commissioning the engineering shop workers at Dunlop to fabricate a light tubular steel chassis which would fit underneath the Rochdale coupe body.
Andrew Mustard tending to his car (Copyright N Tuckey)
Mustard was assisted during the design phase by Colin Chapman of Lotus, the completed coupe was registered 114DNX. After discovering that the cornering ability of the new car was fairly frightening, the leaf spring front suspension was modified by retaining the upper leaf spring, and fitting fabricated lower wishbones. Dunlop then became involved with the creation of Donald Campbell's Bluebird land speed record car, and Andrew Mustard was called in as the Chief Project Engineer. The Bluebird was scheduled to set a new world record for wheel driven cars on South Australia's Lake Eyre dry salt pans, and Mustard was an integral part of the LSR team which travelled to Australia, and he also shipped out the Rochdale coupe to Adelaide, to arrive early in 1963.
Rochdale GT next to Bluebird at Farnborough photo shoot 1963 (copyright N Tuckey)
Living in Adelaide with his family at 9 Lymmouth Street, Brighton, Andrew became involved with the local Elfin race car builders through Dunlop's purchase of an Elfin Catalina open wheeler monoposto, which was to be used as a track test vehicle at Lake Eyre, prior to the Bluebird runs. Elfin's reworked the front suspension of the Rochdale coupe through fitting longer lower front wishbones, and reworking the rear suspension to accept a pair of very long coil over shock absorber struts. Registered for road use by the South Australian Department of Transport, late in 1963 the family had finally decided that the coupe would have to go as it was just too small for three sons and a wife. The car was sold to an unknown buyer and then involved in an accident shortly afterwards, serious enough to necessitate a major rebuild.
There were several specialist body and chassis builders working in Adelaide during that time, and apparently the Mustard/Rochdale coupe was rebuilt in the same basic shape as the original, although a new aluminium coupe body was incorporated, and the original suspension and driveline components retained. From there, a still unknown gap in the history exists until 1965, when the coupe passed on into the ownership of Bruce Slade of 5 Hefferan Street, Fairfield, in Brisbane.
From three photographs taken by Bruce, the car appears to have been fitted with an FX Holden rear axle which forced a wider recut of the rear wheels arches, the rear lights and number plates had been removed and the tailshaft and diff centre were also missing. Bruce Slade eventually sold the coupe to an unknown buyer and from there until 1978 or'79, where it was is still a mystery.
An almost completely stripped Mustard/Rochdale coupe was found underneath a high set Queensland home by Tony Galletely, who was passing the house located at 36 Stewart Home Road, Bardon, sometime in '78 or'79 and saw the curious coupe.
Tony bought the car from Steve Watton, who knew almost nothing of the history and despite some serious research work by Tony and expert vehicle restorer Joe Wilson, tracking down the builders of the coupe proved impossible. Eventually, old car enthusiast Graham Wright bought the stripped out body/chassis unit, and stored this at 55 Marmion Parade, Taringa until 1982.
As found by Noel Tuckey (Copyright N Tuckey)
In a moment of temporary insanity, my wife and I bought the remains and decided on a full restoration. From some parts which were still on the car and my knowledge of things mechanical, we knew the vehicle had been fitted with a side valve Ford 10 engine mated to an unknown gearbox and a Ford E93A rear axle, what the suspension units had been and finally, through a fortunate contact with Philip Thicthener of 105 Truro Street, Torquayo Hervey Bay in Queenland who had in earlier years lived next door to the Mustards in Adelaide and knew the car, we managed to contact Andrew Mustard in Townsville. He was living at 23 Dyer Street, Pallarenda and quickly identified his car from the chassis and body detail photographs we supplied, commenting that Colin Chapman's design for the seat bulkhead framing was still there and recognising other major structural assemblies. We travelled from our Landsborough home to Townsville twice to meet and talk with Andrew and swap information and after 15 years of summertime sweat and unending work, the restoration of the Rochdale/Mustard coupe was finally completed mid-February, 2007.
Rebuilt Chassis with original engine and drivetrain (Copyright N Tuckey)
Well, as you can see from the reply it is now easy to see where the relationship to Rochdale Motor Panels came from. What a journey for this GT, having Colin Chapman assist in the chassis design and apparently towing the Bluebird to the Farnborough photo shoot as the Land Rover had broken down (separate email), that would be an amazing photo.
It is suggested that the original GT shell was a prototype from RMP but as the production started in 1957 and Andrew Mustard took delivery in 1958 I doubt this is the case. I suppose it may be possible as RMP would have had to create a first version of the car, but I doubt it would have been worth selling.
What I love about this whole story is the picture of the GT with Bluebird; imagine if in researching the history of your car a past owner said I think I have a picture somewhere of the car towing Bluebird. I know I wouldn't stop shouting about it and probably have a sticker on the car saying the same! Unfortunately, the GT bodyshell is long gone but the heart of the car lives on in the pseudo Rochdale GT.
Rochdale GT for Sale
The Rochdale Owners Club has been informed of the following Rochdale GT for sale. I wish I had the money for this rolling restoration:
Rochdale GT for sale. Owned for 16 years. Loss of storage space forces a reluctant sale.
Registered with a V5
Very little work required for the MOT
Complete with: - 100E engine
Aquaplane inlet manifold & twin SU carbs
Ballamy wheels
Hydraulic brakes
Telescopic shock absorbers.
&pound3700
Please ring for details: -
01642 724062 (Middlesborough)
As the copy date is nearly upon me I will have to end my ramblings here. There is still so much to write about on these cars it's unbelievable. At the moment it is pretty much a full time job keeping track of and researching all these cars before the history disappears. Some of the article snippets above don't really have a conclusion to their story but I feel it is valuable to record their history in the magazine, hopefully people may just recognise something familiar in the articles and add some more to the history.
As usual I will sign off with my normal request, please, please, please, PLEASE help the Registrars add to the history of Rochdale Motor Panels by scanning, emailing, writing any information you may have about your cars or others you have known or owned. Any information helps, no matter how small in collating the history of Rochdale Motor Panels. After writing these articles for 3/4 years now and signing off with the same request I have never had anyone send me any information. I can assure you all information is treated and stored in the strictest confidence. Happy Rochdaling...
Bodgeworth
Not much (ie no) response to the initial invitation to contribute (what's new?), so here are some more from me. Come on, let's have some ideas. Ed.
Quarter light catches
The Phase 1 I was recently rebuilding came with no quarter light catches and they seem to be difficult to find. I was becoming resigned to having fixed quarter lights, but when I was looking at a Citroen Berlingo Multispace one day I noticed it had hinged quarter lights similar to an Olympics. A quick check showed its catches to be perfect for the job, albeit in black plastic. Off to the local breakers to see what I could find; no Berlingos, but many others with opening quarter lights. However, none of them had catches which could be used on an Olympic without difficult modification, so it's Berlingo then - you have to keep your eyes open for these serendipitous finds.
Two kinds are used on the Berlingo, which differ only in the way they fit to the car. That for the rear quarter lights can be used unmodified on a Phase 1 as it fits to a flat panel at right angles to the glass by means of 3 screws in a triangle. That for the rear sliding door needs a projection cut off (very easily done with a hacksaw) and there are then just 2 screws to fit it, just like the original metal catch. This is the one I have used, and it even fitted using one of the original holes! The catch fits to the window by means of a plastic button passing through a 12mm hole in the acrylic, attached by an M4 screw. When assembled the whole thing looks neat and works a treat. Price? The catch is &pound7.50 and the button is surprisingly expensive at &pound3.70, but worth it.
Part numbers for the items I used: catch: C858244, button: C857312.
Car Features Rated
I have been thinking which cars I have driven have had the best steering, braking etc and have come up with the following list. I would be interested to know what your selections are. Drop me a line and feel free to add to the list.
Steering feel MX5
Handling MX5
Clutch action Fiat Panda 2002-on Gearchange Fiat Panda 2002-on
Acceleration My Phase 2
Braking Elan S4/Toyota Celica FWD Mk1
Seat comfort Mercedes E (ca 1990)/Kermit (MX5 leather seats)
Ride comfort Subaru Legacy/ Mercedes E
Noise Mercedes E
General feeling of wellbeing Subaru Forester / Mercedes E
Better than expected Ford Fiesta Mk 4 1.25 (owned for 7 years until it rusted out)
Worse than expected Alfa Sud / VW Golf GTI Mk 2 (with mods).
Why did I buy this? Fiat Uno/Toyota Corolla 1.3 4-door (yawn)
Should have bought VW Jetta GTi Mk2 (brilliant car, gloomy interior)
Favourite make Subaru (only 6-month gap in 28 years)
Would never buy BMW (when they took over Rover they badly treated the small businesses that had kept the company products going)
My Transportation since 1946 Part
4/4
Derek Argyle
My open-top Wildcat E type roadster was not helping my glaucoma affected eyes so I needed a car with a roof. At about this time it was my luck to have a close friend ring to say that he had bought an E type for a song. What? &pound500 you say Dick? I then learned that it was in fact a fixed head coupe kit replica and not the real thing. I had not realised that such a vehicle existed but later found that the firm trading as Countess Cars of Wigan had made three cars before they ceased trading. I went to Dicks home a day or two later and though the Countess was admittedly rough, its shape was most appealing particularly that sexy rounded rear end. If I could make a copy of this bodywork by taking moulds, something with a permanent roof would be exactly what I needed for my eye problem.
It appeared that the Countess had stood out of doors for some considerable time and the white paintwork was covered in algae. There was something odd about the cars interior. Looking into the car, I was amazed to see the sheer size of the spaceframe central propshaft tunnel which took up much more than its fair share of the cockpit interior. Not only that but the level of the top of this tunnel continued to the rear of the cars interior giving little depth in the luggage area. Dick, a qualified engineer, soon saw that the spaceframe chassis was a monstrosity and required major surgery. With help, we lifted the body off the chassis and soon Dick was busy adding missing tubes to produce a properly triangulated chassis.
Meanwhile I removed the algae from the bodywork using 1200 wet and dry paper. The paintwork was not too good, lifting in places, and the wet and dry enabled me to achieve a smooth finish throughout. I was still nervous about making a complete bodyshell and, on Dicks sensible suggestion I took the tailgate home to use as a test piece. I was delighted when I discovered that I was able to produce an inner and outer mould and subsequently, end up with a completed tailgate after the two parts had been bonded together.
This exercise gave me the confidence to tackle the moulds for the whole car. It took me nearly three months in the summer sun of 1994 on Dicks lawn to complete the fabricating of all the body moulds and finished body parts. Some of the bodywork had to be made from scratch because of inaccuracies in the outline of the Countess kit. I can only surmise that the moulds had been taken from a real E type but had been made in a hurry and had been taken from bodywork that had not been completely stripped of accessories. For example, the rear underside of the tail had been moulded completely flat rather than with double curvature as on the real Jaguar. I puzzled for some considerable time how to reproduce this part of the body correctly, until one evening, just before finishing for the day and chatting whilst leaning on Dicks donor car I realised that the Cortina roof curvature was very near to a mould shape I was seeking.
I know what I'll do, I'll take a thin layer mould to start with so that it can be 'eased' into shape to fit the lower sides of the existing bodywork and then it can be built up with extra layers of fibreglass once the outer shape is correct. Most surprisingly that roof mould gave me an E type underside panel that looks exactly like the real thing.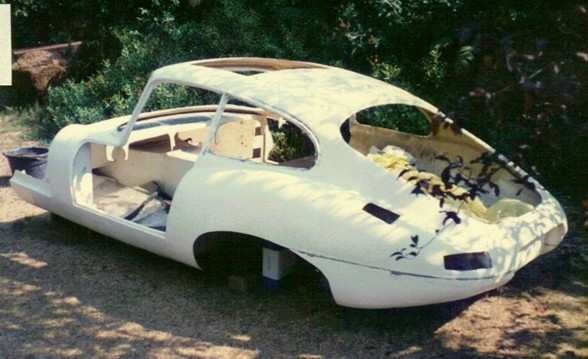 I now had all the bodywork completed and had to make a start on a chassis. Considerable thought had gone into this venture as I was bent on my long fibreglassing escapade. I still had the Wildcat and this wouldn't be sold until the new car, to be known as the E Special was running. I would make a near identical version of the Wildcat chassis as it was a good design but its main drawback was its weight. Built entirely of 10-gauge square tubing, it was over-engineered and unnecessarily heavy. I've always been a believer in keeping a car as light as possible and throughout the construction of bodywork I strove to keep bodywork as thin as was practical in any given area. I don't have to remind you of the many advantages of lightness, suffice to mention gains in performance and fuel consumption.
I made a scale drawing of the chassis layout and handed this to a structural engineer friend. The 10 gauge tubing that forms the lower part of the chassis was retained as on the Wildcat chassis but the rest of it was designed with lighter 12 and 14-gauge tubing. I found that the propshaft tunnel could be reduced in width by an inch and the door sill tube could be welded one and a half inches further out to give a wider seating space. Not only that but the upper cross tube behind the seats could be moved backwards by 2" to allow for a more relaxed straight-arm driving position. To maintain torsional rigidity or even to exceed it, fillets were welded to tubing joints positioned from experiments I made with a scale balsa wood model. My surveyors level was used to be certain that all suspension pivot drillings were at a similar height.
Once the chassis was finished and painted, the prepared Cortina front and Sierra independent rear suspensions were attached with their spring damper units. As I had made some minor modifications to the front suspension geometry (anti-dive) I had to find a way to arrive at the correct position for the rack. With the car suitably jacked up, I set the steering in the straight ahead position and removed the spring/damper unit on one side such that I could easily jack the wishbones up and down. I clamped the rack in an estimated correct position and ensured that it was parallel to the chassis. Starting from the normal ride height position of the wishbones, I mounted my home-made springrate measuring machine parallel to the wheel rim. I should add that this machine has two parallel uprights.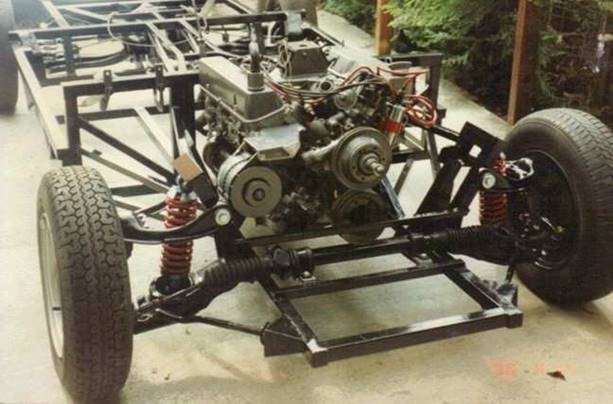 By raising and lowering the suspension I could take measurements between the wheels front and rear rim edges and the uprights to see if, at any given position, there was any change in the toe. It was found that the wheel did not stay parallel to the spring rate machine uprights all the way between full bump and full droop as can be realised due to the variation between the arcs of the rack arms and the arc of the wishbones but a 'best' position was chosen such that the error in the toe was set at the full droop position, a point that the car was unlikely to experience under normal driving. Bracketry was then made to support the rack and was welded in a position that was purposely made 3mm too low; the difference being made up with a packing piece. This was done so that if, at a later date, a fine adjustment was necessary, there would be space to lower the rack by reducing the packing. Needless to say, more packing would raise the rack.
I was now in a position to begin mounting the Rover V8 engine and 5 speed box, both of which I had renovated and with the engine, tuned for increased performance. These units came from buying a complete but rusting SD1 car that supplied many other useful parts. Arrangements were made to take the car to Jenks garden for dismantling. The SD1 radiator was found to be a little too wide to fit between the chassis tubes but on speaking to a radiator specialist, a way was found whereby he would reduce the radiator width but fit a thicker core to give at least as much cooling capacity as with the original.
When making moulds, consideration has to be made for easy release from the buck, in this case, the original bodywork. Consequently, one must plan where each panel should begin and end but it is preferable to have as few panels as is feasible, too many separate panels make the final body assembly a more difficult task. I started fitting the bodywork on to the new chassis and needed to build some timber framework to be sure that the sections being bonded together did not move.
There was still much work to do to form flooring, the enclosure of the prop-shaft tunnel and the partitioning in the boot space. Most of this work was done by bonding together flat sheets of fibreglass that had been laid up on a 6 by 4 ft flat sheet of aluminium. Dicks Countess, had had a rectangular hole cut in the roof and it was preferable to buy a suitably sized sun roof to fit the aperture rather than attempt to bond in a panel with a matching curvature. Three and a half days of painstaking work to open up the moulded-in vents on the bonnet top were well worthwhile, not only for the extraction of engine heat but also for the look of authenticity.
Curved headlamp covers were made from Perspex that were bent to shape by laying on a curved alloy sheet and being heated in the domestic oven. Try 6 minutes at gas marked 5 in a pre-heated oven! As I was about to fit the rear sides of the bodywork I quickly realised that the mould I had made was as a standard E type width whereas the Sierra suspension with 6" wheels was notably wider. I needed wider rear wings as we see grafted on to E type racers.
By now I was retired and it was very convenient that at that time I was asked back to do a sensitive job in Brighton. On the way I called into the Wildcat Goodwood workshop and asked for a pair of the wider Wildcat rear wings to be made. I called in on my return journey five days later and was able to collect. I cut off the old narrow arches ready for bonding of the new wide ones and by fixing small pieces of aluminium to each side of the join I was able to maintain a perfect profile. Edges at the join were tapered and matting was laid up within the wheel arch to complete the bonding whilst final external imperfections were corrected with filler. The glazing forming the tailgate window and the opening rear side ones were cut to size from 3/16th Perspex and the recessed groove for the windscreen cleaned up to make a sound fitting for the screen that would be bonded in after the car had been sprayed. Work on building the dash was completed in the warmth of the house along with the door cards.
The Jaguar bumpers were temporarily fitted to enable mounting holes to be positioned. The front bumpers matched the body outline perfectly but, at the rear, the wider bodywork required the bumpers to be fettled to fit. In taking moulds from the Countess shell, I was only able to mould the external skins of the doors and a lot of time was spent in building up the internal panelling to suit the layout of window winding mechanism, door lock and hinge. I was able to buy chrome window frames second-hand from a Jaguar dealer and, being made of brass, were very stiff, which would ensure a good seal against the rubber seal of the door surround particularly when driving at speed which is a time when air pressure tries to force open window frames.
I had to have some help with the wiring as this has never been clearly understood but I decided that I would use a proprietary made-up loom originally designed for Cobra kit cars. Luckily this came with tags stating where each wire was to be attached. One or two phone-calls sorted out the few problems I experienced with the installation.
By now with the rear internal panelwork completed, I found that a standard Cortina wheel fitted into the well behind the rear axle and though an inch smaller in diameter than the cars road wheels, would do in an emergency; I was not intending to buy a fifth Minilite wheel as a spare. The space that was left in the well gave me the chance to have a large aluminium fuel tank built by a local engineering firm. Costing just &pound100 maybe this lovely 14 gallon tank should have been dearer since the firm went bankrupt 6 months later.
This reminds me of the one breakdown I have had with the car when I was driving through the small town of St Maxime l'Ecole in France. I had just filled the tank when, as I drove into the main road, the engine suddenly stopped and was impossible to restart. At the time it was pouring with rain as I walked back to a garage I'd just passed. I have found that with virtually every garage I have had dealings with in France, immediate assistance is forthcoming even though mechanics may appear to be deep into one job or another. Such was the case that day and we jumped into his little Renault van with a bag of tools and returned to my car. He checked and found the plugs had sparks. It must be the fuel he said. We put the luggage on to the pavement and removed the rear panel to gain access to the electric fuel pump. With the ignition on there was no clicking so a lack of fuel delivery was the clear reason for the engine stopping. I can't get a new pump until Monday morning, said the mechanic. I explained that the fuel pump had been bought brand new just 9 months earlier and I thought it would be wise if we took it off for inspection. We found that a mixture of fine aluminium dust and fluff was trapped in the filter that was adjacent to the pump so this was removed and the engine was soon running perfectly. As usual the cost of his time was very reasonable, especially as he, and I had become soaking wet.
When it came to choosing a colour for the body I was undecided for a long time but on holiday in a small village in France, while I was sipping coffee on the pavement outside a cafe, a Peugeot 205 drove slowly past. That's it I loudly yelled to my friends who thought I'd gone mad. I sprinted after the car wanting to know the cars colour. It was just like a scene from the silent movies. As I virtually caught the car up, the driver unconsciously drove a little faster and I would run even harder to try to attract his attention. And so it went on, the car increasing speed and me running ever faster all the way to the outskirts of the village. Once I was back home I visited the local Peugeot dealer and explained my problem. I was shown into the yard and I spotted a car of the right colour - Sigma Blue metallic.
While the car was away being 2 pack sprayed by an elderly gentleman who was making this his last job before retirement, I concentrated on building my own seats. I have found that most car seating leaves much to be desired so I decided to make my own from a basic mould formed by sitting in a partially shaped pile of damp sand. After some wriggling about a suitable impression of my torso was formed and then a layer of thin plastic sheeting was laid on the sand after which a 2 layer base of fibreglass matting was added. More work on the sides and edges ensured a strong non-flexing seat. Once finished, the seat was covered in thin foam and overlaid with flexible vinyl Ambla, the back rest and seat having the Dunlopillow covered separately. More than one set of seats has been made over time as improvements were envisaged.
By April 1997 after 3 years work, the Special was finally finished and I received a registration number. Surprisingly, no inspection was made and an MOT was the sole method of assessing the road-worthiness of the car. After fine-tuning, the car settled down to its work as holiday transport, track day car and even a one-day Drag strip contender but this was later after I had bought a larger V8. I could have had the capacity of the 3.5 engine increased but instead I bought a 3.9 V8 version (ex Land Rover Discovery) because developments had made this engine a stronger unit. With the engine stripped, which showed it to be in fine condition after 80,000 miles, I took the parts to J E Engineering of Coventry where, earlier, I had visited their premises to look at their standard of workmanship. With all the work they did which included a new camshaft, larger valves, porting, lightened flywheel, balancing and such, I now have a really delightful torquey and powerful engine that returns 25 mpg driven hard.
When my home-built exhaust system started to rust I decided to have a professional build me a complete exhaust system. Though expensive, the increase in power was notable and the standard of workmanship second to none. For example, the exhaust was hung by having the rubber supports in compression rather than tension as they usually are.
I must mention the day Fred Lodge and I came back from a late autumn Continental Car Tours outing. At the end of the weekend in the hotel car park at L'Isle Adam, north of Paris, we loaded up the car ready for our drive back to the Calais ferry. Once in England, we left Dover in convoy with numerous heavy lorries and once we had passed several I was able to open up the car. Suddenly there was a loud bang and mighty draught behind us. As one we both turned and could hardly believe our eyes, the tailgate had sheared off cleanly. There was no point in stopping, the tailgate was being run over by most of the lorries we'd just passed. To add to the fact that the heater was not working it began to snow and this slowly started to fill the now open luggage area. The tailgate, it appears, had not been clicked shut at the hotel and it was only the fact that with smooth French roads we travelled at up to 85 mph and the tailgate had stayed shut. Once back in England, all it took to lift the tailgate was the bumpy surface of our roads, the wind did the rest. Unfortunately, I had sold the body moulds and in order to build another tailgate in fibreglass I had to buy a used metal one from a Jaguar dealer.
In my series of articles I've covered many cars I've owned but there were several others too boring to include as well as a selection of cars owned by my employer.
No longer being able to drive because of my failing eyesight, I have sold all my other cars but kept the E Special and I am quite happy to be driven to race meetings and to trips abroad with either of my two named drivers.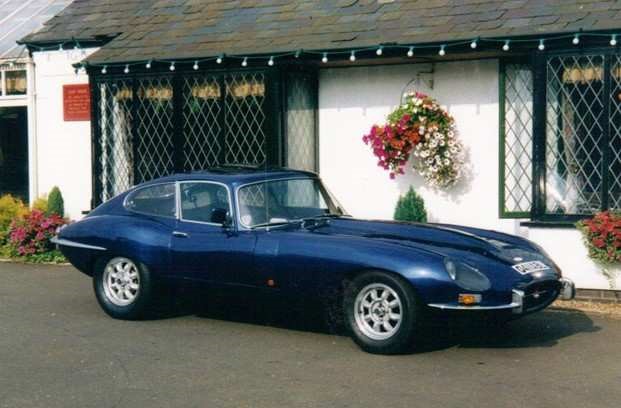 Olympic Registrar & Associated Pre-Olympic Jottings
Olympic news this month must centre around the cars being part of the Olympic Torch Relay as it passed through Rochdale. The clips on You Tube are well worth watching and are an excellent advert for the marque. May I add my congratulations and thanks to all those who took their cars and in particular to Les Brown for the organisation. I am only sorry that my own Olympic was not in a state to attend. No doubt a full write up will appear elsewhere in this Magazine.
Both the August edition of Classics Monthly and the September edition of Practical Classics featured the event. Only downside of the PC article is that the main picture was spread across the join of two pages. Why do magazines do that, it is one of my pet hates?
I understand from John Plant that he is nearing the end of the restoration of his phase 1 Olympic 81 XPH. The early history of this car is somewhat sketchy, although both Tony Stanton and I are convinced that it was originally supplied to a Mr Appleton, then residing in Ewell, Surrey. This would have been a replacement for his well finished Rochdale chassied GT.
In the mid-1960s it was bought by Richard Tapson, who owned it for about six years and it was eventually acquired by a collector who upset the local council with the number of scrap cars littering his front garden. In 1998 the council arranged for the garden to be cleared, so 81 XPH finished up in a Buxton, Derbyshire scrap yard.
There it stayed until 2009 until rescued by Don Mitchell. Don eventually decided that there was too much work and it was put on eBay and it went to France. I understand the French owner was then given an ultimatum by his wife to choose between her or the car and surprisingly the car was put up for sale again!!
John acquired it in 2010 as has spent the last couple of years restoring it. Not surprisingly after such a traumatic life the monocoque was in a poor state and required much GRP work. A new sub-frame was also needed. It will be nice to see yet another Olympic back from the dead.
John of course is no stranger to the Rochdale marque, having owned a phase 1, UCT 74 back in 1963. This Olympic was built to a high standard by F/L Oulton, stationed at RAF Swinderby, and then RAF Waddington. It featured a 1622cc MGA engine and just about every conceivable extra. Supplied in cream gellcoat, it was registered in 1962, but some 18 months later was put up for sale due to an overseas posting.
After John Plants ownership the trail goes cold until 1967, by which time it had been resprayed BRG. It was bought by a Brian Bourne, but it was to be a short ownership as some 6 weeks later he was involved in a head on crash, resulting in a 7 week stay in hospital and permanent limp. The car unfortunately was written off, being beyond economic repair.
Alan Farrers current Olympic Kermit (279 CWD) features on the front cover of the August 2012 edition of Classics Monthly. It is part of a group test, the other two being a Jowett Javelin and Triumph Dolomite Sprint. Initially it seemed a strange grouping until I realised it was the Olympic theme (Olympic, Javelin & Sprint!!). Inside there are no fewer than eight pages and some good photographs.
I mentioned in the last Magazine that a write up on the phase 1, previously registered BPL 125 had appeared in the Swiss magazine Drive Style.
Marcus Tanner, the previous owner sent me a copy, together with a note saying BPL 125 is by now possibly the most expensive Olympic on earth. The restoration is finished and the car has changed hands as I received an offer I couldn't refuse. The car certainly looks superb, but exactly what price it sold for, nor who the new owner is, was not mentioned.
In the last Magazine I also mentioned the Olympic built by Marcus Pye's godfather, Mike Salmons. Marcus kindly replied and gave me a bit more information. It would appear that in the mid 1960's the car passed to Marcus father Dennis when they moved to the Basingstoke area. It was then passed on to an Edward Ling in the Braintree area, who repainted it dark green, with possibly an acid green roof! The car was rolled, but survived. Marcus is hoping that some family photographs still survive. Watch this space.
I understand that the ex. Paul Hutchins phase 2, AAW 840A, has just changed hands after three years with Rod Smith. The new owner, Richard Hancock has been looking for an Olympic for some time and wants to restore it to more original condition.
I received a panic phone call, the day before Burford from Ros King. The radiator of her Olympic 1523 DF had sprung a leak and no amount of sealer would keep the water in. It looks as though a new one is required. A new fuel tank was fitted after the Bristol Show, so it seems to be one problem after another at the moment.
Colin Ellis has now sold his phase 2, BJX 510C, which has gone to a new owner in France. We have quite a good number of Rochdales on the continent now. Is it time for a European meeting?
I noticed recently that phase 1 Olympic, 118 XPG was for sale on eBay. Unfortunately, I don't know if it sold or if so who the new owner is. The last time I saw the car on the road was 1976. It was the only one that I have ever seen that sported the original badge that incorporated the Olympic Rings. I wonder if that is still on the car or with a badge collector?
Brian Gent is a true GRP car nut as a long term Gilbern owner and more recently both Turner and Fairthorpe have joined the collection. Latest acquisition is the Reliant based GT, previously owned and restored by Guy Stallard. Brian brought the car to Burford and suffered a bit of fuel starvation, so a bit of fettling is obviously required.
I recently went to see the GT which has been restored by Tony Hansford of H Engineering in Tunbridge Wells. The car started life as a 1954 Ford Popular, which was then fitted with a GT shell. Tony has retained the chassis and body, but has completely reworked the mechanics. Front suspension features double wishbones, whilst the rear axle is an 'A series' on trailing arms and coil spring/damper units. In the engine compartment the original side valve engine has given way to a 1500cc Climax engine.
Finish is superb, you could literally eat your dinner off any part of the car. The intention is to enter the car for some historic racing events and I understand Goodwood have expressed an interest for next year. Watch this space!
Derek Bentley
MBU 309
Star of the show at Burford this year was the Rochdale 'F Type' bodied Elva registered MBU 309, now owned by David Whitehouse of the West Midlands. In fact the car was awarded the Classic Car Cup for the best Special.
The car was originally raced in 1956 by Alex McMillan, a regular customer of Rochdale Motor
Panels at that time. The car features an Elva chassis and 1100 cc Climax FWA engine. For
1957 the car passed Neil Campbell-Blair. McMillan and Campbell-Blair also raced another 'F type' bodied car LBU 349, known as the 'Bristol Barb'. As its name suggests this car was powered by a Bristol engine and was regularly looked after by RMP. In fact, looking through the Factory Ledger for that period there are a number of entries related to work done on the 'Barb'. What is particularly striking is how expensive Bristol spares were even at that time.
Now we go back to MBU 309. I am uncertain as to its subsequent history until being acquired by Peter Morley, residing in Belgium about five years ago. He started the rebuild, but by this time the original body had either been lost or was beyond economic repair. Now 'F type' shells are not exactly common, but the Club was able to help.
On 18th September 1958 a Mr Derek Bennett of Handsworth, Birmingham ordered an 'F type' shell from RMP. He acquired a 1937 Morris 8 and fabricated a tubular framework to fit the body to the chassis. Whether the car ever made it to roadworthy condition is unknown, but he retained it until it was acquired in 1994, in a sorry state, by Graham Lyall. Graham brought the car to Burford in that form.
The Morris parts were disposed of as the intention was to mount it on a Ford sidevalve chassis.
However, due to other projects the shell stayed in Grahams garage for a few years untouched. Eventually the shell passed to Paul Hutchins and again lay untouched for a few more years.
Peter Morley approached me asking if I knew of any 'F type' shells and I put him in touch with Paul. A deal was done and the shell, by now in a poor state, was then used to create a mould from which a new body was moulded for MBU 309. For some reason Peter then lost interest in the project and it was acquired by David. I assume these moulds passed with the car to David, so it is presumably feasible for more shells to be supplied.
I understand that once spring rates etc., are sorted out MBU 309 will once again be out on the circuit after an absence of half a century. I also understand that the remains of the 'Bristol Barb' still exist (It suffered a serious accident at Oulton Park in 1956) and may one day be restored.
Derek Bentley