MAGAZINE No 130 SUMMER 2012
Edlines
MEMBERSHIP CARDS With this issue you should find a membership card for the 2012 / 2013 year. Please fill in your name and membership number (shown on the envelope). I have never been asked to produce my card, although Footman James do ask for your membership number if you want a club discount.
MANCHESTER SHOW Les writes: A really enjoyable event, with Keith Hamer's lightweight Olympic, Roger Coupe's Mk VI and Andrew Roan's GT, easily the most original GT I have ever seen. My own GT couldn't make it, for obvious reasons if you read the article on engine rebuilding!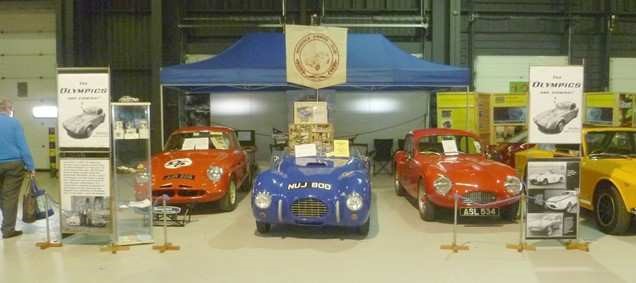 HISTORIC SPECIALS DAY is on Sunday 12 August at the Cotswold Wildlife Park near Burford Oxon. It is an event not to be missed if you have an interest in old British low volume kit cars and specials; while your other half can enjoy the local attractions.
Bristol Classic Car Show
This show still manages to appeal with its friendly and uncomplicated atmosphere. We had the same pitch as last year and had two Phase 1 Olympics on display: Ros Kings, recently repainted in silver and mine, even more recently restored and finished in green by Phil at Auto Bodies of Lavant. I had hoped to have a GT, but both options were unavailable, so perhaps next year Ros drove her car to the show, but I trailed mine on Dereks towing dolly as it had only done about 20 miles since completion and I could not afford to have reliability issues with the car when I had a show stand to set up.
There seemed to be fewer customers at the show than last year, and we were somewhat disappointed to see only five ROC members visit our stand (that stalwart, Tony Stanton, failed to arrive due to the breakdown of his modern Vauxhall on the way!). However, we were pleased to see Ben Bettell, Paul Hutchings, Richard Tapson and his wife, Jon Ablett and new member Richard Hancock and had a good chat with all. It turned out that Richards friend, who lives in Selsey, had had his Daimler Dart repainted by Phil who has just painted mine (though at least 20 years ago). Speaking later with Phil, he commented that years ago he had painted a Daimler Dart for someone in Selsey; what a memory!
Phil took over the finishing when I had had enough; all repairs had been done but there were myriad small areas that needed tidying. That he did a splendid job on my car was proved when it won the Best Paintwork prize, so well done Phil. I don't usually name my cars, but as I was cleaning the travel stains off it on Saturday morning before the hordes arrived, a passing young lady observed it was the colour of Kermit the frog. So Kermit it is then.
Not much else to report, but I must thank Ros for providing a very smart car at short notice and Derek for his sterling work and without whom I would struggle to fly the flag for the Club each year. One of the other exhibitors later bought Dereks towing dolly, so due compensation there.
Alan Farrer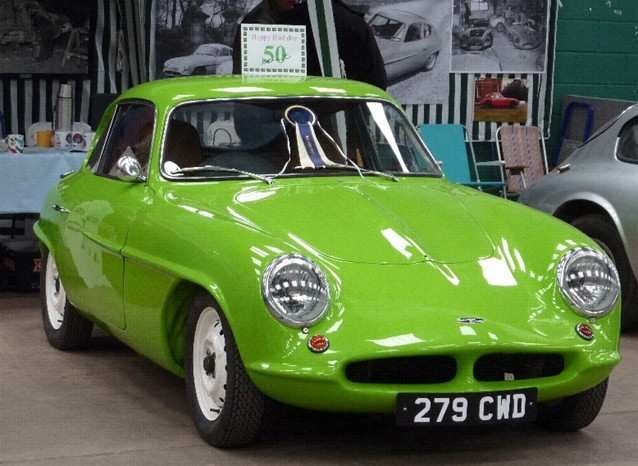 Kermit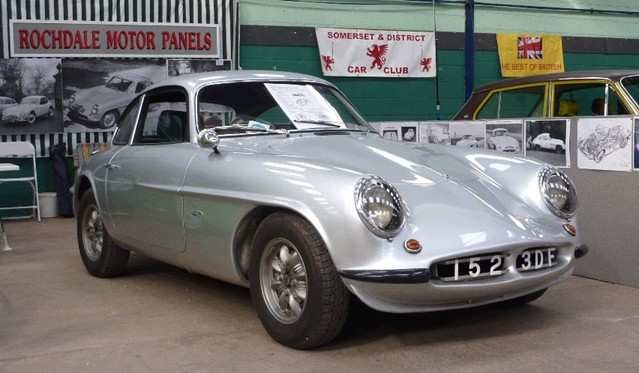 Ros Kings silver Phase 1
TONY STANTONS NEWS & EVENTS
North Worcestershire Classic Car Meet
The Bowling Green Inn, Shaw Lane, Stoke Prior, Wychbold, Nr Bromsgrove, Worcs. B60 4BH.
From 7.00 pm Monday 18th June 2012
From 7.00 pm Monday 16th July 2012
From 7.00 pm Monday 20th August 2012
From 7.00 pm Monday 17th September 2012
West Warwickshire Classic Car Meet
The Moat House Inn, Birmingham Road, Kings Coughton, Nr Alcester, Warks, B49 5QF.
From 7.00 pm Thursday 28th June 2012
From 7.00 pm Thursday 26th July 2012
From 7.00 pm Thursday 30th August 2012
From 11.00 am Sunday 30th September 2012
Stoneleigh Kit Car Show Sunday 6th & Monday 7th May 2012
After a good many years of poor weather it was nice to have at least one day of sunshine on the Sunday, but on the Monday it was back to rain and cold.
Displayed on the stand this year on Sunday, were my own Olympic Duffy 902 DUF, Syd
Bartram Olympic PII 966 SJH, Brian Whitby Olympic P1 291 FLM, Keith Pratt with a Scimitar GT, Victor Lobb with an early Gilbern GT, a friend of Vics with a very nice one owner Dellow, Brian Jackson and Rob James with Fairhopes, Steve Green and Anne with a Ashley Sportiva, Craig Polly with a TVR 2500M, a Sammio Spyder which is a current kit car based on a replica 1950s Nickri bodyshell and Triumph Herald chassis, David Valsler who normally comes in a Turner, but who came with a friend in a 100E hot rod powered by a V8 and Mark Butler with his immaculate A/H Sprite.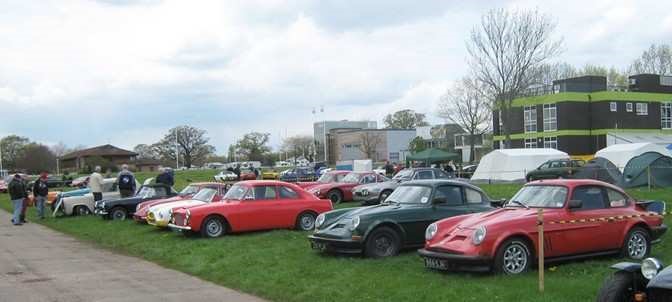 Sunday at Stoneleigh
On the stand on Monday we had my own Olympic Duffy 902 DUF, Ken Robbins with his Turner 950, Victor Lobb with an early Gilbern GT plus 2 more Gilbern members with their Gilbern Genies, plus another Gilbern GT owner Trevor Byne who came with a friend in a very nice Triumph Vitesse.
Many thanks to those who took the time and made the effort to bring their cars to the show and to the club members and friends who visited the stand.

Monday at Stoneleigh
SILVERSTONE CLASSIC on July 20th, 21st & 22nd 2012.
In conjunction with the F.S.C.C. we have secured a designated display area within the Historic Grand Prix circuit at this 3-day event, and we are seeking further club marque cars to join us on display during the weekend.
To enter your club car in the FSCC/ROC display area please contact Tony tony-stanton@fsmail.net
Olympic and Owner from the past discovered.
In the last Magazine I wrote about meeting Neil Smith at the Classic Car Show in November who owned Olympic Phase 1 Reg 100 EXC from 1967 to 1970. Since then he has updated his memories of his time with this Olympic.
Hi Tony,
We decided to visit Edinburgh on the way home from the holiday in Scotland in 1970, but as we were leaving Edinburgh and I tried to engage first gear the clutch failed. The only way forward was to get somebody to push the car (step forward one brawny Scotsman!) until it was rolling fast enough for me to snick it into first without the clutch. This we did and I was able to drive to our overnight destination in Stockton on Tees changing clutchless. This included driving through the middle of Newcastle, crawling up to traffic lights so I didn't have to come to a halt! It also meant that we couldn't stop for calls of nature, and Marion wasn't best pleased!
The following day on leaving Stockton and again getting a push start (thanks to my wife's cousin) we drove home to Essex, again changing clutchless and not being able to stop anywhere. One mile from our destination the brakes failed too so we got home with no clutch and only a handbrake to stop. Eventual diagnosis was a total hydraulics failure needing two new master cylinders! I shudder to think about doing anything like that these days with the greater volume of traffic and higher speeds.
The one and only time I had an accident in the car was when a Ford Popular changed lane right in front of me as I pulled into a slip road. I collided a glancing blow with its rear door. Result - one new door for the Ford and a tube of Isopon (5/6 in old money - 27.5 p) for me to repair a crack in the front wing of the Rochdale. The cars were certainly robust!
The 2nd owner was Colin HUFF, Snaefell Lower Road, HULLBRIDGE, Essex. 1965 to 1967, and he worked at Fords Research and Development Centre at Dunton, Laindon, Essex. Neil Smith was working there part-time:
I was looking to buy a Rochdale in 1967 because I had come across the road test in an old copy of Motor Sport that somebody had given me. It was the June 1961 issue ( I have since bought a copy on e-bay), page 420 featuring a Phase 1 car VDK 147. Reading the article fired me up since I was really struck with its looks - not unlike the Porsche 356 in bodywork at least - but had not been successful in tracking one down. At the time I was looking, I had a holiday job as a filing clerk at Ford's Research establishment at Dunton in Essex. And driving into work one day (in a Wolseley 15/50 ex my father - before you ask MCF 829 !!!) my heart skipped a beat as I found myself distantly following a Rochdale Olympic into the car park! What joy! By the time I had found it in the car park the owner had gone into the building so I wrote a note on a bit of paper asking if he wanted to sell it and stuck it under the wiper. Amazingly he contacted me and said that he was interested in selling and we did a deal there and then with me feeling flush from a summer's earnings at Ford.
I have also found the following article from Sports Car Mechanics March/April 1984 under the title: - ROCHDALE RESURRECTION.
Somebody obviously reads the magazine! Following my comments in the last Kits and Bits about putting one or two currently obsolete cars back into production, notably classics like the Rochdale Olympic, had a phone call from John Lyon of BSM High Performance Course fame. When I first met John back in May I knew that he was having his own Olympic restored but it was one of those pieces of information that tends to get stored in the back of one's mind, and if not exactly forgotten, then filed for future reference!
Anyway, John's call reminded me that his Rochdale had been so badly damaged in an accident and had then been so badly hacked about in an attempt to repair it, that a new shell was the only answer. Apparently he had been lucky enough to track down the original moulds, and in fact he is currently having a complete new shell moulded. Obviously this is a fairly involved and costly exercise, so my comments in the test issue prompted John into thinking that maybe one or two other people might be interested in having a new shell while the mould was in use, beyond the obvious cost of the new raw materials and the labour it doesn't cost a great deal more to produce three, four or even five mouldings than it does to produce only one.
The mould John would be using is for the Mark 1 Olympic - or Phase 1 as I think they were known at the time, which was designed for Riley 1.5 running gear. This as you may know is very similar to the good old Morris Minor and also the Marina/Ital range, and in fact John is working on the modification of Marina front suspension so that it will fit. He's also got an MGA pushrod engine and an MGA twin cam gearbox for the car to make it competitive on the race tracks, but that's another story, although it wouldn't be giving too much away to say that he was more than slightly interested when I told him about the 750 Motor Club's plans for this year!
John reckoned that complete new shells could be produced for around &pound1200-&pound1400, and although there would be plenty of minor problems to solve, like finding a suitable windscreen for example, it should be possible if enough people are interested, to see the rebirth of a beautiful and practical little car. John Lyon is obviously a Rochdale enthusiast, but as he so rightly said, how many cars even now can cruise quite happily at 85mph and return an average of 40mpg? And when you remember that the Olympic was announced over 25 years ago, you'll get some idea of how far ahead it was of its time.
If the idea interests you, and it fascinates me, give John a ring on ?????? and see if he can help you ... and watch out here for more details.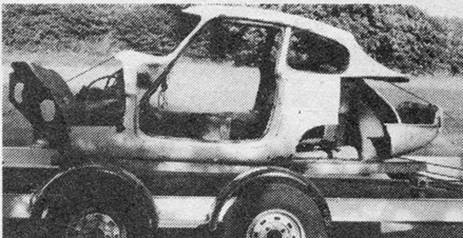 As we all know, for whatever reason, this did not happen. This photo of the bodyshell of 100 EXC is after a bodyshop cut it about trying to repair the accident damage and the bodyshell is being taken with the Phase 1 mould to a Classic Car Restorer who said he could use it to make a new shell, but which he failed to do.
Contact details for any member who wishes to send me details on the history of their Olympic. Tony Stanton. - rochdale-olympic@talktalk.net or 01527-402367.
And a note to end on: -
If you can smile when things go wrong, you have someone in mind to blame.
LETTERS
High Power Circuits Energy Sourcing
In magazine 129 there is reference to a cooling fan circuit being powered directly from the alternator in Stan Hanks car, with the suggestion that this is in some way incorrect.
What is often overlooked is that when the vehicle is running, all the electrical power is supplied by the alternator, (unless the vehicle has a very poor load balance performance), and therefore it is entirely logical to feed high-current dirty loads such as cooling fan motors from as close to the alternator as possible. This reduces the length of the cable runs, so allowing smaller cross sections to be used with a beneficial reduction in volt drop, weight and cost. It also reduces the risk of these loads causing electromagnetic interference with other vehicle systems.
At Bentley, where I am responsible for such design concerns, there is a junction box very close to the alternator from which the cooling fan, air conditioning condenser fan, blower motor and secondary air injection pumps are fed, in addition to the cable to the battery. Of course, all these circuits have individual fuses to protect the cables!
The more sensitive circuits that supply the vehicle electronics and Infotainment systems are fed from the battery end of the system where its capacitance provides a degree of noise decoupling for the incoming alternator-sourced charge current.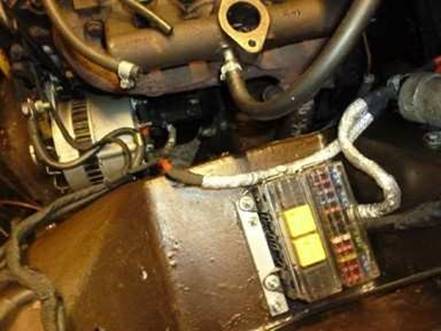 For interest, when I redesigned the electrical system of my Phase 2
Olympic, I adopted the same approach, with an underbonnet fuse/junction box supplying the fans and front end lighting, which is connected to the alternator output. As the battery is mounted at the rear of the car, fuseboxes in the cabin and rear end provide protected power for these zones.
Howard Evans
Keith Nicholson
Phase 2 ESU 816
I would like to thank Steven Wood and also Keith Hamer for arranging the shipment of the door frames to me here in Sydney Australia. Without Steven organizing the manufacture with Keith of the door frames I simply would not of been able to make my own to the same standard. Once again thank you and a top reason of why one should be a member of the ROC.
Visible Horse Power.
At a recent All Ford Day at Birdwood in the nearby Adelaide Hills 400 Ford vehicles of many kinds turned out and were on show. There were a lot of club stands and as the President of the Ford Owners Car Club I had my c1952 Anglia Tourer on the FOCC stand with 35 other vehicles. The Adelaide Ford 8 and 10 Sidevalve Club (which I started) was next door with four 100Es and two uprights.
There were a lot of late model high horsepower vehicles there and one of the attractions was a dyno. Not a real big diagnostic job but a simpler how many kilowatts outfit which was well used by the high horsepower set.
I have a warmed up Ford Ten engine in my Tourer and I was interested to find out what sort of Kw's it turned out. The dyno operator backed the Tourer on to the dyno and managed the gearbox during the run with a lot more skill than I expected. He asked if I had a tacho and I pointed it out in the middle of the dash and said that the engine would run to 5,300 RPM and that 5,000 would do. The engine was run up under load to 5,000 twice and the high point was 18.3 Kw or 24.5 HP in the old figures. The Tourer did generate a good crowd of lookers who mainly expected the engine to blow to smithereens but most were impressed with the clean power delivery, the engine without the road noise associated with 80 to 100 kph travel sounded good.
The power curve from 80 to 100 kph was basically flat which is borne out by the way the Tourer drives through the hills, once you drop below 80 kph the power drops off quite quickly with 17 HP at 60 kph.
I have seen varying HP figures for the Ford Ten engine, the FSOC web site says 30 HP and the hot up books suggest 27 HP is a more reliable figure. Do any of you readers have any facts or ideas on the amount of transmission losses that come with the Ford Ten ? If I have 24.5 HP at the rear wheels, what should I have at the flywheel? Any ideas or knowledge to my email address gordon14days@yahoo.com.au please.
Gordon Cowley of Oz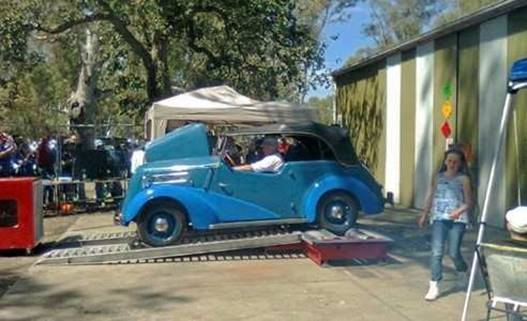 Photo by Terry Meads.
The 2012 Festival Historique de Laon
Derek Argyle
We were very grateful for a dry 4.30 am start on Friday 11th May after the wetting we'd been having here in Surrey. The Festival had been brought forward by two weeks because of local French elections and I only hoped that with it being held this early we would not encounter poor weather I needn't have worried.
As with previous visits to Laon, Chris my nephew and I couldn't resist stopping off en route for lunch at the cafe Leffe, in Arras but, before this, since we were early, we drove out to Vimy Ridge, the scene of intense fighting in WW1. Here we met young Canadian tour guides who took us on a tour of the tunnels and trenches that are so well preserved. The girls come over through a student scheme for a period of 4 months and, having studied the history of the fighting on the Ridge, are well qualified to impart the information clearly to us all.
After a pleasant lunch, rather than use the motorway, we took the secondary road down to our Laon hotel and after dropping off the luggage drove a few kilometres south to the village of Chamouille where, on a previous visit, I had noticed a most attractive looking hotel and now had an opportunity to investigate further. The Hotel du Golf de l'Ailette is ideally placed on the edge of a lake and rooms can be had with balconies that overlook this delightful spectacle.
We made a booking for dinner the following night and continued south to the Chemin des Dames, an elevated ridge road running east-west and noted as being a dividing line between the German and French WW1 armies as well as the road where the daughters of ancient kings were driven in royal carriages. We drove past the Museum of the Caverne du Dragon but didn't go in since it was time to get back to the hotel for drinks and dinner. The Caverne began life as an old stone quarry which then became a strategic German defence position in 1915. It is a visit we should make next year.
This year we didn't get lost on Saturdays regional tour as we carefully followed the tulip-style rally notes, but last year with three separate rallies crossing each other it was easy to converge on to a different route. For our lunch break, the town of Viervins kindly supplied us with sandwiches and drinks after we had parked, somewhat haphazardly it appeared, in the town square. Viervins is a pleasant little town with its fortified churches and old houses and there was time for us to wander before we were due to continue on the afternoon tour. We had no need for concern with the irregular parking which strangely sorted itself out quite quickly and let us get on our way.
That evening we smartened up and drove over to the hotel by the lake for dinner. The glazed sliding doors of the restaurant gave a fine view of the spotless swimming pool adjacent to the terrace outside and further, to the idyllic lake with its peaceful group of swans. At nine pm as we finished a good meal it was still delightfully sunny as it had been all day.
Keen to park in the Town Hall square rather than in the Ville Basse, the lower town where there is less to see, we left our hotel early and by twenty past eight were having a coffee at the Arcades and watching, with interest, the two LDR Depannage lorries engaged in clearing cars that had not been moved out of the square according to the warning notices. There was much heaving on the powered winches of the lorries as handling of the parked cars, with brakes locked on, often meant that they had to be turned through ninety degrees before they could be winched on to the low-loader lorries. By the time Chris and I had walked around the main streets of the town and reserved a table for dinner that evening at Le Parvis restaurant, the square was all but full of every type of car.
The Dutch had brought along an exquisite group of early Bentley and Rolls Royces while the passengers were attired in relevant period clothing. Every year there can hardly be a make of car that is not represented at the Festival but the largest group is invariably the English MGs and Triumphs. Amongst the rarest cars were such as a 1927 Hotchkiss Torpedo AM2, a Teilhol Rodeo 5E 1128 CTTE, a couple of Reliant Sabras, a 1936 Rosengart LR4 N2A, a 1959
Cadillac coupe de Ville and a Chevrolet Bel Air sport, part of a total of approximately 650 cars
To the sound of church bells reminding us that it was now 11am, we converged into the Hotel de Ville main hall to be greeted by the Laon Mayor, event organisers and dignitaries. They welcomed us to the Festival and noted the large turnout. We were addressed in French (but had English translations) and an elderly Frenchman inaudibly spoke of the cars he had owned before we were again reminded that the afternoon lapping of the town circuit, quoted as 10 miles but confirmed on my accurate mileometer as 5.85 (presumably they meant 10km Ed) was not a race but a gentle run to show off the cars to the townsfolk who had gathered so enthusiastically around the circuit.
I had to introduce Chris to the fascinating Poma 2000 cable cars which operate between the Lower and Upper town. This small fibreglass bodied trams run with rubber tyres on a steel guide track, and, being totally automatic, run without a driver. After a spot of lunch in sunny weather outside on the pavement in Avenue Carnot, Ville Basse, we came back up to the square just in time to see a French driver with his tall camper van take off part of the corner of the roof of the Poma 2000 ticket office with barely an attempt to acknowledge the damage he had caused. By now the square was tightly packed with cars and half an hour later we were part of the first group to circulate around the town circuit. After 3 laps we sought a way out as it seemed we would be circulating all afternoon. Eventually we found a gap in the crowd-control fencing and drove back to the hotel for a beer. That evening dinner at Le Parvis was less than satisfactory which is strange as the previous year we had eaten very well.
The following morning, again sunny, was our last day in France and except for a Leclerc stop en route to collect a selection of foodstuffs, we arrived in Calais ready for a late lunch. As it worked out we were able to take the ferry that we were booked on but had been told that we could choose any ferry to suit ourselves.
Being my thirteenth consecutive visit to the Laon Festival shows what a reasonably priced great weekend one can have with one's classic car. It is a most enjoyable experience and we must again congratulate the superb organisation that keep the numbers coming year after year to this motoring delight based on the medieval town on the hill.
My transportation since 1946 (Part 3)
Derek Argyle
My everyday run-around at this time became a 1.6 Cavalier, the car that had been purchased after being my company car for three years. Throughout my ownership it had been driven hard and fast but always came back for more. At 74,000 miles it used no oil and having been well maintained by the company garage, and kept shiny by my constant waxing, I could not resist the asking price so bought it. In later years I had three more Vauxhalls, another Cavalier, a Calibra and an Omega and I feel that these fine cars were under-rated, they handled well and the smaller engined versions were quite economical.
Coming up to Christmas 1968 I drove into Greenford, near to our London Head Office for a little shopping. In the central car park. I was surprised to see an abandoned space-framed chassis encased in the remains of a mutilated fibreglass body. There was no engine and the car sat on three wheels, the fourth lying in the cockpit. What on earth was it? The space-frame suggested an early Lotus. I knew that this was something I should bring home and, though it was in a terrible state, I was fascinated by its possibilities. Arrangements were made with colleague John, who had a trailer, for us to collect the wreck after work on the Friday afternoon.
It was while John and I were trying to lift the three-wheeled car on to the trailer that a Police constable arrived on the scene. Oh dear, caught in the act. We explained that clearly, the vehicle had been abandoned, that we were professional people who did not go around stealing cars and that we were doing the Council a favour by clearing away the debris and, in the long term, had every intention of saving this old car and building it up to be put back on the road. This amount of spiel was enough to put the copper on our side and he said he would call into the nearby Police station and check to see if there had been any report of a stolen vehicle answering the description of this car. He made a note of the digits on what was left of the original stick-on number plate. Ten minutes later he was back and gave us permission to remove the car. Amazingly, he even helped us lift it on to the trailer!
Back home that weekend I stripped off the broken pieces of bodywork and studied the framework. Nicely designed and well triangulated but without identity, I decided that if this was to become roadworthy I should clean off the old paint and check the chassis for cracks since the framework was of fine gauge and very light. Detective work and information from friends later helped me to identify the chassis as having started life as a Buckler DD2. The old broken bodywork was also identified as having been a Microplas Mistral fibreglass shell. I decided that the car would become a 2 seater sportscar that could be made adaptable for road or autocross use and I spent many hours during the early months of 1969 on the build.
I found a Daimler SP250 engine for sale at &pound50 and realised that such an engine would require little further tuning when installed in a lightweight car. However, the fact that the engine was dismantled when I picked it up did not register with me at the time just how tall it was, especially as I saw later that the distributor stuck up vertically and would therefore hinder a suitable installation under the cars low bonnet-line. My good friend Jenks was pleased to add this engine to his collection and I then bought a near-new 1500 Ford pre-cross-flow with 2000E gearbox for &pound70.
As with motorcycles, I'd always been keen on participating on loose surfaces and with autocross racing becoming very popular, by April the car was finished and I was ready to enter my first autocross meeting. As delighted as I was somewhat amazed to have gained a class win first time out and an FTD at the second meeting. Hey, this was fun but breakages made one or two journeys home a dicey thing since the car was not being trailered as was the case with most fellow competitors.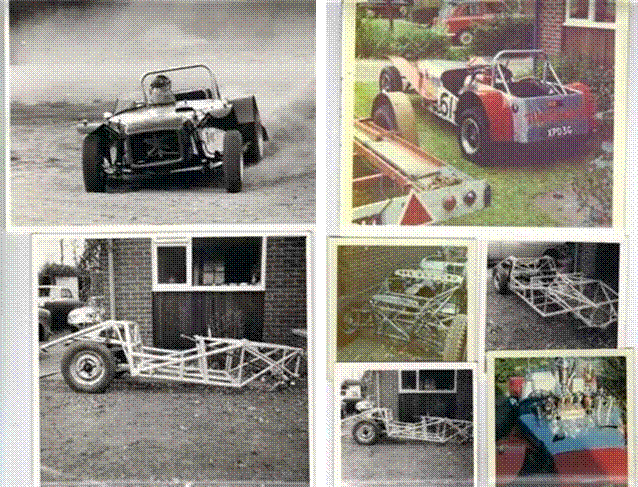 Buckler DD2 chassis and mods for Turfsmoker
For a second time, I was very lucky because on the Green outside Frimley Hospital I noticed a dumped rough-looking ex caravan trailer chassis whose wheels were inclined at an angle of 45 degrees negatively! It must have been carrying a very heavy load before being dumped! I kept an eye on it and found the trailer still there days later so, without a tow hitch, I lashed the trailer on to the back bumper of the firms Anglia and brought it home. Maximum heat from a No.25 nozzle welding torch brought the bent ends of the 1" square solid steel axle back to its correct position and with some running boards I could now carry the Buckler to meetings.
Soon afterwards, Rowland Smith, a friend in the local Motor Club offered me a Mk 2 Ford Zephyr that was of no further use to him and which was too good to break more luck. I gladly accepted his kind offer as this would be perfect for towing the car, now christened Turfsmoker since nicknames were de rigueur amongst the autocross Specials. Unfortunately, the Zephyr only gave 13 mpg but I found that the air cleaner was heavily gummed-up making the mixture very rich. Once cleaned and with a service on the engine, I now was able to achieve a towing consumption of 19 mpg.
I couldn't resist modifying this car a little and it was lowered by heating the springs at the front with a welding torch in situ as well as lowering the rear with alloy blocks between the springs and axle. Rims were separated from the wheel centres by removing the rivets and wider Lotus Cortina rims welded back on. At the time these cost just &pound3.00 each and now they cost a fortune if you can find any.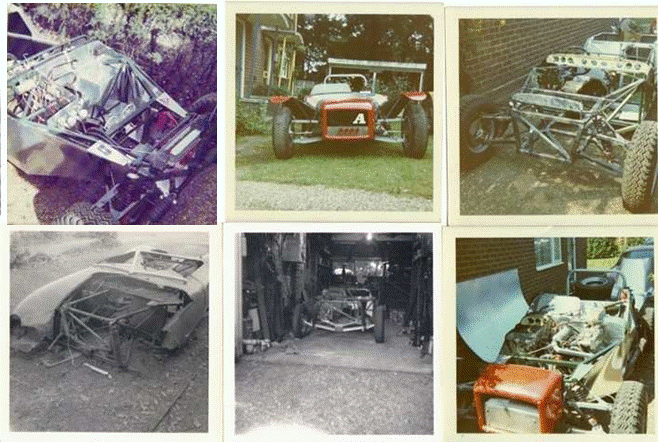 More pictures of the Buckler DD2 chassis and mods for Turfsmoker
During the seasons racing, I was made aware of the limitations of the Bucklers suspension design. The swing front axle would jack up on corners to give excessive understeer and the suspension was found to have inadequate travel for the bumpy conditions of autocross circuits. Also, there was a lack of traction with the light rear end.
The remedy during the winter of 1969 was to cut the chassis across the bulkhead and build an extended new front-end with twin wishbone suspension. At the same time, I fitted the engine further back but was able to maintain the original length of the propshaft because the 2000E Bullet gearbox had had the gearlever extension shortened with the help of Arthur Mallock, a shortening procedure he employed on his U2 race cars. Thanks to Charles Bulmers suggestion for improved wheel travel, I designed a layout that gave me 12" of wheel movement for both front and rear wheels. This made a great difference to the cars progress over bumpy ground and successful competition was further enhanced thanks to Jenks with sponsorship from Castrol, Champion and Goodyear not to mention financial help I obtained from my own employers.
By the fourth season of racing I found that the strength of the competition was such that I would have to change to a rear-engined car since this was imperative for traction on soft ground. My front-engined car was losing out to the more suitable rear-engined cars from the moment I left the start line. Only dare-devil cornering could keep the leaders in sight. The cost of building another car and finding a more powerful engine was more than I could afford at the time, so that was the end of one of the most thrilling periods in my life. Before selling the car, it was brought back to being road-equipped with a less powerful engine, lights, heater, road wheels, a respray and alloy bodywork polish. Unexpectedly, the car was sold to an 81-year-old who, normally the driver of a VDP Rover V8, told me that before he got much older, he wished to re-live the days of wind-inthe-hair motoring that he had experienced in his youth when he drove a Morgan 3 wheeler.
Ever since the introduction of fibreglass bodies and Specials that arrived in the early fifties I had kept an interested eye on developments. With the experience of car rebuilds over many years I now felt that I would be able to build my own car. I had already bought a Rover 3.5 V8 engine and this would form the basis of the car. While I was at a 1991 Stoneleigh kit-car Show I looked at many kits to see what took my eye. I was not interested in the large range of Lotus 7 derivatives nor any of the Cobras which I consider to be brash. On the JPR Wildcat stand I could see great potential with their version of an E type but it suffered from several anomalies. One, for example, was that at the front, the car had been fitted with low profile tyres while at the rear the wheels were clad with normal 70 profile ones. On querying this I was told that 70 profile front tyres would touch the wheel arches. This seemed a very amateur way to present a car on a Show stand. It was clear to me that this nonsense could be readily overcome by using wheels of greater inset or by shortening the length of the wishbones, the way I finally chose to solve the problem.
I found that V8 Rover engines would fit into the framework without problems and after a sample drive in a V6 demonstrator on roads surrounding the Goodwood Wildcat workshop, I was hooked and put in an order. During the building of my chassis/body I would drive down and inspect progress. I gained some tips as I watched Jon Randalls method of construction and while Jon prepared my body & chassis, it was my job to acquire suspension, instruments, wheels and all the parts necessary to build a complete car. Suspension, in particular, was rebushed, cleaned and painted, and visits to other kit-car Shows supplied all the small fiddly odds and ends that were needed. After 9 months the car was finished, the only part I hadn't worked on was the paintwork. I decided that I would have a two pack finish and sent the car off to be painted by Rawles Engineering, an Austin Healey professional outfit. The whole project had cost me &pound8800 and for that I had an immaculate car with rebuilt engine, diff, new wheels/ tyres and beautifully finished.
Soon I was going to track days but, at the first, I had a frightening experience when I lost the car in a big way on the Paddock corner of Castle Combe ending up in the harvested infield. I knew something strange was wrong with the car and couldn't initially put my finger on it until back home the next day Charles Bulmer, who had dropped in by chance, noticed the incorrect position of the pivot points of the semi-trailing rear suspension arms. Rather than being pivoted at the same height as the wheel centre, the pivots had been welded on below the space-frame chassis, some 6" too low. Jon Randall agreed to have me come down to his workshop and, over four days, sleeping at Jons house, we worked together to remove the bodywork and repositioned the pivots to my satisfaction. At the same time a cross-tube situated behind the seats was moved back 2" so that the seats would allow more leg and arm-room.
A week or two later I was returning from a kit show when, on driving along the Oxford bypass, there was an incredible squealing sound. I thought I had run over a cat. I found that the diff was red hot and then quickly realised the reason for the frightening noise. While I was building the car I had attached a tag to the diff to remind me that it needed to be filled with oil, something that could be done later I kept telling myself. The tag became detached but time and time again I said to myself I must not forget to fill the diff. I suppose it was the excitement of getting to the end of the build and be about to put the car on the road that made me forget. It was amazing that I had travelled 900 miles before the diff gave up; the diff internals having only been covered in a film of oil since assembly. The 3.12 ratio that was now kaput was changed to a re-conditioned 3.31 ratio because the gearing had proved to be a shade too high. There seemed to be no difference with the fuel consumption and I regularly achieved 28 mpg.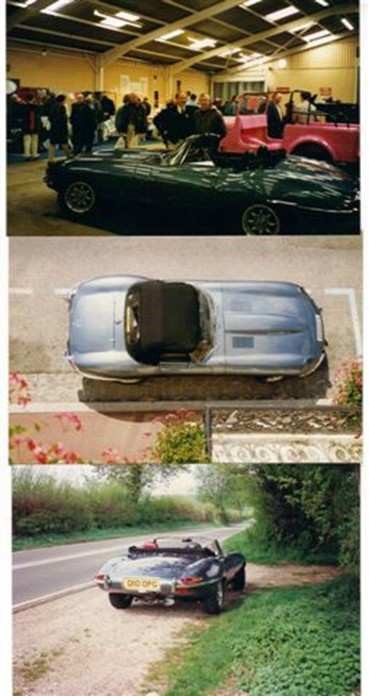 The most remembered drive with the car was to the Nurburgring on a Continental Car Tours outing. I went with three other Wildcat drivers and before the weekends racing, we spent the Friday on the track. It was the most amazing experience with the circuits great changes in elevation and the varying corners, many of which were blind until you were on to them and I would recommend anyone to go there for the drive of their life. It is a circuit that would have to be learnt in order to achieve a really good time.
The popularity of the circuit means that there are a lot of other drivers, many with faster cars or motorcyclists who pass on either side of you, so, besides concentrating on the road ahead, repeated glances in the mirror are a real necessity. By the time I returned home from Germany I experienced trouble with my eyes and when glaucoma had been diagnosed it was suggested that open-top motoring was not to be recommended. Perhaps I should buy a closed car. My love for the car meant that I couldn't allow myself to get rid of it and henceforth drove with the softtop erected most of the time.
Looking back now, it's inconceivable that I next bought an MX5 - all I can offer as an explanation was that I just found them so attractive. The 1995 car I bought was very sound, had just been superbly valeted and was like a new car. MX5's are well known for their reliability, and safehandling. It really was a lovely car and I drove many enjoyable miles in it, BUT it became boring, and after less than a year it had to go, there just wasn't enough power. Later, I had the chance to sample a Motor road-test MX5 that had been supercharged and fitted with race suspension. The rock-hard ride was intolerable but that car had quite incredible acceleration and perhaps I should have considered having mine supercharged.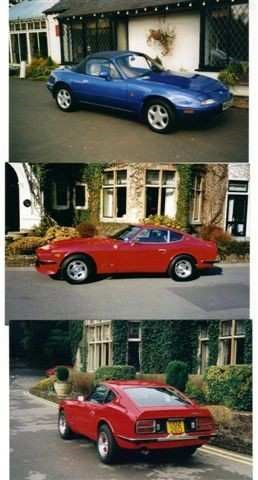 Ever since I had been able to have a long drive of the Motor road test Reliant Scimitar GTE back in 1969, a strong affection developed. So it was with every intention of buying a Scimitar Se5a that I bought a Classic Car Weekly magazine one day just before Christmas 2000. The cover of the paper showed an immaculate 1978 260Z Datsun and inside, went on to review the car. The car had been rebuilt and was being sold for &pound4,400 which was a very fair price at the time. I rang the dealer in Mildenhall and clearly explained to him that I was fully aware of the rusting qualities of these cars, having owned a 240Z. I didn't want him to waste my time assuring me that all was fine before I came to view and then have him detract from his praises. The moment I saw the car in the showroom I was very impressed it was totally rust-free and immaculate. I was handed the keys. Within a few hundred yards I found the engine was way out of tune, stuttering and banging as if the timing was out. I came straight back to the showroom. The dealer, probably 20 years younger than I was, said You young chaps have no idea how to drive these cars and set about driving me at peak revs around four miles of wintry countryside. On returning to his premises he said 'There you are, it's perfect, there's a real goer for you.' I made it clear that far from being perfect, had he not noticed that throughout the drive it was badly misfiring and, to try to hide this, he was over-revving it unmercifully? The engine problem didn't tie up with the very high standard of the rest of the car but as far as the engine was concerned I knew that I could sort it out so made an offer and ended up with a &pound4,300 260Z. For the cost of a return rail fare the dealer arranged for his son, at home from university, to drive the car to my house the next day. Examination showed that sparks were present, so I turned my attention to the carburetion. Once I had undone the connection between the two SUs, it was clear that three cylinders were running from the adjacent carburettor while the second was only half-heartedly supplying fuel to the other three cylinders. It was not simply a lack of adjustment. Further delving showed that the trouble lay with the float level. A simple adjustment to the tab, as shown in the manual, now gave me an engine that sounded and drove perfectly. What a delightful Christmas present I'd bought myself!
Over the years I owned this fine car I improved it with bigger carbs and bigger brakes that were necessary after one or two visits to Castle Combe Track days. I only came to sell it eight years later when my driving licence was revoked by the DVLC because of limited peripheral vision.
End of part 3
LET'S ALL DRILL OUR WHEELS!
Wheels - one of those vital styling features which can make or break a restoration. In the 1930s the earlier wire wheels gave way to pressed steel examples such as Fords Easy Clean type: although relatively plain and low-tech, this type of wheel was actually both lighter and stronger than the more attractive wires and the fact that they were much cheaper into the bargain meant that by the time the war clouds settled, pressed steel wheels had rapidly become the norm.
Unfortunately, they could look rather plain and from a competition car viewpoint also tended to shroud the brakes from a flow of cooling air. By the 1950s such sporting cars as used them, Rochdales included, were often seen with a row of ventilation holes drilled around the periphery, which had the effect of a) encouraging airflow past the brakes - outwards through the holes, apparently b) lightening the wheel - 12 one-inch holes lightened mine by about 1/3lb per wheel and c) they look better!
The set of 14" Minor wheels on my GT were generally thought 'OK' and although Minilite-type would undoubtedly be fine, these now seem to be getting more common on classic cars than the steel wheels they are replacing - I bought a set of 'Minilights' for my Olympic for LESS than I could buy four hubcaps for the Vauxhall wheels! So for many it is a nice change to see a simple set of in-period pressed steel wheels, and I eventually bit the bullet and set about the drilling process on mine. As the steel used is quite thick, this does need care: the spur for me was picking up an arbor and a couple of saws for &pound5 at a car boot.
1) Decide on your hole size and placement. Most have 12 holes, evenly spaced. More is possible - my daughters Transit Connect has TWENTY big holes, it seems that the style is back in on commercial vehicles these days. Phase I Olympics placed them in pairs, drilled at the factory, while Phase IIs used smaller holes, evenly spaced. A lot depends on whether you are using hubcaps or not. I used black discs, cut from vinyl and stuck to the wheel to help me decide on placement and size - come to think of it, you might just leave it at that as it was very hard to tell they weren't real at this stage! Don't think it would help the cooling though... I originally tried 1" holes, but eventually opted for 7/8" for mine. The smaller holes always have a more high-tech look for me, too big and they can look like stampings from old tractor wheels... but it's all personal.
I opted to place a hole directly next to the valve, which I convinced myself made more sense from a structural viewpoint - but I don't think it's critical. Do avoid placing them too near the outer edge of the wheel, though.
2) Pick one of your holes, mark the centre, and drill one pilot hole from the outside.
3) Turn the wheel over - it's easier to do the marking out on the concave surface inside, and I put a quick coat of white emulsion on for ease of marking. Cut a piece of MDF or similar to size and knock this firmly in place in the centre of the wheel. Carefully determine the centre of the wheel by means of lines through the stud holes and use a pair of large compasses to draw a circle around the inside of your wheel passing through the pilot hole.
4) Keeping the same radius, make up a giant protractor - I used an old chocolate box for mine and divide it up accordingly. For twelve holes, you will need to divide your circle every 30 degrees, which is easy (if you get your daughter to help). For cutting the holes I much prefer to use the separate types shown on the left, mounted on its own arbor - those at the top right can be rather flimsy. I bought a couple more cutters off e-Bay - where else? for less than &pound6 inclusive, labelled DART but seeming absolutely identical to the BOSCH item I bought earlier.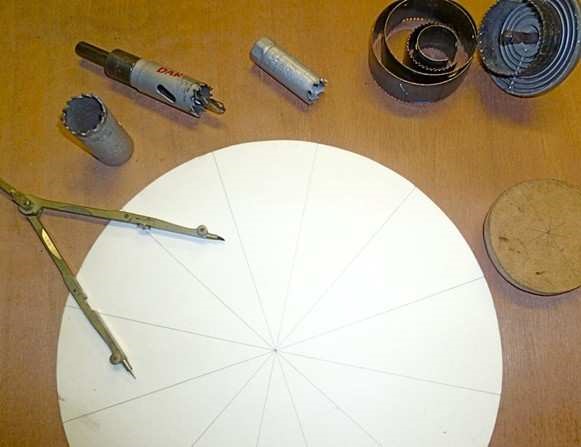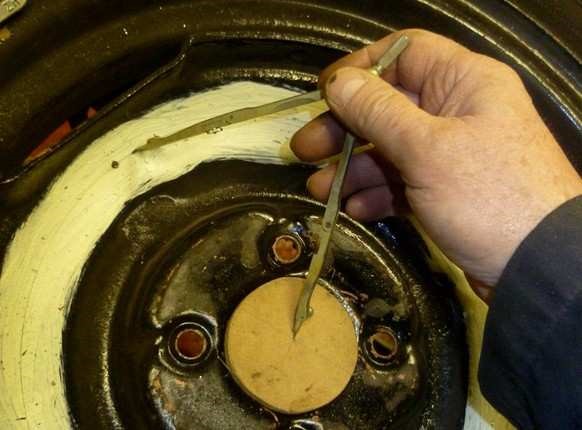 Selection of drills and other aids; MDF in wheel centre and marking circle on inside of wheel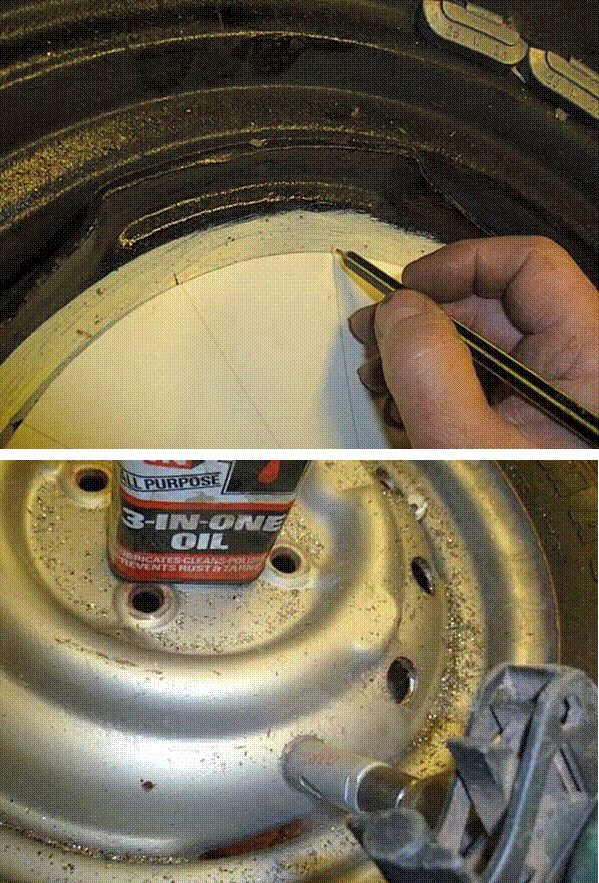 Using protractor to mark out hole positions; drilling main holes from outside of wheel
5) Line your protractor up with the existing circle/hole, and mark off positions on the circle for the remaining eleven pilot holes. Drill these through from the inside.
6) I found it easiest to drill the main holes from the outside. Probably best done on a pillar drill, but I couldn't be bothered taking all the tyres off! After getting the cut started, I used 3in-one as a cutting fluid, and my hand (electric) drill coped easily. A slow cutting speed should be used, but mine did seem to work rather better in the drills mid-range - I have no idea what that equates to in actual rpm. I was careful to allow things to cool down between each hole, but there was no sign of any heat build-up at any stage - the drill got hotter than the cutter!
7) The finished item. Beauty is in the eye of the beholder - I don't think my Triumph discs are powerful enough to overheat anyway that's hardly the point! Balance has only been very slightly affected, and was easily corrected with very little in the way of extra weights.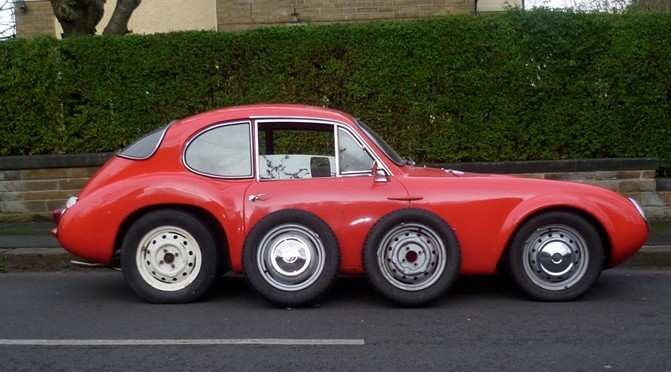 Options shown in this picture, from left to right are
(i) original Minor cream, 1" holes, no cap
(ii) Original Minor wheel, silver, with Minor cap
(iii) 7/8" holes, silver, no cap
(iv) 7/8" holes, silver, plain-centre (Tornado) cap, which allows for my round ROCHDALE MOTOR PANELS badges, when I get round to casting some more!
Thanks are due to Derek and Alan for moral support/advice in tackling this one.
Les Brown
ENGINE REBUILDING - HOW NOT TO DO IT
Les Brown
In early July of last year, having just made up to the full pension, I decided to give myself and the GT a treat with a fresh engine. I descended on the 1098cc big-bearing Midget engine lying at the back of the garage - it had an excellent reputation among those in the know, and was certainly a smooth-revving engine with plenty of torque for this application. Having fully stripped it down, condition was mostly not too bad, but some parts were showing their age and I had a few mild mods in mind.
A lightened flywheel would suit the lighter-bodied GT, slightly hotter cams were said to do wonders for this application, and I decided a dynamic balance would help the smooth revving side of things along. Having sourced a northern workshop advertising facilities to handle all this, I packed up my parts - all carefully labelled in plastic boxes - and went round, looking for some meaningful advice.
I was eventually persuaded that a full rebuild would be best, with a usual turn-around time of two weeks, depending on deliveries of parts. Since they specialised in the transverse versions of this engine, I would have to source my own clutch unit, and I had this delivered to them the following day.
Progress in the weeks following was zero, my parts gathering dust on their shelves, and after any number of calls, I was told that pistons were the problem: unique to this model, there were simply none available anywhere. (In fact, most parts WERE unique to this engine - head, valves, carburation, block, crank, bearings - virtually nothing from a standard 1098 A series fits directly).
By mid-September, supply was said to be impossible, had I access to pistons through owners clubs, etc? In one 5-minute phone call I had a set sourced, and delivered to them within two days. &pound136.80, but at least this would get things moving. I thought.
It was October before the engine was finally ready for pick-up, when one or two problems became apparent. The engine back plate wouldn't fit, the flywheel hadn't been lightened (it had already been taken to the limit) and wasn't fitted as I hadn't delivered the bolts (they said!) Now these aren't just any old bolt, but shouldered high-tensile versions retailing at around &pound2.50 each, and had been clearly labelled along with their locking tabs, which were also missing, and the flywheel had therefore never been fitted. So much for balance.
The bill I was presented, referred only to Mini 1100 engine with no mention of Midget Mk 3s, or what work had been done - for &pound1065 you don't expect a break-down, surely? Well, yes, actually I do, and was told they would sort out a more detailed, and accurate description of cam fitted, parts used, etc. I'm still waiting
Getting the parts home, I weighed the flywheel - at 7.5 kg exactly the same as the standard Minor unit I had taken out. I was able to use the Minor bolts, but the locking tabs were different as the crank was much heftier. When I asked what had happened to the originals, they had fallen apart on removal. That would be removal of the bolts you never had then? I made my own replacements from sheet steel.
The backplate problem was a result of fitting a later-type oil pump, fine on transverse engines, but problematic on this application with two large lugs sticking out at the top of the pump. File the backplate I was told, but this isn't possible because of the canister sitting over the oil pump there. I was eventually advised to file the aluminium lugs, which I did after carefully sealing holes and covering the crank. While decidedly displeased, I had no idea what an issue this was to later become.
From the start, the engine ran badly. The wrong oil seal had been fitted in the filter, which poured oil out as it was started: even with this fixed, the front crankshaft seal allowed considerable oil through and the timing cover was removed to replace it - restricted access under the GTs bonnet made all these jobs far from easy. A quick run round the block in the car proved it to be undriveable, with pronounced clutch judder and incredibly high pedal pressures. A call to the suppliers (Sports Car Supplies, again - I can't praise them highly enough) suggested a rogue clutch unit; they had a replacement delivered to me next morning, before I had even stripped the old one out! Just send the old one back when you are ready - that's the difference.
Things were improved with the new clutch and the car was at least driveable. I had missed all the deadlines the car was needed for (including a Granada TV film calling for a working-class sportscar based around Manchesters back streets). The only real trip the engine managed was in early March, in preparation for the Olympic Day in June. Both mine and Roger Coupes cars looked the part for the pictures outside Rochdale Town Hall, but Rogers brakes seized on when he got home (hydraulics) and mine blew its engine on the way back! In spite of not exceeding 40mph, things which had been bad on the outgoing journey went rapidly downhill for the return leg - oil pressure 20psi maximum, diesel engine note, and a reluctance to tickover (or even re-start).
A phone call to the suppliers confirmed my worst fears: the engine would have to come out again - WHAT? You drove it like that? with worse was to follow. Apparently, when I filed the pump, MASSES of aluminium filings had entered the engine, got sucked up by the pump, and wrecked the engine. I was sent pictures of trashed bearings, heavily scored relief valves, and also Blue Hylomar showing round the edges of gaskets, which had blocked the oil pump and caused the damage. Quite frankly, I didn't believe any of it, such loose sealant particles as were in the sump were black - ah, well, that's the heat that's done that to your Hylomar - and the metallic bits looked more like swarf than any filings.
Tempers were frayed, how could aluminium filings score hardened steel components? Oh, yes, they do! - I was told. Eventually they agreed to supply the labour for ANOTHER engine rebuild, but not pay for any replacement parts. Again I left the engine, most reluctantly, on that basis - Well, at least you'll be able to lighten the flywheel, this time, won't you? Fat chance.
While the now-familiar can't get the parts fiasco was again being enacted, conversations with knowledgeable friends cast real doubt on the credibility of their version of events. COULD the Hylomar I had used on the backplate turn black in 100 miles, and block an oil pump? No way came back the reply from their technical department There doesn't appear to be ANY excess around those gaskets, and it wouldn't turn black in any case - we don't believe it's possible.
Similarly, I sent the photographs to Vandervells technical department, could soft aluminium filings do this, not just to the shells, but to hardened steel parts also? Basically, no. This damage is characteristic of that caused by very fine, hard particles like steel. Aluminium particles would not cause that type of damage as they are much softer and tend to collapse on the surface of the bearing leaving at worst a few shallow pits and little or no scoring damage.
I sent copies of the two reports back to the manager, saying I did not see why I should be charged any further for what was clearly not my fault, and as I would be in on the following Tuesday to pick up the engine, I would like to discuss matters with him then. By this time, entering their shop was somewhat like the scene where the gunslinger kicks open the saloon doors: the music stops, everyone looks the other way and runs around pretending to be busy. The rudeness - customers are studiously ignored for as long as physically possible - I was used to by now but was eventually told the engine could be picked up from their workshops.
Have you done the flywheel this time? Oh no, it's much too big for our lathes! No surprise there, then. I was given a bill for a further &pound160 for such parts as they had managed to obtain (not including my extra &pound136 for yet another set of pistons). On producing (another) copy of the reports and asking for the manager I was told You can't do that now! Not when we have finished the work - we have never seen those reports (another tip: always send crucial documents by recorded delivery). Yes you have, here they are, signed for on 31st March.
After two trips to the backroom, my Vandervell report - well, my copy of the e-mail - was returned marked with the dealers stamp and ALL WARRANTY NULL AND VOID scribbled across it in ball-point with obvious angst. Take your engine. We don't want to see you here again. There is no guarantee. I'll take my engine. But you can't ignore that guarantee. I have paid well over &pound1000 for an engine that has only managed 80 miles so far, the Sale of Goods Act makes it your responsibility, and we have two solicitors in the family. As regards seeing me here again, let's hope the engine is a little better put together this time!
And is it? Well it certainly runs better than last time, and has made it past 200 miles so far. Oil pressure is still not impressive at 40psi warm and I have even bought a new gauge to see if that is part of the problem. I'll reserve judgement for a little while yet, then.
Would I recommend them? What do you think? There wasn't a single aspect of the service I would say was satisfactory. And their name? MINISPORT of Padiham - and don't go confusing that with MINISPARES, they are a different firm entirely.
Note on oil pump.
I had the same problem fitting a new oil pump as Les. Its body has 4 lugs in square formation, though only 3 fixing holes (at 1:30, 4:30 & 7:30). The old pump had only two holes so I drilled & tapped the block for the extra hole. To get it to fit I trimmed the side of the lug at 1:30 until it was flush with the screw head and trimmed the side of the lug at 10:30 until only half the hole remained (ie I cut it down to the diameter of the hole). I found it would then just fit inside the top hat cover in the backplate. The centre of the pump pushed the centre of the cover out by a little (maybe 0.5 - 1.0 mm), but there was just enough give for that to be OK.
Alan Farrer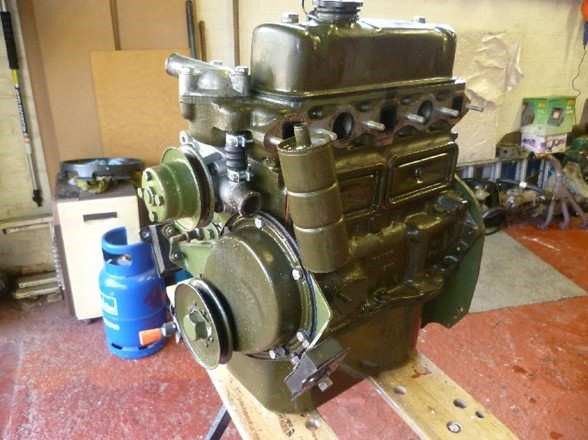 The engine looks the part but that's about it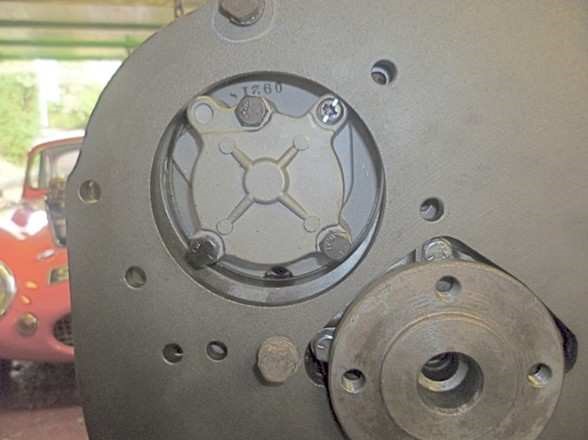 The later oil pump
TECH TIPS
Electrical Head Scratchers
Michael Horsley
Had a couple of electrical problems on friends cars recently, neither of which was serious but both involved a little head scratching.
The first had all the makings of a fuse failure but all the fuse holders were sound and clean, as were the fuse terminals. This particular fuse was of the old slim glass tube, fuse wire down the middle, metal cap ends, type. The fuse wire itself was intact but a change of fuse same style, same rating - cured the problem. It was only when looking at the faulty fuse later that I found the reason the fuse wire had become detached from the inside of the end cap !! Never had that happen before or since but it does explain why everything looked good. So, as Sherlock Holmes may or may not have said, when everything else has been eliminated logically, whatever remains however unlikely - must be the reason.
Second one was also one of those where nothing appears wrong. All the wiring in place, clean terminals and so on. Decided to check and clean if necessary the earth connection to the metal bodywork that the answer appeared. The earth wire had actually become detached from the inside of the terminal. Little wonder there was nothing to see!
So, the moral is don't believe it's good just because it looks good!
Resetting an odometer
Alan Farrer
Although the tripmeter on my Phase 1 was OK the odometer was not working, so a strip down and repair was needed. I removed the instrument and took it apart. This was difficult as the bezel had been fitted using a hard-setting compound and the works were smeared with a stiff black mess, which appeared to be a mixture of rubber (from the sealing gasket) and oil (from the drive cable?). I chipped off the hard stuff, wiped off the black mess with a solvent-soaked cloth and dismantled the thing. They are certainly not simple no wonder they are called clocks.
The odometer had failed because someone had tried to wind it back and had bent the delicate leaf springs which control the action of the digit wheels. I managed the straighten them and get it working and reset the mileage to 400. It's very easy to reset one of these Smiths odometers, but needs to be done with care. Cut a strip of thin card or plastic the same width as the display and slide it carefully under the cylinder assembly. This pushes the springs away from the back of the wheels. Then wind each wheel to zero with a fingernail, remove the card and jiggle the wheels into line. Job done.
I am baffled by the urban myth that odometers can be reset using an electric drill. There are two obstacles: 1) all the odometers I have seen use a ratchet arrangement, so they can only wind forwards, even if the cable is driven backwards 2) most speedos are geared at about 1000 revs per mile, so a normal drill speed of 3000rpm equates to 180 mph. It would therefore take 55 hours to change the odometer by 10,000 miles running continuously. In practice it would need to be driven well over 10,000 miles to go past 100,000 miles and up to a believable value. Worth it? I think not.
EARLY ROCHDALES
Well, another issue and another large amount of new finds and interesting snippets of information for your perusal. I thought I'd start with headlining my articles every quarter with a copy of an early Rochdale advert. There are so many it will take a few years to show them all but I think it will be quite interesting to look through them all.

Before we delve into the article I feel I must paint you a little picture about my surroundings; as most of you know I'm currently living in Cyprus, the sun is shining and the gin and tonics are flowing around the pool of my rented villa! This is going to be one of my most pleasurable places to write this article so I hope the spell checker works as the drinks become more frequent! Abandoned classic cars are around every corner you turn here, it would be a restorers dream for all our members if Cyprus was located across the channel and it's difficult to drive by without having a quick stop and look (much to the annoyance of my long suffering wife), if only I could bring them back to the UK. I don't think I will ever see a Rochdale lurking under any hedgerows but you never know, the ROC do know of a Rochdale GT in Greece, maybe I'll pop across the
Mediterranean to have a look, with the potential collapse of the Euro I might get it at a good price! Anyway, enough of me let's start where RMP started, the Rochdale Mark II
ROCHDALE MARK II - PMA 134
To those of you not familiar with the MK II Rochdale bodied Austin 750 cars I'll give you a brief synopsis of this particular part of RMP history. The story started when a friend of the Rochdale Motor Company introduced Frank Butterworth and his friends to the joys of motor-sport, in the form of the 750 club. This 750 club has a long history and is best summed up from the historical section of its website which reads:
The 750 Motor Club was formed in 1939 as a means for impecunious Austin 7 enthusiasts to meet each other and talk about things Seven-ish. It wasn't long before such discussions led to competitive rumblings, but for the financially challenged membership these naturally had to involve an extremely small outlay. Such competition therefore took the form of road rallies and trials, although the 'specials' builder was already in evidence at circuit meetings.
The outbreak of WWII bought all forms of motorsport to halt, but the club continued to meet at pubs in the London area, albeit with most of the membership arriving on bicycles. After the war, the club continued to grow under the leadership of Chairman Holly Birkett who, in 1949 was to come up with three ideas that were to have quite an influence on motorsport at the bottom end of the scale. The first of these was that a consortium of the lesser motoring clubs should band together to organise a race meeting at Silverstone, which up until then was the sole preserve of the bigger and longer established clubs.
Thus was born the Eight Clubs Meeting. Secondly, Holly came up with the proposal of a 750 Formula, a two seater sports/racer powered by the 750cc Austin Seven engine and based around the Seven chassis. This provided an outlet for the skills of the home constructor and specials builder, and a number of what are now well known figures in international motorsport started life as club members. Perhaps the most famous of these was Colin Chapman whose innovative interpretation of the regulations allowed him to blitz the opposition by "de-siamesing" the inlet ports of the Austin Seven engine!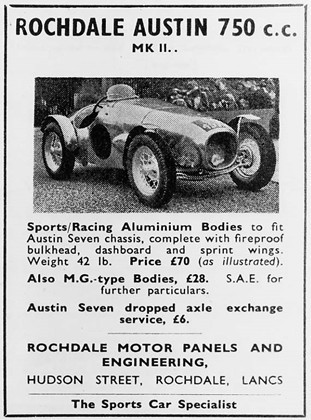 Holly's third idea was for a six-hour relay race. Nearly 50 years on and both races are still being run, and the 750 Formula still attracts the home constructor/racer but with power coming from the 850cc Reliant engine.
(Now the Fiat 1108cc FIRE engine too Ed)
As a result of the introduction to this area of motorsport, Rochdale Motor Panels started to produce a small number of aluminium bodies called the Mark II to fit the Austin 7 and other one-off competition specials (advert left). With the support and business, the Mark II brought they were even able to field a team at the 750 Club's Six-Hour Relay race, which they won!
The last time I wrote about the Rochdale Mark II was when Tony Stanton managed to find a picture of PMA 134 which I hadn't seen before (ROC Mag Summer 09) and yet again Tony has been busy and the picture he sent me below is a new one to me.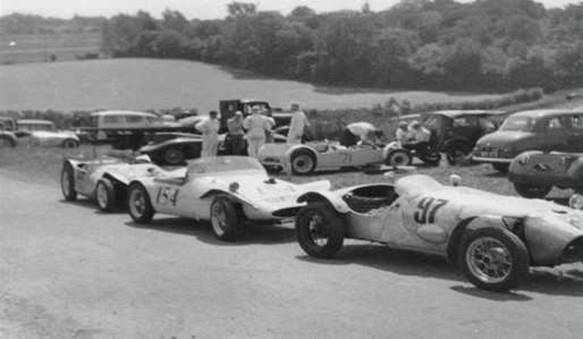 This is a brilliant period picture, but it has taken the hawk eyes of Tony to spot that the Austin 7 based car at the front of the picture is actually the Rochdale Mark II registered PMA 134. It is estimated that 16 Mark II bodies in total were produced with four known survivors and this cars aluminium body shell is currently sitting with Keith Hamer waiting patiently for a restoration. Keith Hamers website states the following:
This one is going to take some pulling off; we are working with a 1934 long wheelbase Austin Seven rolling chassis which did have a special body fitted. However, the body wasn't the prettiest of things and we just happen to have a spare Rochdale Mk2 body lying in the workshop (PMA 134).
This body is quite famous in its own right having once been fitted to a 1952 750 formula car which was campaigned extensively in the '50's by Dave Rees. By the mid 1980's the body was 'past its best' and the car was re-bodied by Dave Gregson (pictured Below) and the original body was put to one side as can be seen to the left of the picture.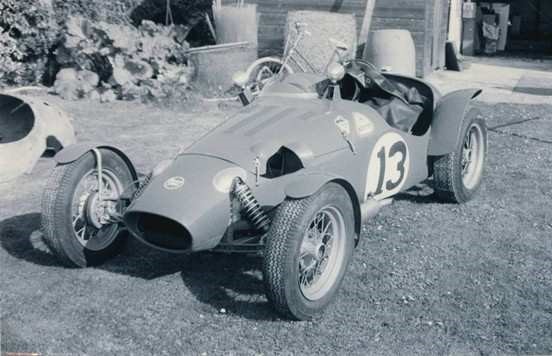 Further to this, you can see from the picture below that we have quite a mountain to climb. The first job is going to be salvaging as much of the original panel work as possible and making a new steel frame and dash bulkhead. This will then be fitted to the existing long wheelbase chassis prior to the aluminium being test fitted. Once this is done and a new floor made up the rolling chassis can then be sent across to our aluminium body expert to make up a new nose cone, bonnet and side panels.
If PMA 134 looks as pretty as the professionally restored Mark II Rochdale registered CVR 418 then it will be a very nice car indeed. An extensive history and picture of CVR 418 is detailed in the Autumn 09 ROC magazine along with UA 4978 which currently resides in America. If PMA 134 looks as pretty as the professionally restored Mark II Rochdale registered CVR 418 then it will be a very nice car indeed. An extensive history and picture of CVR 418 is detailed in the Autumn 09 ROC magazine along with UA 4978 which currently resides in America.
I wrote to Keith to find out the latest progress on this shell: Keith writes:
The old body off PMA 134 is currently in my workshop and is owned by a good friend of mine Mike Faloon, the intention is to re-create a Mk11 using the remains of the original cars body. It will not however become the original car as that is still in existence, owned and occasionally raced by Jean Rees the widow of the original builder Dave Rees. The Mk11 body has already undergone some remedial work and we are currently replacing the lightweight steel framework on which it is mounted.
This frame is being fitted onto a 1934 long wheelbase Austin Seven chassis, and the body will eventually be fitted to this car. We will have to manufacture all the front panelwork including the nose and bonnet which, like the rest of the body, is in aluminium. As this project is being done in my spare time it is going to take some time to finish.
I look forward to seeing progress on this early piece of Rochdale history in the future, good luck Keith!
HRG C Type
When you open your email inbox and you see an email from Les Brown with the title A Treat you know it's going to be good, and good is an understatement! Les had an opening line of Hi guys, are you ready for this with the following email:
Tony Gibson Writes:
I was looking at your Rochdale web site and noticed that you did not mention Rochdale shells other than the GT. I bought one of their Fibreglass bodies cast from a 1.5 litre Connaught as driven by Moss about 1954-56. They made it to fit a HRG chassis (which required it to be stretched about 12in by lengthening the centre section). This was quite successful if somewhat spartan. The body was fitted in 1956 and I used the car daily in the UK until I moved to Canada in 1958.
Whilst I was at Rochdale I suggested that the rear window in the prototype GT body could do with being made larger, and they altered it!
It was shipped by boat to Montreal and I drove the car by very rough Northern roads to Winnipeg (the body had to be re-attached half way) then it was used daily and for mild competition, until moving to Halifax in 1966. The body survived in temperatures from +100 to -50 F, including a number of ice races on the Red river. The car was laid up from1967 until I made up an original style body for it in the late 80's. I have attached a photo of the car taken with a Morgan in Winnipeg about 1960. Best wishes. Tony Gibson.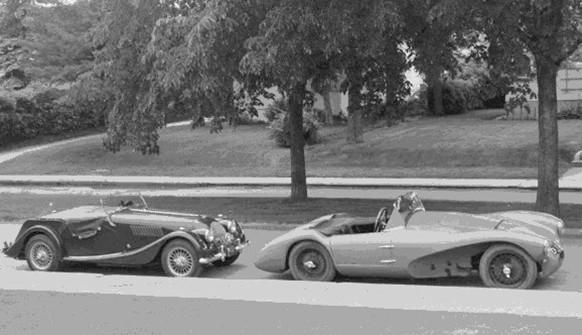 Les Brown writes:
Did we know about it already? I know I didn't, what a long car that HRG must have been - just look at that door compared with the other C-types we know. And how much bigger than the Morgan. I have been hanging on, hoping for more details from him, but still waiting!
Malcolm Mackay writes:
Wow, that is absolutely fabulous! Yes, you can certainly see the stretch in the door, but it made it a more practical touring car - the C-type was after all built as a racing shell, I think he even used the original HRG windscreen, with additions tacked on! I guess the idea was to make the HRG look more modern, as it was a very old-fashioned-looking body (apart from the super-rare Aerodynamics and experimental Twin-cam). It was probably less than 10 yrs old when he fitted the Rochdale body, but what a contrast. I wonder if he kept the C-type body and what was the car's UK reg? It clearly begins with a D, but no idea from the photo of what comes after that. I certainly didn't know about it already - excellent news and a great addition to the Register - thanks!
To have another C Type to add to the register is very rare indeed and not something that has happened since I have been involved with the early Rochdale articles. I can't wait to add to the history of this car and hope Les manages to get some more information by the next magazine. The simplest things make me happy but it's like finding that piece of the jigsaw that has been hiding down the sofa for the past 5 years!
NEW ROCHDALE GT - VAW 723
I have been collecting various for sale adverts and articles from period car magazines for the past few years in the hope of tracing new cars not known to the register, also filling the history on other cars on file. This particular Rochdale GT lead came from an advert in Motorsport Magazine from 1961 and can be seen below:

I wrote to the address to see if the present occupier was Mr Craig or if the occupants knew anything about the car advertised. As it turns out Westwood Farm has stayed in the same family hands since 1961.
They write:
Dear Mr Farrington, thank you for your letter regarding the advert selling my father's Rochdale car in April 1961, he would have been 22 at the time. Unfortunately, my father David Craig passed away two years ago. None of us know of any details to help you with your research. However, we have found three photographs of the car, which I have attached to this email. I hope this is of some interest to you, yours sincerely, Andrew Craig.
I write:
Andrew, very many thanks for your reply, firstly, I'm sorry to hear your father is no longer with you and I really appreciate your efforts in responding. I have quite a few adverts I am trying to trace from the 50's and 60's and most are with little success. I am absolutely thrilled that not only have you been able to find photo's but they also show a number plate of the car, it is not currently known to the Rochdale Owners Club but with over 1500 GT's produced we are only aware of 250 so the chances were slim. What it does do though is allow us to register the details and possibly confirm the identity of an unregistered shell from engine components, locations of lights, mirrors, windscreen wipers etc. Everything helps and I really appreciate the trouble you went to.
Malcolm Mackay writes:
What a shame that one seems to have vanished too. It looks a nice car, albeit more basic in spec apart from the shocks and remote linkage. Interesting that he bought a grey gelcoat shell and painted it dark blue. Nice to see the dashboard completed as RMP intended, with the two glove pockets, all the best, Malcolm.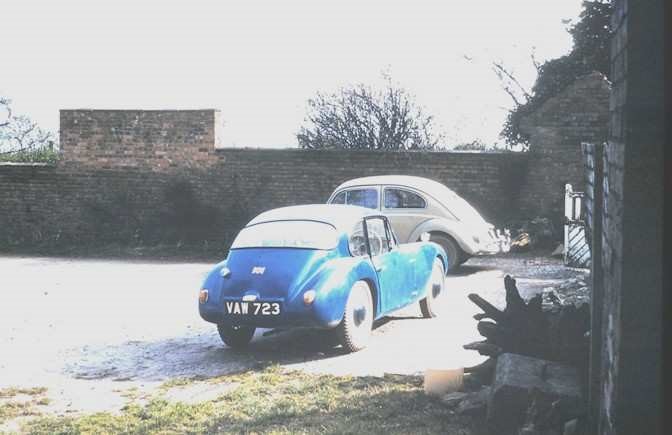 NEW ROCHDALE GT - TAJ 472
The massive library that is the internet has come up trumps again and has provided information on a new Rochdale GT to the register. It was hidden in an about me section on the users website and included a selection of cars he had owned throughout his past.
I wrote:
My name is James farrington and I am one of the registrars for the Rochdale Owners Club. I have seen the photo of the Rochdale GT you used to own on your website and it certainly looked pretty smart. The Rochdale Owners Club don't have record of this car but with an estimated 1500 GT shells produced and the club only having record of 250(ish) it is not a surprise we have no record! I have checked the registration details but unfortunately no record currently exists so the car may still be around but may have been off the road for some time. There may be a chance we know this car from one of the many unregistered shells we are aware of and it would be good to try and match it. Do you have any other photos or interesting stories about the car?

Phil Writes:
First of all can I say I was both surprised and pleased at receiving your email - I'm surprised you came across the old web site? Unfortunately, I can tell you very little about the car, but here goes.
It was purchased for me by my father around 1968 when I was just 20 years old and I'm afraid I've have no recollection of where it came from. We spent some time 'doing it up' - nothing too serious - to get it MOT'd and then painted it red with white triangular flashes on the top surface of the front wings. Mechanically it was fine - I think it was a Ford 10 side valve engine that had a Ford 8 cylinder head fitted to raise the compression ratio. I remember acquiring a pair of twin SU carbs with inlet manifold that helped increase performance.
I had great fun driving it for several months before selling it to a young journalist who worked on the local 'Durham County Advertiser' in Durham City. As I recall the deal took place on a Friday, and early the next morning the police arrived at my door thinking me to be the registered owner.
I explained I had sold the car the previous day and posted off change of owner docs to Swansea. They then told me that the car had been in a serious accident a few miles out of the city, luckily the driver escaped unharmed but the car was a write-off.
I drove out to see the scene of the crash - it was heart breaking to see my pride and joy as the [now hot Tango] body shell had been 'smashed to smithereens' and was strewn across a field where the car had landed after going through a hedge and taking off before crashing and rolling all over. Not a happy tale - but I'm afraid that it was beyond repair and taken away to the scrap yard. Sorry I can't give you any more relevant information for your records. Cheers, Phil.
I write:
Very many thanks for your prompt response, it is surprising how many cars that we can't determine their final fate so although your story is disappointing it does enable me to put a full stop into the history file of this car! You mention a few interesting snippets of information that might go a long way to identifying this bodyshell before the accident so thanks for that. If you ever want to relive your youth then let me know and I'll forward you information on any GTs that come up for sale.
Malcom writes:
That's a great period GT shot! Dig the groovy stripe not quite sure why there's another black stripe at the bottom of the grille opening, but never mind! I also wonder what all the lumps in the bonnet are for; I suspect distributor cap and air cleaner; most people swapped the top-entry dizzy cap for a side entry one and threw away the air cleaner, so they didn't need to cut the bonnet, but each to their own!
The bonnet strap is a very wise addition (I wonder if it was from personal experience of the dreaded GT flying bonnet...). Spotlight, radio aerial, 'racing' wing mirrors, brilliant! Only one wiper, though - looks like there's a spindle for the other so maybe it had flown off (or was removed to improve the aerodynamics/top speed!).
Information is still appearing on early cars at a promising rate so I once again ask all ROC members to keep an ear to the ground and inform me of any Rochdale related information they hear about, no matter how small. The history is fast disappearing so if you have any information on your car that I can add to the early Rochdale database then please scan and send it to me on james.farrington@talktalk.net.
Happy Rochdaling and good luck for the Olympic torch event at Rochdale, a shame I can't be there for this historical event that will bring Rochdales back into the limelight.
ROCHDALES OTHER PRODUCTS
Whilst Rochdale Motor Panels are best known for their car bodies, in common with other fibreglass companies they also ventured into industrial GRP products.
One such product was a portable water tank that could be towed behind a car or truck. The water tank was moulded in GRP and mounted on a fabricated steel chassis frame. Suspension was by Flexitor units, which were of a bonded rubber construction. Flexitor units were manufactured by the Moulton group, later of course to supply the suspension for the Austin/Morris Mini.
Flexitor units were also used on the Austin Gipsy, Austins competitor for the Land Rover, which never provided too much competition and was dropped after Rover was absorbed into the BMC organisation.
At least one much larger static water tank was produced and the photos of this being towed to the customer behind the companys Vauxhall Victor have to be seen to be believed. I can only assume that it was a short journey and a calm day!
A range of Workmans Huts, of a simple inverted 'U' shaped cross section, with plain ends and hinged door were produced for site use. Obviously security was less important than as they appeared to be far from thief proof. It is believed that both products were sold to the Wimpey organisation and were used extensively during the redevelopment of Rochdale town centre.
Sharps Commercials, the company who produced the Bond Minicar, were based in nearby Preston. Early versions used an all alloy body, but by the time they reached the Mark C in late 1951, the rear wings and some other body parts, including the bonnets were changed to a GRP construction.
Rochdale Motor Panels secured the contract to produce these and jigs were made in September 1954. To cope with the level of production they needed to increase their workforce. I believe these were unskilled, mostly women (and presumably low paid) and the quality of the mouldings sometimes suffered.
Looking at one page of the factory Ledger, between December 1954 and March 1955, some 700 pairs of rear wings and 539 bonnets were produced and supplied to Sharps. However, the rejection rate from Sharps was fairly high and looking at the same period 89 rear wings and 33 bonnets were returned for rectification. Quite what rectification entailed is unknown, but knowing Harry Smith this would not have involved throwing them away!
The wings were sold for &pound2-13s-8d (&pound2.68) per pair and the bonnets for &pound2-18s-8d (&pound2.93)
Nevertheless, as some 6,700 Bonds of this marque were produced up to 1956, this obviously represented a profitable business to RMP. Bonds then changed the body style completely and RMPs contract came to an end.
Incidentally, the Bond was also fitted with the Flexitor suspension units at the rear.
Sharps Commercials were also part of the Loxhams group that were later to supply the BMC parts for the phase 1 Olympics.
Rochdale Motor Panels also went into the caravan business under the Vale name, although these were of the traditional aluminium construction.
OLYMPIC REGISTRAR
Rochdale Olympics seem to have more different engine changes that most marques. One such car is EUE 675C.
It is a Phase 2 and was built up by Bruce Foster, then living in Warwickshire in 1964/5. I assume from the specification that it was not supplied as a complete kit. At the time of initial build, it was fitted with a 1500cc BMC engine sourced from an MG Magnette.
An MGA Twin Cam, 1600cc engine was then obtained, in bits, via an advert in Exchange & Mart. (What would those of us interested in unusual cars in the '60s and '70s have done without this august publication?).
The engine was rebuilt and fitted in place of the original. This engine was, for its time, a high performance one which produced 108 bhp instead of the standard 68 bhp of the Magnette engine. Unfortunately, it was under developed by BMC and suffered from melting pistons and heavy oil consumption amongst other things. From the information I have read the oil consumption at least partially stemmed from a poor choice of piston rings which were later changed.
BMC recommended the use of 100 octane petrol and initially suspected the distributor of over advancing the ignition. This was changed, to no avail and in desperation they lowered the compression ratio to 8.3:1. This only masked the problem rather than cure it. It of course also reduced the power output slightly.
The problem was eventually traced to the engine running lean due to frothing of the SU carburettors, which leaned out the mixture. This was caused by engine vibration that occurred at about 2,500 and 5,500 rpm, the latter being more the more critical one. Some engines also suffered from fracture of the tappets.
There were other smaller problems and apparently if pressed BMC would exchange it for a normal pushrod engine under warranty.
All in all a case of an engine developed for racing but put into production without adequate testing! When the warranty claims appeared the engine was dropped and only some 2,000 were sold.
During Bruces ownership the car was used extensively, touring the country from Cornwall to the Lake District and even as far afield as Spain. It was sold with marriage on the horizon in 1967. Bruce subsequently emigrated to Australia.
It was sold to the Cotswold area and then moved to Norfolk and at some point, unfortunately, lost its MG Twin Cam engine.
In 2001 it was acquired by Les Elliott, then spares officer for the ROC. The cars registration number had by this time changed to VAZ 5915.
Les had already rebuilt a phase 1 (BPL 125) and also owned a Bonglass Special (which would of course later become the Rochdale ST).
No doubt through his contacts as an Insurance assessor, Les acquired a written off Sunbeam Lotus and proceeded to fit the 2 litre Lotus slant four twin cam engine into the Olympic shell. It is not certain whether this engine swap was ever completed, but the car then moved on again in 2010, this time to Richard Foreman in Shropshire.
Richard carried out an extensive restoration of the car and this time a Ford cross flow engine appeared under the bonnet. I believe the car has just changed hands once again and has now joined the collection of Nigel Hector.
Progress on my own Olympic has slowed almost to a stop unfortunately. The only work carried out recently is an attempt to remove 50 years of oil and grease from the inside of the transmission tunnel. I have some re-glassing work to do in this fairly highly stressed area, so a clean bond is essential.
I started off using the five-year-old petrol drained from the tank. I then thought that perhaps I should use something cheaper, so purchased a half litre can of degreaser from the local accessory store. However, when my brain subsequently kicked into gear I realised that at &pound6.95 this was considerably more expensive than petrol at &pound1.45 per litre!! Oh well, back to the original idea!
The current edition of Practical Classics contains a brief Buyers Guide to the Rochdale Olympic. It is only a single page, but all good publicity for the marque.
In the last edition I mentioned Alan and my trip to see the phase 1 Olympic DGU 954H which Mark Evans was intending to sell. I understand there have been second thoughts and a rebuild is now under way.
Thanks to Bruno Meier I have recently received information on two Olympics that currently reside on the other side of the channel. The first is a Phase 1, which was originally registered BPL 125. It was purchased in 1961 by Boon & Porter Ltd (presumably accounting for the registration number) who were Riley dealers based in south London. Penelope Porter, the daughter competed in the car, both at the Brighton Speed Trials Prescott, and possibly elsewhere.
By 1996, having passed through a number of owners, it was acquired by Les Elliott. He carried out an extensive restoration and kept the car for about 5 years. Two further owners followed before the car was sold to Markus Tanner in Switzerland.
From the photographs I have seen the car has undergone a further restoration and now looks superb, both inside and out. Its B series engine also seems to have acquired a period supercharger, which must make it a real flyer. I understand the pictures were from a recent photo shoot and an article will appear in a magazine shortly.
The second piece from Bruno is a copy of an article in the March 2012 edition of the French Magazine Auto Collector. It features the Phase 2 belonging to Alexandre Contat from Maupas in France.
This car was originally registered TLG 832D, but its history prior to 1970 is unknown. The car has had a varied history, including a spell in California in the early 1990s. Again, the car has been nicely restored and finished in what looks to be French racing blue. I am working my way slowly through the translation (it is nearly 50 years since I learnt French at school!!) There is no doubt that our European colleagues seem to be prepared to spend considerable amounts of money on restoring our sort of car.
The recent Prescott weekend featured two Olympics, namely Tony Wrights phase 1, 779 CUG and Alan Farrers latest restoration 279 CWD. This was the first long journey that Alan had undertaken in his latest Olympic and I understand the car performed faultlessly and even returned 45 mpg. This is slightly better than that achieved by my similarly engined Turner that weekend, but then I suppose an Olympic is more aerodynamic at speed than an open Turner.
Alan was of course fresh from winning Best paintwork at the recent Bristol Car Show. Certainly the bright green finish is outstanding. The other car on the ROC stand at Bristol was 1523 DF, Ros Kings Phase 1. For those of a certain age this will always be the ex Stan Hanks Olympic. The bodywork has been nicely restored, but judging by the petrol can fuel tank there is still some mechanical work to do.
I recently received copies of period race programmes, amongst which was an Olympic driven by a Mr A Arnold at Oulton Park in June 1961. Mr Arnold of the Union Street Garage, Ardwick, Manchester purchased a white Olympic in early 1961 and fitted a Coventry Climax FWA engine.
This is the only Olympic on record fitted with such an engine. The car was registered 9735 NC. Whether the car was not successful or plans changed is unknown, but it was advertised for sale, with or without Climax engine in October 1961. The subsequent fate is unknown.
I do not buy any motoring magazines on a regular basis now, however, a friend passes on Autosport after his son has read them. Marcus Pye writes a regular column on club motor racing and I immediately spotted in the 5 April 2012 edition a picture of Mike Youles Olympic. Marcus tested it at Silverstone and commented favourably on its handling. I quote The course is a devilish melange of cambers and curves which the Rochdale lapped up.
He then mentioned that this was not his first trip in an Olympic. Apparently some 45 years previously his late stepfather Mike Salmons had built a blue Olympic in a south London lockup. Marcus recalls a trip to Silverstone aged about 7 in the Olympic. A look through the ledger revealed that indeed a MHE Salmons, of SE24 took delivery of a Blue Riley 1.5 engined Olympic kit on 13th June 1962. Marcus had apparently always joked since that a Porsche 928 is a Rochdale Olympic V8!!
I shall be contacting Marcus to see if any more information is available on his fathers Olympic.
Derek Bentley