MAGAZINE No 129 SPRING 2012
Edlines
Sad to see the passing of three car personalities remembered in this issue. A reminder that nothing is for ever, so get on with your projects (and life) before it is too late, and before you go why not share your motoring memories with us, Rochdale or otherwise.
Spares Update
Nigel Whittaker, who has been Spares Officer since 2001, is stepping down and John Plant is taking over see inside cover for details. I would like to thank Nigel for all the good work he has put into this job and to thank John for stepping into the breech (breach?). Please refer to John for either of the following:
Phase 2 subframes
These are now available and can be collected at the AGM, so if you need one let John Plant know in good time.
Phase 2 body moulds
A reminder that part moulds are available for the repair of corners of the shell. The repair sections comprise full front and rear quarters, rear section and roof. Thus most of the external bodywork may now be replaced by fresh panels taken from these moulds, most of which would also be suitable for a Phase 1.
A Rochdale GT has just come on to the market see p 45
TONY STANTONS NEWS & EVENTS
North Worcestershire Classic Car Meet
The Bowling Green Inn, Shaw Lane, Stoke Prior, Wychbold, Nr Bromsgrove, Worcs. B60 4BH.
From 12.00pm Sunday 18th March 2012
From 12.00pm Sunday 15th April 2012
From 7.30pm Monday 21st May 2012
From 7.30pm Monday 18th June 2012
West Warwickshire Classic Car Meet
The Moat House Inn, Birmingham Road, Kings Coughton, Nr Alcester, Warks, B49 5QF.
From 11.00am Sunday 25th March 2012
From 7.30pm Thursday 26th April 2012
From 7.30pm Thursday 31st May 2012
From 7.30pm Thursday 28th June 2012
Stoneleigh Kit Car Show Sunday 6th & Monday 7th May 2012
Just to let you know I have reserved stand Number 39D for all
HISTORIC SPECIALS AND CLASSIC KIT CARS built before 1973 at the N.A.C. Stoneleigh Park, Warwickshire, Sunday 6th and Monday 7th of May 2012, from 9.30am till 5.30pm. (May Day Bank Holiday weekend)
Come to the main vehicular entrance which is located on the B4113, the Coventry to Leamington Spa road (follow signs for clubs and exhibitors (do not go into the Public car parks). post code CV8 2LZ.
PLEASE tell everybody you know with a suitable car and place details on websites if you can, let's have a good turnout of Rochdale cars.
Contact tony-stanton@fsmail.net
SILVERSTONE CLASSIC on July 20th, 21st & 22nd 2012.
In conjunction with the F.S.C.C. we have secured a designated display area within the Historic Grand Prix circuit at this 3-day event, and we are seeking further club marque cars to join us on display during the weekend. www.silverstoneclassic.com
Featuring 22 races, 800+ competitors, and 600 of the most valuable race cars and motorcycles in the world. On top of the mouth-watering line-up of races lasting between 20 minutes and 1hour each, starring the very best single-seater, GT and Touring Cars from the past 80 years, the entire infield will be packed with more than 4000 classic cars showcasing in excess of 50 famous marques. There will also be a period funfair, air displays, trade stalls, live music, barbecues and more than 30 hot air balloons are set to fire up for their traditional morning and evening fly-outs.
DUFFY and I have been to this fabulous event for the last 7 years and I think it is better than Goodwood. You can walk around the paddock and in the pit garages at any time, talk to the drivers, watch the mechanics working on the cars close-up.
To enter your club car in the FSCC/ROC display area please contact tony-stanton@fsmail.net and I will issue the club reference number to quote when booking tickets and Marque car passes. So you get 2-4-1 (you buy 1 get 1 free + club car passes) for the best price on tickets, order before 31st March 2012.
(If anyone would like a price ticket for Friday, Saturday or Sunday please give me a ring)
Olympic and Owner from the past discovered.
At the Classic Car Show in November I met Neil Smith who owned Olympic Phase 1 reg 100 EXC from 1967 to 1970. Below is the e-mail he sent me about his time with the car.
Hi Tony, 30-11-2011
It was a pleasure to meet you at the Classic Car Show a couple of weeks ago. I promised you some pictures of my old car, a Phase 1 Olympic Registration 100 EXC. Here they are! I am sorry about the delay in communicating, but I took the pictures in about 1970, and it was a case of I knew I had them somewhere...! Anyway, hopefully they are what you want.
It was fascinating to peer into your database and see the history of The Egg as my wife calls it. This was the car that I owned when we first met, and our courtship was carried out to the accompaniment of me performing remedial maintenance on the car every time we went out in it. It had such a low ground clearance that I kept knocking the silencer off on the slightest bump in the road, so I always carried a repair kit consisting of strips of tinplate cut from pea cans, some large Jubilee clips and a tin of Gun-Gum. I came to know every threatening irregularity in the road surface between Southampton (where I lived) and Basildon (where my wife-to-be lived) so I could put the nearside wheels up to avoid the silencer grounding on my fortnightly trips to meet up!
As for driving it, I remember it having a very close ratio gearbox with tall ratios, giving about 50 mph in first, 80 in second, 100 in third and 120 in top. This of course meant that it was slow to get away from traffic lights, but then it sailed past everything and anything else as the MGA engine got into its power band! It was however a beast to drive slowly since it invariably overheated if you went slower than 30 mph, and we would often draw up in a cloud of steam as it boiled up and pumped out water from the relief valve on the header tank. Happy days!
In retrospect, this tendency was probably not helped by the rectangular yellow fog-lamp I installed behind the radiator grille, which you can see in the pictures! The other strange thing was that the drivers seat was located in a multi-slot rack on the floor by what I can only describe as two curved prongs. This meant that if you weren't careful when replacing the seat, it would tip over backwards as you accelerated away which left you staring at the headlining whilst the car sped on. Embarrassing!
The car was sold in 1970 and the proceeds (about &pound250 as I remember) paid for our honeymoon in Jersey! You'll also see that it only sports one wiper blade. I removed the passenger side one after a holiday in Scotland in 1970 when in torrential rain the passenger one reverted to wiping an attractive arc across the bonnet instead of over the screen and couldn't be persuaded to go back to its rightful position. Shortly after that, the driver's side one packed up too, but I remembered the old trick about wiping a cut potato on the screen to try to disperse the rain. It didn't work then and probably doesn't work now, so I ended up driving to our destination in typical Scottish summer weather with my head out of the window!
It is a pity that the car was apparently written off in 1984 as you told me. I do, however remember that you mentioned that the last owner had written an article about it in some magazine or other. I would be very grateful if you could send me the reference to this article I should like to track it down if I can. Also if you are able to send me any other information you have on the car, (data protection permitting!) I would be very grateful for the trip down memory lane! Once again, good to meet you.
Best Regards, Neil Smith.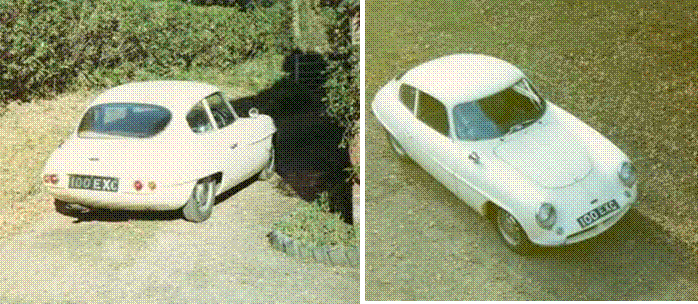 100 EXC was delivered in August 1962 to Mr Robin SIMPSON, 112, Hervey Road, BLACKHEATH, London SE3, as a Riley 1.5 kit less engine and gearbox. With a note on the ledger from Richard Parker to check the revcounter to 7000revs. I think Mr Simpson fitted a very much modified MGA engine and gearbox. Did he use the Olympic for MotorSport?
The 2nd owner was Colin HUFF, Snaefell Lower Road, HULLBRIDGE, Essex. 1965 to 1967. He worked at Fords Research and Development Centre at Dunton, Laindon, Essex. Neil Smith was working there part-time and saw the Olympic going in. He then found the car in the car park and left a note under the wipers saying if the car was ever for sale contact him, which Colin did and Neil bought it. (Cecil HAMPTON did you know this Olympic or Colin Huff?) Advert from Motor Sport Feb 1971 when Neil Smith sold the car.
ROCHDALE OLYMPIC, 1962, MGA 1622. 10:1 comp. sports cam, c.r. gears, 10-gall steel tank. Body/mechanics excellent, M.o.T Oct. 1971, Genuine 125m.p.h. or 40 m.p.g.
Marriage forces sale. &pound300 no offers. Smith, Tel. Southampton 56693 (5pm - 9pm)
This is a copy of the article from Sporting Cars, April 1985
ROCHDALE FAN
Dear Sir,
Your recent article on Rochdales asked for some readers experiences. I had a Phase I Rochdale Olympic, registered 100 EXC, with an MGA 1622cc engine and a MGA Twin Cam close ratio gearbox, and what a fine car it was too.
The driving and handling was of the finest quality with the rack-and-pinion mounted solid in a steel frame, giving accuracy and feel. The engine was mounted well back in the car (front mid-engine, you might say) giving optimum weight distribution. The rear axle had two radius arms giving excellent traction and a degree of rear axle steer that gives it a touch of brilliance to the handling that comes with fine oversteer. There was very little roll, even though the suspension was quite soft, with a long travel. Driving the car reminded me of flying a very sensitive fighter aircraft that you just think around the sky.
Personally I think it is a beautiful looking motorcar from any viewpoint. Certainly the aerodynamics are very efficient, the car seemingly to slice through the air, cruising at 8090mph with ease, and 40mpg average possible.
Quiet and comfortable, and a joy to own because it was very reliable and durable with BMC parts that are cheap and easily obtainable. I hope the surviving moulds will be put to use one day, because the car was right, cannot date, and being very Porsche-like, was very ahead of its time - and it's British,
Yours faithfully, John Lyon, East Sussex.
John Lyon told me his then wife was driving the Olympic down a narrow Lincolnshire country lane in the winter 1984, as she approached the crest of a hill a car travelling too fast towards her could not stop on the ice and smashed head-on into the Olympic. Johns then wife was hospitalised and the Olympic written off. At this time John was storing the Olympic moulds so a local body shop had a look at the moulds and the damaged Olympic but said it was too big a job. John then took the Olympic down to a body shop in Gloucestershire where they proceeded to cut chunks out of the body to see the thickness of the GRP layup but said they could not repair it, so I assume it was scrapped.
You may remember John Lyon presented the prizes at Capesthorne in 2006 and runs the High Performance Course started in 1962 and still going today. So if wish to learn to drive your Rochdale quickly and safely contact John on www.john-lyon.com He also has a book on Advance Driving released this month by Haynes Publishing.
Contact details for any member who wishes to send me details on the history of their Olympic. Tony Stanton. - rochdale-olympic@talktalk.net.
And a note to end on: - Timing belts and hydraulic clutches are the work of Satan
FBHVC NEWS
(As usual I have selected only those items that I think will be of interest to Club members. To see full copies of the FBHVC Newsletter go to http://fbhvc.co.uk/downloads and then select the required Newsletter from the list half way down the page Ed)
LEGISLATION
David Hurley
HISTORIC VEHICLE MOT EXEMPTION REVIEW
As has been reported in recent Newsletters, the possibility of exempting certain groups of vehicles from the requirement to have an annual MoT has been under discussion since the end of 2010, with the expectation that there would be a consultation on the subject towards the end of this year.
The consultation was published at the beginning of November with the proposal that all pre-1960 vehicles should be excluded from MoT testing - this goes beyond the possible exemptions that had been mentioned in the Newsletter. We are seeking members opinions before responding, but time is short and the only practical way to get sufficient feedback to enable us to gauge members views is by means of an on-line survey, which will be on our website www.fbhvc.co.uk from early December to mid-January 2012. We ask all readers to alert as many historic vehicle owners and enthusiasts to this survey as possible by putting links on club websites, using e-circulation lists and so on. FBHVC cannot represent members views in the light of this wider proposal unless it knows what they are.
We have reproduced, below, the Introduction to the consultation in full (this sets out the legislative framework and DfT's thinking), followed by a summary of the options being considered by DfT. We urge members to read the whole consultation on the DfT website: www.dft.gov.uk/consultations/dft-2011-27 as it is not possible to reproduce the entire text.
1 Introduction
1.1 As part of the Reducing Regulation agenda and the desire to remove unnecessary burdens, the Government is proposing to exempt pre-1960 manufactured vehicles from statutory MoT test, as allowed under Article 4(2) of the EU Directive 2009/40/EC, and bring the age of vehicles requiring the statutory MoT test in line with The Goods Vehicles (Plating and Testing) Regulations 1988.
1.2 We consider vehicles manufactured prior to 1 January 1960 to be of historic interest. The purpose of this consultation is to invite views on proposals to exempt these vehicles from the statutory MoT test in GB.
1.3 Sections 45 to 48 of the Road Traffic Act 1988 provide the legislative basis for MoT testing. The purpose of the MoT test is to ensure that cars, other light vehicles (including some light goods vehicles), private buses and motorcycles over a prescribed age are checked at least once a year to see that they comply with key roadworthiness and environmental requirements in the Road Vehicle Construction and Use Regulations 1986 and the Road Vehicle Lighting Regulations 1989 (both as amended). A test certificate is issued following successful completion of an examination.
1.4 Whilst it is important to ensure that vehicles are safe to use on the highway, it is also important to ensure that regulations imposed are not excessive. Currently, both the age and the categories of vehicles requiring the MoT test in GB go further than the EU Directive on roadworthiness test 2009/40/EC, which only subjects post-1960 registered vehicles to a compulsory roadworthiness test and does not require motorcycles of any age to do a statutory roadworthiness test.
1.5 The EU Directive of the European Parliament and of the Council, Chapter II, Exceptions, Article 4 states: Member States may, after consulting the Commission, exclude from the scope of this Directive, or subject to special provisions, certain vehicles operated or used in exceptional conditions and vehicles which are never, or hardly ever, used on public highways, including vehicles of historic interest which were manufactured before 1 January 1960 or which are temporarily withdrawn from circulation. Member States may, after consulting the Commission, set their own testing standards for vehicles considered to be of historic interest.
1.6 The estimated 162,000 pre-1960 manufactured vehicles make up less than 0.5% of the approximately 32.7m licensed vehicles in GB that are required by law to have a MoT test. Twothirds of pre-1960 manufactured vehicles are driven less than 500 miles a year.
1.7 Pre-1960 manufactured vehicles are largely well maintained by their owners. The initial MoT test failure rate for these vehicles in 2009 was less than 10%, whilst the initial MoT test failure rate for post-1960 manufactured vehicles was over 30%.
1.8 The Goods Vehicles (Plating and Testing) Regulations 1988 already exempts unladen pre1960 manufactured Heavy Goods Vehicles (HGVs) from the roadworthiness test.
2 The proposals for consultation
2.1 (summarised)
[Option 0 Make no change]
Option 1 Exempt all pre-1960 manufactured vehicles from the statutory MoT test.
Option 2 Exempt all pre-1945 manufactured vehicles from the statutory MoT test, but continue to demand that 1945-1959 vehicles are tested (unless already exempt).
Option 3 Exempt all pre-1920 manufactured vehicles from the statutory MoT test, but continue to demand that 1920-1959 vehicles are tested (unless already exempt).
The consultation states that vehicles have not been separated by category or by use in the above options, so any exemption would include exemptions for, for instance, cars used for wedding hire and buses/coaches used for heritage tours.
Section VII of the consultation-stage impact assessment that accompanies the consultation includes a statement that suggests that it will not be possible for any exempt vehicles to undergo a statutory MoT test on a voluntary basis.
We are seeking clarification from the DfT on certain aspects of the consultation, in particular on the ability to submit vehicles that fall inside the scope of any exemption to a voluntary test. This was originally an option agreed in principle by the DfT in talks earlier in the year but the extract from the impact assessment mentioned suggests this position has changed.
We value members opinion and urge everyone to read the DfT consultation and impact assessment www.dft.gov.uk/consultations/dft-2011-27 then go to the FBHVC website www.fbhvc.co.uk and complete the short MoT survey.
ONGOING TOPICS
Amendments to the Biofuel Labelling Regulations: the FBHVC have made a formal response but have had no feedback as yet.
Procedure for current historic vehicle owners to make an irrevocable request to make their registration marks non-transferable: at a meeting between FBHVC and DVLA in October we asked for a progress report on this longstanding request, first raised in March at the DVLA club meeting. The verbal response was that DVLA supported this idea and was preparing a submission to the Minister. They have also consulted other interested Stakeholders we understand that this includes number plate dealers and their own sales department.
FUEL NEWS
Tests on the fuel stability additives began in early July 2011 with the aim of completing them by mid-October and announcing the results at the AGM. However, part-way through the 13-week test sequence contamination in the test bath was found to have influenced results and the tests were abandoned, the equipment stripped and cleaned and the programme restarted late in September. The results should now be ready at the end of 2011. This does mean enhanced confidence in the data and the additive performance assessment.
It should be remembered that these additives will only protect against corrosion in the fuel system. They do not have any effect on compatibility issues which must be addressed separately. The FBHVC website carries all the information about this.
DVLA
Nigel Harrison
RED V5C ROLL OUT
DVLA introduced the new red V5C in August 2010. If there was a change made in the vehicle record, either for the vehicle or the keeper, a red front V5C was issued. From September 2011, when a vehicle is taxed or SORNed, DVLA will send the registered keeper the new red front V5C, if they have not already been issued with one. A DVLA leaflet, called Your New, Red Front V5C (INS215), shown below will be included with the new V5C.
This leaflet states: We [DVLA] will issue a new red front V5C for all vehicles by November 2012. Although this is true for taxed and SORNed vehicles, DVLA have indicated that this is not the case for pre-SORN vehicles. A pre-SORN vehicle is one that was last taxed before 31 January 1998. Keepers of these vehicles also do not receive the renewal reminder for a tax disc or SORN (V11).
Why are pre- SORN vehicles not included in this initial roll out of the V5C? The names and addresses of the registered keepers of pre-SORN vehicles (assuming no ownership changes) will be at least 13-year-old. It could be anticipated that a proportion of those registered keepers may have moved, or will be deceased. Also a proportion of those pre-SORN vehicles may no longer exist. The vehicle will still be registered at DVLA even if a new V5C is not issued.
After November 2012, DVLA have indicated that they: will be reviewing the pre-SORN records, to establish how best to issue red front V5Cs free of charge and will keep the FBHVC informed about how the mop up exercise will happen.
If you wish to apply for a red front V5C before the free one arrives, you are likely to be charged &pound25. The DVLA recommendation is that registered keepers of pre-SORN vehicle do nothing at this stage.
SORN CLARIFICATION
The subject of SORNing remnants of vehicles is a difficult subject for DVLA and there have been some misunderstandings, which prompted two questions from a member:
1. Do I now have to apply for SORN for my vehicles that were recorded by DVLC in 1978? The short answer is no. SORN is still only applicable to vehicles that were taxed on or after 31 January 1998 and known as pre-SORN.
2. If I do not apply for SORN is there a likelihood that the registration number will be allocated to another vehicle?
The short answer is again no, unless the number is transferable, and you as the registered keeper want to transfer the number to another vehicle. Also the vehicle needs to have an MoT before any transfer can take place.
On a related topic I was asked if it is necessary to alert DVLA to a recently imported car before it is restored, MOT'd and ready to be allocated with a registration. Again the short answer is no. An unregistered, but insured vehicle can be driven to and from a pre-arranged MoT test. When registering the imported vehicle, just take the paperwork (not the vehicle) into your local DVLA office. Included in that package would be either the non-GB registration document, or the clubs dating letter. It could well be the case that DVLA may look at the non-GB registration document and request a dating certificate and after inspecting the documents, DVLA may wish to inspect the vehicle. Once again, because this is a prearranged DVLA inspection, it does not need to be registered with DVLA for the journey to and from the inspection.
APPEALS TO DVLA
Occasionally an application for a particular registration number is rejected by DVLA. It is understandable that both the clubs V765 scheme signatory that promoted the application and the vehicle owner will be disappointed by that DVLA decision.
I have been made aware of a number of these cases within the last few weeks. In two of those cases the club V765 scheme signatory contacted the Federation asking for help and advice. This enabled the Federation to understand why the application was rejected, and to suggest a way forward. In the third case, the signatory decided to write a letter of complaint directly to DVLA, also sending a copy to the Federation.
I would have my doubts if a letter of complaint is going to produce the desired result. However, understanding why the initial application failed, and having a revised application that addresses the deficiencies of the original application is more likely to succeed. If that additional information is not available, then it may be necessary to accept the fall-back position of an age-related number.
If an historic vehicle registration application is rejected, you may wish to consider contacting the Federation for help and advice.
CHASSIS/FRAME NUMBERS AND THE MOT
During the MoT test, the inspector will record on the MoT database the chassis/frame number as indicated on the vehicle. This is a mandatory requirement for vehicles first used on or after 1 August 1980 (except for kit cars).
For 1980 vehicles onwards, the chassis/frame number is a 17-digit VIN, and the MoT inspector will already have advice on the location(s) of that single VIN (Vehicle Identification Number). The VIN is a standard format, with the last six characters being numbers.
For pre-1980 vehicles, the majority of which are historic, there can be up to three or more different numbers stamped on the vehicle. These numbers, if they are called anything, could be the chassis number, car number, or body number. On one model of vehicle there is one number stamped on the chassis, and a second number on the makers plate, which is numerically 3000 higher than that on stamped on the chassis.
The MoT inspector cannot be expected to know which of the various numbers on a particular vehicle is the chassis/frame number as recorded by DVLA, nor will he have computer access to the DVLA record. Also the number might not be particularly legible, possibly because it has not been stamped clearly, or might include -, /, or spaces, which can cause difficulties in interpretation for example is it a 1 or an /.
However, the registered keeper does have a copy - on the V5C. An example of a correctly recorded chassis number is shown below.
If the number as recorded by the MoT inspector is not the same as recorded by DVLA, this can generate a query letter from DVLA, which on occasions has led to a DVLA inspection.
Where there is more than one number stamped on the vehicle, or if the number is unclear, it has been agreed by DVLA and VOSA that the best person to advise the MoT inspector of the physical location of the chassis/frame number as recorded by DVLA for the vehicle, is the vehicle presenter.
Help your MoT inspector to record the correct chassis/frame number on the MoT database and certificate.
CONFERENCE
Ethanol in petrol was discussed in some detail. Much alarmist material has appeared on the subject in various media, and while there are potential difficulties to be dealt with and overcome, the discussions at the AGM on October 15 were useful in answering delegates questions, and in providing factual information.
A summary of the two presentations from Matt Vincent and Steve McArragher, covering Corrosion, Compatibility and Combustion is given here, in order to provide a concise reference which should be of assistance to owners of historic vehicles served by the Federation.
Corrosion
Ethanol in petrol can degrade in storage if not adequately treated with a suitable corrosion inhibitor. If this should happen, stored fuel becomes acidic, and can attack materials such as zinc and zinc-based materials, brass, copper, and lead and tin-coated steel. Traditional materials used in the fuel systems of historic vehicles are thus at risk of degradation if no action is taken.
An effective corrosion inhibitor specifically formulated to overcome the tendency towards acidity in storage is very effective at protecting fuel system materials. These products are known in the fuel additives industry, and a selection is now subject to a test programme which should ultimately allow the Federation to issue endorsements for products providing a proven level of protection. Use of a suitable protective additive product at the time of refuelling will thus provide a low cost and effective solution to the problem of potential corrosion of historic vehicle fuel systems.
Compatibility
Ethanol in combination with petrol can attack a range of traditionally used non-metallic materials. Various types of rubber used for fuel pipes, seals and gaskets may prove to be incompatible with petrol containing ethanol, leading to leakage problems. The same is true for many resins used in fibre-glass fuel tanks on motor cycles and in some tank sealant materials.
Fibreglass tanks are very vulnerable to damage if the medium holding the fibres in place, the resin, is attacked. Also, there have been cases of consequential damage resulting from the dissolving of tank sealant materials which are incompatible with ethanol, allowing unwanted viscous or gelatinous deposits in carburettors for example. Unfortunately, the only real solution to the problem of incompatibility of elastomers, plastics and rubbers with petrol containing ethanol is to replace the offending items with compatible materials.
A list of these has already been published by the Federation, but in summary, use of Neoprene and Buna-N for hoses and gaskets, and Viton for seals should produce a satisfactory result. A key message is to ensure that compatible replacement items are bought, by asking about this aspect before purchase. Tank sealant materials compatible with petrol containing ethanol are available, and it would be a wise precaution to use this type of product when treating a petrol tank.
Combustion
A number of concerns have been raised about potential combustion problems in using petrol containing ethanol. In fact, ethanol is potentially a good fuel for use in spark-ignition engines, with a flame speed slightly greater than that of most hydrocarbons used in petrol. Ethanol was widely used in racing in the inter-war years, for example at Brooklands Track. However, ethanol does have effects which should be recognised; addition of ethanol increases the vapour pressure and volatility of petrol, which may exacerbate hot fuel handling issues (sometimes called vapourlock problems), for example.
Ethanol has a high latent heat which cools the air-fuel mixture in the inlet manifold, and while this improves charge density and can increase power output in a fully warm engine, the same property can degrade cold weather driveability (i.e. cold start and warm-up characteristics). Ethanol also contains oxygen and will make the air-fuel ratio leaner. This last aspect has been assessed and linked with increased exhaust valve temperatures, although the effect is fairly modest, typically in the region of 20oC.
However, the combined effects of some mixture leaning, coupled with increased vapour pressure and fuel volatility could produce noticeably unsatisfactory operation, with more vapour lock incidents for example, in warmer weather. As a result, petrol containing ethanol may have received a worse reputation than is perhaps deserved in respect of combustion. A number of relatively simple measures can be put in place to assist satisfactory operation with petrol containing ethanol in historic vehicles.
Compensation for leaner air-fuel ratio can be achieved with most carburettors by enrichment. Where hot fuel handling issues, also called vapour lock incidents, are experienced, it is a wise precaution to take steps to keep fuel cool. Fuel feed lines should be routed away from heat sources, electric pumps should be kept as cool as possible, and mechanical pumps should be mounted on a thermal break where possible. It may be necessary to mount carburettors on a thermal break as well.
Where the inlet and exhaust manifolds are on the same side of the engine, heat shields for carburettors can be very effective at overcoming hot fuel handling issues, and need not be intrusive. For so-called cross-flow engines where the inlet and exhaust are on opposite sides of the combustion chamber, vapour lock incidents are much less common, but cold weather effects may be more of a problem with petrol containing ethanol. It may in fact be necessary to take steps to get more heat into the inlet manifold to overcome cold operation symptoms.
Overall however, it is felt that the challenges of operating with petrol containing ethanol are not insurmountable, and with some sensible precautions, together with a number of material changes and some practical heat management under the bonnet, owners of historic vehicles can continue to use and enjoy their vehicles for many years to come.
The History of DDD713C
--- Could a Rochdale take on an E-Type? ----
I would like to introduce myself as a new member and indeed sadly a new owner. My name is Robin Jarman and I have recently inherited a Rochdale Olympic phase 2 from my father, which truly was a large part of his life. This phase 2 Olympic has been unknown to the ROC until very recently. I have decided to write an article upon the basic life of growing up in and around a Rochdale in tribute to my late father Michael, its original owner from 1963. I would like to share some of its history, specs, changes made, reasons why and end results. I have decided to be as brief as I can, as by going into every detail around any of the changes would be a simply endless task. Also this way I may be able to give more in other articles in future publications.
For many years previous to purchase my father Michael used to follow motor sports quite avidly & was quite quick at jumping to purchase his Olympic, considering his lack of wealth at the time. It was purchased for several reasons but the main reasons were quite simple its very low weight & its 50/50 weight distribution. Its sporty looks were just an added bonus. He'd often thought of making a street creeper, as the thing he disliked most (in life), it seemed was to lose - especially in a race!
He initially purchased it with changes already made by RMP s. Its engine mounts were made so as to incorporate a Sunbeam Rapier engine along with the central prop shaft tunnel being modified slightly to allow for a different prop shaft to be used. At the same time a Wolsely /Riley 1.5 rear axle was purchased from Loxhams. The engine was from a Mk3 Sunbeam Rapier1494cc initially & claimed a 78 HP. As the build took place during late '63 and early '64 an Austin Healey Sprite differential was also thrown into the pot giving a 4.222:1 ratio, instead of the Riley 3.73:1. The front suspension was taken from a Triumph Spitfire Mk3 and was grafted in using the original Rochdale sub frame with the addition of turrets. Basically with the addition of Minor, VW, and Lucas parts it was finished this was its original spec. Although not quite the standard engine, this Rochdale was never to be a standard.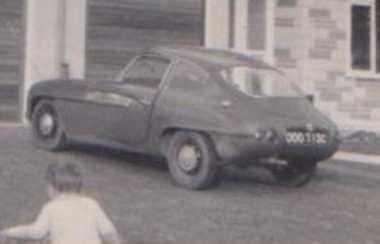 I have a small picture taken in 1965 of this gem. Myself in the foreground!
My first memories of his Rochdale are fond ones. It was a beautiful sporty looking, quite nippy & also comfortable car, even though there were often 3 of us boys in the back! Despite the squeeze it always got us all round the country with reliability and trust. Throughout most of its life my father treated it like his second love going back to it in his later years, only with a change of heart, in the way of a second pamper. As this didn't ever quite get finished its my intention to carry on.
Being a scientist and Aerospace engineer but mainly due to his knowledge of tuning, supercharging and aerodynamics this beautiful car was about to change. It would still say beautiful for many years; it was just going to have an upgrade.
OK, back to the performance and modifications and changes made. As my father wasn't happy with losing street races with such cars as E-Types (in particular), he decided to build upon these specs until a Rochdale was born that could take out an E-Type! Or at least equal them. This is where everyone's memories of the family car changed. In 1967/8 the 1st change was made.
With the introduction of the new Sunbeam Rapier 1725cc and Holbay now making a 110HP version of this engine my father Michael continued. His Rapier engine was bored out to a 1762CC and its now 8-port ally head was ported further and also gas flowed. Together with this the Holbay Racing camshaft also fitted. I remember him getting the crankshaft balanced, flywheel lightened. It seemed as children my father was always to be found doing something to this car. With this HP he now applied a Roots type supercharger! Contrary to peoples beliefs this engine gave the car a little more gusto to say the least - & boasted a 0-60 around 6 seconds and to 6.5 seconds with another adult and child on board! At the end of the standing mile speeds approached 120mph and times around 14.5 seconds were noted.
I can remember as a child growing up, as do my brothers, being taken off with flags and stopwatches to flat long roads miles away to do repetitive speed tests upon roads with spray markings of distance on them and calibrating his speedometer to be accurate by the markers at the side of each motorway. There always seemed to be something he could change to make the car lighter and every ounce was crucial. It never even carried a spare wheel due to the increase of weight. If he could lose an ounce then he would, hence ally window frames being made also & running upon small fuel loads.
People that disputed these times always had the offer of a free ride home. I remember this engine and these times very well and the small amount of problems it gave, considering the type of thrashing it was regularly put through. The engine was lovely in normal driving conditions but was loud and screamed when racing. The main one seemed to be the occasional almost deafening BANG!! whilst the car filled up with smoke, due to blowbacks from the supercharger. On one occasion the reinforced rubber pipe carrying the air from the supercharger to the inlet manifold exploded; that was one of the loudest bangs I've ever heard in my life! This wasn't always that rare and never failed to make all on board jump out their skins! For our family and our car, it just seemed normal!
The Olympic only seemed to have one real problem (which was quite a big one), which was the loss of steering at high speed and in order to beat E-Types whether on straight road or bends it simply needed to have good handling as well! Initially a front spoiler was made and placed on, which I can remember having great effect. Certainly up to100mph. This engine due to having another diff change donated from a Spitfire, I believe being 3.63:1 was only ever taken to 125mph due to rear uplift. Sadly, I have not yet found any photos of this engine. Hopefully, another time?
At the same time of doing this upgrade on the engine he spent a lot of time and effort putting in a new rear axle. This was from a Mk2 GT6 Triumph Rotoflex and gave it a more track-like independent suspension all round, as the front suspension was already that of the Mk3 Triumph Spitfire. A very clever, simple and quite lightweight cage was made to hold the complete axle in place, leaving only the rear dampers to bolt on to the rear chassis.
In order for the traverse leaf springs to fit the whole underside had to be re-shaped. Here are some pictures showing it in place.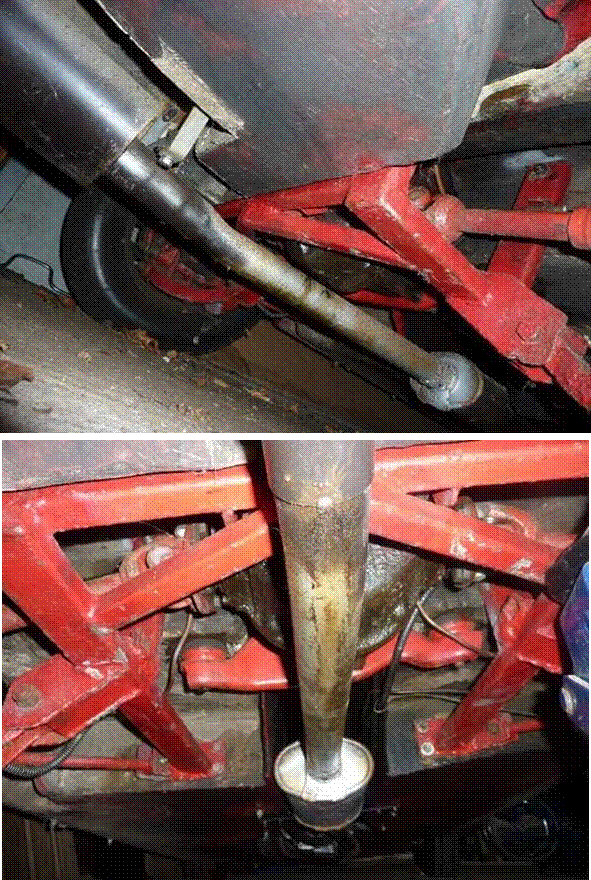 This gave better road handling all round when pushed but still didn't fix the issue of rear lift. I can remember a type of rear diffuser being tried to bring extra down force but it wasn't there for long.
Then in 1979 a large contrast or change was made to the Olympic in the way of an Alfa Romeo 2.0L twin cam being fitted and after lowering its compression a little, a larger supercharger fitted! This slightly undercut the 6 sec 0-60 time but in the main it was a little disappointing, as the gearbox (3 in all that were tried) could take up to a second to change from 1st to 2nd gear, and hence the 0-60 time remained around and slightly above the 6 second mark. My father remarked that he'd had better times reliably from the Rapier!
The main problems of this installation came from the engine itself needing a lot of ventilation for cooling. The fact soon showed that it didn't like any long racing usage or severe overheating would occur. Although not reliable on a long run, when taken out on short fast journeys it seemed quite ok, so long as you used the manual fitted fan at all times. What you must remember when supercharging is that there is a saying: If you want to know what's wrong with your engine put a supercharger on it. It seemed that whether an all ally engine due to head warping upon heat was the correct choice or not. I would hesitate next time to - consider this. I can give some praise to this engine, as it's given me the pleasure even honour of what a Rochdale can do first hand for many years. This stayed Even Stevens with my V4 500F2 Honda motorcycle (almost unbelievable!).
I remember once, the MOT man asked to go for a spin around the block. As a friend I obliged, but took it almost beyond its capabilities. When he got out at the end he was white, trembling and could hardly speak. I must admit that I wasn't in a much better state. A fond memory. Before I start to wind up this article I would like to say that in top gear at a steady 50mph when you put your foot to the floor it would take 3.2secs to reach 70mph. This is what superchargers can do. Remember top gear. Give it a go sometime! [That's 1/3g folks Ed]
Here is a early pic I took when the Alfa engine had just been put in place and the spacer plate to lower compression added. Sadly, no supercharger in pic. I will search to find one.
Having just fitted the Alfa Romeo engine, and at around the same time, my father Michael decided that once and for all he was going to fix the light rear end & being in the Aerospace industry for the last 20 years decided to make what I consider to be the biggest modification of all. This was to redesign the basic rear shape of the car to create proper downforce. This I feel was probably the saddest thing that ever happened in the way of modifications to this Olympic and although it does work very well, I feel that it's sadly taken the Rochdale originality from it & I am intent on turning it back, as it has now more or less finished its high speed road racing days. Having said this if I ever decide to apply the supercharger onto this engine it may tempt me to enter some of the trials it never had, or even be entered into a hill climb event. Although it's had a racy life it is sad for me to know it never officially competed.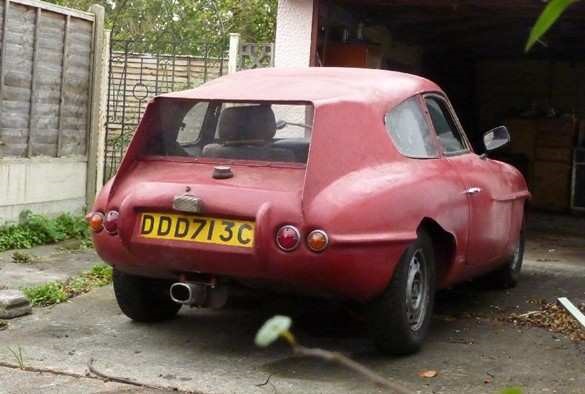 Hmmm. Sad State of Affairs?
However, I am now beginning to look for a 2nd hand rear boot hatch should anyone be so kind out there? Luckily it has been cut off and this addition simply stuck over the original existing shape, leaving most part of the seal / groove - so an original one could quite simply be put into place without too much graft. (With the slight exception of the tank). Central tank now, as originals leaked mid-70s. The filler would have to be changed when put back to original.
Other countless other mods done such as door alterations, ally window frames and mechanisms were made/changed. The last main change to date is the addition of yet another engine. It now lies sadly with a simple Vauxhall Carlton redtop 2.0L twin cam with twin 45 Webers on. As my father grew older he decided this would be a good choice for his next project. At present it still pulls a 6.5 sec 0-60 with this basic set up. (though I haven't actually timed this myself). Beside the car lies the good old supercharger! I must admit I am very tempted and have supercharged before but this engine is simply very reliable, ah there's the rub.
I have included a picture of the basic layout, which also shows the inner engine compartment condition due to all the mods to date! With the battery moved to the front of the compartment, this freed up room around where the expansion bottle is, which is where I'm now hoping to have a remote servo.
This engine was quite a simple fit apart from the dizzy, which is behind the ally plate at the rear of the bulkhead.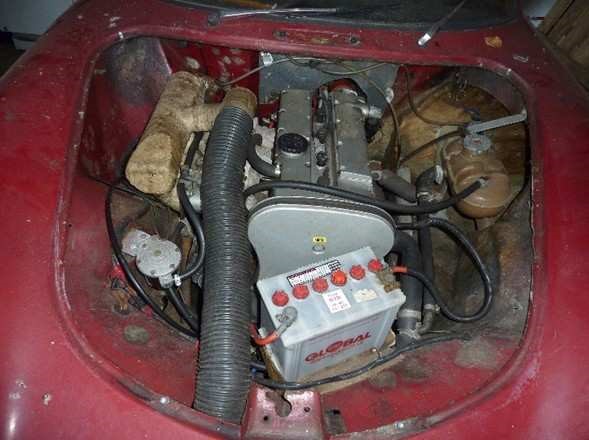 CARLTON TWIN CAM
This has sadly changed the original dash shape within the car but due to its many dashes and instruments that have changed throughout its life will be quickly rectified back somehow. The bonnet flew off one night at high speed and was never found: hence the lightweight quick release one made.
As a family car, I can remember many pleasant excursions around the country. It was always during its main usage time i.e. up until the 80's. We as a family of up to 5 travelled to Cornwall on occasion, Essex every year, Norfolk, Wales and Dorset.
Having said this, it seemed that the annual journey of going to Southend on Sea and back the times became ever faster 4hrs, next time 3.75 hours, then 3.5 hours, so in a way every journey became a race of some type. These times being from before motorways existed. In fact, who am I kidding? Almost every journey had its race.
Our annual trip/race to Southend on Sea and back through London provided its perfect racing roads where I can proudly say I have witnessed many E-Types go backwards and only a few able to get away.
Of course most of this was done running the Rapier engine and it was actually in the main very reliable. The only very small but repetitive problem that the Olympic gave was the thirst for water. More so perhaps the length of times water pipes would last in those days as well? Although generally upon these occasions it would not generally be highly raced.
I would like to finish off saying that though the first 12 years of tweaking is past, I don't think you ever really stop. We as children growing up had encountered multiple classic burn ups with the inclusion of many E-Types, Jensen's and the like. We have all experienced the fury and the dangers but most of all created the lifelong adrenaline pumps inside us that only a Rochdale racing could provide!
Mission Accomplished!
Regards to all Robin.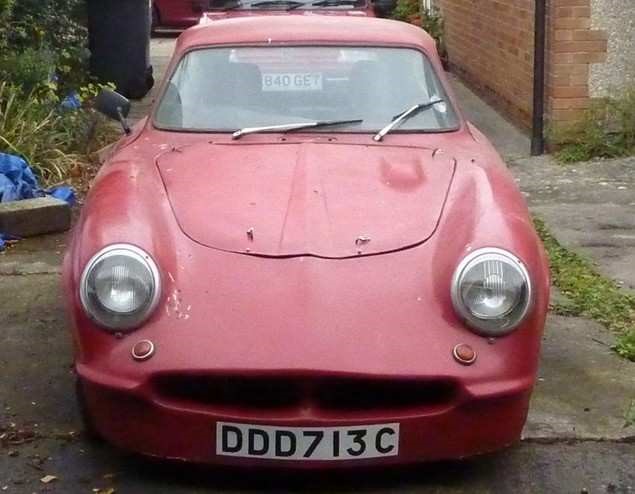 Current state front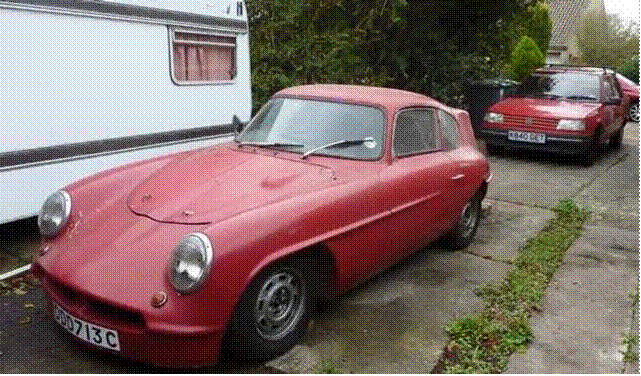 21st Century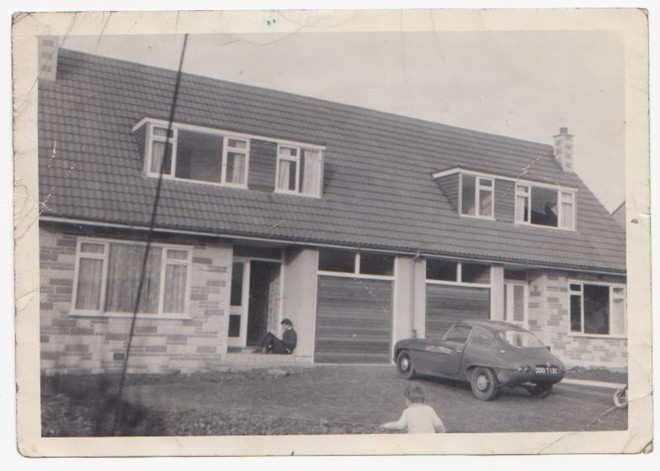 Another place and time (1965)
My transportation since 1946 (Part 2)
Derek Argyle
I suppose it was an affinity to the Sunbeam Stilleto that a friend had just bought that led me to buy a Hillman Imp for &pound145. Dicks car seemed to be a nice little run-around and I fancied experiencing a rear-engined car for a change. However, once I started driving on journeys that lasted more than half an hour I soon began to tire of the constant drone that came from the engine cooling fan behind me. In addition, the power output was inadequate for anything other than shopping, so it had to go. I hope the young girl who bought the car for her journey to work was as delighted as she appeared to be.
Thinking back to the car I next bought leaves me wondering. I suppose my great love of Minis and the thought of having a 'hot' one, led me to buy a yellow 1071 Cooper 'S' that came with all the goodies such as twin tanks and wide wheels with those amazing Dunlop SP Sports tyres. There was sufficient power to be able to four-wheel drift the car around corners in damp conditions and one evening, as I was returning at a late hour from work in Northamptonshire, visibility was such that I didn't see mud on the road ahead and ended up in a hedge on a tight bend. Luckily there was only a dent in the rump of the bodywork but the trailing rear suspension arm had been pushed in such that the tyre was just catching the sub frame. This was rectified by fitting washers between the brake drum and wheel (Blimey! Ed).
I had read about excessive oil consumption on Cooper S's and mine was no exception. With two fuel tanks I would stop to top up the engine oil rather than fill with petrol on a long run. This madness couldn't go on and so the engine was stripped for a re-bore. Back on the road it was clear that the engineers, aware of the reason for the rebore, had made the pistons a tight fit and this, needless to say, reduced performance notably; so much in fact that the car was of no further interest to me and was sold.
I again hankered after a small GT sports car and saw an advert for a cheap GT6 that had the larger 2.5 Triumph engine fitted but was being used by the farmer to teach his sons to drive around the fields. I decided that the car was worth a look, particularly as it wasn't that far away. It was basically sound but needed sorting and a very good clean. The original bonnet had been replaced with a fibreglass version that had been modified very crudely with ugly lumps and bumps positioned to clear projections above the engine. At &pound250 I couldn't resist and that became my next car.
During the time the car was being fettled, I had the most amazing stroke of good fortune. By this time, I had left the Ministry, thanks to compulsory redundancy, and was working for Taylor Woodrow, that became Taylor Wimpey. In the course of making a rainwater/sewage survey in the company yard I came around a corner of the laboratories and there stood something that I immediately recognised from adverts in car magazines; an Ashley Le Mans fibreglass GT6 bonnet. I made enquiries only to discover that this fine bonnet was about to be scrapped by one of the engineers. I really could not believe my luck and the bonnet was strapped to the roof of my firms Cavalier that very evening: the engineer only too happy to have me take it off his hands for free. I fitted the bonnet on the GT6 and sprayed it to match the damson shade of the rest of the bodywork.
Odd jobs like changing the gearbox/overdrive oil and fitting new rubber doughnuts to this Mk 2's rear suspension left only intensive cleaning of the interior and replacement of most of the carpets. I now had a fine, quite potent little GT car which took us on several trips abroad. While work was proceeding with the GT6 I added a cheap Alfasud Sprint to the stable but found that the drivers physical requirement of long-armed, short legs didn't correspond to my body shape. Not only that, but, more seriously, the car rusted at such a phenomenal rate that it required constant repair and consequently a quick sale.
It was while I was having a tea-break and reading a car magazine at the time when I was engaged on the renovation of St Pancras station that I saw an advert for a Lotus Elite. Incredibly it was going for a mere &pound250, roughly a third of the then going rate and the car was available in nearby Kentish Town. I obtained permission to leave the site mid-afternoon and drove to the address where the mother of the seller said her son would be home at 6.00pm. I told her that I would wait outside in the car. Sure enough, around six, the car appeared but by this time there must have been 25 people standing around eager to pounce on the cars owner. It took a bit of elbowing and loud voice to make it clear that I was the first in the queue.
The owner Valerian Dare-Brown turned out to be one of a group involved with building the Unipower GT car. He told me that in view of the number of people interested in the car he would only be able to drive me around the block, oh, and incidentally, the price was &pound350 not &pound250. He wanted an immediate answer and I gave it - yes please. You should have seen the look on the faces of the crowd!
The car came not with the 1220 Coventry Climax known to be delicate at high revs, but a Ford Classic engine of 1340cc. In addition, the car was fitted with a Shorrocks supercharger that was not connected to the engine. The insurance company on hearing about this non-standard car was set on charging me an outrageous premium if I were to use the supercharger so I decided to do without it and change to an inlet manifold fitted with twin 1" SU's. The sale of the supercharger would conveniently pay for these parts.
In stripping the car I found that the main problem was that most of the bearings and joints were very worn. The narrow 48 spoke wire wheels were in need of rebuilding so they were replaced by a set of good second-hand wider MGB wires. Luckily, bodywork, paint and glazing were fine and needed only a good clean. Inside the trim was a little second-hand but came up well with work. I was very lucky to hit on the correct SU needles first time as I had not been able to find any recommendation; SUs not normally being fitted to Ford engines.
I loved the look of this car and found it to be both fast and very economical, no doubt due in part to its low drag value but it was speed that brought about its demise. I was on my way to Chester early one Sunday morning and taking a fast corner coming into Wokingham I lost it with uncatchable oversteer. The road was wet and I had slid on a fine macadam patch half way around the corner. The car careered sideways at great speed and wrapped itself around a lamp post. I was very lucky indeed for the lamp post came through the fibreglass wing and pushed the engine across towards the offside wing. If the car had ended up three feet further forward it would have been my head and body that would have felt the cold steel of the post.
I was able to buy the broken car from the insurers and waited in hope of finding another Elite body shell. A new one from Lotus was too expensive but whilst working at the Rootes Rytonon Dunsmore plant and reading a car magazine during a tea break, I found an Elite shell was being sold in Aylesbury. I got permission from the agent to leave site a little early and, arrived in Aylesbury to meet the vendor at his home.
The shell was unfortunately still part of his complete car but after five weeks he had stripped it out ready for transfer to a new shell that he had acquired in a manner he was not prepared to discuss. It seemed to me to be a time-wasting exercise as the original shell was in perfect condition and at &pound200 a bargain. However, after I had fitted all the components from my old car and replaced the few broken parts I decided to respray the green and gold bodywork red. At a Lotus Club meeting I had seen a red Elite that seemed to be the perfect colour for the car.
I had lost some confidence after that accident and even went to the trouble of adding a touch more rear toe-in to the suspension arm to reduce oversteer at high speed. I finally decided to sell. I sold the car to one of my assistants who had pressured me to buy it for ages and I felt it was time to buy a sportscar that was running and required no hard work. Lotus had replaced the non-profit-making Elite with the Elan and this is what I decided on. I found a nice Series 3 drop head coupe finished in yellow that was being sold by a young couple who were about to have a baby. This was a well looked after car that was a delight for touring abroad.
There was one experience that I feel you may like to hear about. Maureen and I were touring in France and, in the area of the Massif Central we were pushing on to get to our hotel when, on a twisty descent, we came upon a fast moving 2CV. Because I had been going faster I came to overtake but with the numerous blind bends I had to hold back. Studying the driver and passenger through the 2CV's rear window, it seemed that a pair of long haired youths were having a ball taking the bends with the car being driven near the limit. We followed for miles waiting for the inevitable accident but finally we came to a short straight and as we were passing I looked to see that the hairy youths were in fact nuns wearing their black habits. They just smiled but I'm sure that day God was indeed with them.
I found that the only fault with the Series 3 Elan was its low gearing; it would have been such an improvement with a higher ratio or a fifth speed. The chance to drive a 130/5 Lotus Europa as a comparison showed the great advantage of a fifth gear. I'm only an average sized person but I also found the cockpit to be too narrow causing the door lip to dig into the shoulder on fast corners.
While I still owned the Elan I saw another advert for a very cheap Lotus Elan +2 that was for sale just 2 miles from our head office. I went to see it in my lunch hour and found that it had caught fire two years earlier whilst being driven on the M4 and had spun and been shunted into the Armco. It was standing on three wheels and the front end of the chassis, stripped of its paint in the fire, had rusted badly since the accident with little bodywork remaining for protection from the elements; what a mess. There was no engine or box but at least the bodywork that was not damaged was fine. At &pound180 I bought it.
Conveniently, I had a spare 2.5 Triumph engine and box and decided that I would buy part of a Spyder chassis, that ran from the scuttle backwards. To this I would fabricate a copy of an original front chassis but extended to accept the length of the six-cylinder engine. There was the problem of having to make a new longer bonnet but here I was able to buy specially made wings for a Lotus Elite from specialist Miles Wilkins and cobble them together with a GT6 power bulge and a hand-formed air mouth similar to the E type. The end result was that I could make this fibreglass front end pivot to give easy access to the engine and suspension.
The cars rear corner had been hacked off as a replacement piece for another otherwise perfect Elan +2 that had been involved in an accident and so I had to find a similar corner to graft on. A garage owner in Windlesham had two or three Elan +2's at the back of his garage and I was able to buy and cut off a corner to suit. More than one Lotus agent said that my car had turned out better looking than the original. I kept this car for about three years but a week after I sold it to a Sainsbury manager, I had a phone-call to say that the gearbox had packed up. I naturally felt obliged to have this replaced for him as he had only just bought the car but it is odd that I had not had any trouble whatsoever while the car was in my ownership.
I still owned the Elan but could not resist a tempting 240Z Datsun that was being offered at an attractive price. When I arrived to look it over I immediately decided that it was not for me; the paintwork was faded and the car was very shabby. As I had travelled to see the car I halfheartily agreed to being driven in it. Phew! Could this fellow drive! Solely from this experience was I to become the new owner. The engine, I learned later, had been worked on by Swindon Racing engines though there was no outward sign of larger carburettors or other tuning aids, other than a Janspeed exhaust. By the time I had polished the oxidized Wolfrace wheels, cleaned the interior and engine bay, and T-cut the bodywork the car was starting to look the part.
That summer while Maureen and I were on a continental tour I was aware that as we clocked up more mileage each day, the steering wheel spokes were slowly becoming more angled though the car still drove straight. I could see no obvious reason for this. By the time we left Holland the wheel had turned by 20 degrees and by the time we were home about 35 degrees. Back home a day or two later I drove the car on to ramps and from underneath I could clearly see that the main chassis members measuring 4"x 2" had cracked through completely on one side and half way through on the other. I guessed it would have been no more than 20 miles before the front suspension would have become detached. Other areas of the bodywork were prone to rusting and I was frequently kept busy making repairs. With the chassis repaired, I mentioned to friend Guy that the car was for sale. Unbeknown to me he had recently bought fibreglass bodywork to convert a Datsun Z into a Ferrari 250 GTO look-alike and was seeking a suitable car. I admitted to the ever rusting bodywork but mentioned the great engine. Since he was the son of a garage owner, rust was no problem and repairs would be out of sight under the new bodywork. With an A frame he came and towed the car away.
End of part 2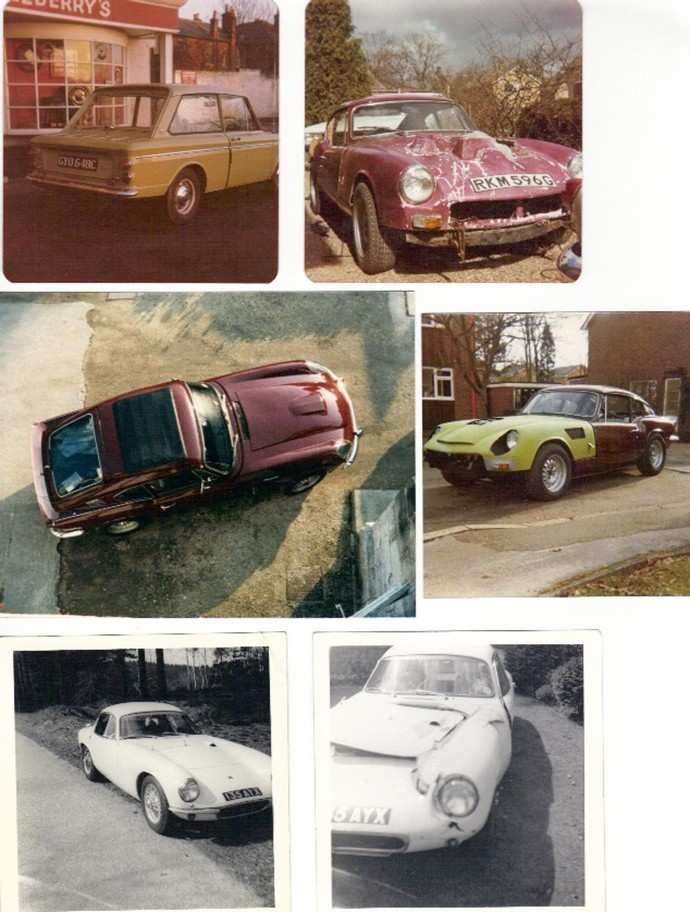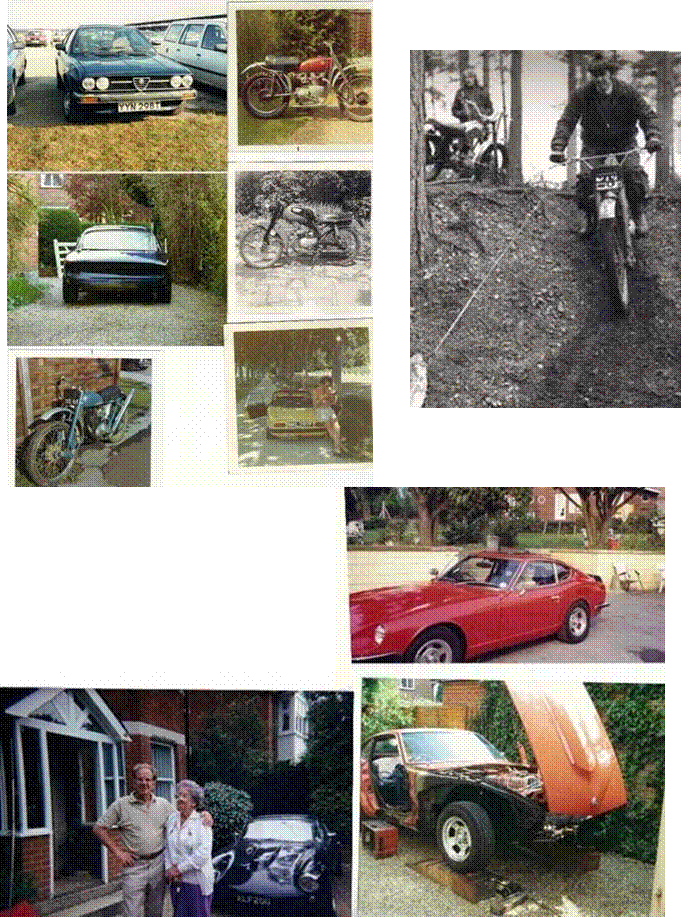 2011 Normandy Invasion Coast Tour
Derek Argyle.
Our 08.00 am Dover ferry took us to Dunkirk from where (whence? Ed) we started our four day, three-night late summer holiday. The timing of our short break coincided perfectly with the hot spell of late September weather. I'd planned a route to give my driver, nephew Chris, and friends Ian and Mary in their Peugeot 807 a chance to avoid areas of little interest. By the time we had reached Le Treport, Chris realised that at the rate we were travelling it would be very late before we reached our hotel. Tolls or no tolls we decided to complete the rest of the route on motorways and off we set at a cracking pace. Even then it was 7.30 before we came to the 'de Normandie' Logis hotel in the small seaside town of St Aubin sur Mer. We had agreed to go for a cheap hotel as we would be out all day sightseeing but, in the event, perhaps a dearer one would have been better as the 'de Normandie' had no restaurant nor any lounge and bar.
Next morning we started our drive towards the western end of the invasion coast, and the town of St.Mere Eglise. We were leading in the E Special and within 150 yards of leaving the hotel the engine, after some misfiring, stopped altogether. Bonnet up showed no blocked fuel filter as I diagnosed initially and a check on a couple of plugs showed nothing amiss. Ian arrived to give help and mentioned that SUs needed oil in their dashpots so, obligingly, I unscrewed the dashpot tops and by jove, Ian had hit the nail on the head; the oil was at a low level. I topped up and all was well, the engine now pulling like a train. There could have been many reasons There is nothing worse than having engine trouble that wastes time when on a holiday of limited duration.
Since I was last there, many improvements have been made in and around St. Mere Eglise. The dummy parachutist is still hanging from the church roof but there is a new, very complete museum in which we spent considerable time. Because it was a Wednesday, the square held its usual busy market and the temperature was now 30 degrees. After a snack lunch we motored off to the Utah beach with its fine museum and strolled along the clean white beach that had been one where invasion landing troops had found little opposition. We by-passed Carentan and after going through Isigny we ran into Grandcamp-Maisy where we found the makings of another museum. Much equipment had been housed in a big shed, but a lot more was lying around the site ready to be installed and presented to visitors.
Utah gave way to Omaha beach and its museum. Veterans are still turning up, some 66 years after the landings, and we must realise how near the Americans came to having to retreat from this beach because of the incredible fire power of the well-established German defences. Nowadays the broad open beach looks so calm and ordinary, belying its past as a killing ground.
Continuing along the coast we came to the Pointe du Hoc where the US Rangers were confronted with the climb of a near-vertical cliff face against heavy opposition in order to take out large guns that, unbeknown to them, had been moved further inland only months before. The ground above the cliff face was heavily pock-marked with many deep shell-holes and bomb-craters and there were signs of a few direct hits on the remaining gun positions. Invasion ships at sea with their enormous fire-power gave a much better account of themselves than the less accurate bombing by aircraft.
We continued along the coast passing through Port en Besson until we came to Arromanches where, with the tide fully out I saw, for the first time, after several previous visits, virtually the whole array of block-ships well above the water level. We were able to walk on the sand and visit these incredible hulks now covered in seaweed and algae. Coach loads of tourists deterred us from visiting the museum and we pushed on to Courseilles sur Mer which is a charming port full of many expensive yachts. It was now time for dinner and we stopped at a fine restaurant adjacent to the waters edge.
Day three took us to view the Douvres le Delivrand radar station but it was disappointing that they had closed for the season only the week before. It didn't appear that there was too much to see here but it was a different story at our next venue; Pegasus Bridge. Many will know that a few years ago the old bascule bridge was replaced with a new bigger version at the same spot, which, many of us believe was an error on the part of the authorities. It surely would have been better to maintain the old bridge in its historic location adjacent to the Gondree Cafe and erect the new bridge nearby.
However, the old bridge is now resting on ground 300 yards away next to a new museum behind which stands an immaculate Horsa glider that allows public viewing. We walked to the marshy area where the Horsa gliders had landed with such precision to be close for the attack on the Germans who were defending the Bridge in the first hour of June 6th 1944. Here, now, the site is tranquil but the general area attracts a multitude of visitors all year round I got into conversation with a Slovenian who wanted to know more about the E Special. He turned out to be an enthusiast and a coach driver engaged on ferrying tourists to such places as Dieppe and Honfleur and had come from Albi, in southern France.
We had a small snack and drove some short distance eastwards to the site of the Merville battery. A great deal of work has gone into opening up the four German bunkers and explaining how the Paratroop attack was made with only a fraction of the intended numbers due to inaccurate drops in outlying areas. Towards the end of the visit, we went into a German Command bunker and were given what we would call a son et lumiere showing of the attack as experienced by the German defence. The reality of the noise of exploding shells on the bunker, the shouting, and the racket of sub machine gun fire was deafening, very frightening and brought home to us the fear that the German defenders must have felt with the successful attack by the British 9th Parachute Battalion.
The only suitable time for the Saturday return ferry was the 4.00 pm boat and consequently we left St. Aubin at 08.15 am and kept up a high speed run between tolls. The plan was to have lunch at the Detroit restaurant in Calais where we had eaten very well in the past. By choice we were shown into the garden eating area and very soon were handed a free prawn starter. After a while the busy waiters took our order and from then on it was all downhill. We waited for ages for our food which never came before we were obliged to leave the restaurant in order to get to the Dunkirk ferry. This took a lot of finding because of a lack of signposting and it was sheer luck that of the two ferry signs we did notice, pointing in different directions I would add, we happened to take the correct one and arrive at a time when our traffic lane was about to board the DFDS ship. There was so much more to be seen and places to visit that time didn't allow.
We all enjoyed our holiday but if I was to repeat the trip, I would prefer to take a ferry to Caen and add another day or two to the outing.
EARLY ROCHDALES
With nearly 70 years passing since Rochdale Motor Panels started production of bodyshells it is obviously getting harder to find information related to the company that hasn't already been written about in the 30 years of magazines since the ROC was formed. Four magazines a year doesn't sound like many to fill with informative stories but when you think that one magazine is produced every 3 months then this only leaves about 10 weeks to find something new and interesting to write about and 2 weeks to write it up into interesting copy. RMP are obviously not creating anymore history for us to write about and we are relying on the members to assist in producing informative articles for the magazine; even if you are not a budding scribe all articles would be very welcome.
Luckily for me the challenge of writing the Early Rochdale article is a little easier than the Olympic section due to the amount of bodyshells available; that said, Tony has the added benefit of writing about the present due to the amount of Olympics actually on the road. The membership list tells me that only around 10% of the membership owns an early Rochdale bodyshell and a lesser percentage of those are actually on the road. These statistics show that it can be a little tricky to write about current roadworthy cars every quarter. What would be interesting is to revisit the number of early cars that are actually MOT'd and on the road. I'll investigate for the next issue; it will give me something to write about!
As much as I mention not having much copy I always seem to scrape something together for the magazine and it certainly wouldn't be possible without the internet; I don't know how the early pioneers of the Rochdale magazine coped. It is surprising at the amount of information that appears on my screen, sifting through gigabytes of info (about 1000 Oxford English dictionaries to those unacquainted) is made all the easier in a comfy chair and a click of a mouse. Those 10 weeks to write an informative article then don't come soon enough!
208 GMB
The car pictured here was featured in Motor Sport in September 1959 and has always been on Malcolm
Mckays specials register as a Ford Special HSK. The rear end has a slight resemblance to a Rochdale F Type but the specials era brought all manner of bodyshells and one off specials to the scene. The angle of the picture doesn't show the distinctive flared rear arches so we could never be sure it was an F Type, until Tony Stanton stumbled upon an internet goldmine!
Whilst Tony was flicking amongst the pictures on a website called Flickr, which is an online photo album for every subject you can think of, he came across the following picture.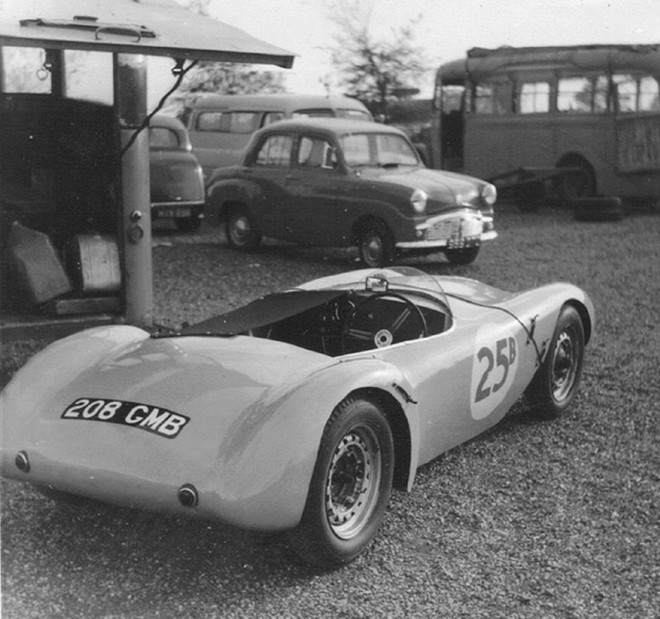 Malcolm writes:
OK folks, I'm convinced we do have another F-type for the Register! The photo above shows enough to convince me that it's an F-type bodyshell - excellent news. The Registration 208 GMB was issued in May 59 and registration records are still held at Chester Records Office, so I guess one could check there who had registered it and what as, but I think we can safely say that it was Bernard Cox who registered it, and as something like HSK or HSK Special. It doesn't seem to appear on the DVLA website.
The 750MC Relay race in 1959 was at Silverstone and the car has the same number on the side and is identical in every detail, so I'm sure the two photos were taken at the same meeting. Strange the car hasn't come to light at any other time, I wonder if he crashed it and then fitted a different body. The low build with flip front and rear suggests a low, race-oriented chassis like a Buckler DD2.
I write:
This is a beautiful looking car and if the chassis is along the lines of a Buckler DD2 then it certainly would have handled well. Hopefully with a few extra leads we will be able to find out the cars fate, another poker in the fire to research! Whilst we're talking about the F Type we have also had a scoop into the current progress of the restoration of MBU 309.
MBU 309
MBU 309 was an Elva Mark I that was available in kit form during 1956 minus engine, gearbox and body, for &pound350. Denys Wolstenholme built this car for Alex McMillan and it was powered by a Coventry climax FWA 1098cc SOHC and again fitted with an F Type bodyshell. Like the earlier Bristol Barb, it was originally painted white and black but can be distinguished from the former by being fitted with headlamps, spoked wheels and a full width screen.
Seen here in the pictures below at the BARC 21st members meeting at Goodwood, 17 March 1956. This car was also raced by Neil Campbell Blair in 1957.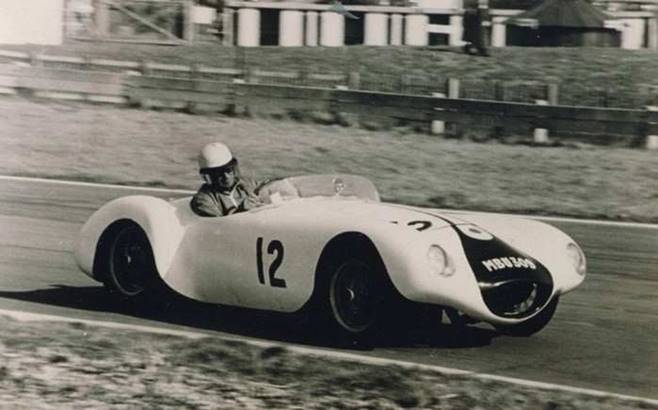 The Elva chassis was purchased by Peter Morley from Belgium who had an F Type shell moulded from the original; the Summer 2009 ROC magazine details more on this car and shows the original shell the mould was taken off. The original was pretty much beyond use, water had got in and it was delaminating etc. The car was being restored by Gibsons Workshops in Tipton and I wrote to Peter Morley last year to check on its progress. Peter informed me that John Gibson had now bought the car off him and interestingly had produced a second F Type shell from the original.
Another interesting piece of history on this car came from Tony Stanton who managed to find the following picture on Ebay:
The picture was taken at the British Empire Trophy Race at Oulton Park in 1957 and just detailed N Campbell-Blairs Elva on the back. What was deceiving about this photo was the trade plates fitted but it is definitely confirmed as MBU 309, a needle in the haystack find and much credit to Tony for discovering it.
The trail on MBU 309 went quiet for a while since Peter sold the car and then the internet produced the scoop I was talking about. A car transport company have pictured the F Type on the back of its transporter getting a new exhaust system fitted and also published it on the Flickr website. In the photo below you can see it has had a trip to Tony Law Exhausts. It looks like the car is progressing and I hope to show you more when I contact John Gibson to establish his plans for this historic racer.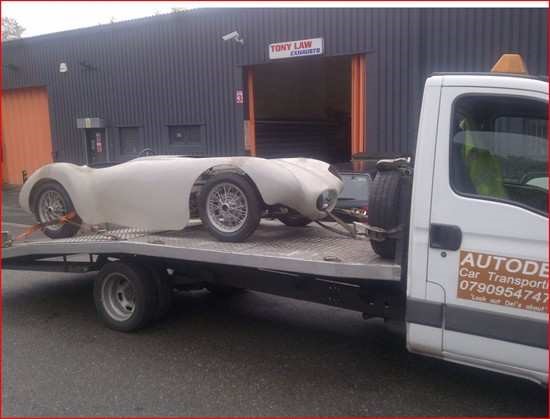 FNA 733
New Rochdale GTs to the register are appearing out of the woodwork with a regularity that is promising. Most of these are from searching through the internet but every now and then we are lucky enough to get an email from a past owner. Bernard Barker was one such owner who wrote to Malcolm Mackay detailing a Rochdale GT he used to own and enclosing numerous photos. Some of these photos are my favourite photos ever of the Rochdale GT. The photos tell a story and have nostalgia, history and general happy quality about them, hard to describe but I'm sure you'll agree.
Bernie writes:
I used to co-own a Rochdale in the late 50's. The registration number was FNA 733. My friend and I built the Special in 1957. I have detailed below some wording that you may find interesting.
During my apprenticeship years in my spare time together with a friend Bob Vaughan we built a Rochdale Special car. Firstly, we bought an old Ford Prefect circa late 1940s, which was not taxed and really should not have been on the road, I drove it from Birkenhead with Bob following in his Redifusion Van to his house in Wallasey- it had to be Bobs house as I lived in a flat in Birkenhead Fire Station, and he had a large garage alongside the house.
We arrived with no problems and that was the start of 4 months of hard work. We stripped the old car down until we had a bare chassis, and only keeping the mechanical parts, including the wheels. Cleaning up the chassis was our first job and it was in pretty good condition, all it required was a good scrape and painting. Then we started stripping down all of the components we envisaged we would be using. These were Engine brakes suspension axles wheels etc. The body we broke up and threw out together with most of the internal upholstery rear seats, windows, etc.
The Engine was fully overhauled and up-rated with new high lift camshaft, new valves, pistons, cylinder head, exhaust manifold and twin SU carburetors, coil, etc. Suspension was up rated and new dampers and bushes fitted, brakes were changed into full hydraulic with new pipework, special pistons, shoes, and drums (no disc brakes then).
Everything was re-fitted to the chassis; the wheels were shot blasted and new up-rated tyres fitted (still very narrow as was the norm then).
We ordered a new (Rochdale) fibre-glass sporty style body which arrived in white and not trimmed at all, the doors were fitted but all they had were hinges & locks. The glass for the windows together with the rubbers was supplied separately, together with a new wiring loom. The seats we modified (made smaller to fit inside the new body) and refitted with runners to chassis floor. A new dashboard was made from plywood, sanded and stained/polished, and then all new instruments mounted and connected. The wiring loom was fitted, clipped, and wires were connecting-up as required.
Once all mechanicals were completed we started the engine and fined tuned it as far as possible, then we took it around the block (back streets) for a first proving run. Anyway to cut a long story short we had the body sprayed cream/red and drove the car around Europe.
The car was driven to Lydd airport (East Sussex) where the car boarded a plane and we were all swept away to France. We then drove the car from France, Switzerland and Germany. It would be great to know what happened to FNA 733.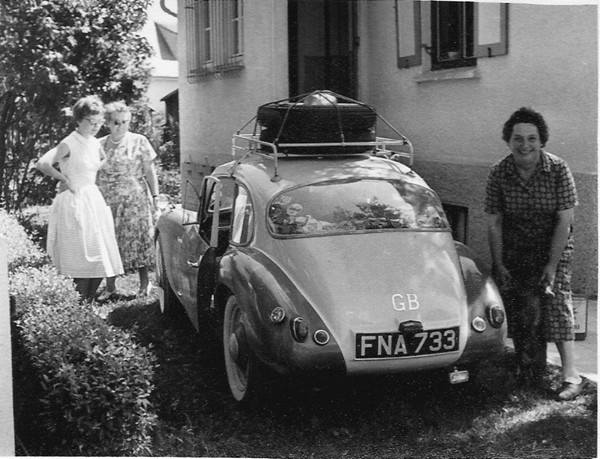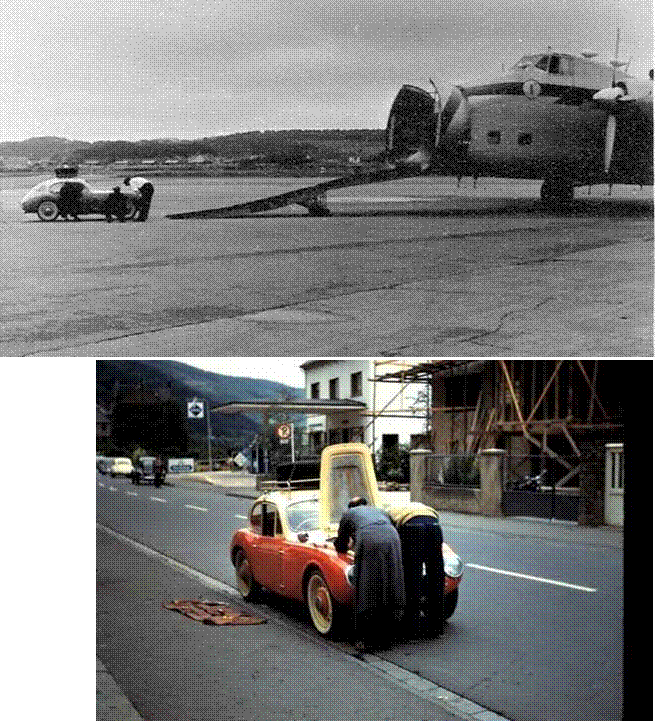 Malcolm Writes:
This is an absolutely terrific story, and great photos! Thank you so much for taking the trouble to write and send the photos - we are always so grateful to hear from people who built the cars; few are still around and even fewer have clear memories of the experience, let alone photos. If you have any more photos and if you can spare the time to write more about your experiences, we would be really, really grateful to see/hear more!
You and Bob made a really nice job of the Rochdale - some were really not very well put together, to say the least. You mention uprating the suspension - can you recall in what way it was uprated?
I am very sorry to say that we have no record of FNA 733 surviving. I have checked the DVLA website, and there is no record of it there either. Incidentally, my books say that FNA 733 registration was issued in November 1938, so it was quite an early model; are you sure it was a Prefect? The Prefect chassis was 7ft 10in wheelbase, whereas the Rochdale body was designed for the 7ft 6in wheelbase chassis used on pre/post-war Anglias and 1950s Populars.
The Rochdale GT was launched in April 1957, so you must have built one of the first - I don't suppose you have any of the paperwork from when you bought/built it? We will of course keep your details on file and if the car does turn up (it's always possible) we will let you know straight away. Would you give us your permission to use your story and photos in our Club magazine? We will of course send you a copy...
Bernie Writes:
It was a nice surprise to hear from you, and some of your comments either helped to jog my memory or prove I had forgotten things. With regard to the model of the original car I am sure it was not an 'Anglia', could it have been a Popular? I know it was a bit of a wreck. The suspension - I cannot recall what we did other than we took the springs off and sent them away (maybe some leaves were broken). I seem to remember refitting them with different linkage brackets, but it is all very vague. I think we replaced all the shock absorbers & bushes etc. No original paperwork bills of sale etc., has survived.
The engine upgrade also included an 'Aquaplane' cylinder head, and the carbs were SUs.
We also had to fit an alternative radiator with no header tank (owing to the streamlined bonnet!!!) the header tank was mounted on top of the engine (see photo), which caused some problems on our holiday.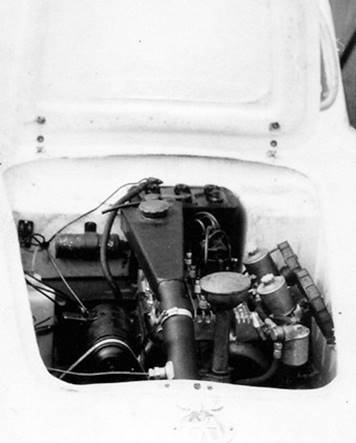 It was either in Germany or
Switzerland when the header tank split, it was only soft soldered and I think the vibration caused the solder to come apart, someone directed us to a small one-man garage who welded it up using a liquid acetylene torch and off we went again.
As I am typing this little things keep coming back to me, such as getting dirty petrol in Switzerland and having to strip and clean the carbs etc, many times mostly up in the Alps. Also we had not fitted the lower window sealing rubbers in time for our great adventure and at French customs one of the officers broke off a small piece of fibreglass shouting to his fellow officers "Plastique, Plastique". He was very excited.
Another time we were following the Rhine and the fan belt broke just outside a place called 'Boppard'. We had the bonnet up wondering what to do, when a guy in lederhosen walked up to us asking could he help, obviously we said yes and gave him the old belt. Off he set and we were able to watch him walk around a large bend in the river and disappear from sight. About 1 hour later he reappeared and eventually made it to the car --- with a new fan belt-- amazing all he wanted in return was a lift, I cannot remember where to.
We had a starting problem on the way home (can't remember what). To start the car, we had lift the bonnet and join 2 wires together. This caused major problems when the car had to be loaded onto the airplane - it had to be pushed by several guys up, and at the other end, down the ramp (we being in customs were not allowed to help) until it and us had cleared customs. We went into the customs hall and did our usual tricks, the car started straight away; they were all puffed out and peed off. Thinking back the whole 3-week trip was a real adventure.
I would be delighted for you to use the story in your magazine -- I also attach some more photos you may also find interesting.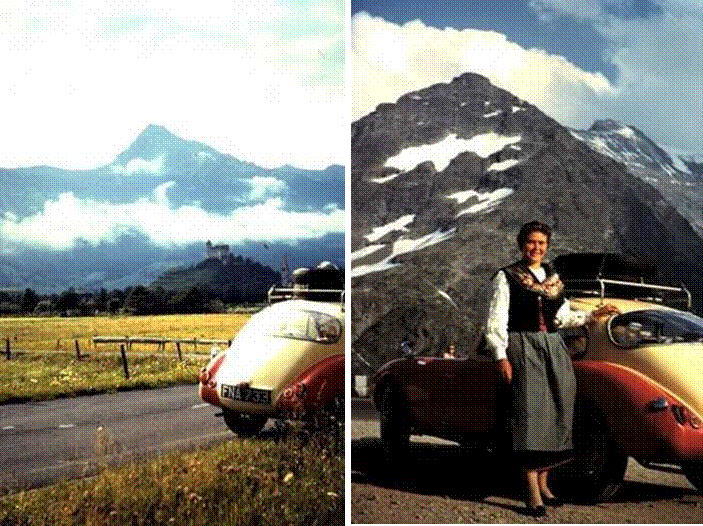 Malcolm writes:
Thank you - and Happy New Year! - and what terrific photos! It's great to hear of your adventures - that was quite a trip! You were not alone in embarking on such an ambitious trip in the Rochdale - I have a photo from another young guy who took his GT to Switzerland soon after building it - but I don't imagine many of them enjoyed such great adventures.
You've reminded me of a similar adventure I had when taking part in the Rallye des Alpes in my Super Two Ford Special in 1995. I'd not packed a spare fan belt (space was extremely tight, and it was such a big fanbelt I foolishly assumed there was no danger of it breaking!). It failed, and the only spare I could find at first was a narrow one, which slipped. However, that day we drove through Lichtenstein, and stopped to fill up at a petrol station that was also an Opel dealership. Out of desperation, I walked in to the spares desk carrying the big fan belt. I don't speak German, and they spoke no English, but the spares man led me through the back, where there was a big store room filled with neatly stacked parts, then up some stairs to another huge store room, also packed with parts, then up a rickety staircase to an attic storeroom, full of dusty parts, and there on the wall was a big old fanbelt rack with every imaginable size of wide fanbelt. We picked one that was spot on, and he even charged the (very) old price that was handwritten on a label on the belt. I was so shocked I forgot to ask for a spare, but it was still on the car when I sold it 12 years later!
Re the chassis, being 1938 it really had to be an Anglia if it was a saloon with the correct 7ft 6in wheelbase, as the Popular name wasn't used until 1953 - but I don't know how much they actually used the model name Anglia back then - it may simply have been known as a Ford Eight. The model number in 1938 was the 7Y, and chassis number would've been around 250000. It would have had the 8HP, 933cc engine - did you replace that with an 1172cc? Or is it possible the car was the long wheelbase Prefect, and you shortened the chassis and propshaft?
I expect one reason you sent the springs away was to get them retempered to suit the lighter Rochdale body, and/or to get a few leaves removed for the same purpose. If you fitted different linkage brackets, it's possible you fitted the Woodhead Monroe 'Fluid Cushion Ride' conversion of the time (great name), which was a set of telescopic shock absorbers with brackets to suit, plus (optionally) a rear anti-roll bar - does that ring any bells?
The Aquaplane head and manifolds with twin SUs were, in my view, the two best modifications you could do on those engines, as on standard engines the compression was unnecessarily low and would give a good power boost when increased, and the standard carb and manifolds were so small and restrictive that they gave great fuel economy but really strangled power. You could boost the meagre standard power output by 50+% with those two bolt-on mods!
Do you have any dates of when the car was completed, and when your European trip took place? It would be great to know... I can imagine the French customs officer's surprise at the glassfibre body - there were a few French specials using glassfibre, but they were extremely rare and I imagine most Frenchmen at the time would never have seen a 'plastic car'... The colour photos show you got a really nice finish on it - did you have it sprayed, or did you hand paint it? Thanks again for your recollections and photos - wonderful. If any more comes to mind, or if you feel like writing up the whole story of the European trip, I for one would be delighted to read it!
Charles Bulmer
I was reading the superb book Not much of an engineer, an autobiography by Sir Stanley Hooker when Nan Cawthorne rang to say that Charles had died. It was only three weeks earlier that Charles had given me a copy of this excellent book with his internal inscription saying that he thought I should have a copy because I might enjoy it as much as he had Charles, Jan 2012.
It was late 1961 when Maureen and I, just married, came, by chance to live in Camberley. As soon as Charles and Heather found that we had a house nearby, invitations started to pour in. We soon became members of the Hants and Berks MC where we were able to meet and enjoy the company of so many people who have become lifelong friends. Friends I must pick out in particular were Dick and Nan Cawthorne for as soon as I mentioned to Charles that I was very interested in a Rochdale Olympic the Bulmers arranged dinner with the Cawthornes who were in the process of building one.
When I was away surveying far afield Charles would pick Maureen up for the journey to the Motor offices, invariably in something exotic and, by the weekend, would put further miles on the test car by inviting me to join him. Charless driving skill was fully experienced one Sunday when driving an Elan at speed, he avoided a car that was stupidly parked on the road immediately over the brow of a hill.
It was Charles who advised on the extra-long suspension travel necessary for me to build into the Buckler chassis I used as a basis for Turfsmoker, my autocross special and which paid off in several winning drives. In later years when I was building the E Type Special I often found that my technical knowledge had gaps and every time I approached Charles with my queries I would be given a clear answer with appropriate sketches I learned a lot. At other times when visiting the Bulmer household Charles and I would get into serious discussion on car design, modifications and tuning there appeared to be nothing that Charles didn't know about.
I was delighted that fairly recently Charles was able to again meet up with Norman Dewis and reacquaint himself with 77RW, the E type roadster which was one of two cars that made history at the 1961 Geneva Motor Show and was the car that Charles, together with John AnsticeBrown tested abroad for Motor.
For quite some time Charles had become fragile but continued to socialise right up to his death. Now that I can no longer drive, I am forever grateful to him for taking me along to shop at Tesco early on Sunday mornings when a car was necessary for carrying heavy items.
It will be difficult to be without a great source of inspiration for things mechanical around which my life has evolved. Charles will be very sadly missed and am sure he will soon sort out any engineering problems in the heavens above.
Derek Argyle
OLYMPIC REGISTRAR
Just before Christmas Alan Farrer received a tip off from Tony Wright of a collection of classic cars that was being reduced in the Bristol area. Included was a Rochdale GT and Olympic. Alan persuaded me (not much needed I hasten to add) to join him on a day trip to investigate further.
Entering the farm was like stepping back in time. Not only were there two buildings full of Classics, but the surrounding fields resembled the scrap yards of my youth. It is a long time since I have seen so many split screen Morris Minors quietly rotting away.
The owner, Mark Evans was intending to emigrate to Ireland and hence the need to reduce the collection. The GT had already been sold, but the Olympic was still there and Alan and I had a good look. It had obviously been a very well finished car at one stage in its life, but sadly several years of storage, latterly outside had taken its toll and even Alan could not persuade himself to undertake yet another ground up Olympic rebuild. (He did however succumb to a Buckler, but that is another story).
The car did answer one mystery that has been bugging me for several years. Back in 1990 Frank Butterworth mentioned that he had seen an Olympic for sale on Ebay. Unfortunately, by that time it had been withdrawn, only to reappear sometime later. Tony managed to find out that the car had been built by a Mr Bradley, who lived in Edmonton, North London and was originally registered as a Bradley and not a Rochdale. The Olympic was originally one of the rare 'F' types, but during his ownership was converted to Triumph engine and front suspension. The car was reregistered DGU 954H, presumably sourced from the donor Triumph?
The front end conversion was accomplished by bonding in the Triumph cross member. Due to years of storage and knowing how bonded in steel can rust, to be safe this would need to be cut out and redone.
One very interesting feature were the rear quarter lights. Instead of the usual Perspex there were purpose made hinged aluminium frames containing toughened glass. As these are curved one wonders if Mr Bradley was in the glass trade or at least had the right contacts. I believe that subsequently Mark Evans did decide that he would take the Olympic with him to Ireland and carry out a rebuild. Hopefully the car will see the light of day in the not too distant future.
The GT mentioned had in fact been acquired by Roger Dyer and is one of the few survivors supplied new with Rochdales own ladder chassis. This had passed through many hands over the years including our very own Malcolm McKay. The car is registered 71 SPA and the original owner is thought to be a Mr Appleton, then residing in Ewell, Surrey. Mr Appleton subsequently built a phase 1 Olympic, which was used for competition as the November 22nd 1963 edition of Autosport contains a write up of the Trio Sprint meeting at Brands Hatch as follows:
"This left the struggle for the class between B Appleton (Rochdale Olympic) and J D Green, (Tornado Talisman). Green was quicker by 0.4 sec first time out, with 2 mins. 42.0 secs., but
Appleton improved to 2 mins. 40.8 secs., which was more than enough to redress the balance"
Mr Appleton kept the Olympic for another year and then advertised it in the September 1964 edition of Motor Sport for &pound400 ono. By this time the Olympic was painted Opalescent grey and he had moved from Ewell to Whitmore Vale, Hindhead. The trail then goes cold for a number of years. If anyone can fill in any information on Mr B Appleton, I would be grateful.
It is thought that this Olympic was registered 81 XPH, the car which was recovered from a Derbyshire scrap yard in 2009 and is now being rebuilt by John Plant. It would be nice if the tie up between Mr Appleton and 81 XPH could be positively verified as this would assist with the reregistration. Unfortunately, Surrey is not one of the Local Authorities who retained records when they were computerised.
Rochdale Motor Panels had quite a few customers who graduated from the early shells to an Olympic. Another one that instantly springs to mind is Mr P Greengrass from Norwich (No not the one from Heartbeat!). He also graduated from a GT, Chassis No PG1 to an Olympic registered 8338 PW, Chassis No PG2. This Olympic of course was the one owned by Malcolm.
The Bristol area features quite a bit in Rochdale circles at the moment. A few weeks ago I was copied in on an email from Robin Jarman saying that he had recently acquired his late fathers phase 2 Olympic. This car has been in the family from new and in use in the Bristol area for the last 45 years or so.
The car has had a number of different engines, generally with the addition of a supercharger and has always been a potent machine. The most noticeable feature is the rear end on the bodywork which has been modified along the lines of the Breadvan Ferrari. This modification was apparently done primarily to improve the high speed handling. I believe Robin has agreed to write an article for a forthcoming edition of the Magazine. [It's here Ed]
A recent email from Mark Lowrie indicated that he was just about to start the rebuild of the Olympic (formerly 118 JAC) that he acquired some 3 years ago. This particular car also started life as an 'F' type Olympic, with side valve Ford engine and suspension, but was converted in the late 1970s to a normal phase 1, courtesy of a burnt out car.
I remember reading a number of years ago about an Elite owner (the original one that now fetches mega money) who stopped the fire brigade attending to his fire as he had been told that GRP self-extinguished!! If nothing else, it proves that you should not believe all you hear.
Mention of Olympics that have suffered from the dreaded combustibility of GRP brings to mind the article that appeared in the December 1967 edition of the Motor entitled The Road that Died, supposedly written by an Alexander Kim which relates the unfortunate end suffered by his Olympic. Tony Stanton managed to obtain a copy of the magazine at the NEC in November and we mused as to the registration number of said Olympic.
Whilst searching through some old folders I came a scrap of paper with the wording The Road that Died written by Kim Brassington and a telephone number. Tony phoned the number which was answered by Alexander Kim Brassington, who confirmed the identity of the car as 941 BWC. This was a car that was already on the Register, the original owner builder being a Mr Bolas from
Buckhurst Hill in Essex, however, its subsequent fate, previously unknown, is now in the database.
It would be interesting to know how many Olympics have departed this earth either through fire or being written off in an accident. Apart from these two occurrences the majority seem to survive, even if a considerable number spend long hours tucked away in a dark garage or the corner of a field.
My own Olympic rebuild has not progressed over the last few months. A cold, unlit lock up is not conducive to speedy progress.
Robin Read
I was sad to see in the February issue of the 750 Motor Club Bulletin of the passing of Robin Read.
Robin started his own business at the age of 21 producing tuning equipment for, primarily the Austin Seven under the Dante label. An early employee was Jem Marsh, who was soon to leave and start his own businesses, initially under the Speedex name and latterly of course Marcos. With the Dante company folding in 1959 Robin joined Lotus as Sales Manager. After leaving Lotus, Robin had a brief expedition with Rochdale Motor Panels, taking an Olympic on a continental tour with the view of promoting it amongst presumably his ex-Lotus contacts. I don't think that Robin was actually employed by RMP and neither did the tour produce a vast increase in Olympic sales.
Robin did write an article for the Magazine some years ago about his trip and was very complimentary about the Olympic. Some years ago Robin intended to write a book about Ford Specials and interviewed me for the Rochdale section, but sadly this never reached publication.
Derek Bentley