MAGAZINE No 127 AUTUMN 2011
Edlines
Spares and Regalia Situation Vacant
There has been a conspicuous lack of response to the request in the last magazine for a new spares officer. I appreciate that a small club such as ours has only a small pool from which to provide officials, but come on chaps Please contact Nigel if you need more information on what the job entails.
New Olympic window frames
Due to widespread interest expressed on the Club website forum Keith Hamer is willing to produce frames for the Phase 1 Olympic. Please contact him directly with your requirements. keith@scholar-racing96.com
Historic Specials Day at the Cotswold Wildlife Park near Burford, Oxon.
This year it was on Sunday 14 August and had the usual attendance of specials and kit cars from the 50s and 60s. 5 Olympics and Les Browns GT supplied the Rochdale presence and I was particularly pleased to see Rob Harrisons thoughtfully modified Phase 1, which won the Best Modified trophy. A7s were well represented with 10 examples covering track cars to tourers, a good turnout.
Rebuild Progress
My Phase 1 is at last capable of motion under its own power (best not to mention steam). There only remains those small items that occupy the last 50% of the effort, so having spent what seems like a lifetime preparing the bodywork for painting I have given in and am getting it done at a local paintshop.
Back issues of magazine
Copies of magazine Nos 1-100 are available on a single CD from me price &pound10 inc p&p (UK). They are in colour and in pdf format, arranged so that it is easy to print off a copy on to A4 sheets, which only need to be folded and stapled. Paper copies of later magazine are available from the Secretary and/or me (depending on the issue number).
TONY STANTONS NEWS & EVENTS
North Worcestershire Classic Car Meet
The Bowling Green Inn, Shaw Lane, Stoke Prior, Wychbold, Bromsgrove, Worcs. B60 4BH.
From 7.00pm Monday 19th September 2011
From 12.00pm Sunday 16th October 2011
From 12.00pm Sunday 20th November 2011
From 12.00pm Sunday 18th December 2011
From 12.00pm Sunday 19th January 2012
West Warwickshire Classic Car Meet
The Moat House Inn, Birmingham Road, Kings Coughton, Nr Alcester, Warks, B49 5QF.
From 7.00pm Thursday 29th September 2011
From 11.00am Sunday 30th October 2011
From 11.00am Sunday 27th November 2011
From 11.00am Monday 26th December 2011 Boxing Day Special.
From 11.00am Sunday 29th January 2012
CLASSIC CAR SHOW NEC 11th, 12th and 13th November 2011
As we do not have a club stand this year I am looking for a tidy Rochdale to display on the Fairthorpe Sports Car Club stand and material/display boards.
PLEASE contact tony-stanton@fsmail.net (please put ROCHDALE in the subject line)
Olympic News
I am very sorry but due to other commitments over the last few months I have not had time to delve in to the past history of Rochdale Olympics so no Olympic News this time. But with luck in future magazines I may have completed articles on a VW engined Olympic and the Olympic bodyshell made by Richard Parker in the 1980s.
FBHVC NEWS
The cheque lives on. It has been announced that the plans to scrap cheques in 2018 have been abandoned.
The Payments Council website made the following announcement:
The Payments Council is today (12 July 2011) announcing that cheques will continue for as long as customers need them and the target for possible closure of the cheque clearing in 2018 has been cancelled. The Payments Council Board will continue to focus on security, efficiency and encouraging innovation in all types of payments to ensure customers have options best suited to the 21st century.
Richard North, the Chairman of the Payments Council said:
"It's in the DNA of the Payments Council to consult and listen to all those people who actually make payments and use cheques. Listening to over 600 stakeholder groups, working with the banks and following our appearance before the Treasury Select Committee, we have concluded we should reassure customers that the cheque is staying.
Over the last two years we have learnt a great deal about what is important to our many stakeholders and we are really grateful to all of those groups and individuals who took the time to talk to us and help us reach this decision. We will use what we've learnt to keep improving existing systems, as well as introducing innovation, so that customers benefit from 21st century ways to pay. Innovation must be at the heart of what we do.
The Federation did campaign on behalf of members to keep cheques via the Federation of Small Businesses and the All Party Parliamentary Historic Vehicles Group.
FUEL NEWS
Ethanol: Corrosion, Compatibility, and Combustion
There is still a great deal of misinformation being printed about ethanol in spite of some very detailed facts being freely available on our website. In response to members concerns we have distilled this information into three more easily digested paragraphs: Corrosion, Compatibility and Combustion.
Corrosion in fuel tanks and failure of traditional materials used in fuel systems due to incompatibility with ethanol may cause fuel leaks. Because fuel leaks create a high risk of fire or explosion, these matters have been given priority in extensive articles in the newsletter since October 2008. The articles show how the problems associated with corrosion and compatibility have been identified. As a consequence, the FBHVC commissioned a test programme for commercial additives designed to overcome corrosion problems. Testing began in the second week of July 2011 and will take 13 weeks to complete in order to assess how well each additive responded to ethanol which will be progressively aged over the test period. Those products that pass the test will be entitled to carry the Federations endorsement. Some of the products are sold as corrosion inhibitors but contain other additives as well. This endorsement will be purely for the properties limiting corrosion, there will be no endorsement for valve seat recession or octane boosting properties which will not have formed part of the test.
Compatibility. There are no additives which can protect against other compatibility issues with seals and gaskets etc - there is a compatibility chart on our website where the details of suitable ethanol-resistant products can be found. Previously applied tank sealants, unless specifically designed for use with ethanol, are also likely to cause problems. Motorcycles with fibreglass tanks must check that the type of GRP used is compatible with ethanol.
Combustion, on the other hand, affects only the driveability of a vehicle and poses no significant risk to life or limb. Ethanol has long been recognised as a fuel supplement that improves performance and the FBHVC considers it unlikely that the modest proportions of ethanol in modern fuel will have anything other than a positive effect on the combustion process. Others, who take a different view, have criticised the FBHVC for not doing more to investigate the assertion that the presence of ethanol leads to slow combustion in low compression engines resulting in poor performance, overheating and damage to exhaust valves. The Federation continues to investigate aspects of combustion with the aid of an independent consultant and the findings will be reported as soon as available.
DVLA LIAISON
Nigel Harrison
Continuous Insurance (CI)
The introduction of CI was explained in Newsletter 6-2010 and has now become a reality.
If, as the registered keeper, your vehicle insurance expires (or is cancelled) whilst the vehicle is taxed, you will fall foul of the continuous insurance requirements. DVLA have now produced a fact sheet, Seasonal Vehicle Users. This is either downloadable from www.fbhvc.co.uk under the Continuous Insurance tab, or if you don't have access to the internet, available from the Secretary and the DVLA.
The Motor Insurance Bureau is now sending out Insurance Advisory Letters to the registered keepers of uninsured vehicles advising them to either:
Insure the vehicle immediately.
Contact their insurance provider if they believe that their vehicle is already insured.
SORN the vehicle.
Notify DVLA that they are no longer the keeper of the vehicle.
The fact sheet explains the penalties if the letter is not responded to. Essentially if the vehicle is taxed, it now also needs to be insured.
How Many Left?
In the last Newsletter I explained how it was possible to obtain vehicle data from DVLA. There is now a website called www.howmanyleft.co.uk, which uses publicly available DVLA data. This site reveals how many vehicles of each model (e.g. Minor) are licensed in each year between 1994 and 2011. Also is revealed, amongst other things is, how many of each model (e.g. Minor), for each year of registration, are still licensed or SORNed. What needs to be borne in mind is that the data relates to the make and model as recorded by DVLA, via their drop down lists. That description might not always be the same as the physical vehicle.
Where a particular maker is missing from the DVLA dropdown list (e.g. Standard) then the maker of those vehicles is recorded as free text and is displayed on the website with a maker of Other, followed by a country or a region e.g. Other British. However the actual maker should appear on the V5C. If a model type, e.g. 8 as in 8 HP (Horse Power), is not on the DVLA drop down list then the model name is coded as missing.
If a specialist club is trying to establish how many vehicles exist that come into that clubs area of interest, then the vehicles with model names coded as missing could be a problem. That problem could possibly be partly resolved by purchasing data which includes other information like engine capacity and body type, a subject covered in the last newsletter.
This website is a useful resource in revealing how many historic vehicles of each model have survived over the years, based on year of registration.
Unregistered Vehicle Inspections
The vehicle inspection is an essential part of the registration process. Typically, the owner-supplied photographs would have been scrutinised, supporting documentation examined, and any discrepancies that come to light resolved, prior to the club inspection taking place. Occasionally a showstopper comes to light, so it is not possible to register the vehicle.
With one case, a claim for an original number, there was impeccable documentation, but the photographs indicated that the vehicle was not substantially complete. I explained that the examination would need to be deferred until the vehicle was actually substantially complete, although not necessarily roadworthy. The owner then revealed that he had scrapped the vehicle some time ago, but he just wanted a V5C in his name, so that the registration number could be transferred to another vehicle. That application was sent into DVLA, with a recommendation for a refusal.
With another case, this time an age-related application, I explained to the owner of this 1920s light commercial that the vehicle needed to consist of genuine period components. Suddenly the case went all quiet. A few months later the vehicle had changed hands, and the new owner wanted to register it. It was then revealed that instead of having a side valve petrol engine there was a relatively modern diesel engine installed. Even if a 1920s differential could cope with the increased power from a modern diesel engine, there was no way in which this engine could be called a genuine period component. The owner was informed that I could not produce a dating letter for a vehicle in that condition.
Had the vehicle already been registered with DVLA, from a registration standpoint, there should been no difficulty in registering a change from a petrol to a diesel engine. However, when registering a Reconstructed Classic, (i.e. an application for an age-related number) the club needs to be able to declare that the vehicle consists of genuine period components.
Commercial Use of Historic Vehicles
At the end of the DVLA information sheet called Notes about Taxation Classes (V355/1) is the definition for Historic Vehicles, which reads as follows. All vehicles, except buses and good vehicles used commercially are exempt from vehicle tax if they were constructed before 1.1.73. See INF34, Taxing Historic Vehicles for more information. The key point is that if a pre-1973 bus or goods vehicle is being used commercially it should not have a taxation class of Historic Vehicle. A DVLA Local Office would be able to advise on the appropriate taxation class.
DVLA list of Vehicle Owner Clubs (V765/1 List)
The new V765/1 list has just been issued. It is suggested that a clubs DVLA contact checks that their details are correct, and where possible displaying both a phone number and an email address. If details are missing or incorrect please ring the DVLAs direct line for V765/1 Tel: 01792 788009.
This latest edition has a date code of 6/11. It is available for download from www.dft.gov.uk/dvla/forms in the leaflet section and the printed version runs to 28 pages. If you don't have access to the internet, it should be available by contacting any DVLA local office.
There is a wonderful piece in the Bean Car Club magazine: Isn't it amazing that the government should inflict catalytic convertors on the car-buying public for the benefit of converting poisonous CO into harmless CO2 yet, eight years later, is now proposing to tax us on the basis of that same CO2? In any case, vehicle emissions are less than one percent of all CO2 emitted into the atmosphere. Curtailing vehicle emissions without curtailing CO2 emissions elsewhere or ending deforestation is like switching off your car engine because a volcano is about to erupt.
Registrar Ramblings
Ramblings of an Olympic and Riviera Owner who should know better!
One of the downsides of the Rochdale GT is the lack of interior width. (Two inches narrower at shoulder level than the Austin Seven Ruby I believe).
Looking at Guy Stallards car at the recent Bristol Show the mind started working overtime. Run an angle grinder down the centre of the body, space out the two halves by about six inches and bond it back together.
Now, the Morris Minor windscreen is a similar shape to the original, but six inches wider. That's one problem solved!
At the rear cut the Perspex screen in half to form two rear windows with a six-inch GRP section between. Similarly use the Ford chassis side rails and fit new wider cross members.
Now what about running gear? An 'A' series engine would be ideal, just as done in period by Allan Staniforth.
The extra width should suit a Morris Minor axle. At the front the Hot Rod boys used to use the Triumph turrets fixed to the Ford Chassis.
No I really must be sensible after all there are only a certain number of hours in the day, even with retirement looming in the next couple of years!!!!
Derek Bentley
Laon Historic Festival 2011
Derek Argyle
I decided that even after writing up the outings to Laon for the past ten years there was still a little to be said.
Our gang included: -
Colin & Ilka Breakspear, Turner Sports, Rochdale Club
Derek Bentley /Alan Farrer, Turner Sports, Rochdale Club
Paul & Hayley Johnson, Wildcat
Alan Hart/Jim Hmida, Daimler Sovereign Ian & Mary Wheeler, 1946 MGTC
David & Anthea Tunnicliffe, Porsche 911 Derek Argyle/Chris Riley, E Special
It would have been a sad time for me if, after attending the last ten years of the Laon Festival, I could no longer go. Ever hopeful, and since having my licence revoked in June 2010, I did not sell my E Special and was able to find a driver to take me to the event. Chris Riley, my nephew-in-law had joined me in 2010 for a Continental Car Tours outing to Trier in Germany before I was not allowed to drive and, on handing over some of the driving to him, I found that he was an exceedingly fine driver. Naturally my fear of anyone else driving my treasured car was that, should there be an accidental prang, the Special, being a one-off car, would make repairs particularly difficult.
The Tour operator had all of our gang booked for the 10.25 am ferry though, in my case, at the time of booking, I had asked for one at about 8.00 am. I rang to confirm and found that if we were to get to Dover early enough we would probably be able to take the next available boat. Chris and I decided to leave Camberley at 5.00 am and this tied in with lower traffic levels such that we were able to get to the port in exactly one and a half hours averaging 70 mph for the 106 mile journey.
Once in France we took the motorway to Arras, but, arriving a little early for lunch we walked in the town and tried to visit the famous underground tunnels, a relic of the past wars, that are entered from within the Town Hall. Unfortunately, this was not possible on the day because of a flower show being held there.
The Caf Leffe in the town hall square that is known as the Place des Heroes was, as usual, our lunch venue and the omelette that I had ordered became a pizza that was placed before me. It looked so good I didn't bother to change it and no sooner had I started to eat than into the Cafe came Ian & Mary Wheeler, their TC MG having made excellent time from the port. When we left Arras we kept the TC in sight and drove along secondary roads until we reached Laon and our hotel seventy miles away. It had been a delightful sunny day and the rest of the weekend stayed hot and dry. Ian was strangely never taken with the hotel food during past visits and the first job was to go into town and book a table for the evening meal, then it was back to the hotel terrace for drinks by which time the rest of the gang had turned up.
On Saturday morning we drove to the Promenade de la Couloire on the outside of part of the walled city to collect rally plaques, a goody-bag and route cards. The excellent organisation had placed most of the gang on the Rally route B which turned out to be the longest of the three routes.
The lunch stop was at St Quentin and the 750 parked-up vehicles formed the basis of a car museum - quite a sight. It was here that I met Colin and Ilka, the Rochdale Club members with their Turner who had come from their home in Germany and whom I had met at Laon in 2010. It was 5.00 pm when we ended the days run and arrived at the Hippodrome on the Laon outskirts, another venue that had parking space for the vast number of participants. Tickets given to us that morning invited us to a free glass of champagne but because this was not available until 6.00 pm we decided not to hang around till then so drove back for a bath and a beer.
We left the hotel early enough on Sunday morning to be certain to find a space in the crowded Town Hall square rather than in the Ville Basse as I had done in previous years. Up in the square there was more activity and by 11.00 am the doors to the Town Hall were opened and we trooped in to grab the few seats adjacent to the stage (and close to the free nibbles and glasses of champagne that were to be offered later). As in previous years we had the multi-lingual speeches from the Mayor and dignitaries covering the welcome and the need to keep speeds down when we drove the street circuit in the afternoon.
After a snack lunch we returned to our cars and Chris and I completed 21/2 laps of the street circuit with what appeared to be even more road-side cheering crowds than in previous years. I'm certain that the circuit has been lengthened as it now seems to take longer to get round. It was now time to go back to the hotel for a few beers before setting out for dinner.
There had been mention of the possibility of some motoring activity in Peronne, a town virtually on the route back towards Calais. We called in and saw several cars scattered throughout the town that had been at Laon but their occupants, like us, appeared bewildered that there was no motoring action to be found. We continued north and made for the site of the Coupole, the massive wartime building from which the Germans had fired V1's and V2's at us in WW2. It was also a centre for space exploration. Built into a hillside and constructed by ill-fed forced labour working until most dropped dead from exhaustion, the building was bomb-proof with its vast convex concrete roof 5 metres thick and, being suitably modified to attract the tourist, is really worth a visit. It is situated in the village of Wizernes, about 3 miles SW of St Omer in the Pas de Calais and is well signposted.
We now had but a short journey to the ferry which was to leave at 4.00 pm and it was nice to find that we were to travel on the new P & O boat, The Pride of Britain. Both Chris and I had hoped that there would be time to have a good fish meal in Calais before catching the boat but time was not on our side and so, once on board we made for the Brasserie and enjoyed a reasonable dinner on the 2 hour return trip. This is a much better option than sitting in the usual crowded boat with noisy kids running around. 2 course meals cost &pound15 and 3 course cost &pound20 which, with waiter service, is pretty fair for these days.
As we were driving back from Laon up the A26 motorway, we were not to know what befell the MGTC shortly after we passed Ian and Mary who appeared to be rolling along quite happily. As I learned later, Chris and I had no sooner passed the MG when Ian realised that the engine had gone on to 2 cylinders. He stopped, and then, to his amazement, discovered that the water in the engine had run dry. He pushed on a short way after letting the engine cool and soon came to a designated eating spot where water was available but no amount of fiddling could show why the engine was only running on two cylinders, and in this state this is how the journey was made back to Camberley. Ian found that gradients caused the MG to get down to single figure speeds and with mighty lorries passing close-by, this was a most frightening time for them both.
Two days later I joined Ian in his garage and it was soon found that there was no compression on cylinders 1 and 4. We lifted the rocker box and immediately saw that the two cylinders had their exhaust valves stuck in the open position. By tapping a screwdriver in between the spring coils the valves shot back to their closed position and a start-up later showed that all was well with the engine as it ran on all four cylinders.
Chris and I also experienced some car trouble but this hardly affected the enjoyment of the outing. Chris found that when using reverse gear there was a lot of juddering from the engine. Discussions with Paul Johnson suggested a split engine mounting rubber and this proved to be the case - once home, l jacked the engine to see that the nearside engine support, (the one taking all the lifting torque reaction), had parted company with the rubber mounting. I ordered new parts and two days later had these fitted but it had been very difficult to gain access to one of the nuts necessitating an SOS call to Paul for a special spanner. I felt aches and pains for another two days after all the crawling and struggling as I lay under the car between the jack and the car ramps. It was not like this when I was younger!
The Festival this year had been most enjoyable and the organisers did particularly well to handle the 750 vehicles of all sorts. Prices in France are noticeably higher and we did see one garage that was selling fuel at 1.69 euros a litre which, with near-parity to the pound would be as high as &pound1.69 a litre, although the average price was nearer to 1.56 euros a litre, still much dearer than at home. Even at these prices we are not put off for getting our names down with Continental Car Tours for another trip in 2012; the outing is still very good value.
* * * * * * * * * * * * * * *
News from the Shed
Keith Hamer
After a number of years trying to fit the restoration of my Olympics into a busy schedule of work on customer cars I was offered the chance to purchase an Olympic which was already on the road. Being in the business of restoring classic sports and race cars the opportunity to once again drive around in an Olympic was just too good an opportunity to miss. The end result is that I am now driving our new works van. This is a 1961 Rochdale Olympic phase 1, MFO 123. The transition from occasional Sunday driver to every day transport has been a little fraught but by no means a chore.
Very early on in my ownership it became apparent that the car was running far too close to the road, as some of the wheel arch damage will testify. The original owner was also a little shorter than I am; therefore these two minor problems had to be sorted out as soon as possible to make the car fit my purposes. The first thing to do was to lower the drivers seat so that my head didn't touch the headlining of the car; this was an easy fix and was carried out one evening before locking the workshop up and going home for tea. The front ride height issue was also an easy fix; I simply wound up the front torsion bars to get the cars attitude closer to standard.
The rears however caused a little more trouble, being on standard springs and original specification Woodhead dampers I had to make up some spacers to raise the rear of the car some 2" to gain the correct attitude for the car. Luckily we have full CNC machining facilities and a little design work and programming of the machine made up the necessary components.
The next stage (fitting them) was to prove more awkward as anyone who has tried to remove the rear dampers from a phase one will testify; however a couple of hour cursing and banging fingers saw the dampers removed. They were then checked, re-furbished with new bushes etc., the new spacers fitted and they were ready to refit to the car. Thankfully refitting is a little simpler than removing them and another 20 minutes saw the car back on its own wheels. The ride height calculations proved to be right and the car now sits (in my opinion) at the correct height and attitude. The other thing raising the rear of the car has allowed us to do is fit a set of 14" x 5.5" Minilight type wheels with 165 / 70 R14's under the standard arches which set off the car to a tee.
Being a very original example of an Olympic this car was still running its built-in fibreglass tank, it had always been my intention to remove the tank and fit a steel one in its place. However pressure of customer work and the length of time this was going to take meant that this would have to wait until I had another couple of hours spare. During one run in the car this issue raised its ugly head and bit me, the car started to fluff and eventually it came to a halt. Having limped back to the workshop the investigation began. The car would tick over but obviously wasn't running on all 4 cylinders so I employed the old trick of taking the plug leads off one by one. Several shocks later it was apparent that at least one cylinder wasn't firing - ah ignition problems. New plugs, points, condenser, plug leads, dissi cap, rotor arm, coil and vacuum advance unit fitted and all seemed fine; the car was back to its former glory, but two miles down the road it was back to a basket case.
A roadside rethink was done and I checked for fuel. Eureka! a very much reduced flow from the SU fuel pump; remove and clean all the filters between the tank and the carburettor intake pipes. Once again off down the road for a test, initially OK but starting to go onto two cylinders again. Back to the workshop for a bit more investigation, this is all starting to get a bit groundhog but not being one to be beaten we remove the float chamber tops, now I seem to be getting somewhere, one float chamber is full of fuel the other one is empty, as both chambers are fed from the same pipe it has to be the needle valves. No they are OK but the filter in one of the float chamber tops is blocked. I replace the float chamber tops with new ones from stock and finally we have a car that runs well and keeps going at last
This is a cautionary tale - don't make assumptions, do your diagnostics carefully and thoroughly and you will fix the problem. Having got to this stage the last piece in the jigsaw is the fuel tank. We have had problems with these in the past and have fitted club stainless tanks in place of the originals, but since these haven't been available for some time (I have looked into having some alloy ones made up, but the costs are prohibitive for one offs) we now fit new MGB tanks and senders in the boot floor of the phase one. This was done and to date I have had no more problems with the car.
As I said this is a 1961 Olympic phase 1, the bodywork has been repaired and painted in old
English white, and the rear arches are as standard. The engine is the original MGA unit fitted to a 4 speed gearbox. The interior treatment has been done as original although we have trimmed the dashboard and instrument pod in black vinyl and fitted a centre console.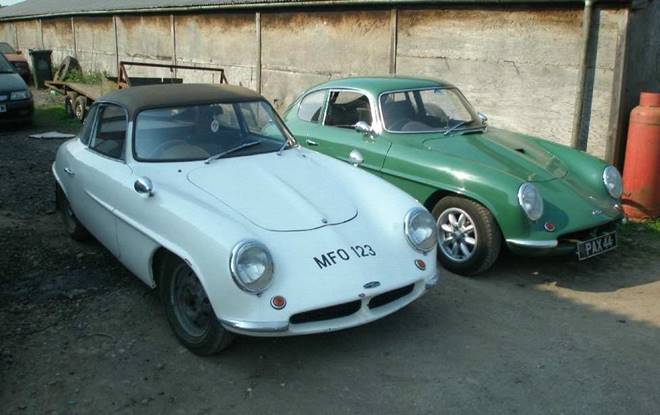 MFO 123 as found, alongside Jasons phase 2.
Jason is in the final stages in the restoration of a phase one 405 CWU. This one is quite well known in the club and was featured in one of the classic car magazines back in the mid 1980's. It is distinctive in that (as far as I am aware) it is the only Olympic to have been fitted with wire wheels. It is running a Ford 1500cc pre crossflow and the dash has been modified to look like a phase two; both these modifications were done in the 1980's, other than that the car is fairly standard.
My own lightweight sits between two customer cars and sometimes I even get some time to do the odd job on it. Currently we are up to rolling chassis stage with a spare engine fitted of the type it will eventually be running. This car originally ran a pre crossflow Ford Cosworth blackhead formula junior motor of 1100cc capacity attached to a Hewland 5 speed gearbox. We have an engine being built and I am negotiating on a gearbox as I write this. These items will be the final piece of the puzzle and for me will represent a major investment but if we are going to stand a chance of racing the car we need to conform to appendix 'K' of the FIA regulations and this is the only way. I estimate that the engine and gearbox alone will cost in excess of most Olympic rebuild budgets.
One car we are struggling with is the Alistair Banks wide bodied Olympic phase one. This car has been very highly modified and now runs on fully independent rear suspension, modified BMW E30 front uprights on Caterham type twin wishbones with adjustable coil over dampers. The engine is from a Lotus Exige but has been built up to 1900cc and runs a fully 3D mappable ECU setup and twin injectors on straight to head throttle bodies, big cams and gas flowed inlet and exhaust tracts.
The gearbox is Ford type 9 with Quaife gears and the differential is a BMW limited slip item. The wheels are Image split rums which are 16" x 8" running 225 / 50 x 16's on the rear and 215 / 50 x 16's on the front. The interior has been designed by the owner who commissioned his own design for the instruments and we have built individual pods for them. The seats are Lotus, and the trim is going to be minimal..
The big problem we currently face is with the engine; being effectively full race, and initially second hand it suffered a major bottom end seizure soon after the car was finished. This has been addressed with a rebuild which included new crank, rods, cam, oil pump and all bearings / gaskets but it still remains a little temperamental. We are working through these problems and by tightening up the tolerances on various ancillaries, fine tuning the mapping on the laptop and carefully ironing out the wrinkles we should have the car finally finished soon. Having basically re invented a car I am very pleased with the cars road manners and performance. It is however a little disappointing that the only bit we didn't build (the engine) is the bit that is giving us the most trouble.
One thing I have started to do is collate all the corner weights, overall weights, front - rear split weights and suspension measurements on all the cars we build. I now have a quite extensive database of Olympics which does make for interesting reading. For instance the car described above weighs a little over 800kg, has a 49-51 weight balance and will be producing roughly 288bhp / ton. Jasons phase two comes in at 714kg with a 50-50 weight balance. I will be very interested to find out the figures for my lightweight, it was always a little more front heavy than a standard Olympic due to its lighter body moulding. However in previous owners hands this problem has been exacerbated as someone has beefed up the front half of the car by laying up extra fibreglass on the inside of the original moulding. I was tempted to take a grinder to it but not only is this very messy it is also decidedly difficult to control the thickness of the finished item, so I have therefore decided to leave well alone and accept the end result. If the car is as light as quoted (10 cwt in full race trim) I may be able to balance it out with ballast without losing too much of its advantage.
In the workshop we currently have four major re-builds going on and one which is due to come on stream in the New Year. Two of the restorations are getting very close to completion; the first is a little GT. Based on a Triumph chassis which we have heavily modified to make it into a space frame, we have fitted Olympic type rear suspension and an 'A' series axle. All that remains to be done is the interior trim and head lining.
On the subject of head linings Jason has just fitted one in the Olympic which will be the next one to be finished. This is a lovely car. Having been given the brief to restore it to the specification it was supplied in way back in 1961 I am enjoying the chance to build a totally unmodified car once again. Actually that's not quite right we have fitted an alternator with the new MG Midget wiring loom, but essentially the car remains as was.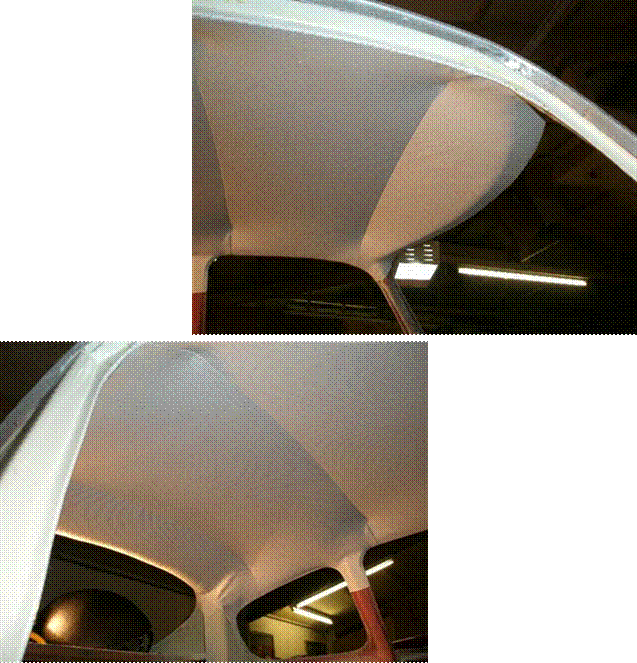 Phase one Olympic basic headlining fitted but unfinished.
The final stretching and trimming will be done when the glass is fitted.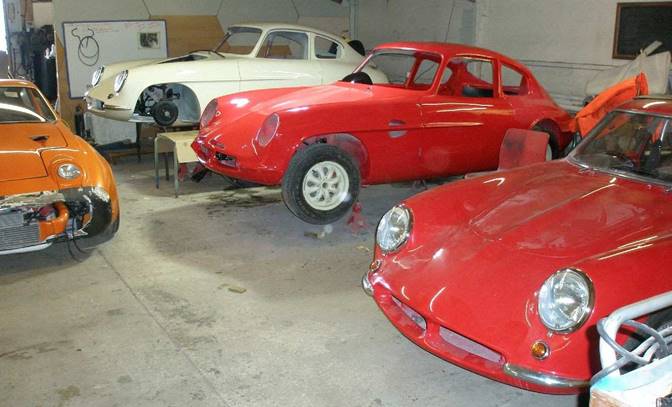 Olympics in the workshop, from left to right, John Friths phase 1 46 XKX, my own Olympic lightweight JJH 20G, and Dave Mayers phase 1 405 CWU. The little car far left is a heavily modified Midas Gold belonging to my son Simon.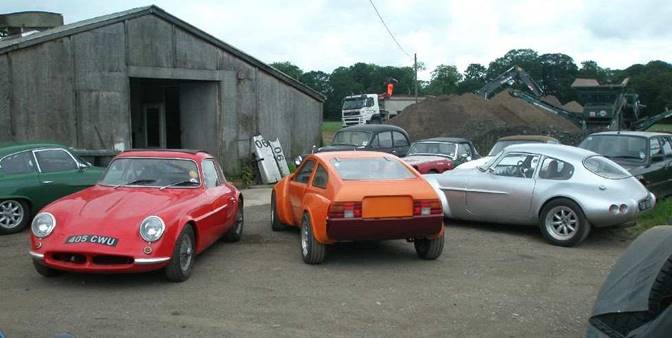 Olympics basking in the Cheshire sunshine, Green car Jason Hoffmans phase 2 PAX 44,
Dave Mayers phase 1, Midas Gold again, Alistair Banks phase 1 TBF 966, and hiding alongside the MG is my new car phase 1 MFO 123.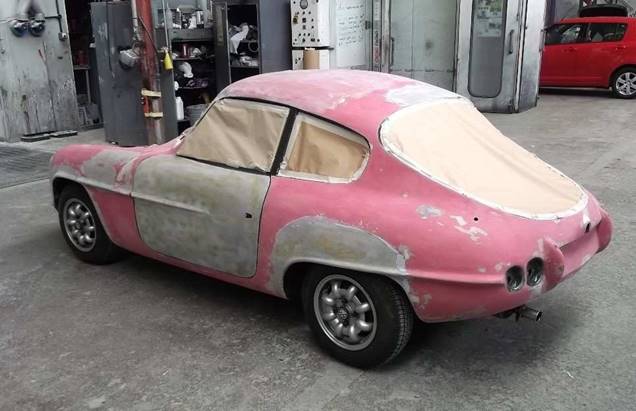 OGL 758 stripped, showing its battle scars.
LETTERS
From Jon Ablett August 2011
The attached images show OGL 758 in its present naked state, with evidence of its previous history now exposed for all to see. It's intriguing to reveal the battle scars on a fibreglass car as the layers of paint are gradually removed.
Who did what and when ? especially to the right hand front wing, which is wafer thin compared to the rest of the car. I used the car extensively last year in the condition you saw it at Burford, however I decided I couldn't live with the multi-coloured multi- textured appearance. Mindful of the comments from those of you present at Burford, about complete rebuilds that become 'sleepers', I have not removed any mechanical components, only external trim, and at this stage am only doing a cosmetic makeover
Having revealed the state of the fibreglass this will take long enough as it is, it won't be perfect but at least it should look reasonably presentable again and will stay 'on the road'. Obviously I will not be at Burford with the car this year, and if you are going I would be grateful if you would give my apologies and reason for not attending. If you wish to use any of these images and comments in the Club Magazine please feel free to do so.
PS. As you can see I haven't tried to take the doors off yet ! ! !
From Tony Wright June 2011
The Lady in the Lake latest update.
About a week ago (early June) I returned to the small pond containing the wreckage of an abandoned fifties special reputed to be a Convair. The dry weather had caused the water level to fall to the point where you could walk across the bed of the pond. Sadly the car looked worse and I would guess that the engine was Morris side valve and not the usual Ford. The bodywork was distorted and showing vandal damage.
Talking to the next door neighbour he gave the encouraging news that the Convair Man was due in the next few weeks to exhume the debris and take to a safe place. I did ask him to contact me when the Convair Man arrived as it would provide an excellent spectacle and yield some interesting photos. If it happens I'll keep you posted.
From Derek Argyle 7 July 2011
I have just heard that Bill Boddy of Motor Sport died this morning at 1.00 am. He was 98 and 5 months so didn't quite make the magic 100. We assume he simply died in his sleep at his home. He has had exceptional health throughout his life. I had the pleasure of twice visiting his home in Wales with motoring types and he could tell many very amusing motoring experiences. He leaves a daughter, Nonpus, an acquired name.
There is to be a Memorial service at Presteigne later. I hope to get a lift.
Bodgeworth
This is a new section of the magazine, where members may air their weird and wonderful solutions to difficult (or even simple) problems. Please feel free to write/email in. Ed.
To kick off, try this (it's neither weird nor wonderful, but it worked):
Speedo cable connection to gearbox
My Phase 1 had lots of rather large holes cut into the tunnel in the region of the gearlever hole, (what's new?) presumably for access to the gearbox mounting, oil level plug etc. One of these was big enough to compromise the tunnel strength, so after using it for access (very useful as it happens for fitting the fly-off handbrake cable stop) I filled them all in apart from a smallish one for access to the level plug and speedo output on my A-series gearbox. I then realised I could not get my hand to the speedo bush from the front, so had to enlarge said hole so that I could get my (small) hand through. Doh.
You may have noticed that the thread on the connector is very fine, it's in light alloy with only fine knurling for grip and the speedo bush is nylon. This makes for a difficult combination when trying to connect them in a confined space and no matter what I did I couldn't get the threads to mate correctly - I couldn't align the connector properly and I couldn't grip it enough either. After about half an hour, with my hand getting sore and running out of expletives, I decided another tack was called for - a tool. This is what sets man apart from the apes, allegedly.
The design, if that is what you can call it, is a 3 inch length of 22mm copper tube with the end splayed to make a taper fit onto the connector. The splay was achieved by making 6 equally spaced saw cuts about 1" long from one end and bending the leaves out a little. The saw cuts were left rough to help with grip. Steel tube would be better as the copper is barely stiff enough.
I threaded this onto the cable, worked it up to the connector, squeezed my hand through the hole and found I could then get a decent grip on the tool. Amazingly, the connector went on first time and I could do it up until there was very little slack, total time about two minutes. The final bit of tightening was achieved by tapping the connector round using the end of a long screwdriver as a drift. Mission accomplished and cost zero. It was hardly elegant, but it worked.
Self-tapping into glassfibre
Self-tapping screws are designed for use with relatively thin deformable materials such as metal sheet, but in when used in GRP can result in cracks. Also, when the GRP is thick it is virtually impossible to drive in the screw unless the hole is oversize. The solution? Tap the hole as you would do with thick metal. My method is to take a long self-tapper and grind flutes along its length using a cutting disc in a Dremel or equivalent to make a crude tap. 3 or 4 flutes will be OK. These flutes provide the cutting edges to enable even thick GRP to be used. I have done this with 3 sizes of screw and keep them separate to avoid loss. Pre-tapping is especially useful with stainless steel self-tappers, which are softer than normal.
PRESCOTT, MAY 2011 A DAY TO REMEMBER (or forget)
Tony Wright
I entered for the Rotary Prescott event in May where you can drive this historic hill without helmets, overalls, permits etc. I was then told that Sir Stirling Moss, that iconic motor racing legend, was to appear and that for a generous charity donation he would drive your car up the hill. I duly tendered and was subsequently told I was on the reserve list.
The day arrived. The Rochdale had been cleaned, greased and the tyres inflated and off we sailed. On the way I stopped for fuel and decided that under the circumstances high octane super unleaded was the preferred refreshment. Most of the 10 miles to Prescott I spent on narrow lanes following a 1911 White car. On arrival I parked and spent a very pleasant time chatting to people not least Mark Hales whom I had admired 20 years or so ago driving a V8 sports-racing brute appropriately named The Attila. Mark was with an old friend Mike Hallowes who had recently acquired the ex-Bill Needham Cooper-Jap 500cc like what Sir Stirling cut his teeth on.
The weather was what we in Eldersfield call dabbly, the hill was greasy with tree pollen and I was enjoying myself chatting and taking in the wide range of machinery. Suddenly a call on the Tannoy summoned the Rochdale and I as Sir Stirling was waiting. Bearing in mind he is 81 and has been busy all day driving some exotic and expensive cars he was surprisingly enthusiastic about my plastic kit car. Most of the people you meet who have spent a lifetime in the public eye develop an easy, relaxing known you all their life manner. Stirling has this in spades. After lowering himself in he quickly acclimatised and off we went to the start line.
At this point the gravity of the occasion hit me. Alongside me sat an icon - you know what the police say when they stop you for speeding - he was on the 'A' list for most of the important decades of my life. The flag dropped, the clutch bit and away we went, in front of hundreds, cameras flashing like a sick pig!
I thought it must be him, this car with its tuned MGB engine has wonderful acceleration but no, we fluffed our way under the bridge at about 10 mph.
Stirling was incredibly gracious had I rebuilt it? did it have SU's?, whilst a terrible panic swept over me.
As we swept, or rather crept, around Ettores the horrifying thought came to me; on the steep climb to Pardon the car would stop and Stirling and I would have to climb out and suffer unimaginable humiliation. Fortunately the gods looked down on us favourably and we staggered up the rest of the hill at a ludicrously slow rate. Stirling has coped with many disasters and this was an annoying trifle. I congratulated him on his famous Mille Miglia win and how much I enjoyed Denis Jenkinsons vivid account, in my view one of the greatest pieces of motoring literature..
We shook hands, someone helped to extract him from the Rochdale whilst I chatted briefly to his very friendly wife Suzie.
Suddenly the calm descended and I thought this has never happened before was it him ? So off I went for a climb on my own to find it was still as flat as the witches proverbial. (I hadn't come across this expression before, but Tony enlightened me; I can't print the answer Ed)
But it wasn't only me handing out vast amounts of schadenfreude that day. Mike Hallowes had lowered a pretty exhausted Stirling into the Cooper-Jap. Bump starting was not on the menu so Mike began the ritual of lifting the back wheels on his racing jack, then pull-starting his lawn mower-engined rear tyre rollers, pushing them against a rear tyre until the Jap burst into life. At this stage it was dropped off the jack to glorious noises and then Stirling stalled it. After the third attempt Sir Stirling was unceremoniously hauled out and the lithe Ian Patten was inserted.
Mike was, unlike me, the consummate professional and had Stirling autograph the car. Had I thought of it I would have been happy to have the Rochdale autographed by this legend.
The drive home was strange in that the car would just about gather momentum if you kept backing on and off the accelerator. The funniest moment was my arrival home when my wife asked me how it went. After hearing how the car behaved in such august company she asked if I wanted a box of matches!!
Several days were spent trying to locate the problem: fuel lines, carburettors, valve clearances, ignition, compression, but no fault was found. I then disconnected the fuel pipes and pumped out most of the fuel tank, refuelled and started. The result was a total cure. I had been the victim of a bad batch of super unleaded. The sad fact is that this coincided with what could have been a pleasurable and memorable time for both myself and the car. Having said that I still have very happy memories of the day Stirling Moss drove 779 CUG.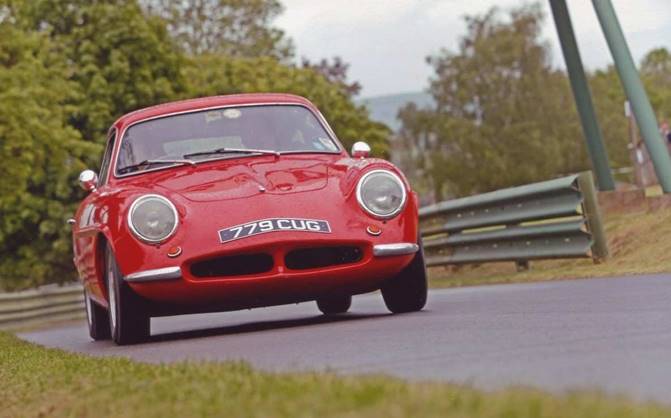 Measurement of spring rate - on the cheap
I had for some time wished I could measure the spring rate of the many old car suspension springs that I have accumulated over the years. In tuning one's suspension there have been times when the ride of a car has been a little too firm perhaps. If I knew what the rate of such a spring was I would be in a position to order a new set of springs with a lower rate that I believed would be more suitable.
The idea then came to me to make a copy of a professional spring rate measuring device from a photograph I had seen. I didn't want to go to any great expense and started to look around for suitable parts to build this unit. I still had the threaded part of an Acrow that had been used to support brickwork whilst a lintel was installed on the house years earlier. There was an old but suitable set of bathroom scales waiting to be pulled out of a store cupboard and there was a spare length of 40mm square 10 gauge steel tubing left over from building the E Special. Some quick dimensions allowed me to plan the layout of the unit.
From the picture you can see that from a square base of tubes I welded two uprights approximately 12" apart and from these I welded two tubes across, one either side of a short length of 2 1/4" diameter tube set vertically and centrally. Through this short length of tubing runs the length of the Acrow tube whose external threaded portion abuts the underside of the short tube. A steel pin is inserted through the main Acrow tube to act against the base of the threaded portion of the Acrow such that a suitable position can be found to suit the length of the car spring being tested .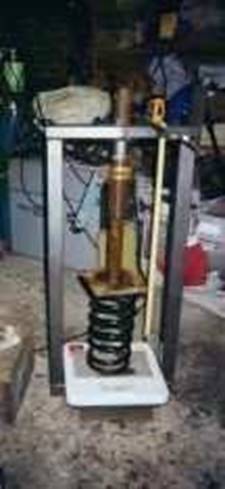 With the bathroom scales set on top of the base tubing framework and a 12 gauge steel plate positioned on the top of the scales to spread the load of the spring, the Acrow is lowered until it rests lightly on the top of the spring and all play taken up. The fine adjusment screw on the scales is adjusted to read zero. A measuring tape is clamped to the frame of the unit such that a round figure of measurement is recorded level with the top edge of the plate that was part of the main Acrow tube in the first instance.
The handle is then carefully wound to compress the spring until one inch of movement has been recorded. A reading on the scales is taken. The handle is now wound further until there has been two inches of compression and a fresh reading taken on the scales. It is unlikely that the second reading will be exactly twice that of the first but will not be far away if care has been taken. By averaging the first reading with the mean of the second, a very good overall figure will show the strength of the spring under test in lbs / inch.
In my device I have to ensure that the somewhat coarse and rough thread of the Acrow is well oiled and very free to turn. Engineers will realise that however inaccurate such a homemade device may be, it will give almost perfectly accurate figures for comparing one spring with another.
Derek Argyle
Notes from Ed:
1). An indirect way to establish spring rate is to use the standard formula:
R = m x d4 / ND3
Where R = rate in lb/in
m = steel modulus = 11.25 x 106 d = wire dia in in. N = number of active coils D = mean coil dia. in in.
2). When fitting softer springs to a coilover setup be careful the springs do not bottom out at full bump, as they may well have more turns which occupy more space. Be warned.
3). Dereks article prompted me to measure the wheel (rather than just the spring) rate in situ on my car (a Phase 1 with standard front suspension).
The process goes like this:
Jack the car up and place a pair of bathroom scales under one wheel with the cars weight spread by means of a short thick plank. Lower the car until a small deflection is seen on the scales, then note these values and the distance between the hub centre and the wheel arch. Lower the car a further 0.5" and note the new scale readings.
Repeat the process until the measured weight is a much as the scales can manage (normally about 240kg max for the pair) or you run out of movement. Then raise the car, repeating all the measurements. These will be different from the first set as there is hysteresis in the suspension.
I drew graphs and plotted the average, the slope of which gave the wheel rate. This changed somewhat depending on the deflection, but on my car it came to 95 lb/in at the normal ride height.
This is somewhat higher than would be calculated from the torsion bar data and suspension geometry (about 85 lb/in) and is probably mainly due to stiffness in the bushes. As the rear springs are 90 lb/in and the weight distribution on my car is 50/50, I expect the car to pitch excessively, as a rear wheel rate of 90 lb/in means the suspension frequencies for both front and rear work out to the same value (103 cpm). For the best ride the front frequency should be about 20% lower than the rear, ie 85 cpm.
I have three options (in increasing order of difficulty): 1) leave alone, 2) raise the rear spring rate to about 130 lb/in, or 3) reduce the stiffness of the torsion bars to give a wheel rate of 65 lb/in. The third option requires the torsion bars to be reduced in diameter by about 10% - not an easy DIY job.
I will see, but I will probably try option 2) eventually, as my Phase 2 has a rear wheel rate of about 120 lb/in and its ride is not at all bad.
Alan Farrer
EARLY ROCHDALES
James Farrington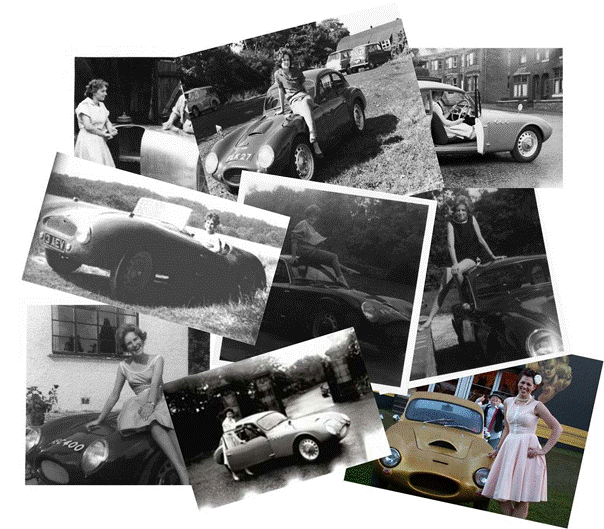 I thought I'd headline my ramblings this quarter with a few classic bodyshells for you to look at. I'm sure you all saw the nice view from inside the town hall in the last magazine! Having looked through the pictures I have on file it is surprising how many feature a few ladies posing on the bodywork of early Rochdales, but only one or two recent ones though. I guess asking your wives to sit on the bodywork of most of the remaining early Rochdales would just get them covered in fibreglass dust and oil. Does any other classic car club magazine have a readers wives feature?
It is amazing how fast the copy date for this magazine comes up, or maybe it's because I'm enjoying the high life in Cyprus and time is just passing too quickly. I did manage to get back to the UK during August for 2 weeks though and during that time managed to attend the Historic Specials day at Burford, an excellent event to see some really rare specials and have a good day out at the wildlife park with the family at the same time. I must congratulate Les Brown again for getting out and about in his Rochdale GT, a pretty long journey but always good to see an early Rochdale at these events, his first trip out in it since fitting a new radiator, very brave or confident in his abilities, or a bit of both!
There is a definite underground classic car circle here in Cyprus and if you take the backroads around the country you will invariably come across a classic that is ripe for restoration. The benefit of little rain all year round helps maintain these little treasures and I'm sure my garage may be filled soon with a little something to keep my hand and mind occupied. Cars are pretty expensive though as the Euro value against the and high cost of living makes a few of the cars out of my wallet's reach. A quick look on www.classiccarsforsale.com located in Cyprus shows a Porsche 911 for &pound45,000, a Citroen Pony for 5000 Euro and a DKW 3/6 950cc two stroke engine for 3500 Euro in need of light restoration. None of them what I quite fancy, well I'd take the Porsche if I could afford it!
A classic car story I have heard about and subsequently found on the internet lies at the eastern side of the island in the Green Line. The Green Line is a 180 kilometre-long (112 miles) stretch of land that divides the island of Cyprus and going through its capital city of Nicosia. It was created as a demilitarized zone between the Greek and Turkish Cypriot controlled areas of Cyprus after Turkey invaded in 1974. Here lies an unoccupied piece of land that seems to have been frozen in time. One interesting feature in this deserted city is a Toyota car dealership that has numerous cars located in a showroom. One car only has 37 miles on the clock and has stood in the same place for the past 37 years. If you want to see more then have a look at http://www.urbantravel.org/greenline/ from which the following photos were taken. The photographer was allowed a rare glimpse at the city.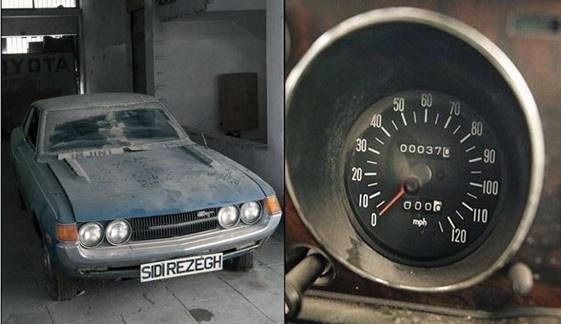 Another classic car associated find was a little closer to home, situated not far from where I live is a compound hidden deep in the undergrowth, behind a high fence is lots of overgrown land and bushes. What you can see though sticking out of some of the undergrowth is masses of classic car shells confiscated from the Turkish Cypriots in 1974. and there they all sit today, gathering rust, I did manage to climb through a gap in the fence and have a walk back in time through this scrap yard with about 250 cars, buses and tractors, nothing really worth salvaging as it looks as though a bush fire may have ripped through there at one time, although there is a mini moke relatively unscathed. Due to the location there is no way I'll be able to get any photographs unless I want to get arrested and tried for spying!
Last Magazine Update
Now, normally for these magazine articles I like to send them to Malcolm to read prior to going to Alan, but unfortunately for the last magazine Malcolm was away doing one of his Classic Car Events and I bravely decided to go ahead without a proof read. Following the publication of the magazine Malcolm writes:
GT Lights: I wonder if you could clarify in the next mag, the correct lighting solution for the rear of the GT. Joel's is absolutely right, Rochdale designed the car to take the standard Lucas L549 rear light as used on TRs, Morris Minors, MGAs, Frogeyes and others at the time. It is a twin filament light - obviously the small filament is used for the tail lights and the big filament for the brakes. So what happens with the indicators? Well, there is a special Lucas control unit, the DB10, which enables the relevant brake light to flash as an indicator even when you are applying the brakes. So, no need to find anywhere to put an amber flashing light - though it is true that it is not as noticeable and there is a danger people may not spot it. Also, a new DB10 is &pound60 now, more expensive than a pair of amber lights!
Rochdale ST: There's an odd bit in the story of 97 EPG where reference is made to the Ford Prefects running a 5.5:1 axle giving a top speed of 60mph - about right, but they were not on 15in wheels, they had 16in rims (and Populars had 17in rims).
DRB 375: Great pix, personally I don't like the wire wheels because they're too big, making it look like a 1960s body on a 1930s chassis (which of course is what it is!), I think they must be 18in wheels as they are even bigger than the 17in Pop items. In my view 15in Ballamys are the ideal - 13in look a bit small and even 16in look too big. But that's just my opinion!
Now, 3 points is not too bad!
MFL 838F
For those who visit the ROC website you will recognise the picture of the Rochdale GT below from the owners cars section. For those who don't frequent the website then written next to this photo is the following: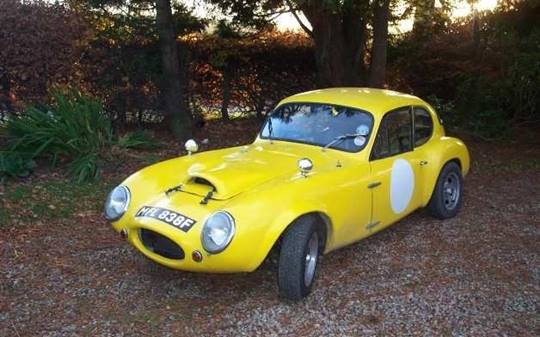 Here is a photo of William Culbert's 1968 Rochdale GT. The car is fitted with a Triumph 1500 engine and running gear. It was rebuilt between 1990 and 1998 by Jim Reid who is currently rebuilding an Olympic convertible. It is believed that there are only 3 Triumph 1500 engined cars in existence. The GT is great fun to drive and gets plenty of attention, wherever it goes.
In ROC magazine 99 William Culbert wrote:
The car was trimmed, painted and finished by a man in Stonehaven. It was bought by William Russell from Lanarkshire who owned and ran the car until 2000-2001. It was then sold to a young man in Fife as a running car. It was then stripped of its engine, gearbox and trim, I do not know why, and left with a Vauxhall Viva 1300cc engine sitting in the engine bay. Mike Ramsey Frazer then bought it and made good progress in putting it back on the road.
Even though this remains in the name of William on the website, William decided to sell his
GT in 2005 by placing it on Ebay and sold it to Philippe Vermast from Luxembourg (Rochdales seem quite popular over there). William sold it to try and get funds towards the purchase of a Morgan 4/4 but I'm not sure if he ever bought one.
Anyway, Phillippe bought the car and had it resprayed in the same colour yellow but has now decided that he wants to sell it again. Phillippe writes:
Thank you for your mail. I would be glad if you advertise my Rochdale GT in your articles. Here the detail: the car is built on a Triumph Herald chassis and has got a 1500 Spitfire engine.
Car is in a very good condition. (new painting). Asking price is &pound5.500, car can be brought to
Calais. (ferry to Dover), Best regards, Philippe. philippe.vermast@gmail.com
[It was advertised in the last magazine (No 126) Ed]
If you want to know more about its history then a comprehensive article is in ROC magazine 100, go get it!
I'd like to end by expressing my thanks to Les Brown for stepping up to the mark in taking on the part time role of ROC Secretary.
I'd also like to end by mentioning the need for history of your cars.
It is reiterated every magazine that we really would appreciate it if you could scan any documents associated with RMP or your car and let the registrars have a copy. For the history of these cars to survive it is imperative that documents and names are not lost or mislaid. With your help the registrars can use your information to help solve numerous jigsaw puzzles of information with missing pieces. All information is held on a database in the utmost strictest confidentiality and is used for historic purposes only. Many thanks to those who have contributed so far, as a member of the ROC, part of your membership fee goes to help collate the heritage involved with the Marque. Please, please, please go that one step further and send us any photos or literature that you feel would be of use to us, anything helps no matter how small. Happy Rochdaling.
OLYMPIC REGISTRAR Autumn 2011
Back in the Spring edition of the Magazine, No 125, I mentioned the conundrum of how many body shells survived the factory fire. Previous indications were that there were the two Olympics removed from the front by the firemen and one Olympic and One GT removed from the rear by Frank Butterworth.
However, from a recent interview that Les Brown had with John Dunwell, one of the few people who worked at the factory at that time who are still alive, new light is shed on the subject. According to John there were sheds behind the main works that Rochdale Motor Panels used for storage. So, these sheds would probably have contained at least one Olympic shell, several GTs and possibly other items.
The two shells shown in the photographs are light colour, probably white and John also confirmed that it was a white shell that was subsequently used to create the new moulds and that only the Olympic moulds were re-manufactured.
So the story now looks as follows: Of the two shells at the front, one is that supplied to Mr Howarth, one week after the fire (subsequently registered VYJ 626 and now with Roger Drinkwater), the second is the one from which the moulds were made.
The red shell delivered on 21st April to Alexander James (subsequently registered 118 JAC) would be one from the back of the premises, whilst the second red shell delivered the following day to a Mr Barnard (subsequently registered 886 WTF) must also have been at the rear.
What else was in the storage sheds? Well five GT shells were supplied post fire, whilst a Riviera shell plus the rear part of a Riviera was collected by a Swiss customer on 14th August 1961, some six months after the fire. So, presumably these were in storage too.
Mention of 886 WTF gives me the opportunity to provide an update on this particular Olympic. Back in 1985 I bought this as a second phase 1 Olympic from Dudley Guest. The intention was to do a bit of light competition, sprints, hillclimbs etc. To this end Marina disc brakes were added, together with a limited slip differential. The engine was a newly rebuilt 1622cc MGA. Unfortunately, having completed most of the mechanical rebuild works loss of storage space meant that it had to go. As is so often the case with Rochdales it passed through three further owners, without the rebuild being significantly advanced and finally finished up with Bob Heppell of Pershore. Bob is no stranger to GRP monocoques as he already owns a Lotus Elite. From a recent conversation it would seem that Bob has made significant progress to the extent that it should be back on the road shortly. That will be over 30 years since it last turned a wheel under its own power.
Another phase 1 that is due to be roadworthy after a lengthy rest is 405 CWU. This was rebuilt from a basket case in the early 1980s by Richard Green. Richard kept it and used it until 1998 whereupon it was passed to a near neighbour Jon Sidebotham. Richard then progressed to restoring a Jaguar E type.
The Olympic is now with Dave Mayers near Wrexham and has just undergone a full rebuild I understand by Keith Hamer. Hopefully, it will be hitting the road shortly.
I mentioned in the last issue of the Magazine that I was at Prescott for the local Rotary Club annual classic car event and that Tony Wrights phase 1 Olympic (779 CUG) was driven up the hill by Sir Stirling Moss. I also mentioned that, unfortunately, the Olympic was none too happy and appeared to only be running on three cylinders, so progress was somewhat sedate. It would seem that the problem was a bad batch of fuel. Tony had filled up with super unleaded on the way and as is normal the misfire only revealed itself on the start line. When he got home, at a rather slow pace, the tank was pumped out and refilled and the car ran perfectly again.
Perhaps a good point to mention that the increasing amounts of Ethanol in modern fuel could cause problems with older cars. One of the problems mentioned is that it attacks GRP resin, not good for anyone who still has the original bonded-in tanks!
Back in the late 1970s the place to take your special was the Donnington Kit Car Show. It was here that I first met Stan Hanks and his phase 1 (1523 DF). Stan had bought the car from a work colleague at Jaguars and had carried out a complete rebuild incorporating a number of mechanical modifications. At that time the car sported BRG paintwork and genuine Minilite wheels. This was the start of Stans association with Olympics and over the years quite a number passed through his hands rightly earning him the title of Mr Rochdale.
The car was acquired in a running but sorry state in 2007 by Ros King from Salisbury. Ros has had the car fully restored and painted in silver and it recently carried off second prize at a local show. The car certainly looks superb in the photos.
Not content with an Olympic Ros has also now acquired a GT. This car was purchased from Ben Bettell who was only the second owner. This is another Rochdale that hasn't been on the road for some 50 years, but I understand work is already underway by Ros Polish mechanic.
Ros has an early connection with Rochdale Motor Panels, as apparently back in the days when the GT was in production they needed temporary accommodation due to a factory flood. This was provided by a relation of Ros who owned a local chicken farm. It seems however that chickens and GRP don't mix and the poultry population suffered as a result!!
Ben Bettell sold the GT as space was needed for the phase 1 Olympic recently purchased from Roger Cook. This is the car acquired by a Mr Kerr of Inverness in 1962 but never completed at the time of his death in 2007. Having seen both his Jaguar E type and his Suffolk SS100, I know that Ben will finish the car to a high standard. I wait with bated breath.
At the AGM back in April I was able to re-acquaint myself with Paul Gething and his Olympic (GUY 541C). Paul has owned the car for over 30 years and it is rather unusual. Back in the days when Rochdale spares were at a premium a previous owner modified the car to take a Triumph Spitfire windscreen. It was done so well that you need more that a casual glance to notice the difference. More obvious is the rear, where a small vertical rear window was incorporated, rather in the style of the Lotus Europa.
Over the years Paul has used the car for a number of hill climbs, then a period of rest until it was re-commissioned earlier this year. The competition bug has obviously bitten again as I see the car was entered for the MAC hill climb at Shelsley Walsh on 6th August this year. Unfortunately I only have a programme and not the results, so perhaps Paul could update us.
The Specials Day at Burford produced a good turnout of Rochdales with 4No Olympics and 1No GT. The cast in alphabetical order comprised:
Les Brown - GT
Richard Disbrow Phase 1
Roger Drinkwater Phase 1
Alan Farrer Phase 2
Robert Harrison Phase 1
Tony Stanton Duffy
It was nice to be able to inspect Rob Harrisons car as, although outwardly it just looks like a well finished phase 1, under the skin there have been a number of modifications carried out during the latest re-build. The front sub-frame has been dispensed with altogether and the suspension mounted from the, suitably modified, inner wing panels. The damper, which normally forms the top wishbone has been replaced with a purpose fabricated item and telescopic damper. Airflow from the radiator has been ducted out under the wheel arch (a la phase 2). These modifications have produced a very clean looking engine bay.
Underneath a diffuser has been included and the silencer fully enclosed. Whether this will improve stability at the legally allowed speeds in the UK remains to be seen. The work has been incorporated very subtly and the car rightfully took the Les Montgomery Trophy for the best modified car.
Although this year there was no Special Endeavour Trophy, had there been it would have gone to Les Brown, who drove his GT all the way from Dewsbury. A trip of some 160 miles each way certainly represents a mammoth undertaking, even allowing for the up-rated mechanics! The driving position in a GT is not the most comfortable and the internal width is quite small (less than an Austin 7!) Quite how the GT was advertised as four seater remains a mystery, or perhaps people were smaller in the 1950s.
Progress on my Olympic
Having removed and totally stripped the doors from my Olympic there came the need to remove layers of paint. The last coat of paint, had developed the pox with numerous small bubbles. A local firm advertised on their website that they could bead blast GRP and had already carried out work on several Lotus Elites and a few racing cars.
They did warn that the process could expose any voids under the gel coat, but the result is pretty horrific. The gel coat is covered with literally dozens of small holes ranging from a pin head to about 3mm diameter. It has of course also uncovered all the filler from the previous paint job in 1979. I haven't quite worked out yet the best way to proceed with them, although there is still a fair amount of structural work to do first.
I don't think the rest of the bodyshell will be going to the same firm. Has anyone had any experience with Soda Blasting, which seems to be widely advertised in the classic car press?
Derek Bentley