MAGAZINE No 125 SPRING 2011
Edlines
Phase 2 subframes. The first batch are now all sold, so let Nigel know if you need one and we will arrange for another batch to be made when there is sufficient demand.
Phase 2 moulds.
A reminder that the Club has a set of part moulds for this car They comprise full front and rear quarters, rear section and roof. Thus most of the external bodywork may now be replaced by fresh panels taken from these moulds, most of which would also be suitable for a Phase 1. However, unlike a complete body mould, each section can be easily carried by one person and transported by a reasonably sized car. The logistics are thus far more suited to repairing damage. Details for their use are in Mag 120, or speak to Nigel.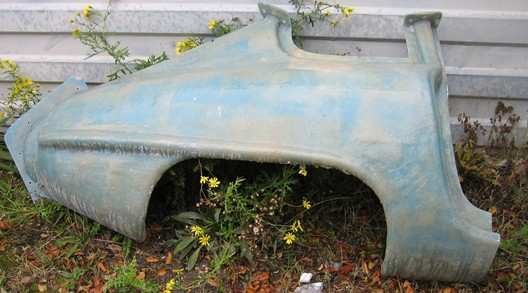 Offside rear quarter panel mould
TONY STANTONS NEWS PAGES
North Worcestershire Classic Car Meet
The Bowling Green Inn, Shaw Lane, Stoke Prior, Wychbold, Nr Bromsgrove, Worcs. B60 4BH.
From Noon on Sunday 20th March 2011.
Sunday 17th April 2011.
From 7.00pm Monday 23rd May 2011.
Monday 27th June 2011.
Stoneleigh Kit Car Show Sunday 1st & Monday 2nd May 2011
Just to let you know I have reserved stand Number 39D for all HISTORIC SPECIALS AND CLASSIC KIT CARS built before 1973 at the N.A.C. Stoneleigh Park, Warwickshire Sunday 1st and Monday 2nd of May 2011, from 9.30am till 5.30pm. (May Day Bank Holiday weekend)
All kit car drivers are admitted free of charge, passengers are &pound10.
You can camp on the site, tents and caravans, please contact the organisers office 01406
372600 for details and forms. www.grosvenorexhibitions.co.uk
This is a very good cheap day out, over 4,000 Kit Cars.
There are 5 large Exhibition Halls and 600+ Trade Stands; all the things you need for your rebuild or update. You can look at new kit cars in rolling chassis form indoors in the dry and warm which will give you ideas on suspension, brakes and drivetrain modification for your car.
This is the best show of the year for kit car engineering.
Come to the main vehicular entrance which is located on the B4113, the Coventry to Leamington Spa road (follow signs for clubs and exhibitors (do not go into the Public car parks) post code CV8 2LZ.
WITH CAPESTHORNE NO MORE, LET'S HAVE A GOOD TURN OUT OF
ROCHDALE CARS AT THIS EVENT INSTEAD,
PLEASE tell everybody you know with a suitable car and place details on websites if you can, let's have a good turnout of Rochdale cars.
Contact Tony Stanton tony-stanton@fsmail.net
8th PRESCOTT HILL CLIMB CLASSIC CAR EVENT 15th MAY 2011
Any R.O.C. member who wishes to attend this event with their Rochdale please contact me or Derek Bentley.
SILVERSTONE CLASSIC on July 22nd, 23rd & 24th 2011.
In conjunction with the F.S.C.C. we have secured a designated display area within the Historic Grand Prix circuit at this 3-day event, and we are seeking further club marque cars to join us on display during the weekend.
Featuring 22 races, 800+ competitors, and 600 of the most valuable race cars and motorcycles in the world. On top of the mouth-watering line-up of races lasting between 20 minutes and 1 hour each, starring the very best single-seater, GT and Touring Cars from the past 80 years, the entire infield will be packed with more than 4000 classic cars showcasing in excess of 50 famous marques. There will also be a period funfair, air displays, trade stalls, live music, barbecues and more than 30 hot air balloons are set to fire up for their traditional morning and evening fly-outs.
DUFFY and I have been to this fabulous event for the last 6 years and I think it is better than Goodwood. You can walk around the paddock and in the pit garages at any time, talk to the drivers, watch the mechanics working on the cars close-up.
To enter your club car in the FSCC/ROC display area please contact Tony Stanton on tony-stanton@fsmail.net and I will issue the club reference number to quote when booking tickets and Marque car passes.
PS Thank you Alan for your mention of the 2010 event in the last magazine, as DUFFY had disgraced herself when a driveshaft failed on our way there on the Friday and I had to go in my Vauxhall Vectra on Saturday and Sunday I had forgot to write a report. Still I did get a ride around Silverstone Circuit in Colin Breakspears Supercharged Turner, a very nice quick car.
Cylinder Compression Testing
As a follow up to Derek Argyles Article Mechanical Meanderings in the last magazine, you do need to turn the engine over a little more than three times, but with all the sparkplugs out and the coil disconnected (we don't want High Voltage flying about) the engine will crank over at a fair speed till you get the highest reading on the dial. But whilst cranking you must have the throttle wide open, if the butterflies are shut there will not be a sufficient amount of air going into the cylinder to compress.
A good way to check compression and to diagnose any problem is to remove all sparkplugs, turn no1 piston to top dead centre on the compression stroke (all cylinder no 1 valves shut) put car in gear and handbrake on (we do not want the engine turning when we fill no 1 cylinder with compressed air). Screw the adaptor from your compressor tester in to the plughole, connect to the airline and charge the combustion chamber with compressed air. Now listen for escaping air, if you can hear air in the carb the inlet valve is leaking, if you can hear air in the exhaust tail pipe the exhaust valve is leaking. Remove oil filler cap if you can now hear air, the piston rings are not sealing in the bore (or the piston has a hole in it). Remove radiator cap: if the water is rising or has bubbles in it, or you can hear air from another plughole the head gasket is leaking. Now turn the engine by hand and in firing order test the other cylinders on top dead centre, on the compression stroke. If like me, you have a water filter and a good gauge in the airline you can watch and compare the drop in pressure of each cylinder on the gauge.
642 JAC the ex-Fred Blackmore, white Phase II Olympic which had been for sale for some time by Sussex Sports Cars now has been bought by Mike Youles from Haywards Heath, West Sussex. Mike has joined the club and is preparing the Olympic to race in the new HRDC Grand Touring Greats. As the Olympic prototype and others since were Morris Minor powered the organisers have allowed the substitution of the current Ford 1300cc for a 1380cc BMC A Series engine. All trim has been removed from the car and the cockpit painted grey, period race seats fitted along with a Gartrac roll-cage. Having seen on the website www.youlesracing.com the high standard of race cars built by Mike, I am sure the Olympic will be spot on and a great advert for the club.
It will be nice at long last to see an Olympic racing again. Mike please keep the club informed with news and photos of the Olympic build and when it is ready send us a list of events it is entered in to print in the magazine and on the website.
Olympic and Owner from the past discovered. (a)
The following is a letter I received from Nigel Stennett-Cox who had spoken to Derek and myself at the NEC Classic Car Show.
Hello Tony,
As promised, an article on my memories of Bill Wilkin and Rochdale Olympic Lightweight, 797 URA.
A chance meeting at last year's NEC Classic Car Show has led to the recollection and sharing of some fond memories of a Rochdale Olympic and its owner, these dating back to my teenage years in the Sixties.
I grew up on a small farm on the outskirts of the market town of Sleaford in Lincolnshire, and just 150 yards or so beyond our house and further out of town stood a small BP filling station which had been installed on a little patch of what had been our land, in 1961. The forecourt is still there, and now has a building on it associated with a firm called "Clearprint". It was only a concrete forecourt with a row of pumps and a small pay kiosk initially, and for the first couple of years was operated by a small group of motor dealers who called the firm "Aquato". They sold petrol and a few second-hand cars and lorries, but one night in the winter of 1962-3 they disappeared, doing what we then termed a "moonlight flit".
Following the site standing empty for a few months a new tenant appeared in the Spring of 1963, Mr W.V. [Bill] Wilkin, a divorced man on his own and maybe in his early forties. I would have been 15, motor vehicle mad, and with a typically teenage small bunch of mates similarly inclined. Bill was friendly, helpful, knowledgeable, and provided much-needed advice and encouragement to all of us then struggling with our first motorbikes, next to no money and all the usual impediments. His car was a red Rochdale Olympic, registered 797 URA, and he was happy to tell us how he had built it a couple of years earlier from Morris Minor donor parts, but using a 948cc BMC A-series engine from a low-mileage crashdamaged A35 van. Even then it was a bit tatty, if truth be told, because Bill had "spun" it, damaging the rear end and never really properly repairing it.
Something I remember is the petrol tank having been damaged in the accident and it being integral with the main body moulding in the outer rear of one of the back wings. Where the repair had been done with more glassfibre but not painted, the petrol could be seen through the outer skin! The interior and dash were also never properly finished.
Friendships inevitably ensued, with Bill starting a "tool club" whereby we could pay in a few shillings a week and get tools, then he rebuilt a crash-damaged 1962 MG Midget Mark 1 and sold it to one of my mates, Mick Carter. The rebuild took place mostly in the evenings with lashed-up lighting and on the loadbed of an ex-army Commer 5-ton lorry of c.1950. There was a canvas tilt on the back, over steel hoops for shelter, and I remember to this day Bill beavering away with light showing out through the innumerable gaps.
I helped him a bit by manning the petrol station for the odd day whilst Bill went off to fetch vehicles he owned from scattered locations; on one such occasion he fetched a left-hand-drive Bristol 400 from Felixstowe docks and drove the tatty misfiring beast back to Sleaford on his
Trade Plates. It had been shipped from Holland, and Bill claimed it had been owned by the Dutch Royal Family. Other vehicles came from his sister's house in Derbyshire, one being a wartime Bedford MW 15cwt Water Bowser minus its tank. Bill had one of my mates take him to Derbyshire on the back of his motorbike for that one, with Bill driving back again on Trade Plates, wearing goggles, in the Bedford which was totally devoid of cab or windscreen. The Derbyshire location, near Youlgreave, was some 70 miles away. I ended up with that Bedford, when finally helping Bill to clear his forecourt prior to giving up and moving to Ramsgate, in the Spring of 1966.
When we'd towed a Commer Express Delivery van to the local breakers, and the Bedford to my place, it came to Bill asking me if I'd tow the caravan he'd lived in on the forecourt down to Ramsgate behind my Ford Zodiac Mark 2, BCU 138, whilst following him in the Rochdale in the final move.
This I duly did, probably in May 1966, and I remember driving to the bungalow he had acquired in a small close somewhere in the town. I manoeuvred the caravan into place in the substantial garden, stayed over the one night, bade my friend goodbye the following morning, and went home. I've never seen Bill or the Rochdale since, but have never forgotten either, and that takes me back to the beginning of this little story and the chance meeting at the 2010 NEC Classic Car Show!
Tony, who runs the Rochdale Olympic database, has kindly sent me a copy of an article in a 1993 Rochdale club mag. which shows a picture of 797 URA, still in Bill's garden, and with references to the photographer having spoken with the car's "elderly owner", of course dear old Bill. The car also seems to be the first Lightweight for which the club has an order recorded.
I'd love to know what may have happened to the car and/or Bill subsequently, and only know that he had a son called Ashley who visited occasionally, and who was then [c.1964] aged about ten and with really blond hair.
Anyone who may be able to cast more light on any of this history is welcome to contact me. Nigel Stennett-Cox, North Walsham, Norfolk. 01692 406075 or binroundabit@btinternet.com
The article from the club magazine is reproduced below.
Spring 1993 ROC Mag 53:
Dear Paul (Narramore)
I have located the Olympic Phase I in Ramsgate (Kent). The owner got it new in 1961; it was fitted with Morris Minor front suspension and steering rack, and steering wheel. It also had Morris Minor engine, gearbox, rear axle and steel wheels. The radiator was fitted between the front suspension and steering rack with the spare wheel in front of the front suspension (lying flat) on the floor. The seats, wait for it, you will love this, were plastic chairs you find in cafes!
The windows were sliding and the bonnet was kept in place with the help of a pair of quick release pins. At a later date, a bigger engine was fitted, as well as super sport bucket seats (possibly from a Morgan, I suspect). The owner will not part with it, or any of his (other) cars as he's going to do them up. The Phase I has been laid up since 1967 and it is now in a bad way. No back window, engine, lights, interior, broken door hinges and frames, rotten rear axle and front suspension.
The registration number, 797 URA was allocated in Derbyshire in 1961, the first engine was a Morris Minor 848cc, the next a Morris Minor 948cc.
Regards Derek Southall (ex owner of Olympic Ph.II, AAW 840A)
I have recently spoken to Derek Southall about his visit to see this Olympic in 1993. He said the garden to the bungalow was surrounded by a 6-foot high corrugated iron fence and a neighbour had to throw stones at the front door through a gap in the fence to get Bill to come out and meet Derek. The garden had about 20 old cars parked in it. Alongside the Olympic was a Bond Bug and a 4wheeled Berkeley. When Derek went into the bungalow every room was full of car parts, engines and lots of motorbikes. Derek has a friend who travels to Ramsgate every month, so he asked the friend if he would go to the address and see Bill. The friend said when he arrived at the address the bungalow was boarded up. A neighbour told him the bungalow was sold to a property developer in 2002 who in 2010 was still trying to get planning permission to build houses.
The neighbour did not know if Bill had passed away or had moved; he said not long after the bungalow was sold in 2002 a large lorry with a Hicab crane turn up, loaded the plastic cars on first and then piled the steel cars on top and took them away. So it looks like Bill Wilkin may have passed away and the first Rochdale Olympic Lightweight, 797 URA has been destroyed.
Derek also told me there used to be a Black Olympic Phase 1 in the Cliftonville area of Margate in Kent. The database has no record of this car so do any members remember this car?
Olympic and Owner from the past discovered. (b)
648 NDV is a 1962 Phase I Olympic not seen since 1987 by Paul Narramore on holiday; report from 1987 below.
July? 1987. ROC Mag 34.
DEVON ROCHDALE On a recent Devon holiday, I (Paul Narramore) went to the Forge Garage in the village of Rewe, just north of Exeter, where I found a Phase I, registration number 682 NDV, parked on the forecourt and apparently up for sale. I had a word with the garage proprietor and discovered that the car was fitted with a Ford 1500 engine, that much money had been spent over the years on the mechanicals, but that the owner had left the car on the forecourt for about three years hoping that it would sell for about &pound1150 or near offer. The Olympic was fitted with a rear hatch and appeared to be in quite a poor state for such a price. An unusual feature were the small diameter Marshal lamps, possibly from an early Citroen, and fitted between the headlights. According to my records, the owner is a J. Anthony Strong. The car obviously needs a good home, and I suggest that anyone interested should contact the garage on Stoke Canon 7?? for further details.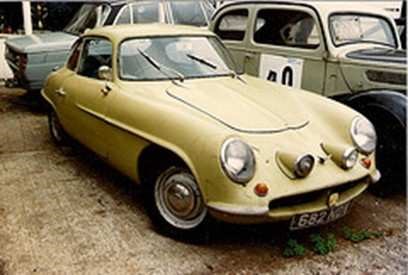 I recently located Tony Strong and he told me he bought the car from Husseys Car Auctions, Exeter in 1982 for &pound150. When he contacted the original owner, a Mr Fulton about the car, Mr Fulton was not very happy because his ex-wife had sold his car without his knowledge. Tony Strong cannot remember the name of the man who bought the car in late 1987, but he lived not far from the garage in a village called Rockbear near Whimple in Devon. This car has not been seen since; do any member know of this car or owner?
Olympic and Owner from the past discovered. (c)
For those members who use the R.O.C. website, the message below appeared in the Guest Book recently. 16th February, 2011 Martin Reeves, South Wales
Hi all, bought an Olympic back in '65 for &pound30. Drove it for a year but was insured with Fire Auto Marine.... well who else would insure a teenage just past their test. No wonder they went bust. (I remember in the newspapers all the trouble caused when this firm went bust. Tony) The previous owner and builder was a local Shoe Shop owner by the name of Baggett; he used to race the car at the local circuits, Llandow being one. So it got laid up for 40 odd years now I am old and redundant it is time for a restoration project to keep me off the streets. Any info would be appreciated Reg No was/is 592 RTG. Martin
I contacted Martin about this car as it seemed strange to buy an Olympic in 1965 for &pound30 when Mr Baggett had 3years earlier paid &pound692 for it new in 1962. Martin had seen the car outside Mr Baggetts house many times when in 1965, Martin and a friend knocked on the door just to ask about the car. The car had been raced quite a bit, the paint work was tatty and knocked about, the inside was stripped out with just a drivers seat. Mr Baggett said the car was for sale for &pound30 as he need the space. Martins friend had &pound15 in his piggy bank and Martin borrowed &pound15 off his Mother and they bought the car. They used the car for about 12 months till the insurance company went bust and they could not get insurance. The car with 14,571 miles on the clock was driven to Martins Mothers garage where it has lain for 45Years. So it looks like Martin will now restore the car and return it to the road again.
If any member can remember this Red Olympic been raced on the circuits in South Wales between 1962 and 1965 please get in touch.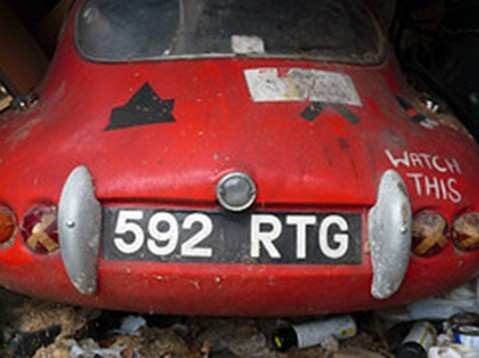 Seeing daylight for the first time in 45 years.
The Rochdale Database
Derek, James and I have for some time now been transferring the history of Rochdale Motor Panels and each Rochdale cars history from paper to computer, as this puts the information on one disc instead of hundreds of pieces of paper. It is also easy on a computer to cross reference information.
So WE now need YOU the members, HELP. Please pass on to Derek, James or myself, names and addresses with the dates of past owners of your Rochdale.
The Olympic is now 51years old and information from the 60's and 70's is becoming more difficult to find and early Rochdales is even worse. We need to record this information in the Rochdale Database for the future before it is too late. Copies of letters and paperwork between past owners and the Factory would be nice, photos of the car from the 1960s/1970s and 1980s would by fantastic; these only need to be scanned and sent to us.
The database has copies of 70 Factory sales invoices from the early 1960s which we cannot yet find a car registration number for. We have over 400 Olympic for sale adverts from car magazines of the 1960s and 1970s we cannot match to an Olympic yet, without a past owners name or address. You help us with past information on your Olympic and we may be able to supply you with information unobtainable from anywhere else. PLEASE HELP BEFORE IT IS TOO LATE.
It is easy to trace the history of your car via the DVLA and only costs &pound5; for us to trace your car though the DVLA as non-owners costs hundreds of pounds which we cannot afford out of our pockets.
I have reproduced below the article James did some time ago on tracing the history of your car.
Please use it.
Tracing the history of your car
I thought I'd write about some success I've been having with tracing the history of my Rochdale Olympic, mainly to show all you owners out there just how easy it is.
When I bought my Rochdale Olympic the history that came with the car was very limited. Apparently the previous owner's wife had thrown out a briefcase full of the Rochdale's documents, probably in a fit of jealousy at the amount of time he was spending on it, I must watch out for that with my wife!! So with very little history on the car I decided to delve a little deeper into its past. When I bought my Olympic it came with a V5 that only listed one previous owner from 1980. For a sum of &pound5 the DVLA kindly gave me copies of previous owners and logbooks with addresses on. I did have to jump through a few goalposts but as long as you state that you only want the information for historical purposes then they usually let you have it. I have since been able to speak to all but one of the previous owners and have found out what they did to the car and what repairs/ modifications they made at that time. All of the previous owners were more than helpful and intrigued as to what had happened to the car they once owned, the original builder though was the most helpful.
A few weeks after contacting him two pictures appeared in the post of the car after it had been built, along with the note that said he may have the original receipt and will send it if he comes across it. For the DVLA fee of &pound5 I have managed to learn about the history of my car, see photo's from the original build and potentially have a chance of getting the original receipt. All of these items not only help build a historical picture of your car but guarantee its past.
It's quite easy to track the previous owners of your car and sometimes the information they come up with is invaluable. Some of you are lucky in the fact your car has come with a lot of history but if your history of the car is a little shady then I highly recommend tracing a little bit about it, if not only for yourself then for the Rochdale Owners clubs information. Go on, send that application to the DVLA.
If anyone needs any help or advice with tracing any history let me know and we can get our heads together.
PS does anyone have a copy of a magazine called Cars Illustrated January 1964, if so please let me know the registration number of the Olympic in the photo in the magazine (a scan of the photo and page would be nice).
And a little note to end on: - I started with nothing and still have most of it.
Derek Bentley has recently been rationalising the literature that he holds and has been collecting over the past 30 years. This means that he has a number of duplicate copies of Road Tests and Articles, particularly on the Olympic. If anyone would like a copy please let him know your requirements and he will supply for the cost of the postage (or see him at the AGM etc).
* * * * Letters to the editor * * * *
Dear Alan,
The last day in February, here in Camberley, is bleak and wet and so, being indoors and with all current jobs behind me, I wandered up to my old bedroom/car library and dug out some old copies of the Rochdale magazine which always give me great reading pleasure.
It was in issue 109, Spring 2007, a time just before I rejoined the Club after a long absence that I saw reference to Tony and Paul's list of past Rochdale articles that had been featured in magazines and newspapers. I had no idea that so much on our beloved cars had been written and wondered whether I could get copies of some of these articles. I was thinking about the following in particular:
| | | |
| --- | --- | --- |
| 1. Two of a kind by J. Anstice-Brown | Jan 1965 | Motor |
| 2. Rochdale Olympic (4 pages) | Aug 19878 | Thoroughbred & Classic Cars |
| 3. Olympic games (4 pages) | May 1986 | Thoroughbred & Classic Cars |
| 4. Olympic games (5 pages) | May 1087 | Thoroughbred & Classic Cars |
| 5. Olympic games (R/T of Duffy 5 pages) | June 1998 | Classic Cars |
Derek Argyle
If anyone can help out here, let me know and I will contact Derek Ed
FBHVC NEWS
DVLA - Nigel Harrison
Reconstructed classics revised definition
If there is not the required pre-1983 evidence available to register the vehicle under its original number using the V765 scheme, (or if the original registration number is not known), the fallback position is to apply for an age-related number. The DVLA local office would allocate an agerelated number based upon the definition contained in the recently revised information leaflet INF26, which is titled Guidelines on how you can register kit cars and rebuilt or radically altered vehicles.
The most relevant revised section is headed Reconstructed Classics:
The reconstructed classic category is intended to support the registration of unregistered classic vehicles. Reconstructed vehicles must comprise of genuine period components all over 25 years old, and of the same specification. The appropriate vehicle enthusiasts club for the marque (make) must confirm in writing that following inspection, they authenticate that the vehicle is a true reflection of that marque and that it meets the above criteria. This written confirmation must support an application to the [DVLA] local office. An age related registration number will be based on the age of the youngest component used.Reconstructed classics or replica classic vehicles built to original specification using a mixture of new and used components will be issued with a Q registration number. The vehicle must have IVA, SVA or MSVA.
The major change is that the vehicle must be inspected by the appropriate vehicle enthusiasts club for the marque. If an age-related number is being applied for, the vehicle will need to comply with the definition above, and the club letter will need to contain the key phrases from the above definition.
I would also draw your attention to the likely outcome in registering a vehicle which is built to original specification, but using a mixture of new and used components. The full document is available to download at www.direct.gov.uk then search using INF26.
Failed claims for original registration numbers
During the Federations visit to DVLA in October, we visited the section that deals with V765 applications, and saw three examples of failed applications. It might be instructive to outline why those particular applications failed.
Case 1: a pre-war vehicle with special body. There were photographs of the vehicle and a letter from a specialist club. However, there was no V55/5 (the form to register the vehicle), no V765 (the form to claim the original number) and no evidence to link the registration number to the vehicle, (typically, a certified copy of the original old style logbook). The specialist club should have known better than to allow such a poorly prepared application to be sent.
Case 2: a pre-war vehicle. There were photographs of the vehicle, evidence from the internet, and a long letter from the owner. There was no V55/5, no V765, no pre-1983 evidence in certified copy form, and no covering letter from a sponsoring club. This was a full house in terms of how not to mount a claim for a particular number. It certainly looked as though the owner had not approached the appropriate specialist club for their advice.
Case 3: a post-war vehicle. There was a photograph of the vehicle, completed V55/5 and V765 forms, and a certified photocopy of a tax disc. Unfortunately, the photocopy of the tax disc was only certified by the club. Certified copies of documentation in the owners possession (e.g. old style logbook, tax disc, insurance certificate, plating plate, etc) need to be certified by a DVLA local office, as defined in the V765/3 guidance notes, which every V765 scheme member club has been issued with. Copies of archive documents, e.g. registration registers, would need to be certified by the document owner, which typically would be a local authority. This application almost passed. I would expect that a reapplication with the tax disc certified by a DVLA local office would be successful.
DVLA are more than happy for the claimed registration number to be reunited with the vehicle, provided the fairly straightforward criteria are met, and there are no other reasons why this registration number can't be used on that vehicle perhaps because the number has been transferred to another vehicle, or is on retention.
If an owner or a club feels that an application has been unfairly rejected, the Federation can look at the evidence, and possibly make suggestions about what additional information is required. However, if the documentary evidence does not exist, there is no point in resubmitting an application to DVLA.
Resubmitted Applications
DVLA make archive copies of all the documents supplied with both successful and failed applications, and the original supplied documents are returned to the owner. This means that when a failed application is resubmitted, the new application is compared with the previous one. When a resubmission is prepared, the reasons why the previous application was rejected needs to be addressed. In 2009 there were around 2800 V765 applications and around 400 of these were rejected. This is all wasted time and effort, both by the owner, the sponsoring club (if there was one) and by DVLA.
It is perfectly understandable than an owner who has never been involved with a V765 application could be unfamiliar with the actual procedure. However, I would expect that the club signatory should be familiar with these procedures and should be carrying out a vetting service on the quality of the information that is supplied. Club signatories are there to guide the applicants. If the documentary information does not fit the DVLA requirements, (as defined on the V765 form) it is a waste of everybodys time to submit that application.
Example. On the initial application a club had forwarded documents to DVLA indicating that a vehicle had a replica chassis. When the owner was notified that this would lead to a Q plate being allocated, the owner requested that the application be withdrawn. A few months later, a slightly revised application was submitted, where the replica chassis was not mentioned, and the club letter was ambiguous. As is standard practice by DVLA, the previous application was looked at, and compared with, the new application. The club was requested to clarify the inconsistencies between the two applications. In this case, the reputation of the club was on the line.
Information distribution
The information in the Federations Newsletter is designed to keep you informed about what the Federation is doing to uphold the freedom to continue to use our historic vehicles. The intention is that the information is there to be passed on to individual club members, based on the editorial judgement of a clubs magazine editor. Some clubs have a regular section using such extracts but other clubs make no mention of our work.
A good example of why this can be important came up recently. A club member wanted to have the engine number and capacity corrected on a V5C and assumed that just sending off the amended V5C would be sufficient. The additional complication was that he was in the process of selling his vehicle, and quite reasonably, the sale could not take place until the V5C was corrected. The owner was not aware that DVLA requires independent verification of engine capacity changes, which for an historic vehicle, could be a suitably worded letter from the appropriate specialist club. This subject was covered in Federation Newsletter No. 2, 2010, but the owner was not aware of this information, possibly because it had not been reproduced in his clubs magazine
The consequence of this delayed the receipt of a corrected V5C, and the possible loss of a sale. Note that changes in cylinder capacity, together with the independent verification should be made at your DVLA local office. With an historic vehicle a change in engine capacity does not affect the nil duty being paid but unfortunately the Federation has not been able to convince DVLA that historic vehicles should be exempted from the requirement for independent verification of capacity changes.
New V5C and scrapping update
When taking your vehicle to an Authorised Treatment Facility (ATF) i.e. dismantler, the key phrase in the process is intention to discard. This means that the dismantler can choose to scrap the vehicle, or treat it as a used vehicle and sell it. On the V5C you need to fill in the V5C/3 section, (the yellow part), get the dismantler to sign it, and then you, as the former owner, post it to DVLA. If the dismantler scraps the vehicle, they generate a Certificate of Destruction (CoD), and pass it on to you as the former owner. If a CoD has been obtained this ends the keepers responsibility for the vehicle.
If you have scrapped the vehicle yourself, with an old style V5C, just tick the scrapping box. This will no longer be shown on DVLA records as a scrapped notification but the record will be amended to show that you no longer have the vehicle.
If you have a new red V5C, which does not have the scrapping box, as explained in the last Newsletter, it is a slightly different procedure. In the original DVLA press release, the option of self-scrapping is not mentioned, and it could be implied that if you self-scrap, and don't take it to an Authorised Treatment Facility, then forever and a day you will be SORNing the vehicle. The DVLA press release says:
The scrap box has also been removed because all cars, light vans and three-wheeled motor vehicles- excluding motor tricycles, must be taken to an Authorised Treatment Facility, who should issue a Certificate of Destruction (CoD). Vehicles other than those already mentioned, should still be taken to an ATF to ensure they are destroyed to environmental standards.
Anyone keeping the vehicle but breaking it up for parts, etc, should make a Statutory off Road Notification (SORN) to let DVLA know that the vehicle is being kept unlicensed and off the road.
However, on the leaflet called Your Registration Certificate (V5C) and you (INS160, 7/10) which is sent out with the new red front V5C, is the following:
If you have broken up the vehicle yourself, you must either tax it or tell us you are keeping it off the public road by making a SORN, until you take it to an ATF or tell us you no longer have it.
I would draw you attention to those last eight words, or tell us you no longer have it, which for whatever reasons were not on the DVLA press release. The logical approach is that if you still have the key remnants of the vehicle, e.g. the chassis or bodyshell, you will still need to keep declaring SORN. However, when you dispose of those key remnants, you fill in the V5C/3 section that is called Selling or transferring your vehicle to a motor trader, insurer or dismantler. If the dismantler or, for example, foreman in charge of the Local Authority metal recycling skip is reluctant to sign his section of the V5C/3, then send the entire V5C, together with a dated and signed covering letter, to DVLA. I would suggest that you make a copy of what you send to DVLA. Within four weeks DVLA should confirm receipt of your letter, and confirm that you are not the registered keeper, and the tax/SORN notices should stop arriving every year.
CONTINUOUS INSURANCE ENFORCEMENT
By Ian Davies, Communications & Stakeholder Management, Continuous Insurance Enforcement Project 2, Change Delivery Portfolio, DVLA.
[This is a new law that has been introduced for early in 2011 that will require taxed vehicles to be insured at all times, not just when in use on the road. N.B. The Federation supports the introduction of Continuous Insurance Enforcement - Ed]
Background
In July 2004 the Government published a report called Uninsured Driving in the United Kingdom that highlighted that the level of uninsured driving was amongst the highest in western Europe. One of the recommendations of the report was to introduce a record-based means of identifying uninsured vehicles. Following a public consultation in 2009 the Government decided to introduce a means of identifying uninsured vehicles by comparing records held on the Motor Insurance Database (MID) with those held by the Driver and Vehicle Licensing Agency (DVLA).
From early 2011 a new law will give the DVLA and the Motor Insurers Bureau (MIB), who administer the Motor Insurance Database, more powers to deal with registered keepers of vehicles that are taxed but not insured, through the introduction of Continuous Insurance Enforcement (CIE).
Enforcement
Uninsured vehicles will be identified by comparing the Motor Insurance Database with DVLA's Vehicle Database. Where a vehicle is taxed, but apparently uninsured, the MIB will issue an Insurance Advisory Letter to the registered keeper advising them of the actions they need to take:
If not insured, insure immediately;
If they believe they are insured, contact their insurance provider immediately to check that the Motor Insurance Database has been updated with the correct information;
Make a Statutory Off Road Notification (SORN) to DVLA so that the vehicle is not included in CIE;
If they no longer have the vehicle, notify DVLA in writing.
If the keeper fails to undertake one of the above actions and the vehicle remains taxed but not insured, then DVLA will issue the registered keeper with a &pound100 Fixed Penalty Notice (reduced to &pound50 if paid within 21 days). Failure to pay the penalty and insure the vehicle could result in court prosecution with a fine of up to &pound1,000, and the vehicle being wheelclamped or impounded if found on the public road.
CIE does not replace the laws of driving whilst uninsured; that will continue to be enforced by the police.This new motor insurance law only applies to England, Scotland and Wales (vehicles registered in Northern Ireland, Channel Islands and Isle of Man are excluded from this law as they have their own registration authorities).
For more information on CIE, please visit www.direct.gov.uk/stayinsured
Historic Vehicle Owners. For historic vehicle owners there are a number of important things to remember:
SORN if a SORN is made and the tax disc surrendered because the vehicle is not in use, then the vehicle will not be subject to CIE;
Pre-SORN vehicles vehicles which have been kept off-road before SORN came into force on 1 February 1998 are exempt from CIE unless they are brought back into use, in which case they would need to be insured or a SORN made;
Vehicles manufactured before 1 January 1973 though the vehicle may have a nil value tax disc, it is classed as being taxed and a SORN should be made if uninsured and not in use;
askMID if you want to check your vehicle is recorded as insured on the Motor Insurance Database, visit the free service at www.askMID.com.
FBHVC note: The author has kindly allowed us to print his email address if anyone has any enquiries: ian.davies2@dvla.gsi.gov.uk
Additional information
Where a non-match is made, i.e. the taxed vehicle on the DVLA database does not appear to have its insured counterpart on the Motor Insurance Database (MID) then further checks are made against the other unmatched vehicles on the MID. Discrepancies caused by letters being mistaken for numbers e.g. O and 0, and I and 1 should not generate the Insurance Advisory Letter.
Similarly, recently registered vehicles which produce a non-match will be subject to further checks. Some DVLA legacy vehicle data derived from early old style logbooks is particularly sketchy, but hopefully any further checks, if required, will produce a match.
CIE does not apply to SORNed vehicles, so a SORNed vehicle may, or may not, be insured, based on the judgement of the owner.
Below are examples of why a mis-match might occur.
Example 1: a vehicle has been issued with an age-related number and for whatever reason the vehicle is not insured under that registration number. This is possibly because either the vehicle is still insured under its chassis number, or under a number that has been transferred off the vehicle and is on retention. When a new registration number is allocated to a vehicle by DVLA, it is the keepers responsibility to notify the insurance company of this new information. In this case, contact the insurance company to get the MID corrected.
Example 2: if your vehicle is insured under some form of company or trade group policy where the insurer does not record registration numbers, then it could be anticipated that you will receive a Insurance Advisory Letter. Contact the insurance company to get the MID amended.
Example 3: overdue renewal. The normal insurance renewal notice should arrive in plenty of time to allow for comparison of insurance quotations. In practical terms, if the receipt of your insurance renewal is received by the insurance company beyond the renewal date, it is possible that you will be sent the initial Insurance Advisory letter. Once again, contact the insurance company.
FUEL NEWS - Brief summary
The DfT commissioned a report from QinetiQ (on the increase of ethanol content in petrol) which was eagerly awaited and finally published in the public domain in January. The report is a weighty document of 54 pages and the Federation would like to thank all those members who submitted data which we passed to QinetiQ for inclusion.
The report found that:
The majority of vehicles 10 years old or older will not be compatible with E10 due to fuel system material incompatibility issues.
Carburettor vehicles and powered two wheelers will suffer problems due to material incompatibility, corrosion, and driveability issues.
Field experience has demonstrated that vehicles and petrol fuelled equipment fitted with glass fibre fuel tanks may suffer catastrophic failure due to the incompatibility of the glass fibre resin with petrol ethanol blends.
Based on vehicle age, approximately 8.6 million vehicles will be unable to run on E10 Based on average vehicle life of 13 years very approximately half these vehicles will still be in use when the proposed phase out of E5 takes place in 2013.
Footnote: It is most probable that E5 will be available until at least 2015
EARLY ROCHDALES
James Farrington
I write this article surrounded by boxes and packing tape due to an imminent move to Cyprus for 2 years, so I apologise if this article is a little short and lacking meat this quarter (you jest Ed). The logistics of being in the military, moving approximately every 2 years and having a classic car hobby can prove a little difficult sometimes. Packing a house is relatively easy but trying to move a garage of equipment and 3 un-roadworthy cars every 2 years adds to the headache. The difference with the move this time is that I am heading to Cyprus for 2 years, no chance of shipping my garage out there so my beloved Rochdales are having to go into storage.
My wife did question my reasoning behind keeping all of the cars, suggesting they will never all be restored ready for the road. I did find this a little hard to justify; she may well be right but I didn't want to let on! What I wish I did have when my wife asked this question was a little article I found whilst packing my personal possessions, a Super Accessories Ford Builders Guide. How could this possibly help in my conundrum, I hear you ask; well, read on.
The Super Accessories showroom was a sweet shop for the specials builder, containing every conceivable body shell and the now elusive Aquaplane tuning parts. They produced a 36-page catalogue for both Ford 10 and Austin Seven specials and written in the front is the answer I was looking for to justify why I like restoring these cars and the reasoning behind keeping them, it goes:
Who are the Types who build specials?
There are several reasons why enthusiasts build their own cars. There is the man who wants a sporty car that is different; a car that he doesn't have to look at the number plate to make sure it is his before he gets into it!
The man who loves to tinker, to endeavour to improve on the original specification in an effort to get more out of the old car than the manufacturer ever intended to.
The man who realises that if he buys a secondhand ready-made sports car at a price it will cost him to build a good Special, he will probably buy a very worn motor car.
The man who has that undeniable urge to construct something bright and glittering from virtually nothing. To convert that heap of junk that shocked his wife when she first saw it, into a car that will cause heads to turn in admiration. He will always be asked questions by interested onlookers and enthusiasts and he will never tire of telling them all about it, HIS CREATION. Why don't you take up this wonderful new hobby that gives endless enjoyment both on and off the road?
How long will it take? Well, that's rather like asking someone how long it takes to solve a crossword puzzle! It just depends on the individual, on his ability to use his hands and his head, to overcome little snags that inevitably arise from time to time. Once the chassis is prepared, the body can be fitted and ready for the road in a matter of days.
Why don't you, with the service and credit sale facilities Super Accessories offer, build YOURSELF a real SPORTS CAR?
I love this although it does echo a bit of sexism with mentioning the man a few times, maybe suggesting this is not a hobby admired by the ladies! I might just get it enlarged to put as some sort of motto on the garage wall and put a smaller version above the kitchen sink for the wife to see!
So, where to begin? Over the past few months I have found numerous leads on potentially unknown Rochdales but unfortunately very few have attained enough depth to really talk about. Although I publish with regularity pictures of the same model of cars they are all in themselves different. An unusual modification here and extras there all help in expanding members minds as to what they want to do with their cars. So again, I apologise if the explanations behind each picture are a little short, but I think every picture tells a different story and helps document these cars, should anyone recognise anything about them?
ABANDONED RIVIERA
The lead to this particular picture was received from my regular informant, Tony Stanton, as usual coming up trumps with an interesting lead on what is now one of the rarer Rochdales. The lead appeared in my inbox on Christmas Eve and directed me to a website forum at www.pistonheads.com. One of the users of this forum had listed the picture below that was from his dads collection and he had asked if anyone knew what it was? The angular back end confused a few people into thinking it was a Ford Anglia but they eventually came up trumps with a Rochdale Riviera hardtop, a rare beast indeed.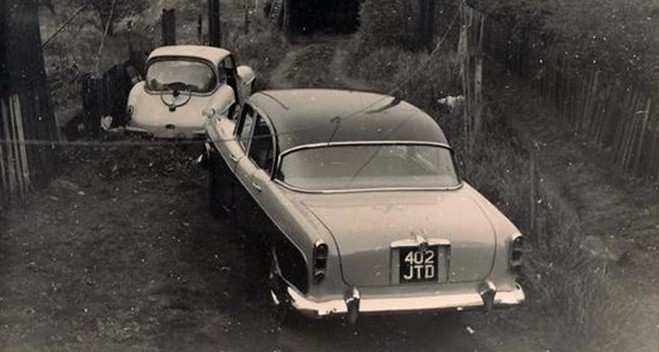 It might have made the road if they put the steering wheel in the right place!
Malcolm writes:
Wow! What a shame that's not a recent shot.... I wonder why the Riviera was sitting there in the weeds apparently so long ago with no door and no number plate. The Riviera with hardtop was the most expensive shell Rochdale sold pre-Olympic, five times the likes of the EB Special, so why would it be abandoned apparently when only a few years old... As far as I know, no Riviera hardtops survive, apart from the curious fastback one which may or may not have been a Rochdale one-off (almost certainly not, but previous owners claim it was that shape from very early 60s...)
I have not been able to find out any more information about the Riviera pictured above, but no doubt it probably rests in someones garden waiting to be rediscovered. Looking through my files I struggled to find a picture of a hardtop Riviera for you to see but managed to find one in an article in a book called 1960 Sportscar Specials that is pictured below.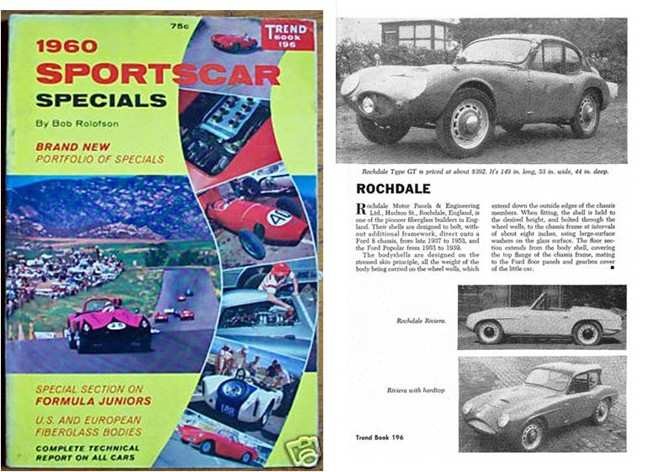 Those were the days
For those who are trying to find a magnifying glass to read the information in the book, it reads:
Rochdale Motor Panels and Engineering Ltd, Hudson St, Rochdale, England is one of the pioneer fibreglass builders in England. Their shells are designed to bolt, without additional framework, direct onto a Ford 8 chassis, from late 1937 to 1953 and the Ford Popular from 1953 to 1959. The bodyshells are designed on the stressed skin principle with all the weight of the body being carried on the wheel wells, which extend down the outside edge of the chassis members. When fitting, the shell is held to the desired height, and bolted through the wheel wells, to the chassis frame at intervals of about eight inches using large surface washers on the glass surface. The floor section extends from the bodyshell, covering the top flange of the chassis frame, mating to the Ford floor panels and gearbox cover of the little car.
The claimed one off fastback Riviera Malcolm referred to earlier is pictured below and as you can see is somewhat different from the design we know and love. The history of 4386 UP is incomplete and is one that remains a bit of a mystery to the Register. The car is built on a Halifax chassis, as featured in the last ROC magazine.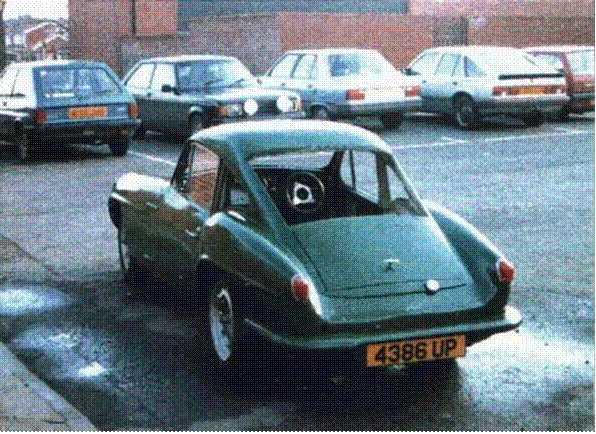 Our very own member Richard Disbrow used to own this car and it now currently resides with a Mr Osborne whose last known abode was an address in London in 2000. I have written to the address we have on file but as of yet no reply. As you can see from the picture below, a very good looking car indeed and I hope to have more information for you in the next magazine, this is just a taster!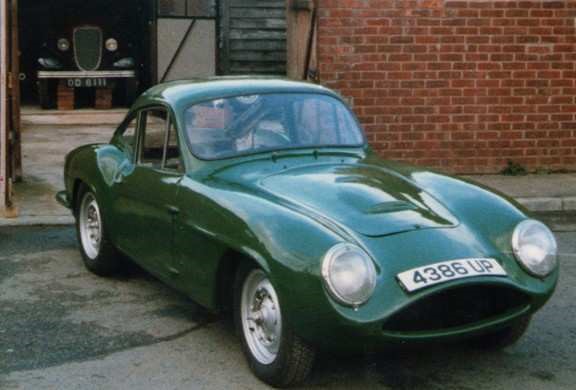 The fire at the factory on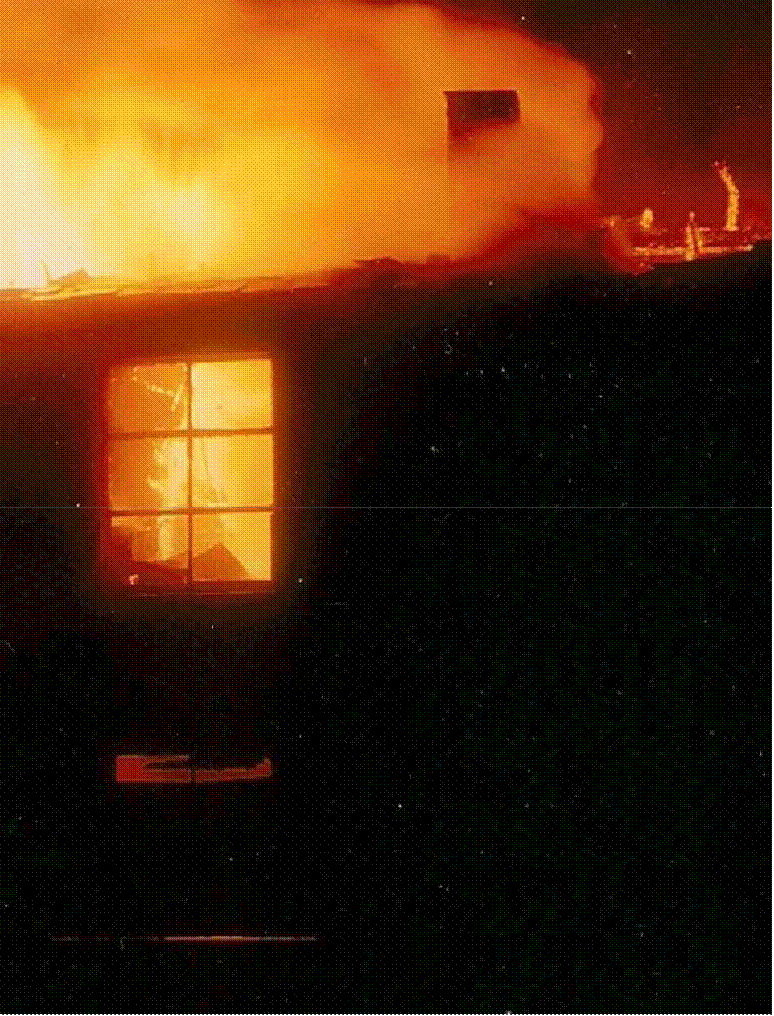 Tuesday 21st February 1961
Faultless curves - Rochdale Riviera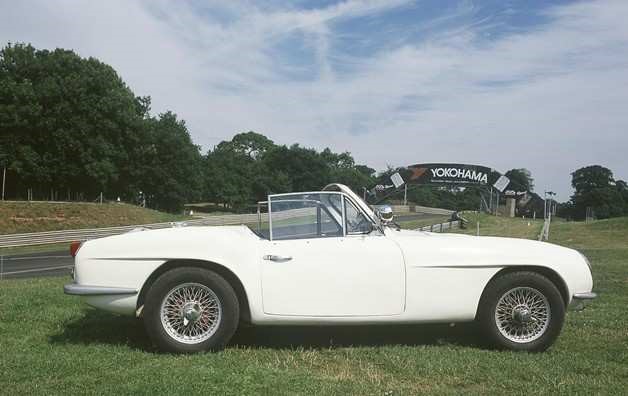 Roger Coupes Riviera. Wire wheels are the icing on the cake
Roger Coupes car has been well publicised within the magazine, appearing in magazines 79 and 80 and a copy of an article published in Sports Car Classics in November 2003 was also published in magazine No 96 (Winter 2003). These articles are definitely worth going through your back issues to read again, if only to give you inspiration to finish your own projects. The article below shows that this Riviera is definitely a rags to riches story as it was found in quite a dilapidated state and has been restored to the beauty it is today with much acclaim. The article reads:
Philip Allen of Park Street in Hertfordshire has come up with an intriguing discovery on derelict land near his home. There are various theories as to its identity, the most popular suggestion being a Karmann Ghia. However, the presence of an old four cylinder sidevalve engine mounted at the front disproves this hypothesis.
The bodys glass fibre too, whereas Karmanns were steel, and that distinctive flair from the top of the wheel arches surely gives the game away. It's not a monocoque, despite having a one-piece body, so Richard Parkers Rochdale Olympic, which pioneered this form of chassisless design, can be ruled out.
Phillip tells us there is a substantial tubular chassis frame beneath the still attractive bodyshell certainly a feature of early Rochdales but it apparently now boasts suspension parts from a Volkswagen Beetle! My guess is that the car started life as the very rare drophead Rochdale Riviera, but according to both Georgano and the Encyclopaedia of Motor Sport these early tubular chassied Rochdales were powered by BMC or Riley 1.5 mechanicals.
The sidevalve engine now fitted doesn't match that description, although the earliest Rochdales were purely bodyshells built to accept both the Ford E93A chassis and the 998cc overhead valve Ford engine. The first of these appeared in 1952 early for glass fibre although the firm had built racing car aluminium bodies since 1948, and by the time the first monocoque cars appeared some 800 of the Rochdale GT bodyshells were in use. (Where are they now James)
So what have we got here? An early Riviera with its Riley or BMC mechanicals replaced by sidevalve Ford? Or is it one of the earliest chassied Rochdales with a carry-over from the earlier bodyshell only Ford component days? We must confess, however, that the Volkswagen suspension theory if correct stumps us.
Derek Bentley of the Rochdale Register tells us that about three Rochdales were built with the tubular chassis, and only one Riviera is known to exist. If this is so, then we've found a very rare car, but it is just possible that the tubular chassis is not of Rochdale construction, as there were several manufacturers offering chassis capable of accepting Ford components at the height of the kit car boom, and this Rochdale Shell could have been mounted on one of them. Whatever the answers this interesting car deserves to be saved.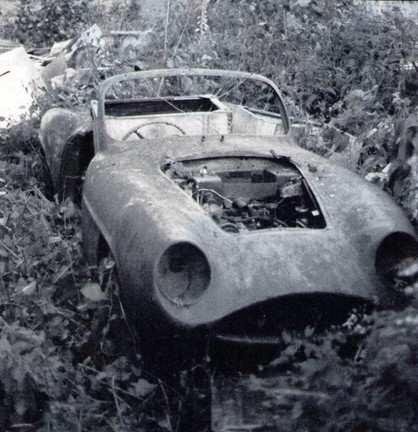 The Riviera has a facial expression all of its own, this is purely saying save me!
And saved it was. The article states this could have been made on a Rochdale Chassis with Beetle suspension but they must have been misinformed as with some of the other information. This was built on the Halifax Chassis with the coils and modified Ford axles supplied with that chassis, as seen in the picture below taken during its restoration.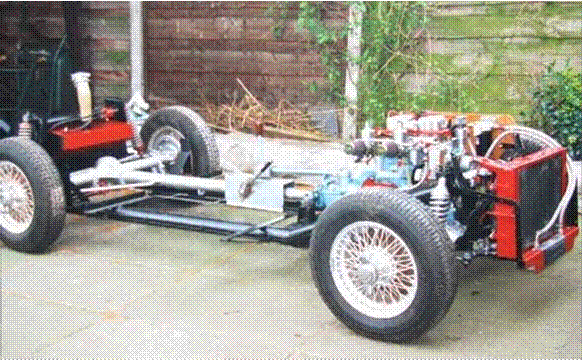 Derek Bentley who currently owns a Riviera that is waiting patiently in a queue to be restored, published the following in the Fairthorpe magazine. For those who are members of the Fairthorpe Club please excuse the duplication but I felt the article complemented the theme we are currently on and would be of benefit to others. Derek writes:
I may be biased, but in my humble opinion the Riviera is the best looking of the pre-Olympic Rochdales. The Riviera was first advertised during late 1959 and was essentially a convertible version of the hugely popular Rochdale GT. However, there were a number of subtle changes to the shape and in fact the only shared mouldings were the doors and bonnet. The most noticeable differences in styling were the radiator air intake, which was made wider and lower and the wheel arch flares, which followed the lines of the Olympic.
Two versions of the Riviera were available, a 2 seater, supplied with hood and a 2+2. On the 2+2 the rear edge of the cockpit was cut back and flanged to accommodate the rear seats. The 2+2 was supplied with a removable hardtop rather than a hood. Both models retained the Morris Minor sourced door window frames and used the same windscreen as the GT (sourced from the rear window of the Morris Oxford). There was no opening boot lid on the Riviera, so the luggage had to be fed past the seats.
The Riviera was available in a choice of six colours, namely, red, British racing green, black, white, cream and light blue. With the 2 seater the choice of hood colour was red, black and grey. On the 2+2 the hard top could be supplied in any body colour, either matching or contrasting. The 2 seater cost &pound140 (same as the GT), whilst the 2+2 version was &pound8 dearer. The first order was placed on 21st December 1959 and was delivered on 12th January 1960. The last shell was delivered on 9th November 1960.
I assume that the Riviera was intended to be a replacement for the ST, as by this time the moulds had obviously deteriorated. A note on the GT/ST literature (unfortunately undated) states Due to a slight deterioration of the mould, which affects the surface finish of the ST, the price has been temporarily reduced.
By the time of the introduction of the Riviera the factory literature only listed the GT and Riviera shells, there being no mention of the ST, F, C or Mark 6. However, at least the Mark 6 moulds must still have been useable as 8 were sold during the 1960s.
A total of 42 Rivieras were sold during 1960 (19 2-seaters and 23 2+2s), the moulds being destroyed during the factory fire in February 1961. During that same period no fewer than 117 GTs left the factory, proving once again that this was still the most popular of the pre-Olympic shells. Being an open shell, a stiffened chassis was required and 8 Rivieras were sold with Rochdales own tubular chassis. Several were also fitted to proprietary chassis such as the Halifax.
Production of all the early shells, with the possible exception of the GT, came to an end with the factory fire in 1961. According to Frank Butterworth one GT shell was recovered from the fire. However, according to the factory ledger, 5 GTs were supplied after the fire. So, were other shells stored away from the fire or the moulds re made?
By the early 1960s the main Ford Special building boom was over, although even as late as 1964 the Exchange and Mart still had a Specials section in the cars for sale. Survival rates for the Riviera are low, only 4 being definitely known survivors. Of those, only Roger Coupes superb example (6494 MH) has been seen on the road within the last few years and is pictured below.
My own is still waiting attention, although at least all the missing parts have now been sourced. The restoration will await completion of the Olympic, so is unlikely to be roadworthy this year.
Another well finished example of the Rochdale Riviera (EFY 157) was owned in the 1970s by then Bristol University student Mike Vernon and featured in an article in Hot Car magazine. It was put up for sale in September that year and unfortunately seems to have disappeared since that date. The Riviera is one of the rarest models of Rochdale, but they must still be out there, waiting to be discovered! The Hot Car article is below:

Two years ago Mike Vernon bought a Rochdale bodied Ford Special, and in a sorry state it was too. Since then, Mike who lives at Sale, Cheshire, but is at present at Bristol University has done wonders in the way of a complete rebuild, replacing everything but chassis and body. First job was to haul out the E93A engine and drop in a 100E, reshaping the sump to clear the chassis member. The block was bored out, converted to shell type big ends and twin SU's and 4 branch exhaust manifold fitted. High compression head, stronger springs, electric fuel pump and Peco silencer all add to the car.
With a power increase, a higher 4.4 rear axle was fitted and 15in wheels replace the original 17in. Mike is particularity proud of the interior. Seats, dash and console were made up from wood and leather cloth covered them. A smart tonneau cover and stainless steel sliding sidescreens are featured. One major improvement was converting the car to 12v electrics, all done by Mike himself, and he's given one old Rochdale a new lease of life!
REQUEST FOR HELP
Members may recognise the picture of the Rochdale GT below from the Owners Club website, this GT has had a potted history and has for the last few years resided in America as described in magazine 98; it has also graced the pages of these articles a few times with its attempts at classic racing in USA.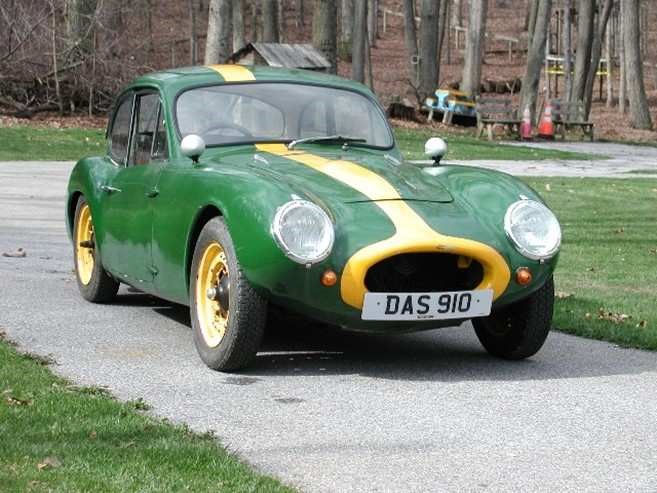 When I grow up I want to be a Lotus
Jim Booth from Pennsylvania, USA is the new owner and says he has plans to prepare it for vintage racing with his repair shop, Treasured Motorcars Limited. If anyone wants to look, his website can be seen at www.treasuredmotorcars.com. This certainly looks like another GT in capable hands and we welcome Jim to the club.
When Jim purchased the car he introduced himself on the ROC Website Guestbook with the following:
I have just purchased the GT as seen on the home page of your website - www.rochdaleowners-club.co.uk, green with yellow stripe DAS 910. Fran, the previous owner, planned to vintage race with it, but had continuing poor luck with the car e.g. smoking electrics, occasional no start (fuel), bonnet flew up smashing windscreen and damaging the bodywork, etc... he just lost interest. I manage a restoration/repair shop and we were looking for an unusual candidate for a vintage race project. Now we have one. Just about everyone in the shop is excited about it.
Jim mentions the previous owners continued bad luck with the car and as can be seen from the race results below which I found on the internet he is right! With only 2 cars out of a field of 43 with the embarrassing title of Did Not Start (DNS) next to their name, I hope Jim has more luck. It would have been interesting to see if the little old GT could have gained a few places on those modern cars.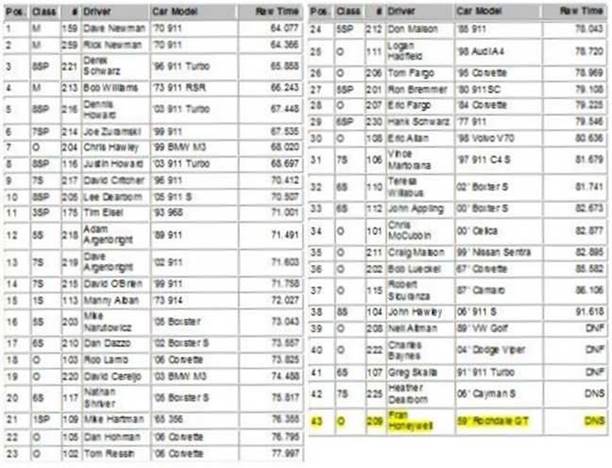 Technically the GT kept up with the Cayman S!
In its current state the car is devoid of a front windscreen, not such a hardship you may think as the Rochdale Owners Club has produced these for the GT. The problem being that this car is located in America so the logistics of getting one there, in one piece at least is going to prove a little tricky! The front screen for the GT was actually the same shape as the rear screen from a Morris Oxford but I don't think you will find many of those resting in scrap yards across America. If anyone is going on holiday there and fancies putting one in their hand luggage, let me know!
OUD 884 OWNER FOUND
With so many early Rochdales known to the Register I thought it would be good to pick one out of the list each quarter and give a view into its life, previous owners and what the car got up to. Fortunately for me the next GT chose itself when a previous owner added to the cars history.
Classic car link is a social networking site for classic car enthusiasts, bringing owners past and present together to share photos and stories. The main aim of the website is to try and reunite people with a car they have previously owned. This fairly new site currently only has 300 members but out of those I have managed to find two former owners of Rochdales that are not previously known to the Register. One of these is Terry Brown; he listed that one of his previously owned cars was as a Rochdale GT registered OUD 884, the significance of this is that I could now add another piece of history to this cars record and it also went down on the website as the first match!
I write:
Hi Terry, I hope you are well? I am the Secretary of the Rochdale Owners Club and assistant to the Early Rochdales Registrar. We have record of the car you used to own and know the current whereabouts. It would be really good to hear about any information to try and piece together the history of OUD 884? I would really appreciate it if you could let me know any information such as years owned, who bought from, sold to, colours, engine size, anything that might be of interest. Anything helps in trying to piece together the history of these cars that is fast disappearing and will be kept in the strictest confidence. We do have a few photos; I'll try and load one up for you.
Terry writes:
Hi James, Yes I am well thank you. OUD 884 was in my ownership from 1963 to I think 1966. I purchased the car from a local dealer who bought it from its builder who lived in north Oxford. Its colour was B.R.G and was very well built. I used it for sprints and autocross events as well as family transport. The engine was a mildly tuned E93A twin S.U carbs etc. A rear hub conversion and Cibie headlamps were the only other mods. I sold the car to Kings of Oxford and never saw it again. I will dig out some photos for you. I would love to see some recent ones. Regards Terry.
Following on this story, in ROC magazine 31 there is a letter from George Muir claiming he used to own OUD 884 and he then goes on to write about discovering that the owner of his old GT was now a Mr B Walsh, he writes:
I was surprised to learn also that the lad who now owns my Olympic also has my Rochdale GT OUD 884. But unlike the Olympic, I doubt if the reg number will have been lodged with DVLC Swansea. The new owner of the Olympic is Mr Walsh of Deerness, Orkney. I have also passed on your letter to me and your ROC magazine. I'll be seeing the car, maybe in the summer and will send you photos then.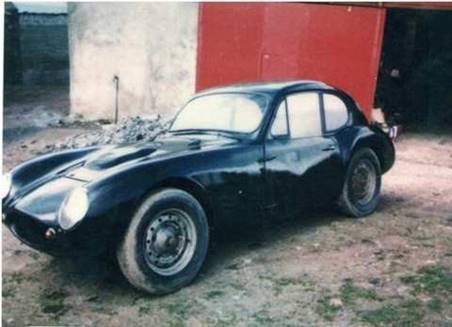 It was British Racing Green before the oil leak
I presume the picture above is the one that George Muir went back and photographed? The next ten years of ownership are a little hazy but then in 1989 George Muir wrote to the Rochdale Owners Club; this letter was printed in mag 54 and the following extract is from that.
Mr Muir writes;
My old Rochdale GT was purchased from a young chap from Leyland, Lancs, in about 1978. He towed it up to Orkney on a trailer, with a friend of his. They stayed here for a few days and we were all drunk for a few nights. The GT, registered OUD 884, was dark green - I painted it 1956 Jaguar British Racing Green - and was first registered in 1959. It was never on the road during my ownership and due to my arthritis, I couldn't find a happy seating position, the space from plywood floor to roof being restrictive even whilst sitting on a bare flat cushion. It had the usual Ford E93A running gear with a split front axle mod. It also had 15" (I think) Ballamy wheels. I tried to fit a 100E engine in it as the original boiled even on a short run. The oil filter on the 100E fouled the tele shocker mounts on the IFS and at the time I sold it, it was minus filtration. The usual Wooler-type remote gear change was fitted. Under bonnet room was a problem even with the E93A engine without air filter.
I am unsure of the date it was owned by Mr Walsh but I have managed to find in the Rochdale files a letter dated 1992 that says it was in the ownership of a Brian Johnston who purchased it from a garage in Hoy in Orkney. In 1996 Brian then wrote to inform on how the restoration was going and to join the ROC, he writes:
OUD 884 has been laid up waiting for attention for some time but over the last couple of months I have started the long rebuilding job necessary. You may be interested to know that I am using a Renault 5 Gordini Turbo as the basis of the rebuild. We have already mated the old Ford chassis to the front end of the Renault keeping the complete mechanics, steering and engine bay from the donor car. We are also intending to use a modern rear axle which at the moment I am not sure of but could be a modified Austin Maestro unit as it is fairly simple to use. I will keep you posted.
Because I have used new mechanics in my rebuild it may be of some interest to other members of the club that I still have the original front and rear suspension, running gear etc and would gladly pass it on if the carriage was paid for. Lastly would you please send a new spares price list, as you will see from the photo there is quite a few things I will need to purchase for the body over the next few months.
That is the last we heard from that owner and I have been unable to find any record of the photo he may be talking about. Interesting to note the mating of the Gordini front end, I wonder if it was the 1108cc engine or the sportier 1255cc unit rated at about 100hp.
The trail went cold for a further 9 years until in magazine No103 George Muir reported he'd bought back his old GT and was offering it for sale for &pound400. In magazine 104 there appeared a sad picture of this GT sitting in a hedgeside with no doors, bonnet or windscreen still waiting patiently for its restoration. I have since written to his last known address we have for him when he was a Rochdale member but have no reply at this time. I will update in the next magazine if I find out more.
AVN 571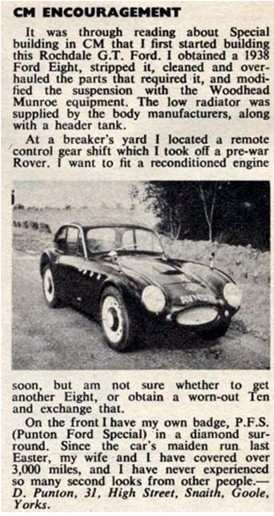 AVN 571 is a Rochdale GT that we had very limited information on. It featured in Car Mechanics magazine in 1959 and the only information we had was from the article and picture shown in the magazine pictured here. The article states that this car was owned by a Mr D Punton; his son got in touch via email to discover if the car still existed, he writes:
Hello Malcolm, My Dad gave me these photos years ago of a Rochdale he built, he says he built it on a Ford 10 van chassis/engine & put a Ford 8 cylinder head on to raise compression! 1959 is written on the back of one photo. He doesn't recall what happened to the car. I thought you might like the photos for your club website. Regards, Carl.
Malcolm writes: Hi Carl, Thanks very much for sending over these great photos! His memory is spot on, it was normal practice to put the Ford 8 head on the Ford 10 engine - despite being a "flat head" (sidevalve) engine the Ford unit did have combustion chambers hollowed out in the cylinder head and the8HP head had smaller ones than the 10HP - so simply swapping them raised the compression ratio from around 7:1 to 8:1 (from memory) - boosting power by about 2-3bhp, quite noticeable when you only had about 30bhp to start with!
I will pass your photos on to my colleagues for the club magazine and website - if you ever come across any more info/photos re the car, do let me know. And of course, if it ever turns up, I will tell you. By coincidence, your email arrived the same day as one from another son of a father who built a GT, though theirs is the only one that has stayed in the family and the son has now rebuilt it to an exceptional standard. If you feel inspired to buy a GT as a tribute to your Dad, let me know, they do still turn up from time to time!
Hi Malcolm, Thanks for your reply, he probably sold the car late 50's early 60's. I'd forgotten about the photos until recently I came across them & mentioned them to Dad, asking if he could remember the marque of the body with a view (unknown to him) to "googling it", up until then I had never heard of a Rochdale. So that's how I came to scan them & send them to you, I did consider asking "do you know the whereabouts of" but thought it so unlikely decided not to, so it would be amazing if AVN 571 is still about, if it is I'll gladly pass on my Dads details (after telling him of course!), I'm sure the present owners would like a chat with the builder! & I'm sure he'd be over the moon to think it's still about. The only other photo I have is one of my Mum with it, the same pose as the one with my Dad. Please do keep me informed; I'm not going to mention it to my Dad yet! Many thanks, Carl.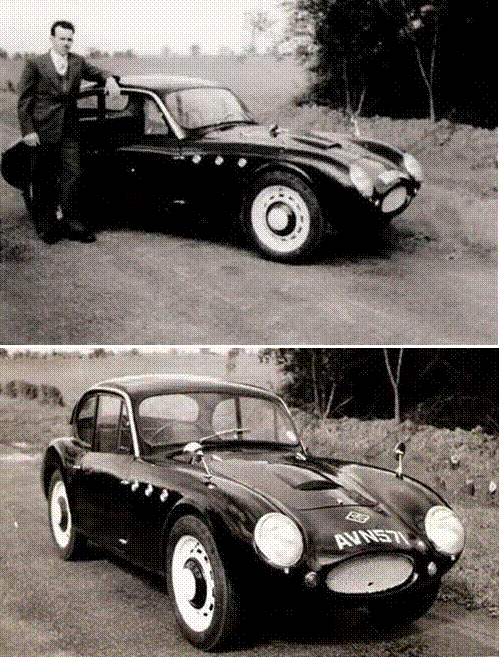 I'm sorry to say the Rochdale Owners Club has no record of the car since then but I think it is a beautiful looking car that is worthy of print and you never know, GTs do still turn up in barns and back gardens.
193 ABB FINDS A NEW HOME
A few cars have appeared on eBay recently and the selling price proves the market for that rarer car for restoration is alive and well; a Rochdale GT (193 ABB) in ripe for restoration condition proved this recently by attaining the grand total of &pound2450.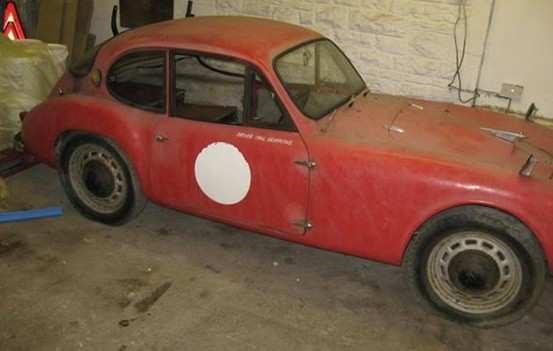 A tin of T-Cut and it'll be back on the road in no time
We first heard of this car 12 years ago when it was owned by Chris Gunby from Coalville, Chris was very heavily involved with the Triumph Sports Six Club and didn't have the time required for the GT so he sold it to Phil Griffiths from Narberth.
It doesn't look like much happened to the car although it does say Driver Phil Griffiths on the door which suggests it may have had a few outings but the current pictures on eBay certainly show it as having been rested for a while, one picture on the auction site does show its original Rochdale header tank as can be seen here.
What this car needs is a fresh enthusiastic mindset to get it back on the road. From the pictures this could potentially be a rolling restoration and hopefully not be another car that disappears off the radar.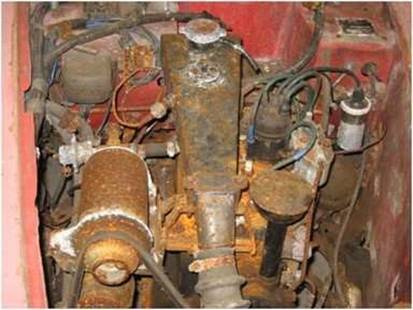 RACING GT
As the saying goes, you should always save the best until last; this GT without a doubt certainly looks like it is going to deserve this accolade.
If anyone can remember back to the winter 2008 Rochdale magazine then you might remember I wrote about a Rochdale GT purchased by a Mr Anthony Hansford off eBay. For those who have the magazines then dig them out as this is the second part of what I imagine will be a few instalments to this story. For those that don't have access to the last magazine then they are available to purchase from the Rochdale Owners Club and I have included an introduction from the previous article in the 2 paragraphs below for you all.
I have recently acquired a Rochdale GT from Allan Elliot in need of extensive restoration; I believe you know this car? I run a restoration/race car preparation business in the south of England and I intend to restore the car back as a race car, and would like any period information as possible.
I'm not sure what race series it will be raced in, and whether I personally will get time to race it, as I'm very busy with racing my F1 cars in the Euroboss series, I've attached a couple of pictures, as you can see a long way from 1950s kit cars but I've always liked Rochdales, especially the early ones, so if you hear of any period parts for sale could you let me know please? Also any period pics of GTs that may have raced will be a big help, do you have any? Also specs of what was done, as I'm trying to research before we start the rebuild.
What was great about that article is that I wrote the following at the end of it as a parting comment: We're sure this is going to be a very special GT when it is completed.
Now, Anthony has been a little quiet this past couple of years and I did have a little note on my Rochdale related things to do list to give him a call and see how things are going. Tony beat me to it though, when the following email arrived my jaw hit the keyboard, this is certainly going to be a first class Rochdale GT.
Tony writes:
Hi James, attached are a few pictures of my Rochdale GT. It's coming along really well and should be finished in the spring; I think you will find it interesting. The chassis is being assembled for the final time as we speak, and the body is in paint. A full race FWB 1500cc Climax engine has been rebuilt, straight cut close ratio Morris Minor gearbox which has been fully rebuilt.
Shortened Triumph Herald steering rack, unequal length top and bottom front wishbones, Triumph front uprights, Lotus 11 front discs and calipers, a Quaife limited slip differential fitted to an Austin Metropolitan rear axle which is 5-linked with Watt linkage, front and rear suspension is fully adjustable, alloy radiator and a long range fuel tank.
All restored as if you were building a race car in the 50/60s, as you can see we have gone a bit overboard on the spec!!
Kind Regards,
Tony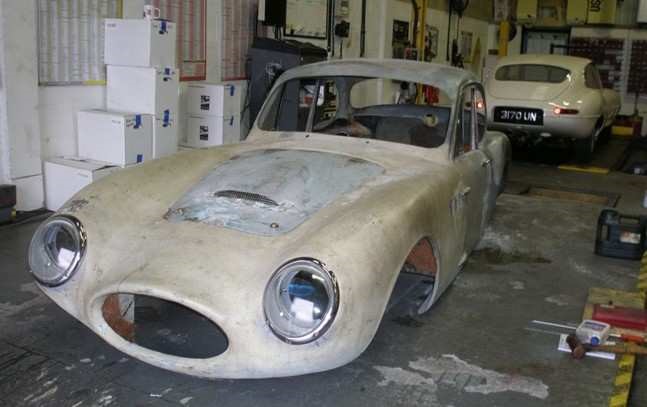 This GT is actually smiling; you could say it's going to have a Climax!
If you were trying to explain to someone what attention to detail meant, just show them this!
Malcolm writes:
James has shared your email with me and I had to write to say Congratulations! What a fabulous GT this is going to be, the spec is terrific, and as you say all period. In fact, you may not have known, but when Rochdale supplied their own tubular chassis for the GT, they also used a Watt linkage to locate the rear axle! But the attention to detail you have put into this car goes way beyond most of the GTs thrown together in the 1950s, it is wonderful to see a GT being built with such exceptional skill and care.
Best of luck with completing the project and I hope to see it out on track this year. It would be brilliant to see it at Goodwood Revival - I have been trying to persuade them for years to have a parade of 1172 and 750 Specials, as they were so much a part of Goodwood's club racing history but surviving 1172/750 racers would be too outclassed to be safe in any of the Revival's standard races. Your car, however, should be very competitive... Thanks very much for keeping the Club updated - fantastic work!
Tony writes:
Thanks very much Malcolm, I would be very grateful if you could have a word about getting an entry for Goodwood, As all the cars I normally prepare and race are much later, so I haven't had much to do with the Revival! And it would be great to see a Rochdale racing at Goodwood, don't you think?
OLYMPIC REGISTRAR
When Rochdale Motor Panels were marketing the GT and Riviera shells there were a number of firms who acted as Agents. The most well known of these agents were probably Super Accessories of Bromley in Kent, Monkspath Garage of Birmingham and Easy Built Cars of Belfast. This at least allowed a potential buyer, who was not within easy reach of the North West to view a bodyshell prior to purchase and not just rely on the brochure.
However, this option was not available to the prospective Olympic buyer. The company sought to address this problem by exhibiting at Shows, such as the Racing Car Show, held in London each year. Whilst this at least allowed a closer look, a test drive still required a visit to the factory in Rochdale.
Therefore another option was tried, to offer test drives to those in the South. As a typed note on their literature proclaimed For the convenience of potential customers from the South we arrange periodic demonstrations from the Noke Hotel, St. Albans, usually on a Sunday. Please inform us if you require notification of the next demonstration.
It is not clear how many demonstrations were arranged from this venue, or even the exact date(s). However, as the note was typed on a reprint of the June 1961 Motor Sport Road Test it is likely that it was some time later that year. This was probably an attempt to rekindle interest in the model following the factory fire. Certainly at least one demonstration was arranged from that venue as the photographs reproduced below indicate.
This would make 2011 the 50th Anniversary of the event. The Noke Hotel still exists, although its name has changed. Some additions have also taken place, but the main façade is still recognisable.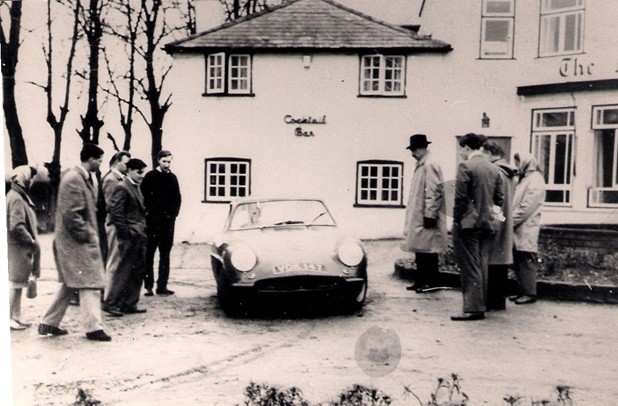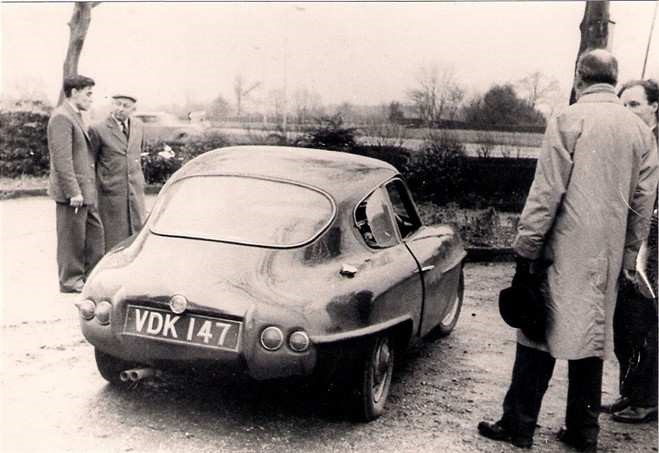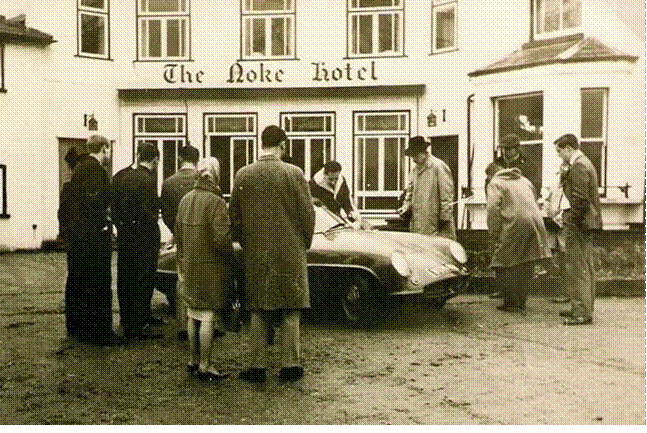 Wouldn't it be nice to try and recreate this scene with a get together some time this Summer?
The Fire
2011 also marks the 50th Anniversary of another event in Rochdale Motor Panels history and one which could have changed the course of this Club and made our beloved Olympics even rarer than they are.
On the evening of Tuesday 21 February 1961 a fire gutted Rochdale Motor Panels Hudson Street premises, destroying the moulds for all the companys bodyshells, including the recently introduced Olympic. Having had good press coverage the order books for Rochdales revolutionary monocoque looked healthy, but at the time of the fire only six or possibly seven body shells had actually been delivered to customers.
The local paper, the Rochdale Observer carried a front page story:
Scores of people watched 50 firemen from Rochdale, Oldham, Bury, Heywood and Littleborough fight a spectacular fire in Hudson Street on Tuesday night at the premises of Rochdale Motor Panels and Engineering Limited.
Within minutes of the outbreak being spotted the whole of the three-storey premises was a raging inferno and as a full complement of the Rochdale Borough Fire Brigade made their way to the fire they could see a glow in the sky as flames shot 40ft in the air (see centre pages).
There goes 10 years work in 10 minutes was how co-owner Harry Smith described the dreadful fire.
At the height of the blaze, firemen entered the building and dragged clear several car bodies. Frank Butterworth, the firms other partner, praised them for their bravery. He said They were wonderful. Everything that could be salvaged was salvaged and I was amazed at their courage in entering the building with the flames licking round them. He told an Observer reporter on the scene: We want to get fresh premises as quickly as possible. We have a lot of orders to fulfil both for home and abroad and want to get cracking at once.
As can be seen from the photograph below two Olympic body shells were extracted from the front and I understand from Frank Butterworths account, published in the Magazine a few years ago, that a single sub-standard Olympic shell and one GT shell were removed from the rear.
VYJ 626, now in the ownership of Roger Drinkwater was delivered to its original owner/builder Mr Howarth on 28 February 1961, exactly one week after the fire, so this must have been one of the shells pictured in the photograph.
The second shell shown was presumably used to re-construct new moulds.
A sub-standard shell was delivered on 22 April 1961 to a Mr Barnard, who subsequently registered it 886 WTF. Was this the one removed from the rear of the premises?
The previous day, 21 April, an order had been fulfilled and despatched to Alexander James, who subsequently registered it 118 JAC. Now this poses a conundrum. This car has a red gel coat. The two shells shown in the photograph, admittedly in black and white, show light coloured shells. VYJ 626 has a white gel coat, which ties up, but 118 JAC is red. So, where did this one come from and were four Olympic shells actually rescued from the blaze?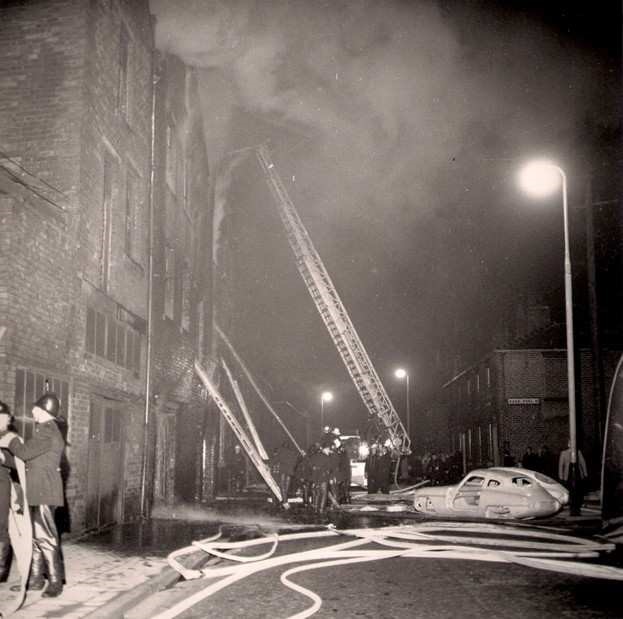 There is then a gap of over two months before the next shell was delivered on 3 July 1961 to a Mr Dawson. This presumably would have been from the new moulds. Unfortunately, this car, registered 5334 YG is not known to still exist. By July the company must have been back in full production, as no fewer than four Olympics were delivered that month.
The early Olympics differed from the later ones in several respects, most notably in the size and shape of the bonnet opening, which is much smaller on the earlier shells. I have always assumed that these modifications were done when the moulds were re-made following the fire as this would be a logical time to incorporate modifications. However, this assumption may be incorrect. This is another mystery to be solved.
As mentioned above one GT shell was recovered from the fire. I had always assumed that only the Olympic moulds were re-made after the fire, but review of the Factory ledger may indicate this also to be incorrect. This shows that 5 No GT shells were supplied post fire, the first on 11th March 1961 and the last on 24th July 1961. Three of these were supplied with Rochdales tubular chassis.
So, was more than one shell recovered from the fire? If not were there GT shells stored elsewhere? Alternatively, the GT moulds must have been re-made. In the latter case, this would have been an expensive exercise for the number of shells subsequently sold. What I think is fairly certain is that nether the Mark 6, F type, C type or Riviera moulds were remade post fire. The ST also seems to have already been discontinued with the introduction of the Riviera, as the moulds were as their literature states by then in a poor condition.
As with all things Rochdale, more questions than answers.
808 JCG
At the NEC last November, I was approached by a Geoff Richards, saying that he had some original correspondence and an Engineers Report relating to an Olympic. It would seem that a friend in the New Forest is a neighbour of a lady who, knowing their interest in old cars mentioned that her late husband had built an Olympic in the 1960's.
Sure enough shortly after the Show a package arrived containing the original invoice and an AA Report relating to an Olympic built by Don Murphy and registered 808 JCG. The car has subsequently been re-registered AAW 840A and now resides with Rob Smith in Haverfordwest. I passed on photos of the car taken a few years ago and subsequently received the following letter from Barbara Murphy.
Dear Mr Bentley,
Thank you so much for the photos and information about the Rochdale Olympic. We had shivers running down our spines when we looked at the details. I have jotted down the building of the car from my diary.
My husband Don was in touch with Rochdale Motor Panels at the beginning of July 1963.
25th July Letter from RMP saying they have most of the parts.
10th August One man arrived with a lorry and most of the Rochdale. Don helped unload. The engine squashed my pushchair when it was lowered down. Don spent ages sorting all the parts and identifying them.
15th August I made a list of the sundry bits and pieces.
17th August Don checked which pieces are missing.
18th August A policeman came and checked the engine number to make sure it was not stolen, all OK.
22nd August Letter from RMP to say the missing parts have been sent to another customer! 24th August A salesman from Failfield Garage offered Don the use of any tools he needed.
26th August A box of bits and pieces arrived.
7th September Don working on Rochdale
13th September Car is not ready for Don to drive it to ?? because it has not had its AA check for road-worthiness
14th October The AA man came; all is well with the car apart from a few minor adjustments. 15th October THE KIT CAR IS ON THE ROAD. Excellent acceleration. No purchase tax to be paid because it was built without an instruction manual
The car is being driven from Southampton to London several times a week.
Kind Regards, Barbara Murphy
So, the total build time was about two months.
Derek Bentley
Is there light(weight) at the end of the tunnel?
The story so far: as most Rochdale Olympic enthusiasts are aware the factory made a number of lightweight cars for racing. The amount they made remains the subject of some conjecture, some say 4 cars were made others say different figures, the facts are somewhat shrouded in mystery as some of Rochdale Motor Panels paperwork has disappeared. I can say for definite that at least 4 cars were built; of these 4 cars 3 were destroyed, the 4th car is JJH 20G and is the ex-John Anstice brown car dating from 1962. This car was extensively campaigned through 1963, 64, and 65, the 750 motor club being amongst the organisers. I have the results to prove it, and oh yes I also have the car.
I first came across this car in 1978 when I helped with its restoration. I was already running my own non-lightweight Olympic OBN 391D. On completion the lightweight was used for a short time by Derek Callister before being sold on. At the time I was recently married, with a mortgage and children on the way, so unfortunately I had no cash or time to invest in JJ as it is now known.
Some years later having lost track of JJ I was alerted to an advert which from the description appeared to be that lightweight, now being a little older and more mature, but what else was one to do but sink a load of money into a derelict car. This was back in 1996 and just the beginning of a long slog to where we are now.
In 1996 my life was in transition, my previous occupation had come to an end and I was formulating ideas of expanding my interest in classic British glass fibre sports cars into a business, but would it work? Well the truth is it seems to be working as I haven't had much spare time since I started. We have restored, or built, about 20 cars since we opened the workshop. These range from Lotuses (Loti?), through MGs (yes I know there not fibreglass but one has to start somewhere) and TVRs to Rochdales, a Unipower and on. We also had a dabble in 750 trophy, and sports 1000 with cars I designed and built myself.
So what does all this have to do with the lightweight? Well it goes part of the way to answering why it has taken 15 years to get to where we are now; I have finally started to put the thing back together. At first progress was quite quick, we stripped the car down to a bare shell and prepared all the suspension components ready for assembly. The final specification was decided on, which is to restore the car to (as close to) its 1962 specification as possible and return it to the track. Unfortunately, customer work started to interfere with progress at this point and the body lay all but dormant for some years. Having worked on about 10% of the known Rochdale Olympics I decided that I simply had to make an effort to find myself some time to work on JJ and to this end we now have an almost completely finished body shell, onto which I can now start to re-fit the suspension components and engine / gearbox etc. We currently have the lightweight on 4 wheels with a 1500 pre cross flow Ford engine and 4 speed gearbox installed; this engine gearbox combination isn't correct for the car as it was in 1962 but will serve as a basis for the final assembly and a cooking engine so that we can test the rest of the car. The final (and possibly the most expensive) part will be to re-fit the 998cc Ford Cosworth formula junior engine and Hewland 5 speed gearbox.
The project is now starting to feel as though I might actually finish it soon, and considering that I have almost single handedly removed and restored every single component on the car, including the body, I guess that 15 years + isn't really that long.
Keith Hamer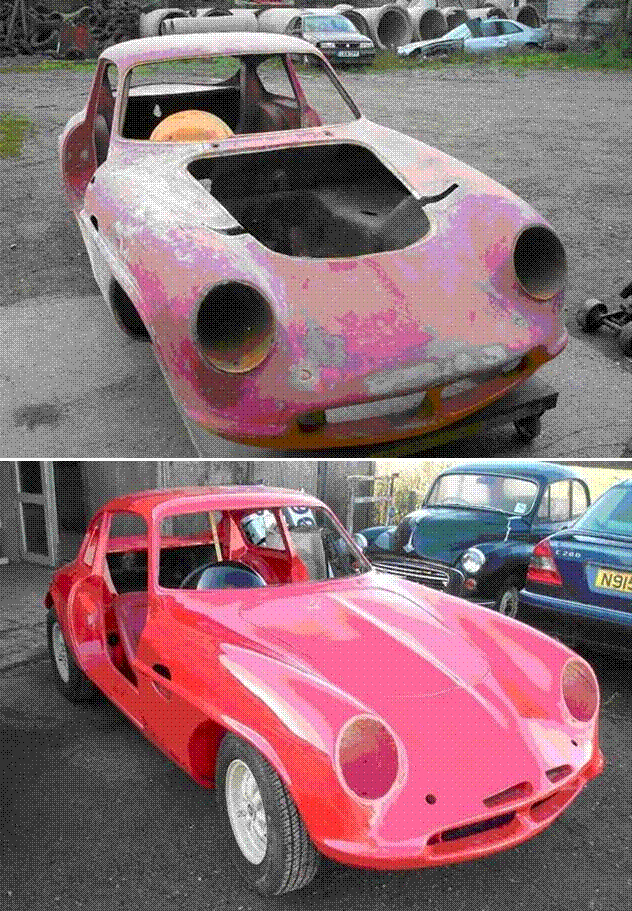 Then and now