MAGAZINE No 124 WINTER 2010
Edlines
Did anyone notice the bloop on the front cover of magazine 123? No? I thought not, but just so that you know, the title should have been AUTUMN 2010.
I have tried to keep clear of Mazda MX5s in the past (so common my dear), but when I was given one I couldn't really say no. My son-in-laws had been standing in his front garden for a year or so and he got fed up with people asking whether it was for sale and offering to take it off his hands for &pound300, so he thought I might like to have a proper car. He said it would need work to pass the MOT test, because it always did. He wasn't wrong. When a car is 19+ years old, has done 150,000 miles and has been idle for a while, &pound800 is what it took. Free lunch anyone?
Book Review Bangers, by Chris Meade (available only in ebook form from Waterstones, Amazon and the like).
True tales from a 1960s teenage petrolhead the cars, the girls, the dreams is the subtitle, and this is what you get, told with great panache.
Chris Meade has a fine way with words and is a great observer of people; he has a great sense of timing with the humour, which got me helpless with laughter on several occasions (though that could just be me). The first part of the book recounts his many exploits with the bangers that he inevitably ended up with, and the characters that went with them (of both sexes). The rest is a collection of anecdotes and the occasional rant against bureaucracy. Highly recommended if you don't mind reading from a screen rather than from the printed page.
TONY STANTONS NEWS PAGE
South Midlands Classic Car/Bike Meet
Special one off Winter meet on Tuesday the 28th December 2010, 11 am to 3 pm. at Becketts Farm Shop & Restaurant, Alcester Road South, Wythall, Birmingham, B47 6AJ.
(From J3 on the M42 follow A435 north 1-mile turn left into slip road just before roundabout)
North Worcestershire Classic Car Meet
The Bowling Green Inn, Shaw Lane, Stoke Prior, Wychbold, Nr Bromsgrove, Worcs. B60 4BH.
From Noon on Sunday 19th December 2010.
Sunday 16th January 2011.
Sunday 20th February 2011.
Sunday 20th March 2011.
Sunday 17th April 2011.
Classic Car Show 12th to the 14th November 2009.
Well the NEC show has now come and gone and I had hoped to feature this year the 50th anniversary of the Olympic, but as I informed club members in the last magazine, your club application for a stand at this years show had been unsuccessful. I did however, with the kind permission and help of the Fairthorpe Sports Car Club, use one quarter of their stand to celebrate the 50th anniversary of the Olympic.
Thanks very much to Tony Wright, who again offered the use of his Phase 1 to use at the show, but as I only had space for one car and Jason Hofman from the Wirral offered to bring his original looking Phase 11R registration PAX 44 down to the show, I decided on Jasons car as I do not think this car has been seen out of South Wales since new. This car is one of the last bodyshells out of the factory supplied in 1972 to Dr Rouse who lived near Swansea, built from his old Morris Minor donor car (see ROC Mag 42). Pax 44 was Dr Rouses everyday car and had travelled over 200,000 miles before Keith Hamer bought the car in 2007.
Jason who does work for Keith bought the car from Keith. I have seen photos of the car in the past, but till I met Jason and saw the car I did not realise how much work Jason had done on the car in a short amount of time - it looks absolutely fantastic. Well done (I hope when Jason reads this he will write an article on the rebuild for the magazine) so thank you Tony and Jason for the offer of cars. Thanks also to Derek Bentley and Ron Scarfe for material/display boards and to Derek, Keith Pratt and FSCC members with help on the stand. Over the 3 days of the show Derek and I obtained a number of leads on past Rochdale owners and lost cars to follow up.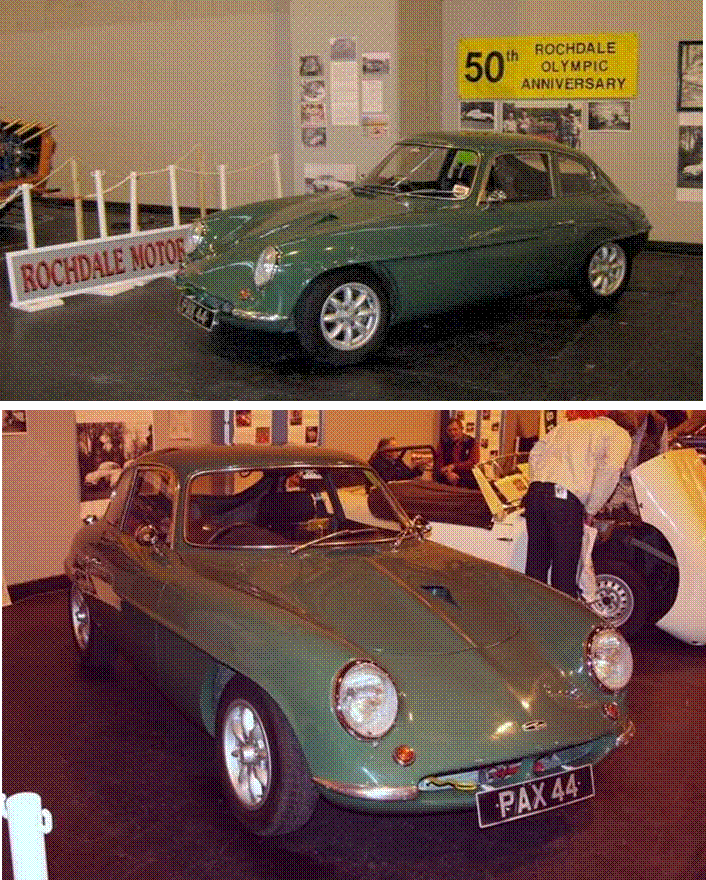 Jason Hoffmans superbly finished Olympic at the NEC
Olympics and Owners from the past discovered.
A few weeks ago I travelled down to Ross-on-Wye, Herefordshire to see Olympic Phase 1 Reg No
81 XPH and John Plant the new owner. This is the car discovered in 2009 in a scrapyard in Buxton, Derbyshire, (Mag 118 page 12 and Mag 119 page 40) later sold on e-Bay to France, then put up for sale again in France and then purchased and returned back to this country by John (and it looks a lot better now it has had a good clean). John is well advanced in the stripdown (photos on Rochdale Owners Club Forum Index > Olympic > stripdown) and I think the car will be back on the road, rebuilt to a high standard, very quickly.
A strange coincidence with this car is that John owned a Cream, MGA-engined Phase 1 Olympic reg no UCT 74 in 1963 (previously unknown to the Olympic database) and he has a cine film of himself and his bride leaving their wedding in the Olympic. Now I am also in correspondence with Richard Tapson from Bristol who owned 81 XPH from 1965 to 1971 and has helped me with history and photographs of 81 XPH, but Richard also has a cine film of himself and his bride leaving their wedding in the Olympic. Both John and Richard have kindly copied the Olympic car section of their weddings to CD for the Olympic database.
Now can any members help with the history of 81 XPH and UCT 74?
81 XPH was I believe to have been supplied new to a Mr B APPLETON, Shirley, Longdown Lane, EWELL, Surrey. in 1962. When Mr Appleton purchased his Olympic he already owned a high spec white Rochdale GT. His father was high up in the management of the Lockheed Brake Company. We know the car was sprinted at Brands Hatch in November 1963 and sold with this advert in Motorsport September 1964.
ROCHDALE OLYMPIC. Riley 1.5 Barwell Stage 11 conversion
Le Mans c.r. gears, servo brakes, electric radiator fan, Irvin belts, opalescent grey, red/black interior. Excellent condition, genuine 110 m.p.h. &pound400 or offer. Appleton, Green Willow, Whitmore Vale,
Hindhead, Surrey.
Between late 1964 and early 1965 it was owned by an ex-Army or Air Force pilot who lived in STANMORE, Middlesex. and was invalided from the Forces with a leg injury received in a plane crash and he repainted the car white. (Please does anyone know this man?)
From 1965 to 1971 it was owned by Richard Tapson from Bath and Bristol and we have this history.
Richard sold the car to a workmate Andrew BARTON from the Bristol/Bath area who has since passed away.
So from 1971 to 2009 when found in the scrapyard in BUXTON, Derbyshire we have no history.
I believe the car was collected by the scrapyard from a garden in WHALEY BRIDGE, High Peak, Derbyshire where it had been for around 15years and the story is that the car was in COVENTRY, Warwickshire before that. Please can anybody help?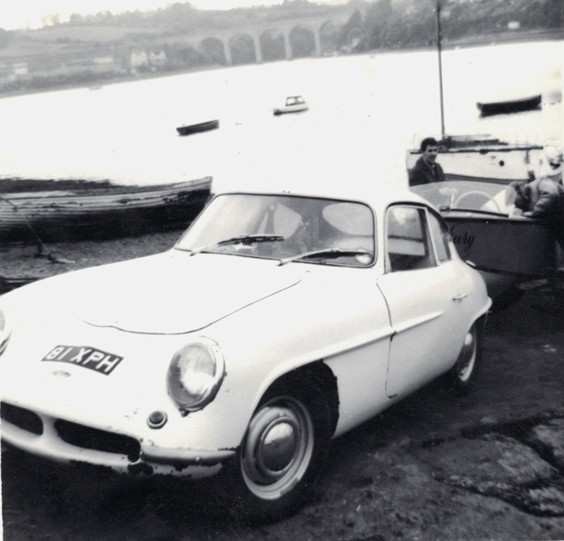 81 XPH on a slipway at Plymouth-Saltash ferry 1968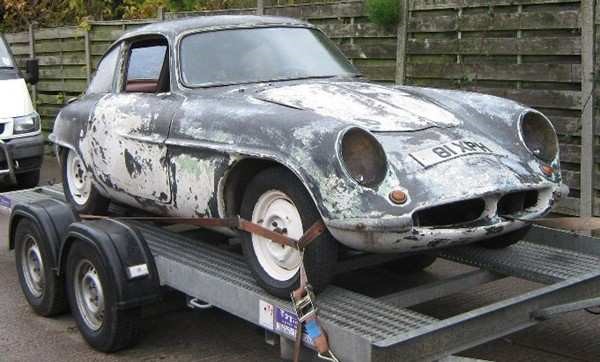 81 XPH in Ross-on-Wye October 2010
UCT 74 was I believe to have been supplied new to a Flight Lieutenant OULTON who was stationed at RAF, SWINDERBY, Lincoln. in 1962 and sold with this advert in Motorsport April 1963
ROCHDALE OLYMPIC: 15 months old, 22000 miles. MGA 1622 engine, oil cooler. Twin fuel tanks, Kenlowe fan, new X tyres. Heater, harnesses, rear seats, 2-speed wipers, washers, wood-rim wheel. Fully trimmed. A really practical, economical, high-performance car. Immense fun to drive, very rapid on long journeys. Owner/builder going overseas. &pound540, part exchange considered. F/L Oulton, Greensleeves Shepreth, Cambs.
John Plant bought the car from a garage, L.R.C. Culling, HARRINGTON, Royston, Herts. He may have sold the car back to them or to Airport Garage, at DUXFORD, Cambridge in 1964. Car not seen since. Please can anybody help?
Lost Olympic and Owner from the past- Please Help needed
Does anyone know anything about this car?
From Jan/Feb 1984 ROC Mag No 14
54 Newark Road Hartlepool Cleveland
Dear Graham,
Having acquired a Phase 11R (opening rear hatch and Riley suspension) body in June 1983, and as a new member, I would like to relate some of my experiences in assembling the damn thing to fellow members.
I am an engineer by training and have built a modern kit car before, so it was with a sense of naive optimism that I viewed the battered (unregistered) body shell mouldering (does fibreglass moulder?) in an unfamiliar unlit garage. As I write now, with only the interior trim to complete, it seems a lifetime ago.
A written off MGB was acquired as a donor car and reduced to a virtual body shell in two days. Mistake numbers one and two - the Olympic had Ford engine mountings, and I let the fuel pump, rear axle and brakes go with the MGB shell. The engine was overhauled and the clutch renewed.
I tried and discarded four differing designs of engine mounting brackets before the alternator could be persuaded to fit into a space other than that occupied by the steering column. Minor surgery on the bulkhead was required to give clearance to the carburettors and access to the distributor. I am now the ultimate authority on fitting the MGB engine to an Olympic.
I will not dwell on the problems associated with finding a home for the heater (thank you, Ron Yates, for your explanation of the fresh air induction arrangements), nor on the worry I had over the proximity of the exhaust system to the ground - pumping up the tyres and stronger coil springs at the rear helped.
Oh yes, those springs. I have followed with interest, not to say incomprehension, the continuing saga of Olympic rear suspension. After long consideration, and influenced by the fact that I have very little money left, I settled for a pair of coil springs which (a) looked about right and (b) were cheap. Sorry, Roy Howell-Jones et al. These are front springs from a Saab which appear to give the rear end the resilience of a Sherman tank. No doubt I will finish up spending the money on the right ones after getting the car on the road. (Olympic assemblers beware this "I'll do it after I get the car on the road" syndrome.)
As a reward to those of you who have had the patience to read this far, I will pass on two tips that you may not have heard of.
Number one a hairdryer used to play heated air on the leathercloth covering the dash top is an excellent aid to a wrinkle-free finish.
Number two lace spraying. Having sprayed the car in Triumph Signal Red, I rather fancied something flash and vaguely Porsche-like along the bottom half of the body. I acquired some peel on/peel off letters approximately 3" high and stuck these along the bottom of the doors, spelling OLYMPIC. Next I used masking tape to attach a 6" strip of lace (must be cotton, not nylon) above the letters and along the length of the body. Two passes of a black gloss aerosol and ten minutes later I unpeeled (i) the lace and (ii) the letters with some trepidation. It worked, looks very professional, and I like it anyway.
Well, as mentioned earlier, only the interior and one or two minor items to go, before commencing the tortuous process of registration. Will this be the only "A" or "Q" registered Olympic in captivity or is there another idiot like me out there somewhere? I wanted to go to the Christmas Party, but felt that arriving in the wife's four-year-old Cortina was a bit off. Anyway, I hope to see some of you at events next year to exchange advice, commiserations, etc. Meanwhile, if anyone is in the Hartlepool area and wants a good laugh, by all means give me a call. Regards, JOHN BEE
Advert in May 1985 ROC Mag 22:
Unregistered Rochdale Olympic Phase 2 fitted recon MGB Engine, O/D Gearbox, Marina Discs, New Wheels and Tyres. Most work completed &pound750. Telephone Hartlepool ????, John Bee.
All I can find out is John BEE passed away some years ago. BUT WHERE IS THIS CAR? Can you please help.
Tony Stanton rochdale-olympic@talktalk.net
And a little note to end on:
The easiest way to find something lost around the garage is to buy a replacement.
And one for the current economics:
A penny saved is a government oversight.
Tony and DUFFY wish all members a Merry Christmas and a Happy New Year.
FBHVC NEWS
(Legislation gets ever more complex, so it is reassuring to have an organisation such as the FBHVC on your side, both to explain some of the intricacies and to fight your corner Ed)
DVLA
Modified vehicles
Our electronic and conventional post boxes are still receiving queries about modified vehicles, especially relating to chassis and engine changes as well as the distinction between a vehicle with a chassis and one of a monococque construction. The topic has proved far more complex than we originally thought involving a number of government agencies.
Information given by the DVLA in their information leaflet INF26 (Guidelines for the registration of rebuilt or radically altered vehicles and kit cars) gives some help but there are also cases which may involve the Basic Individual Vehicle Approval (BIVA) scheme. The distinction between the two is unclear in places and both our DVLA liaison officer, Nigel Harrison, and our deputy legislation committee chairman are hard at work sifting through DVLA and VOSA regulations. Some of the information published by VOSA indicates that this is given for general guidance and each case will be judged on its merits and The information on www.direct.gov.uk is regularly reviewed to reflect changes in legislation.
We hope to be able to make the situation clear in due course and have therefore decided not to publish our findings so far, but to wait until we have the entire picture.
Age-related and Original Number Requests
For an age-related application the two key documents are the dating letter produced by the club and the correctly filled in new version V55/5. The Federations recommendation is that a clubs normal practice is to inspect the vehicle prior to the production of the dating letter. Guidelines for a club inspectors and a sample inspection form are on the FBHVC website at information/downloads. The club should also carry out a vetting process on how the V55/5 is filled out. Common mistakes to check for are that an old version of the form has been used; the year of manufacture is missing; the engine size is just rounded to the nearest round figure; the form is unsigned.
The V55/5 and dating letter are then returned to the owner. The application can only be made by the owner at the DVLA local office, when the vehicle is insured and has an MoT. The owner will also need to provide proof of personal identification in accordance with DVLA leaflet INF148. It is important that the vehicle is presented to DVLA in the same conditions as it was at the club inspection.
DVLA do not do a pre-registration service to determine if it is likely to receive a Q plate or an age-related number. The nature of the dating letter and the way in which a vehicle is presented will determine if DVLA allocate either a Q plate or an age-related number, e.g. if the clubs dating letter indicates that the vehicle has a new body, then the vehicle is likely to receive a Q plate.
Claims for an original number are classified as late conversions or V765 applications. The key documents are the V765 form, the pre-1983 documentary evidence for the claim, and the revised V55/5 form. Also, the key point is the physical inspection of the vehicle by the club. It is recommended that the inspection report remains in the club files, but elements of detail from the report are used on the covering letter. The covering letter needs to be focused, and we suggest that it should be no longer than one page. From personal experience, it is better for the club to send the completed application to the specialist unit at Swansea. Proof of personal identification by the owner is not required for this type of application.
Summary
An age-related application is processed by the DVLA local office and only when the vehicle is roadworthy. A claim for an original number is processed by the specialist unit at Swansea, and can take place either when the vehicle is roadworthy, or when it is substantially complete, possibly in its unrestored condition.
New style V5C and Vehicle Scrapping
DVLA are now issuing a new style V5C, which has a red front page. The most significant change is that the self-scrapping tick box has now been removed.
The standard practice of the scrapping a vehicle is to take it to an Authorised Treatment Facility (ATF) and a Certificate of Destruction (CoD) is issued. Some vehicles won't be processed in a standard manner. I quote from the DirectGov website: If you're not given a CoD or your vehicle is not being destroyed, then you should complete the V5C/3 Notification of sale or transfer [to a motor trader, insurer or dismantler] section of your vehicle registration certificate (V5C), and send it to DVLA, Swansea, SA99 1BD. You should get a letter confirming that you're no longer responsible for the vehicle. If you don't get this letter within four weeks, phone 0300 790 6802 for further advice. Text phone users can phone 0300 123 1279.
If you have broken up the vehicle yourself, you must either continue to tax it or tell the DVLA that you are keeping it off the public road. You can do this by making a SORN (Statutory Off Road Notification). You will need to make a SORN every year until you have taken it to an ATF, or told DVLA that you longer have it.
This means that anyone keeping the vehicle but breaking it for parts etc, should make a SORN declaration to let DVLA know that the vehicle is being kept unlicensed and off the road.
DVLA have indicated that if the scrapping box is ticked on the old style V5C, a letter will be issued about taking the vehicle to an AFT and obtaining a CoD. A disposal will be set on the record to take the vehicle out of the keepers name. If the V5C/3 is completed to notify disposal, the former keeper will just receive an acknowledgement letter.
The new V5C will now be issued whenever a change to a vehicle record is received (e.g. change of keeper). From next July a gradual rollout to everyone else will start, so that when you tax or SORN your vehicle it will trigger the issue of a new V5C. Anyone with the existing blue version of the V5C need not do anything, as both types of V5C are still valid. For more information on the
V5C and the DVLA Buyer Beware consumer protection initiative are at www.direct.gov.uk/buyerbeware
At this point, rather than just commenting on the clerical activities associated with the scrapping of a vehicle, it might be worthwhile quoting from the Environment Agency Position Statement on the physical aspects in this area. Unfortunately, the EA lump together the restoring of a classic vehicle in the same breath as stock car racing.
Some people enjoy restoring classic cars and other vehicles as a hobby. If an enthusiast acquires a vehicle for restoration, we would not normally regard the activity as a waste management operation. Obviously, they must store the vehicle appropriately (somewhere where they are entitled to store it), dispose of unwanted fluids and damaged parts responsibly and not cause pollution.
If, however, several vehicles are brought onto a site to strip them for parts for sale, to repair/restore another vehicle (e.g. for stock car racing) or a mixture of the two, this is more akin to a vehicle breaking operation. These sites need to be regulated. If the vehicles have already been depolluted at an AFT, then the site can be under a chargeable paragraph 45 exemption. If the vehicles haven't been depolluted at an ATF, then an appropriate environmental permit is needed; the site will need to become an ATF and Issue CoDs to the owners of the un-depolluted vehicle accepted.
The Federation will be seeking clarification on these points with DVLA and EA.
New V55/5 Form
In the last Newsletter I indicated that new version of the V55/5 form was being introduced, and suggested that a clubs V765 scheme signatory would need to obtain stocks of this, and the associated V355/5 guide to filling in that form. Both are only available from a DVLA office. Compared to the previous version, the new V355/5 guide is actually quite useful. For example, one of the new fields on the V55/5 is Manufacturer, and the guide indicates that the owner should leave this box blank. However, Make does need to be filled in. Similarly, many fields indicate, take this information from the Certificate of Conformity. Seeing that historic vehicles predate this concept, then it is reasonable to leave those boxes blank, unless an alternative source of information is indicated.
Press Article on Declaring SORN
There has been some comment in the classic motoring press about owners that have been in dispute with DVLA regarding their SORN declarations. In Newsletter No 6, 2009, I explained the problem relating to declaring SORN on a newly acquired vehicle, and a solution was given. (Past copies of Newsletter can be downloaded from the Federation website.) In the motoring press article, where it was possible to identify the vehicles, they were all post-1972 and vehicle excise duty would be payable, unless SORN was declared. There are always two sides to every story, and there is very often more to a case than initially meets the eye. As with all dealings with any government agency, it pays to read correspondence closely, and react in an appropriate manner, and keep copies of all correspondence. The Federation is due to have one of its regular meetings with DVLA shortly, and the subject of how SORN is enforced will be suggested as a topic for discussion.
Researching a Registered Vehicle
One of the options when considering acquiring a vehicle is to look at the website: www.vehiclelicence.gov.uk, then key in the registration number, vehicle make and basic details of the vehicle (excluding, any owner information, chassis or engine numbers). Details of this website have been given in a previous Newsletter. However, this system can only give a positive result if the vehicle maker, as recorded by DVLA, is known. For example, with one of my own vehicles, a Morris Minor with the registration number KAS 753, DVLA have recorded the vehicle maker as Morris Minor, (as distinct from Morris) so in a search using Morris the vehicle licence website will bring up a nil result. DVLA have indicated that they want to retain registration number and maker in the search criteria.
Where you get a nil result, it is possible to investigate further by going to www.rac.co.uk and click on the link to Car Checks and Inspections. Then go for a Car Data Check and click Go. Select Buy 1 Check and key in the registration number and very basic information comes up on that registration number, including the all-important vehicle maker as recorded by DVLA. There is no requirement to progress through to the actual buying stage.
Finally, armed with the registration number and the maker, go to www.vehiclelicence.gov.uk and then do a vehicle check.
FUEL NEWS Additives for use with biofuels
In the last issue of the newsletter we reported that an additive has been developed, designed to be added to the tank when refuelling, to prevent degradation of the fuel in the tank. We appealed for companies interested in selling these products to come forward, and we are delighted to report that three organisations have made contact and have been introduced to the manufacturers of the product.
Study into materials compatibility and carburettor icing
We have received some information from our member clubs and we have passed this on to Stephen Wall at QinetiQ who, as reported in the last issue, is investigating the effects on our vehicles from petrol containing up to 10% ethanol for the DfT. Thank you to everyone who has taken the time to report their evidence.
Fibreglass fuel tanks
We have been contacted by a number of motorcycle clubs, and in particular the Greeves Riders Association, whose members have been experiencing problems with fibreglass fuel tanks on their machines thought to be caused by using biofuel. We are currently investigating this and would certainly welcome more information from members.
One suggestion that has been received concerns the use of a tank sealant to protect the fibreglass. Great care must be taken using tank sealants, of course, as it is known that they are not all compatible with ethanol in petrol. We are certainly not advocating that anyone does try this, but we would be very interested to know if anyone has already had first-hand experience of using such a product in their fuel tank to combat this problem.
In the December 2009 issue of the newsletter we published a table of materials compatible with biodiesel and diesel blends which was taken from a CONCAWE report. CONCAWE is the (mainly oil industry) association based in Belgium. We now have details of materials which have been found to be compatible with petrol containing ethanol, summarised in the table.
Recommendations for Materials Considered for Use in Ethanol and Ethanol/Gasoline Blend Applications
Material

Recommended

Not Recommended

Metals

Carbon steel with post-weld heat treatment of carbon steel piping and internal lining of carbon steel tanks

Stainless steel

Bronze

Aluminium

Zinc and galvanised materials Brass

Copper

Lead/tin coated steel

Aluminium (may be an issue for E100)

Elastomers

Buna-N (hoses & gaskets)

Fluorel

Fluorosilicone

Neoprene (hoses & gaskets)

Polysulfide rubber

Viton

Buna-N (seals only)

Neoprene (seals only)

Urethane rubber

Acrylonitrile-butadiene hoses

Polybutene terephthalate

Polymers

Acetal

Polypropylene

Polyethylene

Teflon

Fibreglass-reinforced plastic

Polyurethane

Polymers containing alcohol groups (such as alcohol based pipe dope)

Nylon 66

Fibreglass-reinforced polyester and epoxy resins

Shellac

Others

Paper

Leather

Cork
This list is not comprehensive and the quality of the material must be appropriate for the intended application. It is strongly advised that the manufacturers of these products are consulted before ethanol or ethanol/gasoline blends are introduced.
Mechanical Meanderings and how to improve your car.
Older engines and unleaded fuel do not mix. Since the demise of petrol containing lead, the seating of valves has taken a bashing. This is known as valve seat recession or VSR.
In a combustion chamber the intense heat and the hammering effect of the valves opening and closing causes iron deposits from the valve seating to become micro-welded to the valve seating face. Without attention the valve seat will dig itself deeper and deeper into the cylinder head causing eventual breakdown. The harder a car is driven the hotter the combustion chamber temperature and the greater the effect of the VSR. It is feasible to add lead replacement liquids to the petrol but this is, in the long term, rather expensive. I used to do this before a Track day session when the engine was being asked to give its all.
Only exhaust seats require replacement since they run at a hotter temperature, the inlets have the advantage of being constantly sprayed with the incoming petrol vapour. On the market there are several anti-wear products Their use is generally accepted as a means of putting off VSR until the day when it becomes necessary to bite the bullet and have the exhaust valve seats replaced with hardened versions as fitted to modern cars. I believe too much emphasis is made by the motor industry engineers about having hardened valve seats fitted to your engine. Cars need to be driven a very considerable mileage before such action is necessary. The effect of poor seating of the valve will cause a loss of compression and power as well as having the effect of higher oil consumption. If the car shows a puff of blue smoke on start up after standing this is a sure sign that the guides and/or valves or both are due for replacement. It is a good idea to get hold of a compression tester available for a few pounds from Halfords or suchlike and make a check on the engines cylinder compression.
First bring the engine up to working temperature. Then remove all the sparking plugs (are the gaps correct incidentally?). In turn, screw in the head of the compression tester to each cylinder and turn over the engine on the starter about three times or until the highest reading is obtained on the dial. Note this reading for each cylinder. A typical reading will be 140-170 lbs per sq inch. Anything lower than this shows wear in the engine and will be due to bores, rings or valve seating problems. If your engine has been tuned and has a higher than standard compression ratio then you could get a reading of about 190. Your readings should of course be similar and so long as they are within 5% or so of each other then all is well. Any cylinder with a compression pressure of 10% or more below the mean of the others has to be treated as suspect. Add a squirt of oil through the plug hole of such a cylinder and reconnect the compression tester before spinning the engine over a few times. If the reading is now higher then this is a sign of bore or ring wear, if not then the valves are not seating correctly - check the valve clearances.
As I write on this chilly October day, my mind turns to helping the engine attain its working temperature as soon as possible. On the coldest of days I usually blank off 30-40 % of the radiator and this certainly boosts the output of the heater, but of course, I don't need to tell you to keep an eye on the temp gauge. I doubt if anyone is still using an engine that has a permanent cooling fan attached. If so, sling it! In the days when these were fitted as a standard procedure to most vehicles, designers were either unaware of the advantages of an auxiliary electric fan or were not prepared to raise the purchase price of a new car. With a radiator of sufficient capacity for the engine in question and, I should add, with good ducting from the fresh air entry point (full sealing around the radiator), a car travelling at any speed will have sufficient cooling capacity to do without a fixed fan.
Only when in heavy traffic or when in very hot weather is there a need to employ an electric fan either switched manually or wired in to come on at a predetermined temperature. Running without a fixed fan saves fuel, gives a quicker warm up and makes a car run quieter.
Another thing to consider in the winter is that with the use of choke, more often, and particularly with short journeys, the sparking plugs can get carboned up on older engines and will eventually cause a misfire as the car is warming up. If you are in the habit of doing short wintry trips take out the plugs and have a look to see if they are in need of a good wire brushing and even a check on their gaps.
PINTO ENGINES
As most of us know, the weak point on these popular engines is the spray bar designed to lubricate the camshaft. It was unfortunate that Ford decided to economise on this vital part because unless fresh oil changes are made at least at the recommended intervals then dirty oil particles can so readily block the minute outlets in the oil spray bar causing disastrous wear to the camshaft lobe. The early Datsun Z engines for example employed a similar system and not until 1978 did they see the error of their ways and changed the camshaft lubrication to one of piping the oil through the hollow camshaft. Even with regular oil changes it is still possible to get a partial blockage in the oil outlet holes and there would be no warning for the driver until perhaps he eventually experiences a frightening squeal from the engine. When next servicing the engine it is a good idea to remove the rocker box cover and, with the engine running at tickover observe the oil flow out of the spray bar outlets for total piece of mind.
For those of you using the Cortina or similar rack and pinions which are now getting a little long in the tooth and if play is developing then it may be possible to make adjustments. On the top of the rack casing opposite the column spindle there are two 10 mm headed screws. By removing these with the cover plate there should be several shims surrounding the central spring. It is really a case of trial and error that must be employed to gauge how much shim removal would be necessary to take up the play in the rack, and yet you should ensure that it is not overdone for this will leave a tight rack, especially towards full lock. Repack with Molybdenum grease and tighten down the 10mm screws. This can all be done in situ but it is as well to lift the cars front wheels clear of the ground to be certain that rack movement is free. If the rack is beyond repair then you will need to buy a replacement on exchange. A good source for a Cortina rack is Burton Power in Essex Tel 020 8554 4828 and the exchange cost is a reasonable &pound29.95 or was in 2008. Another good source is Rally Design who advertise in most car magazines.
Another thing to check while you are fettling the front end is to look at the upper and lower ball joints. If you have noticed, after the car has done a good mileage, that the front wheels are tending to show excess negative camber, this is the top of the wheel is leaning inwards, then this could be one of two possible causes. Either the ball joints are worn or the upper wishbone or lower suspension arm have bushes that have become compressed. Repair is by simple replacement. If this has done the trick it will be necessary to recheck the tracking. A past reference was made to an owner building a suitable wooden frame-work with two parallel arms running a couple of inches or so from the outside of the front wheels and connected at right angles to a crosspiece. Accurate measurements from the two parallel arms to the rim of the wheels in turn can determine whether you have the necessary 1 mm of toe-in.
Derek Argyle.
Silverstone Classic 2010
Tony Stanton advertised this event back in magazine 122 and somehow no report appeared in magazine 123, so here is a very short mention.
I attended on the Sunday, when the Fairthorpe Sports Car Club had arranged for some parade laps round the circuit to celebrate the 50th anniversary of the club. Only two Olympics attended (mine and Nigel Whittakers) as Duffy was having a rare off day and we, together with various Turners (including Colin Breakspears and Derek Bentleys) duly did our bit. The top picture below shows us (Nigel, me, Colin) waiting to do our parade and the bottom the view from Russ Philbys Turner of my Olympic, Colins Turner and Bill Woodhouses Tornado Talisman.
The racing featured the usual mix of old and not-quite-so-old stagers, the Turners putting in their usual competitive performances. Alan Farrer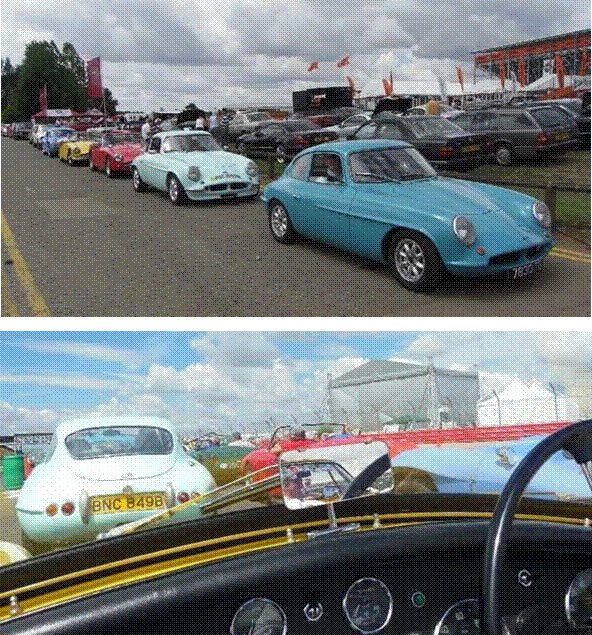 EARLY ROCHDALES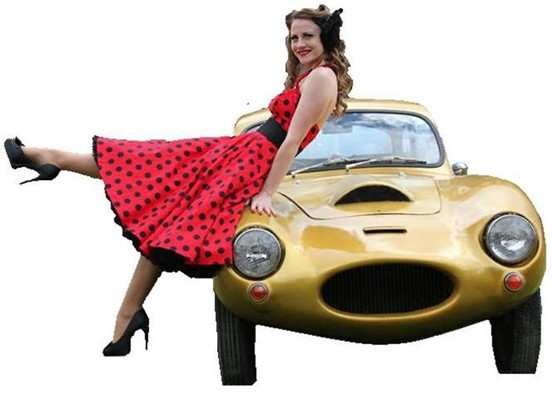 260 ABO going for gold at Goodwood!
I thought I'd headline my Early Rochdale Article this month with something to grab your attention, proves that spots sometimes do look good on cars! Daryn Ayliffe kindly sent me numerous photos of various ladies adopting a similar pose when he took his Rochdale GT to the new Vintage at Goodwood event in August this year. I'm already booking my tickets for next year!
When I was at the Haynes Motor Museum last month to attend a talk on Bristol Cars I went and had a look at the Rochdale Olympic that is on display there. Whilst I am really happy the museum recognises the historic importance of the car, it's a shame it looks as though it's been added as an afterthought in the corner behind the others. Great to see though and an inspiration to get my car back on the road and helped me with the decision that my Olympic will also be red! [It's pale blue underneath, James Ed]
Whilst thinking along the lines of historic importance, the one common reason we are all in the Rochdale Owners Club is for the continued support of the Rochdale Marque and its history. Without your help and commitment to help preserve the history and community that has been built up, these exceptionally interesting cars would maybe have fallen by the wayside. Please help us to help you by providing the registrars with as much information as you can about the history of your Rochdale to enable a complete picture of the intriguing Rochdale Motor Panels history to be built.
The Rochdale Owners Club holds a database on all known Rochdales and we need you to help compile the list and add documentation to these files. These files are not for public viewing and are only to assist in stopping the history of these cars disappearing. If you would like to share any photos or documentation to be added to the database then please email details to the Rochdale registrars. All would be very welcome!
C TYPE SAGA CONTINUES
In the last magazine I mentioned that I had managed to buy a basket case C Type Rochdale that had been resting in a hedge for some 30-40 years, I also mentioned the fact that as soon as I'd got it home I'd probably have to get marriage counselling, well one of those things happened and luckily for me it was picking up the car from Cornwall and not the extra expense of a marriage counsellor!
With only 4 C Type Rochdales known that I know the physical whereabouts of, I was extremely happy to get my hands on this one. As I am assisting Malcolm in the compilation of these Early Rochdale articles then what a perfect forum to let you know the progress of my C Type, I'll try not to overpopulate it though with my projects.
The alarm went off at 04:45 in the morning and I wearily got into my car and started the 280 mile journey down to the depths of Cornwall to pick up this C Type. Now, bearing in mind I had only seen pictures of this car, I was quite excited to finally be picking it up, it was just a shame the location wasn't a bit closer! When I arrived, I met Chris Johns, the son of the owner and we went straight to look at it. I hadn't got my hopes up about the condition or the fact that it would be an easy job getting this onto the trailer and it certainly wasn't!! As the car had been resting in the same spot for the past 30-40 years there was a certain amount of foliage, frogs and soil to clear and the wheels were 4 inches into the ground!
In the last magazine I showed 2 photos of the car, one in the apple tree I extracted it from and one in its heyday racing at Silverstone. The picture below shows me picking the car up from its resting place.
With every turn of the winch more parts fell off
With the assistance of some local manpower we managed to manhandle the car trailer up to the C Type Buckler and push it into a position where we could use the winch to pull it up the trailer. On the way down to Cornwall I was thinking that I didn't really want to move/bend the chassis too much so I could keep it in one piece; having looked at the car I realised I didn't really need to worry about that, as there was not much of the chassis left! The car had broken its back and was sitting on the floor, along with most of its rusted chassis.
We dragged it onto the trailer and tied it down ready for the return leg of my journey. Off I set, with leaves and bits flying out of the back of the car, others were certainly keeping their distance behind me! After 9 hours of driving since leaving London I made it back to my house and went straight out to a party I was a little late for...
The next day I woke up early (slightly hungover) and started to strip this car down. I had secured a garage to put this car in but after stripping it down today I realise I just need cardboard boxes! The bodyshell is in a bad way but definitely salvageable with a little elbow grease. The chassis is non-existent though and definitely beyond saving.
After a little research and the help of the Buckler Register, we deduced that the chassis was once a Mark V Buckler variant. These are usually located in your local motor factors next to the box of hen's teeth, Unicorn stables and picture of the Loch Ness monster! The picture below shows exactly what was left of the front and centre parts of the chassis, not much and definitely not salvageable. The Buckler Register have said that it is the worst they have seen; even one that they dragged out of a pond had a salvageable chassis! Maybe this is down to the acid in the apples?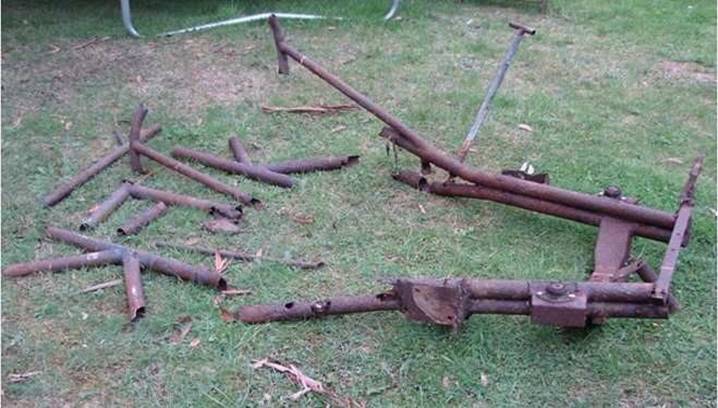 Coming soon to a Motor Factors near you, a Buckler Jigsaw Chassis
So now I knew the state of the chassis and the fact it was definitely not repairable, my intentions turned to tracing the history of the car. By chance someone had contacted the Buckler Register a few years back to see if the car existed as he wanted to try and buy it back, after he found out the condition he decided to give it a miss!
I write to this past owner:
Hi Ian, I am writing with the hope you will be able to help me? My name is James Farrington and
I am the Secretary of the Rochdale Owners Club and recent purchaser of a C Type Rochdale Bodied Buckler Chassis registered VAR 732. From speaking to the vendor of this Rochdale/Buckler, Chris Johns, he said you may have owned this car at some stage? I am hoping you may be able to help me piece together its history so I can start and build a file together on it?
I know this was a few decades ago but I would really appreciate it if you could jot down anything you remember about the car: where purchased, year bought, year sold, name/address sold to, paint colour, any events visited in the car, do you have any photos if so can I please have copies - please ramble on as long as you like with any stories, memories, funny things that happened, anything at all connected with the car, how difficult was it to build, can you remember what chassis number was used?
Everything helps, no matter how small, I would love to find out about this car and any competition history so I can look a little deeper into its past. Many thanks for taking some time to possibly help me out.
Ian writes:
You're a braver man than me, James. Chris sent me some pictures of your car a year or two ago, after we'd met on the Buckler stand at the historic racing car show, I'd mentioned the car and he'd told me it was now rotting away in his father's back garden. I thought about it buying it and getting it restored. But I abandoned the idea because a) I have another project on the go, b) I suffer from chronic projectitis, and could feel an attack coming on, and c) I can't do the work myself, and the cost of having this done by professionals would be just as high as having them work on something with a higher end-value. I don't want to sound commercial about this, but you will get my drift.
I was tempted, though, with the Buckler. VAR 732 is one of only three cars I've had, over the years, which I would seriously want to own again. The others are an AC Ace-Bristol and a Ferrari 275GTB4. So it's in good company. However, renewing ownership of any of them looks unlikely now. But I'm glad that VAR 732 has finished up in the best possible hands, and will clearly get a good restoration.
My old Ace, reg 1947 U, is back with its original owner, one Arnold Burton, who used it for international rallies before I bought it. And TPL 6F, the Ferrari, is alive and well and living in Essex, and also clearly in good hands.
VAR 732 was my first road car, a gift from my mother for my 17th birthday. That would have been in 1959. Given that we were not at all well off, the &pound250 which I seem to remember it cost her might have been the equivalent of - what? - today? &pound10,000? I don't know, but it was a heck of a lot money to us, at the time. Quite a mum.
Having been a complete car nut since the age of 15 I'd studied the market, knew that a Lotus was out of the question, but thought that a Buckler looked like a good alternative. Basically quite similar, rather more robust, and a lot less expensive. When, that autumn, I saw an ad for VAR 732 in Autosport my mum and I traipsed off to Sutton Coldfield, from Sevenoaks, by train. One look at that wonderful Rochdale Type C body and it was a done deal. A car which looked like a DB3S, which actually shared a body shape with one of the Connaught sports-racers, and which was painted red with a white stripe, was guaranteed to bowl over any 17-year-old. I'd previously thought about a Rochdale coupe bodied car, but once you've seen the C there's no going back.
I didn't even have a licence at the time, so the vendor (whose name I've forgotten, but I think you will be able to trace), delivered the car to Sevenoaks. I attempted my L-test in it but the examiner was unappreciative and I had to try again, this time successfully, in a driving school saloon.
When I had VAR 732 it had the usual Ford 10 engine, in a (to me) unknown state of tune, except that I added a pair of Aquaplane SUs (flat topped, instead of domed, dashpots). I think when you bought the car it lacked an engine, and if I had bought it from Chris Johns' father I think I would have restored it with something a bit more lively than even a tuned E93A. You may be more of a stickler for authenticity. It also had the usual Buckler remote gearchange.
The only other thing that comes to mind about my period of ownership is that one New Year's Eve it was rammed amidships by an early Saab, jumping a red light in Bexleyheath. Fortunately, the road was wet, so the Buckler was just knocked aside, wrecking the fibreglass around the driver's door but leaving the chassis undamaged (as, dammit, so was the Saab, which promptly drove off into the night). My attempts to bodge a repair to the body were dire, and I'm sure some later owner has done a much better job.
Oh, and one other point: The Perspex windscreen was useless, when wet, and even worse when wet at night. But that will be no surprise to you. From the pictures Chris sent me, it will also need a new Bluemels Brooklands wheel (someone out there still makes them). That was on the car when
I had it.
I didn't compete in VAR 732 at all. I just used it for the usual late teenage pursuits of girls and beer, all over southern England. It was, however, the greatest possible introduction to the pleasures of driving what is really an out-and-out sports-racing car on the road. I had it for a couple of years, then sold it (I have no recollection of the buyer, I'm afraid), as a) I guess I needed something a bit more civilised, and b) I was offered a very sound and usable 1937 Aston Martin 2-litre saloon for &pound25. Four doors, wind-up windows, all rather different from a Buckler.
I'm delighted that VAR is going to be brought back to life, and would love an opportunity to see it again when you have completed what looks to be a Herculean task. I could also take a few pictures, then, as I have none from the days of yore.
Although this was a great response and gave me some great insight to the history of this car, it did not help me with the 4 years ownership prior to this and no clue into the racing history it may have had. The Buckler archives suggest that this was built by a Mr R Booth in 1955 and fortunately for me and with a little help from Google I managed to find this advert below in Motorsport:
"BUCKLER. Ford 8. May 1956. Sports racer. Fibreglass body. Aeroscreens. Tonneau. IFS 4.7 axle. Close ratio gears. 45 mpg &pound290 ono R.Booth. 3. Hawthorne Avenue. Cheshunt. Herts."
I called in on the address above from the advert I found in Motorsport for Mr Booth (who I think was the original builder), as expected he moved out of there in the late 70's and was apparently quite old then. The current occupier is trying to find out where he went to though as she thought it was only down the road, watch this space!! The picture below shows what I think to be Mr Booth in 1955 next to my car.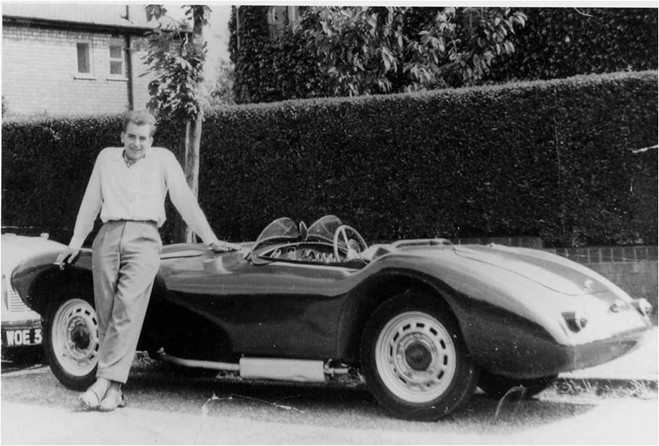 Could this be Mr Booth, the original builder of VAR 732?
It was then interesting to read a small snippet of its history from a newly purchased book on Bucklers written by Brian Malin, which read:
"The cars early history is missing but it appears to have been active in 1955 as a modest road car. In 1956 Mr Locke bought the road car and decided some additional power was required, he removed the 8hp engine and fitted an 1172 with the Willment OHIV conversion"
Again I turned to the internet and the Autosport Forum to see if anyone had any knowledge of Mr Locke? Within 24 hours I had the information below of the race that the picture in the previous magazine is from and that A Locke was from the Hants and Berks Motor Club. Unfortunately, the Hants and Berks Motor Club have no record of Mr Locke now. Still, to be able to attribute the car to the race was fantastic!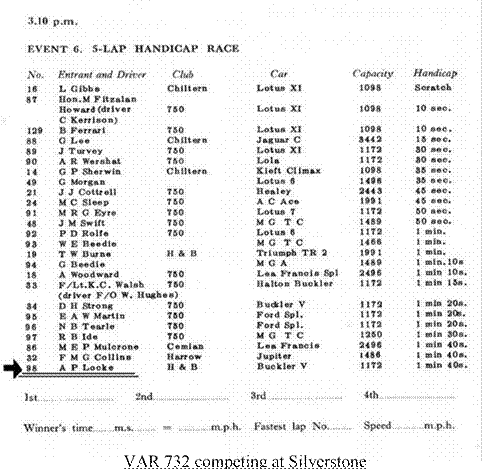 With a little sleuthing you can achieve so much in such a short space of time and I hope this will inspire a few more of you to get out there and try and look into your cars history, if not for yourself then for the Rochdale Registrars who are desperately trying to scrape all this history together before it disappears.
Also in the last magazine was a picture of John Walkingtons C Type Rochdale which he is restoring to a very high standard. After John saw the photos of the condition of my C Type he decided to write and give me a bit of enthusiasm for the task ahead, of which I need as much as I can get!
John Writes:
I looked with great interest and some sympathy at the pictures of your C Type, I think expensive plant pot (as described in mag no 123) could be a good name for your car, mine has had all sorts over the years! I am waiting for surgery at the moment, hopefully at the end of November, I am not able to be as physical as I would wish at the moment so progress on Corsi is slow so I thought I would give a bit of moral support in light of my experiences with a C Type although I know you are an expert Rochdaler. Also I'm passing the time by corresponding.
The photos remind me when I dragged Corsi out of hibernation, 35 years out in the garden, had to be moved a few times and each time another bit fell off! It looked just as bad as yours, dirty, wet, broken and looked beyond repair. It was just a shell, no chassis or supporting frame. It split across the door aperture and the passenger side so was in two bits. The front swept inner wheel arches were hanging on just, a split above the radiator aperture led to the left front wing and headlamp fairing dropping off!
I washed the thick grime off and then set about putting it together. Just a little at a time, joining two bits with external batons, wood laths on the straight bits, sheet metal strips on the curves, held with self-tappers into the fibreglass. Then patching the inside of the join with a wide patch of three layers of 1 lb/sq.m glass matting, plenty of resin, very slowly the shell became one piece and quite strong. [A note: when repairing cracked pieces, make sure the repair layers are of different widths, so that any bending stress is not concentrated at the edges. This is standard aerospace practice, is it not Colin? Ed]
Then the real cleaning began, also removal of the original lacquer finish, all cracked and dirty. I had to chip it off with my air chisel, normally used for removing ceramic tiles from walls, the blade submerged a few times resulting in some serious filling and reinforcing.
The shell was placed on the chassis and several mods were required, the front wheel arches were trimmed and fixed properly, the door stripped of its innards and fixed to make a solid side to the body, no doors now, as the car is quite low it is not too bad to climb in. All the wheel arches were re-profiled nearer to the circumference of the tyres. After a severe rubbing down, filling and flatting off, six undercoats were applied; it looked marvellous after 9 months work.
During the present construction I discovered a lot of discrepancies in the body. The rear one side was different to the other, as I had to increase the width to allow for the Triumph back axle, this was corrected a bit. The cockpit sides were not parallel or front to back, no wonder I got a discount on the original purchase in 1954 or 55? Long time ago now! These faults did not show through as much on the original Ford chassis. It was a 1933 Ford 10 Van and there was a considerable overlap all round, a few outriggers and filling had to be made on the original car. So there it is, I wish you luck on your project!
From my point of view, the C Type will have to wait in line until the Olympic is finished, but it will take me that long to get a chassis built to the original Buckler Spec; if anyone has a Mark V Buckler chassis in their back garden then please give me a shout!
WEBSITE GUESTBOOK TRIUMPHS AGAIN
I find myself typing with regularity the benefits of having the ROC website and once more it has triumphed with providing another Rochdale GT not previously known to the Early Rochdale Register. The guestbook entry was from Geoff Crawford of Pitstone, who was interested in retracing his roots and finding if the car he once owned still existed. The guestbook entry read:
I built a Rochdale GT in 1961 registered 792 STC and registered in Preston. It had a tubular chassis, close ratio gearbox and a Ford 10, E93A sidevalve engine with an 8 head on it. Coil spring dampers all round with a modified diff ratio at the rear. I was very pleased with the car and would like to know if it still exists? I sold it to a garage owners son in Formby, Lancs. Nice to see interest in Rochdale cars is still going strong!
I write: Hi Geoff, my name is James Farrington and I am the Secretary of the Rochdale Owners Club, many thanks for enquiring about your old Rochdale GT on the clubs website guestbook. The Rochdale Owners Club holds details of many GTs but unfortunately on initial checks 792 STC is not one of them, in order for us to thoroughly check our database please could you provide us with some more information?
I realise this was a few decades ago and memories fade but more information to include where the bodyshell was purchased, year sold, garage name/address sold to, gelcoat colour, paint colour, any distinguishing features i.e. spotlights, Ballamy wheels, any events visited in the car would greatly aid us.
Your car could be known to us in a different guise, we do have many unidentified GTs that we know about that just need that little extra clue in identifying them, everything helps, no matter how small!
Geoff writes:
Hi James, further to your previous enquiries on my old Rochdale GT, I have managed to find some pictures of the car which may help in your search. The picture below shows the basic chassis, with the body supported above on temporary support.
792 STC Waiting patiently to be lowered onto the Halifax chassis
In answer to your questions, the body was purchased direct from Rochdale Motor Panels and the chassis was a 3in tubular steel chassis fabricated by a company in Halifax. The picture below shows the basic chassis with outriggers welded on to support the profile of the Rochdale GT bodyshell.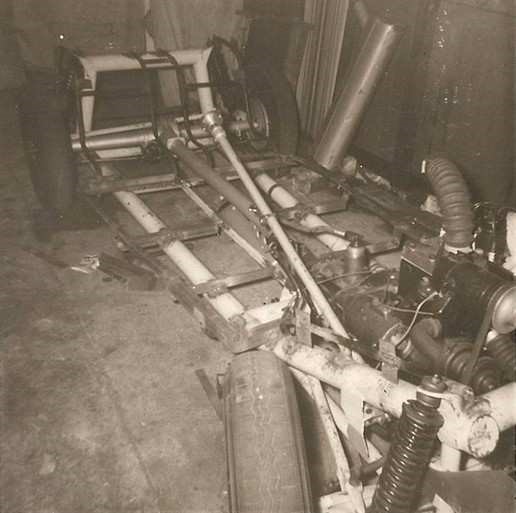 792 STC chassis with extras welded on to the Halifax chassis to take the GT body
The gelcoat was white but the final paint colour was a blue/grey and the upholstery and trim was all done by my mum, who did a great job! The car was sold in 1961/62, but the garage no longer exists, and I left the area mid-70s. I had great fun building the car, and it would be interesting to find if it still exists, I hope the information is of some use in your search?
In the Early Rochdale Register there are a few Rochdale GTs that have been fitted to these Halifax chassis so I feel a few words with the help from the font of knowledge that is Malcolm McKay would be appropriate!
The Halifax Panel Beating Company opened their showrooms around 1958/59 being a major retailer of glassfibre bodyshells as can be seen in the picture from one of their brochures below. By mid-1959 they had the Halifax Tubular Chassis in production, at &pound57 with four Woodhead Monroe suspension units, and modifications required to receive a production bodyshell, as can be seen in the pictures of 792 STC above. The Rochdale chassis was very similar to the Halifax except at the rear end, the Rochdale chassis used smaller diameter tube and also had the Watt linkage.
Halifax Panel Beating Company Showroom
Although superfluous to the story, below is a potted history of the later years of Halifax Panel Beating chassis production courtesy of Malcolm!
This Halifax Chassis was also offered to accept Morris Eight and even Morris Minor/1000 running gear. The Morris 8 version appeared by late 1959 and in Dec 1959 they also announced a 10ft 9in wheelbase version (wow!) and an all-square tube Austin Seven chassis, the Halifax Clubman.
In March 1960 they announced the Mark II Halifax chassis at &pound59, which came with the necessary bracketry to allow the standard Ford rod brakes to work with their suspension (previously you'd have had to buy the hydraulic brake conversion).
In Sept 1960 they announced the new Super 105 Sports Chassis, designed to take the 105E engine and four-speed gearbox, still with modified Pop axles and 15in wheels (that would've been nice!), still at &pound59.
By March 1961 the Specials market was beginning to decline so they launched the "Ford Economy", a simple tubular chassis to take standard Ford Pop suspension, axles etc, at just &pound35 - the Mark II chassis and the Morris 8 version were still &pound59 but the 105 had gone up to &pound70.
In Aug 1961 they announced the Halifax Mark III De Luxe Tubular chassis, still at &pound59 but now with wishbone front suspension.
In Jan 1962 they offered a package deal of a Ford Economy chassis complete with mounting brackets, side rails and transmission tunnel and an AKS Continental bodyshell to fit it (the one that looked like an Alfa Giulietta), for a grand total of &pound100 (I'd buy one!!)
In July 1962 they announced the new BMC A35 and Morris Minor chassis - BMC Mark I took Aseries engine, gearbox and prop with Ford Pop running gear (yikes!), BMC Mark II took "the full running gear and units of the Morris Minor or the A35"
And that's the last Halifax Panel Beating advert I've seen... If you publish all this, it will be the most that has ever been published anywhere about Halifax Panel Beating! All the best, Malcolm
A MEETING OF MASONS!
Whilst Tony Stanton was doing the Rochdale Owners Club proud with the promotion of the marque at the NEC Classic Motor Show, a Mr Ken Mason informed him of a Rochdale GT he used to own.
Subsequently Ken wrote:
Hi Tony, nice to have met you at the NEC, great show and great to see a Rochdale again! I have located three photos for you, unfortunately in black and white! I hope they come through ok as they are the only ones I have? I bought the car in 1963 from my brother who owned a garage, he bought it off a chap in West Hartlepool (I come from Hartlepool). I think I paid &pound65.00 for it, it wasn't quite finished, about 90% complete. I put the final touches to it over the three years I owned it. I sold it in 1966 to a work mate who lived in Wollaston nr Stourbridge W/Mids. It had a Ford side valve 93 A engine and rod brakes, no petrol gauge just a stick marked off in gallons which I dipped in the tank.
The story behind the damaged wing is quite interesting, the girl in one of the photos I have sent is my wife (then my girlfriend), it was our first date and unbeknown to me, I did not know that she had the same surname as me, MASON until I called for her at her house! The accident to the Rochdale GT happened on a narrow bridge at a place called Swindon nr Wallheath, W/Mids, the car that hit me was a Vauxhall Cresta, I had stopped! The Cresta drivers name was MASON, not one of us was related and didn't that confuse the insurance companies. The car had to be repaired at a boatyard at the ROCK, Tettenhall, W/ton W/Mids, no garage was interested, Fibre Glass you see was quite new on cars them days. Best of luck on researching, hope this helps?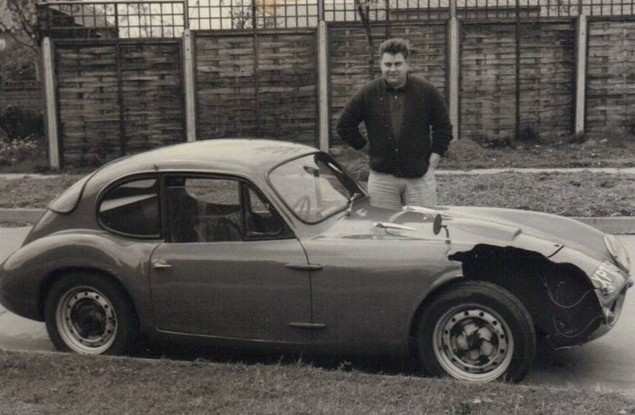 XPT 646 with some unintended modifications
Malcolm writes:
Looks a nice, well finished car (well, before the crash), shame it's not a known survivor but you never know, it may turn up.
XPT 646 was issued in County Durham in Sept 1957 - early to have been registered new as a Rochdale then, but possible; rather late to have become a donor car in the early 1960s unless perhaps the original Ford body had been damaged in an accident. The original registration records survive at Durham Records Office so it would be possible to check. (I'll add it to my things to do list James)
INTERNET TEASER
Another new GT has been added to the ever growing register and this time it is thanks to the continued efforts of Tony Stanton! Tony wrote and told me that a picture of a Rochdale GT had appeared on www.classic-kitcars.com. The GT in question is new to the register and was owned by John Grant, pictured in 1960 with a registration of HUE 517. I'm afraid I don't have much more on this as I'm not able to get in touch with the owner of the time, but nonetheless another GT for the Register that may be recognised by someone out there.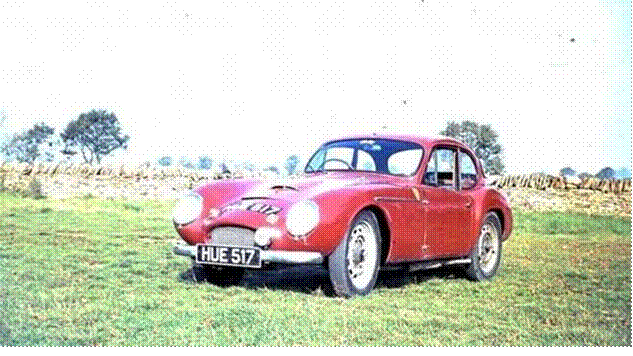 HUE 517, unknown to the Rochdale Register and probably still in the same field!
ORANGE GT HEADS TO ITALY
On eBay in May this year a Rochdale GT featured in the Spring 2010 ROC Magazine (heavily modified to fit a GT6 chassis) sold for &pound4350. I was hoping to contact the seller to ascertain who he had sold it to but having looked in Classic Car Weekly last week I see it has met a fate of so many Rochdales now and gone to foreign climes, this does make the job of the Registrar harder to keep track of them
The picture below was found in Classic Car Weekly on 10 November 2010 of the GT spotted at Auto Moto DEPOCA, Padua, Italy! It seems it may have been for sale with the cheeky vendor stating it had some connection with Le Mans: at last, the racing history we need...or maybe not!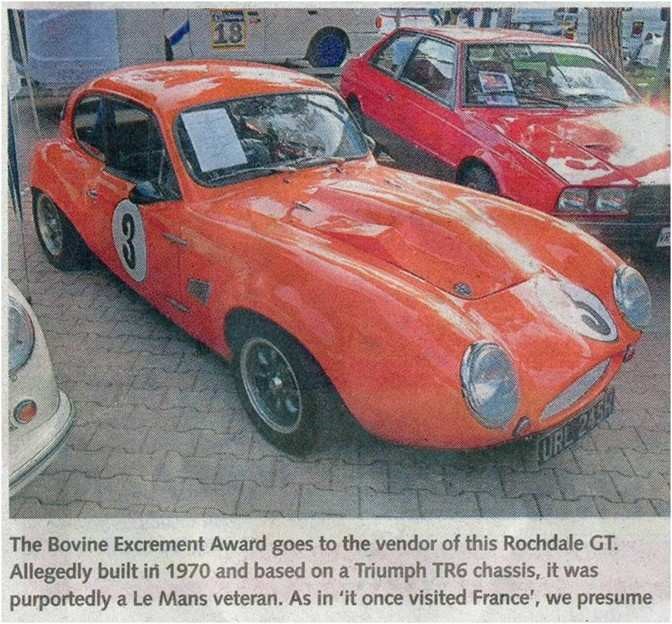 Not an award you'd want on your mantlepiece!
Final thoughts
As Christmas is fast approaching I know my New Years resolutions are going to involve finishing my Rochdale Olympic but, can I ask everyone to consider some of the resolutions below:
Help the Registrars with collating the History of all known Rochdales!
Finally write that article for the ROC magazine.
Use the Internet Forum more
Joking aside, Happy Christmas and New Year to everyone!
OLYMPIC REGISTRAR November 2010
Derek Bentley
VDK 147
The registration number VDK 147 was issued to Rochdale Motor Panels on 8th August 1959 and was applied to the prototype Olympic. This car was then subjected to rigorous testing of some 30,000 miles to test the strength of the GRP monocoque and the mechanical components. Most of the failures highlighted by this testing appear to be related to suspension in respect of brackets welded to the axle and trailing arms. The car was run with Morris Minor mechanical components, including engine.
The cars aerodynamics were also tested by attaching wool tufts along the body shell and driving the car at speed past a camera. As Frank Butterworth was the factory photographer it is assumed that he was behind the lens and Richard doing the driving.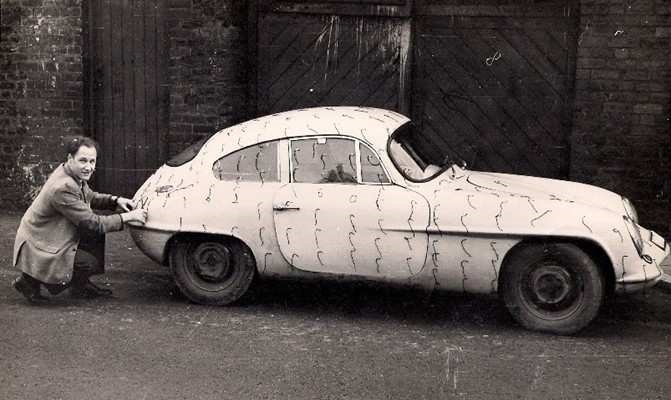 As a result of this testing certain modifications were made to the shape of the body, particularly from the waistline upwards, where a special windscreen and enlarged glass area generally were incorporated. It has been said in the past that the prototype used a Morris Minor windscreen, which I have doubted. I think it can be seen from the next photo that a more likely donor was the rear window from the Austin A55, pre-farina. Rochdales obviously had a good working relationship with the local BMC dealers, Loxhams, as they had used the rear window of the Morris Oxford as the windscreen for the GT and Riviera models and even the front suspension components for the Olympic kits were supplied direct by Loxhams.
Once the modified moulds had been made a new shape Olympic demonstrator was moulded and carried the VDK 147 number plate.
Most manufacturers would have then scrapped a prototype, but not Rochdale Motor Panels. The car was sold to a Mr Leadley of Wraysbury, Middlesex (which is near London Heathrow Airport) without engine for the sum of &pound230 on 7th January 1961. Quite what sort of person would want to buy a well thrashed prototype with badly fitting panels remains a mystery, as does the subsequent fate of the car. I have a lead, so hopefully may be able to report further in due course.
The new VDK 147 became the factory demonstrator and Richard Parkers company car. All test drives seem to have been carried out with this Olympic and it is the one that appears in all the phase 1 Road Tests. On one such demonstration Richard was persuaded by the prospective buyer to let him take to the wheel. This resulted in the car being rolled, much I am sure to Richards consternation. As far as I am aware neither was badly injured and the car was returned to the factory.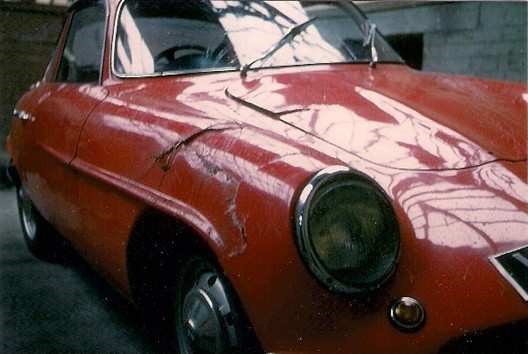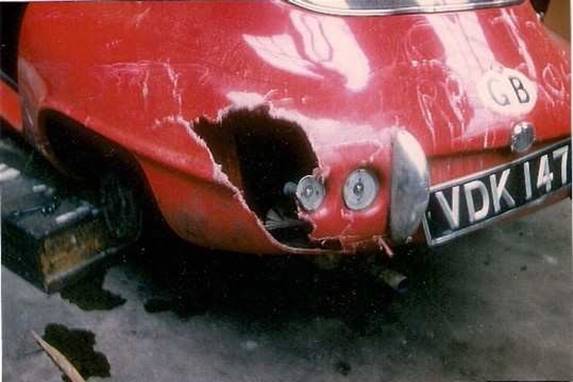 By this time a new mould had been made following the factory fire, so VDK 147 was now allocated to the new body shell. As part of the reconstruction of the moulds subtle modifications were made, the main one concerning the shape of the bonnet which was increased in width (a further increase in size was to accompany the phase 2) and the rear edge shaped to follow the line of the windscreen, which allowed space for a heater intake. Following the introduction of the phase 2 in late 1962, VDK 147 was sold, this time retaining its number and it is in this form that it survives to date.
Dudleys Diaries
Back in 1985 I bought a second phase 1 Olympic (886 WTF). This was fitted with a newly rebuilt, tuned 1622cc MGA engine. The intention was to build the car up for sprints and hillclimbs, however, after two years of rebuilding loss of storage space meant the car had to be sold. I had bought the Olympic from Dudley Guest, who had owned it for about 9 years and had started the rebuild. I recently discovered a diary kept by Dudley, which I had totally forgotten. This lists his exploits in the car and the engine rebuild.
Dudley was also one of the group that in March 1977 purchased the moulds from Harry Smith. His diary entry for the day that the moulds were collected makes interesting reading. After loading the moulds, he writes We had a wander round the factory which was a lot larger than I imagined. There was a phase 2 body which was almost completed. Upstairs there were three phase 1 bodies in various states of assembly. One was virtually complete but the others had been cannibalised for repairs. There were a few doors and bonnets. Which poses the question, what happened to the virtually complete phase 1 and phase 2 shells and the remains of the other two phase 1s?
It was great to see Jason Hoffmans phase 1R (PAX 44) at the NEC. Jason has owned the car for a couple of years, having purchased it from the original builder. I understand the car had been unused for a number of years prior to purchase and a fair amount of work was required. It now sports a well-tuned A series engine, upgraded braking and subtle green paintwork. It brought many admiring comments from the general public.
Best wishes for Christmas to all Rochdale owners. Let us hope that 2011 sees more rebuilds completed (including my own!) and a good turnout at the AGM.