MAGAZINE No 123 AUTUMN 2010
The Historic Specials day was well attended as usual, and although I felt there were slightly fewer cars there than in the past, the standard has certainly risen. It was especially nice to see Les Brown and his GT (see inside for its rebuild story); it is a testimony to his skills that he completed his 374 mile journey without problems, apart from some discomfort perhaps.
TONY STANTONS NEWS PAGE
CLASSIC CAR SHOW NEC 12th, 13th and 14th November 2010
It is with regret I have to inform club members that your club application for a stand at this year's show has been unsuccessful. I am however looking for a tidy original Olympic Phase 1 to display on the Fairthorpe Sports Car Club stand and material/display boards to celebrate the 50th anniversary of the Olympic.
PLEASE contact tony-stanton@fsmail.net
Olympic and Owner from the past discovered (a)
On the 14th Aug the club received the following message via the guest book on the website,
Hi There,
I would like to let you know that my Uncle owned a light blue Rochdale Olympic, back around 1971. He bought it in Toronto, Ontario, Canada. Then moved in with us in Kitchener. I was about 9 years old. He used to take me out for a donut and hot-chocolate at Tim-Hortons. Back then there was not much traffic in town so he would put me on his lap and let me steer. It is still one of my fondest memories of child-hood, sadly my Uncle past away a couple of years ago. I grew to love cars. While my profession for the last 17 years has been with Audi, I still have a soft spot and enjoy the small British sports cars. I found this site by Googling the Rochdale Olympic. It is sure nice to see an owners club and that the memories live on as I was very close with my Uncle Eric.
Thanks! Kevin Leeder Kitchener, Ontario, Canada.
I contacted Kevin for more details; his reply is as follows,
Hi Tony, 18-08-2010
I don't know a lot, because I was only 9 or 10 years old at the time. My Uncle's full name is
Eric Wayne Leeder. Because he lived with us, his address on the ownership should have been Forest Glen Cresent, Kitchener Ontario, Canada. I contacted my father while writing this email. He thinks Eric had the car already when he moved in with us. We both think that he bought the car in Toronto area.
He was living at Bolger Place, Rexdale which is in Toronto, which was my grandpa's house. The car was a light blue when he had it, but I think I remember some paint was chipped off and was a darker blue underneath. My dad doesn't think he has a picture, but he will look for me, also I will try and contact my aunt who might have some more info or a picture. That is about all I know.
A short laugh/memory. It was in the winter sometime first thing in the morning and it was cold. It must have rained the night before and the doors were frozen. My dad had to move my uncle's car, I remember vividly (I am laughing as I write this) my uncle said "Bill be careful pulling on the door cause the handle will come off." It seemed like only a minute later my dad comes in with the door handle, and my uncle saying I told you. My dad said what a cheap car, which my Uncle responded, it is made of fibreglass. I now have tears in my eyes I can't stop laughing so hard. Anyways I just love these cars and would love to own one. Sincerely Kevin
This was a Phase 1 imported into Toronto in 1962 as a bodyshell kit by Ian Keith who sold it to Eric Leeder who later sold it in 1974 to Dr John Somerville who wrote a few articles on the car in the club magazines in the 1980's.
John sold the car in 2003 to Stephen Szikora from Guelph, Ontario. The car has been in the Toronto area all of its 48years and as we had not heard from Stephen since 2005 I e-mailed to see if he still had the car. His reply is below.
Hi Tony, 19-08-2010
As requested, a picture is attached. No, the car is not running. It is going to be a long-term project. It currently is sitting without a drivetrain or interior in it. The original Riley 1.5 running gear had been replaced with the engine, transmission and rear axle from an Austin Marina S and the front torsion bar suspension replaced with the crossmember and coil spring set up out of a Vauxhaul Viva. I obtained a Riley 1.5 and have removed the complete drivetrain and suspension from the donor to put the Rochdale back into original Phase 1 spec.
The Rochdale is sitting in the driveway while my single-car garage entertains my other toy, a '73 Jensen Healey that is in much better condition. Every now and then I look at the Lotus engine with dual Webers and wonder what it would be like in the Rochdale!
Thanks for forwarding me the message from Kevin. I'll contact him and send him the picture as well as a scan from the issue 96 of the club magazine showing a picture of the car with the owners prior and subsequent to his uncle and a little history on the car.
Stephen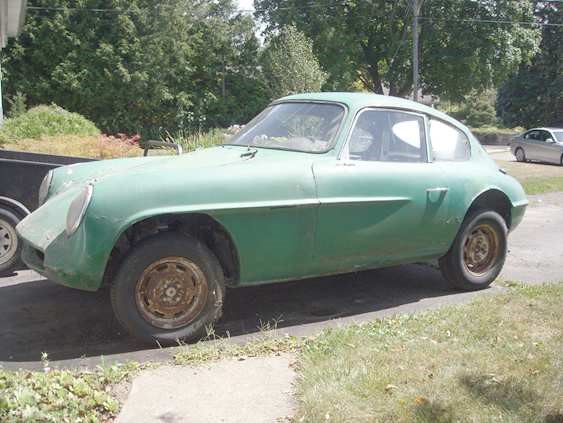 MDP 648 resting in Canada in 2010
Olympic and Owner from the past discovered (b)
I received the following e-mail via James Farrington.
07-06-2010
Came across the Rochdale Owners Club web forum by accident.
Was doing a google search for Neville Hodkin who apparently owned a lightweight Olympic I sailed/race yachts with Neville for 6 years until 2005 and was aware he raced cars before taking up racing yachts but had no idea he had owned an Olympic.
This piqued my curiosity as the father (George Linsley) of my best friend from school (Kevin Linsley) owned an Olympic with a Riley 1500 engine. I have fond memories of being driven to school in the Olympic in 1974. After a few years inactivity the car was sold (probably around 1984) to another friend from school Saleem Hafizullah who I believe is a policeman in the Bolton/North Manchester area.
Hope this info is of use - still in touch with the Linsleys and hopefully shortly with Neville - I haven't heard from him for a while and as he's 76 one always worries. Regards Jon Holdsworth
We have in the factory ledger a Phase 1 supplied to a George Linsley of Cabus Nook Lane, Cabus, Garstang, Lancs in November 1961, but no registration number or later owners. I emailed Jon, but he had no more information, but he contacted his old friend Kevin who asked his father to contact me.
Dear Mr Stanton, 22-06-2010
My son, Kevin, has passed on the various E-mails about the car I owned all those years ago. The registration was 727 XTC. I am willing to talk about it, but fear I have very little to say other than I thoroughly enjoyed building it and running it for so many years. Eventually domesticity and the availability of a 'company car' necessitated its departure. I have a photograph but currently I also have a computer problem and cannot apparently either scan it nor enter it from a re-photograph which I have taken so I will try to get this fixed and then send it later. or, if you wish to give me an address, I can post a 'hard copy'.
I was at Cabus Nook Lane, Garstang for some time (in fact I designed it and had it built for me) but I cannot remember any more about when or how I sold the car - sorry.
Just in case it may be of some slight amusement I can recall a few stories about the car. When I bought it I went to collect it on a low trailer pulled by a Ford Transit owned and driven by a friend. Of course this meant that, from even a short distance it looked like a 'sports car' very closely following the Transit even though there was of course, at that stage, no 'works' in it, nor even wheels. The sight, however, was clearly too much for one impatient driver at a roundabout who just wasn't going to have the 'sports car' cut in so he tried to get between Transit and Rochdale. You can imagine his reaction when he discovered, very late in the day, that there was no driver and it simply wasn't going to stop to let him in!
The other memorable item was that I discovered that in deep snow (which we seemed to have more of in those days) the almost complete 'undertray' acted like a toboggan, with at least some 'steering' from the wheels, so going downhill was great. Unfortunately, there was no traction whatever when we came to rest at the bottom of a considerable dip, since there was over a foot of quite soft snow beneath the wheels, the car sitting on its 'undertray' which spread the load. When I got out I discovered just how deep the snow really was as it wouldn't support me!
I am delighted to know there are still some Rochdales about. I always felt it was a pity they couldn't develop what I believe was a wonderful idea of a 'monocoque' egg-shaped body into a slightly larger version.
Regards,
George Linsley.
George driving 727 XTC in 1962
I also traced Saleem Hafizullah through this advert in a Fairthorpe magazine of October 1981: - ROCHDALE OLYMPIC phase one, rare car. Complete but needs working on. Spare engine and wiring loom. Offers or swop. Tel: Bolton.
He was only 16 in 1980 when he bought the car off George with a lot of work to do including a seized engine. He found he did not have the know how to rebuild it so sold the car in 1981 to our ex chairperson Roger Coupe who stripped it and used the body shell standing upright on its nose at the 1984 Belle Vue Classic Car Show. I have traced the car through 7 more owners and the car is alive and well with a registration number change and in the capable hands of Richard Disbrow in Dorset.
Olympic and Owner from the past discovered (c)
I also received this e-mail from James Farrington (he keeps me busy)
Hi Tony, 14-07-2010
I hope you are well? I've just had a phone call from a Professor Norburn. He said he was looking around the internet and came across the Phase 2 for sale on Sussex County Sports Cars, 624 JAC (this is the ex-Fred Blackmore car we have had on the stand at the NEC and at Bristol Show)
He said he used to own that car between 1970-1975 and had it re-built by Tickner Brothers who were a well-known car specialist at the time. He also said it was blue when he had it and had a sunroof. The gelcoat was red but the engine bay gelcoat was dark green. I was at work so didn't get the chance to talk to him much but he said he would be delighted to talk more about it. Can I hand this one over to you?
As an added teaser he also said he once owned a Rochdale GT, couldn't remember the number plate but said he should have pictures of it somewhere (8069 ML).
Many thanks James
I phoned Professor Norburn. He has recently retired after 16 years as the Director of the Imperial College Management School. He sent me some photographs and said he enjoyed his time with a GT and 5 years with an Olympic. He sold the Olympic to his brother in law Graham Birley who had the car for 10 years. I found an advert from Exchange & Mart from the time he was looking for an Olympic.
22 Oct 1970 E&M
Wanted Rochdale Olympic, ideally Phase II but would consider good Phase 1. Norburn, 9 Rees Street, London N1.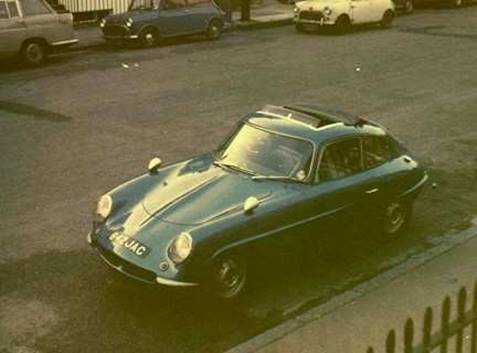 642 JAC parked in London in 1971
Olympic and Owner from the past discovered (d)
I also received this e-mail from James Farrington (he keeps me very busy)
Hi Tony, 15-07-2010
Just thought I'd let you know of another lead my Father in Law discovered today of a previous Rochdale Olympic Owner. Please can you have a look in your files to see if you recognise the car or name and if not I can chase it up some more?
A well-known member of the Bristol Owners Club who wrote the book, Bristol Cars: a very British Story called Christopher Balfour used to own a Rochdale Olympic. He said it was a very early one and remembered the fire at the factory after he bought it. He said it was dark silver in colour and it used to be displayed at various shows by Rochdale Motor Panels prior to him colleting it. He said the registration was four digits followed by the letters DF. It was
also Riley 1.5 engined. If you already know of this owner then let me know, Regards James
I know this Phase 1 registration 1523 DF very well as it belonged from 1978 to 1990 to a long time good friend of mine (Mr Rochdale) Stan Hanks and currently resides with Roz King in Salisbury. The factory ledger shows the car was ordered Oct 1961, the fire was Feb 1961, and he was charged &pound30 for spraying the car Grey. I do not know when the car was collected, but he paid the main cheque Feb 1962, but then another one on June 1962 and the car was not registered till Sept 1962, so it may have been used at shows, it was definitely on the stand at the Racing Car Show in January 1962
I contacted Christopher Balfour and it appears that in 1961/1962 he was in talks with Harry and Frank about investing in Rochdale Motor Panels and travelled to Rochdale for meetings and stayed with Richard and Hilary Parker in their cottage at Hollingworth Lake. He sent me a photograph of the Olympic taken at his home on the day he collected it from Rochdale. I also found an advert in Motor Sport July 1963 when he sold the car: -
ROCHDALE OLYMPIC. Metallic grey. Much effort given to developing this car. Still not perfect but performs with distinction. Owner no longer able to give the deserved attention. Approx 6000 miles. Suggest &pound545. Box No. N907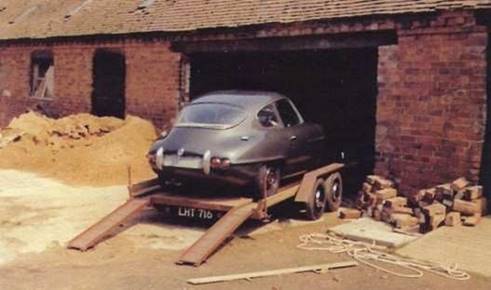 1523 DF after collection from Rochdale.
PS I think this is now the 5th ex Rochdale owner James father in law David has discovered in the Bristol Owners Club!
And a little note to end on. Sign for the rear of your classic car: -
"The parts falling off this vehicle are of the finest British craftsmanship".
The Pros and Cons of Rubber and Plastic Suspension Bushes
Tony Stanton
I recently had to replace 8 large rubber suspension bushes on DUFFY (there are also 20 small rubber suspension bushes which did not require changing). Because initially I had no idea what car the originals were off I had considered fitting polyurethane ones till I read the following details.
Torsion Bush
A wide range of standard versions are available providing characteristics to suit diverse applications. They are commonly used in automotive applications for suspension system linkages or leaf spring mounting, where some degree of movement is desirable. This bush design provides for displacement in a combination of radial, axial, torsional or conical loadings (see diagrams

below)
Bushes are placed at the pivot points for any of the following reasons:
a) Smooth and predictable movement without the wear associated with solid metal bushes. No surface to surface sliding motion for any required motion.
b) Vibration isolation - rubber bushes reduce road noise in automotive applications whilst absorbing impact loads.
c) Deflection under load - when engineered into a system, this deflection can allow the linkage freedom of movement. If deflection is not accommodated within the torsion bush, stresses may be transferred to other mechanical components.
d) Modern suspension systems are designed so that the bush deflection does not seriously impact alignment, allowing for vibration isolation whilst maintaining the steering geometry.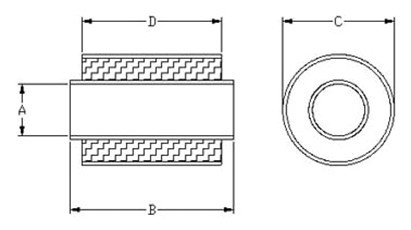 Torsion Bush Type BB:
This bush comprises inner & outer tubes in which the rubber is chemically bonded to both tubes allowing applications requiring loading in all possible directions and combinations (BB = double bonded).
Torsion Bush Type TB
With the addition of an intermediate tube which is again chemically bonded in place during the moulding & vulcanisation process. This type of bush is suitable for the highest loads (TB = triple bonded)
Torsion Bush Type B
This type of bush embodies both chemical bond (inner tube only) and interference fit. The interference fit provides for pre-stressing of the rubber making it stiffer for normal radial, conical and torsional loads. It is not intended for use in high axial loading situations.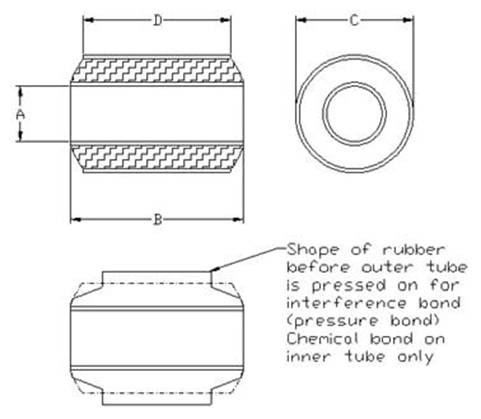 One advantage of this bush type is that occasional extreme torsional overloads can be accommodated since the bush will slip within the outer tube under these conditions Torsion Bush Type BE:
Employing both chemical bond (inner tube only) and interference fit as for the B type bush, this version has a chemical bond for the full length of the inner and tube and a specially shaped rubber section designed to prevent metal to metal contact under axial overloads.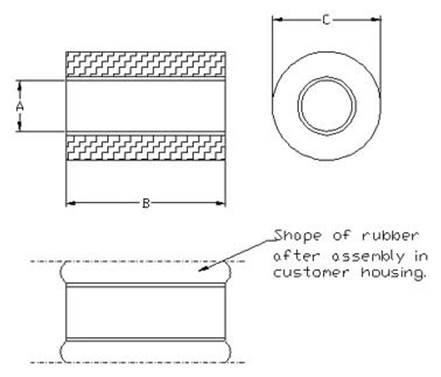 Torsion Bush Type SAB:
This bush type is designed for use where a machined housing is available and hence no outer tube is provided. An interference fit provides the required pre-compression as for the B type bush. This construction is intended for only light axial loads.
Loading Methods
The degree of displacement for a 2 tube system and based on a constant elastomer can be designed-in by adjusting the basic parameters of length plus inner and outer tube diameters as follows:
Radial
This relates to displacement such that the inner tube is moved towards the outer tube whilst remaining axially parallel to it such that the thickness of rubber is reduced uniformly on one side. The radial displacement can be decreased by increasing the projected area (diameter of inner tube x length of outer tube). This can be facilitated by increasing the overall length of the bush or by increasing the outside diameter of the inner tube. When only radial loading is anticipated, these bushes will withstand significant shock loads in excess of normal rated load for the size (up to 5 times rated loading) However, if conical loading is anticipated in addition to radial loading, the nominal rated loading must be reduced. Also if cyclic loading is anticipated, the load catered for should be at least halved.
Torsional
When one tube is rotated relative to the other whilst remaining axially parallel, this implies a torsional load. Reducing the thickness of the elastomer will reduce the angular displacement for a given torque (increasing the inner tubes outer diameter or decreasing the outer tubes inner diameter) or by increasing the overall length of the bush. Typically, the maximum frequency of torsion loading accommodated is 8Hz (480 cycles per minute) and this would be for small angular movements up to +/-5 For lower frequencies +/-40 can be accommodated for some bushes where the rubber thickness allows.
Conical
If an angle is developed between the axis of the two tubes such that they are no longer parallel, this is a conical load. The displacement from such loads can be minimised by reducing the thickness of the elastomer or by increasing the length of the bush as above. Applications should limit the angular movement such that the thickness of elastomer at the end of the outer sleeve is not reduced by more than 30%. Clearly, greater conical movement is provided by a greater thickness of elastomer, which in turn can be determined by changes in tube diameters.
Axial
When the ends of the tubes are displaced relative to their no-load position whilst the axes remain parallel, this is an axial load. The displacement can be reduced by reducing the thickness of the elastomer or by increasing the length of the bush as above. Design loads should be kept to a maximum of 10% of the rated radial load.
The deflection parameters can also be modified by altering the hardness of the elastomer (harder reduces deflection) or by inserting an intermediate tube which reduces deflection in all directions as for example in our TB (triple bonded) bush type.
Installation
The outer tube is either clamped in place or is an interference fit in a machined housing requiring insertion using a mechanical or hydraulic press. The inner tube is typically held in place by a clamping bolt which is tightened to sufficient torque to prevent the inner tube from rotating in use under the forces likely to be experienced.
Press Fit Tolerances on Bores
In most applications bushes are intended to be a press fit in a bore. In this case the following bore tolerances should be applied: The bush diameter should be taken as its nominal size mid-tolerance.
Note: where the bush is to be inserted into a rolled spring eye, the interference is greater is greater due to the yielding of the spring eye.
| | | | |
| --- | --- | --- | --- |
| Outside diameter of bush (mm) | Bore limits from nominal bush O/D | Rolled Spring eye Bore | SAB Style Bushes |
| 6 to 23 | -0.04 / -0.06 | -0.25 / -0.50 | -0.25/ - 0.35 |
| 24 to 40 | -0.05 / -0.08 | -0.40 / -0.70 | -1.00 / -1.10 |
| 41 to 50 | -0.06 / -0.09 | -0.9 / -1.10 | -1.50 / -1.60 |
| 51 to 70 | -0.08 / -0.0.10 | -1.00 / -1.40 | -1.70 / -1.80 |
For SAB style bushes without the outer steel tube, the degree of interference is also much greater. This provides for security of installation and also has the effect of stiffening the bush due to the compression of the rubber during assembly.
Typical application automotive suspension
The torsion bushes on most cars consist of a larger steel sleeve mounted inside the control arm, with a smaller steel sleeve inside for the mounting bolt, held in place with rubber which was bonded and vulcanised in place. The sleeve is fixed into the arm, and the inner tube held tight by the mounting bolt. As the arm moves, the rubber material gives way to the shear forces, allowing smooth movement of the arm without any sliding motion or surface-to-surface friction and hence nothing to wear, squeak or rattle. Most modern rubber torsion bushes are double bonded (i.e. the rubber is chemically bonded to both metal surfaces during the curing (vulcanising) of the rubber. In some cases the outer surface is held in place by creating a significant interference fit during assembly of the bush. Such bushes are not intended to slide within the outer sleeve but allow for occasional extreme torsional overloading of the bush.
Materials:
Inner & outer tubes are of steel which is zinc plated or Sherardized and clear or yellow passivated. For the chemical bonding process, the bonded surfaces are further treated with special purpose priming and bonding agents. To achieve the required quality and ensure that the surfaces are not contaminated prior to bonding, the latter operations are under in-house control.
Polyurethane bushes:
Polyurethane bushes have become popular, as they noticeably stiffen the suspension and are claimed to outlast the OEM rubber equivalents. The same effects could be accommodated by using harder rubber compounds or by changing the tube diameters. However, most users do not understand how torsion bushes are intended to work and how these alternatives differ in principle and the problems they create. The recent popularity of polyurethane after-market replacements has drowned out the advantages of the proven designs, resulting in stiction, binding, squeaking, harshness, and need for regular greasing.
Polyurethane is used in place of the rubber portion of the factory bushes. Unlike the rubber bushings, these bushes are not bonded to an inner and outer sleeve and are sometimes used simply because they are easier to fit. However, if easy to fit then there is no interference and hence a loss of stiffness will result. In typical automotive use, movement of the control arm will cause the internal surfaces of the sleeves and bush to slide to accommodate the shearing forces. This raises the issues of stiction and binding, both of which can affect steering predictability under extreme handling conditions.
Void bushes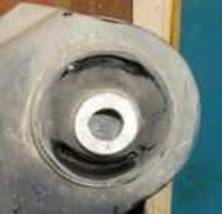 Whilst on the subject of bushes it's worth remembering that the big boys (GM,Ford etc.) spend literally millions on the design of these little rubber bushes. Some of you may remember an in phrase back in the early '70s - void bushes. As a result of their enormous investment to improve passenger comfort Ford realised that they could tune the frequency response (and absorption) rate of suspension bushes by moulding in little pockets. If you look at modern day items, you'll notice a plethora of pockets and bump ridges which go to make the bush soft in normal use and harder in extreme conditions. Some are even directional in that they are softer in one direction than another.
As fitted to DUFFY by Richard Parker
My conclusion:
It's my belief that a good, fast road car is a compromise between good handling when cornering, accelerating and braking and having a comfortable relaxed ride. It is no good Bill having a car that handles slightly better than Freds if it is uncomfortable and tiring to drive. Remember cars designed for race tracks do not make good road cars and vice-versa, so from the above article I think rubber bushes seem to be more tune able (specially with void bushes) than polyurethane and therefore a better compromise.
* * * * * * * * * * * * * * * * *
A little comment to end on from Alan Farrer:
I imagine that poly bushes have become available on the aftermarket because polyurethane is easier to mould than rubber and they are usually sold separately from the inner and outer sleeves. Rubber bushes also requires chemical bonding and therefore close process control. Because there is sliding contact between the inner sleeve and the poly, the sleeve should be made from stainless steel to avoid corrosion and consequent wear.
I have fitted poly bushes to several of my Olympics and have replaced some with rubber for the reasons mentioned above, ie stiction and squeaking, and also because they can deform permanently under constant load eg on the rear suspension. I shall use only rubber in my current rebuild.
Boys will be boys - but this was the real thing
Derek Argyles GT40 Memories
The phone rings, it's Jenks. Doing anything tomorrow morning? Not particularly, why, anything on? We've got a GT40 on test, should I pick you up about 10.30? Not 'arf Jenks, see you tomorrow, thanks.
The roar of the 4.7 litre GT40 made its presence felt in our Close bang on time. Forty inches tall hadn't meant too much to me until I was about to enter the car when I realised just how low the roofline was and how much I would need to duck to enter. For tiny Jenks the car was made for him. As I buckled up in the reclining vented seat I felt extremely comfortable and could readily see the need for such comfort when cars of this ilk were competing in races lasting as long as the twenty-four hour Le Mans event.
Making our way along the A30 from Camberley towards Basingstoke I was surprised how smooth was the ride of this sporting car. I had expected a much stiffer ride and, in commenting to Jenks on this point, he said that this was only the cooking version of the GT40 hence the sound deadening and the carpets. With about 90 fewer horses there was almost certainly softer suspension fitted as well.
There was one occasion as we drove along part of the A30 that had single carriageway where we came upon a slowish A30 saloon. After a while an opportunity occurred for us to overtake the little Austin and as we passed and cut back in on the over-run because of another car ahead, flames poured out of our exhaust pipes. I hope the driver wasn't too put off in the enjoyment of his Sunday drive.
More slow-moving Sunday drivers led us to turn south along the A339 as we reached the Basingstoke outskirts. Having felt some of the power of this engine along the A30 I craved for more and asked Jenks if he could demonstrate for me a 0-100-0 blast. We selected a suitable strip along the road giving us a perfect view forwards and backwards and Jenks then floored the throttle. Within seconds I yelled One hundred and then Jenks very quickly brought the car to a halt. It was all over in a moment, my mind had to catch up with what I had just experienced. The acceleration has been fierce but not violent, the power made the car surge forward progressively with only one barely noticed, ultra-quick gear change. Almost more impressive were the brakes. In those days most popular cars if braked incredibly hard would cause the cars nose to dip violently and the vehicle would become unstable. The driver would realise that the belts were doing a fine job of not putting him through the screen but with the GT40 one was in a different world. Probably because of anti-dive front suspension the very powerful brakes of the GT40 simply caused the car to stop in a perfectly level attitude with no drama, no skittishness and a feeling of total control and safety. Again my senses had to catch up; I had never experienced such performance and I realised that if I ever had the opportunity of driving a really potent car I wouldn't just jump in and drive off but would prepare myself for my reactions that would have to be much sharper.
We came to Lasham and turned in to the airfield where we spent a little time watching many beautiful gliders silently drifting above us in total contrast to the fire and fury of the Ford. On leaving the airfield we made our way towards the Golden Pot and down towards South Warnborough and Odiham aerodrome. Along this narrow stretch of gently winding road and knowing that there were no side turnings, Jenks yelled Hold tight and accelerated to 144 mph before backing off. Phew, what'll she do Jenks?. About 165 as this is only the road version. After this we decided a pint would go down nicely and stopped in the deserted Odiham High Street. Jenks switched off, total peace and quiet except for the pings of the cooling exhaust system. As we emerged from the car, totally out of nowhere appeared two young lads and looking at Jenks and myself said in total awe Wow, Batman and Robin.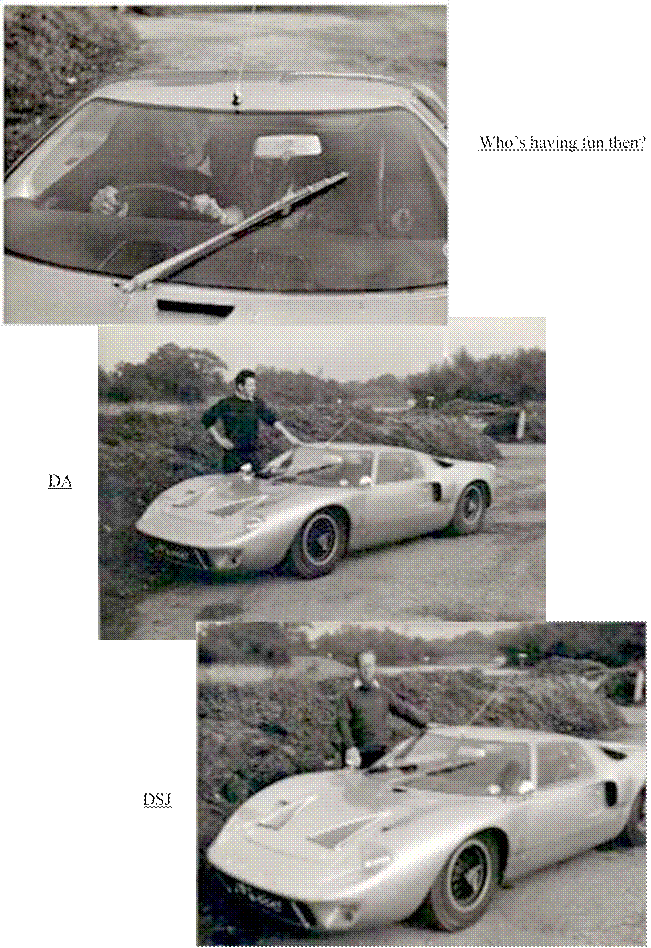 EARLY ROCHDALES
Now, I do not want to sound like an incorrectly downloaded iPOD song (a broken record to the older generation) but where have these past few months gone? It only feels like last week that I was writing this very same article declaring my lack of time and busy work schedule and here I am again trying to cram an Early Rochdale related article into the only quality time I get, although I do find it is quite peaceful in the toilet.
Having spoken to Tony Stanton recently I realise we are both having the same problem, the problem being having so many pokers in the fire, sometimes they all need taking out at once. The amount of leads, half completed history trails and contacts to talk to are slowly mounting up and my email inbox contains more letters than you'd find in a Royal Mail sorting depot. I will attempt to deliver an informative article for your perusal though.
This past few months has been a roller coaster ride for me in the world of Early Rochdales, I say roller coaster as I'm on track to need a bigger garage, my bank balance has dipped and my wife is going round the bend. Let me explain........
Mark VI
In the last magazine I showed you the pictures of the Mark VI Rochdale bodyshell that I had purchased and hinted I might be reuniting it with the original chassis; well the two are now well and truly back together and waiting to be put back to their former glory. It started like this:
Having a daily glance at the Rochdale Owners Club website forum I noticed an entry from
Keith Nicholson, who I partly blame/thank for the purchase of the Mark VI, stating there is a Paramount roadster on Ebay, may have been Rochdale bodied at one stage according to the description.
It was following this that I contacted the previous owner of this once Mark VI bodied Paramount chassis advertised on Ebay, Brian Parodi. Brian informed me he had big plans for the chassis and created an ash frame to recreate the original lines of the Paramount and wanted to use the Mark VI shell for projects further down the line. Unfortunately, other projects took over so the chassis had to go and he sold it at auction a while back. Brian did still have the bodyshell in his garage though and was prepared to sell it. Deal done I went up to collect it that weekend.
Although the sentimental side of me wanted to reunite this bodyshell with the chassis for sale on Ebay I was too late as it had already been sold. I had other plans but decided to telephone the new owner of the Paramount chassis to get a copy of the history file for my early Rochdale records, it was at this point he told me he no longer intended to use it for the fitting of a 4CS Maserati body and offered me first refusal before he put it back on the market or sold the engine separately. I jumped at the chance and drove the 20 mile trip across London (3 hours in the Friday traffic) to have a look, upon seeing it I had to buy it and made the offer, after all, the kids education allowance could wait a few more years before I top it up.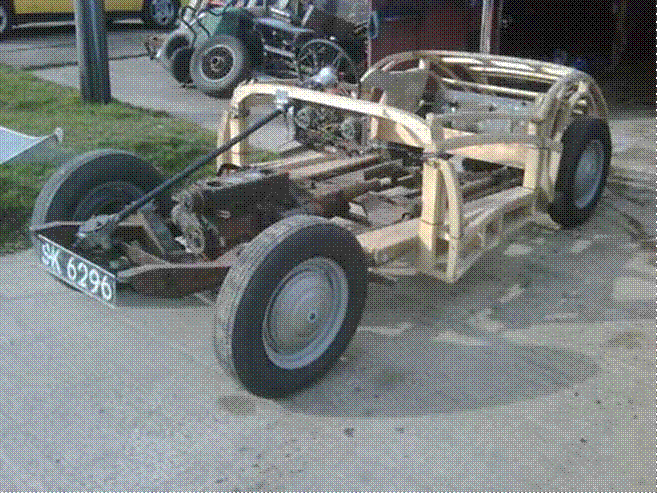 Paramount chassis
This particular car is probably the only Paramount Mark VI to have survived intact having been built originally on its chassis by Mr I Martin from Kirriemuir. This then changed hands in 1995 being sold to the well-known classic car enthusiast Duncan Rabagliati and finally resting with Brian Parodi in 2007.
C Type
Now, this is where it gets more complicated.......
Out of all the Rochdale marques out there I have always had a passion for the looks of the C Type Rochdale, I have been trying for months to track one down for sale and have finally got my hands on an example that comes with added extras, undergrowth. Not quite the state I imagined my next restoration project but this is a basket case example of a Buckler-chassied C Type that I can't wait to get my hands dirty on.
I will endeavour to give you more information in the next magazine as the copy date falls a week short of the collection date so I will know more then. I will also let you all know how the marriage counselling is going, now I've spent our rainy day savings on what my wife calls an expensive plant pot.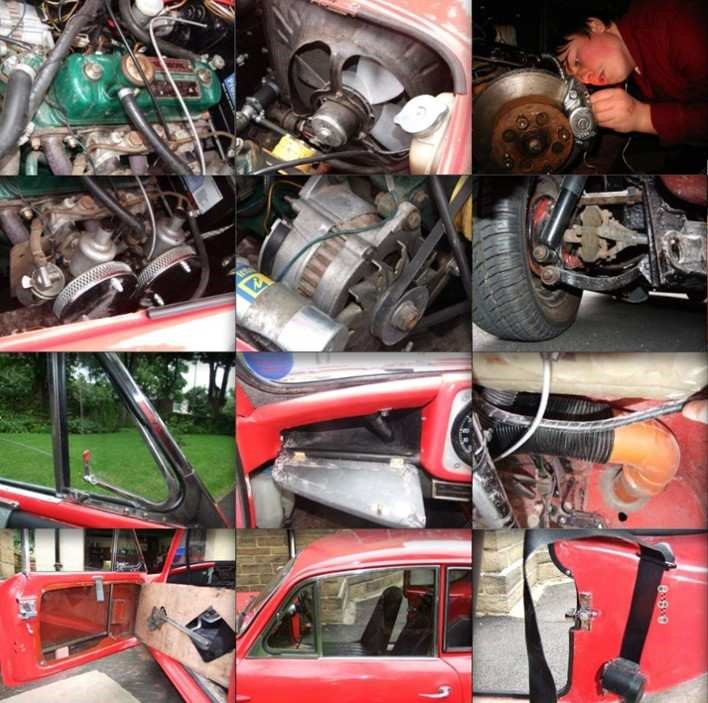 1 2 3
7 8 9
13 14 15
19 20 21
Picture numbers as referred to in text on pages 25,26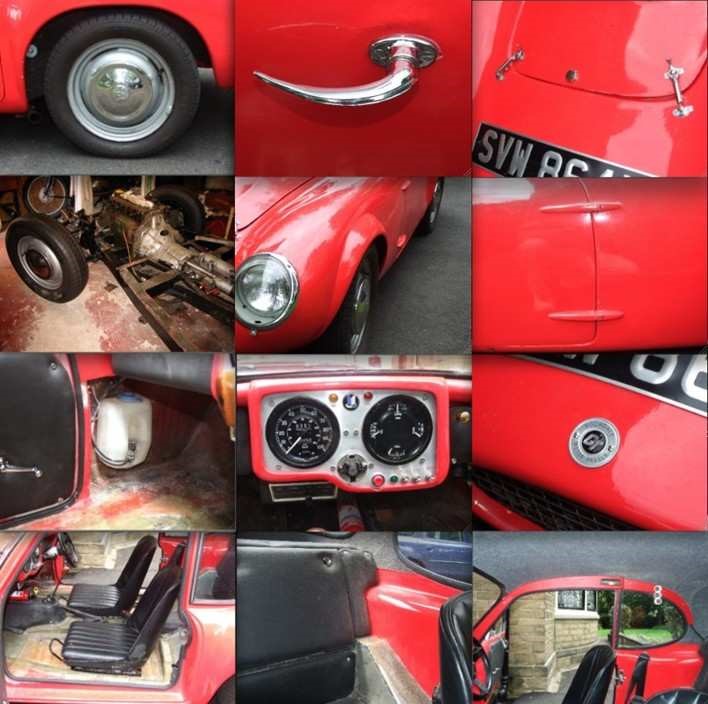 4 5 6
10 11 12
16 17 18
22 23 24
Picture numbers as referred to in text on pages 25,26
VAR 732 in its former glory
American C Type Owner Surfaces
Around 1954/55, the Type C came on the market. It was normally sold with no internal framework or bulkheads. It looked a lot like John Coombs' Connaught ALSR; in fact it was alleged to have been created from the aluminium body of that car (hence the 'C'), when it had come into the workshop for repairs and had moulds quickly taken off it overnight.
The shell was one-piece and aimed at the common wheelbase of 7ft 6in, although it could be modified to fit longer wheelbases if required, and was priced at pound75. With its deeply scalloped front wings the styling was very reminiscent of the Aston Martin DB3S.
There was no passenger door cut as standard and the grille opening was left to the builder; bonnet and bootlid were supplied cut, flanged and rebated with separate driver's door and inner wheelarch panels also supplied. With its aerodynamic shape the Type C was often used for racing and has been known on chassis from Buckler to TVR, including BSA Scout, Cooper, MG TA, Ford 8, Lister-Bristol and Tojeiro, but it is believed that only around 40 were sold.
In 2008 we detailed the discovery of a C-Type that had turned up in America; at the time the contact was made by someone trying to find out more information to potentially purchase the car. Fortunately for us the owner of this C Type has now contacted the ROC, he writes:
Hi, my name is Nick, I have a Rochdale type C that I purchased 34 years ago. It is on a 1951 MG TD. It was used for racing in England and it was purchased by a man who went there to work for his company for 3 years and he saw the unusual car, I think at a race, and he purchased it and brought it back to the U.S. in 1959. It has 1,800, yes 1,800, miles on it. He gave me a lot of brand new parts still in the original boxes for it. It has the original Dunlop Racing tires still on it. The body is solid, but it has some cracks in it, he said from racing. I am trying to get any and all information I can on this Rochdale type C because I had it in storage all these years and now I am going to try to restore it. Any help or information that the Rochdale Owners Club members could offer would be greatly appreciated. Thank You very much from an OLD CAR loving guy across the seas...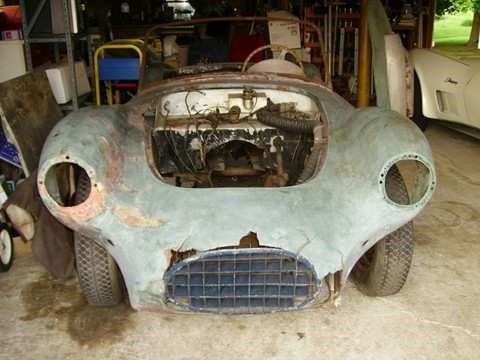 Malcolm McKay writes:
I've been passed your email as I am Registrar of Early Rochdales for the Rochdale Owners Club - thanks very much for getting in touch about your C-type.
There are very few surviving Rochdale C-types - because the bodies were aimed very much at the sports racing car market, inevitably most of them had a very hard life and fell apart long ago. So it's great to hear of one that has survived with so little use. We heard about yours from another MG owner a few years ago, but he never gave us your contact details so it is really good to make contact at last.
There are some intriguing similarities between the bodyshell on your car and a C-type shell that was fitted to one of the first TVR chassis in 1955, using an MG 1250 engine, photo below. I did wonder if the body could have been taken off the TVR chassis after the car was taken to USA and put on the MG chassis - it seems very unlikely that it was built on a left-hand drive chassis in England.
It is great to hear that you will rebuild the car. I hope you will find it worthwhile to join the Rochdale Owners Club. If so, we could put you in touch with John Walkington, one of our members who is just finishing rebuilding his C-type, which he built new in the 1950s picture of the current restoration progress below.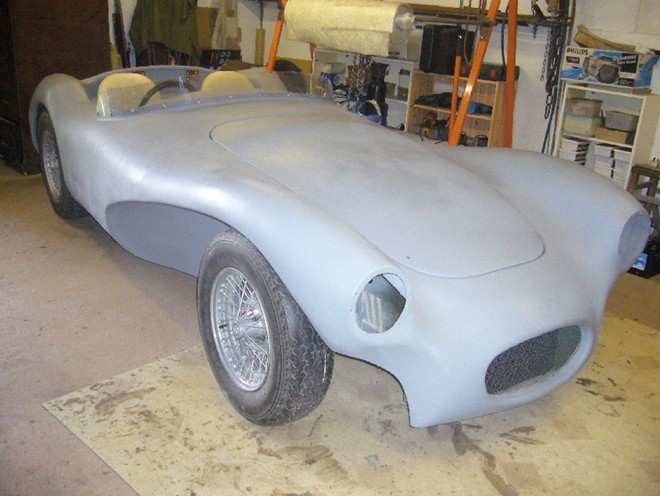 John Walkingtons C-type under restoration
To the best of my knowledge, there are five original C-type bodyshells left in the world, including yours. One is on a Ford Popular chassis, in poor condition and has not been seen for 15 years; another is in very derelict condition on a rusted-out Buckler chassis; another is/was on an MGTA chassis, stored for 50 years until it surfaced in 2007 but immediately disappeared to Europe; and the fourth is John Walkington's. So it's a very rare car. Unfortunately, rarity doesn't always equate to value, except from a historical interest perspective, but there would certainly be great rejoicing in the Rochdale Owners Club if you restore yours.
On the Road Again
Les Brown has kindly written the following informative article on the progress of his Rochdale GT.
Strictly speaking, of course my GT has been taxed and MOT'd for over a year now, but in spite of satisfying legal requirements it hasn't really been driveable during that time - there were far too many loose ends needing tidying up ... and still are. But at least a round trip to Burford (374 miles) served to highlight some of these, and also to demonstrate some excellent features of the car. It's an unusual specification, even for a GT, so perhaps a few words on its background would be appropriate.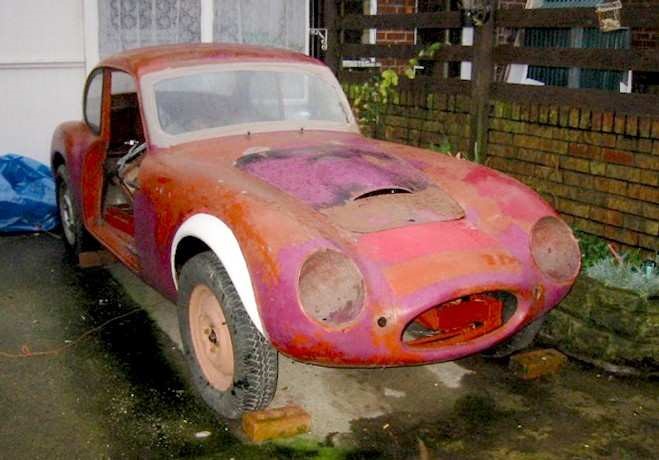 Les Browns GT6-chassied Rochdale GT (before)
The car had been bought in 2003 as a school project, and although far from sparkling had obviously had a considerable amount of very good work done on it before that time. The car had been seen at Burford 1992, and its original CSA 390 (I think) number had been lost, along with its original Ford parentage, long before my tenure. Shame, I do like to see those old numbers still in use, but on the other hand some bad experiences with side valve Fords early on meant that they wouldn't tempt me to use one in a performance car, though I know some can be made to go very well indeed - if you're determined enough... What was interesting was an extremely hefty-looking Triumph chassis (it made considerable use of outrigger sections, welded on to the original) with some very nice suspension attached. Again, Heralds and the like never really did much for me with rear wheels (and even front when they approached full lock) to be seen at all sorts of odd angles which never seemed quite right from a purist's viewpoint. But at least it was just about in period, with the first Herald appearing in 1959, and while I doubt that any GTs WERE placed on that chassis before production ended, it was at least a possibility. And at least this one had avoided the dreaded swing axles with the much rarer GT6 wishbone arrangement, a little further out of period at 1968 onwards, but I was quite prepared to forgive this for the sake of better control of those camber angles.
The rest of the car wasn't quite so promising. There was no engine or gearbox present, and likewise the interior of the car was completely empty, with seats, instruments, steering, brake pedals, even doors missing from the car. Some of these were turned up, and had clearly been fitted at some stage, and it became apparent that moves towards an A series motor had been made. I did prefer this unit as it was much more familiar to me than the obvious Triumph fourcylinder so I decided to go along with the plan, though whether I would STILL follow the same path with the benefit of hindsight is another matter. Why no GT6 engine? Well, it's a massive lump which even Triumph engineers struggled to place under a Spitfire-type bonnet, and the Rochdale available area is cramped enough as it is. I know GTs HAVE been put together with this engine, but it's not something to be taken lightly and must inevitably result in some pretty big bulges towards the front of the car.
A 1098cc Minor engine was purchased from a local scrapyard, and completely rebuilt in the school workshops. I did come to regret this a little, however as I stumbled on a big-bearing MG version of the same engine at a price I couldn't refuse, but only after we had done all the work on the Minor unit. Again, the MG is a little out of period at 1964-66 but is said to be an excellent unit by Midget aficionados, and actually preferred by some to the later 1275 engine.
With the benefit of such goodies as 12G295 (Cooper) cylinder head - I know I'm sad to be able to quote such numbers off the top of my head, but there it is - and twin 1" SUs (my favourite) this 59 bhp engine is actually more powerful than the 1500cc Ford of my Olympic and is said to rev very smoothly on its special crankshaft. I hadn't realised just how far forward all the Triumphs carried their engines, and the A series was mounted further back to enable the radiator to be squeezed into the Rochdale bonnet - a VW (Golf?) unit came complete with electric fan. We made all the engine mounts with the shell off, which seemed to be a good idea at the time, but subsequently found the A series distributor needing to occupy the space normally reserved for Triumphs steering column. This one still hasn't been fully resolved, and results in a driving position (even more) cramped than normal.
Going through the small photos:
1 A series engine, actually still a 1098cc Minor unit, although a number of Midget parts are installed to enable it to fit under the bonnet - the standard cast manifold had the SU further out, with the exhaust pointing straight at the chassis.
2 Radiator/electric fan controlled via thermostat and dashboard switch, working well though it has yet needed to switch on in normal use.
3 Triumph disc brakes work well enough but are very heavy in use - wonder if I can fit a servo in somewhere?
4 14" Minor wheels are readily available, and I think I paid &pound5 for a really good set of stainless hubcaps.
5 New door handles. I bought these at Newark, (&pound4) labelled as E93A Ford items, which would probably be the most likely original fittings.
6 Bonnet catches/lock - like every GT I have seen, the bonnet was in extremely poor condition. A replacement club item seemed the obvious, but there were difficulties and we ended up grinding the gel off the lot for re-surfacing. The problem is the slot for the air intake causing flexing/sress concentrations at this point - be sure to put a few extra layers of glass around here if you're doing a similar job.
7 Twin SUs. Contrary to popular opinion, these don't gobble petrol and the GT returned 42 mpg on its Burford run - my Olympic never got anywhere near this figure.
8 Lucas Alternator - with no electrics whatsoever present, I wasn't about to start wrestling with a dynamo again just for the fun of it.
9 Wishbone rear suspension. Nice.
10 Triumph chassis/ifs. Location of very hefty outriggers OVER the existing chassis has caused problems later on - they go right where your feet should be, and also make life difficult for the exhaust pipe.
11 VW lights + extended wheel arches. Use just about any more modern chassis and you'll need flared arches. Very nicely fitted, they were glassed over and smoothed above and below 12 Standard hinges are OK for bonnets and the like, but little more than a joke as a door hinge. Never found the early Mini type THAT robust, but you can re-bush them easily and they're a sight better than the originals. Look right, too
13 Quarter lights - all part of the Minor package
14 Glove boxes - well actually the drivers side doesn't open since the column had to be rejigged - and screen ventilation
15 Fresh air ventilation was nicely done, even if it used drainpipe technology and fed in to a Mini heater, which is more than adequate for this application.
16 More raiding the BMC/Leyland parts bin with this Mini washer bottle/pump I found fitted in the boot of a late scrapyard Mini.
17 Vlanden Plas instruments. I actually had quite a few of these at one time, with upmarket models far from immune from BL's usual 1100/1300 rot. I believe the VP mods almost doubled the price of the car - why didn't they spend a fraction of this sorting out the corrosion problems? Wiring loom had to be made up from scratch, more interesting than you would think because of the presence of an ammeter in the VP cluster.
18 Badges. These were turned on a school lathe before engraving and then taking a gear knob type GT badge. Look the part, and ROCHDALE MOTOR PANELS or RMP sounds so much better these days. Lots of rubber-necking from folks trying to read these when on the move. Downside: they come right up to the rear to try doing the same thing at the traffic lights.
19 Wind-up windows. Quite why the GTs didn't get these after using the Minor frames is beyond me, but it wasn't too difficult to do. An extra plywood frame was used to carry the Minor regulators, with a further trim card over the top.
20 Stainless door frames. Another Minor option. Really well made, as fitted (principally) to Travellers but also, I believe Deluxe models. Just watch you don't end up with four-door versions - they are shorter (though I was able to press the quarter lights into use as spares). Wish the Olympic had had these as standard....
21 Inertia belts couldn't be hidden away as neatly as the Olympics, but work well nonetheless. Obviously had never had any belts before we fitted these.
22 Ex-Marlin bucket seats, on Astra-type runners. Very difficult to get a decent position.
23 Rear seat, with folding access to the boot area.
24 Carpeted headlining, with more VP items for interior lights.
What's it like on the road? Well, there's some good news, and some.... After all the grief getting to the bottom of Phase II suspension vagaries, it is pleasing to note that this one handles and rides very well indeed. Steering is light and positive (smaller engine, set well back) with a really chuckable feel that I haven't experienced for some time. Worries about SPAX shockers and spring rates - it must be a fair bit lighter than a 17cwt GT6 - were unfounded. I have always found the SPAX units OK on Minis and the like, and the rear leaf looks decidedly non-standard with a further THREE (short) leaves over the standard cars six. Good luck or did somebody really understand leaf springs here?
Problems with fumes - my daughter claimed she was being gassed on a trip round the block - have been largely sorted by careful sealing of the bulkhead and, presumably, bedding in of the new engine parts. The exhaust wasn't so easy to sort, however, with very tight access down the middle, and even less on the outside towards the rear of the car. Hanging the rear box UNDER the chassis proved a poor idea, causing grounding and even ripping off on anything that wasn't billiard-table flat. This still hasn't been sorted with just a small expansion box on the side at present - the rasp when pulling hard would put a 7-litre Cobra to shame...
And the driving position. I wish I'd thought this one through earlier on. Do all GTs have their floors mounted ABOVE the chassis? No problem when it's in a tall car like the upright Ford, but the roof level of the GT does put this feature in the interesting category. What did the Herald/Spitfires do? Never had a close look, but suspect the narrow standard chassis was specially shaped to allow the floor to be recessed below chassis level.
Also, why is the bonnet space so restricted? I presume the forward position of the bulkhead was to allow standard (floor mounted?) pedals from the donor car to be used in their normal 4-seat Ford location ie well forward. Mount the GT pedals/cylinders on this bulkhead and not only do you severely restrict engine access, but there's a real struggle when driving in order to reach the pedals at all. So you end up elbows bent, chest against the dashboard, with your hair brushing the roof as you attempt to lower your head to windscreen level just to see through it - at least you won't need to worry about sunvisors... I have had several goes at this one, just about driveable now with about 2" shaved off the seat mounts, a much smaller steering wheel, much jiggling of the column (more to come, I fear) and some judicious bending of the pedals.
Special word here - on the Friday before Burford, I decided I really couldn't face the trip without the latter pedal-bending exercise, and took the (Triumph) pedals off to attempt a rebend. Job accomplished, I looked down at the silly little clip that holds it all together, and remember thinking what would I do if this one were to break, right now? Well I'm sure you don't need me to tell you that's exactly what it did, and I'm left thinking of where do I get an old Triumph bit locally? can I swap the clutch one across? can I use something else? Well, I shouldn't have bothered, a call to Sportscar Supplies (Newcastle) and they sent me a new clip, arriving the following morning, and didn't even charge me. They are always interested to listen to obscure requests, have very reasonable prices, and the stocking of both Triumph and MG parts (and others) is very useful when restoring a Rochdale. Usual disclaimers.
I would definitely consider moving the bulkhead back if I were in a body-off position again. I had this to do on the LHS to squeeze in the twin carbs, wish I'd taken it even further back now, and also the battery shelf had to be cut to clear the cylinder head. A relatively easy, if drastic-looking, job is to carefully cut the offending panel and re-glass it in place a few inches to the rear. Much better access to the engine and more realistic placing of the pedals inside the car. For a GT you need a) short arms b) short neck c) extra long legs and d) narrow shoulders - the car is around 11" narrower inside than my (Mk1) MX5, itself claimed to be a masterpiece of compact design.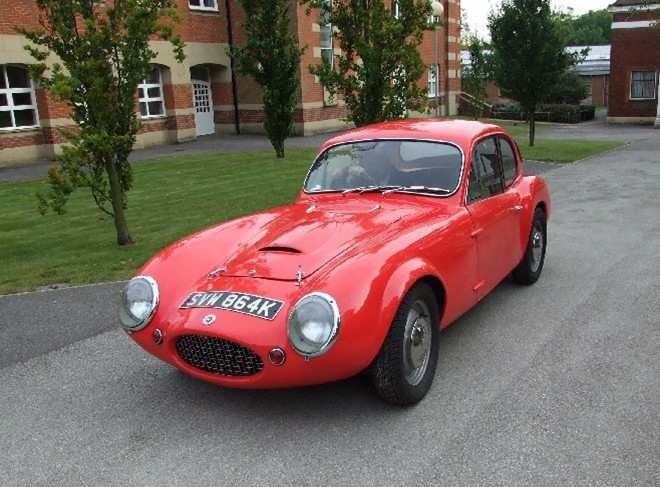 Les Browns GT6-chassied Rochdale GT (after)
Last point. Does anyone have a solution to the door-sealing problem? The MG-type locks have caused no end of problems. No locks were present at all when I bought the car, but some cheap(ish) examples were bought, unused, from eBay. Unfortunately, the two parts didn't fit together, the wedge-shaped striker being far too fat to fit in its location, though I didn't realise this until several years down the line. Rather than scrap the strikers - I think they were made for several different cars, so make sure you get a matching pair, and not all MG ones are identical - I decided to try filing them by hand. After removing a good 1/8" of metal - yes, really - it did work, with the lock not just engaging the safety catch but also the locating hole which it should have done in the first place.
But the seals. I don't think the car had ever had any, which also looks to be the case in other GTs I have seen. If, like me, you decide to rebuild the flanges, which were all over the place, make sure you have a suitable seal available which will fit with the door FULLY closed. I re-built mine in what appeared to be the original position, then couldn't get the catch beyond its safety position when the rubber was fitted. A spacer then had to be fitted under the locks, which took them into the correct position on the striker but left the door about 1/8" or so proud on the outside. Still working on this one, looking for some slimmer seals if I can find them, but the worst feature is the ingress of water around the lock. The seals do a good job of channelling the rain down to the lock level, which is then equally effective at directing it into the car, and hence onto the floor. The amount it ships is just amazing.
I have had a few goes at this so far - it has even been suggested that I remove the seals again, to stop the water being directed onto the locks in the first place, which may improve things but can't be right, surely? So, come on, you GT users out there, what did YOU do to fix this one?
I have some pictures up on the website if anyone thinks they have an answer.
So there we are - definitely still a work in progress, but equally, with much promise. It's an attractive and unusual car and there's a very sporty feel to the handling without any of the harshness I once had to live with. The leakage and exhaust problems must be solvable, and the MG engine should give usefully sporty performance. Which just leaves us with that driving position....
Les Brown
Malcolm Mckay writes:
In response to Les's comments on his GT (terrific effort by the way.), yes it was possible to drop floorpans to the level of the bottom face of the Ford chassis, if you had small enough seats to drop in there. Forget adjustable seats, you built the car to fit you and fixed them there. Adjustment runners just add height that you don't need. You then sit with your feet higher than your bum, but it's actually not an uncomfortable position when you get used to it. If you can't lower the floor, you will always struggle, but aim to angle the whole seat back so that you are more reclined - your back moves back, you get more arm room, your head comes down lower, and your bum can move forward putting your feet closer to the pedals. Find a seat where the bit at the back of your bum is very thin, so with this part sitting on the floor, you get maximum headroom.
The shell was designed around the standard Ford pedals which hinged from the chassis, with mechanical brakes and clutch, though quite a few builders of the cars did fit hydraulic brakes and clutch with a nicely made alloy pedal box frame and top-hinged pedals that put the master cylinders in the top of the engine bay. Unfortunately, I've never found the original source of this pedal box - it may have been a specialist accessory - but it did give a comfortable driving position. Getting in and out was a surprise for those not used to it, as the steering column passed between clutch and brake pedals - again not a problem when you get used to it.
Re water leaks, my GT used to be perfectly dry. It did have door seals, but they weren't up to much - they certainly weren't fat modern seals, from memory they were just old-fashioned felt seals - fit modern ones and you'll certainly have problems getting the door to shut and may well end up with it sitting out a little from the shell, which could well be the cause of it sucking water in?
Hot Car GT
The ROC website is the shop window of the club to the entire world and an imperative requirement of any classic car club. For such a small club as ours Aubrey has produced a superb and easy to use site that is welcoming to any visitor. A lot of information arrives in my email inbox from people accessing this site, admittedly I sometimes get the offer of Manhood enlargement pills (never ones to make it smaller) but usually I get some gems of information that help in piecing together that all important Rochdale history that is fast disappearing. The piece of information in question arrived in the form of a Guestbook entry on the website that read:
I had a Rochdale GT as my first car in the late 60s. I recently did a web search and found the ad in Hot Car April 69 for when I sold it for &pound65. It was a great car but the poor cable brakes made it an interesting drive with the performance that it had.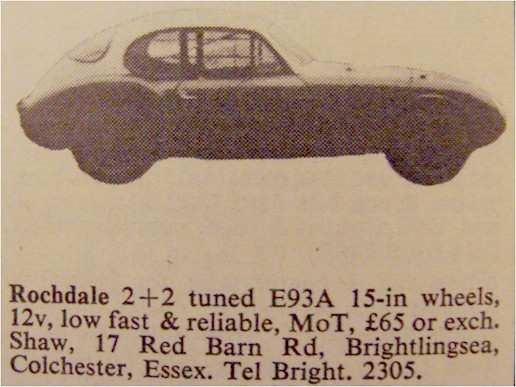 I write:
My name is James Farrington and I am the Secretary of the Rochdale Owners Club and the assistant to the Early Rochdale Registrar. I was reading your guestbook entry on the website and was delighted to hear that you owned a GT in the past and even more delighted to see that it may have been in the Hot Car magazine I have pictures on my website
(www.rochdaleproject.co.uk) you saw it on. I am always trying to collate information on Early Rochdales and would really appreciate it if you could let me have some more information about this car? Do you remember the registration? Your car may still survive and I may be able to let you know some more history on it. Do you have any photos? Any information that helps piece together the history of Rochdale cars is always appreciated.
Frank Shaw writes:
Dear James, It is good to see that they still exist. I placed the Hot Car Magazine ad and it certainly was my car. It was quite a surprise to see it on your web site. I was just browsing after watching Ginetta racing on TV. That led to checking whether they were still based in Essex on the web, then thoughts drifted to specials and a web search for Rochdales. I was surprised to find so much about them.
Unfortunately, I do not recall the registration number but I shall see if I can find any photos etc with it on. It was my first car that I bought as a student with a term's grant, not really knowing what I was buying. It looked good and was cheap from a back street car dealer in Chelmsford. It was black on the sides with a very broad white centre stripe. The engine used to smoke well but still ran reliably and gave impressive performance for its day.
I also recall fitting what were then new types of tyre, Pirelli Cinturatos to the 15 inch wheels. It handled well but the cable brakes were not up to the performance of the car, I recall unpredictable pulling to one side or the other. I gained a quick education in DIY maintenance as most garages did not want to know. I particularly remember some innovative use of joints and clamps to sort the broken exhaust. I also remember the lack of a cooling fan. I only had it about a year because the insurance costs were prohibitive for a young student.
Although you had the Hot Car ad, I think it was a response to an ad in Exchange and Mart that actually sold it. I did have another special a few years later, a Triumph based Ashley but that did not have the character of the Rochdale. At present my lifestyle makes modern motors the only practical choice but I am rapidly approaching the prospect of having more time available so perhaps reliving those happy days could become a reality again. It is good to see that people like you keep marques like this alive. Regards, Frank Shaw.
New GT to the register
I received a phone call from Professor David Norburn who used to be the Director of the
Imperial College of Management in London. He had just seen the Phase 2 for sale on the Sussex County Sports cars website (624 JAC) stating he used to own that and a Phase1. I passed on this information to Tony Stanton to find out more and it turns out the Phase 1 he used to own is actually a Rochdale GT that is not known to the register, another one for the ever expanding list.
I write:
Many thanks for supplying Tony Stanton with information regarding your Rochdale Olympic, everything helps in collating the history of these cars. Interestingly, Tony informs me you used to own a Rochdale GT and has sent me a picture. I am currently the Secretary of the Rochdale Owners Club but also help the early Rochdale registrar collate information. Your GT is one we have not got on the register so it would be great to find some more about it, would you mind putting pen to paper or fingers to keyboard as it is now and answering a few questions?
Professor Norburn Writes:
Really good to hear from you. With the caveat of old age, the Rochdale GT was bought via the Exchange and Mart around 1961/2. From recall, I think it was dark green but from the photograph it could easily be black or dark blue. It had a Ford 1172 side-valve engine to which I replaced the cylinder head with a higher compression Ford 8. The car lived at 41a Highbury Hill, London N5, and, after 1964 at 9 Rees St, London N1. I believe I may have sold this GT through Mickey Roucco who had a small garage business at Drayton Park, London N5. This was probably in 1967 when I bought a Mini Traveller. By coincidence, Mickey Roucco sprayed my Phase 2 in 1970 from red fibre glass to electric blue. I bought the car from the Tickner Brothers - two excellent auto engineers - but who are now dead.
I did speak to a nephew - who vaguely remembered the car. I accessed the nephew via Google under Tickner Brothers. After 6 Porsches and, currently, a 5.5 litre Mercedes SL I am still nostalgic for the Olympic for sale at Sussex County Sports Cars 642 JAC. However, I have but four garages all of which are fully occupied with interesting cars and it would be a shame to keep the Phase 2 in my driveway. If anyone out there remembers anything about this car, or any others I write about then please get in touch.
OLYMPIC REGISTRAR
Just when you think you know a lot about the history of Rochdale Motor Panels something turns up to make you realise there is a lot more to learn.
I was aware from the factory ledger that a John Woollatt was the owner of an early Olympic. The entry, No 1545, dated 26th January 1961 merely states White Olympic and records that a cheque for &pound200 was received on 25th January 1961. I also assumed that he was obviously known to Harry and Frank as there was no address given in the ledger and the price charged indicated a reasonable discount.
About 5 years ago at Capesthorne I met Harry Whitehouse, who had owned a phase 1, 654 DXW in the early 1960s until it had been destroyed in a fire. He mentioned a John Woollatt had an Olympic at the same time and said that this Olympic was rather crudely constructed and looked more like a mobile test bed.
I had also discovered from the May 1960 edition of the 750 MC Bulletin that John had been involved with 1172 Formula racing and had built a monocoque aluminium bodied 1172 special called Magalolysius. In this publication it gave Johns address as Aldersyde, Winnington Road, Marple, Cheshire, not too far from Rochdales factory. This was the extent of my knowledge in this respect until the following email was received from a Terence Love in Australia.
I was delighted to discover the Rochdale Owners Club Website. I owned a Rochdale Phase 1 in the 70s. It is great to see some pictures and stories behind them. I was a bit surprised to see no mention of John Woollatt in the history. I knew John well in the 60s and travelled a lot in his Rochdale, which I gather was No2 prototype off the mould. I remember the suspension was rather creatively held together. From talking to others at the time I remember John was involved in/responsible for the design of the engineering of the monocoque structure of the phase 1 and the rear suspension for Richard. He was also involved as a test/racing driver for RPM. It was John who identified and rectified the glassfibre failures of the rear suspension, I seem to remember seeing some of the suspension roll and pitch drawings and weight balance calculations at his house. Johns car had a close ratio gearbox and a very high ratio back axle. He gave the car to a student at Newcastle in the early 70's and it was converted to small pieces after leaving the A1 at high speed.
The Rochdale I bought handled badly around the lanes north of Lancaster. I changed both front and rear suspension setup and most of the dash arrangement and after driving it a couple of years exchanged it with John for one of his motorcycles about 1974.
As you can imagine the above came as a complete surprise as at no time had his name come up in conversation with either Richard Parker, Harry Smith of Frank Butterworth. Hence I replied to Terence's email and received the following:
I can tell you a little about Johns car. He told me it was the second out of the mould. There were some problems with the first apparently. John was a qualified engineer and was involved in a mixture of car design, textile machinery design and the design of farm harvesting machinery and large scale food preparation machinery, such as pea harvesters and high speed onion peelers.
Until about 1968 he worked for Mather & Platt in Manchester. Then followed a year as a car design consultant (design of a polypropylene monocoque car for Rover and some smaller projects including boats) before moving to Newcastle Polytechnic Department of Design (now Northumbria University). For most of the late 60s (and perhaps after) he was involved with the Frazer Nash Club designing and arranging the manufacture of spares. During the 60s he had a Vincent Black Shadow and sundry other racing cars (Jaguar D type) and motor cycles. He was involved in lightweight car design, boat design and motorcycle design until his death about 10 years ago. Just remembered prior to Mather & Platts John was a designer on the Deltic diesel railway engine and later, just before he died, was involved in rail restoration on one of the Lake District Railways.
John was involved in design stages of the Rochdale because of his work on understanding the structural stress loadings on lightweight monocoque car structures. He'd started trying to understand how they might work with Magalolysius, an 1172 Ford (see above), made from NS8 panels held together with zillions of 2BA bolts. A friend crashed it and destroyed it on its first race at Cadwell? (not quite true as John advertised the car for sale in the April 1960 750 MC Bulletin, stating, only 4 race meetings). I believe he had also been involved in building various earlier RMP kit cars. He told me he had been the test racing driver promoting Rochdale on the club circuits. He told me the racing promotion of Rochdales was relatively short lived as it turned out the monocoque Lotus Elite was faster.
Johns car was relatively stripped. The doors only had an outside panel and a diagonal piece of 2 x 1 across the inside to brace them. The door windows were flat Perspex and slotted into small clips on the top of the door. As the door closed the window tops were trapped by the top of the door opening. There were two small ex-fighter aircraft bucket seats with full chest harnesses. The binnacle was homemade and sparse. There was minimal electrical equipment and fuel level was tested with a long cane. The engine was a twin SU 'B' with special close ratio box and high ratio back axle (19.5 mph/1000rpm in top) (amazing what one remembers!) I can't remember if it was tuned. Bonnet was held down with two elastics. The engine was fitted with a very large oil cooler. I remember the pipes splitting and dumping all the oil somewhere on Rannoch Moor. John thought for a few moments and then said that he reckoned it would be possible to drive 10 miles with no oil if he kept the engine running about 1500 rpm lightly. It got to the garage fine and apparently without any damage.
Wheels were large 14" or 15" (can't remember which) and fitted with relatively skinny Michelin Xs which lasted forever. I remember they were much larger than the ones on the
Rochdale I bought. Windscreen motor and cables were a pain (on my Rochdale also!)
Johns car was used to test suspensions and running gear. John was a competent suspension designer and specialised in understanding how suspension geometry and weight shift affected handling, steering and road holding. He spent hours teaching me to design suspension geometry correctly! I have a distant memory someone told me John had been responsible for locating the engine so far back into the cockpit to improve handling. Johns car was one in which an engine mount problem was solved (gearbox mount) and which simultaneously resolved a problem in exhaust fatigue failure. Johns car also had heavily repaired wheel arches where the front of the rear trailing arms had pulled through. He had added about 1" of glassfibre. The overstressing problem occurred when the suspension arms were under load at extreme angles. Part of the solution was to have the rubbers a bit loose.
Throughout his life John had protégés that he taught engineering and had a sort of unclenephew relation with. I was his second protégé and there were probably at least half a dozen others. All of us kept in touch with him. Most were at Northumbria Uni. Some are now staff in the Design Dept. There are likely to be photographs of John and his Rochdale with people in the Design Department at Northumbria University.( I shall be following this up in due course). The people there still remember him (I was there last year interviewing the head of the Design School as part of a research project).
That's about as much as I remember about Johns Rochdale, except he gave it to a student who crashed it on the A1. John dismantled it to keep the running gear and then sawed it up with a hand saw into small enough pieces to put in a builders skip.
I gave him my red and silver Rochdale I 1972/3 in exchange for a Triumph/BSA motor cycle (I was at Lancaster Uni. at the time). He kept it for a while then I think he gave it to another student at Newcastle. I remember him being a bit critical of the quality of it!
Hope some of this rambling may be of help. Terrence Love.
To try and verify the above I contacted John Dunwell, who worked with Richard on the construction of the moulds for the Olympic and is one of the few original employees of RMP who is still around. This was his reply.
It's nice to hear the Olympic owners are so well represented as I was involved from day one when we set up the formers and chicken wire to start the whole process. The person you mention does not ring a bell, but is fifty three years since it all started. Many people came into the workshop and passed opinion as to shape. By the way did you know we ruined a former dance school floor with the plaster work involved?
I do know that when the moulds were complete that an odd shell was sold off as a lightweight until the correct thickness was decided upon, so Mr Woollatt is quite likely to have had the benefit of a very early one.
As you say, Richard was very modest about it all and it was a privilege to work with him for six years until 1963 when we both left. Sorry I cannot be of further help, but anytime just ask, something may come out of this head.
Regards, John Dunwell.
So, the mystery as to Mr Woollatts involvement with the Olympic continues. I will be contacting Northumbria University to see if any photos still exist. I suspect that any testing carried out by John Woollatt was as an unpaid helper (I understand Colin Chapman used the same technique at Lotus!). Perhaps also there was a degree of over emphasis on his involvement to his protégés.
Derek Bentley
FITTING A HEATER TO THE OLYMPIC
Rochdales offered a heater as an optional extra to the phase 1 Olympic. In fact the original owner of my car paid an extra &pound15, although there is no evidence that it was ever fitted.
I was always curious as to what was actually supplied and it was only recently that, on viewing the photograph of 779 CUG when it was displayed at a Leeds Show shortly after construction that, there alongside is a photograph, albeit small, of the heater kit.
As far as can be seen the heater is a flat panel type and looks very much like that fitted to the early Triumph Spitfire.
Then searching through original correspondence dated 29th June 1962 from RMP to the builder of 401 FUS the following emerged.
We admit that if you have not seen a heater fitted to the Olympic it must be very difficult to know where to start.
First, cut away the section of the front parcel shelf which projects from the engine bulkhead and fit the heater unit with the fan facing forward as high as possible under the dashboard. Cut a hole in the bulkhead to correspond with the air intake to the heater. Brackets are provided to fasten the heater unit to the bulkhead. A little sponge packing will ensure that all the air passes into the heater unit. In the centre of the car between the windscreen and the bonnet cut a slot about 8"x11/2" to act as an air intake. The fibreglass ducting supplied can then be either bolted or bonded, as preferred. Leave an open slot at the bottom of the ducting to allow the water to drain away. This of course mist be below the hole for the air intake into the car. A little plastic sponge can be used to restrict the air flow through this bottom slot and yet let water pass through. A cover panel is provided for the interior of the car which can be suitably upholstered and provides quite a neat appearance.
Yours sincerely, H.H.Smith
So now you know!
Derek Bentley
Thoughts on heaters
Re 779 CUG, the son of the owner/builder told me that his father sold the car after the winter of 1963 (a very severe one) because it had no heater and neither was one offered by RMP, which seems somewhat at odds with the display next to it at Leeds. When I rebuilt 779 CUG I fitted one from a Mini.
Olympics (especially the Phase 1) tend to suffer from heat leaking through from the engine bay or exhaust, so the problem is more one of inadequate occupant cooling air rather than inadequate heat from the heater, unless one is planning to use it through the winter.
Alan Farrer
Verse and Worse
The Bard of Camberley has done it again - is there no stopping him? This is what a trip to the Laon Historic Festival did to him. Just think what it could do to you...
The Motoring Tour
Haste thee nymph and bring with me, lots of lovely duty-free, smokes and liquor, Belgian chocs, gateaux, gruyere, even hocks.
With car boot full I take my seat, we've seldom been quite so replete. The ferry leaves in just two hours, the miles ahead the car devours, We hit a bump, the chassis scrapes, I'm sure that jar has mashed the grapes.
We trundle on and judge it right,
There's even time to get a bite,
Then there's the port, the quayside too, Look over there, there's Al and Sue, they took a different route I'm sure, a shorter loop to seal the tour.
With darkening clouds, we dock at Dover, pleasant crossing coming over, but on the road it's even darker, best slip on my wet-proof parka, Just in time, it's getting wet, bottom dollar you can bet.
We're back in England, green and vibrant,
so darned wet it's like a hydrant, but if we stop to raise the hood, the sun will shine to dry the flood.
Back home beside a blazing fire, we dry ourselves and so desire, another trip, away so far,
through country lanes, past chateaux high, till then my friends, aurevoir, bye bye.
Derek Argyle.