MAGAZINE No 120 WINTER 2009
Edlines
Back issues 1 to 100 of the magazine are now available on a single CD from me, price &pound10 inc p&p. They are in colour, pdf format and are arranged so that it is easy to print off personal copies (ie print onto A4 sheets, staple and fold and voila).
Phase 2 moulds. Smith and Deakin have now made moulds from the unused Phase 2 shell that the Club acquired (see AGM minutes in mag 118). They comprise full front and rear quarters, rear section and roof. Thus most of the external bodywork may now be replaced by fresh panels taken from these moulds. However, unlike a complete body mould, each section can be easily carried by one person and transported by a reasonably sized car. The logistics are thus far more suited to repairing damage.
The process of using the mould will work as follows: The person requiring the mould pays us a deposit then takes it to Smith and Deakin for the panel to be made. Once the panel has been made the mould will be returned to us. The mould will be then checked and if undamaged the deposit returned less 15% of the cost of producing the panel. We will check this by looking at Smith and Deakins bill. This 15% is the hire cost for the mould and associated costs in using it.
A Standing Order form will be included with this magazine to all UK destinations. This should allow plenty of time before renewal to get one set up with your bank, which will make the Secretarys life easier in that he doesn't have to chase up late renewers. If you already have a SO set up, please ignore it.
I have fitted two sets of ex-MM stainless steel window frames recently. They look good and are a lot stronger than the normal ali frames, but like most jobs on the Olympic it is not totally straightforward (although that could just be me). I might write a bit about it in the next issue.
Club AGM will be on Sunday 11 April 2010. Venue to be advised.
Trivia. Something to chew over when digesting your second helping of Christmas pud: Hamlet was worried about getting fat. How do we know that?
TONY STANTONS EVENTS & NEWS
South Midlands Classic Car/Bike Meet
Special one off Winter meet on Monday the 28th December 2009 11am to 3.00pm.
At Becketts Farm Shop & Restaurant, Alcester Road South, Wythall, Birmingham, B47 6AJ.
(From J3 on the M42 follow A435 north 1-mile turn left into slip road just before roundabout)
North Worcestershire Classic Car Meet
The Bowling Green Inn, Shaw Lane, Stoke Prior, Wychbold, Nr Bromsgrove, Worcs. B60 4BH.
From Noon Sunday 20th December 2009.
Sunday 17th January 2010.
Sunday 21st February 2010.
Sunday 21st March 2010.
Sunday 18th April 2010.
GOODWOOD REVIVAL 18th to 20th September 2009
I spent this long weekend in the good company and hospitality of Alan Farrer. This was my first visit to the Goodwood Revival. Lord March has provided us with an annual time-warp back into the 1950s and '60s. He has had the Goodwood Motor Circuit completely restored to its former glory and invites all visitors to dress accordingly. Apparently in the past people were a little hesitant to dress up but by now it is embraced to the extent that those who don't do so look completely out of place.
It is not all show though; the racing, the motorcycles, the airplanes and the cars are very real. The bikes and racing cars competed in fifteen different races with as absolute highlight the Royal Automobile Club TT Celebration one-hour, two-driver enduro for 1960s GT-cars on Sunday afternoon, although it never tires to see a Ferrari 250 GTO, an Aston Martin DBR1 or a Lola T70 driven in anger.
Honouring the track's roots as a World War II airfield were a variety of airplanes that were demonstrated on the ground or just above the heads of the crowd, including the last flight of the Vimy and a display from the Vulcan which made the hairs on the back of your neck stand when it climbed. The contrast between the Vimy and the Vulcan was truly awesome.
The event is expensive but well worth it even if only once in your life, but if you wish for a free day out, drive to the circuit, park in the free car park and walk around the pre-1966 car park, you will spend all day looking at millions of pounds worth of beautiful motor cars (including 2 very nice Olympics in 2009).
Well, the brogues, sports jacket and cap can go back in the cupboard till next year. Thanks Alan for a great three days.
Classic Car Show 13th to the 15th November 2009
Well this years show has come and gone. I had hoped to feature early Rochdales this year, as next year is the 50th anniversary of the Olympic, but as only 1 member (Guy Stallard) offered an early Rochdale for the show, I had to knock that idea on the head with only had 2 weeks to go. I was lucky that Tony Wright and Russ Collins, the only other members to offer cars for the show, still said that their cars were available and with DUFFY agreeing to come I had 4 cars.
So to thank the helpers. Thanks go to Guy Stallard for the loan of his GT and to Colin Ellis for collecting the car on the Thursday and returning it on the Sunday, Tony Wright for the loan of his Olympic P1 (which I had planned to use on next years stand), Russ Collins for the loan of his Olympic P11 which we used to show a restoration in progress (it was nice to see my first Olympic again which I had owned for 28years).
Now to thank the on the day helpers James Farrington who also made a fantastic job of a reproduction ROCHDALE MOTOR PANELS sign from a 1962 photograph, Ron Scarfe, Derek Bentley, Alan Farrer, Keith Pratt, Colin Ellis, Tony Wright, Russ Collins, Jim Welch, Joe Beswick, Aubrey Richardson and to Andy Winston of the F.S.C.C. for his help. I do not remember seeing any other members of the Rochdale Owners club even though I had a pocket full of free tickets (if I did miss seeing someone please accept my apologies).
So as the majority of members appear to indicate that this is a show the Rochdale-Owners-Club does not need to support I have decided to stand down as stand organiser. If any member wishes to take on the job they will have my help and support and for a free ticket I will be there all 3 days.
I thought club members might be interested from the early sales ledger the dates and quantity of Olympics delivered
Rochdale Olympic Phase 1 delivered by Month and Year
1960

1961

1962

Jan Bodyshell at Racing Car Show

5

12

Feb

5 Fire 21/02/61 9

March

12

April

2

9

May

15

June

14

July

4

3

Aug

4

10

Sept

4

7

Oct

Press announcement

4

3 End of ledger

Nov

8

Dec

1 9

__ __

__

Annual Totals 1 45

94
Total 140 Jan 60 to Oct 62
And a little note to end on
You only need two tools in life: WD-40 and Duct Tape. If it doesn't move and should, use the WD-40; if it shouldn't move and does, use the Duct Tape.
And a 2

nd

little note to end on
Tony and DUFFY wish all members a Merry Christmas and a Happy New Year.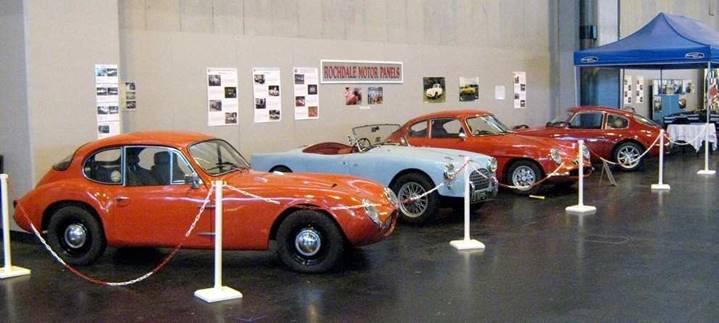 Guy Stallards GT is lone pre-Olympic. [Turner, Tony Wrights P1, Duffy]
ROCHDALE MOTOR PANELS board proudly displayed

photos Tony Stanton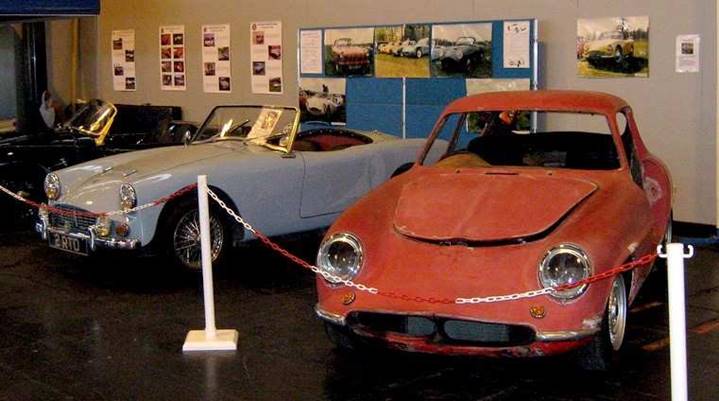 At Fairthorpe end of stand Russ Collins P2 Olympic attracted a lot of attention as work-in-progress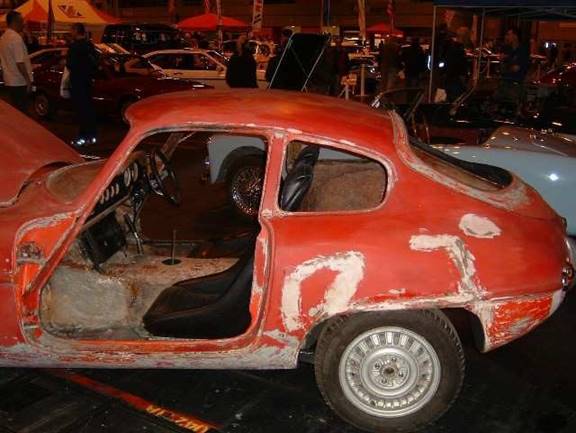 Certainly work-in-progress is visible here photos Derek Bentley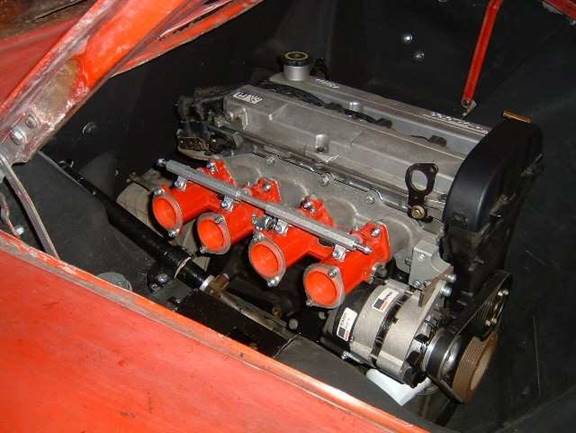 Modern engine is very neat installation
7th PRESCOTT HILL CLIMB OPEN CLASSIC- CAR EVENT 8/9 MAY 2010 Sponsored by AUTOGLYM and BRIGHTWELLS
Cheltenham Cleeve Vale Rotary Club invites classic car owners to an event to be held on the weekend of 8th and 9rb May 2010. The event is open to all pre-1980s vehicles but exceptions may be made at the discretion of the organisers for particularly interesting vehicles.
Sunday 9th will be devoted to display and driving the famous hill, with passengers if you wish, in marshalled but un-timed runs. Un-timed runs eliminate the need for crash helmets and the full gamut of safety equipment etc. However vehicles must have valid road tax, MOT and insurance documentation. The Paddock entry fee is &pound46 per car [inclusive of 2 runs up the hill, all passengers and a souvenir programme). Entries are limited to 200. Additional runs if available will be &pound5 each.
As before we will also be having a static display in a designated area of the Orchard for classic, vintage and special vehicles. For those who wish we will also be repeating the gentle- cavalcades up the hill so that vehicles can be displayed in motion to the attending public. We feel this significantly enhances the presentation of the superb range of vehicles expected. The Orchard [static] entry fee is &pound18 per car which includes all passengers, a free programme and a cavalcade drive up the hill.
Block bookings by Clubs will be particularly welcome and we will endeavour to park such groups together.
On Saturday we are offering a 60 mile Cotswold tour starting and finishing at Prescott, where at the end there will be a cuppa and homemade cake,
Spectators will be welcome on the Sunday at &pound15 per car with free car parking, souvenir programme and pedestrian access to the Paddock etc.
All profits will go to Charities supported by Rotary and in order to maximise this, we are asking for your cooperation to treat the entry fees as donations to charity under gift aid so that we can reclaim tax.
Following the success of previous events we suggest that to avoid disappointment, early booking is made on the entry form attached. Please make every endeavour to supply an Email address to help speedy and efficient communication.

Several ROC members have enjoyed this event in the past so here is the info once again. For an entry form either contact the organisers at the top of the page (recommended) or me Ed.
FROM THE FBHVC
LEGISLATION
David Hurley
Scrappage scheme
A recent article by David Landers in Classic Motor Monthly criticised FBHVC for not getting historic vehicles excluded from the scrappage scheme and suggested we should press for similar protection for old vehicles as is afforded to historic buildings. I would like to make the following comments.
The FBHVCs prime purpose is to ensure that the existing freedom to use our elderly vehicles alongside the modern vehicles continues. What individuals decide to own, preserve, modify and operate, or even destroy, is also a personal freedom. Despite guidance from clubs, the FBHVC and journalists it is inevitable that some projects will fall by the wayside for any number of reasons especially under the current economic climate.
It would be a draconian measure for the government, FBHVC, its member clubs, or journalists to dictate what individuals choose to preserve, modify etc and introduce listing with all the restrictions, limitations and controls that are applied to heritage buildings. The resultant bureaucracy would certainly cause many to give up their hobby and discourage new recruits to our movement. It is pertinent to point out that very few post war (1945) buildings are listed.
The Federations policy in responding to legislative proposals and consultations has to take into account our prime purpose and any response must be proportionate and realistic.
The current temporary scrappage scheme was introduced in the Chancellors April 2009 Budget - a fiscal measure to prop up new car sales. As with many Treasury moves there is no prior consultation.
Every year vehicles are scrapped, the vast majority are time expired or unroadworthy and inevitably a very small percentage consisting of aborted restoration projects (mainly vehicles that nobody else wants) are regrettably broken up. One can argue for an age related exclusion from this voluntary temporary scheme, but this would deprive owners of their freedom of choice especially if the sum offered by the dealer is considerably in excess of any other offers. Should the FBHVC be seen to override the personal freedom of an individual? I personally think not.
Had the scheme been permanent and compulsory then our response would have been quite different.
In practice only a handful of historic cars have actually been scrapped. Member clubs continue to support our stance and several have participated in successful rescue missions.
David Landers also makes an unfavourable comparison between the FBHVC and the USA organisation SEMA (Specialty Equipment Market Association) describing the latter as a slick professional outfit whilst the FBHVC is merely a bunch of rank amateurs. He forgets that the FBHVC is funded by, and represents, the preservationists on a limited budget, while SEMA is funded by the manufacturers and traders (like SMMT) and is likely to put commercial interests before owners. Just because the Federation directors are unpaid volunteers (and therefore literally amateurs) does not mean that they do not function for the benefit of subscriber clubs.
It is interesting to observe that the magazine is not a FBHVC trade supporter (as are many motoring magazines) and David enjoys being controversial in a previous piece he wrote of Farina saloons:
these BMC barges don't deserve classic status.
As a footnote I do believe in the freedom of the press!
FORTHCOMING CHANGES IN FUELS
Matthew Vincent
Permitted ethanol content in petrol to rise from 5% to 10%
Fuels containing above 5% ethanol will need to be labelled, but fuels containing less than 5% ethanol will continue to be sold unmarked. There will be a requirement to continue to offer fuels with a limit of 5% ethanol until 2013. (It is assumed that after this date such fuels will be harder to find and may disappear).
A number of difficulties have already been experienced by Federation members, most notably in respect of petrol tanks. Some types of sealing compounds react adversely to the presence of ethanol in the petrol, resulting in sticky deposits being washed through into the fuel system. While this is distressing for the victim, there are sealing compounds on the market which are compatible with petrol containing ethanol. It should be possible to re-seal the affected tank with a compatible product, after thorough cleaning to remove all traces of the noncompatible material.
More serious problems have occurred with composite fuel tanks which are most frequently encountered on motor cycles. There are safety reservations about the use of fibreglass tanks which can shatter in an accident, but leaving this aside, some composite tanks are compatible with petrol containing ethanol, while others are not. A CONCAWE report, number 3/08, issued in the last 12 months or so, covers this issue and has indicated that fibreglass reinforced polyester and fibreglass reinforced epoxy resin materials are not compatible with petrol containing ethanol. However, tanks made from fibreglass reinforced plastic are compatible with petrol containing ethanol.
It is currently the case that Shell V-Power petrol does not contain ethanol or other similar products (oxygenates) according to internet fuel specification information. At the time of going to press we are checking this position and whether this will change as a result of the forthcoming UK response to the EU directive. At present, in the interests of preserving fuel systems, the small extra cost of using this fuel may be well justified.
The current level of volatility in petrol will not change, but will be adapted (downwards) to accommodate the increased volatility caused by adding ethanol.
In theory, this should mean that drivers will not notice any difference in operation with fuels containing ethanol, but this may not be a safe conclusion. Experience from use over time will be helpful. Measures taken to overcome vapour-lock problems in the past may need to be reinforced. Some who have not suffered from problems previously may find that operational difficulties are experienced. If this is the case, use of an ethanolfree product is clearly a benefit where this can be guaranteed.
The FBHVC is currently investigating further the aspect of fuel volatility, in an attempt to understand better, the potential for securing a fuel more compatible with the needs of Federation members for their historic vehicles and machines. The possible outcome of this is naturally unknown at present, but will be monitored closely in the coming months.
The permitted volume of leaded petrol sold in the UK will be reduced from the current 0.5% of total petrol sales to 0.03%.
While this may seem a savage reduction, in fact it is broadly equivalent to the current level of leaded petrol consumption, which is approximately 0.025% of total petrol sales, so in practice no restriction on leaded petrol sales will be experienced from this change. The low level of sales of leaded petrol since this concession was offered by the EU can probably be traced to the difficulties of setting up a suitable distribution network.
MMT, which is an alternative octane boosting additive for petrol, will also be severely curtailed in years to come.
This restriction is unlikely to be a problem for Federation members, as this product has traditionally had very little or no use in the UK, so its reduction should not pose a problem.
Diesel fuel will be permitted to contain more than 7% bio-diesel component, provided it is labelled.
Currently no labelling is required if less than 7% bio-diesel is added to the fuel.
In general, although relatively few problems have been encountered with diesel containing low levels of vegetable oil bio-diesel components, fuel stability can be impaired with increased bio-diesel component levels, and seal compatibility issues may also arise (see earlier comments about the replacement of seals with components made from Viton). In practical terms reduced fuel stability can lead to increased sediment and gum formation, typically in fuel filters. Fuel filter elements may need to be changed more frequently. Injector fouling may also be a problem, which can lead to increased smoke levels and higher fuel consumption. Some increase in frequency of injector cleaning may be required, or alternatively there are after-market bottled additive products available which claim to clean up injectors. These may be effective without the need for dismantling.
These changes are moving on apace. Consultation on these issues will continue during the latter part of 2009, but implementation is expected from April 2010, except where otherwise indicated.
DVLA
Nigel Harrison
Archive Storage
We have had some interesting feedback on archive storage. One club suggested that rather than storing original documents they could be scanned and stored in a digital form allowing the original documents to be sold off. The club went on to stress the importance of keeping a live copy on a computer, with the back-ups on some form of removable disc. As technology advances, these back-ups would need to be converted to the latest industry standard. In terms of increased accessibility, the technological route could be the way to go, but as the ultimate back-up, nothing beats the original document.
Regarding the listing of clubs assets, held by individuals, (as distinct from personally owned assets) another club indicates that they review the clubs asset list on an annual basis.
Finally, and coincidentally, the Society of Automotive Historians has been actively working on the same subject, and we hope to be able to publish their findings in due course.
Chassis and VIN Numbers
The chassis or VIN number is recorded on the V5C. With the advent of the computerised MoT this number, as recorded by DVLA, is checked against the number on the actual vehicle. Out of context, the letters I and O look very similar to the numbers one and zero and to avoid that confusion DVLA record the letters I and O as being the number one and zero. The majority of us would not notice or be particularly concerned about this but the Gilbern Owners Club spotted this discrepancy because the Gilbern Invader has a chassis number starting with the letters IN. However, as indicated above, this is recorded by DVLA as being the number one, and the letter N. We have been assured by DVLA that this is nothing to be concerned about.
Just a few words about VIN numbers: VIN stands for Vehicle Identification Number. It is an internationally agreed system, and produces a unique identification number of 17 characters for every new vehicle. Using the word number is slightly misleading, as a VIN contains letters as well. Within the UK all vehicles first used on, or after, 1 August 1980 must have a VIN. The vast majority of historic vehicles were in use before 1980, so the legacy chassis number is still the valid way of identifying a vehicle, although the I and O rule has been applied. There will be a handful of historic vehicles for which, when they come to be registered with DVLA for the first time, the actual chassis number has already been lost in the dim and distant past. With these vehicles, DVLA will allocate a VIN, starting with the letters SABTVRO, although using the I and O rule the last character in that starting sequence will be a zero.
My First Drive in a Rochdale Olympic
James Farrington
I've seen stories penned in the ROC magazine from club members about their first drives in a Rochdale Olympic and learnt a lot about how they came to have a passion for these cars; truth be told; I've often looked on these stories with a little jealousy. So, after my recent experience of driving a Rochdale Olympic I thought I'd put pen to paper or fingers to keyboard as now is the case and regale you all with my first experience! I've owned my Rochdale for 6 years now and I've only ever driven it once; this was when I took it on a short trip to my garage down the drive, 20m of straight paved slabs from the car trailer, not really the most challenging run to become acquainted with my car!
I've read all the magazine articles on the mannerisms and feel of these cars and read fascinatingly the Forum arguments on cambers, handling and so on. Truth be told, I felt a little left out and a little bit of a hypocrite claiming to be an enthusiastic Rochdale owner, having never had the chance to really get to grips with the car I have such a passion for. With so few Olympics on the road nowadays the chance to get a ride in one is limited and I'm sure if I asked one of you very friendly Rochdale owners can I put your car through its paces for a while I know what the answer would be after spending so long trying to get mine on the road! So, it was with great pleasure that I got the chance to help out Malcolm McKay take his Phase 1 Rochdale Olympic from Oxon to Buxton to be entered into a Classic Car Auction. Having already fallen in love with the design and look of these cars Malcolms Olympic had a lot to live up to. This was my first drive of the marque after nearly 5 years of being in the ROC so the pressure was on for this little Olympic to perform; this could be the turning point for my Rochdale related passion!
The day finally arrived for me to take control of the Olympic and like a kid who couldn't sleep before Christmas day I got out of bed really early. My (very understanding) wife had listened to me whittle on about this for a few days now so I think she was more than happy to finally get rid of me! It was a very dry warm day which added to the high excitement I already had for the journey ahead, luckily Malcolm had planned a countryside route for a bit more of an interesting journey to the Derbyshire hills.
With the route decided and everyone briefed about the journey Malcolm handed me the keys to his phase 1. Nervously I took them and then a smile beamed from ear to ear, I think Malcolm may have been more nervous about handing me the keys though! We looked round the car, it started out with Malcolm stating the door was a little tricky to shut and looked like it might still be open when you're in it but not to worry! The next was that he found the fumes less bad with a certain combination of window opening and duly adjusted the windows to that setting. I nodded to all his instructions but was too eager to get in to worry about the little intricacies the car may offer!
I climbed in to the original seats and clamped the period belt to myself. I was now well and truly crushed into the seat. I had a quick look for some sort of adjustment but the adrenaline of being under starters orders kicked in. I turned the key with trepidation, the engine roared into life and welcomed me to the car with an exhaust plume of white smoke from its well-worn lump. Initially, the comfort factor rating was definitely not five stars, the headlining was drooping onto my head and my knee was wedged between the steering wheel and the door handle. The driving position felt slightly odd with my feet much further to the right than my torso. I made a mental note to put the seat a bit further back in my Rochdale so it could accommodate my height. So there I sat, waiting for the convoy to set off, wondering if my high passion for the Rochdale would be met?
We set off. Having just been driven down in a nice new car the first thing that overcame me was the noise of the engine, like it was next to me in the passenger seat, then my clumsy gear changes, trying to get used to the mannerisms of the gearbox! I did notice another driver with ear plugs round his neck, a seasoned professional I feel!
We left the farm and came to the first cross roads, only one crunch of the gears to here as the traits of the car came to life. It was as we approached the crossroads that my right foot pushed itself onto the brake pedal as it would with the usual ease of my everyday modern car. Further it pushed and harder it tried to stop the car until it conceded to the poundage I can only equate to that of an elephant. Fearing I might push my foot through the fibreglass floor the car finally rolled to a stop. I carried on following the convoy of cars making their way to the auctions making sure I increased my braking distance between cars, I don't think Malcolm would have appreciated a few gel coat cracks in the nose of his car!
The miles were being clocked up and my time in the car clocking down. As the time passed I slowly started to be overcome with fumes! I tried to figure out a suitable window combination to expel the carbon monoxide and hot oil mist from the cockpit, a conundrum that Mensa would have been mightily proud of, eventually the mix of fresh and polluted air was at a level that kept my pulse at a happy beat! I was unsure if my grin from ear to ear was from a little high intoxication or the fact this was everything I'd wanted and more!
This whole experience for me was amazing; whatever traits this car threw at me left me wanting for more! I sat in the seat and it felt like my backside was dragging along the floor turning into the corners like a racing car! The curved screen gave me a view of the splendid drop of the Olympics nose and was combined with the two arches of the wings rising above the bonnet, carving into the air in front. The raw feel of the steering and the creaks from the wood rimmed steering wheel as you leaned into the corners made it all the more exhilarating. Gently pushing your foot down on the accelerator caused the supercharger to kick in, the gauge piling on the pounds and the suck of the air combined with the rev rise of the engine joining in an orchestrated unison, this was not only was pleasant to the ears but made your hairs stand on end!
I was reflecting this journey to Alan Farrer who mentioned I might be a masochist for enjoying the lesser liked traits of the Olympic. The thrill of the ride though outweighed all of the inadequacies of the Rochdale and it was these traits that made this car a pleasure to drive! When you get to my age, boy, you appreciate some home comforts Alan. You can get in your everyday modern car and practically let the car drive itself to and from work, sit in, radio on, turnkey, demist and away you go, yawning all the way to work. What you need is a car that will wake you up, give you pleasure and invigorate you all the way and this is what I got and more. As you can see my passion is renewed, my enthusiasm remains high and all I need now is a driveable Rochdale Olympic to keep that flame burning. Hopefully my project will be finished in the next few years so I can reap the rewards offered by this 60's special.
How I came to own an Olympic or two or three or four (but no more)
Alan Farrer
Dereks piece in mag 117 prompted me to tell how I came to the same end point as Derek from an entirely different starting point.
My family didn't have a car, though my dad did own and run an Austin 7 for a while as a company car before
I was born (he ran a village store and used the A7 as a delivery vehicle), so journeys were made by bus or bike. Until I was 9 we lived in the country and it was wartime too, so cars were a rare thing. Even after the war and we went to live in the outskirts of London I had no contact with cars and I cannot remember even sitting in one until I was perhaps 19 years old! That first car was a Standard Vanguard Mk1 owned by the father of a college friend.
So how did my interest in cars come about? No idea, though the seeds were probably sown when I was about 11 and my Mum took me to Leigh-on-sea. There was a car driving rink a bit like dodgems, but not electrically powered and not designed for rough and tumble and my Mum persuaded me to have sixpennyworth. I was the only customer and I quite liked it, having been somewhat nervous to start with.
Fast-forward 10 years. My main means of local transport was bike, which I found a bit of a fag slow and tiring, and one always ended up sweaty so I looked forward to the day when I could cruise around in comfort. I obtained a driving licence, passing first time after half a dozen lessons with a very good instructor in a Morris Minor and a very forgiving examiner. When I finished at college I found I had managed to save about &pound20 from my grant (how times change!), so sought out a suitable banger. There was an incredible selection at this time, still well before the MOT test came out and spoiled things.
For a reason that now escapes me I settled on an MG M-type midget.&pound I had gone to look at one advertised in E&M and viewed in an allotment somewhere in Middlesex, but even in my naive and keen state decided it was not a good buy at &pound20. I eventually decided that an accident-damaged car for &pound10 seen at a bomb site lot in London was more my cup of tea. (No I don't know either). Next to it was an open 4-seater Talbot at &pound20 in running order. I should have bought that, but no, it was the MG I wanted. A friend agreed to tow it home, which was accomplished without incident, though left turns were a bit tricky as the accident had bent the chassis so the left lock was somewhat lacking.
I had a covered space beside the house (hardly a garage) and set to work to get the thing roadworthy. It is worth mentioning at this point that I had zero experience of car maintenance, and not much more in the way of tools, but I had obviously got some basic knowledge of engineering from my experience with Meccano. Additional experience was also gleaned from a friends father, who was a toolmaker from Manchester and a Riley fan. There was no metalwork at school (I went to a grammar school so this was infra-dig, though I did learn Latin).
The chassis was too far gone for me to repair with my bare hands so I went and bought another M-type and used its chassis. I can't remember where this car came from or what it was like, but it did mean I had some spares. Unfortunately, neither car had its original boat tail. In retrospect I am rather surprised that I managed to get a working car under these conditions, but I did and it worked, though the brakes were lethal; they were cable with no compensators, so balance was hit and miss and some snaking usually ensued for anything more than a gentle slowing (no MOT then). I do remember my first drive down the road in it, my first outing after passing my test in a synchromesh-equipped MM. I came to a junction and found I couldn't change down, even though I knew about double-declutching and had practiced it assiduously indoors. Who needs to change down anyway? Just stop and start again. Happy days.
At about this time a friend built a special using a Ford 10 donor car. He gave me a ride in this once and the lasting impression is one of speed and crudity. This was his memory of it too when I spoke to him about it recently, though he thought it was an Ashley, not a Rochdale.
My friends Riley fan father must have indoctrinated me with the superiority of the Riley 9 to mere Austins or Fords, so I sold the MG and bought a 1934 Riley 9 Monaco with ENV preselector gearbox. This was about 1959. This served me well until it was written off one night when it was hit by a car coming the other way which damaged the steering and the car ended up off the road, fortunately missing the trees. The other car didn't even stop! The Monaco was replaced by a 1934 Riley Kestrel 9 (also with the ENV box a wonderful thing) which I also managed to write off when I hit one of those very substantial lamp posts they have in Cambridge. Let me explain. I was motoring slowly looking for a turning on the left and suddenly pointed out an interesting car parked by the roadside to my girlfriend (now my wife). She turned round to look at it just as I saw my turning and swung into it. This was before seatbelts, so she lurched across the car and came between me and the steering wheel, thus preventing correct operation of the latter by the former. Fortunately said lamp post prevented any injury to pedestrians, but one of the chassis rails had taken the full force and, somewhat like the first MG, the steering became lop-sided. Since this time I have been in favour of seat belts.
In those days (1961) I often bought MotorSport and when I saw the write up of the Rochdale Olympic I was hooked. However, the prospect of owning one was remote as a new one was more than a years salary and I didn't believe in the never-never (still don't). After marriage we became carless, the MG TC I then owned being sold to help pay for the deposit on a house and I commuted to work on a bike.
Eventually finances became good enough to get properly mobile again and I bought a Standard 10 van from a work colleague. I quite liked this, but its propensity for rusting was exceeded only by the Alfa Sud I later owned. I had always fancied slightly unusual cars, and after being tempted by a Lancia Aprilia, finally sold the van and bought a Jowett Javelin. Being short of finance, this was only affordable as it had a frostdamaged engine, so I found a replacement engine which was duly fitted. The Javelin had a reputation as a fast and comfortable conveyance and although I could vouch for the second attribute the first was lacking, as the engine was rough and it could barely make 65 mph. I found the reason for the roughness when I checked the con rods (can't remember why) and found that two were more than an ounce heavier than the others, but I never did find the reason for the lack of power.
Fate then intervened; I won a new Mini in a Kelloggs cornflakes competition, so the Jowett went. Interestingly, a colleague of my wife soon afterwards won a Renault 8. Less than a year later I sold the Mini and bought a 1960 Minivan with side windows from a friend. This was a very early model I believe its chassis number was 100 and was a splendid little motor. Equipped with a bucket seat for the driver and duly ported by me with an old Wolf electric drill fitted with grinding stones, it managed 50 mpg for a while, though was never very fast and the brakes were iffy. The ride, however, was pretty good, much better than my subsequent Minis. I paid &pound125 for this car and when I sold it about 5 years later I advertised it at &pound75, but a bloke turned up while I was out and gave my wife &pound80 for it!
I didn't change cars very often, so I only had two or three over the next few years. One was a Morris 1100, bought from my brother. This was 4 years old and had already needed sill repairs for its MOT, but served well for several years, though it could not cruise above 65mph without overheating. This meant the annual 700-mile holiday trip to the northwest of Scotland was a tedious affair, though one year the journey was enlivened by its rear main bearing oil seal failing as we descended Birdlip hill. On stopping because of clutch slip a large pool of oil appeared, but somehow I managed to find a local garage to fix it while we waited, even though it was a weekend.
There were also two Minis, a saloon bought from my sister-in-law, which was a horror with a bone-hard ride and a turquoise traveller which also disappointed, being nowhere near as nice to drive or travel in as the old van had been. It also rusted. Other cars I remember included the ever-rust-prone Alfa Sud (disappointing where was the performance and handling?) and a trusty Renault 12, which managed the annual holiday trip with ease, bought from one of my wifes work colleagues.
We had an Austin Maxi for a while, bought from my father-in-law. This was another of those cars that failed to live up to expectations, wandering on the motorways. This could have been down to the extreme rust below the waterline everything above the sills was fine, so we assume it must have waded in the sea at some time.
As the business that I had started in 1979 was going well I bought my first new car, a first-generation Vauxhall Astra, and when this palled I bought another new Vauxhall, a Nova SRi. This was pleasant enough, but then I fancied a go with a Golf GTi. I located a red Golf GTi that had been decorated with wide wheels and a small steering wheel. Fool, I should have known. It was awful; no performance, terrible brakes and uncertain handling. My wife hated it and so did I, so it went. I nearly chopped it in for a VW Jetta GTi, which was a revelation after the Golf, but I couldn't stand the gloomy interior all black, including the headlining. It's often the small things that influence a decision, as the performance, ride and handling were superb.
I then did another one of those things that are later inexplicable I bought a Toyota Corolla saloon! This was another mistake, being bland to the point of non-existence, and it was eventually sold to a pair of Indian gents who had travelled from the midlands with cash. They were popular as taxis I believe. I should have bought the Jetta.
Next up was a Toyota Celica, the first fwd model. This served as a very comfy touring coupe for 3 years and when I felt the urge to move on I contemplated a Porsche. I test drove a used 944 turbo, but it didn't click and then bought a Celica GT4 (the 4-wd model with turbo). This had allegedly been chipped and been fitted with fancy conrods (titanium?) and went well enough, though the handling was a bit dead until cornering speeds got unsafe on public roads. I kept this for 4 years, enjoying the aircon.
It was in this car, when returning from Scotland in the early 90's that I called into The Cheshire Kit Car Show at Capesthorne one hot day shortly after joining the club. I remember seeing a bright yellow Olympic and having a friendly chat with its owner, one Keith Hamer. That did it, and when a Phase 2 came up for sale in the mag I went, I saw, I bought (Oct 92). It had been dismantled ready for restoration, but its owner Peter Stone, still a club member, was planning to move from Chadderton (near Rochdale) to the south coast and decided it had to go. When I had restored it I went over to show Peter what he had missed; what he had missed was over 2000 hours of work, time he could not afford. Incidentally, I sold an Elan to make space for this Olympic!
I had test driven an Olympic when my children were still quite small in the mid-70's. I was impressed by its easy performance up Butser Hill near Petersfield but it was a Phase 1, and I reasoned the hatch on a Phase 2 was an essential so I said no. Does anyone remember this event? It was much later that I saw a picture of an Olympic (Malcolm McKays) in Classic & Sports Car magazine, discovered there was a club and became a member. When Paul Narramore stood down as editor I volunteered and have been club magazine editor since 1995, issue 62 to be precise.
In 1983 we started our long involvement with Subaru, buying a new 1800cc estate car, which had selectable 4WD, to tow a horse box. Its suspension was crude but it gave faithful service until the tin worm got it, when I bought a 2.2 litre Subaru Legacy second hand with 100,000 miles on the clock. It was so pristine I had thought the odo read 10,000. Once the clutch and gearbox had been attended to under warranty it was a delight to drive, vastly nicer than the GT4 in both the ride and handling departments. I gave it to my daughter at 170,000 miles but she had it for only a year before someone nicked it from her driveway (complete with dented door and company decals)! The next Legacy had 110,000 miles on it when bought, and when the clutch started slipping at 150,000 miles I p-exed it for another with only 56,000miles, which I still have. I might mention that Derek Bentley bought the same model as me with about 80,000 on the clock, had a new clutch fitted at 195,000, and sold it at 200,000+ so the longevity of these cars is unquestionable. High-ish fuel consumption is the only downside (low 30's).
We have had two cars for some years, so some of the above cars were owned simultaneously. Currently our other car is a T-reg Mk 4 Fiesta 1.25, an unprepossessing runabout but good to drive, with a smooth willing engine, good gearbox, steering and brakes, economical and even reasonably quiet on the motorways. Highly under-rated. Although it now qualifies for the scrappage allowance I'm not tempted.
What about the other Rochdales? That first Phase 2 lay dormant for several years until I had built a proper garage, and in 1994 I started working spasmodically on the body. However further work was delayed by the arrival of a Phase 1 in March 96 which I rescued from threatened scrapping. This car came as a true basket case ie. dismantled with all the parts present, but not necessarily correct. As I took it off the trailer in my drive the father of the lady next door poked his head over the hedge and said I recognise that it's an Olympic. I used to race against one of them and it always beat me. It had a Broadspeed engine and was driven by Keith Ross and his wife (the autocross Olympic FRU 12D). What a small world! The rebuild of my Phase 1 featured in several articles in the ROC magazine and it was even the wedding car for my nephew Martin, who had helped in its rebuild. It was then sold to Tony Wright in 2004 after 8 years in my ownership and he still has it at the time of writing.
Once the Phase 1 was up and running and I had retired fully, work restarted in 1999 on that dormant Phase 2. It was fitted with a Toyota 1600 pushrod engine from the early 70s (ie same era as the car) and 5 speed gearbox but was otherwise more or less standard apart from the use of poly bushes in the suspension and a bolt-in subframe to the same basic pattern as the original. I drove it for about 15,000 miles and sold it in 2008 to Xavier de Vaublanc who lives near Lyon in France. In all I owned that first Phase 2 for 16 years. Blimey!
I must have had a bout of enthusiasm in 1999 because I also bought another Phase 2 (from Paula Spendlove), although it lay dormant until I had (more or less) completed the Toyota-engined car in 2002. Paulas car had been fitted with a 1500cc diesel engine from new, but by the time I acquired it only the shell and the remains of the front suspension were present. I baulked at the idea of a diesel sports coupe (even though Paulas maiden name was Coupe) so decided to return to petrol power, using the modern (in '99) equivalent of the Cortina GT engine: the Ford Mondeo in 2 litre form. To improve the ride I changed the rear suspension to DeDion, which had the merit of using the original pick up points. I copied some ideas from DUFFY, the car rebuilt by Richard Parker and now owned by Tony Stanton; in particular the use of a torque tube (in my case a lattice frame) to connect the diff to the gearbox, the elimination of the front subframe and the use of Ford Sierra/Granada-based running gear.
It is just as well I am retired, as the total time spent on this project has vastly exceeded 3000 hours, but the final result is very pleasing, even though the appearance is not quite as original as I intended. It is reasonably fast, quiet, economical and comfortable so ideal for a retiree. It is doing 4-5000 miles annually, much of it on the continent, having visited Le Mans, the Nurburgring, Angouleme and Pau over the last 3 years.
Once this Phase 2 was finished (or as finished as these thing ever are) I looked around for something else to do, not necessarily Rochdale, but settled back on another Olympic, this time a Phase 1, bought from Dave Thomlinson in April 2008. I just can't seem to leave them alone. Like the other three this one came as a bare shell and the intention is to restore it to pretty much 1960s state. Its reconstruction has already been mentioned on these pages (I am the editor after all) and no doubt will do so for some time yet. You just can't rush these things.
There is a niggling question in the back of my mind: will I live long enough to restore a fifth Olympic?
Car and Model Wheel pitch circle and Hole Nos.
Make/Model

No holes

PCD

Spitfire, Herald, Toledo, GT6

Lotus Elan, Europa, Seven

Dolomite, BL Marina

4

3.75

Citroen AX, Peugeot 106

Alfa, Fiat (small cars)

Alfa 156, 164

3

4

5

98mm

MGF

4

95.25mm

BMW old 3 series, Vauxhall Astra

Mazda

Honda (pre1991)

Lotus Elise

Seat, Skoda

BMW Mini

Nissan

Rover 200/400

Toyota (later)

Renault

Chevette, Kadette, Ascona, Manta

4

100mm

Audi A3, TT

5

100mm

Mini, Spridget, Minor, A35/40, Moke

Viva, Magnum, Firenza, Victor

Imp, Stiletto, Chamois

4

4.00

Ford Cortina, Anglia, Escort, Capri, Corsair

Chrysler Hunter

4

4.25

Audi 80/90/100

Citroen

Ford (small post Escort Mk1)

Peugeot

Saab

4

108mm

Jaguar X-type

Renault (later)

Volvo 740, V70

5

108mm

Opel, Vauxhall

5

110mm

Ford Scorpio

Mercedes A Class

Audi A4, A6, A8

5

112mm

MGB/GT, Cambridge, Oxford, 1100/1300 Toyota Corolla, Corona, Celica (early)

Datsun 240/260Z, 280ZX, Rel Scimitar

4

4.50

Honda (1992 on)

Nissan (later)

Volvo T4,S40,V40

4

4.5 / 114.3mm

Honda/Mazda/Mitsubishi

Nissan 350Z/370Z

Toyota (large)

5

4.5 / 114.3mm

BMW E39

5

120mm

Jaguar XJ

5

4.75 / 120.6mm

VW 1968-74

4

130mm

VW 1948-67

4

205
Note: Centre hole diameter and stud hole bore sizes will vary as well as the seating shape. Rim offsets will also vary (particularly important with Olympics).
Fitting Rochdale Olympic front sub frames.
Keith Hamer
The information contained in this article has been gained from many years of messing about with Rochdale Olympics in particular and race / track cars in general. I have designed and built several front running racing sports cars and been working on Rochdales for about 35 years.
Having been commissioned by the Rochdale Owners Club to produce a jig to manufacture Olympic phase two sub frame, and subsequently produced 5 frames, I felt it only fair to explain our method of fitting these frames into your much loved car. The method we use is directly transferable to the fitting of a sub frame into a phase one car also.
Firstly, let me explain that the major suspension geometry decisions have already been made for you in that the drawings prepared for the manufacture of the sub frame jig contain all the information on camber, castor and KPI (king pin inclination) angles, therefore the sub frames produced will carry these angles. The only input the person fitting the frame has is in the positioning to attain the fore / aft angle which will effect the castor angle to some degree. The only other thing that the fitter has control over is the attitude within the wheel arch, i.e. whether the wheels sit in the middle of the arches and whether the wheels are equidistant from the bodywork from side to side.
Having established the above let move onto my method of fitting the sub frame. Firstly, I have made a couple of assumptions:
1, that the old sub frame has been removed and any repair work has been carried out on the shell in the area around the new sub frame mounting point.
2, that all the suspension components being re-fitted have been re-furbished with new bushes and that all joints are good.
Now using good quality axle stands lift the car up and support with the stands so that all 4 corners are clear of the ground by about 12" to help spread the load and assist in the next part of the process - I use a couple of long bits of wood between the axle stands and the body front and rear. Using a spirit level on the flattest piece of the car floor set the car up so that it is level to the world from front to rear; this may entail cutting thin bits of plywood which can be slid between the timber and the body floor.
The next step is to repeat the levelling process so that the shell is level to the world across the car. This bit is a little trickier as there isn't enough open area around the front of the car to fit a decently long spirit level in. I use the top of the wings in this case to give me a guide to level the shell. This is done by marking on the car a straight line across the wings about 6" forward of the windscreen onto which I place a long piece of straight steel box section, then from the support timber measure up to this steel, using thin pieces of aluminium (shim steel or anything else you have to hand) set the steel up so that it is absolutely parallel to the support timber under the front of the car. You can now use the spirit level to set up the side to side attitude of the shell, but make sure not to move the steel from your marked position. First bit done the cars shell is now flat to the world and the process of fitting can start.
At this point it is worth considering whether the floor onto which the front horizontal frame support is going to sit is also flat to the world - if it is then great we really are making progress, if not then a little bit more juggling will be required when positioning the frame.
Now the nice bit. Slide the new sub frame into the space once occupied by old rusty frame, and using your own judgement centralise it as best you can. Now you will need to build up the whole front suspension both sides including the steering rack but leaving off the anti-roll bar, drop links and spring/damper assemblies for now. You will need to make two dummy dampers to hold the wheels in a convenient position; these should be 12.5" long and will be fitted between the bottom wishbone and top damper mount. Once these are fitted the wheels can be bolted to the hubs and final setting up can begin.
Using ideally a trammel, but two people with a tape measure will suffice, check the wheelbase from side to side, that is from the centre of the rear wheel on the offside to the centre of the front wheel on the offside, and the same on the nearside. At this juncture it is worth pointing out that the front wheels have to be set with NO steering lock, i.e. pointing straight ahead. Jot down these measurements as you will need to equalise them in order to fit the frame correctly.
Now assuming that the wheels are in the centre of the wheel arches and the wheelbase measurement is equal from side to side we can move on to equalising the wheels across the car. This is a little bit easier in that you can generally do it single handed. Mark a point in the centre of the wheel arch and using a plumb line measure from the wheel to the plumb (vertical) line, do the same on the other side and note the measurements, the discrepancy (if there is any) is how far out the frame is transversely. If you halve this discrepancy that is the amount you will need to move the frame across in the car, don't forget you are moving towards the side with the highest measurement. Once the frame is positioned you will need to remove the road wheels once again to gain access for the next (messiest) stage. Be careful when removing the wheels as you have just spent some considerable time lining up the sub frame and you don't want to disturb it.
Now at this point we have to make an assumption, that is that the frame you have just removed was fitted correctly in the first place because you are going to have to use the evidence of the original frame to line up the tubes on the rear of the new frame against the engine bulkhead, unless you have access to Camber / Castor / KPI gauges the position of the original frame is going to govern the Caster of the new frame.
Just a quick hint on castor, firstly definition: castor is the angle of an imaginary line drawn through the top and bottom pivots (ball joints or trunnions) and is viewed from the side of the car.
Castor can be either negative or positive and it is what gives the car its stability in a straight line. I have measured several Olympics over the years and found the Castor to be about 13 degrees on average, as has been discussed within the club for many years this seems to be quite a lot, but trust me it isn't too excessive, when we designed the DRK we looked into castor and decided that 11 degrees was our goal, we built 59 DRK's and to date no one has complained about the handling of them.
Just out of interest the camber and KPI aspects of the geometry are set within the new sub frame (built from drawings supplied by the Rochdale Owners Club) and the hubs fitted to your car. Some front hubs do have different angles present, it does depend on the original donor vehicle as all Triumph hubs are not the same. The rule of thumb would be to use both hubs from the same vehicle. Over the years it is not inconceivable that hubs have been replaced or damaged (bent or distorted as a result of being kerbed) this would explain the possible differences in angles we have come across over the years.
Below is a table of measurements we have done on Phase two Olympics which show (just for interest) the differences which can be present, I hasten to add that all cars handled perfectly well.
| | | | | | | |
| --- | --- | --- | --- | --- | --- | --- |
| | Car 1 | | | | Car 2 | |
| | offside | nearside | | offside | | nearside |
| Castor | 13.5 | 14.5 | | 12 | | 12.75 |
| Camber | 0.25 pos | 0 | | 1.5 | | 0.5 |
| KPI | 7 | 14 | | 27 | | 17 |
OK now back to the job in hand. You have your sub frame positioned in the car and it is correctly positioned, you now need to check that it is level across the car with a spirit level on the bottom tube. This tube needs to be level, if it isn't you can shim the tube up off the floor of the car with a suitable medium, I would tend to use glass fibre but body filler will suffice. You will also need to check the position of the rear tubes against the engine bulkhead from the original frame marks and support the back of the frame in position.
You now have the sub frame in position and it is now time to get down and dirty. I don't use this phrase lightly, with all our experience of glass fibre gained over many years I can say without question that this job is simply the worst job you could possibly do on a Rochdale. I don't propose to describe the process of bonding the frame in; if you have got to this stage in a Rochdale re-build you will no doubt be pretty good at fibreglass already. All I am going to say is that when we fit these frames I find that it is best to do the bonding in stages, start by bonding the horizontal tube to the floor, this is the easiest of the tubes to get to and it will have the effect of locking the frame into position so that you don't have to be too precious when you bond in the bulkhead tubes. Having cut out the old frame you know where you need to bond, just take your time and the whole thing should come together pretty quickly.
Using the method detailed above we have just finished fitting one of our sub-frames to Roger Coupes phase two. Having built up the front suspension with component parts re-furbished by Roger we did our standard geometry check and were delighted with the results we achieved. These results are detailed below but the critical factor for me is that the angles within the system should be as close as possible from side to side. Most car manufacturers will give a 1 degree tolerance from side to side; we achieved:-
Roger Coupe phase 2
Castor offside 8 nearside 8
Camber offside 1 pos nearside 1 pos
KPI offside 27.5 nearside 27.75
This has been achieved by careful manufacture of the sub-frame jig from accurate drawings, close tolerances in the manufacture of the sub-frames themselves, and accurate alignment of the frame within the car. I don't consider that we are any more skilful than the average Olympic owner and although bigger than most peoples garages our facility is still only a wooden shed with a concrete floor, and I can't see why anyone can't reproduce these results on their own car.
Good luck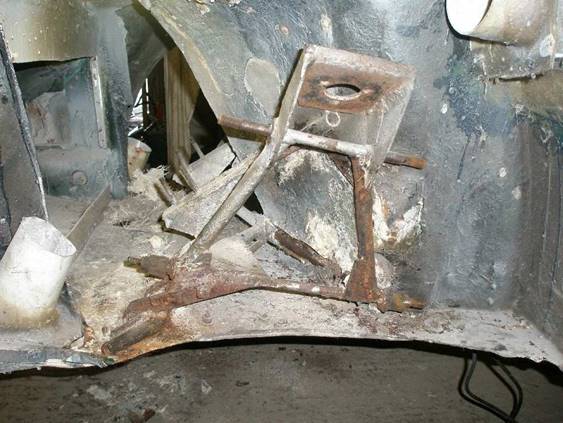 Phase two stripped of all suspension revealing the extent of the rot on the original sub frame
The sub frame removed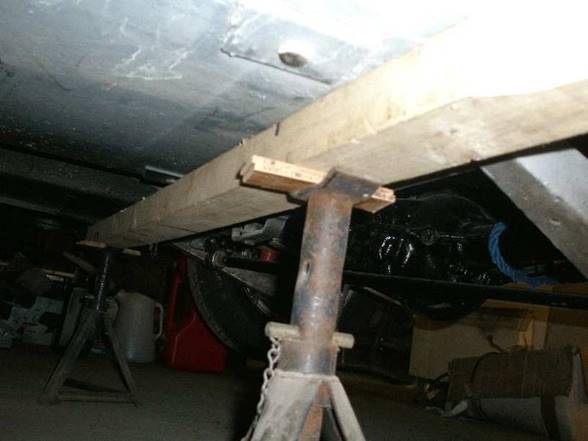 Supported on cross beam at rear of shell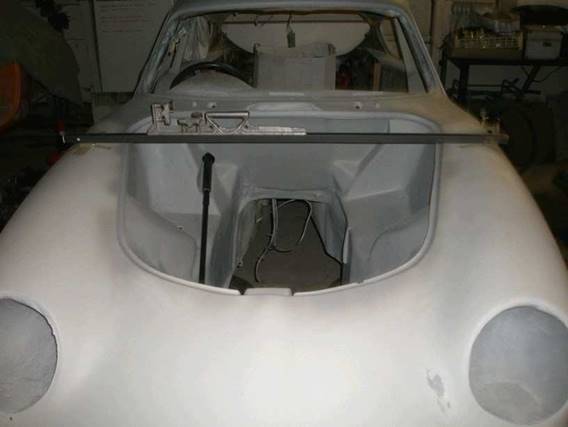 Setting up the car so that it is level side to side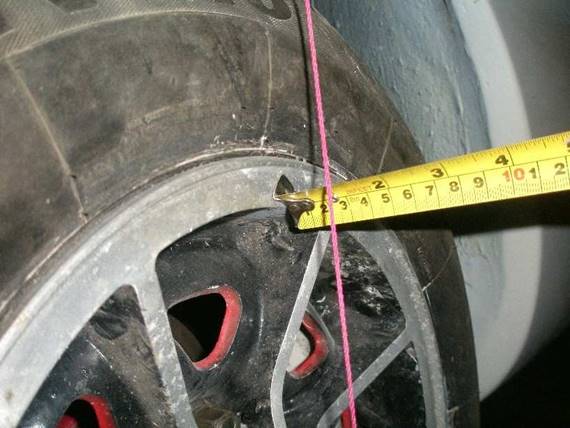 Measuring the wheel rim to wing using a plumb line to locate the frame laterally in the aperture
Early Rochdales edited by James Farrington
When the deadline for copy approaches for this magazine I start to wonder what delights I can offer the Rochdale readership? This quarter was looking slim and I knew my wife was secretly happy that my time spent in front of the computer was looking like I might actually be able to take her out on that date I'd been promising! After managing to sort out my emails for the last magazine I was scraping around this time for Early Rochdale related stories for this quarter's magazine. Then, as if my email account had been given a virus, loads of emails came flooding in, Malcolm has been busy again and managed to come up trumps with some info to grace this magazine for your perusal. Malcolms ears must have been burning when I said to my wife that there wasn't much this quarter.
With the recent NEC show it was good to see at least one GT dominating the stand. I did try and get a Jaguar engined Mark VI Rochdale but to no avail. Tony did a cracking job setting up the NEC Show and it would be good to see a few more early Rochdales there next year; hopefully we can get some of our beloved cars ready for the next show. So, where to start?
BUC 233 UNKNOWN ROCHDALE MKVI
The Rochdale Owners Club website has had an influx of use over the past year and a few good leads have been produced from the excellent guestbook facility that is located on the site. If you have not been on the Forum yet then I'd suggest logging on and having a look, some great information and discussions. I mention this Forum as the following lead came about from our internet shop window. The particular lead in question started when Malcolm received an email from Mr Robert Vierbergen
Robert writes:
Just found your site and wondered if you are interested in pictures of my Lagonda Rapier dressed in the 50ies with a Rochdale body (now she has a alu race body and the Rochdale body has disappeared). If so, I'll look them up and can send them to you by email
Obviously at this point Malcolm is not going to say No
Robert writes:
As promised here are the scans of the old pictures of BUC233 with Rochdale body. Then she was known as the "green goddess" and frequently seen at events in the mid sixties, she lost her Rochdale body and Jim Buxton built her with a alu race body. She became the "praying mantis" because the lights were so high compared to the body. Then she was rebuilt in 1969 and has the same racing body still on today.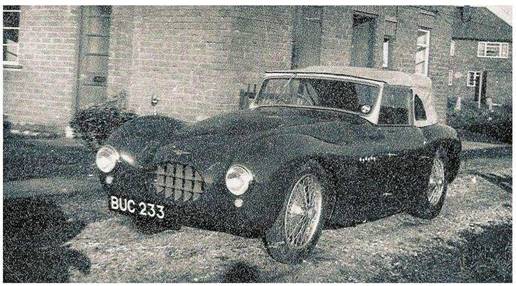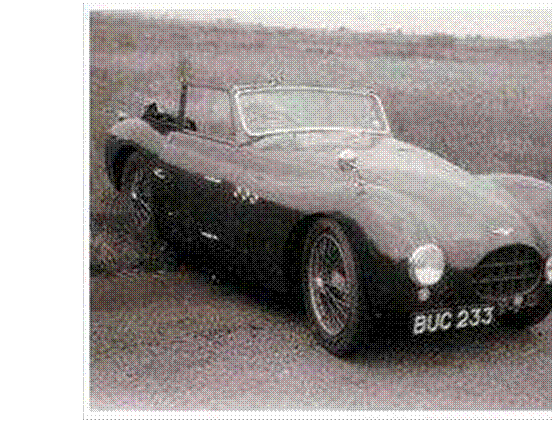 Malcolm writes:
Dear Robert
Thank you, those are lovely photos! They are some of the nicest MkVI photos I've seen. I'm surprised
I've not come across the car before - it's new to my Register, though I have details of many other MkVIs on Buckler, Morris, Paramount, Turner, Ford, Jowett, CSC, Triumph and one-off chassis. Now we can add Lagonda to the list... The MkVI was certainly one of the most adaptable bodies on the market in the 1950s and had the bonus of a highish bonnet line, more suitable to pre-war chassis than many competitors...
Do you know the dates (or approximately!) when the Rochdale body was fitted, and when it was removed? Was the car actually raced with the Rochdale body?
It does appear to have been nicely built (the MkVI wasn't the easiest to put together, being devoid of any internal panelwork, bulkheads, inner wings, etc) - and the large wire wheels and low windscreen suit it rather well...
You may be interested to know there was a MKVI bodied car on Ebay last week. The history of that car was that the body was fitted in the 1950s to a pre-war Triumph chassis and raced occasionally in that form; many years later the body was transferred to a home-made chassis with Jaguar running gear and I believe the Triumph chassis was rebodied. If a similar sequence of events took place with BUC 233, perhaps the body is still out there somewhere!
Robert writes:
I have a copy of the Rapier news of June 1957 in which Ted Fuller told how he built the fibre glass body on the Rapier and what it cost in those days. I'll send you 3 mails with a scan of his story. I don't think that the Rapier register minds if you take it on as long as you mention where it comes from?
The following article is reproduced from June 1957's Rapier News:
Fibreglassing a Rapier is somewhat difficult. One can purchase a body strutted and framed complete with bulkhead and proceed to modify the chassis. This results in a low model but involves considerable work. The other method is to purchase an all-purpose body without framing and to adapt the body to the existing chassis, considerable body construction is involved. The latter method was chosen for BUC 233 and after some research a Rochdale Mk VI body was chosen as being the only suitable four seater.
Apart from fitting outriggers to the chassis at the sides and extensions at front and rear, the chassis frame is unaltered. Seating is as on the standard body, scuttle height is almost the same but the dashboard is moved forward to increase the knee room and to meet the bottom of the windscreen which slopes more than the original. The Rochdale Body is delivered in four parts, the front section the tail section and two plain panels for the doors. The two sections were mounted on the chassis and doors made to fit the space in between.
Two steel frames (1" x 1") were made to form the basis of the scuttle section. The rear of these two frames includes windscreen pillars and both frames were mounted across the chassis 9" apart, latticed together and fixed at their feet to the outrigger placed in a line just aft of the gearbox. These two frames are subsequently braced to the main bulkhead which is fixed to the existing vertical brackets. To these frames are screwed Weyroc formers and the body is bonded to these formers. At the front frame the body is cut off and the entire bonnet section is removed. The scuttle is completed by fitting a Austin 12 windscreen and turning the corner of the pillar in Alloy. A suitable flange and gutter is provided at the front of the scuttle to receive the rear edge of the bonnet section. The spare wheel is mounted underneath the bonnet on the offside of the chassis because there was no room in the tail and it also allows a luggage boot of considerable size. The front section is pivoted at the front on two extensions and swings up from that point.
At the rear , the tail is supported on two extensions to the chassis, stiffness is completed by the addition of wheel arches and luggage boot floor. The front of the tail section is carried on outriggers bought up to vertical posts at each side. Bolted to these posts are formers which are bonded to the body. Rear seat platform, riser and floor wells are original. The rear of the two scuttle frames carries the dashboard and steering column. The doors have a plywood frame with 2" x 1" spacers, fibre glass panels are bonded to this and strengthened by lining with PVC covered hardboard. Silent-Ravel door fasteners are fitted, handles are Ford Anglia, hinges are Morris Minor , luggage boot and the radiator is a modified Morris Oxford unit. Cooling is more adequate and is controlled by a 75 dgrees centigrade bellows type thermostat. Tools are carried in panniers under the floor which is of Weyroc. A steering column gear change (Armstrong) is fitted and comfort is ensured by a Wingard Sahara heater, no coat is needed in winter driving!
Weight is a little over 17 cwt, on about 8 to 1 CR. The low drag body allows 5600 revs in top (on the flat, no helping wind) with possibly more to come, 6000 in the indirects is readily available but is only used to vanquish tinwear! Cruising at 4700 is quite normal and very little effort is needed to maintain 4200. Overall consumption for 5000 miles is over 30 mpg. On changing to National Benzole, the last 1500 miles was at 34 mpg. Costs were roughly as follows.
| | |
| --- | --- |
| Body Shell | 50 |
| Electrics | 35 |
| Seats and Trim | 20 |
| Hood and Carpets | 15 |
| Radiator | 13 |
| Wood and all accessories | 36 |
| 3 Alloy Sheets (secondhand) | 01 |
| | 170 |
A total of just over 1000 hours was spent on the car which could have been reduced had a larger garage been available.
Malcolm writes:
Robert, thank you so much for the build story - absolutely fascinating!
ROCHDALE GT MEMORIES
This next lead also came from the Clubs internet site. I received an email asking for some photos to accompany an article that was being written for a Jaguar Owners Club newsletter in America. The Editor of this newsletter used to own a Rochdale GT and thought it would be good to write about his early passion for these cars and how he came to own some very similar looking E Type Jags in his later years.
The Author writes:
I'm pleased to report that I have finished the article on my 1938 Ford Rochdale GT. As it turned out, I didn't use any of the photos on your website, but you are still most welcome to the article. You will see that I added a little piece about me at the end, since your readers will probably wonder how it is that I ended up in the United States (and forgot how to spell properly!).
If it is possible, I would love to see a copy of your newsletter. I'll be glad to e-mail you a copy of ours when it is distributed in a couple of weeks.
Rochdale GT by Ray Sharp
Introduction
It was love at first sight. I had stopped at the petrol station on the way home from work, looking for a fill-up of 2-stroke petrol for my Lambretta Scooter. It was the mid-sixties in the UK, and I was just a lad of 19 or so. There she was by the office, with a for sale sign hanging on her. She was dark blue and looked to be very fast, with sloping covered headlights, an oval mouth, and a nasty-looking exhaust hanging out the side just under the drivers door.
The guy who ran the garage told me that she had been built by a local mechanic who was getting married and needed the money. It was a bargain, he said, and only 35 quid.
She was a Ford Rochdale GT, a kit-car with a fibre-glass body of lovely round curves, married to a donor Ford chassis that had almost certainly been salvaged from a local junk-yard. Her lines were reminiscent of those of an E-Type, the true car of my dreams but one that was so far beyond what I could afford in those days. But, where the E-Type was a high-class, sophisticated lady like those you would find in the big city, this was more of a local working-class girl, built by local hands.
I would own her for only a year or two, but in that time I would learn a lot about cars; about the many things that can go wrong with them, and how to fix them. This is knowledge I use even today, when working on my E-Types.
The Ford Rochdale GT
Just recently, I saw an advertisement for sale on E-Bay here in the United States. The advertisement had been placed in the June 1958 edition of Autocourse and Sporting Motorist magazine. I was able to purchase it for about $5 US plus shipping (the seller was a dealer in Syracuse, New York, of all places!). The advert describes what the Ford Rochdale GT was all about much better than I am able to, so I have set out a copy below.
It is so interesting to me, as I look at the advert, to recall how much the lines were so very much like those of an E-Type. It is no wonder I ended up buying one, as my first car, although the price of 35 Pounds certainly must have had something to do with it!
The specs on my car, as best as I can remember them, were as follows:
The engine was a side-valve Ford engine. It had no water pump, with cooling being by siphon action.
The car electrics were 6 volt, positive ground. The car had a dynamo with a simple coil operated cut-out to prevent voltage leakage when the engine revs were low, but no sophisticated voltage regulator as I recall.
The brakes were, naturally, drums all round, with no hydraulic assist.
The headlights were taken from (I believe) a Volkswagen Beetle, the door fittings from a Morris Minor, and the other fixtures were from a variety of sources.
The car had a solid steel chassis, with leaf springs and, at the front, King-Pins rather than your modern ball joints.
The windshield wipers were vacuum operated. They only worked when the engine was at speed, and were pretty useless even then.
The interior of the car was a work in progress, and left quite a lot to be desired.
Fun and Adventures
The car and I had many adventures. For starters, the mechanic who built it had fashioned a fancylooking header tank from sheet metal and solder, no doubt to aid the siphon action of the cooling system. This leaked from the first day I owned the car; I tried everything to fix the leak, but each time I was able to cure it in one spot, it would leak somewhere else. It was a constant fear when venturing out of town that I would be stranded owing to a bad leak, but this never happened. I even made one trip to London (about 165 miles) and back without being stranded, but I must admit that I was quite apprehensive the whole time.
On the plus side, I did get a lot of practice learning how to solder and years later I would impress my wife with my soldering skills when I repaired the radiator on our Vauxhall Viva as if it were something one did every day.
Another problem was the brakes. They operated by cables and levers, with no hydraulics. Stopping was always an issue no matter how hard I stood on the brake pedal. On one occasion I was merrily driving along when a lollipop man suddenly decided to stop traffic at a zebra crossing; I saw my life run before my eyes in slow motion when the car simply wouldn't stop; I literally made him jump for his life, shaking his fist at me as he moved. I did stop and apologize, and wasn't reported, but I still sweat whenever I think of it! Yes Virginia, there is a reason hydraulic brakes were invented!
Memories of my 1938 Ford Rochdale GT
I learned the art of fibre-glassing. My first experience was with the bonnet, which was hinged at the back and was locked at the front by means of a key. On one occasion, I forgot to lock the bonnet and set off down the road. At about 30 mph there was a sudden crack and to my horror the entire bonnet flew off; it blew right over the windshield and sailed up into the air. I could see it in the rear-view mirror; it must have gone up about 40 feet before falling to ground, narrowly missing a cyclist. I stopped the car and was able to retrieve the bonnet. The fibre-glass at the hinges was completely torn away, the bonnet was cracked and the hinges were completely shot, but I was able to buy new hinges and repair the bonnet.
On another occasion, I had offered a lift to a friend. It was a very windy day, and as he got out the car the wind caught the passenger door and tore it completely off both hinges and then blew it along the ground for a short distance! Of course, the chap who had built the car had neglected to fit door straps, no doubt planning to add this feature when he worked on the interior, so this was an accident waiting to happen. I had to drive around town for several days without a passenger door until I was able to make repairs, much to the amusement of pedestrians and other motorists.
I also learnt how to paint a car well, after a fashion. All the accidents and other scrapes had left the body looking pretty patched up. Naturally, I decided that she needed a colour change and, lacking the subtlety that future years would bring, decided that the brightest red possible pillar box red was a suitable colour. At that time, I had no garage, so I prepped and painted her right out on the street. A few cans of Valspar did the trick! It would be wrong of me to say that it was a good paint job by any standard, but on the other hand I do believe the new colour suited her very well.
Another skill I developed was how to wire a car from scratch. Ever since I had bought the car, I had worried about the wiring, which was just a mass of jumbled wires in the engine compartment. Because it had a fibre-glass body, there were typically two wires instead of one for each electrical component (one serving as the ground), which only added to the complexity. I really began to worry when the wiring of a neighbours car caught fire and his car was totalled (as we say in the US).
By good fortune, or so I thought at the time, I had a friend who was an apprentice electrician. He offered to re-wire the car and provide all the necessary wire and connectors. We agreed to do it one weekend. On the Friday evening we ripped out every bit of wire. We didn't attempt to catalogue which wires went where because my friend kept assuring me that he didn't need such a record, and of course let us not forget that we were young, stupid, lads. After pulling out all the wires, we went out to the pub and after a few pints lost any thoughts of how the car had been wired.
The next morning, we went to the car to begin the wiring. My friend looked at it and looked at it, and then finally said I don't think I can do this, Ray I haven't a clue where to start. I reminded him that we had discussed in detail whether he knew how to wire a car, and that he had stressed that he was a professional. All to no avail. Here I was with a car with not a scrap of electrical wire in it, with absolutely no idea how to wire it, and a friend who was even more clueless than me (and he was training to be an electrician!). I was in a cold sweat because I needed the car to get to work, but by thinking it through and by trial and error I was able to at least wire up the ignition and get the car running. Over the course of the next week, I wired up the remaining pieces the lights, instruments, and so forth.
I was quite pleased with myself, until about six months later. It was a frosty morning and I had got the car started with full choke so the engine was running above idle, when I realized I had left my wallet in the house. I turned off the ignition, and started towards the house with the car keys in my hand when I suddenly realized that the engine was still running! I had wired the ignition switch through the cutout the wrong way around. It could have been quite nasty if the accelerator pedal had jammed because the ignition switch would not have worked when the engine was running at any sort of speed!
And last, but not least, I knew love in that car. It has been suggested to me just recently that it would be a near impossibility to engage in such activity given the cramped space. Just let me say that it is indeed possible, especially when one is 19 years old!
Ray sells his Rochdale
I sold my Rochdale because of another friend. He was in the merchant navy, and would go away for six months at a time and come back loaded with cash to burn. On one of these occasions, he bought a used 1961 Sunbeam Alpine. His car had twin carburettors, a modern suspension, radial tires and disc brakes on the front. We got it up to 95 mph on a road outside of town, flat out, and then we were actually able to stop it by applying the brakes.
I knew on that run that I was ready for an upgrade in cars. When he went back to sea after a couple of months or so, I bought his Alpine.
As luck would have it, a few months earlier I had bumped into the mechanic who had built my Rochdale, and he said that he would buy it back whenever I wanted to sell. He told me that he very much regretted selling the car and missed owning it. So, I sold it back to him, and for exactly what it had cost me 35 pounds. It was only fitting that she should go back to the person who had built her.
Over the years I have often wondered what became of that 1938 Ford Rochdale GT. The shame is that I have no records of ownership; no photographs nor documents. I can't even remember the plate number; such has been the passage of time. Perhaps she is still around somewhere, a source of pride for her owner. I do hope so.
Ray Sharp - about the author:
Ray Sharp is a retired International Consulting Actuary living in the New York City area. Born and raised on Humberside, he worked shifts at a local chemical plant for several years until the late sixties when he went up to University to read Mathematics.
Graduating with First Class Honours, Ray entered the actuarial profession. He worked in the UK for several years and then moved to the United States in the mid-1970s to join a New York based actuarial consulting firm. Ray is a Fellow of both The Institute of Actuaries in the UK and the Society of Actuaries in the United States, and is a member of the American Academy of Actuaries. Before retiring, Ray served for many years as Consulting Actuary to the United Nations in New York City and to the World Bank in Washington, DC.
Ray currently owns two E-Type Jaguars: a 1961 flat-floor Coupe and a 1971 late Series 2 Roadster. While the E-Type was and still is the only real car of his dreams, the 1938 Ford Rochdale GT described in this article will always hold a special place in his heart since he has only good recollections of the fun times he had with the car all those years ago in the UK when he was a young man working shifts at a local chemical plant.
Finally, Ray would like to apologize for the spelling in this article, which is a mixture of EnglishEnglish and American-English. Such is the effect of living half of one's life in each country!
Malcolm writes: Nice story. Rod brakes can be made to work very effectively with new parts and understanding of how to set them up...
His wiring story certainly brings back memories - my first GT came to me with no wires, having passed through several owners in that state! I did exactly what he did, wired it up bit by bit (I even made a wiring diagram as I went. And I made the same mistake - in my case I didn't have an ignition warning light and in my haste to get it running, jumped the two wires that I'd put in place for the light so it would start. What I didn't realise was that in that state, it would not stop - and guess what, the throttle DID stick open! Fortunately, the brakes worked so I was able to stall the engine...
-
I'm afraid you'll have to wait until the next magazine for me to piece all my emails together on the early Rochdale front! As I'm currently moving house most of my time is taken up with packing and access to the computer is a bit limited. As I've stated before though, if you have any information or pictures of early Rochdales that we might not know about then please get in touch, all information is greatly appreciated to help complete that early Rochdale jigsaw. James.
Secretary Ramblings
I hope you all have a happy Christmas and your New Years Resolutions are to get on with that Rochdale restoration!
I thought I'd write about some success I've been having with tracing the history of my Rochdale Olympic, mainly to show all you owners out there just how easy it is!
When I bought my Rochdale Olympic the history that came with the car was very limited. Apparently the previous owners wife had thrown out a briefcase full of the Rochdales documents, probably in a fit of jealousy at the amount of time he was spending on it, I must watch out for that with my wife!! So with very little history on the car I decided to delve a little deeper into its past. When I bought my Olympic it came with a V5 that only listed one previous owner from 1980. For a sum of &pound5 the DVLA kindly gave me copies of previous owners and logbooks with addresses on. I did have to jump through a few goalposts but as long as you state that you only want the information for historical purposes then they usually let you have it. I have since been able to speak to all but one of the previous owners and have found out what they did to the car and what repairs/ modifications they made at that time. All of the previous owners were more than helpful and intrigued as to what had happened to the car they once owned, the original builder though was the most helpful. A few weeks after contacting him 2 pictures appeared in the post of the car after it had been built, along with the note that said he may have the original receipt and will send it if he comes across it. For the DVLA fee of &pound5 I have managed to learn about the history of my car, see photos from the original build and potentially have a chance of getting the original receipt. All of these items not only help build a historical picture of your car but guarantee its past.
It's quite easy to track the previous owners of your car and sometimes the information they come up with is invaluable. Some of you are lucky in the fact your car has come with a lot of history but if your history of the car is a little shady then I highly recommend tracing a little bit about it. If not only for yourself then for the Rochdale Owners clubs information. Go on, send that application to the DVLA.
If anyone needs any help or advice with tracing any history let me know and we can get our heads together.
The History of Phase 2 Olympic CNK 210B
As members will be aware, just before Christmas last year the Club obtained an unused Phase 2 shell. The relevance of this to the history of the Olympic in the title will become apparent as this article unfolds.
At the Racing Car Show in 1964, Laurie Morton, who was a photographer working for Motor Sport, ordered a Phase 2 kit. The kit was delivered in April of that year and assembled by Laurie and a friend. The car was completed in approximately 90 hours, spread over a period of six weeks. The car was registered CNK 210B.
The car was then used by Laurie in connection with his photographic work. The detailed build up and its subsequent use was published in the February 1965 edition of Motor Sport under the title of
Building and Running a Rochdale. This article has been reproduced previously in the ROC Magazine.
The Olympic was replaced in late 1965, early 1966 with an MGB. Laurie then wrote an article, which appeared in the Thursday, April 7, 1966 edition of Motoring News under the title of Kit versus Production. This article is reproduced later. Unfortunately, due to the broadsheet format and the fact that I only have a very poor photocopy it has been retyped and it has not been possible to reproduce the photographs that accompanied the article.
The next part of the story comes from an advertisement, sent to the editor, which appeared in ROC Magazine No 44 (Spring 1990) and is reproduced below.
This second advert, from Mr Robert Trier makes an interesting piece of Rochdale history. The magazine Motor Sport apparently built and tested and drove for a while a Phase II Olympic, reg. no. CNK 210B. Mr. Trier bought the car with 28,000 miles on the clock and used it for another 182,000, for which he kept a detailed log.
To use his words, he had a difference of opinion with another car at a road junction and the Olympic was severely damaged. However, he was able to buy another body shell from Rochdale Motor Panels, a shell which had apparently been put to one side as a master pattern for future use.
One thing led to another and the car was never rebuilt, although the registration number was preserved on the Swansea magic machine. He has now decided to sell the whole restoration project and offers the new shell it must be the only unused shell in the whole world! , the suspension, wheels, steering, lights, pedals, doors, hatch and so on. There is no windscreen but these are, of course, available through the Club. The tired old engine has long gone but Mr Trier has for separate negotiation an Alfa 1600 DOHC and 5 speed box to suit.
I understand that offers based on &pound1000 or so may be considered but don't quote me! The package offered includes his detailed log and the list of proposed improvements which he intended to include in the rebuild. Please ring Mr Trier on 0789 740343. That's near Stratford.
It would appear that this advert did not produce a buyer. I think it was probably some two years later that I was at the Stoneleigh Kit Car Show that I was told that a brand new Olympic shell had just been sold, although I was not able to either view it or talk to that new owner.
- 32 The next recorded owner is Stephen Carr from Cleveland, who I assume was the person who bought it at Stoneleigh. Unfortunately, Stephen passed away before he was able to commence the rebuild and the package then passed to Les Brown. Due to an impending house move Les decided in late 2008 that he needed to part with the shell and this is when the Club stepped in, the intention being to use this shell to create repair moulds for Club use. This has now been done. Unfortunately, over the years it seems that the documentation has been lost and only the number plate exists to link the history.
Until earlier this year I did not know the identity of the original builder of this car as both the Motor Sport and Motoring News articles merely said L.A.M. By pure chance a fellow Turner owner knew that L.A.M. was Laurie Morton and put me in touch. We have subsequently had several email exchanges and telephone calls and the contents are reproduced below.
23rd October 2009
Hello Derek
Many thanks for your e-mail and the splendid evocative pictures. I had forgotten quite how interesting the Rochdale looked wonderful!
I was delighted to get your letter re. the Olympic. I haven't seen one on the road for years and am surprised and pleased to learn that some still exist.
Even more surprised, mine, albeit in bits, is still extant. How many others are still around? I always felt they were probably the most robust of the kit cars available at the time. There were quite a few of these, due to the advantageous tax on purchase. Some were fragile!
Our proprietor, Mr Tee was happy about the tax deal. I was happy to get a fun company car.
The Rochdale was/is, as you know sort of egg shaped, (Porsche influenced, whisper it softly)? Which along with a generous thickness of grp layup, made for a good stiff shell. This gave a stable platform, enabling the bolt on bits, engine, transmission, suspension etc. to be rigidly attached. These parts were all fairly standard, making a simple build, easily within the range of the average bloke, even without previous experience.
I shall be glad to have a scratch around in my memory and let you know as much as I can about the car. I am beginning to recall bits even as I write.
Leave that with me and I will see what the old brain can remember. By the way, the pictures are, or should be, in the LAT archives, which are researchable on the web or by correspondence with LAT, which is part of Haymarket now I believe. All the old Motor Sport and Motoring News negs. went there. I think that I did pictures at the factory. I certainly visited it with Mike Twite and must have done some then to go with his article. They will be filed as black and white negs in, I suppose 1966.
This would have been previous to my piece about the car. I may have gone again later, when my shell was being made. Whatever I did will still be there with luck and prints are purchasable. I have nothing here unfortunately.
You will need to remind me of the names of the two good chaps who owned Rochdale.
I also hadn't remembered the name of the man who bought it. You have more information than me! The reason it was sold was that I had suffered a minor exhaust bracket (?) problem returning from covering the Brighton run. This was fixed, but, backing the car from the ramp, I caught a raised metal sliding door fitting on the silencer. This touch, unknown to me, bent the exhaust pipe slightly so that it touched the bulkhead. Parked overnight, the grp and carpet smouldered and in the morning the car was completely smoke filled with a yellow deposit overall. I cleaned this up and repaired the hole in the bulkhead, but it never smelt the same! I remember Mr Trier coming to view the car at my lodgings in an ancient Triumph TR which left a car shaped scattering of rust on the road when he left! I am amazed he did a further 182,000 miles in the Olympic. Did I say robust!
30th October 2009
Hello Derek
When my Rochdale was delivered I was living in Waltham Cross, having recently moved into a small newish estate. The low loader arrived and unceremoniously unloaded the whole collection of bits, engine and gearbox, wheels, suspension parts and of course bodyshell onto the pavement and roadway. I stood there wondering how I was going to get all this the twenty-five yards or so into my small garage.
From across the road came an amiable shout along the lines of B. h what on earth have you got there? Enter one Vic Peachey, a neighbour opposite whom I had seen but never actually met, big and broad, very much a Londoner and usefully I discovered in the motor trade.
He suggested using broom handles as rollers, which I went and bought and within the hour we had rolled the engine and gearbox into the garage. The bodyshell followed along the drive. When it deviated Vic simply hooked his hands under the wheel arches and hauled it back into line. It fitted into the garage with about a foot either side.
I can't remember the actual order of assembly, but at some point it was necessary to raise the shell up in order to fit the rear axle. Vic got hold of each corner and lifted the shell high enough to get prop stands underneath. No need for jacks! The suspension was bolted on and wheels fitted. The engine/gearbox was lowered in using Haltrac tackle and the drive shaft connected to the rear axle. All very straightforward, in fact, I don't believe we had any head scratching moments and from memory the whole assembly only took a couple of weeks. The lack of elbow room was probably the only real difficulty and that only lasted until we had the running gear and wheels on, after which we wheeled the car out and worked on it more comfortably.
At this distance, 40 odd years ago, I can't recall if we even had any instructions, but I remember that the build seemed easier than the Lotus Seven and Super Seven, which I had built with Mike Twite, the Assistant Editor of Motor Sport.
The Rochdale kit came complete, nothing was missing, every nut and bolt supplied and so far as I recall, everything fitted together without fettling. It started first time, great excitement and having got all the paperwork sorted, I was able to use the car straight away.
I can't remember exactly how long I ran the car, but, as usual with Motor Sport, I always had a ready supply of cars to play with, from the new Rolls Royce Corniche, in electric blue, to a Reliant robin and everything between.
The Rochdale was used for some trips to European events and I recall coming back from, I think, a Rouen F2 race, on the then rough and bumpy French roads, when suddenly the gear lever dropped down until only the knob showed above the gaiter. The gearbox rubber mount had sheared and the box dangled below the car. We stole some bits of wood from a wicket fence, levered the box back up, then wedged it in place somehow with wood. A careful drive got us back to Le Touquet and the car was gingerly eased onto the Channel Air (Scare) Bridge Bristol Freighter for the early morning flight to Lydd. The bodge held all the way back to the office in the City and to my home later. A replacement rubber bearer cured the problem.
Looking forward to a word with you at some time.
Regards
Laurie
KIT VERSUS PRODUCTION (From Motoring News Thursday April 7 1966)
An evaluation of the relative merits of a kit car compared to a production car of similar type, capacity, price and performance (or, you too can have a body like mine if you're not careful)
The urge for a sports car follows the same basic pattern in the human male as the mating instinct. At some time in the life of most red-bloodied men, comes the moment when he has a violent desire for a sports model with its attendant glamour image carefully fostered by manufacturers and petrol companies. He sees himself, in his minds eye, rushing along a deserted beach, in a sports car, in the moonlight, clipping the surf (all that water, sand and salt ugh!) and heading towards the inevitable gorgeous blonde (brunette, redhead, according to taste) who is unaccountably ambling around at the far end of the sand in diaphanous evening gown and high heels.
This is the one reason why manufacturers are able to sell sports cars which are not so very much faster than saloons nor handle so very much better. With cars, as with women, however, reason generally prevails, or if not reason, the bank manager and insurance man and the day dreamer is brought back to earth to select a more mundane model which is sedate, practical and has the right home comforts.
For those who feel able to cope with the sports model, manufacturers provide a selection in this country, ranging from tiny 1,000cc models which are generally not very quick and always cramped (which tends to limit the very reason for which they were bought) through the medium price/capacity cars to the 3.5 litre plus cars which, being in the penthouse bracket anyway do not have to be used as bait in quite the same way.
In the middle range of 1.5 to 2.5 litres and representing an investment of around &pound1,000, the range is really not very large and the budding sports car owner has a choice between B.M.C.s M.G.B. at &pound855, its coupe version at &pound998, the Triumph TR4A at &pound968, the Sunbeam Alpine Sports Tourer at &pound878 (or GT at &pound938), or for the real die-hard sporting motorist the Morgan models ranging from &pound714 to &pound944
(with other models slightly out of the above price limit)
There is another alternative; that is to buy one of the kit sports cars, either open or coupe and saving the purchase tax by building the car ones self, thus getting more car for the money (in theory, but allowing for the fact that the kit cars costing must be higher due to small production).
An example of the facts of life concerning tax saving is the Gilbern GT 1800, which complete and assembled costs &pound1,348 tax paid. In component form (polite word for kit) this comes at &pound1,060, which could just be squeezed into our price limit.
Others of a more Spartan sporting nature are the Elva Courier Mk. IV T at &pound1,085 (complete, not in kit form); the Turner at &pound877 complete, &pound699 kit; the Lotus 7 and Super 7 at &pound499 and &pound585 respectively and the Ginetta G4 at around &pound500 to &pound800 depending on specification. One other, which has been built and run by Motoring News staff, is the Rochdale Phase II (with Ford 1,500cc engine at &pound735) or the optional GT version of the same engine at &pound40 extra. With the additional cost of other extras, heater, spare wheel and the like the cost comes out at close to &pound800.
This car was built and run for some 28,000 miles and has recently been replaced by an M.G.B., so a basis of comparison on the relative merits is possible.
The first consideration when contemplating the purchase of a car in kit form is can I get it into one piece in a reasonable time and finish with a roadworthy car? For an enthusiast who knows and understands cars and has a decent set of tools, this is not such a huge task as might be expected.
The only real snag is that the quaint laws governing purchase tax concessions state that no professional assistance is allowed and this, by some incredible reasoning also precludes the issue of a set of instructions on how the car is assembled. It seems that they would rather have an unsafe car on the road than one which has had professional assistance in the form of a handbook used in its construction. One other point to be watched is that the car must be bought by a private individual, not by a company even for a private individual to build.
Most available kit cars, however, have been in production for some time and the makers have met all the snags which customers might encounter. They are all fairly sorted out and the average handyman who tinkers with his own car, anyway, should be able to build one. Certainly the kind of person whose tool bag includes a soldering iron, power drill with assorted bits in good order, sets of spanners in Whitworth and A.F. sizes and two or three good screwdrivers would be likely to be the sort who could cope with building a car and finish up with a runner. If your tool bag has one tatty, blunt screwdriver and you can't tell Whit from A.F. or punch bored from countersunk, then don't bother go and spend your cash on a readymade job and make sure that your garage is a good one.
Assuming that the decision has been made and a kit is ordered, the next step is to ascertain exactly when it will arrive and prepare by having a low flat-topped trolley and several strong friends available for hauling the bit off the back of the lorry and dragging them into the garage. Should this warning be ignored it will cost lots of money to bribe the delivery driver to assist in removing the body shell and engine/gearbox unit from the truck, somehow lowering them to the ground and then transporting them to the garage. Even then, two people are not nearly enough for the task. Our own experience was of this order and although two people did manage it, by lowering the bits on to a bench and then a box and then onto wooden laths used as runners, then sliding them to the garage, one of them at least has never been the same since. The lorry driver probably was more used to it and has since recovered.
The actual building of the Rochdale presented no insurmountable problems. It was found that the engine could not be dropped into place after the engine bearer frames were in place, it had to be dropped into the bay, rested on the floor, the bearers bolted on and then the engine lifted up to meet the bearers. The suspension was easy, as the Rochdale is fitted with Triumph Herald bits on the front, the order of assembly for which could be cribbed from the nearest Herald. This should be watched, however, as one kit car is capable of having its front suspension mounted upside down, which makes the nose point up in the air somewhat! The rear end of the Rochdale was also fairly obvious as it had trailing arms in situ from the works and needed only the B.M.C. axle bolting on and the Panhard rod and Watts link tying it in place. These could only go one way.
The main problem concerned the wiring, as the loom was designed for the original Phase 1 car having a Riley engine and different instruments from the Phase II. This loom therefore had the wrong end fittings, which had to be altered. This is where the soldering iron came in. Additionally, the particular loom on the car we built had an internal short on the return side (no chassis return on a Fibreglass car), which tended to foul up the workings somewhat. Some testing with an AVO meter eventually traced this fault. Most other things on the car were just a matter of time and labour and were obvious. Total time taken from start to finish was 90 man hours, but this would have been clipped by 15 hours or so had the wiring loom snag not arisen.
The resulting car was a delight to drive. It had taut yet comfortable suspension on reasonable roads, lots of power geared high enough to enable cruising at 100 m.p.h. with a maximum of 112 m.p.h. or so. Acceleration times were as follows: 0-30 m.p.h. 3.0 sec; 0-40 m.p.h. 5.2 sec; 0-50 m.p.h. 8.0 sec; 0-60 m.p.h. 11.6 sec; 0-70 m.p.h. 15.2 sec; 0-80 m.p.h. 19.4 sec; and a standing start mile time of 17.9 sec. Fuel consumption was never worse than 30 m.p.g. and for any journey of decent length, despite high cruising speeds, generally bettered 34 m.p.g.
The seating position was one of the best ever experienced, due to the fact that the position of the seat was tailored to the driver concerned and to Rochdales own seat, which while not of luxury finish, had a first-class anatomical shape, similar to the expensive rally seats which are now available. The combination of seat shape, rake and height and the quite incredible amount of leg room even for the six-foot driver gave a driving position which never caused tiredness, stiff neck or any of the usual fatigue maladies which usually beset the motorist, even on long Continental runs. The handling was good, although not up to the standard of a Lotus Elan, for example, but better than any production sports car. The original C41 tyres were a mistake for this type of car, but the subsequently fitted SP3s transformed the grip characteristics and enabled the car to be cornered so fast as to rattle the eyeballs.
There were one or two teething troubles with the car. In its early miles it overheated badly, a fault which was traced to the fact that the engine was set well retarded when supplied. On two Continental trips the rough roads across France caused a rubber/metal bonded engine bearer block to shear letting the engine rest metal to metal on the bearer stays. Wooden wedges enabled the car to be driven home in each case. The rubber blocks were from the Classic engine mounting layout, not the more powerful GT Cortina, as these were easier to mate to the fabricated bearer stays, but due to this shearing problem the current stays are suited to the proper Cortina blocks, which are compression loaded. The root of the problem, however, was that there was a little misalignment in the engine bay mounting causing the stay on one side to sit a little crooked, bringing the rubber block under tension. This was cured by correcting the stay position.
From start to finish there was never a moments bother with the suspension and after initial tightening had been performed the units were forgotten, save to apply a little silicone oil to the front rubber bushes occasionally to eliminate squeaking. One great advantage to the purist is that kit cars are invariably assembled using nylon locking nuts, which once tightened never work loose unless interfered with, which is why they are used on aircraft and racing cars.
The instruments (Smiths) were trouble-free and accurate over the whole period, save for the water temperature gauge which fractured its capillary several times due to engine flexing.
The car was fitted with Britax lap and diagonal belts early on with the guiding help of their representative, who advised on correct placing of the anchor points. These mated with the seats beautifully and provided very positive location apart from their primary defensive function. The switch gear on the Rochdale was so placed on a central console as to be conveniently reached, even with the belts tight.
One early snag which turned the air blue on several occasions, was the inclusion in the right-hand petrol tank of a handful of glass fibre fragments resulting from the hole cut at the factory to fit the petrol gauge. These bits habitually bunged up the petrol pump filter and lines and even managed to find their way as far forward as the carburettor. In the end the tank had to be drilled at the bottom and the fuel drained, filtered and replaced several times to flush out the particles.
At the 25,000 mile mark an ominous whine began to emanate from the rear axle, which had never been particularly quiet, and within a few miles this developed into an expensive sounding rumble. Investigations showed three teeth off the crown-wheel. The probable cause was put down either to hairy driving or the fact that the Riley 1.5 axle was intended ??? for the torque characteristics of the Riley 1.5 engine, not the Ford 1500 GT, which has a sharper clutch action. Replacement of the differential unit restored the car to its former self.
An incidental side effect of the use of the Ford engine was caused by the fact that the original body mould was designed for the Riley and was thus a tight fit for the Ford. This meant slight cutting back at the factory after the mould had been made, but still resulted in the exhaust branches coming near to the side of the engine bay. The resulting overheating of the passengers side was cured by the use of a sheet of aluminium faced asbestos cloth, but precious little room remained for work on the exhaust.
The main disadvantage of kit cars, as represented by the Rochdale, was the poor standard of finish of the interior trim, but this could easily be improved by the individual owner. The window frames were a more basic fault, as, being of soft alloy, they tend to chatter under the mass of glass they enclosed and eventually to fracture at the bottom. Chromed steel would be better.
The car was run with the original dyed in the mass gel coat colouring, which was quite smart, but rather softer than cellulose. Before the car was sold it was spray painted in the same colour and the raised bumper trims picked out in silver. The result was so good we wished it had been done earlier.
The foregoing has detailed all the faults of one particular car, but it would be representative of many cars of its type. They were all minor problems and certainly no more than one would expect of any car at such a reasonable price considering the performance available. They were all cheaply fixed, with the exception of the differential, but this of course, can happen to any car, regardless of price.
The performance and comfort of the car completely outweighed any shortcomings and it was the kind of car one drives just for fun, with no end in view other than to experience the pleasure of handling a responsive, fast and likeable car. Too many cars of today are characterless, mediocre in performance and do nothing to stimulate the emotion of the motorist. They do not even stir feelings of dislike, being merely a conveyance from A to B, with as much character as a train.
The Rochdale, at least, was individual in appearance, outstanding in performance, had character, was incredibly useful in town (Herald steering- and only 12 feet long- easier to park than a mini) and was splendid for sickening the inevitable Cooper S driver who reckoned it to be a home-made special. On the Continent it was a source of never-failing interest and collected a full share of sticky finger marks from young French / German / Italian enthusiasts.
Somewhat sadly bidding goodbye to the Rochdale we turned to the M.G.B. This particular one, in black, is fitted with overdrive which for the purpose of this article we will ignore as it takes the price above our limit. The first and obvious difference is that the B is an open sports car compared with the Rochdales hard roof. As Englands weather is seldom clement enough for the hood to be removed, however, this we can also ignore.
The M.G.B. feels like a tank after the quick tightness of the Rochdale and while the Rochdales rear suspension could be mistaken for independent, so taught is it, the B tells you straight away that it has a rigid axle, with nothing to damp the movement around its axis. The whole car feels much heavier, as , of course, it is ,but at the same time this heaviness makes the car feel much more substantial. There is more body roll, making a difference of cornering technique necessary, but it can still be cornered very fast with more decorum and grace, cornering on a smoother, longer line. The engine is lower revving and finds its power lower on the curve, giving the car a nice torquey feel, the engine giving the impression of more than its 1,800 cc. The gearbox is not a patch on the Ford one of the Rochdale, as it has no synchromesh on bottom gear and is heavy and mechanical in feel, but this will probably ease as it transmits more miles. The clutch also is heavier and has a longer travel compared with the light short snap of the other.
The performance figures for comparison are: 0-30 m.p.h. 3.3 sec; 0-40 m.p.h. 6.1 sec;
0-50m.p.h. 8.8 sec; 0-60 m.p.h. 12.8 sec; 0-70 m.p.h. 16.9 sec. 0-80 m.p.h. 22.5 sec; standing start mile 18.5 sec. Maximum speed 106 m.p.h.
The internal space around the feet is almost the same, but the Rochdales luggage space was all in behind the driver, a snag in that there was nowhere to lock valuables out of site. The B has a reasonable boot, but this is mostly full of spare wheel and all the sundry bags and bars associated with the hood and tonneau. There is also a vestigial pair of seats behind the main pair, but these are more suited to be a home for torches and toffees than for seating bodies.
The standard of interior trim and finish is far above that of the Rochdale and has all the stamp of professional production. The parts fit neatly and smartly and there is no evidence of glue or underfelting.
The driving position is very good, but after the tailor fit of the Rochdale, leaves much to be desired for a tall driver. The seats are very much better made and of leather, but are not so comfortable nor locate as well as the cheaper, cleverer Rochdale ones. With a new set of similar Britax belts to stop sideslip, however, the body is becoming remoulded to suit the seats and they will, like the gearbox, grow on one.
The general feel of the car is that it is larger, heavier and more substantial than the Rochdale. The whole thing gives the impression of more quality, more strength, more mass. Some of this is pure illusion, for the Rochdales body design is such that strength is integral and it is fitted with roll over bars in the roof so that it is probably as robust as the B. The light drum of the fibreglass compared with the heavier movement of the steel on the B probably deludes the mind.
So, as with all cars and most other things for that matter, you pay yer money and takes yer choice. One can either have the light, quick precision of the kit car, combined with the ease of maintenance or repair, knowing how it all fits and having the pride of creation and the individuality of appearance, but risking, or ignoring the detail faults and minor irritancies inherent in a small production run car; or take the safe path of a tried and tested large run production design with its better finish and higher quality detail, but necessary lack of individuality and lesser performance associated with the increased weight of the fabricated steel structure.
L.A.M