MAGAZINE No 119 AUTUMN 2009
Edlines
The ROC AGM in 2010 is planned to be at the Cotswold Wildlife Park, Burford (the same venue as the Historic Specials event) and be more of a social event than previously, as the venue is more suitable for family (animals and parkland). We may perhaps have a driving test too a la Capesthorne.
Phase 2 subframes are now available. Anyone needing one now or in near future should contact Nigel. They are to the original spec (apart from being symmetrical now), are powder-coated and priced at &pound300.
Back issues of the magazine will shortly be available on CD; I expect two CDs to contain all issues from 1-100. They will be in pdf format and be in colour (much like the real thing). Price to be advised. Paper copies are still available for many back issues ask James, who is keen to clear out his loft.
Tony Stantons report on the current market for Rochdales makes interesting reading: prices up but they are going abroad. Come on chaps, do your bit to save your British motoring heritage! Talking of Tony, do make the effort to support his efforts at the NEC Show in November. Even if your car is not showworthy (it doesn't have to be concours) come along and chat to the punters.
Something I noticed on our travels through France the French obey speed limits! What has happened to their legendary casual attitude to rules? Also, petrol 10% dearer than UK but diesel 10% cheaper.
This issue is considerably fatter than in the recent past, due largely to James Farringtons beaverings on the Early Rochdales front. This is particularly meritorious as he is basically an Olympic man. Oh to be young and keen.
TONY STANTONS EVENTS & NEWS
South Midlands Classic Car/Bike Meet
This event is now run by the Pub landlord so as to cover the Public Liability
The last Thursday of the month in the Summer at The Moat House Inn,
Birmingham Road (A435), Kings Coughton, Alcester, Warks, B49 5QF
Thursday 24th September 2009, from 7pm. (Last one this year)
SILVERSTONE CLASSIC on July 24th, 25th & 26th 2009.
This year I could only attend on Saturday the 25th, but the sun shone brightly, the racing was brilliant and there was a good turnout on the classic car club stands.
3 Olympics attended on the Saturday, myself with DUFFY, Alan Farrer with Phase II BNC 849B and Nigel Whittaker with Phase 1 7830 TD.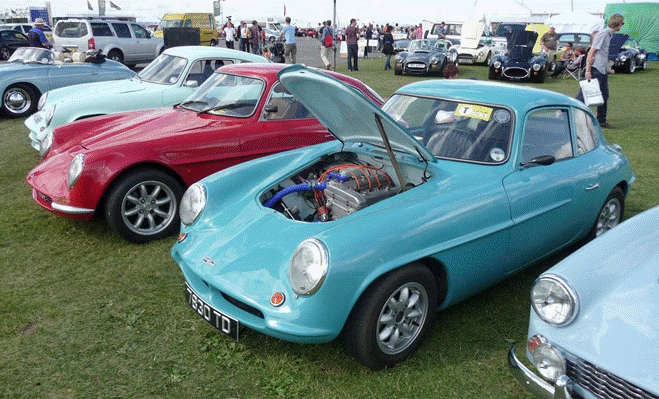 Silverstone lineup of Rochdales Photo Russell Filby
Burford 9th August F.S.C.C. Historic Specials Day at Burford
Richard Disbrow organised a very good turnout of period cars, he even arranged for the sun to come out and we had the Vulcan fly over.
We had 6 Olympics on show, myself with DUFFY, Alan Farrer with Phase II BNC 849B, Colin Ellis with Phase II BJX 510C, Colin Breakspear with Phase II JDK 523F, Richard Disbrow with Phase 1 886 WTT and James Farrington brought on a trailer the bodyshell of Phase IIR EWT 219H which he is renovating. A grand day was had by all. [More on this event on p8 - Ed]
CLASSIC CAR SHOW NEC 13th, 14th and 15th November 2009
Well after my request in the last magazine for cars for the stand the grand total is Zero. With 18 to 20 cars on the road, that is a rotation of 4 different cars in 5 years, so people only need to make the effort once in 5 years so please help, remember it.s your club we are trying to promote.
We are in Hall 4 stand number C102, close to where we were last year. The stand size is 49 by 13. This should take 4 cars, so has anyone please got a reasonably tidy Rochdale that they would be willing to have put on show? I would love some pre-olympic Rochdales and help in collecting a few cars on trailers (help towards expenses will be considered).
Ideas for new and interesting material for the stand and the display boards would be most welcome. Also offers of help with stand duty on any of the 3 days would be most appreciated this would include a free admission ticket.
PLEASE contact Tony Stanton on rochdale-olympic@talktalk.net
Olympics sold in the last year
I thought club members might be interested where the current market for Olympics seems to be going.
EKF 818L Phase II on the road with MOT, sold privately in July 08 for around &pound5000 and has moved to France
BPL 125 Phase 1 on the road with MOT, sold privately in January 09 for around &pound5000 and has moved to Switzerland
JBU 888D Phase II needs major rebuild, sold privately in January 09 for ???? and has stayed in Central England
118 JAC Phase 1 needs major rebuild, sold privately in January 09 for ???? and has stayed in England JFO 673 Phase 1 needs full rebuild, sold on e-bay in January 09 for &pound1910 and has moved to Germany 590 MTT Phase 1 needs full rebuild, sold on e-bay in April 09 for &pound2390 and has moved to France
MYG 393D Phase 1 on the road, sold privately in May 09 for ???? and has moved from France to
Belgium
2481 AW Phase 1 small amount of work for MOT, sold in May 09 on e-bay for &pound2870 and moved from Scotland to Southern England
UFF 354 Phase 1 on the road with MOT, sold at auction in June 09 for &pound7700 and has moved to?
VWT 144F Phase II needs major rebuild, sold at auction in June 09 for &pound2860 and has moved to?
81 XPH Phase 1 needs MAJOR rebuild, sold on E-bay in July 09 for &pound1714 and has moved to France Unregistered Phase II R needs to be finished, sold in August 09 for &pound3750 and stayed in Northern England.
Of the 11 Olympics sold in the UK, 4 stayed in the UK, 5 have gone to Europe and 2 unknown at the moment. The prices achieved are going up, which I think is a good thing and the prices in the classic car magazines price guides are rising. The guide price in Practical Classics now up to &pound7000 even though I think an A1 Olympic should be &pound9000 to &pound10,000.
I have done a rough check in the database between 1980 and 2009 on where Olympics may be in the World today:
England 113, Wales 8, Scotland 5, Ireland 1, Germany 7, France 5, Holland 4, Belgium 2, Sweden 1, Switzerland 1, America 2, Canada 3, Australia 2, Japan 1, Singapore 1.
These are 156 cars of the 189 cars on the database of the presumed 350 to 400 made? (where are the other 200 odd? I have my doubts that the presumed figure is correct)
Another unused and unregistered Olympic to surface out of the woodwork.
Following a lead from James Farrington I made phone contact with Tony Armstrong who has lived in Spain for the last 20 years and works on the Oil Rigs in the South Pole. Tragically his Father and Mother who lived in Leeds had passed away at the same time and he had come over from Spain to sort his parents affairs.
On opening up 1 of 2 garages at his parents home, inside was an unused and unregistered Olympic Phase IIR.
The car has been sprayed Metallic Light Blue and Silver, but the gel coat is clear, so is probably a shell supplied in the early 1970's. Tony cannot find any paperwork relating to the car, but thinks his Father had owned the car for at least 30 years and bought the car not completed from two brothers, one who had died in a car crash and the other brother decided to sell the Rochdale. We don't know if the brothers bought the shell from Rochdale Motor Panels or whether there were any previous owners? So if this Olympic or past owners of this Olympic from the 70's or in the Leeds area rings a bell in anybodys mind, please get in touch.
At the time I was not sure that the car was an Olympic or a GT or even a Rochdale, so I rang Les Brown who lives near Leeds and asked him if he would go and look at the car which he kindly said yes and his report is below. PS (I believe Les's wife Pat had to drag Les away to stop him buying it).
Hi Tony
Just got back from looking at the Olympic. Pretty well as Tony Armstrong said. Really interesting part is NO gel pigment. My first thought was not to believe the story, why should someone re-spray a car before it hit the road? But there's the answer. Interesting to compare with the shell I sold the club, did the late ones not get any pigment? Perhaps they weren't using it for the heating pipes by that stage, so didn't keep it in stock? Not sure that everything is there - seems to be some used bits, but a lot looks unused. I'm attaching some photos. Car's been stood a long time (at least 30 years, Tony said, and still has a good bit to do.
Interesting points are:
Full spray, looks the same colour as my Olympic, and the one Malcolm just sold - Rover Astral Blue
(with some silver) -interesting front flasher treatment, -cut away rear arches -used Wolseley engine and Riley axle -torsion bar front suspension, complete, looks good -new screens/rear side windows + catches -new door cards, carpets, headlining which needs proper fitting -new rear shocks -unused tyres, Michelin MX, but how old? -New Karobes seats, unknown steering wheel -unused VW lights -used wheels, rear lights, door regulators, opening mechanism -no door catches, instruments, heater, door frames, door glasses, door handles, bumpers (parts may be somewhere in the garage) -fair bit of new wiring present, looks OK but may not be complete -no gel cracks!
I quite fancied it (again!) but not really in a position to do anything at present. He's already had an offer of &pound2000 for the lot, but I would have thought your estimate of &pound4000 nearer the mark. HAS to go, would have thought either club directly, or eBay.
Best wishes, Les.
The new owner of the Olympic is Steven Wood from Rotherham and if any member wishes to see this Olympic it is at this moment in the Rotherham Transport Museum, Unit 9, Waddington Way, Aldwarke, Rotherham S65 3SH.
And a little note to end on: - If it is raining.... remember to look in the rear view mirror before accelerating so you know what you will be looking at in a few seconds time.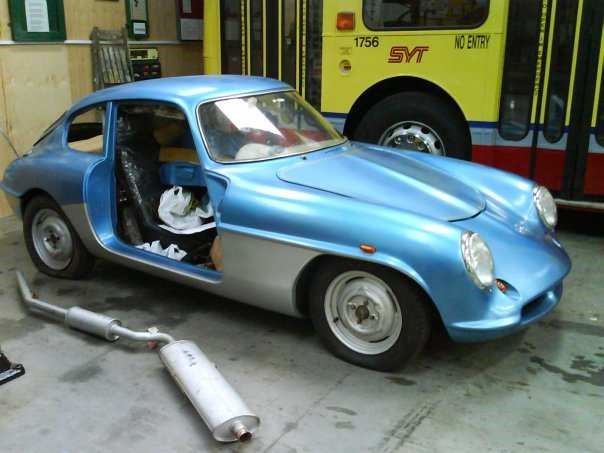 Unregistered Phase 2 - very tidy looking body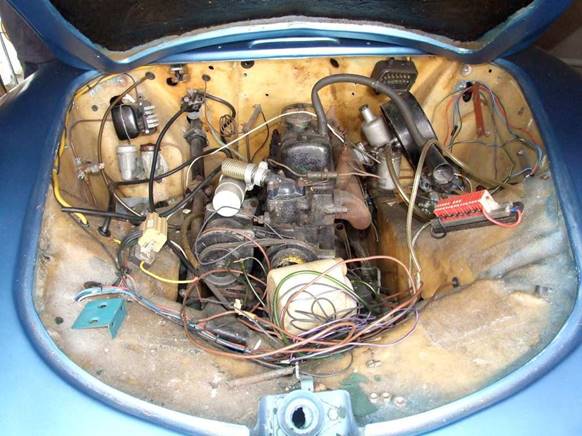 Wolseley engine
A day at the races
I thought this years Silverstone Classic was particularly good. OK, it's not cheap to attend with no single tickets available, but I readily acknowledge the organisers ability to put on such a high standard of racing and entertainment. The forecast was right and the sun shone all day long. There were so many displays and trade stands to see, it was necessary to plan which races to see and which to miss in order to visit the infield activities.
I parked the E Special in the Jaguar enclosure alongside probably another 500 cars of that make, many of which were famous old uns such as Appleyards NUB120, Coombes BUY1 & BUY12, the classic Mk2s, and that beautiful car that never raced, the XJ13. A acquaintance brought along a professionally restored very rare beast, a streamlined C type built for the 1952 Le Mans. Of the three that were built at the works this is the sole survivor. More recent Jaguars were also on display but these never hold the allure for me that cars such as the long-nosed D types and Lister-Jags do. I didn't particularly wish to watch the 1960's Formula Junior racing so I went in search of the Rochdale enclosure and spent so much time enjoying chatting with Nigel, Colin, Derek, Alan and others that I missed a subsequent race that I planned to watch but the time was well-spent studying Olympics and recalling the days, long ago, when I had owned one.
Not only was there racing to watch and conversations to hold with fellow enthusiasts, but time should be found to drop into the pit garages where cars are undergoing final tweaks before taking to the track. I got talking to an Alfa racing chap, a modest unassuming fellow who races at so many of the circuits I have visited abroad such as Angouleme and Chimay as well as Pau that I have yet to visit. How I wish I had his money to be able to race abroad or race anywhere in fact, but then again, I would also wish to be forty years younger. He said he was not particularly fast but didn't mind being passed by such amazing cars that compete in his class! We were standing next to the one and only Breadvan Ferrari, the specialbodied Drogo 250 GT, a car that had fascinated me for years. It is both awesome and outrageous with its Kamm tail housing a small rear window. I recently wrote a piece on the car for our Wildcat Club magazine and even made an 18 model of this intriguing car. At last I was able to see and touch the real thing.
I've not really mentioned the racing I saw. As I fortified myself with a bacon roll I wandered through the Paddock to take a place on Copse corner just after the start/finish straight. I saw the final few laps of the magnificent pre-war sports cars covering every thing from little Rileys to thundering Le Mans Bentleys. It is notable that this great meeting brings together drivers from Greece, Portugal, France, Belgium, Holland, Germany, Austria, Italy, the USA and New Zealand.
The second event of the day for up to 2 litre pre-65 touring cars is always a great draw for me with no fewer than 47 cars coming to the grid covering diminutive Fiat Abarths, Guilia Sprints, BMW 1800s and hordes of Cooper Ss and Lotus Cortinas. To see Jackie Oliver in the BMW 1800 and Leo Voyazides neck and neck going into Copse without lifting is some spectacle and it's interesting to see how drivers back off progressively more, the nearer they are towards the tail enders. Another memorable race was for pre '56 sports cars which cover Frazer Nash, Aston Martin, Austin-Healey, Allard, C & D types, Maserati and a handful of Ferrari.
I would have liked to stay to see the World Sports Car Masters race where Lola T70, GT40, Chevrons, Porsche and others compete but because this was not scheduled to finish till 9.15 pm I decided to take my leave; dinner was set for 7.30.
For me, Formula 1 events don't get a look-in against such spectacular meetings as this. A truly great day out.
Derek Argyle
Historic Specials day August 2009
As last year my visit on 9th August to the above event held at the Cotswold Wildlife Park, Burford, was this year a varied mixture of original 50's and 60's kitcars and specials. Several visitors came to the meeting in more recent classics or trailered their incomplete specials on which that they are currently working. Many such cars have stood for ages in a barn or a field until they were discovered by an enthusiast willing to spend money and give time and effort to complete a restoration. From the cars we see, the number of people who are motivated enough to tackle these difficult restorations is not diminishing. Rusted tubes from space frame chassis require replacement; parts that have deteriorated too badly have to be reproduced from scratch. Many spares from the era in which these cars were manufactured are now very difficult to trace but they do exist and it's a question of search, search and search some more.
There were fine representatives from the leading manufacturers of kitcars and specials - Rochdale, Buckler, Tornado, Lotus, Falcon, Ashley, Elva, Speedex, Turner, and Fairthorpe to name some of the cars at Burford.. One gorgeous car at the show was a Tojeiro which, I was told, had formed the basis of the AC Cobra, a car that has become synonymous in a very big way with the kit car industry. I have some doubts about this, believing that the Cobra was developed from the AC Ace and was it not Carroll Shelby who did the development?
John Haigh, with whom I got into conversation had been, before his retirement, a development engineer with Rootes in Coventry. He turned out to be an ex Rochdale Olympic owner as I had been and, courtesy of Tony Stanton, a Rochdale archivist, we were able to trace all the owners of Johns car and in particular the current owner. The detective work that goes into tracing the history and whereabouts of these old cars is thorough, and fresh information is turning up all the time both from within the country and from abroad. Whatever DVLA/EU legislation is thrown at these intrepid special builders, they will survive and their cars will continue to be seen on our roads.
Derek Argyle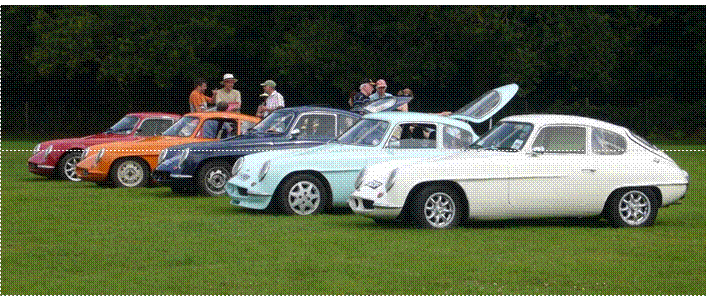 The Olympic contingent: 902 DUF Tony Stanton, 886 WTT Richard Disbrow, BJX 510C Colin Ellis,
BNC 849B Alan Farrer, JDK 523F Colin Breakspear
Photo Alan Farrer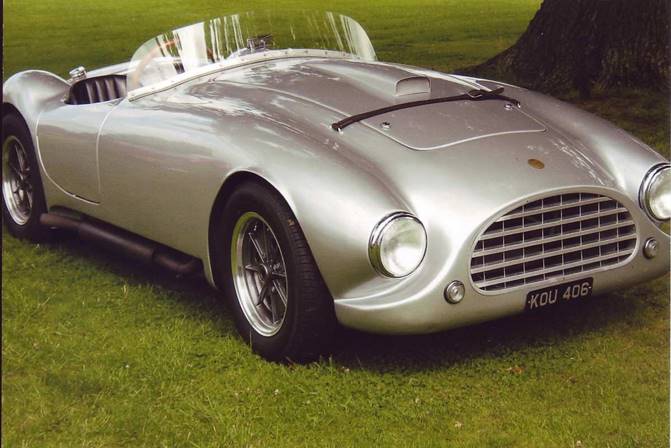 Tojeiro basis of Cobra? Photo Derek Argyle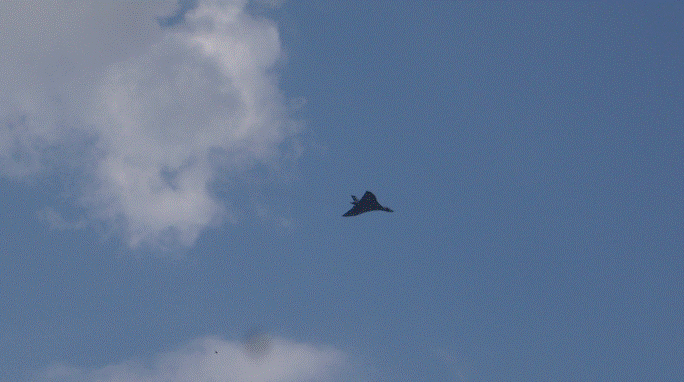 A historic flypast: Vulcan airs its wings Photo Alan Farrer
RON COLLINS
The 8th September 2009 is the first anniversary of the death of Ron G Collins. Some of you will have met Ron at the AGM in past years, most will have read his contributions to the mag, and indeed the cover of the club mag showing the outline of various Rochdales was designed by Ron.
Ron owned his first Rochdale, a GT, back in the very early 60s and this was the catalyst for his Rochdale passion. I believe that at this point he really wanted an Olympic but couldn't quite stretch to it so he carried on enjoying the GT as his everyday car. In fact, he used to recount to me that it was used to carry home his new born son from hospital, the carry cot squeezed into the back, much to the nurses disapproval! The GT was soon replaced by something a little more practical (I seem to recall him saying an Austin A40 Farina) as his son Scott grew.
Through the non-Rochdale owning years Ron still hankered after a Rochdale and on retiring early, around '95, he started looking for another. He finally found a phase 1 Olympic, reg XDR 430, down Blackburn way. He always joked that turning up with a trailer was a sure give-away that he would be buying the car regardless which seemed to render haggling pointless; however they agreed on a price and Ron was back in the Rochdale way. From then on he spent most of his time down the lock-up he rented going through a comprehensive restoration. He spent much time improving the car and created a fantastic interior from scratch.
Ron was a design engineer to trade, working latterly on liquid petroleum gas installations on sea going tankers and overseeing their installation. However he had also worked on other projects through his career such as steam powered catapults for launching aircraft off aircraft carriers. His other main passion was aircraft and he would design and build replica model aircraft from scratch, both gliders and engine powered and fly them all over the country. The designs for these aircraft were used by many other modellers to build aircraft as well, such were their quality.
I met Ron in Oct '99 when I had decided that an Olympic was for me. Living in Edinburgh I expected that the only way to see an Olympic was to contact the club and travel down south. To my delight, Alaric informed me that there was one in Edinburgh and that he would pass my details on. Ron was soon on the phone to me suggesting that I come down and see his phase 1. In retrospect I now know that Ron was in his element extolling the virtues of Rochdales. Anyway, we soon found a phase 2 for me and a great friendship was forged. If it wasn't for Rons knowledge and Rochdale enthusiasm I would have floundered quickly how much he taught me!
Ron sold his Olympic shortly before his death when he realised he could no longer use it but was cheered to know that it was going to a Rochdale enthusiast and staying in Scotland. Pictures of Ron and the Olympic can be seen on the excellent website run by James Wilson, XDR 430's new owner - http://www.healeyjournal.com.
Peter Bisset
Rochdale, Rochdales and Me!
My acquisition of a Rochdale Olympic is the culmination of a series of events starting in 1962 when my father was appointed as manager of the National Provincial Bank in Drake Street, Rochdale. We moved to the town from Kingston upon Hull where we had lived for the previous two years. In those days, Rochdale town was pretty grim once one moved away from the town centre dirty and decrepit, with cotton mills still in operation very close by.
I was a committed rivet counter my grandfather was a stationmaster but also an aspiring petrol head, so I was very interested when my father told me that he had a customer, Rochdale Motor Panels that manufactured cars!
At the time I was starting at Rochdale Grammar School so did not have much time to pursue things automotive, but by coincidence I discovered that the school art master, T.W. (Bill) Adams, had been a contemporary of my father at Altrincham Grammar School before the war, and they re-established contact.
Bill organised activities like the Radio Club and more significantly, started a model boat club with the objective of producing a series of glass fibre hulls to be powered by Taplin Twin compression-ignition engines. This was the situation that brought me into contact with RMP when I asked my father if I (he) could scrounge the glass and resin for the Model Boat Club.
Mr. Butterworth was very supportive and I was invited up to the factory in Littledale Street. It was fascinating, but filthy with glass/resin debris impregnated into the floors and the all-pervasive fumes. I cannot remember any particular protective clothing being worn or fume extraction. How times have changed!
I visited several times and was shown the moulding process and the quite significant stocks of mechanical parts which were kept for supply with the body shells. On one occasion I was given a ride in an Olympic and was smitten how exciting it seemed compared with the contemporary Morris Minors and Ford Anglias. I determined to have one one day.
Of course, time went by, studies progressed, and I became engaged to my future wife who had been born in Mount Street, just around the corner from Littledale Street. In the meantime, I took holiday jobs with another of my fathers customers The Little One - Motorists Supermarket. This started as a two pump petrol station on Halifax Road with its own tanker that would be driven to Rotterdam to buy petrol on the spot market. It was cheap (I served petrol at 4/6d a gallon and most customers asked for four gallons to be rounded up to a quid!), and the company expanded with around six garages being acquired locally, in addition to the parts and accessories shop. On Halifax Road, across from the original Little One they took over the Regent garage where Kathy Anders, the future Miss England served petrol. It was always a very busy forecourt!
The owner, Mr. Frank McKee was a larger than life character who drove the business to even greater success and subsequently renamed it Carcraft which today is the well-known national usedcar retailer. University followed, then a career in the automotive industry Rolls Royce, Jaguar, Lucas, and finally Leoni.
As an undergraduate apprentice at Rolls Royce, I lived in the Hostel where we all had vehicles of sorts from the conventional Anglias (me), Minis, and Minors, to the more esoteric Berkleys, Bucklers, Turners, an Austin Princess Limo, an Isetta, a MkII Jaguar with 1" thick filler wings etc. Most of the latter were wrecked and scrapped following various incidents. What a waste.
A memorable event was when one of my somewhat headstrong colleagues became so angry with his unreliable Renault Dauphine that he cut it half with two tin openers! Happy days! Another Guy had a Rochdale GT which has recently turned up alive and reasonably well in Anglesey!
When I retired two years ago it was finally time to get my Rochdale and after some searching I acquired my phase II.
After the euphoria had died down, there was the realisation how much cars had progressed over the past 40 years and I rediscovered old skills such as changing points and greasing U/Js, and especially baling out.
I have embarked on a sympathetic renovation priority one making it something like watertight; priority two updating the electrics (14.5V at the dynamo, 11V at the headlamps), with an alternator and a complete rewire. Also, I've moved the battery to the rear in the space vacated by the LH fuel tank which, being glass fibre, concerned me in case of impact damage.
The rebuild is progressing well but taking longer than anticipated, mainly because two weeks after I retired, I was asked if I wanted to return to Bentley (formerly Rolls Royce) to help develop the electrical system of the recently announced Mulsanne. How could I resist ?
My objective is now to attend next years AGM in a reasonably complete and usable car which I will be able to enjoy in the years to come.
Howard Evans
I can't help feeling amused by the idea of Howard working on the electrical system of the Bentley
Mulsanne by day and wrestling with the wiring of an Olympic by night (candlelight perhaps?) Where have those darned 3.5 volts gone? Now where is my diagnostic computer? (reaches for trusty AVO). Does the Bentley still make do with old-fashioned 12 volts direct current and a battery with lead and sulphuric acid, Howard? Plus a change, plus c'est la mme chose* Ed.
*Jean-Baptiste Alphonse Karr (Wiki is a wonderful thing).
* * * * * * * * * * * * * * * * * *
FROM THE FBHVC
Paint
David Hurley
At last. After over six years, we now know where we are. In June, the Department of the Environment, Food and Rural Affairs (DEFRA) published guidance for the enforcement of the various paint regulations together with a code of practice for those selling non-compliant products. The result is that if you can find a supplier who has signed up to that code of practice, have a vehicle over 30 years old and complete a straightforward one-page application form, you may purchase cellulose and other noncompliant paint.
This is not a perfect result, for reasons explained below, but is nonetheless a victory for common sense.
The European proposal to ban decorative and vehicle refinishing products that contain a high proportion of Volatile Organic Compounds (VOC) came to our attention in 2002. At FBHVCs instigation, and with the help of Andrew Turner at EPPA, FIVA lobbied to ensure that the needs of those restoring historic vehicles were not ignored. The Paint Products Directive (2004/42/CE) banning the general sale of products with high levels of VOCs, contained the following exemption at Article 3(3)
For purposes of restoration and maintenance of buildings and vintage vehicles designated by competent authorities as being of particular historical and cultural value, Member States may grant individual licenses for the sale of and purchase in strictly limited quantities of products which do not meet the VOC limit values laid down in Annex II.
Sometime after the main part of the Directive had been translated into UK law, DEFRA consulted on how such a licensing scheme might be implemented. The original proposal, involving local authorities in issuing licences, was complicated. FBHVC expressed concern both at the potential costs and the likelihood that there would be variation in approach between authorities. Local authorities themselves were also very much against the proposal. DEFRA paid attention to the consultation responses, and had a re-think, eventually consulting on another proposal earlier this year. The result is the scheme that is now in place.
The reason this scheme is not perfect in that there is a mismatch between it and Article 3(3), which refers to the grant of licences on an individual-case basis, making it arguable that without such a licence, the sale of non-compliant product is technically an offence. DEFRA neatly skates round this by -
(1) publishing a code of practice for the benefit of paint suppliers;
(2) delegating responsibility for enforcement of the regulations to local authorities;
(3) providing those authorities with guidance that includes this statement:
The Paint Products Directive says that a licensing scheme can be established to allow strictly limited amounts of non-compliant paint to be marketed for painting vintage vehicles or historic buildings. Because of the administrative complexities of setting up such a scheme and the burdens on those to whom it would apply, it has been decided not to do so, but to rely on local authorities taking a proportionate approach to enforcement.
(4) pointing out that the size of the market for non-compliant product is less that 0.03% of the total paint market; and
(5) reminding local authorities of the provisions of the Regulators Compliance Code and the public interest and proportionality tests to be undertaken when considering enforcement action.
DEFRA's guidance notes acknowledge that there is no restriction on what may be purchased to repaint motorcycles, tractors, boats, planes or railway-carriages (provided it is not labelled as being also suitable for use on four wheeled road vehicles), but it is likely that this obvious loophole will be closed by the EC when it reviews the effect of the 2004 Directive.
DVLA - Registration Enquiries
Nigel Harrison
The DVLA liaison person for one of the larger one-model clubs commented that, during a particularly busy week, he had eight registration enquiries and there was usually a problem with every single one. The list included: no chassis number given; incorrect postage on letter; no cheque enclosed; a nonmember and no fee enclosed; registration sold some years ago and now applicant wants it back; the chassis number did not relate to the model of the car; missing forms. One application had three of the above.
A regular problem is persuading an owner that just a set of rusted-on number plates is not sufficient evidence. One individual was sent the signed paperwork for an age-related plate, and then just altered the form to attempt to claim the original number. Applicants have left phone messages, like I spoke to you last week. Can you give me a ring back but without leaving a name or a phone number.
As a DVLA liaison person both for the Federation, and for a commercial vehicle club, I can recognise many of those problems. I would add to the omissions list - no clear photograph or brass rubbing of chassis plate.
I have a standard letter/email to send to new applicants which is designed to catch most of those problems before they occur. The case of the chassis number not relating to that particular car is not something that an owner would necessarily be aware of, but of course is something that the specialist car clubs should be able to detect.
The problems of new ignition components for our cars
Colin Breakspear
This short report is about my experiences with both my Ph 2 Olympic and Mk2 Turner, both with 'A' series engines.
First the Olympic
Started 2 years ago just before a planned trip to Classic Le Mans. Did the usual thing of a quick check of the car and checked the ignition and fitted new rotor arm (can't remember what else I replaced - probably points and condenser)
This was the start of my problems but I did not find the cause until after the Trip to Le Mans (had to use my normal car as the Olympic was too unreliable). I changed all the ignition components again including distributor cap leads and coil. Still the same problem, but started to hear about poor quality rotor arms.
I have normally purchased my parts from Moss, so decided to go to my local classic supplier in Germany. Anglo Parts is only 20 miles away, where I purchased 2 new rotor arms, fitted one and drove home. Well that was the plan; the first one started misfiring within 3 miles and I managed to get off the road before it stopped completely. Then fitted the other new rotor arm, the engine fired immediately so off we go, this time it was about 5 miles before the misfire and shortly stopping. A quick phone call to get my father-inlaw out to tow me home.
I then contacted a local friend Tim Cutts to see if he had any spare old rotor arms; to my relief he had a good spare which I fitted and have had no trouble with since.
The Turner
I have rebuilt the car and the engine and fitted a Shorrocks supercharger, also reconditioned. An amazing thing that the car started within 1 revolution; never before, and having rebuilt lots of engines, they normally they need a lot of coaxing and a second battery as they are tight from rebore and crank grinds. This filled me with hope that the car would be reliable. What an stupid assumption to make. The car misfired after a few miles and so as all the ignition components were new (except for a good old rotor arm) I assumed it was carburation as I was only using the needle set up that came with the supercharger and carb.
Got all the information I could find from old Shorrocks data sheets and ordered from Burlen the needle and jet combinations for 950cc Sprite setup and also for a 998cc Mini Cooper. My engine is the original 948cc but sleeved and rebored by Swiftune to fit 998cc+ 0.020 Mini Miglia forged pistons bringing it up to 1020cc. Tried the Mini Cooper set up first but was if anything it was worse, so next the 948cc needle - this was better but not correct, so a few test drives with misfires starting after a few miles,
So once again change the coil (new from Anglo Parts) points and condenser and notice the points have closed and on closer examination notice that the plastic part of the points has slightly melted where it is riveted to the spring arm. Aha!! maybe I have found the problem so a quick trip to Anglo Parts and try their version of points, they turn out to be the same but in different packaging but 2.5 times the price of Moss.
Then I go through all the pain of jacking the engine over to remove the distributor to fit the new points (it's very close to the chassis in Colins Turner Ed) - try the car it seems OK. Not the case after about 100 miles - same problem recurs, this time half way between the Spanish border and Pau, so on the side of the road out comes the distributor and find the points have closed and the same melting problem with the plastic cam. There is just enough adjustment to reset the gap and get back to the campsite and put the car on the trailer.
Solutions
I decided to phone the Distributor Doctor, explained all my problems and within minutes had all the answers!!!!!!!
1 Rotor arms have been remade with poor insulating grade plastic and short out through the Brass Rivet to the shaft, usually after the have got hot, sometimes are OK again when cold but soon fail, he has had new ones made from a red plastic and no rivet. These are also now stocked by Moss.
2 The coils being supplied are poor quality and have an incorrect internal wiring being 1.9 Ohms resistance on the 12v side. This causes the current to be higher and overheat the points and condenser. The correct spec for a 4 cylinder engine is minimum 3.3 Ohms so I checked the 2 new coils supplied by Moss and Anglo Parts and both are 1.9 Ohms. Then checked the flamethrower coil supplied by DD -3.3 ohms. I also checked the 2 new Lucas sports coils, the coil on the Olympic and 1 old Lucas coil and 1 old pattern part coil - all between 3.4 and 3.6 Ohms (remember these are straight 12v coils not the ballasted type which are 9v).
Results
Fitted parts supplied by DD which were red rotor arm, flamethrower coil, new old stock Lucas (Tufnol) points and new condenser. So far problems solved - no misfires and car starts without choke so the high power coil fires up weaker mixtures.
I telephoned both Anglo Parts and Moss. Anglo Parts boss said he didn't know about these problems but would talk to DD who reconditions all the Lucas distributors for them. Moss did know about the coil problem and had replaced the faulty ones a year ago (mine was supplied just before). As for the rotor arm they are now stocking the red ones from DD. Moss also said that there is a problem finding good 6 cylinder rotor arms and as well and MGB points are a problem that they are trying to solve.
So don't throw away those old ignition parts just because you are reconditioning your engine - they may be better than the new parts and always carry a set of ignition spares including a distributor cap as if you breakdown the AA can't fix it as they do not carry these parts, they also do not take up much space.
Ed note. Barry Higgins related similar tales of woe a few years back with his B-series engined Olympic, so the problem goes back several years and I understand has affected other makes of car which have a Lucas distributor. It's good to know there is a cure.
REBUILD OF PHASE 1 OLYMPIC (9557 LJ)
Derek Bentley
After four years of sitting unused in the garage the rebuild of my Olympic is finally underway. This was not intended too be a full ground up rebuild that takes years and years, but the list I originally prepared does seem to keep getting extended. The major item to be done is an engine/gearbox change. I have had the MGB engine and overdrive gearbox for over 15 years, so it is time it was fitted.
The door hinges need the usual treatment and Alans excellent rose joint method will be used. Probably about 20 years ago I made a stainless steel window frame for the drivers door, so now the other side will be made to match.
The plywood dash dating from the early '70s is also to be replaced with an original binnacle. This will no doubt lead to at least a partial rewire.
The front suspension and brakes were rebuilt a few years ago when the sub-frame was repaired, so I am hoping that minimal work will be required in this area.
At the rear end new original type club dampers will be fitted. Trailing arms are to be replaced with new ones, with larger metalastic bushes at either ends. A full width panhard rod will also replace the highly stressed original half width version.
Removal of the carpets also added to the list of jobs as cracks were noted in the GRP where the lower offside trailing arm bolts through with the rubber doughnuts. Closer inspection reveals a rusting, bonded in metal plate in this area (see photo 1). This has not been added during my ownership, indicating that a repair was carried out pre 1970. I know that the editor found a similar problem on his current phase 1 rebuild, so perhaps Rochdale Motor Panels workmanship in this area wasn't as good as it might be, or indeed needed to be in this highly stressed area!
On the body work side, apart from attending to the usual cracks and crazes, the rear wheel arches, which were cut away to accommodate wide wheels in the early '70's, are to be replaced with the original mouldings. Finally, the roof panel will probably succumb to the jigsaw to accommodate the Webasto sun roof (ex Duffy).
Back to the start and the engine. I have also acquired a Derrington HRG crossflow head for the 'B' series engine. This has the reputation of improving engine cooling as well as giving 20% more mid range torque. I am looking for a easy to drive cruiser, rather than an out and out racer (is that old age or what?).
The problem with this head is that it moves the carburettors to the offside of the engine, where sits the steering column. I was anticipating that the steering might require some modification, so whilst the original engine was still in the car the head was removed and the HRG one temporarily fitted. Sure enough, the jet/choke mechanism of the rear carburettor does foul the column, which is going to need a couple of universal joints to lower it. One problem that I hadn't anticipated, however, was that the dashpot of the front carburettor is awfully close to the underside of the bonnet (see photo 2).
Hopefully, using MGB engine mounts, rather that the original Riley ones will lower the engine sufficiently to give sufficient clearance and avoid a bonnet blister.
To be continued...
- 16 -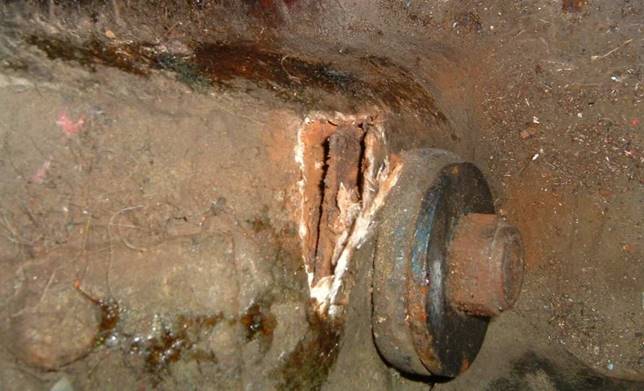 Driver side lower arm mount with reinforcing (?) plate exposed. It's lasted barely 40 years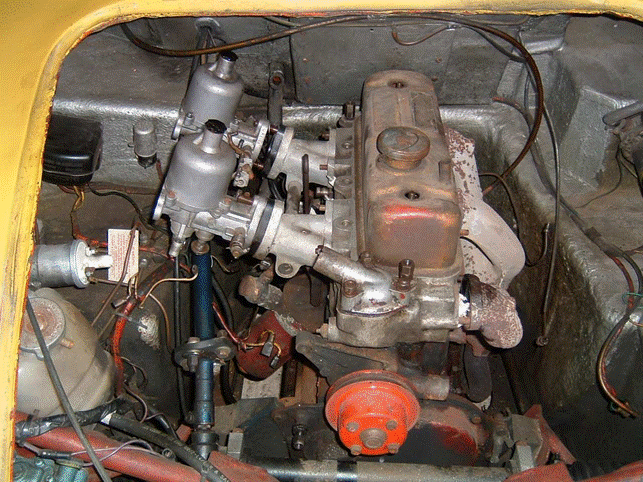 This is what a Derrington HRG crossflow head looks like
The Age of Tyres
Information taken from Bridgestone Tyres website
Aged Tyres- Beware Your Spare
There is some evidence to suggest that aged tyres have an increased likelihood of failure due to exposure to the environment. Ideally tyres should be kept in a cool, dry environment out of direct sunlight and away from electric motors or other sources of ozone. If these conditions are not met a tyre may have an increased chance of failure. It is for this reason that Bridgestone recommend including full size spare tyres in the rotation schedule.
How do I tell the age of a tyre?
All tyres are produced with a serial Tyre Identification Number (or serial TIN) that shows the date of manufacture of a tyre (See Figures 1 & 2 below). The last three digits (for tyres made pre 2000) or four digits (for post 2000 tyres) of the serial TIN indicate the week and year that the tyre was made. For example, Figure 1 below shows a tyre made in the 37th week of 1995 and Figure 2 shows a tyre made in the 12th week of 2004. Also a tyre made in the 1990's can be distinguished from a tyre made in the 1980's due to a triangular indentation after the last number which is not present on 1980's tyres.
<![if !vml]>
<![endif]>
Figure 1: Serial code for 37th week of
1995
<![if !vml]>

<![endif]>
Figure 2: Serial code for 12th week of
2004
How old is too old?
This is a subject of much debate within the tyre industry and no tyre expert can tell exactly how long a tyre will last. However, on the results of experience many tyre companies, including Bridgestone, warrant their tyres against manufacturing and material defects for five years from the date of manufacture. Based on their understanding a number of vehicle manufacturers are now advising against the use of tyres that are more than six years old due to the effects of ageing.
Tyre Ageing Mechanism
There are three main mechanisms of tyre ageing. The first involves rubber becoming more brittle. Sulphur is used to link rubber molecules together during vulcanisation with the application of heat and pressure, giving the rubber its useful elastic properties and strength. As the tyre absorbs energy in the form of light, heat or movement the tyre continues to vulcanise. This ongoing vulcanisation causes the rubber to become stiffer and more brittle.
The second mechanism of tyre ageing is oxidation involving oxygen and ozone from the air compromising the strength and elasticity of the rubber and the integrity of the rubber to steel bond. Basically heat and oxygen cause cross linking between polymer chains (causing the rubber to harden) and scission of polymer chains (leading to reduced elasticity).
Thirdly, breakdown of the rubber to steel-belt bond will occur due to water permeating through a tyre and bonding with the brass plate coating on steel belts. This causes the steel to rubber bond to weaken leading to reduced tyre strength and reduced heat resistance. If compressed air used for inflation is not completely dry, tyre strength will be affected over time. Even unused tyres will become more brittle, weaker and less elastic with exposure to water, air, heat and sunlight.
Warning signs
Regardless of their age tyres should be replaced if they show significant crazing or cracking in the tread grooves or sidewall (Figure 3 & 4) and/or bulging of the tread face or sidewall. All tyres, especially unused spare tyres, should be inspected periodically to determine their suitability for service. If there is any question about a tyre's suitability, please consult your local Bridgestone Tyre Centre expert.
<![if !vml]>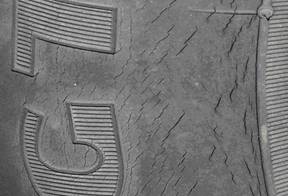 <![endif]>
Figure 3: Sidewall cracking due to environmental exposure to oxygen, heat and sunlight.
<![if !vml]>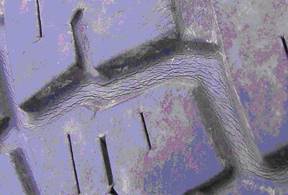 <![endif]>
Figure 4: Tread cracking due to environmental exposure to oxygen, heat and sunlight.
Editors note
Some years ago I fitted some new tyres to the front of my Rochdale but left the old tyres on the rear (not recommended, I should have known better). The first bend taken at moderate speed in the wet resulted in a snap action spin and much rebuilding, so be warned.
Wildcat Equipe - Laon 2009
(A Derek Argyle/Continental Car Tours Production)
Featuring
Paul Johnson and brother Keith in 4.6 Wildcat
Alan Hart and club member David Biscoe in 2.6 Wildcat Derek Argyle & Fred Lodge in 3.9 E-type Special Ian & Mary Wheeler in 1947 MG TC.
Leaving home at 05:20 am does have its advantages even if it is only that there are fewer cars on the M25. By 7 o'clock we pulled into Dover, topped up the fuel tank and found our way to the Norfolk Line ferry. The change to Norfolk Line came about as a result of price increases and a better deal for Continental Car Tours. I am pleased to say that this ferry is an improvement over Sea France and particularly P & O. The Norfolk Line ships interior are stylistically laid out and there is a much more relaxed atmosphere throughout the ship than with other ferry services.
Landing at Dunkirk we decided to take the suggested route to Laon and this proved a pleasant change from driving down the A26 to Laon from Calais though Paul, who came across on the 12 noon ferry found several hold-ups en route due to heavy traffic. We all eventually arrived at the St Vincent hotel, Laon and joined old friends on the terrace in hot early evening sun for a few beers before dinner. Soon, Continental Car Tours boss, Jonothan Bowles rolled up driving a hot A35 that had been prepared by Rae Davis Racing, the people who produce phenomenal amounts of power from these little cars and can be seen taking on the big boys at such places as the Goodwood Revival.
Saturday, as always, is the day of the Regional Tour, a well-organised run that takes participants, using a tulip-style route card, though delightful villages and attractive countryside. In fact, as participants, we are more inclined to follow the car ahead which saves the navigator from having his head down studying paperwork. The 550 cars taking part this year were divided into groups for the morning and afternoon runs but all converge at lunchtime on the beautiful small town of la Fere which has a central square so large that it swallowed up all entrants. By mid-day the sun was extremely hot and we noticed one or two cars with bonnets up at the side of the road as we parked. A welcome two hour break for free refreshments took us back to the second route where we arrived by tea-time at the Hippodrome, which is a pony-trotting grass-track venue. Champagne was offered but our parking position was far away and we decided to get back to the hotel. It was generally felt by many of us that the visit to the Hippodrome was something of an anti-climax because of the extent of car shuffling necessary before we all could join the champagne queue.
As we breakfasted, we could see several participants cars being washed outside and prepared for the Sunday run around the closed streets of the town. Our little lie-in that morning meant that our tardy arrival in town necessitated us to park in front of the railway station and kill time drinking coffee in the nearby cafes while watching the cars go by before taking the POMA 2000 rail car to the upper main square of the town. Being super fit, Paul and his brother Keith climbed the 400 odd steps rather than take the rail car and later came down the same way. It was now time to enter the Town Hall for the welcoming speeches by the Mayor and Event organisers. One of our dear friends, Doug Corley, the 82 year old ex-bank manager from Cheshire was very proud to receive his award for ten consecutive visits to the Laon Festival Historique and next year it will be my turn to receive recognition for ten visits...
Fred and I were following Pauls outrageously powerful Wildcat around the closed streets and it was amusing to see the reaction of the townsfolk particularly in narrow streets when he gave his engine a mighty blip of the throttle several times around the circuit - loud cheers and shouts of Encore. The French really love our sports cars and are sad that there are so many rules and regulations making it very difficult for them to own such vehicles.
Monday morning, again with delightful sunny weather, was time to load -up, and say goodbye to our acquaintances, We stopped for a coffee on the A26 just before St Omer and I was amazed how quickly Ian caught us up in his modestly powered MG TC since we had passed him some time earlier travelling rather faster. It was much too early to check into our pre-booked St Omer hotel so we made our way some miles to the northwest of the town for a visit to the WW2 Blockhaus at Eperleques. This is the place from which the Germans initially delivered the evil V1 and V2's to drop on us in England in 1943.
Before we entered the Museum a small cafe helped satisfy our hunger as we sat down for a snack of frites and tasty merguez sausage on the wooden table-seats close-by. The preserved, relatively small site remains as a reminder of the 670 tons of bombs that were dropped by Lancasters and B17 Fortresses once the release point of the flying bombs and rockets had been discovered by the Allies. Bombs as powerful as the six ton Tallboys made only slight indentations in the roof of much of the Block-House but the Allies knowledge of the otherwise hidden site within the forest was enough for the Germans to move out to other sites..
The roof of the Block-House is said to be 16 feet thick and the whole site was built in record time by the Todt organisation using forced labour.. Part of the rail track still exists with low-loading trucks still holding bags of cement, long since set solid. The ramp used for launching the V1 'doodle-bugs' is still there in good condition and I learned that along its 50 metre length, steam was used to propel the unmanned planes into the air. This was a very interesting place and I recommend anyone wishing to learn more about WW2 to pay a visit. Fred signed the Visitors book before we left and remarked that he had been on the receiving end in the London blitz during the war! Meanwhile to the east, Alan and David were taking in the sights and history of Ypres and Passchendaele.
Our hotel in the centre of St Omer is one that my wife and I had stayed in many years ago but though the food was of a very high standard the prices had risen dramatically. For instance, covered car parking was now &pound9 a night as was the cost of a simple breakfast. After paying the bill it took just 50 minutes to arrive at the Coquelles, Calais, hypermarket where we loaded up with wine, meat and melons and drove east to Dunkirk to catch an earlier ferry home. Ian and Mary were in the queue for the ferry and they told us that as they had arrived at their Dunkirk hotel the previous evening, a woman intervened and warned them not to stay at that hotel suggesting that the hotel next door but one was much better and only a little more expensive. Sounds as if she had had a bad experience.
It had been a very good Laon Festival this year with such superb weather, the attractive regional tour, meeting with old friends and the fact that none of our cars had given any trouble. What did Henry Hall used to sign off with? Here's to the next time.
Derek Argyle
EARLY ROCHDALES
James Farrington
You wait for a bus for 30 minutes and then 10 come at once; this has been the same on the Early Rochdale news over the past few months! After putting a little bit in last months magazine about PMA 134, the MKII Alloy bodied Rochdale, it inspired me to look a little deeper into these rare cars. Only 3 are known to exist and one of these is in America. I made it my quest to get in touch with one of these MK II owners and it is this American MKII owner that I have managed to track down and get a bit more information on. Filling this section of the magazine is quite a fulfilling task and trying to not overpopulate it with the usual amount of GT's on Ebay and vary the contents is my intention. I'll try and get through a few Rochdale marques this quarter for a bit of variety, also to help expand your Rochdale knowledge, I hope Alan has the space in the magazine. Lots to do and so few pages!
Let's start with the earliest bodies that Rochdale produced
American MK II
So, following the article in last months ROC magazine about PMA 134, the alloy Bodied Rochdale racer, I decided to dig deeper into the past of these cars and the whereabouts of the ones that are still known to the club. It is estimated that 16 Alloy bodies were produced by Rochdale Motor Panels and of which 4 survive, 3 of these being the Mk II variety. Trying to trace these owners was always going to be tricky but luckily for me, there was an entry on the ROC guestbook from a Tim McCoy that was left in the year 2000; it says Own Austin 7 Special with Rochdale aluminium body. Licence Number "UA 4978" Looking for information about this car. Not surprisingly the email address for Tim was no longer registered and so a search around the internet began. Luckily I came up trumps with a name and area that was roughly the same and sent an email.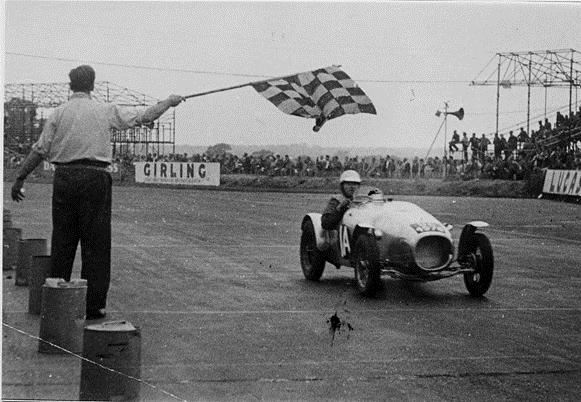 UA 4978 in action
The reply I got was brilliant, a few words, but just what I wanted to hear! It said:
Hello James, Yes, I own the car you mentioned, what can I do to help, Best regards, Tim
Now, UA 4978 was Denys Wolstenholmes car. Denys used to do all the race prep for Sports Motors Manchester. Denys was also closely associated with Rochdale Motor Panels and was responsible for the ex Alan Brown Mark II Bristol Barb modifications with a Rochdale F type body. That was road registered LBU 349 and the story of its life is told in a book called Cooper cars by Doug Nye. Quite an interesting read, but I digress! UA 4978 was used in the Rochdale Motor Panels advert for the Mark II; it was an Austin 7 based car with quite a bit of history
Malcolm Mckay writes:
UA 4978 was one of the team of three that allegedly won the 750MC Seven Hour Relay, c1952 - though I'm not sure I've ever been able to confirm that claim! Denys was still alive a few years ago, though I've not heard mention recently and suspect he may have passed away. I have four photos of the car, counting the one which was used in Rochdale's ad for the MkII
I write to the Owner:
I spoke to our Early Rochdales Registrar and he has sent me 3 photo's and a little information about your car for your information. I'm sure you'll probably already have these pictures but you never know? If you need anything else looking into over here I am more than willing to look a bit deeper into the history for you. Rochdales are getting rarer and rarer now and it is good to try and keep track of them. I have only been the secretary of the Rochdale Owners club for a few months now but I am really trying to make a concerted effort to keep contact details of the owners we know about up to date. In our quarterly magazine I help write the articles about early Rochdales. Usually I have to populate it with the Rochdale GT as that was the most popular Rochdale produced, but it would be good to write a little something about your car for something a little different!
Tim McCoys reply to this gives us an insight into the history of this car:
Although, if I remember correctly, I have given this information before, I'll let you know everything that I've been told about the car, here in California.
My wife had an uncle by marriage, he grew up in San Carlos, California. He is old enough to have been in the U.S. Army, in the Pacific, right at the close of WW2. He had a close friend, from school days who joined the U.S. Air Force and was based in England, in the late '40s and early '50s. Both Bill, my wifes uncle, and his friend David were very interested in cars and motorsports of all kinds. Bill raced motorcycles in the '40s and '50s, owning such bikes as AJS, Matchless, BSA, Ariel, and others of that ilk. He still has a modest collection of his old motos.
David was interested in race cars; in the days before road racing came to the U.S. he drove circle track cars such as midgets. While stationed in England, he got a taste for road racing, and went to many early races. How and why he purchased UA 4978 I do not know. It was rumoured that he also purchased an early F-3, possibly a Cooper.
David returned to the U.S. after his hitch in the air force, and eventually left the San Carlos area for Redding, California which is a good 240 miles away. He had done sheet metal work as a mechanic in the air force, and opened a sheet metal shop in Redding. He apparently continued to race cars, specifically midgets.
It does not seem he did anything with the Mk.2, and at some time in its life he removed the engine, front suspension, and wheels; why no one seems to know. It must be recognized that David was a bit of an odd duck, an eccentric to a fault, so some things he did, do not bear close scrutiny. I sometimes thought he wasn't sure why he did things himself. I talked to his children and they remember the car in the shop, as they would get in it and push each other around the shop; at that point the car was complete.
Apparently sometime after removing the above parts, he got the idea to put a 750cc Crosley engine in the car and race it, but although he accumulated a number of engines, he never did anything about it. It would have been an interesting idea as the engine is very light, and speed parts were readily available. Here in the U.S. there are a number of these cars still running in vintage/historic races.
Where I come into the story is when David died. His wife asked Bill to help her inventory and sell off items from Davids estate. David had been an avid hobbyist, and had done model engineering, auto racing, amateur radio, and model railroading. Bill asked if I would help him sort through the material. He also mentioned that there as a little car I might be interested in purchasing. David had long since retired and had moved to a town 100 miles further away.
While helping Bill, I found the Mk.2 outside against a fence. The body was sitting on the ground, and had obviously been there for some time. There were some storage sheds on the property, with material piled in them to the roof. I found a few small parts, and a whole gaggle of Crosley engines, and parts. I made arrangements with Davids widow to purchase the car.
The Mk.2 was picked up and brought back to San Carlos, and was put into storage at a friend's, John Streets, company. John had come from England many years ago, and had been a long time member of the 750 M/C. He had a late model long wheelbase Austin 7 which he had thought he was going to use for some project. We had arranged that I would buy it, and use it to help replace or rebuild missing parts. Unfortunately, I was engaged in a couple of other projects, as well as employment, and the Mk.2 went on the back burner. As a consequence, John sold the Austin 7 to someone else, and I lost a ready source of parts; my own fault though. So now the Rochdale sits again waiting for other projects to be completed.
The car needs the whole front suspension, brakes, and the chassis portion with the suspension mount; which was cut away when the suspension was removed. I need an engine and wheels too. With those parts, I could at least assemble the car to the point where it would be a static display. Obviously to get it running again, it would require a total rebuilding of the chassis and running gear. The body has dents from poor storage, and a case of vandalism, but it is readily repaired. It is also missing the front motorcycle fenders, but they can be had relatively easy. For me though it is virtually impossible to find Austin 7 parts here in the U.S. There are A7 collectors cars, but I don't know of any parts cars that could be used as a donor
My goal is to restore the car. If I run the car in vintage racing, I would probably change engines, as there is no local source for any spares. I would probably upgrade some items such as brakes also, but do nothing that would not allow for the car to revert to original.
Right now in the queue is my '62 Lotus Elite (in need of paint), '63 Lotus Elan (in the process of a total rebuilding), '66 Dodge Dart (waiting to reinstall the engine), and a Merlyn Mk4a (also waiting for parts before rebuild). I may move the Mk.2 up the list if I can find parts. I have looked on eBay, and every now and then find parts that would work, but most of the people selling won't ship to California, as it is too costly and too much trouble.
What I'd like to find is a complete front suspension with enough parts and in a reasonable condition that could be used as the basis for a period racing suspension. And 4 A7 hubs which can be used as the basis to wire up a set of 15" wheels. Rims and wires are available here, but the A7 hub is not. With that I could turn the car into a rolling chassis, which would go a long way to complete the car.
That is about all I have right now. I do have some 35mm slides of the car as found, which I will scan as soon as I find where they are stored. After the scan, I'll send you a copy.
Thank you very much for the photos. I had a copy of the advert, but not the other two photos.
If you could give me any information on the other existing cars it would be greatly appreciated. Do you think the owners would be willing to part with technical intelligence?
You may use any of the information that I have for an article or whatever. I'm sorry there is not more. Bill lives some distance away from me, and I do not get up to see him very often. Unfortunately, he does not have e-mail. I will write him a note to see if he has any other information about the Mk.2; he might remember something as he and his friend David were very close. If I can get other information or material, I will forward it on to you.
Malcolm McKay writes:
That's terrific!! I've never seen this info before, if he did send it, it must have got lost in transmission somewhere. Well done for making the contact.
Austin Seven Special parts are available over here and not stupidly expensive - if he is serious and if you want to get involved, I am sure you could track down everything he needs without too much trouble, crate it up and ship it to California. It's a bit of a hassle but not impossible! Otherwise we could probably find an Austin Seven specialist happy to sort it all out for him, albeit for a bit more money. It's still going to be a lot cheaper than Lotus bits, anyway...
I'm sorry I don't have up-to-date contact info for the other two Mk2 owners; I know Alan had a letter from John Hunt, owner of Sacre Bleu, in 2007, but from what I recall the origins of that car are clouded in mystery... Try Alan anyway, he may have some contact details! (See Sacre Bleu article below)
I write to Tim:
Thanks so much for your reply, it's fantastic to look into the history of these cars and also imperative for the history to be recorded for the future! Would you mind if I put a copy of your email into the club magazine? I sent the email you sent to me to our Early Rochdale Registrar whose reply is below. I echo his feelings and if you would like me to look into the possibility of getting the spares together here in the UK and pricing up the cost for shipping I'd be more than happy to do that. I am trying to find out some recent contact details for the owners of the other MkII Rochdales as I'm sure they would also like to hear from you about the technical aspect of these cars.
Tim Writes:
Here are photos and slides that I took when I first saw the car. I took a close-up of the license, which might be a help in verifying the car. I also took a shot of the instrument panel to show the Rochdale plate. They did not seem to "serial number" the body, but it confirms it was built by them. I am going to send a letter off to Bill Dungan, to see if he can add anything to the story of his friend, and maybe find out why he purchased the car, and any other history. Bill is quite old and has had numerous illnesses that have put him in and out of the hospital, so I hope he is well enough to answer the questions.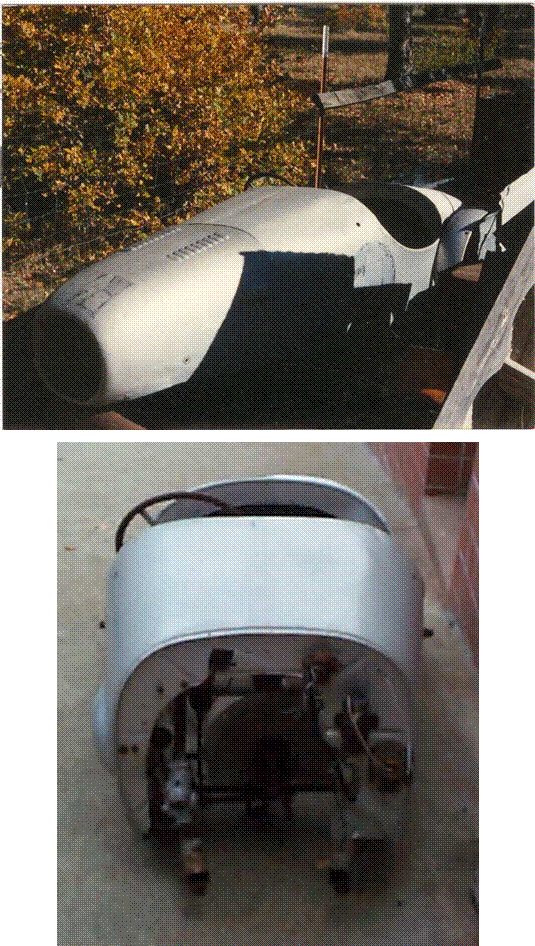 Malcolm writes: This is absolutely terrific! I reckon this has to be by far the best-preserved MkII in existence - its originality is exceptional and there is no doubt of its authenticity.
I'm astonished that Rochdale put a maker's plate on it, and if I'd seen that on another shell, I would have said it had been added more recently. But given this one's history, it seems likely that it really has been there from new. I would guess that either Frank Butterworth or Denis Wolstenholme himself fitted it, as they were both quite commercially-minded and would have seen the benefit in a bit of free advertising... Denys was linked to RMP, I am not sure exactly how closely but I suspect in a sort of marketing role which was probably not formal but a means of getting 'mates rates' on parts and labour...!
Hopefully we will get a second instalment from Bill Dungan about the history of this car. After all these are the foundations of Rochdale Motor Panels and information like this is imperative for the Rochdale Archives
Sacre Bleu is another Rochdale alloy bodied MkII that is known to the register; whilst trying to trace the last known owner of this car I was informed that this had recently sold by Bonhams auctioneers at this years Goodwood festival of speed. I wish I had known about it earlier so I might have cashed in my wifes life insurance to buy it (if my wifes reading this I don't mean it, love you)! This car has had a very varied history and short ownership over the last few years; I wonder what the new owner has planned for it. The car looks fantastic and the rebuild looks second to none. The price it fetched at auction was &pound10,400 after auction fees. The following extract is from the advertising notes that went with the cars auction literature, an interesting read.
A familiar sight at Formula 750 meetings in the late 1950s, Sacre Bleu was built and raced successfully by the Toft brothers, Roger and Brian, who constructed this unique car using a 1936 Austin Seven Ruby as the basis. The Ruby had been damaged in a fire and was purchased in 1952 from its vicar owner for &pound10. At this stage the Tofts intention was to construct a small sports car for road use and with this in mind the old saloon coachwork was replaced with a professionally constructed Rochdale aluminium twoseater body. The chassis was lowered 4" by modifying the road springs and front axle, and the steering column angled downwards to make a lower seating position possible. Lightweight wheels with offset rims replaced the stock items at the rear, while the engine underwent mild tuning. Three months later, having spent &pound150, the Tofts had a nimble road-going sports car capable of 75mph, which they used for rallies, driving tests and everyday transportation, including a holiday in the West Country.
In 1956 the brothers decided to tackle Formula 750 racing and Sacre Bleu was taken off the road for conversion to competition specification. This involved stiffening the chassis, fitting telescopic dampers and lightweight front wheels, and tuning the engine still further by means of a Nippy high-lift camshaft, special high-compression cylinder head, twin carburettors and a four-branch exhaust manifold. Further development was undertaken over the next six years, including the installation of close-ratio gears, modifying the valve gear and carburetion, dynamically balancing the crankshaft and fitting a largecapacity aluminium sump.
The car was usually driven by Brian Toft as part of the CAT Racing Team alongside Joe Anzianis sister car, Sans Egal. Sacre Bleu took part in the annual Birkett Six-Hour Relay Race at Silverstone in the early 1960s and also raced at Aintree, Mallory Park, Oulton Park and Snetterton before being sold in 1962. Crashed at Oulton Park by its next owner, Frank Taylor, the car ended up abandoned in an orchard, remaining there until 1993 when it was rediscovered by Warrington Motor Auctions Keith Robinson. Exhumed and offered for sale, it was purchased by Tony Lindsay, of Blackpool and faithfully restored to as raced specification at considerable expense, much of the work being carried out by Austineers in Bradford-on-Avon, Wiltshire.
Completed in 1995, Sacre Bleu enjoyed several further owners before being purchased in 2003 by John Hunt, of Northamptonshire, who campaigned the car in historic racing over the succeeding four years.
Having acquired a Lotus Seven, he sold Sacre Bleu in September 2007 to the current vendor, Simon Toft, son of Roger, who had tracked down the car built by his father and uncle some 50-or-so years previously.
Finished in its correct racing livery of Oxford Blue, this historic Formula 750 racing car is presented in generally good condition and offered with FIVA papers, sundry restoration invoices, current MoT/road fund licence, Swansea V5 and assorted press cuttings concerning its history.
<![if !vml]>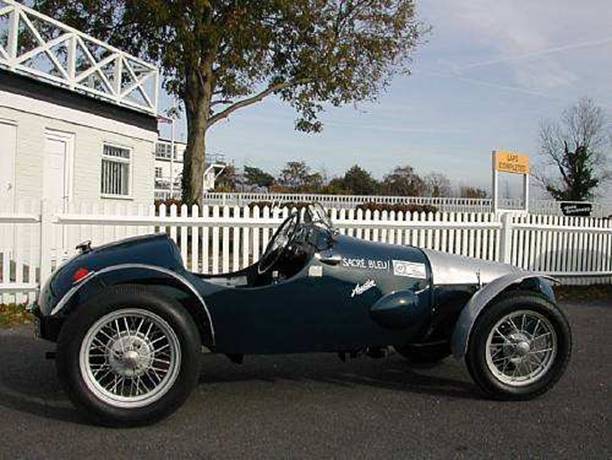 <![endif]>
.
Left hand drive Greek GT
Whilst surfing the net this month I came across an advert for a Rochdale GT. Not that unusual to discover a GT for sale on the net but this one came with a twist, it was left hand drive and located in Greece and not the sort that covers your engine!
I emailed Malcolm to see if this car was known to the register, and Malcolm replies:
Again, this may be a known car; I have a feeling there was a GT or Olympic sold on eBay to Greece quite recently, wasn't there? If it's that one, they've worked fast. I wonder what chassis they've used, or if they've actually converted it from RHD to LHD using the existing chassis... That looks like a live rear axle, wider track than the original. Very interesting, KPH instruments too - it's been quite well done. Big price, but how many other LHD GTs are there? None at all that I know of. Of course it is just possible that the car has been in Greece from new, but I doubt it - my money would be on it being a relatively recent export that may well be on the Register with its original identity. I hope you get a response from the vendor - I did study Ancient Greek to A-level but don't remember a word of it and it's not much help with Modern Greek anyway, I believe...
I emailed the vendor to find out more about the history of this car and to discover if it was known to the Rochdale register; luckily this Greek has a particularly English name and the language that comes with it!
He replies:
Dear James, thanks for your interest in my car. I guess it had to be you to reply first to my advert and that is an honour for me. From what I know the car arrived in Greece in the early 80's and a guy named Stelios Vartholomeos brought it in. For many years it's been locked at his garage until 1990, this is when a friend of mine named Nick Papakostas bought it. He did extensive work on the car and changed the steering wheel from R.H.D to left (not an easy job). Last year I exchanged a very rare Fiat OSI 1200S Cabrio for that precise car. A new reconditioned 1500cc engine was already fitted on so the car has become fast and furious. I improved all the rest and did a total new rewiring of the car. The only thing I didn't do was to respray the GT because I wanted to preserve its original status which isn't bad for a 1957 model. I'm still chasing Stelios for the customs papers; he promised that I'll get them as soon as he is back from vacation. I and Nick have many more classics. Keep up the great work and the annual gatherings at the club. I have collected a massive amount of information from the owners club website. I believe that within a month I'll have the documents of the GT, I also need them urgently. I'll inform you straight away, the price of the GT is negotiable if there is serious interest, all the best.
Malcolm comments:
Blimey. I love GTs but I'd rather have the OSI Fiat 1200S Cabrio.... Does that mean I'll be excommunicated?!!
Hopefully we will get the original registration of this car from the import papers and get to the bottom of the history involved with this particular car. It is possibly the only left hand drive version around, definitely the only one we know about! Maybe we shall have more info in the next ROC mag.
[Aren't they Spitfire MkIV wheels, and isn't there a bit of positive camber on those rear wheels? If so it would suggest that it's been built onto a Spitfire chassis, complete with1500 engine (see picture over page). More investigation is required! Alan Farrer]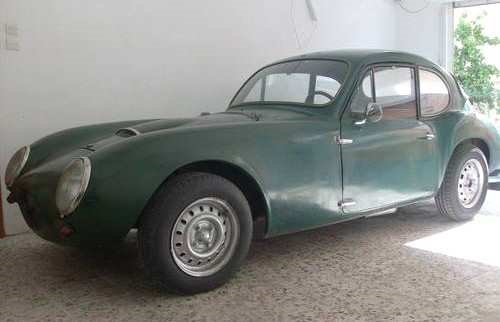 LHD GT in Greece
Down Your Way article
As the secretary of the ROC my email inbox gets filled with dodgy requests and offers of all kinds but occasionally I get a piece of info that is great to follow up. This particular email came from a magazine called Down Your Way.
The Editor writes:
One of the readers has sent in an article for the nostalgic Yorkshire magazine Down Your Way on using a Rochdale body shell and a Ford 10 to build a car back in the 1960s (article attached). Have you an image I could use to accompany the article please? Will be happy to publish any credits you require.
I really like this little snippet into the past of a Rochdale Owner, not least because it is a new car that was not previously known to the register but because it gives an insight into the different facilities available by the home mechanic at the time.
Ford Special R E Watkins, Leatherhead
The article about the Ford Beast brought to mind the Ford Special that I constructed in 1960 with my friend Alan Jackson.
The car was constructed in a 16' x 8' timber and asbestos garage, bought from Grimston Garages of Queensbury and erected in a field at Clayton, Bradford. There was no electricity for power or light, just a paraffin Tilley lamp. We started with a 1939 Ford 10 bought from a garage, still there today in a different form, on the road from Queensbury to Halifax, broke it up and retained the engine, gearbox and axles, timber floor panels and wheels. Next was the purchase of a new chassis, so the finished car could be registered with a 1960 plate (UKU 169) for &pound29 from a specialist shop just over North Bridge, Halifax, refitting the retained parts with some changes and converting the brakes from the old rod system to hydraulic.
Then I bought a Rochdale fibreglass body shell from the same specialist shop at a cost of &pound140 (selling my BSA motorbike to pay for it and using buses). This shell was then fitted to the new chassis with a new wiring loom, seats which we constructed ourselves, headlamps (from a VW beetle to suit the body shell) and all the other lights, wipers, etc. The final car was likened to a Christmas tree with chromiumplated badge bar and horns together with five spot/fog lamps at the front and one at the rear as a reversing light (all running on a 6-volt battery!).
As there was no electricity in the garage, all drilling etc., had to be carried out by hand and I remember drilling out the old seized kingpins and bushes in the front axle, using a brace and bit with one or other of us sitting on the brace in an endeavour to help the process. The crown wheel and pinion in the rear axle was changed for a higher ratio, as the body was lighter and a red line was painted on the old speedometer at approximately 22 mph to equate to 30 mph I was assured that this was quite legal - and a remote gear change was fitted, as the old gear change fouled the new body, using a short gear stick rescued from a Rover 10. The finished car had to be inspected by a qualified mechanic and certified as safe before taxing and insuring and I was fortunate that my father worked for L & W Morrell, the building contractors in Low Moor who employed their own mechanics.
I travelled all over the UK in the finished car from Aberdeen and the Western Isles in Scotland to Taunton in the South West and only sold it in 1963 when my wife suffered a slipped disc and the plaster cast prevented her getting in and out.
Things that come to mind from the three years using the car include:
a) The bonnet blowing up and blocking the screen, snapping the hinges (replaced with Standard 10 hinges from Farnells on Manningham Lane.
b) Losing the charge from the dynamo on a trip to Louth and using the handbrake not the footbrake to stop the brake lights illuminating.
c) The horn blowing in the main street in Aberdeen, whilst in a hotel and somebody pulling out the wires to stop it.
d) Water coming up from the road between the fibreglass body and the wood floor panels on the initial run to Scotland. Solved with absorbent farm feed bags!
e) Changing the engine by the two of us on each side of the car lifting it out no block and tackle!
f) The cable from an additional battery in the back of the car (to increase electrical capacity) chafing against the chassis when the grommet became loose, catching fire, deploying the fire extinguisher, disconnecting the rear battery and continuing my journey to Glasgow!
Unfortunately, no photographs of the car remain but happy days!
Malcolm McKay writes:
He must have bought the chassis and bodyshell from Halifax Panel Beating (Akroyd Place, Halifax) who were one of the biggest retailers of special bodies, chassis and equipment.
The photo below is one of the ones attached to the article; these GT shells waiting patiently for a new owner outside the factory, you can clearly see the legs that were bonded into the shell to allow the shell to be supported.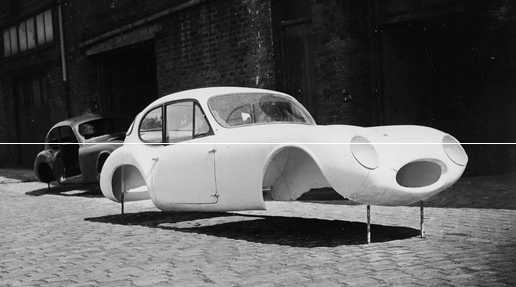 Another new GT for the register
With over 1500 estimated Rochdale GT's produced it is a wonder why we do not know of more than we do. There is however a steady trickle of new GT's coming to light each month and the number of shells known to the club is increasing. This next discovery all started with an entry on the ROCs website, it read: Recently purchased a GT and information wanted on a wiring loom. Time for my fingers to acquaint themselves with my keyboard again!
I write:
Which Rochdale GT did you buy; it wasn't HJX 556 by any chance? That's the only one I've seen sold recently and we do have some history on it but not much. I'm just waiting for an answer as to where we can get wiring looms from for GT's, I am more a Rochdale Olympic man so, I have to send GT questions off to the Early Rochdale Registrar who is the font of knowledge for all things GT
Daryn writes:
Hi James, I believe the registration of my GT is 260 ABO (no plates just old tax disc) apart from the wiring and paint it's in good condition, I have found that the steering is very stiff, is this due to the rack angle of the steering column?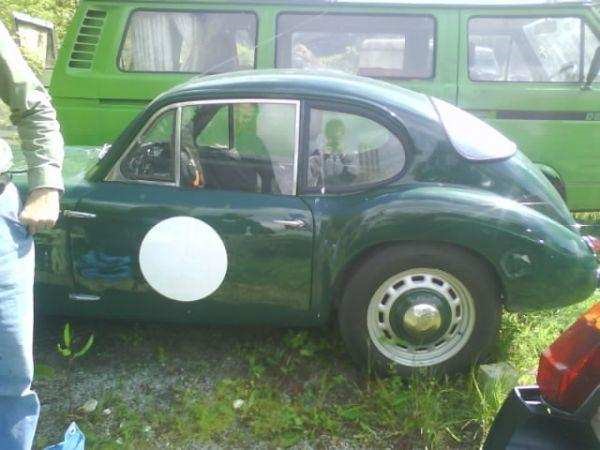 Malcolm McKay writes:
Great to hear about your GT - it's always a pleasure to add a 'new' car to the Register.
I'm happy to help with any questions you have, and would be grateful for some more details too.
I see the registration was issued in Cardiff in November 1961, so this must be quite a late GT and/or the builder took a long time to complete it, as no more GTs were sold after the factory burnt down in February 1961.
That's probably a good sign, because if they took their time building it, they probably did a good job! The fact that it was issued with a new registration, rather than keeping the registration of the donor car, is also good because it almost certainly had a new chassis and many other new parts - though after 48 years they're entitled to be worn out by now of course...
It would be great if you could let us have some photos, of the whole car and also interior, engine bay and suspension, so we can see exactly what parts have been used and then help with your questions.
The question of the heavy steering will depend on what parts have been used - you are right that the steering column was lowered for the GT body - a wedge should be inserted on the steering box mountings to the chassis and the drop arm should have been bent so that it lined up correctly with the track rod. There were also special suspensions available, several different types of independent front suspension, that each had their own requirements. The steering will feel heavy when the car is stationary even if everything is correct, but you will find that as soon as the car is moving it will feel much lighter. A smaller steering wheel makes it heavier too. If the car's not been used for a long time, topping up the steering box with EP90 oil (or if you find it leaks out, EP180 or even semi-fluid grease) will also work wonders, as will greasing the kingpins and track rod ends, as the kingpin bushes may have seized up. Try jacking the front axle off the ground and turning the steering by pulling on the wheels themselves as this may show you if something is seized.
There is no wiring loom for the GT as each car was built to the individual builder's specifications. When I restored my first GT, it came with no wiring at all, so I bought a few big rolls of wire, used a Triumph Herald wiring diagram for inspiration and set to work connecting everything together, drawing a wiring diagram as I went, then bound up the loom with tape when I'd finished. That worked for me, but other people have found it easier to get a wiring loom from a similar car (early MG Midget or Frogeye Sprite perhaps, or Morris Minor or Triumph Herald) and adapt that to fit. The only trouble with doing that is that there will inevitably be some wires you will have to extend. I don't think there's much point in buying a Rochdale Olympic loom as there's not that much similarity between the cars - Morris Minor is probably the best bet, as Minor parts are mostly incredibly cheap so I'm guessing it'll be cheaper than anything else! Also Minors up to 1962 used the same rear lights as the GT so at least some of the wiring will follow the same pattern (they had a special relay - which is still available - that allowed the brake lights to flash as indicators - though if your car has had separate rear indicators fitted you can go for a later Minor loom).
Daryn writes: Thank you for the information about the loom. I have a old Ford 100E loom I should be able to do something with, I hope! As soon as I get a digital cam I will send a set of photos to the club site, I think my GT is an early one, I was told it was 1957 and it's not put together very well! From what I can tell (door tops not fitted right making the doors too short and wood screws holding the body to the chassis). Unfortunately I have to try to reclaim the original reg as all I got to id the car was a old tax disc. I would be interested in finding out how many GT's there are left in the world as I think they are a lovely car even though I had never heard of them until I found mine advertised at a local classic car show!
Malcolm writes: Yes the 100E loom should be as good as any - I hope the colours are still visible as you'll really struggle if you can't recognise each end of the same wire where it comes out of the loom!
Strange that the door tops are wrong - they are Morris Minor door tops, by the way, and if they're rusty it's worth looking out for door tops from a Morris Minor Traveller as they're stainless steel and look really nice. They should bolt in place on the top of the door moulding so there's not really any leeway for them to be too short, unless someone's done something very odd with them - though nothing would surprise me! Look after that old tax disc, because it should be enough to persuade DVLA to reallocate the registration number - especially if there's a nice old set of number plates on the car to match it. What does it say for 'Make' on the tax disc, and when was it last taxed? Some GTs were registered as Fords, some as Rochdales and some as whatever name the builder thought up! It's also well worth tracking down and contacting any known previous owners in case they've got any old log book, MOTs or whatever kicking around...
I'm guessing it's on the Ford Pop chassis? (most were, but not all). Is it the 100E engine or the E93A or something else?
Daryn writes: I have no number plates at all for it but the tax disc says Ford and was Feb 68, I think it has a 100E engine but it was put in by the previous owner saying it is more reliable than the original, work wise I have to respray it as the paint has blisters all over, wiring needs doing, it jumps out of 2nd gear and I will need a new rear windscreen as mine has gone frosted. I also have various Riley 1.5 mechanical parts (complete engine and gearbox and more) what I believe fits the Olympic I would be interested in maybe exchanging for any parts I may need in the future.
Malcolm writes: Your GT looks pretty good - much better than how most of them turn up! The lights have been changed too, so if you're repainting anyway it might be worth swapping to the correct rear lights, which were the ones fitted to early Morris Minors, MGAs etc - Lucas L549. They're readily available see http://www.holden.co.uk/
The tax disc should be enough I hope - certainly worth a try to get the original number reallocated. 260 ABO is not on the DVLA computer under Ford so it will be a case of applying through the approval scheme, probably when you're a bit further down the line with the rebuild.
The rear window is no problem, the club has new ones in stock (they're quite cheap but you do have to cut it down slightly to fit).
The gearbox will be Ford Pop - if you can find a good second hand one it may be easiest to do a straight swap, but don't throw the old one away without checking the gear ratios. In the 1950s/60s you could get special close ratio gear clusters for the gearbox and quite a few Rochdales had them - they do make it nicer to drive and they're very expensive to buy now. Well worth rebuilding the gearbox if it has them (may just need selectors anyway).
From what you say it's very likely the engine is a 100E - the easiest way to tell is that the 100E engine has a water pump built into it at the top of the block, whereas the E93A has no water pump (you could get one as an accessory, but it's a separate unit that bolts on beside the engine).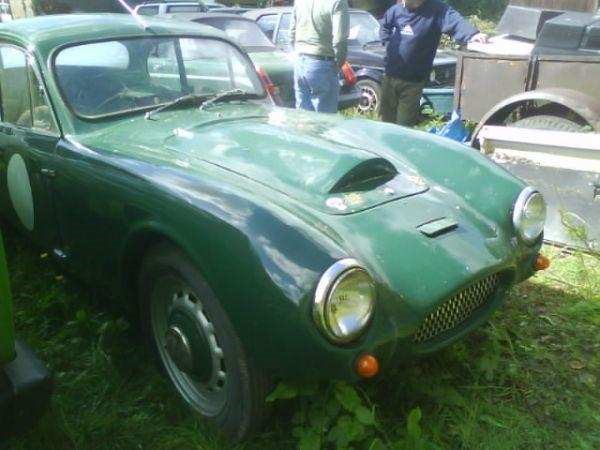 Daryn writes: Could you please tell me where I would find the chassis VIN plate on my GT as I can't find it!
Malcolm writes: VIN plate - well, you're unlikely to find one of those (!), but you might just find a chassis number on the top surface of the main chassis leg on the nearside, around where the steering box is mounted on the other side. No promises though - they didn't all have it. If you can track down any previous owners who might have the log book that would be a great help... Otherwise you'll have to make up a chassis number and stamp that on a plate - I think the club has some suitable ones - and mount it on the car. Using the engine number as the chassis number was normal for Ford in the 1950s, so you could just use that...
Good luck with the rebuild - looks like it'll be a nice car when it's done...
F Type update
Peter Morley has been in touch about the progress on his F Type bodied, Elva Mark I racing car. Before you read his current progress let's delve a little bit into the history of his F type!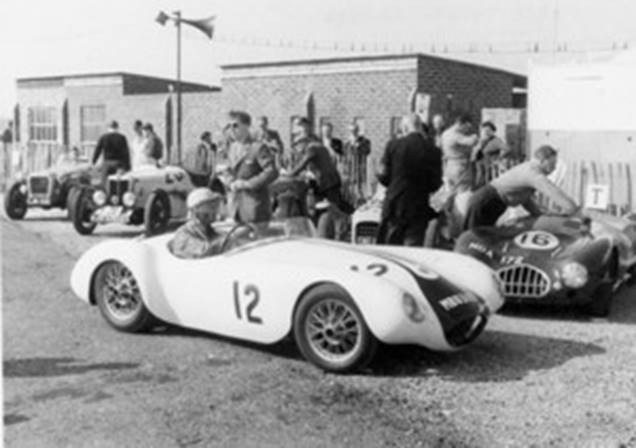 In 1955 Alex McMillan raced a Cooper Bristol F2 car, widened and fitted with a Rochdale F-type body, known as the Bristol Barb, registered LBU 349. This was probably the best known F type on a converted Mark II Cooper Bristol, until it was written off in 1956. At the end of the 1955 season though McMillan bought an Elva Mark 1, registered MBU 309 and again a Rochdale F-type body shell was fitted (again with the white & black colour scheme), but unlike the previous car, this was fitted with wire wheels, headlights, full width screen and a Climax FWA 1098cc engine. MBU 309 is Peter Morleys car.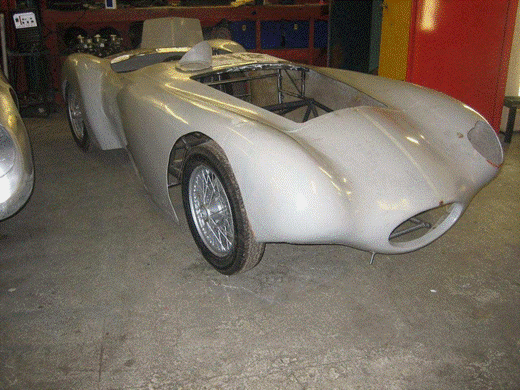 Peter writes:
Still getting sorted after returning from the UK, but here are some photos of the F-type body on the Elva. It's a shame they'd started on fitting the headlight bowls but the main thing is you can see it is coming together. It is a brand new shell - the original was pretty much beyond use (below), water had got in and it was delaminating etc. But we saved most of the original - albeit somewhat patched and re-enforced but it had to be cut to enable the mould to come off it!

My final thoughts:
It is great to see these early cars being resurrected from potential scrapping and even better that with this restored F type bodied Elva that we might be getting one of these rare F types back out on the track again. The visible presence of Rochdale cars is absolutely necessary to promote and advertise the Rochdale name, not just on the track but at the many classic and kit car events that need your support throughout the year. The market for Rochdale cars is strong and continually growing, more and more people are looking for that something different and I think that the Rochdale can offer that special individual project for someone to take on. With around 1500 Rochdale GTs produced it is strange that we only have around 3 or 4 that are known to be roadworthy. A rare beast indeed, so dust of your sanders and start breathing in those resin fumes again! It would be great to see more GTs on the road this year just to show the public what can be done with these cars that are disappearing into history!
OLYMPIC REGISTRAR
PHASE 1 OLYMPIC FRONT SUSPENSION
Although the front suspension of the phase 1 Olympic is based on either the Riley 1.5, Wolseley 1500 or Morris Minor there are one or two things to consider when fitted to the Olympic that mean following a Haynes manual might not solve all the problems. The ease of strip down will also depend on condition and if things look a little corroded a wire brush and application of penetrating oil in advance on all nuts and bolts would not come amiss.
The most common reasons for wanting to strip down the front suspension will be due to wear either in the threaded trunnions at the top and bottom of the swivel pin or to replace the rubber bushes at the inner end of the lower suspension arm.
The rubber bushes in particular are fairly soft and have a hard life. When I was using my Olympic as a daily driver (up to 20,000 miles per year) replacing these bushes was a regular job before each MOT. If just the rubber bushes need attention then no dismantling of the brakes is required, although the Riley ones in particular are heavy and cumbersome and you might want to get these out of the way before you start. In this case start the dismantling at part 2 of this article.
First job is to jack the car up and remove the appropriate wheel. Make sure the car is securely supported. A ramp with wooden block on top placed under the shell immediately behind the front wheel arch seems to work quite well. Make sure you can still open the door however as you will require access inside the vehicle. If it is only the rubber bushes to be replaced then less dismantling will be required and the brakes can be left in situ. (Subject to the comment above)
First disconnect the steering rack at the track rod end, for which a ball joint remover will be required. It will then be necessary to release the tension on the torsion bar by disconnecting the rear arm/adjuster, located inside the car on the upstand to which the seat is fixed (83,84,85,91).
Next jack up under the outer end of the lower arm, until it is at normal ride height and remove the bolt and bracket attaching the anti-roll bar to the outer end of the lower arm (68,69,70,71,79,80).
Loosen the nut (76) holding the inner eyebolt to the sub-frame, but don't remove it completely at this stage.
Undo the nuts at the inner (66) and outer end (60) of the lower arm and the nut and bolt (72,73). Access to hold the bolt (72) is very restricted and a slim (ie ground down spanner may be required) The front part of the lower arm, the pressed steel bit, (56) can now be removed.
Undo the top fixing to the damper arm (53) and the outer nut at the rear of the lower arm (60) and it should be possible to remove the complete swivel pin assembly with brakes still attached. Be careful not to strain the brake hose.
The lower arm, the forged part, (57) now needs to be separated from the torsion bar. Using a reasonably large hammer at the inner end, knock it rearwards and you should see the cup (63) being exposed. It is unlikely however that it will be completely free as the rearward movement of the arm will be restricted by the sub-frame. Place a large penny washer on the front of the pin (64) and tighten the nut. This should compress the rubber bushes (65). Undo and remove the nut (76) holding the eyebolt (62) to the sub-frame and ease it all outwards. With a degree of fiddling (and probably much cursing) it should be possible to twist the eyebolt through 90 degrees, releasing it from the torsion bar and allowing it to be withdrawn. Be careful not to lose any washers between eyebolt and sub-frame, as these control the camber.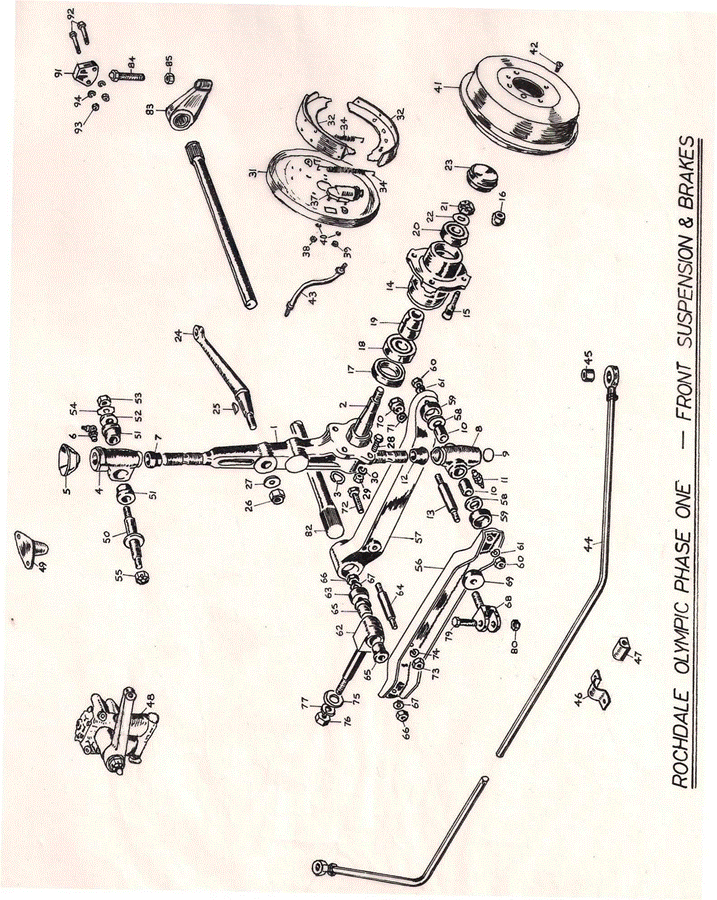 Before replacing the rubber bushes inspect the condition of the pin (64). If the bushes were worn it is likely that the pin is also worn. Replacements are readily available from your local Morris Minor centre. Re-assembly, as they say is a reversal of the above!! Use Copaslip on all nuts and bolts and on the torsion bar splines, to make dismantling easier next time.
Part 2
Should the swivel pin trunnions (4,8) need attention, then more dismantling will be required. It will be necessary to remove the brake drum (41) and the hub. Note: the hub nut (21) is a LH thread on the nearside of the car and RH thread on the offside of the car. The four nuts and bolts holding the brake backplate to the swivel pin can now be removed and the complete brake assembly moved to one side.
Now go back to the beginning of this article and carry out the procedures outlined until the swivel pin can be removed.
Unscrew the trunnions (4,8) (again LH threads on nearside and RH threads on offside) and clean all the threads. If there is excessive free play in the threads then replacements will be necessary. It is possible that just replacing the trunnions with new will cure the problem. These are Morris Minor items and easily obtainable. If there is still excessive play then new or better condition swivel pins will be required. Again MM ones present no problems, but Riley/Wolseley ones are a different story and will need to be sourced from specialists.
Re-assemble with plenty of grease and remember to grease the trunnions at regular intervals during use to prevent having to carry out the work again.
Once again re-assembly is a reversal of the above.
Derek Bentley
Missing pictures - EVH 273L from Richard Schofields piece in mag 117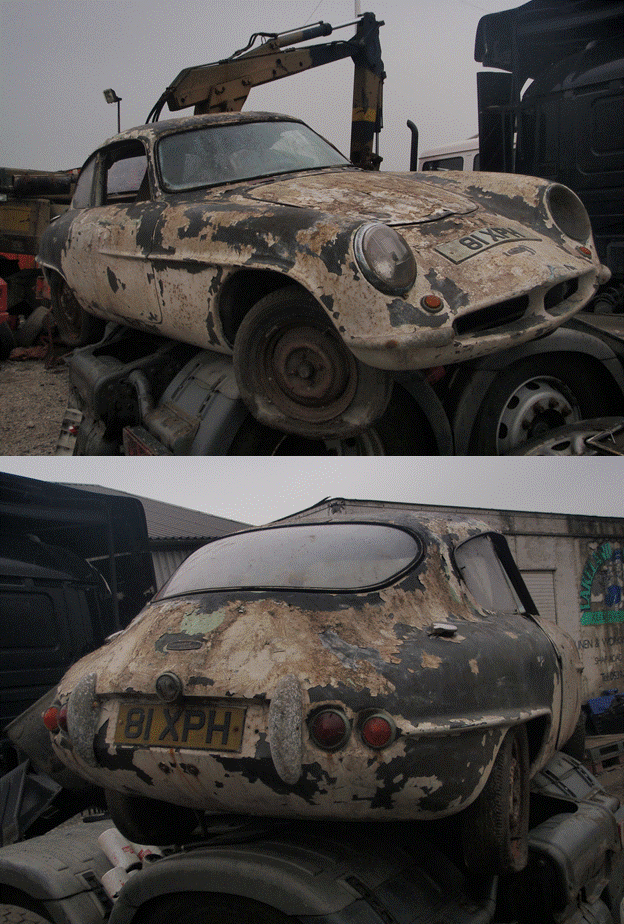 Two more pictures that somehow got omitted: 81 XPH from Derek Bentleys piece in mag 118 - Ed