MAGAZINE 114 SUMMER 2008
Capesthorne Show Following the Clubs withdrawal from organising this show a new organiser came forward, but it is with great sadness that we report that it all ended in tears. The following message was sent to our secretary:
Why did your club give up organising the Cheshire Kit car show? The new organiser, I use the word loosely, has cancelled it at the last minute. His pathetic reason was lack of manufacturer support, which only goes to show he didn't understand a thing about Cheshire Kit car show. Hundreds of people have had their day ruined due to this flybynight charlatan. Please come back and run the show in your own special way.
It is nice to know that this mag is read by at least one of the bodies to whom we send complimentary copies. The FBHVC was suitably impressed by Les Browns article on spraying a car using aerosols: For those of you with the patience and dedication of a monk the article in the Rochdale Owners Club magazine on respraying with aerosols is an invaluable read. The advice and information is of great interest and value to anyone who has the need to use aerosols: www.rochdale-owners-club.co.uk
TONY STANTONS EVENTS PAGE
E-mail tony-stanton@fsmail.net
South Midlands Classic Car/Bike Meet No1
The second Tuesday evening of the month in the Summer, at Britannic Assurance,1 Wythall Green Way, off Middle Lane, Wythall, Birmingham, B47 6WG. (From J3 on the M42 follow A435 north 1-mile turn left at 1st roundabout then mile turn left at mini-roundabout).
Tuesday 10th June, from 7pm.
Tuesday 8th July, from 7pm.
Tuesday 12th August, from 7pm.
Tuesday 9th September, from 7pm.
South Midlands Classic Car/Bike Meet No2
The last Thursday evening of the month in the Summer at The Moat House Inn, Birmingham Road (A435), Kings Coughton, Alcester, Warks, B49 5QF.
Thursday 26th June, from 7pm.
Thursday 31st July, from 7pm.
Thursday 28th August, from 7pm.
Thursday 25th September, from 7pm.
Stoneleigh Kit Car Show 4th & 5th May 2008
A good Bank Holiday event, the weather on Sunday was warm but overcast and Monday started off with heavy rain but by mid-day the sun came out and the afternoon was very warm. Displayed on the stand this year on Sunday were my own Olympic Duffy 902 DUF, Syd Bartrams Olympic PII 966 SJH, Brian Whitbys Olympic P1 291 FLM, James Farrington who brought the Olympic PII EWT 219H he is restoring on a trailer, with Russ Collins as co-driver. Russ is halfway through restoring my old Olympic PII EVH 273L. Paul Hutchings called on the stand to tell us he had just sold his two Olympics PII YTF
426J and PII AAW 840A. John Porter with his 1969 (Dr Who) Siva, Mark Butler who is restoring an Olympic PII JBU 888D brought his concourse Mk III Sprite and two young Ladies who decided my stand was the place to park their Frogeye Sprite replica.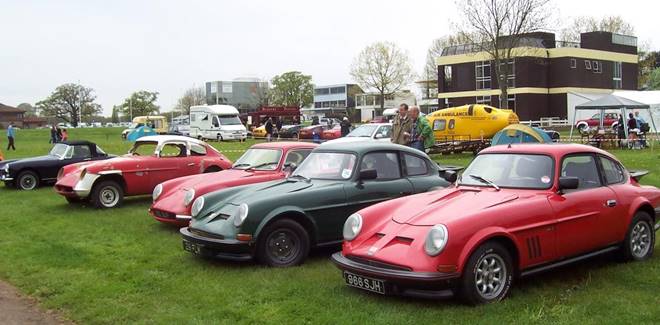 On Monday displayed on the stand were my Olympic Duffy, Tony Wrights Olympic P1 779 CUG, Alan Farrers Olympic PII EKF 818L with Derek Bentley co-driving, Ken Robbins Turner 950S, Gordon
Mayers Turner Mk1, Richard Holdens Fairthorpe, Andy Downes with a nice white Gilbern Invader and Keith Pratts Scimitar GT; Keith is restoring his one owner Olympic PII HTE 726B.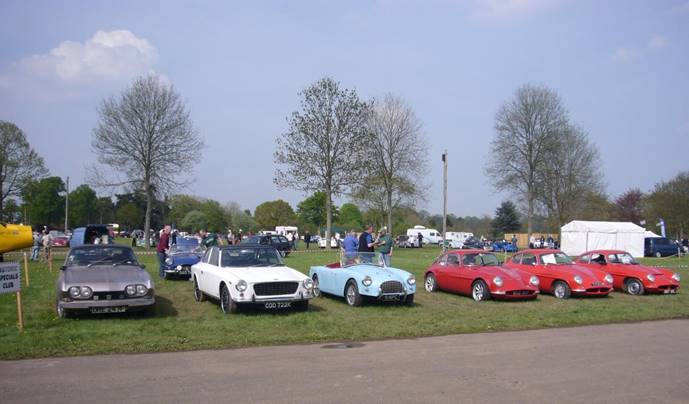 On Monday Robert James, new owner of Olympic P1 590 MTT, called on the stand; it was good to meet you Robert. Derek and I also met Noel Cullen who owned an Olympic P1 109 WPJ from 1968 to 1971 when he lived in Rainham, Kent; the car was Yellow with a Black stripe down the centre of the bonnet and nose.
My thanks to everyone who supported the stand, but it would be nice to see more R.O.C. cars at this event, so with Capesthorne no more why do we not use this event to replace it?
CLASSIC CAR SHOW NEC 14th, 15th and 16th November 2008
I am pleased to inform club members that your clubs application for a stand at this years show has been successful. We are in Hall 4 stand C50. Andy Winston the organiser of the Fairthorpe Sports Car Club stand and I asked the show organisers if we could have our 2 stands side by side; that request was granted and the FSCC have the stand next door. The stand size is 49 by 16 so this should take 4 cars, so has anyone got a reasonably tidy GT, Olympic P1 and an Olympic PII that they would either like or be willing to have it put on show?
Ideas for new and interesting material for the stand and the display boards would be most welcome, the theme for the show will be LAUNCHES not as in boats but as celebrating the original launch of the car, so if anybody has photos and details of the Olympics launch at the Racing Car Show, January 1960 please let me know as it would be nice to recreate the 1960 stand. Also offers of help with stand duty would be appreciated this would include a free admission ticket.
PLEASE contact Tony Stanton on tony-stanton@fsmail.net
ROCHDALE CALENDAR 2009
SAME REQUEST AS 3 MONTHS AGO. There are at least 30 club cars taxed, M.O.T. and on the road. I should have been sent enough photos for 3 years of calendars, but so far only 3 members have sent me photos. I need photos in the next few weeks if we are going to sell calendars at Burford and the NEC. I need 12 new photos, of good resolution around 1Mb and a nice interesting background.
Even if you don't own a computer you must have a child, grandchild, friend or workmate who will scan your photo and e-mail it to me, come on please make the effort.
NO PHOTOS BY THE END OF JUNE - NO CALENDAR
SILVERSTONE CLASSIC on July 25th, 26th & 27th 2008.
In conjunction with the F.S.C.C. we have secured a designated display area within the Historic Grand Prix circuit at this 3-day event, and we are seeking further club marque cars to join us on display during the weekend.
Featuring 22 races, 800+ competitors, and 600 of the most valuable racecars and motorcycles in the world. On top of the mouth-watering line-up of races lasting between 20minuites and 1 hour each, starring the very best single-seater, GT and Touring Cars from the past 80 years, the entire infield will be packed with more than 4000 classic cars showcasing in excess of 50 famous marques. There will also be a period funfair, air displays, trade stalls, live music, barbecues and more than 30 hot air balloons are set to fire up for their traditional morning and evening fly-outs.
To enter your club car in the FSCC/ROC display area please contact Tony Stanton on tony-stanton@fsmail.net and I will issue the club reference number to quote when booking tickets and Marque car passes. More race details at www.silverstone.co.uk/classic
James Farrington Olympic PII EWT 219H has set up a diary of his rebuild on www.rochdaleproject.co.uk well worth a look just to be envious of his workshop and equipment.
ROCHDALE OLYMPIC PAST OWNERS HISTORY
Over the past 3 months I have taken Dereks handwritten copy of past owners of Olympics and produced a computer database which makes it easy to update and cross-reference the information, so now we need more past history on your Olympic.
If you have an old style logbook or any past history, please pass the details no matter how small to Derek or myself - every little bit helps.
When I met Robert James at Stoneleigh he said he had some past history of 590 MTT. He has since sent Derek and me photocopies of the past history of the car. So for the records we now have 4 new past owners of the car including the original owner/builder, Mr Rowcliffe of Silverton Nr Exeter, and matched the car to the Factory Ledger Invioce No 1578 March 1961, thank you Robert.
Noel Cullen also sent me a photo of 109 WPJ at Brands Hatch in 1968, Tony Clough sent me a photo of JEC 605 in 1962, Russ Collins sent me photos of his and my old car EVH 273L in construction and completion in 1974 with a list of past owners including the original owner/builder Richard Scofield of Huddersfield, West Yorks. James Farrington of EWT 219H from the 1980s, Alan Farrer of 779 CUG from 1962, Keith Pratt of HTE 726B from the 1970s and Mark Butler sent me loads of photos of Olympics we had no photos of, to all of you who have sent details, thanks.
A little note to end on: My worst fear is that when I die my wife sells my car for what I told her it cost.
FBHVC NEWS
UK LEGISLATION David Hurley
V765/1 list
DVLA document numbers could probably provide sufficient subject material for a PhD thesis: they can cause the eyes of those not regularly involved with such matters to glaze over almost instantly. V765 is the reference number of the form that is used by those seeking to reclaim registration numbers that were lost in the final stages of computerisation of vehicle records in the early 1980s. For the sake of shorthand, the mechanism for recovering such numbers is referred to as the V765 scheme, and official documents associated solely with the scheme have reference numbers starting V765.
The scheme relies on applicants providing evidence of entitlement to the number and having their application verified by an approved body, usually a specialist club, that is expected to verify that the vehicle is what it claims to be. The bodies that have been approved to countersign these forms are listed on the V765/1 list. There is a mechanism for gaining such approval, and that involves completion of an application form, V765/2. There are also guidance notes, V765/3.
From time to time, DVLA carries out a review of the V765/1 list and is doing so this year. DVLA will be sending new V765/2 forms accompanied by V765/3 notes to bodies that are listed in the current V765/1 shortly. These forms, of course, will go to the address in the current V765/1 list (go to
www.dvla.gov.uk, follow links to forms and then leaflets).
Clubs that do not submit a V765/2 will be dropped, as many were when the list was last revised. The message for V765 clubs is - check that the address on the V765/1 list is correct, and if it isn't, or if your club is not listed at all, advise the FBHVC secretary who will ensure you receive a form.
Registering Historic Vehicles
For those that don't know, the V765 scheme is a mechanism where an owner can get back the right to display the original registration number on the vehicle. If there is insufficient documentary evidence for that, then possibly an age-related number will be issued. There are circumstances where DVLA may allocate a Q plate. Further information is contained in two DVLA information sheets, (V848) How to register your old vehicle, and (INF 26) Guidelines for the registration of rebuilt or radically altered vehicles and kit cars.
I think that some owners may not be aware of these DVLA information sheets, particularly when they have been claiming to have their vehicle registered under its original number. There needs to be a documentary link between that particular vehicle and that particular registration number. Typically this would be an old style logbook, or a certified photocopy of the original vehicle register. These documents are ideal, because they link the chassis number to the registration number. Sometimes these original documents have been destroyed. Alternative documentary evidence could be, for example, a pre1983 tax disc or MoT.
Some owners appear to be under the impression, (or it may be wishful thinking), that if you want to get back the original registration number, all you need is just the original registration plate attached to the vehicle, without any associated contemporary documentation. Not so. In circumstances like this, provided the conditions of the above two information sheets are complied with, you will be allocated an age-related number. As said above, some original vehicle registers still exist, typically in the original local taxation authority archives. A comprehensive list of which records still exists is listed in a book, now unfortunately out of print, called How to Trace the History of Your Car by Philip Riden (second edition 1998). Despite the title, it is equally applicable to commercial vehicles.
Paint
At the time of writing (early 2008), it is not known how DEFRA will react to the recommendation made by the British Coatings Federation, and supported by FBHVC, that vehicle refinishing products such as cellulose should be considered as special finishes. FBHVCs response to the recent consultation on establishing a licensing scheme for the continued sale of non-compliant products (such as cellulose) closed with this support for the BCF position:
We urge that serious consideration is given to the point made by the British Coatings Federation that classifying historic vehicle re-finishing products as special finishes within the meaning of paragraph 2 (e) of Schedule 1 of SI 2005/2773 would obviate the need to implement a licensing scheme for non-compliant products in respect of historic vehicles. We believe such classification can be justified on the basis that the products are designed for use as topcoats in situations where special properties are required, in this instance the special property being to provide the correct appearance for an historic vehicle.
The latest news from DEFRA is that the licensing scheme to allow the continued sale of non-compliant vehicle refinishing products and domestic paints is unlikely to be introduced before mid-summer. Meanwhile, the DEFRA team is taking seriously the proposal that cellulose and non-compliant coach enamel should be classified as special finishes (which would obviate the need for a licensing scheme as far as vehicle paints are concerned) and, at the time of writing, is planning a meeting with experts from the British Coatings Federation to discuss the detail. This is, of course, good news, but it would be unwise to count those chickens just yet as there are many technical and legal hurdles that the DEFRA team have to negotiate.
In closing on this topic, I'd like to pay tribute to the team at DEFRA - whilst being scrupulously correct in following their obligations under the law, they have done everything in their power to support our arguments, first giving strong support to our application (through FIVA) to the European Commission for a derogation to allow the continued sale of non-compliant products for use on historic vehicles, then ensuring that the UK government would give effect to that derogation, and finally supporting our case that the mechanism for activating the derogation should be simple. We hope that their political masters will also recognise the merit of our arguments.
* * * * * * * * * * * * * * * * * * * * * * * * *
Brake Bleeding Methods

I had been suffering from a soft pedal on my Phase 2 from the beginning but, remembering an article in mag 99 page 19 on the different methods that should be used when bleeding Girling and Lockheed brakes, decided to give it a go. The usual way is to press the pedal firmly to the floor then release slowly, then repeat as necessary. This is recommended for Lockheed systems and, with a 3 second pause between actions, for Girling CB cast iron master cylinders.

However, for Girling CV (centre valve) alloy master cylinders, eg as fitted to Triumph Spitfire and Phase 2 Olympics the method recommended is a sort of cha-cha-cha on the pedal, where the pedal is first pushed firmly to the floor followed by three short rapid pedal strokes. The explanation given is that bubbles form around the return spring which are dislodged by the quick action.

Hey presto, less slack and a firmer pedal. It works! I wondered if there might also be an additional effect: in the Olympic the master cylinder is mounted more than a foot above the floor and thus to the pipe to the rear brakes. If a bubble of air in the vertical pipe does not reach the horizontal section in one pedal push and rises to the top before the next push it will never escape, so several pushes in quick succession may drive it down and out in time.

Another way to drive out such a bubble is to use an Eezibleed or similar, where the master cylinder is pressurised and the bleeding is continuous. I intended to use this, but my master cylinder reservoir has a large diameter cap and I lacked the necessary adaptor, so I tried the method above. Alan Farrer
L E T T E R S
Derek,
Just a quick line to let you know what has been happening in the 'chicken shed' with the various Rochdales we are looking after.
My cars: -
Rochdale Olympic phase 1 WFV 812. This one is still with me and according to my son Simon will be till I shuffle off this mortal coil, at which point it will be 'willed' to him. Currently undergoing a minor (yes I know, 8 year) restoration, we now have ready to fit a Rover 'K' series and 5 speed Ford type 9 gearbox, otherwise it is the same car that I was driving around in 10 years ago.
Phase 1 lightweight JJH 20G, we now have all suspension components refurbished, as original, i.e. Lola Rejo front hubs brakes etc. rose jointed rear end. Unfortunately, the Lola / Brabham magnesium wheels are far from saving so we will have to use Minilite pattern alloys.
One interesting bit for this car is the engine / gearbox: in its early days it ran a 997cc Ford 'Cosworth' built formula Junior screamer and Hewland 5 speed gearbox. These went the way of all things race many years ago. I have just come across a Hewland 5 speed gearbox so with a little luck we will be returning the car to its original 1963 specification as it was when John Anstice brown raced it. The hope is to have it ready for the Gold Cup in 2009 when it can celebrate a return to Oulton Park 45 years after competing in that race meeting.
Rochdale Olympic phase 2 WGH 364R. I have the remains of this car which had been very badly damaged, the bulk of the component parts are still with me but the body is beyond saving. One thought which had crossed my mind was to re-mould a shell using one of my cars as a buck, but lack of time and workload has currently put this idea on hold.
Other cars: -
Rochdale Olympic phase 1 AAB 81A. Now fully restored and about to go to its new owner Conrad Cunningham. Largely standard phase 1, running Rover 'K' series and Ford type 9 box, discs all round and Compomotive ML 6" x 14" wheels with 185 tyres under standard arches.
Rochdale Olympic phase 1 TBF 966. This car belongs to Alistair Banks and is currently undergoing a substantial restoration with some modification of running gear and bodywork to cope with a Scholar built 1900cc Lotus Exige 'K' series producing 248BHP at the wheels. This engine is running straight to head throttle bodies and an Emerald fully mapable ECU.
Rochdale Olympic phase 1 PAX 44. This one belongs to Jason Hoffman (my race engineer) and is undergoing a full restoration in preparation for our trip to Nurburgring next year.
Rochdale GT Customer car belonging to Moraigh Butler. This is a GT running on a modified Triumph chassis, the chassis has been restored as standard at the front, the rear having a 5 link system fitted to a live rear axle which has allowed us to reduce the track to fit the GT body properly. It will be running a more modern Ford engine and 4 speed gearbox to make it drivable in modern traffic conditions.
Kind regards,
Keith Hamer
PS Reading through the last mag I noticed that one of the recently restored cars featured a vinyl graphic. Just to let you know we have a vinyl cutter and can do any type of lettering, pictures, badges etc. Lettering comes in at about 16p per letter for 50mm high letters, in primary colours including, black, white, and silver. Special colours including chrome can be done too, but would have to be quoted separately depending on size, type, colour etc.
Just out of interest I have only done 1 bonnet in the (possibly) 10 years we have had the moulds ready. Keith Hamer keith@scholar-racing96.com
RE-ROOFING AN OLYMPIC
To change a roof or to fix a roof, that is the question
One of the major challenges I was faced with on my Rochdale Olympic was the amount of gel coat cracking in the roof. During the years that this car has been languishing in my garage, I may have been slightly guilty of using it as a storage area, which probably hasn't helped! There had also been a sunroof fitted at some time and I felt that it didn't fit in with the overall character of the car and the finish I wanted to achieve. So, to repair or replace the roof was the question.
Now, as I've found after talking to a few Rochdale owners, the fibreglass cloth thickness on the roofs of their Rochdales looks like it may have been applied on a Friday Afternoon in the Factory, ie. non-existent! If you put a 10 pence piece on my roof it would have probably developed another gel coat crack! With this in mind and with the thought of trying to re-profile a roof as thick as a postage stamp it was decided to replace the whole thing.
Luckily for me, the Owners Club happened to have a Phase 1 roof moulding in stock. Unfortunately for me, the spares officer Nigel Whittaker wasn't able to meet me at the Rochdale AGM so it meant a round trip to Devon to pick this roof up! The moulding was really well laid up and much thicker than my original roof. This should improve overall stiffness and soundproofing when fitted. The moulding consisted of the entire roof with 6 inches down each pillar. I loaded this into the van and added a few Rochdale club magazine binders to my shopping list while I was there.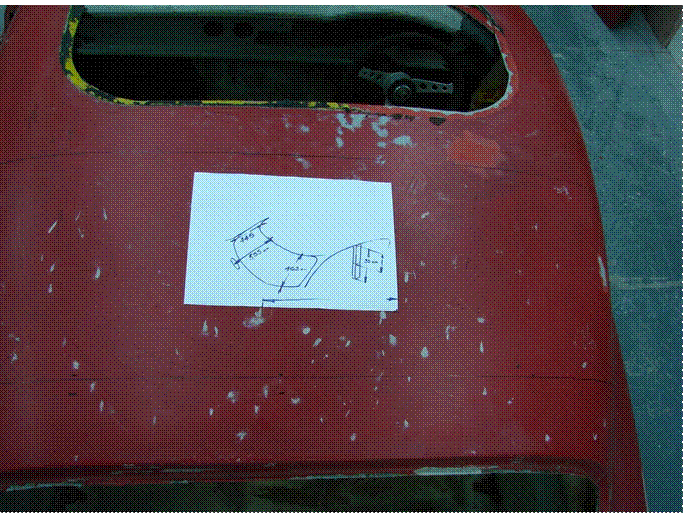 The artwork
The weekend was planned for the fitment and I enlisted the help of the previous owner and my father in law David Allen. I am currently working in a GRP Glider repair facility and am in the fortunate position to have space and tools at my disposal. The addition of an excellent dust extraction system certainly makes work with fibreglass a lot more comfortable!
We rolled the Rochdale into my workplace and started the day with a cup of tea and drew a few lines around the shell. We then had another cup of tea and drew a few more lines followed by more measuring. We marked datum points on the body shell and measured up to the left middle and right hand side top of the front screen. We also measured the length of the B posts before we took the roof off. Two heads are better than one and the rule of measure twice cut once carried out by both of us meant that no incorrect cuts were carried out!
As this moulding was for a phase 1 and mine is a phase 2 the rear hatch opening on the mould didn't exist. Our plan was to join the mould at the roof posts but as the rear posts are different we had to join the mould onto the roof 3 inches forward of the rear hatch opening. This meant that we could leave the rear hatch hinges fitted and have enough space to create a grind angle when joining the roof. Another cup of tea and a few more lines followed by more measuring and we we're ready for the first cut. With the right tools to hand the roof came off remarkably easy. We cut along our 3 inch line marked at the rear of the car and carried the cut around the roof just inside of the support tubes. We also made a cut at the top of the A and B posts.
This left us with about 2 inches of Fibreglass all around the roof attached to the support tubes. Once the middle section had been cut out we moved on to the job of removing the fibreglass from around the support tubes. Surprisingly easy! Once a cut had been placed in the top of the skin above the support tubes it was just a case of prising off the fibreglass with a screwdriver.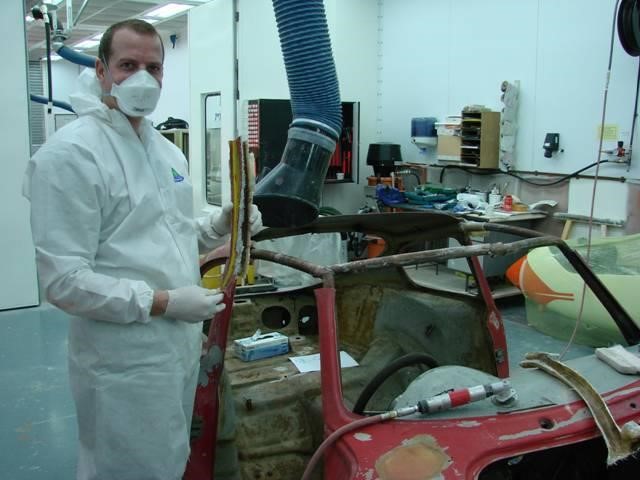 Having the right facilities makes a world of difference to a job. James in his operating theatre.
My support tubes were in a really good condition and cleaned up really well. We then put the roof in position and fettled the A and B post pillar lengths so that the roof tallied up with our previous measurements. Once the roof was in position we bonded the support bars to the new moulding with some cloth, had a cup of tea admiring our handiwork and then off home to leave the resin to go off overnight,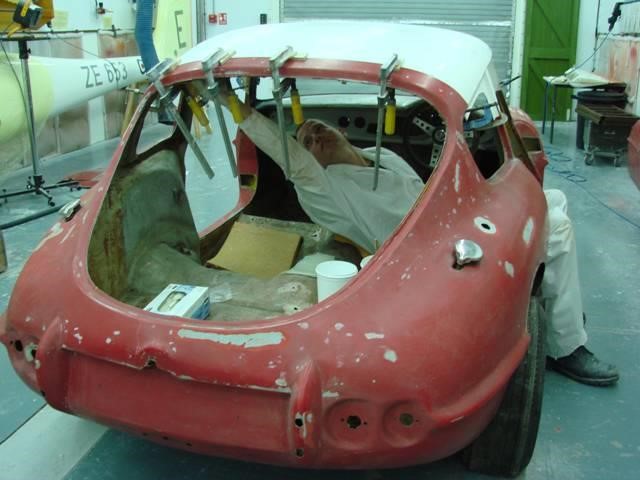 New roof section being bonded to the support bars
Sunday morning, an early morning start. was hinted but we got to the GRP bay at around 10.00am. As the Grand prix was on this weekend we set up a TV in the corner so we could watch it while we worked. Today I put the grind angles on all the joins of the roof. Normally I work on a 30 to 1 grind angle but as the thickness of the roof varies along its length I gave myself 3 inches for each join. Once the grind angles had been put on all the joins I applied three layers of woven cloth graduated in size over the joins. I also put a layer of cover cloth over all 3 cloths previously laid. Everyone has their own preferences when using cloth and chopped strand mat will do just as well but as I had access to a little bit of woven cloth I thought I'd use it!
Once all the resin had cured we tucked the old girl into the garage and downed those celebration pints we'd been promising ourselves when finished! All that is left now is some more bonding on the inside and some smoothing down on the outside followed by a bit of gel coat. Although a fairly big piece of moulding I'm sure that what could have been weeks of work for me has come down to days of work and I'm really happy with the outcome. If you want to see some more pictures of the work carried out on this car or more detail of the roof fitment then go to www.rochdaleproject.co.uk and have a look at my diary.
James Farrington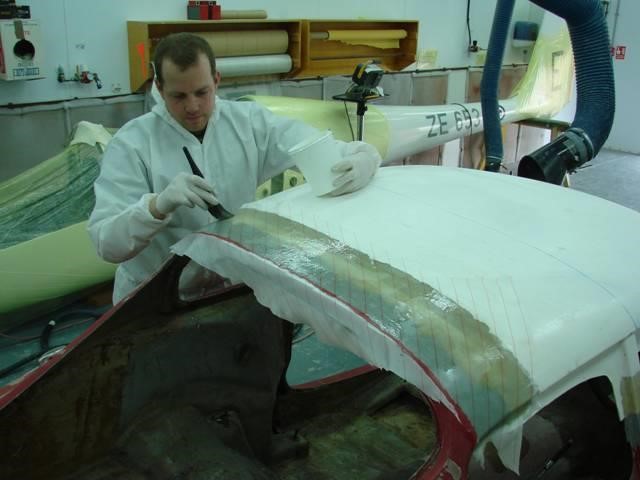 James applying woven cloth over the rear joint
Footnote: The Phase 1 I have just acquired has a roof in the same highly crazed state as James, but as it is intact I shall be adopting the alternative method. Alan Farrer
* * * * * * * * * * * * * * * * * * * * * * *
DIY Olympic Rear Screen
I completed my 1963 Phase 2 during 2006 and in the July I fitted a new rear screen. It was obvious from the start that this screen was a Friday Afternoon job, or maybe made by the tea lady (no disrespect to tea ladies intended), as it was badly distorted and even had the imprint of the protective plastic on it, a sign that the heat applied was excessive and uneven. I was also surprised that it had been formed with this plastic still on it. The shape, rather surprisingly, was OK, so it was duly fitted. As no-one else who had a screen from this batch has complained I can only assume mine was a rogue.
The view from the internal mirror is never very good on an Olympic with a dash-mounted mirror the view is cut off by the bottom of the rear screen and with a high-mounted mirror the view is through the highly sloping upper part of the rear screen. When this is also distorted the view is abysmal; I could tell the colour of a following vehicle and whether it was a car or a truck, but little else. Decent door mirrors helped, but I had been tinkering with the idea of making my own, single-curvature rear screen for some time.
In my opinion the curvature of the standard screen is excessive, giving the car a hunchbacked look and doing the rear view no favours either. A single curvature item would help in this respect, as well as being vastly easier to make. Cecil Hamptons very nice Olympic is fitted with a single curvature screen and certainly does not suffer from having a wrong screen shape; what is good enough for Cecil is good enough for me.
The Shape.
To get the correct curvature a former is needed. I made one using melamine-coated hardboard bent over a rigid base with ribs shaped to give the required curve. This shape was obtained by trial and error, using an old screen as a template. In retrospect I should have used 3-ply timber as this would have been a lot easier to bend. The former was made about 40mm wider than the screen all round. (In retrospect the curvature should have been slightly exaggerated, as the acrylic tends to spring back a little as it cools, due the differential contraction between the inner and outer surfaces as the outer starts off hotter than the inner).
Material.
I used nominal 3mm (it was actually 2.8mm) clear acrylic sheet, measuring 1000 x 600mm, bought from a local firm for about &pound16 a sheet. I bought 3 sheets one to experiment on and two to make fair copies. I chose this thickness as it is the same as the Club screens and I thought it would be much easier to bend than 4mm or thicker.
Bending.
This requires heat, just enough to soften but not so much the material melts. It must also be applied very evenly any hotspots quickly show up as swellings or dimples. How do I know this? Don't ask.
Heat Source.
This exercised my brain for some time. Initially I favoured radiant heat and even bought one of those domestic 4-bar radiant heaters with remote control etc with a view to stripping out the elements, but mounting the elements looked tricky, so I abandoned this idea and said heater now heats the domestics. The remaining option is hot air, so I bought a couple of heat guns, which each have a 1.5kW rating, from Machine Mart for &pound20. I hoped that two would do the trick, as 3kW is the normal house supply limit.
Procedure.
To distribute the hot air evenly I reasoned that a steel tube 600mm long with a series of 8mm holes along one side, fed by a heat gun from each end would enable me to heat the acrylic across the whole width. By traversing from the centreline outwards I hoped that the softening could be controlled by the speed of traverse. I tried this out on a spare piece of acrylic, but the contraption was too unwieldy and tiring hold at arms length and control for the 10 minutes or so necessary for the complete operation, and gave very poor results.
The next idea was to dispense with the steel tube and just wave the heat guns around. This worked surprisingly well once the correct technique was used. Initially I waved each gun to and fro over half the screen width but excess heat is supplied as the gun changes direction, lead to local overheating. This is like spray painting, which produces runs if the gun does not run past the edge of the area before changing direction. The technique I found worked best was to hold the two guns side by side and traverse the whole width, steadily to and fro, working from the centreline slowly outwards. Note that width in this context means the 600mm dimension ie. top to bottom of the screen as fitted. In all, each half of the screen took 15 minutes or so to form.
I managed to ruin my first fair copy by trying to correct a minor flaw in the shape of the edge and ended up with a couple of ridges the whole width (depth) of the screen due to over enthusiastic use of heat. However, the third attempt proved successful.
Finishing off.
Although the former was screen-shaped I left the acrylic sheet as a rectangle and left the cutting out until after the bending. To get the shape I laid the sheet over the hatch (it is a Phase 2) and marked the outside edge of the frame with a spirit pen and cut off the surplus using a bandsaw. The screen could then be laid close over the aperture and taped into place so that the final cutting line could be marked accurately. This was 8mm inside the frame edge, 8mm being the thickness of the sealing rubber. After trimming using the bandsaw. the edge was smoothed using 80 grit sandpaper on a block.
Conclusion.
Brilliant! I can see what's behind at last, with absolutely no distortion.
The screen does feel a little flexible, being single-curvature and only 2.8mm thick, but it seems to hold in place with no problem. I have plans to have the mould copied in 3mm aluminium for a more robust article and so that radiant heat can be applied to the underside. In this way it should be possible to bend 4mm acrylic, which would be substantially (actually 3 times) stiffer.
Alan Farrer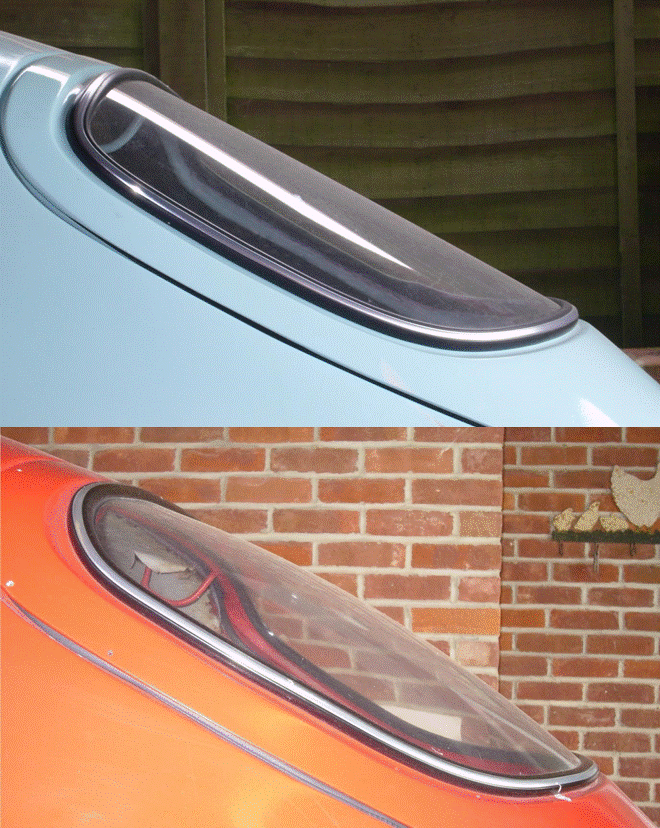 The curvatures compared
New Members Rochdales
Johnathan Gilmours Father's GT
Roger Masseys Phase 1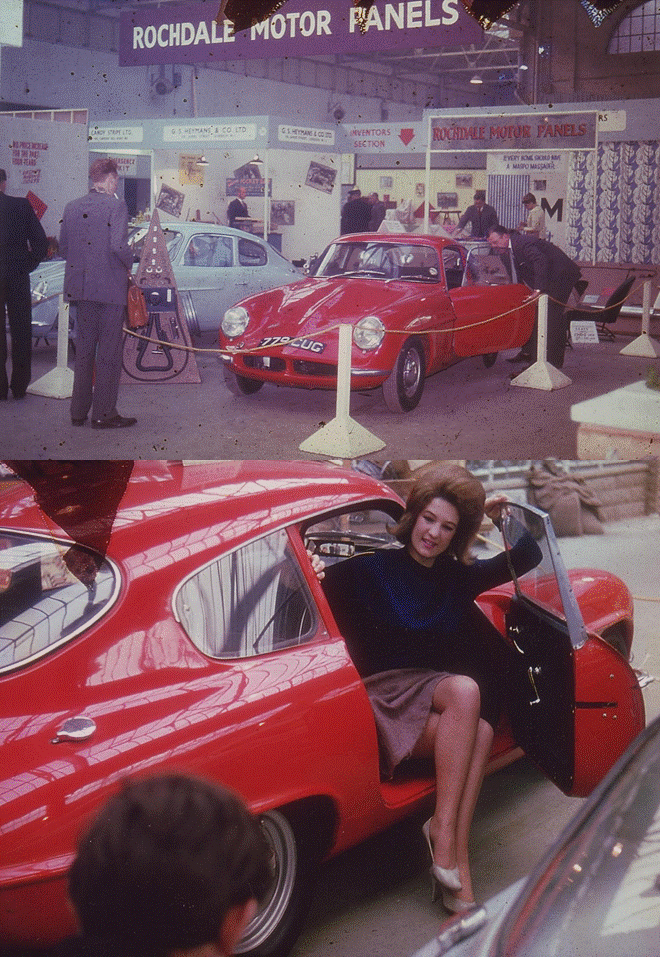 779 CUG on show at a Leeds DIY exhibition in 1962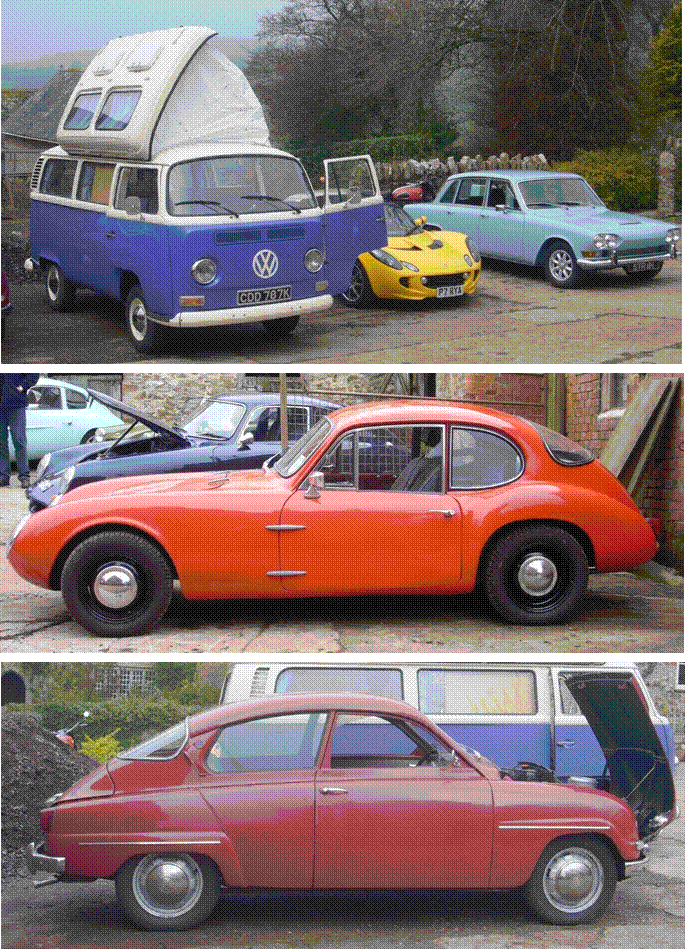 Some of the cars at Guy and Caths Spring Start-up in April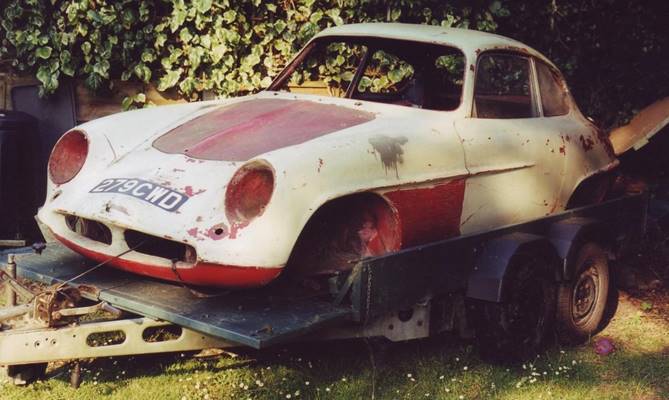 Travels of 279 CWD - On the way in (2005)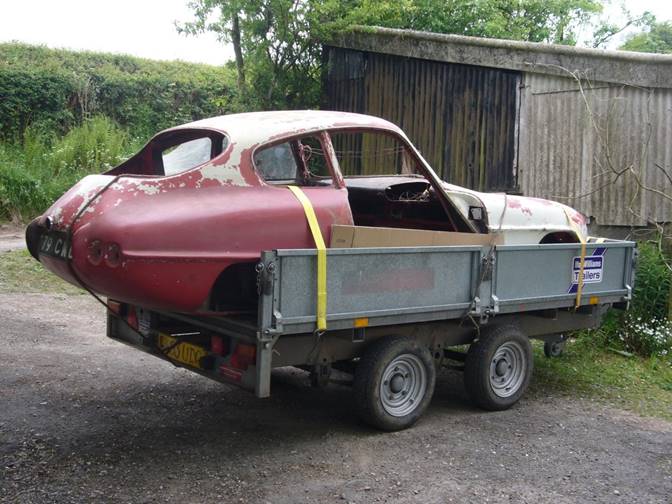 Travels of 279 CWD - On the way out (2008)
Antifreeze Blue good, Red bad.
Tony Stanton put a warning about a certain type of antifreeze in mag No 110. A Rolls Royce owner had used an advanced type of antifreeze in his car, as the standard type was unavailable from his auto spares outlet, and this resulted in numerous leaks, including internal through the wet liner seals. The product was stated to be suitable for older engines. It is usually coloured red or yellow and uses Organic Additive Technology (OAT). Standard antifreeze used Inorganic Additive Technology (IAT) and is usually blue.
My Phase 2 has a Ford Zetec 2 litre engine and when I installed it used plain water initially in the cooling system, but when I added the recommended Ford antifreeze (spec: WSS-M97B44-D) it immediately suffered leaks from various joints and also from the thermostat housing (which also had showed signs of leaking in an earlier existence). Not only leaks, but a thick yellow scum continually formed in the header tank. Adding Radweld had little effect on the leaks.
As the engine ran with no sign of distress I carried on in this way for about a year but, remembering the warning in mag 110, I recently decided to flush out the system and refill with standard blue stuff from Halfords (actually Bluecol). When buying this blue antifreeze, I saw that Halfords also sold an alternative type containing organic acid, presumably OAT.
I have completed some miles with this blue product now. Result? No sign of scum. Although the leaks are still present, I suspect they can now be fixed with Radweld or similar.
Conclusion? On no account use an advanced, long life antifreeze containing organic acid in your cooling system unless you know it to be safe (my Fiesta uses red antifreeze with no problems whatsoever). Stick to the blue stuff and change it every two years, just like your dad did.
I found the following about the Ford spec WSS-M97B44-D antifreeze:
COOLANT, ORGANIC ADDITIVE TECHNOLOGY (OAT), CONCENTRATE, FOR
PASSENGER CAR AND LIGHT TRUCK TO BE USED WITH FORD WSS-M99P1111-A
The material defined by this specification is a coolant concentrate composed essentially of monoethylene glycol and OAT corrosion inhibitors. When mixed 50/50 with water it shall be a satisfactory fluid for vehicle cooling systems that contain aluminum engine components, radiators and heater cores, ferrous metals and copper brass. These materials are for initial fill and service fill. They should not be mixed with previously approved silicated coolants.
As my cooling system uses iron, aluminium and copper why was there any problem? I'm baffled.
If anyone has had a similar experience to me, please let me know so that I can get an idea of the scale of the problem.
Alan Farrer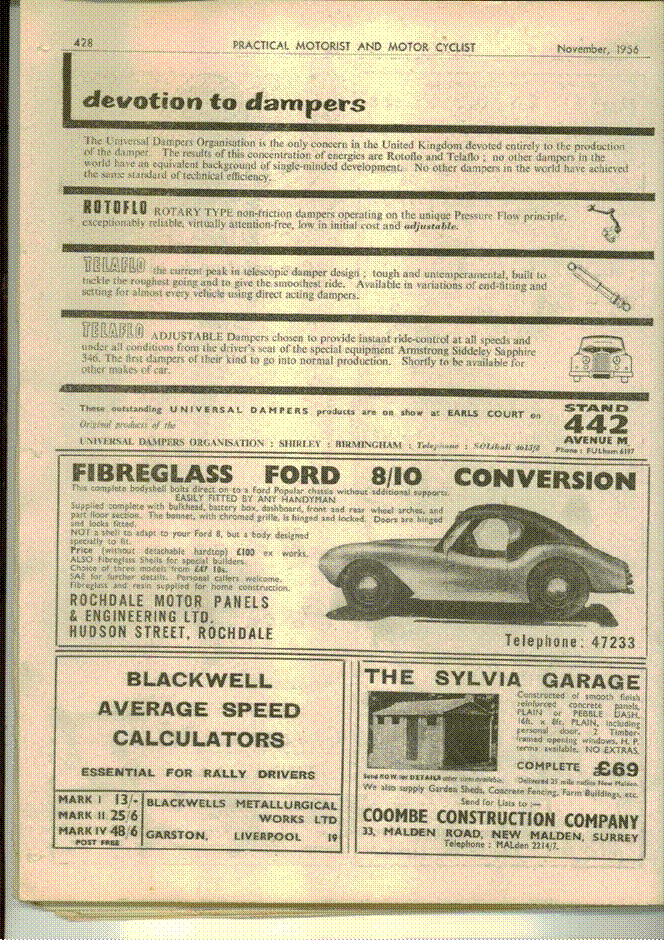 Thanks to Julian Crinall for sending in this page from Practical Motoring November 1956 ...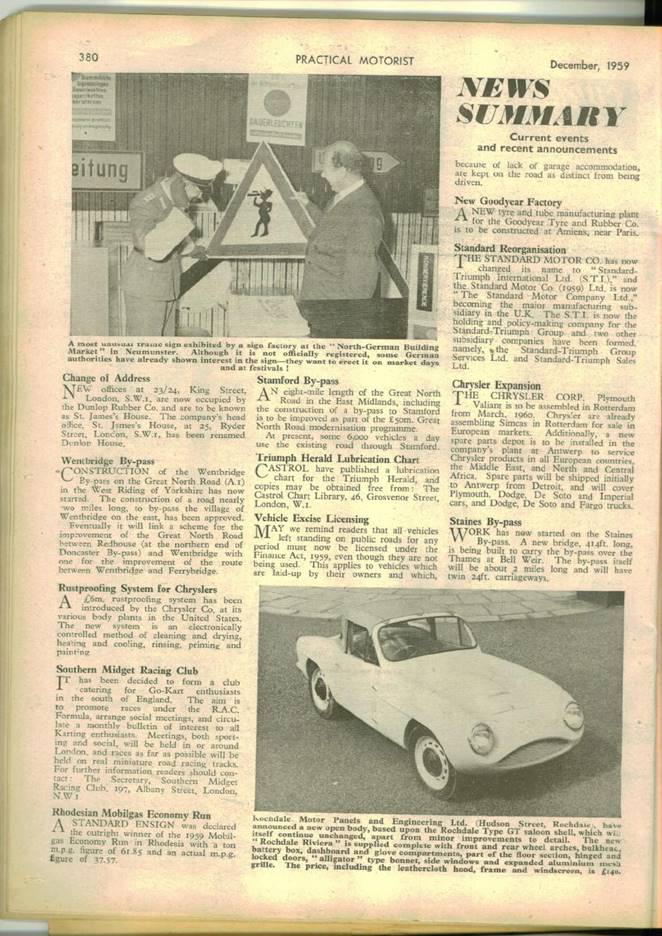 ... and for this from December 1959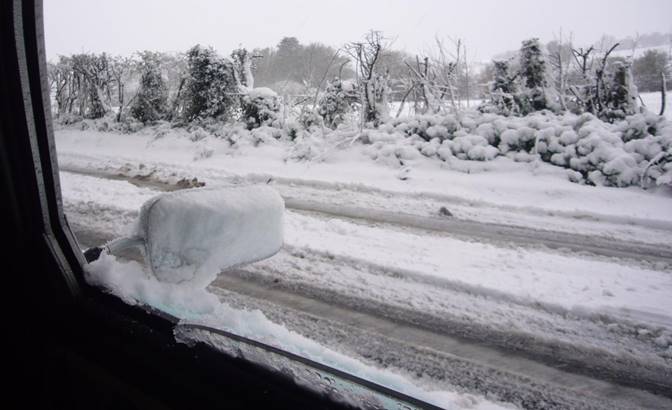 We're off to the AGM from the sunny south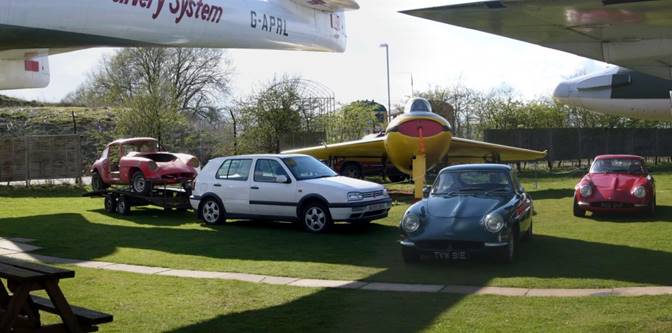 There's no show of snow in Coventry
R O C H D A L E O W N E R S C L U B R U L E S
1. Name
The name of the club shall be 'Rochdale Owners Club', hereafter referred to as 'The Club'.
2. Address
The address of The Club shall be the address of the Secretary at the time.
3. Objectives
a). To provide Members with information, advice and assistance on all matters connected with the marque Rochdale.
b). To arrange meetings (eg lectures, social, competition) and so promote the interests of The Club.
c). To afford members such benefits and privileges as can from time to time be arranged.
4. Membership
Membership shall be available to past and present owners of Rochdale cars, and also to anyone claiming an interest in the marque. Membership shall be subject to acceptance by the Committee at all times; such acceptance to be confirmed at the AGM. Associate Membership will be available to a second person living at the same address as a Member. One copy of the club magazine will be sent to that address; each Associate member will be entitled to one vote at Club meetings; to attend Club functions; to stand for election to Committee posts, and generally be entitled to all other benefits of Club membership.
5. Subscriptions
The subscription rates shall be reassessed annually at the AGM and fixed for one year. Subscriptions are currently due on the first of April each year.
6. Finance
All monies of The Club shall be handled and administered by the Treasurer. Payments shall be made only on the signatures of the Treasurer and either the Secretary or the Chairman. Payments over &pound35 shall be subject to prior approval by the Committee.
7. Officers
The Officers of The Club shall be: Chairman; Secretary; Treasurer; Editor; Olympic Registrar; Pre-Olympic Registrar. (Officers shall be fully paid up members of The Club).
8. Election of Officers
Election of The Club Officers shall be made annually at the AGM. Retiring Officers shall be eligible for re-election. Nominations shall be received by the Secretary in writing if before the AGM, or at the AGM. In either event, the proposer must have received the consent of the nominee prior to the nomination
9. Committee
The Committee shall consist of the Officers plus not more than four other members elected in accordance with the rules given at eight above. Additionally, the Committee shall also be empowered to co-opt other Club Members for specific purposes to further the aims of The Club. Such co-opted Members shall have equal standing to elected Committee Members, and be subject to the same termination.
10. Minutes
It shall be the responsibility of the Secretary to take Minutes of all Club meetings as is appropriate. Such minutes to be entered into a book and presented for confirmation.
11. Voting
Voting at all meetings shall be by show of hands or such ballot as may be determined at the time. Every Member (including each Associate Member) shall be entitled to one vote (one subscription is one membership).
12. AGM
The Annual General Meeting shall normally be held during the month of April each year for the following business:
a) to receive the reports of the Committee for the past year;
b) to receive and consider the statement of accounts for the previous year, as audited;
c) to appoint an auditor;
d) to complete any other business appropriate to an Annual General Meeting;
13. Special General Meeting
A Special General Meeting may be called at any time by the unanimous decision of the Committee, or by not less than 10% of the Members. The reason for the SGM shall be given to the Secretary in writing, and a minimum of 1 month's notice to members will be required.
14. Alteration of Rules
These Rules are subject to the wishes of The Club Members, and may be modified in part or in whole by two-thirds majority vote at an Annual General Meeting; or a Special General Meeting called solely for that purpose.
15. Allocation of Rules
All members shall be provided with a copy of the Rules on election, and whenever there is a substantial change to them.
16. Use of Computer
Members should note that Membership details of members and their cars are held on computer.
OLYMPIC REGISTRAR
Regular readers will be aware of my particular interest in the Olympics produced before the factory fire, which occurred on the 21st February 1961. This interest stems from (a) their rarity in numbers produced and (b) the fact that I used to own one some while ago without, at that time, realising the significance. As with all things Olympic, new information is continually coming to light and hence the reason for this update.
Pre-fire Olympics differ from subsequent phase 1s in a number of respects, the most noticeable being the smaller bonnet opening of the early models, the back edge of which comes very close to the windscreen, leaving no space for a heater intake. I have always assumed that the modifications to the size of the bonnet opening were carried when the moulds were remade after the fire, as this would seem a logical time. However, this may not be factually correct and unfortunately now, with the passing of Harry, Frank and Richard, is something that may never be verified.
During a conversation with Frank Butterworth some years ago he was convinced that they went straight on to the phase 2 after the fire and never re-made the phase 1 moulds. Studying information extracted from the Factory Ledger and reproduced below, this is patently incorrect.
Although a number of orders had been received at the time of the fire only a total of seven shells had actually left the factory. With such a disastrous start it is perhaps surprising that they even continued with production.
The following information has been extracted from the Factory ledger and lists all Olympics sold up to or immediately after the fire. The one car omitted of course is VDK 147. This number plate originally appeared on the prototype and was then transferred to the factory demonstrator, which for obvious reasons does not appear as an order. It was also subsequently re-bodied with a later style shell and thus does not now survive with an early type shell. I understand that Richard Parker rolled the car during a customer demonstration and presumably this resulted in the need for a new shell.
Whilst major manufacturers usually destroy their prototypes this was not the case with Rochdale Motor Panels. The car was sold, without engine and registration number to a Mr Leadley (Order No 1521) for the sum of &pound230. Quite why someone would want to buy what was effectively a one off, which had obviously had an extremely hard life, will remain a mystery. Unless, of course, Mr Leadley or a relation can be tracked down. I do have a lead, so watch this space. It really would be great if this car still survives, tucked away somewhere in some garden or garage.
You will see from the above that five out of the ten cars listed above are definitely still known to survive.
Another Olympic also known to be a pre-fire shell was registered 5338 N. This was last heard of in 1989 when owned by A Lock from Warrington. At that time the car was in excellent condition, so hopefully that also still survives somewhere.
WAY 183J was recovered from a hedge in Hertfordshire a few years ago by Keith Hamer. This is assumed to be Order No 1511.
What is so remarkable about this seemingly late registered car is that at some point in its life it has been fitted with a chassis, presumably accounting for its 1971 registration plate. Quite why someone should want to go to this rather unnecessary trouble will no doubt remain a mystery.
VJY 626 (1506) was delivered only one week after the fire. It is therefore reasonable to assume that this is one of the two or three shells that survived the fire and appear in the photographs outside, whilst the Factory burns in the background. This car is now with our Secretary Roger Drinkwater.
291 WNU (1504) is the only F type Olympic that survives with its swing axle Ford front suspension. This car was sold to the USA last year after a number of years in storage with various owners. It would be nice to think that at last it could be restored to its original side valve Ford condition.
118 JAC (1534) left the factory only two months after the fire, so is likely to be another shell that survived the fire. This was originally a F type Olympic, but was converted to normal phase 1 specification some years ago. This car is currently for sale.
886 WTF (1584) also left the factory only two months after the fire so is likely to be the third shell that was rescued. It is listed in the Ledger as a sub-standard shell and was sold at a reduced price. This was the car I owned back in the late 1980s. It has recently changed hands after a number of years in storage and is now with Roger Massey, who is in the process of completing the restoration that was started by me all that time ago.
9735 NC (1515) was fitted from new with a Coventry Climax engine and was sprinted by its first owner. Unfortunately, its subsequent fate is unknown.
The following, although ordered just prior to or just after the fire, were not delivered until at least six months after and are therefore assumed to be the first supplied from the new moulds.
1530 07/01/61 Silsden 03/07/61 Red 5334 YG
1553 07/02/61 Oldham 14/07/61 Lt Blue
1578 13/03/61 Exeter 18/08/61 Red 590 MTT*
1580 18/03/61 Bristol 28/07/61 Red
1588 26/04/61 Holland 26/07/61 Red (L/W) 797 URA*
5334 YG (1530) was sold to John Dawson, who now lives in Canada. Unfortunately, I have no indication that the car still exists.
590 MTT (1578) has recently been rescued from a lock-up garage by Robert James, where it has been incarcerated for over twenty-five years. Robert is working his way through what will need to be a ground up restoration.
797 URA (1588) was supplied as a lightweight shell and is languishing in a Kent garden, slowly deteriorating. Its ageing, original owner is supposedly going to restore the car, although I do have my doubts that this will happen, which is a shame.
What will be the next scrap of information to be uncovered on these early cars? The ultimate fate of the prototype would be nice. Watch this space.
Alan Farrer, our editor, has probably done more than any one single owner, with the possible exception of Keith Hamer, to bring Olympics destined for the scrap yard back to life. First to receive attention, back in 1996 was a phase 1 (779 CUG). This was rebuilt over a four-year period and fitted with an MGB engine and overdrive gearbox. This was then sold on to Tony Wright.
Before that Alan had also acquired a phase 2 (EKF 818L). This late registered vehicle was actually registered as a Wolseley, having had a Wolseley 1500 engine and back axle originally. This received a total rebuild and Toyota Celica power and two trips to the Le Mans Classic amongst others, proved it as a long distance cruiser. This car is now for sale incidentally.
Next on the list was another phase 2 (BNC 849B) This was obtained in a very poor state, having been subject to an under dash fire and other atrocities. This was also registered as a Wolseley, having been fitted with a BMC diesel from new. As part of a very extensive rebuild this has been replaced with Ford Zetec power, certainly more appropriate to the cars sporting nature than a diesel.
Now this has been completed (are Rochdales ever completed?) Alan has obtained yet another rebuild project from David Thomlinson. This time it is a phase 1 (279 CWD). This is no more than a bare bodyshell with very corroded metalwork, so extensive works will be required. I await with interest on the planned mechanicals for this one. No doubt Alan will give us a running commentary on progress via the Magazine in due course.
Whilst the choice of modifications may not be to everyones taste at least three Olympics are now roadworthy which might otherwise still be languishing at the back of someones garage or garden. Keep up the good work Alan.
(In my defence, all the cars came as stripped shells and only EKF 818L had an engine, so there was no question of returning them to their original state. The Toyota engine is in period with the cars date too so there! I plead guilty to BNC 849B. Alan).
James Farringdon is making great strides on the restoration of his Olympic, EWT 219H, making full use of the RAFs extensive workshop facilities. Already a new nose and roof have been grafted on to replace the damaged originals. Those who were at this years AGM will have seen that this is a phase 2 shell, but fitted with a phase 1 front sub-frame.
I understand that Paul Hutchins has sold both of his Olympics, AAW 840A and YTF 426J. I believe the lack of use could not be justified to his better half!
Welcome to new member Rod Smith, who has acquired the first mentioned car from Paul.
Welcome also to new member Alexandre Contat in France, who has recently acquired a phase 2, TLG 832D from Paul Delderfield.
We now have quite a few European members, perhaps a good excuse for a Continental tour?
PAX 44 was sold recently by Dr. Rouse, the original builder. This is now with Jason Hoffman, who is Keith Hamers race engineer. I understand from Keith that this is undergoing a full restoration in preparation for a trip to the Nurburgring next year.
Keith has also finished restoring AAB 81A, which is now on its way back to owner Conrad Cunningham. TBF 966 is still in the workshop undergoing substantial works for owner Alistair Banks.
Derek Bentley