MAGAZINE No 113 SPRING 2008
TONY STANTONS EVENTS PAGE
E-mail tony-stanton@fsmail.net
South Midlands Classic Car/Bike Meet No 1
The second Sunday of the month in the Winter, the second Tuesday evening of the month in the Summer, at Britannic Assurance,1 Wythall Green Way, off Middle Lane, Wythall, Birmingham, B47 6WG (From J3 on the M42 follow A435 north 1-mile turn left at 1st roundabout then mile turn left at mini roundabout).
Sunday 9th March, 11am till 3pm.
Sunday 13th April, 11am till 3pm
Tuesday 13th May, from 7pm.
Tuesday 10th June, from 7pm.
I did not go to the meetings in December and January as both Sundays were wet, windy and cold. But Sunday the 10th February was a lovely warm, sunny day and a good turnout of about 230 cars and bikes. As I was about to leave I met Chris Burton who I have not seen for over 15years; he still owns Olympic P1 reg 2341 N and it is safely stored in his garage awaiting a rebuild, the main problem is a collapsed front subframe.
On my way home I called in to the barn rented by Mark Butler; it is like walking into a 1960/70's garage. It contains Marks 2 Unipower GT, s, a Rochdale Olympic, a Ginetta G15, Marks partner Angelas Lotus Elan +2 and his mates Lotus Europa - a real fibreglass heaven.
Not a lot on at this time of the year, but on Sunday 17th Feb, DUFFY and I drove the 120miles down to the Bristol Classic Car Show and spent a very pleasant day in the company of Derek Bentley, Nigel Whittaker, Alan Farrer and Guy Stallard.
South Midlands Classic Car/Bike Meet No 2
The last Thursday of the month in the Summer at The Moat House Inn, Birmingham Road (A435), Kings Coughton, Alcester, Warks, B49 5QF
Starts on
Thursday 24th April, from 7pm.
Thursday 29th May, from 7pm.
Thursday 26th June, from 7pm.
Stoneleigh Kit Car Show 4th & 5th May 2008
Just to let you know I have reserved stand Number 39D for all HISTORIC SPECIALS AND CLASSIC KIT CARS built before 1973 at the N.A.C. Stoneleigh Park, Warwickshire, for every kit car enthusiast with old or new kit cars. Sunday 4th and Monday 5th of May 2008, from 9.30am till 5.30pm. (May Day Bank Holiday weekend)
All kit car drivers are admitted free of charge, passengers are1/2 price.
You can camp on the site, tents and caravans, please contact the organisers office 01775 722900 for details and forms www.grosvenorexhibitions.co.uk
This is a very good cheap day out, spares are cheap, where else can you buy brand new crossflow radiators for &pound15 to &pound20 and new electric cooling fans for 5? (ask Alan, he went away with a car full) There are 5 large Exhibition Halls and 600+ Trade Stands all the things you need for your rebuild or update. You can look at new kit cars in rolling chassis form indoors in the dry and warm which will give you ideas on suspension, brakes and drivetrain modification for your car.
This is the best show of the year for kit car engineering. Come to the main vehicular entrance which is located on the B4113, the Coventry to Leamington Spa road (follow signs for clubs and exhibitors (do not go into the Public car parks). It is only 2miles from where we have the A.G.M.
PLEASE tell everybody you know with a suitable car and place details on websites if you can
WITH CAPESTHORNE NO MORE, LETS HAVE A GOOD TURN OUT OF ROCHDALE CARS AT
THIS EVENT INSTEAD. Last year of the 11 cars I had on the stand only 4 were Rochdales, so please make the effort to bring your car this year.
Contact Tony Stanton (Rochdale Olympic 902DUF). tony-stanton@fsmail.net
SILVERSTONE CLASSIC on July 25th, 26th & 27th 2008.
In conjunction with the F.S.C.C. we have secured a designated display area within the Historic Grand Prix circuit at this 3-day event, and we are seeking further club marque cars to join us on display during the weekend. Last year on the stand we had 2 Olympics, 1 Fairthorpe and 7 Turners plus 2 more Turners racing, so let's go for more Olympics this year.
Featuring 22 races, 800+ competitors, and 600 of the most valuable racecars and motorcycles in the world. On top of the mouth-watering line-up of races lasting between 20minuites and 1hour each, starring the very best single-seater, GT and Touring Cars from the past 80 years, the entire infield will be packed with more than 4000 classic cars showcasing in excess of 50 famous marques. There will also be a period funfair, air displays, trade stalls, live music, barbecues and more than 30 hot air balloons are set to fire up for their traditional morning and evening fly-outs.
DUFFY and I have been to this fabulous event for the last 3 years and I think it is better than Goodwood. You can walk around the paddock and in the pit garages at any time, talk to the drivers, watch the mechanics working on the cars close-up and just to wet your appetite the last race on
Saturday is a 90 minute race for Sports Racing Cars from the late 60's (i.e. GT40s Lola T70s and Chevrons) racing into the dusk with their headlights on, so be there with your marque car you are going to love it (ask Derek and Alan).
To enter your club car in the FSCC/ROC display area please contact Tony Stanton on tony-stanton@fsmail.net and I will issue the club reference number to quote when booking tickets and Marque car passes.
There are changes this year in the organization. All club members can use the code for discounted tickets whether displaying a car or not! I understand unlike 2007, car passes will be sent WITH the admission tickets to those who are displaying so be sure to advise this when you book.
ROCHDALE CALENDAR 2008
It is with disappointment and frustration I write a report on the 2008 Calendar. Of the 100+ R.O.C. members and 30 cars on the road only 8 members sent me photographs of the 12 I needed and I find it difficult to believe only 28 members purchased copies at the low price of &pound6 inc p&p. If the calendar had been printed by Tesco or Jessops they would have cost the club &pound12.95 each to sell at what price?
Now if the members would like a calendar for 2009 I need 12 new photos, of good resolution around 1MB and a nice interesting background. I need the photos soon so the calendar is ready for sale at Burford in August, the NEC and Christmas. Post them, E-mail them, bring them to the A.G.M.
NO PHOTOS - NO CALENDAR
And a little note to end on:
You polish yours and I'll drive mine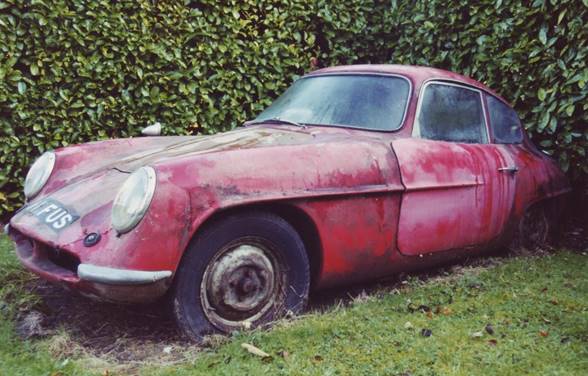 Not one for the calendar
Bristol Classic Car Show 16th/17th Feb 2008
Our stand was in the same position as last year, but thankfully the cow smell was absent. Although nominally the same size too the partition seems to have been placed to give us another 1-2m of width. This was nice, but as it turned out we had only one car to show Fred Blackmores fine white Phase 2 Olympic, as Nigels equally nice turquoise Phase 1 suffered a last minute problem and was absent. Had I known we had so much space I would have had three cars (down to two).
Freds car looked a bit lonely, but this meant it was in full view and attracted a lot of attention. It also attracted a Highly Commended rosette from the shows sponsor, Footman James. It's nice when your efforts are rewarded, isn't it Fred? Saturday was very busy, though Sunday a bit quieter.
As always exhibiting at this show is a pretty relaxed affair, aided this year by fine sunny weather. As always, the hall was coooold. Again the organiser made available a room for a committee meeting on the Saturday morning, which just indicates what a friendly show this is, so many thanks to Josette.
Special thanks are also due to Derek, who did all the setup for me (aided by Nigel) as I was attending a family do (my father-in-laws 90th birthday party) which I certainly did not want to miss, and to Fred, of course, for providing his car. Thanks too to Tony Stanton and Guy Stallard who manned the stand on Sunday.
This is a nice show, very friendly and a nice size, so why not come along next year just remember to bring your thermals if you intend to stay for any time on the stand (though it's warmer in the larger halls).
Alan Farrer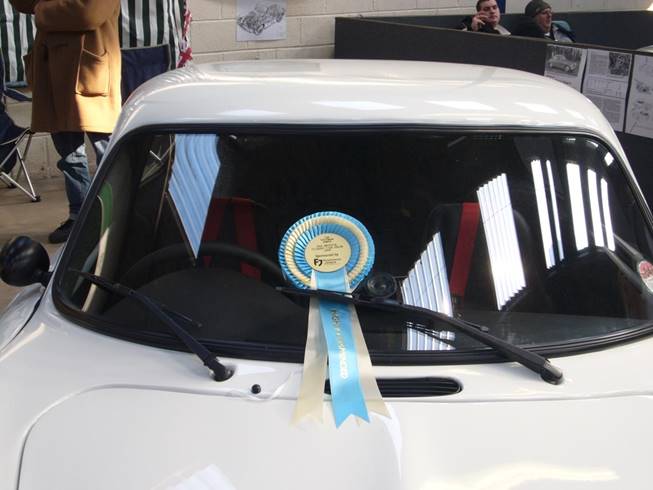 Highly Commended
Dashboards. From top: Robin Strettons Phase 1, Roger Drinkwaters Phase 1, Alan Farrers Phase 2
S T S T O R Y
Back in last August my GT was left outside the local garage in Hemyock awaiting its MOT test. Normally this is done while I wait, with much chatting to the garage owner who does all the classics. However, on this occasion he was very busy so all I did was run it up on the brake rollers and leave it on the ramp for him.
A retired local builder turned up to fetch his car and commented to the garage owner that the GT looked like a Rochdale. The somewhat bewildered garage owner wondered how he had recognised it, and was told he had once built one in the fifties and asked who owned the GT.
When my name was mentioned, the builder, Richard Hart now aged 69, said what a coincidence this was as it was at my farm that he had built his Rochdale. Now I had heard that Mr Hart had built a special in a disused pig-stye at Culm Pyne but it had never been mentioned what sort; I had assumed a modified Austin or such.
Some of Mr Hart's recollections are somewhat vague now, bearing in mind it is some 50 yrs since he built it. It was purchased as a body kit, probably in 1957, having been seen in a magazine or newspaper. The model was a ST, as he could not afford the extra forty quid for a GT, and it was ordered direct from RMP. It was a bit of a bargain as the price had been dropped from &pound100 to &pound85, the moulding being less than perfect with plenty of blow holes in the gelcoat. The shell was delivered by lorry to Culm Pyne but Mr Hart could not remember if it came direct or by train to, say, Taunton first.
The reason it had come to my father's farm was that Mr Hart's brother-in-law worked on the farm as a farm-worker. The brother-in-law had given Mr Hart an old Ford 8 van in return for painting part of the accommodation. Mr Hart's family firm were builders in the village and, aged 19, this was an ideal swap. My father had an unused pig-stye adjacent to the van and allowed Mr Hart to do the build there in return for a bit more painting.
The ST was built up by Mr Hart and some of his friends. The original van engine turned out to be no good, so another one was obtained. This was fitted with a skimmed high compression head with "racing valve springs". A 1". exhaust pipe was made in copper by his Dad's firm's plumber. Many of the parts were obtained from Isaac's scrap yard in Dunkeswell, now long gone. A mate, Colin Mitchell, who was a garage mechanic, did the wiring using a purchased loom and the hood was made in Taunton.
Hemyock's local garage owner, Stan Doble, whose Dobles Garage still trades but under different ownership, supplied much needed help and advice with generous access to the stores. The car was sprayed at the garage, in light blue originally, but did not look very good due to the poor shell quality. Mr Doble then sprayed it dark blue with a white stripe and it looked much better. Later still a white stripe over the wheel arches was added by a friend using a flit gun sprayer as used for spraying DDT. Mr Doble also handled the paper work and on his advice it was called a 'tourer' and not a'sports car' in order to reduce the insurance costs.
On its first outing to nearby Wellington the car lost water due to the fan catching the lowered radiator's hoses. On the return, up the long steep hill, the engine boiled due to insufficient water circulation. Mr Hart didn't know what to do until he heard of another ST owner about 10 miles away in Willand, who told him to fit a Ford export water pump. This was duly done, to no avail, till the local garage brazed an old penny into one of the two outlet holes on the pump. This promptly cured the problem.
At a later date the car was fitted with twin SUs which then apparently made the car faster than the suspension and local roads could cope with. The carbs came off an old car which was then abandoned in the builders yard. Mr Hart gave me the remains of the chassis when I was about 16 as I was interested in it as a special. However, it was too far gone and eventually I identified it as a 1930 M type MG which I sold to a ferry captain in Sweden who has since fully restored it. What a co-incidence!
Mr Hart sold his ST after a couple of years to a man, also from Willand, for &pound250 and nothing has been heard of the car since.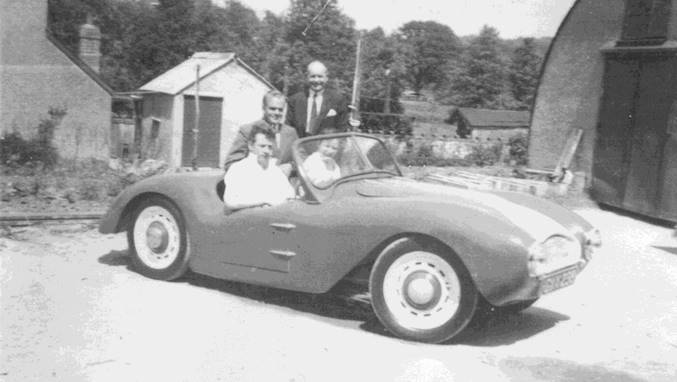 Richard Hart back in 1957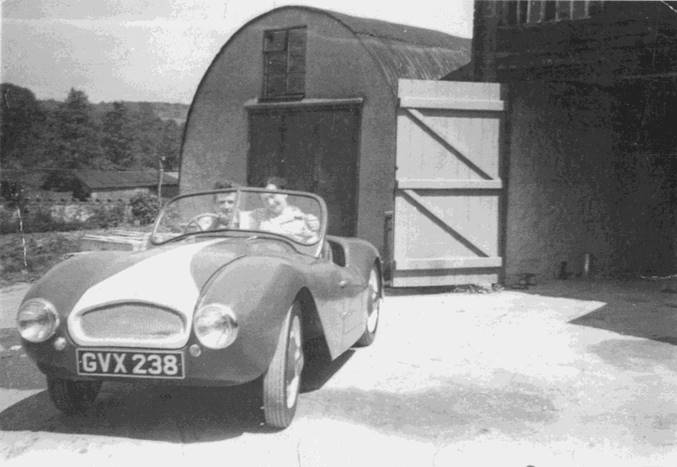 Those were the days
* * * * * * * * * * * * * * * * * * * * * * * * *
RE-SPRAYING with AEROSOLS
What? Would anyone of a sane mind do such a thing? Every now and again it is possible to see pictures in magazines of cars which the owner has, apparently, sprayed with aerosol cans, and most folk are left shaking their heads in disbelief rather than admiration.
On buying my Olympic back in 2000, it was apparent that the metallic blue paint which had been applied in 1980 had faded quite badly. Determined to take my time on getting a decent finish I took it around to some of the more reputable local refinishers. All were concerned with what looked at the time like quite small gel cracks, and opinions varied as to how to tackle these. Also the very tight fit of the doors to the shell (a Rochdale feature) and the overhang of the rear hatch caused much concern. It was apparent that none wanted the job, and suggested I get stuck into repairing the cracks and evening up the panels before I began to think of spraying. One even took me in the back of his garage and showed me an almost complete Elan which had been prepared as a concours item for a customer at a cost of over &pound20,000 for the bodywork alone. The inference was that I'd be mad to spend that on my Rochdale, and I suppose he was right as the actual work would have been quite similar to that on the Elan.
Well, seven years of daily use on and the car still hadn't had its re-spray. While reluctant to alter the panel gaps, it was apparent that, though tight, they were far from even with signs of rubbing here and there. I eventually took the sanding block to them, and though now wider they are much more even and look better as a consequence. Rear hatch was a real problem as its rear edge hung out about a quarter of an inch from where it should. Move it all forward one of the body men had said, but the way the tiny rose joints were mounted didn't allow for this, and there was very little extra space at the front anyway. I eventually concluded that the hatch had always been a bit too big for the space and sanded the excess off, allowing a tighter fit on the catch.
But what about the spray? This was one of those jobs I had very little experience of, most of my past refinishing being done with coach enamel and a brush. My Commer (1967) had been finished like this from new and I had elected for the same approach (Carnival Red, RePaint) for the school GT. However, I had wanted to use a metallic finish for the Olympic and think that even barely visible brush marks would stand out like a sore thumb on the Olympics sleek lines. Most laymen looking for the first time think the GT a nice old car, but that the Olympic could be almost new and where can I buy one? Side note here: I always preferred Tekaloid but this is now down to just one supplier in the country and in the last month or two local suppliers have given up on RePaint as well. Are they trying to tell me something?
Supplies of cellulose are similarly limited, by law I believe, my skills with the compressor and spraygun were minimal, and as I wasn't about to fork out Elan-type bills that only left - the humble aerosol. Main snags are, it can be an expensive way to buy paint, it's slow in application and you have no control over the viscosity in the can. Plus points are it's a safe system, no other equipment is required, the gun is always going to work with minimal cleaning out, easy to perform in quite confined spaces and you can conveniently divide the spraying into separate sections. Take your time, be patient and aware of the problems, and the finish can be as good as an expensive re-spray.
Here's some points worth considering:
1 Negotiate a price for the cans. You will be getting these in large quantities - the dealer got them in specially for me - so you can expect a substantial reduction. My wife beat him down to &pound2.50 per 300ml can of Astral Blue and &pound3.00 for 400ml cans of primer/undercoat/lacquer. How many will you need? A lot! I went back several times for more, but the full job came to less than &pound150, probably less than for just the paint.
2 You can get aerosols specially mixed to any colour, which give a more even spray than the usual Holts type. Yes, but for one can this cost me around &pound14, so no prizes for guessing which I ended up using!
3 Don't skimp on the gel-crack treatment. I followed the Miles Wilkins treatment as per the Osprey Restoration Guide. If I'd allowed the proper time between coats I think I'd still be there now though! Similar stuff on the club website, I believe.
4 The metallic effect is given by tiny flakes of aluminium in the paint acting as mirrors. Care must be taken that in adjacent areas these settle to rest in the similar directions. Instructions on the tin suggest first vertical strokes, then a layer of horizontal, and so on. Sorry, I couldn't get this to work at all - it ended up with a tartan effect. Best results were with the paint runs delivered in one direction only - I opted for front-back runs along the car for each panel, with runs overlapping by about a third in each case.
5 Lacquer is crucial. T-cut applied to the metallics affected the set of the aforementioned flakes and just didn't work at all. Once you have covered the surface with an even layer of the colour there is little to be gained by layer on layer, but you will need good layers of lacquer to work on for the gloss. I was always told, incidentally, that it took SEVEN spray coats to match one of brush, so take your time!
6 Look to the light lines. Some parts of the car are much more important than others - the roof, the top of the wings, and, on the Olympic, the whoosh lines. The entire car, below these lines, do not show to anything like the same effect, so be prepared to pay particular attention to those parts that reflect the light.
7 Adjacent panels can be blended in with care. The Olympic isn't the easiest of cars in this respect - crikey, in what respect IS it the easiest? - as there are no panel joins to use. If you spray up to a masked edge, especially in metallic, it will show on the final finish. Also, if each coat is to the same edge you run the risk of cutting through to the layers below. It is better to mask well below the part you wish to spray to, then tape a rough edge of newspaper a few inches up from this point to spray the primer. Move the sheet back a little for the colour coat, then uncover more for the lacquer - but NOT back to the masking tape, you will struggle to flat it.
8 OK, an aerosol doesn't generate anything like the mist of a gun, but by the time you have put on 30 or 40 cans its pretty bad! Wear the proper mask.
9 Paint runs. Two-stage solvents are used for Holts paints. The first dries very quickly to stop runs, the second takes much longer and allows the surface to even out and settle down. I only found this out after I had finished the job! At any rate, if its going to run, it tends to do on the very first layer onto the surface, so make this a very light one, and allow it to settle for a good few minutes before building up the layers. Keep the gun square to the surface, and not too near - 12 is suggested.
10 Finish - very disappointing, compared to the brush, but you're only just starting when the paint goes on - elbow grease and T-cut is the order of the day, and works wonders. Rub in the same direction throughout - it is possible to damage the surface - and take care not to cut right through the lacquer coat. Apply polish once finished.
11 Watch out for petrol (see photo). This was the result of one particular fill a few years back. The surface had no lacquer, but I have since tried petrol on unlacquered paint with no effect. Perhaps its just certain blends of petrol? At any rate, the same discussion has been raised in a bike mag recently, again citing Holts as the culprit. Still, I wasn't about to pay &pound14 a tin, was I?
12 Badges. Vinyl cutters are coming more common these days, and I cut a set of Olympic stickers in Silver to finish off. These are applied to the rear hatch and back of the front wings, and are in Magneto font. They are quite robust once on, but don't like being applied in cold temperatures. I think the badges give a more professional effect, but on my very first drive with them on, I was stopped to find out what sort of car it was! Hmmm....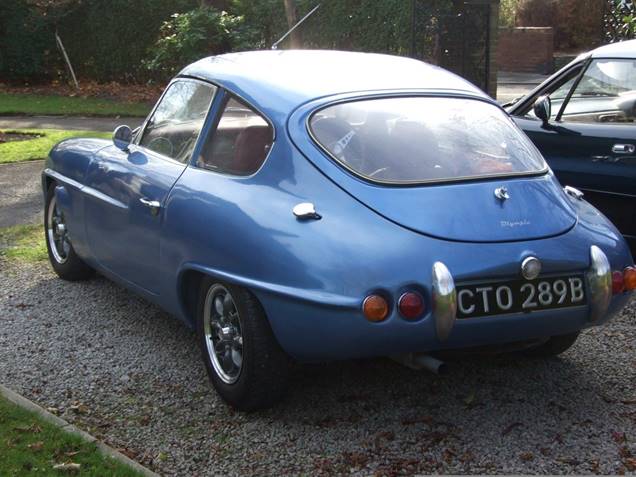 How it's done; The finished article
In need of redecoration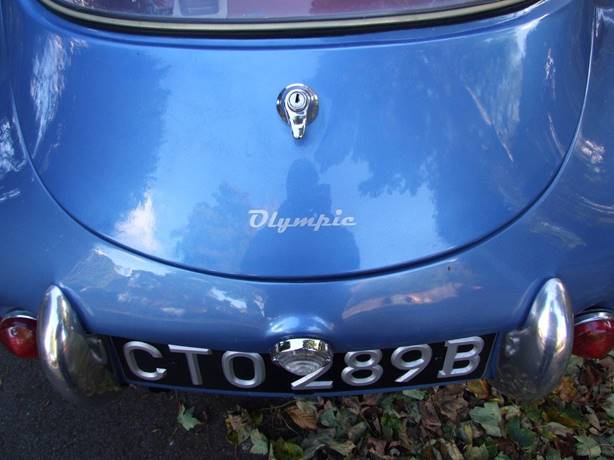 Olympic badge in vinyl
* * * * * * * * * * L E T T E R S * * * * * * * * * *
Hi Alan
Sorry I missed you at the Bristol Show. I was hoping to take some measurements from the engine bay of your Zetez powered Olympic. I am making progress with my restoration and attach some pics.
It is now a rolling shell so I am able to move it around on its own wheels. I am quite pleased with the way it is shaping up. The rear axle is a bit tight but I have some ideas to accommodate it. I had cut the rear arches intending to flare them but am now thinking that I could ease the shell out behind the wheel by a couple of inches so that they would not look flared. I would like to keep the appearance of the rear as close to the original as possible.
Fitting the front subrfame to the shell proved trickier than I realised. I designed the subframe to sit in position with small clearance from the front of the engine bay. The idea was to grind flat the bits where the old subframe had been bonded, cut the fibreglass to form flaps which could be moved in contact with the subframe, bolt it all together and glass everything in to strengthen. I could not seem to get the bits flat enough for my liking even with building up the low spots. I finished up cutting out the entire front of the engine bay and making some flat sheets of glassfibre to bolt to the subframe. I then glassed these to the body shell with a fairly hefty lay up. This sounds straightforward but I had to make some curved sections to make it all fit properly. It all fits quite well and the front wheels seem to be in the right place.
Before I fitted the front suspension I decided to fit the radiator while I had relative ease of access. The radiator is from a Lada Samara and seems to fit perfectly the space available. It even has a built in overheat fan and plumbing on the correct side for my engine. The rad mounting has three rubber plugs. I glassed in a stiffener at the bottom to accommodate the lower two and made an aluminium bracket for the upper one.
I have connected the Herald steering column to the Herald rack with part of the column from a 1986 Ford Orion. This has two universal joints at about the right spacing. I dispensed with the lower joint from the Herald (going spare now if anyone wants it) and welded the spline bit from the old Herald joint to the Orion column to make a direct connection to the rack. The upper part of the Orion column has been welded to the Herald column inner rod leaving everything above that as it was before.
Rear suspension is a five link live axle using a Fiat 124 design (manufactured by Lada). I cut the Fiat upper links and made them adjustable so that I can get a decent angle for the prop shaft. I made up front mounting points and strengthened the body shell where these are fitted. The lower links are standard Rochdale and these fit the mountings on the Fiat axle reasonably well. I did have to drill some extra holes to keep the rear wheels in the right place. I also used the Fiat Panhard rod which fits just behind the rear axle. I had to make a strong bracket and a bit of extra lay up for this where it connects to the right hand side of the body.
The next job is to clean up and repair the body shell. It is in fairly good condition compared with some that I have heard of. I want to fill all the holes so that I can make a fresh start fitting things. I will probably do the grinding outside so the dust does not settle in my garage. I tried the engine in place and it looks tight but at least the gear lever seems to be where it will fall to hand.
Plenty to keep me busy now.
Regards
Russ Collins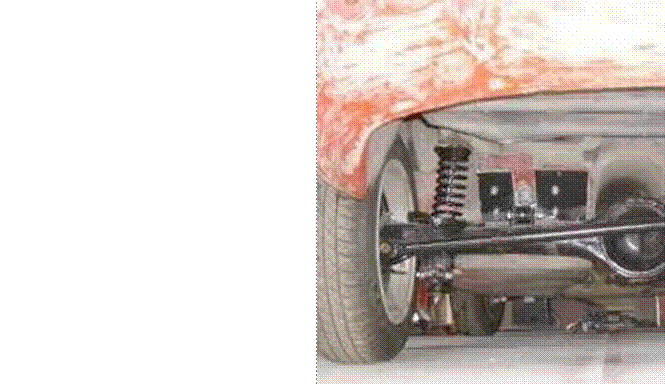 Rear view showing Panhard rod behind axle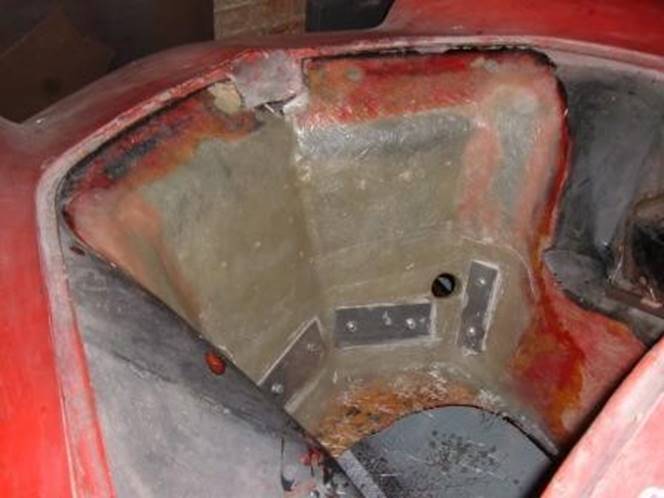 Engine bay showing new bulkhead and reinforcing plates for subframe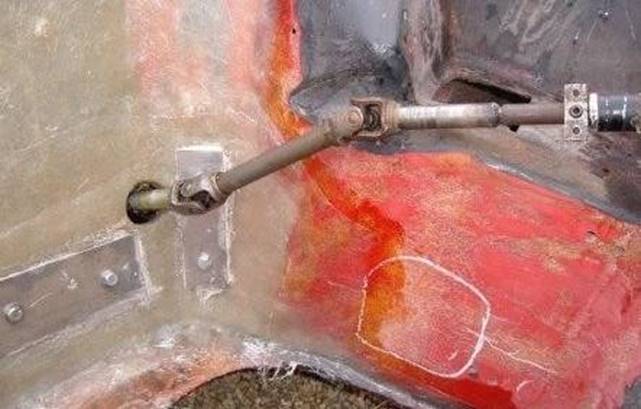 Pair of UJs in steering column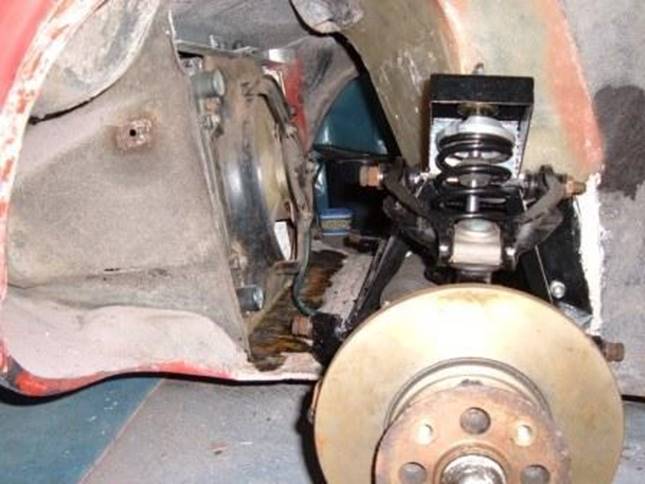 Subframe, suspension and radiator in position
Phase 1 rear floor rebuild
I thought I might offer a few words regarding progress (or lack of) on JEC 605s restoration. I have previously mentioned the damage to the floor of the axle compartment as a consequence of excessive downward axle travel, which had torn the floor over almost across half its width. More detailed examination showed that other factors were also involved, such as burning of resin by the exhaust pipe, numerous holes drilled to support same and tobogganing on rough roads, some done by yours truly in an earlier life. Also, the large cut-out in exhaust tunnel (by me on RMP instructions) to give axle clearance had not helped.
I thought that if the floor tore across completely the car might end up wobbling like a jelly, so this summer work was started to replace fibreglass in this area. The axle could not be removed indoors because of limited width, so the car was wheeled outside to do the work. To provide good access the rear of the car was supported on blocks below the doughnuts forward of the radius rods, before the mould construction was commenced.
The plan was to make a mould of the underside and exhaust recess using a sheet of hardboard as the main lay-up surface, supported from below by a solid piece of 18mm chipboard where the floor is flat. This assembly would be located by four bolts drilled into the undamaged part of the floor front and rear, and by others, to ensure that the mould was held tight against the original body panel. Where the floor curves upwards, the hardboard would follow this curve and the diverging gap between this and the chipboard would be filled with expanding foam for support. In order to form the shape of the exhaust recess, this space, now enclosed by the hardboard, would also be filled with expanding foam.
Before doing this, the damaged pieces of floor were straightened out, gaps covered with adhesive tape and a waxy parting agent applied. Also, I decided on a slight complication to extend the flat area of floor as far as the axle, so as to provide an extra 6mm or so of clearance for axle travel. In hindsight I should have been much more meticulous with these preparations, as I had some difficulty in removing the mould due to keying at the irregular damaged areas. This caused some further damage to the mould surface, which then needed repairing. In turn, this meant that I lost the exact shape at the junction with the good part of the floor, and even more fiddling was needed to make it fit.
With the mould removed, the damaged floor was cut away as necessary in an irregular shape, and the edges feathered sharp with the angle grinder over a 50mm strip not a nice job in that space! Incidentally, there was no discernable loss of rigidity after the floor was cut out, though no doubt the body strength would be much reduced, and it would have shown up had I been able to apply a large enough force.
The mould was then trimmed, filled and smoothed where the damaged floor had produced anomalies, and the exhaust recess was modified by introducing a bulge to allow for full axle travel. A slot will have to be cut in the bulge to allow the exhaust pipe to pass by, but this is a much smaller cut than the original slot needed to clear the axle. Needless to say the axle will contact the exhaust at extreme rebound, as before, but hopefully the exhaust will deflect on its rubber hangers without damage.
The trimmed mould was painted with release agent, then refitted to the underbody and located with the previously drilled bolt holes. Stainless nuts were used on the upper (ie inner side) as these would be buried within the new fibreglass and remain there. Timber strips were fitted at each side of the mould to allow laying in of a flange, which would be folded over a piece of oval PVC conduit to form a shallow box section. I always thought that the original plain flanges were very little use, and they seemed to split easily at the first minor impact.
I was quite nervous at tackling the glassing operation, not having tried anything on this scale before, and realising that if it all went wrong I would have to start again at the beginning. Also, with the car outside, and autumn weather approaching, curing temperature looked like being an issue. By enclosing the wheel apertures using polythene and tape, I found that a redundant hair drier placed within the compartment would give me up to 12C temperature rise, which proved to be ample for the prevailing weather.
Materials were obtained from CFS Fibreglass in Cornwall, who have a very informative website and a prompt despatch service. The glass mat layers were cut out beforehand according to a plan, with staggered edges and joins to allow for a smooth transition at the feathered edges of the original floor. I did some trial mixes of the resin, and found that gelling times were rather quicker than expected, even at quite cool temperatures (about 12C), so the catalyst proportions were reduced accordingly.
Between three and six layers of glass (of 300g/m2) were laid down over a gel coat, starting at the innermost point, with resin applied to each layer, several mixes of resin were needed, as despite every conceivable preparation and cool temperatures, the gelling times were never long enough. So don't mix too much. The centre differential hole was glassed over, to be cut out later - no flange was included, as the axle depth does not permit at this point. The final task of moulding the mini box-sections at the wheel cutouts was messy, as the plastic oval conduit would not stay in place, once more the consequence of insufficient attention to preparation.
Finally, the mould was removed, with difficulty, which ultimately involved its complete destruction. Maybe more release agent would have helped, as some of the mould surfaces after repair and smoothing were more absorbent than others. Next time I will be really, really meticulous in my preparation promise!
Apart from the difficulties of working in the confined space, I was quite surprised at the ease of application of the mat, which absorbed the resin quickly and, once wetted, could then be manoeuvred into quite complicated shapes. I was quite pleased with my final result, but I will have to improve my technique considerably, if I ever need to work on external finish surfaces.
Final advice for other novices - No matter how careful you are, wear a hat and don't expect clothes to be fit for much else when you have finished.
Tony Clough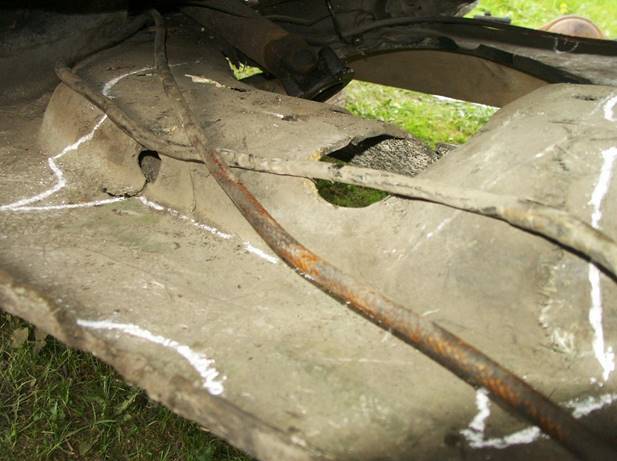 Original floor showing damaged areas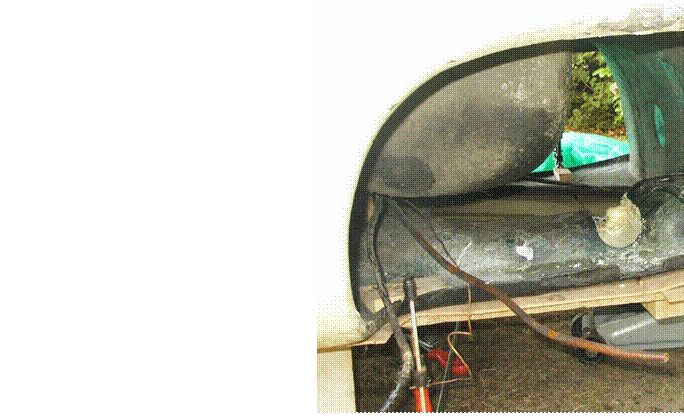 Construction of mould showing foam in place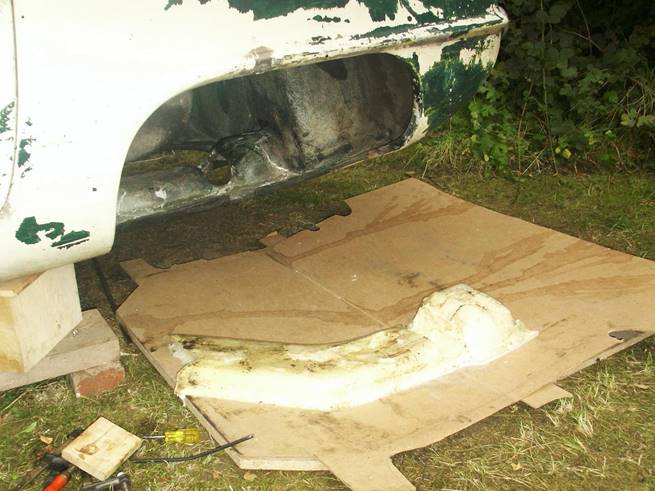 Mould removed, ready for trimming and smoothing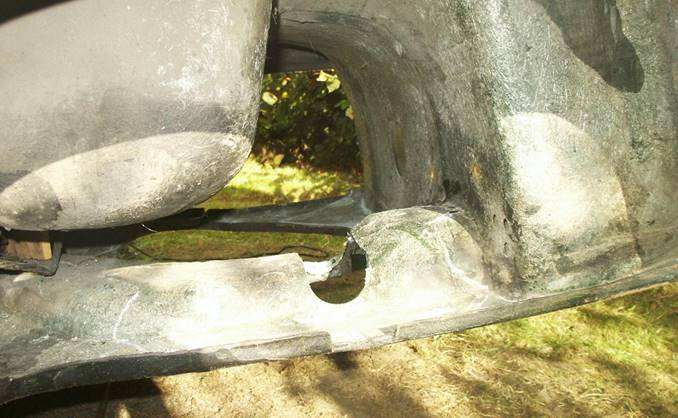 Damaged underside, ready to cut away
Mould and damaged underside removed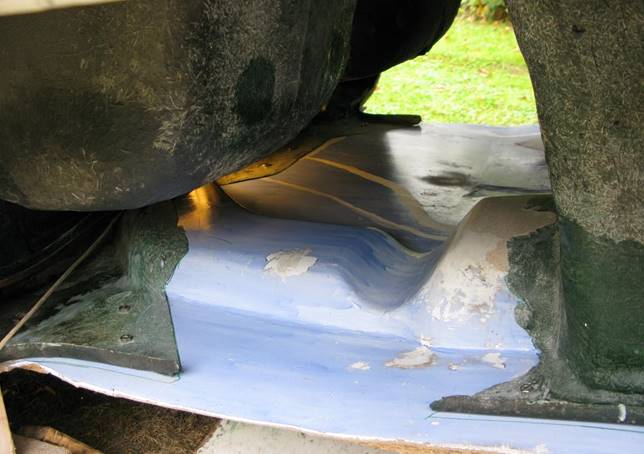 Mould replaced after trimming and smoothing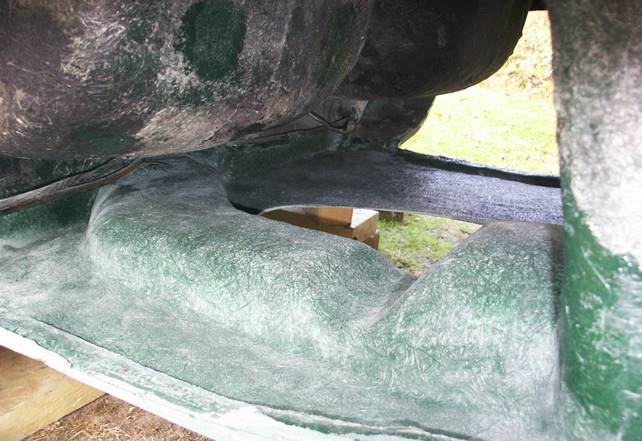 New panel moulded in place
OLYMPIC REGISTRAR
Bristol Classic Car Show, Shepton Mallet.
Once again the Club took a stand at this show and Alan Farrer had done all of the pre-show planning. However, family commitments (well you can't miss a 90th Birthday party can you, as they don't come around too often) prevented his attendance on the set up day. So the trusty Subaru was loaded up with all the necessary bits and pieces and off we went to Shepton Mallet.
Alan had arranged for two Olympics to be on the stand, Fred Blackmores phase 2 and Nigel Whitakers phase 1. However, a last minute panic phone call indicated that Nigel had been struck down by the Prince of Darkness (a.k.a. Mr Lucas) and the phase 1 was to be a non-arrival. By the time I arrived Fred was already there with his immaculately finished phase 2.
Compared to places like the NEC, set up at the Bristol Show is the proverbial piece of cake, with parking right by the doors to allow for offloading etc. Nigel arrived by modern Fiat and assisted in the setup, which was accomplished in record time. This allowed for early retirement to the B&B and pub to commiserate with Nigel over his continuing Olympic problems!
Saturday dawned bright but frosty and once again the temporary heating didn't seem to be working in our Hall. A committee meeting had been arranged and as the only non-committee member present, Ben Bettell volunteered to man the stand whilst we sorted out Club business. Thanks Ben, sorry we were so long.
By late morning the aisles were full and the Club stand received its fair share of interest. The extra space generated by only having one car certainly allowed Freds car to be shown off to the best advantage, with plenty of room for the general public to inspect it at close quarters without risking damage to the paintwork.
Sunday was equally as busy and as a bonus there even seemed to be a modicum of heating in the Hall. To round off the weekend Freds Olympic was presented with a Highly Commended rosette by the Show sponsors Footman James.
Many thanks to all the Club members who visited the stand for a chat and to help out over the two days and of course a special thank you to Fred for providing his Olympic.
See you all next year?
ROCHDALE MOTOR PANELS
It was with sadness that I heard just before Christmas of the death of Harry Smith, co-founder of Rochdale Motor Panels. An obituary notice appeared in the Rochdale Observer. This happened just too late to be included in the last magazine.
Harry founded the company in 1948 with Frank Butterworth. Initially, work consisted of general car repairs, although, as both were panel beaters by trade they soon started production of one-off aluminium bodies for the Special builders and Racers. These were time consuming and therefore relatively expensive to produce and output was limited to what the two partners and their one apprentice, Ken Armistead, could make.
In 1953 they heard of a new material, fibreglass, and realised that, once a mould had been produced the body shells could be laminated by relatively unskilled labour. Whilst they were not the first to produce a fibreglass bodyshell, despite what their literature indicated, they were certainly in at the start and quickly gained a reputation for a well-produced and competitive product. Over the next six years these shells were to generate the necessary income to develop the more advanced monocoque Olympic.
Of the two partners I believe that Harry was always the more cautious and generally looked after the finances. Unfortunately, once the moulds and remaining spares had been disposed of Harry never really maintained an interest in the cars and always insisted that he would rather look forward rather than back. It is sad to think that the last remaining direct link to Rochdale Motor Panels has now disappeared.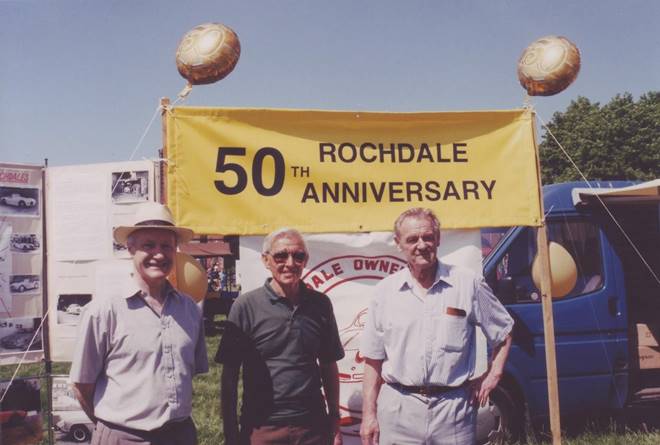 Richard Parker, Harry Smith and Frank Butterworth at Capesthorne in 1998
OLYMPIC MATTERS
Over the Christmas period I have been spending time updating records and gleaning Rochdale information from old motoring magazines.
The November 22nd 1963 edition of Autosport contains a write up of the Trio Sprint meeting at Brands Hatch as follows:
This left the struggle for the class between B Appleton (Rochdale Olympic) and J D Green (Tornado
Talisman) Green was quicker by 0.4 sec. first time out, with 2 mins 42.0 secs., but Appleton improved to
2 mins. 40.8 secs., which was more than enough to redress the balance
According to the factory ledger Mr Appleton lived in Ewell, Surrey and ordered a BRG Riley Olympic kit on 31st October 1961 (Ref 1673). This was delivered on 17th March 1962. However, I do not have a registration number for this particular car to trace its subsequent fate.
The 29th November 1963 issue of the same publication contained a write up of Birmingham Young Conservatives MC Midland Rally:
Provisional results from the 13 finishers showed a win for H Whitehouse in his new Austin-Cooper, from the Rochdale Olympic of W G Thornton.
Mr Thorntons name does not appear on my records, so another unknown name and car.
Tony Stanton continues to assist with items of Rochdale history which he is uncovering and passing onto me to update the club records. Last year, Tony was told about a Phase 1 Olympic that had been built by Ashmore Brothers of West Bromwich, who were the local Lotus agents. As if by co-incidence a few days later I came across the following block advert by Ashmore Brothers in the 5th January 1968 issue of Autosport magazine:
For Sale: Rochdale Olympic. Unregistered, unused, has not been on the road, fitted 1.5 Riley engine. For the price this is an absolute bargain. An enthusiasts car with good economy. Needs only to be seen.
&pound615. Ashmore Bros. Roebuck Lane, West Bromwich. Tel: West Bromwich 2350/3103
1968 is extremely late for a phase 1, so we must assume that the car was purchased much earlier, but for some reason took some time to assemble. Who purchased the car? If it was sold locally it would have a West Bromwich registration or, at the very least a very late registration number for a phase 1.
Looking through the records I have PEA 758F listed as a phase 1, which is a West Bromwich number. The last recorded owner I have for this particular Olympic is Mick Wright, from the Bristol area who unfortunately passed away some years ago. Could this be the same car?
The co-incidences continue as at the Bristol Show Roger Drinkwater was approached by someone with the immortal words a friend of mine has an Olympic and it's for sale.
Roger phoned said friend, a Rob Garrett, who it seems has owned PEA 758F for about 15 years! So at the very least another Olympic has resurfaced and possibly another piece added to the jigsaw puzzle. I look forward to hearing more in due course.
I recently spent a couple of lunch hours on a website which gives a history of Harry Ratcliffe and British Vita Racing. (www.mountgreen.co.uk). When Harry left AVRO Aircraft he set up a tuning firm in the Rochdale area with Jeff Goodliffe and started racing a Morris Minor. At the end of the 1961 season it was decided to incorporate the best bits of the Minor into an Olympic shell and one was obtained from RMP on 5th September 1961.
Previous rumours have indicated that this was a lightweight shell which fell apart during road testing. This would now appear to be incorrect. The factory ledger gives no indication that this was a lightweight shell and the website states that an errant lorry was responsible for the shells demise. Harry had ordered a lightweight shell in October, but this does not appear to have been taken up.
The website also gives details of Team Red Rose, which contains some well-known names in Rochdale circles. As well as Harry Ratcliffe there was Alan Staniforth, who of course had previously built a Buckler with a Mark 6 body (SUG 55) and also a GT (VWR 555).
There was also a Neville Hodkin who had ordered a lightweight Olympic in June 1961. This was registered 8500 DT and is pictured in period publications being hill climbed at Olivers Mount and other locations. It would appear that he later went on to race a Mini under the Red Rose banner. I feel there is more history to come from this and perhaps even contact with Neville to find out more about his Olympic.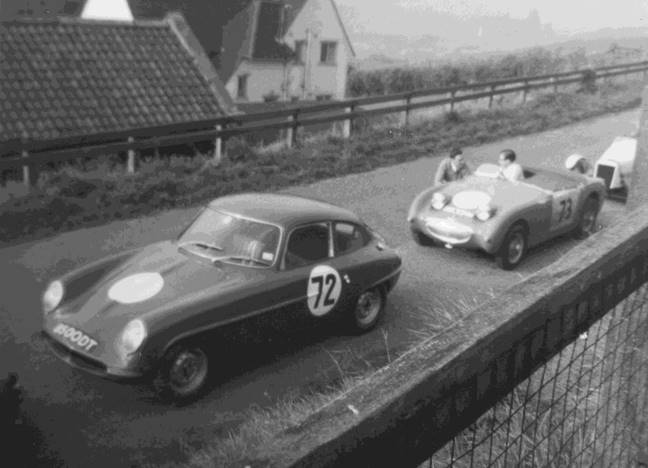 Neville Hodkins Olympic at Olivers Mount in 1961
PRE-OLYMPIC MATTERS
As mentioned, over the Christmas period I have been spending time gleaning Rochdale information from old motoring magazines.
The February 1958 edition of Motor Sport featured a block advert by Chiltern Cars of Leighton Buzzard which reads:
GRAN TURISMO FORD 10 special coupe with pretty fibreglass body by Rochdale Motor Panels. Low weight, aerodynamically efficient body and a mildly tuned engine combine to produce a very economical little car with Gran Turismo appearance and performance. &pound425
It certainly looks quite smart in the photograph. What is very interesting is that of the sixteen cars advertised this is the most expensive. There was the choice of two Aston Martins at &pound295 and &pound360. Even an ex works pre-war MG Magnette was only &pound295. How times have changed with old car values!
The June 1959 edition of the same publication contained another interesting Rochdale advert, which reads:
Gran Turismo Cooper. Mark IV chassis. Ford 100E engine, supercharged. Italian red Rochdale GT body. MG TC gearbox. IFS, IRS, full instruments, carpets, lights. 0-60 mph in 10 secs. 112 mph. max. 30 mpg. Superb road holding with brakes to match. Shod Dunlop R5s. Professionally constructed September 1958. Further details and full history available. Out corners nearly everything. Complete with twin carb. manifold, racing tyres, helmet (7) and spares. Bread and butter car in exchange. &pound650. Radforth, 100, Allerton Road, Mossley Hill, Liverpool 18
Whilst the Cooper chassis may still exist I doubt that it still wears its Rochdale body. I wonder if it was ever raced in its Rochdale bodied guise?
Derek Bentley