MAGAZINE No 111
Edspeak
Attended the Silverstone Classic race meeting with Derek Bentley, where me met up with Tony Stanton, who had arranged an infield parking spot with the Turners and Fairthorpes. It was also good to see Colin Breakspear and Ben Bettell who came on the Saturday. Ben came in his E-type and was waved into the infield parking area by the man at the gate. Thats initiative for you.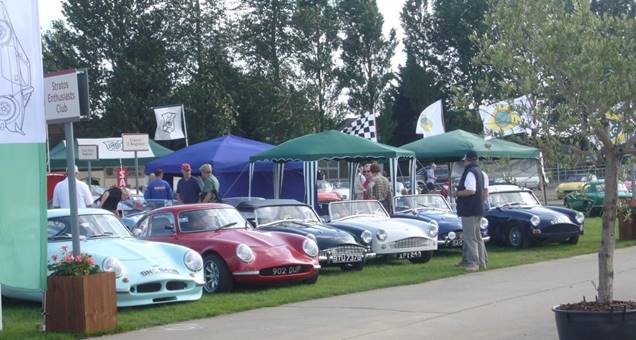 Phase 2 subframes
Roger Coupe is heading a group of members needing subframes. The plan is to get a jig made, based on the original design which the Club will pay for and store. Subframes will be made using this jig on a small batch basis. Quotations for manufacture are being sought.
Coming Events
We have stands once more at: Classic Car Show at the NEC 9/10/11 November 2007
Bristol Classic Car Show 16/17 Feb 2008
Capesthorne is no more
As no volunteer has come forward to take over the organisation of this show, the committee has regretfully decided to stop running it. It is possible that another club or organisation will continue with it and we might attend as visitors.
Membership Fee: &pound20 from 1 March 2008
As a corollary to the above, the committee has decided to invoke its power to raise the membership fee to compensate, so from 1 March 2008 the membership fee will be &pound20. If you pay by standing order please amend the instruction to your bank accordingly.
TONY STANTONS EVENTS PAGE
E-mail tony-stanton@fsmail.net
South Midlands Classic Car/Bike Meet No1
The second Sunday of the month in the Winter, the second Tuesday evening of the month in the Summer, at Britannic Assurance,1 Wythall Green Way, off Middle Lane, Wythall, Birmingham, B47 6WG (From J3 on the M42 follow A435 north 1-mile turn left at 1st roundabout then mile turn left at miniroundabout).
Sunday 14th October, 11am till 3pm.
Sunday 9th December 11am till 3pm. Sunday 11th November 11am till 3pm.
Both these meets have suffered this summer with rain and floods causing poor turnouts. Fortunately it was a warm and sunny evening on the 10th June when we had another Beatles tribute band playing outside on the grass and the must have been over 400 classic cars and bikes turn up.
South Midlands Classic Car/Bike Meet No2
The last Thursday of the month in the summer at The Moat House Inn,
Birmingham Road (A435), Kings Coughton, Alcester, Warks, B49 5QF
Thursday 27th September, from 7pm. (The last one of the year)
Even with this summers weather being poor DUFFY and I have still been to 19 shows and events since the last magazine. Below are just a few recollections.
2nd June Pershore College open day. Even though I have retired from teaching Motor Vehicle here I still take DUFFY on open day to display in the workshop (and to put on the ramp and have a good check over underneath). In the afternoon a visitor was having a good look under DUFFY when he said I used to have one of these, pen and paper quickly out, what is your name and what was the registration number of the car I asked. The car was 829 JOP a Phase1 (ex Stan Hanks car) his name was Peter Crump and he owned the car from March 1973 to late 1974 and it did over 18000 miles in his ownership. He also could remember the name and address of the man he bought the car from and the man he sold it to, so 3 more names and addresses for Derek Bentleys Olympic Directory.
14/15th July Air Tattoo at Fairford Glos. As I said last year the best air show in the UK, parked in the middle of a mile long display of planes, aerial displays all day long and all for free, savings 140 in tickets for 2. (Useless info: if the Space Shuttle returning from space for any reason cannot land in California, the runway at Fairford is where it will land, apparently it has been prepared for the Shuttle once but not needed).
SILVERSTONE CLASSIC on July 27th, 28th & 29th 2007.
A great 3 days by all who attended, but short on Rochdales. On the stand we had 6 Turners, with 2 more racing, a Fairthorpe and 2 Olympics, DUFFY and Alan Farrer with codriver Derek Bentley in Alans Phase 2 BNC 849B. All the cars created a lot of interest and comments. Highlight of the weekend for me was Barrie Whizzo Williams well sideways every lap through Woodcote corner in a big 1964 Ford Galaxie.
On Sunday while in the queue to get into the circuit a gentleman came to the side of DUFFY and said Ive got one of these. It was Mike Peck from Biggin Hill Kent, last known to Dereks records in 1986. He still has Olympic Phase2 1 DNM (this is the car with the cut off Manx tail) sitting in his garage waiting for a rebuild; good to know the car still exists. The weekend was such a success we will again have a stand next year with the F.S.C.C.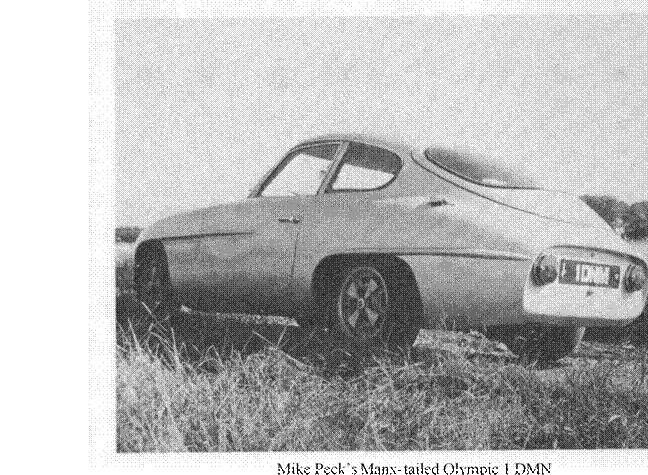 12th August F.S.C.C. Historic Specials Day at Burford.
Very good turnout of period cars. Richard Disbrow puts a lot of effort into this day; thanks Richard for getting lovely old cars together in one place at the same time. Good turnout of Rochdales, nice to see Olympic Phase1 1523 DF, again another ex Stan Hanks car. I spent a lot of time in the 1970s/80s with Stan and Betty Hanks and all the Olympics in their family. Car of the day for me was the Jaguar engined Falcon, what a beast.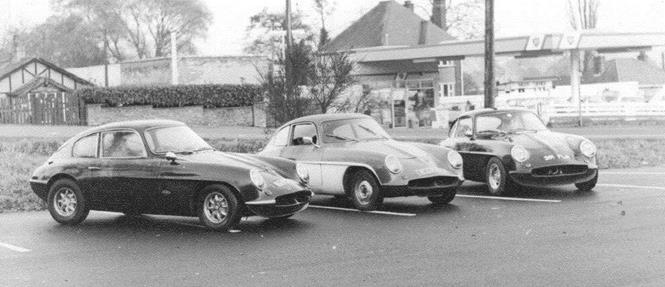 Stan Hanks 1523 DF---Tony Stanton EVH 273L--- John Hanks 291 FLM in1979
28years ago doesnt time fly by.
4
PORTFOLIO OF DUFFY
This is coming along nicely; thanks to Ron Scarfe I now have a video of Richard testing 902 DUF at Bruntingthorpe test track, Leics. But there must be more photos out there of John West and Richard with DUFFY please help.
When Hilary sent me photos of Richard with DUFFY earlier in the year there were also a couple of Richard with other cars, so I asked Hilary if she would write an article on Richards history for the magazine as I knew little of Richards past. Hilary has kindly sat down and written A Potted History Of R.G.P. and sent me some more pictures. I hope fellow members enjoy reading it as much as I have,. Thank you Hilary.
ROCHDALE CALENDAR
We are looking to produce an ROC calendar for 2008 and would like a good selection of bright and colourful photographs of your club car to get the project off the ground.
If you would like your club car to be the car of the month, contact me Tony Stanton on tony-stanton@fsmail.net with your favourite pictures with owners name and you never know your car could become a supermodel for 2008!
SAME REQUEST AS 3 MONTHS AGO - there are at least 30 club cars taxed, M.O.T.d and on the road, I should have been sent enough photos for 3 years of calendars, but so far only 3 members have sent me photos (thanks Fred Blackmore, Roger and Malcolm). I need photos in the next few weeks if we are going to sell calendars at the Classic Car Show. Even if you dont own a computer you must have a child, grandchild, friend or workmate who will scan your photo and e-mail it to me, come on please make the effort.
CLASSIC MOTOR SHOW 2007 NEC 9th,10th & 11th November.
I am pleased to inform club members that your clubs application for a stand at this years show has been successful. We are in Hall 3 stand C13. The stand size is 35 by 24 this should take 4 cars, so has anyone got a reasonably tidy GT, Olympic P1 and a Olympic P11 that they would either like or be willing to have it put on show?
Ideas for new and interesting material for the stand and the display boards would be most welcome, as would offers of help with stand duty.
PLEASE contact Tony Stanton on tony-stanton@fsmail.net
SAME REQUEST AS 3 MONTHS AGO only 1 offer of a car so far thanks to Roger. I need 3 more cars, display boards, help to set up the stand on Thursday 8th November and help to man the stand on the 9th, 10th and 11th November. I cannot do it all myself, come on and help it is your club
And a little note to end on:
The best car trophies are not cups, but miles on the speedometer, stone chips on the paintwork and dead bugs on the windscreen.
FBHVC NEWS
UK LEGISLATION
David Hurley

Off-Road Vehicle (Registration) Bill

Just as we closed for press in mid-July, we learned from DVLA that Graham Stringer MP has withdrawn this controversial Private Members Bill following assurances from the Department for Transport that an inter-departmental review will be undertaken to examine ways in which existing regulation may be employed to tackle the very real problems that Mr Stringers Bill was designed to address. A pleasing and satisfactory victory for common sense.
Number Plates
A new consultation on proposals to tighten up regulations on the supply of number plates was published at the beginning of July and is being studied. This will provide FBHVC with another opportunity to highlight the anomaly whereby an original number plate on (say) a late 1970s car cannot be replaced on a like-for-like basis. The original is perfectly legal, but an identical replacement made now would be illegal because of the standard font rules.
Paint
DEFRA has been in touch to confirm that it is still working on proposals for a licensing scheme to authorise the continued sale of noncompliant vehicle refinishing products.
DVLA
Sandy Hamilton
Our mid-May meeting covered a substantial agenda and a number of outstanding issues were resolved. This area of DVLA is in the midst of a reorganisation involving a physical move to other buildings but fortunately our contacts remain virtually unchanged and thus continuity will be preserved.
V765 Scheme
Several deferred cases were discussed, and it was evident that in those cases relying upon historical or period/archive information, rather than the old Registration Authority records, that accurate and concise presentation is crucial to achieving a positive response. The officers in DVLA, while sympathetic and keen to assist, have neither the time nor the background to read and absorb a plethora of copied historic documentation relating to events dating back, say, 70 years or more in the past. It is a great help to the Agency to summarise the salient points in a concise, logical and dateline annotated manner.
Fortunately these more complex applications are in a minority but the discussions they raised enabled us to reach an understanding with DVLA that they will at least consider positively such applications that rely upon period or archive information. Each case will be considered upon its merits and will not set a precedent. I am always able to advise upon the merits of more complex cases and their presentation - contact me via the secretary.
Vehicle Inspections
Following my comment in the last Newsletter I continue to hear of DVLA inspections required following discrepancies notified during MoT testing. As most vehicles in regular use have completed at least one computerised test, the cases mainly involve recently recommissioned vehicles. The majority are resolved promptly. DVLA takes a pragmatic approach especially when a vehicle has a continuous registration history and they do understand that transcription errors occur.
I continue to be amazed by owners who fail to help DVLA to help them. I cannot stress strongly enough the need to present a vehicle for inspection with the chassis number clearly visible. It is utter madness to attend with a missing plate where one should normally be fixed. Those older vehicles that may have their numbers in obscure places should have this explained to the inspector. If owners are unable to be present personally, they should make sure their deputy is informed or that a written guide is provided.
Inspectors are trained in current practices to assist them in identifying vehicle crime, they cannot be expected to know the idiosyncrasies of each and every historic vehicle, in many cases not just older than them but older than their parents. Owners unhappy with the outcome should make sure they keep a log of dates, times and people involved, and no-one should ignore or fail to respond to official letters.
We will continue to support those who have a genuine case and will do our utmost to assist in reaching a satisfactory outcome but there will be little sympathy for those who fail to observe basic procedures.
V5C Exchanges I had also been advised of difficulties experienced by owners seeking to exchange V5 documentation for new V5C certificates. It seems that most of these problems are confined to vehicles that have been off the road for at least 20 years, have remained in the same ownership and where there has been no need to alter any particulars. Confusing information had been obtained from phone and internet helplines as well as a Swansea Department returning a V5 tear off section stating that the vehicle was not registered!
These cases will not be numerous and date back to a working procedure initiated in the 1980s and discontinued a few years later. It in no way affects the validity of the registration of the vehicle but the record may not be evident upon a simple enquiry. Some of the informants had their cases sorted by Local Offices who, without exception, were helpful and clued up; after my intervention other cases were dealt with promptly and satisfactorily.
It is clear that, in common with other major organisations, DVLA has problems in training and retaining a constantly shifting helpline human resource. It is inevitable that any enquiries that differ in the slightest manner from the norm will create difficulty. My suggestion is that wherever possible a more complicated enquiry is taken to a Local Licensing Office where a discussion can be held with the benefit of any documentation that is available.
CONTINUOUS INSURANCE This note has been prompted by recent correspondence quoting claims by insurance companies that vehicles must be insured at all times and that laid-up cover can no longer be offered because the law requires continuity of insurance. Both claims are a manipulation of the truth; the legislation on which the claims are based has not yet come in to force and, even when it does, will not necessarily have the effect claimed.
At the end of 2004, the Department for Transport consulted on proposals to require and enforce continuous insurance. The enforcement hinged on automated systems to compare the DVLA database with the Motor Insurers Database and to issue penalties to keepers of uninsured vehicles unless those vehicles were SORNed. FBHVC received assurance that vehicles that had been off the road since before the introduction of SORN would not be affected.
The Road Safety Act of 2006 (RSA) laid the foundations for such a scheme by means of Section 22 of the act which inserts new sections 144A, 144B and 144C into the Road Traffic Act of 1988. The RSA does not specify a date on which these new sections come in to force, but allows the government to introduce them by Statutory Instrument, and that has not yet happened.
Section 144A starts off: If a motor vehicle does not meet insurance requirements, the person in whose name the vehicle is registered is guilty of an offence The remainder of the section defines how such requirements might be met.
Section 144B is headed Exceptions to section 144A offence and lists acceptable reasons for noncompliance, such as where the registered keeper has sold the vehicle, the vehicle has been stolen etc. and includes at subsection 5 the situation where: at the relevant time the vehicle is not used on a road or other public place, and the registered keeper has complied with the relevant requirements under subsection (7)(a) below ...
Subsection (7)(a) says: Regulations may make provision requiring a person to furnish such particulars and make such declarations as may be prescribed.
We expect that government will consult on regulations under this section to require continuous insurance for vehicles that are not SORNed. We feel it is unlikely that the new provisions will come into force before such regulations are prepared.
There is, incidentally, a sting in the tail of Section 144B in subsection 9 which says: A person accused of an offence under section 7 144A of this Act is not entitled to the benefit of an exception conferred by or under this section unless evidence is adduced that is sufficient to raise an issue with respect to that exception; but where evidence is so adduced it is for the prosecution to prove beyond reasonable doubt that the exception does not apply. That is to say that youre guilty unless you can produce at least some evidence to support a claim of innocence - so it is becoming ever more important to keep records.
TYRES - WARNING!
Her Majestys Coroner for Manchester wrote to FBHVC just after the last newsletter went to press and many will have seen this topic on our website - it is an important matter and we urge clubs to pass the warning on to their membership if they have not already done so.
The letter concerned an accident that took place last year in which the driver of an H registered MG B lost his life when a rear tyre burst on the M56. The driver was a skilled mechanic and a careful and experienced driver who was not travelling particularly fast at the time. The car was described by police as being maintained in excellent condition. The surviving passenger said that just before the accident the driver had commented that a tyre wobble had developed and he was going to drive through it. The wobble went briefly, but then the tyre burst, causing the car to spin, clip a kerb and flip over.
Subsequent investigation showed that although hardly used the tyre was 25 years old. It was one of a set of as-new tyres and wheels bought at an autojumble the previous year for use for show purposes (at the time of the incident the car was on its way to an event at Oulton Park).
This note appeared in the Newsletter for December 2003 following a suggestion that tyre dating may become a feature of the MoT: ...the Vehicle Standards and Engineering Division at the Department for Transport [has advised us] that although most tyres already carry dates of manufacture in their side-walls, there are no plans to implement regulations to check such dates at the annual MoT test. DfT would, of course, change their mind if tyre failure due to age became a significant cause of accidents.
The British Rubber Manufacturers Association suggests that if a tyre is six years old and remains unused it should not be put into service. It also suggests that in ideal conditions tyres may have a life expectancy of 10 years.
The moral of the story is not to wait for legislation, but to make sure your own tyres are in good condition, never to use undated or obviously old second hand tyres however good the tread and never to ignore a tyre wobble.
HERITAGE - The Car Project
A new English Heritage (EH) project is exploring the impact of the motor car on people and places from the earliest days of motoring in the 1890s to the present day. It is looking how the world around us was adapted for car and how a whole new range of building types evolved to meet the needs of cars and their drivers, including garages, filling stations, car showrooms, car and coach building factories, car parks, motels and roadside cafes.
Older garages, showrooms and filling station (in particular) are disappearing rapidly and this is where EH would welcome help from historic vehicle enthusiasts, so car clubs are asked to pass this on to their members. EH would be delighted to hear from anyone knowing of any buildings in any of the categories mentioned above. EH have already made many discoveries but are sure that there must be many more interesting survivals yet to be found. Little work has been carried out to identify and record these buildings in the past and the EH survey will enable their significance to be better appreciated. Unfortunately, this survey only covers England and only those buildings connected with the motor car, rather than buses, commercial vehicles or motor-cycles. While buildings dating from before 1940 are of special interest, the pace of change is such that any pre 1970 buildings that are still in substantially original condition may be worth mentioning.
The best way of communicating with the project researchers is by e-mail, and photographs attached to emails are very welcome provided they are of low resolution. The material sent to EH will help them to plan an extensive programme of fieldwork to visit and record the most interesting examples. The findings will be published in a book.
The researchers are John Minnis and Kathryn Morrison whose e-mail addresses are: john.minnisn englishheritage.org.uk and kathryn.morrisonnenQlish-heritage.org.uk. Their address, for those lacking e-mail facilities, is English Heritage, Brooklands, 24 Brooklands Avenue, Cambridge CB2 8BU.
L E T T E R S
From Peter Bissett Olympic Phase II
Hi Alan
Finally my Olympic is back on the road and I must say that I am really pleased with the way it drives.
I thought that I would drop you a wee line to let you now what has happened in the intervening 3 years.
The car was originally taken off the road when one of the front suspension uprights snapped. I say snapped however Im sure that the top and bottom of the upright had long since parted company as it was extensively rusted and all that was holding it in place was the inch thick fibreglass around it. It still drove and braked in a straight line though. It turned out that the other upright was going the same way as well.
Ron (Collins) and I decided that the only real option was to cut out the entire old frame and replace it. It took a LONG time to cut the subframe out the most timesaving tool for this job was Clarkes (read: much cheaper) version of the small Dremel cutter with a long flexible drive. I dont think I could have completed the job without it! In removing the subframe I had taken too much of the fibreglass thickness in the front nose area, so the first job was to re-instate the strength in that area. That has been done and then some!
I know there are conflicting views on what design of subframe to re-use however we wanted to
Use as many parts off the shelf (Spitfire turrets, brackets, bushes etc).
Make it as straightforward to construct as possible for future repairs.
Make it easy to install/remove.
Make it adjustable.
This we have achieved by making the base in the shape of a capital H with an extra cross spar, the Spitfire turrets bolt straight on and the camber is set by separate angled spars that bolt underneath the base. Ron took reference points from the original and used them to assist with the new design, all of which was made up, showing various aspects, on Auto Cad. Ron widened the design to allow us to remove the solid steel, 15mm thick hub spacers on either side. The frame is bolted by 3 bolts through the floor on either side and braced, via plates, against the bulkhead. The original Triumph Spitfire engine mount brackets on the turrets were used as mounting points for a cross-bracing strut.
Does it work? Well, so far the car seems to drive very well and I am extremely happy with it. But only time will tell regarding my welding abilities! Without Ron Collins design expertise, advice and help, I would definitely not have been able to even contemplate what we did thanks Ron!
Other changes in that area were
The radiator had to be moved forward which meant moving it into the narrower area right at the front of the nose. We managed this by using a Golf radiator (Mk3 I think although I have the serial number to confirm) which fits perfectly and the VW Golf fan is ideal too. Both rad outlets are on the passengers side, which meant a slight re-routing of the coolant pipes from the Ford Crossflow engine; however this has worked well. There are also no overflow pipes or filler apertures on it other than the temp sender, which we wired up. The set up works well with engine temp gauge sitting right where I would hope it would and the rad fan keeping everything cool in traffic. The anti-roll bar links were from a TR6 and look like the ones that the club stock. I redesigned the front grille to be two slim aluminium slats either side of the septum. They support the registration numbers 3 on either side. I know this isnt strictly legal, however so far no one has commented on it. I also moved the front indicators down to the outside of the air intake openings, much like early TVR, which leaves the nose of the car with a much cleaner look to it.
Other areas:
Rear suspension
On the rear suspension I have always felt that the springs were too soft. I am also using the new dampers. I spoke to yourself and Les Brown about these and decided to go down the route of the 2 inch inner diameter springs that mount on the damper top and bottom. I ended up ordering 140lb springs with a free length of 10 inches ( the original springs were mounted on the body at the top and were 12 inches long). These have worked well and the ride is very good although, surprisingly, still a little soft for me. (Update - I have now fitted 180lb 10 inch springs which work well without giving a hard ride but I possibly need to turn up the dampers.)
Seats
I wanted to put in new, period looking seats as the ones I had were from a 70s Gilbern. After looking around and being amazed at the cost of new seats I started to look at other options. I found that the leather seats from an early MGF look very similar to MGB leather seats and they fitted width-wise as well. They were quite difficult to find but I eventually located some in a fairly local scrappies. They look very period and are comfortable, the only downside being that they dont have a tilt forward facility but that hasnt caused any problems yet. They cost 100 to buy and I spent &pound80 on some retrimming, which was done to a very high standard locally. This upset a friend who had just bought new MGB leather seats which looked almost identical but which werent as well bolstered or as comfortable and cost him just over &pound600!
When I removed the old seats I found a few drill holes in the car floor, which I decided to repair. As I scraped back a thick layer of tar-like under-seal on the inside of the car more holes kept appearing in the end just over 30 drill holes PER SIDE on the floor under where the seats had been. I can understand one or two wrongly drilled holes but certainly not that many. However it did explain why there was sealant on the inside of the car as they had been badly filled in with filler and just covered up. What a pain that was to scrape off! I prepared the entire floor on either side and layered up with GRP. I added a little extra thickness for strength as after preparing all these holes there wasnt much left and I was never comfortable with the flexing of the floor.
Rear lower panel
I have never liked the lower rear space that was created for the spare wheel on Phase 2s it almost looked unfinished so Ron and I made a foam buck, took a fibreglass mould and made a panel, which was similar in shape to the Phase 1 lower rear. We have made it removable by using hidden captive nuts and bolts. The exhaust exits through the panel. The shape needs some work still but I think it improves the rear immeasurably.
Now the car is on the road I can begin to sort out all the problems that only appear when it is being driven like the wiper blades deciding to go in different directions! Maybe Ill even get round to the bodywork which is presently a wonderful shade of Distressed Urban Camouflage.
We recently took the car down to Capesthorne which was a roughly 4.5 hours each way. It behaved extremely well, sitting in the speeding traffic all the way. I was surprised how comfortable it was, even after sitting in it after all that time in one day!
Where does all the time go as that doesnt seem like 3 years worth of work, but it definitely felt like it!
Regards, Pete
Footnote from Ron:
Ah yes. That Lower Rear Panel. Peter did go on and on about it asking me to show him how to fabricate a glass-fibre mould shaped to fill the gap. I said no because if I made a mould for his Phase 2 rear it would be almost as beautiful as my Phase 1 and I wasnt having that.
How about finishing the engine/suspension/electrics/interior/etc first I asked. Anyway I eventually cracked and we made a trip to B&Q for a block of pink foam that day.
By pushing a roughly oversized block of foam up into the gap left by the spare wheel it was possible to mark witnesses onto the foam thus allowing us to trim away the excess. Take care to shape the foam in such a manner so that the final mould can be fastened to the vertical floor panel in the boot. Extra lip height can be added for the bolting flange on the final panel if necessary.
Go for it. It made Peter a happy man. I still think my Phase 1 is the prettier though.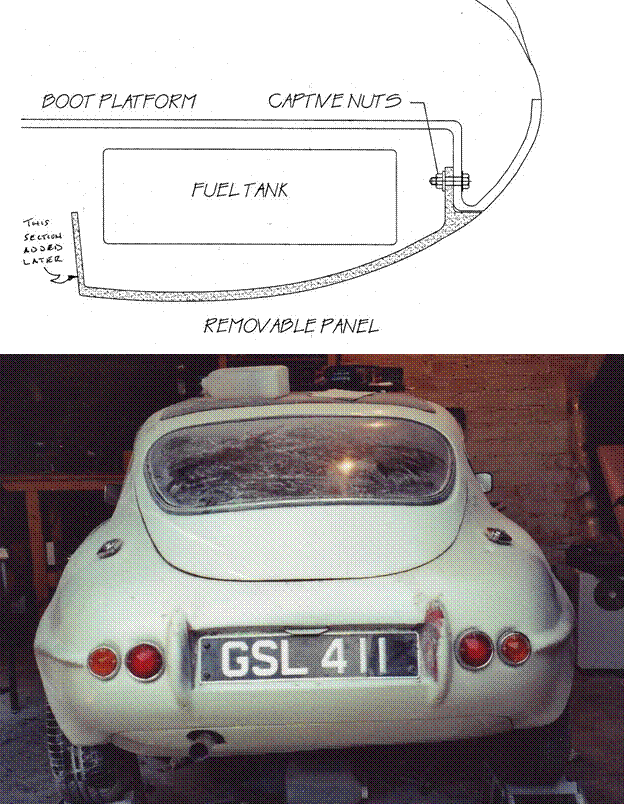 A POTTED HISTORY OF R.G.P.
Richard Grant Parker was born on 31 July 1934 in Bury, Lancashire. His father was a local G.P. and they lived in the centre of Bury until Richard was ten, when they moved out to Tottington.
His father, incidentally, drove in the 1949 le Mans 24 Hour race with his friend Rob Lawrie in an Aston Martin, being first over the line at the finish, but not the winners.
Richard went off to prep school at 8 and then at 13, moved to Marlborough College. Apart from his interest in all things mechanical, he was also very musical and played the violin. Although he won the college music prizes (until he was stopped from entering to give other boys the chance of winning), he realised that a career in music was not for him. He was also a very good gymnast and diver and was in the college teams. He was very keen on mountaineering and joined the Fell & Rock club and climbed in the Lakes.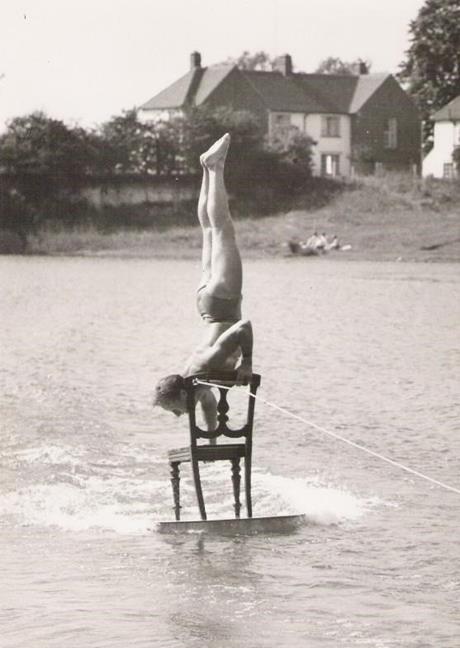 National Service was spent in the RAF from 1953 1955, and during this time, got his first wheels a motorbike.
In 1955, he went up to Christs College, Cambridge to read engineering. He graduated in 1958 with a 2.1. During his time at Cambridge, he became involved in night-climbing (the placing of sanitary ware on the top of college chimneys), and water-skiing.
A Water-skiing Club was formed and Richard took to this in a big way and was their trick specialist. He would be pulled out on a circular board, on which was a kitchen chair, and he would then perform handstands on the chair seat.
The father of a founder member of the club had interests in the leisure industry in Scarborough and arranged for the club to spend the long vac there, giving instruction and demonstrations on Peasholm Park.
During his time at Cambridge, and quoting from Richards article in Classic Car I swapped my Austin Chummy, which Id bought for 8, for &pound10 plus a Ruby. I turned the Ruby into a special by fabricating a steel frame and using expanded metal covered in polythene sheet to make a mould for a glassfibre body. I bought the materials from Rochdale Motor Panels and they were sufficiently impressed to give me a job in the long vacation. The result was that I designed the Rochdale GT.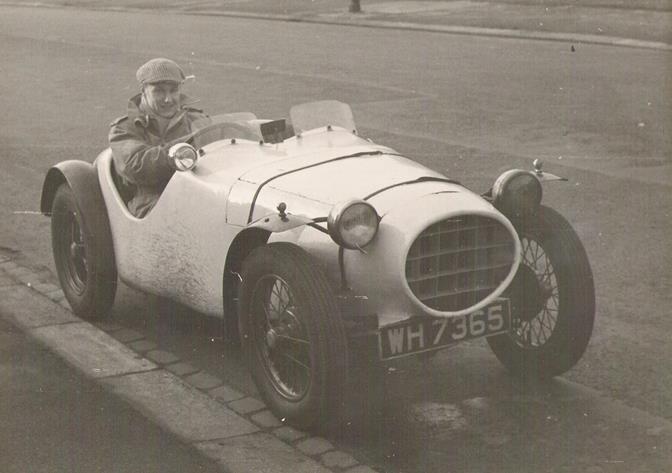 I met Richard on Friday 13 April 1956 at a dance and our first date was at Oulton Park. He arrived at my house in Preston on foot having broken down in the special on the way from Bury. When he realised that my father, who had an auto-electrical business, could send someone out to rescue him, he knew that he was on to a good thing, and promptly fell in love!
We were married in June 1958 and borrowed his mothers car, the Rochdale GT, to drive round Scotland. Im not sure how he persuaded her to buy this car, but she enjoyed the astonishment on peoples faces.
All Richards jobs were in transport, one way or another, and his first job was as a graduate apprentice with the Bristol Aeroplane Company in Filton. However, when Rochdale offered him the chance to design a new car, there were no second thoughts about accepting it.
We bought a small farmhouse at Hollingworth Lake and moved there in December 1959. When the new car was about to be launched, a discussion took place as to a name and as it was 1960 and Olympic year, that was the name it was given.
Richard used to take potential customers round Blackstone Edge for a test run, and to try and clinch a sale, would bring them back home for an egg and bacon lunch.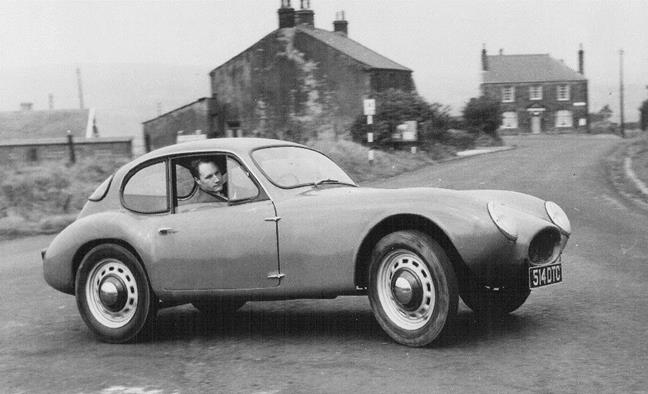 Richard in his mothers Rochdale GT
Then of course disaster struck and what with that and the change in Purchase Tax, kit cars were no longer financially quite so attractive. Rochdale became more interested in domestic development such as central heating and so Richard looked for another job.
He had been approached by Colin Chapman at Lotus and we moved to Essex in July 1963, where he was Project Engineer on the non-Formula 1 racing cars. He was pleased to be working with such a charismatic personality, but by this time our family was increasing and finances getting tight - Chapman thought that working for him was exciting enough.
Although we never sat down and discussed working abroad, by some strange osmosis we ended up in Germany in January 1965. Richard actually started at Ford Germany in July 1964 and lived a carefree life, leaving me once again to sell up and have a baby! His job at Ford was in Advanced Engineering working on the Ford Taunus. He came home once during that few months with a couple of presents the first telescopic umbrella Id ever seen and a German sausage.
During this time, Richard was thinking about working for himself and how he could go about it. So with a view to pursuing this idea, he decided to leave Ford and in 1967 we returned to England and he joined a helicopter company transport again. Thinking about the time he had enjoyed water-skiing, a seed of an idea was growing and at home he was developing the idea of a water jet. Together with a friend who had disused chicken sheds in Bedfordshire, he began to develop what came to be known as the Ski Jet, a small single seater water bike. Design and development continued and I think it was in 1970 that we exhibited at the London International Boat Show. We were one of the first to have a back projector and a crowd would gather round to watch the footage of Richard and John speeding at 40 mph in an old flooded quarry.
Money was running out and so a business plan was put together to try and obtain venture capital. Unfortunately, after spending a lot of time and effort, the answer came back no funds available as it would never catch on. We actually sold about 30 Ski Jets, six being delivered to an agent in Japan no comment. John then decided to pull out and go off and play trains in Singapore, so Richard decided to continue with the water jet propulsion system but in larger craft for water-skiing. We had thought to move North but Shetland Boats were interested in the concept and offered Richard space and admin. help at Stanton in Suffolk, and so we moved from Mill Hill to Bury St Edmunds at Easter 1973.
The great selling point with this type of propulsion is that there are no moving parts under the boat as the water is sucked in and blown out by an impeller. There is absolutely no danger to water skiers if they fall into the water and have to be rescued.
All started off well until the end of the year, when oil prices quadrupled which affected the prices for the resins etc used in the production of the boats. We managed to keep going and gradually took on more people and began supplying more boat manufacturers. We continued to exhibit at various Boat Shows and began selling abroad. We outgrew Shetland and moved to our own premises, still at Stanton, and then later on into units in Bury St Edmunds.
The diameter of the impellers increased from the original 4 inches to eventually 30 inches. Our largest installation was for a Greek vessel working in the Med. Our customers included Coast Guards, Sea Rescue, Navies, Fishing vessels, Customs boats etc and it was after Vosper Thornycroft successfully installed one of our jets as the loiter jet in a Customs boat that they became interested in the company. Negotiations took place over the summer of 1993 and in the October, the company was bought and the factory was moved lock, stock and barrel to Portsmouth.
I had been working for the company for years but only Richard was part of the deal and so I effectively retired at that point. Richards contract was originally for two years but he stayed until he was 65 in 1999, overseeing various projects.
It was shortly before his 60th birthday that he bought DUF from John West and had a very enjoyable time re-engineering it. The ground floor at our house in Portsmouth had been a boatyard and there was plenty of room for all the work involved.
After his retirement, Richard took on Consultancy work and in particular was involved with the jet propulsion system for an amphibian vehicle being designed and developed by Gibbs Ltd in the Midlands this was subsequently called the Aquada, and there were photographs in the newspapers of it being used on the Thames. He was also thinking about the design of another car and had started investigating the possibility of renting shed space in buildings round Camber Dock.
However, sadly, of course, Richards retirement was not to last, and he contracted an acute form of leukaemia and died in December 2000
DER RING DO
It was all Colin Breakspears idea. He lives in Germany and owns a TR6 and belongs to the TR Club of Germany. This club, together with others, hires the Nurburgring Nordschleife for a couple of hours each year so that its members and friends can demonstrate their (lack of) skill on that famous circuit, all for a few euros, and without the distraction of buses, 911s and suchlike. He has participated in the past and suggested some of us might like to give it a try this year. Sounded too good to miss.
As a result, Ben Bettell and Nigel Whittaker set off from Dorset at 4.30am one fine summer morning in his SSS100 and met me in the Tesco car park at Chichester at 6am in my Olympic. We then motored in convoy to collect Derek Bentley from his house in Burgess Hill and thence to Dover for the 10.30 ferry to Dunkirk. It is about 310 miles to Colins house from there. After about two miles I commented to Derek that the steering felt a bit different on lock when going round tight roundabouts, but otherwise OK. The weather had been a bit changeable and we had come through some heavy downpours so I was glad I was in the Olympic rather than the SSS100, where putting up the hood is rather more than a press of a button.
With 25 miles to go we stopped for fuel and I checked under the bonnet, as the steering was feeling decidedly odd by then. Ho hum, the right hand engine mount had broken and the bracket was resting on the lower UJ on the steering column. Not ideal, but Garage Breakspear was close, so we continued, with Derek driving. We made it OK, with Derek reporting an extra weight to the steering towards the end. So thats what it means.
Not only are Colin and Ilka great hosts, but Colin likes nothing better than a bit of a technical challenge, so next morning off with the mount and in a trice the broken part was re-welded and reinforced, ready for the challenge of the Ring. I should mention at this point that the engine sat lower in the body than I had planned, and the sump protruded about 30mm below the floor. In addition I was using some old suspension parts I had until the club AVO dampers Nigel had ordered turned up, so the front of the car was also about 30mm lower than planned. Where is this leading? Read on.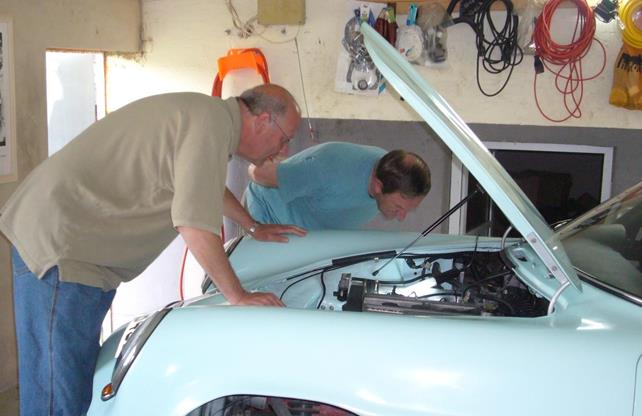 Ben and Derek inspect the engine mount
It was raining when we reached the Ring. So whats new? Just have to take it easy - its a long way home. Spent some time looking around at the other cars there. Not many Rochdales. Lots of TRs of course and also a good turnout of Messerschmitt 4-wheelers. A car that caught the eye was a 30s Aston Martin in original un-restored condition complete with British number plates, the local plates being discreetly hidden under the front apron.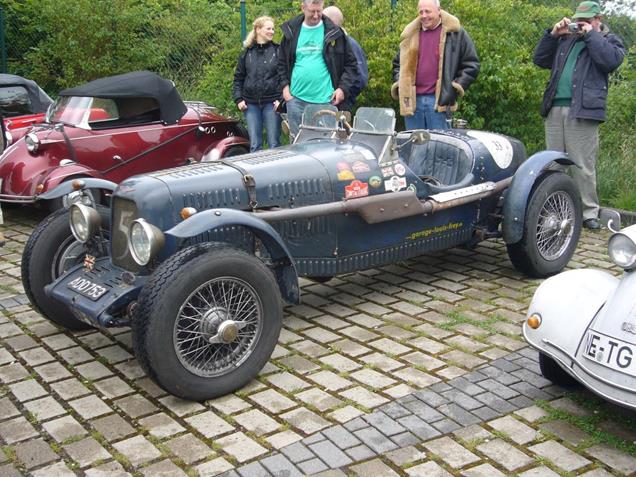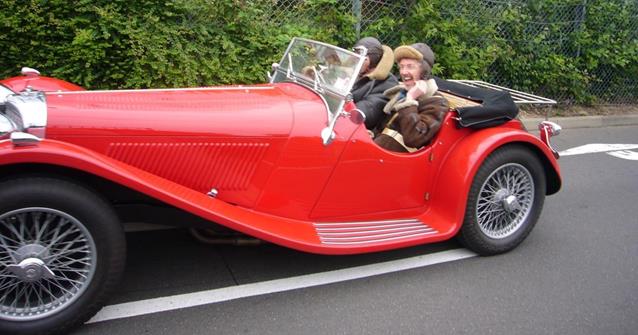 Bens SSS100 looked stunning in its shiny red paint. Who having fun then?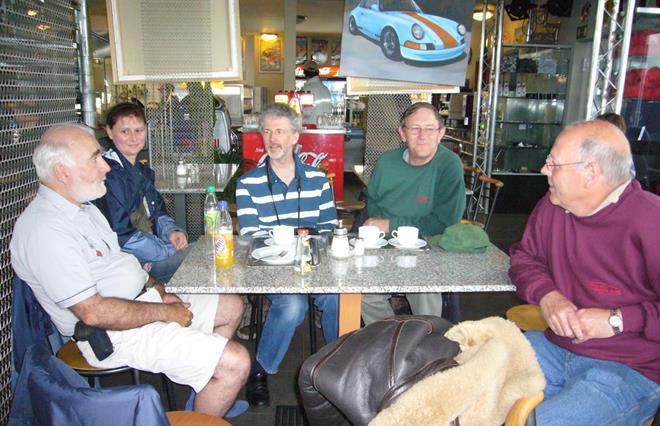 Protagonists gathered in the Ring caf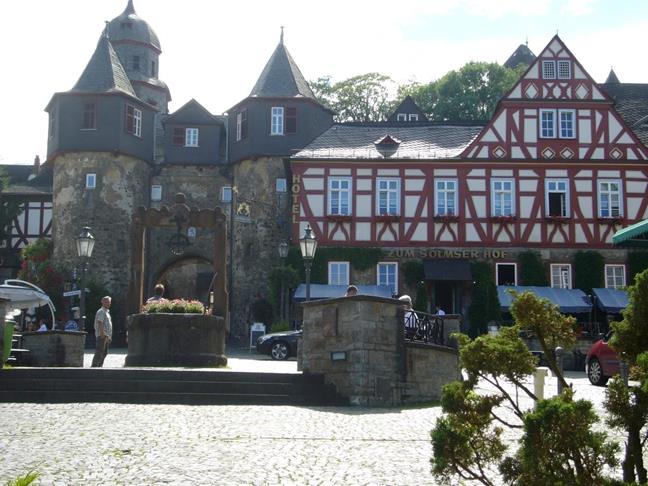 This part of Germany specialises in scenic towns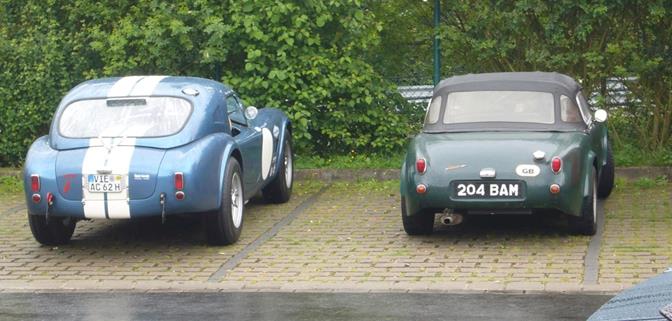 Two track tools Colins Frogeye alongside a serious-looking beast
By the time the start time came the rain has stopped and the track was virtually dry, so show the pass to the marshal and off we go, me driving and Derek passengering. The Nurburgring Nordschleife is a bit like a nice English country road, though a lot wider, with lots of trees and a little Armco. It is difficult to just trundle around, so its up to (my sort of) speed and comforting to overtake a few cars before too long. The circuit is about 13 miles round and after about 10 one comes to the dreaded Karoussel, a sharp,180, banked left-hander. Colin had advised to keep low down the banking as the camber was less helpful further up. What I had not expected was that the lower 2 metres was concrete, and very rough concrete at that. A brief scraping sound indicated that various under-parts of the car had made contact with the concrete, though it didnt sound too bad, and had happened before, so on we went.
Derek drove two of the remaining three laps (no we didnt swap mid-tour), keeping cool and to the tarmac. On my other lap I got a bit carried away and overdid an S-bend, which resulted in more scrapings over the concrete kerbs; I was impressed the way Nigel, who was passenger by then, not only didnt panic, but seemed to enjoy the demolition Derby going on, chuckling all the way. It wasnt his car after all.
Tim Cutts kindly showed me the way to drive round this place in his MGBGT. He has been here before and it shows smooth and unhurried. I should have taken some lap times... perhaps not.
It was a bit of a relief when it was all over, having escaped undamaged. A bright yellow Mini was not so fortunate. This was parked on the grass half way along one of the straighter parts and severely battered. I couldnt work out what it had hit, as there were no bends within range, but perhaps it had had a component failure and flipped. It had looked so good in the car park....
The scenic route back to Colins house took in quite a lot of hairpin bends, where the steering felt a bit heavier than before. Surely not the engine mount? No, probably just tired arms.
The next morning I noticed a small pool of oil under the engine. The lower part of the alloy sump was shiny, indicating contact had been made with the ground. Not good news. Close inspection with the car over the pit revealed all the corner of the sump had been ground down wafer thin, with cracks round the edges. Would it hold out on the journey home? A good question. After all of 10 seconds to consider what to do, Colin had worked out a plan and had started on the solution. Degrease the surface and press some quick-setting body filler into the cracks, then cover with an alloy sheet bent up and round the corner, all plastered with body filler to hold it in place. Thatll fix it. Just have to avoid contact with the road, as the ground clearance was by then not much more than 40mm.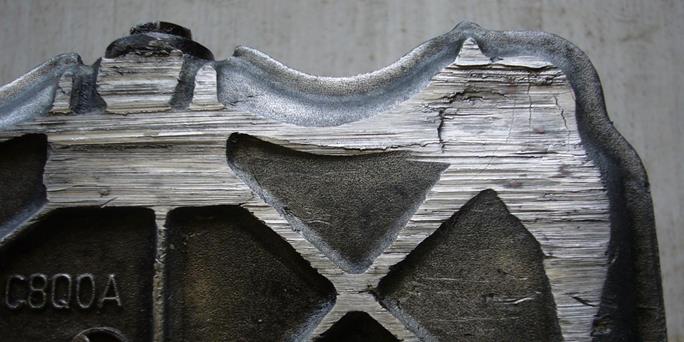 The sump ground down as far as the sump plug (top left). The cracks in the corner looked serious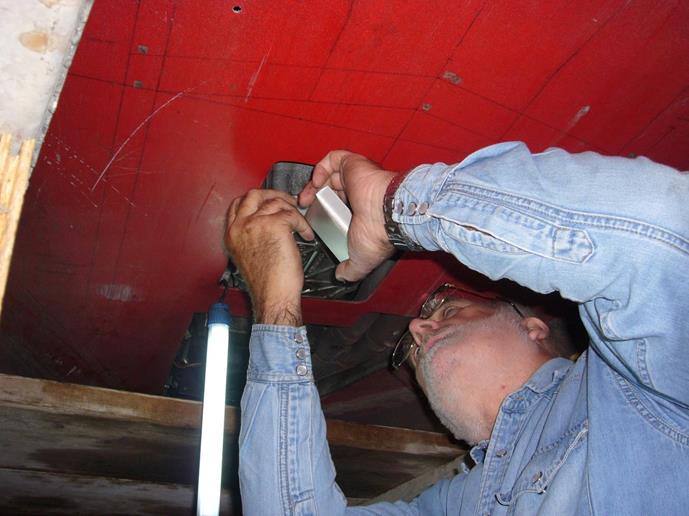 Man at Work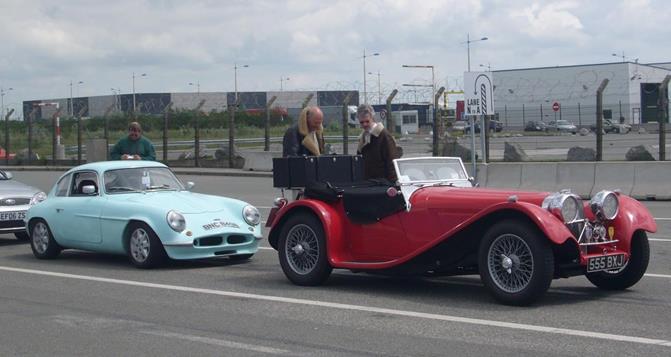 Nearly home on the prom at Dunkirk
Did it hold out? Of course it did, though by the time I had changed the sump the patch came off easily, with oil having seeped underneath.
I was very lucky in finding a replacement sump, not that they are particularly uncommon, being from an Escort Zetec. I went to my local friendly scrappie, as usual. Im looking for a sump from an Escort Zetec. Go and have a word with Dave up there, hes taking the gearbox off one right now. Dave is indeed doing just that, with the car on a hoist. I need one of those I said, pointing to the sump. Right-ho, come back in a couple of hours.
As I needed to go to the garage in Emsworth, off I went and this where the good news bad news thing comes into play an oncoming car wipes the door mirror off my Fiesta, so its straight back to the scrappie. Have you got a door mirror for a Mk IV Fiesta? Go and see Dave, he keeps goodies like that in the shed. By this time Dave has got the sump waiting for me and then leads me to his shed, where he picks up an offside, electrically operated door mirror for a Mk IV Fiesta from the shelf. Its black, but hey, who cares? Amazing.
Paul, the boss, charges me &pound25 for the sump and &pound20 for the mirror and as he pointed out, I didnt even need to get my hands dirty. Sometimes you just have to take the smooth with the rough.
My Olympic hadnt finished its pranks. The day before the trip the drivers door had sprung open unexpectedly and it continued to do so, getting worse as the miles passed. For the trip home it was held closed by a bungy cord, so something had to be done ASAP. I found the star wheel was not held firmly by the pawl inside the catch and a slight adjustment to a pivot effected a temporary cure, but I eventually found that the culprit was the bar connecting the release handle to the catch, which was about 5mm too long and was therefore tending to open the catch. Putting a kink in this seems to have fixed this for good. There is always something to do.
Alan Farrer
ENGINE MOUNTS
As mentioned elsewhere I had trouble with the engine mounts in my current Phase 2, which has a Ford Zetec engine. I used Triumph Herald etc engine mounting isolators, mounted about 15 inches from vertical, meaning the rubber was mostly in shear, and that is what it tended to do, though the units did a good job of isolating engine vibration. After the sump scraping episode I changed them to a horizontal position to reduce the amount of deflection. This meant the rubber was in compression, so no problems with damage to the isolators, but the extra transmission of vibration to the bodyshell was horrific.
A search on the interweb found a company in Guiseley, Leeds, which manufactures isolators for a wide range of industrial uses, with various rubber hardnesses available. I found one of their products which looked ideal, so a phone call established that some were in stock and they were duly purchased at very reasonable cost.
With modifications to the existing metal brackets, I fitted the new isolators easily and the change to engine vibration was dramatic better even than the Triumph items in their original arrangement. One of the additional benefits of the new isolators was that, if the rubber should fail, they limited the amount by which the engine can fall very useful!!
The isolator consists of two U-sections of steel with rubber bonded between the vertical members. The load would normally be applied to the top, but I applied mine to the underside of the inner section, as shown in the lower picture, the metal bracket being attached to the engine.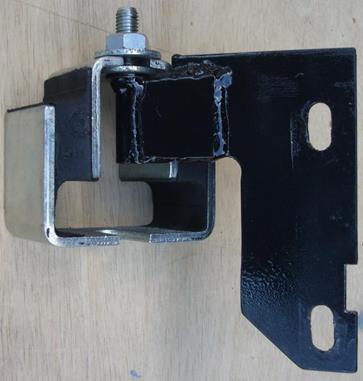 It can be seen here that if the rubber fails then the inner section can only fall as far as the base, about 22mm from the unloaded position and maybe 15mm from the loaded position.
In use the deflection increased well beyond the initial loaded position, so I contacted the company to ask whether that was normal. Answer: No, the isolators had been stressed beyond their working range and in fact were not suitable for automotive use (I hadnt told them the application), as they have no limit stops to control the inevitable high loads that occur when a car travels on a bumpy road, for example.
What a pity, as they did such a good job, but I have now reverted to the Triumph units, this time mounted at about 30 degrees from the vertical, so the rubber is far less stressed. The penalty is a slightly increased level of vibration, but this is better than the engine falling out or resting on the steering column.
Alan Farrer
JUNE JOLLY to GERMANY PLANET ROCHDALE STRIKES AGAIN
Quite how the idea of this trip was formulated is now lost in the mists of time, although I do seem to remember many emails crossing the ether with Colin Breakspear and Tim Cutts. Thursday 14th June 2007 was the designated start of the June Jolly to Germany, with four Rochdale owners taking up an invitation from our German hosts to join in with their local TR clubs annual trip around the Nurburgring.
The final arrangements were that Alan Farrer and I were to travel in his phase 2, BNC 849B, whilst Ben Bettell was to make the trip in his Suffolk Sports Car SS100 replica (The GT not quite having reached the stage when such a trip could be contemplated). Fortunately, Nigel Whittaker was unexpectedly ill at the last moment and therefore couldnt attend work. His doctor prescribed that a sea voyage and plenty of fresh air and German beer would be the ideal cure, which meant that Ben also had a travelling companion!
The first part of the trip went without too many problems, apart from your scribe taking a wrong route three miles from home and leading the group into the usual English traffic jam. The ferry crossing was survived without incident, thanks to the excellent (and reasonably priced) Norfolk Line and we even managed to find our way through Dunkerque without problems.
However, by the time we crossed from Belgium into Germany it was obvious that all was not well with Alans engine mountings, as the intake manifold was rattling on the bodywork. A look underneath revealed that the sump was projecting much further below the undertray than at the start of the journey. All was not well in Rochdaleland as it appeared that something strange was happening to the engine mountings. Nevertheless, we carried on and it was only when we stopped to refuel, some 30km from the Breakspear residence that the full extent of the problem was realised. By this time the engine had dropped further, to the extent that it was now resting on the steering column, making the steering somewhat heavy!
After a BBQ and nights rest, courtesy of Colin and Ilka, the extent of the problem was traced to a broken weld on the engine mount. This was quickly stripped by Alan, welded by Colin and re-assembled into the car, all before breakfast. We were still in plenty of time for the trip to the circuit that afternoon. Was it only I who wondered if there were any more critical welds that might fail on the next part of the trip? Colin used his Mark 1 Sprite, so we had a convoy of three English sportscars around some superb driving roads.
Driving around the Nurburgring accompanied by about 100 classic sportscars was an experience not to be missed. The road was closed to the usual buses and camper vans, which made it even more pleasant. Even so, how anyone can learn all the corners is a mystery to me. Here I must also disagree with our Editor, as I cannot believe that I missed every single apex on the circuit! (Better than hitting them like me - Ed))
We also met up with fellow Olympic owners, Tim and Simone Cutts, who were in their MGB, the Olympic not being quite ready for such an experience. By the end of the day my camera was full, so, not having a spare card I decided to delete the usual shots of thumbs, feet etc., only to discover that I had ignored the delete all warning and had lost everything!
The following morning a small pool of oil was visible below the Olympic, so once again the excellent Breakspear workshop was put to use. It would appear that a trip across the kerbs, not me driving I hasten to add, had ground the front edge off the aluminium sump. A temporary repair was carried out with aluminium sheet and body filler, which fortunately lasted for the return trip to England.
This weekend was also to be my baptism into open air motoring, both in Colins Sprite and Bens SS100. I survived both, which bodes well for ultimate usage of my Turner. I have even bought the leather helmet!
A superb weekend, through some lovely countryside and made even better by congenial company and Colin and Ilkas hospitality.
Rochdales live. Whats the date for next year?
Derek Bentley
PS. I understand that the engine mountings have now been re-engineered, so hopefully the trip to Angoulme will be less traumatic.
EARLY ROCHDALES REGISTER
Im sorry for the lack of Early Rochdale news this time I have been impossibly busy but there's lots happening out there, including another C-type turning up out of the blue, this time in USA on an MG chassis - and it's NOT the MG-chassis C-type that turned up a month earlier in the UK only to disappear without trace overseas.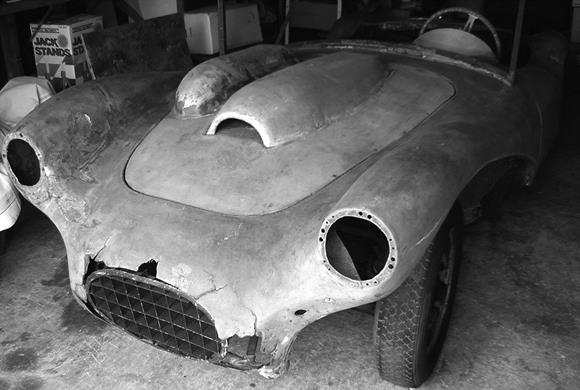 I have also been to see Patrice Wattine's wonderful collection in France. Here he is with his three Rochdales, ST (actually Bonglass!), GT and Olympic. Malcolm McKay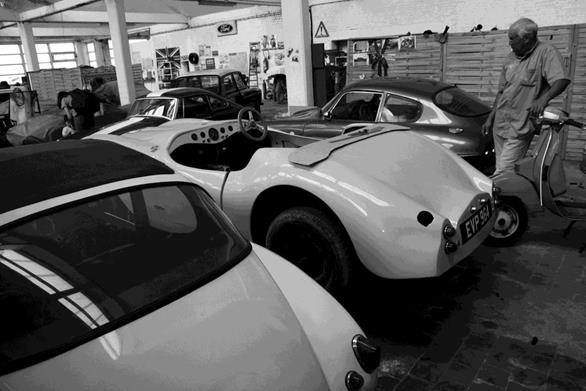 OLYMPIC REGISTRAR
I mentioned that 590 MTT, a phase 1 Olympic, had recently turned up in the Sidcup area of SE London having been missing from my records since 1973, when it was bought by a Gary Cairns.
Gary used the car until about 10 to 15 years ago, when he passed ownership to his son Liam. However the car then stayed in the garage, unmoved and as these things are want to do, became used for storage of all the sundry household items that garages seem to collect.
Gary incidentally now lives and works in South Devon as a policeman. Do the police force have a special affinity with Rochdales I wonder? Liam, or more likely his mother, decided that the car had to go and hence his call to me and my subsequent visit after the Bromley Pageant.
Although access to carry out a detailed inspection was limited, the car would seem to be a fairly standard, unmolested phase 1. Engine is a B series, thought to be a Riley 1.5, but with MG rocker cover and fabricated twin carburettor Inlet/exhaust manifold. Wheels are the early pattern Cosmics. One downside is the cracked windscreen, slightly expensive, if not terminal.
The car has now been bought by Robert James, a Fairthorpe owner from Northampton. The car is due to be collected shortly, once Rob has informed his better half of his new purchase!! Rob should also be joining us shortly, if for no other reason than the need for a screen and no doubt the other spares the car is likely to need.
Obviously in view of the cars ten year period of inactivity a complete mechanical rebuild will be necessary, but hopefully in due course another lost Olympic will return to the roads. Rob is intending to keep the car fairly standard apart from possibly updating the brakes.
Another lost Olympic to suddenly reappear is phase 2, YCD 298K. This has recently been purchased by Jeremy Cottrell. From the photos it would appear that a full rebuild will be necessary. The windscreen and engine are out of the car, or may be missing completely and the bodywork would seem to need some attention. As Jeremy puts it in his email now in my possession and partly alive.
The previous recorded owner I had recorded was a D J Wallace from Burwash Weald, East Sussex. From the registration number it would seem that this car originated in Sussex, so Mr Wallace may have been the original owner. My records are unfortunately a bit light on this particular car.
1523 DF is another phase 1 Olympic that has also recently changed hands and is now in the possession of Ros King from Wiltshire, who saw the car advertised on ebay. Mechanically the car is OK and MOTd, but work is needed on the interior and bodywork.
This is a well known car within the Club and was owned for a number of years back in the 80s by Stan Hanks, who was then working for Jaguars experimental department. Stan modified the rear suspension and tuned the Riley engine and it was probably one of the best cars around at that time.
Derek Bentley
Copyright © Rochdale Owners Club
Last Update