MAGAZINE No 110
Edspeak
Our show at Capesthorne this year went very smoothly as usual, despite a reduction in the usable area, and was untroubled by rain, thank goodness. There cannot be many clubs who get such a big turnout of members to help and it would be a tragedy if it were to fold because of a lack of organiser following the (definite) retirement of Ron Scarfe after 12 years in the job. This show provides an opportunity for existing or new members to get to meet other members in a congenial atmosphere, especially on setup day. It was a great pleasure to see Hilary Parker again, who presented the prizes on the Sunday. For me it was also a pleasure to meet new member Tony Clough on setup day, with whom I had been having email correspondence for some time.
Im using my new Olympic quite a lot now that it is running reasonably well, despite some lingering rattles and it is returning nearly 40 mpg on runs. It has now clocked up well over 2000 miles since March, pounding the motorways between the sunny South and Coventry, Derby and Capesthorne. Soon it will be in Germany to visit Colin Breakspear and have a trundle round the Nurburgring. Although smaller roads are more enjoyable, motorways are a necessary evil, which it handles with relative calm. A particular favourite road of mine on these trips is the A423 between Banbury and Coventry, where the frequent signs warning of speed cameras (National speed limit) indicate that others find it tempting too.
As mentioned at the AGM there has been progress on the subject of Phase 2 subframes. Roger Coupe has volunteered to coordinate requests for these so that a batch can be made. If you need a Phase 2 subframe contact Roger.
Note that we have a new Secretary: Roger Drinkwater (see inside cover for his contact details).
Chair Chat
As you may have noticed in the last Club magazine, "Sow's Ear" has at long last made an appearance in public. There is still quite a lot of work to do to complete the project, and the sailing season has started, so progress will be a bit slow for the next few months. However, it did manage to put in an appearance at our Cheshire Kit and Classic Show, where it was judged the best Rochdale. I did wonder to myself whether it was indeed possible to change a "Sow's Ear into a Silk Purse".
The Show weekend this year I am pleased to report was not overshadowed by bad weather once again, quite the reverse. The Saturday was a little windy but sunny and I think everyone had a good time, especially the Saturday evening when club member Ben Bettell shared with us his experiences of competing in "Le Jog" in his SS 100 Replica. The show day itself went well with wall-to-wall sunshine all day and a good turn out of Kit Cars and Classics. A big thank you goes to Ron and everyone from the club who turned up to help make the weekend run smoothly once again.
On the subject of the Cheshire Show, as you all will be aware from the AGM, after 12 years of hard work, Ron Scarf finds that after this year, he can on longer find the time to head up the running of this, the Clubs main annual event. It has been with his initiative, enthusiasm and leadership that the show has gone on from strength to strength over the past years.
The Club started running the Kit Car Show 25 years ago. As well as putting the club on a sound financial footing, it has become a popular fixture in the motoring calendar for many people besides our own club.
Therefore if the club wants this event to continue we need a volunteer to take over as team leader. If you feel you can help the club in this way, then please contact Ron or myself for further details of what the job entails.
Another item from the AGM was the subject of Phase 2 front sub frames. Thanks to Derek Bentley we now have a detailed drawing of the frame as near as possible to that produced by the Rochdale factory. To move this important item forward, it was agreed that a sub committee be formed. It was suggested that the nucleus of this committee should be members who are in need of a replacement for their car. I personally need one for my Phase 2, so please contact me if you want to be involved in this important project.
Well the wind is getting up and I have to cast off and set the sails, so I hope to see you all again at the Specials Day in August. Roger & out.
FAIRTHORPE SPORTS CAR CLUB 18th Annual Historic Specials Day Sunday August 12th 2007 The Cotswold Wildlife Park, Burford, Oxon.
Inviting all Historic Specials:
Ashley AKS Autobodies Buckler Cambridge Cheetah Concordette Convair Derrington Dison Dolphin E.B. Fairthorpe Falcon Hamblin Markham Peasey Microplas Nickri R.G.S. Rochdale Speedex Super
Accessories Tornado TWM, Turner, Fairthorpe, Elva, Lotus, Ginetta, Lola, Martin, Siva, Shirley, Dellow and all limited production sports cars from the 1950s and early 1960s.
Admission is FREE for the owner bringing a special (even on a trailer), we want to see your car whatever its condition. The park opens at 10.30am.
It is hoped that the usual specialist trade stands will appear to tempt us, drivers are invited to bring surplus spares for the informal 'swap shop'. We will have a mystery a road run on the Saturday afternoon, (further details to follow) and a meal in the evening at a nearby hotel.
Camping will be available at the hotel site or the local campsite. Bridge House campsite, Bridge House, Letchlade, Glos, Tel 01367 252348. On the A361 0.25 miles south of Letchlade.
For more info. Tel. Richard Disbrow 16 The Close, Blandford Forum, Dorset DT11 7HA. email Richard.Disbrow@virgin.net
CAPESTHORNE 2007
What a change from last year, global warming finally reaching Manchester.
As usual the band of dedicated helpers assisted Ron Scarfe and Roger Coupe in setting things up on the Saturday, which was fine and rain-free, although windy. The reduction in the available area meant that some rearrangement was needed to accommodate the classic cars, Cappucinos and motorbikes, but this went well on the day. The grass had been cut only for the display ring, but people generally preferred the long grass to the sheep poo of old.
The driving test took place in sunny conditions (much to the relief of the organisers Nigel and Colin, who were drenched last year), and the two Olympics and Mk VI were busily occupied by the many hopefuls. Bens SSS 100 (Jaguar SS 100 replica) also participated (outside the competition for the Frank Butterworth Trophy), but was rather hindered in the garaging test by its Titanic turning circle. Alan managed to stay clear of the sticks this year, which kept him off bottom spot in Alarics absence, but others were not so lucky.
After the evening meal we were all treated to a talk by Ben Bettel relating his experiences on last years Le Jog endurance rally from Land's End to John O'Groats. This rally took place in the wettest weather in memory and resulted in the retirement of about 40% of the field, though not Ben, despite using an open car. This just added to the experience and the meaning of the term endurance. Sleep deprivation, extreme discomfort and the distinct possibility of death and/or serious injury to one's pride and joy seems not to put off that curious breed of people who participate in these events. Apart from being too enthusiastic for his own good Ben otherwise seems quite normal. It was encouraging that the spirit of the event award went to a couple who bought a Triumph Dolomite for &pound100 on ebay, spent &pound57.50 on preparation and still finished (others had spent 5000 times that amount to finish you work that out!).
A minor highlight (literally) of the evening was provided by Alan who, on remarking that the room was rather warm, was found to be on fire, having inadvertently backed onto a candelabra. His legal team are currently investigating the Regalia Department for selling non-fireproof clothing to whit a sweatshirt. Fortunately the fire brigade extinguished the inferno before his polo shirt and peach-like skin were seriously damaged, but the resulting hole is 2" across, so be careful to extinguish all naked flames before donning Club clothing.
The good weather forecast and a fine day dawning brought out the crowds; the first punters were knocking at the gates well before opening time, and they kept coming steadily all morning what a relief and even an overflow display area was brought into use. The team of helpers kept the crowds under control and the day went very smoothly, with a good display of kit cars and classics in the ring too, ending with the presentation of prizes by our Hon vice-President Hilary Parker, who made a very welcome appearance. Special mention must be made of Malcolm and his two boys, who had a long stint on the gate and still came up smiling.
It hardly needs saying that these events do not run themselves and thanks go to the team who organise and run the event, without whom nothing would be possible. We must be the smallest club to run such an event and this has been due mostly to the efforts of Ron Scarfe for the past dozen years or so. Ron has been trying to retire from the position of show organiser for the last two or three years and has now decided that enough is enough. This means that unless a volunteer can be found to replace him there will be no Cheshire Kit and Classic Car Show next year and there will be hundreds of disappointed people, who frequently tell us that this is one of the friendliest shows that they attend.
So get volunteering!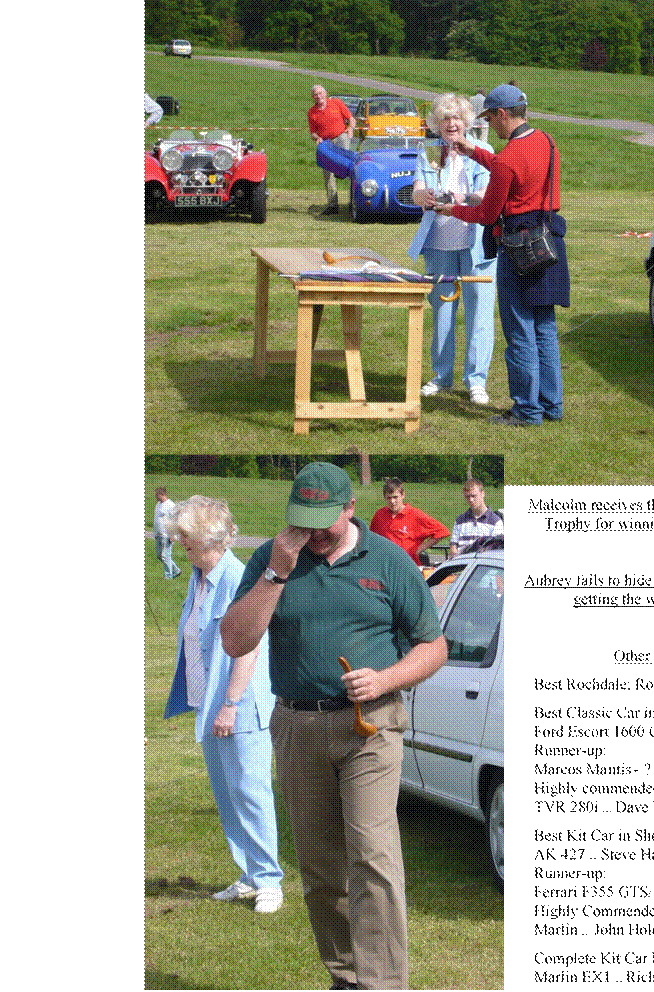 TONY STANTON'S EVENTS PAGE
E-mail tony-stanton@fsmail.net
South Midlands Classic Car/Bike Meet No1
The second Sunday of the month in the winter, the second Tuesday evening of the month in the
Summer, at Britannic Assurance,1 Wythall Green Way, off Middle Lane, Wythall, Birmingham, B47
6WG
(From J3 on the M42 follow A435 north 1-mile turn left at 1st roundabout then mile turn left at mini-roundabout).
Tuesday 12th June, from 7pm.
Tuesday 10th July, from 7pm.
Tuesday 14th August, from 7pm.
Tuesday 11th September, from 7pm.
8th May. A good turnout of cars and bikes for the first evening meet of the summer.
Unfortunately on the way home Duffy blew a water by-pass hose. This is turning in to a keyhole surgery job to replace, as the hose starts at the bottom of the water pump, behind the air-con pump, then disappears through a tube between the left-hand cylinder head and block of the V6 to the back of the thermostat housing located in the V-section underneath the plenum chamber, which I cannot lift up because the engine is so far back under the bulkhead. People with little hands and fingers please apply. Because I was still waiting for a hose ordered from the local Ford dealer I could not take Duffy to the F.S.C.C. AGM at Bourton-on-the-Water. I thought the day went very well apart from the weather. The Cotswold Motoring Museum is a little gem, put it on your list of places to visit.
South Midlands Classic Car/Bike Meet No2
The last Thursday of the month in the summer at The Moat House Inn,
Birmingham Road (A435), Kings Coughton, Alcester, Warks, B49 5QF
Thursday 28th June, from 7pm.
Thursday 26th July, from 7pm.
Thursday 30th August, from 7pm.
Thursday 27th September, from 7pm.
26th April. This is a nice small friendly meet just for the summer months with a good turnout of cars,
Duffy could not go this month because she was in the garage on axle stands having a steering, suspension and brake overhaul for the MOT which she passed on the 3rd May.
Saturday 24th March, DUFFY and I had a free ticket to the Historic Racing Show at Stoneleigh, a good show to visit if you are into 50's/60's racing with 5 halls full of Historic racing cars and trade stands. Outside was a Rally stage for Historic rally cars like the Lancia Stratos and the Audi Quattro and also a circuit for Historic Go-Karts which included go-karts made by Buckler.
Stoneleigh Kit Car Show 6th & 7th May. A good Bank Holiday event, the show was very busy on the Sunday, and thousand of cars and people turned up, the weather was cool but sunny. Displayed on the stand this year were my own Olympic Duffy, Bill Kirkman's Phase 2 (for sale in the last Mag and sold on Monday to a man from Germany who has been coming to Stoneleigh for 18 years) Rob Daniels Shirley Mk2, Richard Holden's Fairthorpe, David Valsler's Turner Mk3, my friends Craig &
Jackie Polly with their immaculate TVR1800S and a pair of TVR M series, plus Keith Pratt with his
Scimitar GT, Mark Butler with his A-H Sprite. Ron Scarfe and Willie Simpson, the Fairthorpe Registrar, called on the stand, as did Paul Hutchings whose Olympic Phase 2 had clutch failure the week before (this Olympic could be seen on Midlands Today television in the paddock at Prescott Hill Climb on Sunday the 13th May).
Monday started off wet and windy, but improved to be warm and sunny in the afternoon, but fewer cars and people turned up. I only had 4 Olympics displayed on the stand, which included Duffy, Bill Kirkman's Phase 2 from Belper, Derbyshire, Tony Wright's Phase 1 from Eldersfield, Gloucestershire and Alan Farer's Phase 2 from Walderton, West Sussex, with our Olympic Registrar Derek Bentley as co-driver.
My thanks to everybody who supported the stand, but of the 11 cars that turned up only 4 were Rochdales. What do we need to do to get members of the other 24 Rochdales on the road to drive their club cars to events?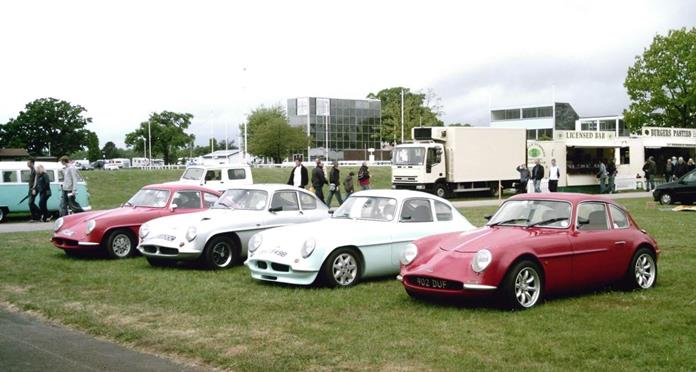 Mondays contingent of Rochdales at Stoneleigh
SILVERSTONE CLASSIC on July 27th, 28th & 29th 2007.
In conjunction with the F.S.C.C. we have secured a designated display area within the Historic Grand Prix circuit at this 3-day event, and we are seeking further club marque cars to join us on display during the weekend.
Featuring 22 races, 800+ competitors, and 600 of the most valuable race cars and motorcycles in the world. On top of the mouth-watering line-up of races lasting between 20 minutes and 1 hour each, starring the very best single-seater, GT and Touring Cars from the past 80 years, the entire infield will be packed with more than 4000 classic cars showcasing in excess of 50 famous marques. There will also be a period funfair, air displays, trade stalls, live music, barbecues and more than 30 hot air balloons are set to fire up for their traditional morning and evening fly-outs.
DUFFY and I went to this fabulous event last year and I think it is better than Goodwood. You can walk around the paddock and in the pit garages at any time, talk to the drivers, watch the mechanics working on the cars close-up and just to whet your appetite the last race on Saturday is a 90 minute race for Sports Racing Cars from the late 60's (i.e. GT40s Lola T70s and Chevrons) racing into the dusk with their headlights on, so be there with your marque car - you are going to love it.
To enter your club car in the FSCC/ROC display area please contact Tony Stanton tony-stanton@fsmail.net and I will issue the club reference number to quote when booking tickets and Marque car passes.
A 3-Day admission ticket will cost &pound35, or one-day tickets are &pound15 for the Friday and &pound20 each for Saturday or Sunday. This discounted price of entry includes admission of one club car, the driver and one passenger.
More race details at www.silverstone.co.uk/classic
ROCHDALE CALENDAR
We are looking to produce an ROC calendar for 2008 and would like a good selection of bright and colourful photographs of your club car to get the project off the ground.
If you would like your club car to be the car of the month, contact me Tony Stanton on 01527 402367 or tony-stanton@fsmail.net with your favourite pictures and a short description of the car with owners name and you never know your car could become a supermodel for 2008!
CLASSIC MOTOR SHOW 2007-05-23
NEC 9th, 10th & 11th November.
I am pleased to inform club members that your clubs application for a stand at this years show has been successful. We are in Hall 3 stand C13. The stand size is 35 by 24 this should take 4 cars, so has anyone got a reasonably tidy GT, Olympic P1 and a Olympic P11 that they would either like or be willing to have it put on show?
Ideas for new and interesting material for the stand and the display boards would be most welcome, as would offers of help with stand duty.
PLEASE contact Tony Stanton on 01527 402367 or tony-stanton@fsmail.net
WARNING ABOUT COOLANTS
I picked this up on the VSCC website - it isn't an issue that I was aware of and it seems that we all need to be careful -- fings ain't what they used to be!!!
COOLANTS - This posting is a WARNING to ALL OWNERS.
The following comments are made with the reservation that they are my opinions only, that the only statements of fact are those relating to my experiences and that any remedial action taken by owners is at their own risk. Certain information has been withheld from the following story pending a possible legal action against the retailer and/or manufacturer concerned.
In July 2006 I serviced my Phantom III. The engine on this car had been totally rebuilt, by me, in 2003 and, following a complete restoration of the rest of the vehicle, it won First Prize in the PIII class at the RREC National in 2005. The point being that the whole vehicle is in 90+ point condition. The coolant was two years old and therefore ready for replacement. My local auto spares store, part of a national (UK) chain, was out of stock of the standard own-brand antifreeze but was fully stocked with their own-brand 'Advanced Coolant'. The information on the label quoted the usual compliance numbers, offered extended coolant life, better anti-corrosion protection and stated that the product was suitable for older engines. On that basis, following a cooling system flush, I decided to use the new coolant.
After about 4 weeks I noticed damp patches on the floor beneath the engine. Further investigation revealed that coolant was leeching from almost every possible joint: both radiator top hoses, both radiator bottom hoses, the Calorstat joint in the header tank, drain tap joint in the bottom tank plus the weep holes in the block. Tightening joints and hose clips had no effect. My bodily fluids started to threaten sympathetic reaction with the coolant.
The new coolant was drained off, all hoses were replaced with new items and leaking gaskets replaced; obviously, the liner 'O' rings were left in situ pending further investigations. The engine was thoroughly flushed three times and the coolant replaced with a known standard anti-freeze from a different supplier. The result was that all of the coolant leaks stopped immediately. Unfortunately, after driving the car, there was evidence that minute amounts of oil had started to seep from at least three of the weep holes. Baring in mind that this a concourse standard car the result was not entirely satisfactory.
Cutting a very long story short, I spent 5 months attempting to get the retailers to provide technical information of any changes made to the formulation of the 'Advanced' coolant compared with their previous offering. This process went through the usual steps of stonewalling, denial, acknowledgement of changes, admission of known problems and culminated with them blaming me for using their product without the manufacturer's recommendation. At this point I escalated the problem and am now in discussions at Board level within the company, which is, in turn, making the manufacturer (one of GB's main producers) provide evidence of the product's suitability or otherwise.
It turns out that the 'Advanced' coolant is manufactured using an Organic Acid Technology (OAT) corrosion inhibitor pack. The previous anti-freeze used an Inorganic Additive Technology (IAT). Evidence supplied to the retailer by the manufacturer admits that the OAT inhibited coolant is known to cause leak problems even in engines that do not use wet liners. The major fault with the inhibitor being that it attacks, amongst other things, silicon compounds. The most commonly used base compound for gasket sealants is silicon.
The immediate problem to the buying public is that the manufacturers and retailers are failing to disclose which inhibitor technology is being incorporated in their coolants/anti-freezes . Anybody replacing their coolant MUST investigate with the manufacturer which system is employed. It appears that OAT, and even HOAT (Hybrid OAT), inhibited coolant can be supplied under the same national compliance standard codes as the earlier IAT technology.
To date, the industry has overlooked the volume/number of old car users who may inadvertently buy their products and the potential risks that this consumption represents. In 2006 there was a survey conducted relating to the 'old car' movement and its contribution to the EU economy. In the UK this was co-ordinated by the Federation of British Historic Vehicle Clubs (FBHVC), which is an umbrella body, funded by all of the recognised auto clubs, to fight poorly drafted EU automotive regulations that may accidentally drive old cars off the road. The findings, for the UK alone, were that this business sector contributed &pound2 billion (say $3.8 billion) to the UK economy alone. If the coolant manufacturers and retailers carelessly move to OAT inhibitors without considering the ramifications on the old car sector they may find that class actions through the courts will damage their Balance Sheets as much as these products do our old engines.
Below is a warning slogan for the colour of the new coolant.
If it is RED - STOP
If it is yellow - proceed at your own risk
If it is green (or blue) - it is OK to use FOR NOW.
Make sure you check.
LETTERS
From Tony Clough Olympic Phase 1 JEC 605
Dear Derek
What a fantastic find! I refer to the letter by Gillian Haigh, which you published in the last magazine issue. How did you find it? I well remember John Haigh saying that he had a Lotus Elite, but that they needed a larger car as his wife was expecting a baby. We agreed the Rochdale was entirely suitable, as we had been using it as family transport for ourselves and our two small children, though admittedly we had a tent trailer (which we still have), that we used to haul our baggage on the longer trips. Incidentally, the original tow bracket was returned to us with the car, so it might well be reunited with the trailer for a trip out one day.
The mileage of 128,000 given in the letter of August 1976 is intriguing, as the current indicated figure is 33,040. Assuming the odometer is on its second round and still working, the car has only covered 5000 miles in the last 30 years, and most of that before it was sold, as John Haigh's purchaser told me that he had never driven it anywhere apart from his collection mileage in 1977. It seems the lengthy lay-up which followed was prompted by the need for urgent restoration on the brakes and door hinges. Other needy items were started before house moves and other factors intervened, and the project became stalled.
There seems to be evidence that the engine (still original) has been taken out, so I am wondering whether the clutch finally gave up and hoping that there is a nice new one installed! The radiator is also new, so what with new axle, dynamo and maybe other things, by 1977 the Haighs enchantment with reliability may have been on the wane.
Joan and I were most interested to learn of the Dordogne trip. Before our children arrived we took the car on a camping trip to Denmark, Sweden and Norway in 1966, so foreign travel would be no novelty to the car. Embarkation from Newcastle involved a crane lift from the quayside to the ship's deck, of which I have some fuzzy cine footage. Ferry facilities in Scandinavia were much more advanced, though less exciting. We progressed through Copenhagen, Malmo, Stockholm,
Lillehammer, Bergen and returned from Gothenberg back to Newcastle. Just one replacement needed, as far as I remember, that being the water pump.
Restoration is slowly getting under way and paintwork is being stripped back to the original green gel coat so that crazed patches and other blemishes can be filled. Any advice in this area would be welcome. There is also some structural damage to the undertray through being hit by the rear axle on rebound, which needs to be repaired, and signs of significant distortion to the centre tunnel next to the gear lever aperture. This is obviously due to the twisting action of the torsion bar fixed mountings, which the tunnel is unable resist due to the weakening effect of the aperture. I should add that I noticed some distortion during my first ownership forty years ago, but it has definitely got much worse than I remember. Is this a common occurrence with Phase I shells, and has anyone got an easy fix?
Regards
Tony Clough
R O C H D A L E O W N E R S C L U B R U L E S
1. Name
The name of the club shall be 'Rochdale Owners Club', hereafter referred to as 'The Club'.
2. Address
The address of The Club shall be the address of the Secretary at the time.
3. Objectives
a). To provide Members with information, advice and assistance on all matters connected with the marque Rochdale.
b). To arrange meetings (eg lectures, social, competition) and so promote the interests of The Club.
c). To afford members such benefits and privileges as can from time to time be arranged.
4. Membership
Membership shall be available to past and present owners of Rochdale cars, and also to anyone claiming an interest in the marque. Membership shall be subject to acceptance by the Committee at all times; such acceptance to be confirmed at the AGM. Associate Membership will be available to a second person living at the same address as a Member. One copy of the club magazine will be sent to that address; each Associate member will be entitled to one vote at Club meetings; to attend Club functions; to stand for election to Committee posts, and generally be entitled to all other benefits of Club membership.
5. Subscriptions
The subscription rates shall be reassessed annually at the AGM and fixed for one year. Subscriptions are currently due on the first of April each year.
6. Finance
All monies of The Club shall be handled and administered by the Treasurer. Payments shall be made only on the signatures of the Treasurer and either the Secretary or the Chairman. Payments over &pound35 shall be subject to prior approval by the Committee.
7. Officers
The Officers of The Club shall be: Chairman; Secretary; Treasurer; Editor; Olympic Registrar; Pre-Olympic Registrar. (Officers shall be fully paid up members of The Club).
8. Election of Officers
Election of The Club Officers shall be made annually at the AGM. Retiring Officers shall be eligible for re-election. Nominations shall be received by the Secretary in writing if before the AGM, or at the AGM. In either event, the proposer must have received the consent of the nominee prior to the nomination.
9. Committee
The Committee shall consist of the Officers plus not more than four other members elected in accordance with the rules given at eight above. Additionally, the Committee shall also be empowered to co-opt other Club Members for specific purposes to further the aims of The Club. Such co-opted Members shall have equal standing to elected Committee Members, and be subject to the same termination.
10. Minutes
It shall be the responsibility of the Secretary to take Minutes of all Club meetings as is appropriate. Such minutes to be entered into a book and presented for confirmation.
11. Voting
Voting at all meetings shall be by show of hands or such ballot as may be determined at the time. Every Member (including each Associate Member) shall be entitled to one vote (one subscription is one membership).
12. AGM
The Annual General Meeting shall normally be held during the month of April each year for the following business:
a) to receive the reports of the Committee for the past year;
b) to receive and consider the statement of accounts for the previous year, as audited;
c) to appoint an auditor;
d) to complete any other business appropriate to an Annual General Meeting;
13. Special General Meeting
A Special General Meeting may be called at any time by the unanimous decision of the Committee, or by not less than 10% of the Members. The reason for the SGM shall be given to the Secretary in writing, and a minimum of 1 month's notice to members will be required.
14. Alteration of Rules
These Rules are subject to the wishes of The Club Members, and may be modified in part or in whole by two-thirds majority vote at an Annual General Meeting; or a Special General Meeting called solely for that purpose.
15. Allocation of Rules
All members shall be provided with a copy of the Rules on election, and whenever there is a substantial change to them.
16. Use of Computer
Members should note that Membership details of members and their cars are held on computer.
- -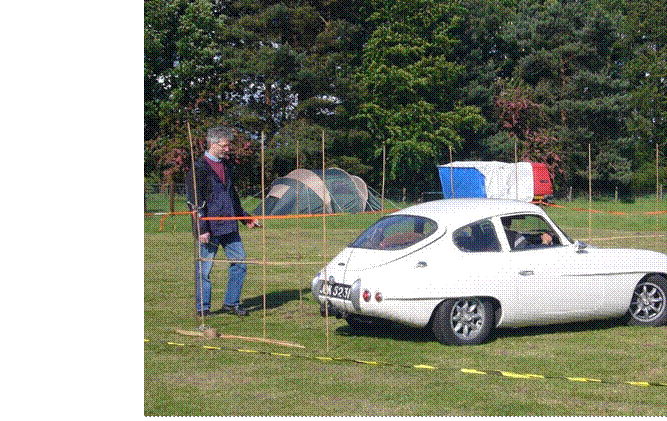 Colins Germany-based Olympic tries the garage for size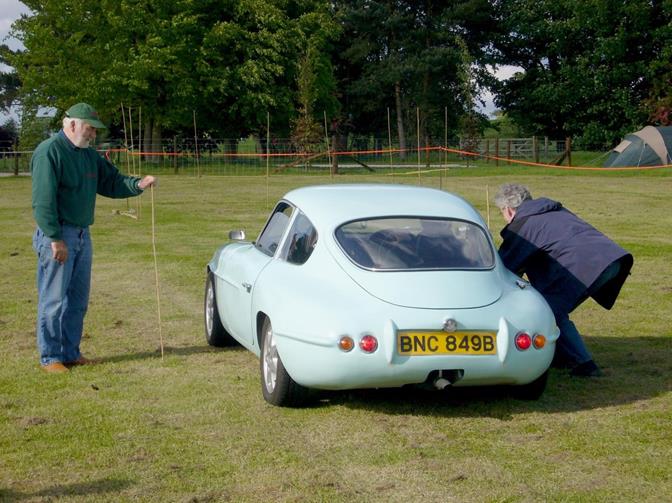 Alans Sussex-based Olympic is much narrower than the (unknown) driver thinks
This is what you saw when you arrived at Capesthorne Hall: a splendid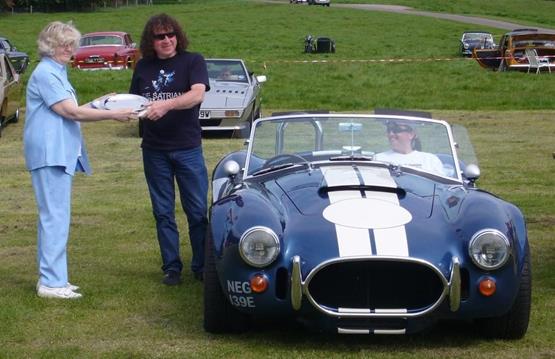 Vice President Hilary Parker presents the prize for the best Kit Car in Show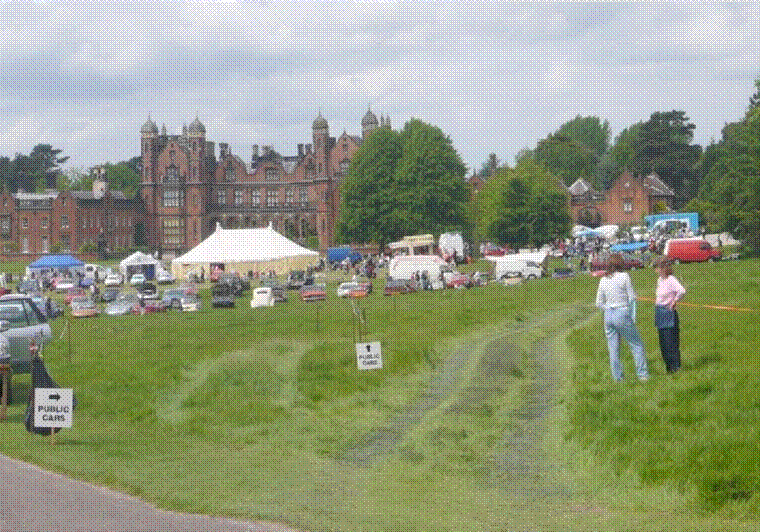 view, plenty of cars and plenty of sun what more could you ask?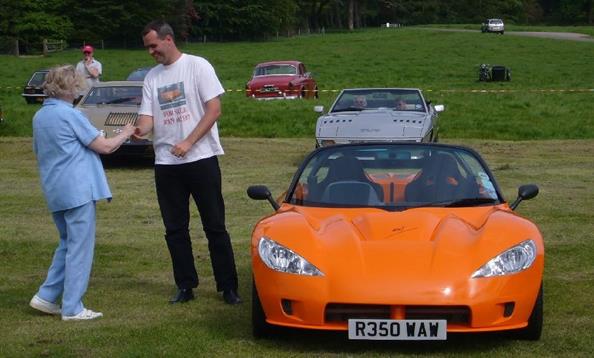 and the Complete Kit Car Award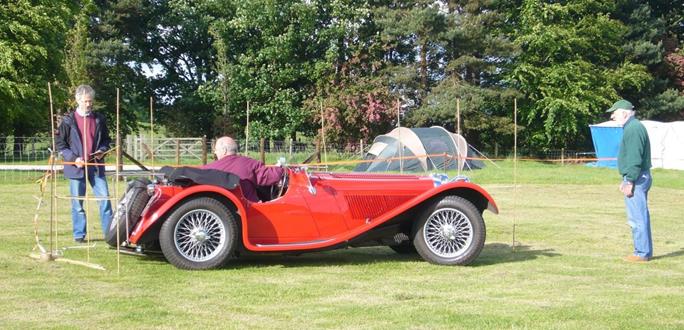 Ben coaxes his SSS 100 into the garage on the Saturday ...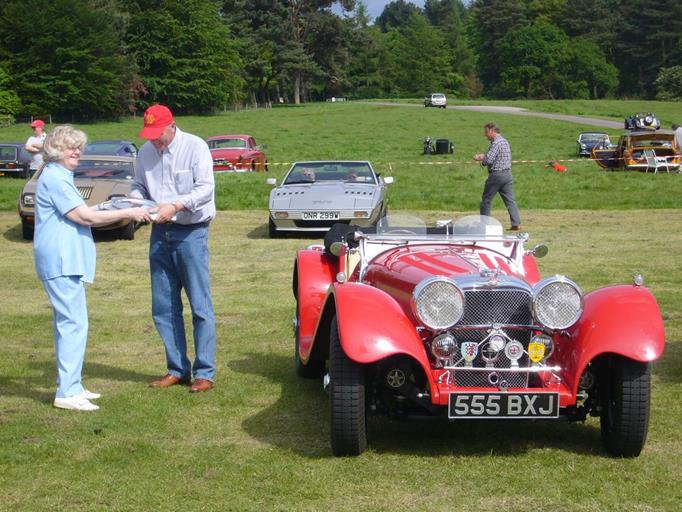 ... And receives the Visitors Choice award from Hilary Parker on the Sunday.
EARLY ROCHDALES REGISTER
Malcolm McKay, MMcKays@aol.com
Thanks to you all, news of Early Rochdales is never sparse these days!
MkVI moves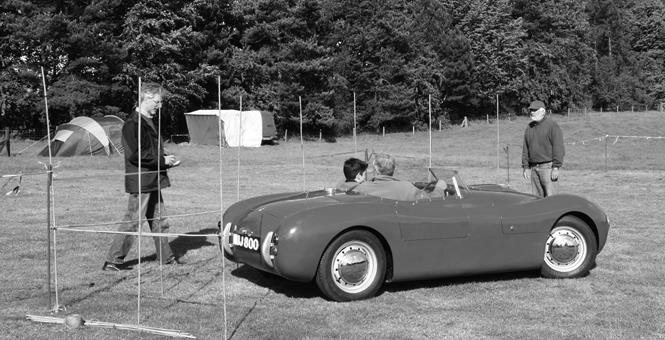 It was a great pleasure to have a little drive in Rogers Mark VI at Capesthorne in fact I got in and drove it straight in to do the driving tests, having never driven the car before, so the fact that we equalled Colin Breakspears performance in the much more manoeuvrable Phase II he's driven for many thousands of miles says a lot for the drivability of the MkVI thanks, Roger!
Another MkVI which I've known for many years has come on the market and remarkably, it's very similar to the one Roger built for himself some 50 years ago, because it is built on a Paramount chassis. The Paramount was a brave attempt to make a pretty, low volume convertible car with modern styling and running gear in the 1950s and, by the end, it had quite a sophisticated spec with Ford Consul 1500 power. Peter Tuthill, who has also recently published a super book on Turner, earlier wrote the Paramount story and this very good account can be bought from him (peter.tutthill@tesco.net).
Unfortunately the Paramount was far too expensive to build due to the complexity of its aluminium bodywork and luxury trim, so the company folded in 1956 and a number of unclothed chassis were sold off. Roger bought one, and it's believed as many as four were clothed in Rochdale Mark VI bodies it was probably the only glassfibre shell on the market at the time that was bulbous enough to fit over the Paramount chassis. 298 CTJ was Rogers car, sadly long lost; 21 ETF was last heard of with Peter Silverthorne who bought it from the Rabagliati collection sale; NKC 195 is little more than an identity which I believe still resides with Duncan Rabagliati in London; and SK 6296, registered in Caithness in 1956, resided in a back garden in Kirriemuir for many years (with the most precious bits stored indoors). I saw it there once myself, when I was at St Andrews University running my first Rochdale GT in the mid 1980s, before it was rescued by Duncan Rabagliati c1990.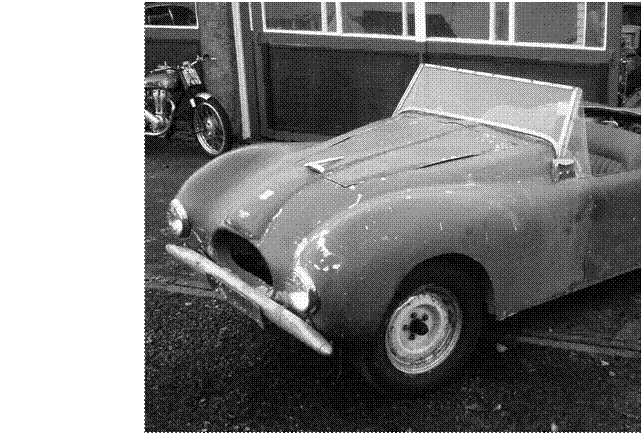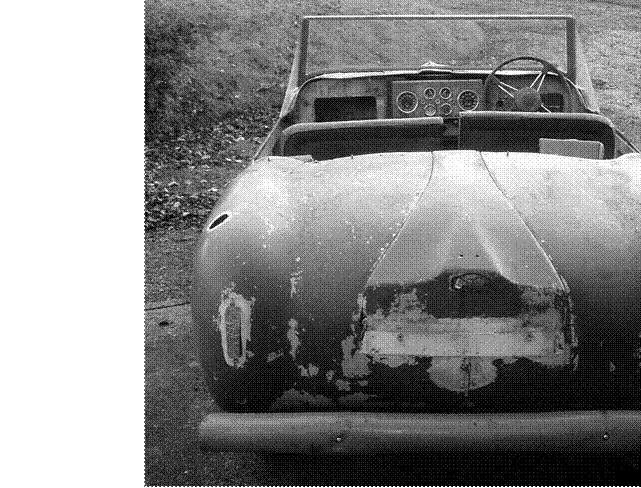 Rochdale Mk VI SK 6296 currently owned by Duncan Rabagliati
Because it was with a family friend in Scotland at the time of Duncans big sale, it was not included in the sale but after throwing money at a restorer who got nowhere, Duncan has now conceded defeat and put it up for sale, as follows:
Paramount. 1956 sports car the last chassis produced from the Linslade works, Leighton Buzzard, with original Rochdale 2-seater body complete down to the original hubcaps with Paramount motif excellent restoration project original Registration with V5. Car dry stored in Lancashire. &pound3500.
Duncan can be contacted at rabagliati@blueyonder.co.uk or on 020 8946 1730; he does keep extremely busy between work, racing and dozens of motorsport commitments, so you may have to be persistent!
I would be delighted to see this go to a Club member and finally be restored. As the photos reveal, this car has the very rare special widening mouldings that Rochdale offered if you needed to cut your bodyshell down the middle and make it wider to fit some chassis. As far as I know only one other example of these survives, on an F-type bodyshell, making this the only Mark VI known with these mouldings...
C-type Teaser
Absolutely bloody unbelievable! I'm sorry, but there's no other way to describe this story! Back in March, Alan kindly sent me a scan of a cutting from Practical Classics, that Guy Stallard had posted to him. It was an advert for an MG specialist in Mayland, Essex, Guthrie Motors and at the bottom it read: 1939 MG TA, special in green with Rochdale body fitted with a Laystall engine, in excellent condition.
Well spotted, Guy! The only reference I had to an MG-chassis Rochdale was a C-type advertised by Chiltern Cars of Leighton Buzzard 48 years ago, in 1959, registered ENY 242.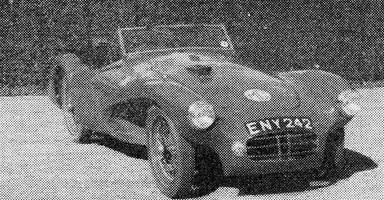 I phoned Mr Guthrie straight away, but he said the car had sold within two weeks of the ad coming out and has gone overseas, he had no idea where. So I asked him if he remembered the registration of the car he'd sold? Oh yes, he replied, it was ENY 242.
I was gobsmacked even more so when I mentioned the advert I had from Chiltern Cars and he said, Oh yes, that's where I bought it. When I told him it was advertised in 1959 he said Oh Gawd, I didn't think I'd had it that long! Apparently they had to make doors to fit it, as the TA chassis was a bit long for the Rochdale body. He promised to dig out a photo and post it to me, but it hasn't appeared, so if any members are in the Mayland area, please pop along to Guthrie Motors on Mayland Industrial Estate and ask to see some! So, another surviving C-type, but slipping tantalisingly through our grasp. Where is it now...? I just desperately hope it wasn't bought for the MG TA chassis and the Rochdale body gets slung out
Meanwhile, John Walkington reports on a definitely cherished C-type, Corsi, which he built new and is lovingly restoring:
Corsi is at the twiddly bits stage whilst I am waiting for the seat manufacturer. I think the colour will be Jaguar Magnolia for the seat covers, it is the nearest to the tonneau cover allowing for 50 years wear, tear and storage. The Jaguar allusion is quite apt as both Margaret and I had a Jaguar each. My XJS was mid blue with Magnolia upholstery and Margarets XJ40 (XJ6) was dark blue with grey upholstery. Corsi will be dark blue.
The twiddly bits at the moment are the radiator ducts: as it is a biggish engine, the cooling is quite important. I didn't want to duct out below the car as it might make the front light at speed, so I have made a vee-shaped deflector behind the electric cooling fan and ducting out sideways/rearwards. Much casting of intricate pieces in GRP.
Jock Sinclairs Connaught had a modified front to the body, faired-in headlamps and a low wide intake. They found that over about 120mph the steering went a bit light, hence the mods. It worked OK because it was timed at 151mph down the Mulsanne Straight (which had a nasty kink about a third of the way along). Pretty good for 1500cc in the 1950s
F-type Futures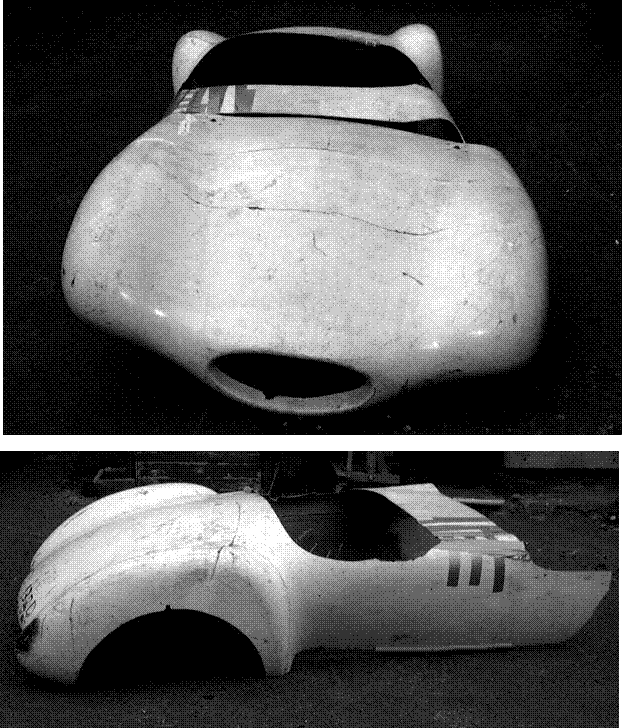 Peter Morleys F type bodyshell
- 27 -
It's good to have Peter Morley in the club now, with the ex-racing Elva-chassis F-type in Belgium. He reports that the recently-purchased bodyshell is still in England, but sent some photos showing its condition has not deteriorated as much as I'd feared.
Thinking of body fitting, asks Peter, do you by any chance have any photos that show how people fitted these types of bodies at the time? I've got some of the period books but they tend to just have drawings.
I think the most popular method at the time was to bond some Dexion angle onto the inside at appropriate points and bolt that to the chassis! The more sophisticated guys attached aluminium sheet to the chassis for inner wheelarches etc then bonded that to the shell, while some I've seen used marine ply in the same way. Rochdale did offer the option of a two-inch flange in glassfibre bonded to the inside of the shell to aid attachment of inner wheelarches, so bonding on via strips of glassfibre would be absolutely authentic.
Galloping GT
As anyone who was at Capesthorne will know, Les Browns school project GT has made huge strides forward, now drives under its own power and will hopefully soon be on the road. Les writes:
1) Door seals. We've just fitted seat belts up, for the cars first time ever. Proved fairly straightforward once I'd ruled out hiding the reels under the arches, as I did on the Olympic there wasn't enough room to do this here. This set-up was a bit less neat, therefore, but tons easier! Never had a close look at a GT, so the door seals are a little puzzling. The flange on ours is cut away round the (MG) striker, and extra thick near the dash it isn't possible to use a conventional, press-on seal, is it? I can only think of stick-on spongy strip, but have never seen it used in this application! There's a bit stuck just above the striker in the pics 1in x in if I remember am I on the right lines? If I am, then the top flange was cut amazingly roughly presumably from new, it's all over the place! Also, how does this work round the striker or didn't they bother in those days?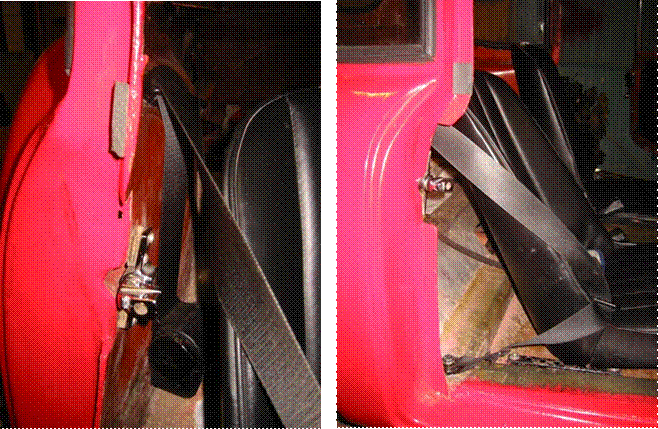 GT door flange and seat belt detail 2) Door bits. I'm very pleased with the way this has gone, with a sheet of thin ply screwed to the door shell to carry the winder mechanism. All standard Minor bits, I wish my Olympic was as easy! The cutaway was needed for access, but we're aiming to put a cover over this.
3) Bonnet details. I like chrome bits on old cars like this, and had these bonnet spring/clips kicking around. Tales of bonnets flying up (once happened on our Mini!) made me nervous...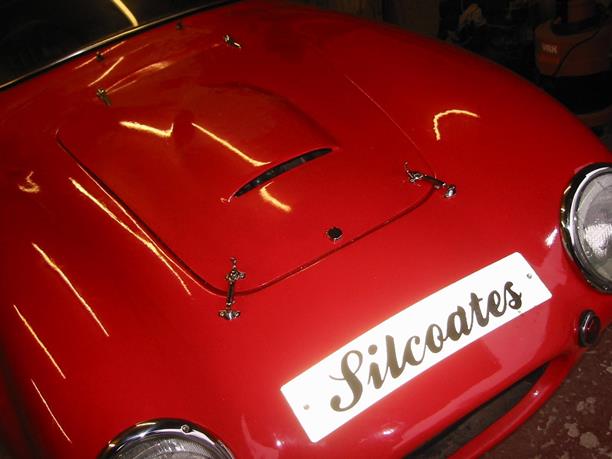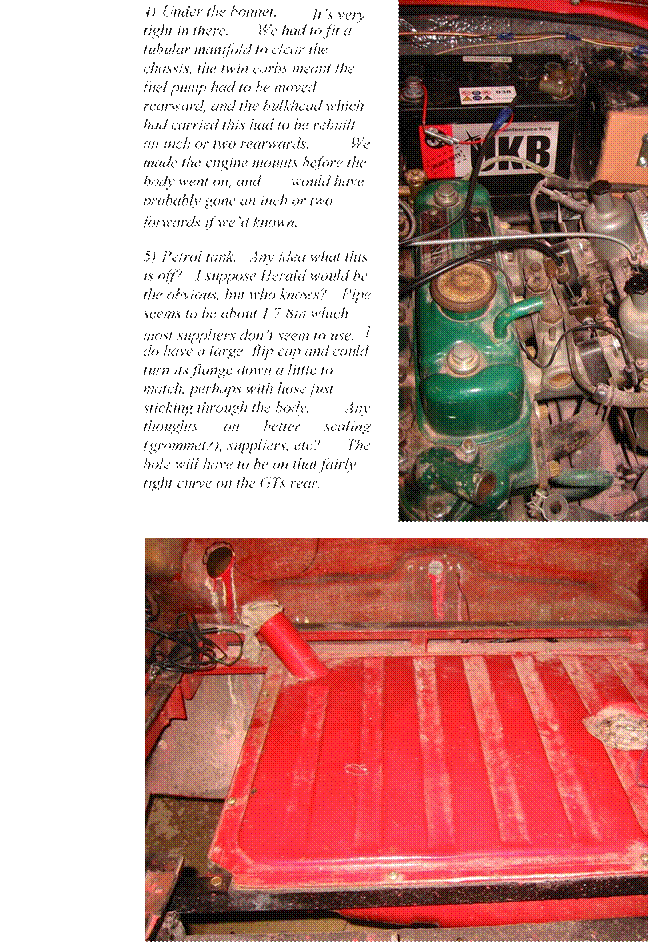 6) Dash Panel. Based mostly around some Vanden Plas bits I had kicking around, I'm pleased with the way this is shaping up. It's all working apart from the petrol gauge, which shows FULL when switched on (it isn't!). I do like the old type ign/light switches and starter buttons, this lot came from eBay.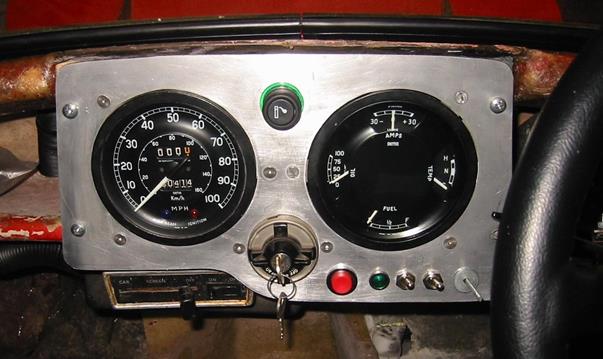 7) Heater/demist/wipers. The wiper arrangement and Mini heater had already been set up very neatly, with fresh air intake from the front, when we bought the car. Wiring to the wipers can be very involved, but we got there in the end, and changing from right to left-hand parking proved just a matter of rotating a circular plate on the motor. We decided that demists were a must if the car was to be used, though there had never been any provision. We first cut slots in the top of the dash, then glued 2x1in strips of foam just underneath (use building insulation, not polystyrene). This was easily rounded at the front, then covered in glassfibre. The foam was then dug out from the back, and sealed with a flat piece of glassfibre, with connections for the heater hose. This works very well indeed in practice, and I can't quite work out why this blower is so much better than the similar unit on the Olympic.
Getting the wires neatly in place was a tricky procedure with the wipers and heater so near, but it's just about there. I did mention the use of un-insulated crimps, I prefer the look on an old car and believed that a tighter grip on the wire was possible. This might be so with the spades, but crimped bullets even the special type for crimping proved less than impressive when they had to be removed from the connector. I'm back on soldering again for this should have known better in the first place! I have been very impressed with the spiral binding however it's cheap, effective, and easily unwound when (not if) you forget a wire.
My response was as follows
Some interesting questions and nice pics great to see the car coming on well and to a very good standard!
1) Back then, if you had door seals at all they would have probably been felt, glued on... I think I remember grinding down the thicker bits of the flanges to take a press-on seal on my GT, but that's unwise if the flange is two mouldings bonded together! The other option is to glue a seal to the back of the door not an option around the windows, but often a prettier option for the main bodywork as you don't see a seal glued on the back of the door, but it's very obvious (and liable to get kicked/knocked off) on the edge of the body flange. As for around the striker, the odd draught was inevitable in those days most of these guys were graduating from BSA Bantams so they wouldn't have noticed!
2-4) All looks good and sensible! Agreed re clearance to bulkhead, but it was the same with the sidevalve and by keeping the engine as far back as possible, you'll have better weight distribution and handling.
5) Definitely not Herald saloon. I don't think it's Herald estate either, as that had a recess for the edge of the spare wheel to tuck under it and the pipe came out the other side of the car. Might just be early GT6 turned through 90 degrees the filler pipe on the early GT6 tank is certainly at the same angle and the same length, but on the GT6 the filler cap was just to the left of the number plate on the back panel of the car (great in a rear-end crash).
6) Again, looks good and all in keeping except lighter (should be able to find an older one) and ign switch is upside down at present!
7) Great stuff! My GT had an ancient round fug-stirrer heater with a single demist outlet just inboard of the windscreen definitely better than nothing and worked well enough in some very snowy Scottish winters!
Keep up the good work this is going to be a lovely, usable, well-sorted GT.
GTs in Japan
Out in Japan, I've known for some time that there are two GTs, though OTG 50, which was sold there by Russell James c1990, hasn't been heard of since until now. Thanks to our website, I was delighted to receive an email from Yasuji Nishiguchi, writing on behalf of a friend, Mr Furuya, in Kanagawa, Japan, who has just bought OTG 50 via Japans equivalent of eBay and wants to restore the car.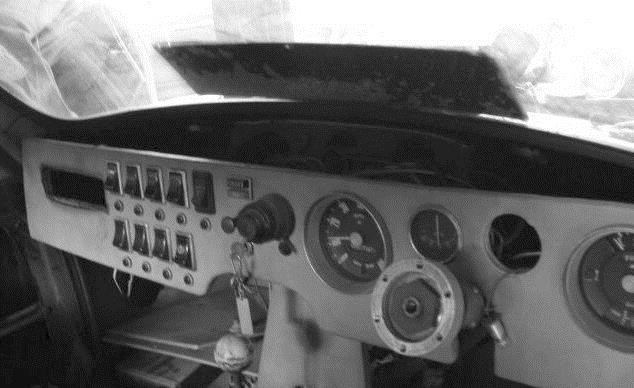 Interior of Mr Furuyas GT OTG 50
I was very grateful to be able to call on fellow Specials enthusiast Saiki Wada, who sent me photos of the ex-Bert Tressel GT when it was sold to Japan for near 10,000 a couple of years ago. Saiki established that OTG 50s first owner in Japan was Mr.Yokota who owns a Motor Museum in Ikaho, Japan (which is famous for its hot spring spa). He bought OTG 50 together with a Tornado Typhoon; he restored the Typhoon but didn't touch Rochdale (just as well, I'd say, having seen a photo of the over-restored Typhoon!).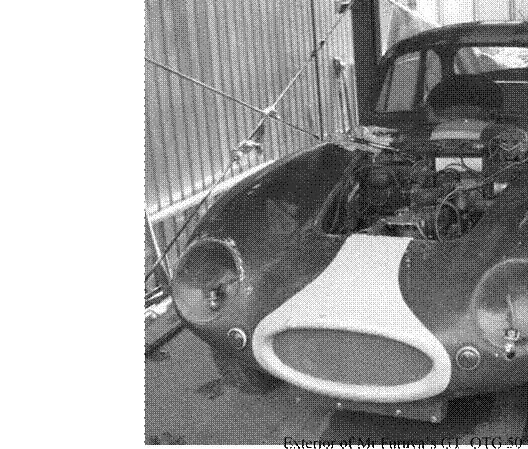 Yasuji informed me that the engine no is RY1662884P, which reminded me that I drove this car briefly in Russell James ownership; it was pretty in green with a broad yellow stripe from front to rear, over the top, and Ballamy wheels, but it was a great disappointment to drive, having bog standard Ford Eight (933cc) running gear, very undergeared with the 15in wheels so it was flat out at 50mph and not exactly lively getting there. Russell sold it for a then-outrageous sum, I think it might have been as much as 3000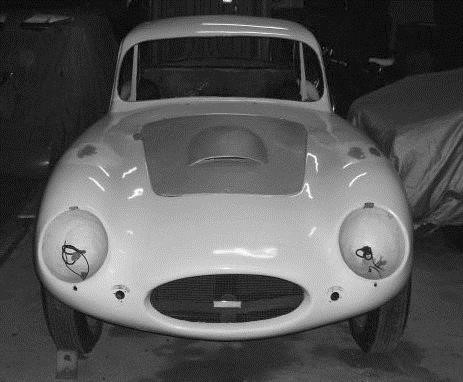 Anyway, I'm delighted that OTG 50 has resurfaced and its new owner wishes to join the Club and restore the car. We've also been able to put him in touch with Hideki Saka, who owns the other GT, which itself is currently partially stripped for a respray.
Hideki Sakas GT
More GT news
Thanks to Tony Wright (via Alan Farrer) for the following exciting GT news! Yes, a star British rally driver cut his teeth on a Rochdale GT! Roger Clark, no less four times British Rally Champion, twice RAC Rally winner and six times Scottish Rally winner, built a GT in 1957 on a boxed Ford chassis and it was registered something like OUT 30. Clark is said to have started rallying in 1956 at the age of 17, so he must surely have rallied his GT too?
This news comes from Jim Paul, who built a Martin Special at the same time. In green and registered OUT 39, his car sported a boxed chassis, aluminium head, twin SUs and a water pump which he recalls was mounted on the engine mounting bar (showing this was an E93A engine, fitted with the Ford Export water pump). The car was subsequently part-exchanged against a Farina family machine.
Tony also tells us that GT registration YFL 357 has found a new owner, Dai Phillips. This car was with Grenville Phillips for decades and restored twice, after Grenville had nearly finished it then inadvertently took it up too high on his ramp and crushed it against the roof. The car was built to a very high standard with Willment inlet-over-exhaust cylinder head and numerous other mods; it belonged to a pilot who stopped using it around 1970 when it failed an MoT test and it then languished in a field for some years before Grenville rescued it.
The car was originally ice blue with Ford 10 engine, gearbox, twin SUs, alloy head, split front axle and torque tube rear. Dai described the car as in good condition but needing interior finishing and a repaint in ice blue! He also has 17 vintage tractors so there is plenty going on in his shed!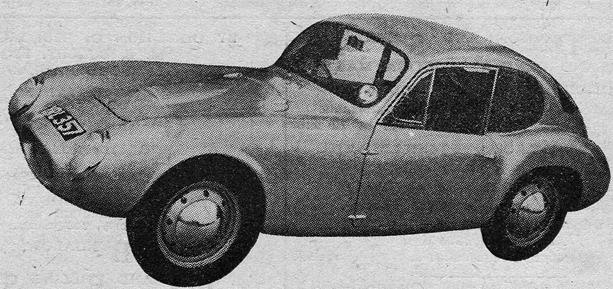 The other intriguing thing about YRL 357 is that photographs of this car appeared in Rochdale Motor Panels advertisements for the GT in late 1958 and 1959 though whether this indicates a factory onnection or just that the builder sent in a photo of a particularly attractive GT and the factory used it, we will probably never know. The ad appeared in Car Mechanics, The Motor, The Autocar, Motor Sport and probably other magazines too, so it was quite a well-known car for a while!
Welcome also to John Savigar, whom I hear has just joined the club with a GT he's owned for some time; Alaric gave me a registration of JTB 58, which makes it a new one on the register, and mentioned a tubular chassis sounds interesting, please tell me more!
OLYMPIC REGISTRAR
Derek Bentley
In the last Magazine you will have seen the previously unregistered Olympic for sale in Inverness. I can now fill in a bit more of the background by reference to the factory ledger and an update on its current ownership.
On 19th June 1961 a Mr Kerr, trading as E K Freight Ltd from the Riverside Garage, 6 Ladies Walk, Inverness, ordered a red Olympic shell complete with lights and Riley rear axle. He subsequently sent his own propshaft and steering gear for modification by the company.
There is a note saying Told Behind, indicating that they were having problems at the factory. Quite what the sequence of events was is unclear, but the shell was not finally collected until 20th September 1962, some fifteen months after the original order was placed. Even by Rochdales standards this seems an incredibly long time.
On Mr Kerrs death, earlier this year the sale was handled by a local solicitor. I understand that only two people showed serious interest, with Roger Cook being the lucky winner.
Those who have attended the Specials Day at Burford will be familiar with Roger and Gill Cooks Super Two, so the car has gone to a deserving home.
Rogers first acquaintance with the Olympic marque goes back to 1968 when he used to frequent the steam baths in Fairlop, Essex. Apparently, at that time there was a Tuning/Accessory shop on the A123 and the owner had a Chocolate Brown Olympic which would be parked in the car park opposite. Does anyone recollect this Olympic, it is certainly an unusual colour? Any further details would be welcomed.
Back to the present. Roger now has the Olympic back in his garage in Suffolk and has had the opportunity to inspect it in detail (it was of course bought unseen from photographs only).
The car is something of an enigma. The bodyshell and suspension are in good condition, having never had any use. However, there are a number of items that suggest a poorer build quality than one would expect from a professional mechanic. Perhaps this indicates that there is a difference between a mechanic and a special builder. The interior in particular will require much attention. It would seem that Mr Kerr had a fetish for polystyrene tiles, the whole of the interior being covered in this material. It also sports a homemade and unfinished dash, which will be replaced with an original binnacle (I hope you still have some John). I understand that a considerable quantity of Dexion has also been used in the cars construction.
I intend to visit Roger to inspect the car in the near future, although the rebuild is not intended to start until a Reliant Sabre 4 has been finished.
The other person who made an offer for this particular Olympic was David Turner. David phoned me out of the blue to enquire if the Olympic 690 UKJ that he owned from 1966 to 1970 was still around. Having just finished rebuilding a Sunbeam Alpine he was looking for another project and thought that an Olympic might fit the bill. I was able to confirm that his old Olympic was still in existence and it turns out that he sold it in September 1970 to Dave Pratt, who has owned it ever since. This added another piece of history to my files, as I was not previously aware of Davids ownership.
David now lives in the south of France (their first visit there had been in the Olympic) and I think that the cost of transporting an Olympic from Inverness (over &pound1000) obviously influenced his offer.
Tony Clough has been taking stock of his Olympic, JEC 605 having re-acquired it after a 38 year absence. Not surprisingly there is some gel coat crazing to be attended to, although distortion of the central tunnel seems slightly more serious. This is obviously a fairly highly stressed part of the monocoque and unfortunately does seem to suffer with owners cutting out more than is strictly necessary in order to access the gearbox mounting, speedometer drive etc. Rochdales themselves did not help the situation. The tunnel moulding was originally designed to take the smaller A series gearbox and fitment of the much larger B series was accomplished by cutting holes to allow the gearbox to poke through rather than create a new larger tunnel moulding.
From photographs it would also appear that a new rear axle has been fitted at sometime, as the damper mounting brackets look distinctly crude and non original.
Tony has indicated that his car was supplied with 105 lb/in rear springs and that these were later changed for 80 lb/in. My phase 1 has always been fitted with 90 lb/in ones, so it seems Rochdales were experimenting. Tony also raises the question of the inside of the springs rubbing on the damper unit. This is a common problem. For years I smothered mine with thick grease to stop the annoying noise, but this collected dirt and needed to be washed off before the MOT. I subsequently found some thin wall plastic tubing to slip over the damper body which cured the problem.
Tony has made some interesting comments on his original dealings with Rochdale Motor Panels. In common with many other people it would seem that his test drive with Richard Parker was the thing that finally convinced him to pay a deposit. Although they were quoting a delivery period of 6 to 8 weeks this turned into 5 months before the bodyshell finally arrived! This is obviously a well travelled Olympic as Tony and his wife travelled to Denmark, Sweden and Norway in 1966, whilst a subsequent owner ventured to the Dordogne.
Yet another phone call produced yet another find of an Olympic that has not seen the daylight for some considerable time.
Liam Cairns telephoned from Sidcup to say that he had owned an Olympic for the past 15 years, having been given the car by his father. As the car had not moved out of the garage during that period he had decided to sell (see For Sale). The car was registered 590 MTT but as he didn't know too much about the car he would get his father, who incidentally had owned three Olympics, to phone me! The only previous information I had was that the car was for sale in Salisbury in 1973.
Sure enough father Gary phoned to give me more details. It would seem that he had bought the car from Cornwall in 1973 and ran it until about 1992 when he passed ownership to his son. However the car then stayed unused.
Gary also bought a phase 2 in about 1975, but can only remember that the registration had a C suffix and that it was hand painted purple. Does this jog anyones memory? It was sold a couple of years later to the Kidbrooke, SE London area. A further Olympic, which had been involved in a major accident was also obtained about the same time, although details are sketchy and only the doors survive.
The following article appeared in the February 1978 FSCC Newsletter. It will hopefully be of particular interest to Les Brown who is the current owner.
I would like to relate the tale of a thirteen year old Rochdale Phase 2. A tale, which for me, brings back memories of a car which has great appeal still to many people, this fact borne out by this plastic conversation piece.
The machinery started to take life in May 1964, but it took many telephone calls, arguments and cajoling to keep Rochdales to their original delivery date. It was not their fault really, they must have been rather low on the priority list of the big manufacturers and indeed, the engine (Ford 1198cc) was to follow weeks later.
It arrived early one Saturday morning at my brothers home on a BRS artic. and I rushed from breakfast to get on with the unloading . Not easy. No lift available, only a keen brother, unenthusiastic driver and a drivers mate who thought it all a bore, seemingly only there to keep the driver company and refused to have anything to do with the unloading. But, help was near at hand and soon there were many neighbours out, all willing. With half the male population of the avenue being available it was short work, with a little heaving and soon a mass of bits were deposited on my brothers drive. What a jig-saw and I can remember it was at this time I wondered if I really did know all that much about cars. What a comfort an instruction book would have been, but there was no time for brooding, the money was spent and the bits were there.
I cannot remember many real problems during the assembly, the biggest was the acquiring of the engine. This particular Rochdale phase 2 was, I believe, the first to have a 1200cc engine and Fords were not parting. I could not see why, but eventually it did arrive and it fitted like its bigger brother, the 1500. What made the assembly job interesting were the little touches and interest shown by other people. The gear lever, for instance, was chromed for the princely sum of, wait for it, ten Players Medium!
The most exciting part of course was the first drive and indeed the short drive out of the drive. That took place on a Saturday, possibly the 3rd October 1964 ( I stand to be corrected). She was away under her own steam and by the following Monday, with 25 miles on the clock I took her on a journey of well over 150 miles. Testing had been very limited, so it was a cautious 150 mile drive. Taxing had been easy and indeed it required no inspection, the hardest part was thinking up a chassis number and paying up! Mechanically, there were no problems, but electrically I had all kinds of bizarre happenings, one switch bringing in all odd effects, such as wipers switching on lights or something. This went on for about 500 miles, until a little red wire was discovered to be an important earth linkage. If anyone had wanted a 25 amp fuse production line I could have provided one!
After the teething problems, CTO 289B turned out to be quite a reliable motor. Self-servicing was a must and my biggest headache, about every four years, was the breaking of the trailing arms. I am not totally happy with the ones now fitted and would welcome suggestions on maintenance or replacement, especially if there is a suitable factory unit.
The car has travelled the length and breadth of the country, Scotland, Orkney, Northern Ireland and many stops both North and South and no matter where she went she attracted attention. I have had many offers and can remember, sat waiting for some lights to change in Belfast, when a man in a car alongside me started to negotiate. With the 1200cc untuned engine I reached a genuine ton. The engine was given plenty to do and it was to complete 100,000 miles without major servicing. For eighteen months it was the workhorse for a business I had. It certainly wasn't idle. In 1974 I decided I would rest it and start a rebuild and I switched to an Allegro. The rebuild did not start until 1976, but I could not resist a look at the bores and valves. There was no problem in hand grinding all eight and bore wear was not excessive (Viscostatic!). However, I was able to exchange the 1200 for a 1500, so I did no further work on the 1200 unit.
The rebuild, although not technically difficult, was tiring. It required a good 400 hours work and &pound600 plus to complete the job (ignoring spraying) and those long winter evenings in an unheated garage often left me with a glowing nose. Surprise, surprise, Saturday 4th October 1977 was MOT day! It certainly was not timed to happen like that, but it seemed rather sentimental for it to do so. The car feels better than the original build and so it should be with all the experience of 100,000 miles and now I hope CTO 289B will give me a few more years of service.
It certainly is dammed hard work rebuilding. It was hard enough when the car started as a kit. Slogging away, week after week, often after a days work in a cold garage can be rather dispiriting, but very satisfying when the jobs done. Is the car original? Not quite, but I consider I have kept the few modifications in accordance with the spirit of the Kit Car age. Apart from a larger cc engine, most modifications are electrical and I consider improve the machine.
DAVID COLLINGS
Copyright © Rochdale Owners Club
Last Update