MAGAZINE 109. SPRING 2007
Bristol Classic Car Show
a brief report
The displayed Rochdales this year were Roger Coupes stunning Mk VI was my recently restored Olympic Phase II. Derek Bentley kindly offered to help me set up the stand and called at my house on the way to the show to collect the larger display items in his estate car while I drove my Olympic. We encountered just sufficient rain on the way to dirty the car but were relieved to find dry weather on our arrival and plenty of opportunity and space to wash and dry the car. This was just outside the hall and we remarked on the contrast with the NEC and quickly set up the stand. The halls use as an area for cattle was only too apparent, though the floor was clean and we nearly got used to the pong after a while.
Roger then arrived and, after unloading his Mk VI, enjoyed a brief blast round the car park the cars first ever run apart from a few yards up and down his drive - and gave us the benefit of its rasping exhaust. With cars safely on the stand we repaired to our B&B, the same one as last year, where we were again welcomed with big mugs of tea. Preparing for shows doesn't get much better than this!
The show was used as a venue for a Club committee meeting, the organisers generously proving us with a private room with comfy chairs. That's what I like about this show, run by friendly and helpful folk. There was plenty of interest in our display, the Mk VI attracting a great deal of admiration, three visitors even remarking it was the best car in the show! My Olympic foiled attempts by interested parties to view its rear suspension, as it has a full under tray and I was not prepares to remove a wheel. Spoil sport.
On the Saturday Roger Drinkwater arrived in his Phase 1, now running but still needing one or two creature comforts such as windows. Just as well the weather was a bit warmer than last year! This is a very early F-type Olympic with the very small bonnet and it is good to see another back on the road. On Sunday Tony Stanton arrived in DUFFY, so Rochdales were quite well represented in the car park too. Curiously, our stand was the only one displaying classic kit cars, all the others being mainstream.
Some stands had a theme. Due to a total lack of imagination on my part ours was basic: just two cars, a gazebo and three display boards. My favourite themed stand was put on by an Austin owners club which had a large railway station as a backdrop, one of their cars being a taxi and the stand members wearing 20s/30s clothes. By contrast I could see no point in being dressed as a penguin and another with an OTT Christmas theme was 8 weeks too late. My overall favourite stand was the display by Bristol Hot Rods, mostly Ford-based, which showed amazing levels of design and craftsmanship, real works of art. For the express delivery of pizzas, what about a Ford 10 van with a standing quarter time of 12 sec and terminal speed of 150mph?
As usual I was bowled over by the Austin 7 Swallow - art deco on wheels - but for American Muscle the Chevrolet Corvette in menacing black was hard to beat. Another car to catch the eye (it was bright orange its original colour) was a 60s/70s Triumph Dolomite auto which had done only about 30,000 miles and had been owned by the wife of one of the big distributors. It was for sale for about &pound800 and would make a splendid classic family motor - comfy seats and a huge boot assuming it had not suffered the oxidation of most cars of that period.
Many thanks to the club members who came to chat and help out while we were seeing the show and busy in the autojumble. See you all there next year? Don't forget to arrive in your Rochdales.
Alan Farrer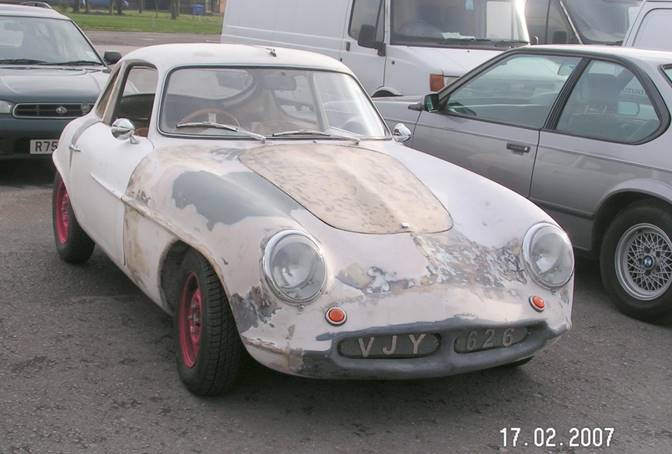 Roger Drinkwaters early Phase 1 in all its unpainted glory at the Bristol Show.
Our basic, unthemed stand at the Bristol Show. Let the cars do the talking? You must be joking.
- 3 -
CAPESTHORNE WEEKEND 2006
Cheshire Kit and Classic Car Show & Rally.
Sunday May 20th 2007 (10am to 4.30pm)
BE THERE!
Last year was somewhat of a disaster due to the terrible weather, so we hope to have better luck this year, and that the weather will be good. As the event is now open to classic cars, if your Rochdale isn't ready yet and you have a classic, bring that along instead if you dare risk it rusting.
How can you help? We need helpers on Saturday afternoon (19th) at about 2.00pm to erect our HQ tent, place various signs around the estate roads, layout the public car park entrance, mark out the Kit Car display area, mark out stall holders pitches, fix signs "to the show" at strategic points around the approach roads, put out refuse bags around the display areas etc.etc. I don't know if the sheep will be returning this year but a trowel or shovel is a useful item to have with you just in case. The area available to us is less than last year, as we must stay on the prole side of the Hall fence.
After the setting up has been completed circa 5.00pm we shall be having a non-damaging driving test competition for the Rochdale Motor Panels Trophy, this being competed for each year at Capesthorne with a fun driving test competition in a Rochdale (at least it's fun for the spectators, who can jeer from the sidelines). For those of us who haven.t got our Rochdales on the road, this is a great opportunity to re-familiarise ourselves with the cars and demonstrate our judgement skills, if we can find someone prepared to lend a car (and show them up).
For the evening we shall be going to the same pub as last year for a hot meal after which there will be a talk on a motoring topic. For catering reasons we must know how many are going to be present on the Saturday evening please let Roger Coupe or myself know if you are coming and how many - otherwise there is a risk there won't be a free meal for you!
On the Sunday your organisers and committee look forward to seeing as many of you as possible together with your Rochdale or Classic if you can bring it (unrestored cars on trailers are equally welcome!), to ensure we all enjoy a companionable club day. If you have any ideas for activities on the day or would like to help your club, please contact either of the organisers before the day. It gives us much more confidence if we are assured of a minimum number of helpers before the event.
On the day please report to the HQ tent when you arrive so that we know you are around and perhaps we may even have a small task for you! Remember this is your club and without the success of this event we would find it almost impossible to carry on financially.
The reputation of this Show continues to grow and grow, but we cannot maintain this reputation for the Show without YOU!
Look forward to seeing you there,
Ron Scarfe (Show Co-ordinator)
(NB Capesthorne Hall is on the A34 about 16 miles south of Manchester and 5 miles West of Macclesfield, and is 1mile south on the western side of the A34 after the A537/A34 crossroads known as Monks Heath, Capesthorne Hall caravan site 01625 861779 or in office hours 861221. Local accommodation: Macclesfield T.I.O. 01625 504114 or Congleton T.I.O. 01260 271095).
TONY STANTONS EVENTS PAGE
E-mail tony-stanton@fsmail.net
South Midlands Classic Car/Bike Meet No1
The second Sunday of the month in the winter, the second Tuesday evening of the month in the
Summer, at Britannic Assurance,1 Wythall Green Way, off Middle Lane, Wythall, Birmingham, B47
6WG
(From J3 on the M42 follow A435 north 1-mile turn left at 1st roundabout then mile turn left at mini-roundabout).
Sunday 11th March, 11am till 3pm.
Sunday 1st April, 11am till 3pm
Tuesday 8th May, from 7pm.
Tuesday 12th June, from 7pm.
10th December started of dull and by 12 mid-day it had gone dark and the rain was pouring down, about 30 cars had turned up, but by 1pm most people had gone home.
14th January was a reasonable day for January and about 20 bikes and 150 cars turned up. 11th February after the heavy snow on Thursday and Friday and the rain on Saturday, Sunday had clear blue skies and brilliant sunshine which brought out 50 bikes but only about 120 cars (I think these non-plastic cars worry about the salt).
South Midlands Classic Car/Bike Meet No2
The last Thursday of the month in the summer at The Moat House Inn,
Birmingham Road (A435), Kings Coughton, Alcester, Warks, B49 5QF
Starts on
Thursday 26th April, from 7pm.
Thursday 31st May, from 7pm.
Thursday 28th June from 7pm.
Stoneleigh Kit Car Show 6th & 7th May 2007
Just to let you know I have reserved stand Number 39D for all HISTORIC SPECIALS AND CLASSIC KIT CARS built before 1973 at the N.A.C. Stoneleigh Park, Warwickshire, the worlds number one show for every kit car enthusiast with old or new kit cars. Sunday 6th and Monday 7th May 2007, from 9.30am till 5.30pm. (May Day Bank Holiday weekend).
All kit car drivers are admitted free of charge, passengers are price.
You can camp on the site, tents and caravans, please contact the organisers office 01775 722900 for details and forms www.grosvenorexhibitions.co.uk
This is a very good cheap day out, spares are cheap; where else can you buy brand new crossflow radiators for &pound15 to &pound20 and new electric cooling fans for &pound5
There are 5 large Exhibition Halls and 600+ Trade Stands all the things you need for your rebuild or update. You can look at new kit cars in rolling chassis form indoors in the dry and warm which will give you ideas on suspension, brakes and drivetrain modification for your car. This is the best show of the year for kit car engineering.
Come to the main vehicular entrance which is located on the B4113, the Coventry to Leamington Spa road (follow signs for clubs and exhibitors (do not go into the Public car parks) (only 2miles from where we have the AGM)
PLEASE tell everybody you know with a suitable car and place details on websites if you can. Let's have a good turnout of early cars. Contact Tony Stanton (Rochdale Olympic 902DUF), details at top of page.
Looking back through my 2006 diary DUFFY and I travelled to 58 events and shows and covered 4280miles. We need to get our cars out and enjoy driving before legislation like road pricing and emissions stop us! Hear hear! - Ed
At this moment I have not received any replies to my article on Olympics in America and Canada. This may be due to my computer crashing and having to buy a new one. If you have sent me a message by e-mail could you please resend it to my new e-mail address tony-stanton@fsmail.net and please if any ROC members have any info no matter how small please contact Derek Bentley or myself.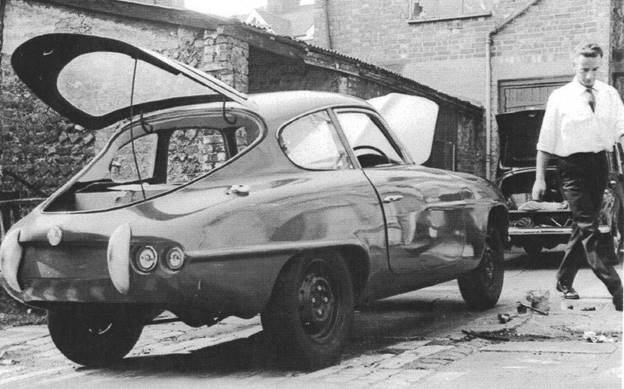 John West assembling DUFFY in the summer of 1963.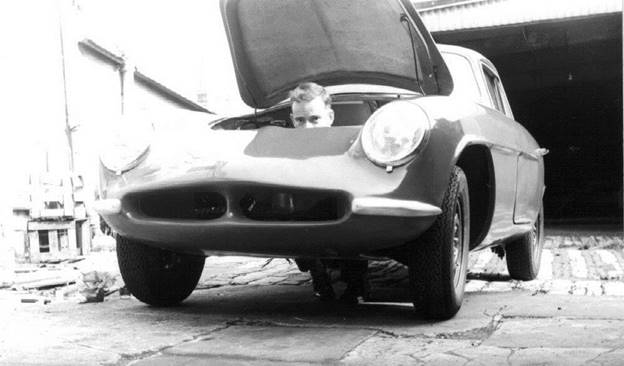 Powered by John West (good economy but no oomph)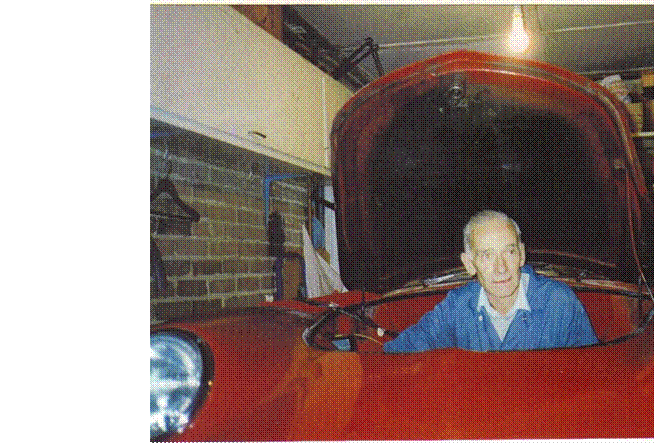 Powered by John West 26years on in 1989
(Long time to stay under that bonnet John, bet your legs are worn away)
Saturday 17th February; 6years today since I became the custodian of DUFFY; time does seem to fly by, but I still feel excited and rewarded every time I take her out for a drive, long may it continue.
Today we went to a 60s Transport Day on the Severn Valley Railway, Worcestershire. There were 150 50/60s classic cars and bikes at 4 of the 6 stations. This event has become very popular with the paying public considering it is winter. The S.V.R. run the maximum summer time table, which is 6 steam trains with extra carriages running 20 journeys on the 16mile line. In the central concourse of Kidderminster Station the Vauxhall Victor Owners Club recreated the launch almost 50 years ago to the day at the Kilburn Empire of the F series Vauxhall Victor. 5 Vauxhall Victors were unveiled including one from the first day of production (it appears not all Victors rusted away). A great winters day out.
Sunday 18th February, DUFFY and I motored the 120miles down to the Bristol Classic Car Show at Shepton Mallet. A good day in the company of Alan, Roger and Derek who set-up and manned the stand for the weekend. Well done lads, at least it was warmer than the last few years. You tend to only get enthusiasts visit this show (not tyre kickers looking for Ferraris and Porsches) so you meet some interesting people. 2 cars on the stand, Alans new Olympic P11 is looking very smart especially the way he has pulled the rear arches out without an obvious flare. Please let's see some photos of the suspension and drivetrain in the Mag. Rogers Mark VI was the other car on the stand, rebuilt to Rogers usual high standard. I do not think a Mark VI has ever looked as good as this. I found it hard to believe it is a 1950s car, maybe with a little luck Roger will bring the car to the A.G.M.
This following article was published on the Rochdale Observer web site in May 2006. You were invited to e-mail back any comments; note the copy of an e-mail at the bottom from Gordon Polson from Seattle, USA.
AL Melling says it's been described as the British Ferrari but it's much more than that. It's the car that will put Rochdale back on the motoring map, nearly 50 years after the towns other famous racer, the Rochdale Olympic, first made its debut. The 63-year-old engine designers V10 Hellcat is the pinnacle of a lifelong association with fast cars and motorbikes. Mr Mellings engines have helped power cars from Jaguars to Ferraris and Lamborghinis to podium success. "It's the climax of my career, the car I've been working towards all my life," he said. The car, the prototype of which is now in its final production stage in Mr Mellings Rochdale factory, is a mean machine. Capable of reaching speeds in excess of 200 mph, it is powered by a 700bhp 6.0 litre engine. It takes just 2.8 seconds to get to 60 mph.
It's a classic front-engined, rear-drive coupe with a carbonfibre monocoque body and chassis, with all independent wishbone suspension. And what's more it weighs only 1,220 kg. At &pound100,000, it doesn't come cheap. But it's been described by many motoring experts as the Rochdale supercar itching to take on Aston Martin and the others. Instead of having a luxury salon interior, as with so many performance coupes, the cabin will be race-bred with deep bucket seats, four-point harnesses and carbonfibre panels as trim. Royton-born Mr Melling is planning to build four cars a month in his factory, now being fitted with special production bays. He's also signed a deal with Detroit based Rouche part of the Ford company which will build 100 cars a month. In Britain the Hellcat will be sold through one expert dealer. Mr Melling will also take on an extra 25 to 30 staff at his Rochdale factory to cope with full-time production, which begins in November. Because it's been designed and will be built in Rochdale, Mr Melling has high hopes it will put the town on the motoring manufacturing map. He hopes the car will catapult the town to classy vehicle fame in the way that Cosworth is associated with Northampton and Blackpool the TVR. "Cars with my engines have been successful at the Le Mans 24-hour race on six occasions. But it's always been my wish to go back to France with my own car and my own engine. And next year I'm going to do just that with the Hellcat. The car will be launched at next years Motor Show at the NEC." He's had 10 orders already and requests by such eminent motoring writers as Jeremy Clarkson to test drive the Hellcat.
First published by the Rochdale Observer
E-mail
Bloody good show Mr Melling. At last another Brit car to show the world. I was in negotiations to buy a Rochdale Olympic when their factory was destroyed by fire, so you have really hit a nerve. Perhaps this will mean a resurgence in British car production, designed by Brits, built by Brits and raced by Brits. I will be watching with bated breath. Gordon Polson, Seattle Washington
After weeks searching I managed to locate Gordon and have been corresponding with him since. Copies of some of the e-mails below.
09-12-06
Hi Gordon,
I got your e-mail address (which is magic) (ancient@-----) from the Rochdale Observer after reading your reply on the website article about Al Mellings new car to be built in Rochdale.
My name is Tony Stanton and I live in Worcestershire, England and I am researching into the history of Rochdale Olympics imported into America and Canada in the 1960s.
Can you please reply telling the story of your negotiations to buy an Olympic in 1960/61 before the
FIRE for our club magazine. Were you living in England or the USA at the time. Did you meet Harry Smith or Frank Butterworth, the two partners? Did you go on a test drive with the designer Richard Parker?
Why did you not wait for the car after the fire? Do you have any photos taken at the time? Hope you can help with our history.
Kind regards
Tony
10-12-2006
Hello Tony,
My word I never realised that my letter would get around so much...such fame!!
I am glad you like my address...I took it from a character in a comic I used to have as a kid called "Stonehenge Kit, the Ancient Brit". The name seemed rather comical to me and I have used it for some years now ever since I first was issued with a computer working at The Boeing Company.
My dealings regarding the Olympic all took place when I was living in England and my correspondence was with Frank Butterworth if I remember correctly. I had originally wanted to power it with a Riley 1.5 litre engine, but I had the opportunity to acquire a Ford motor at a "very advantageous" price, so I wrote to Frank to ask about the possibility of using this engine in the Olympic's engine bay. He replied and I was getting around to getting myself organized when I was horrified to read of the fire and destruction.
I had first seen the Olympic in photographs in various car magazines and really loved the lines. I went to the Racing car show that year, organized by the British Racing and Sports Car Club and saw the Olympic in the flesh at last. I was so impressed and thought that the photos did not really do it justice. Then there was an article in the Motor on constructing one from a kit that really set me on the road to doing the same thing myself. Unfortunately the fire put a stop to that and I didn't know that the car was resurrected after the fire. I understood that there was almost total destruction of moulds and finished shells and that was that. I was never able to get a test drive or meet either partner and unfortunately I never took photographs at the time. I remember driving from Kent back home to Surrey in my Wolseley 1500 and following an Olympic for a considerable time and not making any impression on him at all. Probably thought it was beneath him to be overtaken by a mere saloon car!
At the moment I am replying to you relying totally on memory, but I still have the file I kept at the time, so I will dig it out and let you know what I find. I even still have a red leather bucket seat I bought at the time for it. It was supposed to have been purchased for use in an E type. Whether that was true or not doesn't really matter. I have dragged this seat all over the world with me, not really having the inclination to get rid of something that almost came to fruition.
I came close to buying one some years ago when my sister in law acquired a boyfriend who drove one. He was considering purchasing something else, but changed his mind when I showed interest...bloody man! Interest still flickers to the fore when I dig through my paper work and come across the file and I leaf through it all again. Funnily enough I was back in England again this year visiting family and friends all the way from Cornwall to Yorkshire. I stopped with a friend in West Sussex for a week and we went to the three days of the Goodwood Revival ... quite the most fantastic motoring experience I think I have ever had. Leaving there one evening I was thrilled to see an Olympic parked there and I stopped to admire it. Soon after, the owner rolled up and we talked Olympic for about 30 minutes. He mentioned that there were a couple of them located somewhere near where I live, one I think he mentioned, might be for sale, but I was never able to find any further details.
It was great to hear from you and the Olympic owners club. I will dig into my paper work (my wife will be so impressed that I look as if I am getting rid of some "rubbish"...no finer feelings some people!) and send it on to you if it would be of interest.
I looked into the club's site (thanks for the address) and I love the looks and the spec for Duffy ... lovely looking car and I am envious!
Let me know if I can be of any further help.
Kind regards,
Gordon
21-12-2006
Hi Gordon,
Thanks for your interesting reply, I will go through it line by line with my questions (I am sorry if it seems disjointed but I am dyslexic - good job for the spellchecker).
a) Is your e-mail address with a capital A or lower case a? I was born in 1946 I cannot remember "Stonehenge Kit, the Ancient Brit". I only had 1 comic the Eagle, long live Dan Dare and the cutaway centre page drawing.
b) If you were buying an Olympic in late 1960 or early 1961 it would have been a Phase 1. Most P1 had the Riley 1.5 or the Morris 1000 engines and the Ford 105E was an option.
d) The fire in Feb 1961 was almost a total disaster which destroyed the factory in Hudson Street, all the moulds for the Olympic and all the moulds for the cars they had built in the 1950s, but the firemen had managed to pull out 2 new Olympic bodyshells without any damage (photo enclosed). They restarted around the corner in Littledale Street, but it took 12months to start again with a new mould taken off one of the saved bodyshells and a lot of people did not wait and cancelled their orders.
e) The red bucket seat is a good story, you could set it up on a frame in front of your computer and play motoracing games whilst thinking you are driving a Rochdale Olympic. f) Where in England were you living at this time? u if it is still around.
h) The Olympic and owner you meet at Goodwood was Alan Farrer (alan289@eggconnect.net), He is the club Magazine Editor I have passed your e-mail address to him because he would like to contact you.
i) I would love to see any paperwork/correspondence from the 1960s, please let me know what you find.
j) I have also enclosed an article I have just done for the club magazine on what we know of Olympics in America. Are there any car magazines over there that specialise in early British sports cars I can contact about putting this article in?
Hope this may be of interest and thanks for your help so far.
Kind Regards Tony
24-01-2007
And a happy new year to you too Tony. I hope this gets through to you alright.
I loved all the information you sent, but that Duffy...what a beautiful piece of machinery and those performance figures! What motor do you have in it and what have you done to the suspension and brakes to cope? 'Scuse me while I wipe the drool off my keyboard!
I'll go through your questions in order...make it a bit easier to follow.
a. My email address starts with a capital A, the remainder lower case...just the way you sent it. I loved The Eagle too...what a superior comic that was. Damned shame when they ceased publication. Some years back we were visiting my mother-in-law in Bourne and there was a bookshop there that had a large book all about The Eagle. I hadn't any money with me at the time, but I was determined to buy it thereafter. Naturally something came up and I never returned to the town. Dan Dare really rocked and yes those centre page cutaways too. I also remember the centre page cutaways that Theo Page did in Autosport.
b I am not quite sure which year I was into the Rochdale, but I'll dig out the file I still have on it with the correspondence, then I'll be sure. My original intention was to fit the Riley 1.5 as I liked the unit. I was driving a Wolseley 1500 at the time which I really liked, so I thought that the Riley should have a bit more oomph. However a friend of mine had a Ford unit...not too sure which right now and this is what I was talking to the factory about when the factory caught fire. Somehow I was under the impression that everything went up in the flames and I didn't take it any further. Damned shame.
e. Good idea about the bucket seat...I still can't really believe I have carted it around all these years. My wife doesn't understand really, I guess you had to have had the sort of crush I had had on the Rochdale to understand.
f. I was living in Surrey at the time...Cheam to be precise...not a very large place, but not too far from Epsom. Brands Hatch was my "local."
g. I will have to refer to my file to see which model I was after and I will have to speak to my sister in law and find out about the one she was connected with.
h. Alan sent me a copy of the club mag after emailing me and I must say I was very impressed with the mag. It is very professional.
i. I will dig out the file I still have...somewhere. I saw it just a short time ago so it can't be far. You are welcome to have it if it will be of any use to you. I will send it on by snail mail, but I will email you first so that you will be expecting it.
j. Of course I have now got to the bit with all the interesting stuff on Duffy again. It puts things in perspective a bit. I currently drive a Nissan Sentra SE-R, (SE-R stands for SE Racing I believe) which I don't think they have at home. I suppose it is about Honda Civic size (the new Civic, not the original). It has two doors and the vanilla flavoured Sentra has a 1.6 litre double knocker motor putting out around 100 bhp. Mine has a 2 litre with a special double knocker head, electronic fuel injected and putting out about 140 bhp. It has a close ratio 5 speed box with limited slip diff., ABS brakes and some twiddly bits on the transmission. It is a rather nice motor and I am very fond of it, as it goes like stink and sticks to the road like glue. The only other car I have driven like that was my nephew's Lotus Elan, which of course was a MUCH better drive.
k. There is a mag here that deals a lot with English cars, in fact it used to deal with them exclusively when it first started, but has now widened its coverage. I will get the info on that too and get back to you on it. One of their staff was Phil Llewellyn from concept until he died fairly recently. I believe he wrote for English mags too.
Anyway the weather has changed for the better, although we have had very heavy snow and a week of freezing weather...not like here at all. Caused all sorts of crashes, downed power lines (again) etc etc, but we are all right now. Temp today was 54 and I can get out and about in shorts again! Anyway, bed calls. I will dig out the file tomorrow...I have a pretty good idea where to find it. Have a good one mate. Gordon
(To be continued when I receive more info.)
The next email is from Alan
Dear Gordon,
Greetings from the owner of the pale turquoise Olympic you saw at the Goodwood Revival meeting in September. I have been given your email address by Tony Stanton, a Rochdale Owners Club member of many years standing, who made contact with you recently. I gather the e-moniker was derived from Stonehenge Kit the Ancient Brit, a character I certainly remember from my childhood, when I occasionally managed to buy the Dandy comic, though I am uncertain now whether he appeared in that or another comic - the Beano perhaps.
At the Revival meeting I particularly remember you telling me that you bought a bucket seat for the Olympic you never acquired forty plus years ago (due to the factory fire) and have been attached to it ever since. That's what I call devotion, though others might be less charitable. At the time of our meeting my car had completed fewer than 100 miles since a total rebuild, having last been on the road in about 1990, so it was nice for it to evoke memories from a fan on its first outing. Olympics tend to have this effect on people of a certain age. However, having now rebuilt three from scratch in the past ten years, I don't think I could face another due to declining powers of endurance. Anyway there is still plenty to do on the two I still have.
If you would care to send me your address I will send you a recent issue of the magazine and if you are interested enough in the marque to join the club I would be very pleased to send you an application form too.
Kind regards,
Alan Farrer (Rochdale Owners Club magazine editor)
Dear Alan,
Totally amazing to me how small the world really is! I was quite excited to get the emails from Tony Stanton about the Olympic, but I suppose I should have realised that there would be some contact between you two with the club being the common denominator. I hadn't realised that Rochdale continued manufacture after the fire. My understanding was that all shells and moulds were destroyed.
Amazing too that you remembered that Stonehenge Kit comic strip...you are the first one to do so. I originally was just Ancientbrit when I first was with AOL. I became really brassed off with service and got out, returning some months later, when they told me that Ancientbrit was already taken, so I had to add the 2 suffix. I can't really remember which comic it appeared in, either of those two you mentioned seems likely as Radio Fun or Film Fun wouldn't be appropriate.
I would love to get hold of an Olympic and take it to the British Car Meet which takes place every July in the grounds local of Bellevue Community College. The cars they attract there are quite amazing and I would love to introduce something unusual, quite apart from having a lovely piece of engineering to drive.
An old friend of mine, who is originally from Leatherhead, (we worked together in England and at Boeing here) has an old Austin Chummy which he has owned for over 40 years. It has traveled with him from England to Canada to America and he always wins best in show here. Some years ago he found an Austin 7 van outside a restaurant in Canada and also found that the restaurant was going out of business, so he made an offer for the van which was accepted. He took a long time to restore it, having to replace all the wheels which were too big really.
He did a fantastic paint job on it. His Uncle had had a bakery years before, so he had the family name written on the side along with the appropriate address and phone number. A picture of a Hovis loaf he downloaded from the Internet, blew up and made a couple of copies which were added to the van's doors.
The back of the van was fitted with racks and bakers trays, which contained bread and cakes of the period complete with the appropriate period prices. This was a fantastic looking job, but he sold it after taking it back home to England a couple of years ago to take place in the big A-7 rally which drove from London to Brighton I believe. I couldn't understand why he sold it (the paint job alone cost him $2000), but it just didn't have the emotional attachment that the Chummy had.
Sorry to rabbit on like this, but there are too few occasions to talk about British cars here. Currently I am waiting for a copy of the 2006 Revival meeting DVD to arrive...I am dying to see it all again. It was my first time and certainly will not be the last.
Great to hear from you Alan.
All the best.
Gordon
*********** LETTERS ***********
Concerning the Mazda MX5
To Les Brown
I thought you would like to hear I have had a short go in my son-in-law's MX5. It is a 1991 1600 in Royal Blue with about 120kmiles and still uses no oil. Better to drive than I remember, with a very good ride. He had a four-way wheel alignment done and said it made a noticeable difference. Unusual to have adjustable suspension on a volume car. He got it after joining the MX5 Club. The car is totally original and in very good nick - a credit to Mazda and the previous 3 owners.
Have had a good peek underneath to see how it is made. As you say it has a ladder frame connecting the diff to the gearbox, which obviously takes the driving torque, though it will not take the propshaft torque. Also the rear lower wishbone has an arrangement for offsetting the coil-over from the driveshaft. The upright and upper wishbone are also curved to miss the coilovers - very neat and also lightweight. I see it uses a rear subframe, which presumably could be shoehorned into an Olympic, making the installation relatively straightforward. This and all the links were somewhat corroded, but not too bad for 15 years and it would not be a difficult job to dismantle and repaint.
I wish I had thought about its front suspension when designing mine - it would have saved a lot of work, as I could have used the uprights, if not the whole shebang. In my defence, it was over 5 years ago that I started on mine and MX5s would have been scarce in the scrappies then. The engine is about the same physical size as my Zetec, though the induction is very compact and so the whole engine with ancillaries would have fitted into the engine bay, a significant factor. All in all, getting a scrap MX5 and putting the mechanicals into an Olympic seems to be a practical proposition, something that Westfield Motors has already taken advantage of; it is offering a Westfield specifically designed to accept all MX5 stuff for both 1.6 and 1.8s. However this means that cheapo MX5s will be getting snapped up. For details see
http://www.pistonheads.com/roadtests/doc.asp?c=111&i=15484
If one wants to use Ford or other modern engines, they will always need a RWD gearbox and this will need to be mated to the engine which, apart from Ford, is not a trivial job, since only BMW and Mazda (RX8 anyone?) make suitable RWD power trains. [Since writing this I have discovered the Toyota RAV4, whose mechanicals appear in an MG TD lookalike]
There is one slight problem - there always is: the MX5 is bigger than the Olympic in the wheelbase and in the track (didn't you say the wheelbases were the same?). Changing the wheelbase is no real problem, but the track difference at the back means significant mods either to the suspension (and particularly the drive shafts) or to the bodywork. I measured the wheelbase at 89.5" (my red Phase 2 is 86"), front track 56" (50.5"), rear track 55.5" (51.5"). Widths to the outside of the tyres are: front 63.5" (57.25"), rear 63" (58.25"), and these differences are significant. Even my widened Phase 2 can only take 61" (F) and 62" (R). Because of this problem it might be difficult to use the MX5 rear end, but where there's a will there's a way as my granny used to say.
All in all I think the MX5 would make a splendid base for an Olympic rebuild, so when you crash yours you know what to do (just be careful how you crash it).
Alan Farrer
Hi Alan
Thanks for the E mail - you have got in front of me a bit. Happy New Year! You sound like you're almost beginning to warm to the Mazda..... It took me a long time! Your latest Olympic sounds great. I've been using a 2 litre Zetec in the Mondeo and I have to agree, it's a very nice engine. Only downside with ours is a tendency for the engine to hunt a little around 30mph in 4th - also 5th seems much higher than the Mazda gear, though I don't have figures. What do you have on the fuel side? The standard injection seems frowned on, and some of the alternatives are pretty pricey. Must go a bit in the Olympic.
Interested in your de Dion. Did you make it yourself? Sounds pretty tricky! I know there are a few kits around with their own version. Interesting that your ride is so much better. I wonder why that is? I know it's lighter on the unsprung weight, and the Olympic itself is very light at the rear - I think it's the ratio of sprung:unsprung that's important - but wouldn't have thought it made THAT much difference.
I'm still a little concerned on the rear end geometry of the standard Olympic, and wonder if it tends to lock itself up a little as the spring compresses. One of the car men at school did comment on the odd movements of my nearside rear wheel as I tackled the hefty school speed bumps - sort of figure of 8 as the wheel came up - though I did laugh it off at the time. I was fancying using Spyder bits for a special Olympic, but doubt I'll get round to it! Are we going to see some pics of yours? Very interested in i) front suspension ii) engine installation iii) rear suspension.
On the Mazda front, one of my best prezzies this year was a book by the original designers, translated from the Japanese, and explaining their thinking on each aspect. You're not so far out at 89.5 on the wheelbase - Mazda quote 89.2 and apparently sweated blood to reduce this from 89.7 - ? There are lots of aspects where they could have almost been doing a development job for Olympics - the rear end bolts in via a horizontal rectangular frame above all the works - looks just the right height for the Olympic floor. Like you say, the power unit is compact and they've deliberately left the cam boxes unpainted so that enthusiasts could polish them up, and styled them to look like 60s items. The RX8 you mention is an interesting thought as well - I'm told that pretty well all the running gear is common to the MX5, though I haven't checked it. Also there are a number of RX7 Turbo imports coming in of horrendous performance - I daren't think of an Olympic with one.
Going round the two cars with a tape is something I tried some time ago - I did get the same wheelbases, better check that Olympic figure again. As regards track, I propped up some bits of wood to see where the wheels would come. Yes, they are a bit wide, but here's a couple of thoughts. Just how wide are your arches? DUFs look pretty wide to me and still look great. If you were setting out at the outset to cover 63" it may not be too difficult. Also, an inch overall is only half that on each side, and could probably be taken up by wheels with greater offset. If you've made your own de Dion, I'm sure it would be kid's stuff.
Downsides to the car are - i) it ain't from Rochdale, or even Britain, though what is these days?
ii) they're everywhere. They say you're never more than 30 yd from another when you arrive, which doesn't happen with my other vehicles (!)
iii) Stylewise, the Olympic still holds up - they had umpteen engineers on the Mazda, and did pretty well, but Richard did better.
iv) not as practical as an Olympic with hatchback. Can't get the dog in behind the seats, and they apparently lost their aim of TWO golf bags in the boot when the battery had to be re-sited there. Interesting point here - where do you put a full sized wheel after a puncture? They had thought of providing a special cloth bag to put it on the passenger seat, but where does the passenger go?
The answer to all this is simple - a Rochdale with Mazda bits ticks all the right boxes!
Best wishes Les
From Tony Wright Olympic 779CUG
14 Jan 2007
Thanks for putting the excellent picture of 779 CUG attacking Pardon in the magazine. I feel quite the boy racer until I remember that a microsecond later I was frightened witless by locking the back wheels or was it grating around to find second?
It was good fun albeit that red haze was eclipsing my skill level.
The event seems to be gathering support so I enclose a copy of this years form advising an early entry.
On another tack and through a train of events, involving a licence holder for a 1939 road roller which his family has owned from new, I spoke with Jim Paul. During our mutual ramblings he recalled buying a new Ford 10 chassis from a local dealer for 13 at the same time as neighbour Roger Clark of rallying and, if you are old enough, Cossack hairspray fame.
Jims car was built with a Martin body in green, Reg No OUT 39. This car sported a boxed chassis, aluminium head, twin SUs and a water pump which he recalls was mounted on the engine mounting bar. The car was subsequently part-exchanged against a Farina family machine. Jim still has details and plans for the Martin body. The hardtop was &pound25!
The Roger Clark body was also boxed and built up with a GT body with a similar registration Jim thinks OUT 30. There his story ends.
Jim is very approachable and his telephone number is 01455 239215
Staying on the GT theme, one of my old bike friends recently met Dai Perkins (possibly Dai the GT?) and put us in touch. He recently acquired the claimed 1957 Motor Show GT Reg No YFL 357 from Grenville Phillips. This name rings a bell so maybe it is known to the Club.
Its history is that it belonged to a pilot who stopped using it around 1970 when it failed an MOT test. Since then it has resided with Grenville who carried out extensive works but then lost interest and sold it to Dai.
I gleaned that the car was originally ice blue with Ford 10 engine, gearbox, twin SUs, alloy head, split front axle and torque tube rear. Dai described the car as in good condition but needing interior finishing and a repaint in ice blue! I have given Dai both your and Malcolms numbers. Dais number is 01981 540524. He also has 17 vintage tractors so there is plenty going on in his shed! Note I carefully avoided any agricultural connections.
On another tack, I wish to climb on to my soapbox and bang on about Rochdale Olympic originality. The recent article involving Mazda MX5s is relevant to this as I use an early 1600 as an everyday car, have owned it for four years and always enjoy it. In many ways it is the ideal practical Classic car a Lotus Elan with Japanese production values and substantial investment in refining the car in terms of noise, vibration and harshness. Add to this a great deal of thought in details such as heating, hood, seats and fabulous mirrors.
Tragically the Olympic was never homologated so it lacks the kudos and value of historic racing potential. However tit was a good example of its time and deserves to be preserved as such. Can you imagine anyone putting an MX5 engine in a Series 1 or 2 Elite?
I can see that the concept of creating a cocktail of Olympic and MX5 is appealing, but I think you may lose the charm of one and the refinement of the other. Sounding like disgruntled of West Wittering is not unusual for me these days so I sign off with two olive branches.
The frame you refer to on the MX5 joining the gearbox and diff is the PFF (power plant frame). Its purpose was to improve throttle response (by stopping the diff moving on its mountings) and reduce drivetrain shudder. My own thought is that it added to in line crash impact strength in what is a relatively fragile structure.
This information comes from Mazda MX5 Renaissance Sportscar by Brian Long from Veloce Publishing Plc. ISBN 1 901295
The other book I have is Mazda MX5 1.6 litre Enthusiasts Workshop Manual by Rod Grainger and Pete Shoemark. Again from Veloce. ISBN 1 901295 25/7 UPC 36847. Veloce Publishing Plc are in the UK. www.velocebooks.com
Both are worth their cost to MX5 owners. The manual is comprehensive and detailed, but not as easy as a Haynes manual, but again they are world leaders.
Some boring lore: Eunos in Japan, Mata in States and MX5 here. MX5 have oblong rear plates, rest are square. The hardtop is a masterpiece and still commands strong prices second-hand.
I'm beginning to sound like a drivelling obsessive, which means I've pitched it about right.
Regards, Tony Wright.
FROM THE FBAFC
Metric time
As doubtless you will have read in the national press, from midnight on 31 March the whole of Great Britain (except the Isle of Man) will be converting to metric time. This is in conformance with the EU directive discussed by ministers and passed by the Assembly recently with little or no publicity.
From that date there will be ten seconds to the minute, ten minutes to the hour, ten hours to the day and so on, as delineated in the following table:
Old Time New Time
| | |
| --- | --- |
| 1 second | 1 milliday |
| 1 minute | 1 centiday |
| 1 hour | 1 deciday (or millimonth) |
| 1 day | 1 day |
| 1 week | 1 decaday |
| 1 month | 1 hectoday |
| 1 year | 1 kiloday |
The fortnight will be withdrawn
Obviously, from an employers standpoint, due to the fact that one new hour represents only 5/12ths of an old one, employees might be expected to work longer hours, viz 3 1/8th decidays or millimonths per day. However, as this is inconvenient for administration and payroll purposes, it is intended that the standard luncheon break will be shortened by 2/3rds of a new hour, thus making a total daily working time of 4 new hours.
It is not expected at this time that any compensatory uplift will be made to salaries, except in the case of leap kilodays, where an adjustment will be built in at the end of the hectoday every 1.46 decamonths. Overtime meal vouchers will be issued to non-management hectodaily roll employees for time worked in excess of 5/6ths of a deciday, provided approval from local management has been obtained beforehand. Pension Schemes will not be affected, but superkilodayuation will be adjusted accordingly.
It is not expected by ministers that this change will present difficulties in administration and a smooth transition will be aided by the cooperation of all parties concerned. Penalties for non-conformance have yet to be finalised, but will be promulgated soon, probably within the next gigadeciday.
Rochdale GT 223 GKK
This car was purchased by a pal of mine, as built, in early 1962. He was an insurance claims inspector (still is, but in Australia since 1965) and instead of just inspecting it, he ended up buying it.
The car was a Rochdale GT a one piece body fibre glass on a donor Ford Popular engine and chassis.
The doors and bonnet were attached by poor quality cast aluminium hinges (more about these later). The wheels, I believe, were from a post war Morris, which certainly looked better that a set of "skinny" Ford Pop ones. The faired-in headlamps were from a Volkswagen beetle. Due to limited height in the bonnet area the original radiator had part of the middle section cut out and re-welded! The electrical system was 6V.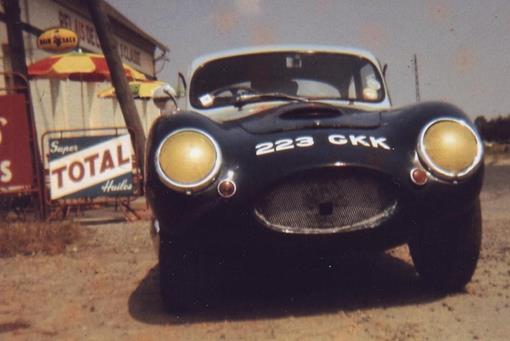 The first few outings in the car revealed almost unbearable droning noise reverberating within the hard finish shell. This was drastically reduced by the application of an six foot by eight foot, half inch thick sheet of foam, stuck as a lining to the inside of the roof with Evostick and trimmed round the windows with a sharp Stanley knife.
It was early July 1962 when we set off for the Dover Calais Ferry, the car loaded to the gunwales with an old fashioned ridge tent, ground sheet ( two plastic 'Pack-a-macs' actually ) oil cans, spares and tools etc.
As we headed south towards the Med. we soon encountered overheating problems due to the reduced surface area of the cut-down radiator. Two methods were utilised to overcome the problem. The first was to prop up the front of the bonnet with a stick, but this led to the bonnet hinges breaking. We replaced the hinges with leather straps, cannibalised from a camera case which were bolted to bonnet & body. The arrangement was not entirely satisfactory, so Plan Two was put into action. This entailed driving only early mornings and late afternoons 'till dusk which gave us a lot of time to spend including a whole day at an open air Lido at Avignon.. One of our stops found us having a picnic in a cornfield by some abandoned pre-war lorries. After investigation, we thought that we would help the owner by removing two heavily painted 6V curly alpine horns. One of these was soon temporally fitted in the Rochdale and directly wired to the battery through the horn button which even made lorries jump out of the way when sounded, and the metal horn button became too hot to touch. The horns were made entirely of brass and when cleaned up they were sold back in the UK for a tidy sum which almost paid for our trip.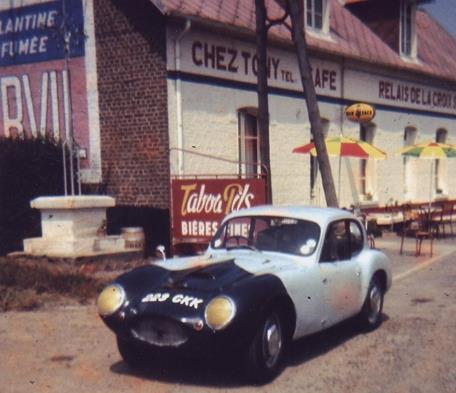 With two overnight stops at Dijon and near Valence we arrived at Juan-les-Pins where we spent a wonderful eleven nights. Sadly the campsite, right in the middle of town and just a stone's throw from the beach has now been replaced with a massive apartment complex. One hot and sultry evening we drove along the fabulous Riviera Corniche from Nice to Monaco. This road hugged the cliff face, went through tunnels and crossed bridges over the sea. We entered Monte Carlo via what used to be the first bend from the start line of the GP circuit. It was a few months earlier in May when there was an almighty pile-up on that hairpin bend involving Graham Hill in his BRM.
Hill didn't win the event but he did go on to win the World Championship in 1962.
Another day we spent in Nice and on returning our parked car we encountered a crowd around the Rochdale. As my pal "excused" his way to get to car, an excited Frenchman, dressed in the archetype striped jersey, beret and thin moustache (but without the onions) asked me if the car was a E Type Jaguar Not wanting him to be disappointed I replied in the affirmative adding that it was a "Le Mans Type". His face lit up and he ran off down the street doing his "Eureka" act. Two overnight stops on the way home (one in Paris) saw us back home where the car was sold on some three months later.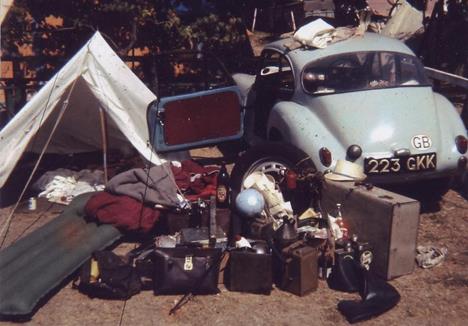 What happened to the car after that I don't know? Perhaps one of you may have further news of 223 GKK?
Peter Gurton (member of the Royale Owners Club)
My New Phase 2
Alan Farrer
I have made references to BNC 849B for a while so, as it has now come out of hiding and been displayed at the Bristol Show, I brief r sum of its salient features seems in order.
I bought the car from Paula Spendlove. It originally had a 1.5 litre Wolseley diesel engine and is still registered as a Wolseley! Roger did some work on it for her and tells me it had two scaffold poles running below the sills when she first got it! She had an accident, hitting a wall I believe on the offside the professional repairs to that side certainly testify to that and I believe didn't want to drive it again. Alaric started on a resto, but which stalled (like they do) and then I bought it as a shell with front suspension only.
It had obviously had a hard life with its previous owners and the front underside in particular was in a sorry state, having been repaired a few times by the look of it. There were holes all over the place in the internal mouldings, especially the engine bay, the original dash was entirely absent, and a bent steel bar joined the two upper hinge boxes to support the steering column and the replacement dash. The right hand hinge box was completely covered in glassfibre matting (presumably by the repairers) which took several hours to cut away with Dremel and hammer and chisel (it was having to repair this that made me dream up my rod end idea for hinges). It took even longer to remove the towbar, which had been bonded into the rear apron. The dash had obviously had a fire at some stage in the distant past, since the glassfibre was charred and string-like.
I had the subframe sand blasted to see what state it was in and was horrified; it had been crudely rebuilt and one or two of the wishbone pivots were made from bolts welded inexpertly to the sawn off ends of the shafts - and not even straight! The electric welder was obviously not up to such a heavy duty job and the welds were just blobs I don't know how it held together, and it was a potential death trap. It is just as well Paula didn't drive it too much. The brake discs had worn into a taper down to about 5 mm at the edges; I don't know how it passed an MOT in that state.
Externally it looked reasonable and my original idea was to restore it to a fairly standard petrolengined Phase 2, but having seen how much work the interior structure needed I decided I might just as well go the whole hog and do a DUFFY on it. There were features on DUFFY that I liked (torque tube, no subframe, modern engine), so these formed the basis of the project. I decided on a De Dion rear end, which is geometrically the same as a live axle, as I didn't fancy sorting out the suspension mounting arrangements for an independent setup. Now I am not sure that this was the best choice, as room has to be found for the axle behind the diff and this caused complications elsewhere. I didn't want to use a tubular torque tube as in DUFFY due to lack of accessibility to the propshaft etc, so I used a lattice frame instead this was a good choice. The Ford Zetec was the engine of choice at the time and the rest just followed, though I could have made simpler choices here and there.
Front suspension:
Wishbones with coil-overs. Lower wishbone formed by track control arm (TCA) and forward facing tie bar. Upper wishbone unequal length arms, but otherwise conventional. Coil-over acts on TCA - uses springs and Spax dampers ex Phase 2. Upright from Sierra with damper cut down and fitted with Spitfire type ball joint at top. Bottom balljoint is a Cortina Mk4 (I think) item - a commonly used balljoint for Lotus 7 style cars etc which use the Cortina upright. NB I had to modify the taper in the Sierra upright to fit the Cortina balljoint. It would have been a sight easier to use the Cortine upright, but the local scrappie had no Cortinas, surprise surprise. No anti roll bar originally fitted, but installed later; there was surprisingly little difference. The suspension parts which affect steering are poly, the rest are compliant rubber (Ford). Camber adjustable by shims (set to 0), castor by adjustable tie bar (set to 4degrees).
Rear suspension:
De Dion, using the original Phase 2 pickup points, though I have two upper arms instead of one. [As an aside, the De Dion arrangement places very little stress on the upper links, in contrast to a live axle, so I could have used only one, but liked the idea of symmetry]. Trailing arms are similar to Phase 2 items, use ex Phase 2 Spax dampers and springs, and poly bushes at both ends. Transverse location is by a Woblink - a sort of single-sided Watts linkage, which runs from the offside end of the axle to close to the centre line of the undertray. This gives better location than a Panhard rod and avoids conflict with the diff. Diff is 7 Granada viscous-coupled job with 3.62:1 ratio. Hubs are from a drum-braked Sierra, but fitted with disc brakes (I like to make things difficult). I did this because they are 3kg lighter than the disc-braked types, but I had to fiddle with the drive shafts. I am not sure this has been a success, as there is a rattle on rough roads which I suspect is due to my mods. Total axle weight is about 30kg (the Riley axle is 40kg and the Escort 51kg) and since the sprung weight is much higher (50-50 weight distribution) the ratio of sprung to unsprung is much better than the standard car (over 6:1 vs less than 4:1). This almost certainly accounts for a vastly better ride than my other Phase 2. Camber -0.5degree, zero toe angle.
Gearbox:
Ford Type 9 from a 2.3 V6 Granada, fitted with the close ratio gearset from the 2.9 V6 car and modified by BGH Engineering to improve the internals and bring the gear lever forwards to level with the steering wheel. With a cut-down Sierra lever this gives a very nice change. Gearbox connected to the diff by a lattice torque tube. This gives the benefit of reducing the load on the mountings due to the driving torque to low levels and also eliminating the rocking of the engine on its mounts, which can therefore be made soft. Another benefit is that there is no engine/gearbox mount necessary in the middle of the car, so no transmission of vibration to a rather resonant point in the body. This is very obvious when driving - there is just no engine vibration - a big contrast to my other Phase 2, though the Zetec is a smoother motor too.
Engine:
Ford Mondeo 2 litre Zetec of 1993 vintage (ie early version). I fitted this with an Escort 1.7 sump, oil pickup and water pump. The sump/oil pump mods are necessary because the Mondeo sump is very deep; the water pump is necessary because the Mondeo pump is driven off the back of the very long poly-vee belt which drives the accessories, so goes anticlockwise. When you strip all the power steering stuff off and use a nice simple short belt it drives the water pump clockwise - the Escort pump is a clockwise pump. QED. I baffled the sump fully after dire warnings about oil starvation on kit cars.
The gearbox fits to the engine using a Sierra cast iron bellhousing (very heavy, but cheep cheep) the bolt pattern is the same above the crank line, but is a bit hit and miss below, so I used a 10mm thick adaptor plate in mild steel. The Ford bell housing places the starter motor down on the left hand side, but this clashes badly with the exhaust (unless the passenger footwell is seriously compromised), so I moved it to the usual Mondeo position (under the induction), where it is supported by the adaptor plate. This works well.
I had the flywheel lightened by Dunnell Engineering and used their special clutch too. The Sierra clutch is cable operated, but I converted it to hydraulic using a Mini slave cylinder. It works a treat. The lighter flywheel suits the car well. [When using the type 9 box with the Zetec the Sierra clutch release bearing is too thin for the clutch to release properly; I understand that Caterham use a bearing with a spacer bonded to it an abortion in my opinion. I simply moved the pivot forwards by putting a spacer behind it this maintains the correct operating lever alignment and is safer too (nothing to come unbonded).]
I measured the engine weight as 125 kg including starter and alternator, which I am told is the same as an A-series. This can't be right.
Exhaust:
I made the 4-2-1 exhaust manifold from an aftermarket flange and pre-formed bends. This was surprisingly straightforward, though it involved a lot of cutting and welding. The trickiest part was fitting round pipes into the curiously shaped exhaust ports that feature in the Zetec heads. I also made the rest of the system, in 2 mild steel as it's easier to work and doesn't resonate like stainless. This uses an aftermarket straightthrough centre box and a Volvo 740 rear box which I modified internally to make less restrictive. The manifold features an oxygen sensor, though no catalyst (surprise, surprise).
Fuelling:
The induction uses the original bank of fuel injectors and the throttle assembly grafted onto a DIY inlet manifold/plenum assembly made from glassfibre. It looks a bit odd but does the job and cost virtually nothing. The original ECU is used and the wiring adapted to the new layout. The calibration needs sorting, but it all works, somewhat to my surprise (thanks to Aubrey Richardson for his guidance). One day I might indulge in a programmable ECU. The K&N air filter is in a chamber by the pedal box and is fed by air ducted from the front of the car. The whole engine compartment has turned out very neat. I made the 40+ litre fuel tank in alloy, with some welding help from a professional and a tin of POR 15 tank sealant (wonderful stuff, suggested by Derek Bentley). The Mondeo tank unit uses a submerged pump which is extended to allow for the greater tank depth. This is only audible faintly for a second after switch-on, as it stops until the engine is started, when of course it is drowned by the engine noise.
Brakes:
Standard Sierra 240mm vented discs on the front and 253mm solid discs on back. The back brakes are fed by an adjustable proportioning valve, which allows front/rear balance to be set on the move. Pedal box is similar in design to a standard Phase 2, but uses Metro pedal box internals. The pedals are modified to use standard Girling type horizontal master cylinders. The brakes are light but lack bite this may well improve as they bed in. It doesn't need a servo and I am considering removing the servo from my other Phase 2 as I suspect it runs out of push under hard braking it doesn't feel too good at the end of Lavant Straight at Goodwood after a couple of laps, even in the wet!
Steering:
Rover 100 steering column operating Triumph Spitfire rack, shortened by 4". The column has three UJs, two metal and one rubber, and is heavily kinked to clear various engine bits. It runs in needle roller bearings. Track rods have a Spit to Ford adaptor (easily made by welding appropriate nuts and bolts to a bit of tube). The rack is worn, so I may change it to an Escort Mk2 item, as used universally in kit cars. I found to my cost that nobody makes a boss for the Rover 100 to fit aftermarket steering wheels. This is amazing, as one is available for the Rover Metro and the 100 is simply a derivative! Does this defeat Rochdale man? No! Take a Rover 100 steering wheel and cut off everything except the metal boss, then screw this to a Mountney boss. Voila!
Wheels:
Ford RS 7-spoke alloys, 5.5J x 14 with 185/60 tyres. ET is 35mm (normal Ford is 41mm). I bought the rims years ago so it seemed a shame not to use them, even though they are not period.
Electrics:
Column switches are Rover 100 - not many others needed. Hazard switch is Metro but everything else is Ford, based on a Fiesta IV fuse/relay box. I hacked this about a lot to get the functions I wanted and to mate it to the Mondeo ECU definitely not for the faint-hearted! It fits snugly behind a panel by the drivers right foot. It was a relief when it all worked. The alternator is Escort, as this is much smaller than the hefty 90 amp Mondeo unit and therefore fits in the engine bay. It gives more power than I will ever need. The lights are all normal Olympic, but I made all the wiring looms. The battery fits in the boot under the spare wheel and a master switch is fitted ( la DUFFY).
Instruments:
Pre-2000 Mondeo cluster, which uses nice round dials and will, just, fit in my dash, which is a normal Phase 2 but lacks the kink over the steering column. I had to make the dash from scratch, as a previous owner had destroyed the original, and decided I wanted the column a little lower so the kink wasn't necessary. I originally wanted to use a pre-2000 Fiesta IV cluster, which also has a reasonable looking set of instruments and which is smaller, but there were none at my scrappie. I chose Ford because of simple interfacing with the rest of the electrics and to simplify the speedo interface with the gearbox. The only problem with the Mondeo instruments is that they are partially obscured by the steering wheel. Also, curiously, the speedo under-reads badly on hard acceleration, which I traced to end float on the shaft carrying the pointer acceleration causes this to move rearwards and pull the driving disc partially out from the spinning magnet. I know the car accelerates well, but his can't be normal!
Body:
Front arches flared a little to account for wider track and wheels. Chin spoiler with opening for duct to cool engine bay. Engine bay widened and designed to take front suspension without use of subframe (a la DUFFY). Rear wings widened by moving wings apart and keeping sides more or less parallel ie no tapering towards the rear (these turned out a little wider than I intended). Also no flares, just cut away a little like Nigel Whittaker's (I don't like bulges). Rear end internals designed to support diff and also to house fuel tank, spare wheel and battery - luggage area floor is therefore about 3" higher, but flat (a la DUFFY). Full undertray with idea of venturi effect, though no actual ducting. Painted in 2-part pale turquoise (by me, so nothing special in terms of quality). I used no water in preparing the shell to avoid any possible problems later with trapped water; I hope this was worth the effort and dust.
The doors have my rod-end type hinge mod, which works very well; heaving up and down on the doors produces virtually no free movement, and adjustment is straightforward. The window regulators came from a Fiat Panda, as suggested my Ron Collins, and work very smoothly. To ease installation I have used acrylic windows. These two mods save about 3 kg per door! The rain excluders are also Fiat Panda. Door handles are Morris 1100, which fit the door curvature reasonably well and have the benefit of a key for each side, but need a bit of fiddling to interface to the catches.
Misc:
Wipers arms are MGB fitted to a 2-speed Allegro drive, giving suitable wiping arcs which are not symmetrical more on passenger side as they park on the right. The release cable and catch for the hatch came from a Daihatsu Charade; it fits well and operates very smoothly. So does the bonnet release, which uses the standard Phase 2 catch operated by another Japanese release cable. This runs along the right hand side of the engine bay and fits to the right hand side of the catch, the outer being connected to the catch, the inner being anchored to the front panel. In all the other Phase 2s I have seen the cable runs round the engine bay and approaches it from the left; making the cable run much longer and less smooth.
The heater is a Mini item, fed with fresh air ducted from the grille. This feeds demister and footwell vents and also Mini eyeball vents at the outer ends of the dash; the scuttle air inlet feeds cold air only to the centre vents. I reason that cooling is more important than heating. The seats are MGTF which are a very tight squeeze, but are well shaped and comfy. I suspect MX5 seats would be better as they are slightly narrower and have a lever for backrest angle and for folding. The MG seats have a stiff handwheel for backrest adjustment and no folding function, but complement my interior decor.
I have trimmed out the interior (a first for me) in black vinyl for dash and centre console and cream vinyl for doors and rear side panels. Carpets are dark beige doesn't sound promising, but it works out well. I even have roof lights with courtesy action (driver's door only). There is sound-proofing everywhere; the total weight of this and carpet etc is about 40kg! My other Phase 2 has no interior stowage at all so I have gone to town with this door pockets, centre console trays, driver cubby, passenger glovebox and large map tray. No cupholders, but plenty of level surfaces for cups of tea! One day I might replace the 4-speed Fiesta gear knob with something sportier, but it does at least remind me where reverse is.
On the Club Stand at the Bristol Classic Car Show, showing all the external bodywork mods.
General view of interior. Note storage spaces!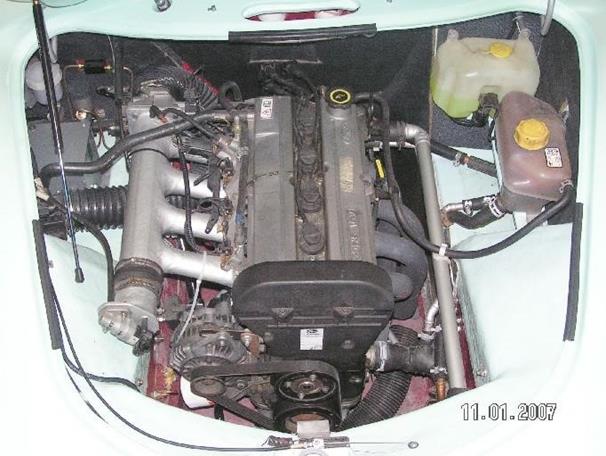 Underbonnet view of BNC 849B showing Zetec engine, with DIY inlet manifold/plenum on the left,
water rail and header tank on right and bonnet release in foreground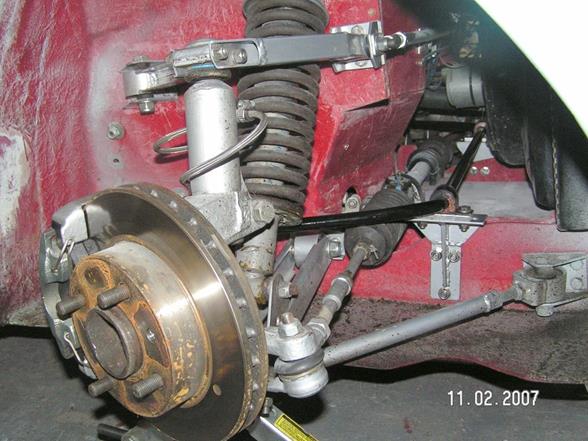 The offside front suspension showing all major parts, although the TCA is mostly hidden
ROCHDALES in MAGAZINES and PAPERS January 2007
by Tony Stanton ( Paul Narramore )

Transformation to Gran Turismo (Feature 2 pages)

3 September 1958 The Motor

A Grand Tourer for 140

2 January 1959 Autosport

The Rochdale Olympic

( Feature 1 page )

21 December 1960 The Motor

New Bodies for Specials ( Feature 1 page )

December 1960 Sports Car & Lotus Owner

Performance Equipment Review ( Feature 2/3 page )

December 1960 Sporting Motorist
Racing Car Show February 1961 Sporting Motorist
Riley-engined Rochdale Olympic March 1961 Sporting Motorist
( Feature 1 pages )
Rochdale Olympic 7 June 1961 The Motor
( Road Test 4 pages )
The Rochdale Olympic June 1961 Motor Sport
( Technical 2 pages )
? 27 October 1961 Autosport
Rochdale Olympic March 1962 Practical Motorist
( Road Test 1 page )
Grand Touring on a Budget March 1963 Sports Car World
( Introduction 2 pages) ( Australian )
Pep Talk April 1963 Practical Motorist
( Introduction part page )
What are the small firms doing? Pt 3 June 1963 Motor Sport ( Feature 1 pages )
Rochdale Olympic Ph II June 1963 Practical Motorist
( Technical 1 page )
Rochdale Olympic Ph II February 1964 Practical Motorist
( Racing Car Show )
Rochdale Olympic Ph II ( Road Test 2 pages )

February 1964

Motor Sport

Rochdale Olympic Ph II ( Road Test 2 pages )

28 February 1964

Autocar

Giant Road Test TVR Grantura MK 3

v Rochdale Olympic Ph II ( Road Test 7 Pages )

December 1964

Small Car

Rochdale Olympic GT Ph II

( Road Test 1 page ) also reprinted in Practical Motorist Annual 1965

December 1964

Practical Motorist

Rochdale Olympic Ph II ( Road Test )

December 1964

Car

2 of a kind by John Anstice Brown

( Motor Racing article 3 pages )

16 January 1965

The Motor

Building and running a Rochdale Olympic ( Technical 4 pages )

February 1965

Motor Sport

The day the road died

( about Olympic that went up in flames )

23 December 1967

The Motor

?

June 1969

Hot Car

Rochdale Lives ( Feature 2 pages )

1972

Fun Car

No 2 Rochdale Olympic ( 1 page )

July 1973

Auto

In Car Entertainment fitting a

Radio/cassette to a Rochdale Olympic ( Technical 3 pages )

April 1974

Cars & Car Conversions

Rochdale Olympic ( 4 pages )

August 1978

Thoroughbred & Classic Cars

Donington Kit Car Show ( Article on 4 pages )

Winter 1979

Alternative Cars

Donington Kit Car Show

( Article on 2 pages )

Summer 1980

Alternative Cars

F.S.C.C. AGM

( Club Sandwich 3 pages )

June/July 1981

Alternative Cars

F.S.C.C. Goodwood Test Day

( 1 page )

Oct/Nov 1981

Alternative Cars
Old Flame ( Feature 7 pages )

Nov/Dec 1982

Alternative Cars

A to Z of Specials ( Ref 4 pages )

May 1983

Classic & Sportscar

Olympic Ph II and Alexis GT ( 1 page )

September 1983

Kit Car

?

Nov/Dec 1983

Sports Car Mechanics

Olympic Flyer! ( Newspaper article )

7 January 1984

Rochdale Observer

?

March/April 1984

Sports Car Mechanics

?

July/Aug 1984

Sports Car Mechanics

The Rochdale Alternative (Feature 1 page)

February 1985

Sporting Cars

?

October 1985

Classic & SportsCar

Olympic Games ( Feature 4 pages )

May 1986

Thoroughbred & Classic Cars

Capesthorne

August 1986

Component & Specialist Car

Rochdale into Porsche will go ( Feature 4 pages )

April 1987

Kit Car

Olympic Games

( Feature 5 pages )

May 1987

Classic & Sportscar

?

December 1987

Classic & SportsCar

Porschedale

December 1987

Specialist Sportscars

AKH special

September 1989

Classic & SportsCar

? ( Sydney Bartrams Olympic Ph II )

August 1990

Practical Classics

?

September 1990

Kit Car

F-Type

August 1991

Classic Cars

?

August 1994

Classic & SportsCar
GT

January 1995

Classic & SportsCar

Clash of the Coupes

( Cecil Hamptons Olympic Ph II )

April 1996

Classic Cars

Olympic Games

( Road Test 902 DUF 5 pages )

June 1998

Classic Cars

?

September 1998 ( 1988? )

het Automobiel( Dutch )

?

November 1998

Classic Cars

Le Jog

( Malcolm McKay.s Olympic Ph 1 )

April 2000

Practical Classics

? ( Nigel Whittakers Olympic P 1 )

Spring 2000

Practical Classics

Capesthorne ( 902 DUF )

August 2001

Classic Cars

?

May 2002

Oldtimer-Market Automobil ( Germany )

Olympic Gold Public Sculpture ( Newspaper article 1 page )

27 July 2002

Daily Telegraph

?

October 2002

Classics

Classic Car Show N.E.C ( 1 page )

December 2002

Classic Car Monthly

F.S.C.C. Specials Day

( Feature 3 pages )

October 2003

Sports Car Classics

?

?

Kit Car International
Please if any member can add names and dates to this list please contact one of the names below:
Tony Stanton tony-stanton@fsmail.net
Derek Bentley
Alan Farrer alan289@eggconnect.net
EARLY ROCHDALES REGISTER
Malcolm McKay, MMcKays@aol.com
Thanks, all, for the staggering amount of news on the Early Rochdales front there's so much this time I don't know where to start, and this is supposed to be a quiet time of year!
MkII (alloy) spotted
Tony Stanton kindly sent through this photo he found of an aluminium-bodied MkII Austin Seven Rochdale, which is still owned by Dave Rees (admittedly dismantled):
Attached is a photo of PMA 134 I found looking back through a book I received at Christmas 1957 when I was 11, it is Motoring Annual 1957 by Douglas Armstrong, looking at the time of year, weather and the race number 41F, I think it is the Silverstone 6-hour Relay, before 1957 I think. Dave Rees did everyone from 1952 to 1970. Do you recognise any other cars?
It's a lovely atmospheric photo oh dear, doesn't it look wet, cold and miserable! I don't recognise any other Rochdale bodies in the photo, but that Ferrari-esque special next to PMA does look familiar, I think I've seen it in a Motorsport ad from the late 1950s... I'd agree the date must be before 1957 as I don't see any glassfibre bodies anywhere - probably c1954 would be a fair guess.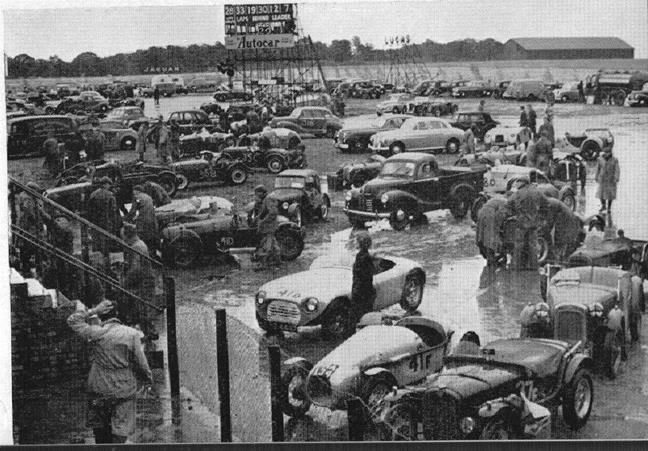 Alloy Rochdale/Austin Seven PMA 134
spotted by Tony Stanton in this 1950s photo: front row, second from right

MkVI mutterings I'm sure you'll read about it elsewhere but I do want to say a huge well done to Roger for the superb job he's made of his MkVI-bodied Buckler. To restore from such a wreck to such a high standard is a phenomenal achievement. Entirely thanks to Roger, we now have superb examples of both MkVI and Riviera on the road and in both cases I believe they are the only ones in the world currently roadworthy, let alone restored. What next, Roger? I believe you have the beginnings of a hardtop ST there somewhere?!

Meanwhile, Patrice Wattinne has pointed out that Duncan Rabagliatis Paramount-chassis MkVI, a sound restoration project with Ford 1500 Consul engine, is for sale for 1500 on a historic rally website. Contact me for more info if interested.

Fancy an F-type?

The F-type was, arguably, the prettiest Rochdale of all but there are virtually none left, as mentioned in the last issue. However, Peter Morley, who is restoring the Elva-Climax MBU 309 which was always one of the prettiest Rochdale-bodied cars, has now bought the ex-Graham Lyall F-type body from Paul Hutchings and is ready to start work on restoring the bodyshell so it can be united with the Elva chassis, which has for many years borne a Falcon Mk2 bodyshell.
C-type news
John Walkington is one of an extremely rare breed Rochdale builders who still own the car they built. There are a few in the Olympic Register, but I can only think of one other pre-Olympic, a GT in Cornwall from which I've not heard for a few years
Johns car is a beautifully-built C-type, known as Corsi, on which he gave us an excellent article back in issue 90, summer 2002. John is now actively engaged on a rebuild and wrote to say:
I was very interested to see the photo of the works C-type, I have that photo [last issue MM], obtained when I bought my shell in 1955. I thought it was Riley mechanicals but am open to correction. The colour I seem to remember was a very smart pale blue metallic.
I am pleased to report progress on Corsi Mk2 is going well. The body has been repaired and slightly modified and is now at one with the steel tube chassis. It is finished in primer at the moment, one or two small items to complete and it will be ready to paint, dark blue I think. Most of the mechanicals are ready to fit so final assembly should not take too long, I hope.
The main reason I am contacting you is to enquire if you know if there are any more C-types still in existence. Mine was on the road from 1956 to 1962 and had done quite a big mileage when I laid it up. During that period I came across three other C-types and heard about another two. Since then, silence.
I firmly believe that C-types were the rarest of all the glassfibre Rochdales quite why I'm not sure, but I suspect it was because the C-type was the most expensive of the three bare shells (C/F/MkVI) and only 25% cheaper than the much more comprehensive ST bodyshell that came with bulkheads, inner wings and part floor sections all moulded in.
C-types on the Register are:
DEN 275 - Lister, raced by John Horridge in 1957, subsequent history unknown EGB 944 - now MSK 678
ENY 242 - MG-based, for sale by Chiltern Cars in 1959, subsequent history unknown
GUL 804 - Drag racer seen in Cornwall in 1985, no news since
JSC 404 - Probable C-type, seen at Prescott in 1965, subsequent history unknown
MSK 678 - Almost certainly survives, Ford Pop chassis/running gear, owned by Tony Bourn of Suffolk in 2000, needs light restoration
UPG 171 - Connaught, probably the first recipient of the shell, re-registered VPF 272
VAR 732 - Buckler, still extant in Cornwall but totally derelict as abandoned outside for c40 years
VPF 272 - formerly UPG 171, subsequently lost and rebodied with aluminium replica shell
XUM 461 John Walkington, new to 2007, Corsi
YKX 2 - Tojeiro, restored by Beaufort Restorations in 1989 with aluminium replica shell...? ... - TVR mystery car
John replied: I was unaware so many C-types had been around. The only one I knew well was the Connaught of H.M. [Jock] Sinclair of Southport. We used to park next to each other in the Paddock at meetings.
I competed Corsi to see if it was any good, just for one season, at: - Sherburn Airfield Sprint, 5.5.1957, 2nd in class, 10 shillings prize.
Croft High Speed Trials, 8.9.1957, 3rd in class, Chrome Ashtray with club badge and 10 shillings. Marston Moor High Speed Trials, 21.9.1957, 3rd in class, Ashtray.
Being 1172cc, Corsi was usually placed in up to 1500cc class and it was a bit unfair. Also as the car was quite strongly built, it was a trifle heavy for competition. Jocks Connaught was at Croft and Marston Moor.
I saw two other C-types in the period Corsi was on the road. I was a rep. at the time and sometimes used Corsi, great fun, made absolute mincemeat of journey times. I was near Sunderland and stopped for petrol. A mechanic in the adjoining workshop was trying to put a C-type on a Ford chassis. It was awful, too high off the ground and very rough. Corsi was very low and immaculate. The chap was a bit embarrassed so I did not linger. The other was a red one I followed somewhere not in Corsi. A middleaged couple aboard complete with crash hats and visors, which is how I used to travel.
Corsi did a big mileage in the period, my wife and I did 1000 miles to Cornwall and back on our honeymoon in June 1958, the year after we did another 1000 miles in Scotland plus the number of business trips soon added the miles. We only had to push it home once, about a mile, but it did not like snow, severe lack of adhesion.
The only F-type I knew was MG Wisp father and son whose name escapes me at Croft and Sherburn. The shell had been cut full-length and a panel inserted to widen it to fit the chassis. It was a very smart car but Corsi was faster. I believe the list price for C-types in 1955 was &pound75. Mine was shop-soiled and a bit rough so they said &pound70 and on collection my father beat them down another &pound5 for cash, as he was paying.
I was most interested to hear about the other C-types (and F-type) John had seen especially Jock Sinclairs Connaught.
UPG 171 / VPF 272 was a Connaught, that was apparently re-registered in 1954/5 when John Coombs sold it to Peter Bell (perhaps Coombs had made up the first number or borrowed it off something else!). Les Leston was its regular (and highly successful) pilot in 1955, though Stirling Moss drove it with great success in one meeting. My book tells me that in 1957 the car passed to amateur enthusiast Jock McBain does anyone know if this is the same guy? I know that book isn't totally reliable... I do believe that this car was originally aluminium-bodied and that Rochdale took a mould off it to make the C-type body (allegedly overnight, when it was in for repairs after a racing incident), subsequently fitting a glassfibre body on the car, presumably after accident damage to the aluminium body. Whether it was Rochdale who made the aluminium body in the first place I don't know, but I doubt it John Coombs surely wouldn't have gone all the way to Rochdale for a body in 1954...
MG Wisp is a new one to me, too unless it is in fact one and the same as the Marsh Special, which also has the widening mouldings.
John certainly did make a lovely job of Corsi, really making the best of the C-types attractive lines. As with the one he saw being put on a Ford chassis, they can look pretty awful. It's just possible that could be MSK 678 (formerly EGB 944), as that car is on a Ford chassis and looks pretty bad! I'm very much looking forward to seeing Corsi in the flesh - maybe at Capesthorne this summer?!
ST comes and goes!
As mentioned in the last issue, I was delighted when the ST turned up in South Wales and surprised no members snapped it up. As promised, owner Jed Scheliga put the car on eBay and it sold to France. No worries here that it would disappear without trace, however it sold to Patrice Wattinne, who has since become my most faithful Rochdale correspondent and already owned the ex-Roy Dawson Herald-chassis GT, SSN 88H and a Fiat twincam-engined Olympic, MYG 393D as well as a host of other British classics and Specials.
1959 advert for the ST Bonglass that turned up in Wales last year
Patrice launched into the restoration with a speed and vigour that beggars belief I only wish I could do the same. He tells me his secret is that he works at night he copes with very little sleep and in no time at all he had de-rusted and painted the chassis and reported that the four-speed MG gearbox seemed to be in good order.
The story was that the engine had been rebuilt about 10 years ago, but Patrice was soon to discover that this rebuild had involved little more than a can of green paint: he had to strip the engine and start again.
Nevertheless progress continued rapidly with the body and Patrice confirmed to me that it was made of woven mat, not chopped strand mat. Interestingly, this very fact was mentioned when the car was advertised in Motor Sport in June 1959, when no makers name was given. And this confirms that, in fact, the body was not a Rochdale ST at all, but a Bonglass.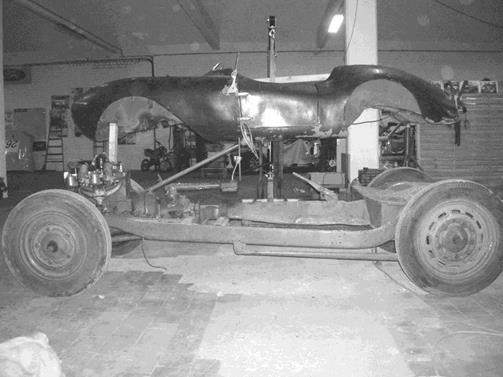 Body separated from chassis for restoration, Dec 22
Long-term readers will remember the story, but to recap briefly, Frank Butterworth revealed to us some years ago that the ST was not a Rochdale design at all, but was bought lock-stock-and-barrel c1956 from a Mr Thompson on the Romney Marshes, Kent. He also confirmed that Rochdale never made bodies with woven mat glassfibre, as had been found on some STs, they always used chopped strand mat because it was much cheaper and if you laid up an extra layer or two, was just as strong.
Body repaired and painted, Jan 16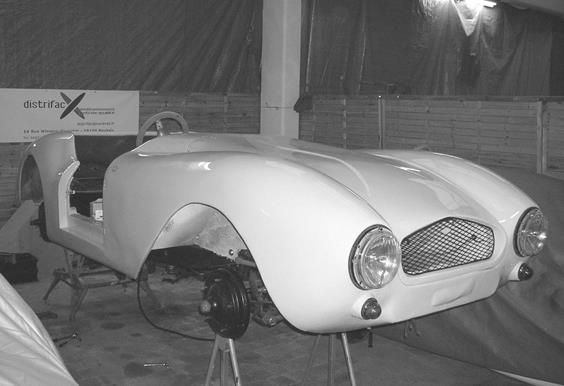 Fitting up time, Jan 20
After some research, I managed to identify Mr Thompson as H W Thompson who launched the Bonglass special in April 1954. It was quite revolutionary, being the first structural glassfibre car bodyshell in the UK. All others at the time were bare skins, to which the builder had to add inner wheelarches, bulkheads, dashboard, floor etc. In the Bonglass, all this was either moulded in or bonded into the shell while still in the mould, making a stiff structure that could then be bolted straight to a Ford Eight chassis. It certainly showed Frank and Harry the way forward, as the best-selling GT used exactly the same bulkhead, inner wing and floor mouldings and it may well have brought the spark that ultimately led to the monocoque Olympic.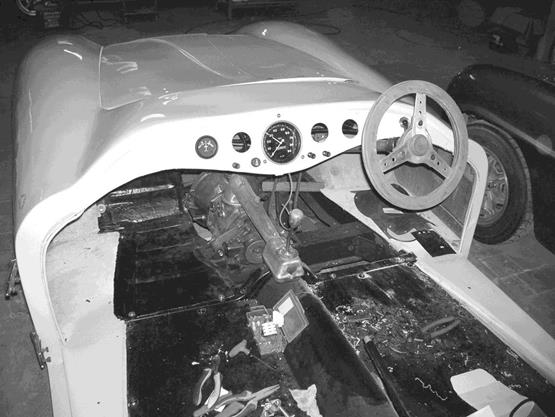 Wiring goes in, Feb 3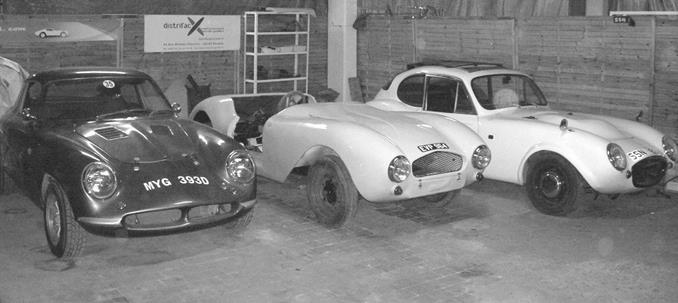 The Bonglass joined Patrice Wattinnes Rochdale collection on Dec 22
Here it is gleaming on Feb 3

As mentioned before, Mr Thompson sold up because he'd been headhunted by Jaguar to help them build a glassfibre D-type a secret that was so well kept for so long that when one of the two (we think) glassfibre D-types built turned up in the 1970s, it was rebuilt into an aluminium monocoque because it would never have been allowed to race, being considered non-original! Fortunately, the glassfibre shell survives, with the car its chassis components were transferred to.

Having said all that, Bonglass bodies are just as welcome in the Club as Rochdale STs and indeed they seem to have survived better; I owned one myself years ago (wish I still had it now) and the Howard Special, Les Elliotts lovely example, is also a Bonglass.

In the 1959 advert, the Bonglass appears to be white or a light colour. Patrice could only find orange and dark blue on the shell, but chose a much more fitting bright yellow. With 30 hours professional work by a glassfibre specialist, the body was restored and gleaming and fitting back up commenced.

To work with the four-speed MG J2 gearbox, the car has an open propshaft and the rear axle is located by bending the A-frame arms outwards and pivoting them (with rubber bushes) on brackets mounted under the side chassis legs: with such long arms this is pretty good location, so with a Panhard rod to control sideways movement it should handle well enough.

As I write, the car is largely assembled, awaiting trimming and engine parts. It looks magnificent!
GTs Galore
There's been plenty of activity on the GT front too, not least the revelation (via Editor Alan and Tony Wright) that the great British rally driver Roger Clark built a GT in 1957 more on that in a later issue, I hope. And, again, Chairman Roger has played a big part, rescuing at very short notice a GT shell from Hemel Hempstead and delivering it to my barn, so the Club now has a complete GT bodyshell to take moulds from in case needs to rebuild a damaged one. Better still, the shell actually has a complete original dashboard and glove pockets moulding still in place. Unfortunately many GT builders and restorers have cut this out, wanting to put in a full-width dashboard, not realising that the original set-up adds vital stiffness to the bodyshell.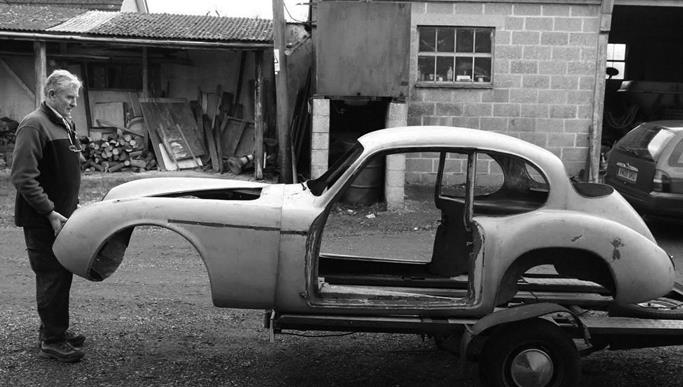 Roger with the Clubs newly acquired GT bodyshell, Jan 29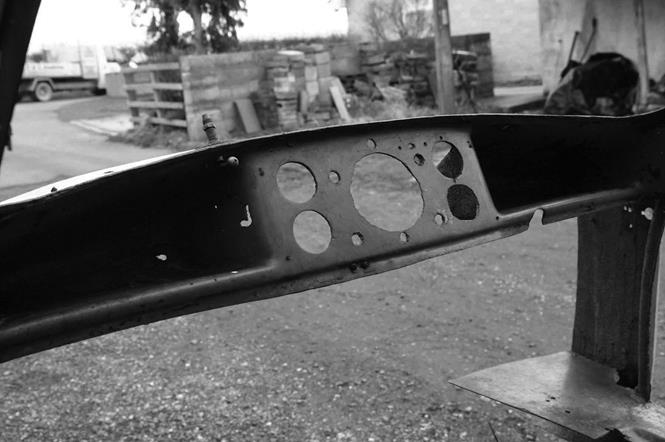 This GT shell is missing some areas but unusually has a complete original dash
Ray Bettell has more news of 9687 TW, the GT he bought from the son of its original builder. Old photos reveal that it was first built with a single Zenith carburettor but later acquired a four-branch exhaust and twin SUs. I guess the twin carbs were a move for more performance (they and the better manifolds make a huge difference).
Interestingly, if it is the same car, it is fitted in that shot with the export water pump, as well as the side-mounted dynamo. It also has the original Rochdale-supplied grille mesh, which allegedly restricted airflow too much and led to overheating. Certainly no surviving cars still have it!
I put together the following list of parts suppliers for Ray which may be of wider interest (there is also the Ford Sidevalve Owners Club of course, which has a good spares service).
Small Ford Spares (01692 650455) www.smallfordspares.co.uk
Pop Parts Plus (01773 580988) www.poppartsplus.co.uk
Newford Parts Centre (01254 830343) www.btinternet.com/~newfordpartscentre
The Pop Shop www.thepopshop.org.uk
Pop Browns (01279 412794) www.popbrowns.co.uk
Old Ford Auto Services (01344 422731) www.oldfordautos.co.uk
- 38 -
How I Came to Own a Rochdale
Derek Bentley
I suppose that I have always had a fascination with cars. My father and grandfather ran a business together and hence transport in the shape of the firms van was present from an early age. These were pre-war Morris Eights and Minors, all well past their best. I remember my father telling me on one occasion that the latest acquisition, an ex Post Office Telephones Linesman Morris (now of course quite rare and collectable) had used a pint of oil during the first 10 mile journey in his ownership.
Upon leaving school I really wanted to be a mechanic at the local garage, but my parents would have none of it. So, I got a proper job and used my self taught mechanical skills on bicycles and building models.
However, by 1965, at the age of 17, I wanted to learn to drive. My father agreed to teach me, but didn't have a car. I saved up for several months and eventually bought a 1949 Ford Anglia for &pound12. 10s. (&pound12.50). This was the first car upon which I carried out any serious work. The big ends were knocking and I purchased one new re-metalled con rod from the local Ford dealer and fitted it. I didn't do anything to the crank, so it is probably not surprising that it did not cure the noise! Nevertheless, it did the job and I was lucky enough to pass my test at the first attempt but not, I hasten to add, in the Anglia.
Exchange & Mart was a regular purchase every week and the Specials section was full of complete Specials and parts. A cost plan was drawn up to convert the Anglia and I still have the details and the cuttings from E&M. First choice for the body was the Rochdale GT, with the Ashley a close second. I remember a green GT in regular use locally and I drooled over it. Strangely enough the Olympic was being advertised in the motoring press at that time, but I didn't like the look of it!
Eventually, reality kicked in and I realised that I neither had the facilities, nor the skill to build a special. After all, amongst other things, I had no formal mechanical training and no garage. A succession of cars from 100E to Standards followed, &pound25 being the top price paid. All were modified to a greater or lesser extent from a full brush paint job with Valspar to a padded Fablon dash!!
By 1969 I was 21 years old and still a boy racer at heart. Current transport was a four door Morris Minor, which had been progressively modified, in a mild sort of way, by upgrading the engine from
948cc to 1098cc and the front brakes likewise from the early 7" to later 8" versions. The wheels had also been replaced with widened 13" steels with radial tyres. The rusty front wings had been replaced with GRP versions, whilst the rotten sills had benefited from the same material. MOTs were obviously less strict then.
The firm by whom I was employed had an associated garage and the young mechanic was in the process of converting a Morris Minor pick up. This was to acquire a Wolseley 1500 engine and brakes, wooden pick up bed and Metalflake paint.
Not surprisingly I had similar ideas for my Minor and when one of the firms J4 vans was to be scrapped I acquired its 1622cc B series engine, which had been a replacement not too many miles previously. An advert in the local paper found a Wolseley 1500 being broken, from which the brakes and differential were obtained.
However, before the project got any further an article, written by Peter Filby, in Fun Car magazine was, in hindsight, to change my future motoring dramatically. This was a one off publication on kit cars from the publishers of Car magazine. I still have a copy of this publication and although not dated, it must have been printed sometime in 1971. The article was about the Rochdale Olympic and they also reproduced the December 1964 Car road test of the phase 2.
- 39 -
The magazine indicated that, whilst Rochdale were no longer producing kits they would, if you talked to them nicely, sell you a body/chassis unit for you to fit all of your own mechanical components. My earlier opinion had obviously changed and I liked what I saw.
I wrote to Rochdale Motor Panels and received a copy of their leaflet, noting that as well as the phase 2 they could also fit a sub-frame to take the Morris/Riley front suspension. I was impressed, here was effectively a rust free Morris Minor based sports car. However, reality eventually dawned. Was I really up to building a complete car in the back garden, without any form of cover?
Fate then stepped in, in the shape of a 1962 phase 1 Olympic advertised for sale in Exchange & Mart, and only 15 miles away. Up to this point I had never seen an Olympic in the flesh, so had to at least have a look.
It was a very standard phase 1, finished in VW Orange, with only the odd crack and craze. Mechanicals were standard Riley 1.5. The owner, his wife and large dog had just returned from a two week holiday touring Wales, so I reasoned, it must be reasonably reliable. Whilst I tried to be objective I think that I had decided to buy it even before I saw it, and the deal was done. &pound190 changed hands and I was the owner of 9557 LJ.
This price included a new exhaust system, which had been recently obtained from RMP, but not fitted. The speedometer was reading just over 48,000 miles, which I was to subsequently learn from the original builder was probably the second time around as he had done over 60,000 miles during his three and a half year ownership.
The first problem was soon to appear. My existing insurance broker couldn't find a company that would insure such an unusual car. So, whilst I searched, the Minor continued to be used as daily transport. Eventually an advert in Cars & Car Conversions produced a company that would provide the necessary cover and we were mobile. This would have been 1972.
The Olympic was a revelation after previous cars and became daily transport, although the Minor was not disposed of immediately.
By co-incidence a change of employment led to meeting another Olympic owner Dave Kilner, who just happened to work at the factory next door to my new office. Dave had owned 564 CBL for about five years then and had fitted an Alfa Romeo engine. As a co-incidental aside Dave owned his Olympic for a further three years and then subsequently re-acquired it in 2001 from Tony Stanton. In between times he had acquired 886 WTF another phase 1, about which more anon.
For the next two years I used the Olympic as daily transport, including business use. Any work necessary was carried out as and when required in the evenings or at the weekend. One of the first modifications was to cut out the rear wheel arches so that the ex Minor wide wheels and tyres could be fitted to replace the ageing Pirellis with which the Olympic had come.
The car was generally fairly reliable, although a cracked trailing arm during one business trip necessitated a strip down in the office car park and visit to the local welder, before the homeward journey. Fortunately my boss was an ex special builder and was amenable to the odd hour off repairing the Olympic, and many hours in the office were spent talking cars. He had built an Austin 750 special, but gave up racing it when Mr Chapman came along and demoralised the opposition.
The Rochdale also received favourable comments from a Peter Cambridge, who rented an upstairs office. It was only some years later that I found out that he had designed the interior for the original Lotus Elite. Winter brought a different problem. The Olympic would travel about one mile first thing in the morning before cutting out with fuel starvation. Eventually this was traced to water entering the fibreglass fuel tanks and then settling in the bottom of the carburettor float chambers where it froze. A glass bowl filter, emptied regularly, provided a temporary cure. Reference to the MOT certificates indicates that I covered just under 17,500 miles in the first two years of ownership.
- 40 -
When the MOT expired in November 1974 I decided that a fairly major rebuild was really necessary and put the Olympic in the garage. An MG ZB Magnette was purchased as daily transport and that became my pride and joy. However, that is another story so back to the Olympic.
It languished untouched for about two years, until comments such as that will never see the road again spurred me into action. The Riley engine was fully rebuilt by me and a brand new B series gearbox obtained at a knock down price. It subsequently turned out to be an MGA one, which didn't quite fit, so all the internals were transferred to the old Riley casing. A new dashboard and centre console were fabricated, to hide the Mini heater. A new wiring loom was constructed to replace the original spaghetti and several fuses incorporated.
It finally took to the roads again in June 1978, mechanically overhauled, but bodily multi-coloured, GRP, primer and filler. The following Easter I took a week off work to paint the bodywork. At the suggestion of my boss, who had progressed from cars to building a GRP boat, it was brush painted with two pack polyurethane yacht paint. One coat was applied each day, lightly rubbed down between coats, with a final coat of paint mixed with polyurethane varnish. After five days in the garage inhaling the isocyanides I felt distinctly ill, but fortunately recovered.
In 1976 I had joined the FSCC, which had just started a Register for Rochdales. Within a year I was persuaded to take over the post of Rochdale Registrar and my involvement with many more Rochdale owners and enthusiasts started. During 1978 I was persuaded to try a little mild competition in the Olympic and over a three year period entered a couple of dozen events, mostly Autotests and Production Car Trials.
The Olympic was still daily transport and over the next ten years was to average over 14,000 miles per year. 1980/81 was the year when most mileage was covered, rising to over 22,500 during a twelve month period and accounted for mainly by a girlfriend who had moved to Gloucester resulting in 300 mile round trips!
During 1982 a VW Beetle had been acquired, mainly for competition use, although it also doubled as a second car and the Rochdale mileage dropped to around 12,000 miles per year. Work on the Olympic was confined to routine servicing, although an annual check over and replacement of suspension bushes usually preceded the MOT.
The competition bug had bitten and in 1985 I acquired a second Olympic 886 WTF. The intention was to use it for Sprints and Hill Climbs and it was rebuilt with a tuned 1622cc MGA engine, disc front brakes and Vauxhall axle with limited slip differential. However, before it could be used in anger the loss of garage space resulted in the need to part with it. It eventually finished up in the ownership of Dave Kilner, mentioned above, who owns it to this day, still in the condition when I parted with it in 1987.
Daily use of 9557 LJ was to come to a dramatic end in 1988 when the local plumber decided to use the rear of my Olympic to slow down rather than his brakes. This pushed it forward into the car in front, which happened to be my fathers. So both ends of my pride and joy were damaged. His insurance company admitted liability, but we argued for nearly a year over the value and cost of repairs. At this stage the Rochdale was not insured on a classic car policy with agreed value. Eventually they came up with a cheque for &pound1100 and I agreed with a local body shop owner, who had repaired several Scimitars, to carry out the work for that cash sum. It was returned in Ford Signal Yellow.
So, at the end of July 1989 we were back on the road again. I had now acquired a lock up garage from an Aunt and the Olympic was stored under cover for the first time in my ownership. It then became an occasional use car and the annual mileage dropped to under 2,000.
In 1996 the engine developed a rattle, which subsequently disappeared. This was very worrying, but I continued to use it for Club events. A friend offered an unknown, but supposedly low mileage, Riley half engine and this was fitted to the Olympic.
- 41 -
Taking the head off the original engine revealed a broken top ring, which had removed a small chunk of piston. Presumably the rattle had disappeared when these had exited via the exhaust valve! The engine had done 158,000 miles since I had rebuilt it in 1977, so I suppose I could not complain.
Not long after fitting the replacement engine a pre-MOT check revealed rot in the front sub-frame. The removal and repair of this was covered in a previous issue of the magazine. With the sub-frame repaired the car was back on the road again in 2000 and resumed its occasional use until the expiry of the MOT in June 2005.
To date, since first taking to the road in July 1962 this particular phase 1 Olympic has covered nearly 350,000 miles, surely a testament to both the original design and the original builder.
There is also more mileage to come as another major rebuild is planned to start later this year and I will cover the intended works and modifications in a later article. Be warned!
Derek Bentley
It would be nice to have this as an occasional feature, so what about it, all you Rochdale fans? - Ed
*******************************
A Rough Justice
From The Daily Telegraph and Morning Post April 8 1963:
Sir Robert Watson-Watt 70, the inventor of radar who was caught speeding recently in a radar trap and was fined 4-9s has composed a poem about the incident. He read it during an address in San Francisco at the weekend.
The poem, entitled A Rough Justice, goes like this:
Pity Sir Watson-Watt, strange target of this radar plot and thus, with others I can mention, the victim of his own invention.
His magical all-seeing eye enabled cloud-bound planes to fly but now by some ironic twist it spots the speeding motorist and bites, no doubt with legal wit, the hand that once created it.
Oh Frankenstein who lost control of monster man created whole, with fondest sympathy regard one more hoist with his petard.
As for you courageous boffins who may be nailing up your coffins, particularly those whose mission deals in the realm of nuclear fission, pause and contemplate fate's counter plot and learn with us what's Watson-Watt.
The piece above appeared recently in the Honest John section of the Daily Telegraph.
- 42 -
OLYMPIC REGISTRAR
As I mentioned in the last issue the phase 2 Olympic, ONL 436F has now been acquired by Dudley Perrin. He collected a new windscreen at the Bristol show, so, hopefully the rebuild is already under way.
The Bristol Show was also my first opportunity to study Alan Farrers latest Olympic rebuild in its completed form. Alan has carried out an incredible amount of work on his latest phase 2, BNC 849B. There can barely be an inch of this car that Alan has not modified*, yet at first glance it looks a fairly standard Olympic. No doubt Alan will be providing full details of the modifications in due course, but to whet your appetite these include a Ford Zetec engine and five speed gearbox. Suspension is all new with De Dion rear axle. Even the rear bodywork had been widened to accommodate a larger track, yet it is not immediately noticeable. It also goes remarkably well and I was struggling to keep up with it on the homeward journey! Make a point of inspecting it at the AGM
Whilst not strictly within my remit as Olympic Registrar I must also comment on Roger Coupes Mark VI. What an incredible job Roger has made of two, or was it three basket case shells.
It was also nice to see Roger Drinkwaters early phase 1, VJY 626, on the road at last. Fitting of side glass and paintwork are still to be attended to, but at least it is now useable after probably 20 years lack of use (not in Rogers ownership I hasten to add).
Up in Cumbria Michael Parker is making steady progress with his phase 1, AFM 550A. Rebuild of the suspension has taken longer than expected, due partially to the vast number of modifications carried out by the previous owner. This has resulted in identification being a major problem. Hopefully the worst is over and we will soon see another Olympic take to the streets.
I understand that Aubrey Richardson has made progress with his FEA 458D. The bodywork damage has been repaired and the car repainted. Next on the list is to re-install the transmission. Hopefully, next year will see another Olympic running again.
After several years running around in gel coat/filler Richard Disbrows phase 1, 886 WTT, was re-sprayed just before Christmas. The future is definitely Orange!
And still they turn up. Yet another phase 1, that was previously unknown to me. Roger was recently contacted by a Mr Kerr, who was trying to sell an Olympic, built by his late uncle. Sure enough order No 1611 was for a phase 1 and was delivered to a Mr Kerr on 20th September 1962 . I cannot be positive yet, but it seems likely this is the same car. An advert for this car appears in this issue. It was never licensed, as the builder was in the motor trade, and he did only 26 miles in it!
Dr Colin Rouse is also advertising his one-owner car in this issue, a Phase 2, PAX 44, so that makes five Olympics for sale in this one issue, two being one-owner cars! This must be a record.
Russ Collins tells me that he has been contacted by the original builder of his phase 2, EVH 273L. This was as a result of an entry on a cars and owners re-united style website. The site is apparently called Drive Archive and postings are free.
Thanks to Alan Farrer, I now have a complete set of ROC Magazines. The missing issue, No 13, turned out to be a membership list.
Derek Bentley
* You make it sound as though I have done a Porschedale on it Derek! In fact the only external bodywork changes I have made are to add a chin spoiler (actually the bottom half of the Roger Coupe design, but incorporating an air inlet for the benefit of the engine bay), small lips to the front wheel arches and wider rear wings. The latter are significant, but are barely noticeable at a quick glance (say 10 microseconds).
Alan Farrer
Copyright © Rochdale Owners Club
Last Update