MAGAZINE No 108 WINTER 2006
Edspeak
Sorry about the error in the copy date for this issue printed in mag 107. Put it down to senility.
Interesting websites sometimes pop up by chance and have I uncovered two very different ones:
www.austin-rover.co.uk This contains a detailed history of many marques which came under BL, plus some that didn't. The inside story of the new MINI for example, tells just how tortuous was its birth, with soul-destroying infighting between Gaydon and Munich. Did you know it was designed by an American, Frank Stephenson, or that it was supposed to have been powered by the K-series engine, but that wouldn't fit under the bonnet (what?!)? I also read the piece on the Reliant Scimitar SS1, another rather sad tale, an ugly duckling that never became a swan There is also a hugely informative article on the K-series engine (click on Latest Updates and then look for the K-Series heading), which runs to 21 pages don't miss this. If yours has blown up, blame the engine builder, not Rover.
www.rumandmonkey.com Just a bit of fun, with some (extremely) quirky ideas well written. Got me sobbing with laughter into my Horlicks one evening, but perhaps I had taken just a little too much
Sanatogen. Enter their search and look for Owen or Benjamin. Try A piece of cake or News roundup by Owen, or Some gameshow ideas for your consideration by Benjamin. All good clean fun., but you do need a Goonish sense of humour.
Still on the subject of the internet I, in common with a few billion others, have been plagued by spam on my emails. Typically I might have one genuine email hidden in 20 spams. This has now been greatly eased by downloading spamfighter, which segregates incoming mail and makes it much easier to delete the spam. There is a subscription version, but the free version is at least 90% efficient, so fine for me. Go to www.spamfighter.com
TONY STANTON'S EVENTS PAGES
E-mail tony-stanton@mosset.fsnet.co.uk
South Midlands Classic Car/Bike Meet No1
The second Sunday of the month in the winter at:
Britannic Assurance, 1 Wythall Green Way, off Middle Lane, Wythall, Birmingham, B47 6WG (From J3 on the M42 follow A435 north 1-mile turn left at 1st roundabout then mile turn left at mini-roundabout)
Sunday 10th December, 11am till 3pm.
Sunday 14th January, 11am till 3pm.
Sunday 11th February, 11am till 3pm.
Sunday 11th March, 11am till 3pm.
Sunday 1st April, 11am till 3pm (date changed)
12th September was warm and sunny for the last evening event of the year. Lots of people there well into the dark, 30+ bikes and 150+ cars.
Now the meet is Sundays for the winter months.
8th October, sorry if anybody turned up and could not find DUFFY and myself.
We were at the annual Classic Car & Bike Day on the Seven Valley Railway, Worcestershire.
There were 200+ cars & bikes on display at the 6 Stations on the 16-mile line and price tickets on the train for car owners.
12th November the sun came out and made a warm and pleasant Sunday lunchtime meet. Around 30+ bikes and 180+ cars, if it does not rain we get a good turnout of bikes and cars even in the winter months.
South Midlands Classic Car/Bike Meet No2
Now finished for the winter, resume in April 07 at The Moat House Inn, Birmingham Road (A435), Kings Coughton, Alcester, Warks, B49 5QF
31st Aug was a warm evening with about 80 cars
On the 20th August DUFFY and I were invited to a pre-80's TVR meet at the National Tramway Museum, Crich, Derbyshire.
What a great place to visit. Free admission for drivers of pre-1968 vehicles if you park your vehicle in the cobbled high street, flanked by the period buildings. I parked outside the pub and sat with a pint and watched the trams going past. You can walk around the Tram Depots where there are over 40 different trams, you can see the restoration work on the trams from the Workshop viewing gallery and there is a Great Exhibition Hall for the history of the tramways. Your entry ticket includes unlimited journeys into the countryside on the different trams operating on the day.
There were 52 early TVR,s at the meet, most rebuilt to a very high standard and all parked around the period village. Some of you may know that in the early 1970's that I worked for Mike Bigland Sportscars in Birmingham. We sold TVR,s we raced TVR,s we modified road going TVR,s and we designed and developed the M-series for TVR at Blackpool. Mike went on to design and manufacture Submergible Tractors to launch and recover Lifeboats for use where the sea is not deep enough for a slipway. So it was a pleasant surprise to meet again after 34years Mike Bigland and Martin Lilley, owner of TVR from 1965 to 1982.
In the afternoon Matt Town, the owner of a 1968 TVR Vixen came up to me and told me he had taken photos of DUFFY in 1999 and if I would like them he would post them, so I now have 4 photos of Richard Parker powering DUFFY through the chicane at Goodwood for my portfolio (see Mag107 page14).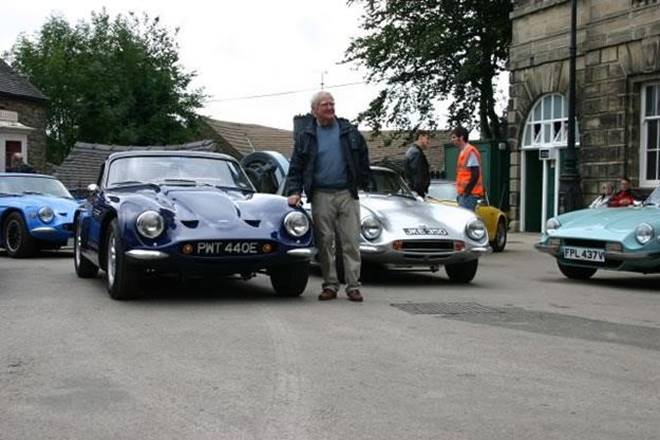 Martin Lilley with Concourse 1st place 1967 TVR 1800S
PS follow up to GOODBYE TO ROCK AND ROLL: TVRs have always had IRS and the M-Series just had the anti-roll bar fitted to the front. The pre-M-series TVRs had an anti-roll bar at the front, but Mike Bigland designed one for the rear and a damper unit for the steering and new steering/suspension geometry setting to reduce the bump steer, which was eliminated in the new Mseries chassis.
28th August, Bank holiday Monday we went to Bredon Village in the Cotswolds to a Classic Car event that is not advertised anywhere - just word of mouth - but over 600 cars parked on the cricket pitch, a lovely summer afternoon picnic for charity.
16th September we went to the Donington Kit Car Show. The Exhibition Hall was not too bad but the car club area was very disappointing, like being in an old quarry, nowhere as good as Stoneleigh in May, so please make the effort to come to the Club stand at Stoneleigh in 2007.
On my way home I remembered Barney Concannon, who built the Porschedale TJF 47R which I owned from 1994 to 2001, use to live not from Donington, so I thought I would see if I could remember where his house was. I had not seen Barney for 12 years but he looked really fit and well. He is now a writer in his retirement (www.freewebs.com/barne); we spent an hour talking about old times and Rochdales and he sends his regards to club members who remember him.
Not many events now till next April, but the ones that are on in the winter months can be just as good if the sun shines, just make the effort and get the car out and enjoy the drive. So a Merry Christmas and a Happy New Year to you all from Tony and DUFFY. See you on the road in 2007.
FBHVC NEWS
UK LEGISLATION
David Hurley

Continuous Insurance from the Record

The proposed requirement for continuous insurance is contained within the Road Safety Act, which started life over 18 months ago, finally receiving Royal Assent on 8 November. There will be a need for detailed regulations to be drafted before continuous insurance comes into being, and we can expect a consultation on the details shortly.
Volatile Organic Compounds
At the time of writing (mid-November), there has been no further indication when the Department of Food, the Environment and Rural Affairs will consult on proposals to give effect to the derogation allowing the continued sale of vehicle refinishing products that do not meet the new limits for Volatile Organic Compound content. This delay means that there may be a period next year when cellulose products will not be available. Note: the ban should not affect aerosol touch up canisters.
Having said that, something is clearly happening because the FBHVC office has had three telephone calls in as many weeks from the consultants who are preparing the regulatory impact assessment that will accompany the consultation.
Waste Licences
The case at Preston Crown Court on 8 September when a Rover specialist was convicted of keeping controlled waste (dilapidated vehicles) on his premises without the appropriate waste management licence has received considerable press coverage. There was concern that the guilty verdict might both set a precedent and might also encourage Environment Agency officials to target individual enthusiasts who have such vehicles. These concerns are unfounded. Crown Court decisions do not set binding precedents and the remainder of this item explains why individual enthusiasts have little reason for concern.
The case was brought by the Environment Agency (EA) under Section 33 (1) (b) of the Environmental Protection Act of 1990. Section 33 starts as follows [text omitted]:
Subject to subsection (2) [...] a person shall not -
(a) deposit controlled waste, or knowingly cause or knowingly permit controlled waste to be deposited in or on any land unless a waste management licence authorising the deposit is in force and the deposit is in accordance with the licence;
(b) treat, keep or dispose of controlled waste, or knowingly cause or knowingly permit controlled waste to be treated, kept or disposed of (i) in or on any land, or (ii) by means of any mobile plant, except under and in accordance with a waste management licence;
(c) treat, keep or dispose of controlled waste in a manner likely to cause pollution of the environment or harm to human health.
(2) Subsection (1) above does not apply in relation to household waste from a domestic property which is treated, kept or disposed of within the curtilage of the dwelling by or with the permission of the occupier of the dwelling.
Because vehicle repair and restoration is a perfectly acceptable hobby, subsection (2) means that, irrespective of any arguments about when a vehicle becomes waste, enthusiasts should be able to keep donor cars and work on projects at home without need for licensing. Circumstances are clearly different when the vehicles are kept on trade premises, or where someone is earning their living working at home from the activity since waste in those circumstances cannot properly be described as household.
FBHVC wrote to the Chief Executive of the EA in the immediate aftermath of the case asking for clarification. The reply, from EA's director of Environment Protection, is summarised in the next paragraph.
The End of Life Vehicle (ELV) regulations require that the storage or treatment of waste vehicles must be covered by a waste management licence, or a registered exemption from licensing. Whether a particular activity needs to be regulated depends on whether or not the vehicles are waste - if they are, the ELV regs apply. There is no simple rule or formula for deciding when a vehicle is waste, but the European Court of Justice stresses the need to consider all circumstances. These would include condition, source, owners intention, manner and location of storage and method of handling.
Not least of the pressures on the EA are professional vehicle breakers who have to spend substantial sums to ensure their premises meet the EA licensing requirements: such traders expect EA to uphold regulations so they are not commercially disadvantaged.
Vehicles that are undergoing restoration are not waste; vehicles bought for restoration are unlikely to be considered waste provided restoration begins within a reasonable period of acquisition or at least that efforts are made to prevent further deterioration.
Vehicles purchased for parts are a different matter - the act of removing parts from one vehicle to use on another is strong evidence that the first vehicle has reached the end of its life, and is therefore waste. For reasons explained above, such a vehicle being kept at a domestic property by way of hobby is very unlikely to attract the EA's attention under this piece of legislation, but it certainly would if the stripping activity was being undertaken on a commercial basis. Owners should not forget that there are other pieces of legislation to allow local authorities to act if hobby activities of any kind cause visual or aural nuisance or atmospheric or ground pollution.
It seems much of the emotion in this case has come from two misapprehensions. These are: first, that any vehicle that is incapable of use has to be considered as waste and, second, that the term waste when applied to a vehicle means that it must be destroyed.
A vehicle that is incapable of use only becomes waste if - at some point - it has been discarded: evidence of discard would be accepting a minimal scrap value payment for it, giving it away or paying someone to take it away. Once a vehicle has become waste, it effectively remains so either until destruction or until constructive restoration work begins. It is the handling (outside the hobby scene) of the vehicle in that interim period that is the activity requiring a waste management licence.
The wise owner of a donor vehicle, or a project awaiting restoration, makes sure the vehicle cannot leak fuel, oil, coolant, battery acid or any other pollutant into the ground or atmosphere and, if it not possible to store it under cover, that the vehicle is sheeted to prevent further deterioration.
Insurance write-off salvage
The insurance industry requires that the worst damaged write-offs are destroyed, and we have now heard of three cases where this has caused distress for owners of badly damaged historics. The problem seems to arise as a result of a blurring of distinction between regulation and guideline. More information in the next issue.
Meanwhile, the important thing those in the unfortunate position of having to make a claim should remember is to state at the outset their intention and desire to purchase the salvage. Once the salvage is in the insurance industrys destruction process, it is often too late.
MoT test fees
As anticipated in the last newsletter the increased fees have been implemented, despite the inadequacy of the timing exercise on which the increases are based.
DfT should have introduced revised fees in August (the annual review date agreed with the motor trade), hence the truncated consultation period. We are at present looking at the responses to the consultation - especially the DfT's answers to points raised. One answer stated that historic vehicles took longer because testers unfamiliar with requirements spent time looking up the testers manual.
Metrication
We have been told of the recent publication of a story that use of Imperial units is to be banned from 2010. We know that 2010 is the date when The Weights and Measures (Metrication Amendments) Regulations
2001 (SI 2001/85), allowing the use of non-metric supplementary indications of measurement in the retail trade, come to an end. We cannot see this will ban the use of imperial units in other circles, but will be checking ad will report further in the next issue.
DVLA
Sandy Hamilton
I have received comments recently about some problems regarding applications for V765 applications for the recovery of lost numbers which were refused for lack of compliance with the agreed procedures. In two instances the remarks indicated non-conformity with information held on file. It turned out the vehicles concerned were already registered on the DVLA computer and that original documentation had not been lost (as initially supposed) but had been surrendered upon registration with DVLC/DVLA years ago.
In these circumstances a V765 recovery application is not appropriate, the keeper should submit a V62 application for a duplicate Registration Certificate. There is usually a £19 fee for a duplicate but this may be waived if the previous keeper has failed to notify DVLA of the change. This happened in the two cases referred to me, explained by further sales subsequent to the death of the last registered keeper and where, as so often happens, the vehicle and documentation became separated. As a double check I recommend that those countersigning V765 applications view the website www. vehiclelicence.gov.uk and click on the Vehicle Enquiry sidebar to see whether the subject is already registered.
Useful information on registering and licensing your vehicle is provided in leaflet V 100, available from Post Offices or local Licensing Offices, or on the DVLA website.
We await feedback from those consultations mentioned earlier in the year, to which we submitted our views, on proposed fee charges and on cherished transfers. We may be able to ascertain progress when we visit DVLA shortly before publication of this newsletter.
I was able to talk to many club representatives and individual members at Beaulieu, our AGM and at the recent NEC Classic Car Show in Birmingham. Some observations and enquiries were mentioned, several have been subsequently resolved and others will be discussed at our November meeting in Swansea. Please keep me informed (via the registered office) of any difficulties that you have experienced as we cannot assist if we do not know about it.
Cherished Transfers
During October we submitted our response to the DVLA consultation on Cherished Transfer procedures. This mainly concerned administrative procedures. We agreed with those proposals that facilitated electronic notifications but emphasised that adequate safeguards must be retained to minimise fraud.
We also suggested that in the interests of equity and fairness that the DVLA also introduce a procedure to enable a vehicle owner to be able to apply to have the registration record marked non transferable by means of an irrevocable election, making it impossible for subsequent keepers to separate car and number. It remains to be seen whether this proposal finds favour.
DRIVE IT DAY
Remember - next year's Drive It Day will be on Sunday, 22 April. Do let us know if your club has any plans for the day so we can put a note on the web site - please send the information direct to our webmaster at web.admin@fbhvc.co.uk
We'll be putting up a dedicated DID page shortly and are currently investigating the possibility of organising one or two special activities and producing some leaflets/stickers.
INTERNATIONAL HISTORIC MOTORSPORT SHOW
The organisers of the International Historic Motorsport Show (23-25 March 2007) are FBHVC Trade Supporters and regular annual advertisers. They have set up affinity marketing arrangements with some of our larger motorsport oriented clubs and have invited FBHVC to join the scheme with the aim of raising funds for future research.
If this is to work, clubs need to include information about the show in their own publications, asking members to be sure to quote CC 519 when booking.
Obviously different clubs will have different means of communicating with their membership. Those interested should get in touch with the show organisers at Lechlade on 01367 250001 or info(a),ihmsl.com
IHMSL can supply appropriate advertisements either as print or electronically. The ideal is to include something in club newsletters in January and/or February.
All revenue received from the scheme will be ear-marked for future research - FBHVC has spent over £20,000 on the recent research effort and needs to replenish its research fund.
HISTORIC VEHICLE MOVEMENT ECONOMIC, SOCIAL AND CULTURAL RESEARCH PROJECT REPORT
The results of this year-long study were announced in Brussels and London in October to appreciative audiences.
The survey was a massive exercise throughout Europe, involving 750,000 questionnaires, nine languages and five currencies. The pan-European results were presented in the Hotel de Ville in Brussels on 4 October showing a European historic vehicle movement worth £16 billion and providing employment for 55,000.
A week later, in Westminster, Lord Montagu welcomed a distinguished guest list of MPs and journalists to the UK launch, where FBHVC chairman Andrew Burt, project director Geoff Smith, researchers Chris Hart and Paul Frost of the Historic Vehicle Research Institute and project manager Ian Edmunds were on hand to answer questions.
The research shows the scale of the effect that the classic vehicle movement has on the economy - and the figures are staggering: £3.2 billion in trade, exports worth £320 million, expenditure of £8.6 million by FBHVC clubs, to name just a few examples. Over 27,000 people are employed, although 60% of businesses are finding it difficult to recruit new staff with the right skills. Most classic vehicles cover very few miles in a year and the total amounts to 0.1% of road traffic - vital information when negotiating for exemptions from legislation. Most interesting of all is the fact that 67% of members vehicles are worth less than £10,000 and many owners have a very modest annual income - exploding the myth that all classic vehicle owners are elderly, wealthy landowners!
Copies of the UK report have been sent to all subscriber clubs. Additional copies and copies of the European report, both packed with fascinating facts to provide club magazine editors with enough material for several newsletters, are available from the secretary at £10 each (including postage) and can both also be seen at www.fbhvc.co.uk.
LETTERS
To Les Brown
Hope you are well. I have just finished trimming my "new" Olympic (not as stylish as yours, nor as well executed) and remembered the very smart rail you designed and made to keep luggage from sliding into the seat backs. I have some pictures of it and would like to make something similar (OK, the same). I seem to remember you told me it was steel tube and you bronze welded the parts together. Is this so, and how did you form the compound bends? Towel rails don't look the same! What progress is there on the GT? It looked really impressive at Capesthorne, so it must be finished by now, mustn't it?
Regards, Alan Farrer.
Hi Alan
Good to hear from you again. Big changes since last time - retired, so much busier now. Or not. Yes, glad you like the luggage rail - it was one of the items I was very pleased with. Chrome bits really set off a classic interior; I think my inspiration came from a gull wing Merc if I remember. I made mine from 5/8 tubing and had it leaning forward over the edge of the storage lid, with 6mm nuts brazed into the end of the tubes so not to show - screws coming up from under the lid.
The bends were a bit tricky, and you really need a wheel affair to do it - I used the schools at the time. The tube had to be bent one way, then at 90 degrees, then same direction again at the far end, then 90 degrees opposite way for the final bit - unfortunately this last couldn't be done as the wheel got in the way of the tube at this stage. I therefore bent another bit, and brazed it up to match the far end. Shape is slightly different, though you'd never notice, and the braze is virtually invisible under the chrome. Perhaps this would be easiest at both ends - just a couple of bends at the end of the bar, then braze the extra bends on separately. I can draw you up details of mine, if you wish, or could probably get one bent up at school if you wish - let me know.
The GT - yes, it's still coming along, though the aforementioned retirement and stuff have got in the way a bit. Still doing a couple of lunches a week on the car, however and hoping to hit the road by next summer. The under-bonnet area has seen major work, with the bulkhead having to be remoulded a little to clear the twin carbs, and all the various catches and stays taking their time. Have some photos on the camera as well, but I can't send at the moment 'cos I can't find the lead that connects to the computer! Old age..... Again, will sort in a day or two if you wish.
Confession time: had a bit of bother with the Olympic earlier, with the engine bracket again fracturing - broken when I got the car, re-welded about 5 years ago. At least it wasn't my welds, but the bracket had fractured just outside of them - classic stress stuff. My retirement lump sum was kicking around at the time and I re-read Malcolm's bit on (shhh) MX-5s in Classic Cars and finally shelled out on a low mileage Mk 1 with pop up lights etc. Very nice, with a simple, old fashioned feel even if it is from Japan, and the option of the open air bit always tempting. Have you had a peep at their mechanicals? With a classic twin cam/5 speed(or even 6)/lsd/irs etc there's some pretty useful bits in there for us Rochdale types, and both front and rear ends even have their own subframes. Would that be cheating?
Finally repaired the Olympic, but had a further problem with a clutch (1 year old) stuck solid to the flywheel. Was getting resigned to having to drop the box, when a friend suggested getting the car rolling (thank goodness I live on a hill) and using the torque of the engine to free the clutch. Which was pretty well bound to work, if you think about it, though all other suggestions had failed. So here I am with rather more cars than I know what to do with!
Seriously thinking of selling the shell I bought. I had been measuring it up for those Mazda bits at one point - the wheelbases are identical (not a lot of people know that) and I could just fancy that rear subframe in place - what did you end up doing on yours? But I'm thinking I have enough retirement projects to last for the foreseeable future as it is.....
Hope to hear from you. Best wishes, Les
Hi Les,
I was told of this method for a clutch stuck to the flywheel: chock front wheels and jack up back of car. Start engine in 4th gear. Rev, declutch and then stamp on the brakes. This sometimes works. It did for me.
I didn't know the MX5 had a LSD. I read recently that its diff is connected to the back of the gearbox by a torque tube or similar. This sounds a bit unlikely in a cheap(ish) car. What does it really have? My son-inlaw bought a Mk1 MX5 this summer and loves it. I drove one when they first came out and was not impressed no go and a lot of scuttle shake, but what do I know about these things?
Thanks for the info re the rail. I will have a go at it in due course, but as I don't have a tube bender (only a bar bender) I may ask for your help with the bends.
Regards, Alan
Hi Alan,
Sorry - I've had a good look for that camera lead, but think I may have left it at school in the chaos of clearing out for retirement. So, I have the pics on the camera, but can't get them out! Checked out on leads, and they're around 18 pounds, so not a happy bunny. Should certainly be OK for next time however. Comparisons between the Olympic and Mazda are certainly interesting, and some may well have expected more in the way of performance, with twin cams, 4 valves, injection etc etc.
I have a 1965 CAR Olympic test which gave 115 as top whack, which ain't that far short of the Mazda figures, though I suspect acceleration is better. I think the very early ones had to be really revved, and after the 1800 came in, the 1600s were detuned by about 20 bhp for some inexplicable reason. I'm pretty happy with the performance myself (early 1800) and find it a nicely balanced car. Met a guy in Sainsbury's in an early turbo, however, and I glimpsed a bottle of Nitro in the boot as he unloaded his shopping. 250 bhp, he told me!
I don't find scuttle shake obtrusive, though I believe they have been stiffening things up as the years have gone by. When you build a car with no roof and put normal doors on, it's difficult to see how you can avoid some flexing. I did build a series of three or four cars around lightweight spaceframes a few years ago, which were something else again, though not everybody likes jumping over the side to get in....
Interesting that you mention a torque tube. I'm not sure that Mazda people talk about such things. I drove a new one and came out with a few moderately technical questions - I might have been talking another language for all the response I got. And the magazine just ain't the same - honest! So some of the information isn't that easy to come by.
However, here's my current understanding - some of the latest ones have LSD as standard, optional on others. Gearbox seems great on all of them, with six speeds on some of the latest. Why? Mazda have a fancy name that I can't remember for the torque tube. It ain't a tube at all, more like a ladder on its side running alongside the propshaft. I believe Camaros and Corvettes have had something similar. I think there are eccentric mounts on all the suspension points as well to enable handling to be set up accurately.
Still waiting for a technical manual, however, ordered from Amazon about 6 weeks ago. As I say, no-one seems interested in such things.... Will draw up dimensions and details of the bar - is a bar bender different? I'm off computers lately, with an enormous drawing board off e-bay with hydraulics, swivels, and the lot. Must have cost thousands, but who wants them now?
Will get a piece to you on the GT when I get the pics. On the wiring at present, which the kids are loving (not!). Using a crimper for the first time, but not those pre-insulated things which I hate. Also plastic spiral trunking, which is a) cheap and b) great! If you forget a wire, you can squeeze it in later on. What do you do about grommets? I have only found one (Lucas item) for fibreglass thickness, and they're 1.80 pounds each! I've got 4 for the bulkhead, but relying on the spiral wrapping at other places.
Best wishes, Les
Hi Les,
Thanks for the reply.
At £18 for a lead you might just as well buy a card reader, which will probably work with your next camera's card too.
I am in the last stages of the mag, so look forward to your progress reports for the next issue.
Difference between a bar bender and a tube bender? Bars don't collapse when you bend them, so you don't need a well-fitting mandrel. I made it for making anti-roll bars, but I must try it with tubing.
What's the matter with pre-insulated terminals? I use them all the time, but you need a proper crimping tool and, ideally, bigger hands than me (they need plenty of grip). I found a cheap crimper was better for terminal pins in multi-way connectors, though. I have made all the harnesses for my car, though the fuse/relay box came from a Fiesta. As the ECU is for the Mondeo I needed to do a lot of adaptation, but it all seems to have come out OK in the end.
I agree convoluted trunking is a very nice thing, though I used harness tape a lot too. Grommets for thick panels are not commonly available, but I found that with a bundle of wires wrapped in harness tape you can make a good bulkhead seal by wrapping self-amalgamating tape round the bundle at the interface.
Torque tube... On DUF it really is a tube, but on my car it is a sort of spaceframe made from 5/8" tubing which connects the back of the gearbox to the diff, so it connects the two together rigidly. The open construction means I can get at the propshaft if I need to without taking the engine or diff out (as with DUF). Does a great job of eliminating wind-up of the engine mounts in low gears and taking the driving torque from the rear axle. Also eliminates the need for a gearbox mount in the middle of the car, which can transmit vibration to the body. It seems to work too - the engine is really smooth.
Did I mention my car has a 2l Zetec engine and a viscous coupled Sierra diff plus a DeDion axle? I chose DeDion because I could then use the original suspension mounting points, but the penalty is the need for an extra 3" of space for the axle to move, compared with a fully independent setup. This caused some headaches and the axle to assume a snake-like shape.
Takeoff from rest is spectacular - first gear is low and the traction very good, but the best gear is 2nd, which is good for nearly 70! Makes overtaking on B roads a lot more possible. Must calm down and act my age. I didn't realise you were of retirement age - must be the clean living!
The ride is a revelation - nothing like either of my previous Olympics. The steering is a bit dead though, but I have large rubber bushes in it, so I will change to polyU sometime.
I intend to do no more complete cars (especially Olympics) as I have so many ideas to try out on the two I have (DeDion and fuel injection on my red Olympic, replace the Toyota engine with a 1.4 Zetec etc etc?), but who knows?
Best wishes,
Alan
EARLY ROCHDALES REGISTER
By Malcolm McKay, MMcKays@aol.com
First, apologies for missing the last magazine work pressures mean there are times when I simply cannot take the time off to write this column. Other times I just work through the night, which I'll have to do tonight!
Don't let that put you off contacting me, though, if you think I can help with any early Rochdale difficulties I'm always happy to do what I can and usually reply instantly to emails
The lack of a column in the last magazine didn't imply a lack of activity on the early cars front on the contrary, there's lots happening out there. I've heard from a gentleman who built a Riviera in 1960, I've heard from another gentleman who built no less than two GTs and another who built one (sadly none of these are known to survive), and I've heard of a GT shell for sale at Pop Parts Plus (Julian Russell, 01773 580988).
Rochdale TVR
John Fielden, who built one of the missing GTs (HTE 418), told me a little more news of another mystery early Rochdale, the very attractive looking C-type bodied early TVR of which there's a good photo in Peter Filby's TVR, Success against the Odds (long since out of print) and which also was the C-type in Rochdale's brochure for the three early shells. Nothing beyond the photo was known of this TVR and we still don't know its registration number, but John relates:
I drove it once on the road for only a short distance. If I recall, it was 1954 and it was grey-blue. I had only just passed my test and had haunted the garage which had it in the showroom. I don't even know who owned it. The proprietor of the garage was a chap named Ken Lee who lived in Stockport, I think and the garage was Station Garage in Wilmslow. Arthur Huck, who was the foreman, knew I was itching to get my hands on it and when Ken was away one day said, There's the key, take it round the block.
Bearing in mind that my driving up till then had been confined to a Wolseley 14, the old mans 2.5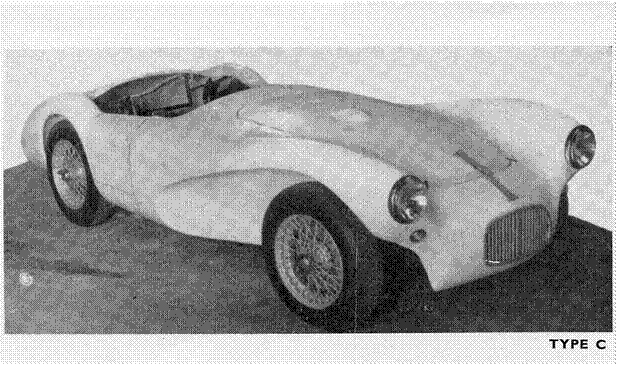 Jag Mk5 (DFV 548) and grandfathers Sheerline (LNC 467) it was a revelation. I tried very hard to get the old man to buy it, without success. It was about £450 if I remember rightly. He (after the Rochdale) and after I had finished National Service presented me with a Minor 1000 which I took the roof off under a sign saying Doddington on the way back to College after competing at Snetterton. It must have been one of the first home-converted Minor Convertibles, though I think that is now something of a cottage industry.
I traded it in for a Mk 1 Grantura (TDL 933) with extensively Downton'd MG 1600, so I did get a TVR eventually, but always regretted not buying an Ace Bristol which was on offer at the same time and at the same price. Trouble with the TVR was that if you stood next to it and said rain it would start spinning in its vertical axis. You had to be VERY VERY good to drive an early Grantura effectively (Colin Escott springs to mind); too short in the wheelbase, and I was not in that class.
It would be great to know what happened to the TVR Rochdale after that
Exciting Survivals.or not!
They're exciting for sure it's the matter of survival that's debatable, from an Early Rochdale point of view. Two very special historic racing cars originally bodied with Rochdale F-type bodyshells have resurfaced in recent months, after long disappearance. I will admit to having been very sceptical at first of their claims to the identities, but remain open-minded and am being sent plenty of evidence to change my mind at present! Anyway, just how original the remains are is irrelevant the fact is neither retains any trace of its original Rochdale F-type bodyshell but both new owners are very keen to reclothe the chassis in Rochdale F-type bodies and go racing in them, which would be excellent news for the Rochdale marque.
Unfortunately, there are of course no new F-type bodies around. The only F-types known to have existed are BNP 133, a Morris Eight-based unrestored car owned until a few months ago by Graham Lyall; CTN 501, a Morris Eight-based car last heard of in Cheshire in 1965; DEY 100, a Cooper MG last heard of in 1991 (where is it now?); KFE 45, a Buckler last heard of in 1957; LBU 349, the Bristol Barb which has just resurfaced bodyless; MBU 309, the Elva, just resurfaced but now with Falcon body; MDM 64, a Cooper MG last heard of in Wales in 1955; PDK 364, the Victoria Climax, rebodied in alloy in the early 1960s; SZ 6529, a Ford-based car last heard of in 1955; and YRF 167, the Marsh Special last heard of in 1999 with Tony Bourn in Suffolk but believed uncontactable.
Graham Lyalls car would have been a perfect candidate to get the bodyshell restored and take a mould from it only Graham sold it a couple of months ago to a mystery gentleman from Cheltenham. (That was no gentleman that was Paul Hutchings! Ed)
MBU 309
A Falcon Mk2-bodied Elva appeared on eBay earlier this year claiming to be MBU 309. This very early Elva chassis was fitted with a Climax engine and a Rochdale F-type body in late 1955 and raced with success by Alex McMillan through the 1956 season, then by Neil Campbell-Blair in 1957. What happened to it after that was unknown, but its early race history made it a desirable car. Falcon Mk2 bodies were quite common on Elvas of this period, so that, the lack of intervening history and the fact that the Elva Registrar felt the car advertised had some later features, didn't count in its favour. Nor did the fact that the log book had been temporarily lost.
I was therefore a little nervous when Peter Morley contacted me from Belgium to say that he had bought the car. However, Peter soon turned out to have his head well screwed on and he rapidly set out to find answers to my doubts, adding reassuringly:
So far I have no reason to suspect this car is anything other than what it appears to be, but I'm open to any reasonable point of view.
As for racing accidents, so far the only event I've found MBU participating in was the 21st Members event at Goodwood, it doesn't looked to have been raced very extensively but I haven't been able to dig out all the old magazines from my brothers recording studio yet!
A short time later, Peter was back in touch with some excellent news:
I've made some progress with the Elva attached is a copy of the buff log book, which I now have. I think it must have been issued in December 1959 it shows the original date of registration as 2nd Feb 1956 but the current owner as Eric Jones on 9th December 1959. Then 6th June 1962 it moved to Kenneth George Wickens Pearse. 3rd Oct 1967 to Peter Evans [all in Liverpool]. And Duncan Harvey Boxwell [the Wirral] where the date is rather hard to read.
The V5 has Duncan Harvey Boxwell as the owner in 1983 and since then Bob Saunders and I've just sent that off to have my name added.
The old log book is actually a wealth of fascinating information, showing the original Climax FWA engine, reconditioned in 1961, a change of colour from white to yellow in 1963 and then to green in 1968. A continuous history like this puts an entirely different light on the car and, provided there's enough evidence to tie the log books story to the surviving car, we can be confident it is the right vehicle. Hopefully one or more of the previous owners can be traced and thereby the story obtained of when and why it changed from a Rochdale F-type to a Falcon Mk2 body; quite possibly it ties in with one of the listed changes of colour.
LBU 349
The older sister of MBU and undoubtedly Alex McMillans inspiration for having his Elva fitted with a Rochdale F-type body was LBU 349. Cooper sports racers were coming to the fore in the early 1950s, greatly helped by Formula 2 (2-litre) unexpectedly becoming the World Championship formula for 1952/3. Alan Brown scored the companys first World Championship points, but Mike Hawthorn then leapt to the fore. Brown also scored the MkII Cooper-Bristols best World Championship result in 1953, sixth in the German Grand Prix. According to Anthony Pritchard (Specialist British Sports Racing Cars of the Fifties and Sixties), it was Browns MkII that was sold to Alex McMillan for 1954.
McMillan had it converted into a sports car and it was road registered in February 1955, fitted with a Rochdale F-type bodyshell. It may even have been the car for which this body was originated, as it was photographed for the brochure (Rochdale had in 1953 built a one-off aluminium body for McMillans LaMGia) and it became known as the Bristol Barb.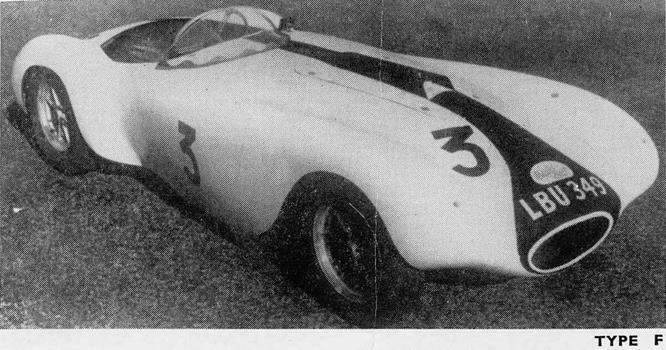 A successful racer in Club events, it was advertised on McMillans behalf by Rochdale Motor Panels in Autosport, September 16, 1955, for a whopping (then) £1700:
McMillans Bristol Barb. This fantastically fast and successful 2-litre sports car with Bristol BS1 Mk4 147bhp on pump fuel. Lightweight Glassfibre body, spare wheels, tyres, three axle ratios etc. Successes this season (35 events): 1st, 20; 2nd, 3; 3rd, 5; 4th, 3.
Pritchard reveals: The car was bought by Neil Campbell-Blair, who continued its run of successes in Club events until the Lancs and Cheshire CC meeting at Oulton Park in October 1956, when, after winning one race, he crashed badly hitting the bank very hard and being thrown out of the car. Campbell-Blair was largely unscathed, but the Bristol Barb, as the car was known, was to all intents and purposes a write-off.
That sounds pretty terminal, so I was somewhat surprised back in 1993 to receive a letter from one Roddy MacPherson of Quainton (ironically, very close to where I live now) saying he was rebuilding the car and asking where he might find an F-type body. I wrote back, politely enquiring how it had survived this well-documented crash, and never heard another word. until now.
Just a week ago, I received the following email from Geoffrey O'Connell:
I contacted Nigel Whittaker in respect of the Cooper Bristol Barb and a Rochdale Type F bodyshell and he has suggested I should get in touch with your good self.
To briefly set out the situation, when I purchased the ex-Oliver Robinson 1953 Cooper-Bristol Mk2, I also acquired the alternative two-seater framework, which had been the Demon Barb. As you are aware, the bodyshell for this car was a Rochdale Type F. Oliver and the previous owner had painstakingly gathered together all the original mechanical and body parts BUT not the two-seater bodyshell. I am now commencing to rebuild the two-seater and would prefer, if at all possible, to faithfully recreate it as the Demon Barb. Thus my wish to locate an F-type shell, which I gather is going to be a near impossible task. But there you go!
It has been suggested the car was subsequently fitted with a Falcon shell, but I am unaware of this possibility. Incidentally, I have put together a brief history of the cars and am more than delighted to supply the same, if it is of any interest to you. Any help and or assistance you are to supply in pursuit of my quest would be enormously appreciated.
Needless to say, I've asked Geoffrey for the history and will keep an open mind it is of course entirely possible that someone rescued those valuable remains in 1956 and rebuilt at least most, if not all, of them into a car that survived to this day. Let's hope we can find Geoffrey (and Peter Morley) an F-type bodyshell each so we can see these historic Rochdales back out on the racetracks, flying the marque flag at Goodwood and elsewhere!
ST Survivor
When I discovered the DVLA vehicle enquiry service (via www.vehiclelicence.gov.uk), one of the biggest surprises was that EVP 964, an ST I only knew of because it appeared in a 1959 magazine when owned by a Mr Marsden of Sherborne, was still registered and apparently survived. The ST advertised for sale in the last ROC mag was a complete surprise to me, so I contacted the advertiser for more details, to find it is the long-lost EVP 964!
I hope one of you has bought the car now if not, do so very soon! Jed Scheliga, the advertiser, told me:
The S.T. was bought by myself over 15 years ago and unfortunately is in need of restoration. I bought it from a Jeffrey W Barrett. I at one time had the engine running, it is a straight 4 and is 1172cc, my intention was to restore it myself but due to ill health I had to stop. The reg. is EVP 964 and I was looking for around £1000 for it as the reg itself is worth quite a bit.
Jed has sent me some photos which show a reasonable bodyshell. I said that the price sounded a bit high and he's dropped it to £750. Apparently he's going to put it on ebay very soon if no-one from the Club is interested.
I would have still said the price was a little high until I looked closely at the engine/gearbox photo.
I'm 99% sure it has a four-speed gearbox, which is a very desirable conversion (especially if it uses an MG J2 gearbox, as most did, which is worth the money on its own). Also, the engine is fitted with Aquaplane manifolds with twin SUs (£200 value) and the engine has been rebuilt, which can cost
£1000 these days though it was done 10 years ago and apparently doesn't look as good now as in the photo. Still, there's certainly more than £750-worth of car there. Also, another shot shows an open propshaft, suggesting it has something more sophisticated in the way of suspension, at least at the back. There are 15in VW wheels (I think) on the front but 17in (or poss 16in) Ford at the back.
The body doesn't look too bad, though it clearly needs restoration and I don't think there's much in the way of interior. There's no hardtop but there is at least one tatty original sidescreen. The car appears to have had a folding windscreen and one photo shows what may be the remains of the original screen frame split in two (in which case it was Perspex, not glass legal if it can be folded, of course). The rear of the cockpit appears to have been cut away (quite tidily) to allow room presumably for a small rear seat.
That's about all I can make out from the photos. The reg is EVP 964 and dates from 1939; he has a continuation log book from 1964 and an MoT from 1969, probably the last time it was on the road. The vendor is Jed Scheliga in Swansea, tel 07980 578707, email j.scheliga@ntlworld.com. Go boys, go get it.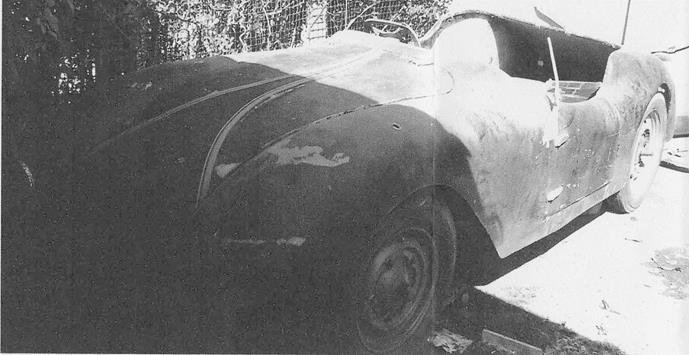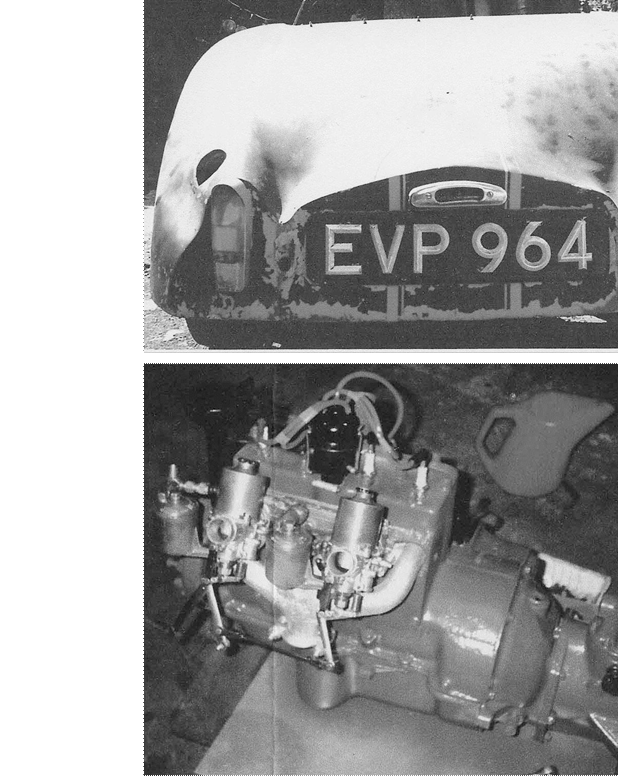 Stateside GT
Fran Honeywell has had more than his fair share of problems with the pretty GT he bought on eBay in the States a few years ago from a chap who'd probably lost a fortune bringing it over from the UK it's the attractive green with yellow stripe GT you see on the opening page of the club website. Fran has his hands full with other race-car projects so the GT only sees attention occasionally, but he reports:
We had a little time between races and decided to play with this thing again. I replaced the head gasket and gave her a shot of fresh fuel and a new battery and she fired right up! Sounds much better than it ever did before. Maybe the demons have moved on. We have started cleaning her up and I am getting ready to put some fresh paint on the roll bar.
I have two quick questions if you have time... I think I read somewhere that the GT used the side windows and frames from the Morris Minor. Is this correct? I need to replace the drivers side glass and if I knew what it fit, it may be easier to find one then to have one cut.
Also, a long time ago you told me what glass was used for the front windscreen. I have lost this information. I still need to replace the windscreen and I don't want to replace it with toughened glass. But, if I knew what it came from, I may be able to have it duplicated easier in safety glass or Lexan.
Thanks again for all your help. I'll try to keep you posted on progress as time goes by.
I was able to tell Fran:
The side windows are shared with the Morris Minor two-door saloon and Traveller (not the four-door or van). The vast majority of Minors were two-doors so hopefully you should be able to find one fairly easily? I'm not sure posting one from UK would be a good idea but if you get stuck, let me know.
The windscreen is the back window of a Morris Oxford Series II or Series III (1954-59) sedan. That's why they're only available in toughened glass. The screen is double-curvature, which makes it more difficult/expensive to get made as laminated glass, but I have heard of someone getting one made single-curve and slightly modifying the screen pillars so it would fit. It may even be possible to get a screen for something else cut down to size, if you can find one of the same curvature and a glass company brave enough to try... Again, let me know how you get on!
Unfortunately the gremlins returned, as Fran reports:
Last Sunday we took the Rochdale GT out to the local Porsche Club Autocross. The car ran fine before we put her in the trailer. She ran fine when we got there and took her out. I drove her around the parking lot a little and all was well. It went through Tech inspection fine and received a lot of attention.
When it came time to do my runs, I got in line and she just didn't want to go. It wasn't getting any fuel to the fuel pump. We could blow back through to the tank and she would run for a little bit, but every time I got up to the line for a run, it would just quit. I guess there is debris in the tank and it is clogging up the fuel line.
We towed her back to the trailer and she started fine, drove into the trailer fine and ran fine for about 10 minutes until I shut it off. When we got home, I drove her around the yard for a while before putting the cover on and she still ran fine. Either the fuel tank has debris or water in it, or the poor little car was just scared to go out and make its runs in front of people.
At any rate, it was nice to drive it a bit, even if it didn't want to do what we went there to do. I'm not sure I will have time to try again this season, as I have five races left on my race schedule and most of the autocross dates conflict, but I will get her out there if I can.
Attached is a shot of the car waiting for its turn to not run.
This actually sounded very familiar. My Super Two Ford Special did exactly the same for the first couple of years I owned it and I never did get to the bottom of the trouble. There was certainly a lot of muck in the fuel lines largely the result of covering just 11,000 miles in 35 years and I think it just took ages to dislodge it all and flush it through. I never did take the tank out (a body-off job on the Super Two) and eventually it cleared but not before a very embarrassing show at the Crystal Palace autotest and some equally embarrassing moments on the London to Lisbon Rally. However, we did get to Lisbon (and back) and a couple of years later I took the car on the Scottish Malts rally with a novice navigator and we cleaned up, winning virtually every award for which we were eligible.
So, persevere, Fran, I'm sure she'll get her confidence back in the end!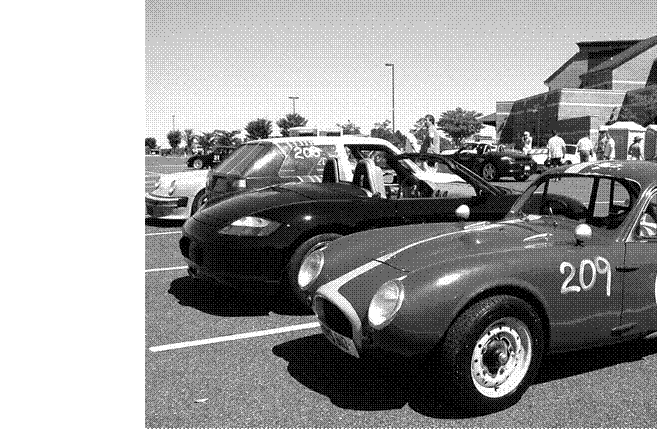 Fran Honeywells GT waiting its turn to not run
One-owner GT changes hands!
There are precious few one-owner GTs left hardly surprising, as it's now over 45 years since the last bodyshells left the factory. One that I've known about for a very long time has just found a caring new owner, Ray Bettell, who wrote to tell me:
Please find attached my letter to Alaric requesting that I can join the club as I have just taken possession of a Rochdale GT formerly built by the late Eric Stringer. The car is in a sad state having been parked in one position for 15 years in Erics front garden and as far as I can ascertain according to the old buff log book it was last taxed in 1962.
I understand from another Rochdale owner, Colin Breakspear that you have a lot of knowledge on these early cars so any web page or reading material that you can recommend would be most welcome. Do you have any history or sighting of this car from years ago? How many of these GTs are still around?
The letter added the following information:
Colin Breakspear and I picked the car up from Jasons late fathers house last Saturday. Jason has very kindly given me paperwork that he has including the original buff log book. The car is in a very sad state and is separated from the engine and gearbox probably due to some mechanical failure that occurred sometime in 1962. The interior is missing, including all wiring and dashboard etc.
The log book however is amazing and I have photocopied it for your reference as I would like the help of the club to retain the cars original registration 9687 TW. You will see that it has had in 46 years one registered owner and was last taxed in 1962. I am going to register the car in my name and presume the DVLA will need some kind of understanding as to what the car is/or was. Does the club have any experience with cars like this that have been in a time warp?
Jason did give me a hand-written spec sheet that his father had prepared many years ago, which I have transcribed below.
Car is built on a new Ford Popular chassis with reconditioned parts. (Jasons father was a Ford Motor mechanic working at a Ford main garage called Meguire Motors Ltd, Collier Row, Romford, Essex: he may have acquired a new chassis through his work?).
Engine Ford E93A 1172 with high lift cam, oversize inlet valves and double valve springs. Polished ports and an 8HP cylinder head.
Polished modified 100E oil pump
Twin 1" SU carbs with a 4-branch exhaust.
Clutch E93a (van)
Gearbox E93a gears fitted into a 100e case
Rear Axle Ford Popular with 4.7 ratio crown wheel and pinion
Suspension - Front and rear standard with stabilizers
100E 13 inch wheels
100E brakes and hubs
12 volt electrics
Instruments mostly 100E with Austin Sprite rev counter 105E electric wipers Interior with bucket seats
I replied,
Delighted to hear from you and so pleased to learn that 9687 TW has at last found a caring new home!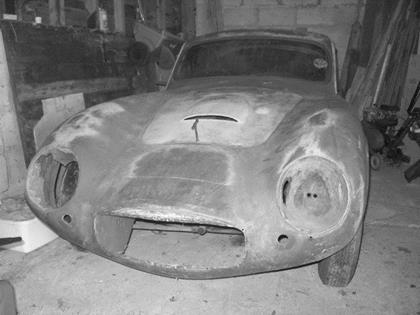 It is indeed exceptional that it has remained with its original builder but unused for 44 years. We have one or two other GTs still with the original builder, but all managed to keep them on the road for a bit longer!
I first heard of the car in 1988, soon after I first started the Rochdale GT Register I received a letter from a neighbour of the car, Philip Collins (age 15), who walked past it daily on his way to school. Incidentally, he said in 1988 that it had been in the front garden there for at least three years, so you can be sure that when you collected it, it had not moved for more than 20 years! In fact one of the photos I have shown it in a different position in the same small front garden, so I fear that may be where it was for the previous 24 years...
Philip gave me the address and I wrote Jason replied promptly and gave me the spec of the car this is probably when his father wrote the sheet you have the only difference being Clutch E83W van, not E93A, and re the interior it was mentioned that a headlining was fitted and that rear foam cushions had been lost.
Jason has been a member of the club on and off over the intervening years but it seems he never found the time to get started on the Rochdale.
I'm intrigued by why Eric used the 13in 100E wheels and brakes with the standard Ford Pop axles I think it's the only car with that layout. I presume this means it has all-round hydraulic brakes. Most stuck with the normal Ford Pop system, ideally with 15in Ballamy wheels.
I guess that because Eric worked for a Ford garage, he was able to get the 100E bits at a big discount whereas Ballamy wheels and the proprietary hydraulic brake conversions were from independent specialists so he would have had to pay full whack for them!
Even more intriguing is the statement that the car has E93A gears in a 100E casing.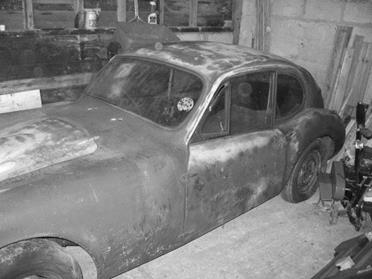 I realise getting on the road is a while away, but I'd advise looking for a set of 14in or 15in wheels that will fit on the 100E hubs, for two reasons they will fill the wheel arches better and give you much improved gearing. 4.7:1 is really too low with a tuned 1172 and 13in wheels (it would actually pull 16in wheels happily with that gearing). A wire wheel conversion with bolt-on adaptors would be another option...
The engine spec is good I wonder what state the engine is in now. In good order with that spec, it should have around 45bhp a big percentage increase over the standard 30bhp and enough to blow off
Frogeye Sprites at the time!
I am sure the club will be able to help get your registration number back, but expect DVLA will not want to do anything until it is ready for the road that was certainly the situation the last time I checked.
What are your plans for the car?
Ray soon responded:
I literally brought it back from Essex on the Saturday, put it in the barn and the engine and gearbox I
put in my workshop; as I said, they were actually separated for whatever reason. It might have been a broken clutch fork as it is missing and the thrust bearing was still loosely located on the shaft. I have decided to remove the body first from the chassis to evaluate what we have here. The body is not secure on the chassis and may have been a result of a partial strip-down taking place. Hopefully it is not anything terminal. Having surveyed what it's like my thoughts at the moment are, if the chassis is recoverable, restore the car back to how Jasons father constructed it in the first place, engine and gearbox per original. If the chassis is beyond economic reconstruction I will probably make a new tubular chassis design and then go for a different power unit, either Coventry Climax or A-series engine with Sprite front and rear axle set up.
That's about as far as I have got at the moment; my plan over the next few months will be to take it all apart and make the decisions per the above. I am sure I will need to get in touch with you for some guidance on questions like what brake and clutch pedals he would have used as these are missing; the window frames look like Morris 1000, is that true?
To which I replied:
First observations on viewing the photos are that the car has a few more period modifications than we thought (all desirable), include a remote control gear linkage, a Panhard rod on the front axle (vital to avoid the front end leaping all over the road, though I have driven one without this!) and an Aquaplane aluminium bracket on the side of the engine (to enable the dynamo to be fitted on the side, not on top of the engine as per the original Ford). There are also lowered seat pans, all the better for headroom! It's also good to see a dashboard with the original side glove pockets virtually all survivors have had these cut away and a full-width dash fitted, but that can destroy the structural integrity of the bulkhead.
Now, on re-checking the spec sheet, I see Stabilisers are mentioned on the axles, so that's the Panhard Rod I refer to and it's good to know there's one on the back too.
It does indeed look like an
E93A gearbox (E93A clutch too). Perhaps he fitted 100E gears in the
E93A casing, but I can't imagine why!
Alternatively, it may be that he fitted a 100E hydraulic clutch, which would tie up with the use of hydraulic brakes.
I had a feeling someone mentioned that the engine was taken out in connection with efforts to stop the car overheating of course, the simple explanation for the overheating might have been that there was no water pump fitted! Thermosyphon worked well for the original Ford Pop, with its high radiator, but for a Rochdale GT a Ford export water pump was essential. If there's not one with the car (I suspect there won't be), they can fortunately still be found.
Somewhere you should have a front engine bearer to mount the front end of the engine the chances are that would have been an Aquaplane one too (steel though, not aluminium) with brackets for the side-mounted dynamo as well as the water pump.
Engine number C925238 (per log book) actually dates from mid/late 1957 and is in the run of numbers used for the 103E Popular at the time. Maybe he got it out of a crashed low-mileage car. It would be interesting to know how long it took him to build the car some took several years and the Rochdale GT body was on sale from April 1957...
As far as can be seen, both bodyshell and chassis look remarkably good considering their long sojourn in the front garden! My own GT lived outside for 35 years before I bought it and is in far worse condition, with wheels and chassis rotted through and the body severely crazed... Jason did join the club a few years ago and was talking about rebuilding the car, so I guess that's when he stripped it out and started rubbing down the bodywork.
I'd need to see an underbonnet shot to be sure, but I suspect the original pedals were pendant pedals from an aluminium cast pedal box with two side-by-side Lockheed master cylinders, just as I had on my first Rochdale GT in the 1980s. I'm afraid I don't know where these pedals came from my advice would be to get Jason to have a very thorough hunt for those! Instruments won't be a problem but finding seats that fit in those narrow seat wells can be a challenge, so it might be useful to have the originals even if just the frames survive, for rebuilding.
Yes, you're quite right about the door windows very clever use of the Morris Minor two-door frames. If they're rotten, the desirable answer is to get a set from a Minor Traveller, as they had stainless steel frames and quarterlights, though these are getting harder to find now. The main door windows used a sliding balancer system like the Austin A30/35, with a small Perspex square glued at the top of the inside of the window to pull them up and down.
OLYMPIC REGISTRAR
You will have read in the last Magazine how Tony Clough has reacquired the phase 1 Olympic JEC 605 that he originally built in 1962. He then sold it in 1969 to a John Haigh, who kept it until the late 1970's. The following article was written by Johns wife and appeared in the August 1976 FSCC Newsletter.
We are the proud owners of a Rochdale Olympic, 1962 vintage. It has been ours since 1969, when we were fortunate enough to purchase it from its original owner and builder who was reluctantly parting with it to emigrate to Canada. His name is still spoken with reverence in this household as he did a brilliant job of putting it together. I was amazed to read an article by a Rochdale Olympic owner, a couple of months ago, who had endless troubles with hers. Ours has been the most reliable car we've ever had. Or perhaps that isn't surprising when I recollect some of the others. Ugh!! A Lotus Elite that still gives me cold shivers to think about admittedly out of this world when running right, but the operative word is when. An MG TC, very lovable, but we never made an unbroken journey in it. It would have a puncture just going to the shops at the end of the road! And many others that, like these two, ought not to be mentioned in this magazine. So, back to our Rochdale.
It was my husbands idea of a family saloon and he rushed off and bought it when I became pregnant for the first time. So, it hasn't had an easy or pampered life with us! We've had little time to cosset it, the way our pre-children cars were and it has carried carrycots, push chairs and all the paraphernalia for our two children, to date, without turning a hair. We even managed to get the dismantled pram into it, plus the two of us and No 1 offspring- oh yes and rather more recently a Francis Barnett motorbike was brought home in it. That was the second F.B. (John was having a motor bike phase you will gather). The first one was delivered, much to our Neighbours amusement, in the shovel of a large earth mover. I'll bet those people up in the North East miss my husband and his vehicles! However, I digress again.
Our Rochdale, JEC 605, came from Ovingham, Northumberland and lived with us in Cullercoats, Northumberland, until August 1975, when we moved to Lichfield. It came to us British Racing Green, was then painted Yellow and is now White. In fact, more time has been spent in repainting it than on all other work put together! There's an annual binge (although I think that's too strong a word for the fairly small amount of work usually necessary) to get it through the MOT. I'm ashamed to admit it doesn't always get the regular servicing it deserves, but it doesn't seem to need it. I recall the only major operation performed on it has been putting in a new back axle. The radiator had to be welded up once and it has had one or two new exhausts. I well remember one failing exhaust that parted from the rest of the car when I was in the middle of turning right at a busy set of traffic lights in Newcastle town centre. I knew we needed the old exhaust as a pattern for a new one, so halted immediately to go and retrieve it. And of course, all you enthusiasts know what I didn't, the damn thing was red hot!
The engine has clocked 128,000 miles and still sounds beautiful to me and joy of joys, it starts on the first turn of the key, winter and summer alike. The clutch slips a little, so I suppose that will be the next big job, but, since May 1975 it has been, as they say, our second car and does very little compared with its marathons when it was the best of a motley bunch, or should that be stable. I'm hoping that work will be in the distant future.
Well, perhaps if you're ever desperate for copy again I can tell you of some of our adventures in our Rochdale, although most of our adventures have been in our other cars misadventures that is! But we did go down to the Dordorgue in the Rochdale with our seven month old baby.
GILLIAN HAIGH
John and Gillian Haigh came to the Specials Day at Burford only a couple of years ago, enquiring if JEC 605 was still in existence. I am ashamed to say that I forgot to ask for their current contact details, so am not sure if they are still in the Lichfield area.
Some of you will no doubt have seen the photograph, in the December issue of Practical Classics, of the Olympic in a Plant Hire yard in Leominster, Herefordshire.
Before I had even managed to buy a copy of the magazine I was telephoned by Dudley Perrin, who had contacted the owner and found out more information.
The car is registered ONL 436F and had been owned by Martin Hughes for about ten years. I managed to get some more pictures from Oliver Webb who had sent the information to the magazine in the first place.
I subsequently heard from Dudley Perrin, that he had been to look at it and that it is a phase 2, but without front suspension or sub-frame and has had a new nose section grafted on at some time. The car was also without engine or gearbox. The windscreen had also been damaged by the local vandals, although the interior trim seemed to have survived intact.
Dudley is no stranger to Rochdales, having built HLB 21N back in the early '70s. I believe that Dudley has now bought the car and is considering fitting the shell with a phase 1 sub-frame with Morris Minor suspension, which was the arrangement of his original car. I think that the car has now been moved to its new home in North Wales.
Hopefully, Dudley will be joining us shortly and will start the rebuild in the near future.
Back in 1985 I bought a second Olympic 886 WTF from Dudley Guest (if you think this number bears a remarkable similarity to the Olympic currently owned by Richard Disbrow, 886 WTT, there is a very good reason for it, although not for publication). Although I didn't know it at the time, it was an early pre-fire shell. It was in need of a complete rebuild, but came with a fully reconditioned and tuned 1622cc MGA engine. I had good intentions at the time of building it up for occasional Sprints and Hillclimbs.
During the following two years I spent a considerable amount of time rebuilding and modifying the suspension, converting the front brakes to discs, rewiring etc. Unfortunately, in 1987 I lost storage space and the car had to go.
It was eventually acquired in 1990 by Dave Kilner, still in the same condition as when I had parted with it some three years earlier. Dave Kilner was no stranger to Olympics, Having owned 564 CBL back in the mid '60s. 886 WTF stayed in Daves garage, untouched due to other projects and then in 2001 Dave re-acquired 564 CBL from Tony Stanton.
As a result Dave has now decided that he needs to part with 886 WTF. I would dearly love to have it back and complete the rebuild, but must be sensible. After all I cannot really justify another lockup! If anyone is interested in acquiring the car I can put you in touch.
Ron Palgrave continues to make forward progress with his phase 1 Olympic WOO 784. Current item for attention is repair/replacement of the front sub-frame. Although originally Riley 1.5 based, but with a 1340cc Ford engine, Ron is converting to a Morris Minor set up for both suspension and engine. Incidentally, to relieve the boredom Ron is also restoring a Turner; they say that a change is as good as a rest.
Finally, thanks to Tony Stanton I now have a complete set of ROC Magazines.
Derek Bentley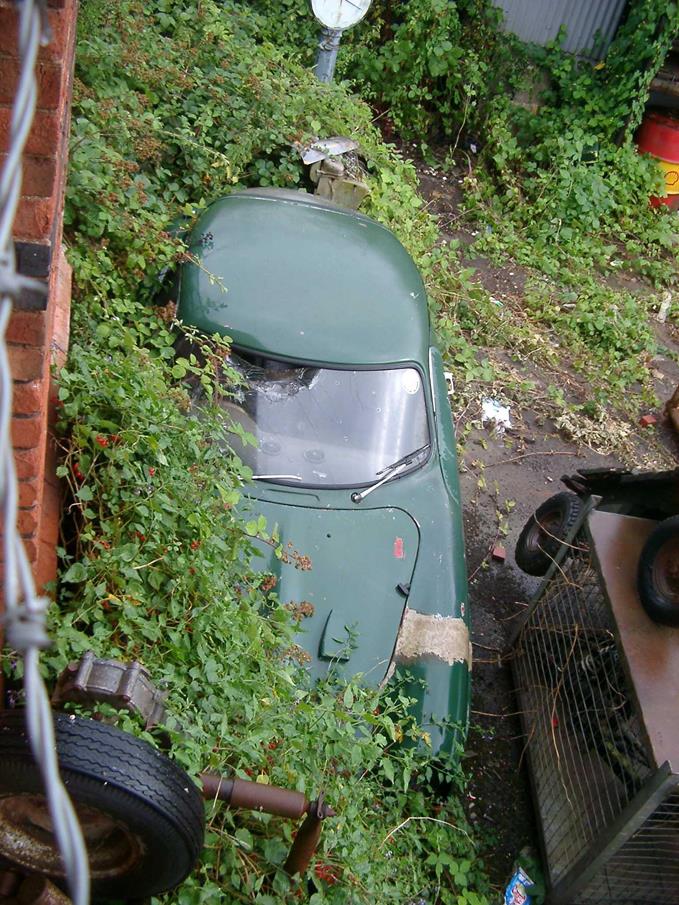 ONL 436F as it appeared in Practical Classics in December