MAGAZINE 107 AUTUMN 2006
Edlines
Hello, I'm Mr BIG Bloke In Garage, alias Harry Farrer. The other day a young lady came up the drive offering a dog walking service and left a leaflet. When my wife contacted her later and said we lived in Cooks Lane, she remembered the house as the one with the bloke in the garage, a fitting epithet. The Harry bit comes courtesy of Adrian Flux insurance, who seem to have re-christened me. Oddly enough I quite like the change of name and would be obliged if my friends would so address me in future.
Not so much text in this issue as usual, but members have been busy attending events. In no particular order: Burford provided its usual eclectic mix of cars, with a good turnout of Rochdales, including a Hot Rod GT which certainly caught the eye with its red paintwork, white stripes, big rear wheels and (dummy) portholes on the nose! Tony Stanton has been very busy (see his pages), Tony Wright and Paul Hutchings attended the Rotary Classic hill climb at Prescott, Robin Stretton and I went in tandem to the Bromley Pageant (after a chance meeting on the A3), several members went to the Classic Le Mans (see later), and only last week a posse of us went to the Goodwood Revival. Mine was the only Rochdale there; this time it was my new one, which attracted a mini queue of interested parties to talk to Nigel Whittaker and I. We may even get one or two new members as a result.
Unfortunately we failed to get a stand at the NEC Show in November maybe next year? However, note this
Diary Date: Bristol Classic Car Show 17 18 Feb 2007. Be There!
Rochdale presence at The Bromley Pageant in June
TONY STANTON'S EVENTS PAGE
South Midlands Classic Car/Bike Meet No1
The second Tuesday evening of the month in the summer.
The second Sunday of the month in the winter at Britannic Assurance,
1 Wythall Green Way, off Middle Lane, Wythall, Birmingham, B47 6WG
(On A435 1 mile north from M42 J3)
Tuesday 12th September, 7pm till late.
Sunday 8th October, 11am till 3pm.
Sunday 12th November, 11am till 3pm. Sunday10th December, 11am till 3pm.
13th June saw over 150 cars, a good selection of MGs, Healeys, TRs a 1957 Ford Thunderbird, a
1958 pink Cadillac Eldorado convertible, lots of Austins and Morris and how about a 1912 Buick, a
1925 Bentley 3Litre Speed, a 1934 Rolls Royce 20/25 and the icing on the cake a 1931 Bugatti Type 51 Grand Prix, bet you don't get many of these at your evening Classic Car meet.
11th July was a lovely hot sunny evening, only about 30 bikes but I lost count of cars after 300; a wide selection of beautiful cars, it is nice to see at least some people get their cars out and drive them around.
We also had a Beetles tribute band on, all the way from Brazil having a practice run before a show in Liverpool. What a great evening - hot sun, a band, lots of cars and all for free.
8th August was a warm sunny evening, about 30 bikes and over 250 cars. We also had another band on, just local people who got together and gave us some good old rock and roll. What a good evening - warm sun, a band, lots of cars and all for free (but we had to pay for the beer and BBQ!)
It is nice to see Mark Butler and his partner regularly at both meetings but if R.O.C. members want a Monthly midlands meeting, here are two but where are you?
South Midlands Classic Car/Bike Meet No2
The last Thursday evening of the month in the summer at
The Moat House Inn, Birmingham Road (A435), Kings Coughton, Alcester, Warks, B49 5QF
Thursday 28th September, 7pm till late, last one of the year.
29th June was a good evening with over 60 cars.
27th July was a lovely sunny evening with over 150 cars.
Gloucestershire Warwickshire Railway (GWR)
Winchcombe Station, Greet, on the B4078 Winchcombe to Evesham Road
Sunday 24th September 2006 they have a 1960s Transport Day. From 10.30am Bring your old car to the show get a free ride on a Steam Train.
9th July the weather improved from cloudy to sunny, 30 cars turned up and a 1960 coach giving free rides, plus the steam trains, a great day in the Cotswolds for a picnic and nostalgia.
This is for all the members who attend the AG.M at Coventry Air Museum and park there cars under the delta wing of Avro Vulcan XL360.
On the18th June we went to a Wings and Wheels event at Wellesbourne aerodrome near Stratfordupon-Avon. Over 300 classic cars turned up and Duffy won 3rd in show beaten into1st by a 1960 3.8 Mk II Jaguar and 2nd by a1927 Buick Fastback. Both had a lot of money spent on them.
Lots of old aircraft and helicopters flying in and out, but the highlight of the day was the full power taxi run of Vulcan XM655 down the runway (4 x Rolls Royce Olympus turbojet engines giving a total of 80,000lb of thrust, equivalent to 150,000 horse power), with all 4 throttles wide open and the nose wheel 10ft up in the air it was an awesome sight. This Vulcan is being utilised as the training aircraft for the crew of Vulcan XH558 which is being rebuilt at Bruntingthorpe Leics at a cost of £5,534,000, was the last to fly in 1993 and may be back in the air by the end of 2006. In June 2007 it will lead the fly past over The Mall to commemorate the 25th Anniversary of the The Falklands Conflict.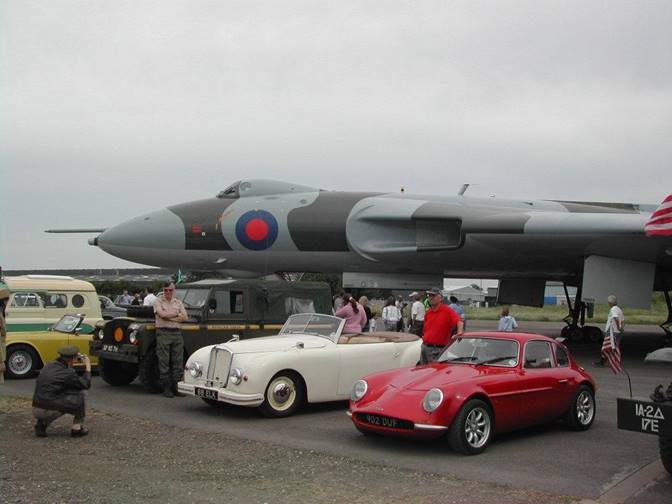 On the 1st and 2nd July we went to Bromyard Country show and Steam Fair. On the Sunday Barrie WIZZO Williams came and sat with Duffy. For those who remember he raced for Harry Ratcliffe in the Vita Foam racing Minis in the mid 1960s (and lots of different cars since and is still racing now in revival meetings at the age of 68). He was a mechanic for Harry Ratcliffe and remembers working on the Rochdale Olympic engine modifications; he vaguely remembers the lightweight Olympic that Harry lost control of and destroyed on Blackstone Edge. He did not think the car had a Reg No - it may have been on trade plates or because it was up on the moors it may have not had numbers on at all. Also his next-door neighbour is Paul Owens the driver of THE OLYMPIC WHICH FLEW (R.O.C. mag 50 page 33 and mag 54 page 13).
On the weekend of 15/16th July we went to the Air Tattoo at Fairford. We were parked in a Classic Car display area in the middle of a mile long static display of aircraft of all types. The aerial display ran nonstop both days from 10:00am till 6:30pm. We were there from 7:00am till 9:30pm both days and still did not see all the was to see and do, but it was free, saving £140 in tickets.
On the Saturday a note was left on DUFFY to be there at 7:30pm where I met Jeremy and Rita Kemble who in the early 60's were the 2nd owners of Olympic Phase I WBW 151 and in 1968 were the first owners and builders of Olympic Phase II KTL 772F, which on completion they went on a 4,000mile holiday of Yugoslavia, Bulgaria and Istanbul and back, with the only problem a broken throttle cable. I invited them to come to Burford and see some more Olympics which they did, bringing old photos of their Olympics to show Derek Bentley and myself, so another ex-owners name for Dereks list and I think they may be looking for another Rochdale again.
Whilst talking about early Olympics in May I was surfing the Web when I came across a BMW car club site in America where the club secretary, Kevin Heiner, remembered in the early 1960s when he was about 13yrs old there was a Rochdale Olympic in his family. I e-mailed Kevin to ask if he could remember any details of the Olympic. In his reply the car belonged to his older sister Miss Karalee Heiner of Provo in Utah. She bought it in 1964/65 from a European Auto dealer in Salt Lake City. It was British Racing Green with a wide yellow stripe down the centre and had a Ford Cortina GT engine, so it must have been a Ph II (is this the same car as in the Rochdale leaflet issued by Sterling Automotive Engineering Inc of West Los Angeles?).
She thought it was new but the dealer was not very honest according to her older brother Gary so it could have been used, she part/ex a Silver Blue MG TD for the Rochdale. She liked the Olympic and said it was fast. In 1966 she traded it in to Gus Paulos Ford in Salt Lake City for a new Ford Mustang. This was a very distinctive car so where is it now? If she can find any photos of the car she will send me a copy.
On the 28/29/30th July we went to the 3 Day Silverstone Motor Sport Festival on the Historic Grand Prix Circuit. Practice and 22 Races (20mins up to 60mins long each race) £20 a day or only 7.50p a day if a classic car booked in to the display area in the middle of the circuit. There were 100s of cars on display. For the one price you could spectate anywhere around the circuit, you could go round the paddock and even into the pit garages. Next year we could have a club stand if enough members wish to take their cars, especially as Club Elite would not let me park DUFFY on their stand (outraged of Oakenshaw? Ed).
* * * * * * * * * * * * * * * * * * * * * * * * * * * * *
Comments to the footnote on Alans article GOODBYE TO ROCK AND ROLL.
In 1970 when I was works manager at Mike Bigland Sports Cars, we had the contract to design and build the prototype TVR M series. Mike Bigland designed the new chassis and suspension without any anti-roll bar. When I took the prototype up to TVR at Blackpool, Martin Lilley the then owner of TVR drove the car around for a week, when Mike and I went to collect the car Martin said it handled a lot better than the old TVR. But it did not have a anti-roll bar, and it was not a sports car if it did not have one, so Mike had to design and fit a anti-roll bar just to please the sales dept of TVR.
Thanks for this comment Tony. All I can say is that my car feels a whole lot better to drive with the rear anti roll bar than without. Did the TVR have bars at both ends, and did it have IRS or a live axle? TVRs generally had stiff springs all round, so adding a modest bar at the front would make hardly any difference to the roll stiffness, but would look good on the sales brochure. If it had IRS then the same comment would apply. Alan.
STOP THAT WHINING Comments to Alans article in Mag 106 page 20.
First there is no truth in the word that Mr Fords diff is quieter than Mr Morris, it is just a case of final drive adjustment. The Ford axle is heavier but a lot stronger. When I bought the Porschedale, Barney told me it was fitted with a Ford Corsair axle and he exchanged the original 3.9:1 diff for a reconditioned 3.54:1 diff but it had 2 more diff. units replaced under guarantee before he had a quiet one.
If the rear axle is noisy, then before dismantling any part, the oil level should be checked, as a low level or unsuitable lubricant may be the cause of the noise (at this point we could solve the problem short term with the old car dealers trick of thicker oil and sawdust - not to be recommended). If this is in order, the period when the noise occurs should be noted. Thus if the noise is more pronounced on the overrun there is too much clearance in the gears. Should the noise occur when the engine is pulling the gears are meshing too closely. If the noise is there all the time the diff gear teeth could be worn or the diff bearings/wheel bearings could be worn/breaking up.
Ball or taper roller bearings are fitted to the rear axle gearing, not only to reduce friction but also to deal with the various loads which driving stresses impose.
1) Driving torque tends to force the crown wheel and pinion gears apart
2) The end thrust on the pinion tries to separate them in a fore-and-aft direction.
These forces must be absorbed by good bearings suitably fixed and adjusted. Correct meshing of the crown wheel and pinion is essential if silent and effective power transmission is to be achieved (this means the contact patch and position of one tooth on the pinion gear with one tooth on the crown wheel). Provision must be made for wear, and therefore means for altering the sideways location of the crown wheel and the fore-and-aft location of the pinion gear shaft and the pre-load on the bearings.
In most cases it is uneven wear rather than total wear which is more prone to cause noise. In most diff units two taper roller bearings carry the bevel pinion shaft and similar bearings support the differential assembly in the casing. The advantage of this type of bearing is that it is capable of absorbing both thrust and radial loads. Other systems often employ ball or roller bearings for the pinion shaft with an additional thrust bearing. The best way to check wear or adjustment of the two gears (backlash): the crown wheel should be firmly wedged (not with the handbrake) and the propshaft rocked. About 1/32in movement on the flange coupling will correspond with the correct tooth clearance of 0.006 to 0.010in.
So far it has been assumed that the crown wheel and pinion are straight tooth bevel wheels; however the spiral bevel gear is generally used, this provides a larger tooth contact area and maintains its silence for longer period. Most modern cars have adopted the Hypoid gear which permits the centre line of the pinion to be below that of the crown wheel, the tooth strength is also greater than the spiral bevel, so that a smaller size gear can be used. Its main disadvantage is that the teeth have a considerable sliding action when engaged this generates heat, which means that special lubricants, termed E.P. (extreme pressure) must be used.
But a word of warning if you are about to rebuild your diff unit: use a full workshop manual for your type of diff, so you have the correct build procedure, the correct tools and the correct adjustment clearances and bearing pre-load torque settings, and do not forget to check the wheel bearings before removing the diff; many a new diff has been fitted only to find the problem was the wheel bearings.
Alan also asks why Olympics seem to suffer from whining axles and the donor car does not? The answer to this is quite simply that in a rear wheel drive, short wheelbase, low, two seater sports car the rear axle is only 1 to 2 feet behind and below the drivers ears, where in a rear wheel drive 4/5 seater saloon car it can be 4 to 6 feet behind and lower than the drivers ears, also drive a Riley 1.5 or a Ford Cortina on the road without the rear seat in, you can hear the rear axle then.
So the requirements for a quiet Olympic are a well set-up and maintained rear axle and lots of thick sound deadening material in the rear.
Thanks again for these comments Tony it's good to get such a solid response to an article. I should say that most people I have asked about the diff whine confirm that the Riley axle is pretty noisy, even with a new diff. Colin Ellis says his Escort axle is whine-free and mine has just the slightest whine on light overrun. Against that, the Granada diff in my latest car has a disappointingly loud whine, even though it was checked over by the same Ford specialist as the Escort item before being fitted. C'est la Vie. Alan.
* * * * * * * * * * * * * * * * * * * * * * * * * * * * *
Request from Tony Stanton and DUFFY to all members.
I am compiling a portfolio of the history of 902 DUF from 1963 to the present. If any member has any photos of the car, especially if the photo has John West or Richard Parker in it please contact Tony Stanton. E-mail tony-stanton@mosset.fsnet.co.uk
Thanks so far for photos from Alan Farrer, but there must be more out there - please help.
I happened to attend the Bromley Pageant in 1994 when John West had DUFFY on display and Richard Parker spoke to him at length. At the time I knew neither of them, but luckily took some photos, one of which shows Derek Bentley too and I didn't know him either! I passed these photos on to Tony. Alan.
* * * * * * * * * * * * * * * * * * * * * * * * * * * * *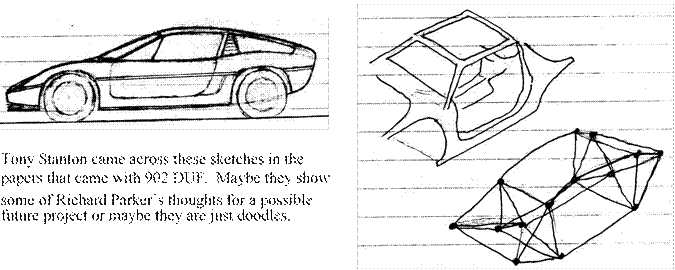 FBHVC NEWS
Stolen cars.
Will anyone who has had their Classic car stolen in the last year please visit www.fbhvc.co.uk and follow the links to stolen cars. Any information collected will be treated confidentially.
Drive It Day
The next will be on Sunday 22 April 2007 Make sure you take your classic car out on this day (or at least have it on display in your front garden) to raise awareness of the classic car movement.
MST
Please note that the services of MST (or Motorsport Travel) are no longer advertised as a benefit of FBHVC members.
Classic Le Mans 2006
As mentioned in mag No 106 Derek Bentley and I trotted off to La Belle France in July to attend the Historic Le Mans. As I live near Portsmouth we made the crossing to Caen, which gives a comfortable 3-4 hour journey to Le Mans. There were many interesting cars on the ferry, as last time in 2004, including a reconstructed Riley Le Mans car which had been built round an original Riley Le Mans engine and gearbox. Several people also came over to talk about the Olympic.
Derek and I were generously accommodated by Colin Breakspear and his wife in a delightful camp site at La Fl'che, a town about 20 miles south of Le Mans. We were there during the World Cup footie final, which you may recall was contested by France and Italy, and we actually watched the last half hour of the final on the giant screen set up in the town square. There was much excitement, though deathly silence afterwards.
One evening we had a meal in a small restaurant and an English couple came and sat at the next table, the man being in a wheelchair. The restaurant was well attended, but the management had thought fit to hire just one waitress and as a result we failed to get any attention after the main course, so left and went to a nearby bar for some refreshments. Shortly afterwards the English couple came by and spoke to us.
Colin recognized the man, who had obviously done a lot of racing over many years (including Le Mans), and who mentioned that a Le Mans driver refused to drive one particular car as its tyres rubbed on the glassfibre bodywork under stress and he feared it would cause a fire. Colin picked up on the glassfibre to say we were very familiar with the stuff as we owned Rochdales. At this, the man said he once owned a Rochdale at the time he was courting and used it to visit his girlfriend (now his wife), and which we reasoned must have been a GT. After they left, Derek and I turned to Colin with the obvious question, to which the answer was Win Percy. He is listed in my 1990 copy of Autosport Yearbook as a veteran touring car racer even then!
I did not realise Wyn was disabled as I had seen him racing at Goodwood fairly recently, and it transpires that it was due to a back operation that went wrong about two years ago. What a tragic way to end a racing career.
It was an easy drive to the circuit this year, as there were clear directions to the designated parking areas. The roadsides close to the circuit are festooned with cars, mostly British, with the occupants partaking of refreshments in the nearby cafes and this gives the slightly surreal feeling that one is passing through a film set in the 60's.
There were a number of serendipitous moments. To start with, on our first visit on the Friday in company with Colin Breakspear, we had barely parked the cars in the huge Parking Blanc field, when a man hurried over, attracted by the Olympics. He went straight up to Derek and said Derek Bentley? (I felt he should have said: Dr Bentley I Presume). It turned out they had last met about ten years ago.
Bearing in mind there were several thousand people there, this was a remarkable coincidence, but this was not the last. The next day we had barely entered the circuit when we met Paul Hutchings, whose Triumph GT6 Le Mans replica was there as a planned feature in Practical Classics magazine, and on the Sunday we were about to enter the circuit when we spied another Olympic coming in, this one being driven by Colin Ellis. Olympic owners and their cars get everywhere.
At the circuit cars mix with drivers, mechanics and the public - the place is a wonderful mixture of activity and partially organized chaos. There were so many vehicles to see it is hard to pick out individuals, but one worth mentioning was a reconstructed BMC race car transporter, looking very period. In the races the twin cylinder Panhards putt-putted along at what seemed a very leisurely pace, with the brutal blast of the AC Cobras providing a stark contrast.
It seemed no time at all before we had to head for home, the Olympic cruising easily up to Caen on sparsely populated roads, overtaken only by a pair of Jaguars on the whole journey, surprising really as we rarely exceeded 75 mph. The warm weather showed up the lack of passenger cooling in my car (the engine had no problem), so improved throughput will be sought in due course.
The ferry boat had the entire lower deck filled with classic cars (though mine was on a higher deck), showing the popularity of this event with the Brits. The five hour journey went in a flash, as a group of ROC and Fairthorpe Club members gathered together swapping stories. All in all a great experience.
&nbsp
Alan Farrer.
Lower deck of ferryboat filled with British sports cars on their way home
&nbsp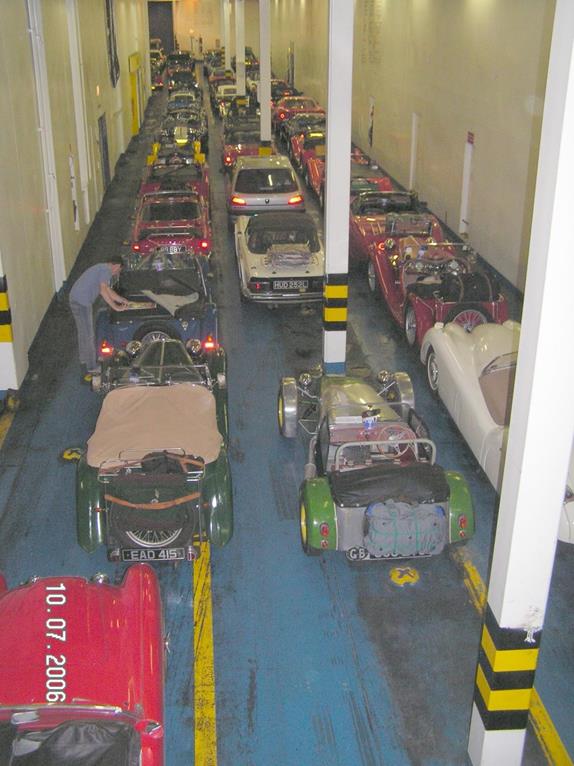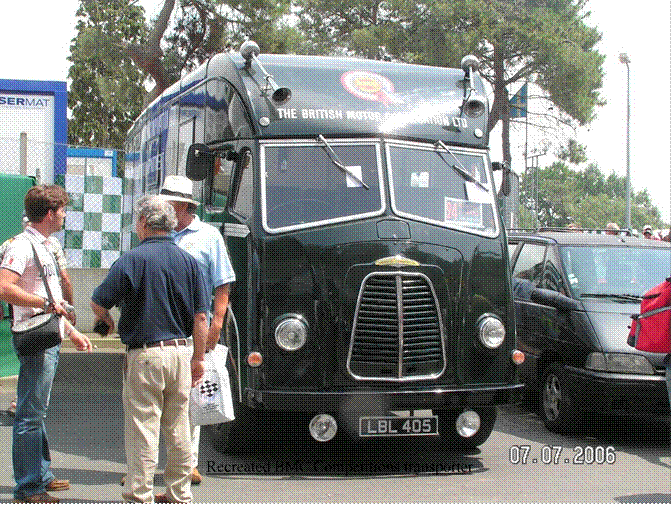 &nbsp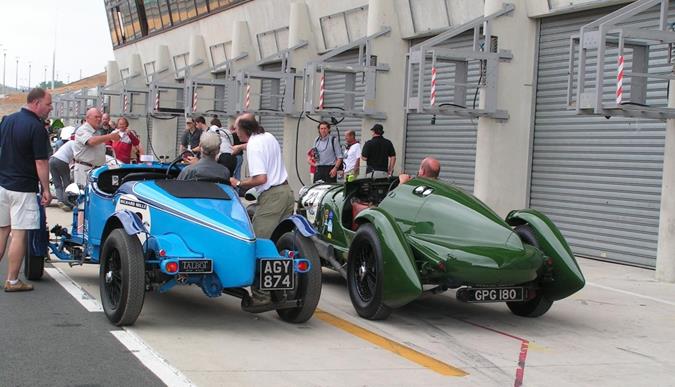 Not your everyday transport (note Brit plates)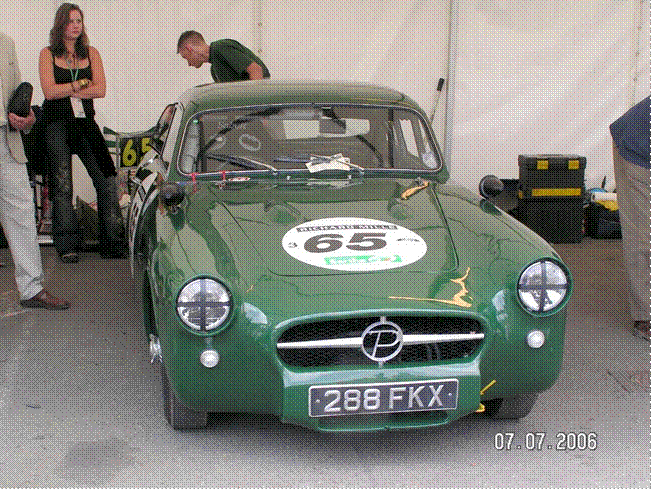 Good to see rarer makes represented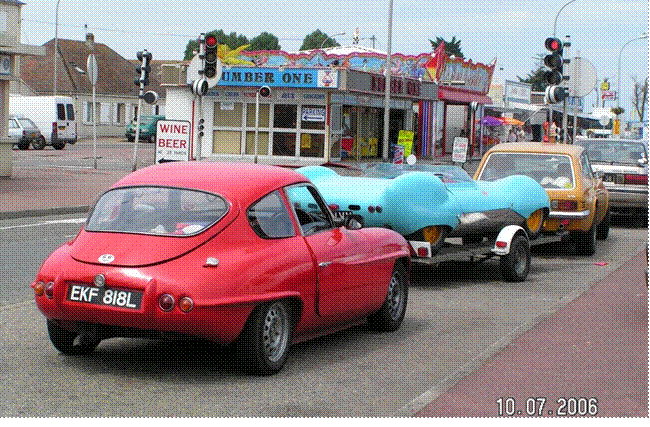 You could be forgiven for thinking this was England (actually it's Ouistreham, Caens seaport)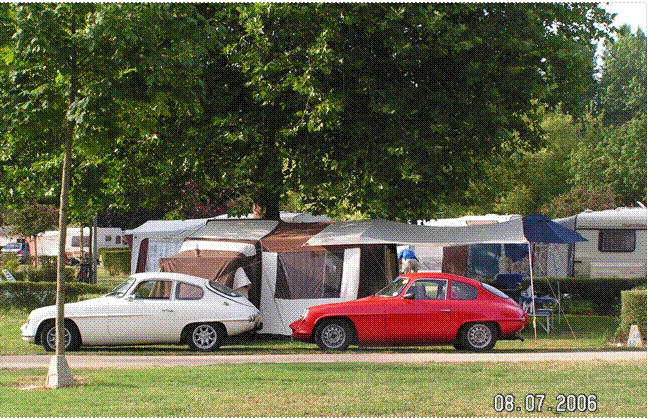 Campsites don't come a lot better than this, the municipal site at La Fl'che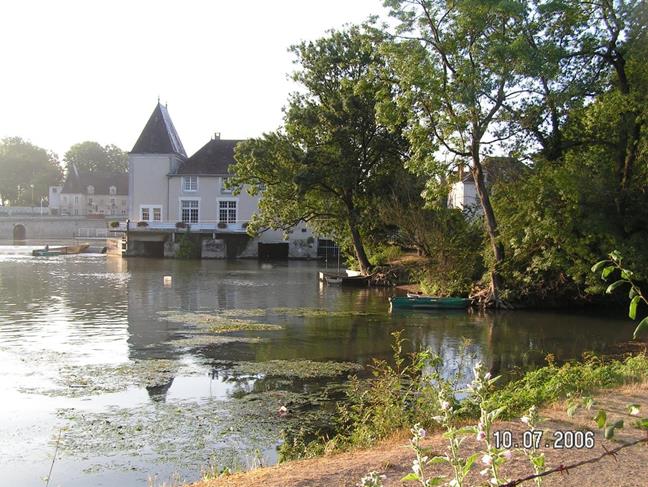 The river Loir runs past the campsite - idyllic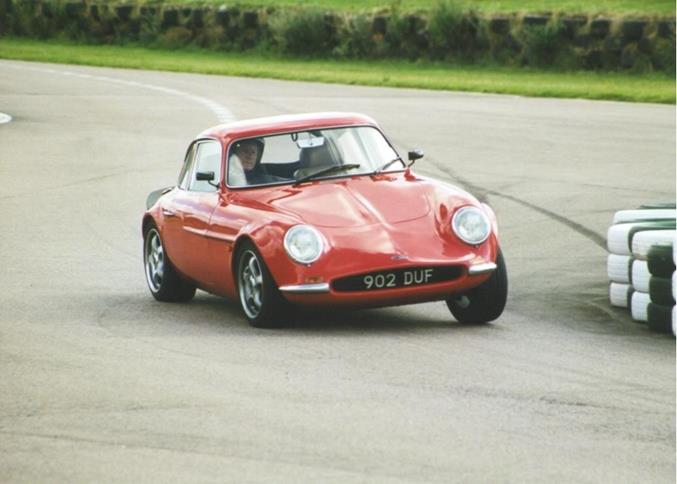 902 DUF piloted by Richard Parker at a Goodwood Supporters Motor Club track day in 1999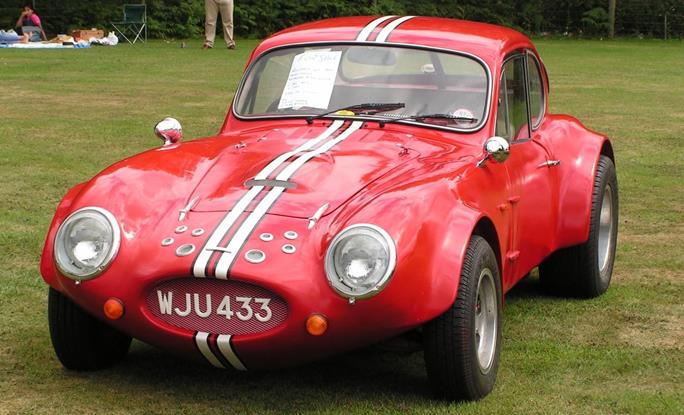 The beast of Burford is for sale
LETTERS
From Tony Clough Phase I Olympic JEC 605
Dear Alan
Following my note written a month ago, herewith a last minute update to say that I have now acquired an Olympic. Thanks to Dereks extensive resources, I got in touch with the owner of my old car, mainly intending to have a natter. It turned out that his restoration project had become stalled some years ago, and by incredible luck he was willing to sell yes, the very same car (JEC 605) that I assembled in 1961/62.
Although the it was securely wrapped up, a bespoke bonnet release and the existence of a tow hitch helped to confirm its identity over the phone. A trailer was hired and we made our way hot foot to deepest Worcestershire, where the deal was done and the car collected. This was quite a surreal experience, taking possession of a car that I last saw 37 years ago, and never expected to see again the nearest thing to time travel!
Once home a closer look suggests that it is still a solid car, but in need of some serious cosmetics, having changed colour twice and lost a big patch of paint when a mould was take from a front corner. The interior has been stripped, ready for a refurb and the integral tanks cut away to accept a pair of nice stainless steel replacements, though these hold only 16 litres (3 gal) each. However, I have no regrets at losing the glass fibre tanks, as I never succeeded in sealing them properly after an incident with a wooden fence. This spread the entire contents over the road, a prospect that troubles me more now than it did then.
The car now sports 13 inch wheels (a tight fit over the 9 inch drums) and an alloy steering wheel. It has gained an electric fan with thermostat, and a replacement radiator and heater, though I remember the engine could always be kept happy in traffic by turning the heater on full blast. This wasn't so comfortable for the occupants. The engine is original, and looks undisturbed, though judgement on its condition must await a start-up, if it ever will. It turns freely now so the prospects are bright.
The rear suspension is a sadder story. The axle has been replaced by someone with an aversion to welding, using an ingenious arrangement of bolted brackets and U-bolts. I have some sympathy for this, as I found that the hub seals would never hold the oil for more than a few thousand miles after replacement, which I put down to axle distortion resulting from the welding of brackets. My final solution was not to add any more oil, and I passed this advice on to the buyer. Perhaps he or his successor failed to pass the message or maybe the diff ground itself to dust through lack of oil.
But it gets worse. The brackets extend upwards and are coupled to what appear to be Phase II spring damper units, which without any leverage ratio will give only four inches of wheel travel. However this is academic, as the weight needed to compress the springs (again without leverage) is more than the dead weight on the axle, and the car sits high against the damper rebound stops. So, anybody in the market for a pair of underused Phase II spring damper units?
But I am pleased that the car is in such good shape, a tribute to the intermediate owners, and is very a much restorable specimen which I look forward to working on. I am sure I have gone on too long; perhaps I too am high at the thought of engaging a project more arduous than one I started forty five years ago. Does time travel have a rejuvenating effect, and will this help?
Regards, Tony
From Malcolm Lomax Phase 1 Olympic 20 August 2006
Olympic Phase 1 Spares
Club magazine No.106 raised the issue of Olympic-specific spares (Malcolm McKays statement to the AGM - Phase 2 Olympic sub-frames). My interest is in the supply of Phase 1 spares. An examination of the leaflet produced by Rochdale Motor Panels (RMP) that specifies the Phase 1 body/chassis unit shows that the club supplies, either from stock or to order, a number of the parts listed.
However, there is a significant gap with respect to the modified BMC parts and new RMP parts. Also body mouldings such as bonnets and doors do not appear to be covered although the club magazine does invite inquiries for other body sections. If a standardised Phase 1 sub-frame is added then these constitute an addition group of core spares (see table). Axle casing brackets do require replacement due to wear and corrosion. If axle locating links were to be modified to accept a wider bush then this would require bracket alterations. Alternatively, the club could identify a competent manufacturer that a member could approach for the above. Clearly, a club financed short production run should result in a reduced unit cost, if this were possible.
The spares issue is inextricably linked to that of originality. Choice of mechanical components need not be detrimental to the outstanding features of the Olympic namely; shape (1950's enclosed sportsracing shape in a practical road-going form), GRP integral construction and the combination of performance and fuel economy (for a car of that period). Further, it is difficult to specify an Olympic because of the variation in RMP-supplied components and the original owners requirements. Indeed, there is the satisfaction of using the car as a test bed for ideas. However, if the Olympic is to maintain and enhance its standing in the car preservation community then restoration may need to be given more emphasis in addition to standard of re-build.
Despite the variability in Olympic specification it is possible to identify a core of parts based on those originally supplied by RMP. Availability of these standardised items would assist those members wishing to keep their cars as close to original build specification or period as possible. This is what I intend to do except where safety or reliability can be improved e.g. front drum brake conversion to discs. I would add that my Phase 1 was already fitted with the Ford 1500 cc engine and GT gearbox when purchased in 1970. Also, a club agreed format for the chassis plate might be a further enhancement to the marque (available see Spares List - Ed).
The club already goes some way towards making a core of Olympic parts available and relative to its size does quite a good job but as these cars age then more assistance will be required to keep the Olympic on the road in good, recognisable, shape.
Additional Phase 1 Core Spares

Body/Chassis

Rear Suspension

Front Suspension

Miscellaneous

Sub-

Frame

Bonnet &

Door

Mouldings

Door Frames

Axle

Locating Links

Axle Casing Bracket Modifications/Repairs

AntiRoll Bar & Mountings

Header Tank

Engine Mountings

Steering Column Universal Joint
I have recently got my new Olympic on the road, and while it goes well there are a number of niggles still to be sorted. The chief of these is a persistent rattle, which sounds like spanners lodged in the undertray. Having found no spanners and having checked all the nuts are tight and the exhaust cannot touch anything I am at a loss to explain it. I am reminded of the following article, written by Oliver Pritchett, which appeared in The Telegraph earlier this year. I am doomed. Alan Farrer
CONFUCIUS HE SAY: WHAT'S THAT RATTLE?
While MG Rover's doomed negotiations with the Shanghai Automotive Industry Corporation were still going on last week, many people were surprised to learn that China had a car industry. In fact, China is the world's oldest motoring civilisation and Confucius had many wise sayings on the subject. Here are some of them:
*A journey of a thousand miles begins with the finding of the car keys in a child's box of Lego under a chair in the spare room.
*A wise man was approached by his disciples who said to him: "Great teacher, you have explained to us why the clouds travel across the sky and what makes the rivers flow and where birdsong comes from. Now, will you unravel the mystery of what on earth all those television car commercials are supposed to be about?" And the wise man replied: "My children, it has been truly said that it would be easier to number the splattered insects on all the windscreens of the world than to explain the latest Renault ad."
*He who would secure a £100 million bridging loan from the British Government must exercise more patience than the breeder of pandas.
*Life is like the M4, but we all have our junction 17.
*People may say to you "We have seen the lions of Longleat," yet they may still be devoured by the tigers of Szechuan province.
*When a man comes to you and boasts "My other car is a Porsche," it is time to lock up your sacks of rice and send your wife and daughters to a place far away where they may be safe.
*If you ask me, what, above all else, does a great ruler require, I will answer 150 brake horsepower and 2361b ft of torque...
*Remember, the highborn lady with soft leather upholstery and walnut trim conceals chaos in her glove compartment.
*Beware the serpent with the disabled sticker.
*A man who drives his BMW along the highway with a Panama hat on the rear shelf is no better than the one who has a cheap jacket on a hanger just behind his head.
*There comes a time to all of us when we must remove the protective plastic sheeting from our new upholstery.
*When a man gives you the gesture of the single finger at a roundabout near Staines, be happy, for you can be sure that the gods will reward him with a thousand caravans on his journey to the west.
*A peasant was leading his ox along a remote country road one day when he met a young man driving a 4x4. "That is a fine ox." the young man said, "Give him to me and you shall have my 4x4." The peasant, thinking this is a foolish young man, agreed. A month later the peasant went back to the young man and said "Your 4x4 is no good. I beat it with a big stick, but it does not go. Give me back my ox." The moral of the story is: the ox is wise and strong, but the 4x4 is good only for the school run.
*A great prince once said: "I have a magnificent palace where the rooms are filled with rubies. I have a thousand handmaidens to satisfy my every whim, my lands of rich pasture stretch as far as the eye can see, and yet I would trade all this just to have my no-claims bonus back again."
*A man journeyed many months in search of a great teacher who lived in a cave on top of a mountain. He climbed through blizzards and storms before he arrived, half-starved and exhausted, at the feet of the teacher. "Tell me, great one," he gasped through his cracked lips, "how may I find true wisdom?" The teacher pondered for a while before answering: "My advice to you is to watch Jeremy Clarkson on Top Gear." And the man departed sorrowing.
*There is one question that no man on earth has ever answered and this is: "What is that funny rattling noise?"
* * * * * * * * * * * * * * * * * * * * * * * * * *
THE DEFINITION OF ACCELERATION
One Top Fuel dragster 500 cubic inch Hemi engine makes more horsepower than the first 4 rows of stock cars at the Daytona 500. Under full throttle, a dragster engine consumes 1.5 gallons of nitro methane per second; a fully loaded 747 consumes jet fuel at the same rate with 25% less energy being produced. A stock Dodge Hemi V8 engine cannot produce enough power to drive the dragster's supercharger. With 3,000 CFM of air being rammed in by the supercharger on overdrive, the fuel mixture is compressed into a near-solid form before ignition. Cylinders run on the verge of hydraulic lock at full throttle. At the stoichiometric (stoichiometry: methodology and technology by which quantities of reactants and products in chemical reactions are determined) 1.7: 1 air/fuel mixture for nitro methane, the flame front temperature measures 7,050 deg F. Nitro methane burns yellow. The spectacular white flame seen above the stacks at night is raw burning hydrogen, dissociated from atmospheric water vapour by the searing exhaust gases.
Dual magnetos supply 44 amps to each spark plug. This is the output of an arc welder in each cylinder. Spark plug electrodes are totally consumed during a pass. After halfway, the engine is dieseling from compression plus the glow of exhaust valves at 1,400 degrees F. The engine can only be shut down by cutting the fuel flow. If spark momentarily fails early in the run, unburned nitro builds up in the affected cylinders and then explodes with sufficient force to blow cylinder heads off the block in pieces or split the block in half.
In order to exceed 300 mph in 4.5 seconds, dragsters must accelerate an average of over 4G's. In order to reach 200 mph (well before half-track), the launch acceleration approaches 8G's. Dragsters reach over 300 miles per hour before you have completed reading this sentence. Top Fuel engines turn approximately 540 revolutions from light to light! Including the burnout, the engine must only survive 900 revolutions under load. The redline is actually quite high at 9,500 rpm. Assuming all the equipment is paid off, the crew worked for free, and for once NOTHING BLOWS UP, each run costs an estimated $1,000.00 per second.
The current Top Fuel dragster elapsed time record is 4.441 seconds for the quarter mile (10/05/03, Tony Schumacher). The top speed record is 333.00 mph. (533 km/h) as measured over the last 66' of the run (09/28/03 Doug Kalitta).
Putting all of this into perspective: You are driving the average $140,000 Lingenfelter "twin- turbo" powered Corvette Z06. Over a mile up the road, a Top Fuel dragster is staged and ready to launch down a quarter mile strip as you pass. You have the advantage of a flying start. You run the 'Vette hard up through the gears and blast across the starting line and past the dragster at an honest 200 mph. The 'tree' goes green for both of you at that moment. The dragster launches and starts after you. You keep your foot down hard, but you hear an incredibly brutal whine that sears your eardrums and within 3 seconds, the dragster catches and passes you. He beats you to the finish line, a quarter mile away from where you just passed him. Think about it, from a standing start, the dragster had spotted your 200 mph and not only caught, but nearly blasted you off the road when he passed you within a mere 1,320 foot long race course. ...and that my friend, is ACCELERATION!
From TR Action Magazine courtesy of David Liddell
OLYMPIC REGISTRAR
Tony Stanton has been carrying out sterling work in recent months in obtaining Rochdale information from various sources.
He took DUF to the recent air show at Fairford, where he was approached by a Jeremy Kemble, who it would seem is an ex Olympic owner. As a result of this conversation Jeremy sent an email to Tony outlining his Olympic experiences. Tony passed a copy of this email to me and I subsequently had the pleasure of meeting Jeremy and his wife Rita at Burford and to talk Olympics and view the photographs of the two Olympics that they had owned.
I previously had a copy of the March 1968 edition of the 750MC Bulletin, wherein a Jeremy Kemble had detailed the arrangement of the phase 1 Olympics rear suspension, but had no knowledge of which car he owned.
Jeremy first bought WBW 151, a phase 1, in 1966 from the original owner. It had apparently been involved in a previous accident and was taken to the factory for repairs including a new front subframe.
The car proved reliable and was driven extensively, particularly by Rita. The car was sold in early 1968.
WBW 151 was a car I knew well back in the mid 1970s. At that time it was owned by Bernard Allum of Twickenham, who had acquired it from Swaffham, Norfolk in 1975. A photograph of this Olympic appears in Peter Filbys book Specialist Sports Cars, published in 1974.
Bernard sold the car to Jack Thomas in 1981 on purchasing another phase 1, 895 GBF. Jeremy and Rita were delighted to learn that WBW 151 still exists with Jack Thomas in South Wales.
Almost immediately after selling the phase 1 Jeremy bought a phase 2 kit. This was registered KTL 772F in July 1968 and almost immediately they set off on a summer holiday travelling to Istanbul via Yugoslavia and Bulgaria. All in all they covered some 4000 miles on this trip and only suffered a broken throttle cable, replaced with one from a motor cycle shop in Yugoslavia. The following year the car travelled to Berlin, just after the building of the wall. The car was fitted with a towing bracket, which was used to tow a 750 Trials Special.
Upon the arrival of their first daughter, in 1970, the car was sold to someone in the Brighton area. My previous knowledge of this Olympic was limited to its ownership in the early 1980s by a Peter Luckett of Sandhurst, Surrey. It has subsequently disappeared from my records and I suspect that it is tucked away at the back of someones garage awaiting a rebuild, like so many others (my own included!).
I do have a copy of an advert that appeared in the September 1970 edition of Motor Sport for a phase 2 being sold by a Mr Kemble of 118 Northorpe, Thurlby. Jeremy confirmed that this was his address at that time. This filled in a gap in my records, as I previously had no knowledge of Jeremys ownership of either car.
* * * * * * * * * * * * * *
Phase 2 on ebay.
Back in July Tony Stanton sent me details of a phase 2 Olympic for sale on ebay. The car was in Belgium and from the photograph appears to be that owned by Gregorie Desmons. At that time the highest bid was Eur 3,011 (about £2,084), which was less than the reserve. Did it sell? If so does anyone know the new owner?
JEC 605.
At Capesthorne this year I was approached by Tony Clough, who had built a phase 1 Olympic during the bad winter of 1962 (those old enough, will remember that it started snowing on Boxing Day and lasted almost until Easter). (The sea remained frozen in Langstone harbour until mid-March Ed)
Tony had owned the car until 1969, when emigration to Canada necessitated its sale and was enquiring if his original Olympic JEC 605 was still in existence.
Tonys interest in Olympics was re-enlivened by his visit to Capesthorne; he joined the Club and decided to advertise for a car.
According to my records the last owner was Geoff Norman, who also owned another phase 1, 3695 PP. When I spoke to Geoff, he confirmed that he had parted with one Olympic, thought to be JEC 605 some years ago to a John Jarrett, then living in the Worcester area, but subsequently moving to Wales. However, strangely he still had its V5.
It seemed that the trail had gone cold, but Tony was not to be put off and after discussions persuaded Geoff to sell him the Olympic. When Tony went to view the car he was able to recognise that this was the Olympic that he had built some 44 years previously!
So, JEC 605 has returned to its original builder. After 25 years of non-activity a rebuild will be necessary, but hopefully in the foreseeable future another Olympic will make its way back onto the roads. (Tony has written an account in the letters section - Ed)
Although Ron Scarfe, Keith Pratt and Cecil Hampton still own their original Olympics, I can only think of one other person who has re-acquired their original car and that is John Blanckley.
SILICONE BRAKE FLUID
I have been using silicone brake fluid in the Olympic for some years, without any problems. It seemed to have a number of advantages over conventional fluid, particularly in a vehicle which was not in regular use. The claimed advantages of not absorbing water, which could result in corrosion within the system and resulting poor performance, seemed a plus. In addition it does not act as a paint stripper if spilled on the bodywork (and neither is it flammable, with a flash point lower than that of petrol Ed).
However, having recently had problems with the brakes on the Turner I started searching the internet for answers and quite by chance came across a number of problems that people had had when using silicone fluid.
Firstly, it would seem that neither Girling nor Delphi (AP Lockheed) recommend the use of silicone fluid in their systems. As these are the two manufacturers you are likely to find on the average Rochdale this was to say the least worrying.
Girling warn that silicone fluid attacks rubber seals and causes swelling. Lockheed cite compressibility and high viscosity leading to slow rates of fill and retention of free air entrapped during filling and bleeding.
Also low lubricity is quoted. In disc brake systems the sole mechanism for normalisation of system pressure upon release of pedal pressure is a designed-in tendency of seals to recover to their at rest attitude. Low lubricity works against this tendency, causing the brakes to stay on.
So, is silicone fluid the good or bad guy? Any comments from users?
(Incidentally, the Turners brakes were cured and it is still using the silicone fluid)
(Can't understand the claim for compressibility no liquid has significant compressibility. Also I have not noticed higher viscosity compared with conventional bubbles seem to rise at a similar rate. It feels about as oily as conventional, when rubbed between finger and thumb, but this of course is not a very scientific test for lubricity. My feeling is that it is a case of sour grapes. Alan Farrer)
PHASE 1 FRONT SUSPENSION
As some of you will be aware, Alaric has recently acquired a phase 1 Olympic, having previously been a confirmed phase 2 man. Alaric, no doubt having read all the correspondence about Ackerman in previous magazines, was wondering how easy it is to change from the Riley set up to the Morris Minor.
I will do my best to impart 36 years of phase 1 practical, if not technical, knowledge in simple terms.
Firstly, I ran my Olympic as an everyday car for over 25 years with the standard Riley set up and apart from the tyre scrub during low speed manoeuvring and the tyres touching the anti-roll bar on full lock, I can honestly say that I never noticed any ill effects from the technically incorrect Riley set up. The reason for changing fairly recently to the Morris Minor set up was more prompted by the availability and relative cheapness of Minor as opposed to Riley parts. I was also repairing the sub-frame, so it was easy to carry out modifications.
There are three main suspension components that vary between the two and these are the uprights, steering arms and the rack.
In my opinion the only satisfactory way to convert from one set up to the other is to change all three components. This of course means alterations to the sub-frame, due to the different mounting arrangements and position for the steering racks. This is only easy to do with either the sub-frame or the engine out of the car. Neither are items to be undertaken lightly.
The main differences between the two set ups are as follows:
1. Uprights All have two bosses, but generally only one will be drilled with a tapered hole for the steering arms. Riley ones use the upper boss, whereas the Morris use the lower one. On early Rileys the holes are the same size as the Morris items, although later (and in fact the majority) Rileys were drilled for a larger hole.
Some replacement uprights have been available with both holes drilled and these are nearly always the smaller size and can therefore only be used with the early Riley steering arms and the Morris arms.
2. Steering Arms.- Looking from the side the Riley arms are virtually straight, whereas the Morris
ones kick up. Riley arms are also longer than the Morris items.
Early Riley arms have the same diameter taper as the Morris items, although retain the different shape mentioned above. Later Riley arms are of a much thicker section and use a larger diameter taper into the uprights. However, other dimensions of the early Riley arms are the same as the later.
3. Steering Rack The Riley rack has a flange cast in to form the mounting to the sub-frame, whereas the Morris uses cast aluminium clamps around the tube. The Riley rack is also slightly longer than the Morris item.
Unfortunately, the result of all the above means there is no easy solution to changing from one set up to another.
Alan retained the Riley rack on his phase 1, but moved it backwards on bolted-on mounting plates to improve Ackerman, but also had the Riley steering arms shortened. Again not a simple modification.
My advice, for what it is worth, is to retain the original Riley set up and put up with the low speed scrub. Contact with the anti-roll bar can be prevented by using a Marina nut on the lower trunnion. This is like a large wheel nut which contacts the back of the brake drum on full lock and restricts lock slightly to prevent contact with the anti-roll bar.
This assumes of course that you don't have wide wheels with excessive inset!
Derek Bentley
Copyright © Rochdale Owners Club
Last Update