MAGAZINE No 104 WINTER 2005
Edlines
This is virtually a registrars only issue, with some very interesting new cars and history being reported by both. There is very little content from members, but I hope activity will pick up next year after a winter spent on rebuilds.
I have been busy on my Phase 2 project for most of the year, the greater part being occupied with stripping the paint, repairing the old damage and blemishes that were thus revealed, and generally preparing the bodywork for painting. I had hoped to get the primer on before the warm weather ended, but just managed the doors, bonnet and hatch. However the fuel tank has been made and the fuel pipes installed, the braking system fitted and a restart made on the electrics. I have just received a package of goodies from Auto Electric Supplies Ltd of Tenbury Wells in Worcs (01584 819552) containing wire, connectors etc with which I hope to be able to complete the electrics. They do a very good mail order service and have just installed online ordering (www.autoelectricsupplies.co.uk). Although their prices are reasonable, the bill still comes as a shock when you order as much as I did. I can recommend them.
I built the tank myself in aluminium, having convinced myself that my MIG welding would be good enough. It started quite promisingly, but deteriorated steadily. I did manage to finish the construction, but took it along to a local fabricator who finished it off very nicely for a very modest sum. He was even kind enough to say that MIG was very difficult, but that TIG was a doddle. It looks leakproof now.
As major rebuilders will know (and Roger confirms on p3), a lot of effort seems to be expended with very little to show for it, but I fully expect to get the car on the road by the summer. Which summer? What do you mean?
Phase 2 Subframe
I had only one response to my request in mag 103, so unless we get more takers soon it looks as though they will not become a Club spare part (also, see Rogers Chair page).
Chair Chat
I find it exciting when I look back at the past few Club Mags to see how much interest has started to develop in early Rochdales over the last two or three years. I am sure that we will start to see more and more turning up at our club gatherings before very soon. It will also be interesting to see which Rochdale model sells for the highest price during 2006.
An item that was tabled at the last committee meeting was the need for replacement Olympic Ph. 2 front sub frames. You will recall that Alan made mention of this in the last Club Mag. If the club is to consider making this item available as a standard part on its spares list then, as Alan pointed out, we need some feedback from you the members. If we can initially establish just how many members need a new sub frame, we can then pool their views and ideas and hopefully come up with a workable solution that can be put into production.
I know I will need a new sub frame when I get round to renovating my Olympic and I have my own views on the subject. My preference would be to have a replacement to look superficially the same as the original, so that I can replace the unit with minimal alteration to the car. But I would like it to have the suspension geometry modified to reduce the caster angle and also remove the anti dive characteristics.
If we are going to make any progress with this issue we need to make the first step and get that list of interested members. So if you need one please contact the committee with your ideas.
I also realize that when the subject of Ph. 2 front sub frames comes up the problem of rotting rear trailing arms rears its ugly head. That is another problem that the club should may be thinking about next if there is sufficient demand.
On the home front I have made a little progress on "Sow's Ear" since the end of the main sailing season. As the photo shows the windscreen has been made, but there isn't much else to show for all the hours spent preparing the bodywork for painting.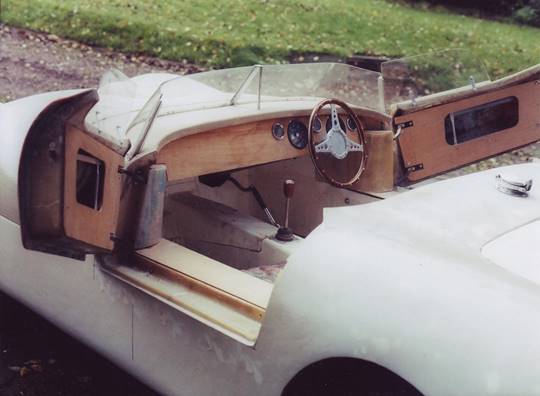 Well it's that time of year again. So in signing off, may I on behalf of your committee take this opportunity to wish everyone a Happy Christmas, and I look forward to seeing as many as possible at the Bristol Classic Car Show in January.
Roger.
******* LETTERS *******
Dear Alan,
Yes, my GT was complete and had a Ford Pop (?) chassis when I had it in 1978, complete with Ballamy split front axle and cable brakes, and rolled on Les Ballamys wheels. It had a Ford 100E engine in it but had difficulties with the oil filter catching on suspension parts I think. This was in the late 1970's. The rebuilt E93A original engine was also with it. The body was on the chassis and I had a run in it and it wasn't slow by any means.
I ran a Rochdale Olympic Phase 1 Reg. 8008 DZ at the time and that car was very quick. It had a Ford Classic 1340 mill, which was reputed to have been tuned by an early Cosworth cam, a very high CR - nothing much below 3000 rpm - and twin SU carbs. I stupidly sold both Rochdales to a local dealer who sold them both to a young chap who stripped them and did nothing except lose the registration documents of the GT. That was about 1979.
I bought the Olympic shell (all that was left) a few years ago and sold it to George Wilson from Cumbria who has also sold it on. Also at that time I had a Fairthorpe TX GT 2000 which I sold to Dudley Guest from Worcestershire.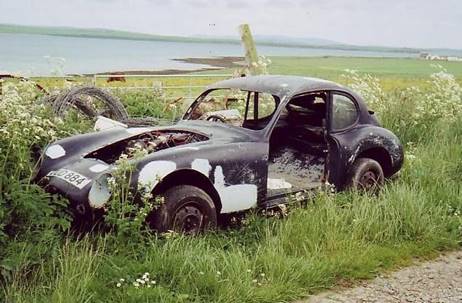 The Rochdale GT was sold to a lad who built the body onto a Renault 5 floorpan, using all R5 running gear, and that is the story so far. If I don't sell the GT (01857 677753) I shall complete the Renault project as a heck of a lot of work has been put into it. I (of course) would prefer to return it to the Pop chassis and running gear and I shall ask the previous owner if he still has the original chassis etc. but he was last reported being in Mexico.
I have more or less finished rebuilding a sorry Rickman Ranger Saloon, which can be for sale, and I am also building a GML caravanette which I bought in 1992 on a CF Bedford which was rotten. The body is made from ali, fibreglass and plywood so is OK. The body was hacked off the CF chassis and fitted on a Freight Rover much modified chassis/cab unit. This van took me and my wife all round Scotland for a few years from 1997 till the chassis failed the MOT (rust), so I bought a Ford Cargo flat bed and removed the platform and cab, fitted the caravanette body once more onto the longer chassis and cut the cab and doors and windscreen section from a Transit van. All this has been grafted on now and there are a lot of fiddly jobs and painting left, plus fitting a new windscreen after cracking the original with the endless chain hook. The last engine in the Freight Rover incarnation was a Ford 2.5 DI diesel and 5 speed box.
I also have a Dutton Sierra which is 90% worse than the Rochdale GT and an Eagle 2+ into which I am fitting a 1.8 petrol Ford CVH engine and 5 speed box, wiring and everything.
The downside is I am arthritic having two replacement hips and need two knees and one ankle. Also arms and hands are shot.
All the best,
George Muir
-
&nbsp
Olympic Window Trim
When refurbishing the doors on my current project Olympic I found that there was no provision made for fixing weatherstrip on the outside nor plush on the inside. One of the problems in gluing weatherstrip straight on to the tops of the doors is that the tops are unsupported and flex so much that water generally has a free passage to the bottom of the doors. My on-the-road Phase 2 had nicely fitted alloy strips which did a pretty good job of stiffening the tops and thus excluding rain and I added some wooden strips on the inside on which to mount the plush. But what to do on this one?
I had some modern weatherstrips from an unknown donor car; they have a plush finish on the glass side which allows the glass to slide smoothly and are designed to fit a vertical edge, so can't fit the Olympic directly. The plush strip I have also needs a vertical mounting surface, so I made two strips of glassfibre, made by laying up about 4 layers of tissue rather than CSM and bonded these, one each side of the gap and suitably spaced, on the upper door edges. These were built up a little more using tissue again at the top. By taking care with their positions, the newly formed strips needed little fettling to give a first class fit to the glass. The bottom of the weatherstrip hooks over the lower edge of the strip so is held firm.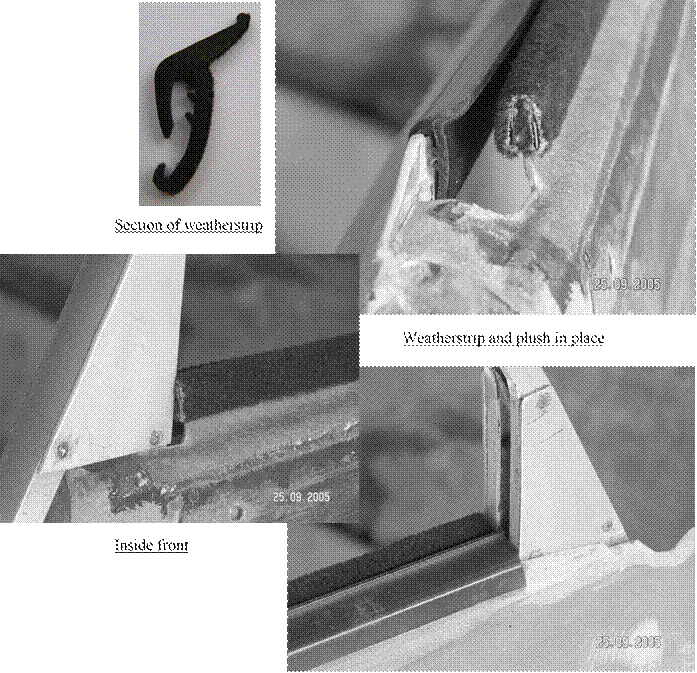 Alan Farrer
Outside front
FBHVC NEWS
DVLA
The backlog of V765s that built up due to unfounded scares and V5C documents has now been eliminated and response times are back to customary levels. I have been asked to investigate some refusals where applicants were concerned that criteria may have changed although submissions appeared to be following established procedures. On checking, the principal reason for the refusal - or more properly `deferral' since DVLA explained a willingness to reconsider with more information - was a lack of clarity in explaining non-official reference material. As enthusiasts we are sometimes inclined to forget that not all recipients of our research are as knowledgeable (or even as interested)- as we are about old vehicles. We therefore need to present this material in as simple a format as possible, highlighting the relevant information when it is hiding inside a blizzard of similar statistics. Help the officials to help us and we will usually have the result we want.
Over 98% of registered vehicles now have a V5C. DVLA will be monitoring take up of those that fall/fell outside the automatic scheme.Unless there is a very slow conversion rate for the remainder they have no plans to repeat the advertisements that caused the recent confusion.
No fresh consultations have been seen although we await the Minister's reaction to possible revisions to DVLA fee proposals. We need to be prepared to 'warm up' our objections if the views expressed by the 50,000-plus signatories to last year's petition have been ignored; we know that our trenchant response was noted.
MoTs were thoroughly covered at the conference but one aspect mentioned during the excellent presentation by VOSA was that production of a V5C is not required to conduct a computerised MoT. For an obscure make, or a particularly old vehicle, it may nonetheless be helpful to have the V5C to hand since the DVLA/ VOSA database is not very strong on pre-1980 models.
Local experience confirms that VOSA training in recent months has been more effective than at the beginning of the changeover: over 50% of stations are now using the new system. One benefit is that a replacement certificate can be obtained from any station and that DVLA offices can provide a certificate with a new registration number when a cherished transfer is submitted.
There is still a substantial number of errors uncovered on vehicle data so continue to check that your vehicle ID exactly matches. the documentation, or vice versa to be more precise, so that any correction can be made before a test.
MoT Testing of Historic Vehicles in the Electronic Age
The team from the Vehicle and Operator Services Agency (VOSA) comprised Alan Wilson (Head of Testing Standards Policy and Strategy), Simon Duffin (Communications Manager for
MoT Computerisation), John Stephenson (Senior Policy Development Engineer) and Melanie Yelland (Stakeholder Manager)
The computerisation programme was the biggest change to the MoT scheme since compulsory testing started in 1960, but the changes were all in the administration - the test itself and the standards required were unchanged. The MoT testing system has over 18,500 testing stations employing 77,000 workers of whom 55,000 are registered testers carrying out some 30 million tests annually. VOSA has 330 enforcement staff operating from 23 area offices. Test results are entered into the computer and retest procedures are unchanged, but the system enforces the rules that many testing stations might previously have ignored. The four main benefits to computerisation are improved uniformity of testing standards; reduction in certificate theft and forgery; improved efficiency in administration and better customer protection, this latter including a facility that prevents a tester failing a vehicle incorrectly. The system also opened the way to being able to re-licence a vehicle on line.
Another benefit of computerisation was the ability to obtain generalised statistics: although it was probably too early, and the sample too small, to read anything of major significance into these details, other than the common sense need to check the obvious - lights, wipers, tyre tread etc. - before presenting a vehicle for test. Interestingly a list of ten items that had commonly been given as reasons for failure, but which should not have been were: rotten jacking points; bad engine oil leak; loose battery; prop shaft loose; prop shaft bearing failure; speedo not working; bald spare tyre; loose wiring; indicators not self cancelling; main beam warning light not working. In future the computerised system would not allow these failures.
Moving on to cost, Alan explained that the maximum fee is set by government each year. Testers may, if they wish, reduce this fee, but they may not exceed it. The current regulations governing test and re-test fees stipulate that if a vehicle is left at the MoT testing station for repair to the cause of failure, no re-test fee is payable. If, however, the vehicle is removed, the tester is meant to carry out a full re-test when the vehicle is returned for which he may charge a full test fee. The only exception is if the failure is one of a specific list of relatively trivial items and the vehicle is returned for a partial re-test before the end of the next working day, in which case no fee is payable. After consultation, VOSA had decided to seek a change to this rule to a system that would be fairer both to motorists and testers. The free next-day retest of trivial items would continue (although the list of items qualifying would change slightly) but, following a more significant failure, a partial re-test at a price not exceeding half the maximum fee would be permitted provided the vehicle was returned to the same testing station before the end of the tenth working day after the original test.
Sandy Hamilton
EARLY ROCHDALES REGISTER
Malcolm McKay
Just as I was about to say it's been a quiet few months on the Early Rochdales front, more news came in
so I'm glad to say there's plenty still going on despite the weather!
Find your old car!
Here's one for everyone, not just early Rochdale fans! I was tipped off recently about a new DVLA website that's just amazing (www.vehiclelicence.gov.uk) - you type in a registration number and car make and it tells you if it's on the DVLA computer, if it's taxed/SORN, when it last changed V5, what colour and what engine size! I've been through all my early Rochdale records and found quite a few still in existence that I didn't know about - one, an ST, I last heard of in 1959!! I also found the Mk2 Jag my Dad sold in 1976 is still about...
Doesn't absolutely prove they still exist, as people could have scrapped the car but kept the log book up to date, but that's pretty unusual. It's easier for fully-built cars as Rochdales could be registered as almost anything from Ford to Fred Bloggs Special and if you don't know what make they were registered as, you're stuffed...
One warning though - once you start, you won't be able to stop!
Two-GTs-Morris
A few months ago two GTs featured on ebay at the same time a first, perhaps? One was the muchtouted bodyshell that has become known as the Robin Hood shell, having been owned for a couple of years by the former proprietor of that kit car company; owner Kenny, mentioned last issue, having decided that his plans to fit it to a Spitfire chassis were too ambitious and he would be better off restoring the Spitfire.
The other was a complete GT that at first I didn't recognise, advertised as follows:
Rochdale GT kit car, Circa 1962/3. Based on Ford Pop chassis with Triumph Herald front end and Ford engine (not running). Fibreglass body. In need of complete restoration. No log book, but believed to have an age related number plate (1962/3).
Holes in front wheel arches due to wider than standard wheels having been fitted, without removing standard arches (they are still in place under the extended ones!!!) Therefore car could be put back to standard or kept with moderations......
The vendor, Nick of Carnforth, Lancs, seemed to know relatively little about the car but closer inspection of the photos revealed that this was the remains of a GT I've often commended for its relatively tasteful wheelarch extensions though it had clearly fallen on hard times.
Both cars on ebay were purchased by the same person and both for exceptionally low prices, the nearcomplete car a positive giveaway. I was delighted to discover that they have gone to a very good home and are now within the club umbrella: a warm welcome to Matthew Morris in Leatherhead and Paul Grant in South Croydon.
I was able to send Matthew a photo of the car when I last knew of it in the mid/late 1980s, when it looked remarkably good. In fact I've always held it out as an example of the only successful attempt at fitting wider wheelarches on a GT, because it appeared in the front view that both front and rear wings had been 'bulged' out progressively, expanding the existing curves rather than just tacking on an Escort wheelarch blister like most of the other modified GTs. Now I've seen it from the side view, I realise it wasn't quite as good a job as I first thought, but it's still much better than the rest: adding Lister XJS-style tapers behind the wheels to taper the wing in to the front of the door might just work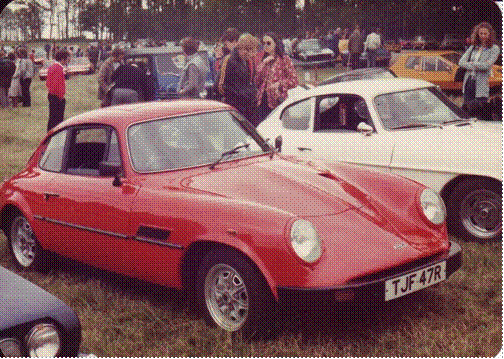 The car was then owned by Ken Glendenning, 409 St Helens Road, Bolton BL3 3RT, tel Bolton 63810. A quick check of 192.com reveals no Ken Glendennings in Lancashire but eight total in the country, so I guess he may still be around!
The registration number was 4178 TD and date of first registration was 1 October 1962, in Lancashire. The chassis number was GP 100001 and engine number 105E 215098D.
A quick look at the factory records revealed, amazingly, order number 1577 (the third last GT delivered and intriguingly one of three delivered after fire destroyed the factory) went on 11 March 1961 to G Parkinson, 85 Barnes Street, CLAYTON-LE-MOORS. The initials (GP, as in the chassis number) and the Lancashire registration are, I think, too much to be just coincidence!
When Ken Glendenning had the car (he was actually trying to sell it, for £550, reporting that everything was done except the interior), it was on a modified Ford Pop chassis with 105E Anglia engine mated to the Ford Pop rear suspension (though I'm not quite sure how - we did have a discussion about the options of changing the rear axle for a Midget one but unless it has radically redesigned rear suspension that's not an option).
It had Triumph Herald front suspension and instruments mainly from a Triumph Spitfire. He'd bought the car on 26 May 1985. He was also thinking about taking the roof off the car and fitting a 2CV-style roll-back roof, but clearly he thought better of that idea!
Matthew commented: Thanks for getting in touch, I submitted my application to the owners club this morning! I'm pleased that you have some history because the current owner has lost it all including the plates and the v5....whoops. If you know the registration I'd be v. grateful to know it so I can get in touch with the DVLA. Look forward to being a member of the club and meeting some aficionados of the marque. I'm roughly the same age as the car and remember it as one of the first cars I admired. Shame we're both basket cases now but I think we'll help each other to recover.
I've built kit cars in the past but it will be nice to have something with some history. I currently drive my last creation which is a Stylus (pic attached) which draws a lot of attention and only now have I realised where its frontal styling comes from!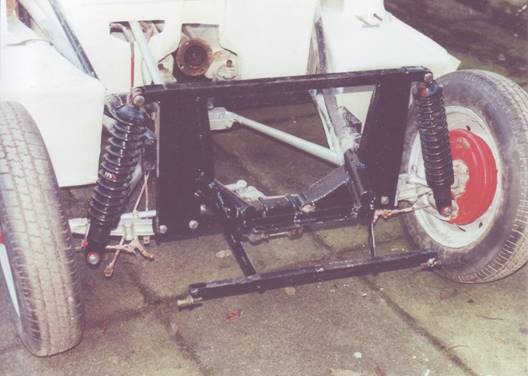 As for the Rochdale, it's a project that I will be undertaking jointly with a friend. Exactly what will happen to it we're not sure as yet. Funnily enough, MG Midget axle and A-series was discussed but whatever it is it will have to use a Ford 5-speed box. The reason for this is that I'm a one-armed driver and I happen to have a gearbox converted to paddle change. I wish to keep the car as 'period' as possible but there doesn't seem to be such a thing as a 'standard' GT. I certainly don't want to upset other enthusiasts by using out-of-period engines etc. Plus a carb or two will look right under the bonnet. If the shell is saveable, which being GRP it should be, I'll have a spare shell which perhaps will deserve to be built up into a 'new' Rochdale. My partner in crime is certainly keen on the idea of one each! It won't be quick, too many children to devote my entire life to it but I'll keep you posted on progress.
I understand that the original registration has been sold and that the car now has a non transferable 'A' reg. Ah well.
The GT shouldn't have a non-transferable A-reg, because that would only be allocated to a car first registered in 1963, whereas this was first registered in 1962.
In the early days of registration transfers any old car that had its number sold was given an A-suffix, even Austin Sevens; I had a 1952 Austin A40 Somerset registered BKX 65A. These were in fact transferable, by the way. When DVLA started selling numbers, they responded to pleas from classic car enthusiasts and introduced the system of issuing non-transferable but date-appropriate registrations to cars whose numbers were sold. These could be requested retrospectively for ones already allocated A-suffix numbers.
My 1962-registered Rochdale Olympic was originally registered 8338 PW. The previous owner sold the number and was allocated BHU 404A. When the rules changed, I went to my local VRO and was given non-transferable UFF 354, no charge (a friend whose surname is Huff was deeply jealous!). So, I am sure Matthew will be able to get rid of the A...
It should be possible to make a really nice car out of the GT and the fact that it's a really late one means that even the keenest purists shouldn't object to using the OHV Ford engine and Triumph suspension that are already there, because they are period. It's not strictly true, to say that there's no standard spec for GTs, because there was and probably 1000 of the 1350 built were near-identical, but the fact that others were built quite differently in period does give plenty of leeway!
With a late-1962 registration there are plenty of options as the 1198cc Anglia Super engine was out by then, as was the 1340cc Classic and even the 1498cc five-bearing engine had just appeared in the Classic and Capri.
If the car still has the Ford 10/Pop suspension, though, it'll need a lot of changes at the rear end to the drive and suspension. The problem is that the Ford chassis is quite flimsy from the gearbox back as it is not designed to take much in the way of torque loadings, because the torque tube transfers all that straight to the very substantial rear gearbox crossmember. Springing loads were taken to the centre of the rear crossmember as that's where the rear spring (and the Panhard rod, if one was fitted) was attached.
If the Ford saloon's steel rear floor is welded to the chassis and the U-section chassis members are boxed in by welding steel plate along them, the chassis becomes quite a bit stiffer and should then be strong enough to take mountings for radius arms and coil spring/damper units. One suggestion for a neat and highly acceptable way forward would be to copy the layout fitted to the Rochdale Olympic Phase I, using twin radius arms and a diagonal on the offside with a single radius arm on the nearside and vertical spring/dampers. The spring/damper units are available from the club (though you'd have to fabricate towers to mount the top ends).
On collecting the car, Matthew was able to tell me a little more:
I've picked up the car, 550 miles in one day, and worth every one of them! The car is in better condition than I'd hoped and the arches do look very good. The old arches hadn't been removed however and had punched through the front wings. It's still on the E93a chassis. There is no trace of blue gelcoat, definitely white, although it was once painted blue. You're right about the engine, it's number is 109e6015b. The axle is the English type, per Cortina, Anglia, Escort, and is cart sprung with lever dampers.
Well, the gelcoat colour is a mystery because the late registration, the location and the choice of initials for the chassis number seemed pretty conclusive; I'm inclined to conclude that Mr Parkinson had ordered a blue one but after the fire was offered one of the few shells that had survived, standing outside curing. With no alternative, he was probably quite happy to accept a white body and spray it blue.
Memories of Early Days
The most exciting discovery yet on the very early Rochdale front came just a few weeks ago, when
Roger Coupe phoned me to say he'd heard from Cedric Brierley. I knew Cedric had been close to RMP in the early days as his name was down for two early cars, a Buckler MkV with aluminium body (JDK 786) and the Victoria Climax, a particularly pretty F-type bodied racing special both sadly lost in the mists of time. Still very much with us, though, and living just up the road from Rochdale in Littleborough, is the man who made them!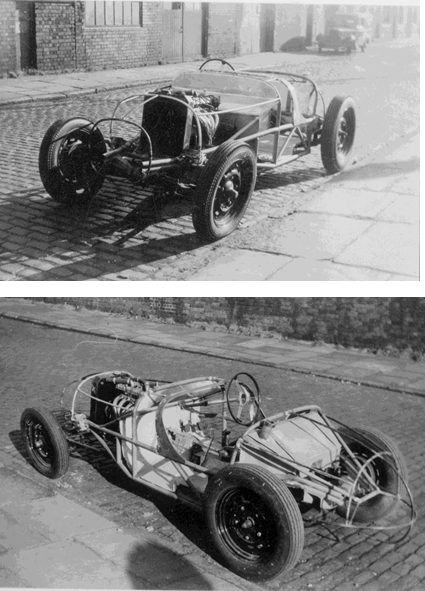 The photographs that Cedric sent show his Buckler standing in Hudson Street outside Rochdale Motor Panels, waiting to be clad in its aluminium shell, a body which closely resembled that fitted to Austin Sevens by RMP. The car used a Buckler MkV tubular chassis, a very advanced affair for the early 1950s, fitted with a beautiful British Salmson engine a twin overhead camshaft four-cylinder of between 1466 and 1730cc, built in Britain pre-war as an offshoot of the Salmson marque. A highly efficient polished four-branch exhaust manifold can be seen, as can a very attractive gearlever remote control and fly-off handbrake. This car must have been a real flyer. Also visible are a network of tubes on which the aluminium body would be hand-formed.
Cedric Brierleys Buckler chassis resplendent with tuned British Salmson twin-cam, waits in Hudson Street outside Rochdale Motor Panels (note Bradford van at door) for its new aluminium bodywork in 1952
Cedric recalls: Of the three original partners, Denys Wolstenholme was the mechanic until he fell out with Frank and left. Harry Smith WAS Rochdale Motor Panels: he had the brains, superb panelbeating skill and the drive, plus he was a very hard worker. He was the best! Frank Butterworth was a good talker, good with the females, I very rarely saw him working.
Recalling the earliest aluminium-bodied cars, Cedric says: I saw the following cars bodied at RMP. Gillie Tyrer BMW 328 fitted with (just) two-seater sprint body and cycle wings.
Alan Haworth had his Special fitted with two-seater body and cycle wings
John Horridge two-seater full-width body on his JEHU Riley Special (a car which John rescued and restored before his death in the late 1990s MM)
Bells of Chester two-seater full-width body on their Connaught Sports
Alex MacMillan full-width two-seater body on his Lamgia (Lancia chassis, MG engine MM)
Allan Staniforth two-seater body on his Special.
Several of these cars are new to me and I was delighted to have a chat with Cedric a legend in historic racing circles who until recently ran such gems as Ferrari Monzas, BRM P126, ERA R6B etc. to hear his recollections. The Connaught body is a particularly interesting one as this is the body that formed the plug for the C-type glassfibre shell and I had previously been led to believe that Rochdale had the car in for some body repairs and took a mould off overnight. Cedric's not sure, but reckons RMP may have made the aluminium body from scratch which would certainly explain why there were apparently no complaints about replicas of it appearing! It's also possible that the body he remembers being built for Allan Staniforth was in fact the first glassfibre MkVI body, as Allan certainly had that shell, though he thinks he may have had an aluminium body before another one to follow up.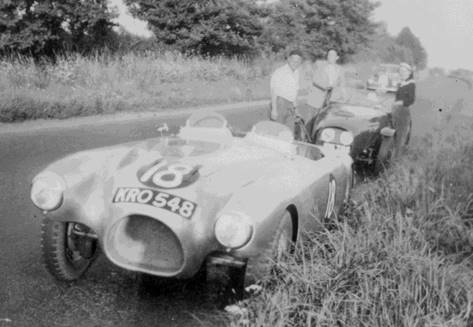 Taken in 1953 on the road outside The Green Man, this delightful shot shows two one-off Rochdale aluminium-bodied cars
Alex MacMillans Lamgia in front and Cedrics BS (Brierley Special) behind; the white-shirted man is
Denys Wolstenholme
It was quite a busy place in those days, Rochdale Motor Panels, with cars going in and out for bodywork. I kept popping in, asking if they needed help they were such a friendly crew, especially Harry. I used to have my own place in Rochdale but helped them out at nights and weekends we worked all night on Alex MacMillans Bristol Barb Cooper Bristol, fitting a one-and-a-half-seater body on it (the car was later fitted with an F-type glassfibre body but was written off at Oulton Park in 1957).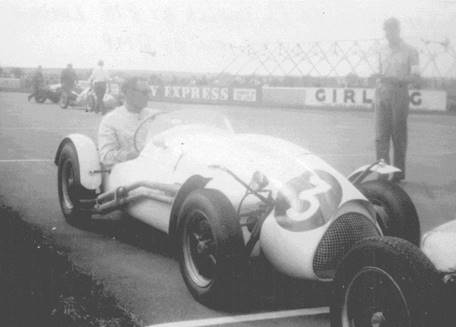 Alex MacMillan in the ex-Alan Brown Cooper-Bristol Bristol Barb, converted to one-anda-half seater by Rochdale
Motor Panels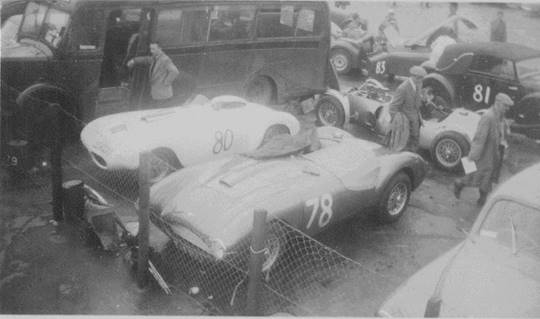 The white car is Alex MacMillans same Cooper-Bristol, now fitted with a Rochdale F-type glassfibre body; it's at Silverstone in 1955 for the Relay Race, teamed with John Gott (Frazer-Nash Sebring) and Cedric Brierley (Frazer-Nash Le Mans Replica Lightweight)
Frank took me out in one of their Austin Seven specials. He was a crazy driver, rushing round the roads of Rochdale, cornering on the wrong side of the road I was glad to get out alive! One of the apprentices, Ginger, had a Buckler as well and used to come to some of the meetings. His didn't have a Rochdale body but I believe they put aluminium bodies on several other Bucklers, I'm sure mine wasn't the only one. I spent all my time up there when I had the body built for mine, that must have been in late 1952. When Denys Wolstenholme left I helped him set up a business, Sports Car Racing Services, between the two of us.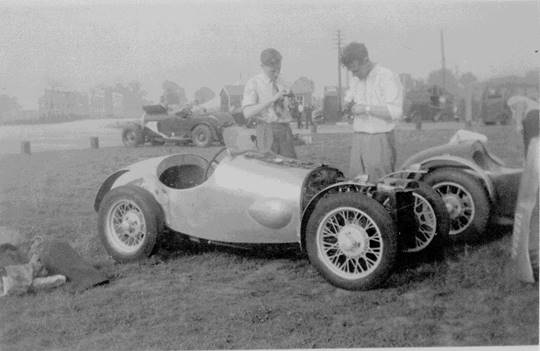 Cedric reckons this is Harry and Frank with one of the 750 Rochdale-bodied Austin Sevens: they appear to be cleaning and gapping the plugs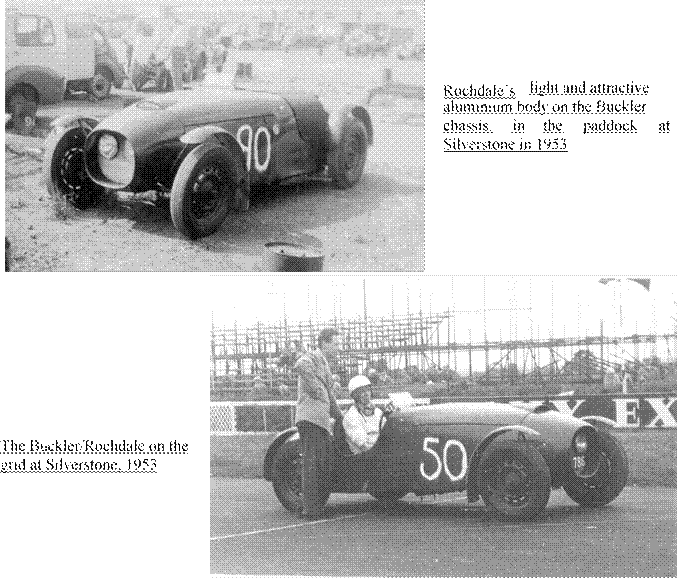 For the Victoria Climax, I got them to make an F-type body with just one and a half ounce mat I was very keen on lightness. We put some green pigment in to give it colour. It was so thin it used to change shape when it was hot, but it was really light. I cut the tail off and put an aluminium sheet across the back and put an undertray on so the body just dropped over it. Then after a race we could bring it back, lift the body off and sling it in a corner. I sold it a Mr Saunders in London who was a friend of John Cooper he put a new alloy body on it. Then it went to Ian Bracey, but I've not seen it since he advertised it in Autosport in 1964.

Cedric says these are at Mallory Park in 1957; they show his ultra-light Victoria-Climax with its ultrathin Rochdale F-type body, moulded in one piece without doors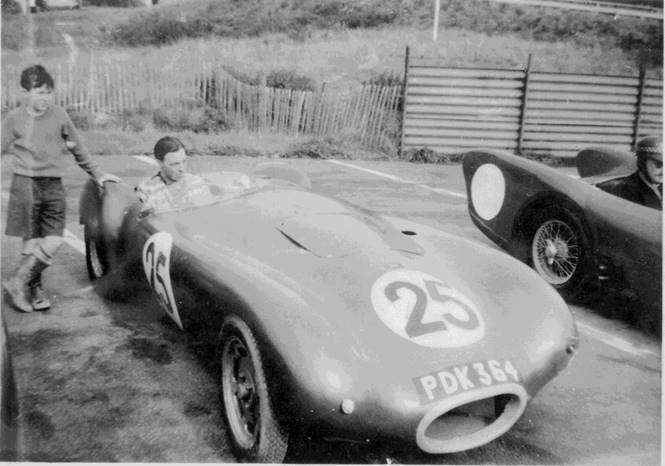 The Victoria-Climax again at Mallory Park in 1957
The British Salmson engine looked nice but it didn't deliver the power it promised. I had the head specially prepared by Barlow, special Mahle pistons, everything but in the end it decimated itself and blew a piston, so I put a 22HP V8 in it. It had a de Dion rear end too. I sold it in the end to Phil Bacup with no engine, gearbox or rear end and have never seen it since.
In 1961 Harry asked me to take Richard Parker for a quick run in my Lotus Elite, which was a particularly fast racer with the 1460cc Climax in it. He was a charming man, very clever but very quiet, like Harry. That Rochdale Olympic was an excellent car, the first true glassfibre monocoque because the Elite had steel tubes in it. Mind you, I also saw the remains of Harry Ratcliffes super-lightweight Olympic written off just up the road from where I live, at Blackston Edge. He went into a corner too fast, hit the bank and finished up sat in the road on his seat surrounded by bits of glassfibre! His father went mad and after that I sold them a brake machine so they didn't have to test their engines on the road
Thanks, Cedric, for your fascinating reminiscences we hope to be in touch again soon and maybe get you along to the clubs Capesthorne rally in the summer!
-
Copyright © Rochdale Owners Club
Last Update