MAGAZINE No 101 SPRING 2005
Bristol Classic Car Show
Our stand at this show was organised at short notice as the organisers found some extra space and asked whether we were still interested. Finding we had space for two cars meant that the choice of display cars was simple: a GT and an Olympic, as Roger was unable to bring his Riviera due to being hors de combat (crashed into a Mustang sorry). There are precious few GTs available, but one happens to be quite close to Bristol Guy Stallards very nice example. There are more Olympics to choose from, but it came down to distance from the show, and Tony Wrights Phase I fitted the bill nicely.
The Show information sheet gave our stand as Z13 somewhat ominously and on enquiry we were informed cheerfully that it was a converted cowshed. The straw had been cleared up but there was no heating. Ah well, thermal undies, then. In fact the previous show had been a big craft fair or similar and the floor was immaculate much cleaner than the NEC.
The Club show material, including our tent, was with Ron Scarfe up in the North, but a bit of scavenging produced a gazebo from my daughter and Ron sent down what display material he could reasonably post. This was copied, enlarged and laminated and was fitted onto four display panels which guarded the gazebo in which we expected to huddle together for warmth. The stand area was 15m x 3m and allowed plenty of room for the gazebo, display boards and the two cars.
Access to the hall was exceptionally easy. Derek Bentley had kindly volunteered to help with the setting up on the Friday and the setup was set up without upset. We then retired to our B&B, just a mile down the road, and the first words our landlady uttered were, Would you like a cup of tea?, followed by introduction to Bjorn, our Swedish fellow inmate who was exhibiting at the show. He turned out to be a most interesting companion and we were kept entertained and informed for the rest of the stay. At the show we were impressed enough with his demonstration of his product an aluminium welding wire called AL75 that he sold &pound140-worth of the stuff to ROC members at the show!
The show itself, on the Saturday and Sunday, went well - a few more contacts and some more snippets of information for the Registrars, despite our stand being a bit out of the way. The venue is a nice size and has a friendly atmosphere and is worth attending again in my opinion, provided we take a fan heater (nobody seemed to check whether people were using extension leads and fan heaters, despite the assertion that all electrics had to be installed by the approved contractor - we will know better next time!) When I chatted to the organiser afterwards she indicated that we would definitely be able to attend next year, so I'm hoping for a stand in one of the bigger halls.
Finally, many thanks to Guy and Tony for the display cars and the other members who volunteered to help, and particularly to Hilary and Jane for cheerfully enduring the arctic conditions.
Alan Farrer
OTHER EVENTS FOR YOUR DIARY
Prescott Hill Climb Open Classic Car Event 2005 on 15 May
Organised by the Rotary Club of Cheltenham Cleeve Vale
Details/application forms from: Bob Price 01242 232527 or Geoff Kimber 01242 602643 (See Tony Wrights letter for his impressions of last years event)
Historic Specials Day at Burford on 14 August, organised by the FSCC.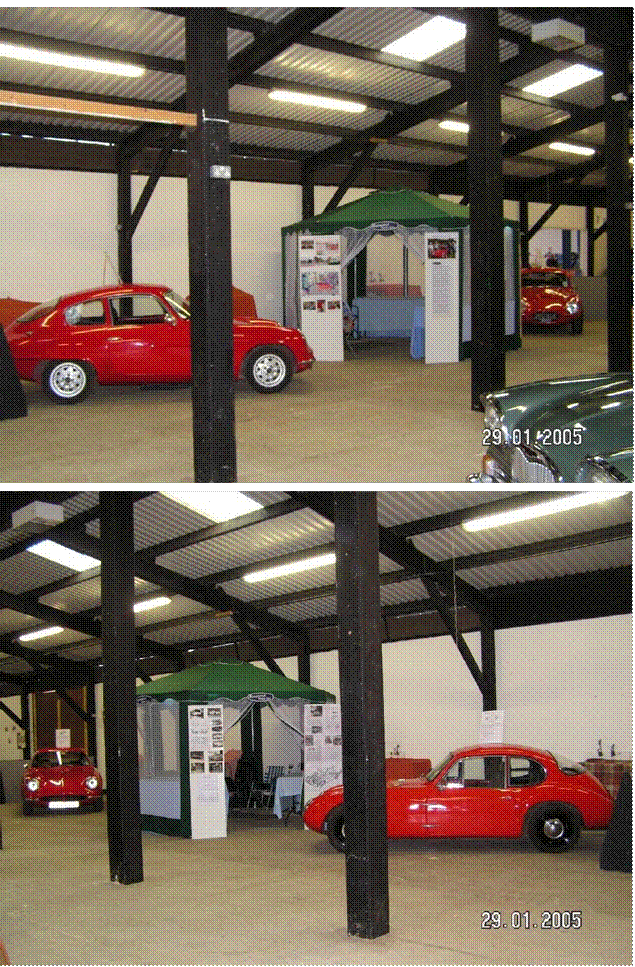 Wot, no cows?
C A P E S T H O R N E W E E K E N D 2 0 0 5
Cheshire Kit and Classic Car Show & Rally.
Sunday May 22nd 2005 (10am to 4.30pm)
BE THERE!
We had a most enjoyable weekend last year, with glorious weather, so we hope to see even more of you and particularly your Rochdales this year, and that the weather will be good again. The event is now open to classic cars so, if your Rochdale isn't ready yet and you have a classic, bring that along instead. Note the change of title!
How can you help? We need helpers on Saturday afternoon (21st) at about 2.00pm to erect our HQ tent, place various signs around the estate roads, layout the public car park entrance, mark out the Kit Car display area, mark out stall holders pitches, fix signs "to the show" at strategic points around the approach roads, put out refuse bags around the display areas etc.etc. Some of our signs are getting very old/dilapidated and we may need to make up some new ones so bring along a saw, hammer, nails and any thing else that would help. I don't know if the sheep will be returning this year but a trowel or shovel is a useful item to have with you just in case - many hands make light work.
After the setting up has been completed circa 5.00pm we shall be having a non-damaging driving test competition for the Rochdale Motor Panels Trophy, this being competed for each year at Capesthorne with a fun driving test competition in a Rochdale. For those of us who haven't got our Rochdales on the road, last year was a great opportunity to re-familiarise ourselves with the cars and demonstrate our judgement skills, thanks to the generosity of those who allowed us to take part in their cars.
For the evening we shall be going to the garden centre just on the right north of the Monks Heath crossroads for a hot meal after which there will be a talk on a motoring topic. For catering reasons we must know how many are going to be present on the Saturday evening please let Roger Coupe (tel 01606 889384) or myself (tel 01332 690680) know if you are coming and how many - otherwise there is a risk there won't be a free meal for you!
On the Sunday your organisers and committee look forward to seeing as many of you as possible together with your Rochdale or Classic if you can bring it (unrestored cars on trailers are equally welcome!), to ensure we all enjoy a companionable club day. If you have any ideas for activities on the day or would like to help your club, please contact either of the organisers before the day. It gives us much more confidence if we are assured of a minimum number of helpers before the event.
On the day please report to the HQ tent when you arrive so that we know you are around and perhaps we may even have a small task for you! Remember this is your club and without the success of this event we would find it almost impossible to carry on financially.
The reputation of this Show continues to grow and grow, but we cannot maintain this reputation for the Show without YOU!
Finally, remember to bring this magazine with you to gain free entry to the show.
Look forward to seeing you there,
Ron Scarfe (Show Co-ordinator)
(NB Capesthorne Hall is on the A34 about 16 miles south of Manchester and 5 miles West of
Macclesfield, and is 1mile south on the western side of the A34 after the A537/A34 crossroads known as Monks Heath, Capesthorne Hall caravan site 01625 861779 or in office hours 861221. Local accommodation: Macclesfield T.I.O. 01625 504114 or Congleton T.I.O. 01260 271095).
Chair Chat.
Spring is almost with us and the days are starting to lengthen. This is the time of year when those New Year Resolutions, if you made any, start to be challenged. That is if they have not already been forgotten. There are two resolutions that I am still staying true to. One is that after a year of inactivity, I am committed to lose some weight. The other is to make some progress with "Sows Ear". I planned on bringing it to last years AGM, but things got in the way. However, having had a new left knee joint fitted in January, I now have no excuse, so watch this space.
On the subject of the AGM I know I made the same comment at this time last year, but it would be nice to see a few pre-Olympics at this year's meeting, no mater what state of restoration they are in ("we know your out there somewhere, so come on and show yourselves").
I have to confess that there has been little or no progress on "Sows' Ear" over the winter period. However, to prove that I have not been completely idle since my last chat, I have now completed the moulds for the Riviera and GT Paper Weights, as the photo shows. Therefore, all being well I should have my very own fleet of Rochdales on show at the AGM. So if you fancy having one to throw at the neighbours cat then you will be able to see them then. Alternatively, if you are not able to make it to the meeting but would like one, then you can use the order form accompanying this Mag.
Well, the club got off to a good start for the year by taking a stand at the Bristol Classic Car Show in January I was disappointed at not being fit to attend, however I am informed that it went well. A big thank you goes to Alan and his team for all the hard work involved in the first of what we hope will become an annual club event. (It was good to hear that 50% of the exhibits were pre Olympics!).
While we are on the subject of Car Shows, our own Cheshire Kit Car Show will soon be on us, as no doubt you will see mentioned elsewhere in this issue. The turnout of members seems to get bigger each year as the centrefold of Mag. No. 100 shows. We all hope that this trend will continue this year and that the weather will be kind to us again.
The Saturday afternoon and evening has developed into a great get together for club members and friends. So why not make a weekend of it, there are some good B&Bs in the area.
Well the AGM is the next opportunity for us to get together, so I look forward to seeing you all then.
One last thing!
You will recall from the last Mag that the club wants to update its photographic record of members cars. So if you have not already responded then please bring a print with you to the AGM. If you are not able to get to the meeting then please send it to the registrar or contact the club Website.
Roger.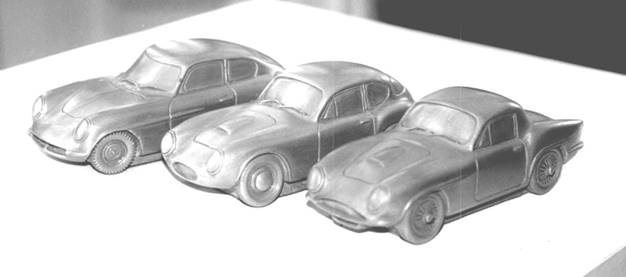 Below is a topic that Malcolm McKay raised earlier this year, together with some of my comments. Members are invited to air their views - Ed.
* * * * * * * * * * * * * * * * * * * * *
Here is a question that I feel it's time to consider seriously: does the Club care about preserving the Rochdale Olympic in its original form?
I'm becoming increasingly concerned by the ever-increasing trend to fit more modern running gear in Olympics. Of course, people can't be prevented from doing what they want to their cars but perhaps it's time to appeal to their consciences. There are thousands of high performance cars from the 1980s and 1990s that can be bought for next to no money and will run rings round most of their modified Olympics, as well as being infinitely quieter and more comfortable. Modifying classics is an increasing trend - it hardly matters with the likes of MGBs and Midgets where there will always be thousands of standard cars to keep the original alive, but ask yourselves - who owns a standard Olympic now that's restored and on the road?
Many of the cars now being restored are so modified under the skin that they will not feel or drive anything like the original. We used to have the same problem in the Berkeley club until someone finally took the plunge and started making bodyshells again so the modifiers could have their fun without destroying an original car in the process - and some very fine modified machines resulted. Time has moved on and now most Berkeleys that turn up are restored to original fetching quite high prices, while the modified cars are hard to sell.
I'd hate to stamp on people's individuality but Olympics are VERY rare and there are precious few left. Thankfully this is not such a problem with GTs, as their size, construction and shape make fitting modern running gear more difficult, and prices of standard cars appear to be rising to a level where people may think twice before taking another route...
It's a serious question and worthy of some thought - it's almost too late.
Malcolm McKay
* * * * * * * * * * * * * * * * * * * * *
Alan Farrer
An interesting point that you have raised. I too was wondering whether the situation regarding modifications was getting a bit out of hand, but I can hardly point a finger as I am doing just the same.
Trying to analyse my thoughts I now feel that, if a car is obtained in a tatty but fairly original state, with all the bits present, it should be restored by eliminating the tattiness and reconditioning the worn parts. As they were kit cars I would not worry too much about changing the engine as there always was a variety of engines installed originally, but the rest, especially the body shape should be as original as possible. No flared wheel arches!
If the car is obtained as a poor shell with little original stuff present, then I would feel less compunction about originality. I admit that this is what I am doing with the shell I got from Alaric, though it will still look like an Olympic and not a Porsche. Because rebuilding an Olympic from scratch takes such an age, even for a retiree such as me, one's perspective can change with the passing of time. I have often wondered whether I should ever have started on this project, but it's a bit like being stuck half way up a mountain - you can't very well do nothing and it's more satisfying to get to the top than call out the mountain rescue.
If I were starting again, I would not buy a basket case Olympic and try to modernise it, I would be better off buying a Spyder Lotus Elan Plus Two. If I felt like being inventive, it would be better for me to convert a Fiesta to rear wheel drive or fit Impreza mechanicals into a space frame special! It would be nice to have one hairy car before I died - a means to an end maybe?
In the final analysis it gets a bit philosophical: what defines a particular car? The shape? The details of construction? Its place in history? Yes to all three in the case of the Olympic. As it is extremely unlikely that it will ever be reproduced, I am inclined to your view that the surviving cars should be maintained/returned as close to original as possible, but it's the usual dilemma when faced with a pile of bits: progress or conservation?
Alan
* * * * * * * * * * * * * * * * * * * * *
Some additional thoughts from Malcolm
1. DUF
There's a tendency for people to say Well, if Richard Parker did it, it must be OK. On the contrary, Richard Parker was the only person with the very right to cut up and change an Olympic if he saw fit, because without him none of them would have existed. Also, Richard had the exceptional talent, skills, knowledge and experience to develop his Olympic into an almost entirely new car - the Olympic Phase III. It worked because he changed everything - engine, gearbox, axle, front and rear suspension, floorpan, bulkhead, cockpit ventilation, all was entirely new. Strictly, of course, it was a new car and should have undergone SVA and been issued with a Q-plate - as should quite a few of the modified Olympics around.
2. Insurance
Classic car insurance only covers standard-spec Olympics. All modifications must be notified to your insurance company and may lead to the company refusing insurance and/or insisting on an engineer's report. If you haven't notified them, your insurance is INVALID.
3. Rear Wheelarches
Just one small case in point. "I need to cut the wheelarches so I can fit wider wheels and tyres" is a cry often heard. But why do you NEED to fit wider wheels and tyres? My Phase I runs 100bhp through 3.5in Frogeye wheels with 155 Dunlop SP Sport tyres (1960s pattern, from Vintage Tyre Supplies). With the engine set so far back in an Olympic, there is excellent weight transfer to the rear when accelerating from rest - so much so that it is extremely hard to spin the wheels on take-off. And the Olympic is so light that you simply do not need more rubber for cornering. Don't think that because racing cars have wider wheels and tyres, that must be the way to go. They work because they only drive on smooth race circuits - you don't. For road use, you need a compromise - and for the other extreme, look at ice racing, where 400bhp rally cars charge around on tiny 135 or 145-section tyres, because narrow tyres cut into the ice and grip where wide tyres would simply spin on the surface and slide into the snowbank. Put too much rubber on a light car and all you will do is lose its balance and charm. You will increase unsprung weight, with detrimental effects on ride, you will make the handling unpredictable with sudden breakaway on bumpy roads, you will increase fuel consumption and you will greatly increase the risk of aquaplaning on wet roads.
4. Modern engines
Why is a modern engine automatically 'better'?
In my experience, modern engines, especially sub-2000cc, have to be revved like crazy to give their best (very noisy when attached to a glassfibre box like an Olympic), have less low-down torque than classic engines and are designed to operate with engine management systems and catalytic converters - which are developed over many thousands of miles to work with the precise weight/size/character of car for which they are intended. They will not work as well in an Olympic. Parts for them may be available now, but will they be in 10 or 20 years' time? Parts for classic engines probably still will be.
Malcolm
Alan Farrer
I think it is a myth that old engines have better low speed torque than modern ones; it is an illusion brought about by their lack of torque at high revs.
There is nothing wrong with the low speed torque of the modern Toyota motor (in production before the car was built) in my Phase 2 perhaps due to the use of an SU carb! It is about the same weight as the Ford 1500 and is oil-tight and unleaded-friendly to boot. I can still get some parts over the counter for it, but I don't know for how long. This is one of the most telling reasons for staying with period parts, though possibly the best solution is to fit and run your modern motor for its perceived benefits and refit the period motor when you come to sell the car at an inflated price on eBay!
As an aside, isn't it true that parts for A7 and 1172 engines are getting scarce and expensive, and are not many parts still made for BMC stuff only because of manufacture in India; how much longer will this continue?
Richard was very concerned about the members reaction to his mods to what was regarded as one of the best Phase 2s around, but as far as I can tell there has never been the slightest whisper of discontent. This accords with your view of his unique status, but it doesn't stop other people trying to follow his lead (me included).
Wide wheels and wheel arches: I don't have a problem with wide wheels from an aesthetic point of view, though you are undoubtedly right from a practical point of view. The current trend is for tyres to get wider and wider, and even on shopping trolleys one can see 185 or 195 section tyres. I have seen references to skinny 185 section tyres on sports cars such as the Elise. It biases ones perspective.
I have yet to see flared wheel arches on an Olympic that I thought looked nice and some spoil the lines of the car completely for me, but the consolation is that it is not particularly difficult to reinstate butchered arches in most cases. It is heartening to learn that Tim Cutts is planning to do just that on his newly acquired shell.
* * * * * * * * * * * * * * * * * * * * * * * * * * * * * * * * * * * * * * * * * *
Capesthorne Show Videos
Letter from Bill Hancock to Alaric 23 November 2004.
I am writing to you regarding the Capesthorne Hall Kit Car Show organised by the Rochdale Owners
Club. I have attended many of the shows over the years and in 1985 I won a prize with my Hancock Special.
At the time I was promised a video of the show by one of the club officials, but I didn't follow it up. I know it is a long time ago, but does the club still have the videos of the shows, and if so, is it possible for me to have a copy of the 1985 show?
I still have the car and use it regularly.
I would be grateful if you could help with my request and I will, of course, pay all expenses.
Does anyone know whether videos were ever made of our show? If so, please let me know - Ed
-
From: Ronald Collins
Sent: Wednesday, January 26, 2005 9:52 PM
Subject: MODS & ROCKERS Dear Alan,
Members of the Lamborghini Club who own Miuras prize originality and provenance above all. Likewise, owners of Bentleys and Ferraris. These are what is known as traditionalists, though I have heard other descriptions.
However, in our club we have two opposing factions. There are the Fundamentalists (ie. traditionalists) and the Moderatti (ie. progressives). Let us look at those two groups more closely.
The Fundamentalists believe in keeping their Olympics strictly in line with the original specifications. He, or she, would much rather undergo open heart surgery than replace their dynamo with a alternator for example. They will scour the land when looking for replacements. This I understand. One doesn't paint a wristwatch on a Holbein portrait.
The Moderatti however firmly believe that if a function can be "improved" then they feel justified in doing so. They will fit engines that are reliable. Brakes that are capable of stopping the car. Efficient heaters that demist on command. Is there no end to their ingenuity? Apparently not, as I have actually seen an Olympic fitted with a rear wing. Would love to know which aerofoil section was used so that I may process it through my computer aerodynamics program.
Consider this, you Moderatti. A pilot friend of mine flies commercial jets out of Brussels Airport but, when off duty he flies prop aircraft at his local flying club. Does he then complain about the noise, the smell and the vibration compaired with his "desk job"? Does he hell. There is transport and there is flying. He appreciates the difference.
So who is right? Why all of them of course. May I however submit a word of caution. Last summer Peter Bisset and I visited the Harrogate Kit Car Show and saw there the ultimate Moderattis dream. See enclosed photograph. Who knows, perhaps there is a Members Olympic in there somewhere. Should it turn out to be a Members car I expect the Clubs Standards and Discipline Committee to take appropriate action.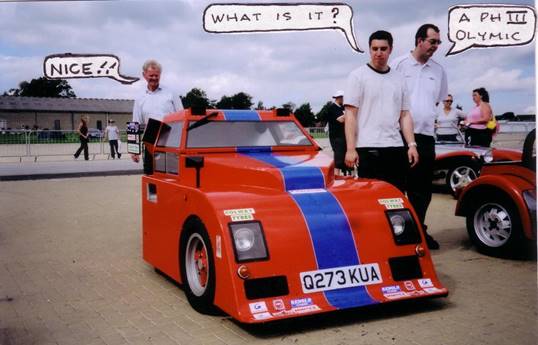 Regards
Important Notice from The Editor:
This letter was sent without prior knowledge of the originality debate that was starting up.
Is Ron psychic? A small prize for the most original and amusing answer (in the opinion of the editor).
From Tony Wright to Alan Farrer
Thank you for passing CUG779 on to me. The whole experience so far has been a delight. The 100 BHP MGB engine power and torque, all synchro short throw gearbox with overdrive, high-geared steering and remarkably well-sorted chassis always leave a smile on my face. August bank holiday saw an event at Prescott organised by the Pre-war MG club supported by a local round table with vacancies for pre-69 cars. The entry fee of &pound10 plus &pound3 for a climb, together with no requirement for scrutineering, race overalls or helmet was too good to miss, especially as the journey from my home is both short and sweet.
This must be my year for Prescott, a hill climb course since the 30's and home to the wonderful Bugatti Trust and in my view one of our finest venues, tackling it for the first time during the Bugatti Jubilee week in the dazzling company of Royales and Brescia on my humble vintage 1921 550 cc side valve Triumph. It disgraced itself by flooding with oil, producing vast clouds of smoke and overheating on the start line when I tried to clear it, then sulkily seizing as I passed the finish. Fortunately cast iron pistons are fairly tolerant of such things and on cooling down no permanent damage was diagnosed. My main impression? Certainly not speed! The tight semicircle Ettorres (pronounced et-tor-ray by those in the know) on an early perpendicular motorcycle was an unending near horizontal experience.
The opportunity to repeat in a car was to be embraced in not one but two cars. Because of the proximity, in the morning I arrived nervously on the start with my 1928 Austin Seven Supersports. For those not familiar, this is a replica of one of a small number of works racers either supercharged or not, with a narrow, staggered seating, pointed tail body predating the Ulster. The main lesson was that with my unsupercharged car with a meagre 23 BHP going up a steep hill, providing you brake in the essential places, you can't go fast enough to get into trouble. That said, it was great fun. The car steered, accelerated and almost braked (separate front and rear brake mechanisms) better than I expected and my affection for the old girl has grown. Three runs with the best one around mid-eighties using self timing was deemed enough and I duly shot off home to collect the Rochdale.
At the end of the first run it was obvious that using the Rochdale after the Austin was a wise precaution. Acceleration, braking (drums but no fading), steering and handling combined to prove what a superb car the Rochdale is. I enjoyed myself, once or twice frightening myself, but felt safe. The quality of driving was patchy, as was basic procedure; one run with a slight misfire due to inadequate warm up, another with the overdrive left switched in at the start. There were other factors; the farm at the top of the hill is a working one and, on rounding the semicircle, I was met by a dog running towards me.
I was over the moon with my self timed climb of 68 seconds any F1 talent scouts out there? Several days later an old friend who campaigns a Scimitar Coupe burnt my ego with one fact 48 seconds in a quick Elan!
The Rotary Club promised to repeat the event next year. If it comes off I will let you know in good time. It has great potential (see Events for details Ed). Prescott is owned by the BOC, with an orchard car park, the Bugatti Trust building set on the side of a Cotswold escarpment with panoramic views and steeped in motoring history.
As a by-product of my crash course in Rochdalia via old copies of the magazine road tests and articles, my interest was aroused in pre-Olympic models and I feel duty bound to report the following. In parkland in the Forest of Dean is a GT keeping company with a superb Dyna-Panhard 850 saloon. The GT, registration HFG 886, requires major work. Dropping a note has not generated a reaction. Also in Yorkley near Lydney, again in the Forest of Dean, is what I originally thought could be a Riviera. Closer scrutiny shows an Ashley open body, original registration ABT 956, now with reallocated XSY 860. The chassis plate indicated Ford Y chassis and engine numbers. The owner, Ben Meredith, intends to restore it and has been in contact with Richard Disbrow. Incidentally, it has a proprietary chassis.
A sudden flash of memory: when at Prescott a lady approached me and recounted how her late husband, Colin Garfield, had built a Rochdale Olympic Phase 1, Riley 1.5 powered, reg. 1477 DG in I think, 1964-ish. Colin died 15 years ago and the car was sold 10 years later (to Ken Barlows (EastEnders) brother?).
I am indebted to David Davies of the FBHVC in his Club News column for the following - Ed
The magazine of the register of Unusual Microcars 'Rumcar News' comments on the Omega engine designed by the notorious Granville Bradshaw in or around 1955. Having only nine moving parts yet being an eight-piston unit embodying not only two- stroke and four-stroke principles but turbine characteristics as well, the claim that it was radical design departure seems to be an understatement. Does anyone have any further details?
The Chester Vintage Enthusiasts Club newsletter contains the results of some in-depth research into Shakespearian connections with motoring; the results are interesting ...
Difficulty in starting engines:
'Which, much enforced, shows a hasty spark, and straight is cold again' Julius Caesar.
Over oiling engines:
'The rankest compound of villainous smell that ever offended nostril' Merry Wives of Windsor
Describing a mechanic:
'Another lean unwashed artificer!' King John.
Advertisements for petrol:
'A rarer spirit never did steer humanity!' Anthony and Cleopatra
About a traffic jam:
'Why, one that rode to his execution could never go so slow!' Cymbeline
Concerning a policeman on traffic control:
'Look - with what courteous action it waves you on!' Hamlet
And finally, tyre trouble:
'Let me not burst' Macbeth
I have a weakness for these apocryphal lists; this one appeared in the Crash Box and Classic Club magazine and is a selection of logged maintenance complaints by QANTAS pilots and the corrective action recorded by the mechanics.
P - Left inside main tyre almost needs replacement S - Almost replaced left inside main tyre.
P - Test flight OK except 'autoland' very rough
S - 'Autoland' not installed on this aircraft
P - Something loose in cockpit
S - Something tightened in cockpit
P - Dead Bugs on windshield
S - Live bugs on backorder
P - Autopilot in altitude-hold mode produces a 200 fpm descent
S - Cannot reproduce problem on ground
P - Evidence of leak on right main landing gear S - Evidence removed.
Simple mathematics for car freaks or How I came to own a Rochdale
The equation is very simple: too much garage space = too few cars.
Birthday & Xmas fell on the same day two years ago when the village baker responded to my 'petrolhead looking for garage' advert in the local paper. What started out as storage space for the MG during the winter turned into the village bakery, 20m down the road from my front door.
50 m2 of fully tiled (!) bakery for a single MG is a real waste of space, so I decided to top-up my finances by renting out storage by the metre to my tried & trusted friend Sven. Two years later, Sven split with his girlfriend & did the dirty on me by collecting all of his cars, which left me with a yawning space to fill.
I managed to set up my Mega-Scalextric track just in time for my neighbourhood car-nut, Colin Breakspear, to come up with the idea that, with so much space available, a Rochdale wouldn't be a bad stocking-filler for Xmas. Quite by chance, he knew of one for sale in the south of England. Having beaten me into submission the deal was done over the phone. The combined talents of two engineers, a state prosecutor, the 'official' Rochdale Olympic historian, a LWB Mercedes Sprinter, a channel tunnel ticket & a cheque for 1400 E's resulted in a 25-hour round trip to Southampton to collect my latest project, a '63 Rochdale Olympic Phase 1, at the beginning of December.
The monocoque is currently painted blue but the original gel coat is red. Although the car came complete with a lot of Riley 1.5 bits, the engine mounts indicate that it was originally fitted with an A-series, and not a B-series engine. I'm currently planning on fitting a 1300 Sprite engine & 'box, but otherwise I'm keeping my options open as far as the rest goes.
Due to the excellent condition of the monocoque (the surface finish is exceptional for a fibreglass car) & the support from Colin B, this may turn out to be an easier project than my '64 Mini Cooper S, which is currently priority number one in my somewhat cramped bakery. I've promised my girlfriend that I will get the Mini finished before the Olympic, otherwise I may have to marry her after 14 years of unwedded bliss...
I'm hanging on Colin B to get his Olympic registered here, so that I can use his as a precedent to get mine road registered when it's finished. The history of the car is a bit of a mystery, but I don't want to tread on Derek Bentley's toes, so I'll leave it up to him to document the history of the car before 'going public'.
I'm looking forward to meeting more like-minded souls at the kit car show in Macclesfield in 2005, so if you see Colin B with a stumpy-legged friend in tow, feel free to say hello.
I purchased the monocoque from Jaguar specialists Proteus in Southampton, who have owned it since the early nineties. They have stored the monocoque and another complete Olympic (AAA 999 which was later sold to Bob Schmidt) since then, having collected them from a bankrupt dealer in Stoke on Trent who owed them money. According to Proteus, they tried to make contact with the ROC at several classic car shows regarding the monocoque, but were unsuccessful.
The monocoque was modified for racing & restored to a very high standard by the bankrupt dealer for a "famous racing driver' (He's so famous, nobody knows his name). This is borne out by the fact that the bonnet has no hinges, the instrument panel has been cut out & there are no holes for the filler caps in the rear wings, indicating that an internal fuel tank was to be fitted (there is a substantial fibreglass moulding separating the cabin from the boot which confirms this).
Tim Cutts
-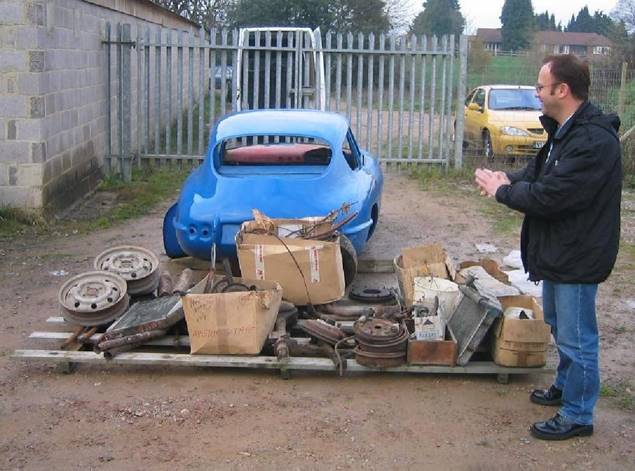 Is this what you call a basket case? Tim surveys his kit of parts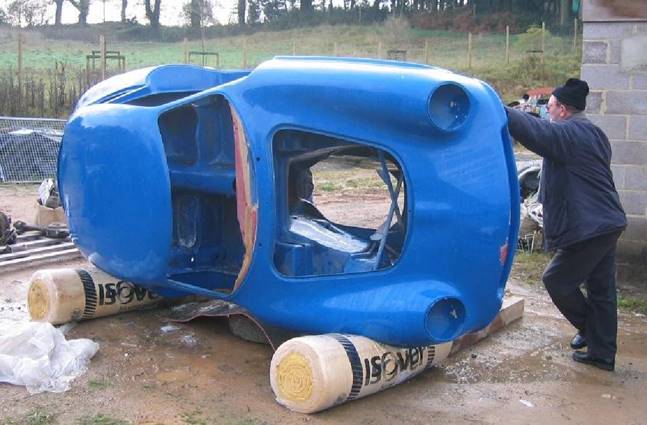 The definitive way to roll an Olympic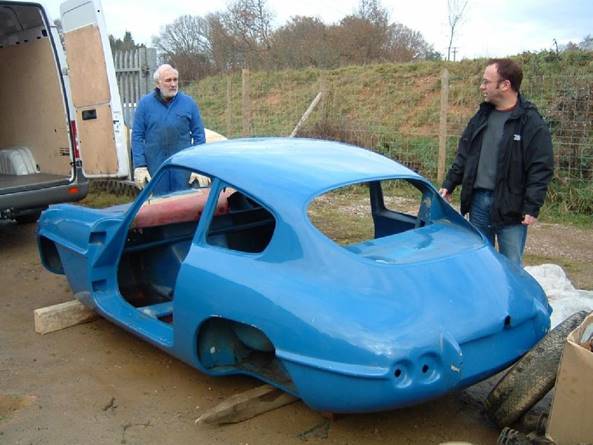 I say it will go in? I say it won't. For those of you watching in black and white Colins outfit is in the same fetching shade of blue as the car.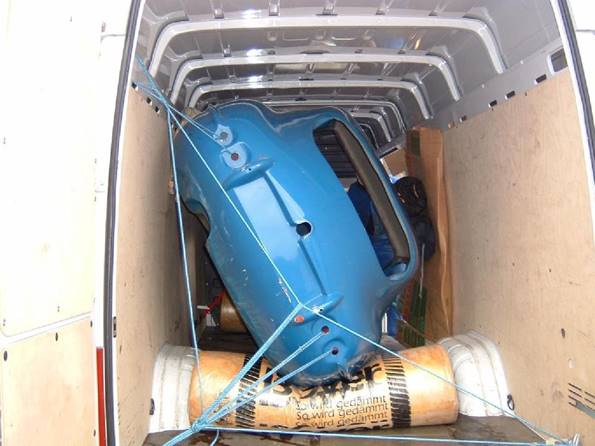 Oh yes it will - the mighty Sprinter swallows all
Olympic Registrar
In the last Magazine I mentioned an Olympic for sale by John Gregson of Proteus Sportscars. As you will probably read elsewhere in this issue the car is now owned by Tim Cutts, in Germany, a friend of Colin Breakspear. I understand that although the shell was only collected in December, Tim is already underway with its restoration. The basic shell is in excellent condition, having been professionally restored some 12 years ago. Although the paintwork has suffered the odd blemish there is no major fibreglass work to do. Having said that I understand Tim intends to return the rear wheel arches to standard shape, which will mean that a respray will be necessary.
To accompany the shell were several boxes of mechanical components, but no engine or gearbox. As with all cars bought in bits there are likely to be other missing parts, but I am sure there is nothing that cannot be sourced. I believe that a list of wants is already being prepared, ready for the trip over to Capesthorne in May. As Tim already has a Mini Cooper under restoration, it is likely that an A series engine will eventually find its way into the Olympic.
The cars previous history is still sketchy, but investigations will continue. Incidentally, at the same time as he acquired this Olympic John Gregson also owned 829 JOP, now with Simon Dukes in Warrington.
I originally surmised that, as the car was supposedly owned by someone in the Chichester area of West Sussex, it might be 333 VLG. This has proved to be incorrect. I have subsequently managed to contact Michael Holder, the last recorded owner of 333 VLG, who confirmed that he still owns the car, although it has not been on the road for a number of years now In fact my letter prompted Mike to decide that perhaps it was time to pass the car onto a new owner. If anyone is interested in buying a phase 1, Mike Holder can be contacted on 01243 673959 or mobile 07768 520607. Although Mike has moved back to Sussex, the car is still stored in Warwickshire.
Malcolm McKay sent me details of an Olympic 112 XPG for sale on ebay, by former Club member Keith Ardley. I must admit that my records did not indicate Keith to be the current owner, so am not sure how long it has been in his possession. From the photographs it would seem to need a complete rebuild, however; even so I would have thought that the highest bid of &pound360 was rather on the low side. As a result the car was not sold. From the photograph it would also appear that Keith still has the blue GT that was for sale at Burford a few years ago.
I currently have details on the Register of 196No Olympics, listed by registration number. Unfortunately, not all of these survive, nor are the histories 100% complete on a vast number.
Of these cars I only have details of the original owner/builder for 67No. Furthermore of the nearly 200 Olympics listed in the factory ledger I can only allocate registration numbers to 43 of them. So as you can see there is still a long way to go to make the Register as comprehensive as I would like.
Can I therefore appeal to you, the membership; if you have any details on your car that you think I may not have please let me know. I would rather have dozens of replies, most of which duplicates information I already have, if it produces one item that was previously unknown to me.
I am particularly interested in the following.
1. Date of original registration (should be on your V5 or log book) 2. Details of any former owners with dates if possible 3. Original owner/builder.
4. Chassis number if one recorded on V5 or original log book.
5. Any reference to an original Order Number on any correspondence from Rochdale Motor Panels. (likely to be in the range 1504 to 1973)
Hoping for that vital snippet that completes one more piece of the jigsaw puzzle.
Derek Bentley
EARLY ROCHDALES REGISTER
By Malcolm McKay
Fantastic. There's no other word for it I have never before seen so much interest and activity on the early Rochdales front! The last couple of months have seen a new record price achieved for a standard Rochdale if any Rochdale can be called standard and it wasn't an Olympic, it was a GT!!
Bert Tressels GT has been the finest around for some 20 years and, when Bert finally took the plunge and sold the car, it went from Holland to USA for around &pound5000. To Berts surprise, the buyer immediately put the car on ebay, but didn't sell it due to a very high reserve. The car reappeared on ebay in January and, after frantic last-minute bidding, sold on January 11 for $16,055 (&pound8700) to a Japanese buyer who will have paid the equivalent of over &pound10,000 by the time his GT lands in Japan. We'd all love to think our cars are worth that much, but finding the right buyer at the right time is rare; the intriguing thing with this one is the number of bidders in the contest right up to the line. Four bidders valued the car at over $15,000, two of them in USA and one, amazingly, in the UK; two more in US bid over $13,000 and another over $12,000. Does that mean that if you took four more immaculate GTs to the States you could sell them all for around &pound7000 each? I wonder
Berts GT (it'll always be Berts GT to me!) was on a 1956 Ford Pop chassis and emigrated from England to Holland around 30 years ago; it had already been largely rebuilt when Bert acquired it 25 years ago but he went right through the car and got it into concours condition, then used it sparingly, including occasional trips to England. The car was fitted with an Aquaplane head and manifolds, twin SUs and a Panhard rod, but was otherwise on largely standard Ford Pop running gear. The photos show how smart it was.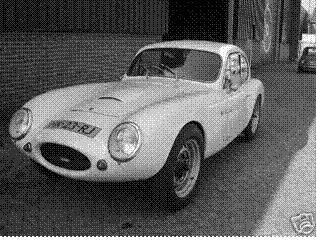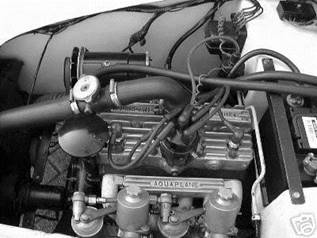 I was delighted to make contact with the new owner and learn more about him through a friend in Japan who shares my enthusiasm for Ford Specials and Berkeleys, Saiki Wada. Saiki kindly translated his email for me:
How do you do! Glad to receive enthusiastic mail. Thank you. My name is Takatoshi Ichikawa from Machida, Tokyo. I have been looked for Rochdale GT for long long time. By the way, I am only interested in GT, no other models. It was great surprise I found an example in US on eBay. It looks very tidy on photos, but not sure it really is (it hasn't arrived to me yet). But I am very excited that the example is almost exactly what I have dreamed for. I wish to join Rochdale Owners Club and wish to report about my car as soon as the car is arrived.
I had an Olympic nearly 25 years ago, but it was not in good condition. As I was young, I was not able to afford to make it right. So I sold it soon. Since then, it has been my dream to own a GT in good condition. After I sold the Olympic, I and my elder brother gathered all the money we had, then bought an AH Sprite MK3 for 10,0000Yen from a soldier of American occupation army. (It was a story that Occupation army were around after the WWII).
Oh! Before the Olympic, I had an Austin 7 Special as well. Strangely it had an E93A engine! I still remember that it was slow! I currently own two Porsche 912 (one for racing, one for street), 1956 Porsche 356, Abarth 750 Zagato, DKB and Messerschmitt; I am a man who doesn't have a constancy! Anyway, thank you for your mail. I have never been so excited in my 51 years life! As soon as the car arrives, I will contact you.
In later emails, Takatoshi revealed that the Olympic was bought from a man in Blackpool about 25 years ago and he paid &pound3500 for it a huge sum for an Olympic back then. He said it was in bad condition and beyond his budget to make it into decent condition. It was Yellow and had a BMC B-series engine (ring any bells, anyone?). He sold it to someone in Kobe but it seems to have disappeared off the radar at present.
When another quite tidy GT, with MoT and tax, appeared on ebay a few weeks later with a BuyItNow price of &pound1950, I and others wrote to the vendor advising him he might have undervalued the car. He was grateful and raised the price, though in the end it sold for only a fraction more the UK bidder who bid over $15,000 for Berts car obviously didn't see it! Such are the vagaries of ebay The vendors introduction and description were excellent (most unusual for ebay) and worth reading it's nice to see someone else saying what I've been saying for years!
A CLASSIC FIFTIES SPORTS COUPE - 1959 ROCHDALE GT
The Rochdale is a small glassfibre coupe built around a Ford Popular E93A chassis. The GT model was Rochdales biggest selling shell by a long way, and over 100 still survive. The classic coupe styling of the Rochdale GT suggests a rare and very expensive sports car. But it was created originally as a budget way to own a car with Jaguar E-type looks. [Not strictly true as it pre-dated the E-type by four years. MM]
Nearly 50 years later, ownership of a Rochdale GT is still a very practical proposition as a way to own and run a classic fifties sports car coupe with Jaguar E-Type styling at a fraction of the price though only if you are able to find one for sale among those 100 still in existence!
Observing the prices of classic car marques over the past 25 years, I believe that in the next few years we are going to see a radical increase in the value of this particular model. So this ebay auction is a rare and exciting opportunity to buy a sound example of the marque at a very reasonable price. It's on the road and can be used as it is, and it requires only minimal work if you decide to bring it up to show standard (interior trimming and a respray).
There is an active owners club, through whom spares such as windscreen, door, bonnet may be purchased if ever needed. As this car is a special based on Ford Sidevalve running gear, mechanical components are still easily obtained if needed. Many companies supply such items, but I've found Pop Parts Plus to be very helpful [Ironically, Julian Russell at Pop Parts Plus actually owned this GT in the 1990s! MM]. The Ford Sidevalve Owners Club also operates an excellent spares scheme.
What more can you ask for? A practical 1950s Sports Coupe with superb classic styling; spares availability that is more efficient (and cheaper) than most modern vehicles or most other classic cars; two active owners clubs; a brilliant annual event to drive to (All Ford Rally, September 25th at Abingdon) whether you've owned classic cars before or fancy trying it for the first time, with a car like this you really can't go wrong.
263 UXG
The Rochdale was first registered on 24th July 1959 in Nottingham. It was originally registered as a Ford Rochdale, though the current reg document (V5C) declares it only as a Ford. The chassis number begins Y01002A. The current registration '263 UXG' is a DVLA-allocated 'age-related' one, as the original plate (55 FAU) was sold. MOT till 23rd March 2005. Can't see anything to preclude next MOT, as the various jobs that need doing on the car are either cosmetic or engine-related.
I bought this car at the end of last summer. It was located just a few miles from a good friend of mine in North Yorkshire. As I am way down south, he checked it over and collected it for me and there it has remained since!
I intended to bring it down to Brighton, trim the interior, give it a respray, and sell it at a much-inflated price in springtime. But I have got bogged down restoring other (older) cars, in which I have invested more time and money. So I've decided to sell it as it is.
Hopefully, while it's still located in North Yorkshire it may be easier for viewing by interested parties.
Obviously this is not only an excellent opportunity for a private individual to buy a car for fun and investment, but also for a garage looking for good stock at a reasonable price.
HISTORY, OBSERVATIONS AND CRITICISMS:
The previous owner had it for seven years [That was Jon Midgley at Keighley MM]. He resprayed it himself. The paint is not too bad, but some crazing is starting to come through and if you want it to look as good as a Rochdale GT deserves to look, it's time for it to have some new paint. The current colour is Azure Blue.
He also put in a metal floorpan. The chassis is sound. He told me that the tyres were replaced recently. It runs on 15" Ballamy wheels, which are an excellent period item. The spare wheel is an early VW item (located in the boot; access from inside the car).
The Ford Ten 1172cc sidevalve engine (number 33RC1813533C) has twin carbs, four-branch manifold, a Rochdale header tank, external water pump and fan. Switch for the fan is on the dash; like all the Austin 7 and Ford sidevalve specials I've run, the cooling fan is kept on when driving. It stays cool.
Observations on the engine: Dipstick located behind the exhaust manifold. Plugs are prone to oiling up. It uses oil and smokes. Looks like the rings need doing, and a tune-up would help. Start the car with choke on; it smokes until it's warm. Oil pressure is low (though I'm told this is okay), usually between 5-20psi. Conclusion: can run fine as is but keep an eye on oil level; good engine; do rings sometime in future but not critical now.
General observations or criticisms: Brakes are rod-type, work fine. Three speed gearbox, clutch and gearbox work fine. 12V electrics. Electric windows fitted (switch under dashboard, passenger side). Dynamo charges OK, but there seems to be a leak on electrics as the battery drains when car is standing if not disconnected.
Interior: bucket seats. Interior needs trimming - easy job compared to other classics, as you can trim it in whatever material you want rather than having to find exact (i.e. expensive) match to original. As you can see in interior photo, spare rear axle and screens included in sale.
SUMMING UP: My observations and critique as above are as complete and accurate as possible. To conclude, it's a sound example and a great little car that's easy to fall in love with. Interior trim and respray would make it look a million dollars; sooner or later do the rings (bought new pistons for a similar engine last year, easily available from a number of companies); join the clubs for discounts and advice if needed. I'm in Brighton, but the car is currently being kept at my friend's workplace in Skipton, N Yorkshire.


Patrice in France and Etienne in Belgium both expressed interest and Patrice bid for it, but the car was won by a UK bidder I've contacted him and hope to hear soon. The price - &pound2050 seems fair as it's clear that the car, though on the road and great-looking from a distance, would need thousands spent on it to bring it up to the condition of Berts.
No sooner had that sold, than another GT appeared on ebay:
Here we have a very rare Rochdale kit car, based on the Ford Prefect, this one has the Rochdale chassis and not the Ford one, has a good registration number PZ 659 first registered 3 March 1953 which is transferable (worth the starting price on its own) and on computerised Northern Ireland tax book, this car is for restoration, don't think it has ever been on the road, engine is the Ford Prefect 1172cc and has twin SU carbs on a copper manifold, engine has been stripped by previous owner but pistons etc are in good condition, most parts seem to be with the car including glass and frames, there is no upholstery with the car but, being a kit car, that is not a problem as you can fit what you like, also missing a wiring loom, will make a very worthwhile restoration. Don't miss the chance to own a cheap Rochdale to finish as you please!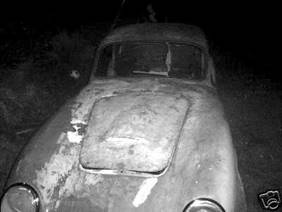 Spotting the car almost as soon as it had appeared on ebay, I contacted the owner. Jim in Downpatrick replied:
I found this car as an abandoned project, was not sure what it was but checked ebay and saw the one that finished today, thought it was worth saving so bought it and listed it. Hope it sells as I don't need it, but if not I will not let it go to scrap, they are a nice little car. I am into classic cars, am restoring a Triumph Mayflower and a 375 Consul. Was this one known to you? It was owned by a guy called Keith Saunders.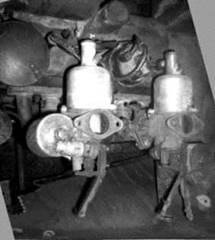 After a brief chat by email, Jim had a change of heart and decided to keep the car and restore it himself, so I hope we can soon welcome him to the club! Rochdale-chassis GTs are exceptionally rare and (in my view!) highly desirable, as they came complete with a complex moulded floorpan and bulkheads to fit around the chassis which was equipped with independent front suspension and rear axle location by Watt linkage highly sophisticated for 1960! They were only made for a little over a year before the fire ended GT production. Jims car was long owned by Mark Kennedy of the Ulster Automobile Club, who sold it about 10 years ago in pieces but ready to go back on the restored chassis. Sadly it seems to have been gravely neglected since and much of the work will need to be done again.
Information wanted on a GT
Simon Treharne writes:
Can I please ask your advice? I have been offered a Rochdale GT with a tubular frame but it's in bits. The body shell does require some repairs and all the panels are available. There is no interior inner panels etc, the engine and gear box are there but again in bits.
Could you please help in a very rough value for such a vehicle and advice about support and spares etc.
If I do buy this I will of course be joining the owners club because I think I will need all the help I can get.
Regards
Malcolm replies:
Hi Simon,
This sounds like PI 9843 in Northern Ireland?
I did see the advert on Findit.co.uk. Not having seen a photo of the car for some time, it's difficult to be sure of values, but I think the advertised price is quite fair. Values of these cars in top condition have rocketed lately (a GT with Ford Pop chassis and relatively unsophisticated running gear recently sold on ebay for over &pound8000, which will translate to well over &pound10,000 by the time the new owner has shipped it to Japan, while a Tornado Typhoon just sold to Switzerland for almost &pound12,000). Another GT that was complete but needing plenty of work to get it back on the road and with bog-standard mechanicals sold for over &pound2500 a few months ago and a scruffy bare shell with rotten chassis and very few useful bits fetched &pound400. It's been quite a turnaround as a few years ago, you couldn't give away a rotten GT and a roadworthy one was &pound1000-2000.
There are very few surviving with the Rochdale chassis and it was a huge improvement over basic Ford Pop running gear, especially with the optional swing axle front suspension and Watt linkage rear axle location, both of which I think PI 9843 has. I can't find the advert now; does it also have a set of 15in wheels? If so, that's a bonus as the wheels alone are fetching &pound50 each now. They should be used with a high ratio axle (4.4:1 or 4.7:1 instead of standard 5.5:1) - those axles are highly prized now too, though you can buy a new high ratio crownwheel and pinion now for c&pound300 to fit if you don't have one. What about a gearbox? Close ratios were available in the 1950s/60s but not now - though it'll be OK without, a close ratio box again adds hundreds to the value.
As for engines, the standard fit was a Ford E93A 10hp unit; the 100E engine can easily be adapted to fit, however, and secondhand 100E engines are still readily available. They have a working life of 25-40,000 miles, however, so finding one that doesn't need a &pound1000 rebuild can be hard.
The fuel tank is standard Ford Pop and they're not particularly prone to corrosion, so you should be able to find one secondhand quite easily and cheaply. As for electrics, you can either cannibalise a complete loom from something of similar proportions such as a Triumph Spitfire, or make one up from scratch - I did that with my first GT which had had all its wiring stripped out and it wasn't as hard as I'd feared. When I last knew of PI 9843 the chassis had been stripped and repainted and was in good condition - if it still is, that's a real bonus. The body on the Rochdale chassis cars was much stiffer and more sophisticated than standard as it incorporated a full glassfibre floorpan complete with moulded tool wells under the front seats and moulded rear seat pans, bulkheads etc. Provided that's all still there, I'd say it's a good buy.
Let me know if you get it - I hope this is helpful!
Best regards
A couple of blasts from the past - Ed
HINTS ON FITTING GT BODYSHELL (RMP pamphlet)
Cut 4" off front end of chassis frame & mounting brackets of radiator will slide inside chassis & bolt direct. Cut front vertical section of rear seat pressing level with outside of chassis frame, so that GT rear wheelarches can fit right up to chassis frame.
Remove band & spigot from dynamo, bolt bracket supplied to dynamo & cylinder head. If the cylinder head is the platform type, the head must be sawn level with the O/S face of the cylinder block before fitting dynamo bracket. Fit Ford Export water pump on engine mounting bracket, either way up to give best drive without fouling water pipes. Advisable to fit pump to suit nearest available size of fan belt.
Fit header tank with Jubilee clips on short rubber hose from engine water outlet to header tank, fitting header tank as low as possible with supporting bracket down to cylinder head nut.
Slide body on from rear of chassis, springing out the door sills to go over the wide section of the chassis frame. Position body carefully on chassis with wheels fitted, since there is very little clearance on 17" wheels. The body may be fitted at any height to suit the purchaser. The front section of the rear wheelarches must be clamped right into chassis frame & then the wheelarches bolted at about 8" intervals, using big area washers against the fibreglass face.
The floor section gives very little support to the bodyshell, & only requires bolting to stop rattle. Original gear box cover & metal panels each side should mate up to GT bulkhead.
We are open until 7 pm on Monday to Thursday, if you wish to make use of the cheap phone rates to check any points.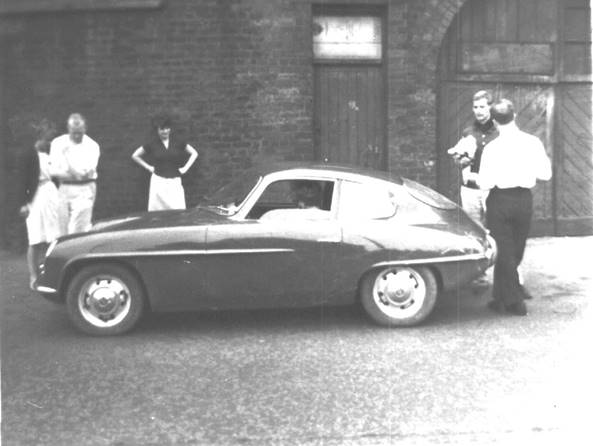 Richard Parker with Phase 1 demonstrator and prospective clients in mid-1961 Photo S Hornby
Copyright © Rochdale Owners Club
Last Update