MAGAZINE No 100 WINTER 2004
Edlines
As the magazine has reached the ton-up, I thought it would be nice to celebrate with a splash of colour on the cover. It would be even nicer to do it all the time, but monochrome is much more economical, so back to the usual next time.
Also, the Club now has a record number of members, currently 115, having hovered around 100 for several years, so it is satisfying to feel that interest in the marque is stronger than ever.
The Club website is now active again and our thanks go to the new webmaster, Aubrey Richardson, who gives us the lowdown on the new facilities in this issue. Use of the forum should speed up help in those obscure areas of restoration known only to our obscure members.
Having been unsuccessful in getting a stand at the NEC Show for the past two years, I can report that we have been accepted at the Bristol Classic Car Show, to be held on 29/30 Jan 2005 at the Royal Bath and West Showground at Shepton Mallet. More details on the next page. Do make the effort to come and support our Club at this new (for us) venue.
Finally, season's greeting to all our members; when you've finished your pud get back out in the garage.
Chair Chat
Well, we have hit the century!
If you look on the front cover of this magazine, there it is: Issue No. 100!!
Our club mag. has come a long since the first A4 newsletter, produced by Ken Whitehead, came out in October 1981.
A big thank you must go to all who have been involved in producing our magazine over the years. However we are particularly indebted to our present editor, Alan Farrer who to date has been responsible for over one third of that grand total, since he took over the job in the Summer of 1995.
Well the nights are drawing in, autumn is with us and the temperatures are dropping. I hope this does not mean we are going to stop working on our cars, making the excuse that it is too cold for the resin to go off. I have got to admit however that there has not been much progress on "Sows Ear" since the last report (I must be getting lazy in my old age).
One thing I have been able to do though, is that after 18 years gathering dust, I have resurrected the Olympic Paper Weight Project. The older club member might remember they are approximately 1/24 scale paperweight sculptures cast in resin resembling the Olympic Ph. I & 2. (I use the word "sculptures" because I am the first to recognize that they are not a true scale model). However I quite like to have them sitting on my desk. I was quite shocked at the increase in costs of materials since 1986, however. To date, I have remade moulds of the Olympic Phase 1 & 2. My aim is to be able to produce the paperweights in a standard ivory, so that the individual can paint them to a colour of their choosing. I am also trying to perfect the method of producing them with a simulated bronze or pewter finish. I am afraid that the cost is going to come out at &pound10 and &pound14 respectively, plus postage at &pound2 UK & &pound6 Overseas.
My next challenge will then be to make a sculpture of the Riviera and then maybe the GT. (Well I still have that thing about pre-Olympics and all that). If you have one of these sat staring at you on your desk, it might encourage you to get out there and get on with the real thing. So, if you are interested, give me a call.
I was in touch with Ron Collins the other day to find out how he was coping with the flood of requests for the club "Exhibitors Support Pack". The response has been quite underwelming, but he pointed out to me that I had printed his email address wrongly; it should be:' ron@roncollins98.fsnet.co.uk' Sorry Ron, it's my fault for not being computer literate.
Since our last committee meeting we have made further contact with the Rochdale Council, setting out some suggestions as to how we think the club could link with the town in bringing our cars more into the public eye. I personally feel that the achievement made by Rochdale Motor Panels over 50 years ago is worthy of greater on-going recognition. If any of you have any ideas on this topic, please share them with us. It would be nice for example if there could perhaps be some sort of club reunion in the town, linked with one of the town's public festivals.
Another item from the last committee meeting relates to the Clubs website. Amongst other things we would like to establish a photographic record of members cars, but I will leave Aubrey to explain this and other initiatives he has in mind elsewhere in this issue (pages 6 & 7).
I was talking to Ron recently about next years Cheshire Kit Car Show, which is due to take place on the Sunday 22nd May. Brian Easton is well established as part of the team and is doing a grand job of contacting all the car clubs (both Kit Cars & Classic Cars). We still need further help with the preparations for the show. We need someone who is willing to take on the job of organizing the Trade Stands. You would not be starting cold. Ron has his basic list, which needs to be actioned and developed each year. This is a job that can be managed from a remote location, so please, please someone come and help. Also if anyone feels that the format of the weekend could benefit from some change in any way, then please contact Ron or myself. After all it's your Show.
Well its time to sign off. But before I do, on behalf of your committee, may I take this opportunity to wish everyone a very happy Christmas.
Roger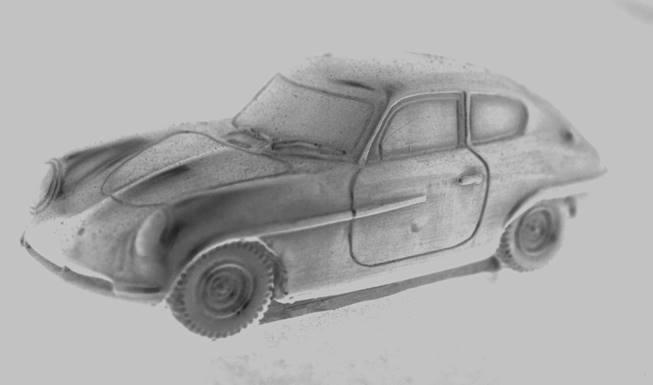 It's not featherweight; it's not flyweight; it's paperweight!!
****** LETTERS ******
From Barry Higgins Phase 2 Olympic
I have hardly used my Olympic in the last two years as it just stopped without warning (see mag No 94). Since then a retired auto electrician has found the fault: the HT lead from the coil to the cap was earthing through the rotor arm to the distributor cam when the engine gets hot. He had never seen this before in his working life on cars of this period.
I wrote to the MG Car Club magazine 'Safety Fast' and had lots of phone calls, mainly from people who hoped I could tell them the cure, but also from people who said that new Lucas rotor arms (made by IndoParts) were rubbish, having too much carbon in the plastic to make it black. I replaced (with new, old stock) rotor arm, dist. cap, leads and plug connectors, dispensed with condenser and points by fitting electronic ignition and fitted a new coil. It ran beautifully for about 35 miles and then stopped. I put in another rotor arm and drove home; when the engine had cooled I put the first rotor arm back in and it started instantly!
MGB engines were known for reliability, so I thought what is different today only the petrol. I got out an original road test on the MGB. It had a CR of 8.75:1 so they ran it on 89 octane petrol and said it pinked occasionally, so 98 octane was recommended. I had retarded my ignition a bit because unleaded can be lower than 84 octane, (surely some mistake? Unleaded is 95 Ed) but it still ran on a bit when it was hot. The water pump on these engines sends the cool water to the back of the head; the block relies on thermo-syphon to keep the bores nice and warm. The distributor is low down on the block, so I think it gets hotter nowadays, due to the ignition setting and poor petrol hot enough to break down the insulating properties of the rotor arm.
I decided to make a rotor arm, so I phoned a firm that makes fuse and switch boards. They suggested 'Glassboard', which looks like red resin reinforced with glass strands. It withstands heat and 30kV. They gave me a piece from which I turned one up on the lathe. The material was a bit thin, 17mm would have been ideal, but so far it works OK. If anyone out there knows a source please ring 01642 764367.
I saw a mention of 'Tetraboost' in the MG magazine and phoned for details. It is tetraethyl lead in solution, the very same as used to be put in leaded petrol. It works out a bit cheaper than real leaded (if you can get it). I add it to super unleaded to get 99 octane (you can get up to 106 octane). The engine is more flexible, doesn't pink or run on and seems to run cooler. I am going to advance the ignition back to its correct setting, then it should run even better. Tetraboost at www.iomo.co.uk/tetraboost/order.htm
or phone 020 8830 9933 for details. I have no connection with this firm.
I have no qualms about using leaded petrol as, contrary to what we have been told about asthma etc. being prevalent in children living near busy roads, when a blind test was done, the highest clusters were in children living in the Scottish Isles! The unleaded petrol in this country contains a cancer causing additive that was banned in America over 3 years ago. The worst of all is diesel, as the particles are so small human lungs cannot filter them out.
In mag No 98 Fran Honeywell says that their GT loses water. In the 50s when I built my first one, everyone was having trouble with boiling. The late Jack Dowson (top northern tuner) said that this was impossible in 2 miles from cold. The English perpendicular Ford rad. was 12" above the head, but the GT rad. was level or below, so I fitted a Ford 'Export' water pump. I cut the blip out of the bonnet lip, turned it through 180degrees, cut a hole in it to let out the hot air and bonded it back in. Then I lead the overflow pipe through the hole to see it whilst driving. On the road, when you revved up, water spurted out of this pipe; the pump was over active for the low rad, so I dismantled it and cut 3 of the 6 blades off. It was much better so I cut half off the 3 remaining blades and it was cured.
I took the fan off, for a power increase of up to 10%, made an electric fan from a wiper motor with the gearbox taken off, and fitted a temp gauge so that I knew when to switch the fan on before the engine got too hot in traffic or hold-ups. I don't remember it ever boiling again.
The standard gearing was far too low, so I fitted a high axle ratio , then I fitted an MG TC gearbox (&pound5 second hand). To improve the ride I fitted 16" wheels (ex Ford 10 van) with 5.60 tyres, which gave the same overall diameter as the originals. This gave me the 3 gears I had, plus one higher, which transformed the car.
Another alternative was to fit a Murray overdrive to the Ford 3-speed box, an extra gear lever and 6 gears, but a massive &pound29! They were also an extra on early Spitfires. One could be fitted to the Ford box if you shortened the first motion shaft and put on a flange.
Rochdale Owners Club Website
Just a brief (!) note on the website. The discussion forum area of the website is now up and running. Discussion forums comprise messages which are posted to a common location and are very similar to e-mail (or hand-written correspondence), in that people reply to the first post, and then reply to subsequent messages and so on. Each initial message is called the 'start' of a thread (discussion) and the replies (and replies to replies) are the continuation of that thread.
If you have a computer, please take a look at www.rochdale-owners-club.co.uk and click on the 'Forum' option. From here, you can choose one of the categories and then list the topics within that category. Rather than give a fully detailed account of what can be done in the discussion forums, I'll detail how to browse existing messages, post a new message and reply to existing messages. More instructions are available on the website which should be self-explanatory. If there is a huge cry for help, we'll take up some of the magazines valuable print area to detail what to do.
Firstly, the Forums are divided into fairly logical areas; Events, Early cars (750 specials, Mk VI, F, C and ST), Riviera, GT, & Olympic. I've grouped the early cars together into one area but if it appears they warrant their own forum it is easy enough to create one at a later date.
Events
There is currently one main announcement area covering club events. However, it is intended to create announcement areas for local area events so that members from a particular area can discuss meetings/get-togethers etc. If the area 'leaders' could e-mail me their area name, I'll create the relevant discussion area.
Car Discussion Areas
There are the general discussion forums for the cars concerned.
How to Use
To read the messages posted in a particular forum, simply choose 'Forums' from the main webpage (http://www.rochdale-owners-club.co.uk) and then the appropriate discussion topic, (Olympic, GT, Events, etc). The messages are listed as they are posted, with replies following the original message.
Should you want to reply to a message simply click on the Post Reply button. Whilst anyone can read the topics under discussion in the forums, you need to register to reply to an existing topic, or create a new topic of discussion. To register, simply click on the Register icon in the login dialog. When you register you choose a Username (first name and initial letter of your surname will usually suffice), a password (which you can remember!) and enter your e-mail address. Without usernames and passwords the board is potentially open to abuse (spam postings, adverts for viagra etc.). If you have already registered, simply enter your username and password
To start a new discussion 'thread' simply go to the appropriate discussion area (Olympic, Events, GT, etc) and first check to see if your topic of interest is not already being discussed. For example, perhaps you are interested in finding out the correct wheel alignment angles for your Olympic Phase II. Go to the Olympic discussion forum, check to see if any of the existing threads might cover this topic and if not, choose 'Start new thread'. A new webpage will appear, similar to an online web-mail (Hotmail) type page, into which you can type your "Subject" title (Phase II alignment values), and the content of your message, or POST as it is referred to in computer jargon. E.g.: Anyone know the camber values for the Phase II? Choose Preview to display the message as it will appear in the discussion forum and then if everything is okay, choose Submit. Now sit back and await the flood of replies...
One or two things to note. As ever, please try to keep 'on topic'. By this we mean that whilst no doubt the antics of your neighbours dog is extremely interesting to you, and perhaps to the person the message is aimed at, it hardly fits in under the 'technical discussion' area for the Rochdale Olympic! This is why it is important to keep 'on topic', because if a thread is popular, you may find there are several tens of replies to an original message. If one of the replies goes off at a tangent, people get confused! Remember that the forum is 'open' and so can be read by anyone.
The board Moderators are myself in the first instance and then the other committee members. Moderators (and only Moderators) can remove messages from the board and prevent users from posting messages if they are considered unsuitable or downright obnoxious. Hopefully we are all mature enough to moderate our language and refrain from juvenile 'flame-wars' whereby comments become personal and abusive in nature. We all enjoy a good debate but ultimately please agree to disagree rather than call into question another's parentage, sexual preference, etc. etc.
Other website matters
Courtesy of Keith Hamer I can now replace the missing web-pages concerning the GT, Riviera et al. I am in the process of doing this and if I am not called abroad AGAIN, I'll have these up and running well before Christmas. Keith also sent me the 'Owners' webpages which I have refrained from putting on the website as I am not sure how up to date they are.
Eventually I will create a system whereby you can upload your own description and pictures of your Rochdale car (and yourselves), but in the mean time I would be grateful if you could send copy and a photograph to me, preferably via e-mail but via snail-mail if you want (address on the website). If you only have a printed photograph, you could obtain a colour photocopy and send me that instead; I'd simply scan the image and put that on the website.
We also want to use the forum for assisting in organising local and national (international?) events. There is a discussion area called 'Events' and this is where you can arrange meetings, post meetings and generally discuss organisational issues. Ultimately I will categorise these into areas so that you can immediately see what is going on in a particular area of the country (World..), but at the moment they are all grouped together. So if you do post an event, do make sure you include the area and location within the subject title, something like this:
MIDLANDS: Area Meeting at the Dog and Duck on 25th December, 2005.
You can also advertise parts and cars for sale on the website. Just email or post the description and picture to me and I'll post it on the website. Note that adverts will be removed after six weeks unless you contact me and request a reposting.
Finally, if you can think of anything else that you would like to see on the website, please let me know. Thank you to all who have sent in images and text; I will put them on the website as soon as I can.
Aubrey Richardson
From Keith Hamer
Dear Alan,
Since I penned an article for the first ever Rochdale Owners Club magazine I thought it only fitting that I wrote something for the 100th; I do hope this isn't too big headed.
Here goes: amongst the other jobs we have in I have (am custodian of) 7 Rochdale Olympics, 3 of my own, 3 customer cars, and one spare belonging to my ex-mechanic.
My own cars have taken somewhat of a backseat at the moment as I have to finish off the customer cars before I can get to mine. As most members know I have WFV 812 - a Yellow Phase 1 with a hatch and Vauxhall front suspension; this was my everyday car until a minor gearbox problem caused me to take it off the road. The rest of the story will be familiar to many as I decided that while it was in for the gearbox I would do the front suspension; this lead to the brakes, then the wiring, then the engine, etc. etc. etc. Recognise the plot? I also have JJH 20G, the ex John Anstice-Brown lightweight. Like my road car it too is waiting to be screwed together. The third car is being painted and will be for sale as soon as it is done.
Now to the interesting bit. The three customers cars. As with any 'total' rebuild we strip the car down to a bare bodyshell before repairing it and preparing it for paint; our customer cars have or are all going through this stage.
The first car belongs to Conrad Cunningham and is a fairly standard Phase one. We have however fitted a Rover 'K' series 1400cc twin cam, attached to a Ford 'Mk 9' 5 speed gearbox, the brakes are discs all round, 4 pot vented on the front, and 2 pot solid on the rear, the brake conversion kits have all been made in house, and use Metro 4 pot callipers on BMW vented discs, fitted to the original Riley hubs on the front. Toyota 2 pot callipers with a handbrake on Ford Escort solid discs attached to the standard Riley rear axle are fitted on the back. We have made up some new interior dash and centre console mouldings for the car as we have fitted the Rover wiring loom complete with all its electronics for the engine. (Is this what 'fairly standard' means? - Alan)
The second car we are working on is a Phase two belonging to Brian Parodi. This one is now in Rover Trophy Yellow. Brian prepared all his own running gear for this project and as a result it is going together quite quickly. We have just mounted all the suspension and fitted the engine, which is an MGB 1800cc once again fitted onto a Ford 5 speed gearbox. I am currently working on the engine mountings for this car, and once they are done and the gearbox is also mounted I will be doing no less than 3 Ford to Riley propshaft conversions, one for each customer car.
The third car is currently in paint shop having its body prepped and modified. It is a Phase One which is having a modified MGF 1800cc multi point twin cam 'K' series fitted. My initial thoughts were that with about 250 BHP per ton the old Riley suspension might not be up to the job, and since the front subframe was kn......d anyway it would be worth thinking about something a little more contemporary. After much soul searching the decision was made to fit the car up with BMW 3 series running gear both front and rear. This immediately gave front and rear discs, reasonable front geometry, an independent rear end and the strength we needed for the tweaked motor. I am currently working on a new front subframe to enable me to fit the BMW front beam complete with power steering, big discs etc. The rear has already been in place and fits like a glove. As you can imagine the bodywork will require some modification to allow for the different track and wider wheels as specified by the customer. The finished result will hopefully retain the Olympics integrity but bring it kicking and screaming into the 21st century.
Kind regards, Keith
The BMW rear suspension on Alistair Banks Phase 1 in Keiths workshop. Brian Parodis Phase 2 with trial fit of MGB engine in Keiths workshop
Eeny, meeny, miny, mo, which old lump will have to go? Thought so. More from the Whittaker workshop next time?
The Southern Riviera
I have always thought that the Riviera was one of the best looking of the pre-Olympic Rochdales, although my very first view was of the hardtop version in Ford Special builders Manual, which was certainly not the best. In my view the hardtop did nothing for the looks, although perhaps it was better in the flesh.
Although the Riviera is essentially a convertible version of the GT, the revised frontal treatment and mouldings around the wheel arches similar to the Olympic give it a totally different appearance. However, with very few produced and even less known to still exist they do not come onto the market too often. Hence when Rob Daniels decided to part with his (XOG 602) I was not slow in saying yes.
XOG 602 is in need of a complete rebuild, although the Ford chassis looks sound and the body has no nasty damage. It will however need major works to achieve the standard set by Roger Coupe with 6494 MH. The main item missing is an engine, so all offers, preferably 100E, considered.
Although there is a distinct lack of history with mine I understand that it came from the Birmingham area. This would certainly fit in with the registration of the donor car and it is therefore quite likely that it was supplied by Monkspath Garage of Shirley.
Acquiring a Riviera set me looking through the records to establish some more facts. For the anoraks like me here are the results.
The Riviera had a short production span and all were sold during 1960.
The first order (1318) was dated 21st December 1959 and the first shell dispatched from Hudson Street on 12th January 1960.
The last order (1499) was dated 15th October 1960 and this was dispatched on 9th November 1960.
A total of 42 shells were made (or at least that is the number that went through the books). Of these only 19No were open versions supplied with hoods, whilst 23No were supplied with the hardtop. This figure was a surprise as you can imagine in view of my earlier comments about the hardtop.
As far as I am aware all open versions were two seaters, whilst the hardtop version was cut away behind the seats to give a plus 2 configuration.
The body was available in a choice of five colours these being as follows (total number supplied in brackets): Red (14), Light Blue (12), White (5), Cream (5) and British Racing Green (6).
The records show that eight Rivieras were supplied with a Rochdale tubular chassis, which I suppose would be quite beneficial with an open car as the body would not contribute as much stiffness as with say the GT shell.
Watch this space for further developments.
Derek Bentley
Triumph to Ford Hub Conversion
Many owners, including me, think that the Phase 1 has nicer steering than the Phase 2. I wondered whether it was due to the wheel spacer which is used to convert the hub from Triumph 3 3/4" pcd to MM 4" (or Ford 4 1/4"pcd). It is about 16mm thick and offsets the centre of the contact patch of the tyre with respect to the steering axis. Only one way to find out eliminate the spacer.
To do this, the hub has to be converted to 4" pcd directly. Colin Breakspear did this when he converted his front subframe to one using Triumph turrets, but I know not whether it had any effect on the steering. My Phase 2 has Ford wheels so I was unsure whether the Triumph hub would accept the larger 4 1/4"pcd. Inspection showed that it would.
The required pcd was scribed on the hub face with the hub held in a lathe chuck and the four stud holes marked using dividers and care. The new hole positions were chosen to give adequate wall thickness between the new holes and the adjacent original stud holes, but to minimise the amount of milling necessary on the back of the hub to give clearance for the heads of the studs
The picture shows the hub drilled and milled to accept Ford wheel studs. These are a nice drive fit in the holes, very convenient. I did the hub mods on a spare pair of hubs that I had, but when I came to refit them on the car I found that they fouled the brake calipers! Why could this be??
Close inspection showed that these hubs were subtly different from the original hubs, which had the back of the hub face relieved to give the required clearance. Then I remembered that later Triumphs had a different brake caliper from early versions, so these newer calipers must be slightly bigger. So, back to the lathe and the old style hubs were treated to the new-style machining. It's strange how the job list always gets longer as a job progresses!
Removing the spacer reduces the track by about 1 1/4" so one either accepts that, or restores the track width by a) widening the subframe (only possible when renewing it), or b) elongating the wishbones. Colin had opted for the former, but as I had already made a new subframe I opted for the later. I elongated the wishbones by welding on extensions at the outboard ends and also made corresponding extensions to the track rods.
After many days of graft I had fitted all the modified bits and prepared to do a test run. Would I notice the improvement? Five minutes later, and the answer was a resounding maybe. A problem that I should have foreseen showed up, though: on full lock the wheels fouled the anti roll bar ends (because the wheel rims were now 16mm further inboard). The only cures were: 1) restrict the lock or 2) fit spacers! I should mention that this problem is only likely to show up on my car as it has 100% Ackerman geometry, whereas normal Phase 2s have negative Ackerman where the wheel angles are much less.
Kicking myself for failing to foresee this problem, and being unwilling to restrict the lock or fit spacers (which would have made the whole exercise pointless), I grudgingly removed all the modified parts and refitted the originals, getting comfort from the thought that there was no serious problem with the cars handling in any case (just a matter of trying to gild the lily).
It's worth mentioning here that my cars handling had improved anyway as a result of a combination of three small changes: 1) 26psi front and 24psi rear, 2) damper setting soft at the front and moderate at the rear (see article in Mag 99) and 3) spring rates 120 lb/in front and 132 lb/in (standard Phase 2) at the rear. All these changes alter the balance of grip from back to front, ie. reduce understeer. Overdoing it would make the car twitchy, but with this setup it's stable in a straight line and neutral in fast sweeps.
Alan Farrer
Spitfire hub showing holes for original studs and new Ford studs inserted Spitfire wishbones with extensions fitted to outboard ends
Rochdale GT MFL 838F
I first discovered this car in September 2003, when I saw it at the garage in Spitalfield, my local village. I instantly thought, 'Blimey, that's a Rochdale GT!' I then thought the usual thing and wondered whose was it and if it would be for sale, but did not act any further. Then in December 2003 I took a pair of Morgan wings that I was going to fit on my dads 4/4 down to the local spray shop to get a quote for spraying them. Lying beside the workshop was a rather dirty yellow Rochdale GT. I spoke to the person who owned the body shop about it; he said he bought it for his daughter and she did not like it, he was not quite sure what to do with it as he felt he did not have the time to restore it. I suggested that I would be interested in it and left it at that.
As the months went on, I thought more about the car and would find reasons to go down to the body shop to have a further look at it as I played it through in my mind. As time went on the price he wanted for it lowered. During the thinking time, I did a bit of research about the car and its history, tracking down who built it and its previous owners just to confirm to myself that I was not buying a complete wreck of a thing that would never get on the road. In April 2004, I bit the bullet and decided to buy it. At this point, I suggested to my mum and dad my interest in it, but dad was not so keen as he did not want another car sitting around the house; we already had a Morgan 4/4 and an Austin 7.
It was coming up to my 20th birthday and the car was due to be delivered three days after my birthday, so I thought I'd better break the news that I had just bought a old sports car called a Rochdale GT; neither of them had ever heard of it before. I convinced them that it was a great buy and that if I did sell it I would make money on it. It won them round and in the end they gave me a cheque to pay for the car for my birthday, which was fantastic because I had not quite yet worked out how I could afford it.
The car had no seats, a bonnet that was not attached and was unfinished, two flat tyres, covered in grime and dirt, patches of paint missing, the door card and window winder were not attached to the door, electrics were not working properly and the exhaust, which did not fit the car was in pieces. However it was a Rochdale GT, which is a car I have always wanted.
The objective was to get the car MoT'd and tidied up in time for the Callander Classic at the end of August and, if not then, by the time I started at St Andrews University in September. The first thing I did was to track down Mike Ramsey Fraser who was the last owner; I did this and invited him over. He was very helpful and told me what he had and had not done and problems he had encountered. First thing to do was to tidy up the paintwork; this was harder than hoped as it was enamel paint and would react with cellulose. I eventually got a paint match and set about tidying up the paintwork. With that done, I put the exhaust back together, tidied up the bonnet, bought some new tyres, fixed the electrics, fixed the door card and tidied up the inside.
The problem now was finding some seats. There was only 41cm to play with so I was very limited. I first tried some second-hand Triumph Spitfire seats I bought from Chic Doig in Fife; I thought these might fit as it was on a Herald chassis. However they certainly did not and were about 5cm too wide. So it was back to the drawing board. I contacted Haiko Jahn, who has Roy Dawsons car, about the seats in his; I thought of using the same ones but it would have cost &pound500, which was a bit too much. In the end I went for the Midland Wheel Supplies Baby Cub seats, which were a perfect fit, as well as some harnesses.
All hopeful, I took the car to the Cotly Garage in Blairgowie for an MoT. There the car attracted some attention from onlookers, one gentleman proclaimed it was one of the nicest cars he had ever seen. Sadly the MoT man did not think so, he did not like old cars for a start and failed it for a whole host of things. However the major thing was the Rotoflex couplings, which were split.
After I had recovered from the car failing the MoT, I set about getting the problems fixed. I thought about doing the Rotoflex myself after getting advice from Jim Reid and Malcolm McKay on how to do it, but in the end I bottled out and decided to take it to Chic Doig, a Triumph and MG specialist in Fife. He then replaced the Rotoflex, sorted some other bits and pieces, and fitted a new GT6 sports exhaust. I decided on a new exhaust as the last one was a joke: it scraped the road and sparks would fly, which terrified my mum. The new exhaust has sorted that out and looks and sounds a lot better.
With all this done I took it to another MoT station on the 10th of November 2004 and it passed with flying colours. It is now taxed, insured and MoT'd.
The cars history is quite interesting. Jim Reid bought a shell for &pound300 in 1990 from a chap in Cumbernauld, he then bought a 1968 chassis from Chic Doig in Fife and set about building a Triumph-based Rochdale GT with a Triumph 1300 engine. Once all the mechanical bits were done, he decided to sell the car. William Russell from Larkhall, south of Glasgow, bought it in 1996 /1997. He finished the car off, painted it yellow with Valspar coach enamel and ran it till 1998 /1999. It was then bought by a man in Fife, who ran it for a bit and then sold it to Andy Lally in Fife with six months MoT. He ran the car and the cylinder head went. He was quite into kit cars at the time and was considering taking the roof off and putting a motorcycle engine in it, but ran out of time to do so. I believe he also contacted the club with regard to selling them the rolling shell, but he was wanting too much for it.
A friend of Mike Ramsey Fraser who lives in Wolfhill near Perth told him about the car; he jumped at the chance and bought the car in 2001. The car when he bought it had no interior, a Vauxhall Viva engine lying on the crossmember and no gearbox. It was basically a rolling shell. Mike Ramsey Fraser then put a Triumph 1500 engine and gearbox in, re-trimmed the interior, fitted Cobra racing bucket seats and was about to fix the minor electrical problems and MoT it. He wrote a letter to the Scotsman for the Rochdale GT mystery car competition. However, another car came along, and in the end he swapped the Rochdale, with cash adjustment for some welding to be done on the chassis of his Peerless Warwick that he was restoring, to the chap who owned the body shop in 2003. I then came across the car.
I would like to take this opportunity to thank Malcolm McKay, Jim Reid, Alaric Spendlove and Ron Collins who all gave me a lot of help and advice about the car and its history.
I am still trying the chase the history of the shell. The original Ford-chassis registration started OWL: if anyone remembers a GT with a registration like that I would be delighted to hear from them.
William Culbert
EARLY ROCHDALES REGISTER
By Malcolm McKay
First, congratulations to Alan on reaching magazine 100 'we all hope you'll still be Editor when we get to 200!' (Thanks, Malcolm, but I will be well past it by then! Alan)
It's great to report loads of activity on the early Rochdales front, with several members hard at work on their cars, lost cars resurfacing and news of others that have existed in the past all boosting the Register. If I had a prize to give, it would certainly go to 21-year old William Culbert of Perth, Scotland. You can read his own story of his GT elsewhere in this mag but I'd like to put in print my personal congratulations to William not just for sticking to his convictions and buying his GT, for overcoming numerous problems to get it on the road and for determinedly researching its history, but also for showing enterprise and determination in following all manner of other leads on GTs past and present.
His story has a particularly poignant edge for me as he has recently started studying at St Andrews University, which is where I was studying back in 1983 when I bought my first Rochdale GT! William is in regular contact with Surrey medical student Haiko Jahn, who owns the ex-Roy Dawson Herald-chassis GT registered SSN 88H. Haiko has also succeeded in getting his GT on the road recently after several years lying idle and may even be driving up to St Andrews shortly if there are going to be two GTs in St Andrews I may just have to make the trip myself
Another GT that William has rediscovered for me is 57 OAF. This GT stayed with its original owner until the late 1980s, when he sold it in Inverness. He had stripped the car and started to modify it, which made it a challenging project and it moved around the east of Scotland through several owners over the next 15 years. The car finished up with David Langlands in Letham, Angus William tracked him down, now living in Perth, and learned that David still has the car. He plans to start the rebuild in two years time but is not sure what route to take, as the chassis is heavily modified with Herald suspension and may not be usable.
David alerted William to yet another GT, allegedly just a bodyshell lying beside a house at Letham. The story goes that the elderly owner wants &pound300 for the tatty shell. I've no doubt William will check it out soon! It rings bells of a story I was told 20 years ago I was never given a precise location but it's bound to be the same car
There's nothing like a GT out and about to spring stories of others and Williams bore fruit before he even got it on the road, as he explains:
You might remember me telling you of a elderly man coming to our house one morning asking about a Rochdale GT and informed us that he built one in 1958. Well I popped over to see him and see the photographs and get the registration number.
The car was a very nice looking British Racing Green Rochdale GT registered ESH 200. It had a side exit exhaust. I would say it would have been a very well built car. There was also a picture of a grey GT registered YOD 740 (with a mesh grille), which was up from Devon on holiday and stopped at their house seeing that they had a GT as well. They sold the car in 1959 for an Austin A35 in Berwick upon Tweed.
He also mentioned that he saw a Yellow GT in the 60's outside Dundee which looked as it had been raised quite a bit.
YOD 740 is a new one to the Register and the first grey GT I've come across, but ESH 200 rang bells. I have a letter from the owner in 1987 in Manchester, Ian Heywood, who had bought it partially dismantled and had finished restoring the chassis; it still had twin SUs on an Aquaplane inlet, plus telescopic shocks all round and seemed to have had a fairly hard life including several repaints, though it was still green. I also know that in 1989 the car was owned by S Brookes of Coventry.
That yellow one sounds like it could be the lime green monstrosity on a Jago chassis with 1600 crossflow engine and 2000E gearbox that I viewed in Dundee c1984; its current whereabouts are a mystery, as are those of a black one said to be in Dundee at the same time.
But William was swift to respond to the news of ESH 200 having been in Coventry in 1989:
ESH 200 became GVS 313. I found a for sale advert in the Spring 1993 issue (mag No 53), selling the running car partly restored but not MoT'd for &pound750 by Keith Oxley.
Now that set the wheels in motion again for me, as I had a much more recent record of GVS 313, advertised for sale last year by Steve Wood of Rotherham. William followed that up and found that the car did indeed still survive, but the original chassis that had apparently been so close to completion in the 1980s had subsequently been discarded in favour of yes, another Herald chassis! A great bit of detective work and William can now let the original builder know that his car survives to this day. It's extremely rare and very satisfying to link together historical records with known survivors; I currently have some details of over 150 GTs, but that's little more than 10% of the total produced.
And that's not the end of Williams GT research, as he recently came up with this:
I mentioned to a friend of mine that I had bought a Rochdale GT and he told me: When I was in London I shared a house with a bloke who went through old sports cars like I go through teabags. He bought wrecks and did them up and usually wrecked them again very shortly afterwards. He had two Rochdale GTs in quick succession, each bought for less than &pound200 at the time. One was red and the other a weird orange colour. The orange one died on a bollard near the Crystal Palace TV transmitter tower, and the red one was on its way to Camden when its motor fell onto the road; since my mate hadn't registered it or insured it, or for that matter repaired it, he simply abandoned it rather than have to pay more for its repair and uplift than he had paid for it in the first place.
He would be talking about the early to mid 1990s. Do you know of these cars? I have to admit that the story rings no bells with me at all, despite living and working in London at the time; William is probing deeper in the hope of digging out some more details.
Another GT getting attention at present is RXO 366, bought on ebay in October by Terry Day. This car was in daily use in 2000 with member Robert Chalk, having been rebuilt in the mid 1990s by Chris Lane in the Forest of Dean. It had standard Ford 10 running gear. Since Robert sold it, the poor GT seems to have had a hard life and travelled from London to the west coast of Ireland then back to the town of its birth, by this time being off the road. Terry takes up the story:
I collected the car from Rochdale on Sunday, October 3, it was a round trip of 575 miles. On the Monday I gave the car a good going over. When I tried to start the car I noticed the distributor was jumping around all over the place. I looked closer and noticed the advance and retard mechanism had been taken off.
Terry contacted me at this stage and we came to the conclusion that the wrong distributor was fitted. Terry continues:
I've managed to locate another and it should be with me soon. I also started to get the electrics sorted, what a mess! The wires were cut off, joined together with tape tied in knots and quite a few were just dangling there. There was only one thing for it, rip the lot out and start again. I've nearly finished that bit.
The next thing is to check all the mechanical bits like the brakes, steering and suspension. These seem at first glance to be in reasonable condition. The last job will be a total respray because the whole of the body is covered with small scuffs and scratches, but before then I'm hoping to get it MoT'd before Christmas so I can enjoy it a bit before I strip it down for the respray.
Well, that's the theory: we'll just have to wait and see if it all happens!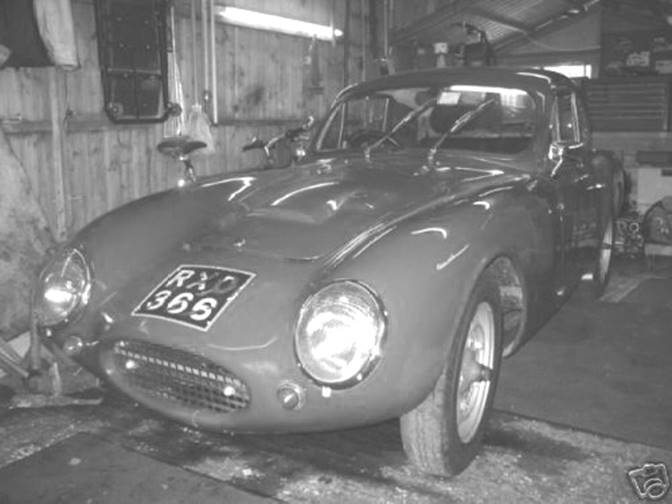 A recent photo of Terry Days GT RXO 366
BOOK REVIEW
OUT IN FRONT
The Leslie Ballamy Story
By Tony Russell
Published by MRP Publishing Ltd
ISBN 1-899870-69-5
Definitely one for your Christmas stocking list if you've any interest in the Special building hobby in which Rochdale Motor Panels grew up, this book is a labour of love by a Ford Special owner who has done a fabulous job. Not only is the book packed with fascinating information, it's also well written and extremely well illustrated.
There's no specific mention of Rochdales, but many of the components that went into the best-built early Rochdales came from Ballamys prolific drawing board and the book reveals that Leslie Ballamy was so much more than a maker of split axle independent front suspension. It should perhaps be no surprise that he was a true maverick, reminiscent in some ways of our own RMP founder Frank Butterworth (the two must have met at times through the 750 Motor Club). Ballamy was a prolific inventor of some genius whose products ranged from carpet tufting machinery to tube bending machines, many of which are still in use to this day. Like many of his kind, he worked until he dropped dead at his drawing board at the age of 87 and died, not a pauper, but certainly not as wealthy as he should have been. His character, charm and cussedness are ably conveyed in this excellent new book.
MM
One for the Christmas stocking
OLYMPIC REGISTRAR
I was interested to read the article from Les Brown in ROC99 about his newly acquired phase 2 shell and collection of parts, particularly the registration plate CNK 210B. Perhaps I can fill in what I know from my records, aided by an item in ROC 44.
The build up of CNK 210B (chassis No. 1891) was featured in an article in the February 1965 edition of Motor Sport. The article was written by L.A.M. so I presume this was the original owner. Unfortunately I have no idea who L.A.M. was, although he obviously had contacts with the motoring press as the build up article also appeared in Motoring News on 7th April 1966. It is possible that he was a regular contributor at the time so Motor Sport may have a record.
The car, with 28,000 miles on the clock then passed to a Robert Trier (or Friar) from Ettington, Stratford upon Avon. He kept it for a number of years and added another 182,000 miles. He then had a difference of opinion with another car at a road junction and the Olympic was severely damaged. However, he was able to buy another shell from Rochdale Motor Panels, which had apparently been put to one side as a master pattern for future use. This perhaps explains its unpigmented state. However, for various reasons, the Olympic was never rebuilt, although I understand the number may still be recorded on the DVLA computer.
The remains of CNK 210B together with the new bodyshell were put up for sale at the Kit Car Show at Stoneleigh in April 1992 and it was there that it was purchased by Steve Carr.
There you have it, the extent of my knowledge on this particular one, which may help.
The only other Olympic that I have a record of having passed through Steve Carrs ownership is OBN 391D (owned from 1986 to 1988).
This car incidentally, was for sale on ebay in mid-October 2004. OBN 391D is a Riley 1.5 based Phase 1, which from the photographs is in need of full restoration. My records indicate the last owner to be a Gordon Rose from Hartlepool. It did not reach its reserve of &pound1,111.11 so presumably may still for sale.
Whilst scanning the internet during my lunch hour recently I came across a site called Les Automobiles Extraordinaires. Despite clicking on English language it all stayed in French, so I am uncertain if the cars were for sale or just displaying unusual cars. (I think only the adverts become English Ed)
Amongst the numerous photographs was a Phase 2 Olympic, finished in light green. It has a continental style registration number OAE 775 and is left hand drive. Externally there are wire wheels with cut away rear arches with flares formed in three straight sections rather than a continuous curve to follow the wheel line. It also features rear quarter bumpers as well as the standard overriders. At the front there is a mesh grille and overriders as well as the standard quarter bumpers. This is a new car to me, does it ring any bells with any of our European members?
Most manufacturers destroy their prototypes, but not Rochdale Motor Panels it would seem. I had heard rumours that the prototype Olympic, with smaller glass area was actually sold to a customer once the final shape had been produced.
Reading through old copies of the magazine I came across an article in ROC 40 from a Stan Thorpe, who was good friends with the Butterworths during the late '50s and early '60s. In this article Stan writes about the prototype Olympic After it had served its purpose as a test bed this particular car was sold to a gentleman in Kingswood Creek on the Thames near London. The engine was retained by Rochdale Motor Panels, as was the registration number VDK 147, which was used on successive works cars. Looking through the Factory ledger there is an entry No 1521 dated 29th November 1960 for 1 Olympic @ &pound250 less &pound20 for engine. Now, this figure certainly doesn't tie up with the normal prices.
This order is from a Mr Leadley, The Anchorage, Kingswood Creek, Wraysbury, Nr. Staines, Middlesex. Could this be the sale of the prototype, it certainly looks a possibility? If so, I wonder what happened to the car afterwards and how long it survived.
Staines is not a million miles away from me, I think I feel more investigation coming on.
When we were at the Le Mans Classic back in July, Alan Farrer and I were talking to John Williams of Suffolk Sportscar Engineering, who produce the Jaguar SS100 replicas. He mentioned that John Gregson, who makes the Proteus, the Jaguar C and D type replicas, had an Olympic in his workshop. He further thought that this might be an unassembled kit.
I subsequently contacted John and he confirmed that he did have a beautifully prepared shell and all the mechanical components. Due to other commitments it seemed unlikely that I would be able to get to Romsey in the near future to look at the car, so Alan agreed to investigate.
Sure enough there, sat in the workshop, was a Phase 1 bodyshell, surrounded by all the mechanical components. The bodyshell has obviously been the subject of a professional restoration several years ago and appeared to be in excellent condition, although the paintwork is now showing signs of blistering.
John has owned the car for about 12 years and apparently bought it from a fellow racer. Unfortunately all paperwork seems to have disappeared and the shell contains no indication of its registration number. The only other clue to its identity is that at some time in the last 15 years it was apparently owned by someone in Chichester, West Sussex.
Excluding Alans of course, the only Olympic I could think of, that once resided in that area, is 333 VLG, a Phase 1. This was owned for several years by a very good friend Geoff Shiner. Geoff carried out a lot of work on the car including fitting a new sub-frame (in fact the last sub-frame produced by the factory). Geoff subsequently purchased a Phase 2, LYG 741D and sold the Phase 1 to Michael Holder. Michael lived in the Chichester area for several years, before moving to the midlands about 12 years ago. At this point I lost contact with the car, although there were rumours that the Riley engine broke its crank during a track day at Goodwood. Further enquiries are in hand.
Thanks to Russ Filby, the Turner Registrar, I was put in touch with John Holroyd, a professional photographer who covered most of the BARC meetings in the 1950s and 1960s. As a result I was able to obtain four photographs of Rochdales competing.
The first photograph shows Neville Hodkins Phase 1, 8500 DT at the Olivers Mount, Scarborough hillclimb in October 1961. This particular car was used fairly extensively during the early 1960s, although its ultimate fate, or that of the owner remains a mystery. I have heard rumours that Neville Hodkin, who lived in Doncaster, had some connection with BMC, but have been unable so far to substantiate this. Any information would be gratefully received.(I am told it was fitted with a tuned BMC engine, which would tally with Neville being a BMC engineer, and was also a lightweight Alan).
The second photograph is by far the most interesting as it shows a previously unknown, to me at least, Olympic registered 9735 NC. This is also taken at the Burtons factory, Leeds, in September 1961 and was noted as being driven by an A. J. Arnold (I assume this to be the Burtons clothing not the biscuit factory). The car is shown running without a bonnet, presumably to aid cooling and shows the distinctive cam cover of a Climax engine.
The remaining two show Alan Staniforths GT, at Aintree in 1958 and at a sprint at the Burtons factory, Leeds in 1959.
Subsequent close scrutiny of the factory ledger and deciphering of the handwriting indicated that a white Phase 1 was sold to a Mr Arnold of Union Street Garage, Andwick, Manchester on 27th January 1961. Furthermore there is also the note Modify Body/chassis to take Climax engine for which Rochdale Motor Panels charged the princely sum of &pound5. Strangely I had never noticed these notes before. This makes this particular car the third Olympic sold and one of only ten supplied before the factory fire. It all adds a bit more knowledge to my records. I wonder what eventually became of this particular Olympic?
Best wishes for Christmas and the New Year to all Rochdale owners.
Derek Bentley
Neville Hodkins Phase 1 at Olivers Mount hillclimb in 1961
A J Arnolds Phase 1 at a Burtons sprint in 1961. Climax cam cover just visible. Photos John Holroyd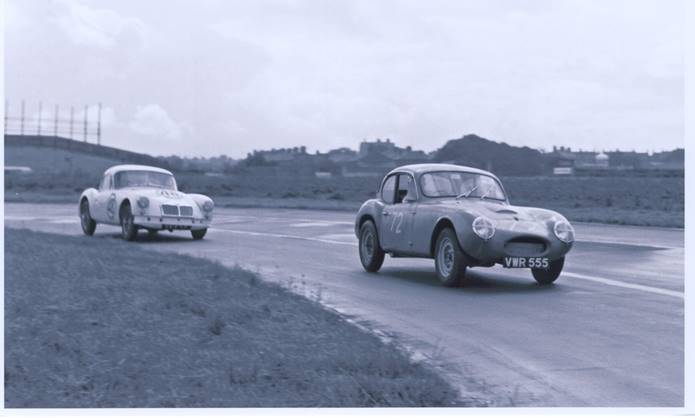 Allan Staniforths GT at Aintree in 1958
The GT at a Burtons factory sprint in 1959 Photos John Holroyd