MAGAZINE No 99 AUTUMN 2004
Edlines
The main event of interest for me, reported in this issue, was the trip to the Le Mans Classic in July (see Planet Rochdale), an event blessed with good weather, food and company. A definite 'must do' in 2006. It came from a suggestion by Colin Breakspear at Capesthorne and just grew. Derek Bentley and I travelled from Portsmouth in my Phase 2, Colin came from Germany with his wife Ilka, Phase 2 and trailer tent and Nigel Whittaker and Jane Devons came from Plymouth in their Vauxhall Tigra, as his TR3 threw up a problem at the last minute. We were joined by Ben Bettell, a friend of Colin, in his E‑Type. It would be difficult to find a nicer place to camp than the shady, riverside site at La Fleche.
There will be no ROC presence at the NEC again this year it seems there just isn't space for us (nor the Fairthorpe SCC either), so we are looking for an alternative venue.
Chair Chat
May I first start my ramblings by saying a big thank to all members and friends who sent the get well card from the Capesthorne Show and also to all who have been in touch to commiserate over the past few months. The present state of play is that I had the infected knee joint removed in May and, with a bit of luck, I will have a new replacement sometime around the end of September. So that puts an end to any sailing for this year. However the good news is that I have made a bit more progress on Project "Sows Ear" during the summer instead of wasting time lazing around in the boat.
But, more importantly as far as the Club business is concerned, we have a bit of good news. I am pleased to announce that the Mayor-Elect of Rochdale, Councillor Angela Coric, is delighted to accept our invitation of Honorary Presidency of the Rochdale Owners Club. She sends her best wishes for the ongoing success of the Club and would be happy to attend any functions the club may arrange, mayoral diary permitting. The Rochdale Metropolitan Borough Council has also indicated that they are also agreeable for future Mayors to hold this office as an ongoing arrangement.
Another bit of good news is that Ron Collins has been able to complete the Clubs Exhibitors Support Pack. Having taken on board the comments received at the AGM, Ron has produced an A4 sheet giving information about the Club, an A3 sheet detailing the history of Rochdale Motor Panels and an A4 sheet dedicated to the individual club members own car.
If you take your car to local events and would like to have an Exhibitors Support Pack then you will have to give Ron information about your car. All you have to do is contact Ron at the following address for a pro forma for your car and he will do the rest.
Ron Collins
22 Learmonth Grove
Edinburgh
EH4 1BW
E Mail :- ronatroncollins98.fsnet.co.uk
I know I keep getting on my hobbyhorse about Pre Olympics (I have a dream, and all that), so it has been encouraging to see still more items on the very subject in the latest Club Mag. When will we see some of these desirable machines at a club gathering?
During the summer it was good to see so many club members at the Specials Day at Burford in August where the turnout of Rochdales did us proud as usual. It is one of the few events were you can see such a wide range of kit cars and specials in one place. I was particularly pleased to see club member Alan Elliott there with his Buckler rolling chassis. He seems to be making excellent progress with it, considering he only got the car from the Isle of Man after a tip off from me in June. I only hope this dose not get in the way of progress on his GT.
As far as Project "Sows Ear" is concerned, progress has been slow. The hinges have now been made, the doors are in place and the body is nearly ready for primer. As you can see from the latest progress photos, I have moulded an air intake on the bonnet to feed the supercharger and an air scoop under the radiator intake to feed the oil cooler. It still looks like a sows ear , though.
Well, until next time, keep up the good work on those Rochdale Renovations.
Roger.
Rogers Mk VI is still progressing, despite knee problems. Note the novel 'semi-gullwing' door hinging.
****** LETTERS ******
BRAND NEW OLYMPIC APPEARS IN DARLINGTON!
Just when I thought I'd heard everything - from UFOs to Elvis alive in Barnsley - Nigel Whittakers phone call was enough to knock me back a step or two. An original Olympic shell, completely unused in 2004? Couldn't be right, surely? At any rate, the conversation was enough to get me hooked and I soon found myself taking the A1 northbound to investigate.
I shouldn't have been too surprised, really. A few years ago a friend had discovered a completely unused Ashley shell which he built up using Cortina bits (in vogue at the time) and one hears of occasional Morris 1100s and Rover 2000s which have surfaced with about ten miles on the clock. Even so, the prospect was quite exciting as the garage door swung open for the first time, and I was firmly headed for time-warp territory as I caught first glimpse of the still untouched shell on the concrete floor.
The background to all this is still not entirely clear. Catherine Carr, the current owner, had owned an Olympic in the 1980's before writing it off in an incident involving a brick wall. Her husband, Steve, had acquired this shell around 1990 with the intention of building it up into a replacement car but with various other time constraints had never got the project under way. Sadly, Steve died after a brief illness last year, leaving Catherine with all the bits and pieces to sort out and unfortunately documentation for the project has gone missing somewhere along the line.
Catherine believes the shell to have been the last produced by the factory, having been purchased to replace the body of another Olympic which had bitten the dust somewhere around the early '70s. Considerable persuasion had been needed to obtain a replacement shell at this point but the original purchaser had never started on the rebuild before it was sold on to Steve about fifteen years later. Catherine believes that this transaction came about through the club at that time, so I wonder if anyone can flesh out some of the details? Apparently, Steve was meticulous on the keeping of records such as this, but thorough searches have failed to turn up any details so far.
The first surprise with the shell is its complete absence of any pigment - were any others made in this manner? The early tests seem to suggest that RMP were one of the pioneers of gel colouring, although most cars have acquired coats of paint as time has passed. Secondly, it appears to have had virtually no work at all done since leaving the factory. One headlight aperture has been started on, and the area around the fuel tank sender has been damaged, but apart from the front subframe which is bonded in as normal, nothing else has been fitted to the shell. Thirdly, although clearly a Phase II, no petrol tank has been built into the left hand wing, and that on the right carries no recessing for the filler cap. Were these added after the moulding process? I had assumed them to be built in. Fourthly, although in surprisingly original condition, there was plenty of evidence of rough finishing around the edges and voids from the moulding process - not a problem if you're spraying, more so if you were relying on self-colouring - is this why it was supplied unpigmented?
Aside from the shell itself, there were plenty of other Olympic bits and pieces around, all used, and not apparently bought at the same time as the shell. These seem to be of a very similar vintage to my own car (1964) and include a registration plate for CNK 210B - mean anything to anyone? There were a couple of bonnets, a rear hatch and two doors/skins in pretty ropey condition. No engine or gearbox was apparent, though the axle and propshaft were there, along with wheels, steering and front suspension parts. In all, there would seem to have been three extinct Olympics surrounding the project: Catherines own 1964 (yellow) car, which she doesn't think supplied either the plate or the spares, a dark blue example supplying hatch, bonnet and one door, and a green car for bonnet and other door. Does the number refer to one of the latter cars? All very interesting to conjecture on, but unfortunately none have available documentation at present.
First thoughts were wow, what an enormous amount of work to put together - was this really the thirty-odd hours assembly condition quoted by the factory? Perhaps the kits were normally supplied in a more finished (started?) state with windows and doors fitted, perhaps. It certainly explained to me the reason why so many ended up with various bodges before making it to the road as this certainly looked anything but a simple bolt-it-together job to me.
Second thoughts were pretty much the same as well, along with where could I put it, when could I do it, etc etc. After all, logic (and Pat!) clearly suggested I was up to my neck in projects as it is, and it would be daft to even think of taking it on..... However, we all know that logic plays little part in these proceedings, and the thing kept gnawing away at me until eventually I couldn't resist it any longer. The local SKOPOS motor museum has agreed to house the shell for a while, and give me time to think of the direction it should take.
Easiest thing to do would be just assemble the bits available here, and source out an original-type Kent engine - perhaps ex 1600E or some such. A friend still has an almost new Rover V-8 at the back of his garage which he tries to persuade me would go nicely in just about everything I've owned for the last few years - wonder how that original suspension would cope? At present I'm leaning towards building it up using fairly modern bits as it's never actually been assembled as a 60s/70s car in the first place. Ford-based IRS layouts seem to be in vogue among current kit cars and details of the Zetec/M75 route seems to have been pretty well sorted by now. Those photos of the Cosworth V6 being swallowed up in DUFs engine bay scared the pants off me!
What do you think? I'd be interested to hear from anyone with further information on the history of the shell, and also any thoughts of serious updates on the suspension/engine front. Could be a year or two before they get under way though!
Les Brown
Hi Les,
To set the ball rolling, I offer my thoughts: I think you're mad! There is a huge amount of work involved in getting that shell into a good runner, especially if you are going to introduce mods but what do I know?
Looking beyond the question of your sanity, my current leanings engine-wise are a Zetec S 1400 from a Fiesta mated to an MT75 gearbox (I assume they will mate with no particular difficulty). This engine has the big advantage of induction on the left side, meaning sufficient space for carbs or even the original EFI; the engine is also all alloy and very smooth (if the 1250cc version is anything to go by). The MT75 has the big advantage of an extension that can be reversed to bring the gearlever into a good position.
I wouldn't choose the Sierra rear suspension personally it's very heavy and you still need to reduce the track width and shorten the driveshafts. It would be better to either stay live-axled or do your own IRS. Front suspension: ditch that subframe and do a Ron Collins or Colin B. Apart from that, I have no comments.
Incidentally, my current Phase 2 was registered in 1972, so is of a similar vintage to this one. It has coloured gel coat but the moulding flashes were still on it when I got it, even though it had been used for several thousand miles. Also, it was peppered with voids in the gel coat.
Alan (part way through a heavily modified Phase 2 rebuild) Farrer
Two views of the new and unused Phase 2 shell
The interior and dash; the doors and bonnet (from other cars) All pictures by Les Brown
New generation - same old problem
I enjoyed the article by Les Brown in the last issue of the mag. dealing with luggage space in the Olympic. Let me describe a car for you. It's a glassfibre (aside - is fibreglass still a trade name? Did it belong to Dow Corning ?) two door monocoque which claims to be a four seater or at least a two-plus-two. I wouldn't like to spend much time in the plus-two part of the car.
It has the potential for good luggage carrying but to do so needs a bit of adaptation if not minor surgery. It uses running gear from a well-known company in the Longbridge area. It is light weight and it enjoys good performance and lots of mpg. It is fun to use on a daily basis and people usually ask "What is it '?' I see that you've guessed already. It's a Midas coupe. It's the blood brother - or maybe the blood love child, since it's forty years younger - of the Olympic and one keeps company with our Phase I.
The luggage question is exactly the same though. We've deleted the two occasional seats of the Midas, made the boot lid bigger for ease of access and behold! four - yes four and we've the photos to prove it - suitcases fit in comfortably, along with various hidden bits and pieces. Ideal for just the two of us going on holiday.
The running gear is K-series and it's front wheel drive of course but, that apart, the similarities with the Olympic are amazing. Like I said, new generation, same old problem but solved equally simply in both cars. Nothing new under the sun. There, I thought you'd like to know that.
Michael Horsley.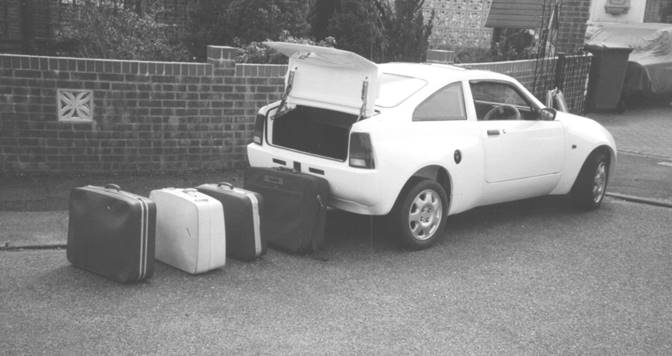 No, it's not a Rochdale, but it's a blood brother a Midas coupe demonstrating its luggage-carrying ability. Photo Mike Horsley
Seat Belt Law (by David Hurley, from FBHVC Newsletter No 3 2004)
The law requires drivers and passengers in cars and other light vehicles to wear seat belts 'if available'. There are stricter requirements for children. The present position is covered by regulations introduced in UK under Sections 14 and 15 of the Road Traffic Act of 1988 (as amended in 1992) which implement Council Directive 91/67 I/EEC 'on the approximation of the laws of the Member States relating to the compulsory use of safety belts in vehicles of less than 3.5 tonnes'.
There are two sets of regulations - Statutory Instrument 1993 no. 31, The Motor Vehicles (Wearing of Seat Belts by Children in Front Seats) Regulations 1993 and Statutory Instrument 1993 no. 176 The Motor Vehicles (Wearing of Seat Belts) Regulations 1993.
Ignoring special provisions for the disabled, those with medical certificates, delivery vehicles and taxis, the regulations can be summarised as: if the seat has a belt, anyone using the seat must also use the belt, whether or not the motor vehicle concerned is required to have belts fitted.
Life gets complicated for those carrying children. The recommendation is that children should only be carried when there are approved restraints available, appropriate for the age and size of the child, but the law is actually a little more flexible. In general, if an approved child restraint is available, it must be used. If no such restraint is available, an adult belt must be used by children three years old and over. If no adult belt is available, children must be carried in the rear seats. This can be summarised in the chart below.
EU Directive 2003/20/EC, amends directive 91/671/EEC and means that further regulations will have to be introduced in UK by May 2008 specifying in greater detail the requirements for safety restraints for children. The new directive stipulates that those under 14 must use one of five appropriate approved child restraints - it will no longer be acceptable for children between three and 13 years to use adult belts unless they have attained a height of at least 150 cm. The directive, however, does allow member states to make special conditions for vehicles where no seat belts are fitted - it will be interesting to see how the government proposes to translate this directive into UK law.
Two seater, no seat belts

Two seater, with seat belts

Two or more rows of seats, no seat belts

Two or more rows of seats, front belts only

Two or more rows of seats, all with belts

Children under 3

Not allowed*

In a carry cot that is itself restrained by straps or in an approved restraint. Not allowed if no suitable child restraint is available

Not allowed in front

Not allowed in front if no suitable child restraint is available

Not allowed in front if no suitable child restraint is available.

In a carry cot that is itself restrained by straps or in an approved restraint

Small children (aged 3 to 11 and under 150cm tall)

Allowed*

Allowed. Must use adult belt if no suitable child restraint available.

Not allowed in front

Must have priority over any older passengers for use of front seat belt

Allowed. Must use adult belt if no suitable child restraint available

Large children (12 or 13 or younger children over 150cm tall)

Allowed

Allowed

No restriction

Must have priority over any older passengers for use of front seat belt

No restriction
* Regulation 7.1 (e) of 'The Motor Vehicles (Wearing of Seat Belts by Children in Front Seats) Regulations 1993 provides an exemption to allow the carriage of unrestrained children in the front seat of motor cars first used before I January 1965 if the vehicle has no rear seats. The exemption does not differentiate between different sizes of children. Other regulations imply there is no exemption for children under three: the charter errs on the side of caution.
SORN EXPLAINED (by Sandy Hamilton, from FBHVC Newsletter No 2 2004)
From the volume of calls and mail received it seems there are many myths and concerns, some genuine, surrounding the tightening of SORN regulations and the issue of new V5C logbooks. One of the confusions seems to be in the use of the words 'registered/registration' and 'licensed/licensing' which have quite specific meanings depending upon the context; they are not interchangeable. We asked DVLA to reply to these concerns and received a helpful reply.
The Vehicle Registration Certificate (V5C) is simply an official document confirming that the vehicle is registered: after July 2005 it will be the only form of document that will be accepted as confirmation of registration, but that does not affect the underlying registration itself. Registration is the requirement to have the vehicle details recorded on the register, evidenced formerly by old-style RF60 logbooks or V5 printouts and now by the new V5C. When a vehicle is used on the road it needs to be licensed and, from 31 January 1995, this requirement is extended to include those vehicles that are taken off the road (SORN) provided that they had held a valid licence at that date. There has been no change to this legislation.
As SORN only applies to vehicles where a licence was in force on or after 31 January 1998 'off road' projects will only fall within SORN requirements when they are put back on the road and take out a new licence. If you change address or sell your project there is no requirement to declare SORN, neither is there a requirement if an off road project is the subject of a successful V765 application to reclaim a 'lost' number prior to being made roadworthy. Any other instruction from an official source is incorrect and you should, politely, ask them to obtain clarification from the SORN unit at DVLA Swansea.
The legislation was introduced to ensure that the vehicle register is kept up-to-date at least once per year and there will be a penalty if one does not do so. Thus, while all historic classification vehicles are on the register (excluding those that missed the 1983 'cut' or closure of the Swansea Register to inactive records), only those that are both registered and licensed/ or covered by SORN are subject to the annual declaration with consequent penalties for non-compliance.
It is recognised that some motorists, especially those who may be abroad for extended periods, may find it difficult to declare SORN on time. Prior to this legislation those people usually let an existing licence expire (or applied for a refund) and then took out a new licence upon their return. There is no longer an option to do nothing: however, you can apply up to six weeks in advance of a current SORN expiring using a V890 SORN Declaration. This must be supported by a written explanation of the circumstances and both sent to DVLA. For those motorists taking extended breaks they should either arrange for someone to submit the relevant forms or contact DVLA in advance of departure and explain their particular circumstances It is also possible to return a tax disc at any time using form V14 which also provides the opportunity to declare SORN as well as claiming a refund (if applicable) for any complete months of unexpired Vehicle Excise Duty.
DVLA tries to ensure that vehicle keepers receive an up-to-date reminder (V11) to enable them to re-license with the minimum of disruption, but there is no statutory obligation to do so. Full responsibility for ensuring that vehicles are currently licensed, or subject to SORN where applicable, rests with the keeper. Absence or late receipt of a V11 does not alter or release a keeper from this responsibility, so we suggest that keepers make a note of all relevant declarations and monitor the list regularly. One final point on SORN: a valid declaration is not transferred with change of ownership (unlike an unexpired licence disc) and a new keeper of an untaxed vehicle must take steps to ascertain the SORN status. He/she has two options: either a new licence is obtained or he/she must declare SORN immediately. This will be enforced but DVLA will treat each case on merit and does retain the right to exercise discretion.
The new V5C documents do not point out the obligation to declare SORN immediately upon acquisition, although this lack may be corrected at a future revision. For anyone unsure whether SORN applies to a vehicle (lack of documents or an uncooperative owner) there is an enquiry line at 09067 657585 to establish the date of last licensing. Note that this is a premium rate line that costs 49p/minute.
The new V5C documents have generated many queries in their short life. At present they are only being issued to newly registered vehicles or upon notification of a change of particulars. Anyone applying for a duplicate document will also receive the new format but will now have to pay a fee for the replacement. Starting in July 2004 all keepers applying for a replacement licence or declaring/renewing SORN will receive a new V5C some six weeks after renewal. This process will continue until June 2005 when the exercise is expected to be completed for all registered and licensed vehicles, in excess of 30 million. This process does not include those non-SORN vehicles that were off road prior to 31 January 1998 and, at present, plans have not been finalised to enable them to obtain new V5C logbooks although we have been promised that arrangements will be made to allow this to happen.
At 1 July 2005 all old style documents will cease to have legal validity. This does not mean that keepers will lose entitlement to their marks nor that these marks will have any restrictions placed upon them. If you wish to licence your vehicle that has been off the road prior to 1998, to sell your project, or advise changed details, then these can only be recorded after you have applied for a new V5C at a local DVLA office. It is quite possible that keepers in this category will receive a mailing encouraging them to apply for a new V5C but we are assured there will be no compulsion and that new documents will NOT be sent unsolicited. At the risk of being repetitive this probable process will not trigger SORN if there is no existing obligation to do so.
Many enquirers have made the point that while they support the principles behind the new legislation they have the impression that it is only the law-abiding who will suffer penalties due to lack of relevant information or through genuine inability to meet seemingly arbitrary deadlines. We have been assured that it is not the Agency's intention to persecute honest motorists but to crack down on offenders who repeatedly abuse the system. Long-term evaders will be targeted through increased roadside enforcement, in particular through wheel-clamping and removal (either by DVLA or joint operations with Local Authorities) and that tough targets have been set by ministers. DVLA will also be working closely with the 23 police forces operating APNR cameras (Automatic Number Plate Recognition) which are reportedly very effective in detecting these vehicles.
Some of the confusion arising from these two issues may be due to an excess of enthusiasm by DVLA customer enquiry responders. Perhaps the complexity of the two issues and the volume of changes being simultaneously introduced caused a few divergences from the agreed script. Everyone who contacted me, without exception, mentioned that their telephone enquiry had been answered promptly and in a polite and friendly manner. Long may that continue.
One further item relates to the registration marks allocated to those vehicles manufactured between 1906-30. Until now, the letters SV followed by four numbers have been used but this series is now exhausted. All vehicles manufactured prior to 1930 will now be allocated registration marks in the BS series which had formerly been reserved only for those vehicles manufactured prior to 1906.
PLANET ROCHDALE
Name :- Planet Rochdale Date:- See Captain's Logbook
Location :- Wherever two or more Rocs are gathered together around an open bonnet.
Mission:- To explore the far ends of the Loire valley at a destination known as 'Circuit des 24 Heures du Mans'
The crew:- As usual made up of all nationalities: a German (Ilka), a Zulu (Colin Breakspear), a Vulcan (Alan Farrer), a Gentleman (Derek Bentley), a Romany (Ben Bettell), a Quarter Welsh (Nigel Whittaker) and a Bit Northern (Jane Devons).
Transportation method:- Two Rochdale Olympics (one with Tardis-like trailer tent - smaller on the inside than outside), one Jaguar 'E' Type, and one (Ahem) Vauxhall Tigra (Nigels TR3 developed a last minute fault Ed).
The Reality:- The travellers converged on La Fl'che just south of Le Mans to be greeted by Colin and Ilka at their encampment in a fantastic setting next to the river Loire and, importantly, within walking distance of several excellent restaurants at the end of the universe. Here we could lift our bonnets, relax and visit Planet Rochdale; even 'talking trunnions' with inquisitive passers-by from Holland and Bolton.
The Race:- We went into 'geostationary orbit' around Le Mans due to a complete lack of interstellar signposting to docking ports (oh all right, car parks) and eventually parked on a verge like everyone else, which was a brave decision for the Olympic pilots due to the six inch high kerb stones.
On reaching the circuit we entered a parallel universe with enthusiasts on Planet Bizzarini, Planet Chevron, Planet Porsche, Planet Shelby, and even some in Deep Sanderson.
Racing started at 16.00 hrs, each age category of historic cars racing for around one hour before the next cars went out for their stint.
Sitting in the grandstand opposite the pits and alongside the start we were treated to the traditional drivers' dash across the track followed by the enthusiasts' dream of the noise and smell of 50-plus six and eight cylinder engines accelerating away. The spectators' enthusiasm was infectious, as demonstated by the cheers that went up when the stragglers, whose cars wouldn't go, were bump started into life by the marshals.
As it took some time for the older cars to complete one lap of the circuit we later walked around to watch at various corners and to enthuse over the sight of drifting D-types on racing tyres, and the occasional spin. The pits were fully accessible to us mere mortals (for 15 earthly euros) and gave the opportunity to examine the expensive boys' toys and wonder at the aerodynamic efficiency of the Panhards and Alpines; a nirvana for Planet Petrolhead.
The atmosphere within the circuit was as inviting as the barmiest (balmiest?) of days on Planet Rochdale and the hours passed as quickly as those spent in a Roc's garage.
The Rest:- Our intrepid band endured long evenings testing the native food and wine and discussing tricky mechanical arrangements and derangements before retiring to bed, already looking forward to Colin and Ilka's fortifying cooked breakfast in our happy base camp.
The departure of Alan and Derek was memorable for the 'Airbed Incident' as four Rochdale engineers tackled the tricky task of deflating Alan's mattress without the use of Churchill tool No. 1234, a process which resulted in hysterics but thankfully no visit to the local casualty department.
Our thanks to Colin and Ilka for providing our base camp, Alan and Derek for joining us at short notice and Ben and Ray for being the same person!
Let's do it again in 2006! All Rocs welcome.
Nigel and Jane.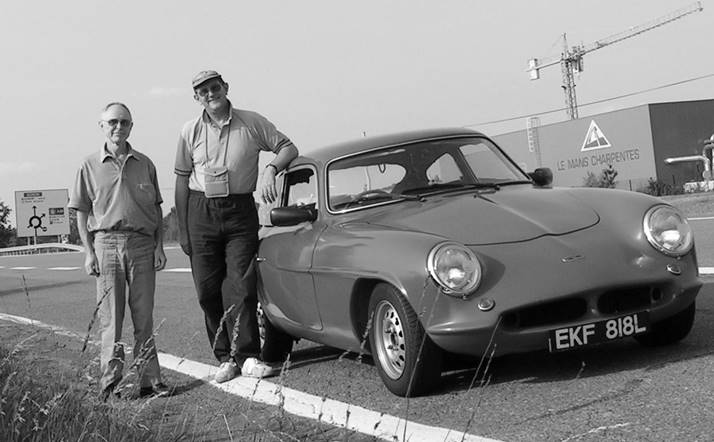 Starship 818L somewhere in Deep Space
Crewmembers Ships defend Planet Rochdale from Jaguar invader
The Intrepid Crew endured the harsh conditions with Typical British (German, Zulu, & Vulcan) fortitude
Answering the Ultimate Question: How many Earthlings does it take to dismantle a Teleporter?
The bleak and unforgiving conditions endured by the team
OLYMPIC SEATBELTS
Most current Olympic owners like to fit seatbelts, but the normal, modern attachment point on the B pillar is not usable because the B pillar is nowhere near strong enough, being a glassfibre moulding without any steel reinforcement. The usual answer in the Phase 1 is to use the turret that supports the rear suspension spring but in the Phase 2 the only practical attachment is on the top of the wheel arch. In both cases space has to be found for the inertia reels if this type of belt is wanted.
I have found that the low height of the attachment in my Phase 2 causes some discomfort on a long journey, especially if I'm in shirtsleeves, as the belt presses on the side of the neck. I therefore looked to see whether the B pillar could be reinforced. At first sight it doesn't look promising, because the pillar has an awkward kink which prevents a steel tube or bar from extending from roof rail to floor. The pillar does, however, have enough space to house a tube up to 1" diameter from the roof rail to the top of the wheel arch. Would this be enough?
By analysing the geometry of the setup I could see that the direction of the force on the attachment point, assuming the reel were below the point (as is usual), was largely downwards and forwards, ie not horizontal. This eases the problem, as not only is the bending force is less but there is also less chance of any reinforcing bar being pulled out. This means that a short bar can be used between roof rail and wheel arch, provided that the top and bottom are well attached and prevent the bar being pulled straight down through the top of the wheel arch.
The photographs show details of the arrangement.
I used 22mm diameter ERW steel tube with a 3mm wall thickness and welded an 7/16 UNF nut into it about 5" from one end to take the standard seat belt bolt. The top has about 1" of the front surface cut away to form a protrusion which hooks behind the steel roof rail. The bottom protrudes through a hole cut in the top of the wheel arch and is shaped to fit snugly on to the curve of the kink. A short length of 6mm studding is also fitted transversely through the bottom to help resist movement downwards. The top and bottom are then glassed in with as much material as possible to make stout anchorages.
The inertia reel, which came from the rear of a Fiesta, is mounted in an unusual position just below the top mount, and is fitted to a steel strap which is bolted to the side of the wheel arch. The reel and strap are angled to match the g sensor in the reel. This position, although visible, keeps the reel well away from potential snags and enables the rather short belt reach the clip. The siting had to be chosen carefully, however, as it is close to the seat back in its rearmost position. (NB Reels designed for the front seats normally need to be mounted vertically as they are mounted vertically below the top mounts in the donor car. In the Fiesta the reels for the rear seats are mounted behind and below the top mounts, and are therefore angled).
Caveat: I must emphasise I believe this design to be perfectly strong enough for the application and I would not like to be in a crash where the forces were high enough to pull the fixing out, but it should not be copied unless you are convinced of its safety.
Alan Farrer
The complete assembly The reinforcing tube in place
7/16 UNF nut welded into the tubeThe bottom end bonded into place
Effect of Dampers on Handling
I was glancing through a book I bought in a jumble sale a while back called Car Conversions for Power and Speed published in 1971 and came across a couple of gems, which are reproduced below. Ed
Experiments by Practical Motorist with a set of Armstrong 'Adjustaride 22' dampers fitted to a lightweight Ginetta G4 sports car confirmed that adjustment can have a startling effect on a car's handling. As the name suggests, 'Adjustarides' have twenty-two different settings normally covering the range from one click softer than standard to twenty settings harder. But on the test units, standard damping was provided with setting No 10 selected. Four tests were made to check the effect of various settings on the car's handling. In standard form, the vehicle understeered on the entry to a corner.
Test 1: All dampers wound to their softest setting. Result: a soft ride on the straights, but cornering produced an excessive amount of roll, the car tended to wallow on bumpy corners, and individual wheels hopped off the ground. Steering became unresponsive and the car still understeered.
Test 2: All dampers wound to their hardest setting. Result: every bump was transmitted to the chassis, the vehicle rattled constantly, and even on moderately bumpy corners there was a tendency for both back wheels to leave the ground at times. There was more cornering power than with Test 1, but the car still understeered. Steering was very responsive, but road shocks were transmitted to the wheel. The quick steering meant that the throttle could be used to kick the tail out and produce a condition close to a four-wheel slide round right corners, although constant correction was needed over the bumps.
Test 3: Front dampers at their softest setting, rear dampers at their hardest setting. Result: a noticeable increase in the degree of understeer coupled with an expensive amount of tyre scrub. In corners, the car took up a pronounced nose-down attitude as the front tried to roll more than the rear. Steering unrespon- sive, some snaking during heavy braking.
Test 4: The reverse of Test 3: front dampers on their hardest setting, rear dampers in the fully soft adjustment. Result: unpredictable handling under all conditions. On straights, the car pitched violently at speeds around 90mph, while on bumpy corners it would change direction without warning, as the tail-end did a sort of fish-tail action. Since the behaviour was so peculiar, it was difficult accurately to assess the degree of understeer. The general opinion was that possibly it had diminished, although that which had replaced it was far worse.
The ideal compromise on this car was with the front dampers set on No 12 and the rear ones on No 14. This gave a slightly stiffer ride than normal, but with enough resilience to deal with bumpy surfaces without excessive wheel-hop or the whole car leaping sideways on corners. Steering response was good, but without too many road shocks being transmitted to the wheel. The understeer was about the same as normal.
The above tests illustrate that very hard shock absorbers not only give an uncomfortable ride and put considerable strain on the body chassis unit, but can also hamper the traction available in corners by perhaps allowing the complete back end of the car to lift off the road after it has hit a bump. It is interesting that the final settings coincide roughly with the 20-25 per cent increased stiffness which most shock-absorber manufacturers recommend as the optimum for road cars.
Having digested the above I decided to try adjustments on my Phase 2 fitted with Club AVOs set to their softest. I had already swapped the 14" wheels for 13" and lowered the ride height about 1" as the car looked excessively high off the ground. I also set the tyre pressures to 26/24 psi f/r. These changes improved the handling a little, giving reasonably light steering and a reasonably smooth ride, but the car understeered and rolled too much and the back end dipped under cornering loads, which made it feel unstable. The front dampers were left unchanged, but the rears were stiffened progressively. The rear end felt better straight away, roll being less pronounced and with less dip when cornering, but with 2 turns harder the ride was noticeably harsher. Backing off to 1 turns up seems to be the best compromise, so that is where I have left them. I didn't try stiffening the fronts as the damping seems OK; the steering has just a little understeer and the car is stable at speed, so I'm happy. Ed.
Brake Bleeding
This article refers to the different techniques that should be used when bleeding brakes fitted with either Girling or Lockheed systems.
The way that the pedal is pressed varies with the braking system. Lockheed recommend that the pedal is pressed slowly to the floor and allowed to return after a short pause. Girling, on the other hand, have a different approach. On their CV (centre valve) master cylinder, they suggest you do a sort of 'cha-cha-cha' on the pedal, first pushing it down hard to the floor and following this with three short rapid strokes, after which the foot is slid off the pedal so it can snap back to its stop before you start the process again. The quick action dislodges any air bubbles which may form round the return spring in the master cylinder. Girling also produce another master cylinder, coded CB.
On this one the procedure is to press the pedal slowly to the floor, and allow it to return slowly. There should then be a pause of about three or four seconds, after which the action is repeated. For identification purposes, the CV cylinder is always made from aluminium alloy, whereas the CB is of cast-iron construction.
When no further air bubbles come from the end of the tube, tighten the bleed screw while your helper holds the pedal down. Top up the reservoir (the level must never drop below half-full) and repeat the process on the other wheels, finishing with the wheel nearest the master cylinder.
On cars with disc brakes at the front and drums at the rear, the discs are bled first, generally starting with the one nearest the master cylinder. On cars with dual-line braking the sequence may be different and the handbook should be consulted.
Girling master cylinders: CV (top), CB (bottom)
Grundling Along in my Automobile
Most Olympic owners I have spoken to report an annoying grundling noise from the transmission on the transition between drive and over-run. This seems to be a characteristic of the A series axle in this application, as is axle whine, but that's another story. I don't know whether it also afflicts the Morris Minor or Riley 1.5.
Colin Breakspear is not a man to let a grundle beat him and he reports that he spent some time working on the diff of his Phase 2 in an attempt to cure it, including taking out most of the backlash in the crown wheel and pinion, all to no avail. While lying under the car one day he decided that the diff nose seemed a bit too high, so he knocked up an adjustable torque reaction arm, and when this was fitted and the diff angle adjusted, hey presto! no grundle. It seems that the diff is sensitive to the torsional vibrations that occur when the uj's have different angles. In the Olympic, which has a very short prop shaft, the variation in angles with suspension movement can be quite large, hence the grundle.
My Phase 2 was almost free from grundle, but I also fitted an adjustable torque reaction arm and lowered the nose of the diff and now I suffer only from the whine. To cure this I am considering a change of axle to either Dolomite or Marina any comments from anyone?
PS To prevent the diff clanging on the Panhard rod I lowered the latter at the axle end by about 2" by inserting an extension made from 2" angle very simple.
Alan Farrer
******************************************
This Connaught AL/SR, pictured at the Le Mans Classic, at one time had a Rochdale C-type body.
Rochdale copied that from the original alloy item, but this car now has a replica alloy body.
The Rochdale Olympic Success or Failure ?
Whilst, having owned an Olympic for over 30 years it is difficult to be neutral, I will do my best to give an unbiased answer the question I have posed in the title.
There is no doubt that the pre-Olympic shells were a commercial success for Rochdale Motor Panels. The early shells were relatively simple to produce and particularly the GT model sold in considerable numbers. Very few components needed to be bought in and the basic GRP raw materials were fairly cheap. Relatively unskilled labour could also be used to produce the mouldings. In addition, the shells were generally sold to special builders, enthusiasts who were adept at modifying things to fit and did not expect the out of the mould finish to be 100% perfect.
At this stage the sidevalve Ford was the most common donor vehicle for Rochdales products, although some of the shells found their way onto any number of different chassis. However, by the late 1950's the Ford was becoming a little outdated, being basically a slightly altered pre-war design, even though the sidevalve engine in 100E form would continue in production for several more years.
Rochdale looked around and decided that, in their opinion, the Morris Minor could become the next special builders car. The Minor had been about for some ten years by this time and so presumably were fairly readily available second hand and a number had reached the scrapyards. The Minor was more mechanically advanced than the Ford, in both the suspension and engine departments. (By this time the 948cc A series engine had been available for a couple of years and had generally replaced the original 918cc sidevalve and 803cc OHV engines).
However, from the point of view of a donor vehicle for a special it had one major problem, namely no separate chassis. The idea of a GRP monocoque body/chassis unit was therefore an extremely logical one.
By this time Rochdale had plenty of experience at fibreglass moulding and were aware from the Lotus Elite that a GRP monocoque, with only limited steel re-enforcement, would be strong enough. Where Rochdale (presumably Richard Parker) decided to do it differently from Lotus was in moulding the main shell in one piece and bonding in the internal bulkheads whilst it was all still in the mould. This method of body construction was patented by the company and a copy of the Patent can still be viewed on the Patent Office website.
The downside of this construction method was that it made the body more complicated to mould and pushed up the price. This can be shown by comparing the cost of the GT bodyshell with a Rochdale chassis at &pound178 to that for the Olympic of &pound248 in F type form and &pound256 in A type form (over 40% higher).
To clarify the above nomenclature, the A type was designed to use the Morris Minor or Riley 1.5 components, whilst the F type allowed the use of Ford sidevalve components. Unsurprisingly, the latter option did not sell in great quantities.
The initial idea was to market the model in the same way as previously, that is to say just supply the bodyshell, together with certain special items such as suspension units, and leave the customer to provide their own mechanical components, which could be sourced from the breakers yard or even purchased new from the local BMC dealer. Items such as axles could be sent to Rochdale to allow for welding of mounting brackets etc.
Even interior trim items were made in house, being generally textured GRP panels.
It was also realised early on that the shell could easily be modified to permit the use of Riley 1.5 or Wolseley 1500 components, which gave bigger brakes and allowed the use of the more powerful B series engines. In this form it offered a greater performance and provided competition to the MGAs and Triumph TRs rather than the Sprite. As a downside the B series engine was physically much larger than the A series which compromised access within the engine bay.
There can be no doubt that the factory fire, in early 1961, had a serious effect on Olympic sales. At this point in time it had received good reports in the motoring journals and Rochdale had orders for about 35 Olympics, although they had only actually supplied about 8. During the couple of months that it took to re-make the moulds and get back into production many orders were lost.
Shortly after they were back in production it was decided to market the Olympic as a complete kit. This decision changed the whole concept of the Olympic and moved it upmarket. Components such as engines, gearboxes, axle, suspension etc. now had to be bought in. Although I am not 100% certain, I suspect that these would have come from the local dealer rather than direct from BMC. As a result prices to them would presumably have only been at normal trade price, which would have pushed up the cost of the kit and/or reduced the profit margin.
With the introduction of the Olympic kit the goal posts were definitely moved. For a start, the prices rose to &pound598 for the Minor 1000 kit and &pound670 for the Riley 1.5 version. As a comparison with production cars, the Sprite cost &pound586, TR4 &pound906 and of course the recently introduced Mini &pound447. Whilst these figures seem minuscule by today's standards it should be remembered that in the early &pound60s a figure of &pound1000 per annum was considered a very good salary.
As a slight aside Richard Parker told me that there were two reasons for changing to Triumph suspension on the Phase 2. One was to obtain disc brakes and the second, and more important, was because the Triumph components were cheaper than the BMC items. Harry Smith admitted that they were trying to compete with the likes of Fairthorpe and therefore the Olympic was built down to a price rather than up to a quality.
In retrospect this was probably a wrong decision as the Olympic Kit was now appealing to a wider and perhaps slightly different market. Although the car was still selling to the special builder, it was also appealing to other groups such as local medical students etc. Most of the former probably still ordered a bare shell as they had the knowledge and skill to achieve a satisfactory result.
A number of the people ordering the complete kits, however, had more limited practical skills and to a certain extent were taken in by the literature, which extolled the ease with which the kit could be assembled. The literature stated A normal kit of tools, electric drill, a fair share of common sense and about 35 hours time are the only requirements.
In practice this was not always the case as components did not always just bolt together and this could generate much correspondence and telephone calls for Rochdale to deal with. No assembly instructions were provided with the kit as this would have infringed the Purchase Tax laws. In some cases this even reached the point where the customer insisting that Rochdale sent someone to finish assembly of the kit as it had not been completed in the quoted 35 hours.
BMC were also having problems at this stage and Rochdale were among many waiting for engines, axles etc to be supplied. As a result, many kits were sent out incomplete, which generated even more paperwork and administration time and presumably in some cases disgruntled customers.
As a result, the administration costs were far higher in selling the Olympic than they had been with the earlier shells. Presumably Harry and Frank realised that the profit margins were much lower with the Olympic, which was why there were no developments planned beyond the Phase 2. No doubt this was one reason for Richards departure to Lotus.
So, back to the initial question.
There is no doubt that the Olympic was a brilliant concept. However, a lot of the cars were let down by poor standards of finish, which were never addressed by the original or subsequent owners. Commercially, I doubt that Rochdale Motor Panels made any profits from selling the Olympic and it is perhaps only their enthusiasm and the other GRP products that enabled them to carry on selling kits for so long. However, those of us who are lucky enough to own one today are grateful that they did.
Derek Bentley