MAGAZINE No 98 SUMMER 2004
Edlines
This issue continues the resurgence of interest in GTs, but they have yet to show up at events. The AGM was well attended as usual (by Olympics) and the Capesthorne Show was a huge success this year, thanks both to Ron Scarfes and assistants hard work and perfect weather. The next event normally attended by Rochdale cars to look forward to is advertised below. Come on GT owners!
Chair Chat
It was good to see so many new and old friends at the AGM again this year. I don't think there are many clubs who get such a large proportion of its members turning out for such an event, but thank you all.
Although the weather could have been better we had plenty of time to look around the 10 excellent Olympic examples present and also a beautiful 1928 Frazer Nash owned by club member Tim Boyce. I am disappointed to report that there were no Pre-Olympics at the meeting this year. I had intended bringing my Mk.6 Project. "The mind was willing, but the body was weak". (Ah well "I still have a dream").
One of the agenda items at the AGM was that of Honorary President for our club. It was agreed the we should approach the Rochdale Borough Council to see if there is a way to maintain close links with the birthplace of our cars. We will keep you all informed of progress.
The next major event for the club was the Cheshire Kit Car Show, which took place on Sunday 23 May. The weather was glorious, and with fine weather forecast too there was a very large turnout. The whole day ran as smoothly as ever under the overall control of Ron Scarfe. A big thank you to Ron and all the members who faithfully turned up to make the week end such a huge success yet again. Special mention too of Malcolm McKay who stepped in at short notice to give an illustrated talk on Early Rochdales, on the Saturday evening, which was a great success.
I was very disappointed at not being able to attend the Show this year, but I was otherwise detained in hospital again, undergoing a further knee operation.
My Mk.VI has made slow progress during the past months, due to the knee problem, but the major task at the moment is to get the body to a stage were I can start to put some paint on.
As I keep applying body filler and seeing the majority of it finish up as a pile of dust on the garage floor, an old saying keeps running around in my head. "Beauty is only skin deep". Then I stand back and look at the progress made and another saying takes over. "You can't make a silk purse out of a sow's ear". Ah well, we shall see.
As you can see from the photos, the body shell now has an opening boot, doors and a forward-opening front section. The bonnet hatch will be bonded into the front section when the bodywork is finally fitted. It's amazing how time-consuming it has been creating the location flanges in the body for the boot lid opening and the opening front bonnet section. As for the doors, I finished up making moulds for the inner doors and the door returns in the body. My next challenge is to design and make internal hinges for the doors. Well, I stand back and look at the overall progress and it still doesn't look much like a silk purse, so I think I will christen the project "The Sow's Ear".
I think the next opportunity for a get together (apart from all those local gatherings that is! ) will be at the Burford Wild Life Park in August.
I hope to see you all then.
Roger Coupe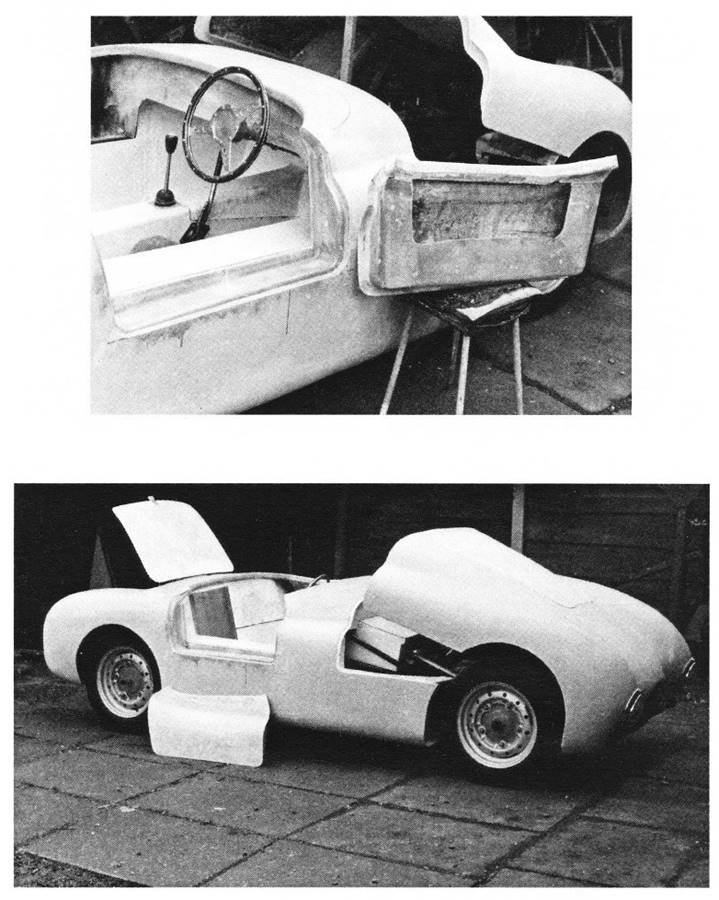 Rogers MkVI is progressing, despite knee problems for Roger. Sow's Ear indeed!
South West Area Meeting
Typical isn't it? Sunday 28th March was overcast and slightly damp towards the end. The day before and the day after we had lovely weather. Still, Roger and I enjoyed a trip to Guy and Catherine Stallards farm at Hemyock in Devon to see all the cars he had managed to persuade the owners to bring. (I am not so sure that Paula enjoyed it quite so much!)
Roger came down for a flying visit to the Spendloves giving the Hyundai Coupe its final airing before he traded it in. We therefore cheated and went up in Paulas Volvo estate, but did have the decency to hide it from the eclectic collection of classic machinery at the farm.
Apart from Guys Reliant based GT (featured in several magazines during its rebuild), Lotus Elan S2, and Sprite, there was his 3-wheeled Berkeley with Honda M600 engine and gearbox and Guys own designed and built front suspension.
The other Rochdale Owners Club members attending were Spares and Regalia supremos Nigel and Jane in their Olympic and Exeter-based Duncan Gilbert in his red Dellow which he has since sold and replaced with a Gilbern 1800GT. Duncan nearly built a GT in his youth, but circumstances changed and it never quite got bought. He joined the club with the idea of looking for a GT, but is now quite taken with the Olympic. (Aren't we all?)
Guy must be in several clubs, or have lots of car-mad friends, because it was a well-attended and eclectic gathering. Guys brother Hugh was down from London with his family and their E type. Apparently it is the only E type regularly on the road within the congestion charging area.
Triumphs were out in force, with TRs in 3A, 4, 5, two 6's and 7 flavours and a Stag. There was an MGB, a Berkeley which hailed from near us at Newton Abbot and a two-stroke Saab. John Green in, appropriately enough, a green Dellow had come from Wiveliscombe and Rogers favourite was a Dellow lookalike 1932 Ford E93A Special driven with aplomb by Barry. He is planning to convert it to 100E power. (Is 'power' the right word for the 100E?)
I took photographs of all of them. Perhaps I shouldn't have used the black and white film I found at the back of the fridge. After all the prints came back very foggy, I realised that I had probably bought the film over 20 years ago. Luckily Roger had taken his camera too, and the photos attached (if Alan has space for them) are by Roger.
Lurking in the background was Guys next project, a Gilbern 1800GT and a very sorry looking Scimitar GTE, probably beyond salvation.
Entertainment was provided by a quick shakedown test of the partially completed Honda-engined Berkeley, which proved that reverse gear could not be engaged, a problem which was soon remedied,
We were well looked after by Guys Family. The children wrote out our name badges, (with car details on), Caths parents did sterling service providing hot drinks and hot dogs, and Guys mother and brother Adrian and his family were also making sure everybody was looked after.
On behalf of us who attended, I would like to say a big 'Thank you' to Guy and Cath and their extended family for their hospitality and for making it happen.
Alaric Spendlove
John Greens green Dellow and Duncan Gilberts red Dellow
Barrys Dellow lookalike Ford E93A Special
Rochdales at last! Nigel Whittaker with his Phase 1 and host Guy Stallard with his GT.
****** LETTERS ******
From Ron Collins Tuesday 25 May 2004
Dear Alan,
After the front chassis of Peter Bissets Phase 2 collapsed and died, you kindly to send me photographic details of your own reconstruction of the chassis for consideration. We considered this style too complex for Peters first welding project and on hearing that Colin Breakspear was using Triumph Spitfire parts we decided to go down the same route. I contacted Colin in Germany and after some discussion he forwarded details of his own design. His design was quite elegant and made use of lots of Spitfire parts as mentioned including the use of square tubing.
My own design intended to use as much as possible standard angles and channels. To prove the design to the client (Peter) I fabricated a plywood mock-up. The section sizes required however were not easily available so I resorted to having the local steel supplier cut and fold 3mm sheet steel to make up a couple of angles at 50x85x3 and a couple of channels at 80x75x3. Offcuts of 3mm and 5mm were bought to form brackets and webs. The whole ensemble can be partially dismantled for ease of withdrawal.
You can see from the enclosed plans how all the parts were configured. To obtain castor angle the whole structure will be adjusted in situ. It will be noted that the brackets to affix the assembly to the upper engine bulkhead are not shown. While the proposed design of these items is in hand we await final glassing of the bulkhead to determine the dimensions. Costs: Spitfire turrets &pound60 pair, formed metal &pound30, brackets metal &pound10, new Spitfire poly bushes &pound40, pivot bolts &pound8, assorted bolts &pound8. Total &pound156.
As a postscript to the above we intended to bring the semi-finished chassis down to Capesthorne on the Sunday morning in the boot of my own Olympic. The car had been polished to a high gloss and all bolts and nuts double-checked. Peter drew the long straw and got the privilege of driving down to Moffat. This route with its super smooth surface and switchback contours ending with its superb view over the summit of the Devils Beeftub is truly Rochdaling country. However just north of Preston the water temperature gauge suddenly shot into the red and we knew our journey was at an end.
All classic and kit car owners own a mobile and a recovery insurance card and as if by magic the AA man was on hand. On seeing that the outlet pipe of the thermostat housing had sheared off he offered to get it fixed by resoldering at a workshop nearby. Hallelujah! We would get to the Ball. Well no actually. On his return the unit looked like a dogs breakfast but at least it would get us on our way we thought. After being fitted we fired up the engine only to see a fountain of water arcing across the motorway. I could have done better with a cigarette lighter. As you know it was a glorious day so we settled down for lunch (refer to my Rough Guide To Motorway Picnics) while awaiting the pick-up truck. At least we travelled home in style.
See you next year?
Regards.
The breakdown was not only a big disappointment to Ron and Peter, but the subframe idea would have been of great interest to the Olympic owners at the Capesthorne show. Any chance of whipping it out of Peters car at our next get-together? Only joking. Alan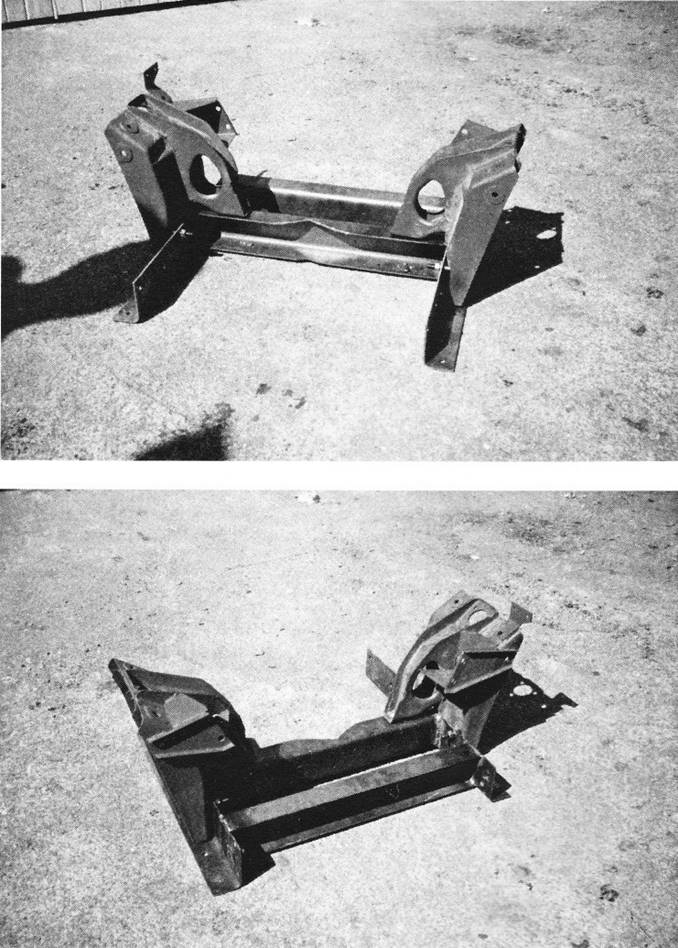 Two views of Ron Collins design for a Phase 2 subframe using Triumph suspension turrets.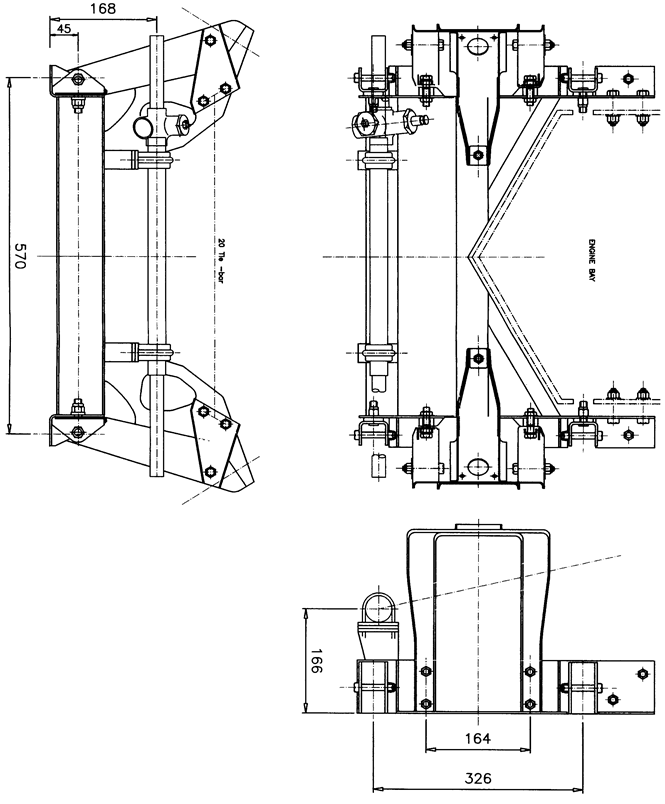 General Assembly of Rons subframe design using Triumph suspension turrets.
Olympic Interiors - 2+2 or Not?
One of the really impressive design points on the Olympic, for me, has always been the rear hatch arrangement of the Phase II, giving easy access to a very large (for a sports car) loading area. I suspect that the E-type just beat it into production with this feature, but even so the amount of space available was nowhere near the Olympics, and even today very few coupes are able to make best use of this facility.
There are snags, however. My Olympic had just a layer of cheap carpet laid over the floor, the contours of which were far from ideal. There was nowhere to store things out of sight and they tended to slide forward and pile up in the area behind the seats, from where they could be infuriatingly difficult to retrieve. Also, the whole lot was pretty grubby with a real 'kit car' look to it, which I was trying to get away from, even if the Rochdale is one!
I have seen some really tasty rear layouts at various club meetings, some with hinged flaps and covers which could be used to hide luggage from unwelcome eyes, but most seem to be based around the 2+2 seating arrangement which didn't really appeal to me. (This is interesting; I didn't think the Phase 2 was ever regarded as a 2+2, because there is no real provision for seats, as opposed the Phase1 - Ed). Even sitting directly on the rear floor area, I couldn't get my head under the roofline without leaning to one side and leg room would have been minimal. If I really want to carry extra passengers my Commer easily seats nine, so I decided there and then that the Olympic rear seat bit wasn't for me! Better to make the most of the cars load carrying capacity instead - I often have a few computers stuck in the back, and some surprisingly long chunks of wood can be accommodated - and try to address the problems mentioned.
Using 9mm ply I built up a flat, false floor a little above the existing one - a technique used in all the estates I have owned recently. The first interesting point to emerge was that the rear floor on my car sloped down towards the front - no wonder things were hitting me in the back! I wanted to end up with the maximum height for boxes, etc, so didn't raise the floor by any more than I had to. The critical bits on mine - and others, I presume, though you can never be too sure with Rochdales - was the bulge for the differential, and those to either side to accept the rear shock absorbers.
After much thought, I decided to arrange for the new floor to be as near the differential hump as I could, but to cut the floor around the suspension points. This would entail moulding small covers for each side for these areas, but wouldn't affect the load space unduly and allowed the floor to be a couple of inches or so lower. Other features I incorporated were a large storage area which I built up just behind the seats, with access via a hinged lid, and a smaller lidded area at the back to carry spanners, jack etc. The latter needs some recessing, which I still haven't got round to - this excuse, that excuse etc....
Timber was used to raise the floor by an inch or so at the back, and double that towards the front. A tricky bit was building up the front of the storage box, and I cut a piece of cardboard from an old TV box to get the shape over the transmission tunnel something like before making the piece from ply. It's a bit awkward clearing the mounting points for the rear trailing arms at floor level, and setting the panel with a backwards slope to follow the seat shape meant having to glass a bit that stuck out at the bottom. I left a few inches on the height of this panel in order to ensure that I could cut it level with the rear floor once this was in place, and a piece of timber was screwed to its top edge to give a good, rigid shape. A lid was hinged at the back to give good access from the front, at the expense of that through the hatch, but hey, you can't have everything. A piece of tube steel was bent up and chromed for the front of the lid for three purposes (i) to form a convenient handle for lifting the lid (ii) to stop luggage sliding forward when braking and not least (iii) it looks good!
The fibreglass cover over the transmission tunnel was shortened by a foot or so and looks better than ever. (What fibreglass cover? Ed) The sides of the Olympic are an awkward area and I opted for red carpet going well up to the glassed (Perspexed?) area with a new light grey headlining to brighten things up. I left things at this stage to local trimmers, but must confess to results rather more patchy than I had hoped. Actual upholstery was well done, particularly the headlining, but they succeeded in uglyfying both front and rear side panels and actually threw away all the original door seals, replacing them with a loop type. They assured me that these would bed down and demonstrated how to slam the doors hard enough to get them onto the catch - great for the gel coat. Eventually, I had to cut the loop to give an approximation of the original type, but the wind now whistles alarmingly round the door's top corner - anyone have a good source for the original section? (Try Woollies 01778 347347 Ed). A pair of sunvisors were sourced from a scrap Mini at about this stage - mine had none at all from new, and these do look better on the Olympic than they ever did on the donor car.
Did I say the headlining was beautifully done? Yes, so it is, but the metal supporting rods under the roof have proved too much for the very thin roof panel which has grown a slight bulge in a couple of places, again with resultant gel cracks running transversely across the roof - is nothing ever simple? (Wow, your roof must be very thin Ed)
Overall results are very pleasing, in spite of all the little niggles. The car is now a strict two seater, but this does come with a more generous and useable load area than anything comparable - a couple of suitcases does seem a fairly basic requirement to me, even if there are only two of you.
PS Love the rose-jointed doors. I've only done the left so far, but it works a treat! (Thanks for the feedback Les nice to know one's ideas are appreciated - Ed)
Les Brown
Timber supports for the new floor - a slight taper was needed to level things up.
Cardboard front template shown.
Plywood front panel tacked in place for bonding to floor.
Chrome bar is effective as guard rail and for opening lid. Note the fibreglass mouldings to cover the rear shocker mounts.
Lots of room in the storage boxes - jack and tools are down at the bottom, with more sandwich space on top.
Looks good, lots of space - but no rear seats!
From Gordon Cowley Australia 8 April 2004
Dear Alaric,
Could you please note the change with my address. I am still living in the same house, it is just that after 34 years I no longer have to get up in the morning and go to the post office four or five times a week to check the letter box. We now have a letter box in the street out in front of the house and my wife is most impressed with the junk mail that turns up. I cannot say that I am.
Reference the ROC magazine No 97 comments, both mine and the Editors. I thought that the Editor was a bit rough on Guy Stallard; I did not see my letter as recriminatory. I sent it as story of what I expected from my Rochdale G.T. and the thinking behind the work done. Rowan Atkinson drove a Falcon Sprint at the last Goodwood Revival Meeting and expressed similar sentiments, when he wrote in the mag 'Octane', Nov 2003 page 41:
The lesson from the weekend was just how delightful the most unprepossessing looking cars can be. Todays car manufacturers try to convince you that more power and higher cornering forces are all you need to bring unsurpassable driving pleasure. How wrong. If you enjoy driving on the limit, it doesn't really matter where that limit is. What's important is what happens there.
There was probably a bit of woolly thinking done by me with regard to the carbies and the firing order. I have done a bit of research and I reckon that I got the firing order wrong for the BMC engine with siamesed inlet ports. I think that it should be 1432 and not the 1342 that I quoted. The 100E engine with siamesed inlet ports is 1243. In all cases the balance tube has to be large because 1 and 2 and 3 and 4 or vice versa suck one after the other and the other inlet port is resting for those two sucks.
Now do we get into a what came first the chicken or the egg situation? Perhaps not, because the engine has to suck before it can fire and the two are inexorably linked, in a properly running engine you can not have one without the other. So I would have to agree that it does not matter what the firing order of these engines would be, you always need a big balance tube.
The original Lynx crossover inlet manifold did have a small balance tube and I have internally incorporated a 10 mm diameter hole between the 1 and 4 inlet runner and the 2 and 3 inlet runner.
On the Rochdale G.T. front the doors have been mounted to the internal hinges and by using some Nissan gear and the counter balanced spring assisted window lifts will be electrified. The stainless window surrounds are going in at the same time. One of the door latches has been positioned in the door. Not much positive to report.
Kindest regards
********************
EARLY ROCHDALES REGISTER
By Malcolm McKay
Sadly, no early Rochdales made it to the AGM or to Capesthorne this year, but with the amount of activity bubbling under the surface, I am sure some will break cover soon let's see you at Burford on August 8, guys.
It was good to have the opportunity to show some of the best photos from the early Rochdales albums on Saturday evening at Capesthorne I hope they inspired a few Olympic owners, who might have thought the early cars crude and unappealing, to see them in a different light. Certainly all at the front seemed rapt in their attention, though I heard later that one or two were asleep at the back!
A well-known GT on the move is Bert Tressels lovely white example that has lived with Bert in Amsterdam for some 20 years. Beautifully restored in Holland, HK-23-RJ is now heading to Dallas, Texas, where it joins the 40-strong collection of ex-pat Dutchman Joop van Egmond.
Bert Tressel's lovely GT is leaving the Dutch windmills for Texas oil wells this month!
There's never been so much early Rochdale activity in the States, as the 'Ebay GT' sold in Alabama a few months ago is now close to completion with new owner Fran Honeywell, who tells the story:
We just won the regional Porsche Club of America Autocross championship with a stock, used-up 944. I have a 77 911SC that has been converted over to look like a 930 with the big fat fenders (wings) and the tea-tray spoiler. I don't drive it much because I don't want to hurt it. It never goes out in the rain and this time of year, it is under cover sleeping until after the spring rains clean all the salt off of the roads. What a rocketship!
We picked the car up outside of Atlanta, Georgia and we live in Baltimore, Maryland. A good 14-hour drive. When we picked it up, it was so cold out, we just loaded it on the trailer as fast as we could and got going so as to be in the comfort of the heated truck. While the car is a little more of a "project" than I was hoping for, it's kind of neat to have the only GT still known to be in existence in the US by the official Rochdale Registrar.
We have had great fun telling our "motorhead" friends we bought a vintage car. They all want to know what we bought and when we tell them it is a Rochdale, they just get a blank look on their face. People who have not seen the car or photos of it always want to know what it looks like. We decided it looks a lot like the Shelby Daytona Coupes that Carroll Shelby built, just on a smaller scale.
Our immediate goal is to take this car to the VSCCA (Vintage Sports Car Club of America) driver's school in April. After that, there is a big Vintage race they call the Pittsburgh Vintage Grand Prix, which we are trying to get in. The fellow who had this car listed on e-bay, purchased it on e-bay UK in September of 2002. He said he didn't realise the car was in England when he placed the winning bid. The transport papers say he paid $1,350 to have it shipped to the States.
Also finding a new home in the States is this GT, now with Fran Honeywell in Maryland
Looking at the photos, my own observations on Frans GT were:
The engine number is a normal Ford 100E one; the engine looks pretty standard though it's worth noting that some modifications have to be made when fitting a 100E to the earlier E93A-type chassis, including swapping the front engine cover and mounting bar and modifying the sump to clear the steering arms. The car has a lot of other modifications so it is surprising that the engine appears unmodified; I would guess that it had a modified engine which the UK vendor swapped for a standard unit when he sold it, as the components can be quite valuable. Thankfully you can still get them, if you want to - Aquaplane tuning parts are available from Small Ford Spares, www.smallfordspares.co.uk.
If you want the car to go a bit better I'd recommend twin 1.25in SU carbs on Aquaplane manifolds (or you could even make up a tubular inlet/exhaust manifold to take twin SUs if you're handy with pipework). That'll give the biggest improvement of all - raising the compression ratio by planing the cylinder head will help too. An Aquaplane aluminium cylinder head will look superb and the finning will help with cooling, though it won't markedly improve performance compared to a planed standard head. Beyond that you can go to special cam, strong valve springs, porting etc if you're really keen!
Underneath, your car has a number of interesting mods:
Front suspension appears to be the Ballamy swing-axle conversion - basically the standard beam axle/A-bracket split and pivoted, with the steering rods also split and pivoted to match. The photos didn't show, but I assume it also has telescopic shocks - lever arms were standard but conversions are common and well worthwhile.
Rear suspension is particularly interesting as it appears to have a combination of several mods. Firstly the Ballamy bit - the full-width Panhard rod. Secondly the telescopic shocks and what I suspect is an anti-roll bar (though I may be wrong), and thirdly the lower radius rods which must have been a one-off job. That's very comprehensive location and makes me wonder if the original torque tube propshaft is still in place? I think it must be as you would need at least one top link as well as the lower ones if you were getting rid of the torque tube.
Presumably the car still has the E93A-type three-speed gearbox; close-ratio gear clusters were available but are hen's teeth now - you may be lucky! You'll know when you get it on the road as the standard set has a huge gap between second and top. You must also hope that it has a high ratio crownwheel and pinion - standard was 5.5:1 which worked OK on a low-powered saloon with 17in wheels, but with the special Ballamy 15in wheels which your car has, a 4.7:1 or 4.4:1 crownwheel and pinion are a vital mod. I think Small Ford Spares may be able to supply them too if you find your car doesn't have it, but I expect it will do - I can't imagine someone would have gone to that much trouble over the suspension without changing the axle ratio too.
Surprisingly standard 100E lump in Fran's GT with complex cooling and hydraulics
Another desirable period mod on your car is the hydraulic brake conversion - and the hydraulic clutch operation.
Altogether a fine Rochdale GT and fair value for money if you consider the value of the tuning parts it has and what it must have cost to export to the US. I believe one or two may have been exported new - the GT was featured in Bob Rolofson's 1960 Sportscar Specials book - but I know of no survivors in the US apart from yours and another car exported around 15-20 years ago. I last heard of that one in 1990 when it was in the New York area; it was standard spec and painted dark blue. There are a few Olympics
around, though very widely scattered - some exported new (even left-hand drive) and some taken out subsequently.
Within two weeks, Fran was able to report:
Things are progressing nicely on our GT project. The interior is almost all painted and detailed. We are still trying to correct some wiring issues behind the dash, but we are getting there. New headlight assemblies have been made ready to install, and we figured out the doors and fixed things so they actually open when you push the button! We even fabricated interior door handles so we can get out when we need to. The seats are ready to go to the upholstery shop as soon as the new door panels are fabricated which will be covered in the same material as the seats.
Between us, Fran and I managed to sort out an overheating problem the complex cooling system on the car seemed to be intended to incorporate an air bleed from the top hose to the expansion tank, but it had been incorrectly connected, causing the engine to chuck coolant out: see if you can spot the incorrect routing on the engine bay photo!
Pretty-looking dash hides dodgy wiring
Fran commented:
I sure am pleased with the level of assistance I am receiving on this thing. When you consider that I never even heard of a Rochdale before seeing this one for sale, and have NO experience with English Fords, its a real pleasure to be able to ask questions and have somebody answer.
Thus far, we have unstuck the brakes and fixed the driveshaft that fell out. We painted the interior and finally gave up on the wiring and pulled the dash out to refinish it and correct all the mess. So I feel like we are almost back to square one. BUT it's clean inside!
I have to admit, when I picked this car up, I was very disappointed in its condition. The listing was not very accurate and it was a much bigger project than we had hoped for. But as things go along, the help I have gotten from you, as well as other folks, and now the info on the club, it's not as bad as I first thought it was going to be. I thought I had spent a lot of money on something that was just going to end up as "weird junk", but now there is hope!
Well, I hope Fran is on the racetracks now hopefully we'll have more news for the next mag.
Under front shot shows Ballamy independent front suspension conversion, dropped seat pans and...is that an extra gearbox mount?
Under rear is an extremely well tied down Pop rear axle: should take plenty of power!
OLYMPIC REGISTRAR
There are two questions that I am frequently asked:
1. How many Olympics still exist and
2. How many are currently on the road.
Although I try to keep the records as up to date as possible, cars do often disappear from sight for long periods and/or change hands without the registrar being informed. As a result the answers to both questions can only be a best guess.
Looking through my records I can be sure that 96 Olympics definitely exist and it is likely that there are a few more tucked away in odd workshops, barns and garages. As to how many are actually 'on the road'; that involves even more guesswork.
Best estimates suggest about 24, which is about 25% of those known to exist. This number is split evenly between Phase 1s and Phase 2s.
The most I have seen together at one time in recent years is 11.
One good trend is that the cars on the road seem to generally be to a higher standard than in previous years. Will we ever reach a point where at least half of the surviving cars are roadworthy?
****************************
Copies of correspondence from Rochdale Motor Panels always make interesting reading. Some years ago I was fortunate enough to obtain information from the original builder of my Phase 1, Ted Hann.
The bodyshell was damaged in transit by BRS and the owner obtained a quotation from a local firm for its repair. The reply from Rochdale Motor Panels was as follows:
We were most surprised to read that the repairs would cost &pound15; as you explained the extent of the damage over the phone we would have completed this work in about 3 hours. 10 hours should more than cover it. In this length of time we could have bonded in quite a fair sized new section.
Some three weeks later the correspondence continued:
While we are naturally most anxious to satisfy your requirements we feel that in your zeal for perfection you are apt to overlook the initial low cost of our product.. .We are willing to do as you suggest, that is to send a new body, carriage paid, you to return the damaged body at your expense.
Some three weeks later a new bodyshell was despatched and the original one collected. With the replacement shell was sent certain items that appear to have been missing from the original kit comprising: front seats, rear seats, trim kit, heater, fan belt, instrument panel and sundry nuts and bolts. It seems that even at this stage (June 1962) there were problems in sending out complete kits.
I wonder who the original damaged shell was eventually sold to. It seems incredible that a new shell was supplied rather than pay out &pound15 for a repair.
However, the above does perhaps go some way to explain that the Olympic was not a particularly profitable product for Rochdale Motor Panels, particularly when compared to the earlier shells.
Ted Hann was obviously happy with the eventual outcome as he offered to help out on their stand at the 1963 Racing Car Show.
Derek Bentley
This is a copy of a RMP letter to one-time Olympic owner and occasional magazine contributor Derek Argyle referring to the position of the steering rack on the Phase 2, in which Frank Butterworth suggests that the rack be raised by 3/8". I'm not surprised this change improved the steering in my estimation this degree of change would make a very noticeable difference to the bump steer. Alan Farrer