MAGAZINE No 97 SPRING 2004
Edlines
This issue illustrates the resurgence in interest for the GT, although actual progress seems to be limited to Australia; come on England! (and Scotland and Wales). Meanwhile, Olympic owners wrestle with their subframes and we look forward to seeing Rogers Mk VI at the AGM.
My own Olympic rebuild is progressing steadily - possibly a bit too steadily - but I'm beginning to see a chink of light at the end of the tunnel. The 'chassis' work is done and all the main components exist apart from the fuel tank and the exhaust system, which I am currently cobbling together from pre-formed bends and bits of tubing. Quite fun really. So it's only the fuelling, electrics and cosmetics to do now - a mere nothing.
CAPESTHORNE WEEKEND 2004
Cheshire Kit and Classic Car Show & Rally.
Sunday May 23rd 2004 (10am to 4.30pm)
BE THERE!
We had a most enjoyable weekend last year, so we hope we shall see even more of you and particularly your Rochdales this year, and that the weather will be good. Last year we opened the event to classic cars so, if your Rochdale isn't ready yet and you have a classic, bring that along instead. Note the change of title!
How can you help? We need helpers on Saturday afternoon (22nd) at about 2.00pm to erect our HQ tent, place various signs around the estate roads, layout the public car park entrance, mark out the Kit Car display area, mark out stall holders pitches, fix signs "to the show" at strategic points around the approach roads, put out refuse bags around the display areas etc.etc. Some of our signs are getting very old/dilapidated and we may need to make up some new ones so bring along a saw, hammer, nails and any thing else that would help. I don't know if the sheep will be returning this year but a trowel or shovel is a useful item to have with you just in case - many hands make light work.
After the setting up has been completed circa 5.00pm we shall be having a non-damaging driving test competition for the Rochdale Motor Panels Trophy, this being competed for each year at Capesthorne with a fun driving test competition in a Rochdale. For those of us who haven't got our Rochdales on the road, last year was a great opportunity to re-familiarise ourselves with the cars and demonstrate our judgement skills, thanks to the generosity of those who allowed us to take part in their cars.
For the evening we shall be going to the garden centre just on the right north of the Monks Heath crossroads for a hot meal after which there will be a talk on a motoring topic. For catering reasons we must know how many are going to be present on the Saturday evening please let Roger Coupe (tel 01606 889384) or myself (tel 01332 690680) know if you are coming and how many - otherwise there is a risk there won't be a free meal for you!
On the Sunday your organisers and committee look forward to seeing as many of you as possible together with your Rochdale or Classic if you can bring it (unrestored cars on trailers are equally welcome!), to ensure we all enjoy a companionable club day. If you have any ideas for activities on the day or would like to help your club, please contact either of the organisers before the day. It gives us much more confidence if we are assured of a minimum number of helpers before the event.
On the day please report to the HQ tent when you arrive so that we know you are around and perhaps we may even have a small task for you! Remember this is your club and without the success of this event we would find it almost impossible to carry on financially.
The reputation of this Show continues to grow and grow, but we cannot maintain this reputation for the Show without YOU!
Finally, remember to bring this magazine with you to gain free entry to the show.
Look forward to seeing you there,
Ron Scarfe (Show Co-ordinator)
(NB Capesthorne Hall is on the A34 about 16 miles south of Manchester and 5 miles West of Macclesfield, and is 1mile south on the western side of the A34 after the A537/A34 crossroads known as Monks Heath, Capesthorne Hall caravan site 01625 861779 or in office hours 861221. Local accommodation: Macclesfield T.I.O. 01625 504114 or Congleton T.I.O. 01260 271095).
Chair Chat
Well I hope everybody had a good Christmas and you got the boys toys that you hinted about to your friends and family.
With the stirring of Spring I would expect that the covers will be coming off our rebuild projects. I am also confident that there will be one or two who are saying to themselves This is the year that my Rochdale is going to be finished and back on the road. (I have a dream). It will be interesting to see how many new rebuilds will be at the AGM
Even if your car is not finished it would be great if your part-completed car could be transported there in some way, so that the rest of us dreamers can take inspiration from it. Well, to that end, it is my intention to bring my Mk VI which, as you can see from the latest progress photo, still has a long way to go (and the sailing season is soon to start).
I am sure that elsewhere in this issue there will be mention of this years CKCS (Capesthorne to you Jim). If you can make it for the Saturday and Sunday there will be time to unwind at the Saturday dinner and have a chance to hear of one of our members exploits. I have come to the conclusion that you have to be quite mad to compete in some of the classic rallies or is it me who is getting too old (don't answer)?
As far as the running of the show is concerned, it is encouraging to report that we have had some response to our plea for members to help with organising the Show. Ron and I have broken down the remaining jobs into bite-sized pieces, so we can find a job for you, large or small. Ron is waiting to hear from you: go on and give him a call.
Well it looks like those Cornish men are showing us the way: it was great to hear that an area Club gathering took place last weekend just north of Exeter. If others have made a start, in other areas, please let us know.
Ah well, the sun is up, the dog is fed and the garage beckons. I look forward to seeing you at the AGM.
Roger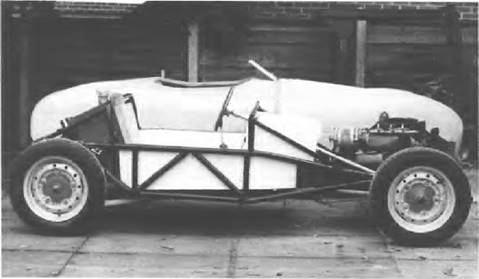 Rogers Aerial Atom lookalike. No optional hardtop with this car just an optional body.
****** LETTERS ******
From Gordon Cowley (Australia) GT 16 December 2003
Dear Alaric,
I wish you a Merry Christmas and a good New Year, and that goes for the rest of the members as well.
I would like to respond to Guy Stallards comment in ROC 96 suggesting that my Rochdale GT might be a 'bit short of go' with respect to the weight added in the steeling out of the body.
I have a basically stock bodied c1952 Ford Anglia Tourer. It has a Ford Ten engine ported out to 100E standard, a mild cam, twin Weber 26IMB carbies, an 8 HP head, an Aquaplane exhaust manifold, an external oil pump, 15 inch wheels and radials and a 100E crown wheel and pinion. It will cruise when asked at 90 KPH on its VDO electronic pulse driven speedo. It does pull 5,300 RPM in first and second gear. It is a fun vehicle to drive with the hood in the rafters of the shed and it is definitely into 'shake, rattle and roll'. It is slower in the hills nearby (we do have them) with two up and an esky (insulated ice box to you) or two. It is however a lot quicker than the other 8s and 10s that I travel with on Club events. The speeds that you can travel at are all relative, the max on the open road is 110 KPH and the tourer either one, or two up is fun to drive.
I have driven it at the local race track Mallala and the Hill Climb at Collingrove. I have driven from Adelaide to Melbourne (450 miles, one day) and done 24 laps at Sandown and driven from Adelaide to Phillip Island (540 miles, one and a half days) and done 24 laps there. I run in events called 'regularities' where keeping to a nominated lap time means winning and I am quite good at that.
I had the following message on the radiator shell of my 1948 Anglia Two Door Trials Car, this bonnet hides 1172 cc's of Ford muscle. The whole idea behind the Rochdale GT was to go faster than the tourer with a Ford 1172 cc Sidevalve and to do it in a bit of comfort and style. OK, so I am cheating a bit with the Willment head but it is of the 'time'. I am not into putting a Cortina 1500 engine into the Rochdale GT to get some useable power as I see that as an anachronism. I am getting older and what was fun in a car twenty years ago, is not necessarily fun now (make of that, what you will). The Rochdale GT will be trim, taut and terrific not shake, rattle and roll in style.
The 100E engine with the same mild cam, a similar external oil pump, an Aquaplane exhaust manifold and a Willment head will produce a lot more power than the modified Ford Ten engine in the tourer. I wanted a split brake system and ended up with the clutch and brake master cylinders in front of the engine bulkhead and not behind it. I had two 35PHH Solex carbies to use and no room to fit them. I had a serious crisis and seemingly no easy way to fix the problem. I gave the problem a lot of thought and lucked out in many ways with an extremely elegant fix.
A 4 cylinder BMC engine with siamesed inlet ports will work well with a single Weber DCOE style carby. With the firing order 1,3,4,2, you get one suck out the front throat, one suck out the rear throat, one suck out the front throat, etc, etc. and it works very well. I thought that I had enough room for a single 35PHH Solex and there was a fix on the 1500 cc Ford with a 1,2,4,3, firing order.
Back in 1968 I fitted a Lynx cross over single Weber DCOE manifold to a 1500 cc engined MK II Cortina. You may not have seen the manifolds in the UK but I got one of the first manifolds sold here in Australia. It was set up so that the front throat filled cylinders 1 and 4 and the rear throat filled cylinders 2 and 3. That way it was one suck out the front throat, one suck out the rear throat, one suck out the front throat, etc, etc . The Ford firing order is the reason why twin single throat carbies on a Ford engine need a large balancing tube between the carbies.
I used the Lynx inlet manifold for 20 years and then sold it to a friend in the Cortina Capri Car Club. He used it until a mounting lug broke off five years later, he found a replacement and the old one was put away. When I went looking for a Cortina 1500 Lynx manifold to measure it up, it was given back to me. If it did not work I had to give it back.
It looked good from the word 'go'. The ports to cylinders (1 and 2) and (3 and 4) on the Lynx manifold virtually matched the Willment head ports. The centre spacing of the pairs on the inlet manifold was 190 mm. The centre spacing on the Willment head was 165 mm. 25 mm was milled out of the centre of the inlet manifold, the internal holes were matched up with a die grinder, a plate was made for the carby mounting and the two parts bolted together, the centre bit was then welded back together.
Two aluminium plates to match the Willment head were then made and bolted on to a Willment inlet manifold that I had. The mounting plates were machined off the Lynx inlet manifold and the new Willment plates were welded on. A mounting plate was made for the smaller 35PHH Solex carby, what was left of the original carby mount was machined off and the new carby plate welded on. When I tidy up all the welds it will look like it was cast in one piece and polished. It looks elegant.
Part of the 'go' bit is the gearbox and I am more than happy with what I have as it suits the period of the Rochdale GT. I have different from stock ratios in the 100E box and that, allied with the overdrive on second and top, should give a good range of ratios to choose from. It is a Laycock overdrive and what more could you ask for.
The final answer is, 'yes I will lose a bit of go', you have to when you add weight, but I am adding smart weight to get the standards of noise, vibration and harshness that I expect to build into my Rochdale GT. It is not how fast you go, but, how well you do it.
The steel frame has been partially glassed into the Rochdale GT body shell, the internal door hinges have been fitted and they have open stops so that the doors will not fall or blow closed. The Mazda 808 steering column and sundry master cylinders and a Cortina pedal box have been fitted. The steering has been joined to the steering column and a front Panhard bar has been made and fitted. Telescopic front shockers have been fitted. The radiator and electric fan are in place. The interior shot does not show it but a remote gear lever and the tailshaft have been fitted. I think that we have finished the easy bits.
The photos give a fair snapshot of where we are at.
Kindest regards,
Gordon
Well Guy, I think you asked for that!
The Lynx manifold looks something special, with a 1&4 and 2&3 arrangement, which is difficult to do on a DIY basis, and solves a difficult space problem very neatly. What I don't understand, though, is why a 1342 firing order is any different from a 1243 as far as carburation is concerned. In the first, the sequence goes from centre-to-end (ie. 2>1 then 3>4) and in the second it goes from end-to-centre (ie. 1>2 then 4>3). Surely this can't affect the carbs? In both sequences the Lynx manifold ensures that each throat handles alternate intake strokes, whereas in conventional twin-carb (eg. twin SU) arrangements each throat has to accommodate a suck, suck, wait, wait sequence. It is this which necessitates a large balance pipe, not the firing sequence. Ed.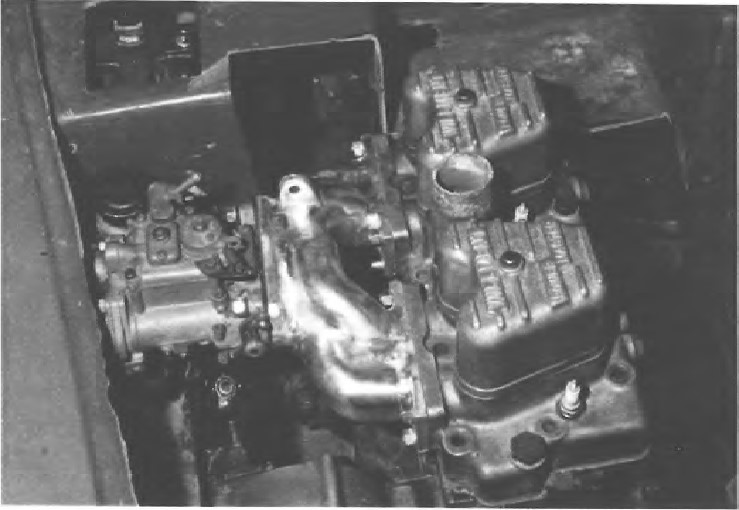 The neat and compact (and efficient) intake system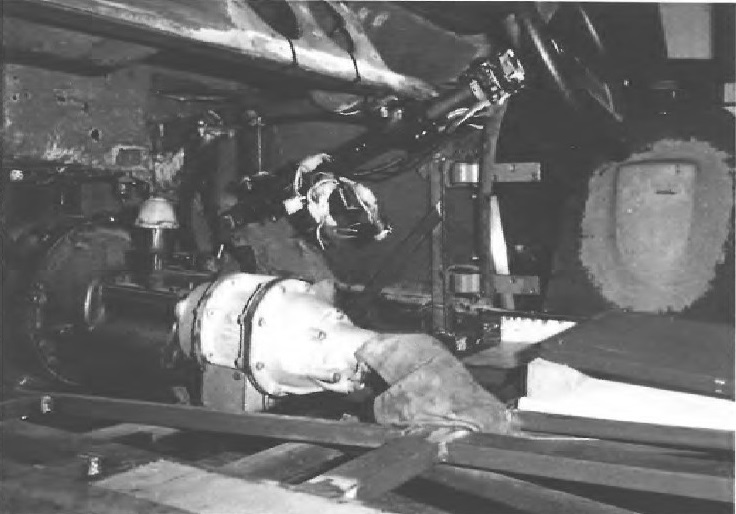 Interior view showing door hinges, steering column, pedals and gearbox with Laycock overdrive.
From Tony Wright 8th December 03
Dear Alaric,
First the good news: I have acquired an Olympic from Barry Herber - see new members in mag No 85. The details are:
1966 Phase 2; Chassis no 66/1932;
Reg no LYG 741 D - Yorkshire registered;
Engine Cortina 1500 GT.
The bad news: it is a car of two halves! Barry acquired it from Ireland where a drastic Celtic method was used to remove the front subframe by cutting off the front body across the wing tops. The subframe remains are with the car and I will explore the options on fabrications - are you aware of any plans or person manufacturing?
Major surgery will be required to refit a new subframe and section of body ensuring correct alignment. Again any advice would be welcome. I have a long-standing friend who is a Scimitar Specialist (as is Barry H), well versed in plastic surgery, but this would be expensive (&pound27.50/hour) and it may be sensible to carry out the unseen joints myself. Needless to say my friends and family (including seven grandchildren) despair of me. Any advice on methods, contacts, etc and/or a good Olympic therapist would help. I enclose membership cheque.
Yours in stunned disbelief, Tony Wright
PS
Since penning the first sheet I have spoken to Keith Hamer on Phase II subframe- name obtained via Nigel Whittaker - what modifications are advised on castor, rack position etc?
Is there a Rochdale publication workshop manual and parts cross-reference? How advisable is replacing the windscreen tube and is there any article on this?
After standing for almost 10 years in rain-swept Northern Ireland the condition is appalling - it would appear that this happens to most Rochdales at some point - the danger is that in some cases it proves terminal. The fabric trim is rotten in places or discoloured, vinyl trim has cracked, shrunk and/or lost its backing and worst of all any exposed steel, as the coldest part of the car, attracts water an promptly goes nature - back to iron ore. Certainly no self-respecting tramp would sleep in it!
Despite this there is some good news - although extreme paintwork chalking there is no microblistering, the doors and tailgate fit well (did Phase II have improved hinges?) and the glass is sound. Barry (as a professional) has advised a copy of "Automotive Glass Fibre" is there any other required reading for novice resinists?
I think at this stage you deserve a more balanced view of why I decided to buy this Rochdale. Firstly I, like many of you have a life-long obsession with the car - God knows what we would all have done if born before 1900. My tastes are for the unusual, not to say bizarre and unique, sports and sports racing models - I have owned Singer Le Mans, HRG, Fairthorpe, TVR Grantura, Ginetta G15 and been closely involved with racing Lotus Elans, 23Bs, 30s, Marcos, Divas etc. My ideal - possibly an Elite is unreasonably expensive, so the next best and more practical alternative is an Olympic.
After reading Barry's advert I decided to ignore all practical and financial precautions, sent a cheque and waited for him to deliver from Norfolk to Worcestershire. When his trailer stopped clattering, my heart went straight to bootsoles - what have I done? Self doubt on a monstrous scale, compounded by family with comments, "You'll never believe it - he's bought another load of cr*p!", "What, more rubbish - it's an eyesore". Followed shortly by serious earache from the great she-dragon touching on several sensitive domestic issues including overdue new kitchen and bathroom.
Reluctantly, despite the euphoria of at long last owning an Olympic, I began to see their point of view and detailed examination revealed more horrors. This was the lowest point and I considered contacting Barry for a list of enquirers. However, help was at hand, by delving into the club magazines that Barry generously provided.
One very comforting fact was that about 50+ Phase 2s survive - one per million of UK population - if nothing else, it was rarer than a G15, original Elite or series one Elan. Reading through also revealed that most Olympics came in a similar condition and/or with horrors such as diesel engines or automatic gearboxes. My car - you see I have now adopted it - has a good pedigree. I am the fourth owner - it has recent (90/91) Historic Rally use and is relatively original in terms of bodywork and mechanical specification - all points of value to me. It surprised me that many club members take a great rare and radical design exercise of the sixties and devalue its purity by adding, in my view, philistine modifications from later periods. But who am I but a crusty old fart?
I will cease my ramblings on my final point - why was the Olympic never homologated? Contemporary magazine articles indicate that the factory proposed the Olympic with a Cortina GT engine - was it the qualifying numbers that stopped it - if so it didn't stop the likes of Marcos or Diva.
For your records, the previous owners were:
Donald Craven (new) 1966 - 1983
Geoffrey Skinner (known to club) 1983 - circa 1990
Mark Kennedy Northern Ireland 1990-2001
It appears to have been unused since 1991. Barry acquired it in 2001 and ferried it back.
Thank you for your help and encouragement.
Kind regards, Tony Wright KOBI
PPS
Was there a factory produced Ford Twincam or Alfa Romeo engined car?
Since this letter was written Tony has been in contact with several club members re subframe renewal. I need hardly say that no workshop manual is available indeed it is said that it would not have been allowed under the rules governing car tax exemption for kit cars in the 60s what a wonderful excuse! The general view seems to be that the best option (apart from replacing the subframe with a normal Phase 2 design, but hopefully made symmetrical) is to modify the front bulkhead area to accept standard Herald/Spitfire suspension components, in particular the turrets. In this way the settings will be as per Spitfire and the bushes etc. can be obtained from the various specialists. Also, the steering column will not require moving. Probably the neatest idea (Colin Breakspear) is to mould the mountings for the steel components in glassfibre, although he actually used steel himself, as the smart idea came too late!
The tinkerers amongst us, (particularly me), want to enhance the steering experience by changing castor, camber, track etc. but these mods entail a lot of extra work and, worse still, thought. For example, Colin wanted to maintain his Olympic front track, but eliminate the rather horrid wheel original pcd adaptors which are about 20mm thick, so he spaced the wishbone mounts further apart. This put the turret in conflict with the steering shaft, so he widened the rack! OK if you are a mechanical wizard like Colin, but no so good for mortals. Perhaps I had better not mention my solution (don't mention the war!).
I might add that sticking the front end back on is not as horrific as it sounds, provided you have a dry working environment and don't inhale the dust. If the nose has been cut off forward of the bulkhead then it takes no significant load anyway, and any weakness caused by the join is therefore not significant. Having no nose (on an Olympic at least) gives wonderful access to the front subframe area, a real bonus if you have ever had to work inside the wheel arches.
If Tony needs a shoulder to cry on with regard to the condition of the bodyshell after 10 years in the open, he should have a word with Brian Easton, whose car stood in a field on the edge of the West coast of Wales for 15 years. Mind you, Brian is planning unspeakable mods to his car - to the chassis anyway.
On the subject of mods, one of the attractions of the Olympic for many owners is that mods which would render a Lotus Elite owner persona non grata, such as wide wheel arches, converting to convertible or adding spoilers etc are all grist to the mill. They were kit cars after all. Having said that, I still prefer them to at least look original on the outside, even if they might have a modern engine inside. A Ford Zetec or Rover K series is still in the spirit of the original car it just keeps its oil to itself. Not too happy with front wheel drive though. Ed.
From Colin Breakspear to Tony Wright re Phase 2 subframe
Thanks for your note about your new labour of love. I did know about the two half car in NI and at one time Les Elliott (previous spares controller) considered buying it but was put off by the work involved.
To get to the point of subframe, yes I can supply engineering drawings of the subframe I made and fitted, but first I had better warn you that I have deviated from the original specification regarding components, track, caster, camber and mounting. Having said that it works very well but if I was starting again the only thing I would change is having 5 degrees caster instead of the 3.5 degrees I used (my car originally had about 12 degrees caster and the front would rise slightly as I turned the steering while stationary; it also made the steering heavy).
Now for some details----
The subframe was designed to mimic the front end of the chassis of a Spitfire, to allow the fitting of standard Spitfire front suspension ie. turrets, shockers ( I used new Spax adjustables with adjustable pans), steering rack (modified) and top and bottom wishbones. The parts used from the Olympic were the steering column and anti roll bar and springs (the Spitfire ones are far too stiff).
The other parts not drawn is a 1" x 16 swg square tube as a spreader between the tops of forward end of the turrets and the mounts for the steering rack which were positioned on a dry fit assembly to make sure all parts cleared on lock etc. Also the brackets at the rear end are not drawn but are very simple items that give extra security for the attachment to the monocoque. The anti roll bar is the standard Olympic but mounted slightly differently as can be seen from the pictures.
The left hand side of the rack was modified by using an extra threaded female ball joint from a spare rack and welding this to the original ball end, using a spacer to lengthen the rack by about 2 inches. This will make the ball joints symmetrical about the car centre line. The reason for this is the steering column has to go through an aperture in the right hand turret which has been moved to the right by 1" compared to the standard Spitfire( making the subframe wider).
The whole assembly is bolted in place with 14 off stainless 3/8" bolts of various lengths. There is no bonding to the body shell so it can be removed if needed for cleaning and repainting. It would probably take 4 hours to strip out of the car.
The track is 2" wider than standard for two reasons:-
1. The Olympic is quite narrow at the front; mine had spacers fitted from the factory and I didn't want to use these, as you can see that from the pictures I re-drilled the Spitfire hubs to BMC PCD's.
2. When measuring the car I found that by increasing the track, the subframe rear legs would fit along the outside the engine bay with the rear bottom wishbone bolts clamping the subframe through the body shell (tightened from inside engine bay). I am using Minilites 5x13 with 165x70 tyres and suspension set quite low without any fouling of tyres in wheel arches on bump and lock. This is partly due to 2 degrees of negative camber.
One of the changes I noticed is the front end is now softer. My car was originally a 'B' series engine but was converted to 'A' series by previous owner (Ron Moles). It was quite hard and rode slightly high at the front, so the changes to the stiffness are quite welcome.
I have enclosed some photos taken at stages of assembly which may help with your decision.
By a strange coincidence Ron Collins from Scotland has just phoned asking the same sort of questions, so I will be sending him the same details. Also I know that Alan Farrer (Mag editor) has made his own Ph2 subframe so you might also want to talk with him. I will also send him a copy of the email to Ron as he likes to keep up with things in the club.
Hope this all makes sense
Colin
From Keith Hamer

One thing that may be of interest to members is regarding classic number plates. I have been in touch with the DVLA regarding these as an end user, ie we fit new plates to restored classics. I have been told via e/mail that pre 1972 cars can have effectively any number plate fitted as long as it is readable and was fitted as original or period equipment. I have had to register as a supplier though. I can therefore help out if anyone is having problems getting the type of plate they desire made, obviously as long as it is legal (I can advise); all I need is proof of ownership and address.

An update on what I am doing at present (Oct 03). I have just restored an Olympic Phase 1 front subframe for Ron Scarfe; as part of the job he asked me to make it in two halves so that he can replace it without damaging the paintwork. I used the method detailed in a previous club mag. which seems to work quite well (Derek Bentley? - Ed). Personally I would have cut the car and fitted a solid one but this obviously means some body repair.

On the subject of body repair I am about to finish the prep on Conrad Cunninghams car which is a Phase one. Conrad has asked me to modify the doors to fit Mazda MX5 door handles, I think they will look quite modern bringing the car in line with todays retro thinking. The rest of the build should follow quite quickly from then although I never cease to be amazed at just how long these cars can take to restore (you're not the only one! - Ed)

Alongside Conrads car I am working on two other customer Olympics, one is a Phase two which belongs to Brian Parodi. Brian is doing a lot of the suspension restoration himself which we will be fitting as soon as the body is painted. The engine for this car is an MGB which is being mated to a 5 speed Ford box, quite a popular mod this one. The other Olympic is a Phase one which is stripped to a bare shell (as all our restorations start) before being repaired and modded to the customer specification: this one belongs to Alistair Banks. Alistair wants the 'K' series conversion and 5 speed box option in this car.

I have collected a couple of other Olympics to be restored and I have an option on a Phase one at present. These cars will be available for restoration as soon as I have trawled through the current ones. Currently I have 7 Rochdale Olympics in the workshop together with my Unipower GT, Austin seven sports racers x3, 2 Reliant Scimitars, several Minis, a Foers Nomad, a brace of sports 1000 cars and a 1958 500cc F3 car called Excalibur. Oh and a 36' Bedford Panorama Elite outside.

On a more personal note we have been out racing the new Scholar 983S this season. My son Simon is doing the driving because try as I might I simply can't do everything. We are working on a coupe version of the Scholar for next season which he will drive so I will possibly get to race the demonstration 983S next year.
I have been working on some Olympic upgrades recently including a new disc conversion for the phase one, replacement phase one rear radius arms, and possible replacement for the bottom trunion on both phase one's and two's which uses a spherical bearing. I also have a stock of 1/2" x 1/2"UNF and 7/16" x 7/16" rose joints at a seriously good prices, these are the sizes we use on the race cars, but I am looking at stocking other sizes too. We have an adapter which enables you to remove the rubber bush from the end of the anti-roll bar on the phase one and replace it with a 1/2"UNF rose joint, which makes the front work more sweetly.
Keep up the great work. Kind regards, Keith
From Brian Easton Phase 2 Olympic RMG 5F
Dear Alan,
With regard to restoration, we appear to be on the same journey, but have taken different routes. On reflection yours looks quicker and I think others would be interested maybe a future article for the magazine? Your scaffold poles* look to be an economic alternative to the rather expensive frames that are frequently advertised.
I am intending to mould almost the whole underside of the car, including the boot floor, in one go. I will then lower the rest of the shell on to it, and bond it in while the floor is still in the mould and green. The floor will include 5 venturis, 3 small ones exiting into the rear axle space and the main two running to the back as you suggested some time ago. This should make the floor extremely stiff, but the slight drawback is that the floor inside the cabin will be sloped from front to back, rising about 3". Once this is finished RMG 5F will sit on 4 wheels properly for the first time in over 10 years.
Although there will be a lot still to do, I feel that I will be over the worst. However, the shell is completely bare except for the tubular steel cage and steel head lining bars, all of which are too rusty to keep. It will require completely refitting with new parts. Not wishing to depress myself too much, I will not attempt to itemise this work at the moment.
******************
The above was written before Christmas, but, as I mentioned on the phone, my E Mail system wouldn't allow me to send it. Eryl finally tracked the problem down to an update of our virus protection system. This included an update of Outlook Express which was installed automatically. It also included a fault that disconnected us from the Internet every time we tried to send a document! The problem was eventually sorted and I got the E Mail invitations out at the beginning of January.
Turning to other matters I was interested in your reply to Colin Ellis in Issue 96, whose Phase II looks very good, re windscreen wipers. Two points: inspired by the US spec. MGB, I have been considering a triple blade wiper system for my rebuild as I will have to use a rack system to clear the engine which will be set well back. Also the two-blade system normally used does not give a very good swept area, if my Phase I was anything to go by; secondly I would counsel caution re the sweep of the Allegro system, as I remember reading that for an MOT wipers must clear 75% of the screen. I cannot find where I read it, but it would be worth checking first. You could still use the Allegro, but may need to change the gear wheel in the motor box to get the correct sweep angle. I know that several different angles are available for the 'B' and I would guess that the Allegro uses the same motor.
I was also very taken by your solution to the perennial door hinge problem. I had considered using urethane bushes in place of the cast top hat bushes, but the spherical joint approach seems to be a much better solution.
Derek Argyle, Secretary of the Wildcat Owners Club, has sent me an interesting letter that you may care to include in the next magazine; this is attached together with a copy of my reply (the tribute to Richard that I copied to him was from issue 85 of our magazine).
Yours,
Brian
* I had mentioned to Brian that, in order to ease the problem of working both on the top and bottom of the body shell, I had attached it to pivots formed from bits of scaffold pole which passed through front and rear and were supported on stands. This enables to shell to be rotated through nearly 180degrees very easily and has made an enormous difference to me in working on the shell. Ed.
Letter from Derek Argyle to Brian Easton 17 Jan 2004
Dear Brian.
On behalf of the Wildcat Owners Club I wish to thank you for your invitation to attend the Cheshire Kit & Classic car Show on May '23.2004.
I visited the Show several years ago but will not be able to come this year as I will be in France prior to being part of the big weekend Festival Historique de Laon starting on 28th May. This incidentally is a quite fabulous event where 400 or so cars of all types attend and the welcome and generosity of the French organisers is outstanding. This weekend event is organised from this end through Continental Car Tours and, as an example of the exceedingly good value- for- money outing, return ferry Dover-Calals, 3 nights hotel with breakfast, Festival entry fee and general paperwork cost a mere &poundl79 per person based on two sharing. This year will be my fourth year of attendance - I wouldn't miss it for the world. It really is worth going. Details from CCTours tel. 01304380244.
I shall send the details of the invitation to your event to Alan Hart our Club Editor for submission into our magazine Cat Chat.
I used to own a Phase 2 Olympic which I adored (I think it was CCJ 998) but contact with Alaric Spendlove informed me that the car had been written off and then, in the past couple of years, I met the Secretary of the Rochdale Register Derek Bentley who told me he had the tailgate from my car. What. a small world. It amazes me that the Phase 2 bodyshell is not still being offered to the general public as part of the Kit Car Scene.
Would windscreens still be available? Did they originate on a production car? At last years Stoneleigh Kit Car Show I saw a red Phase two which was parked under a corner of a building reg no. 902 DUF. This was to my mind. exactly how a Rochdale should be presented. An absolute cracker. Do you know who owns it? I'd love to have seen under the bonnet.
Our Wildcats vary in many ways and of the mere 147 that were built between 1985 and 1996 five were lightweights a la Lindner/Knocker racers and the rest are either the standard roadster or the 2 version. Owners come from America, Germany, Luxembourg and Holland.
I have been Secretary for the past 2 years since the death of the previous Secretary from cancer and our Isle of Wight based Editor is just retired and has been doing a great job for the past 18 months. We produce 5 copies of Cat Chat a year and we, no doubt like you, wish the kits were still being built. Orders dried up at the end of 1995 and Jon Randall, the owner of JPR Wildcat Cars had to find work elsewhere. With the number of enquiries we have for cars to buy I can on1y recommend that they join the Club and wait for a second-hand car to turn up in the ads. and. at the same time I may well be able to give them details of the cars past history. We do meet a few unscrupu1ous owners who have a rather inflated idea of the standard of their car and of course the value. Prices for our cars range from &pound2,500 - &pound9,500 the latter being the price I got when I sold my car.
The basic car is Pinto based throughout but we have many others with V6 Fords, Fiat twin cam engines, Datsun 240/260Z/ or 280ZX engines and Rover V8s. After selling my Wildcat I built a special fixed head coupe version from scratch which took three years to complete. This is Rover powered and goes very well whether I am touring or at Track days. It is fitted with Sierra independent rear suspension which adds a lot to its handling.
Well Brian, I must be boring you sick so I will close. Do give Laon serious thought, you won't regret it and it would be great to see a Rochdale or two amongst the ancient Fiats, De Lahayes, TRs, E types, MGBs et al. I do hope you get good response for the Show at Macclesfield.
Enthusiastically yours, Derek Argyle
From Paul Farrell
Dear Alaric and Alan
A very quick note to let you know I have bought and collected the ex John Kearle Rochdale Olympic Phase 1 (2481 AW). The journey from Bridgend to Edinburgh was a doddle, no overheating, wind noise, stability or Ackerman issues that I had been warned of. Held a steady 70mph with plenty in reserve, and my only concern was the wipers lifting off the screen.
That was until I got home and took the Olympic off the trailer: would not start, brakes seized, no ground clearance to get on my drive etc. Delighted with the car, there is a lot to do but I am looking forward to the challenge.
Thanks for the early tip off about this car, the story of how I had a complete change of plan i.e.. "not doing anything until next year" is for another day; in the meantime have a Happy Christmas and I look forward to meeting you both in the New Year.
Later ....
Hope the New Year has started well for you, it's not Rochdale weather though is it? Have made some progress with my Olympic, got it reasonably road worthy with the main systems working well enough to have a few runs including meeting up with Ron and Peter in Edinburgh. A lot to do though. I was waiting to hear on a new job; this has now happened and takes me to the Isle of Man. I have been there since the start of the year coming back to Edinburgh most weekends. The family, including the Olympic, will move over in the summer, so work until then will be slow. Are there any owners on the I of M that I can contact? I am delighted that I bought the Rochdale from John Kearle, however mad it was at the time, and look forward to meeting you all in the future.
Regards Paul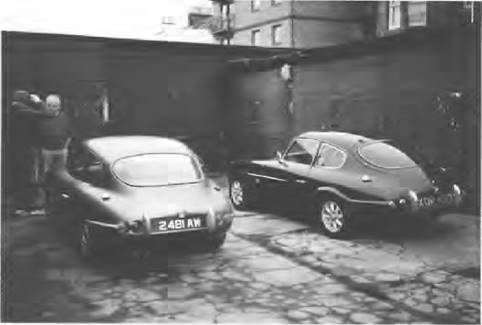 Paul Farrells Phase 1, 2481 AW meets one of its Scottish cousin, Ron Collins XDR 430.
Unfortunately, Peter Bissetts Phase 2 is hors de combat undergoing subframe renewal. Photo: Ron Collins
From our Scottish Correspondent Ron Collins
When looking at the family tree of the three Edinburgh cars I was struck by how often the same names of the owners keep cropping up.
You will note from the chart below that the Bamber family, at various times, owned both Peter Bissetts Phase 2 and my Phase 1. Richard Yates has owned both Paul Farrells and my Phase 1's. No doubt many owners find that, having sold off their Olympics, miss them so much that they go and buy another. That I do understand.
Peters car was built in 1962, but not registered until 1980. Can anyone offer an explanation?
Also from our Scottish Correspondent:
The photograph illustrated on page 6 of the last magazine portrays a car which was the subject of a 'Mystery Car' contest in The Scotsman newspaper.
Of particular interest is the reply from Mike Ramsay-Fraser (shown below). He now owns a GT which was previously owned by our Scottish member Jim Read of Hamilton, who is now in the process of restoring the Phase 1 convertible.
There's one in my driveway
SIR, - Last week's Mystery Car is a Rochdale GT. I happen to know this because I have one sitting in my driveway awaiting restoration (at the end of a long queue of equally rare and unusual fibreglass cars).
The car is what we nowadays refer to as a kit car but on production in the late 1950s, it was known as a Ford special. Around this time a number of enthusiasts and companies produced body shells to fit onto old Ford 8 and 10 chassis in a bewildering array of styles. Many were lucky to see production reach double figures, but Rochdale Motor Panels & Engineering was one of the most successful.
The GT was one of the companies most prolific products, with over 1,300 bodyshells being produced before the more modern Rochdale Olympic took over (the latter being one of the first fibreglass
monocoque cars in production). The GT was developed from the ST (sports tourer) because the wife of the factory boss, Harry Smith, wanted a "proper" car with roof and seats for the children.
Originally costing &pound140, the body came with all glass and doors fitted (the top of the doorframe is from a Morris Minor). It also had four bizarre tubular steel legs on which it sat. The premise was that the builder took the body off his old Ford and threw it away, rolled the chassis with everything else in place under the body of the Rochdale as it sat on its legs, and then simply cut the legs away until the body sat on the chassis and could be screwed down.
Although tight for two adults and two children, the resulting vehicle looked light years ahead of anything else on the road and many, latterly, compared the look to a baby E-Type Jaguar.
Like Jaguar, Rochdale suffered a disastrous factory fire in 1961, which curtailed production of the increasingly popular Olympic which, by this time, was being sold as a complete car. The last Rochdale was produced in 1973.
Nowadays, many of the remaining GTs, including mine, have been rebuilt onto Triumph Herald chassis, the old Ford ones having long since rotted away. Having once provided stylish motoring for the enthusiast, the Rochdale GT is now very rare sight, even at classic car meetings, but I'm proud be the owner of one and, hopefully, will soon be rolling round the East of Scotland in it.
MIKE RAMSAY-FRASER
**********************
From Stephen Szikora Guelph, Ontario, Canada (to Colin Breakspear)
I am writing to report the purchase of the Phase 1 Olympic owned by John Somerville of Guelph, Ontario, Canada, these past 28 years.
John is a neighbour of mine and has agreed to pass the torch on to me in the hopes that his Rochdale will continue to be appreciated. John has provided me with all the back issues of the club newsletter he could find. The quality of the production and the information contained within is impressive for such a small club. These back issues will be invaluable not only in providing some answers to my technical questions but also in knowing the full history of the car. I see that John has written several letters in the past which have been published.
John apparently let his membership in the club expire after suffering a stroke a few years ago. At 86, he's a fighter and won't be taken easily, but he can no longer work on the car. He has tried to relay to me all the information he can recall but he has some difficulty doing so. Having a written record in his own words is 'priceless'. I would like to join the club and would be happy to purchase as many back issues of the newsletter that are missing from my set as possible. The last received by John and provided to me was Magazine No. 83 in the Autumn of 2000. There are also some early issues missing and I would be happy to provide you with a complete list of what I have if it is possible to obtain the missing issues.
Your e-mail address is the most recent contact I have for the Club Secretary. If I have the wrong person, please forward this note to the correct person or advise me of their e-mail address. For the purpose of the Olympic Registry, you can now list John's car as belonging to: Stephen Szikora Guelph, Ontario, Canada.
I'm looking forward to learning from many of your members and having access to the spares available through the club. I plan on completely restoring the car and preparing it for vintage racing use as well. This will unfortunately involve reversing many of the changes made to the car by John over time in order to make it eligible, but John is understanding and hopes to see it completed. I hope to take him for a ride one day.
Thanks, Stephen
Sorry to learn that John Somerville has suffered a stroke, but glad he still takes an interest in the Olympic. He was very resourceful in managing to keep his car running when so far from sources of spares, either new from the club or, more usually, secondhand from scrappies. We will be pleased to welcome Stephen to the club and he will no doubt have made contact with Alaric by the time this letter is printed. Ed.
From Dave Milner Phase 2 Olympic etc
Thought it was about time I contributed to the newsletter so here we go.
First it would seem wise to tell you a little about myself. My collection of classics at present consists of an Olympic phase 2, Elan plus 2S, Elan plus 2, Vanden Plas 1300, Super Minx mk1, 100E Anglia, and a few Minis. They are all tax-exempt and are from the era when my interest in cars began. The tin cars I own because they came at the right money i.e. free or very close to it, the plastic ones because I could not resist them.
For the last 25 years or so I have always owned a Lotus of one description or another and at present I am using the Plus2S as a runabout when the weather is half ok, the other Lotus is being converted to a DHC. (Inspired by the old Christopher Neil conversion, but hopefully a little more refined).
Enough of Lotus and back to the apple of my eye, my 1971 Phase 2. I bought this car in May 1987 at a cost of &pound300, the car was a runner with around 8,000 miles on the clock, the owner of the car was a young lad who bought it in Feb. of the same year from the original owner/builder (from the Doncaster area). The car was fitted with a 1200 pre xflow Ford engine with twin SU carbs (which are for sale). The front engine bay bulkhead had been cut away to fit a spare wheel between the rad and engine bay, probably because both wing tanks leaked and a tank had been fitted below the boot floor. The car had been constructed quite well and I drove it for a further 7/8000 miles. My memories of driving the car consisted of adequate performance and horrendous bump steer. Around 1994, after having done a couple of seasons hill climbing with a Mini I decided to rebuild the Rochdale for sprint/hill climb use. The car was promptly dismantled to its component parts and at around the same time as the governing bodies decided that it would have to compete in the same class as Caterham 7's (Midgets & Spitfires OK, Caterhams NO).
The alternative now was to build the car for fast road use but in keeping with its age. At around this time I went to look at a Mitsubishi Colt turbo to use on the hills. I did not buy this but the guy selling also had a split screen Minor hill car which, along with a couple of Midgets, was part of Team Allard during the mid 70's. Needless to say the car was fitted with a very special supercharger bolted to a 1500 pre xflow. The Minor would not be competitive but the engine/gearbox would do my Rochdale the world of good; it came home on the trailer.
Through to 2001 and not a lot of progress was made due to work, house moves and the inevitable marriage breakdown, but then it all came good: great workshop to use, understanding new partner and loads of motivation. The shell was prepared from the rippled and aerosol sprayed state to its present state (using previous Lotus experience), all components refurbished, front subframe removed and sorted, (castor will be OK this time). At Capesthorne this year I bought all the bits I needed from the club, rear screen, dampers and various bushes. The job looks fine now, as all I need is time to finish the job.
I will be making the front subframe a removable unit and if all is well it should be adjustable to set the castor angle to 3 to 3.5 degrees. On the subject of suspension, I have yet to buy the springs to fit the dampers, but on checking the spring rates for the Lotus I note that they are less than 100 lb for a car which is a little heavier than the Rochdale, so I will buy 100 lb springs as a start and see how it progresses.
The current major job is sorting the engine bay, as serious fiberglass work is needed to fix the front engine bay bulkhead and modify the nearside inner wing to clear the supercharger set-up. This is being achieved by forming ali sheet and glassing in the new shapes. Enough for now, I will drop you more info as time passes, can give you some good info. on painting and more importantly preparing fibreglass for paint.
Regards, Dave
Standard spring rate for front of Olympic is 132 lb. That for 'Baby' Elan (weight ~ 1500lb) is 75 lb, giving a wheel rate of ~ 45 lb/in! - Ed
FROM THE FBHVC
Paint
We understand that the directive limiting the Volatile Organic Compound content of vehicle refinishing products was subject to an enquiry (a written procedure consultation of Member States) that formally expired on 7 January. This enquiry is unlikely to affect the exemption for materials for re-finishing historic vehicles that was included in the political agreement reached in 2003, but at the time of writing we had not had final confirmation that this was the case.
Trailers
Although not directly related to the use of historic vehicles on the road, we are frequently asked about the rules governing the towing of trailers. There are two aspects to this: the vehicle regulations and personal licensing considerations. This item outlines the former.
The law on trailer construction is contained in the Road Vehicles (Construction and Use) Regulations 1986 (as amended) and the Road Vehicles Lighting Regulations 1989 (as amended). There is a distinction between light trailers (defined as those with a maximum laden weight of under 3500kg) and others. What follows relates to light trailers only.
There is no specified relationship in UK law between the weight of the towing vehicle and the weight of the trailer; however, in the case of cars and other passenger vehicles with seats for eight or fewer people besides the driver, the maximum permissible trailer weight quoted by the towing vehicle's manufacturer should not be exceeded. It would be open to the courts or insurance companies to take the view that exceeding this limit constitutes negligence, rendering the driver potentially culpable in the event of an accident.
The maximum laden weight of a trailer towed by a light goods vehicle depends on the manufacturer's quoted maxima for gross train weight, gross trailer weight and gross laden weight. None should be exceeded.
Unless the trailer towing vehicle is a motor tractor or a locomotive, as defined in the Road Vehicles (Construction and Use) Regulations 1986, there is no need to display notices of unladen weight of either trailer or towing vehicle. Maximum dimensions for light trailers towed by vehicles with less than 3500 kg maximum gross weight are 2.3 metres wide and 7 metres long.
If the trailer maximum laden weight is over 750kg, it must be fitted with brakes. Also, it is illegal to use a trailer without brakes if its laden weight is greater than 50% of the towing vehicle - so if the towing car weighs a tonne, any trailer above 500kg laden weight must have brakes. Overrun type brakes are permitted on light trailers (i.e. those up to 3500kg maximum laden weight). More sophisticated systems are required for heavier trailers. Precautions must be in place to control the trailer in the event of separation of the main coupling. This may be provided by some secondary coupling keeping the trailer attached to the towing vehicle if the maximum laden weight of the trailer is below 1500kg, but must take the form of a device to apply the trailer's brakes if the trailer is above this weight.
Trailer lights must match those on the towing vehicle, and rear lights must not be more than 400 mm inboard from the widest point of the trailer, and should be at least 500 mm apart. Front position lights are a requirement for trailers over 1.6 metres wide and side marker lights are recommended for trailers over four metres long and mandatory for those over 6m long unless they are caravans or boat trailers.
Number plates must be those of the towing vehicle. It is permissible to use the rear plate of the towing vehicle on the rear of the trailer, but this is not recommended as it would be too easy to forget to put the plate back on the towing vehicle when the trailer is detached.
There appears to be nothing to prevent a car being trailed on its own wheels using an A frame towing link provided all aspects of the above limits and lighting regulations are met. In practice, and because of the 750kg maximum weight for an un-braked trailer, this will be difficult to achieve for all but the lightest trailed cars. Two wheeled 'ambulances', where two wheels of the towed car are mounted on what is effectively a short two wheeled trailer, are acceptable if the ambulance itself has overrun brakes. These devices are generally used only for rescue purposes over short distances and are not recommended for longer distances. Great care needs to be taken to ensure that the rescued car is securely attached to the ambulance.
DVLA
Sandy Hamilton
In the last newsletter we advised that the phone number for the enforcement section of the Register of Number Plate Suppliers would shortly be changed. If you wish to advise infringements of the regulations for the supply of replacement plates, in particular suppliers not asking for relevant documentation at boot sales or markets, the revised phone number is 0870 600 1016. This will assist DVLA in convincing sometimes indifferent trading standards departments or police forces to address the issue. The need for original identity papers introduces unacceptable risks when non-reflective historic plates are no longer available from high street sources. When these procedures are reviewed towards the end of 2004, FBHVC intends to press the case for exempting the very small number of replacement historic plates from the more onerous regulations.
Many of you may have noticed the television adverts pointing out the new licensing/SORN provisions that we advised in the last newsletter. While DVLA runs a very efficient operation with rigorous checking procedures, they have to send out many millions of notices each year and no system is absolutely foolproof. It is also not unknown for the Royal Mail to lose or fail to deliver items! We suggest everyone should make a note of the expiry date of any declarations so that they do not accidentally fall foul of the penalties, and to contact DVLA promptly if they have not received a reminder. Further to the addition of barcodes to tax discs, when you declare SORN at a post office the clerk will now attach the 'nil' receipt to the renewal notice and return both to you. The declaration will only have been sent to DVLA by barcode scanning of the relevant documents so it is imperative to retain these papers as your sole proof of compliance.
The secretary was recently contacted by a member of a subscriber club who was concerned to be told by a DVLA prosecutor that he needed to declare SORN on a restoration project that he bought last year - despite the vehicle having been off the road for over 20 years. It had been the subject of a successful V765 application shortly after purchase. We immediately advised our contact in DVLA who very promptly confirmed that was an incorrect interpretation of the regulations and that no SORN declaration is required if there has been no licence or SORN application since January 1998 regardless of the change of keeper; the local DVLA office concerned was reminded of the correct policy. If any members have had a similar experience, please advise the secretary and we will endeavour to assist.
At some stage in the near future supplies of un-issued 'traditional' age related marks with 'letter/number' configurations will be exhausted. It is quite possible therefore that DVLA will require to issue marks in the 'number/letter' sequences. This may not suit every applicant but we have to recognise that the supply is finite. We are fortunate that we still have the ability for allocation of historic style marks as most other countries, globally not just Europe, require contemporary styles and can enforce this retrospectively.
Early Rochdales
GTs Galore
It's the bus syndrome, I guess you don't see one for ages, then loads come along together. Didn't think I'd see it with GTs though: they're much rarer than buses!
First, quite a decent one came up on Ebay around six months ago. NAS 438 was a new one to me, though it may be on the Register under a different number, as that's an age-related re-issue plate. It wasn't on the road and needed a bit of work, but appeared to be a very sound example and the photos obviously caught bidders imagination, as the car was bid up to around &pound1400 astonishingly high for a GT without MoT.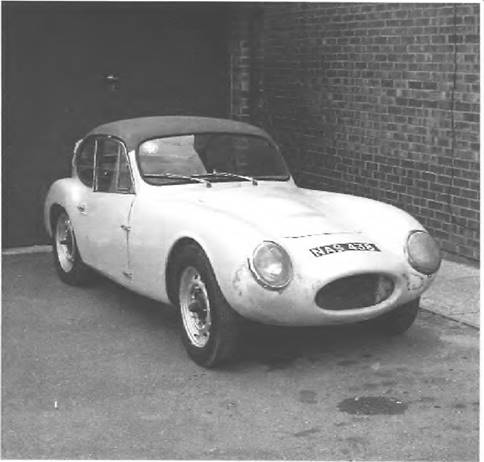 Pale blue with what appeared to be a black vinyl roof and 17in wheels, the car appeared to lack indicators. Its E93A engine was fitted with the Aquaplane Superhead and a nice tubular manifold sporting twin Stromberg carbs the inlet pipes tapering to funnel the fuel into the E93A's tiny ports! It also had an alternator, mounted high on the offside of the engine and had been nicely trimmed inside, probably in the late 1960s. Sadly I've no idea what happened to the car as far as I know the new owner hasn't joined the club yet.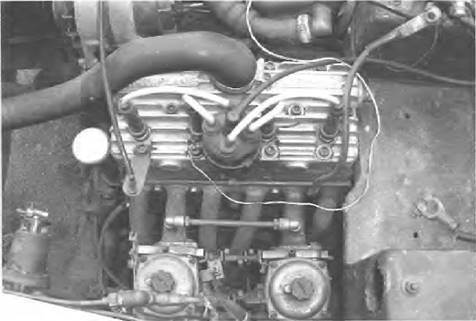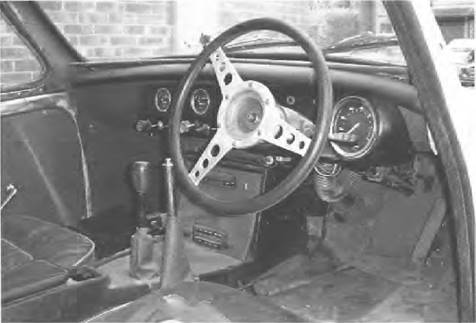 Views of NAS 438
A friend who lives in the same Buckinghamshire village that I've recently moved to (new address will be published when I make a permanent move I'm only renting just now current phone number is 01296 770992) happened to see the car on Ebay and was very taken with the shape, so I promised to look out for one for her.
Surprise surprise, along came an email from Aston Key announcing that he'd finally decided to part with the GT he rescued from a Cornish garage 30 years ago (it had blown its engine and they'd bought the wrong parts to rebuild it). Sadly, as often happens, Aston never found the time and the GT was dragged from place to place, almost always stored in the open. Now Aston was moving again, didn't have room for the car and would scrap it if it wasn't rescued.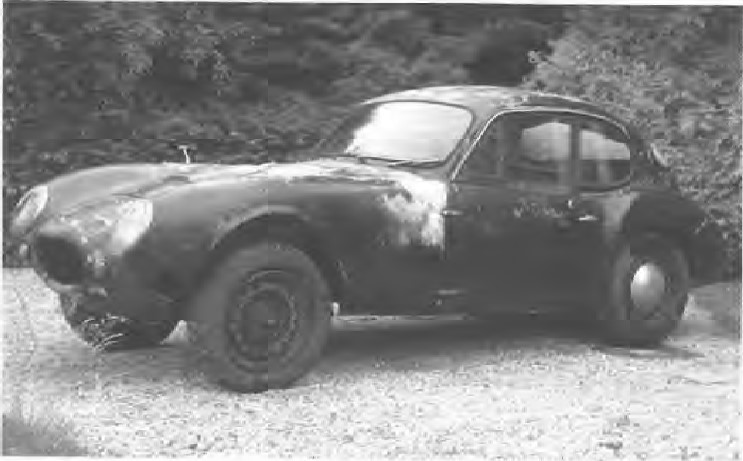 Aston Keys GT 2232 MK
As he was only about 40 miles away, I hitched up my trailer to the Vitesse and loaded it up. Now 2232 MK is sitting in Janes stable yard, still patiently hoping for attention. With the car came a huge file: all the bills from when it was built. The builder had kept everything in order to secure a new registration for the car each bill was stamped by the registering authority and luckily it had all stayed together. There was even a single-page sheet from Rochdale giving extra tips on fitting the GT bodyshell, something I'd never seen before we'll reproduce it in the mag soon.
The car, originally red, I think, but sprayed white at some time and more recently black, is in remarkable shape considering its long exposure, though the chassis will need extensive welding or replacement. Hopefully the Ballamy wheels, IFS, close-ratio gearbox and high-ratio axle will be salvageable, however, as these period tuning bits make so much difference to the fun of driving the completed car.
Shortly after that, another GT popped up on Ebay. MZ 563 was with Mike Witts and was bid to around &pound400, I think; no idea if it sold though. The body had been removed from the chassis, which appeared to be pretty much standard, though there was an Aquaplane head for the E93A engine. I hope this one has found an enthusiastic new owner as it looked eminently saveable.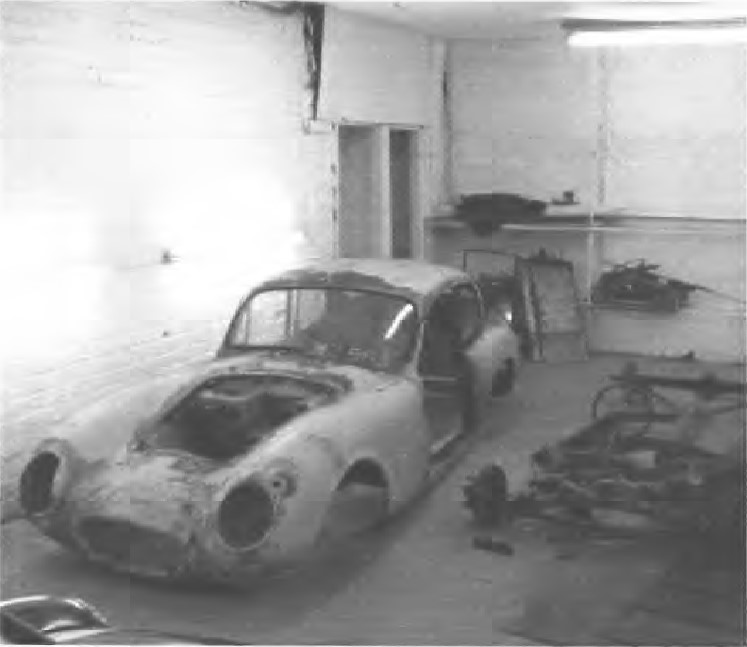 Mike Pitts GT MZ 563
Now, that really should have been enough. But no! Talking to fellow car buffs in this village, I was introduced to a local farmer (also called Malcolm!) who told me he had a Rochdale GT on his farm, which he was storing for someone. I couldn't believe it another GT in the same village? Surely not.
But it's true! I've now seen 9559 E, which is white. Condition is similar to Janes: rusty chassis, clearly stored outside for many years, but saveable. The body is off the chassis, which initially appears largely standard, but a glance through the even bigger history file with this car proves the contrary. The original builder, who owned the car until 2002, fitted Koni telescopic shocks, Aquaplane head, manifolds and rev counter (on an E93A engine), close-ratio gears and high-ratio axle, with 16in wheels. The last thing I need is another rebuild project, but the spec and the history really appeal and it is a bit daft for your Early Rochdale Registrar not to have an early Rochdale
Watch this space!
Malcolm
Olympic Registrars Ramblings
According to my dictionary a Registrar is someone who keeps official records. This has been my aim in Olympic matters for a number of years, however, it is not always easy to ensure that these records are both up to date and accurate.
Unfortunately, to achieve both criteria requires continual input from the individual owners of the cars. The problem arises when an owner leaves the Club and either takes the car off the road for a rebuild or sells it. At this point the registrar is seldom informed and relies on contact from the owner, existing or new, to be able to update the records. The situation is also made worse if the owner moves to a new address.
Of the 450 or so Olympics produced there could be as few as 150 remaining (of which I estimate about 30 are actually 'on the road')
I would like to think that during the last 20 years there has been sufficient interest and 'Classic Car' status applied to the Olympic that not too many would have been deliberately scrapped. Nevertheless, my records indicate that during this period alone at least 20 Olympics have apparently been lost. Some of these are listed below.
19 MVO - Phase 1 for sale in Newcastle, Staffs in 1985
107 VMA- Phase 1 for sale in Stockport in 1981
118 JAC Phase 1 last heard of in Monmouth in 1985
NTX 199 Phase 1 last owned by the late Roy Howells-Jones
AWB 242B Phase 2 last heard of in Manchester
498 VDH Phase 1 for sale in Stoke on Trent in 1992
GUY 541C Phase 1 used as a Sprint/Hillclimb car and last heard of in 1993
682 NDV Phase 1 for sale at an Exeter Garage in 1986
895 GBF Phase 1 last heard of in London in 1990
NMY 954 Phase 1 for sale in Newhaven in 1986
5838 N Phase 1 last heard of in Warrington in 1989
8896 UP Phase 2 last heard of in Bedford in 1987
Do any Club members recognise any of the above and have any information of their current whereabouts or fate?
VDK 147 is a well-known Olympic, being the Phase 1 factory demonstrator. In fact this registration number was used by RMP on at least three bodyshells.
It first appeared on the prototype, which was registered on 8th August 1959. When the first production shells were produced the registration number was transferred to one of these and in this form it was tested by the 'Motor' and other motoring magazines. I understand that the prototype car was sold, but have no definite information on its ultimate fate.
After the factory fire the registration number was again transferred to another new shell. I understand that Richard Parker rolled the car during a customer demonstration, which probably accounted for the need to re-shell it.
When the Phase 2 was introduced a new demonstrator appeared. This was 4625 DK, which was registered on 2nd January 1963.
I assume that it was fairly soon after this date that VDK147 was sold. Having passed through a number of owners it was eventually bought by Philip Faulkner in 1978. Philip has carried out a considerable amount of mechanical work on the car, to the extent that it is now roadworthy, although the bodywork still requires attention. Due to a change in circumstances Philip has reluctantly decided to sell the car, but in view of its history hopes that the new owner would restore the car to its factory condition. If anyone is interested I can provide further information.
Derek Bentley